Podcast: Play in new window | Download (Duration: 40:19 — 46.1MB)
December auto sales surge on a build up of inventory. Cars delivered to the lot are counted as sales. Mortgage apps and refi apps are declining rapidly as interest rates move up. Luxury apartment bubble bursts as landlords cannot rent the apartments. At the end of 2016 the nation debt has increased to 19 trillion, it was 10 trillion when Obama takes office. Marine Le Pen wants France out of the EU.  Crime fighting directory of Deutsche Bank resigns for unknown reasons. In a secret report released before Christmas it shows that US banks have an exposure to Europe in amount of 2 Trillion Dollars. Audit the FED bill gets new life as Trump will most likely sign it, but actions are bigger than words. This could be the first step in getting rid of the FED. The FOMC minutes show they are looking to raise interest rapidly and sure sign the central banks are bringing down the economy. The Senate pushes forward in repealing Obamacare, Trump creates executive orders and the first hurdle is overcome. There is opinion peace on how to attack North Korea. US is sending tanks personnel to the border of Russia, the US is also sending a special op team, why? Russia aggression. US bombing runs never hit the IS oil production facilities. The Elite are setting the lights out scenario, they are pushing the propaganda that Russia has attacked the elections system, the electrical grid and now Canada is on board reporting that Russia is accessing their power grid. This is the main event unfolding where the elite will shutdown the power grid.
Check Out The X22 Report Spotlight YouTube Channel –  X22Report Spotlight
Please check Newzsentinel.com for the latest news on the economic collapse. The Sentinel Alerts are updated throughout the day. If you haven't already, go to "The People" and join the community of people who are helping each through the economic collapse.
---
Current News – 01.04.2017
---
Economy
December Auto Sales Exceed Estimates As SAAR Reaches Record Highs
After Ford warned that North American auto sales had reached a plateau a few months ago, December 2016 auto sales blasted through that plateau to reach all-time record highs. 
GM massively exceeded their sales target, at least in part, courtesy of a 2.3% YoY increase in incentive spending which reached a level equal to 13% of the company's average vehicle transaction price.  With an average gross transaction price of $41,823, that means GM offered average discounts of $5,437 per vehicle.
Meanwhile, GM's inventory also increased 10 days YoY to 71 days of supply.  To put that into perspective, GM had 630,950 unsold cars sitting on dealer lots at the end of December 2015 but that rose to 844,942 cars as of December 2016, a 214,000 unit increase YoY.
And, overall industry inventory levels continue to hover near 5-year highs…

Source: zerohedge.com
Mortgage "Refi Boom" Crashes To Lehman Lows
mortgage applications tumbled across the two-week holiday period – even seasonally-adjusted…
It was the complete collapse in the refinancings that is most notable. Down over 60% since August, the refi index crashed over 22% over the xmas/new year period to its lowest since the post-Lehman collapse in Oct 2008…
68% weigh rates heavily into their purchase decision; 
72% of buyers would have to change strategy on a 1% rate-surge; 
46% OF BUYERS WOULD HAVE TO BUY A LESS EXPENSIVE HOUSE.
Source: zerohedge.com
Luxury Apartment Bust Spreads To Main Street
 the luxury real estate markets in New York and San Francisco amid tepid demand and a supply glut that is getting ready to flood the market with new capacity (see here, here and here).  Of course, one of the first signs of excess capacity comes in the form of rent concessions, which as we pointed out over the summer, have been relatively easy to find in the large metro markets.
at least four new apartment buildings have opened within a three-block radius of one another during the last 18 months in San Francisco's thriving South of Market neighborhood,
Those four buildings — Jasper, 340 Fremont, 399 Fremont and Solaire — frequently offer some sort of bargain for prospective renters. 340 Fremont is offering six weeks of free rent; Solaire is pitching four weeks of free rent, free on-site storage and $1,000 discounts to renters who work at tech companies
 NYC and San Francisco aren't the only cities across the country that are about to get flooded with new luxury apartments.  In 2017 alone, 378,000 new apartments are expected to be completed across the country, or roughly 35% more than the 20-year average. 
Now, though, the number of upscale apartments coming onto the market appear to be outpacing the number of renters able to move into them:
Source: zerohedge.com
US Ends 2016 With $19.98 Trillion In Federal Debt; Up $1,054,647,941,626.91
On the last day of calendar 2016, total US public debt jumped by $98 billion, mostly as a result of end of quarter Social Security debt allocation, which accounted for $70.4 billion of the daily increase. As a result, total US government debt on December 30, 2016 was $19,976,826,951,047.80.
This compares to $18,922,179,009,420.89 on the last day of 2015 and means that the increase in US federal debt in 2016 was just over $1 trillion, or $1,054,647,941,626.91 to be specific.
Source: zerohedge.com
 Marine Le Pen Wants France Out Of The Euro, Will Re-denominate French Debt In New Currency
French presidential candidate and National Front leader, Marine Le Pen, said she wants to take France out of the euro,  she wants to redenominate French government debt in a new national currency.
"More and more European citizens realize their economies have been suffocated by the euro," she said
Source: zerohedge.com
Deutsche Bank's Top "Crime Fighter" Quits After Only Six Months At The Job
It will probably not come as a big surprise that the head of Deutsche Bank's global anti-financial crime unit, a post also known as the bank's top "crime fighter", plans to leave that position after just six months at the bank, and will be replaced as soon as next week, Germany's Manager Magazin first reported.
Peter Hazlewood, who joined Deutsche Bank to oversee anticrime compliance as recently as July 2016, could stay at the German lender in a different position, but that hasn't been determined,
It was not immediately clear what the reason was behind the accelerated transition.
Source: zerohedge.com
According to a report quietly released by the U.S. Treasury's Office of Financial Research less than two weeks before Christmas, another financial implosion on Wall Street can't be ruled out.
The Office of Financial Research (OFR), a unit of the U.S. Treasury, was created under the Dodd-Frank financial reform legislation of 2010. It says its role is to: "shine a light in the dark corners of the financial system to see where risks are going, assess how much of a threat they might pose, and provide policymakers with financial analysis, information, and evaluation of policy tools to mitigate them." Its 2016 Financial Stability Report, released on December 13, indicates that Wall Street banks have been allowed by their "regulators" to take on unfathomable risks and that dark corners remain in the U.S. financial system that are impenetrable to even this Federal agency that has been tasked with peering into them.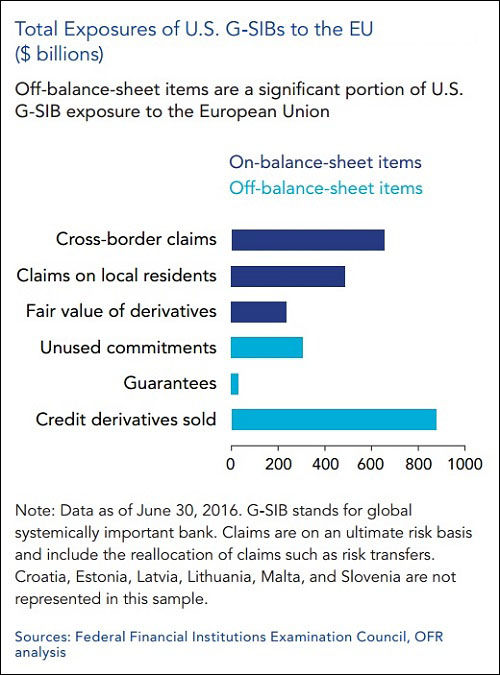 "U.S. global systemically important banks (G-SIBs) have more than $2 trillion in total exposures to Europe. Roughly half of those exposures are off-balance-sheet…U.S. G-SIBs have sold more than $800 billion notional in credit derivatives referencing entities domiciled in the EU."
 within the OFR report showing how interconnected the big Wall Street banks have become to the largest U.S. insurers through derivatives. This has been allowed to happen despite the fact that the giant insurer, AIG, required a government backstop of $182 billion following the 2008 crash because it had sold credit default protection via derivatives to the big Wall Street banks.
Source: globalreasearch.ca
'Audit the Fed' bill gets new push under Trump
Controversial legislation to subject the Federal Reserve's monetary policy powers to outside scrutiny is getting new life in Washington.
Rep. Thomas Massie (R-Ky.) and Sen. Rand Paul (R-Ky.) have re-introduced legislation to "Audit the Fed," after a similar effort stalled in the last Congress.
But such a proposal, which has been vocally opposed by Federal Reserve Chairwoman Janet Yellen, may face its best odds ever of becoming law. Both chambers are controlled by Republicans long critical of the Fed's policies, and President-elect Donald Trump has heaped scorn on the central bank since the beginning of his presidential campaign.
"The U.S. House has responded to the American people by passing Audit the Fed multiple times, and President-elect Trump has stated his support for an audit. Let's send him the bill this Congress," said Paul.
Under the bill, the Fed's monetary policy deliberations could be subject to outside review by the Government Accountability Office.
Source: thehill.com
FOMC Minutes Show Fed Fearful Of Fiscal Policy Overshoot: "May Raise Rates Faster" 
FED OFFICIALS SAW BUSINESSES MORE OPTIMISTIC ON OUTLOOK
ABOUT HALF OF FED OFFICIALS INCLUDED FISCAL POLICY IN FORECAST
ALMOST ALL FED OFFICIALS EXPECTED LABOR MARKET OVERSHOOT
MANY OFFICIALS JUDGED FED MIGHT NEED TO RAISE RATES FASTER
Source: zerohedge.com
---
Rights
Cruz, Lee, Rubio Call on Senate Leaders to Repeal 'as Many Provisions of Obamacare as Possible'
Republican Sens. Ted Cruz of Texas, Mike Lee of Utah, and Marco Rubio of Florida are reaffirming their support for repealing Obamacare using reconciliation this year, but are calling on Senate leaders to craft a bill that goes further than previous legislation passed in 2015.
Cruz, Lee, and Rubio said they expect the repeal bill to do away with, at a minimum, the components of Obamacare repealed through a reconciliation bill crafted in 2015.
Source:  dailysignal.com
Trump Prepares Executive Orders To Begin Obamacare Repeal On "Day One"
Pence said Trump plans to take executive actions to start unwinding ObamaCare on day one: "Our first order of business will be to repeal and replace ObamaCare," Pence told reporters, adding the process would begin "day one."
The VP-elect added that "it will be an orderly transition to something better…using executive authority to ensure it's an orderly transition. We're working now on a series of executive orders that will enable that orderly transition to take place even as Congress appropriately debates alternatives to and replacements for ObamaCare."
Source: zerohedge.com
Obamacare Repeal Clears First Hurdle
And so it begins…The Republican plan to repeal Obamacare overcame its first procedural hurdle in the Senate this afternoon by a vote of 51-48.
The 54-page document, unveiled yesterday by Budget Chairman Mike Enzi, directs committees of jurisdiction to come up with Affordable Care Act legislation by Jan. 27, meaning a repeal bill could be to Donald Trump's desk by the end February, lawmakers said today.
Source: zerohedge.com
Trump team asks Homeland Security if any staff altered immigrants' personal information
President-elect Donald Trump's transition team asked the Department of Homeland Security whether any immigrants' records had been changed for any reason
Source: dailykos.com
Wikileaks Offers $20,000 Reward For Info On Obama Admin Destroying Records
WikiLeaks is offering a $20,000 reward to anyone who exposes the destruction of "significant records" by a member of the Obama administration. In a tweet on Tuesday evening, Wikileaks said "We are issuing a US$20,000 reward for information leading to the arrest or exposure of any Obama admin agent destroying significant records," however, it has not explicitly alleged that the administration is suspected of inappropriately eradicating material.
The surprising announcement may have been provoked by a previous tweeted in which Wikileaks hinted that the US government is quietly eradicating mentions of the organization from official statements: "'WikiLeaks' disappears from US govt statements. Compare 7 Oct  2016, vs 16 December, 2016 & December 29, 2016 JAR"
Source: zerohedge.com
---
War
Opinion: How the U.S. could derail North Korea's nuclear program by force
(Editor's note: This article is part of a series that examines the measures that could be taken to inhibit North Korea's nuclear weapons program. The purpose is not to consider political rhetoric or noninvasive means of coercion, such as sanctions. Rather, it is to explore military options, however remote, that are open to the U.S. and its allies.)
For instance, a U.S. strike could be conducted as part of a larger regime change operation; it could be done as part of a strategic plan to dismantle North Korea's nuclear program, allowing plenty of time for planning and preparation; or it could be done on short notice in reaction to an imminent threat.
 The first is a minimalist strike, specifically focused on dismantling the North's nuclear weapons program. In this scenario, the United States would engage North Korean nuclear objectives only. By not launching strikes on other North Korean targets, Washington leaves the door open, if only slightly, for de-escalation if Pyongyang can be convinced that the strike is not part of a regime change operation. What benefits Pentagon planners in this scenario is that a limited strike requires less resources and preparation, enhancing the element of surprise.
The second category of strike that must be considered is a comprehensive one. This scenario assumes that a U.S.-led strike against North Korea's nuclear infrastructure would inevitably escalate into full-scale war.
Source: stratfor.com
US sends 3,600 tanks against Russia – Massive NATO deployment underway
The NATO war preparation against Russia, 'Operation Atlantic Resolve', is in full swing. 2,000 US tanks will be sent in coming days from Germany to Eastern Europe, and 1,600 US tanks is deployed to storage facilities in the Netherlands. At the same time, NATO countries are sending thousands of soldiers in to Russian borders.
According to US Army Europe, 4,000 troops and 2,000 tanks will arrive in three US transport ships to Germany next weekend.
USA is sending to Russian borders 3rd Brigade of the 4th Infantry Division. Overall, more than 2,500 pieces of cargo are shipped to Germany, where those will be unloaded in the period January 6-8. US military material and troops will continue to Poland by rail and military convoy's. Massive US military deployment should be ready by January 20.
Source: dninews.com
Russia is reportedly deploying nuke-ready missiles in the province of Kaliningrad which borders Lithuania,  which is on Russian Soil
US AIR FORCE TO MODERNIZE B-52 STRATEGIC BOMBERS
The US will extend the service life of the B-52 strategic bomber up to 100 years
The US Adir Force is going to modernize the "cold war" era B-52 strategic bomber. The aircraft will be equipped with new avionics, the newest optimized means of destruction, including "air-to-ground" and "air-to-air" cruise missiles an electronic warfare drones.
Carter presented his vision of a modernized B-52 even during the debate on the 2017 budget in the Pentagon. The head of the US Defense Dept. said that the modernization of the B-52 strategic bomber will require $71 billion in the 2017 budget.
Source: southfront.org
Leaked audio reveals John Kerry pushed for intervention in Syria
A leaked audio of U.S. Secretary of State John Kerry's meeting with Syrian Opposition members at the Dutch Mission of the United Nations was released by Wikileaks this week, exposing a 35 minute conversation that was omitted by CNN.
During the conversation with the Syrian Opposition members, John Kerry admitted that he pushed for intervention in Syria, but eventually lost the argument.
'"I lost the argument for use of force in Syria," John Kerry told the members of the Syrian Opposition.
.
US coalition spared ISIS oil production facilities in Syria – Russian MoD
The US-led international coalition did not bomb oil production facilities captured by Islamic State (IS, formerly ISIS/ISIL) militants in Syria, Russian Defense Ministry spokesman Major General Igor Konashenkov has stated.
"Miraculously, only oil fields, captured by ISIS allowing the militants to earn tens of millions of dollars every month on illegal oil sales and recruit mercenaries from all over the world, did not come under the US bombardment,
Source: rt.com
---
Cyber Attacks
CNN uses Fallout 4 video game screenshot to report on Russian 'hacking' of US election
CNN has been mocked after the news network was caught using screengrabs from the popular post-apocalyptic video game Fallout 4 in a story about "Russian hacking."
Vigilant Reddit user Poofylicious spotted something familiar about a recent story about President Barack Obama imposing sanctions on Russia over alleged "Russian interference in the 2016 election."
Source: hangthebankers.com
The US administration is "is 100% certain in the role that Russia played" in election-related hacking,
State Department Spokesman John Kirby told CNN.
"There's no question" about what Russia did to "sow doubt and confusion, and getting involved through the cyber domain, into our electoral process,"
895 IP Addresses Only 2 Are From Russia
To see the evidence of Russian hacking first hand, I downloaded the CSV file and converted it into a spreadsheet. The CSV file and the XML file both contained the same data. Here is the XML link to this data which can be viewed online in a web browser.
https://www.us-cert.gov/sites/default/files/publications/JAR-16-20296.xml
Both files provide a list of 895 "indicators" of Russian Hacking. Unfortunately, nearly all of these indicators are simply IP addresses. In other words, it is a list of 895 servers from from more than 40 countries around the world. But the list also includes a few website domain names. (Domain names are simply the name of the website such as Youtube.com). I looked up these website domain names with the the following tool which tells us who owns the domain names and where they are located:
, there were two Russian servers located on lines 259 and 261. Here are the IP addresses.
93.171.203.244
95.105.72.78
Here is more information about each of these:
93.171.203.244 This is a clean broadband server located near Ufa which is a city in Russia with one million people. It is associated with an organization called Miragroup Ltd. The website is rxbrothers.ru. Naturally, this is a fake domain name which is available to be purchased. Miragroup is actually a corporation located in Great Britain.
95.105.72.78 is another clean broadband server located near Ufa. The organization is JSC Ufanet and the website is ufanet.ru which is a public broadband service started in 1997. Someone apparently is using this broadband service to hack the US government. Could this be the smoking gun that the Russian government is attacking the US? Think about it. If you were a Russian hacker, would you really use a public server located in some Russian town? I don't think so. This is more like evidence that some hacker was using the local public library.
Source: turningpointnews.org
Trump Reveals "Very Strange" Delay In Russian Intelligence Briefing 
 President-elect Trump reveals that the intelligence briefing he is supposed to receive on the alleged Russian hacking has now been delayed until Friday...
The "Intelligence" briefing on so-called "Russian hacking" was delayed until Friday, perhaps more time needed to build a case. Very strange!
Source: zerohedge.com
CIA, FBI Directors to be at Trump's Briefing on Russia Hacking on Friday
Trump spokesman Sean Spicer confirmed that the head of the Federal Bureau of Investigation (FBI), Central Intelligence Agency (CIA) and Director of National Intelligence will attend a scheduled briefing about Russian hacking and the US election with President-elect Donald Trump.
Source: sputniknews.com
Exclusive: IP address at Ontario power utility linked to alleged Russian hacking
U.S. Homeland Security and the FBI have warned that Ontario's main electricity distributor may have been the target of malicious Russian cyber-activity.
Russia has denied any wrongdoing.
An IP address at Hydro One was among hundreds of malicious addresses identified in online scanning by the U.S. government as it investigated alleged Russian hacking of the Democratic National Committee.
The discovery suggests Russia may have secretly downloaded malicious software onto computers at Hydro One, which runs most of the province's transmission lines.
Source: ctvnews.ca