---
Send us your Sentinel Alert to Submit Sentinel Alert:
---
---
Scroll Down To See More News Alerts
03.24.17 –  What Is CrowdStrike? Firm Hired By DNC Has Ties To Hillary Clinton, A Ukrainian Billionaire, And Google
In yesterday's post, Credibility of Cyber Firm that Claimed Russia Hacked the DNC Comes Under Serious Question, I examined how CrowdStrike, the cybersecurity firm hired by the DNC to look into its hacking breach, had been exposed as being completely wrong about a separate attack it claimed originated from the same group it claimed broke into DNC systems, and supposedly works for Russia's military intelligence unit, GRU. Here's some of what we learned:
 An influential British think tank and Ukraine's military are disputing a report that the U.S. cybersecurity firm CrowdStrike has used to buttress its claims of Russianhacking in the presidential election.

The CrowdStrike report, released in December, asserted that Russians hacked into a Ukrainian artillery app, resulting in heavy losses of howitzers in Ukraine's war with Russian-backed separatists.

But the International Institute for Strategic Studies (IISS) told VOA that CrowdStrike erroneously used IISS data as proof of the intrusion. IISS disavowed any connection to the CrowdStrike report. Ukraine's Ministry of Defense also has claimed combat losses and hacking never happened.

The challenges to CrowdStrike's credibility are significant because the firm was the first to link last year's hacks of Democratic Party computers to Russian actors, and because CrowdStrike co-founder Dimiti Alperovitch has trumpeted its Ukraine report as more evidence of Russian election tampering.

Yaroslav Sherstyuk, maker of the Ukrainian military app in question, called the company's report "delusional" in a Facebook post. CrowdStrike never contacted him before or after its report was published, he told VOA.

VOA first contacted IISS in February to verify the alleged artillery losses. Officials there initially were unaware of the CrowdStrike assertions. After investigating, they determined that CrowdStrike misinterpreted their data and hadn't reached out beforehand for comment or clarification.

CrowdStrike declined to answer VOA's written questions about the Ukraine report, and Alperovitch canceled a March 15 interview on the topic. In a December statement to VOA's Ukrainian Service, spokeswoman Ilina Dimitrova defended the company's conclusions.
Seems like pretty extraordinary incompetence. Either that, or something else was potentially at play; namely, a desire to push the narrative that Russia hacked the DNC, irrespective of the facts.
The whole things gets even more disturbing the more you look.
For example, Counterpunch put out a very important article earlier today on the topic, adding several crucial nuggets of information.
First there's this:
 The investigation methods used to come to the conclusion that the Russian Government led the hacks of the DNC, Clinton Campaign Chair John Podesta, and the DCCC were further called into question by a recent BuzzFeed report by Jason Leopold, who has developed a notable reputation from leading several non-partisan Freedom of Information Act lawsuits for investigative journalism purposes. On March 15 that the Department of Homeland Security released just two heavily redacted pages of unclassified information in response to an FOIA request for definitive evidence of Russian election interference allegations. Leopold wrote, "what the agency turned over to us and Ryan Shapiro, a PhD candidate at MIT and a research affiliate at Harvard University, is truly bizarre: a two-page intelligence assessment of the incident, dated Aug. 22, 2016, that contains information DHS culled from the internet. It's all unclassified — yet DHS covered nearly everything in wide swaths of black ink. Why? Not because it would threaten national security, but because it would reveal the methods DHS uses to gather intelligence, methods that may amount to little more than using Google."
That's weird enough, but it gets far stranger. For example:
 In lieu of substantive evidence provided to the public that the alleged hacks which led to Wikileaks releases of DNC and Clinton Campaign Manager John Podesta's emails were orchestrated by the Russian Government, CrowdStrike's bias has been cited as undependable in its own assessment, in addition to its skeptical methods and conclusions. The firm's CTO and co-founder, Dmitri Alperovitch, is a senior fellow at the Atlantic Council, a think tank with openly anti-Russian sentiments that is funded by Ukrainian billionaire Victor Pinchuk, who also happened to donate at least $10 million to the Clinton Foundation.

In 2013, the Atlantic Council awarded Hillary Clinton it's Distinguished International Leadership Award. In 2014, the Atlantic Council hosted one of several events with former Ukrainian Prime Minister Arseniy Yatsenyuk, who took over after pro-Russian President Viktor Yanukovych was ousted in early 2014, who now lives in exile in Russia.
Recall that the FBI was denied access to the DNC servers by the DNC itself, and simply agreed to rely on the results provided by CrowdStrike, which as you can see has ties to all sorts of anti-Russia organizations and individuals. I find it absolutely remarkable that James Comey head of the FBI outsourced his job to CrowdStrike.
There remains zero evidence that Russia hacked the DNC. I repeat, there remains zero evidence that Russia hacked the DNC.
As cybersecurity expert Jeffrey Carr noted:
 Jeffrey Carr called the FBI/Department of Homeland Security Report, the only alleged evidence released by intelligence officials, released in late December 2016 a "fatally flawed effort" that provided no evidence to substantiate the claims that the Russian government conducted the hacks, though that's what it was purported to do.
Absolutely remarkable, but there's more. As TechCrunch reported back in 2015:
 If you need proof that security is a red hot market these days, how about this morning's announcement that cybersecurity company CrowdStrike landed a $100 million Series C investment round?

The round was led by Google Capital with Rackspace, which happens to be one of the company's customers also investing. Existing investors Accel and Warburg Pincus also participated. Today's investment brings the total to-date to $156 million.
Why do I find it interesting that Google was a major investor in CrowdStrike? Well for one, we know that Chairman of Alphabet, Inc. (Google's parent company), Eric Schmidt, was actively working to help the Hillary campaign. As I highlighted in the 2015 post,Meet "Groundwork" – Google Chairman Eric Schmidt's Stealth Startup Working to Make Hillary Clinton President:
 An under-the-radar startup funded by billionaire Eric Schmidt has become a major technology vendor for Hillary Clinton's presidential campaign, underscoring the bonds between Silicon Valley and Democratic politics.

The Groundwork, according to Democratic campaign operatives and technologists, is part of efforts by Schmidt—the executive chairman of Google parent-company Alphabet—to ensure that Clinton has the engineering talent needed to win the election. And it is one of a series of quiet investments by Schmidt that recognize how modern political campaigns are run, with data analytics and digital outreach as vital ingredients that allow candidates to find, court, and turn out critical voter blocs.

There is also another gap in play: The shrinking distance between Google and the Democratic Party. Former Google executive Stephanie Hannon is the Clinton campaign's chief technology officer, and a host of ex-Googlers are currently employed as high-ranking technical staff at the Obama White House. Schmidt, for his part, is one of the most powerful donors in the Democratic Party—and his influence does not stem only from his wealth, estimated by Forbes at more than $10 billion.

According to campaign finance disclosures, Clinton's campaign is the Groundwork's only political client. Its employees are mostly back-end software developers with experience at blue-chip tech firms like Netflix, Dreamhost, and Google.
Since Democrats seem so obsessed with the saying these days, "where there's smoke there's fire," and there's plenty of smoke here.
Source: libertyblitzkrieg.com
03.24.17 –   Nunes Calls Comey, Rogers For "Closed Session" After Finding "Concerning Info" In Intel Reports
Last night we highlighted a Fox News story which suggested that Devin Nunes expected the NSA to deliver a "smoking gun" which would prove that the Obama administration spied on the Trump transition team, and possibly the president-elect himself, as early as today.
Moments ago, Nunes fanned that speculation by holding an impromptu press conference announcing that he'll call both FBI Director Comey and NSA Director Rogers before a closed session of the House Intelligence Committee to discuss topics which "they couldn't answer in a public setting."
And some early takeaways:
  "There are just questions that we have for Dir. Comey and Adm. Rogers probably that they couldn't answer in a public setting."
Nunes also revealed that President Trump's former campaign manager, Paul Manafort, has volunteered to testify before the House Intelligence Committee on his alleged connections to Russia.
 "We thank Mr. Manafort for volunteering and encourage others with knowledge of these issues to voluntarily interview with the committee."
Nunes continues to decline requests from the press to reveal his sources…
 But did confirm there was "no wiretapping of Trump Tower; That didn't happen"
This follows Nunes's appearance on Fox News last night in which he declared he had an obligation to raise issues he's discovered about the unmasking of Americans' names during serveillance.
 @DevinNunes on "incidental" surveillance revelations: I had a duty and obligation to tell the President.

"What I saw had nothing to do with Russia. This has nothing to do with the Russia investigation."

"The lack of a leak investigation is quite concerning. We need to make sure that these leaks are being tracked down."

I have information that indicates Americans' names were unmasked during surveillance.

"Clearly when I see a problem, I'm going to point it out."

"Names for sure if they're picked up in any incidental collection of any kind, they should be minimized."
 Meanwhile, proving that Nunes may actually be on to something here, WaPo has quickly called for an immediate investigation into his behavior.
Source: zerohedge.com
03.24.17 –  NSA To Provide "Smoking Gun" Proof Obama Spied On Trump
Yesterday, Republican Devin Nunez Nunes held an explosive press conference outside the White House in which he told reporters that communications from the Trump team were picked up and disseminated within the government during the 2016 campaign.
Not surprisingly, the comments ruffled some liberal feathers and the mainstream media launched an immediate smear campaign calling for Nunes to resign his post immediately.
Now, according to Fox News sources, congressional investigators expect that a potential "smoking gun" from the NSA establishing that the Obama administration spied on the Trump transition team, and possibly the president-elect himself, will be produced to the House Intelligence Committee as early as tomorrow.
 The intelligence is said to leave no doubt the Obama administration, in its closing days, was using the cover of legitimate surveillance on foreign targets to spy on President-elect Trump, according to sources.

The FBI hasn't been responsive to the House Intelligence Committee's request for documents, but the National Security Agency is expected to produce documents to the committee by Friday. The NSA document production is expected to produce more intelligence than Nunes has so far seen or described – including what one source described as a potential "smoking gun" establishing the spying.

Classified intelligence showing incidental collection of Trump team communications, purportedly seen by committee Chairman Devin Nunes, R-Calif., and described by him in vague terms at a bombshell Wednesday afternoon news conference, came from multiple sources, Capitol Hill sources told Fox News. The intelligence corroborated information about surveillance of the Trump team that was known to Nunes, sources said, even before President Trump accused his predecessor of having wiretappedhim in a series of now-infamous tweets posted on March 4.

The key to that conclusion is the unmasking of selected U.S. persons whose names appeared in the intelligence, the sources said, adding that the paper trail leaves no other plausible purpose for the unmasking other than to damage the incoming Trump administration.
Because Nunes's intelligence came from multiple sources during a span of several weeks, and he has not shared the actual materials with his committee colleagues, he will be the only member of the panel in a position to know whether the NSA has turned over some or all of the intelligence he is citing.
If true, of course, this could put a 'slight' taint Obama's claim of a "scandal free" eight years in the White House.
* * *
For those who missed it, here was Nunes's press conference from yesterday:
The FBI is not cooperating with the House of Representatives' investigation into the NSA's surveillance of the Trump campaign during the 2016 election, the chairman of the U.S. House Permanent Select Committee, Devin Nunes said in a press conference on Wednesday afternoon.
In the aftermath of today's most stunning news report, namely the confirmation that Trump may have been right all along following the admission of House Intel Committee Chair Devin Nunes that the communications of Trump's aides and the president himself had been "incidentally" monitored, Nunes held an explosive press conference outside the White House in which told reporters that communications from the Trump team were picked up and disseminated within the government during the 2016 campaign. Nunes said sources within the intelligence community presented him with the information. He spoke to the press after briefing the administration.
Nunes said that he had briefed the president about his concerns over the "incidental" collection of data, adding that the president "needs to know" that these intel reports exist, and adding ominously that "some of what I've seen seems to be inappropriate."
Nunes also said that Trump, others in the transition team were put into the intelligence report and asked if Trump should be in these "normal" reports.
But what was perhaps most troubling in Nunes presser is that in the aftermath of Monday's Congressional hearing with James Comey in which the FBI director said on the record there had been no surveillance of Trump, is the House Intel Commission chair's statement that the FBI is not cooperating with the investigation.
"We don't actually know yet officially what happened to General Flynn," Nunes said of how communications from Gen. Flynn's calls were leaked to the press. "We just know that his name leaked out but we don't know how it was picked up yet. That was one of the things that we asked for in the March 15th letter, was for the NSA, CIA, and FBI to get us all the unmasking that was done."
"And I'll tell you, NSA is being cooperative," Nunes continued, "but so far the FBI has not told us whether or not they're going to respond to our March 15th letter, which is now a couple of weeks old."
Nunes also reported that as of now, he "cannot rule out" President Obama ordering the surveillance.
Finally, and contrary to earlier media reports, Nunes clarified that the surveillance was not related to the FBI's investigation into possible collusion with Russia. This surveillance, he emphasized to reporters, does not "have anything to do with Russia." As a reminder, this has been the strawman argument proposed by much of the liberal media, which has said that a wiretapping of Trump or his aides, would only confirm that his relations with Russia were suspect and thus prompted a FISA warrant.
If Nunes is correct, and Trump was being wiretapped for reasons having nothing to do with Russia, that entire narrative falls apart, and the press will now have to spend the next few weeks building up an entirely new narrative to "justify" why Trump was being wiretapped on Obama's watch.
Source: zerohedge.com
03.23.17 – The Divided Deep State Is A Symptom, Not The Disease
If we understand the profound political disunity fracturing the nation and its Imperial Project, we understand the Deep State must also fracture along the same fault lines.
I've been writing about the divided Deep State for a number of years, most recently in The Conflict within the Deep State Just Broke into Open Warfare. The topic appears to be one of widespread interest, as this essay drew over 300,000 views.
It's impossible to understand the divided Deep State unless we situate it in the larger context of profound political disunity, a concept I learned from historian Michael Grant, whose slim but insightful volume The Fall of the Roman Empire I have been recommending since 2009.
As I noted in my 2009 book Survival+, this was a key feature of the Roman Empire in its final slide to collapse. The shared values and consensus which had held the Empire's core together dissolved, leaving petty fiefdoms to war among themselves for what power and swag remained.
A funny thing happens when a nation allows itself to be ruled by Imperial kleptocrats: such rule is intrinsically destabilizing, as there is no longer any moral or political center to bind the nation together. The public sees the value system at the top is maximize my personal profit by whatever means are available, i.e. complicity, corruption, monopoly and rentier rackets, and they follow suit by pursuing whatever petty frauds and rackets are within reach: tax avoidance, cheating on entrance exams, gaming the disability system, lying on mortgage and job applications, and so on.
But the scope of the rentier rackets is so large, the bottom 95% cannot possibly keep up with the expanding wealth and income of the top .1% and their army of technocrats and enablers, so a rising sense of injustice widens the already yawning fissures in the body politic.
Meanwhile, diverting the national income into a few power centers is also destabilizing, as Central Planning and Market Manipulation (a.k.a. the Federal Reserve) are intrinsically unstable as price can no longer be discovered by unfettered markets. As a result, imbalances grow until some seemingly tiny incident or disruption triggers a cascading collapse, a.k.a. a phase shift or system re-set.
As the Power Elites squabble over the dwindling crumbs left by the various rentier rackets, there's no one left to fight for the national interest because the entire Status Quo of self-interested fiefdoms and cartels has been co-opted and is now wedded to the Imperial Oligarchy as their guarantor of financial security.
The divided Deep State is a symptom of this larger systemic political disunity. I have characterized the divide as between the Wall Street-Neocon-Globalist Neoliberal camp–currently the dominant public face of the Deep State, the one desperately attempting to exploit the "Russia hacked our elections and is trying to destroy us" narrative–and a much less public, less organized "rogue Progressive" camp, largely based in the military services and fringes of the Deep State, that sees the dangers of a runaway expansionist Empire and the resulting decay of the nation's moral/political center.
What few observers seem to understand is that concentrating power in centralized nodes is intrinsically unstable. Contrast a system in which power, control and wealth is extremely concentrated in a few nodes (the current U.S. Imperial Project) and a decentralized network of numerous dynamic nodes.
The disruption of any of the few centralized nodes quickly destabilizes the entire system because each centralized node is highly dependent on the others. This is in effect what happened in the 2008-09 Financial Meltdown: the Wall Street node failed and that quickly imperiled the entire economy and thus the entire political order, up to and including the Global Imperial Project.
Historian Peter Turchin has proposed that the dynamics of profound political disunity (i.e. social, financial and political disintegration) can be quantified in a Political Stress Index, a concept he describes in his new book Ages of Discord.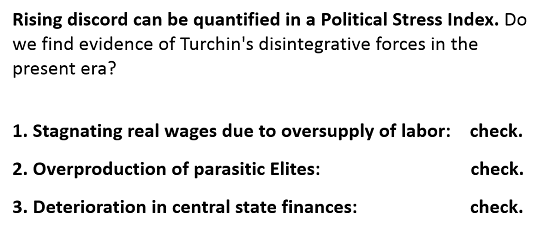 If we understand the profound political disunity fracturing the nation and its Imperial Project, we understand the Deep State must also fracture along the same fault lines. There is no other possible output of a system of highly concentrated nodes of power, wealth and control and the competing rentier rackets of these dependent, increasingly fragile centralized nodes.
Source: charleshughsmith.blogspot.com
03.23.17 – 9 Years Later… Greece Is Still In A Debt Crisis!
On one side of the Atlantic, we have the United States of America, which triggered yet another debt ceiling disaster last Thursday when the US government's maximum allowable debt reset to just over $20 trillion.
Of course, the US national debt is pretty much already at $20 trillion.
(That's roughly $166,000 per taxpayer in the Land of the Free.)
This means that Uncle Sam is legally prohibited from 'officially' borrowing any more money.
But far be it from the US government to start living within its means. Sacrilege!
These guys have zero chance of making ends meet without going into debt.
Just last year, according to the government's own financial report, their annual net loss totaled $1 TRILLION, and the national debt increased by $1.4 trillion.
And that was in a relatively stable year. There was no major war or financial crisis to fight. It was just business as usual.
This year isn't going to be any different.
So, cut off from their normal debt supply (the bond market), the Treasury Department is resorting to what they call "extraordinary measures."
They're basically pillaging government employee retirement funds, and will continue to do so until Congress raises the debt ceiling.
It's a repeat of what happened in 2015. And 2013. And 2011.
Pretty amazing to consider that the "richest" country in the world has to plunder retirement funds in order to keep the lights on.
Former US Treasury Secretary Larry Summers said it perfectly when he quipped "How long can the world's biggest borrower remain the world's biggest power?"
Then, of course, on the other side of the Atlantic, we have Greece, which is now in its NINTH YEAR of a major debt crisis.
Incredible.
Greece has had nine different governments since 2009. At least thirteen austerity measures. Multiple bailouts. Severe capital controls. And a full-out debt restructuring in which creditors accepted a 50% loss.
Yet despite all these measures GREECE IS STILL IN A DEBT CRISIS.
Right now, in fact, Greece is careening towards another major chapter in its never-ending debt drama.
Just like the United States, the Greek government is set to run out of money (yet again) in a few months and is in need of a fresh bailout from the IMF and EU.
(The EU is code for "Germany"…)
Without another bailout, Greece will go bust in July– this is basic arithmetic, not some wild theory.
And this matters.
If Greece defaults, everyone dumb enough to have loaned them money will take a BIG hit.
This includes a multitude of banks across Germany, Austria, France, and the rest of Europe.
Many of those banks already have extremely low levels of capital and simply cannot afford a major loss.
(Last year, for example, the IMF specifically singled out Germany's Deutsche Bank as being the top contributor to systemic risk in the global financial system.)
So a Greek default poses as major risk to a number of those banks.
More importantly, due to the interconnectedness of the financial system, a Greek default poses a major risk to anyone with exposure to those banks.
Think about it like this: if Greece defaults and Bank A goes down, then Bank A will no longer be able to meet its obligations to Bank B. Bank B will suffer a loss as well.
A single event can set off a chain reaction, what's called 'contagion' in finance.
And it's possible that Greece could be that event.
This is what European officials have been so desperate to prevent for the last nine years, and why they've always come to the rescue with a bailout.
It has nothing to do with community or generosity. They're hopelessly trying to prevent another 2008-style meltdown of the financial system.
But their measures have limits.
How much longer do Greek citizens accept being vassals of Germany, suffering through debilitating capital controls and austerity measures?
How much longer do German taxpayers continue forking over their hard-earned wages to bail out Greek retirees?
After all, they've spent nine years trying to 'fix' Greece, and the situation has only become worse.
For a continent that has been at war with itself for 10 centuries and only managed to play nice for the last 30 or so years, it's foolish to expect these bailouts to last forever.
And whether it's this July or some date in the future, Greece could end up being the catalyst which sets off a chain reaction on both sides of the Atlantic.
Source: sovereignman.com
03.22.17 – Bombshell: Nunes Says There Was "Incidental Surveillance" Of Trump During Obama Administration
It appears Trump may have been right, again
Two days after FBI director Comey shot down Trump's allegation that Trump was being wiretapped by president Obama before the election, it appears that president Trump may have been on to something because moments ago Politico reported that according to the House Intelligence Chairman, Devin Nunes, "members of the Donald Trump transition team, possibly including Trump himself, were under surveillance during the Obama administration following November's election", he told reporters on Wednesday.
As AP confirms, Nunes said that President Donald Trump's communications may have been "monitored" during the transition period as part of an "incidental collection."
Nunes told a news conference Wednesday that the communications appear to be picked up through "incidental collection" and do not appear to be related to the ongoing FBI investigation into Trump associates' contacts with Russia. He says he believes the intelligence collections were done legally, although in light of the dramatic change in the plotline it may be prudent to reserve judgment on how "incidental" it was.
BREAKING!!! Rep Devin Nunes (Intel Cmte Chmn):
There was "Incidental collection" of @realDonaldTrump thru IC surveillance <- BOMBSHELL
Nunes says the communications of Trump associates were also picked up, but he did not name those associates. He says the monitoring mostly occurred in November, December and January. He added that he learned of the collection through "sources" but did not specify those source
Politico adds that Nunes is going to the White House later Wednesday to brief the Trump administration on what he has learned, which he said came from "sources."
Nunes says he is "bothered" by this. Won't say whether or not intel community spied on Trump et. al. But says he is "concerned."
While there are no further details, we look forward to how the media narrative will change as a result of today's latest dramatic development.
Source: zerohedge.com
03.22.17 –  Gunfire Reported Outside UK Parliament: Two People Shot, Man With Knife Seen On The Grounds: Building On Lockdown
Update: One Woman Has Died After An SUV "Mows Down" Pedestrians On Westminster Bridge; Assailant Shot In "Terrorist Incident"
Summary of the rapidly changing situation, which has taken place on the one year anniversary of the March 2016 Brussels Massacre:
An assailant was shot outside the British parliament by armed police, the leader of the House of Commons said on Wednesday after loud bangs were heard and a Reuters photographer saw at least a dozen injured people on a nearby bridge.
A four-wheeled drive SUV said to have driven over Westminster Bridge knocking down pedestrians this afternoon, which according to VoA reports have lead to at least five casualties
Knifeman then got into the grounds of Parliament where he reportedly stabbed a police officer
The 'middle-aged' attacker was then shot by armed officers as the area was cleared by emergency services
As SkyNews summarizes the sequence of events, the attacker drove into people on Westminster bridge, drove to Parliament Square, stabbed police officer and was shot by police
At least one woman has been reported dead in the parliament attack according to a doctor quoted by the Press Association.
The London Police say they are treating the parliament attack as a terror incident.
Parliament was suspended and the Prime Minister was rushed from the scene in an unmarked police car
The UK Commons leader adds that a man policeman was apparently stabbed and that the assailant has been shot.
A parliamentary official earlier said two people had been shot outside parliament and the building was in lockdown. The House of Commons session was suspended and members of parliament who were in the chamber were told to remain there.
A Reuters reporter inside the building said medical staff were treating two people inside the gates of the parliamentary estate.
Shots have been reportedly fired outside UK parliament in London, where two people have been reportedly shot outside the gates to parliament, Reuters and Bloomberg report with iTV adding that explosions heard outside British Parliament, the building on lockdown.
According to SkyNews, waves of people' have been seen running from Parliament amid reports of gunfire.
As BBC adds, politicians and journalists have tweeted about hearing loud crashes outside the buildings, as witnesses said they saw people being treated for injuries.  
Witnesses have reported seeing a man with a knife within the palace grounds.
A police officer has also told a BBC's political editor that someone has been shot outside Portcullis House.
SHOTS FIRED OUTSIDE U.K. PARLIAMENT IN LONDON: BBG
PEOPLE ON GROUND ARE WITHIN PRECINCTS OF PARLIAMENT IN LONDON
HOUSE OF COMMONS SITTING HAS BEEN SUSPENDED
AT LEAST ONE PERSON BEING TREATED, HELD AT GUNPOINT BY POLICE
ARMED POLICE SEEN RUNNING TO EXIT FROM UK PARLIAMENT – REUTERS WITNESS
Shots fired outside Parliament. Loud explosion then shooting. Man lying shot outside gates to Parliament. Gun shots outside, Frightening.
Reuters: BREAKING: Two people shot outside UK parliament, building in lock down – parliamentary official
BREAKING: A car has driven into the railings of parliament. MPs panicking in the underground.
#BREAKING: Initial reports of two shot, explosions heard outside British Parliament, building on lockdown
Source: zerohedge.com
03.22.17 –   Paul Craig Roberts Exposes "The Conspiracy Against President Trump"
Listening to the broadcast of testimony by FBI Director Comey and National Security Agency Director Admiral Michael Rogers before the House Intelligence Committee (an oxymoron) made it clear that the Democrats, Comey, and Rogers intend conflict with Russia.
The Republicans, for the most part, were interested to know how security leaks targeted at Trump Republicans came from meetings at which only the CIA Director, NSA Director, and FBI director were present.
Of course, they did not get an answer, which shows how powerless congressional oversight committees are. Comey repeatedly said that he could not tell the committee anything, because it would confirm that a press leak was true. But, he said, speaking generally and of no specific leak, most leaks come from "someone who heard something" and passes it on to the media, which also explains the inaccuracy of some leaks. In other words, don't blame us.
The Democrats were out in force to demonize Russia, Putin, and everyone, especially Trump Republicans, who speaks to a Russian even if the person is still a private citizen, as was Gen. Flynn when he recommended to the Russian ambassador that Russia not respond in kind to President Obama's expulsion of Russian diplomats over Christmas.
The Democrats bestowed yet another demonic title on Putin. In addition to being "the new Hitler," a "thug," and a "Mafia don," today Putin became a "tarantula in the center of the spy web."
The Democrats' position was that Flynn, by discouraging a Russian tit for tat, had interfered with the Obama regime's policy of worsening relations between the US and Russia. Some Democrats saw this as treason. Others saw it as proof that Flynn and Trump are in Putin's pocket, and still others see it as even worse.
The Democrats were also very concerned about lobbyists, if they be Republican, working for Russian interests, including Tillerson, the Secretary of State. The fact that every country employs lobbyists and that the lobbyists don't always register as foreign agents, such as Israel's lobbyists, or if news reports at the time were correct, neocon Richard Perle who represented Turkey in Washington.
Democrats were also after Gen. Flynn for saying that he had not received money from the Russian government. Flynn received a fee for attending the 10th Anniversary celebration of RT in Moscow. Is RT, a news organization, the Russian government? Its budget is supported by the Russian government, but how does this differ from the US government's support of the budgets of National Public Radio, Radio Free Europe/Radio Liberty, Voice of America? Does this mean that everyone who gives an interview to NPR, Radio Liberty, and VOA is an American agent in the pocket of the US president? If you attend a function of one of these organizations, does it make you an "American agent/dupe"? Will there be a list of these people?
What the Democrats tried to do yesterday was to criminalize everyone who works for better relations between the US and Russia. To be for peace between the nuclear powers is to be a Russian agent and to be put on a list. The Democrats insisted that Russia was an enemy out to get us, and the Democrats had no difficulty getting Comey and Rogers, both Obama appointees, to agree.
Comey and Rogers said that Russia was the main threat to the US, was working against our interests, and intends to harm us. Harming us includes opposing US hegemony and unilateralism. In other words, if the Russian government acts in the interests of Russia, the Russian government is harming the US. From the testimony it clearly emerged that any kind of opposition to anything Washington does is against American interests.
Both Comey and Rogers declared, falsely, that Russia had invaded Ukraine and seized Crimea by force. If Comey and Rogers are so poorly informed that they believe this, they are unfit for office. Crimea has been a part of Russia for 300 years. The population is almost entirely Russian. When the Soviet Union collapsed and Washington broke it apart, the Ukraine became independent for the first time in history. Crimea, which had been transferred by Khrushchev in 1954 from the Russian Soviet Socialist Republic to the Ukrainian Soviet Socialist Republic, was included in the transfer on the condition that Russia had a long term lease on the naval base in Crimea.
When Washington's coup overthrew the democratically elected government in Ukraine, the Russian populations in Crimea, and in the new republics of Luhansk and Donetsk, were attacked and threatened by the neo-nazi elements in eastern Ukraine that had fought for Hitler against the Soviet Union. The populations of these areas voted overwhelmingly to reunite with Russia, from whence they had come. The votes were fair and open. As Crimea is the Russian Navy's Black Sea base, Crimea was already occupied by Russian forces. For Comey and Rogers to call this an "invasion" displays either ignorance or a lack of integrity.
Indeed, the lack of integrity of the FBI, NSA, CIA, and Obama regime is evidenced by the sustained campaign of lies, distortions, and targeted "news leaks," that is, stories planted on the presstitutes by the intelligence services about Russian interference in the presidential election. It is all about protecting the massive military/security budget and powers. Trump threatened both the budget and the power when he declared that his policy would be to normalize relations with Russia. If relations are normalized, the carefully orchestrated "Russian threat" disappears. The intelligence services are not willing for this to happen. The US intelligence services prefer the risk of nuclear Armageddon to a budget cut.
The Democrats are probably not sufficiently intelligent to understand that they are fanning the flames of war between nuclear powers. The Democrats are desperate to find someone on whom to pin their loss of the election. Moreover, by pinning it on a conspiracy between Trump and Putin, they hope to remove Trump from office. Although Pence, who is a Russophobe, is acceptable to the military/security complex, the Democrats have hopes of clearing out Pence as well, as his election resulted from the alleged conspiracy, and reinstalling themselves in the White House.
Americans need to understand that the political competition between the Democrats and Republicans is over which party gets to collect the money for being the whore for the One Percent. Traditionally, the party in the White House gets most of the money, so that is where both parties want to be.
Michael Morell, a supporter of Hillary Clinton and President Obama's last CIA director in an acting capacity, who was slated to become CIA director under Hillary, said, "On the question of the Trump campaign conspiring with the Russians, there is smoke, but there is no fire, at all. There's no little campfire, there's no little candle, there's no spark. And there's a lot of people looking for it." 
Morell does believe that it was the Russians who hacked Hillary's incriminating emails but not in collusion with Trump, although the evidence is that they were a leak from inside the Democratic National Committee by disaffected supporters of Bernie Sanders.
Obama's Director of National Intelligence James Clapper said on Meet the Press on March 5 that he had seen no evidence of a Putin-Trump conspiracy when he left office on January 20.
Listening to Comey and Rogers yesterday, if they are not working against President Trump, what would classify as working against Trump? Trump supporters ask why Trump doesn't fire these two men who are working to block a reduction in the dangerous tensions between Washington and Russia. Are the Democrats, Comey, Rogers, the CIA and their media whores so stupid that they don't understand what it means when the President of Russia says, "the Americans have destroyed our trust in them?"
Trump doesn't fire Comey and Rogers, because he cannot fire them. If he fires them, the Democrats and presstitutes will explain the firings as proof that Trump is a Russian agent and is covering up his treason by removing those investigating it.
Trump is trying to use Twitter to respond to the orchestrated media assault against him and to achieve some organization among his supporters, the working class that elected him. However, Trump cannot even count on the Republican Party. Most Republicans are also dependent on political contributions from the military/security complex, and Republicans know that the intelligence agencies have all the dirt on them. To fight for Trump is to expose themselves.
It is undeniable that the CIA controls the media, both in Europe and in the US. Udo Ulfkotte's book, Gekauftge Journalisten, exposed the CIA's hold on European journalists when it was published in Germany in 2014. An English language edition, Journalists for Hire: How the CIA Buys the News, is due out in May. In the meantime Joel Whitney's book, Finks: How the C.I.A. Tricked the World's Best Writers, suffices to establish that America's most respected journalists drank the CIA's Kool-Aid "and thought they were saving freedom" by serving as propagandists.
People in the West need to understand that if the news they receive bears on the interests of the US military/security complex, the news is scripted by the CIA. The CIA serves its interests, not the interests of the American people or the interests of peace.
Source:  paulcraigroberts.org
03.21.17 – Dear America: Better Read The Fine Print On Your Credit Card Statement
What will replace the current system after it self-destructs? That's the question.
You know those disclosures on your credit card statements? That it will take 27 years to pay off your balance if you only make the minimum payment each month, and so on?
You might not be aware of it, but America's "credit card"–our national debt–comes with its own disclosure statement: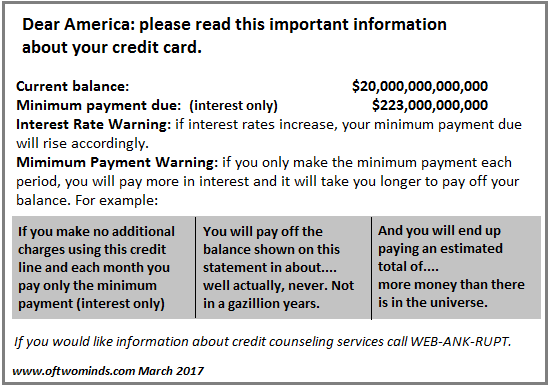 Here's a chart of America's credit card: clearly, any credit line expanding this fast will bankrupt the borrower, regardless of their income.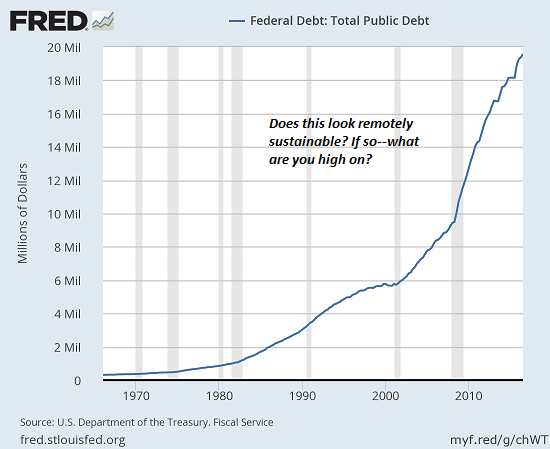 I often refer to debt serfdom, the servitude debt enforces on borrowers. The mechanism of this servitude is interest, and today I turn to two knowledgeable correspondents for explanations of the consequences of interest.
Correspondent D.L.J. explains how debt/interest is the underlying engine of rising income/wealth disparity:
If we use $18 trillion as the approximate GDP and a growth rate of, say, 3.5%, the total of goods and services would increase one year to the next by about $600 billion.

Meanwhile, referencing the Grandfather national debt chart with the USDebtClock data, the annual interest bill is $3 trillion.

In other words, those receiving interest are getting 5 times more than the increase in gross economic activity.

Using your oft-referenced Pareto Principle, about 80% of the population are net payers of interest while the other 20% are net receivers of interest.

Also, keep in mind that one does not have to have an outstanding loan to be a net payer of interest. Whenever one buys a product that any part of its production was involving the cost of interest, the final product price included that interest cost. The purchase of that product had the interest cost paid by the purchaser.

Again using the Pareto concept, of the 20% who receive net interest, it can be further divided 80/20 to imply that 4% receive most (64%?) of the interest. This very fact can explain why/how the system (as it stands) produces a widening between the haves and the so-called 'have nots'.
Longtime correspondent Harun I. explains that the serfdom imposed by debt and interest is not merely financial servitude–it is political serfdom as well:
  As both of us have stated, you can create all of the money you want, however, production of real things cannot be accomplished with a keystroke.

Then there is the issue of liberty. Each Federal Reserve Note is a liability of the Fed and gives the bearer the right but not the obligation to purchase — whatever the Fed deems appropriate. How much one can purchase keeps changing base on a theory-driven experiment that has never worked. Since the Fed is nothing more than an agent of the Central State, the ability to control what the wages of its workers will purchase, is a dangerous power for any government.

If a Federal Reserve Note is a liability of the central bank, then what is the asset? The only possible answer is the nations productivity. So, in essence, an agent of the government, the central bank, most of which are privately owned (ownership is cloaked in secrecy) owns the entire productive output of free and democratic nation-states.

People who speak of liberty and democracy in such a system only delude themselves.

Then there is the solution, default. That only resolves the books, the liability of human needs remain. Bankruptcy does not resolve the residue of social misery and suffering left behind for the masses who became dependent on lofty promises (debt). These promises (debts) were based on theories that have reappeared throughout human history under different guises but have never worked.

More debt will not resolve debt. The individual's liberty is nonexistent if he does not own his labor. A people should consider carefully the viability (arithmetical consequences) of borrowing, at interest, to consume their own production. The asset of our labor cannot simultaneously be a liability we owe to ourselves at interest.
Thank you, D.L.J. and Harun. What is the alternative to the present system of debt serfdom and rising inequality? There is none in our financialized, Neofeudal-Neocolonial State-Cartel Rentier Economy that creates and distributes credit-money at the top of the wealth-power pyramid.
As Harun noted in another email, Governments cannot reduce their debt or deficits and central banks cannot taper. Equally, they cannot perpetually borrow exponentially more. This one last bubble cannot end (but it must).
What will replace the current system after it self-destructs? That's the question, and my answer is laid out in my book A Radically Beneficial World: a radically decentralized, transparent, opt-in system of creating money at the bottom of the wealth-power pyramid rather than at its apex.
Source:  charleshughsmith.blogspot.com
03.21.17 –   "Audit The ECB"? – German Officials Call For Greater Oversight Of Central Bank
With the omnipotence of the world's central banks suddenly all too evidently exposed as nothing more than 'Oz'-like smoke-and-mirrors, it is not just US politicians that are losing faith and calling for more oversight of the most-powerful unelected officials in the world. Handelsblatt reports today that Germany's federal auditor says The ECB lacks accountability in banking sector oversight and government will work to close that oversight gap.
Handelsblatt reports, citing a parliamentary report it obtained, that the European Court of Auditors is unable to perform an "extensive review" of the bank supervisory functions at ECB. Furthermore, the German Federal Court of Auditors says in a report submitted to the German parliament's budget committee
Germany should explore all options for closing the oversight gap.
 In its report, the federal auditor says bank oversight is an important public function that does not fall under the rubric of central bank independence, noting that national banking regulators like Germany's used to be fully audited before the ECB took over the responsibility in 2015.

"The federal government should explore all options for closing this oversight gap," the report said.

The ECB has argued that the European Court of Auditors only has the authority to review the central bank's efficiency in terms of personnel and budgeting, not its decisions as Europe's top banking supervisor. The European Court of Auditors has complained in the past that the ECB has used this argument to justify its refusal to turn over some documents for review.

That, according to the German agency, has left a gap in oversight that didn't exist before 2015, since national regulators in the euro zone tended to be separate from their country's central banks.

In a statement, the ECB said that it works closely with the European Court of Auditors and has made "a considerable number of documents and explanations available."
While we fully understand the concerns at the lack of transparency and oversight of Europe's most powerful entity, it is comewhat ironic that it is the Germans complaining when they just used the "well, it's not us messing with the currency, the ECB is independent" argument to eschew Trump's currency war tweets.
We are sure Dragh is not too worried for now, but if this escalates, this is what we would expect him to look like…
Source: zerohedge.com
03.20.17 – Survey Says… Ignore The Hard Data At Your Peril
Surveys of both consumers and businesses show there is an extreme level of confidence regarding future GDP growth. Consumer confidence is now at its highest level since 2001. Small and medium-sized business owners, the driving force of growth in the economy, appear downright giddy; as the NFIB Small Business Optimism Index recently soared to its highest level since 2004.
The Philly Fed Index, a survey that gauges how well manufacturers are feeling, hit its highest level since 1984. Business leaders are betting on tax cuts, infrastructure spending and a scale-back of onerous regulations that will, hopefully, make America great again!
But just as we were beginning to get tired of all this "winning", investors are also receiving a strong reality check from the actual hard data regarding the current state of economic activity.
The economy slowed more than expected in the fourth quarter of 2016. Gross domestic product increased at a lackluster 1.9 percent annual rate at the end of last year. For all of 2016, the economy grew only 1.6 percent, which was the weakest pace since 2011.
And despite all the good feelings about the current state of affairs, the Atlanta Fed's GDPNow model, is forecasting real GDP growth (at a seasonally adjusted annual rate) in the first quarter of 2017 to come in at a pitiful 0.9 percent.
The hype regarding the potential implementation of Trumponomics appears to be creating a trenchant gap between today's economic reality and hope about the future.
More evidence of this gap can be found in the January Durable Goods Report, which met expectations at 1.8 percent. However, excluding aircraft, transportation equipment fell 0.2 percent, well below the estimate of a 0.2 percent gain. Core capital goods showed a 0.4 percent decline in orders. This ends 3 months of strength for this reading and dispels the hope for a first quarter business investment boom suggested by the business confidence readings.  Unfilled orders were down 0.4 percent and have now fallen in 7 of the last 8 months–the deepest contraction since the Great Recession.
And we may need to start working on that wall right away if investors are to believe that confidence surveys will catch up with reality. Construction spending fell a sharp 1.0 percent in January. The consensus was for construction spending to increase 0.6 percent.
Personal spending increased only 0.2 percent in January, one-tenth below the consensus. This brings into question whether upbeat consumers are putting their money where their mouths are. Inflation-adjusted spending fell 0.3 percent, the largest drop since September 2009.
Also, Industrial Production for the month of February registered a big fat zero percent growth rate.
And how do you explain the recent drop in the CRB Index?  An economy that is rapidly expanding should see a rise in commodity prices. However, in the week of March 6th; oil price dropped 8%, copper dropped 3.3%, and iron ore dropped 5%. This key growth index is down about 7% since the start of the year and has lost over a third of its value since 2014.
In addition, the latest data on department store and retail sales is alarming. Retail sales increased by just 0.1% in February, which was the smallest gain in the past 6 months. And Zerohedge reported that Bank of America data shows February department store sales fell about 15% yoy—the largest drop on record.
Yet despite any real evidence of actual economic growth, we have a stock market trading at all-time highs and a Fed that is determined to slam the brakes on "runaway" 0.9% growth.  The Republicans in congress are in a battle with Democrats and Libertarians over raising the debt ceiling; and they can't seem to get out of their own way on health care and tax reform.
Hopefully, these employment and survey anecdotes are leading economic indicators that will turn out to have foreshadowed a leg up in GDP growth. Or, they could end up being the fleeting hiccups of hope in the new President that will end up sinking in the mire of D.C. politics. If the latter case proves to be correct, survey anecdotes will soon reconcile with the persistent anemic path of a sub-par and grossly-injured economy that has been beset by asset bubbles and debt.
The stock market has priced in perfection coming from the new Administration. Unless the Donald can put some tax and regulatory meat on the bones very soon, the stock market should suffer a huge fall.
Source:  zerohedge.com
03.20.17 –   EU Taxpayers Brace As Deepening Banking Crisis Means Euro-TARP Looms
If the ECB scales back stimulus, banks face even greater risk of collapse. But now there's a new solution
Events are moving so fast in Europe these days, it's almost impossible to keep up. While much of the attention is being hogged by political developments, including the election in the Netherlands, Reuters published a report warning that the European banking sector may face even higher bad loan risks if the ECB begins to scale back its monetary stimulus programs, something it has already begun, albeit extremely tentatively.
The total stock of non-performing loans (NPL) in the EU is estimated at over €1 trillion, or 5.4% of total loans, a ratio three times higher than in other major regions of the world.
On a country-by-country basis, things look even scarier. Currently 10 (out of 28) EU countries have an NPL ratio above 10% (orders of magnitude higher than what is generally considered safe). And among Eurozone countries, where the ECB's monetary policies have direct impact, there are these NPL stalwarts:
Ireland: 15.8%
Italy: 16.6%
Portugal: 19.2%
Slovenia: 19.7%
Greece: 46.6%
Cyprus: 49%
That bears repeating: in Greece and Cyprus, two of the Eurozone's most bailed out economies, virtually half of all the bank loans are toxic.
Then there's Italy, whose €350 billion of NPLs account for roughly a third of Europe's entire bad debt stock. Italy's government and financial sector have spent the last year and a half failing spectacularly to come up with a solution to the problem. The two "bad bank" funds they created to help clean up the banks' toxic balance sheets, Atlante I and Atlante II, are the financial equivalent of bringing a butter knife to a machete fight. So underfunded are they, they even strugggled to hold aloft smaller, regional Italian banks like Veneto Banca and Popolare di Vicenza, which are now pleading for a bailout from Rome, which in turn is pleading for clemency from Brussels.
What little funds Atlante I and Atlante II have left are hemorrhaging value as the "assets" they've been used to buy up, invariably at prices that were way too high (often at over 40 cents on the euro), continue to deteriorate. The recent decision of Italy's two biggest banks, Unicredit and Intesa Sao Paolo, to significantly write down their investment in Atlante is almost certain to discourage the private sector from pumping fresh funds into bailing out weaker banks.
Which means someone else must step in, and soon. And that someone is almost certain to be the European taxpayer.
In February ECB Vice President Vitor Constancio called for the creation of a whole new class of government-backed "bad banks" to help buy some of the €1 trillion of bad loans putrefying on bank balance sheets. Constancio's idea bore a striking resemblance to a formal proposal put forward by the European Banking Authority (EBA) for the creation of a massive EU-wide bad bank that, in the words of EBA president Andrea Enria, would "make it much easier to achieve critical mass and to create a well functioning market for (impaired) assets."
Here's how it would work, according to Enria (emphasis added):
 The banks would sell their non-performing loans to the asset management company at a price reflecting the real economic value of the loans, which is likely to be below the book value, but above the market price currently prevailing in illiquid markets. So the banks will likely have to take additional losses.

The asset manager would then have three years to sell those assets to private investors. There would be a guarantee from the member state of each bank transferring assets to the asset management company, underpinned by warrants on each bank's equity. This would protect the asset management company from future losses if the final sale price is below the initial transfer price.
One of the biggest advantages of launching an EU-wide bad bank is that it would avoid the sort of public "resistance" that would occur if it was done at a national level, says Enria. Italian lenders would presumably be able to continuing pricing bad loans at or around 40 cents on the euro on average, even though their real value — i.e. the current value priced by the market — is often much lower. The difference between the market price, if any, and the price the banks end up receiving for their bad debt will be covered by Europe's taxpayers.
If given the green light, the scheme would pave the way to the biggest one-off bail out of European banks in history. It would be Euro-TARP on angel dust, with even fewer checks and balances and much less likelihood of ever recovering taxpayer funds. According to a banker source cited by Reuters, while Germany has not yet endorsed the EBA plan, the EU documents describe the development of a secondary market for NPLs as a priority. According to Enria, the EBA hopes to finalize matters "at the European level" in the Spring.
The documents also include proposals for a wider "restructuring of banking sectors" as states address the NPLs problem. This "could lead to mergers among EU banks after they offload their bad loans," a banking industry official said.
In other words, EU taxpayers would have to spend potentially hundreds of billions of euros saving yet more banks from the consequences of their own acts and bail out their bondholders and potentially their stockholders too, with funds desperately needed in other areas. Those banks, once saved and their balance sheets cleansed, would then be handed on a platter to much bigger banks. In return, taxpayers would end up with an even more concentrated, consolidated, interconnected financial system that is even more prone to abuse, corruption, and excess.
Source: wolfstreet.com
All information used from other websites on X22 Report is used for educational/criticism and commentary purposes only.

Fair Use Notice: This video contains some copyrighted material whose use has not been authorized by the copyright owners. We believe that this not-for-profit, educational, and/or criticism or commentary use on the Web constitutes a fair use of the copyrighted material (as provided for in section 107 of the US Copyright Law. If you wish to use this copyrighted material for purposes that go beyond fair use, you must obtain permission from the copyright owner. Fair Use notwithstanding we will immediately comply with any copyright owner who wants their material removed or modified, wants us to link to their web site, or wants us to add their photo.

The "Fair Use" Provisions outlined in Title 17, Chapter 01 Article 107 of the US Copyright Law states the following:

Notwithstanding the provisions of sections 106 and 106A, the fair use of a copyrighted work, INCLUDING SUCH USE BY REPRODUCTION IN COPIES or phonorecords or BY ANY OTHER MEANS specified by that section, for purposes such as criticism, comment, news reporting, teaching (including multiple copies for classroom use), scholarship, or research, is NOT an infringement of copyright. In determining whether the use made of a work in any particular case is a fair use the factors to be considered shall include:

(1) the PURPOSE and CHARACTER of the use, including whether such use is of a commercial nature or is for NON-PROFIT educational purposes;
(2) the NATURE of the copyrighted work;
(3) the amount and substantiality of the portion used in relation to the copyrighted work as a whole; and
(4) THE EFFECT OF THE USE UPON THE POTENTIAL MARKET FOR OR VALUE OF THE COPYRIGHTED WORK.

The fact that a work is unpublished shall not itself bar a finding of fair use if such finding is made upon consideration of all the above factors.
Tags: banks, constitution, cyber attacks, DHS, economic collapse, finance, financial collapse, gold, police state, preppers, prepping, silver, stock market, war, wwIII