---
Send us your Sentinel Alert to Submit Sentinel Alert:
---
---
Scroll Down To See More News Alerts
08.21.17 –   Microchips Should Be Used As "Identification Tool", Says Doctor With 6 Implants
As we've reported, at least two companies, one in the US, and one in Sweden, have begun offering their employees optional microchip implants. In theory, the chips make life easier by allowing employees to effortlessly open locked doors and pay for lunch.
In the US, 41 employees at a small Wisconsin technology company voluntarily agreed to be microchipped at a "chip party" thrown at the office. At Epicenter, the Swedish company, employees hold parties for newcomers who take the plunge and become a cyborg.
 "The injections have become so popular that workers at Epicenter hold parties for those willing to get implanted.

"The biggest benefit I think is convenience," said Patrick Mesterton, co-founder and CEO of Epicenter. As a demonstration, he unlocks a door by merely waving near it. "It basically replaces a lot of things you have, other communication devices, whether it be credit cards or keys."
Companies and hobbyists are increasingly experimenting with the benefits of biohacking. Aleksandr Volchek, a Siberian doctor and avowed microchipping enthusiast, has implanted six chips in himself that help him easily pay for things, while also unlocking doors at his home and office with a "wave of his hand," according to Russia Today.
The Novosibirsk-based obstetrician-gynecologist, who calls himself a crypto anarchist, said the chips work like "magic," and described them as a "time-saving convenience."
The process of injecting the chip is mostly painless, Volcheck says. Furthermore, he can easily remove the chips whenever he'd like. The chips themselves can be as small as 1.5 x 8mm.
 "A syringe with a thick needle is needed to inject a microchip.

The size of a standard chip is 2 × 12mm, and the smallest one is no more than 1.5 × 8mm, the doc says."
Volcheck believes that someday people will have chips for a range of purposes from payments to medicine. Someday, implanted microchips will encode a person's medical records, while diabetics might receive chips that function like glucometers to help them monitor their condition, though research suggests this capability is still a few years away, Volcheck said.
 "I would like to have a chip for payments."

"My dream as a crypto anarchist is to have an identification tool for encrypting an electronic signature, and of course for medical application. I also want an implanted glucometer that will resolve a ton of problems many are currently facing, but research is still underway."
Spurred by the conveniences it offers, microchipping will likely become increasingly popular with hobbyists and companies. Over the next five-to-ten years, we expect that they will be used widely for both work-related and personal reasons.
As more people become comfortable with being microchipped, it makes it easier for governments to adopt mandatory microchipping for identification purposes. What will you do when the day arrives? Will you go along with it, against your better judgment?
Looks like we'll all know soon enough.
Source:  zerohedge.com
08.20.17 –  David Stockman Warns "Don't Forget About The Red Swan"
Given the anti-Trump feeding frenzy, we continue to believe that a Swan is on its way bearing Orange. But if that's not enough to dissuade the dip buyers, perhaps the impending arrival of the Red Swan will at least give them pause.
The chart below comprises a picture worth thousands of words. It puts the lie to the latest Wall Street belief that the global economy is accelerating and that surging corporate profits justify the market's latest manic rip.
What is actually going on is a short-lived global credit/growth impulse emanating from China. Beijing panicked early last year and opened up the capital expenditure (CapEx) spigots at the state-owned enterprises (SOEs) out of fear that China's great machine was heading for stall speed at exactly the wrong time.
The 19th national communist party Congress scheduled for late fall of 2017. This every five year event is the single most important happening in the Red Ponzi. This time the event is slated to be the coronation of Xi Jinping as the second coming of Mao.
Beijing was not about to risk an economy fizzling toward a flat line before the Congress. Yet that threat was clearly on the horizon as evident from the dark green line in the chart below which represents total fixed asset investment.
The latter is the spring-wheel of China's booming economy, but it had dropped from 22% per annum growth rate when Mr. Xi took the helm in 2012 to 10% by early 2016.
There was an eruption as dramatized in the chart. CapEx growth suddenly more than doubled in the one-third of China's economy that is already saturated in excess capacity.  The state owned enterprises (SOE) in steel, aluminum, autos, shipbuilding, chemicals, building equipment and supplies, railway and highway construction etc boomed.
It was as if a switch had been flicked on by Mr. Xi himself, SOE CapEx soared back toward the 25% year-over-year rate by mid-2016, keeping total CapEx hugging the 10% growth line.
However, you cannot grow an economy indefinitely by building pyramids or any other kind of low-return/no return investment – even if the initial growth spurt lasts for years as China's had.
Ultimately, the illusion of Keynesian spending gets exposed and the deadweight costs of malinvestments and excess capacity exact a heavy toll.
If the investment boom that was financed with reckless credit expansion is not enough, as was the case in China where debt grew from $1 trillion in 1995 to $35 trillion today, the morning-after toll is especially severe and disruptive.  This used to be called a "depression."
China's propagated spurt in global trade and commodities was artificial and short-term. It was done to flatter China's rulers at the 19th party congress.
Now that a favorable GDP glide path has been assured, China's planners and bureaucracy are already back at it trying to find some way to reel in its runaway credit growth and bloated economy before it collapses.
Downside Surprises in China Are Virtually Baked In
The sell-by date has expired on this latest China credit impulse, as evident in the chart below. During the first quarter of this year, total social financing (bank credit plus shadow banking loans) reached the incredible rate of $4 trillion per annum. That's nearly one-third of China's entire GDP.
The figure scared the daylights out of leadership in Beijing, who have now moved forcefully to reel in China's debt machine.
What is coming down the pike is the great China Debt Retrenchment.  Expect a global braking motion that will get underway once Mr. Xi dramatically consolidates his power at the 19th party congress.
This has the potential to drastically weaken the global economy – and the impact on corporate profits should not be underestimated.
The Red Swan Has Now Gone Berserk
Half of the world's GDP growth since the 2008 crisis has been in China, and that, in turn, was purchased by the greatest credit eruption in recorded history.
As China's nominal GDP was more than doubling from $4.6 trillion in 2008 to $11.2 trillion in 2016, its national leverage ratio soared from 175% of GDP to 300% in less than a decade.
There's reason to seriously doubt that Beijing can bring the Red Ponzi to a soft landing.  It cannot and will not permit the nation's debt load to quadruple again during the next eight years, meaning that China's days as the world's ultimate stimulus machine are over.
The fading of the most recent China growth impulse will soon reveal that most countries, to adapt Warren Buffet's famous metaphor, have been swimming naked from a fiscal perspective. It has left the world vulnerable to a renewed wave of funding crises as the ECB and other central banks attempt to launch monetary normalization.
In sum, during the last 19 months the Red Ponzi propagated a false upturn in the global economy that is already decisively reversing. This comes at the same time that central banks of the major developed world economies are finally bringing their printing presses to a halt.
The major central bankers have finally recognized that at $22 trillion on central bank balance sheets have become egregiously extended.  China is the epicenter of the world's two decade plunge into central bank monetary fraud and credit explosion. They have deformed and destabilized the very warp and woof of the global economy.
So, yes, even as the Orange Swan stumbles toward the Donald's White House, there is a Red Swan following closely behind.
Source:  dailyreckoning.com
08.19.17 –  "No Violence": Boston Mayor Promises Barricades, 500 Cops At "Free Speech" Rally 
Boston Police are bracing for violence to break out at today's "free speech" rally and have taken precautionary measures to prevent it from devolving into a clash between extremists and demonstrators on both sides of the ideological spectrum. To enhance public safety, police have put up road blockades and gone so far as to ban food vendors from the historic Boston Common, where the demonstration is expected to take place, as they hope to prevent a repeat of the Charlottesville attack last weekend according to Reuters.
"Some 500 police officers will be on the streets around the popular tourist destination. They are planning to close some roadways to vehicles, mindful of the car attacks that killed a woman in Charlottesville and 13 in an attack in Barcelona on Thursday.
 "We all know the tragedy that happened in Barcelona. That only makes us more vigilant," said Boston Police Commissioner William Evans, who was the department's second-in-command during the 2013 Boston Marathon bombing."
Boston Mayor Marty Walsh said the city would ban demonstrators from carrying anything that could be used as a weapon, adding thatviolence would not be tolerated.
  "We are going to respect their right to free speech. In return, they have to respect the safety of our city," Walsh said. "If anything gets out of hand, we are going to shut it down."
The flash point will likely arrive when a "Fight White Supremacy" march set to begin in the historically black Roxbury neighborhood collides with the demonstrators on the Commons Saturday afternoon.
 "Our job is to make sure that as the peace rally enters into Boston Common that the folks that come in there feel safe, that we don't have an incident that happened like last week in Virginia," Walsh said.
Organizers of the free speech event have denounced the type of violence that took place at the rally in Charlottesville.  Speakers at Saturday's event include Kyle Chapman, a California activist who was arrested at a Berkeley rally earlier this year, and Joe Biggs, formerly of Infowars. Mayor Walsh is warning anyone who doesn't plan on taking part in the demonstration on the Common to avoid the area, according to CBS Boston.
 "They say that interacting with these groups just gives them a platform to spread their message of hate," said Walsh. "They recommend that people should not confront these rallies. So we're urging everyone to stay away from the Common."
Somehow, we doubt thar "everyone" will heed the mayor's advice.
Source: zerohedge.com
08.18.17 –  "Armageddon Risk" Returns: North Korea Predicts "Catastrophe" As Massive U.S. War Games Begin Monday
Traders barely had time to enjoy the lull from the "Armageddon trade" – the rising possibility of a nuclear exchange between the US and North Korea, which peaked over the weekend when various US officials said a nuclear war is not imminent, echoed by a statement by N. Korea's state-run news agency KCNA, before a new set of worries promptly took over, chief among them the ongoing slow motion train wreck in Donald Trump's administration coupled with yesterday's double terrorist attacks  in Spain. Alas, "nuclear war" risk is about to come back with a vengeance because on Monday US and South Korea are scheduled to begin joint military exercises, a massive show of force which every time in the past has infuriated North Korea, sometimes triggering a show of force.
Held every fall in South Korea, the Ulchi-Freedom Guardian war games are the world's largest computerized command and control exercise. Some 30,000 U.S. soldiers and more than 50,000 South Korean troops usually take part, along with hundreds of thousands of first responders and civilians, some practicing for a potential chemical weapons attack.
Scheduled long before the recent diplomatic fallout between Washington and Pyongyang, the U.S. and South Korean militaries will simulate warfare with North Korea from Aug. 21 to 31, well aware that North Korea could respond with another missile test, according to McClatchy.
In light of this perceived provocation by North Korea, which will almost certainly prompt some reaction, Scott A. Snyder, a Korea specialist with the Council on Foreign Relations said "Over the course of the next two weeks I expect tensions to escalate. This is always a sensitive issue, but it is more hair-trigger as the North Koreans are very sensitive to the likely additional nuclear-capable aircraft flyovers."
While the Pentagon has repeatedly stated that the biannual exercises are "defensive" in nature, both North Korea and China have long criticized them as a provocation and an affront to regional security. "There certainly will be some reaction," said J.D. Williams, a retired Marine colonel and defense policy researcher at the RAND Corporation in California. He said he wouldn't be surprised if North Korea conducted some kind of missile launch — not a test but a defiant demonstration of might.
As discussed earlier in the week, North Korea's Kim backed off a threat to launch missiles at Guam, saying he'd watch "the foolish and stupid conduct of the Yankees" before deciding on the launch, a decision that Trump quickly tweeted was "very wise and well reasoned." While the exchange suggested that cooler heads were prevailing in the latest U.S. standoff with North Korea. But next week's war games could rekindle hostilities. On Thursday, North Korean state media declared that the military exercises will "further drive the situation on the Korean Peninsula into a catastrophe."
It's not just North Korea: Beijing will likely be rather unhappy too.
 The exercise, along with one in March, often triggers anti-war protests in South Korea and condemnation from China. While Chinese President Xi Jinping has been noticeably cool toward Kim Jong Un, and has been critical of North Korea's development of nuclear weapons, China has long wanted the United States to shrink its military footprint in Asia, including some 12 bases in South Korea and Japan.

In an editorial Monday, China's Global Times newspaper, an arm of the Communist Party's People's Daily, lambasted the decision by the United States and South Korea to go ahead with Monday's exercises.

"The drill will definitely provoke Pyongyang more, and Pyongyang is expected to make a more radical response," the newspaper said. "If South Korea really wants no war on the Korean Peninsula, it should try to stop this military exercise."
In other words, China – which is largely expected to rein in North Korea – is already hedging in case North Korea does something impulsive, suggesting the exercise itself could be the provocation that sets Kim off. And set him off, it will: in the past North Korea has reacted strongly during the biannual war games. In 2014, the north fired off scud missiles during the March exercises held by the U.S.-South Korean command, called Foul Eagle.
During the 2015 Ulchi-Freedom Guardian exercises, North Korea and South Korea exchanged artillery and rocket fire over their border. That exchange came after two South Korean soldiers were maimed stepping on land mines in the Demilitarized Zone. South Korea accused North Korean soldiers of sneaking across the border and planting the land mines.
Last week, China and Russia urged the United States to consider a "freeze for freeze" agreement to reduce tensions. In such a deal, Pyongyang would agree to suspend its tests of missiles and nuclear weapons, and Washington and Seoul would agree to suspend large-scale military exercises. That, however, is not happening: U.S. military experts say such a deal would give a lopsided advantage to North Korea, which could continue its military training even as the U.S.-South Korea exercises were suspended. "It is hard to imagine why the United States would accept that, because of the vulnerability it would create," said Bruce Bennett, a senior defense researcher at RAND.
In a media briefing on Tuesday, U.S. State Department spokeswoman Heather Nauert said the United States will continue to hold joint exercises with South Korea. And since North Korea will immediate see this "provocation" as a green light for a response, the respite that traders got from the "Armageddon trade" that sent the VIX soaring by one of its biggest and fastest intraday moves in history, may prove very short-lived. Perhaps the only silver lining is that the exercises don't begin until Monday, so traders don't have to do anything too crazy ahead of the weekend.
 Source: zerohedge.com
08.16.17 –  Why We're Doomed: Our Economy's Toxic Inequality
Anyone who thinks our toxic financial system is stable is delusional.
Why are we doomed? Those consuming over-amped "news" feeds may be tempted to answer the culture wars, nuclear war with North Korea or the Trump Presidency.
 The one guaranteed source of doom is our broken financial system, which is visible in this chart of income inequality from the New York Times: Our Broken Economy, in One Simple Chart.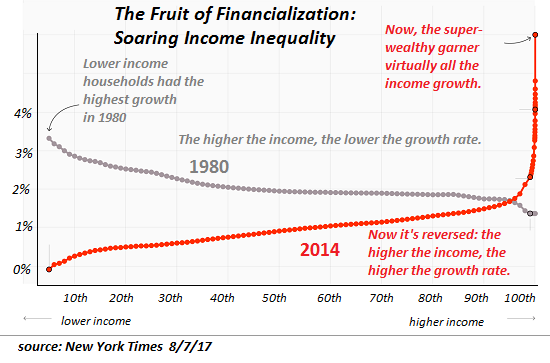 All the domestic headline crises–culture wars, opioid epidemic, etc.–are not causes of discord: they are symptoms of the inevitable consequences of a toxic financial system that has broken our economy, our system of governance and our society.

While the essay's title is our broken economy, the source of this toxic concentration of income, wealth and power in the top 1/10th of 1% is more specifically our broken financial system.
What few observers understand is rapidly accelerating inequality is the only possible output of a fully financialized economy. Various do-gooders on the left and right propose schemes to cap this extraordinary rise in the concentration of income, wealth and power, for example, increasing taxes on the super-rich and lowering taxes on the working poor and middle class, but these are band-aids applied to a metastasizing tumor: financialization, which commoditizes labor, goods, services and financial instruments and funnels the income and wealth to the very apex of the wealth-power pyramid.
Take a moment to ponder what this chart is telling us about our financial system and economy. 35+ years ago, lower income households enjoyed the highest rates of income growth; the higher the income, the lower the rate of income growth.
This trend hasn't just reversed; virtually all the income gains are now concentrated in the top 1/100th of 1%, which has pulled away from the top 1%, the top 5% and the top 10%, as well as from the bottom 90%.
The fundamental driver of this profoundly destabilizing dynamic is the disconnect of finance from the real-world economy.
The roots of this disconnect are debt: when we borrow from future earnings and energy production to fund consumption today, we are using finance to ramp up our consumption of real-world goods and services.
In small doses, this use of finance to increase consumption of real-world goods and services is beneficial: economies with access to credit can rapidly boost expansion in ways that economies with little credit cannot.
But the process of financialization is not benign. Financialization turns evertything into a commodity that can be traded and leveraged as a financial entity that is no longer firmly connected to the real world.
The process of financialization requires expertise in the financial game, and it places a premium on immense flows of capital and opaque processes: for example, the bundling of debt such as mortgages or student loans into instruments that can be sold and traded.
These instruments can then become the foundation of an entirely new layer of instruments that can be sold and traded. This pyramiding of debt-based "assets" spreads risk throughout the economy while aggregating the gains into the hands of the very few with access to the capital and expertise needed to pass the risk and assets off onto others while keeping the gains.
Profit flows to what's scarce, and in a financialized economy, goods and services have become commodities, i.e. they are rarely scarce, because somewhere in the global economy new supplies can be brought online.
What's scarce in a financialized economy is specialized knowledge of financial games such as tax avoidance, arbitrage, packaging collateralized debt obligations and so on.
Though the billionaires who have actually launched real-world businesses get the media attention–Bill Gates, Jeff Bezos, Steve Jobs, et al.–relatively few of the top 1/10th of 1% actually created a real-world business; most are owners of capital with annual incomes of $10 million to $100 million that are finance-generated.
This is only possible in a financialized economy in which finance has become increasingly detached from the real-world economy.
Those with the capital and skills to reap billions in profits from servicing and packaging student loan debt have no interest in whether the education being purchased with the loans has any utility to the indebted students, as their profits flow not from the real world but from the debt itself.
This is how we've ended up with an economy characterized by profound dysfunction in the real world of higher education, healthcare, etc., and immense fortunes being earned by a few at the top of the pyramid from the financialized games that have little to no connection to the real-world economy.
Anyone who thinks our toxic financial system is stable is delusional. If history is any guide (and recall that Human Nature hasn't changed in the 5,000 uears of recorded history), this sort of accelerating income/wealth/ power inequality is profoundly destabilizing–economically, politically and socially.
Source: charleshughsmith.blogspot.com
08.15.17 –  South Korea Warns Trump Only It Can Declare War On North
A day after US Joint Chiefs of Staff Chairman Joseph Dunford promised him that the US would exhaust all diplomatic options, including another round of UN sanctions, before resorting to a "military solution" in its simmering conflict with North Korea, South Korean President Moon Jae-in reminded Washington during a forceful Tuesday speech that the US would need to seek, and receive, South Korea's consent before risking another armed conflict on the Korean peninsula, signaling his country will no longer stay quiet as tensions escalate with its northern neighbor.
As Bloomberg summarizes, "Moon asserted the right to veto any military action against Kim Jong Un's regime, saying that decision should be made by "ourselves and not by anyone else." He vowed to prevent war at any cost – a statement that drew a sharp contrast with President Donald Trump, who has warned of "fire and fury" if North Korea continues to threaten the U.S."
Some highlights from his speech:
"Without South Korea's consent no one can determine military actions on the Korean peninsula"
South Korea govt will prevent war at any cost; "There will be no war repeated on the Korean peninsula"
South Korea will work closely with U.S. to overcome security threats posed by North Korea's nuclear missiles
South Korea govt will "strengthen diplomatic efforts in order not to shake principles for a peaceful resolution"
Sanctions and talks should go together; "Sanctions are not to heighten military tensions but to bring North Korea to talks"
Moon's speech coincided with the Korean independence-day holiday on Tuesday, which is celebrated in both the North and the South. The holiday commemorates the defeat of the Japanese during World War II.  According to Yonhap news agency, Moon marked the occasion by visiting the graves of independence fighters. Meanwhile, Moon's counterpart, North Korean leader Kim Jong Un, ""celebrated by backing off his threat to launch a nuclear strike against Guam, a US territory in the Pacific Ocean that's about 2,000 miles away from the Korean Peninsula – well within the range of the North's missiles.
According to KCNA, the North Korean news agency, Kim has received a report from the army about its plans to strike the area around Guam and said, "he will watch the actions of the United States for a while longer before making a decision."
Moon, a leftist politician who has advocated for closer ties with the North, "extended the olive branch" during his speech, offering a "fresh invitation" to diplomatic talks if its isolated neighbor would suspend its missile tests. Here's more from WSJ:
 "President Moon Jae-in extended the latest olive branch to North Korea in a speech Tuesday on the 72nd anniversary of Japan's surrender in World War II. He called on the regime to suspend nuclear and missile tests as a precondition for talks, and offered a fresh invitation for the North to attend next year's Winter Olympics in South Korea. But in a message, that appeared to be aimed at Washington, he said that allied military action could only be taken on the Korean Peninsula with the consent of South Korea, an implicit signal that Mr. Moon wouldn't tolerate any unilateral action by the U.S. to strike North Korea following weeks of escalating tensions.

'War must never break out again on the Korean Peninsula. Only the Republic of Korea can make the decision for military action on the Korean Peninsula,' he said, using the country's formal name."
A day after China banned key imports from North Korea in accordance with new UN sanctions passed two weeks ago, Moon called for "further sanctions" against the Kim regime if talks fail to produce a "peaceful solution."
 Mr. Moon reiterated his support for further sanctions on North Korea, saying such an approach could help bring Pyongyang to the negotiating table. He argued that the last time North Korea agreed to a moratorium on nuclear and missile testing, its relations with South Korea, the U.S. and Japan improved."
Historically speaking, relations with North Korea tend to improve when the international community levies sanctions while also focusing on dialogue, according to WSJ.
 "The past history of the North Korean nuclear problem showed that a clue to resolving the problem was found when sanctions were combined with dialogue," he said."

"Mr. Moon, South Korea's first left-leaning president in nearly a decade, has called for closer cooperation with North Korea. In his speech Tuesday, Mr. Moon appeared to push for more independence from the U.S. on military affairs, though he emphasized, on two separate occasions, that his position wasn't different from Washington's.

"We cannot rely only on our ally for our security," Mr. Moon said. 'When it comes to matters related to the Korean Peninsula, our country has to take the initiative in resolving them.'"
Luckily, the US and South Korea largely agree on how to handle North Korea, and both see nuclear annihilation as an unacceptable option, according to the Associated Press.
 "Moon said his South Korean government "will put everything on the line to prevent another war in the Korean Peninsula." He says the "North Korean nuclear program should absolutely be solved peacefully, and the (South Korean) government and the U.S. government don't have a different position on this."
Meanwhile, in the surest sign yet that the US and the North are engaging in back-channel talks, the North Korean state-owned television channel KCNA reported that further releases of Americans detained in NK were not being discussed, according to the AP.
 "A short dispatch from state news agency KCNA said Tuesday that a foreign ministry spokesman made the statement in response to foreign media reports that talks are ongoing. It did not identify which media.
The Associated Press reported last week that a U.S. envoy and his North Korean counterpart have discussed three other Americans being held in North Korea."
In other news, Lt. Gov. Ray Tenorio – who just yesterday taunted the North by saying bully" Kim Jong Un deserved a "punch in the nose" – expressed relief that North Korea appears to be holding off on an imminent launch of missiles into waters near the U.S. territory in the Pacific, the AP reported. China has also urged the two sides to iron out their difficulties during talks. We now await the next update from President Donald Trump to confirm whether détente is truly on the table.
Source: zerohedge.com
08.14.17 – Money Laundering Scandal At Australia's Largest Bank Triggers Another Call For Ban On Cash
Ian Narev, the CEO of Commonwealth Bank of Australia (CBA), the nation's largest bank is set to step down amid money laundering charges.
Money laundering is big business in Australia because regulations do not cover lawyers, real estate agents, accountants, and CEOs ignoring warnings from police.
Despite the obvious problem, it's cash itself that gets the blame.
There are several stories here buts let's start with Australia's Biggest Bank Says CEO Will Retire Amid Money-Laundering Scandal.
 Commonwealth Bank of Australia Chief Executive Officer Ian Narev will step down by the end of June 2018 as the nation's largest lender seeks to mitigate the fallout from a money-laundering scandal.

Pressure is building on Commonwealth Bank amid allegations by the nation's financial crimes agency that drug syndicates used its network of deposit machines to launder cash, despite warnings from police. The nation's securities regulator opened its own inquiry last week and the governor of the central bank called for accountability in the banking industry, which is beset by a string of scandals.

Narev, 0, has presided over a market-topping stock price since he took the helm at the start of December 2011. Last week, he delivered the lender's eighth consecutive record profit.

His achievements have been overshadowed by the money-laundering allegations — the third major public-relations scandal he has faced as CEO. The bank has paid A$29 million ($23 million) in compensation to customers who were allegedly given poor financial advice, and has faced accusations it wrongly failed to honor insurance claims to sick clients.

The financial crime agency, Austrac, alleges that Commonwealth Bank failed to report either on time or at all suspicious transactions through its network of automated cash deposit machines totaling more than A$624 million, and it failed to monitor the activities of drug syndicates even after being alerted by police. The bank has blamed most of the breaches on a software coding error which has since been fixed.

The allegations are the latest in a series of scandals in Australia's banking industry, ranging from giving poor advice to wealth-management customers to allegations the nation's three other biggest banks manipulated a benchmark swap rate.
Moral of the Story
With share prices high after three scandals, the moral of the story must be CEO crimes pay. What other lesson could there possibly be?
Australia a 'Place of Choice' for Money Laundering
 Australia's hot property market is an attractive haven for criminals, with estimates that billions of dollars of dirty money is being laundered through residential property.

Australia's anti-money laundering law does not cover real estate agents, lawyers and accountants, despite promises when the law was enacted in 2006 that the legislation would be widened.

ANZ's head of financial crime, Guy Boyd, is scathing of the failure of subsequent governments to extend the legislation.

Australia's housing market has been targeted by money launderers from countries including Papua New Guinea, Malaysia and China.
Let's Blame Money Itself
Given than scandals provide perfect cover to place the blame on innocent people and innocent things, no one should be surprised by this outcome: CBA Scandal Blamed on 'Outdated' Banknotes.
 The Commonwealth Bank money-laundering scandal has given ammunition to the anti-cash crusade, with one analyst asking whether "outdated" $100 and $50 notes are the "root of the problem".

The nation's largest bank is facing allegations of more than 53,000 breaches of anti-money laundering and counter-terrorism financing laws, the majority relating to large cash deposits made at CommBank ATMs.

In a note earlier this month, UBS analyst Jonathan Mott said the CommBank scandal raised "four critical questions".

"Is the root of the problem the outdated high denomination cash notes?" he wrote. "Should Australia move to phase out cash given its role in the black economy (including: proceeds of crime, money laundering, tax avoidance, welfare fraud)?"
The CEO of CBA, Ian Narev, has been involved in three major scandals.
Large, suspicious real estate transactions went through without a hitch.
Large, repetitive, cash deposits at ATMs raised no red flags.
Narev was warned by police that the ATMs were used for money laundering.
The CBA ignored 53,000 breaches of anti-money laundering and counter-terrorism financing laws.
People are asking if the root of the problem is outdated high denomination cash notes.
War on Cash – How Twisted Minds Function
The Black Economy Taskforce's final report is due in October. Gee, I can hardly wait.
Source: mishtalk.com
All information used from other websites on X22 Report is used for educational/criticism and commentary purposes only.

Fair Use Notice: This video contains some copyrighted material whose use has not been authorized by the copyright owners. We believe that this not-for-profit, educational, and/or criticism or commentary use on the Web constitutes a fair use of the copyrighted material (as provided for in section 107 of the US Copyright Law. If you wish to use this copyrighted material for purposes that go beyond fair use, you must obtain permission from the copyright owner. Fair Use notwithstanding we will immediately comply with any copyright owner who wants their material removed or modified, wants us to link to their web site, or wants us to add their photo.

The "Fair Use" Provisions outlined in Title 17, Chapter 01 Article 107 of the US Copyright Law states the following:

Notwithstanding the provisions of sections 106 and 106A, the fair use of a copyrighted work, INCLUDING SUCH USE BY REPRODUCTION IN COPIES or phonorecords or BY ANY OTHER MEANS specified by that section, for purposes such as criticism, comment, news reporting, teaching (including multiple copies for classroom use), scholarship, or research, is NOT an infringement of copyright. In determining whether the use made of a work in any particular case is a fair use the factors to be considered shall include:

(1) the PURPOSE and CHARACTER of the use, including whether such use is of a commercial nature or is for NON-PROFIT educational purposes;
(2) the NATURE of the copyrighted work;
(3) the amount and substantiality of the portion used in relation to the copyrighted work as a whole; and
(4) THE EFFECT OF THE USE UPON THE POTENTIAL MARKET FOR OR VALUE OF THE COPYRIGHTED WORK.

The fact that a work is unpublished shall not itself bar a finding of fair use if such finding is made upon consideration of all the above factors.
Tags: banks, constitution, cyber attacks, DHS, economic collapse, finance, financial collapse, gold, police state, preppers, prepping, silver, stock market, war, wwIII