---
Send us your Sentinel Alert to Submit Sentinel Alert:
---
---
Scroll Down To See More News Alerts
04.28.16 –   Obama Admits Couldn't "Convince Americans Of 'Recovery'", Bashes 'The Big Short'
Despite his proclamation that he "saved the world from a Great Depression," the fact is that Obama will be the first President ever to not see a single year of 3% GDP growth – but only cynical fiction-peddlers would mention facts at a time like this. In yet more legacy-defending narrative, Obama toldThe NYTimes today that his biggest failure was being unable to sell his success in putting the American economy back on track to the American people (no matter the actual realities) careful to blame Republicans for slowing growth "by a percentage point or two." And then in a final affront to fact, Obama dismisses the conclusion of "The Big Short" proclaiming that he reined in Wall Street, overhauled the banking system, and made

water from wine

"the financial system substantially more stable."
With regard his presidential legacy, Obama recently said he was proud of the healthcare reforms, and added that:
"saving the world from a Great Depression – that was quite good."
Defending the sheer arrogance (and ignorance) of such a statement, he added, "I'm proud; I think I've been true to myself during this process." Truth must have a different meaning where he comes from, but of course, anyone doubting the truthiness of such a statement was hacked down to size with the now ubiquitous "Don't give up and succumb to cynics."
And now, as The Independent notes,
  The interview, with the paper's Sunday Magazine, was part an exercise in patting himself on his own back for lifting the US out of the economic morass he inherited from President George W. Bush and part remorse.

"I actually compare our economic performance to how, historically, countries that have wrenching financial crises perform," he said of the early days of his presidency. "By that measure, we probably managed this better than any large economy on Earth in modern history."
However, in fact, some might way his economic performance was simply the worst…
 Obama is First President Ever to Not See Single Year of 3% GDP Growth

According to Louis Woodhill, if the economy continues to perform below 2.67% GDP growth rate this year, President Barack Obama will leave office with the fourth worst economic record in US history.

Assuming 2.67% RGDP growth for 2016, Obama will leave office having produced an average of 1.55% growth. This would place hispresidency fourth from the bottom of the list of 39, above only those of Herbert Hoover (-5.65%), Andrew Johnson (-0.70%) and Theodore Roosevelt (1.41%)
Still, Obama went on with the self-congratulatry tone – this time howeveradmitting that it was all a snow-job…
 "I mean, the truth of the matter is that if we had been able to more effectively communicate all the steps we had taken to the swing voter," he told the interviewer, Andrew Ross Sorkin,"then we might have maintained a majority in the House or the Senate."
While not quite making excuses, Mr Obama suggests that his failure better to communicate was in part due to being overwhelmed at the time.
 "We were moving so fast early on that we couldn't take victory laps. We couldn't explain everything we were doing. I mean, one day we're saving the banks; the next day we're saving the auto industry; the next day we're trying to see whether we can have some impact on the housing market."
Saying he was sometimes kept "up at night" because of his failure to do more to fuel the recovery, Mr Obama focused especially on the missed opportunity of "a massive infrastructure project", noting that 2012-2014,"was the perfect time to do it; low interest rates, construction industry is still on its heels, massive need – the fact that we failed to do that, for example, cost us time…It meant that there were folks who we could have helped and put back to work and entire communities that could have prospered that ended up taking a lot longer to recover."
Perhaps the following nine charts will provide a little more color as just what "saving the world" looks like for President Obama (red shaded section is his 'reign') and why the American public just would not fall for his now-admitted bullshit…
But that's not all, in his New York Times' diatribe, President Obama takes further aim at more fiction-peddlers – those of "The Big Short"…as Bloomberg reports,
 Reflecting on his economic legacy, President Barack Obama disputes the conclusion in "The Big Short" movie that nothing changed on Wall Street after the 2008 economic meltdown, and maintains that his policies have helped stabilize the financial sector.

…Obama bemoaned his fractious relationship with Wall Street, saidfinance is absorbing more science and engineering talent than it should, and speculated he might have gone into business if not politics. But he has little patience for criticism from business leaders.

"One of the constants that I've had to deal with over the last few years is folks on Wall Street complaining, even as the stock market went from in the 6,000s to 16,000 or 17,000,"he said, referring to the rise in the Dow Jones Industrial Average during his administration.

"They'd be constantly complaining about our economic policies. That's not rooted in anything they're experiencing; it has to do with ideology and their aggravations about higher taxes."

In the Dodd-Frank legislation to overhaul the financial system, Obama sees a major shift in how Wall Street is regulated. He takes issue with Hollywood's version, reflected in the 2015 film "The Big Short," which suggested that little has changed on Wall Street. The movie was based on the 2010 best-seller of the same name by Michael Lewis.

"There is no doubt that the financial system is substantially more stable," Obama said, adding, "It is true that we have not dismantled the financial system, and in that sense, Bernie Sanders's critique is correct."
Yeah looks like you really showed them!!
We leave it to Obama to summarize from last week:
 "Reject pessimism, cynicism and know that progress is possible. Progress is not inevitable, it requires struggle, discipline and faith."
And question nothing, and reject reality in favor of Obama's propaganda, of course… if you had believed him, we would all being do so much better now!!
Source: zerohedge.com
04.28.16 –   Congress Votes To Require Women To Register For Selection
With all the problems facing America – both at home and abroad – The House Armed Services Committee decided on Wednesday to solve one of the nation's crucial "problems" – a "sexist draft."
As Military.com reports on Wednesday the committee approved (by a narrow margin) an amendment to a defense bill to require women to register for the draft.
Rep. Duncan Hunter, a Republican from California, proposed the amendment to lift the restriction on women registering for the selective service at a committee-wide mark-up session of the proposed fiscal 2017 National Defense Authorization Act.
"Here is why I think this is important; it doesn't matter in this debate whether you think women should be in the infantry or be in special operations," Hunter said during the session on Wednesday night. "I personally don't. If we had that vote in committee today I would vote against women being in infantry and special operations.
"But this is not about women serving in the infantry. The administration has made that decision unilaterally disregarding what the Marine Corps and special operations communities have said. But that's not what this is about. Right now the draft is sexist. Right now the draft only drafts young men. Women are excluded."
Ironically, Hunter then went on to explain that his generation has not seen the kind of warfare that requires a draft… and so why waste time on this? Unless they think something is coming?
"That is what a draft is for," he added. "A draft is because people started dying in the infantry and you need more bodies in infantry, that is what a draft if for. The administration would like to make this decision on its own. I think we should make this decision."
Hunter, who requested a roll-call vote on the measure, ended up voting against his own amendment.
The amendment passed 32 votes to 30 votes, with strong support from female committee members.
Source: zerohege.com
04.28.16 –  UN Syria envoy says ceasefire 'alive but barely,' calls on Russia and US to revive it
Acknowledging the increasingly shaky state of the ceasefire in Syria, the UN's special envoy to the country has expressed hope that Russia and the US can breathe a new impetus that will halt fighting on the ground and solidify the political transition process.
Speaking to reporters following his briefing to the United Nations Security Council and at the conclusion of the latest round of negotiations, Staffan de Mistura acknowledged that the ceasefire brokered by the US and Russia is in "grave danger."
"It is still alive, but barely. And the perception is that it could collapse any time," the envoy said. "Let's put it in a few words- in the last 48 hours we had on the average one Syrian killed every 25 minutes, one Syrian wounded every 13 minutes."
To save the ongoing political talks and safeguard the February 27 truce, de Mistura expressed hope that Moscow and Washington can revitalize the negotiations by pressuring the warring parties to adhere to the ceasefire.
"We need that to be urgently revitalized… the Russian Federation and the US need to come back again and relaunch it," he said. "And it is totally possible."
"And I know that both the Russian Federation and the United States are talking among themselves on how to salvage what is being actually a remarkable success, but needs to be sustained. It will not be difficult for everyone to come back around the table," de Mistura added.
Calling the US-Russian diplomacy which led to cessation of hostilities a "miracle," the 69-year-old Swedish career diplomat asserted that the political legacy of both Presidents Vladimir Putin and Barack Obama depends on the outcome of the Syrian civil war.
Promising to hold at least another round of negotiations before July and starting most likely next month, he said that at the end of the latest round of negotiations, which concluded in Geneva on Wednesday, the sides made some progress.
Common positions have been outlined in a seven-page document issued at the end of a two-week round of talks. Outlining the commonalities in the negotiations, de Mistura said that, "No one is doubting anymore that there is an urgent need for a true and credible political transition."
He also said that the sides agreed that political transition should be overseen by a transitional government which should include members of the present government, opposition, and other independents parties. The new government will also be tasked with drafting a new constitution.
Yet at the same time, the envoy stressed that "there is no denial that there are major differences especially on the major issues," without specifying which ones.
Asked if the future role of President Bashar Assad was discussed in the negotiations, de Mistura said the parties "didn't get into names of people, who is doing what, but about how to change the current governance."
De Mistura in the meantime aims to convene a ministerial meeting of major and regional powers under the International Syria Support Group (ISSG), before the next round of negotiations is held.
Source: rt.com
04.28.16 – Gold and Silver Update – It's Game On!
Gold continues to consolidate. Two months of sideways price action is proving the yellow metal's early-year gains were justified while setting the foundation for another move up.
That move will require some kind of impetus and there are many options to provide the push: more stimulus announcements in Europe or Japan, weak Q1 earnings, increasing inflation expectations, rising general economic uncertainty, US dollar weakness, and interest rate roulette, to name a few.
We don't know if these things will transpire, let alone when. The US dollar is certainly declining, if in fits and starts:
That helps gold, from both the fundamental angle that gold is priced in greenbacks and the investment rationale that a declining greenback encourages savers to find another safe haven hideout for their savings.
But a declining dollar is only one cog in a machine driving investor interest towards gold. Another is the fact that super low interest rates have removed investors' go-to tool for hedging their stock portfolios: bonds.
No matter what you think the odds are of a recession in the near to medium term, the fact is we are in uncharted waters. Very low or zero to even negative interest rates had their intended effect, which was to force savers and investors into riskier assets like bonds and equities. That created a seven-year bull market in equities and bonds – but one not representative of the actual economy, which remained stagnant.
That is what already happened. Of interest now is what will happen next.
Bonds have long been the go-to hedge against equities. Bonds are supposed to rise in price when recessionary periods push equities down, because recessions prompt central banks to lower interest rates and that lifts bond prices.
But how's that supposed to work when interest rates are already rock bottom?
Bonds will not hedge stocks if we enter a recession because central banks can't do anything to support bonds. That means investors will look elsewhere for a hedge. Gold will be a natural conclusion.

As John Hathaway of Tocqueville Asset Management calculated, if investors were to increase their gold allocation from 0.55% (the current level) to 1.55%, that would represent 56,075 tonnes of demand. That is far more gold than is currently available in London. In fact, a 0.1% increase swamps the supply of physical gold.
That is the kind of logic that backs the idea that gold has a good run ahead.
Gold moving sideways and consolidating supports the view that gold's run has truly begun. The way equities are acting adds weight.
Gold stocks outperform gold at the start of a bull cycle. Take a look back to the last cycle: gold bottomed in April 2001 but then ascended slowly, not making a new 52-week high until early 2002 and not establishing a higher high until almost the end of that year. Meanwhile, gold stocks as per the HUI more than doubled during 2002 while many juniors moved far more.
Gold stocks outperform the yellow metal the most at the start of the bull cycle. We are seeing that kind of outperformance now.
Then there's silver, which has finally started to move.
  It doesn't look like much on the five-year chart, but silver seems to have carved out a bottom. It is up 21% this year, making it the best-performing metal.
And silver has more ground to regain. Gold may have lost 45% in the bear market, but silver lost more than 70%.
The fact that silver is moving now matters. Silver never moves lock step with gold. When uncertainty prompts investors to seek out safe havens, they look to gold long before silver because gold is a far more straightforward safe haven. Silver, by contrast, is also an industrial metal, which means demand waxes and wanes more with economic demand.
However, after some time silver's safe haven status starts to catch up. And once it starts to look like a safe haven, it acts increasingly so. That process usually starts when gold is consolidating its first big move and preparing to take out its next resistance.
In other words: we're seeing gold consolidate, which gives confidence in the new price range, and gold is trailing gold equities, which is precisely the pattern we see to start new bull markets. Silver's recent move only confirms the pattern.
Explorers, miners, and resource investors have been waiting for this pattern to emerge for years. With evidence of a new bull market mounting, they are getting busy.
Here's a good comparison: in the fourth quarter of last year, miners and explorers raised a measly $565 million. The average placement totaled just $3.3 million.
In the first quarter of this year, the sector has raised $3.5 billion and the average size rose to $23 million. [3]
That's a massive change. Granted, a few huge raises tipped the scale, including Franco Nevada's $1 billion, Silver Wheaton's $623 million, and Goldcorp's $250 million.
But the money still matters.
For one, royalty and streaming companies like FNV and SLW put capital to use by investing in other assets and companies. That helps the whole sector.
For another, doozies aside the sector still raised a lot of cash and about a fifth of the financings went to explorers and developers. That is significant – in the depths of the bear market, explorers just didn't have access to capital.
Then there's the deal flow. The quarter saw several big deals: Tahoe buying Lake Shore Gold, Endeavour buying True Gold, and Newcastle buying Catalyst Copper. There were a good number of smaller deals as well: Probe Metals and Adventure Gold merged, Kootenay Silver took over Northair Silver, and First Mining Finance bought both Clifton Star Resources and the Pitt project from Brionor Resources, among others.
Also really interesting are the moves by majors and mid-tiers to acquire stakes in smaller companies. Goldcorp's move on Gold Standard Ventures is one example (and it prompted Oceanagold to put more money into GSV to maintain its stake); Oceanagold's investment in NuLegacy is another.
A favorite question during the bear market was: what will it take to bring mining back to life?
Our answer was always the same: investors have to make money.
In that sense, a mining revival becomes a self-fulfilling prophecy. A bit of recovery gives companies confidence to raise capital. Capital enables exploration, development, and deals, which in turn adds life to share prices.
Reinvigorated share prices means more financings, more activity and happier investors.
Source: zerohedge.com
04.27.16 –   George Orwell's Ghost Is Laughing – Obama's "No Boots On The Ground" Doublespeak
What's the difference between "boots on the ground" and military personnel wearing boots who are engaged in combat – and perhaps dying – on the ground? If you can answer that question convincingly, perhaps you'd like to apply for John Kirby's job, because he's not doing it very successfully. Kirby is the State Department spokesman who, in answer to a question from a reporter about the 250 US troops being sent to Syria, denied President Obama ever said there'd be "no boots on the ground" in Syria. Here's the video…
And here's the relevant transcript:
"Kirby: there was never this – there was never this, "No boots on the ground." I don't know where this keeps coming from.

Question: But yes there – well, yes, yes, there was.

Kirby: There was no – there was – no there wasn't. There was –

Question: More than –

Question: What?

Kirby: We're not going to be involved in a large-scale combat mission on the ground. That is what the President has long said."
To anyone who has been following this, Kirby's argument is patently absurd. The President told the BBC less than twenty-four hours previously that there would be "no boots on the ground" – and then his administration announced that 250 more booted US soldiers would be treading Syrian ground. Not only that, but prior to the summer of last year, the President assured the American people there'd be no "boots on the ground" a total of sixteen times.
As George Orwell dramatized in Nineteen Eighty-Four, and also in this memorable essay, the degeneration of language into an instrument of concealment is one of the hallmarks of the modern age. In the novel, there is a vast apparatus concerned solely with erasing the past in order to justify the actions of the present: the Obama administration doesn't have the power to do that, and yet thinks it can achieve the same ends by simply denying what everyone knows to be true, as shown by Kirby's surreal exchange with reporters:
 "Question: The point is is that for months and months and months that the mantra from the President and everyone else in the Administration has been, 'No boots on the ground' and now –

"Kirby: No, that is not true.

Question: What?

Kirby: It's just not true, Matt.

Question: It is.

Question: Mr. Kirby –

Kirby: It's just not true.

Question: It's true.

Kirby: No, it's not. I just flatly, absolutely disagree with you …"
When you are dealing with a liar, it's important to parse every word, every syllable, in order to tease real meaning out of the tissue of dissimulations – and, indeed, if we go back and do this with the President's pronouncements over the past few years on this question, we get a sense that what is being said is not quite what we are hearing. And that, as Orwell pointed out, is the purpose of most political speech.
If you listen hard, you can hear Orwell's ghost laughing.
What the Obama administration is doing here is on the same level as Bill Clinton's handling of the Monica Lewinsky affair: "I did not have sexual relations with that woman."
So why is the administration engaged in a futile effort to deny the obvious, and make its spokesman look like the American equivalent of Baghdad Bob?
The answer is: politics. The American people have made it very clear that they consider the Iraq war a mistake and they want no repeat of that experience. And yet there are countervailing influences within the military and the national security bureaucracy that want exactly that and they will not be denied. Furthermore, these embedded dead-enders are well aware of the policy differences between Obama and his would-be successor: it was, after all, Hillary Clinton who pushed (andcontinues to push) for regime change in Syria, hatched a scheme with Gen. David Petraeus to arm Islamist rebels on a large scale, and pushed for the disastrous "liberation" of Libya.
Obama is a lame duck, and the second and third rank officials who really run our foreign policy are already adapting to the likelihood of a Clinton Restoration..
There are now over 4,000 US troops in Iraq, "advising" and "assisting" the Iraq military: there are hundreds in Syria – and this latter represents a significant extension of US intervention over and above what George W. Bush ever tried. Back in the days of "Operation Iraqi Freedom," the Bush administration continually threatened the Syrian government with "regime change," but never made a serious move to translate rhetoric into action. The Obama administration recognizes no such constraints – and a second Clinton administration, if such there is to be, is likely to throw reticence to the winds and charge full-bore into Syria.
President Obama won the White House largely on the promise that he would not repeat Bush's folly in the Middle East. Yet his legacy is likely to be that the war he hung around Hillary Clinton's neck was restarted in the final months of his presidency. And if Mrs. Clinton does indeed succeed him, I have no doubt that she will escalate the war in Syria and in Iraq, with consequences down the road that we can only imagine.
The Republican alternatives are no less dispiriting. Ted Cruz wants to find out whether we can "make the sand glow." Donald Trump, for all his "isolationist" rhetoric, vows to destroy the Islamic State – albeit without putting troops on the ground. (Want to bet that, once in office, he'll reverse his stance on ground troops in a New York minute?)
The entire political class –including the alleged "outsiders" – are on the other side of the barricades from the average American when it comes to US intervention in the Middle East. Which leads one to conclude that we're going to be in for a long and bloody battle over this question, with thousands more lives lost – and the only change that's going to come won't be led by politicians, but by a mass movement from below.
Source: zerohedge.com
04.27.16 –   Venezuela Economy Literally Grinds To A Halt As Maduro Orders "Five Day Weekend" For Public Workers
Just three weeks ago, the Venezuela socialist paradise gifted local workers with one extra day of rest each week when, as a result of the crippling economic crisis and collapsing power grid, president Maduro designated every Friday in the months of April and May as a non-working holiday in his desperate bid to save electricity as a prolonged drought pushes water levels to a critical threshold at hydro-generation plants. Never without a scapegoat, Maduro immediately blamed El-Nino for implementing the three-day weekend.
"This plan for 60 days, for two months, will allow the country to get through the most difficult period with the most risk," Maduro said on state television in early April. "I call on families, on the youth, to join this plan with discipline, with conscience and extreme collaboration to confront this extreme situation" of the drought blamed on the El Nino weather system.
As a reminder, the reason for the electrical rationing was the water content of Venezuela's Guri Dam, which supplies more than two-thirds of the country's electricity. As The Latin American Herald Tribune wrote a month ago, the dam "is less than four meters from reaching the level where power generation will be impossible. Water levels at the hydroelectric dam are 3.56 meters from the start of a 'collapse' of the national electric system. Guri water levels are at their lowest levels since 2003, when the a nationwide strike against Hugo Chavez reduced the need for power, masking the problem."
Yesterday the water levels at Guri dam reached a record low of 241.67 meters, according to state power utility Corpoelec. If levels drop below 240 meters, the dam's operator may be forced to shut down units at the plant that produces about 75 percent of the electricity that Caracas, the country's capital and largest city, consumes.
Alas, since this plan was doomed to fail as the Venezuela economy would produce even less output as a result of the extended weekend, things went from comical to farcical overnight when the Venezuelan gift kept on giving, and the nation expanded the three-day weekend to five days, declaring a two-day work week for government workers, adding it was seeking international help to save its power grid amid a drought that threatens the capital's main source of electricity.
The two-day work week, after the government added Wednesdays and Thursdays as non-working days to save more power, will last at least two weeks, President Nicolas Maduro said on his weekly program broadcast on state television. Schools will be closed on Fridays starting this week, he said.
"The public sector will work Monday and Tuesday, while we go through these critical and extreme weeks where we are doing everything to save the Guri," Maduro said, referring to the giant hydroelectric dam that has become like a "desert." The collection of electricity-saving measures have reduced Guri's daily drop from 22 centimeters a day to 10 centimeters, he added.
As Bloomberg adds, Venezuela is requesting emergency international help from the United Nations for public works construction to help the country recover from an "extreme situation," Maduro said. He called for "social peace" during the power crisis.
Meanwhile, Venezuelans, except those in the capital and some states, began to experience programmed four-hour rolling blackouts on Monday as a drought cripples generation at the Guri dam. According to the IMF, Venezuela's economy will contract 8% this year, after shrinking 5.7% in 2015. Considering hyperinflation in Venezuela is already running at over 700%,and now that the economy is effectively shut down, we will take the under.
Today's announcement follows another curious idea by Maduro when earlier this month he ordered the country's time zone changed to save energy, reversing the decision by his predecessor, Hugo Chavez, to set back clocks 30 minutes in 2007 to ease daily predawn commutes for school children and the poor. Clocks will be moved forward a half hour May 1.
Looking forward, we doubt that the decision to expand the weekend from 3 to 5 days will be reversed any time soon (after all the initial 3-day weekend expansion was supposed to be temporary as well), and the most likely outcome is that in his next decree, Maduro will announce that public workers can just take a 7 day weekend, and no longer show to work. They will also receive a commesurate wage.
At that point, we assume, is when the Venezuela experiment in creating a socialist paradise finally concludes.
Source: zerohedge.com
04.27.16 –   White House on lockdown for 2nd day in a row
The executive mansion has been locked down for the second time in less than 24 hours.
The lockdown is due to an unknown situation, according to reporters in the press briefing room. The president is believed to be inside the White House.
The closure on Wednesday morning came just after 11 a.m. local time. On Tuesday, the White House was placed on a brief lockdown after a robbery suspect fleeing the scene jumped over the fence outside the Eisenhower Executive Office Building (EEOB, also known as the Old Executive Office Building) around 4 p.m. The lockdown was lifted about half an hour later.
Source: rt.com
04.27.16 –   Censored, Surveilled, Watch-Listed, & Jailed: The Absurd Citizenry Of The American Police State
In past ages, those who dared to speak out against tyranny – viewed as an act of treason – were blinded, castrated, disfigured, mutilated, rendered mute by having their tongues cut out of their heads, and ultimately crucified.
In the American police state, the price to be paid for speaking truth to power (also increasingly viewed as an act of treason) is surveillance, censorship, jail and ultimately death.
It's a diabolically ingenious tactic for muzzling, disarming and ultimately eliminating one's critics or potential adversaries.
However, where many Americans go wrong is in assuming that you have to be doing something illegal or challenging the government's authority in order to be flagged as a suspicious character, labeled an enemy of the state and locked up like a dangerous criminal.
In fact, as I point out in my book Battlefield America: The War on the American People, all you really need to do is use certain trigger words, surf the internet, communicate using a cell phone, drive a car, stay at a hotel, purchase materials at a hardware store, take flying or boating lessons, appear suspicious, question government authority, or generally live in the United States.
With the help of automated eyes and ears, a growing arsenal of high-tech software, hardware and techniques, government propaganda urging Americans to turn into spies and snitches, as well as social media and behavior sensing software, government agents are spinning a sticky spider-web of threat assessments, behavioral sensing warnings, flagged "words," and "suspicious" activity reports aimed at snaring potential enemies of the state.
It's the American police state's take on the dystopian terrors foreshadowed by George Orwell, Aldous Huxley and Phillip K. Dick all rolled up into one oppressive pre-crime and pre-thought crime package.
What's more, the technocrats who run the surveillance state don't even have to break a sweat while monitoring what you say, what you read, what you write, where you go, how much you spend, whom you support, and with whom you communicate. Computers now do the tedious work of trolling social media, the internet, text messages and phone calls for potentially anti-government remarks—all of which is carefully recorded, documented, and stored to be used against you someday at a time and place of the government's choosing.
While this may sound like a riff on a bad joke, it's a bad joke with "we the people" as the punchline. Yet it is no laughing matter that Americans are being jailed for growing orchids, feeding whales, collecting rainwater, and praying in their backyards. There is nothing humorous about Americans having their families terrorized by SWAT teams, their pets killed, their children shot, their homes trashed and their privacy shredded. And there's really not much comic relief to be found when the citizenry is forced to pay their own government to jail, spy on, censor, terrorize and kill them.
The following activities are guaranteed to get you censored, surveilled, eventually placed on a government watch list, possibly detained and potentially killed.
Laugh at your own peril.
 Use harmless trigger words like cloud, pork and pirates: The Department of Homeland Security has an expansive list of keywords and phrases it uses to monitor social networking sites and online media for signs of terrorist or other threats. While you'll definitely send up an alert for using phrases such as dirty bomb, Jihad and Agro terror, you're just as likely to get flagged for surveillance if you reference the terms SWAT, lockdown, police, cloud, food poisoning, pork, flu, Subway, smart, delays, cancelled, la familia, pirates, hurricane, forest fire, storm, flood, help, ice, snow, worm, warning or social media.

Use a cell phone: Simply by using a cell phone, you make yourself an easy target for government agents—working closely with corporations—who can listen in on your phone calls, read your text messages and emails, and track your movements based on the data transferred from, received by, and stored in your cell phone. Mention any of the so-called "trigger" words in a conversation or text message, and you'll get flagged for sure.

Drive a car: Unless you've got an old junkyard heap without any of the gadgets and gizmos that are so attractive to today's car buyers (GPS, satellite radio, electrical everything, smart systems, etc.), driving a car today is like wearing a homing device: you'll be tracked from the moment you open that car door thanks to black box recorders and vehicle-to-vehicle communications systems that can monitor your speed, direction, location, the number of miles traveled, and even your seatbelt use. Once you add satellites, GPS devices, license plate readers, and real-time traffic cameras to the mix, there's nowhere you can go on our nation's highways and byways that you can't be followed. By the time you add self-driving cars into the futuristic mix, equipped with computers that know where you want to go before you do, privacy and autonomy will be little more than distant mirages in your rearview mirror.

Attend a political rally: Enacted in the wake of 9/11, the Patriot Act redefined terrorism so broadly that many non-terrorist political activities such as protest marches, demonstrations and civil disobedience were considered potential terrorist acts, thereby rendering anyone desiring to engage in protected First Amendment expressive activities as suspects of the surveillance state.

Express yourself on social media: The FBI, CIA, NSA and other government agencies are investing in and relying on corporate surveillance technologies that can mine constitutionally protected speech on social media platforms such as Facebook, Twitter and Instagram in order to identify potential extremists and predict who might engage in future acts of anti-government behavior. A decorated Marine, 26-year-old Brandon Raub was targeted by the Secret Service because of his Facebook posts, interrogated by government agents about his views on government corruption, arrested with no warning, labeled mentally ill for subscribing to so-called "conspiratorial" views about the government, detained against his will in a psych ward for having "dangerous" opinions, and isolated from his family, friends and attorneys.

Serve in the military: Operation Vigilant Eagle, the brainchild of the Dept. of Homeland Security, calls for surveillance of military veterans returning from Iraq and Afghanistan, characterizing them as extremists and potential domestic terrorist threats because they may be "disgruntled, disillusioned or suffering from the psychological effects of war." Police agencies are also using Beware, an "early warning" computer system that tips them off to a potential suspect's inclination to be a troublemaker and assigns individuals a color-coded threat score—green, yellow or red—based on a variety of factors including one's criminal records, military background, medical history and social media surveillance.

Disagree with a law enforcement official: A growing number of government programs are aimed at identifying, monitoring and locking up anyone considered potentially "dangerous" or mentally ill (according to government standards, of course). For instance, a homeless man in New York City who reportedly had a history of violence but no signs of mental illness was forcibly detained in a psych ward for a week after arguing with shelter police. Despite the fact that doctors cited no medical reason to commit him, the man was locked up in accordance with a $22 million program that monitors mentally ill people considered "potentially" violent. According to the Associated Press, "A judge finally ordered his release, ruling that the man's commitment violated his civil rights and that bureaucrats had meddled in his medical treatment."

Call in sick to work: In Virginia, a so-called police "welfare check" instigated by a 58-year-old man's employer after he called in sick resulted in a two-hour, SWAT team-style raid on the man's truck and a 72-hour mental health hold. During the standoff, a heavily armed police tactical team confronted Benjamin Burruss as he was leaving an area motel, surrounded his truck, deployed a "stinger" device behind the rear tires, launched a flash grenade, smashed the side window in order to drag him from the truck, handcuffed and searched him, and transported him to a local hospital for a psychiatric evaluation and mental health hold. All of this was done despite the fact that police acknowledged they had no legal basis nor probable cause for detaining Burruss, given that he had not threatened to harm anyone and was not mentally ill.

Limp or stutter: As a result of a nationwide push to certify a broad spectrum of government officials in mental health first-aid training (a 12-hour course comprised of PowerPoint presentations, videos, discussions, role playing and other interactive activities), more Americans are going to run the risk of being reported for having mental health issues by non-medical personnel. Mind you, once you get on such a government watch list—whether it's a terrorist watch list, a mental health watch list, or a dissident watch list—there's no clear-cut way to get off, whether or not you should actually be on there. For instance, one 37-year-old disabled man was arrested, diagnosed by police and an unlicensed mental health screener as having "mental health issues," apparently because of his slurred speech and unsteady gait, and subsequently locked up for five days in a mental health facility against his will and with no access to family and friends. A subsequent hearing found that Gordon Goines, who suffers from a neurological condition similar to multiple sclerosis, has no mental illness and should not have been confined.

Appear confused or nervous, fidget, whistle or smell bad: According to the Transportation Security Administration's 92-point secret behavior watch list for spotting terrorists, these are amongsome of the telling signs of suspicious behavior: fidgeting, whistling,bad body odor, yawning, clearing your throat, having a pale face from recently shaving your beard, covering your mouth with your hand when speaking and blinking your eyes fast. You can also be pulled aside for interrogation if you "have 'unusual items,' like almanacs and 'numerous prepaid calling cards or cell phones.'" One critic of the program accurately referred to the program as a "license to harass."

Allow yourself to be seen in public waving a toy gun or anything remotely resembling a gun, such as a water nozzle or a remote control or a walking cane, for instance: No longer is it unusual to hear about incidents in which police shoot unarmed individuals first and ask questions later. John Crawford was shot by police in an Ohio Wal-Mart for holding an air rifle sold in the store that he may have intended to buy. Thirteen-year-old Andy Lopez Cruz was shot 7 times in 10 seconds by a California police officer who mistook the boy's toy gun for an assault rifle. Christopher Roupe, 17, was shot and killed after opening the door to a police officer. The officer, mistaking the Wii remote control in Roupe's hand for a gun, shot him in the chest. Another police officer repeatedly shot 70-year-old Bobby Canipe during a traffic stop. The cop saw the man reaching for his cane and, believing the cane to be a rifle, opened fire.

Stare at a police officer: Miami-Dade police slammed the 14-year-old Tremaine McMillian to the ground, putting him in a chokehold and handcuffing him after he allegedly gave them "dehumanizing stares" and walked away from them, which the officers found unacceptable.

Appear to be pro-gun, pro-freedom or anti-government: You might be a domestic terrorist in the eyes of the FBI (and its network of snitches) if you: express libertarian philosophies (statements, bumper stickers); exhibit Second Amendment-oriented views (NRA or gun club membership); read survivalist literature, including apocalyptic fictional books; show signs of self-sufficiency (stockpiling food, ammo, hand tools, medical supplies); fear an economic collapse; buy gold and barter items; subscribe to religious views concerning the book of Revelation; voice fears about Big Brother or big government; expound about constitutional rights and civil liberties; or believe in a New World Order conspiracy. This is all part of a larger trend in American governance whereby dissent is criminalized and pathologized, and dissenters are censored, silenced or declared unfit for society.

Attend a public school: Microcosms of the police state, America's public schools contain almost every aspect of the militarized, intolerant, senseless, overcriminalized, legalistic, surveillance-riddled, totalitarian landscape that plagues those of us on the "outside." From the moment a child enters one of the nation's 98,000 public schools to the moment she graduates, she will be exposed to a steady diet of draconian zero tolerance policies that criminalize childish behavior, overreaching anti-bullying statutes that criminalize speech, school resource officers (police) tasked with disciplining and/or arresting so-called "disorderly" students, standardized testing that emphasizes rote answers over critical thinking, politically correct mindsets that teach young people to censor themselves and those around them, and extensive biometric and surveillance systems that, coupled with the rest, acclimate young people to a world in which they have no freedom of thought, speech or movement. Additionally, as part of the government's so-called ongoing war on terror, the FBI—the nation's de facto secret police force—is now recruiting students and teachers to spy on each other and report anyone who appears to have the potential to be "anti-government" or "extremist" as part of its "Don't Be a Puppet" campaign.

Speak truth to power: Long before Chelsea Manning and Edward Snowden were being castigated for blowing the whistle on the government's war crimes and the National Security Agency's abuse of its surveillance powers, it was activists such as Martin Luther King Jr. and John Lennon who were being singled out for daring to speak truth to power. These men and others like them had their phone calls monitored and data files collected on their activities and associations. For a little while, at least, they became enemy number one in the eyes of the U.S. government.
There's always a price to pay for standing up to the powers-that-be.
Yet as this list shows, you don't even have to be a dissident to get flagged by the government for surveillance, censorship and detention.
All you really need to be is a citizen of the American police state.
Source: zerohedge.com
04.26.16 –   Silver: Do Old Indicators Matter Or Is Physical About To Overrun Paper?
For as long as most gold and silver investors can remember, the paper markets – that is, banks and speculators placing bets with futures contracts – have set the price of those metals. And within the paper markets, "the commercials" – fabricators and big banks – have consistently fooled speculators like hedge funds into going long or short at exactly the wrong time.
The data series that tracks this relationship is known as the commitment of traders report (COT), and it's been a pretty reliable indicator of precious metals' short-term trajectory.
Right now that's bad news for gold and especially for silver, because the speculators – who, remember, are usually wrong at the extremes – are exuberantly long the latter, implying that the silver recovery is due for a correction. Here's a recent piece from well-known metals trader Dan Norcini:
By that I mean, it just keeps getting scarier and scarier.

My guess is that every speculator on the planet is long silver/short gold or outright long silver.

That of course is an exaggeration but I am not exaggerating when I categorically state that the silver market is a train wreck just waiting to happen. As I have said before, and will say so again – I would rather miss any more upside in this market than get long now, not with a trade so lopsidedly jammed with speculators on the long side. I will leave that for the daredevils and others who like driving the stagecoach as close to the edge of the mountain pass road as they possibly can.

Here is a look at the hedge fund outrights:
Yet another all time record high! Tell me we do not have a buying frenzy taking place in the silver market! I suppose it can keep going higher and the specs can keep piling on more and more longs but when it breaks, it is going to be ugly – unless you are short and then it will be a thing of beauty to behold a mass exodus of hapless specs who ended up buying the top in this thing.

Commercial interests and Swap Dealers have been more than happy to offload silver into the hands of speculators at these prices. If I were long this market, and I am not, I would get some downside protection through the use of options at the very least.
On the other side of this argument is London metals trader Andrew Maguire, who inhis latest interview on King World News asserts that gold and silver are entering new, post-paper age in which physical demand sets prices:
 Western central planners have finally lost control of the gold market.

There is an unprecedented liquidity drain out of London markets into physical markets in the East. It's flowing out of the paper market into the physical exchanges. These events are unprecedented, forcing changes in the behavior of paper markets that are not comprehended by paper-centric analysts who are puzzling over outdated chart patterns and synthetically extracted data.

Just this week things came to a head. An overwhelming number of bearish observations appeared in the blogosphere. I see a lot of hand wringing about open interest structure which historically at these levels has resulted in a major rinse lower. But the gold market is increasingly driven by global physical benchmarks. The physical market dog is starting to wag the paper market tail. Anyone trading paper-centric historical patters is driving forward while looking in the rear view mirror.
Maguire goes on to say that if this is indeed the long-awaited physical take-over of the precious metals markets silver will not only fail to correct, it will go up faster than gold, bringing the gold/silver ratio down to more historically normal levels.
For those getting back into precious metals after the brutal bear market of the past few years, the prospect of the Eastern physical markets taking over from the Western paper markets is welcome. But it adds another layer of complexity to an already opaque market.
So here again, the only rational response is to embrace the short-term uncertainty and dollar-cost average. Since both camps in the above debate see precious metals much higher a few years hence, just buy a little at a time and don't try to play the squiggles. Leave that to the pros.
Source:zerohedge.com
04.26.16 –   'Hegemonic logic': China fumes after Pentagon calls it top target of US 'freedom of navigation' ops
Beijing has urged Washington to respect international maritime order and stop interfering with other countries' affairs. It comes in response to a fresh report by the Pentagon, mentioning China as the top target of US 'freedom of navigation' operations.
"We regard the so-called 'freedom of navigation' operations as the violent means by which the US promotes its unilateral claims," Hua Chunying, Chinese Foreign Ministry spokeswoman, said as cited by CCTV.
According to Beijing, the actions of the American military reveal "the hegemonic logic of the US towards international maritime order."
"We hope the US can respect the sovereignty and security of other countries and contribute more to safeguard international maritime order and regional peace and stability," Hua Chunying said.
The US Defense Department carried out multiple 'freedom of navigation' operations against 13 countries between October 1, 2014 and September 30, 2015, according to an annual report released by the Pentagon on Monday.
Besides China, American targets included India, Indonesia, Iran, Libya, Malaysia, the Maldives, Oman, the Philippines and Vietnam.
The Pentagon sent its warships and planes to the South and East China seas where Beijing is conducting island reclamation activity.
The Americans challenged Chinese jurisdiction in the airspace above its maritime Exclusive Economic Zone, as well as the restrictions Beijing tried to impose on aircraft flying through an Air Defense Identification Zone off the Chinese coast, the report said.
In 2014, the US disputed territorial claims of 18 countries, including India, China and Brazil
Freedom of navigation is a principle of international law, according to which ships flying the flag of any sovereign state shall not suffer interference from other states.
It is codified in the UN Convention on the Law of the Sea from 1982, which the US signed, but failed to ratify.
Source: rt.com
04.26.16 –    US to deploy high-mobility rocket system to Turkey-Syria border
The US plans to deploy its High Mobility Artillery Rocket System (HIMARS) to Turkey to help fight Islamic State in Syria, Turkish FM Mevlut Cavusoglu has told local media. The deployment is part of an agreement to seal off the bordering Manbji region.
The border region has been increasingly targeted by Islamic State (IS, formerly ISIS/ISIL) in rocket attacks, according to Ankara.
"We have come to an agreement with the US regarding closing down the Manbij area," the Turkish foreign minister told the Haberturk newspaper while visiting Saudi Arabia.
"As part of this deal, HIMARS systems will be arriving in Turkey's borders in May. Therefore we will be able to hit Islamic State in a more efficient way," he added, explaining that the current range of Turkish top-of-the-line rockets is only 40km, while America's ground-based HIMARS can reach 90km.
This will enable Turkey to help the Syrian opposition on the ground too. "To wipe out Islamic State from this region, we need to support the moderate opposition both from the air and ground," he noted.
Cavusoglu blames the West for being late to the table on creating a safe zone. "To eradicate Daesh [Arabic pejorative for IS] from this area, the opposition must be empowered. In fact, if the armed conflict in Syria stops, it could be possible to assign more forces to fight against Daesh. We have to support the moderate opposition," he said.
The HIMARS is a light multiple rocket launcher mounted on a truck frame and carrying six rockets.
The FM also lambasted the US for continuing support of the Kurdish fighters of the People's Protection Units (YPG), which Turkey is sharply against but which is believed to be one of the main forces on the ground fighting IS.
Asked if American offers of reconciliation with the YPG have a chance, the Turkish FM said: "Instead of proposing to us to relaunch negotiations, those countries should consider whether they can guarantee the Kurdistan Workers' Party [PKK] will lay down its arms or not." The Turkish government considers the PKK a terrorist organization.
Some doubt Turkey's aspirations with regard to the idea of a safe zone. Military expert Vladimir Evseev told RIA that Ankara is interested in the measure in order to annex a part of Syria.
"Turkey's been at it for a while now with the safety zone. It is clear as day they're not interested in creating one, but basically [want to] occupy part of Syria using the excuse. Their motives here are absolutely clear," Evseev said, adding that the US would hardly supply Turkey with the HIMARS without US personnel in tow.
"I think this will be an American-controlled deployment, it will be US personnel. The US would like to both satisfy the Turks and not aggravate the situation at the same time," he added. The rationale for this, according to Evseev, is "to simultaneously make good on the promise to protect Turkey, but to also prevent it from using the systems without US permission."
The Turks, for their part, are only really interested in the HIMARS "to use it against peaceful civilians" – namely the Kurds. "But it's not the kind of weapon at all the Americans would just hand over."
Source: rt.com
04.25.16 –   DOUG CASEY WARNS: "IT'S THE NEXT STAGE OF THE GREATER DEPRESSION… THE ECONOMY IS GOING TO BE VERY, VERY BAD"
While President Obama took credit this weekend for saving the world economy from a global depression and stock markets are hovering around all-time highs, not everyone is convinced that central bank policy and government involvement in financial markets has stabilized the system. Doug Casey, one of the most well respected institutional investors in the world and someone who thrives in environments plagued with volatility and risk, joins Future Money Trends to explain exactly why the world has not avoided a Greater Depression and how things are about to get "very, very bad."
And by very bad he means that centrally manufactured super-bubbles and bubbles are set to wipe out trillions.
You've got to remember that all of these governments and central banks all around the world have driven interest rates not just to zero, but to negative levels in some cases… and they are simultaneously printing up trillions of currency units.And even while they are desperately doing that the economy is falling apart in lots of different ways.

…They've created a super-bubble in bonds, a bubble in stocks, and meanwhile commodities have collapsed and are below production costs in many cases.

…The economy is going to be very, very bad… It's the next stage of what I call the Greater Depression. 
But as centrally manufactured bubbles burst in one sector of the economy, says Casey, capital will flow en masse to other sectors as investors panic. First to safe haven assets like gold, and then to to broader commodities which have been left for dead since the start of the decade:
Commodities, despite the fact that the economy is going to be bad, I think are headed up at this point because they're the only cheap thing in the world and that's where a lot of this excess money is going to flow.
And the excess money is going to flow rapidly. As Casey notes, while there may be panic selling in some parts of the economy, there will be panic buying elsewhere:
I'm extremely bullish on gold because it bears emphasis… gold is the only financial asset that is not simultaneously somebody else's liability and all of these paper currencies all over the world are going to go to their intrinsic value, which is essentially zero. 

What these central banks and governments are doing is incredibly irresponsible and stupid, printing these currency units up by the trillions… so there's going to be a panic into gold.

As part of that you're going to find China, maybe Russia, are going to go to a gold-backed Yuan and gold backed Ruble because they want to dethrone the U.S. dollar as the world's premier currency… Well, the U.S. government is going to do it because of its incredibly foolish policies.
As you might expect, Casey's focus is on the assets no one else has been interested in during the run up in broader stock markets. And like the Chinese government he's been acquiring major stakes in commodity producers, including one particular gold mining company:
Yes, it is possible at this point [to invest in companies that will rise 20 to 30 times their current prices]. Because there's going to be a panic into gold and it's going to take gold much, much higher. The next commodity bull market is going to be led by gold and it's going to take these stocks with them.

…I think this is the best part of the market to be in.
On America's political future, Casey, a self avowed anarchist and anti-establishment proponent, says he supports Trump because he's the only one in the field who is not a professional politician and perhaps the only one who can change the system as it exists today for the better:
Yes, he says a lot of stupid things… but all of these people say incredibly stupid things… Regardless of the persona he's projecting at the moment to get attention, I think he's much more intelligent and much more responsible than any of the people running. I think he's definitely going to be the Republican candidate unless he's actively defrauded… and I think he's going to win regardless of whether Hillary is the democratic candidate or not… Hopefully she'll be indicted for one or more of her numerous crimes before that happens.

I'm putting my money on Trump for winning the election. Not my ideal choice, but by far the best choice that we have.

… he actually has an understanding of business… and he has common sense… and he's not part of the political machine… pray that Trump makes it because he's also the least war-like of all these people… he's the person that's least likely to involve us in World War III or something that resembles it…

I believe politics is the problem and not the solution… I support Trump and hope he wins… Remember, we're going into the Greater Depression… he's certainly better than anybody else that's out there at the moment.
But the legendary International Man isn't just putting all his eggs in one basket in the hopes of a Trump victory or some sort of magical solution to the problems the United States faces. Casey says you need to diversify in these times of uncertainty, and not just with your financial portfolio:
It's not just important to diversify investment-wise and heavily into gold at this point… It's even more important to diversify internationally and politically and geographically… you don't want all your eggs in North America. It's a big world out there and most of the world is doing better than we are.
Source: thedailysheeple.com
04.25.16 –   Obama Brexit Blowback – Majority Of Brits Think Comments "Inappropriate"
Who could have seen that coming? It appears President Obama's ill-advised Op-Ed and visit to The United Kingdom, exhorting his "friends" to 'just say no' to Brexit and vote democratically to stay part of an undemocratic superstate, has backfired for the establishment. A poll by YouGov suggests that Obama's high profile intervention in the UK's EU Referendum failed with 65% of Brits seeing his comments were not "appropriate."
As SputnikNews reports, Mr Obama's pro-European plea sparked angry responses from a number of high profile advocates of a 'Brexit', not least the Conservative London Mayor, Boris Johnson:
 "For us to be bullied in this way, I don't want to exaggerate, for people to say we are going to be unable to cope on our own is absolutely wrong."
Of course, this is not the first time that Mr Obama has intervened in a British constitutional debate; during the 2014 Scottish independence referendum, he made a similar plea – albeit more euphemistically worded – that the United Kingdom ought to remain "united."
We leave it to Britain's most-tatestful newspaper The Sun to sum up…
Source: zerohedge.com
04.25.16 –   President Obama to send another 250 troops to Syria, See No Ground Troops In Syria
US President Barack Obama will announce plans to dramatically increase American troop presence in Syria by deploying additional 250 personnel, bringing the total to 300 people, media reports quoted US officials as saying.
The move, which is said to be announced Monday, will once again contradict Obama's 2013 promise of not putting any "American boots on the ground in Syria."
"[Obama] intends to put in more … forces to the tune of 250 in Syria," a US official told Reuters on condition of anonymity.
It is not yet clear how many of those troops will be added to special operations, medical or intelligence support. The troops will work with Syrian opposition forces to fight Islamic State (IS, previously ISIS/ISIL).
"The president has authorized a series of steps to increase support for our partners in the region, including Iraqi security forces, as well as local Syrian forces who are taking the fight to ISIL," another official in Obama's administration said.
Sending more troops to Syria will accelerate the process of driving back IS, White House adviser Ben Rhodes told Reuters to explain the soon-to-be-announced move.
AFP confirmed the information. Obama will "announce that he has authorized up to 250 additional forces deploying to Syria," the news agency quoted the source as saying.
Obama is scheduled to reveal more details in Hannover, Germany, on Monday at 11:25 a.m. local time. The US president is currently in Germany discussing various foreign policy issues, including Syria, Ukraine, Libya and the controversial Trans-Atlantic Trade and Investment Partnership (TTIP) trade deal.
Syria was one of the central topics of discussion between Obama and Merkel on Sunday. After the meeting, Obama said he was "deeply concerned" about a recent increase in violence.
The two will meet with other major European leaders after Obama's speech on Monday, including with British Prime Minister David Cameron, French President Francois Hollande and Italian Prime Minister Matteo Renzi.
The first time Obama broke his 2013 promise of no "American boots on the ground in Syria" was when he sent 50 US special operations forces to Syria last year, claiming the move as a "counterterrorism" measure and not a step closer to a ground invasion.
Obama won the presidency first time around in 2008 by pledging to bring peace to the Middle East. However, in recent years, decisions were made to keep adding US troops in the region to help control numerous conflicts.
Obama's decision to boost the number of American troops on the ground in Syria brings up issues concerning the previous failures of the US train and equip program that dealt with unreliable opposition fighters.
The Pentagon gave up on the training part of the project in October, after senior Obama administration officials admitted that the US had only trained a handful of fighters, despite the program's $500 million budget.
Moreover, it was revealed in September that one group of trainees had surrendered one quarter of their US-supplied weapons, ammunition, and vehicles in exchange for safe passage through territory held by another rebel group affiliated with Al-Qaeda.
This boost to American ground force also raises legal concerns for Obama. An expansion of the US role highlights that America is in war against IS, which under the Constitution requires congressional authorization, which Obama has never received.
In addition to more troops in Syria, the Pentagon announced last week that 217 additional military personnel and Apache helicopters will be sent to Iraq, largely in an advisory capacity, on how to fight Islamic State. The additional troops will bring US troop levels in Iraq to 4,087.
The US-led coalition has been carrying out airstrikes against IS in Iraq and Syria since mid-2014. However, the US involvement in Syria began without the approval of the Syrian government of President Bashar Assad.
Source: rt.com
04.24.16 –   The Economy As It Is, Or The Economy As It "Should Be"
The mainstream view of the unemployment statistics suggest that any weakness in the US economy, manufacturing or beyond, will be temporary and shallow because employment growth remains robust. The question is not whether the statistics suggest such a trend but rather if those accounts correspond with anything real. As noted earlier this week, even the Federal Reserve's relatively new measure of broader employment conditions has registered a clear deviation due to economic weakness that amplified toward the end of 2014.
At the very least, there is enormous pressure in the energy sector. It is being felt as a double shot from oil prices affecting direct business and now an almost certain turn in the credit cycle that will shut off additional liquidity just when weaker firms need it the most. The latest quarterly update from oil services giant Schlumberger is all that is necessary to understand the economic "headwind" coming from the energy space:
 "The decline in global activity and the rate of activity disruption reached unprecedented levels as the industry displayed clear signs of operating in a full-scale cash crisis," Chairman and Chief Executive Officer Paal Kibsgaard said in an earnings report Thursday. "This environment is expected to continue deteriorating over the coming quarter given the magnitude and erratic nature of the disruptions in activity."
No cash and no prospects for achieving more junk flotations mean only more of the worst case – bankruptcies and, for the junk bubble, defaults.The significance of the oil industry is more than just its epic fall from flush and grace; it represents the first segment that has already passed through the economic boundary and there are already a number of other sectors ready to follow into the amplified downdraft. This morning I found that it is both oil and retail that is leading the current turn in bankruptcies already.
The jump in commercial bankruptcies and the timing of it corresponds quite well to what we find in actual consumer spending, especially activity in goods or just retail sales. It does not correlate at all with what the BLS is projecting about hiring and employment in the retail sector. Even if retail pressure is only just beginning, the last trend you would expect to find is sustained hiring at a truly historic rate. Since this downturn in activity is not just a sudden one or two month appearance, it is far more sensible to assume that retailers would have been cautious about staffing far a long time already.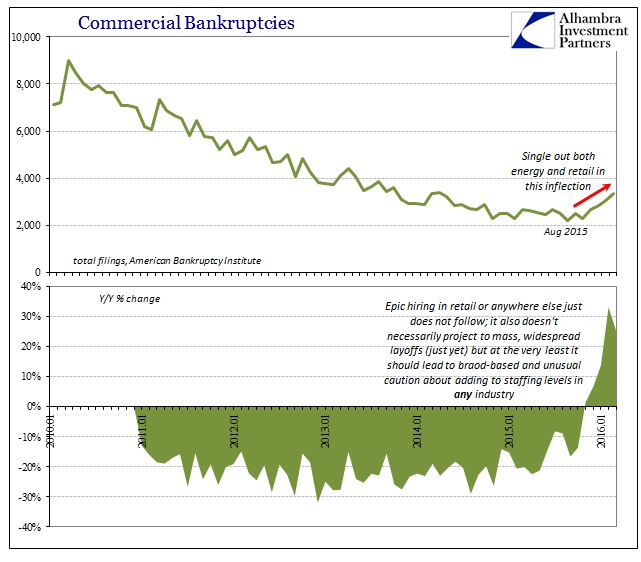 Again, the inflection in commercial bankruptcies, especially retail firms, and the notable and sustained dropoff in retail sales makes sense; the BLS's calculated strength in hiring in retail and the whole economy does not.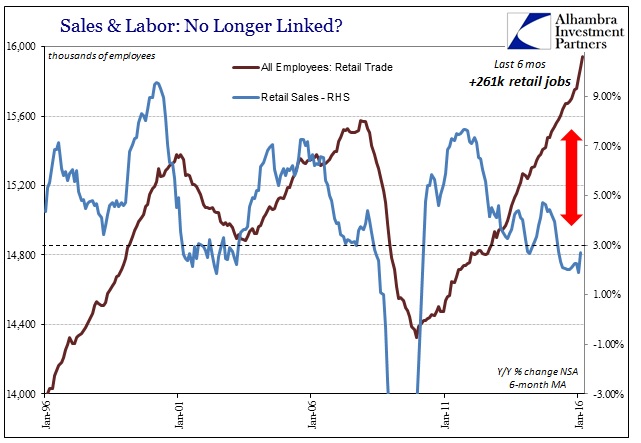 It also cuts against the idea that this is some temporary problem even though temporary (or transitory) now stretches toward a third year. Some of the current rush of renewed optimism in certain riskier markets has been due to the idea that January and February were the worst of it, and that by March better economic numbers were the start of a real and durable uptrend. That was, in my view, always false hope and a misreading of March's estimates especially in comparison to the very relevant longer-term trend. In other words, that some accounts were better in March did not suggest anything other than perhaps overall conditions just weren't quite as bad as at the start of the year. That's a far different proposition as it really isn't saying much positive at all; less atrocious is still atrocious.
That view appears consistent with continued credit problems and even now potential retrenchment in manufacturing. The Markit Manufacturing PMI for April (flash) dropped to barely 50 and the lowest level (for Markit) of this "cycle."
 US factories reported their worst month for just over six-and-a-half years in April, dashing hopes that first quarter weakness will prove temporary.

Survey measures of output and order book backlogs are down to their lowest since the height of the global financial crisis, prompting employers to cut back on their hiring.
Unlike the view from the unemployment rate, a broader range of less imputed data suggests that economic weakness overall may have past that point of being self-reinforcing; that what Schlumberger's CEO describes of oil services and indeed the whole oil patch is the future for many more industries. We just don't know how far into the future that growing possibility might be (slopeand all that).
What should be painfully obvious by now is that the major employment numbers have made themselves irrelevant. The "best jobs market in decades" that began supposedly in 2014 had absolutely no bearing on the sudden and "unexpected" weakness of 2015; had it been real and not just some BLS phantoms of upward biased variation it would have. Instead, the very idea of "transitory" was based on nothing more than the Establishment Survey and the unemployment rate's isolated prompt for "full employment." Weakness, of course, only continued and in reality the economy is only now weaker still. It is far beyond the bounds of reason to expect that the economy, which was conspicuously feeble before, became even more so to the point of contraction in many vital areas, now turning the credit cycle and jumpstarting, unfortunately, the bankruptcy trend, and through it all US businesses continued to hire at a rate not seen since the halcyon dot-com days of the late 1990's.
Again, the payroll reports are irrelevant. Actual economic analysis and fruitful interpretation lies only in ignoring them. Viewing the economy only through the lens of the BLS figures leads to a world that just doesn't exist; it's why policymakers, economists, and the media can't seem to gather that the recovery ended years ago. Recognizing that situation pulls the economy of 2016as it is back within the boundaries of reason, leaving "unexpected" out of all of it.
Source: zerohedge.com
04.24.16 –   The Thing About Bubbles
There are tell-tale signs of bubbles. All throughout history bubbles have been formed, popped, a depression ensued and then another bubble formed. The characteristics of bubbles are very similar. Group think is one of the key components. Rational thinking is set aside as more and more people crowd into a purchasing frenzy to buy up a sought after item. The value of the said item rapidly increases in price and in the end the price collapses and humans suffer financial ruin.
In the 1600's, the Dutch experienced what is now called tulip mania. People flocked into buying tulip bulbs. The masses bid up the price of tulip bulbs to prices that were in some cases 10 times the income of a craftsman or worth more than acreage of property.
The history of the South Sea Company is another example of an extreme bubble that occurred in the 1700's. England was deep in debt and had devised a plan to convert debt into equity of a newly created trading company: The South Sea Company. The idea was to create a company that would conduct trade in South America and use the profits to pay a dividend of 6% to shareholders. There was no reasonable prospect that trade would occur, but the company expanded rapidly and the share price moved significantly higher as a herd of people scrambled to buy shares. The bubble eventually popped and fortunes were lost.
In the 1800's, Britain had passed hundreds of Parliamentary Acts to build railways. The masses bought the shares of railway companies and as the price moved higher so too did the number of people buying shares. Over a third of promised railway lines were never built and the bubble popped.
In the late 1990's, the internet was becoming much more accessible to the greater population. Financial pundits and tech gurus described the tech sector as the "new economy". Investors swarmed into any stock that was considered technology related. Initial public offerings were hitting the markets at an unsustainable rate. The valuations of companies, that had no revenue, sky rocketed. Eventually panic occurred and stock prices collapsed as investors sold off worthless shares of soon to be bankrupt companies.
The biggest bubble in human history is building right now. The first signs of this bubble occurred in the US mortgage market and it temporarily wrought havoc to the global economy in 2007 through into 2009. Instead of allowing the bubble to pop; central banks, cheered on by politicians and the media, printed money to keep the bubble from popping. In essence, the powers that be kicked the proverbial can down the road and have allowed the good times to continue for a bit longer. The bubble will pop and a depression will negatively impact our civilization.
The thing about bubbles is that the general population moves in concert, embraces fiction and literally buys into an unsustainable set of circumstances. The psychology of people is very fascinating. Insanity can be defined as repeating the same action over and over and expecting a different outcome. It's interesting to note how people are corralled into joining the hype. In the early to mid 2000's there were many TV shows about flipping houses. All of a sudden, everyone was wanting to buy rental properties and fixer uppers to flip. Mortgage standards declined in most countries and people who should not have qualified for getting a mortgage were granted access to mortgages. As you know, when the mortgage bubble popped; home prices collapsed in many countries.
Today, if you can fog a mirror, you can be approved for car loans, credit cards and lines of credit. We are bombarded with commercials from lenders that state: "No Credit Check, No Income Verification" "Contact Us For An Instant Loan". Globally, governments are taking the lead and going further into debt. Western culture has become a 'buy now and worry about the consequences later' society. The most concerning aspect of this bubble is that our entire way of life is based on debt. After all, fiat currency is created through the issuance of debt. We have robbed the future in an effort to enjoy the present. When the good times end the piper will need to be paid. The unfortunate part for us is that it is impossible to pay back the mountain of debt that has been accumulated. Every country is dealing with too much debt within a system that has been corrupted to its core. We are about to be crushed under the weight of debt defaults and debt monetization. It doesn't matter if we experience extreme deflation or inflation. The effect on the average person will feel the exact same. Either way we will struggle to provide the basic necessities of life. Few people will be able to profit and succeed in a world that is mired in depression and adversity. The luxuries we enjoy today will seem like a pipe dream from a bygone era as life continues to grind down into the abyss of history.
Source: by Jeff Fitchett – triviumanalytics.blogspot.com
04.24.16 –   Turkey's Erdogan Goes Full-Dictator: Arrests Dutch Journalist For Critical Tweet
One month ago, we cited Turkey's president Tayyip Recep Erdogan who said that "it is not only the person who pulls the trigger, but those who made that possible who should be defined as terrorists, regardless of their title," when was urging parliament to include journalists, politicians, academics, and activists under the country's anti-extremism laws.
Erdogan's comments came a day after the latest in a string of suicide bombings ripped through Ankara, killing 34 and wounding more than 100 in Kizilay. Since then, Turkey has arrested nearly 50 people with "suspected ties" to the PKK against which Erdogan is waging a highly personal crusade.
However, Turkey's President didn't think parliament was moving fast enough on his "request" to expand the definition of "terrorist" because in a speech on Wednesday, he effectively instructed lawmakers to get moving before also urging parliament to deal with "the issue of immunities."
True to form, Erdogan didn't wait on parliament to expand the "terrorist" definition before he went ahead and arrested three academics for "terrorist propaganda" after they made the mistake of publicly asking the government to stop the siege on Cizre and other cities in the predominantly Kurdish southeast."
Then, when a British citizen who teaches at Bilgi University showed up at the courthouse to support the lawyers, he was also arrested. His crime, in his own words: "I am accused because I had several invitations to Kurdish new year (celebrations on March 21) published by the HDP – the third-largest party in the Turkish parliament – in my bag."
It has gotten so bad, and Turks are so terrified of their despotic "leader" that two months ago, a Turkish truck driver literally sued his own wife for cursing at Erdogan when he spoke on television. "I warned her," the man later said.
Understandably, the "developed world" (of which Turkey is supposedly part of) has repeatedly closed its eyes to Erdogan's unprecedented human rights violations: after all Europe needs Turkey now more than ever to halt the mass flow of Syrian refugees within its borders or else virtually all ruling parties in Europe are threatened with being replaced in any upcoming elections. As such, if the country became a despotic tyranny under Erdogan, oh well: after all Europe has not only turned a blind eye to his dictatorial actions but also paid him billions of dollars to "halt" the flow of refugees… and he knows it.
However, this morning Erdogan may have finally gone too far following the arrest of a Dutch-Turkish journalist, Ebru Umar, who was detained early on Sunday at her home in Turkey for tweets deemed critical of the Turkish president according to her Twitter account.
"Police at the door. No joke," wrote Ebru Umar, a well-known atheist and feminist journalist of Turkish origin.
According to AFP, Umar recently wrote a piece critical of Erdogan for the Dutch daily Metro, extracts of which she then tweeted, leading to her arrest. "I'm not free, we're going to the hospital" for a medical examination before being taken to face prosecutors, she said in a second tweet as she left her home in Kusadas?, a resort town in western Turkey.
Umar, who reportedly became a journalist under the influence of Theo van Gogh – a Dutch film-maker later murdered for making a controversial film about Islamic culture – had written in the Metro about a diplomatic spat between Turkey and the Netherlands.
Earlier this week, a political storm erupted following reports that the Turkish consulate asked Turkish organisations in the Netherlands to forward emails and social media posts which insult Erdogan or Turkey. The Dutch prime minister, Mark Rutte, said he would ask Ankara to clarify the call, saying it was not clear what the Turkish government aimed to achieve.
The Turkish consulate for its part said the note was sent by a consular official who used an "unfortunate choice of words" that was misinterpreted.
What really happened is that having been appeased by German's Angela Merkel, who inexplicable gave green light for authorities to begin criminal proceedings against popular comic Jan Böhmermann for performing a satirical poem about Erdogan (in the process unleashing a political firestorm within Germany), Turkey's president now feels even more empowered and is testing just how far he can stretch his political domination over Europe, for one simple reason: as noted above he has all the leverage – Erdogan can unleash political havoc on Europe if he releases half a million refugees into the continent; one million and there will be political riots everywhere.
And now Erdogan knows he has Europe under his thumb.
We wonder if Europe will even dare to address the arrest of Umar, although we assume it will be quickly swept up under the rug. We also wonder what the reaction of the "developed" world would be in a person such as Vladimir Putin had arrested a Dutch journalist in Russia for sending an offensive tweet.
Meanwhile, trials in Turkey for insulting Erdo?an have multiplied since his election to the presidency in August 2014, with nearly 2,000 such cases currently open.
Source: zerohedge.com
04.23.16 –   Thousands rally in Hannover against TTIP trade deal a day before Obama's visit
Thousands of protesters have come out onto the streets of Hannover to say 'No' to the controversial TTIP US-EU trade deal. Many in Germany fear it will reduce consumer protection and undermine workers' protection.
While the Transatlantic Trade and Investment Partnership (TTIP) between the US and Europe is set to create the world's largest free trade zone, many Europeans worry that the agreement would elevate corporate interest above national interest. TTIP opponents say that cheaper goods and services would only hurt the EU and help the US.
"People say the deal is going to compromise the European Union sovereignty, and would create much more secrecy, with one of the biggest concerns being that the agreement is wrapped in a big veil of secrecy that people are not happy with," RT's Anastasia Churkina reported from Hannover.
The US is Germany's biggest trading partner. German Chancellor Angela Merkel is set to discuss the TTIP deal with Obama when he visits a trade show in Hannover on Sunday and Monday.
YES WE CAN – STOP #TTIP mit @greenpeace_de –#TTIPDEMO#Hannover#TTIP & #CETA STOPPEN
"The Transatlantic Trade and Investment Partnership is one of the best ways to promote growth and create jobs,"the US president stressed in an interview with Bild.
Wrapping up a deal would be a "win-win situation," Angela Merkel announced in her weekly podcast, adding that "it is good for us as we will be able to appraise our competitors."
In the best-case scenario, TTIP could cover over 40 percent of global GDP and account for large shares of world trade and foreign direct investment. Washington's ambassador to Germany, Anthony L. Gardner, said in an exclusive interview with EurActiv in 2014 that "we need this deal to help solidify further the transatlantic alliance, to provide an economic equivalent to NATO and to set the rules of world trade before others do it for us." 
Thanks but no thanks, Mr @BarackObama ! We don't need no#TTIP -tens of thousands say in Hannover: #StopTTIP #NoTTIP
Public support for the transatlantic trade deal has meanwhile been weak. According to a recent survey conducted by pollsters YouGov on behalf of the Bertelsmann Foundation, only 17 percent of Germans think the TTIP is a good thing, down from 55 percent two years ago. In the United States, only 18 percent of people now support the deal, compared to 53 percent in 2014.
Nearly half of US respondents complained about a lack of information, saying they did not know enough about the agreement to voice an opinion.
Source: rt.com
04.23.16 –   Police use teargas, arrest 12 anti-govt protesters in Paris as rally turns violent (VIDEO)
Paris police fired teargas to disperse a group of 100 people after fresh clashes erupted at the Place de la Republique overnight. Twelve anti-government protesters were arrested for participating in an Occupy-style 'Nuit Debout' rally and throwing projectiles.
A police car was "willfully set on fire and completely destroyed" during the clashes, authorities said in a statement, according to Le Figaro. "Despite calls to disperse by the police, the clashes further intensified… requiring use of tear gas." No injuries were reported.
Police warned of the "renewal and escalation of acts of violence" after "Nuit Debout" ("Rise Up At Night") sit-ins "despite numerous warnings to organizers and participants."
The latest arrests bring to nearly 50 the number of people detained in the heart of Paris since the start of the "Nuit Debout" movement.
The protests over proposed labor law reforms have been happening daily since March 31 when mobs of some 400,000 students marched in several cities across France in a movement dubbed "Nuit Debout." Demonstrators and union members have been cheesed of by the prospect of more hours and less pay.
According to the new reform, proposed by Labor Minister Myriam El Khomri last month, employers reduce unemployment through a number of measures, including reducing payment for working beyond 35 hours.
Employers would pay only 10 percent of overtime bonus, instead of the current 25 percent. According to the movement organizers, the government wants to change current protective labor laws to make it easier and less costly for employers to lay off workers. The government argues that the new law is meant to help open up jobs for younger people.
Source:
rt.com
04.22.16 –   Halliburton Fires One Third Of Global Staff: "What We Are Experiencing Today Is Unsustainable"
In a brutally frank and painfully honest first quarter operational update, Halliburton president Jeff Miller poured freezing cold water all over the "oil is stabilizing, and everything is going to be awesome" narrative. After explaining that the firm has laid off one-third of its global employees, and pointing to the collapse in sequential revenues across every business unit, Miller exclaimed: "What we are experiencing today is far beyond headwinds; it is
unsustainable."
Due to the deadline of its merger agreement with Baker Hughes Halliburtion has delayed its earnings conference call until May 3rd and so gave an operational update. The healdlines were horrific:
*HAL SEES OVER 30% DROP IN YR GLOBAL DRILLING, COMPLETION SPEND
*HALLIBURTON CUT ABOUT 1/3 OF STAFF GLOBALLY
*HALLIBURTON CUT OVER 6,000 JOBS DURING 1Q
*HALLIBURTON SEES ADDITIONAL 50% DECLINE IN NORTH AMERICA SPEND '16
*HALLIBURTON SAYS WORLDWIDE RIG COUNT LOWEST LEVEL SINCE 1999
*HALLIBURTON SEES PRODUCTION DECLINES IN BACK HALF OF '16
Dave Lesar, Chairman and CEO, began the dismal update…
"Life has changed in the energy industry, especially in North America, and over the past several quarters we have taken the steps to adapt to that fact.
Operators globally are under immense pressure, and many of our North America customers are fighting to maintain some value for their shareholders. Our goal is to work with those customers to get through these tough times.
Our customers have taken defensive actions to solidify their finances including significant reductions to headcount and capital spend. While these were necessary actions, it clearly will result in production declines in the back half of 2016. But even when operators feel better about the markets, they will still face issues of balance sheet repair and we believe they will be cautious in adding rigs back."
And then President Jeff Miller unloaded…
"In North America, the industry experienced another tough quarter with the average U.S. rig count down 27% sequentially. By comparison, our revenue was down 17%, outperforming our peer group, and our completions activity was only down single digits sequentially, demonstrating our clients' continued flight to quality.
What we are experiencing today is far beyond headwinds; it is unsustainable. My definition of an unsustainable market is one where all service companies are losing money in North America, which is where we are now.
However, our margins have continued to show resilience despite the aggressive activity and pricing declines we have seen since the peak, with decremental margins of only 22% for the quarter."
But apart from that, he stuck to the narrative that is now becoming standard – that H2 will see some 'stability'…
From the peak in the fourth quarter of 2014, the U.S. rig count has declined almost 80%, setting a new record low. By comparison, our North America revenue is down 62% over the same period, again outperforming our peers, and operating income has only now slipped to a quarterly loss position. The second quarter average land rig count is already down more than 20% sequentially, and setting new record lows every week. Nevertheless, we believe we will see the landing point for the U.S. rig count during the second quarter.
Once we see stability in the rig count, our cost cutting measures will start to catch up. Previous downturns indicate that there is typically at least a one quarter lag after the rig count flattens before we see our margins begin to improve.
Source: zerohedge.com
04.22.16 –   Denver Schools To Arm Guards With Military-Style Rifles
Are children safe in public schools?
If the answer seems pretty obvious, it is confirmation that society has definitely gone to extremes that would not have been recognizable in past decades of American history.
Now Denver-area schools are becoming the first to guard their student populations with military-style semiautomatic rifles, and things certainly appear to be escalating.
via NBC News/AP:
 A suburban Denver school district is arming its security staff with military-style semiautomatic rifles in case of a school shooting or other violent attack, a move that appears unprecedented even as more schools arm employees in response to mass violence elsewhere.

The guards, who are not law enforcement officers, already carry handguns.

[…]

The move raised new questions about how far school officials should go in arming employees, a practice that has become standard in the aftermath of the 2012 Sandy Hook Elementary School shootings.
One can only hope that these weapons would stop a shooter before they could hurt anyone, but there isn't any guarantee.
Active shooters, mass killings and militarized police and security now haunt the halls where education and learning is supposed to be taking place. More children than ever before are on pharmaceutical medications, despite the known links to suicide and homicide. Between Common Core and politically-correct policies, these institutions are teaching that up-is-down, and down-is-up like never before.
One school in Florida even punished a 16-year old student for wrestling a gunman threatening other students to the ground and preventing a shooting. Active shooter and martial law drills have become commonplace, and many of them have been unannounced, causing terror and panic in students and teachers.
While most schools remain "gun-free zones" and have been reluctant to allow teachers to be armed in the case of the worst incidents, many have readily invested in armed security, surveillance technology and counter-terrorism approaches to "safety" in schools.
The result has been a heightened atmosphere that is increasingly paranoid, and ready to treat anyone and everyone as potential suspects – including children:
 Ken Trump, a school safety consultant in Cleveland, said the Douglas County case may mark the first time a district has equipped its in-house security officers with semiautomatic rifles.

"Taking this step certainly ratchets up a notch the whole idea, the question of what's reasonable, what's necessary in terms of arming officers," Trump said.
But are they being protected from potential violence, or indoctrinated in a police state society where even children are under sharp suspicion, and misbehavior is criminalized? Can we see down the road as to whether this is likely to tend towards more freedom, or less? More armed citizens is positive, but more guns only in the hands of police, but private and public, may prove not be.
Regardless, it is a precedent for the growing police state society that expects individuals to conform to the masses, and obey authorities at all costs. Michael Snyder argued that public schools are purposely preparing students to live in such a society:
 Our children are the future of America, and our public schools are systematically training them to become accustomed to living in a "Big Brother" police state. All across the United States today, public schools have essentially become "prison grids" that are run by control freaks that are absolutely obsessed with micromanaging the lives of their students down to the smallest detail. As you will read about below, students all over the country are now being monitored by RFID microchips, their lunches are being inspected on a daily basis by school administrators, and the social media accounts of students are being constantly monitored even when they are at home.

[…] One thing that was unheard of back when I was in high school was "active shooter drills". They are being held in school districts all over the nation today, and they often involve the firing of blanks and the use of fake blood.
In typical fashion, Snyder goes on to make a long list of bizarre school practices that will make your head spin, and are, frankly, teaching the future members of society how to become helpless slaves.
Everyone can see that there is a problem, but nobody seems to know the way to fix it.
There is a fine line somewhere in there…
Source: shtfplan.com
All information used from other websites on X22 Report is used for educational/criticism and commentary purposes only.

Fair Use Notice: This video contains some copyrighted material whose use has not been authorized by the copyright owners. We believe that this not-for-profit, educational, and/or criticism or commentary use on the Web constitutes a fair use of the copyrighted material (as provided for in section 107 of the US Copyright Law. If you wish to use this copyrighted material for purposes that go beyond fair use, you must obtain permission from the copyright owner. Fair Use notwithstanding we will immediately comply with any copyright owner who wants their material removed or modified, wants us to link to their web site, or wants us to add their photo.

The "Fair Use" Provisions outlined in Title 17, Chapter 01 Article 107 of the US Copyright Law states the following:

Notwithstanding the provisions of sections 106 and 106A, the fair use of a copyrighted work, INCLUDING SUCH USE BY REPRODUCTION IN COPIES or phonorecords or BY ANY OTHER MEANS specified by that section, for purposes such as criticism, comment, news reporting, teaching (including multiple copies for classroom use), scholarship, or research, is NOT an infringement of copyright. In determining whether the use made of a work in any particular case is a fair use the factors to be considered shall include:

(1) the PURPOSE and CHARACTER of the use, including whether such use is of a commercial nature or is for NON-PROFIT educational purposes;
(2) the NATURE of the copyrighted work;
(3) the amount and substantiality of the portion used in relation to the copyrighted work as a whole; and
(4) THE EFFECT OF THE USE UPON THE POTENTIAL MARKET FOR OR VALUE OF THE COPYRIGHTED WORK.

The fact that a work is unpublished shall not itself bar a finding of fair use if such finding is made upon consideration of all the above factors.
Tags: banks, constitution, cyber attacks, DHS, economic collapse, finance, financial collapse, gold, police state, preppers, prepping, silver, stock market, war, wwIII