---
Send us your Sentinel Alert to Submit Sentinel Alert:
---
---
Scroll Down To See More News Alerts
10.28.16 –  Russian, US Jets In "Near Miss" Over Syria
The potentially bellicose close encounters above Syria are starting to get awfully close for comfort.
Moments ago AFP reported, from the deck of an aircraft carrier, that a Russian fighter flew dangerously close to a US warplane over eastern Syria, US defense officials said Friday, highlighting the risks of a serious mishap in the increasingly crowded airspace.
#BREAKING Russian, US jets had near miss over Syria: US officials
The near miss occurred late on October 17, when a Russian jet that was escorting a larger spy plane manoeuvred in the vicinity of an American warplane, Air Force Lieutenant General Jeff Harrigan said. The Russian jet came to "inside of half a mile", he added. Another US military official, speaking on condition of anonymity , said the American pilot could feel the turbulence produced by the Russian jet's engines.
"It was close enough you could feel the jet wash of the plane passing by," the official said.
The incident appears did not take place out to malice, as the Russian pilot had simply not seen the US jet, as it was dark and the planes were flying without lights according to AGP. This incident was deemed unsafe, but not necessarily unprofessional, officials said. "I would attribute it to not having the necessary situational awareness given all those platforms operating together," Harrigan said.
The incident raises serious questions about the extent to which pilots are able to track the complex airspace they operate in.
The US-led coalition has set up a hotline with Russian counterparts so the different militaries can discuss the approximate locations and missions of planes, and avoid operating in the same space at the same time. In this case, the American pilot tried unsuccessfully to reach the Russian jet via an emergency radio channel.
The next day, US officers used the hotline to ask Russia what had happened and they said "the pilot didn't see" the American plane, the official said.
Harrigan said there had been an increase in close calls over the past six weeks, with intentional near misses — when a Russian jet deliberately follows a coalition plane too closely — "happening one every 10 days-ish". Russia is flying constant air patrols over Syria, the vast majority of them over the devastated city of Aleppo, and routinely transits parts of the country the US-coalition operates in, officials said.
The Pentagon has periodically chided Russia for "unsafe and unprofessional behaviour" in air operations, with many Russian "fly-bys" having made the news in recent months, many of which Russia claims are in retaliation for close approaches by NATO jets to its own borders.
Source: zerohedge.com
10.28.16 – In "Shocking Defeat" For Prosecutors, Anti-Government Militant Leader Ammon Bundy And Six Followers Acquited
In a shocking verdict, seven anti-government militants including Ammon Bundy, were acquitted in federal court of conspiracy charges stemming from their role in the armed takeover of the Malheur National Wildlife Refuge in Oregon last winter in protest of the Bureau of Land Management's treatment of the Hammond Family, as supporters cheered outside the courthouse.
Ammon Bundy, Shawna Cox, David Lee Fry, Jeff Wayne Banta, Neil Wampler and Kenneth Medenbach were found not guilty on all counts, however the court could not reach a verdict on Ryan Bundy regarding a theft charge.
clockwise from top left: Ryan Bundy, Ammon Bundy, Brian Cavalier, Peter Santilli,
Shawna Cox, Ryan Payne and Joseph O'Shaughnessy,
As Intellihub adds, the group's leader Ammon Bundy will remain in custody to later stand trial for another high-profile standoff which took place at the Bundy Ranch in Nevada where members of militia and the BLM pointed loaded rifles at each other.
The outcome marked a stinging defeat for federal prosecutors and law enforcement in a trial the defendants sought to turn into a pulpit for airing their opposition to U.S. government control over millions of acres of public lands in the West. Oregon Governor Kate Brown (D), who ordered the FBI to act swiftly during the occupation, was also unhappy with the verdict, nor were other local officials, like Harney County Sheriff Dave Ward who some have accused of violating the U.S. Constitution during the occupation.
Bundy and others, including his brother and co-defendant Ryan Bundy, cast the 41-day occupation of the Malheur National Wildlife Refuge as a patriotic act of civil disobedience. Prosecutors called it a lawless scheme to seize federal property by force.
The court sided with the defendants.
Jubilant supporters of the Bundys thronged the courthouse after the verdict, hailing the trial's outcome as vindication of a political ideology that is profoundly distrustful of federal authority and challenges its legitimacy.
"We're so grateful to the jurors who weren't swayed by the nonsense that was going on," defendant Shawna Cox told reporters. "God said we weren't guilty. We weren't guilty of anything."
As the seven-week-long trial in the U.S. District Court in Portland climaxed, U.S. marshals wrestled to the floor Ammon Bundy's lawyer, Marcus Mumford, who was tased after he argued heatedly with the judge over the terms of his client's continued detention.
The Bundys still face assault, conspiracy and other charges from a separate armed standoff in 2014 at the Nevada ranch of their father, Cliven Bundy, triggered when federal agents seized his cattle for his failure to pay grazing fees for his use of public land.
The outcome of the Oregon trial clearly shocked many in the packed courtroom. Attorneys exchanged looks of astonishment with the defendants, then hugged their clients as the not-guilty verdicts were read amid gasps from spectators according to Reuters.
Outside the courthouse, supporters celebrated by shouting "Hallelujah" and reading passages from the U.S. Constitution. One man rode his horse, named Lady Liberty, in front of the courthouse carrying an American flag.
The verdict came after four days of deliberations. One juror, a former federal employee, was dismissed over questions of bias on Wednesday and replaced by a substitute. The 12-member panel found all seven defendants – six men and a woman – not guilty of the most serious charge, conspiracy to impede federal officers through intimidation, threats or force. That charge alone carried a maximum penalty of six years in prison.
The defendants also were acquitted of illegal possession of firearms in a federal facility and theft of government property, except in the case of Ryan Bundy, for whom jurors were deadlocked on the charge of theft. The takeover of the wildlife refuge was initially sparked by outrage over the plight of two imprisoned Oregon ranchers the occupiers believed had been unfairly treated in an arson case.
The militants claimed they were also protesting larger grievances at what they saw as government tyranny.
As we reporeted at the time, the standoff led to the shooting death of one protester, Robert "LaVoy" Finicum, by police shortly after the Bundy brothers were arrested, and left parts of the refuge badly damaged.
More than two dozen people, in all, have been criminally charged in the occupation, and a second group of defendants is due to stand trial in February. Mumford told reporters he believed Ammon and Ryan Bundy would remain in custody for the time being but may be transferred to Nevada.
Four co-defendants were free on their own recognizance during the trial. A fifth, David Fry, the last of the occupiers to surrender in February, was released hours after the verdict.
As Shepard Ambellas notes, this case is a major victory for ranchers and Americans in general who surprisingly may still have rights.
Brian Cavalier, Ammon's personal bodyguard, was sentenced earlier in the week to time served, 9 months, "but remains under a U.S. Marshals Service hold, and is expected to be transferred to Nevada, where he faces another federal indictment stemming from the 2014 armed standoff with federal agents outside controversial rancher Cliven Bundy's ranch near Bunkerville, Nevada," according to a report by OregonLive.com.
Source: zerohedge.com
10.27.16 – Putin Asks: "Is America Now A Banana Republic"
Moments ago, Russian president started speaking at the final session of the Valdai International Discussion Club's 13th annual meeting in Sochi. More than 130 experts and political analysts from Russia and other countries are taking part in this year's three-day meeting, titled 'The Future in Progress: Shaping the World of Tomorrow'.
While Putin's speech can be seen below, he has already had a handful of soundbites, most notably the following he just said in response to accusations that Russia could influence the US election:
"Hysteria has been whipped up in the United States about the influence of Russia over the U.S. presidential election," said Putin, calling it a ruse to cover up for the fact that the U.S. political elite had nothing to say about serious issues such as the country's national debt or gun control.
"It's much simpler to distract people with so-called Russian hackers, spies, and agents of influence. Does anyone really think that Russia could influence the American people's choice in any way? The number of mythical, dreamt-up problems include the hysteria – I can't think of another word – that has broken out in the United States about the influence of Russia on the current elections for the US president. "
He ended with a rhetorical question: "What, is America a banana republic?!"
And then, to emphasize his trolling, added the following: "correct me if I am wrong" but let Obama off the hook: "America is a great power."
He also said that "Russia has no intention of attacking anyone, it is ridiculous, foolish and unthinkable. I read your analytical materials prepared not only by those present but also by analysts in the US and Europe. However, it is just unthinkable, silly and unrealistic. In Europe alone, the combined population of NATO countries stands at 300 million, in the US the total population is, probably, 600 million, while in Russia – 146 million. It is just funny to talk about this."
According to the Russian president, contradictions stemming from redistribution of political power are growing.
"Regrettably, next to nothing has changed for the better in the past months. To be frank, nothing has changed. Contradictions stemming from redistribution of economic power and political influence are only growing," Putin said.
Hence, according to the Russian leader, the burden of mutual mistrust is limiting possibilities to stand to real challenges and real threats facing the world community. "As a matter of fact, the entire globalization project has turned to be in a crisis and voices in Europe are speaking (and we know and hear it well) about the failure of the policy of mulicultiralism," Putin said, adding that this situation is a consequence of a wrong, hasty and somewhat arrogant choice made by Europe's political elites some twenty-five years ago.
"Back then, at the turn of the 1980s and 1990s, there was a chance not only to spur globalization processes but to give them a qualitatively new, harmonious and sustainable character," the Russian leader said.
He drew attention to the fact that the countries that claimed to be the winners in the Cold War began to reshape the global political and economic order in their own interests.
These states, in his words, embarked on a path of "globalization and security for themselves only, but not for all." But not all agreed on that.
Some could not resist that any longer whereas others were not yet ready, so, no wonder the system of international relations has been feverish and the global economy is failing to recover from the crisis, Putin added.
On globalization
The Russian president stressed globalization should be for all but not only for the select few.
"Obviously, the global community must focus on really topical problems facing the entire humankind, the solution of which will make the world a safer and more stable place and the system of international relations equal and fair," Putin said.
He said such an approach will make it possible to "make the globalization for the select few turn into globalization for all."
"I am confident that it is possible to overcome any challenges and threats only together," Putin stressed.
On Global Propaganda
The president said he regrets that Moscow does not possess such global propaganda techniques as Washington does.
"I would like to have such a propaganda machine in Russia. But, unfortunately, I don't. We have no such global media as CNN, BBC and some others. We have no such opportunities so far," Putin said at a session of the Valdai Discussion Club.
On the world economy
The president expects the trend towards regionalization of the world economy will continue. It is absolutely evident that economic cooperation must be mutually advantageous and be based on general universal principles, so that each state could become a full-fledged participant in the global economic life," Putin said.
"In the mid-term prospect, the tendency towards regionalization of the global economy will apparently continue, but regional trade agreements should complement, develop, and not substitute universal norms and rules," the president said.
The global economy is unable to get out of the current systemic crisis and the political and economic principles continue to be reshuffled, Putin stressed.
"The system of international relations remains feverish. The global economy is unable to get out of the systemic crisis. The principles and rules in politics and the economy continue to be reshuffled. Quite often dogmas that until recently had been regarded as fundamentally true are turned inside out," Putin said.
These days, he said, whenever the powers that be find some standards or rules beneficial, they force everybody else to obey them. However, if at a certain point the very same standards begin to pose obstructions, they are at once sent into the dustbin as outdated and new rules are established.
As an example of that strategy Putin mentioned the missile and bombing strikes against Belgrade and Iraq, then against Libya and Afghanistan. The operation began without a corresponding resolution by the UN Security Council. Some superpowers, the Russian leader said, in their attempts to change the strategic balance of force in their favor have torn down the international legal regime that prohibited the deployment of new missile defense systems. They have created and armed international terrorist groups, whose cruelty is now pushing millions of migrants out of the unsafe areas.
Whole countries are being plunged into chaos. The principles of free trade are trampled on and sanctions are used to exert political pressures.
"We can see the freedom of trade being sacrificed and so-called sanctions being used for exerting political pressures. In bypass of the World Trade Organizations attempts are being made to form closed economic alliances living by harsh rules and putting up firm barriers alliances where dome
On NATO
He said that NATO has outlived its usefullness as a structure and on the topic of the escalating proxy war in Syria, Putin had a simple comment: "Our agreements with the US on Syria did not work out."
And some more headlines from his pragmatic remarks:
RUSSIA'S PUTIN SAYS RUSSIAN MILITARY THREAT BEING EXAGGERATED TO JUSTIFY MILITARY SPENDING
RUSSIA'S PUTIN SAYS CYBER ATTACKS OR OTHER TYPES OF INTERFERENCE INTO OTHER COUNTRIES' AFFAIRS UNACCEPTABLE
RUSSIA'S PUTIN SAYS DONALD TRUMP BEHAVES EXTRAVAGANTLY , BUT IT IS FOR A REASON
Source: zerohedge.com
10.27.16 –   This Is What Gold Does In A Currency Crisis, Brexit Edition
In June the UK shocked the world – or at least the world's elites – by voting to pull out of the European Union. Economists predicted disaster, EU leaders threatened pain for British exporters and tourists, and the media settled in to watch the UK shrivel and die.
Four months later, the appropriate response is a yawn rather than a scream.
UK economy set to shrug off Brexit in latest GDP figures…For now

(CNBC) – The first indications of how the U.K. economy is performing in the aftermath of the Brexit vote will be known this Thursday, with the release of quarterly gross domestic product (GDP) figures.Analysts told CNBC they forecast a 0.4 percent growth in the third quarter of this year – an "upside surprise" following the decision last June to leave the European Union. Prior to the vote, many market observers were pointing to economic contractions if voters opted to leave the EU.
The pound, however, did fall hard in foreign exchange markets…
…which is actually great news for British exporters, who are winning round one of the post-Brexit currency war by selling suddenly-much-cheaper stuff to the rest of the world.
The only losers? Britons who held their savings in local currency and saw the value of their bank accounts fall dramatically. But their solution was actually pretty simple: convert their pounds to gold and watch it soar.
Britons who did this are up about 25%, which is a pretty good year's work for any money manager, amateur or professional.
As the "but in the long run Brexit will still be a disaster" drumbeat gets louder and negotiations with the EU drag on, gold should remain a simple, low-stress way for anyone with pounds to sail through the process unscathed.
The broader lesson? As the world descends into debt-driven chaos in coming years, the above charts will be replicated in most national currencies, giving all of us chance to learn from the UK's example.
10.26.16 –  Why the Jobs Aren't Coming Back
The candidates in the current campaign – or any campaign – are all promising to "bring back good jobs" to "create good jobs." When asked how they would do that, they are all a little light on details.
About a year ago, Joe Biden was in Michigan to celebrate the opening of a new manufacturing plant that made "small metal clamps" used in all kinds of industries to hold wiring, hoses. Etc. in place. The largest market is the auto industry but they are sold to hundreds of other manufacturers. Depending on size, shape, and material, these parts sell for a few pennies or less. You have to make a lot of these parts to have any substantial billing numbers.
This new plant is fully automated and runs 24/7/365 with just 14 people. Joe was quite happy saying "manufacturing is returning to America."
However, there is a backstory. That plant had been around for years. It had employed 600 people on two shifts. Then, the Chinese began to undercut the pricing, and the plant was no longer profitable and closed. Two years later, it reopened as a fully automated plant and regained the business because it could now manufacture cheaper than the Chinese.
There are several stories inside the main story.
The first story is about the initial plant closing. Anytime 600 people lose their jobs, you know that some employee ended up losing their home, that some cars were reprocessed, that some college kid had to quit school, etc. Retailers got hit. Utilities at the plant were no longer needed. Suppliers got hit too.
Closing a plant that large takes down a chunk out of the local economy, and the ripple effect is huge.
The second story is about the new plant. It only has 14 employees, but that's 14 employees that were not there before. I'm sure that the payroll for the 14 employees is a lot less than the payroll for 600 employees, but every little bit helps.
Some of the other missing stuff returned. The plant is using raw materials again, probably more than before. The power company is happy because the power bill is back…. It doesn't affect the 600 people that were laid off, but the 14 people who do have a job are probably happy.
However, there is a third story, and that is about the plant itself.
Some people look at the new plant as a "modern day marvel" but it really isn't. Most of the equipment inside can be readily bought on the open market. The "marvel" is tying it all together and getting it to work and that is not all that difficult either, it just takes time and money.
There's a lot of hidden savings in going this way also. When you have 300 people working on a shift and you have 2 shifts, you have to have parking for more than 300 cars because at change over, shifts overlap. You have to have a big lunch room. You have to have some big bathrooms. All that space costs money and does nothing to add to production.
When you have 14 people scattered over 4 shifts a week, you can park them in a tiny area, the bathroom space shrinks drastically, and the "lunch room" can be a table and four chairs in a corner somewhere.
If you have 600 people, you have to locate near a population center in order to have workers. With 14 workers, you can afford to pay them moving expenses to live close to the factory. Land is always cheaper outside the urban areas.
The new factory was rebuilt on the old factory site, but nothing says that has to happen. You can drop that factory in some rural area with cheap property taxes, move 14 people and you are in business. All you need is a good road to the plant for deliveries and shipping and adequate utilities. In fact, you can duplicate that factory almost anywhere in the world and get the same results.
In the past, if you wanted to build a factory to make "small metal clamps," you got the permits, bought the land, built a building, installed the equipment, and then had to hire and train 600 people. From the time that you started hiring until you got the plant at peak efficiency could easily be a year.
Today, automation has become a commodity, something that you can basically order and get delivered. You have fewer people to train and a quicker startup time, and the savings are tremendous. Now, instead of having to take a year to get people trained and rolling, you can start a plant a day after the installation is completed. There will be some problems, but they generally can be sorted out in a couple of weeks.
You hear people saying "We'll manufacture in the US and export to the rest of the world." That doesn't work anymore either. If "small metal clamps" are needed in Africa, it is a simple process to just build a duplicate plant in Africa, find 14 people to run it, and you are in business in Africa.
Those 600 jobs at that plant are never coming back. Not today, not tomorrow, not ever.
Even if all 600 people that lost their jobs had the necessary qualifications to run the new plant, there are only 14 jobs. 586 people would not have an opening to apply for.
These politicians talk about "creating new jobs." This is a classic case of what is happening. 14 new jobs were created but they replaced 600 old jobs in the process.
If you listen to the politicians, you get the impression that someone slipped into the US, stole jobs, packed them up, and shipped them off to China, Mexico, etc. Politicians tend to infer that all we have to do is just go get the jobs back, and everything will be fine. But jobs like those above didn't "go" anywhere. They vanished and will never reappear
Source: wolfstreet.com
10.26.16 – NATO Pushing For "Biggest Military Build-Up On Russia's Borders" Since The Cold War
As Russia pushes on with the biggest naval deployment since the cold war as Russia's only carrier group slowly headed toward Syria in a show of force along Europe's shores, NATO defense ministers are focusing on a ground expansion and aim to make good on a July promise by NATO leaders to send forces to the Baltic states and eastern Poland from early next year. As a result, NATO will press its member allies on Wednesday to "contribute to its biggest military build-up on Russia's borders since the Cold War " as the alliance prepares for a protracted quarrel with Moscow.
According to Reuters, the US hopes for binding commitments from Europe to fill four battle groups of some 4,000 troops, part of NATO's response to Russia's 2014 annexation of Crimea and concern it could try a similar tactic in Europe's ex-Soviet states.  France, Denmark, Italy and other allies are among the nations expected to join the four battle groups led by the United States, Germany, Britain and Canada to go to Poland, Lithuania, Estonia and Latvia, with forces ranging from armored infantry to drones.
Jens Stoltenberg, the NATO Secretary-General, said the commitments would be "a clear demonstration of our transatlantic bond." They will also send a clear message to Russia that its concerns about NATO build up on its borders were correct. Diplomats added that it would also send a message to Donald Trump, who has complained that European allies do not pay their way in the alliance. The battle groups will be backed by NATO's 40,000-strong rapid-reaction force, and if need be, further follow-on forces, for any potential conflict, which could move into Baltic states and Poland on rotation.
The strategy, which will surely lead to a proportional response by Russia,  is part of an emerging new deterrent that could eventually be combined with missile defenses, air patrols and defenses against cyber attacks.
But while a build up of forces in eastern Europe should be easily achieved, the alliance is still struggling for a similar strategy in the Black Sea region, which Turkish President Tayyip Erdogan has said is becoming a "Russian lake" because of Moscow's military presence there. Romania, Bulgaria and Turkey are expected to soon come forward with a plan to increase naval and air patrols in the area, as well as a multinational NATO brigade in Romania.
Even without a coordinate Black Sea expansion, the Kremlin will be furious. For Putin, the U.S.-led alliance's plans are already too much given Russia's grievances at NATO's expansion eastwards.  Stoltenberg denied going too far. "This is a credible deterrence, not to provoke a conflict but to prevent conflict," he told reporters on Tuesday.
Next year's deployments have taken on greater symbolism since Russia pulled out of several nuclear disarmament agreements in the past two months while moving nuclear-capable missiles into its Baltic exclave in Kaliningrad as we reported several weeks ago. The Iskander-M cruise missiles can hit targets across Poland and the Baltics, although NATO officials declined to say if Russia had moved nuclear warheads to Kaliningrad.
"This deployment, if it becomes permanent, if the presence of nuclear weapons were confirmed, would be a change in (Russia's) security posture," the United States' envoy to NATO, Douglas Lute, said.
The ongoing tensions between Russia and NATO have been building since Crimea and the West's decision to impose retaliatory sanctions, but the breakdown of a U.S-Russia brokered ceasefire in Syria on Oct. 3, followed by U.S. accusations that Russia has used cyber attacks to disrupt the presidential election, signaled the latest sharp worsening of East-West relations. EU leaders met last week to consider fresh sanctions over Russian bombing of civilian areas in Aleppo and NATO's Stoltenberg said he fears the Russian warships heading to the Mediterranean could launch new attacks on the Syrian city.
Even before the break down of the Syrian ceasefire, Russian President Vladimir Putin suspended a treaty with Washington on cleaning up weapons-grade plutonium, signaling he was willing to use nuclear disarmament as a new bargaining chip in disputes with the United States over Ukraine and Syria.
And now it will once again be up to Putin to respond again as NATO proceeds with the "biggest military build-up on Russia's borders", a move that will lead to even further military escalation
Source: zerohedge.com
10.26.16 – Russia Unveils First Images Of Nuclear Missile Capable Of Reaching US Soil
Russia reveals photos of a new highly advanced liquid fuelled heavy ICBM capable of evading anti-missile defences and hitting US territory with 10 tonne nuclear payload.
The Makeyev Design Bureau – the designer of Russia's heavy liquid fuelled Intercontinental Ballistic Missiles ("ICBMs") – ie. of missiles capable of reaching US territory from Russian territory, has published

the first picture

of Russia's new heavy Sarmat ICBM which is due to enter service shortly, probably in 2018.

The picture is accompanied by a short statement which reads
 "In accordance with the Decree of the Russian Government 'On the State Defence Order for 2010 and the planning period 2012-2013,' the Makeyev Rocket Design Bureau was instructed to start design and development work on the Sarmat. In June 2011, the Bureau and the Russian Ministry of Defense signed a state contract for the Sarmat's development.

 

The prospective strategic missile system is being developed in order to assuredly and effectively fulfil objectives of nuclear deterrent by Russia's strategic forces."
The Sarmat is the planned replacement of the R-36 family of Russian ICBMs, which entered service with the Soviet armed forces in the 1960s.

 

The R-36 family culminated in a series of missiles known in the USSR and Russia as the R-36M, which entered service in the 1970s.

 

With a throw weight of 8,800 kg these were the heaviest and most powerful ICBMs built up to now.

 

Here is

a video

of one being launched:
The specifications of the Sarmat have not been disclosed and are classified.

 

However it is believed to be a significantly smaller and lighter missile than the R-36 family, but to have a larger throw weight of up to 10,000 kg. 

Advances in the chemical industry and in the design of rocket engines since the 1960s have made it possible to build smaller and lighter rockets having the same or greater capability as the heavier rockets designed in the 1960s.
The Sarmat has been specifically designed to defeat the US's Anti Ballistic Missile systems, which are being deployed in eastern Europe. 

Its range of countermeasures is classified and not known.

 

However it is believed the Sarmat is capable of manoeuvres during its flight trajectory to confuse incoming missiles, that it is able to launch decoys – also to confuse incoming interceptor missiles – and that at least one of the warheads being designed for it is a hypersonic warhead, which rumours say was tested successfully in April, and which is believed to be impervious to interception by incoming missiles.

A little mentioned fact about the military strategic balance between the US and Russia, is that Russia has been steadily upgrading its strategic deterrent with new advanced missiles, which are entirely different to those of the 1960s, which formed the basis of the Soviet strategic deterrent. 

These include the

Topo

l and

Yars

light road mobile solid fuel ICBMs, and the very advanced solid fuelled

Bulav

a

ICBM, which is sea launched from Russia's advanced Borei strategic nuclear missile submarines. (Below)
Topol ICBM
Yars ICBM
Bulava ICBM
Borei-class Strategic Nuclear Submarine

By contrast the US strategic deterrent still relies on missile systems such as the ground-based Minuteman III and the sea launched Trident II, which have their origins in the 1960s and early 1970s.

With the Sarmat missile, which is supposed to enter service in 2018, the Russians will add another powerful modern advanced system to their strategic armoury.
Source: zerohedge.com
10.25.16 –  Secret TRUTH about Russia EXPOSED
Point 2.  It's impossible for Russia to 'hack' the election and fix the results.  But, this is a meme that needs to be implanted because it's actually the DNC that's planning to fix the elections, with their establishement friends at Diebold.
In one sentence, the Establishment is using Russia as a key issue to confuse and manipulate voters on a number of levels.  MOST DISTURBINGLY, THE CURRENT DEMOCRATIC US PRESIDENT & VICE PRESIDENT ARE USING GULF OF TONKIN STYLE FALSE FLAG CYBER OPERATIONS TO CREATE A PROBLEM THAT DOESN'T EXIST, OR THAT DIDN'T EXIST BEFORE.  Why Is Obama Threatening Russia With World War 3 Right Before The Election?, and Vice President Joe Biden Announces War with Russia
Let's use this one issue to 'fact check' the lies spewing from the Mainstream Media, Establishment, and its guardians.
Here's the simple truth about RUSSIA that the US and European Elite DON'T WANT YOU TO KNOW:
1. RUSSIA DOES NOT HAVE INDUSTRIAL GLOBAL WORLD CLASS CAPACITY Russia is struggling to rebuild its economy, post Soviet union and post 1998 default, the Russian economy hasn't built up many sectors that it needs; most notably – healthcare, small business, technology, financial services, banking.. it's a long list.  In fact, only a few sectors in Russia are very robust at the moment – Energy, Defense, Real Estate, and a few others.  The point is that Russia has serious issues of its own to worry about, without meddling in foreign affairs.  There is political corruption, a disfunctional tax system (they still have 'white' and 'black' salaries), a banking system from last century, consumer rights are non-existant, bankruptcy doesn't exist – they have a long way to go on their own, and they will.  Russia is evolving.  But they are very busy, very very busy with their own problems – they could care less about what happens in USA!  They are much more concerned with what happens in their backyard, Europe – especially when it comes to NATO troop or missle movements.  But they've played a cool hand, or "????????" (Détente was known in Russian as ???????? ("razryadka", loosely meaning "relaxation of tension").   
2. RUSSIA IS NOT A 'THREAT' Russia has no plans, and never will have any plans – to hack into USA, invade another country, or pose any international threat of any kind whatsoever.  Russia's military doctrine has been one of defense for hundreds of years, not 'first strike' – Russia was not a very good colonial power, unlike their European friends.  Their few 'colonies' like Alaska, ended in disaster creating more problems for Moscow than creating wealth.  If you look at the history of Russia you'll see they were a land invaded many times, by nearly every global empire in the world (with a few exceptions, like the British).  Their population was decimated multiple times, starting with the invasion of the Golden Horde, then by the Swedes in 1707, the French in 1812, the Germans in 1941, and by Stalin (who was not Russian) through domestic cleansing policy.  And by the way, Stalin killed countless times more Russians than Hitler killed Jews, but there's no statue for fallen Russians in Washington DC (or anywhere).  According to THIS BOOK, Unnatural Deaths in the U.S.S.R.: 1928-1954, I.G. Dyadkin estimated that the USSR suffered 56 to 62 million "unnatural deaths" during that period, with 34 to 49 million directly linked to Stalin.  Alexander Nikolaevich Yakovlev, a Soviet politician and historian, estimated 35 million deaths.  In "Europe A History," British historian Norman Davies counted 50 million killed between 1924-53, excluding wartime casualties.
Practically, it's impossible to know the exact number, because records also destroyed during this time, and they didn't have fancy IBM counting machines.  This huge staggering number needs to be considered by anyone talking about how Russia this and Russia that.  No European country to date comes close to the slaughter of their own people.  And this happened IN RUSSIA, not in a foreign country.  Russia has no history for invading a foreign country and slaughtering people, but SOME COUNTRIES DO.
This nonsense about Russian hackers is exagerated from a truth of reality – since the collapse of the Soviet Union, there have been a huge number of computer geniuses not only from Russia, but also from Ukraine, East Germany, Belarus, and other Baltic states and from East Europe that have been faced with extreme poverty and lack of opportunity.  They couldn't easily immigrate to USA and get jobs on Wall St. as many Russians did, they turned to what they could do – hacking.  Yes, there have been a number of hacking groups that are both Russian but also that operate from Russia simply because they are beyond the reach of US intelligence.  Russia is not the only such host of hackers, also there are countries in Asia, Africa, and South America that act as a host country for hackers (Brazil for example).  The reason for this, has nothing to do with Russia it has to do with USA enforcement of digital laws such as DCMA and in general a cleansing by US authorities of hackers on US territory (although a few arrests, it generally led to hackers going to areas where they were safer).
This post looks at some new evidence (adding to the overwhelming pile), and provides a contrast — showing how easily the truth could be seen.  If only the CIA had looked.
New Study:  Previously Classified Interviews with Former Soviet Officials Reveal U.S. Strategic Intelligence Failure Over Decades, Posted at George Washington University's National Security Archive, 11 September 2009.
"Exaggeration Of The Threat: Then And Now", Melvin A. Goodman, The Public Record, 14 September 2009 — Summary of the above study.
Robert and Virginia Heinlein visited Moscow in 1960 and discovered Russia's population crash, then in the early stages.  The CIA discovered this 2 or 3 decades later.
Articles about reforming the US intelligence apparatus
For More information on the FM website and an Afterword
3. RUSSIA HAS NOTHING TO DO WITH WIKILEAKS Wikileaks has been an established whistleblower service, that has released millions of documents on thousands of topics.  You can form an opinion about Wikileaks, is it political or not, a Rothschild plot, certainly – Julian Assange is not a deep undercover Russian agent.
4. RUSSIA IS A USEFUL ENEMY Terrorism doesn't have the same political bang for the buck like it did 10 years ago.  And the other problem, is that every politician in the world agrees on this issue (even Russia and USA) we need to fight Terrorism.  So, with the decline of the manufactured enemy 'terrorists' a new, more saleable enemy needs to be created for the purpose of confusing the electorate – and Russia fits the bill perfectly.  Why does it fit perfectly, you ask?  Because 1) The DOD spent billions on propoganda during the 50's and 60's indoctrinating Americans that Russia is full of 'criminals' and other such nonsense.  See the below propoganda teaser:
Many voters maybe remember these videos from their youth, although they can't recall – it's deeply implanted in their subconscious.  The DOD knows this, and so they advised the DNC to exploit it.  They've been planning this for years – decades.  Now is the grand finale.
Just to provide modern readers with the level of insanity in that time, the US Air Force had plans to 'nuke the moon' due to fear of Russian involvement.  And as you can see in this recently declassified document, the CIA investigated for years the 'threat' of Russia and found 'NO THREAT'– but in a famous official speech by Donald Rumsfeld (a major founding father of the "Reality Based Community"), he says "Just because the CIA didn't find a threat, it doesn't mean that one doesn't exist."  Bravo, Bravo.  That is logically correct!  But highly misleading, and this isn't an excercise in logic, it's a practical excercise in security and intelligence.  In "reality" Rumsfeld was also a founding father of Washington's pay for play system.  He and a group of his peers, sold a war to Washington and to the American people:
It wasn't just this video, although for the people, they will remember such moments more than official reports.  After realizing there was no threat from Russia, they financed a "Team B:"
President Gerald Ford began the Team B project in May 1976, inviting a group of outside experts to evaluate classified intelligence on the Soviet Union. Team B, approved by then Director of Central Intelligence George H. W. Bush, was composed of "outside experts" who attempted to counter the positions of intelligence officials within the CIA.[1] The intelligence community was in the process of putting together its own assessment at the same time.

Team B concluded that the NIE on the Soviet Union, generated yearly by the CIA, underestimated Soviet military power and misinterpreted Soviet strategic intentions. Its findings were leaked to the press shortly after Jimmy Carter's 1976 presidential election win in an attempt to appeal to anti-communists in both parties and not appear partisan.[2][3] The Team B reports became the intellectual foundation for the idea of "the window of vulnerability" and of the massive arms buildup that began toward the end of the Carter administration and accelerated under President Ronald Reagan.[4]
And, as such is the result with any government inquiry, their initial 'hypothesis' was proved 'correct' – and this led to 20 years of a new "Cold War" and billions upon billions of dollars spent.  The Cold War was really the first 'artificial war' – and Russia – the first artificial enemy.  Unfortunately for Russia though, they had to participate in this artificial war by building real weapons, as a form of militaristic detente, and to practically to protect themselves in the event that some Rumsfeld nutjob had his hand on the red button.
In a strange twist of reality, one of Russia's most controversial politicians seems to understand US politics better than those in USA.
From Russia's March to War :
 Hard to believe they truly see the world this way? Then consider last week's comments from Russian lawmaker Vladimir Zhirinovsky:
"Americans voting for a president on November 8 must realize that they are voting for peace on Planet Earth if they vote for Trump. But if they vote for Hillary, it's war. It will be a short movie. There will be Hiroshimas and Nagasakis everywhere."
Source: zerohedge.com
10.25.16 –  German Police Conduct 13 Anti-Terrorism Raids Across 5 States Citing "Imminent Terror Threat"
German police on Tuesday conducted numerous raids across five federal states and stormed an accommodation facility for refugees and 12 homes around the country that were believed to house people suspected of financing terrorism. Police searched residences in the eastern states of Thuringia and Saxony as well as in Bavaria, the western state of North Rhine-Westphalia and in Hamburg, police in Thuringia said in a statement.
Bild magazine cited "an imminent terror threat" as a trigger for the operation. The large-scale operation reportedly targeted "Islamist-linked terror suspects," local broadcaster MDR reported.
The police have been investigating a 28-year-old Russian citizen of Chechen origin since the second half of 2015 who was suspected of preparing "a serious act of violent subversion", the statement said. They believed he intended to fight for Islamic State in Syria. During the course of investigations, suspicion arose that that person as well as 10 other men and three women – all Russian citizens of Chechen origin – were financing terrorism.
According to Reuters, the suspects were living in Thuringia, Hamburg and Dortmund, are asylum seekers with unclear residency status, and are aged between 21 and 31, police said.
Police forces deployed sniffer dogs to detect potential explosives. At least one suspect is reported to have been placed under arrest in the central Thuringia city of Suhl, where "white powder" of unknown origin was found reported RT.
Later, Thuringia criminal police said there is no threat of a terror attack, adding that preliminary outcomes of the operation would be released "in a matter of days." Unlike neighboring France and Belgium, Germany had seen no large-scale terrorist attacks until the summer of this year.
In late July, however, it suffered a suicide bombing attempt and three lone-wolf assaults in the space of a week. In all cases, the perpetrators either had direct links to IS or were inspired by radicalism. The suspect, identified as Jaber al-Bakr, was on the run after German police discovered "highly sensitive explosives" in his flat. Al-Bakr committed suicide while in custody. The authorities said later he had considered a "big airport in Berlin" as a "better target" than trains.
One of the most recent terrorist plots was foiled in early October in the eastern city of Chemnitz, when a 22-year-old Syrian national was captured after a two-day manhunt. Although a special operation had been launched by the authorities, the man was only detained when three fellow Syrians tied him up and alerted police.
Earlier this month a Syrian refugee who was arrested on suspicion of planning a major attack in Berlin was found dead in prison after he initially evaded police during a raid on his apartment where 1.5 kg of explosives were found. Authorities said he had committed suicide.
Source: zerohedge.com
10.24.16 –  Six Things To Consider About Inflation
As an economic term, "inflation" is shorthand for "inflation of the money supply."
The general public, however, usually takes it to mean "rising prices" which is not surprising since one of the common effects of an increase in the money supply is higher prices.However, supporters of government policy often say, "If quantitative easing (QE) and its terrible twin, fractional reserve banking, are so awful, why have we got no inflation?"
To address this conundrum, there are six related factors that are noteworthy:
Number One: we need to be clear about the terms we are using. Instead of talking about "inflation" in the loose sense, as above, it is more accurate to speak of currency debasement, which is the real impact of fiat money creation by any means. We experience currency debasement as declining purchasing power. Two sides of the same coin: one reflects the other.
Number Two: the above question overlooks the fact that the measures used in this process are inherently unreliable. The decline in purchasing power is most evident when objectively measured by reference to an essential commodity such as oil — rather than against the Consumer Price Index (CPI). The CPI purports to reflect the prices of ingredients selected by government statisticians in what they consider to be a typical, but notional, basket of "consumer goods and services." This basket, whose contents are varied periodically, results in an index that cannot be trusted as an objective barometer. It supports the wizardry of non-independent Treasury statisticians, and relates to goods that scarcely feature in your shopping basket or mine.
Number Three: newly created fiat money must go somewhere — and so it goes into the grasp of its first receivers, the banks, the financial institutions, government institutions, and urban moneyed classes who least need it — widening the gap between rich and poor — and thereby building asset bubbles in property, luxury cars, yachts and the myriad baubles that only the very rich can afford to acquire. So never say that "there is no price inflation" — it's just that those asset prices don't figure in the official CPI stats.
Number Four: The European Central Bank (ECB) is no slouch when it comes to money creation out of thin air, and banks within the euro zone have therefore come to rely on it for survival. The solvency of Southern EU countries is dependent on the promise of limitless — thanks to Mario "Whatever it takes" Draghi — fiat money bailouts from the ECB. But, until the next bailout arrives, governments of Europe will do their coercive best to prop up their insolvent banks by any means, fair or foul. In Italy, for example, the government has now "invited" the country's pension funds to invest 500 million euros in a bank fund called "Atlante," which has been formally set up as a buyer of last resort to help Italian lenders (whose bad debts equate to a fifth of GDP) reduce their toxic burden. Having run out of other people's money the Italian government is now trying to raid the nation's pension funds.
Number Five: In the same vein, you have no doubt heard reference to "helicopter money." This is a variant of QE favored by certain politicians who talk blithely about the need for "QE for the people." The idea is to by-pass the treasury mandarins by dropping newly printed money directly to the people via government spending, so that they (rather than the already-rich classes) can benefit from the bonanza and aid the economy by spending their new-found wealth. Again, this notion commits the fundamental error of equating "money" and "wealth." If everyone suddenly finds that free handouts have swelled their bank accounts, how long will it be before prices follow? (And since even helicopter money originates at the central bank, you can be sure that the financial sector will somehow get its hands on it first anyway!)
Number Six: the final point concerns the corrosive effect of the deliberate and utterly misguided suppression of interest rates which, if they were allowed to find their own market level, would represent the time-value of money, or what the private sector is prepared to pay for liquidity — either for spending now or saving for future spending.
The suppression of interest rates is yet another desperate attempt to stimulate demand, hoping that it will lead to productive economic activity. But it flies in the face of Say's Law, which holds, correctly, that we produce in order to consume. Reversing these leads to the idiocy of "demand management" — as if stimulating demand will magically generate the production needed to satisfy that demand. If that were true, Venezuela and Zimbabwe would be vying right now for the title of the world's most prosperous economy.
Suppressing interest rates destroys the natural measure of time preference. It leaves many long-term infrastructure investment plans on hold, simply because no private sector producer of capital projects will commence a venture that cannot be reliably costed. After all, who knows when interest rates will rise? And at what economic cost to the project? Uncertainty stifles action.
The risk of misallocation of capital resources is simply too great for the private construction sector. Just look at the many public sector cock-ups: there are Spanish airports at which no plane has landed, and Portuguese motorways on which there are no cars. And here in the UK? Just wait for HS2, new airport runways, Hinckley — and all the other mammoth "interest-free" projects that get the go-ahead, having never been subjected to any reliable economic calculation.
So what do we finish up with in the productive sector? The near-zero interest rates favor short-term production schedules with minimal capital requirements, resulting in low-risk production lines of cheap goods. That's why we have "pound- shops" and 99p shops and all the other shabby outlets that now litter every suburban high street — creating the illusion of zero inflation. Which is where we came in.
Source:  mises.org
10.24.16 –  Rigging the Election – Video III: Creamer Confirms Hillary Clinton Was PERSONALLY Involved
10.23.16 –  Monopoly AT&T Plan Will Further Control the Internet, Content
AT&T Mulls Reinvention for Web With $86 Billion Time Warner Deal  … DirecTV parent wants to own leading Hollywood film, TV studio … Merger accord could be reached Sunday, announced by Monday … Time Warner Inc. and AT&T Inc. have survived the evolution of color TV and cable over the decades. Now they're merging to adapt to the latest technological shifts: smartphones and streaming. -Bloomberg
Another Bloomberg article that makes it sound like such a vast merger is business-as-usual. But it's not. It's just a furtherance of the technocratic, corporate-judicial monopoly that passes for a "free-market" in the West.
Thomas Jefferson and other US founders were so worried about bankers and corporations that they made sure money production was left in the hands of individuals. Need money? You could dig gold and silver out of the ground. The federal government would weigh and stamp the metal. It was a confirmation process not a creative one.
When it came to corporations, history showed clearly their destructive nature. The legacy of the horrific East India Company was, for one thing, a US Constitution that made it very difficult for large corporations to emerge. In the US, the power to regulate corporations was given to states, and for good reason.
Before the Civil War (and the inevitable destruction of the republic) corporations hardly existed. And for good reason.
Here from Podacademy.com
The East India Company was in existence for over 250 years –  from 1600-1858.  It was the biggest corporation in world history.

Largely forgotten in the UK, it was responsible for the opium wars with China, it contributed to devastating famines in India,  and was a perpetrator of cruel employment practices in Bangladesh and other British colonies.
The East India Company was chartered by the Queen and even ran its own army at one point. Sooner or later, no doubt, US companies will get to this point. We can actually see this starting to happen with the emergence of mercenaries organized and directed via non-governmental enterprises.
The US government is titanic, intrusive and increasingly authoritarian. But corporations are starting to rival the government in size and heft. This is how genuine fascism occurs. When society's organizing elements, private and public, become so large they dominate everything else.
The larger social facilities are, the less room there is for anyone else. The situation is complicated in the West by banking control, mostly out of the City of London. Secretive elements of intelligence agencies run things on the ground throughout the West.
And yet … as we often point out, corporations in the modern age are not inevitable, nor is the technocratic fascism accompanying them. Get rid of corporate person-hood, intellectual property rights, monopoly central banking (and intrusive regulations) and corporations will shrink back down to normal proportions.
Could it happen? It will  sooner or later, when everything finally begins to fall apart. The market will re-emerge. In fact, it's the way the US was organized originally and responsible in large part for the miracle of industrial creativity and wealth that marked pre-Civil War America for many (though not Indians, African Americans, etc.).
Markets work. Anything else leads to the destruction of society either in the short- or long-term. History repeats, and shows us the lessons we should learn.
Conclusion: Unfortunately, there are other forces at work. This latest merger is not happening by accident. It is surely an attempt to further control the Internet and related technologies. It is portrayed as a market – "capitalist" – phenomenon  but it is nothing of the sort.
Source: thedailybell.com
10.22.16 –  "Fiat Money Quantity" & $11,000 Gold
It is time to revisit the Fiat Money Quantity (FMQ), which totals US dollar money deposited in the banking system, the commercial banks' money on deposit at the Fed and physical cash.
Besides alerting us to how the expansion of fiat money is progressing, an objective of this exercise is to give some guidance on the price relationship with gold. It is particularly appropriate at a time when banking analysts have turned generally bearish, believing that the rally in gold is now over.
 The idea behind FMQ is to define the quantity of fiat money, which can then be compared with the value of monetary gold, which is some or all of the above-ground stocks of physical gold. A fuller description of FMQ can be seen here. The long-term chart update is shown below.
The chart shows the long-term trend of FMQ growth established before the financial crisis, and the subsequent effect of the monetary measures introduced to rescue the banking system. This rapid expansion of FMQ warns us of the potential effect of monetary inflation on prices. Most of this is for the moment latent, because the expansion of FMQ has been mainly of bank reserves held on the Fed's balance sheet, and therefore not currency in public circulation.
The last monthly data point is September 1, and the rise of FMQ is showing signs of accelerating again. Within that acceleration, there has been a fall in bank reserves held at the Fed from $2,786.9bn in August 2014, to $2,265.3bn. This is more than compensated for by a greater rise in customer deposits and savings accounts, from $9,006bn to $10,571bn. The worry, when the Fed created excess reserves mainly through quantitative easing, was that these would be one day used to fuel fractional reserve lending. The other side of bank credit is customer deposits and savings, so the fear originally expressed has come to pass.
The expansion of bank lending can also be detected in the next chart, which is of M2 money supply minus M1, which gives an approximation of bank credit.
In this chart, the expansion to above-trend growth started at the beginning of 2016. Between the two charts, we can confirm that both customer deposits and bank lending are accelerating above recently established trends.
The expansion of bank credit is not being picked up yet by many commentators, but it is a serious issue. This could be because lending growth within the US's domestic economy appears to be moderate. The answer must lie partly in international lending, particularly to foreign banks and emerging market economies not offered dollar swap facilities at the central bank level. Certainly, USD LIBOR rates are considerably higher than the rate paid by the Fed on bank reserves, perhaps reflecting international demand for dollar loans.
If the decline of reserves at the Fed is the consequence of currently higher money-market rates, the expansion of money has entered a new phase. Further expansion of bank credit will have to be controlled by raising the Fed Funds Rate, at least to close the gap on LIBOR. So an increase in the FFR is overdue, and probably should be more than the 0.25% everyone seems to expect, to bring bank credit growth under control.
The Fed has a problem with raising rates by the required amount, because it would widen interest rate differentials with other major currencies. The dollar is strong enough as it is, and any rise in dollar interest rates seems likely to encourage further dollar strength, leading to potential currency instability. Then there is the question of the effect on asset values, particularly government bonds, not only in the US but particularly in the Eurozone. If bond yields rise, valuations of equities and property will also be threatened, not to mention the cost of government borrowing rising. At the moment there are political pressures on the Fed to do nothing during the presidential election, but that will no longer be an issue by December's FOMC meeting.
Implications for placing a value on gold
Always bearing in mind that both the price of gold and the purchasing power of the dollar are both subjective variables, their relative quantities will always be a factor behind prices. We have managed to define, so far as we can, the quantity of fiat dollar currency deposits, but what is the quantity of gold, for the purpose of determining a theoretical value for it?
It so happens that James Turk with the assistance of Juan Casteñeda produced a white paper on this subject in 2012. Based on his work, we can assume that today's above-ground stock is approximately 169,000 tonnes, a figure incidentally about 10,000 tonnes less than other estimates. The question then arises, how much of this can be regarded as monetary gold?
Officially, central bank reserves total 33,978 tonnes, or 20% of our estimate of above ground stocks. In theory, this gold is not available to the public as money, because no central bank today operates a gold exchange standard. But we also have further problems with determining the quantity of so-called monetary gold owned by governments and their central banks. We are confident that declared reserves are not the full extent of government holdings of gold bullion, particularly with China, and possibly Russia as well. Furthermore, gold reserves are known to be double-counted in many cases, because gold which has been leased or swapped is reported as if it is still the unencumbered property held by the reporting central banks. Furthermore, there is no way of knowing if governments are actually being honest in their declarations.
This is particularly true of the US Treasury, which according to the Fed's accounts, owes the Fed 8,133.5 tonnes of gold. Whether or not the US Treasury actually possesses this gold is unclear, and beyond enquiry, because the UST's gold bullion has been frequently used by the Exchange Stabilisation Fund to manipulate prices. Created under the Gold Reserve Act of 1934, the ESF is secret and not accountable to Congress or the American public.
We are asked to believe, in defiance of the ESF's mandate and anecdotal evidence to the contrary, that the ESF has not materially altered its physical gold balances in the last thirty-five years. Furthermore, given China and Russia have ramped up the strategic importance of gold, it is not beyond the bounds of possibility that the US has secretly been stockpiling physical gold outside Treasury accounts. We just don't know.
There is also the vexed question of jewellery, which is commonly thought to represent about 60% of above-ground gold stocks. We are aware that the Indian sub-continent regards gold jewellery as a form of long-term saving and collateral for emergency funding, but how about anyone else? We generally regard gold as valuable, but that's not the same thing as regarding it as money, though public opinions are likely to change in this respect if the gold price rises significantly.
This leads us towards some flaky estimates for the quantity of today's reserve currency, US dollars, in issue per ounce of gold. We could take the official reserves figure from the US Treasury of 8,133.5 tonnes, and say that each ounce covers $56,171 of fiat currency. But that's meaningless, because there is no convertibility and we cannot rely on the accuracy of government figures for the quantity of gold it holds anyway.
The best we can do is to take market prices for gold and adjust them for the increase in the fiat money quantity, taking a point in history for reference. The next chart takes 1934, the year when the gold exchange price was raised to $35, not that it could actually be exchanged by the public.
The two plots give us a maximum and minimum to suit all tastes of speculation. The upper line (dark blue) is the gold price since 1934 deflated by both FMQ and the increase in above-ground gold stocks, while the lower line is the gold price since 1934 deflated by FMQ only. This gives gold today an adjusted value range in 1934 dollars of $3.76 to $12.87, at today's nominal price of $1250.
Admittedly, the $35 price in 1934 was not necessarily a fair market price, being commanded by the Roosevelt government, but our intention is not to give a precise definition of gold's value, because as stated at the outset, all values are actually subjective. We can only speculate that if gold priced in dollars today bore the same relationship to the quantity of dollars in existence some eighty years ago, the price range in today's dollars would be between $4,000 and $11,640.
Returning to the accelerating path of FMQ, our assessment of its effect on gold's value does not discount further rises in FMQ. If, or perhaps when, gold moves up above current levels towards $2,000, it is likely there will be a wider realisation of the inevitability of accelerating monetary inflation. In this event, the general price level will be rising faster as well, and interest rate rises could prove insufficient to support the dollar's purchasing power. A falling purchasing power for the dollar inevitably means a rapidly rising gold price.
In conclusion, not only is FMQ continuing to grow above its long-term trend, but it appears to be accelerating because banks are drawing down their excess reserves to increase their lending. The inflationary implications at the price level are obvious. Gold is already under-priced to a substantial degree. Therefore, further expansion of FMQ seems certain to eventually lead to a complete reassessment of the price relationship between fiat dollars and physical gold, to gold's benefit and the dollar's detriment.
Source: wealth.goldmoney.com
10.22.16 –  US to deploy F35 jets to military base in Japan in 2017
The United States has announced it will deploy its controversial state-of-the-art F35 jets on Iwakuni military base in Japan in 2017. According to Japanese media, a total of 16 planes are expected at the compound.
On its official Twitter account, the US Forces in Japan announced Washington will deploy F35 aircraft to its Marine Corps base in the city of Iwakuni.
"ANNOUNCED: The future of U.S. Marine Corps aviation, the F-35 Lightning II set to hit MCAS Iwakuni in 2017," the statement reads.
According to Japan's Kyodo news agency, the notification for Tokyo is already in place. "US officially notifies Japan of deployment of 16 F-35 fighters," the agency says.
In August, the Japanese government informed the authorities of Iwakuni that the US was planning to deploy 16 of its F35 fighters at the base, starting in 2017. The first batch of 10 planes is set to arrive in January, while six more are expected to be stationed by August 2017, Japan Times reported.
The jets will replace the F/A-18 fighters and the AV-8 Harrier jets currently stationed in Iwakuni. Japan would hence become the first foreign US base to get F35 aircraft.
The F-35 Lightning II, primarily developed by US manufacturer Lockheed Martin, is part of a F35 family of all-weather stealth fighters. The aircraft specializes in hitting ground objects as well as performing air defense missions. On August 2, the US Air Force announced the first batch of F-35A fighters to be combat-ready.
Apart from Iwakuni base, Washington is hosting most of its military might at the Japanese island of Okinawa. Several major US military compounds there are accommodating roughly 30,000 military personnel, according to Reuters.
The presence of the US troops however has been an issue of numerous tensions with the local population. In June, Okinawa saw one of the biggest demonstrations in two decades, involving at least 50,000 people. The citizens rallied against the US military presence after a local woman was murdered by an ex-Marine and a string of other incidents.
In late September, two Okinawa villages filed a lawsuit against the local government after it allowed US military construction of two heliports on the only virgin forest remaining in Okinawa Prefecture.
While the government maintains that the completion of helipads will benefit the people of Okinawa, the villages of Higashi and Kunigami around the Northern Training Area have filed a lawsuit at the Naha District Court, citing noise complaints.
The two helipads, which were completed in 2014, are currently being used by the US Marines. Helicopters taking off and landing at these two sites cause constant noise pollution, the villagers claimed.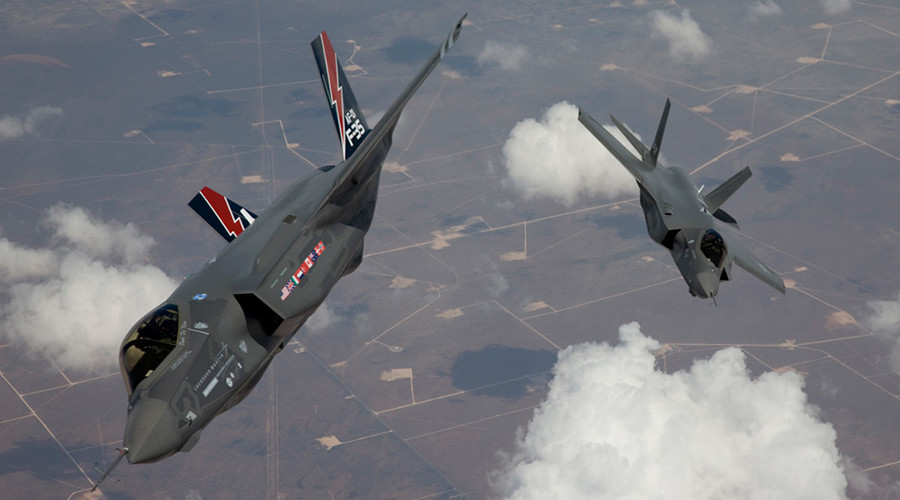 Source: rt.com
10.22.16 – Over 60% Of Americans Fear "Corruption Of Government Officials" Above Anything Else
"Obamacare"? "Global warming"?  "Terrorism"? all rank in the Top 10 fears for Americans.While 'creepy clowns' are all the rage, according to the Chapman University Survey of American Fears, corruption of government officials is the top fear among U.S. adults this year.
This chart shows the % of Americans who reported being "afraid" or "very afraid" of the following…
You will find more statistics at Statista
Just don't tell the mainstream media.. because that would be threatening the very core of America's democracy…
Source: zerohedge.com
10.21.16 –  Steve Wynn Slams Obamacare, Warns Government "Is Degrading The Living Standards Of Every Person In America"
Outspoken casino king Steve Wynn lashed out at The Fed, The Government, and Obamacare in a brief interview on Fox's Hannity this week, following the third debate. Expressing disappointment that the debates (and campaigns in general) have been: "long on negativity and short on substance," Wynn went on to exclaim as RealClearPolitics reports, that the printing of money by the U.S. Treasury under the guidance from the U.S. Federal Reserve and the national debt have not been properly addressed albeit a short segment at the final debate.
 "We take in $3.1 trillion and we spend $3.7 trillion, and that $600 billion deficit at the rate of $50 billion a month.

Our government is printing money and it's degrading the living standard of every person in America. It's the cause of frustration, anger and confusion. I was disappointed we didn't get in a real substantive conversation about that last night."
Wynn also addressed health care and said the more than 10,000 people he employees "paid more money but did not get more coverage" under Obamacare.
 "All of my employees increased health care costs in spite of the fact the company picked up most of the increases but yet they have the same policy that they had before,"

"We've been health care providers for over 45 years… And when your prices go up and your product doesn't get any better you sort of wonder whether you got a new deal or not."
Wynn discusses where the problem really lies…
Source: zerohedge.com
10.21.16 – DNS Cyber Attack Returns As Northeast Internet Traffic Grinds To A Crawl For Second Time
What was supposed to be a temporary internet outage, after an attack "of unknown origin" on DNS service provide DYN took down much of the internet in the North East, appears to have returned, and moments ago DYN announced that it was once again experiencing the same "attack" as this morning.
DDOS ATTACK MAY ALSO AFFECT MANAGED DNS ADVANCED SERVICES: DYN
DYN SAYS DDOS ATTACK MAY CAUSE POSSIBLE DELAYS IN MONITORING
Even the White House is involved now
Which means Putin will be blamed in 5… 4…. 3….
Ironically, the attack has made updating the Level 3 Internet outage map virtually impossible.
* *  *
Early this morning, millions of panicked Americans realized they may have to be productive when suddenly their favorite social media website or news outlet was unavailable for up to an hour.  As it turns out, the culprit was "an enormous cyberattack" which disrupted traffic to hundreds of websites including Twitter, Spotify, Reddit, eBay and the New York Times, particularly for internet users on the east coast of the United States.
The attack was targeted at a New Hampshire-based company called Dyn, a DNS service that translates readable names for websites (such as zerohedge.com) into an IP address that the internet understands. "Without it, we'd all be having to type numbers into web browsers rather than the names of websites." said security researcher Graham Cluley.
Dyn is one of the largest services of its kind, and its widespread outage means the companies that rely on it will be unable to load their websites. Users arriving at the pages will get an error message.
"Starting at 11:10 UTC on October 21st-Friday 2016 we began monitoring and mitigating a DDoS attack against our…infrastructure," the company said on its site. "This attack is mainly impacting US East and is impacting…customers in this region."
Why this attack, and why now? As of this moment we don't know, however we are confident that a Russian "involvement" will soon be revealed.
In the meantime, for those who enjoy tracking cyberwars in as they take place, here is a real-time map of internet attacks courtesy of Norsecorp.
10.21.16 – Hacking Democracy
"Those who cast the votes decide nothing. Those who count the votes decide everything." – Joe Stalin
With the mainstream media lambasting Trump for daring to suggest the election process is rigged – despite hard evidence – this is the hack that proved America's elections can be stolen using a few lines of computer code.
The 'Hursti Hack' in this video is an excerpt from the feature length Emmy nominated documentary 'Hacking Democracy'.
The hack of the Diebold voting system in Leon County, Florida, is real. It was verified by computer scientists at UC Berkeley.
Source: zerohedge.com
10.20.16 –  To Some, it "Feels More Like a Crash"
These US Markets Have Cracked, and the Cracks are Spreading
"There's enormous risk in public markets because that's the one that central banks have distorted to the greatest extent," El-Erian, chief economic adviser at Allianz SE, told Bloomberg TV, in reference to stock and bond markets. He confessed to the heresy of holding 30% of his portfolio in cash.
It's very hard to say I'm going to buy a basket of public equities and go to sleep for the next five to 10 years and feel good about the returns. Similarly with bonds," he said.
These "public markets" are not the only markets that central banks have totally distorted and larded with "enormous risks." Practically everything that is an asset has been inflated, including residential and commercial real estate in much of the country, and assets that are the objects of admiration of the wealthy: collector cars and art.
But these markets have started to crack at the edges, and some of the cracks are spreading.
Collector car prices fell again in October. They've been on a relentless skid since their peak in September 2015, according to data by Hagerty, which specializes in insuring classic cars. Auction activity experienced "another significant drop this month," Hagerty reported. Over the past 12 months, the number of cars sold at North American collector car auctions has dropped 8%. Among the other observations:
Requests for value increases for broad market vehicles fell for the 13th consecutive month.
Requests for value increases for high-end vehicles also decreased, but only by about half as much as did broad market vehicles.
The Hagerty Market Index – which is based on change in dollars and volume of the market, "similar to the DJIA or NASDAQ Composite" – fell 1.7% in October to 167.51. The index, which tracks 66,000 transactions of classic cars, is now down nearly 10% from its peak in September 2015. A gradual but relentless decline: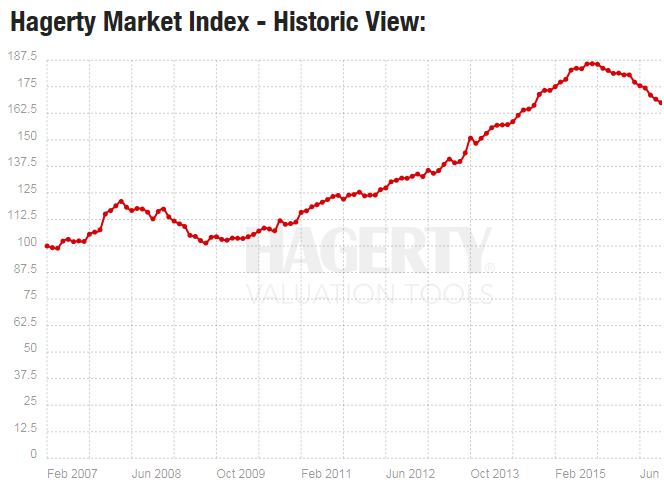 Note that the decline is similar in magnitude to the one during the Financial Crisis, before the Fed QE and ZIRP bailout kicked in. Now, there's no bailout in sight. QE is gone. And the Fed is flip-flopping about raising rates.
The index had soared 86% from the trough of the Financial Crisis to its peak last September. Like other assets, it started its ascent when QE and ZIRP became the law of the land. The people who invest in collector cars – which may sell for millions of dollars, with the record at around $38 million – already own a lot of other assets.
So these folks became instant beneficiaries of the "distributive consequences" of monetary policies, as central bankers call it when QE and ZIRP purposefully and resolutely redistribute wealth from labor to those who hold assets, from prudent savers to Wall-Street speculators, from those who hold the least to those who already hold the most.
Fed economists publicly discuss the "distributional consequences" of monetary policies as if they were a some unavoidable side effect, rather than the primary goal, in line with what Bernanke himself had called the "wealth effect."
Classic cars had soared 490% over the past 10 years, including the dip during the Financial Crisis, followed by the Fed's bailout of investors. But these "distributional consequences," however hard central banks are pushing them, are starting to run out of juice, it appears.
There had already been a wake-up call in February, as stock and bond markets were coming unglued: The Hagerty index experienced its steepest drop since the Financial Crisis.
"Right now, there's a focus on global markets, and you're seeing that filter through to the classic-car market," Brian Rabold, VP of valuation services at Hagerty, told the Wall Street Journal at the time.
Andrew Shirley, editor of the Wealth Report at property broker Knight Frank, told the Journal that wealthy investors are having second thoughts about collectibles. "People who want to collect are still spending bucketloads," he said. "But if you dig below some standout sales, at quite a lot of auctions you find lots that don't get sold or make their reserve," referring to the minimum bid.
The art market too went into convulsions too. In March, at the big auctions in New York, sales plunged, sending shivers through the market. The turmoil has since spread.
Speculators, especially "young speculators," are getting hit hard in the current downturn of the art market, Todd Levin, director of Levin Art Group in New York, told me in a phone conversation the other day.
During the Financial Crisis in late 2008, early 2009, the art market, after soaring since 2000, "seized up a little bit"; it was a "manageable depression," he said, with "some panicky shifts." But it was brief.
As soon as QE and ZIRP kicked in, the beneficiaries of these policies plowed money into art. Volumes picked up. Prices recovered at lightning speed. Since then, the art market has been "skewed" by global QE and ZIRP, along with the sharp gains in stocks, bonds, and real estate, to form "a perfect storm" for creating a "bubble," he said. By the first quarter 2015, the art market hit its "most frenzied levels."
Now the market is "reverting to normal, to a healthy market," he said.
For "young speculators" who jumped into the market and bought the works of young artists, "looking to flip the work" after making outsized gains in the shortest amount of time, as only a bubble allows you to do – "now they're finding out that they're the end user."
"Buying your peer group is wonderful," Levin said, in reference to young collectors buying young artists. It offers a lower entry point and a lot of upside potential, though it comes with bigger risks.
In recent years, prices of these works have seen "vertiginous ascents." But speculators who were buying with the intention of flipping can't get out, now that prices for many young artists have plunged amid a "glut of work," as sales volume has dried up. That was never part of the plan.
Speculators have approached the works of young artists with an IPO mentality, Levin said: Get in, make a lot of money, and flip it. Some of the works they bought late in the cycle in 2014 or early 2015 may lose 90% of their value. And some may never recover.
So "reverting to normal" can be a harsh and painful trip for speculators who got the timing wrong. "Depending on what your sense of normal is," Levin said, for some of them, the trip "feels more like a crash."
Has this sort of asset price inflation run its course because in the end, the real economy has languished? "We've been patiently waiting for the consumer."
Source: wolfstreet.com
All information used from other websites on X22 Report is used for educational/criticism and commentary purposes only.

Fair Use Notice: This video contains some copyrighted material whose use has not been authorized by the copyright owners. We believe that this not-for-profit, educational, and/or criticism or commentary use on the Web constitutes a fair use of the copyrighted material (as provided for in section 107 of the US Copyright Law. If you wish to use this copyrighted material for purposes that go beyond fair use, you must obtain permission from the copyright owner. Fair Use notwithstanding we will immediately comply with any copyright owner who wants their material removed or modified, wants us to link to their web site, or wants us to add their photo.

The "Fair Use" Provisions outlined in Title 17, Chapter 01 Article 107 of the US Copyright Law states the following:

Notwithstanding the provisions of sections 106 and 106A, the fair use of a copyrighted work, INCLUDING SUCH USE BY REPRODUCTION IN COPIES or phonorecords or BY ANY OTHER MEANS specified by that section, for purposes such as criticism, comment, news reporting, teaching (including multiple copies for classroom use), scholarship, or research, is NOT an infringement of copyright. In determining whether the use made of a work in any particular case is a fair use the factors to be considered shall include:

(1) the PURPOSE and CHARACTER of the use, including whether such use is of a commercial nature or is for NON-PROFIT educational purposes;
(2) the NATURE of the copyrighted work;
(3) the amount and substantiality of the portion used in relation to the copyrighted work as a whole; and
(4) THE EFFECT OF THE USE UPON THE POTENTIAL MARKET FOR OR VALUE OF THE COPYRIGHTED WORK.

The fact that a work is unpublished shall not itself bar a finding of fair use if such finding is made upon consideration of all the above factors.
Tags: banks, constitution, cyber attacks, DHS, economic collapse, finance, financial collapse, gold, police state, preppers, prepping, silver, stock market, war, wwIII