---
Send us your Sentinel Alert to Submit Sentinel Alert:
---
---
Scroll Down To See More News Alerts
12.10.16   –  If Everything is so Bullish, Why Are Bank Insiders Dumping Their Shares at Record Pace?
What are they seeing from their perch that we don't?
The Big Bullish signal with a capital B – for those who believe in this kind of religion – was that the Dow Jones Transportation Average jumped to a new high on Wednesday for the first time since 2014, and that it rose again on Thursday to another record, even as the Dow also hit new records. The theory goes that transportation stocks predict the broader market in some manner.
There were other bullish signals. Everyone is finding them suddenly everywhere. The hopes are flying high that whatever Trump is going to do – from instigating trade wars to letting Goldman Sachs run the Trump administration – it's suddenly all good for stocks.
Then why are insiders at banks and industrial companies selling their share as if there were no tomorrow?
Banks had a blistering run. The shares of Wells Fargo, the most hated bank in America these days, soared 28% over the past 30 days, Citigroup 25%, JP Morgan 26%, Goldman Sachs, which is successfully placing its people inside the Trump administration, 37%. It has surged 50% since the end of October, when insiders figured that Trump had a big chance of winning: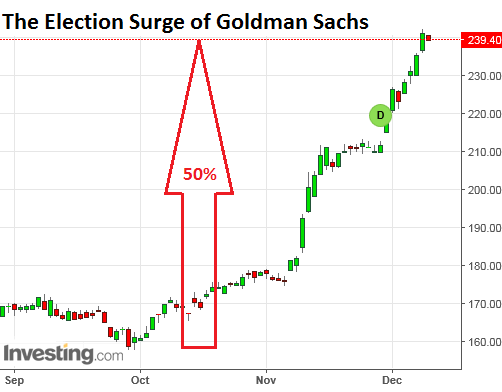 In fact, financials have become the S&P 500's best-performing sector.
Not that everything is going all that great. Wells Fargo already offered some titillating tidbits on Tuesday, when CEO Tim Sloan said at an investor conference that interest rates that have jumped recently and currency fluctuations have caused some of its securities – he was talking about hedges – to decline in value and hit profits. Reuters:
While Sloan did not specify how big the impact on reported results would be, he pointed for comparison to a $379 million first-quarter hedge accounting gain from a sharp decline in interest rates and foreign currency moves.

"So far interest rates and foreign currency fluctuations have moved even more than in Q1, and in the opposite direction," he said.
Other banks may see a similar reversal of erstwhile profitable hedges and trades. No matter. Bank stocks have soared. But high-ranking insiders have been dumping their shares faster than at any time in the data going back to 2003. These executives are considered the "smart money."
Citing data from research firm InsiderScore, The Wall Street Journal reported:
Right on cue, insiders at US-listed banks, brokerages, and financial-services companies are poised to set records for the sheer number of people selling stock and the dollar value of shares sold in the fourth quarter, based on data since 2003.

Ben Silverman, director of research at InsiderScore, said a similar pattern holds for industrials, up 9% over the past month.
But the Wall Street Journal was quick to pooh-pooh the bearish signal. In fact, there are no bearish signals. Everything is bullish, even bearish signals. So, couched in words like "might" and "could," it pointed out that there must have been bullish reasons for those insiders to sell:
But insiders might choose to sell their stock for reasons that don't necessarily match the incentives of the typical individual investor.

Some insiders could be locking in profits or exercising options that are close to expiration. Many banking executives in particular have held underwater options in the years following the financial crisis. Bank of America Corp. and Morgan Stanley, for example, have rallied back to mid-2008 levels. If this postelection rally was the first chance to sell, it is hard to argue against doing so no matter how they feel about the future. That activity differs from more-diversified mom-and-pop investors.
But the report admits that at the beginning of this year, when bank stocks were getting clobbered, insiders were heavy buyers, with impeccable timing: Jamie Dimon bought $26 million of JP Morgan shares on February 11. Since then, JPM has jumped 60%. So now, for them, seeing what they see from their perch, it's once again time to unload, and do so at record pace – perhaps with impeccable timing once again.
These bank executives are among the households for whom the stalled US economy has performed a miracle, according to the Fed's current progress report.
Source: wolfstreet.com
12.09.16   –  Cash Is No Longer King: The Phasing Out Of Physical Money Has Begun
As physical currency around the world is increasingly phased out, the era where "cash is king" seems to be coming to an end. Countries like India and South Korea have chosen to limit access to physical money by law, and others are beginning to test digital blockchains for their central banks.
The war on cash isn't going to be waged overnight, and showdowns will continue in any country where citizens turn to alternatives like precious metals or decentralized cryptocurrencies. Although this transition may feel like a natural progression into the digital age, the real motivation to go cashless is downright sinister.
The unprecedented collusion between governments and central banks that occurred in 2008 led to bailouts, zero percent interest rates and quantitative easing on a scale never before seen in history. Those decisions, which were made under duress and in closed-door meetings, set the stage for this inevitable demise of paper money.
Sacrificing the stability of national currencies has been used as a way prop up failing private institutions around the globe. By kicking the can down the road yet another time, bureaucrats and bankers sealed the fate of the financial system as we know it.
A currency war has been declared, ensuring that the U.S. dollar, Euro, Yen and many other state currencies are linked in a suicide pact. Printing money and endlessly expanding debt are policies that will erode the underlying value of every dollar in people's wallets, as well as digital funds in their bank accounts. This new war operates in the shadows of the public's ignorance, slowly undermining social and economic stability through inflation and other consequences of central control. As the Federal Reserve leads the rest of the world's central banks down the rabbit hole, the vortex it's creating will affect everyone in the globalized economy.
Peter Schiff, president of Euro-Pacific Capital, has written several books on the state of the financial system. His focus is on the long-term consequences of years of government and central bank manipulation of fiat currencies:
 "Never in the course of history has a country's economy failed because its currency was too strong…The view that a weak currency is desirable is so absurd that it could only have been devised to serve the political agenda of those engineering the descent. And while I don't blame policy makers from spinning self-serving fairy tales (that is their nature), I find extreme fault with those hypnotized members of the media and the financial establishment who have checked their reason at the door. A currency war is different from any other kind of conventional war in that the object is to kill oneself. The nation that succeeds in inflicting the most damage on its own citizens wins the war. " [emphasis added]
If you want a glimpse of how this story ends, all you have to do is look at Venezuela, where the government has destroyed the value of the bolivar (and U.S. intervention has further exacerbated the problem). Desperation has overcome the country, leading women to go as far as selling their own hair just to get by. While crime and murder rates have spiked to all-time highs, the most dangerous threat to Venezuelans has been extensive government planning. The money they work for and save is now so valueless it's weighed instead of counted. The stacks of bills have to be carried around in backpacks, and the scene is reminiscent of the hyperinflation Weimar Germany experienced in the 1920s. Few Western nations have ever experienced a currency crisis before, meaning many are blind to the inevitable consequences that come from the unending stimulus we've seen since 2008.
In order to keep this kind of chaos from spreading like a contagion to the rest of the world, representatives are willing to do anything necessary, but this comes at a cost. Instead of having to worry about carrying around wheelbarrows full of money, the fear in a cashless society will likely stem from bank customers' restricted access to funds. With no physical way for consumers to take possession of their wealth, the banking interests will decide how much is available.
The level of trust most people still have in the current system is astonishing. Even after decades of incompetence, manipulation, and irresponsibility, the public still grasps to government and the established order like a child learning how to swim. The responsibility that comes with independence has intimidated the entire population into leaving the decisions up to so-called  'experts.' It just so happens that those trusted policymakers have an agenda to strip you and future generations of prosperity.
Some of the few hopes in this war against centralization are peer-to-peer technologies like Bitcoin and Ethereum. These innovative platforms have the potential to open up markets that circumvent state-controlled Ponzi schemes. The future development of crypto-assets has massive potential, but being co-opted is a real danger.
The greatest threat to individual freedom is financial dependence, and as long as your wealth is under someone else's control, it can never be completely secure. Unfortunately, private blockchains are becoming increasingly popular, creating trojan horses for those just learning about the technology (in contrast, Bitcoin's transaction ledger is public) . Without the decentralized aspect of a financial network, it is just a giant tracking database that can be easily compromised like any other.
The World Economic Forum released a report on the future of financial infrastructure. Giancarlo Bruno, Head of Financial Services Industries at WEF stated:
 "Rather than to stay at the margins of the finance industry, blockchain will become the beating heart of it. It will help build innovative solutions across the industry, becoming ever more integrated into the structure of financial services, as mainframes, messaging services, and electronic trading did before it."
The list of countries who are exploring integrating blockchain technology into their central banking system is extensive. Just to name a few; Singapore, Ukraine, France,  Finland and many others are in the process of researching and testing out options.
For those who appreciate more tangible wealth, diversifying into hard assets like gold and silver is a great first step. It's not about becoming a millionaire or getting rich quickly, but rather, using precious metals as vehicles for investment in the long-term. Regardless of what events unfold over the decades to come, the wealth preserved in physical form is more secure than any other asset. Forty years ago it was possible to save your money in the bank and accumulate interest over time, but that opportunity no longer exists. Those who fail to adapt to this new financial twilight zone will likely find themselves living as slaves to debt for years.
Control and confidence are two of the most important things in the system we live in. Once these digital spider webs have been put into place, the ability for an individual to maintain privacy or anonymity will all but disappear. Only through understanding the subversive actions being taken can people protect themselves from having to put their future in someone else's hands. The cash that allows free transactions without tax burdens or state scrutiny won't be around much longer. There will be many rationalizations for a cashless society in the years to come, but without fixing this broken financial system first, this will only ensure that despotism gains an even sturdier foothold.
Source: theantimedia.org
12.09.16   –   Are We Being Set Up For A Crash? Stocks Hit A Level Only Seen During The Bubbles Of 1929, 2000 And 2007
Will the financial bubble that has been rapidly growing ever since Donald Trump won the election suddenly be popped once he takes office?  Could it be possible that we are being set up for a horrible financial crash that he will ultimately be blamed for?  Yesterday, I shared my thoughts on the incredible euphoria that we have seen since Donald Trump's surprise victory on November 8th.  The U.S. dollar has been surging, companies are announcing that they are bringing jobs back to the U.S., and we are witnessing perhaps the greatest post-election stock market rally in Wall Street history.  In fact, the Dow, the Nasdaq and the S&P 500 all set new all-time record highs again on Thursday.  What we are seeing is absolutely unprecedented, and many believe that the good times will continue to roll as we head into 2017.
What has been most surprising to me is how well the stocks of the big Wall Street banks have been doing.  It is no secret that those banks poured a tremendous amount of money into Hillary Clinton's campaign, and Donald Trump had some tough things to say about them leading up to election day.
So you wouldn't think that it would be particularly good news for those banks that Trump won the election.  However, we seem to be living in "Bizarro World" at the moment, and in so many ways things are happening exactly the opposite of what we would expect.  Since Trump's victory, all of the big banking stocks have been skyrocketing…
Financial stocks in particular have been on fire. Citigroup (C) and JPMorgan Chase (JPM) are up about 20% since Donald Trump defeated Hillary Clinton — and that makes them laggards!

Morgan Stanley (MS) has gained more than 25%. So has troubled Wells Fargo (WFC), despite the lingering fallout from its fake account scandal. Bank of America (BAC) is up more than 30%.

And so is Goldman Sachs (GS) — the former employer of both Treasury Secretary nominee Steven Mnuchin and Trump chief strategist Steve Bannon.
But are these stock prices justified by the fundamentals?
Of course not, but during times of euphoria the fundamentals never seem to matter much.  Stocks were incredibly overvalued before the election, and now they are ridiculously overvalued.
Earlier today, a CNBC article pointed out that the cyclically-adjusted price to earnings ratio has only been higher than it is today at three points in our history…
"The cyclically adjusted P/E (CAPE), a valuation measure created by economist Robert Shiller now stands over 27 and has been exceeded only in the 1929 mania, the 2000 tech mania and the 2007 housing and stock bubble," Alan Newman wrote in his Stock Market Crosscurrents letter at the end of November.

Newman said even if the market's earnings increase by 10 percent under Trump's policies "we're still dealing with the same picture, overvaluation on a very grand scale."
And of course a historic stock market crash immediately followed each of those three bubbles.
So are we being set up for a huge crash in early 2017?
There are some out there that believe that this is purposely being orchestrated.  For example, Mike Adams of Natural News believes that the markets "will be deliberately and destructively imploded under President Trump"…
Right now, the U.S. stock market is surging, with the Dow leaping toward 20,000, a number rooted in fiscal insanity and delusional expectations. There are no fundamentals that support a 20,000 Dow, but fundamentals have long since ceased to matter in a financial world hyperventilating on debt fumes while hallucinating about utopian economic models that will soon prove to generate fools instead of real wealth.

Today I'm going on the record with a prediction that I'll offer with near absolute certainty: The rigged markets that now seem to defy gravity will be deliberately and destructively imploded under President Trump for all the obvious reasons. There will be financial chaos like we've never seen before: Investors leaping off tall buildings, banks declaring extended "holidays" that freeze transactions, and California pensioners slitting their wrists after they discover their promised pension funds were just vaporized by incompetent bureaucrats.
On the other hand, there are others that believe that Trump is just walking into a very bad situation and that a crash would be inevitable no matter who was president.
History tells us that there is no possible way that stock prices can stay at this irrational level indefinitely.  But for now a wave of optimism is sweeping the nation, and many of those that are caught up in it will get seriously angry with you if you try to inject a dose of reality into the conversation.
But like I said yesterday, let's hope that the optimists are correct.  A survey that was just taken of 600 business executives found that 62 percent of them were optimistic about the U.S. economy over the next 12 months.
Incredibly, that number was sitting at just 38 percent the previous quarter.
For the moment, business leaders seem to be quite thrilled that we have a business executive in the White House.
Hopefully Donald Trump's business experience will translate well to his new position.  And it is certainly my hope that he is as successful as possible.
But even during the campaign Trump talked about how stocks were in a giant bubble, and the euphoria that we have seen since his election victory has just made that bubble even larger.
Throughout U.S. history, every giant financial bubble has always ended very badly, and this time around will not be any exception.
Trump may get the blame for it when it bursts, but the truth is that the conditions for the coming crisis have been building for a very, very long time.
Source: theeconomiccollapseblog.com
12.08.16   –   Who the Heck are these Households that are Worth $90 Trillion?
Stalled Economy Performs Wealth Miracle, reports the Fed
One thing is working in this economy that has been stuck for years in a slow-growth mire: the inflation of asset prices. And the Federal Reserve, which has been engineering this miracle so adroitly, just released its latest progress report.
It reported today that the net worth of household and non-profits – they're lumped together – rose in the third quarter by 1.8% or $1.59 trillion, to a record $90.2 trillion. That's up 6% or $5.2 trillion from a year ago.
That 12-month increase of $5.2 trillion is larger than the GDP of Japan. Just by inflating asset prices. Why even bother to work? We'll get to that in a moment.
Total household net worth is now nearly five times the size of US GDP. In 2007, at the top of the prior bubble, household net worth was $66.5 trillion, or about 4.5 times the size of GDP, before it all blew up.
This chart shows the fabulous and ever increasing wealth of US households, which surely must be a result of a wondrous high-growth economy that is hitting on all cylinders and is making everyone rich: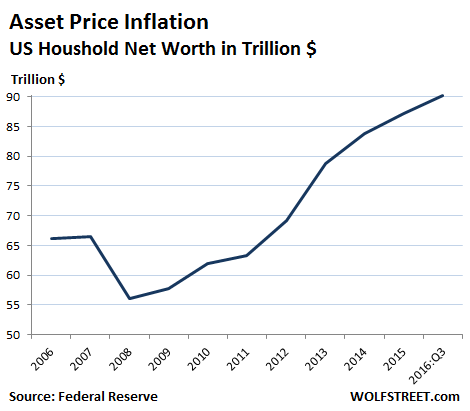 That $1.59 trillion increase in household net worth in Q3 included:
$494 billion in gains from stocks that households own directly, or indirectly via pension funds and the like.
$554 billion in gains from real estate holdings.
$331 billion increase in bank deposits (savings accounts and CDs).
Total household assets, before debts, were valued at $105 trillion, so about 5.7 times US GDP.
In turn, households carried $14.6 trillion in debt, which grew in Q3 at an annual rate of 4%, with consumer credit jumping 7.5% and mortgage credit rising 2.9%.
Over the third quarter, the S&P 500 index rose 3.3%, so that helped. But that's like so October 31. Since then, the wondrous "the-economy-is-terrible" Trump rally kicked in, and those households holding the most stocks will have done well so far in Q4.
Wisely – nay, ingeniously – the Fed doesn't offer any data on the distribution of household wealth. But from other data, including from the Fed itself, we know that the vast majority of households own few or no financial assets.
In fact, according to another report by the Fed, we know that 46% of adults do not have enough money to cover a $400 emergency. They'd have to sell some furniture or charge it on their maxed-out credit card or just forget about it. Similarly, a survey by Bankrate.com found that 63% of Americans don't enough savings to pay for a $500 to $1,000 emergency.
This is the economy of today. The vast majority of that $90.2 trillion in elegantly inflated household wealth is distributed to a small percentage of the wealthiest households, which have gotten vastly wealthier in the process.
For the rest of the Americans, for vast majority, there are only a few crumbs here and there, if any: even if they have 20% equity in their home, the lucky ones, and that home is worth $200,000, it amounts to $40,000 in equity. If 50 million households (of 124.6 million total households in the US) are in this lucky position, it amounts to only $2 trillion, a drop in the $90.2 trillion bucket.
Stock prices and real estate prices in many metros have long surpassed prior bubble records. In the Fed's infinite wisdom to inflate asset bubbles no matter what, to refuse to acknowledge asset bubbles when they balloon into full maturity, to avert its eyes when they get so huge that it's hard to see anything else, and to re-inflate them after they implode under their own weight… with these tactics, the Fed is in part responsible for the reasons this economy is no longer functioning as it should.
There is a price to pay: an asset bubble in real estate creates housing cost inflation that saps the majority of consumers and their power to spend on other things. But no problem for the Fed. They should just borrow the money they want to spend.
Ironically, and with impeccable timing, just today, Gallup released a 120-page report on the US economy – and what's wrong with it. It's titled, "No Recovery." It shows, among the many ills of this Fed-designed economy, that on a per-capita basis, GDP growth has been shrinking for decades, has gotten crushed since the Financial Crisis, and is now down to a measly annual rate of 0.5%: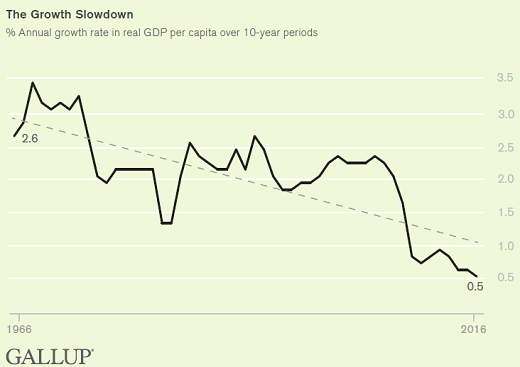 GDP per capita is what inviduals in the real economy actually experience. It's their slice of the economic pie, their reality. For many, that slice has been shrinking for years, even as it has been growing for those that the Fed has singled out and coddled.
There is hardly a better chart to show that blowing asset bubbles is NOT helping the overall economy, no matter how the Fed, economists, other entities, and much of the financial media twist and turn it, though it has been very successful in enriching a relatively small number of households.
But the hard-working households with no savings to pay for emergencies get a feel-good illusion
Source: wolfstreet.com
12.08.16   – Here's What Happens When A Currency Completely Breaks Down
In Venezuela, hyperinflation has become so pitiful that shopkeepers are no longer bothering to actually count money.
Instead, they're weighing it…
… as in literally pulling out a scale and weighing giant stacks of money. Do you want to buy a bottle of Coca Cola? That'll be 1 kilo of currency please.
One shopkeeper interviewed by the Guardian newspaper said he's piling up bricks of cash so quickly he feels like Pablo Escobar.
And yet Venezuela's hyperinflation continues growing worse; those bricks of cash are buying less every week.
This is an important lesson.
Throughout history, human beings have used countless forms of money.
Many of the ancients used commodities like silver or salt. The feudal Japanese used rice. The island natives of Yap used enormous stone wheels.
Today we use physical pieces of paper and electronic digits in a bank account. Large financial institutions and governments use bonds.
Each of these is (or was) a form of money.
But regardless of the form, money is only credible as long as everyone agrees that it has value, i.e. there's a large enough market size of people willing to use it.
This fundamentally comes down to trust and confidence.
But Venezuela's example shows how quickly that very thin veneer of trust and confidence can shatter, plunging a country into chaotic hyperinflation.
We've discussed many times before that cash, specifically physical currency, is a good asset to own.
Physical cash eliminates a LOT of counterparty risk. There's no more middleman banker standing in between you and your savings.
This has a lot of benefit.
If it turns out that your bank has been making idiotic bets with its customer's deposits and runs into serious financial problems, you'll have at least a portion of your savings in physical cash, so you'll be unaffected by their stupidity.
If you live, in the words of that great American hero Homer Simpson, in the Sue-S-A, your bank account can easily be frozen or levied in a lawsuit.
So holding some physical cash ensures that you still have a way to put food on the table for your family.
There are so many reasons to keep some savings in cash.
But it's important to remember as well that cash has limitations.
Venezuela is the prime example: cash can lose value VERY quickly.
Modern money is nothing more than a mirage conjured out of thin air by central bankers– unelected bureaucrats who are awarded free reign over the monetary system.
Central bankers decide in their sole discretion whether or not to print money, destroy money, raise rates, lower rates… whatever they feel like doing.
Each of their actions yields consequences… and those consequences have winners and losers.
Mark Carney, head of the Bank of England, recently announced that he is willing to tolerate higher inflation and a weaker pound in order to benefit factory workers and British exporters.
So basically if you're a factory worker or exporter, you win. If you're a retiree on a fixed income, you lose.
In a 'free society', citizens are supposed to be able to vote on the leaders who make such important decisions, i.e. robbing one person's standard of living to benefit another's.
But that's not how our modern financial system works.
Elected politicians don't really hold the power. It's unelected central banks who wield totalitarian control over the lives and livelihoods of other people.
It's as if they're presiding over some sort of financial death panel, determining who thrives and who gets crushed.
And I'm convinced that at some point in the future, our descendents will study this period of history with utter astonishment at how we could have allowed ourselves to be dominated by such a bizarre system.
Think about it– we even award our society's most esteemed prize for intellectual achievement to economists who want to conjure even MORE money out of thin air, even when obvious examples like Venezuela persist.
So here's the bottom line– definitely hold some cash, as in physical currency. Keep some in your safe.
Cash remains a great short-term hedge against problems in the banking system, and provides a number of other advantages including some minor asset protection benefit.
But think about keeping at least a portion of your savings outside of this bizarre system altogether.
Consider owning REAL assets, which could be anything from a private business to productive real estate to gold and silver.
And later this week we'll talk about some of the most valuable real assets to hold.
Source:  sovereignman.com
12.07.16   – India Confiscates Gold, Even Jewelry, In Raids On Hidden Money
Global financial repression picks up steam, led by India. After declaring large denomination notes illegal, India now targets gold.
It's not just gold bars or bullion. The government has raided houses, no questions asked, confiscating jewelry.
For background to this article, please see my November 27 article Cash Chaos in India, 86% of Money in Circulation Withdrawn; Cash Still King in Japan.
Large denomination means 500-rupee ($7.30) and 1,000-rupee notes ($14.60), which account for more than 85 percent of the money supply. They are no longer legal tender, effective immediately.
As one might imagine, chaos ensued. And it continues.
India Confiscates Gold
Picking up where we left off, please consider Message to Modi: Do No More Harm by Mihir Sharma.
 The chaos accompanying "demonetization" hasn't eased up noticeably. It seems likely the disruption to the economy, especially in cash-centric rural India, will hit growth sharply for at least a few quarters. It's tough to say for how long and by how much; we are in uncharted territory here and guesses have varied widely. But many analysts agree with former Prime Minister Manmohan Singh, who's predicting the new policy will knock 2 percentage points off that world-beating GDP growth rate.

Demonetization was originally sold as a "surgical strike on black money" — the illicit piles of cash many rich Indians have accumulated out of sight of the taxman. It's now clear the policy has been anything but surgical. Worse, uncomfortable questions are being asked about whether the complicated rules and exemptions that have accompanied demonetization have allowed black-money holders to launder most of their cash. Of late, Modi's chosen to focus instead on demonetization as means of advancing a cashless economy.

Yet the idea of a war on unaccounted-for wealth remains central to demonetization's popular appeal, which means Modi will have to find other ways to keep that narrative going. So the government has now begun to push income-tax officials to conduct raids on those who might be concealing assets in forms other than cash, such as gold.

There's already enough fear of such raids becoming common again that the government felt the need to step in to quell some of the anxiety. That didn't help much. The government "clarified,"  among other things, the rules governing when tax officials could seize gold: Nothing would happen "if the holding is limited to 500 grams per married woman, 250 grams per unmarried woman and 100 grams per male." It also said that there would be no limits on jewelry "provided it is acquired… from inheritance." Also, the "officer conducting [the] search has discretion to not seize [an] even higher quantity of gold jewelry."

What this means, unfortunately, is that India's income tax officers have just won the lottery. During a raid, they can, on the spot, decide whether or not to confiscate a family's gold holdings. And remember, India has an enormous amount of gold — 20,000 metric tons, much of it inherited. (The rules governing simple searches are different, but few know that.) Rather than cleaning up tax administration, the government has handed tax officials more power than they've had for decades. The rich will pay what they need to escape harassment; the rest will suffer.
Rich Escape, Poor and Middle Class Suffer
The last line in the preceding article says all you need to know about what's happening: "The rich will pay what they need to escape harassment; the rest will suffer."
Evidence suggests the politically connected, and their friends, knew about the ban on cash and acted in advance. Everyone else is stuck.
India's raid on gold reinforces its ban on cash. Short term aside, these kinds of actions will increase demand for gold.
What's Next?
I keep wondering: what's next? People pretend they know, I admit I do not. However, I am quite sure a currency crisis is coming. Where it strikes first is unknown, but the list of likely candidates increases every year.
My spotlight has been on Japan, China, and the EU. India caught me off guard, but it adheres to my general theory this pot will eventually boil over in a cascade from an unexpected place, outside the US.
US actions may cause a currency crisis, but I believe a crisis will hit elsewhere first. If I am correct, gold will be the safe haven, regardless of currency, but especially where the crisis hits.
Source: mishtalk.com
12.07.16   – Proof That The Elite Really Do Want A Global Society With No Possessions, No Privacy And No Freedom
If you listen closely, the global elite are telling us exactly what they intend to do. If they get their way, our world is going to look vastly different than it does now in the not too distant future. These elitists share a dream of an environmentally-friendly dystopian socialist paradise in which individual freedom is severely restricted for the good of the collective. Where you live, what you do for a living, what you are allowed to eat and how many children you are permitted to have would all be determined by an all-powerful central government that nobody would question or challenge. This may sound very bizarre to you, but the global elite really do dream of these things.
A perfect example of what I am talking about is an article that recently appeared on the official website of the World Economic Forum entitled "Welcome to 2030. I own nothing, have no privacy, and life has never been better". It was authored by a member of parliament in Denmark named Ida Auken, and as you can see she is quite convinced that we can achieve this type of society by the year 2030…
Welcome to the year 2030. Welcome to my city – or should I say, "our city". I don't own anything. I don't own a car. I don't own a house. I don't own any appliances or any clothes.

It might seem odd to you, but it makes perfect sense for us in this city. Everything you considered a product, has now become a service. We have access to transportation, accommodation, food and all the things we need in our daily lives. One by one all these things became free, so it ended up not making sense for us to own much.
In Auken's world, nobody even pays any rent, and if you need anything at all you can have it delivered to your door within minutes.
So how is that possible?
Well, she believes that computers, robots and machines will eventually be doing almost all of the work that humans currently do…
Shopping? I can't really remember what that is. For most of us, it has been turned into choosing things to use. Sometimes I find this fun, and sometimes I just want the algorithm to do it for me. It knows my taste better than I do by now.

When AI and robots took over so much of our work, we suddenly had time to eat well, sleep well and spend time with other people. The concept of rush hour makes no sense anymore, since the work that we do can be done at any time. I don't really know if I would call it work anymore. It is more like thinking-time, creation-time and development-time.
But of course there is a cost to living in such a society, and Auken openly acknowledges this. She admits that in her idealized version of the future she will "have no real privacy"…
Once in awhile I get annoyed about the fact that I have no real privacy. No where I can go and not be registered. I know that, somewhere, everything I do, think and dream of is recorded. I just hope that nobody will use it against me.
What Auken is envisioning is some sort of benign green dictatorship. In order to have a "perfect world" made up of imperfect humans, someone is going to have to be watching, tracking, monitoring and controlling all of those imperfect humans 100 percent of the time. And since virtually every decision that we make affects the environment in some fashion, every one of those decisions will have to be subject to government regulation.
When I read Auken's article, I was instantly reminded of a short video that was produced by the Forum for the Future that envisioned what life would be like in the year 2040. If you are not familiar with them, the Forum for the Future is one of the major non-governmental organizations that the global elite use to promote their agenda around the world. These NGOs have become increasingly powerful in recent years, and the biggest often work in conjunction with the United Nations to promote "change" in developing nations.
In the video that I mentioned above, the Forum of the Future presents a chilling version of the future that includes "calorie cards", a "global food council", global water rationing and an immensely powerful central government that manages even the smallest details of our lives. You can watch the video on YouTube for yourself right here…
Would you like to live in that type of a world?
If we are not very careful, this type of tyranny could become a reality, because this is precisely where the global elite intend on taking us.
About five years ago, I warned that this was coming…
Imagine going to sleep one night and waking up many years later in a totally different world. In this futuristic world, literally everything you do is tightly monitored and controlled by control freak bureaucrats in the name of "sustainable development" and with the goal of promoting "the green agenda". An international ruling body has centralized global control over all human activity. What you eat, what you drink, where you live, how warm or cold your home can be and how much fuel you can use is determined by them. Anyone that dissents or that tries to rebel against the system is sent off for "re-education". The human population is 90 percent lower than it is today in this futuristic society, and all remaining humans have been herded into tightly constricted cities which are run much like prisons.
Today we are closer to the global elite's vision of the future than ever before. Even in some of the most conservative areas of the United States the green agenda is being pushed forward under the guise of "sustainable development", and the global elite will never stop until they have everything that they want.
We are constantly being told that we need to make sacrifices "for the good of the planet", but the truth is that their agenda would open the door for global tyranny on a scale that most people do not even think is possible.
Instead of a socialist paradise, what we will really be getting is a dystopian nightmare, but most will not realize the truth until it is far too late.
Source: endoftheamericandream.com
12.06.16   –  'Footloose' Comes To Brussels – Europe Unleashes "Dance Tax"
"Everybody cut loose".. but be prepared to pay for it in Europe. As Martin Armstrong notes, if you dance in a bar in Brussels, you must pay a tax!
The patrons of Bonnefooi, a cafe in the center of Brussels, last week received a visit from a City inspector.
The inspector asked them to pay the "tax dance." Yes you read correctly. Brussels has a "dancing tax" written in the 50´s and as the government needs money, they have "revitalized" this tax since 2014.
For every customer who dances in a bar the owner has to pay €0.40 per night.  They sent incognito civil servants to uphold this law.
There is an endless supply of old laws still on the books that have not been enforced, yet could be to raise money. In Florida, you are not allowed to have construction workers around on weekends. In some states, old laws required you to pull your car off the road if it frightened a horse. If the horse was still terrified, you were required to dissemble your car until the horse was calm.
They tried outlawing condoms back in the 1950s. That went to the U.S. Supreme Court in 1965 under Griswold v. Connecticut (1965), where the Supreme Court ruled that a state's ban on the use of contraceptives violated the right to marital privacy. The case concerned a Connecticut law that criminalized the encouragement or use of birth control. Since the Supreme Court upheld Obamacare as a tax, anything goes. They can put a special tax on condoms and get away with that one and rake in billions.
Welcome to the world of collapsing socialism. This is where government get's to rip us all off to survive
Source: zerohedge.com
12.05.16   –  The Deepening Of The Deep State
One amusing angle on the news media broadside about Russia "hacking" the US election is the failure to mention – or even imagine! – that the US incessantly and continually runs propaganda psy-ops against every other country in the world. And I'm not even including the venerable, old, out-in-the-open propaganda organs like Voice of America and Radio Free Europe (reminder: the Iron Curtain came down a quarter century ago). Do you suppose that nobody at Langley, or the Pentagon, or the NSA's sprawling 1.5 million square foot Utah Data Center is laboring night and day to sow confusion among other societies to push our various agendas?
The main offensive started with The Washington Post's publication on Nov 26 of "The List," a story calling out dozens of blogs and web news-sites as purveyors of "fake news" fronting for Russian disinformation forces. The list included Zero Hedge, Naked Capitalism, and David Stockman's blog. There were several whack-job sites mixed in the list for seasoning — The Daily Stormer (Nazis), Endtime.com (Evangelical apocalyptic), GalacticConnection (UFO shit). The rest range between tabloid-silly and genuine, valuable news commentary. What else would you expect in a society with an Internet AND a completely incoherent consensus about reality?
Pretty obviously, the struggle between mainstream news and Web news climaxed over the election, with the mainstream overwhelmingly pimping for Hillary, and then having a nervous breakdown when she lost. Desperate to explain the loss, the two leading old-line newspapers, The New York Times and The Washington Post, ran with the Russia-Hacks-Election story — because only Satanic intervention could explain the fall of Ms. It's-My-Turn / I'm-With-Her. Thus, the story went, Russia hacked the Democratic National Committee (DNC), gave the hacked emails to Wikileaks, and sabotaged not only Hillary herself but the livelihoods of every myrmidon in the American Deep State termite mound, an unforgivable act.
Also interestingly, these newspapers and their handmaidens on TV, were far less concerned as to whether the leaked information was true or not — e.g. the Clinton Foundation donors' influence-peddling around arms deals made in the State Department; the DNC's campaign to undermine Bernie Sanders in the primaries; DNC temporary chair (and CNN employee) Donna Brazille conveying debate questions to HRC; the content of HRC's quarter-million-dollar speeches to Wall Street banks. All of that turned out to be true, of course.
Then, a few weeks after the election, the US House of Representatives passed H.R. 6393, the Intelligence Authorization Act for Fiscal Year 2017. Blogger Ronald Thomas West reports:
Section 501 calls for the government to "counter active measures by Russia to exert covert influence … carried out in coordination with, or at the behest of, political leaders or the security services of the Russian Federation and the role of the Russian Federation has been hidden or not acknowledged publicly."
The measure has not been passed by the Senate or signed into law yet, and the holiday recess may prevent that. But it is easy to see how it would empower the Deep State to shut down whichever websites they happened to not like. My reference to the Deep State might even imply to some readers that I'm infected by the paranoia virus. But I'm simply talking about the massive "security" and surveillance matrix that has unquestionably expanded since the 9/11 airplane attacks, creating a gigantic NSA superstructure above and beyond the Central Intelligence Agency, the Department of Defense's DIA, and the hoary old FBI.
A little paranoia about the growing fascist behavior of the US government is a useful corrective to trends that citizens ought to be concerned about – for instance, the militarization of police; the outrageous "civil forfeiture" scam that allows police to steal citizens cash and property without any due process of law; the preferential application of law as seen in the handling of the Clinton Foundation activities and the misconduct of banking executives; the attempt to impose a "cashless society" that would herd all citizens into a financial surveillance hub and eliminate their economic liberty.
These matters are especially crucial as the nation stumbles into the next financial crisis and the Deep State becomes desperate to harvest every nickel it can to rescue itself plus the cast of "systemically important" (Too-Big-To-Fail) banks and related institutions like Fannie Mae and Freddie Mac, which are about to once again be left holding colossal bags of worthless non-performing mortgages, not to mention the pension funds and insurance companies that will also founder in the Great Unwind that is likely to commence as Trump hangs his golden logo over the White House portico.
Source:  kunstler.com
12.05.16   –  Global Financial Markets Plunged Into Chaos As Italy Overwhelmingly Votes 'No'
Italian voters have embraced the global trend of rejecting the established world order, but the "no" vote on Sunday has plunged global financial markets into a state of utter chaos.  The euro has already fallen to a 20 month low, Italian government bonds are poised for a tremendous crash, and futures markets are indicating that both U.S. and European stock markets will be way down when they open on Monday.  It is being projected that Italian Prime Minister Matteo Renzi's referendum on constitutional reforms will be defeated by about 20 percentage points when all the votes have been counted, and Renzi has already announced that he plans to resign as a result.  When new elections are held it looks like comedian Beppe Grillo's Five-Star movement will come to power, and the European establishment is extremely alarmed at that prospect because Grillo wants to take Italy out of the eurozone.  In the long run Italy would be much better off without the euro, but in the short-term the only thing propping up Italy's failing banking system is support from Europe.  Without that support, the 8th largest economy on the entire planet would already be in the midst of an unprecedented financial crisis.
I know that I said a lot in that first paragraph, but it is imperative that people understand how serious this crisis could quickly become.
This "no" vote virtually guarantees a major banking crisis for Italy, and many analysts fear that it could trigger a broader financial crisis all across the rest of the continent as well.
Just look at what has already happened.  All of the votes haven't even been counted yet, and the euro is absolutely plummeting…
The euro dropped 1.3 percent to $1.0505, falling below its 1 1/2-year low of $1.0518 touched late last month, and testing its key support levels where the currency has managed to rebound in the past couple of years.

A break below its 2015 March low of $1.0457 would send the currency to its lowest level since early 2003, opening a way for a test of $1, or parity against the dollar, a scenario which many market players now see as a real possibility.
In early 2014, there were times when one euro was trading for almost $1.40.  For a very long time I have been warning that the euro was eventually heading for parity with the U.S. dollar, and now we are almost there.
Meanwhile, Italian government bonds are going to continue to crash following this election result.  This is going to make it even more difficult for the Italian government to borrow money, and that will only aggravate their ongoing financial troubles.
But the big problem in Italy is the banks.  At this moment there are eight banks in imminent danger of collapsing, and virtually all of the rest of them are in some stage of trouble.  The following comes from a Bloomberg article about the crisis that Italian banks are facing right at this moment…
They're burdened with a mountain of bad loans. Their stocks have cratered. And they have to operate in an economy prone to recession and political upheaval.

Signs have been mounting for months that Italy's weakest lenders, and in particular Banca Monte dei Paschi di Siena SpA, were sliding toward the precipice, threatening to reignite a broader crisis.
And we may get some news regarding the fate of Banca Monte dei Paschi di Siena as early as Monday morning if what the Sydney Morning Herald is reporting is correct…
A last-gasp rescue for Monte dei Paschi di Siena, the world's oldest surviving bank, has been thrown into doubt after reformist prime minister Matteo Renzi decisively lost a referendum on constitutional reform on Sunday.

MPS and advisers JPMorgan and Mediobanca will meet as early as Monday morning to decide whether to pull a plan to go ahead with a €5bn recapitalisation, the FT reports, citing people informed of the plan.

Senior bankers will decide whether to pursue their underwriting commitments or exercise their right to drop the transaction due to adverse market conditions, these people said. In the event the banks drop the capital plan, the Italian state is expected to nationalise the bank, say senior bankers.
If Banca Monte dei Paschi di Siena fails, major banks all over Italy (and all over the rest of Europe) could start going down like dominoes.
So what were Italians voting on anyway?
Well, the truth is that the constitutional reforms that were proposed actually sound quite boring…
"The changes involve sharply reducing the size of one of the chambers of Parliament — the Senate — shifting its powers to the executive, and eliminating the Senate's power to bring down government coalitions.

"The amendments also shift some powers now held by the regions to the central government, thereby reducing frequent and lengthy court battles between Rome and the regional governments."
The reason why this vote was ultimately so important is because it became a referendum on Renzi's administration.  The fact that he announced in advance that he would resign if it did not get approved gave a tremendous amount of fuel to the opposition.
So now Beppe Grillo's Five-Star Movement stands poised to come to power, and that could be very bad news for those that are hoping to hold the common currency together.
The following is how NPR recently summarized the main goals of the Five-Star Movement…
"It calls for a government-guaranteed, universal income, abolishing Italy's fiscal commitments to the European Union and a referendum on Italy's membership in the Euro — a prospect that could unravel the entire single currency Eurozone."
If Italy chooses to leave the euro, it will probably mean the end of the common currency, and the continued existence of the entire European Union would be called into question.
So this vote on Sunday was huge.  The Brexit had already done a tremendous amount of damage to the long-term prospects for the European Union, and now the crisis in Italy is sending political and financial shockwaves throughout the entire continent.
Over the next few weeks, keep a close eye on the euro and on Italian government bonds.
If they both continue to crash, that will be a sign that a major European financial crisis is now upon us.
And what happens in Europe definitely does not stay in Europe.
If Europe goes down, we are going to go down too.
At this point we still have almost a month left in 2016, but 2017 is already shaping up to be a very troubling year.  As always, let us hope for the best, but let us also keep preparing for the worst.
Source: theeeconomiccollapseblog.com
12.04.16   –  Renzi Loses Italian Referendum, Will Offer Resignation To President, EU Project Ready To Collapse
As Bloomberg notes, we already have a lot of clarity:
Renzi lost by a large margin and said he will offer his resignation.
He's promptly fallen on his sword in an emotional speech.
The scale of the loss and how quickly it happened (we were bracing for a tighter contest and a longer night) cast a huge shadow on the fate of the continent headed into 2017.
So what happens next? We leave it to Doug Casey to sum it all up succinctly:
 December 4 referendum fails >> M5S comes to power >> Italians vote to leave the euro currency >> European Union collapses
Here is The Wall Street Journal to explain in more detail what happens next…
 New Renzi Government:

Italian President Sergio Mattarella could ask Mr. Renzi to reshuffle his cabinet and form a new government. However, Mr. Renzi has said in recent days that he is unlikely to accept such an option, given that he would be in a much-weakened position following the vote.

A Caretaker Administration:

Mr. Mattarella could ask someone else to lead a new government with a limited mandate to oversee the drafting of a new electoral law and pass the 2017 budget. One candidate is Economy Minister Pier Carlo Padoan, who could help soothe markets that have been nervous about political instability following a no vote. Others include Pietro Grasso, speaker of Italy's Senate, and Dario Franceschini, the current culture minister.

Electoral-Law Snarl:

Major political parties are pushing to change an electoral law passed last year that would give extra seats in Parliament to any party winning 40% or more of the vote. That measure was intended to make for more stable governments. Establishment politicians now worry that it could help the populist 5 Star Movement gain power and want to rewrite the rules before any new national election.
*  *  *
Update #6: Renzi's Speech:
RENZI CONCEDES REFERENDUM DEFEAT, SAYING PEOPLE HAVE SPOKEN
ITALY PM RENZI SAYS I TAKE FULL RESPONSIBILITY FOR DEFEAT
RENZI: "NO" LEADERS NOW HAVE GREAT RESPONSIBILITIES
RENZI: WE HAVE FAILED IN CONVINCING CITIZENS, WE WANTED TO WIN
RENZI SAYS HE WILL OFFER HIS RESIGNATION TO PRESIDENT
RENZI: MY GOVERNMENT ENDS HERE
*  *  *
Update #5: Renzi just tweeted to his 2.77 million followers: "Thanks to all of you anyway. In a few minutes I will be speaking to you directly from Palazzo Chigi. Long live Italy! PS Am coming, am coming…."
Update #4: Italian Prime Minister Matteo Renzi is likely to meet President Sergio Mattarella early Monday, as exit polls show he's suffered a heavy defeat in a referendum on constitutional reform, according to a government official who asked not to be named. Renzi has pledged to resign if his plans to overhaul the constitution are rejected by voters.
Source: zerohedge.com
12.04.16   – The Shocking Truth About How Barack Obama Was Able To Prop Up The U.S. Economy
Barack Obama is one of the biggest "Keynesians" of all time, but unfortunately most Americans don't even understand what that means.  In this article, I am going to share with you the primary reason why Barack Obama has been able to prop up the U.S. economy over the past eight years.  If Barack Obama had not taken the extreme measures that he did, we would be in the midst of a historic economic depression right now.  But by propping things up in the short-term, he has absolutely demolished our long-term economic future.  But like most politicians, Obama has been willing to sacrifice the future for short-term political gain.
If you take any basic college course in economics, you are going to learn about John Maynard Keynes.  Without a doubt, Keynes was one of the most famous economists of the 20th century, and one of the things that he believed was that governments should go into debt and spend more money when an economic downturn strikes.  By injecting additional funds into the economy during a time of crisis, he believed that the severity of recessions and depressions could be reduced.  This approach ultimately become known as "Keynesian economics", and in the post-World War II era virtually the entire world embraced it at least to some degree.  Here is more on Keynes from Investopedia…
An economic theory of total spending in the economy and its effects on output and inflation. Keynesian economics was developed by the British economist John Maynard Keynes during the 1930s in an attempt to understand the Great Depression. Keynes advocated increased government expenditures and lower taxes to stimulate demand and pull the global economy out of the Depression. Subsequently, the term "Keynesian economics" was used to refer to the concept that optimal economic performance could be achieved – and economic slumps prevented – by influencing aggregate demand through activist stabilization and economic intervention policies by the government. Keynesian economics is considered to be a "demand-side" theory that focuses on changes in the economy over the short run.
Keynesian economists correctly point out that there is a "multiplier effect" to government spending.  In other words, when the government spends money it ends up in the hands of ordinary people.  In turn, those people spend that money on various goods and services that they need, thus boosting overall economic activity.  And the more the money circulates, the more the economy is stimulated.  So one dollar of additional government spending does not just add one dollar to GDP.  Rather, the impact on GDP is often significantly greater than that.
Of course the bad news is that whenever the government borrows money it is stealing consumption from the future.  So we are literally destroying the future that our children and our grandchildren were supposed to have in order to make the present look a little bit brighter.
When Barack Obama entered the White House, the U.S. was in the midst of the worst financial crisis since the Great Depression.  The Bush administration had already begun to ramp up spending, but Barack Obama took "government stimulus" to ridiculous new levels.  The national debt has risen by an average of more than 1.1 trillion dollars a year while Obama has been in charge, and this fiscal year we are on pace to add more than 2 trillion dollars to the debt.
At this moment, the U.S. national debt is a whopping $19,901,545,151,126.51, and it will cross the 20 trillion dollar mark by the time Donald Trump is inaugurated on January 20th.
But when Barack Obama was inaugurated, the national debt was only 10.6 trillion dollars.  That means that we have added about 9.3 trillion dollars to the debt since that time.
So we have borrowed and spent 9.3 trillion dollars under Obama that we did not have.  But because of the "multiplier effect", that 9.3 trillion dollars actually had a far greater impact on the U.S. economy.
Let's be conservative and just double that number.  So that would give us an 18.6 trillion dollar overall impact on U.S. economic activity.  Spread over eight years, that comes to an average GDP impact of 2.325 trillion dollars a year.
But over the last eight years U.S. GDP has only been averaging about 16 trillion dollars a year.  So if you took away 2.3 trillion dollars a year, that would be about one-eighth of our entire economy.
In other words, without all of this debt that Barack Obama and Congress have been getting us into, we would be in the worst economic depression in U.S. history right now.
And I haven't even factored in state and local government debt, corporate debt or household debt.  The truth is that I am not exaggerating one bit when I say that we are enjoying a debt-fueled standard of living that we simply do not deserve.
But even with all of this debt, the U.S. economy has still not been performing really well.  In fact, Barack Obama is going to be the only president in U.S. history to not have a single year when U.S. GDP grew by at least three percent.
Despite what many in the mainstream media are telling you, the reality of the matter is that Donald Trump is going to inherit an economy that is deeply troubled.  If you doubt this, please see my previous article entitled "11 Very Depressing Economic Realities That Donald Trump Will Inherit From Barack Obama".
Donald Trump is talking about cutting taxes and reducing regulations, and all of those things are good, but ultimately those measures are not going to matter that much.
What is going to matter is what Donald Trump decides to do about our exploding debt.
If Donald Trump wants the U.S. economy to continue to remain at least somewhat stable in the short-term, he is going to have to keep piling up debt like Obama has.  Because if Trump and the Republicans decide that they want to get our debt under control, that will plunge us into a horrifying economic depression almost immediately.
But if Donald Trump continues to steal money from future generations of Americans at the same pace that Barack Obama has been doing, he will literally be destroying the future of America.  It will be a crime on a scale that is almost beyond words, and if they get a chance to do it, future generations of Americans will look back and curse him for what he has done to us.
So Donald Trump is really in a no-win situation when it comes to the economy.
The only way that he can match Obama's performance is to do what Obama did, but by doing so he would literally be killing the future.
As a nation we have been consuming far more wealth than we produce for a very, very long time, and the only way that we have been able to do this is because we have been able to go into so much debt.
But now a day of reckoning is fast approaching, and I am not sure if Donald Trump even realizes that he will soon be faced with some incredibly heartbreaking choices.
Source: theeconomiccollapseblog.com
12.03.16   –  The New American Dream – A Life In Hock
We live in a society driven by debt.
Cars, for example, have become hugely expensive (even on the low end) relative to what people can afford – because of the easy availability of credit. Which is the nice word used to speak about debt, intended to encourage us to get into it.
It takes at least $15,000 or so to drive home in a "cheap" new car, once all is said and done. And the "cheap" car will have to be registered, plated and insured.
It runs into money.
And most new cars cost a lot more money. Which most people haven't got. So they get debt. A loan. Which, when it becomes commonly resorted to as a way to live beyond one's means as a lifestyle, drives up the cost of life for everyone. Including those who try to live within their means – or better yet, below them.
When most people (when enough people) are willing – are eager – to go into hock for the next six years in order to have a car with an LCD touchscreen, leather (and heated) seats, six air bags, a six-speaker stereo, electronic climate control AC and power everything – which pretty much every new car now comes standard with – the car companies build cars to satisfy that artificial demand.
Artificial because based on economic unreality. That is a good way to think about debt. It is nonexistent wealth.
You are promising to pay with money you haven't earned yet.
And maybe won't.
The car market has become like the housing market – which has also been distorted by debt to a cartoonish degree. The typical new construction home is a mansion by 1960s standards. Not that there's anything wrong with living in a mansion. Or driving a car with heated leather seats and climate control AC and a six-speaker surround-sound stereo and six air bags and all the rest of it. Provided you can afford it.
Most people can't.
Normally, that fact would keep things in check. There would be mansions, of course – and high-end cars, too. But only for those with the high-end incomes necessary to afford them. Everyone else would live within their means. We wouldn't be living in this economic Potemkin village that appears prosperous but is in fact an economic Jenga Castle that could collapse at any moment.
There would be a lot less pressure to "keep up with the Joneses"… as they head toward bankruptcy and foreclosure.
As society heads that way.
Like the housing industry, the car industry has ceased building basic and much less expensive cars because of easy and grotesque debt-financing.
Which is tragic.
There ought to be (and would be) a huge selection of brand-new cars priced under $10,000 were it not for the ready availability of nonexistent wealth (.e., debt and credit).
Cars many people could pay cash for.
Brand-new cars.
Not shitboxes – as the late great Brock Yates christened them.
They would have the build quality/body integrity and quality paint jobs that are now standard equipment with every new car,

 

because of generally improved (and largely automated) manufacturing techniques, such as robotic welding and painting. Part of the reason yesterday's low-cost cars felt shoddy – and rusted early – was because they were shoddily (and spottily) constructed. By often-aggrieved line workers, who maybe got a little too drunk the night before and so weren't being very careful the next day, while fitting panels to the car.
It's not like that today – and irrespective of price point. The humblest new car is built to a much higher standard than top-of-the-line luxury cars once were. Those costs have been amortized; build quality would not regress if debt-financed flim-flam went away. To think it would is like thinking we'd go back to corded wall phones.
They would have reliable, efficient – and not balky/hard-starting/stalling – engines, too. Because the cost of simple (throttle body) electronic fuel injection – an exotic technology back in the shitbox days – no longer is.
It's everywhere – economies of scale have made it so.
Probably our less-than-$10k-car would have things like power windows and AC, if you wanted it. But wouldn't it be nice if it were optional?
None of this is pie-in-the-sky.
Such cars are being sold all over the world right now, just not in the Western world – which is

 

in debt up to its eyeballs.
Because the debt lifestyle has been normalized. There now exists social stigma to live below one's means. To not give the appearance of wealth one doesn't have by purchasing – on credit – things one can't really afford.
That – as much as the regulatory burden of government – is what's driving up the cost of life for all of us. Including those still trying to live within our means.
Source:  ericpetersautos.com
12.02.16   – House Quietly Passes Bill Targeting "Russian Propaganda" Websites
On November 30, one week after the Washington Post launched its witch hunt against "Russian propaganda fake news", with 390 votes for, the House quietly passed "H.R. 6393, Intelligence Authorization Act for Fiscal Year 2017", sponsored by California Republican Devin Nunes (whose third largest donor in 2016 is Google parent Alphabet, Inc), a bill which deals with a number of intelligence-related issues, including Russian propaganda, or what the government calls propaganda, and hints at a potential crackdown on "offenders."
A quick skim of the bill reveals "Title V—Matters relating to foreign countries",  whose Section 501 calls for the government to "counter active measures by Russia to exert covert influence … carried out in  coordination with, or at the behest of, political leaders or the security services of the Russian Federation and the role of the Russian Federation has been hidden or not acknowledged publicly."
The section lists the following definitions of media manipulation:
Establishment or funding of a front group.
Covert broadcasting.
Media manipulation.
Disinformation and forgeries.
Funding agents of influence.
Incitement and offensive counterintelligence.
Assassinations.
Terrorist acts.
As ActivistPost correctly notes, it is easy to see how this law, if passed by the Senate and signed by the president, could be used to target, threaten, or eliminate so-called "fake news" websites, a list which has been used to arbitrarily define any website, or blog, that does not share the mainstream media's proclivity to serve as the Public Relations arm of a given administration.
Curiously, the bill which was passed on November 30, was introduced on November 22, two days before the Washington Post published its Nov. 24 article citing "experts" who claim Russian propaganda helped Donald Trump get elected.
As we reported last week, in an article that has been widely blasted, the WaPo wrote that "two teams of independent researchers found that the Russians exploited American-made technology platforms to attack U.S. democracy at a particularly vulnerable moment, as an insurgent candidate harnessed a wide range of grievances to claim the White House. The sophistication of the Russian tactics may complicate efforts by Facebook and Google to crack down on "fake news," as they have vowed to do after widespread complaints about the problem."
The newspaper cited PropOrNot, an anonymous website that posted a hit list of alternative media websites, including Zero Hedge, Drudge Report, Activist Post, Blacklisted News, the Ron Paul Report, and many others. Glenn Greenwald penned an appropriate response two days later in "Washington Post Disgracefully Promotes a McCarthyite Blacklist From a New, Hidden, and Very Shady Group."
PropOrNot has pushed a conspiratorial thesis, without any actual proof, that the listed websites have been either used directly or covertly by the Russians to spread propaganda.
While the bill passed the House with a sweeping majority, it is unknown if and when the bill will work its way through the Senate and be passed into law, although one would think that it has far higher chances of passing under president Obama than the President-Elect. It is also unclear if it will be used to shut down websites anonymously characterized as "useful idiots" or subversive elements used in disseminating supposed Russian propaganda.
Those interested can read the full "H.R. 6393: Intelligence Authorization Act for Fiscal Year 2017″ at the following location" bill that may soon proclaim much of the internet to be criminal "Russian propaganda" at the following link.
Source: zerohedge.com
12.02.16   – 70% Of Immigrants Admitted Under Obama's "Minor Refugee" Program Are Actually Adults
Two years ago the Obama administration sought out to tackle a "crisis" that involved minors seeking out "human smugglers" to help with transportation across the U.S. – Mexico border.  So, with a swipe of the pen, Obama signed an executive order allowing minors of certain Central American countries to flee to the U.S. under a "refugee/parole program."
Two years later, there's just one problem: 70% of the people admitted under the program are actually adults.  According to MRC TV, official data from the State Department indicates that of the 1,600 aliens that have traveled to the U.S. under the CAM program to date, only 480 of them are actually under the age of 18.
 Now, under the CAM program, the State Department told MRCTV in an email Wednesday that of the 1,600 aliens who have traveled to the United States to date, only 480 of them – just 30 percent – are children under the age of 18.

Conversely, a full 70 percent of those aliens who've been allowed into the United States under the president's program for "minors" are adults.
The controversial initiative was launched in December 2014 as part of President Obama's executive actions on immigrants, and was touted as a way to bring illegal alien children from certain Central American countries into the United States to be reunited with their families, who are often here illegally themselves.  The move was allegedly designed to keep underage children from relying on dangerous human smugglers to bring them across the U.S. –Mexico border illegally.  Per the State Department:
 The United States is establishing an in-country refugee/parole program in El Salvador, Guatemala, and Honduras to provide a safe, legal, and orderly alternative to the dangerous journey that some children are currently undertaking to the United States.This program will allow certain parents who are lawfully present in the United States to request access to the U.S. Refugee Admissions Program for their children still in one of these three countries. Children who are found ineligible for refugee admission but still at risk of harm may be considered for parole on a case-by-case basis. The refugee/parole program will not be a pathway for undocumented parents to bring their children to the United States, but instead, the program will provide certain vulnerable, at-risk children an opportunity to be reunited with parents lawfully resident in the United States.
And, like many government initiatives, the CAM program has been completely ineffective in slowing the number of children crossing the U.S.-Mexico border.  In fact, as MRC points out, U.S. Customs and Border Protection recently reported that it apprehended 97% more unaccompanied illegal minors at the border this October than last year.
 On top of failing to provide much help to many child "refugees," the CAM program hasn't made a notable impact on the number of unaccompanied children and families who've elected to come into the United States illegally via the Mexican border – which is the very problem the initiative was supposedly created to alleviate.

U.S. Customs and Border Protection reports it apprehended another 4,973 unaccompanied illegal alien children (UACs) at the U.S.-Mexico border in October, up 97 percent from the 2,519 UACs that border agents apprehended in October of last year. That same month, the Obama administration released more than 6,000 illegal alien children to sponsors living in the United States.

CBP also caught another 6,029 family units crossing the Southwest U.S. border illegally during the month of October, a total 179 percent higher than the 2,162 family units the agency caught in October of last year. The border surge has increased so much, in fact, that officials are now warning the wave is already threatening to overwhelm their resources.

In fact, CBP data shows that since President Obama launched the costly CAM program in December 2014, nearly 100,000 unaccompanied alien children and more than 123,000 family units have been apprehended at the U.S.-Mexico border.
But don't worry, even though the CAM program has been proven completely ineffective, it only cost taxpayers ~$1BN in 2016 so no big deal.
Source: zerohedge.com
All information used from other websites on X22 Report is used for educational/criticism and commentary purposes only.

Fair Use Notice: This video contains some copyrighted material whose use has not been authorized by the copyright owners. We believe that this not-for-profit, educational, and/or criticism or commentary use on the Web constitutes a fair use of the copyrighted material (as provided for in section 107 of the US Copyright Law. If you wish to use this copyrighted material for purposes that go beyond fair use, you must obtain permission from the copyright owner. Fair Use notwithstanding we will immediately comply with any copyright owner who wants their material removed or modified, wants us to link to their web site, or wants us to add their photo.

The "Fair Use" Provisions outlined in Title 17, Chapter 01 Article 107 of the US Copyright Law states the following:

Notwithstanding the provisions of sections 106 and 106A, the fair use of a copyrighted work, INCLUDING SUCH USE BY REPRODUCTION IN COPIES or phonorecords or BY ANY OTHER MEANS specified by that section, for purposes such as criticism, comment, news reporting, teaching (including multiple copies for classroom use), scholarship, or research, is NOT an infringement of copyright. In determining whether the use made of a work in any particular case is a fair use the factors to be considered shall include:

(1) the PURPOSE and CHARACTER of the use, including whether such use is of a commercial nature or is for NON-PROFIT educational purposes;
(2) the NATURE of the copyrighted work;
(3) the amount and substantiality of the portion used in relation to the copyrighted work as a whole; and
(4) THE EFFECT OF THE USE UPON THE POTENTIAL MARKET FOR OR VALUE OF THE COPYRIGHTED WORK.

The fact that a work is unpublished shall not itself bar a finding of fair use if such finding is made upon consideration of all the above factors.
Tags: banks, constitution, cyber attacks, DHS, economic collapse, finance, financial collapse, gold, police state, preppers, prepping, silver, stock market, war, wwIII