---
Send us your Sentinel Alert to Submit Sentinel Alert:
---
---
Scroll Down To See More News Alerts
07.30.15 – Debt Slaves: 7 Out Of 10 Americans Believe That Debt 'Is A Necessity In Their Lives'
Could you live without debt?  Most Americans say that they cannot.  According to a brand new Pew survey, approximately 7 out of every 10 Americans believe that "debt is a necessity in their lives", and approximately 8 out of every 10 Americans actually have debt right now.  Most of us like to think that "someday" we will get out of the hole and quit being debt slaves, but very few of us ever actually accomplish this.  That is because the entire system is designed to trap us in debt before we even get out into the "real world" and keep us in debt until we die.  Sadly, most Americans don't even realize what is being done to them.
In America today, debt is considered to be just part of normal life.  We go into debt to go to college, we go into debt to buy a vehicle, we go into debt to buy a home, and we are constantly using our credit cards to buy the things that we think we need.
As a result, this generation of Americans is absolutely swimming in debt.  The following are some of the findings of the Pew survey that I mentioned above…
*"8 in 10 Americans have debt, with mortgages the most common liability."
*"Although younger generations of Americans are the most likely to have debt (89 percent of Gen Xers and 86 percent of millennials do), older generations are increasingly carrying debt into retirement."
*"7 in 10 Americans said debt is a necessity in their lives, even though they prefer not to have it."
Most of us wish that we didn't have any debt, but we have bought into the lie that it is a necessary part of life in America in the 21st century.
It has been estimated that 43 percent of all American households spend more money than they make each month, and U.S. households are more than 11 trillion dollars in debt at this point.
When it comes to government debt, that is easy for us to blame on someone else, but all of this household debt is undoubtedly something that we have done to ourselves.
It all starts at a very early age for most of us.  When we are still in high school, we are endlessly told about how important a college education is.  All of the authority figures in our lives insist that we should just try to get into the best school that we possibly can and to not even worry about how much it will cost.
So many of us go into staggering amounts of debt before we even get out into the working world.  We had faith that the "good jobs" that were being promised to us would be there when we graduated.
Unfortunately, in this day and age those "good jobs" end up being a mirage more often than not.
But whether or not we can find a good job, we still have to pay off all that debt.
According to new data that was recently released, the total amount of student loan debt in the United States has risen to a grand total 1.2 trillion dollars.  If you can believe it, that total has more than doubled over the past decade.
Right now, there are approximately 40 million Americans that are paying off student loan debt.  For many of them, they will keep making payments on this debt until they are senior citizens.
Another way that they get you while you are still in school is with credit card debt.
I got my first credit card while I was in college, and nobody ever taught me about the potential dangers.
Today, the average U.S. household that has at least one credit card has approximately $15,950 in credit card debt.
So let's say that you have that much credit card debt and you are paying an annual interest rate of 17 percent.  If you only pay the minimum payment each month, it will take you 229 months to pay your credit card off, and during that time you will have paid $13,505.82 in interest charges.
In other words, you will almost have paid twice as much for everything that you originally bought with your credit card by the time it is all said and done.
This is why banks love to give you credit cards.  If they can get back nearly twice as much money as they originally give you, they get rich and you get poor.
Most of us get loaded down with even more debt when we go to buy a vehicle.  Instead of saving up and getting what we can afford, many of us end up getting the largest loans that we can qualify for.
In a previous article, I discussed the fact that the average auto loan at signing in America today is approximately $27,000.  In order to get the monthly payments down to a level where we can afford them, many of these auto loans are now being stretched out for six or seven years.  In fact, the number of auto loans that exceed 72 months has hit at an all-time high of 29.5 percent.
It is the same thing with home loans.
In the old days, it was extremely rare for a mortgage to be stretched over 30 years, but today that is pretty much the standard.
Sadly, most people don't understand how much money this is costing them.
If you take out a $300,000 mortgage at 3.92 percent and stretch it over 30 years, you will end up paying back a grand total of $510,640.
In other words, you will pay for two houses by the time you are done.
Yes, we all need somewhere to live, and there are definitely negatives to renting as well.  But it is very important that we all understand what is being done to us.
And I haven't even discussed one of the most insidious forms of debt yet.
Have you noticed that most doctors and most hospitals will never tell you how much something is going to cost in advance?
They get us when we are at our most vulnerable.  When there is something wrong with us physically, we are often desperate to get help.  So we don't ask too many questions and we just go along with whatever they say.
But then later we get the bill and we are often completely shocked by what they have charged us.
If you are completely unethical, it is a great business model.  People that are extremely desperate and needy come to you and you don't even have to tell them how much your services are going to cost.  And then once they leave, you send them an absolutely outrageous bill for whatever you feel like charging.
Frankly, I don't know how a lot of people working in the medical field live with themselves.  In their extreme greed, they are ruining the lives of millions of ordinary American families.
One very disturbing study found that approximately 41 percent of all working age Americans either currently have medical bill problems or are paying off medical debt.  And collection agencies seek to collect unpaid medical bills from about 30 million of us each and every year.
Most of us will spend our entire lives paying off debt.
That is why we are called debt slaves – our hard work makes others extremely wealthy.
Source: endoftheamericandream.com
07.30.15 – IMF won't join Greece's rescue unless creditors agree on debt relief – media
The IMF said it can't reach a 'staff level agreement' on Greece's €86 billion bailout at this stage and will make the decision on further involvement in the deal only after Athens agrees on a 'comprehensive set of reforms' and creditors on debt relief.
The fund will not decide whether to agree a new program for Greece for months or even until next year if IMF negotiators do not "participate in policy discussions," according to a four-page "strictly confidential" summary of Wednesday's IMF board meeting obtained by the Financial Times.
The fund said it will only decide whether to participate during 'stage two' after Greece has "agreed on a comprehensive set of reforms" and after creditors have "agreed on debt relief."
This puts at stake the future of the rescue deal for Greece, that many hope should eliminate the risk of Greece leaving the euro and jeopardizing the whole currency bloc.
The IMF's involvement in the deal is crucial for some European countries, especially for Germany. Earlier this month Germany's Finance Minister Wolfgang Schaeuble said some members of the government in Berlin would have preferred that Greece take a "time-out" from the eurozone rather than give it another bailout.
The IMF board's announcement comes as negotiations are held between the creditors and Athens. Last week Greek lawmakers backed a second package of austerity measures demanded by the country's lenders.
A 3-year financial aid deal which requires tax hikes and raising the retirement age caused much debate and criticism in the Greek government.
Greek Prime Minister Alexis Tsipras on Thursday claimed the country faced a dilemma between a difficult compromise and a disorderly default when agreeing the deal. He said that a Grexit was not a choice while the deal was also not of their choice.
Earlier this month Greece repaid €6.8 billion to the ECB and the IMF, after it received a €7 billion bridging loan from international creditors.
Greece intends to finish the talks by August 20, when a €3.2 billion bond repayment to the ECB is due.
The IMF has repeatedly said European creditors should write-down a massive amount of Greek debt or give Greece a 30-year grace period if they want it to recover and repay. The fund called Greece's debt unsustainable, warning the €86 billion program will not save Greece from financial collapse.
Source: rt.com
07.30.15 – General who labeled Russia 'America's biggest threat' confirmed as top US military officer
The US Senate confirmed Marine General Joseph Dunford as the chairman of the Joint Chiefs of Staff. During nomination hearings he labeled Russia as the biggest threat the US is facing.
Dunford, who was nominated in May, is expected to replace the current head of the JCS Army General Martin E. Dempsey starting October. Dempsey is set to retire in September after a 41-year military career. The promotion cuts short Dunford's service as the commandant of the US Marine Corps exactly one year after taking the position. Before that he commanded for nearly two years the 5th Marine Division in Iraq.
During his confirmation hearings in the Senate, Dunford called Russia the biggest threat the US is facing today.
"Russia presents the greatest threat to our national security," he said. "If you want to talk about a nation that could pose an existential threat to the United States, I'd have to point to Russia."
The White House distanced itself from the comment, saying it reflects Dunford's own position and not necessarily the "consensus analysis of the president's national security team."
Dunford's confirmation had been stalled by Democrat Senator Kirsten Gillibrand, who would not allow it to proceed unless prosecution of sexual assault charges in the US military were removed from its chain of command and entrusted to independent attorneys. According to Roll Call newspaper, Gillibrand said Pentagon offered her access to military databases on sex crimes that she had requested.
Source: rt.com
07.30.15 – Affirmatively Destroying America's Neighborhoods In The War On Suburbia
Few of us understand patient gradualism. We live and have our being within a few years and mostly in an unconscious automated state of mind.
But people in power are long-term planners. They absolutely understand human nature and how to channel it to the evolution and refinement of the authoritarian state.
Authoritarianism is based on long-term planning. Authoritarianism is a philosophy of collectivism. Some call it democracy. Some call it communism. Some call it fascism. Some call it National Socialism. But whatever you call it, it is all collectivism or authoritarianism; and in its ultimate form it is globalism.
The goal is perfect docility and perfect harmony with authoritarianism (economic, social and spiritual). Until the people accept collectivism under some pretext, they are not docile and completely subdued. Once they do, rebellion and confrontation are impossible. This is the ultimate goal of the globalists, and the American system is nearing this state.
As I told you last week in "Why is the war on the Confederacy still going on today?," the dismantling of the middle class has become the appointed, full-time task of the largest government alphabet soup agencies and Wall Street on behalf of globalism. The purpose behind this is that if those big middle-class producers and consumers can be decimated once and for all, then they can join the ranks of low-wage workers and more readily accept government largess and, thereby, become "hooked" on collectivism.
Collectivism is a certain means of social, economic and religious control. Politicians regularly espouse individualism, human liberty and democracy at the same time. Impossible! Individualism and human liberty are opposite to democracy and any other form of collectivism. The collectivist mentality or the mass collective mind is the spirit of the New World Order.
But something is standing in the way. Despite the years of indoctrination through the public (non)education system and mass programming by the national propaganda media and public (i.e., government) policy, rural Middle and Southern middle-class Americans — the "Red States" of "flyover country" — continue to resist the globalists' dreams of a socialist/Marxist "utopia" and egalitarianism. That's because they are, by and large, more independent and more self-reliant and also demand equitable reward for their labor and product, placing them in competition for resources and goods with the global elite.
Efforts to remove this obstacle are behind the current war on the middle class and individual liberty and the spirit of individualism through the attempts to whitewash Southern culture from existence and distort the true nature of the Confederate cause by casting it and Confederate symbols as racist and treasonous. The bigoted elites in the District of Criminals and pointy-headed "thinkers" in the prestigious institutes of learning continually promulgate the meme that whites — rural whites in particular and Southern whites specifically — are backward, racist buffoons riding in trucks looking for blacks to lynch while ridiculously clinging to their guns and religion.
The purpose is to stir up racial animosity and manipulate the people against one another. Manipulating minorities who are naturally drawn to socialism is basic political strategy to cover government crime and justify government politics and plunder.
The principle of government is that political power is maximized by forcibly leveling every individual to the same status of conformity, collectivism, egalitarianism and serfdom.
The truth goes deeper. Because of perceived social, cultural, racial and psychic inferiority, minorities desire to parasite on government force and socialism to subvert those they envy and wish to imitate. (This includes all so-called minority groups, not just racial minorities.)
Last summer, there was an invasion of illegals from Central and South America stemming from the immigration policies and statements of President Barack Obama. Over the ensuing months, the Obama regime shipped those illegals into communities and cities across the country and immediately began efforts to grant them some sort of legal status in order to ultimately provide them with voting rights in a back-door effort to change the local demographics and, therefore, the voting outcomes in these communities from a conservative bent to one more socialistic.
Third World immigrants are attracted to cradle-to-grave nanny state socialism because it is what they know and all they have known. They are also more accepting of gun control and the police state. They have no understanding of or experience with individual liberty or the concept of natural rights.
Gaining voting "rights" for non-citizens is the main driver of the federal opposition to voter ID laws.
The Obama regime attempted but failed with a mass social re-engineering scheme in 2010. That effort, fueled by corruptocrat Sen. Chris Dodd (D-Conn.), sought to fulfill the United Nation's Agenda 21 plan, adopted at the Earth Summit in Rio de Janeiro in 1992 and signed onto by "New World Order" President George H.W. Bush.
Using a typical government "carrot-and-stick" policy, the bill sought to award or deny grants from the federal treasury to cities based on their compliance with amending or passing zoning laws to restrict housing in rural areas and force the residents into city centers.
The stick, in addition to denial of the funds, would be bad publicity generated by "Green" organizations working on behalf of the federal government criticizing local government officials for turning down free money and neglecting so-called "Green" initiatives.
Now comes Obama's speciously titled Affirmatively Furthering Fair Housing edicts from the Department of Housing and Urban Development. This extra-constitutional rule change has been in the works for more than two years, but has been largely glossed over by the MSM. It seeks to do the reverse of the Dodd bill. That is, rather than drive the suburbanites into the cities, it seeks to move inner-city minorities into the suburbs.
The AFFH will have the federal government imposing preferred racial and ethnic composition on neighborhoods in exchange for federal funds provided or denied. It will change zoning laws, require a certain amount of government-subsidized housing in rural areas in order to achieve "racial balance," control transportation and business development and remove the authority of state and local governments in the areas of zoning, transportation and education.
As National Review's Stanley Kurtz writes:
Fundamentally, AFFH is an attempt to achieve economic integration. Race and ethnicity are being used as proxies for class, since these are the only hooks for social engineering provided by the Fair Housing Act of 1968. Like AFFH itself, today's Washington Post piece blurs the distinction between race and class, conflating the persistence of "concentrated poverty" with housing discrimination by race. Not being able to afford a freestanding house in a bedroom suburb is no proof of racial discrimination. Erstwhile urbanites have been moving to rustic and spacious suburbs since Cicero built his villa outside Rome. Even in a monoracial and mono-ethnic world, suburbanites would zone to set limits on dense development. Emily Badger's piece in today's Washington Post focuses on race, but the real story of AFFH is the attempt to force integration by class, to densify development in American suburbs and cities, and to undo America's system of local government and replace it with a "regional" alternative that turns suburbs into helpless satellites of large cities. Once HUD gets its hooks into a municipality, no policy area is safe. Zoning, transportation, education, all of it risks slipping into the control of the federal government and the new, unelected regional bodies the feds will empower. Over time, AFFH could spell the end of the local democracy that Alexis de Tocqueville rightly saw as the foundation of America's liberty and distinctiveness.
To accomplish its goals, HUD will dig into the racial balance ZIP code by ZIP code looking for areas of segregation, with the segregation threshold being nonwhite populations of 50 percent or more. Federally funded cities deemed overly segregated will be pressured to change their zoning laws to allow construction of more subsidized housing in affluent areas in the suburbs and relocate inner-city minorities to those predominantly white areas. HUD's maps, which use dots to show the racial distribution or density in residential areas, will be used to select affordable-housing sites, according to the New York Post.
To employ this policy, the federal government has undertaken a massive Orwellian-style data collection initiative, prying into the medical records, credit card purchases, mortgage business records, IRS filings, employment records, educational records and local government policy initiatives searching for racial "inequalities" for the Justice Department to prosecute.
The only way to resist this tyranny is for local governments to eschew all federal monies including Community Development Block Grants going forward. Of course, local residents always pressure their community leaders to accept government monies under the auspices that they have paid their "taxes" and want a return on their "investment." But once the Feds get their hooks into the local community through the distribution of money from the federal treasury, they can exert total control over local government's functions regarding housing, zoning and regulations far more than they do already.
The globalist agenda is the most comprehensive program for world fascism and world collectivism ever conceived. Its basis is esoteric deception, as carried out pragmatically by mass politics, international mass banking and the mass media. It operates as a whole — as an organism. Today's democratic globalists make the communists and the Nazis look like amateur totalitarians.
Source: zerohedge.com
07.29.15 – The South American Financial Crisis Of 2015
Most nations in South America are either already experiencing an economic recession or are right on the verge of one.  In general, South American economies are very heavily dependent on exports, and right now they are being absolutely shredded by the twin blades of a commodity price collapse and a skyrocketing U.S. dollar.  During the boom times in South America, governments and businesses loaded up on tremendous amounts of debt.  Since much of that debt was denominated in U.S. dollars, South American borrowers are now finding that it takes much more of their own local currencies to service and pay back those debts.  At the same time, there is much less demand for commodities being produced by South American nations in the international marketplace.  As a result, South America is heading into a full-blown financial crisis which will cause years of pain for the entire continent.
If you know your financial history, then you know that we have seen this exact same scenario play out before in various parts of the world.  The following comes from a recent CNN article…
The dollar's gains should make history nerds shake in their boots. Its rally in the early 1980s helped trigger Latin America's debt crisis. Fifteen years later, the greenback surged quickly again, causing Southeast Asian economies, such as Thailand, to collapse after a run on the banks ensued.
In particular, what is going on right now is so similar to what took place back in the early 1980s.  At that time, Latin American governments were swimming in debt, the U.S. dollar was surging and commodity prices were falling.  The conditions were perfect for a debt crisis in Latin America, and that is precisely what happened…
When the world economy went into recession in the 1970s and 80s, and oil prices skyrocketed, it created a breaking point for most countries in the region. Developing countries also found themselves in a desperate liquidity crunch. Petroleum exporting countries – flush with cash after the oil price increases of 1973-74 – invested their money with international banks, which 'recycled' a major portion of the capital as loans to Latin American governments. The sharp increase in oil prices caused many countries to search out more loans to cover the high prices, and even oil producing countries wanted to use the opportunity to develop further. These oil producers believed that the high prices would remain and would allow them to pay off their additional debt.

As interest rates increased in the United States of America and in Europe in 1979, debt payments also increased, making it harder for borrowing countries to pay back their debts.Deterioration in the exchange rate with the US dollar meant that Latin American governments ended up owing tremendous quantities of their national currencies, as well as losing purchasing power. The contraction of world trade in 1981 caused the prices of primary resources (Latin America's largest export) to fall.
Sadly, the same mistakes have been repeated once again.  In recent years South American nations have loaded up on vast amounts of debt, and now that commodity prices are tanking and the U.S. dollar is surging, all of that debt is creating tremendous headaches.
For instance, just consider what is happening in Brazil…
Brazil's real plummeted to a 12-year low of 3.34 to the dollar, reflecting the country's heavy reliance on exports of iron ore and other raw materials to China.

The devaluation tightens the noose on Brazilian companiessaddled with $188bn in dollar debt taken out during the glory days of the commodity boom. The oil group Petrobras alone raised $52bn on the US bond markets.
Today, Brazil has the 7th largest economy on the entire planet.
So a major financial crisis in Brazil would be extremely significant.
And that is precisely what is starting to happen.  It is being projected that Brazilian government debt will soon be reduced to junk status, Brazilian stocks have already entered "correction territory", and economic forecasters say that the Brazilian economy is heading into its worst recession in at least 25 years…
Brazil needs to brace itself for some very tough times. Brazilian banks are currently forecasting another economic contraction for the South American country in 2016, marking the first time that Brazil's economy has shrunk in two consecutive years since the Great Depression.

Last Friday, economist Nelson Teixeira of Switzerland-based financial services holding company Credit Suisse released a revision of his already dour forecast for the Brazilian GDP, moving this year's numbers from -1.8 percent to -2.4 percent.
The IMF is also projecting that 2015 will be a year of recession for the second largest economy in South America (Argentina) and the third largest economy in South America (Venezuela).
And actually Venezuela is in the deepest trouble of all.  According to a recent Bloomberg article, it appears to be inevitable that there will be a debt default by the Venezuelan government in the very near future…
Harvard University Professor Ricardo Hausmann last year questioned Venezuela's decision to keep paying bondholders as the country sank deeper into crisis and suggested it stop honoring the debt.

Now, he's saying Venezuela will have no choice but to default next year.

Hausmann's comments come as a deepening collapse in oil prices and a shortage of dollars stoke concern Venezuela is fast running out of money to stay current on debt. The country's bonds plunged last year after Hausmann, who served as Venezuelan planning minister after Hugo Chavez's failed 1992 coup, raised the specter of default, saying he found "no moral grounds" for the government to pay debt at a time when Venezuelans were facing shortages of everything from basic medicine to toilet paper.
The inflation rate in Venezuela today is an astounding 68.5 percent, and the country is plunging into full-blown economic collapse.  The following comes from Zero Hedge…
As we recently warned, the hyperinflationary collapse in Venezuela is reaching its terminal phase. With inflation soaring at least 65%, murder rates the 2nd highest in the world, and chronic food (and toilet paper shortages), thefollowing disturbing clip shows what is rapidly becoming major social unrest in the Maduro's socialist paradise… and perhaps more importantly, Venezuela shows us what the end game for every fiat money system looks like (and perhaps Janet and her colleagues should remember that).
Here is the video that was mentioned in the excerpt above.  As you watch this, please keep in mind that the United States is on the exact same path that Venezuela has gone down…
Economic chaos is beginning to erupt all over the planet, and the depression that we are entering into will truly be global in scope.
For the moment, many in the United States still believe that what is going on in the rest of the world will not affect us.  But the truth is that we are also right on the verge of a major financial crisis, and it is going to be even worse than what we experienced back in 2008.
Source: theeconomiccollapseblog.com
07.29.15 – Gold Manipulation: It's Much Bigger Than You Think
The gold price manipulation scheme will go down as the biggest financial market scandal in US history for numerous reasons. They include the destruction of the free market system in the United States. The manipulation of the gold and silver prices eventually led to the manipulation of US interest rates via the Fed, the stock market via the Plunge Protection Team, and to the currency markets. – Bill Murphy,GATA.org
The gold manipulation scheme has taken on historic proportions. It's been going on for several decades – witness the London gold pools of the 1960s which were implemented to prevent the price of gold from taking off because the U.S. was running out of gold with which to back the Treasury debt it had issued to foreign creditors who were redeeming their Treasury notes for gold per the Bretton Woods Agreement.
Ultimately this scheme failed when Charles de Gaulle famously began redeeming France's Treasuries for gold because he had calculated that the U.S. had issued significantly more Treasuries than it had gold to back those Treasuries. France pulled out of the London gold pool operation and a couple years later Nixon was forced close the gold window or, rather, end the convertibility of foreign-owned Treasuries into gold.

F

rank Veneroso, who wrote the brilliant "Gold Book" in 1998, told Sprott's John Embry and I many years ago that the gold price suppression scheme was "much bigger than you think." Frank found out the US Government was taping his phone calls and ever since has shut up about what GATA has to say. Frank was the one who exposed the gold leasing scheme, which is how The Gold Cartel did their thing so many years ago. It is how GATA knows the central banks have well less than half the gold they say they have in their vaults. Frank got his information from a Bank of England source who has since died.  – Bill Murphy
Each new financial crisis (emerging market debt, Long Term Capital, tech bubble, housing/credit bubble, etc) was met with successively larger amounts of money printing and credit creation. Print money to keep the banks and the markets from collapsing and create more credit to keep the giant Ponzi scheme going. Once the gold bull market got underway in late 2000/early 2001, in order support the monetary intervention required to keep the U.S. systemic "shell game" going, the manipulation of the gold markets began to intensify. It also started to become more obvious in nature to those where researching, trading and investing in the precious metals sector. GATA was and is instrumental in exposing and reporting the facts about the manipulation of the gold market.
At the end of 2000, the Treasury had $5.6 trillion in debt outstanding.  The current amount is $18.15 trillion but there is a debt issuance ceiling in force now for which the Obama Government is circumventing by raiding Federal pension funds, the Social Security Trust, issuing IOUs and other cash "reservoirs" that will soon run out. The debt ceiling will have to be lifted again, like to $20 trillion. That's nearly a 400% increase in just Treasury debt since 2000. At the end of 2000, the Treasury debt-to-GDP ratio was 54%. Today it is 102.5% and this does not include the Treasury's Fannie Mae and Freddie Mac guarantees.  In other words, the amount of Government debt has grown at twice the nominal rate of the U.S. economy in the same time period.  Note: the "wealth" produced by the U.S. is part of the theoretical backing of the dollar.
This is just Government on-balance-sheet debt. Total Government contingent liabilities, i.e. on-balance-sheet plus off-balance-sheet, is now estimated by several different sources to be at least $200 trillion. This would include pension, Social Security, and several other Government entitlement programs. Recently it was estimated that State pension funds are now underfunded by at least $2 trillion. Student loan debt is now well over $1 trillion, of which 30%-40% in arrears or in outright/technical default. Most private pension funds are at least underfunded by 50%.   
An "underfunded" liability is a socially correct term for "debt."  When the stock and credit markets re-collapse, the underfunded status of most if not all pensions will likely approach more like 90%.  Some pensions will  be wiped out.
Then there's the derivatives…
The point here is that the fundamentals underpinning the precious metals market have strengthened cumulatively since the gold bull market began. There has not been one point in time in the last 15 years, in fact, when these fundamentals have weakened. What has changed is the degree of intervention engaged in by the Central Banks and U.S. Government as a means of preventing the price of gold from rising and signalling to the world that the U.S. political and economic system – the system which issues the world's reserve currency – is increasingly corrupt, criminal and entirely fraudulent.
Yes, China has its issues as well but it has two things that the U.S. does not:  $3.4 trillion in foreign currency reserves backed by a big trade surplus and a massive amount of gold.  On the other hand, the U.S. foreign reserves are roughly $39 billion and it runs a $40 billion/month trade deficit.  It is highly unlikely that the U.S. Government possesses legal title to little if any gold.
In my opinion, the ability of the U.S. in conjunction with its European vassals and the BIS to keep the U.S. dollar fiat money system in motion is largely dependent on the ability to keep the price of gold suppressed.  In 2011, when silver threatened to take out $50 and gold was headed in the $2000s, the U.S. elitists were staring into the abyss.  That's when the gold market intervention took on a whole new dimension.  This is best visualized with this graphic:
The dislocation in the correlation between the price of gold and the size of the Fed balance sheet shown in the graph above is further supported by the manipulation activity reflected in these two graphs (inset chart on the bottom graph sourced from Zerohedge, with my edits) – click to enlarge image:
The graph on top shows the massive paper ambush on the gold futures market on Sunday evening July 19. An enormous amount of paper gold contracts were dumped into the Comex's globex electronic trading system during one of the slowest trading periods at any point in time during the trading week. Abona fide seller trying to sell a big position at the best possible execution prices would never have dumped a position like this. The only explanation is that someone wanted to drive the price the price of gold lower and make a point of doing so. This particular occurrence in the gold market has been a recurring event over the life of the gold bull market. However, the frequency of the above trading pattern has significantly increased since 2011.
The graph on the right is the daily, year-to-date graph of the price of gold. As you can see, despite the continuous strengthening of the underlying fundamentals supporting the price of gold, including the heightened risk imposed on the global financial system by the probable financial collapse of Greece, the price of gold trended lower during Q1 2015. The inset graphic, however, shows the big spike in gold OTC derivatives issued and held by the big banks, JP Morgan being the largest issuer of OTC gold derivatives. There is a definitive correlation between the big spike in gold OTC derivatives and the downward pressure on the price of gold.
The next graph, prepared by the TFMetalsReport, shows the record level of the ratio of paper gold to physical gold on the Comex – 117x. You can see the ratio exploded and went vertical starting mid-2013, which is right around the time Bernanke delivered his infamous "QE taper speech." This graph unequivocally reflects the sense of desperation by the Fed and the Treasury in its efforts to push the price of gold lower using the extremely fraudulent paper gold market.
Finally, since mid-December, when it seems some sort of derivatives bomb exploded – LINK –  the anti-gold propaganda from the media has significantly intensified. This is especially true since the July 19 ambush.  It's not just anti-gold propaganda, however, it's a grotesque preponderance of insidious misinformation and disinformation.  The blatant manipulation of the gold market in conjunction with the rabid dissemination of anti-gold rhetoric from both the financial press and Wall Street reeks of desperation – desperation to keep a lid on the one market signal that would undermine the elitists' perpetuation of the U.S. dollar-based systemic Ponzi scheme which enables them to loot and confiscate middle class wealth ("middle class" being defined as anyone not wealthy enough to buy their own politician or not in the privileged position to benefit from the wealth confiscation schemes).
The Shadow of Truth will be releasing a podcast in two parts of a two-hour conversation with Jim Willie sometime tomorrow.  In a portion of the podcast, Jim Willie lays out the elaborate scheme being used to keep interest rates low and to push the dollar higher in one last desperate attempt to maintain the reserve status of the U.S. dollar and global hegemony of the United States, both of which are being systematically dismantled. Keeping a lid on the price of gold is the nexus of the blueprint for implementing the extreme market intervention by the Federal Reserve and the Treasury's Working Group on Financial markets.
When the intervention in the gold market fails, which it inevitably will as have all other market interventions in history, it will have the systemic effect of delivering a massive blow from a 2 x 4 on the back of the heads of the unsuspecting public in this country.  In other words, be prepared for life to become very uncomfortable in every respect.  My personal view is that this will be the case even for those of us who have taken steps to prepare for this inevitability.You can read more from Dave Kranzler at his site InvestmentResearchDynamics.com. 
Source: activistpost.com
07.29.15 – Tsipras Threatens Snap Elections As Syriza Rebellion Threatens To Derail Bailout
On Tuesday we documented the rapid collapse of the Greek economy. According to data presented at an extraordinary meeting of the Hellenic Confederation of Commerce and Entrepreneurship, retail sales have fallen 70%, while the The Athens Medical Association recently warned that 7,500 doctors have left Greece since 2010.
To be sure, assigning blame for the economic malaise is difficult as it's still largely unclear whether internal structural problems or externally imposed belt tightening deserve the lion's share of the blame, but there certainly does seem to be a growing consensus among impartial observers that creditors' insistence on the implementation of still more austerity in the middle of what amounts to a depression may be a fool's errand – especially with capital controls serving to constrain economic activity.
It is against this backdrop that Greek PM Alexis Tsipras will attempt to pass a third set of prior actions through parliament – this will be the first such vote to take place with representatives of the "Quadriga" on the ground in Athens. As we noted on Tuesday, "if creditors aren't satisfied with the progress by August 18 (i.e. if for any reason Tsipras doesn't manage to get the third set of bailout prerequisites by lawmakers), then paying the ECB on August 20 won't be possible and then it's either tap the remainder of the funds in the EFSM (which would require still more discussions with the UK and other decidedly unwilling non-euro states) or risk losing ELA which would trigger the complete collapse of not only the economy but the banking sector and then, in short order, the government. And through it all, the PM is attempting to beat back a Syriza rebellion (which will only be exacerbated by the upcoming vote on the third set of measures) while convincing the opposition that he's not secretly backing the very same Syriza rebels in their attempts to forcibly take the country back to the drachma."
On Wednesday, Tsipras spoke out about the new bailout "deal", debt re-profiling, the referendum, and party politics in an interview with Sto Kokkino radio station.
As Bloomberg reports, the Prime Minister "says that his mandate was to stop destruction of Greece [and that] things have changed" for the country and for Syriza. "The Greek people voted 'no' to a bad deal, they did not vote for an exit from the euro. Now some people are trying to manipulate the results," he continued.
Tsipras went on to accuse creditors of not negotiating in good faith, noting that the "quartet" of institutions wasn't independent. As for the referendum call, Tsipras says he "had no other choice" and that the plebiscite was "high risk." As for abandoning the Greek "no" vote, Tsipras appears to have laid the blame at the foot of EU officials, saying it was "creditors [who] decided to shut down Greek banks" (the implication being that it was the bank closure and attendant economic pain which forced his hand in Brussels). Finally, the PM insists on playing up debt relief as something that was extracted from creditors during bailout talks (as opposed to something that was agreed to later once even Germany realized that without some manner of re-profiling, Greece's situation was utterly hopeless)."We got a commitment for debt relief, which will take place after the first review of the program, in November," the PM said. 
Here are a few more notable quotes from the interview:
Tsipras: our outmost priority was to avert humanitarian crisis. We never asked people to vote for drachma in referendum

— Chrisostomos (@LoukasChris) July 29, 2015
Tsipras: collective decisions must be followed by all MPs or hand back their seat

— Chrisostomos (@LoukasChris) July 29, 2015
Tsipras: Syriza still not a whole party.

— Chrisostomos (@LoukasChris) July 29, 2015
Tsipras: mistakes were made, but proud for the past 6 months. Difficult road ahead to get most for people's interests

— Chrisostomos (@LoukasChris) July 29, 2015
But for many Syriza lawmakers, the time for rhetoric has long since passed and indeed, it now appears that the party will not wait until after the third bailout is formally in place to call a party conference. Here's Kathimerini:
SYRIZA's central committee is due to hold an emergency meeting Thursday in an attempt to find a way to settle the growing rift within the party over whether the government should agree to a third bailout or not.

The second meeting Tuesday of the political secretariat in two days resulted in a decision to call a gathering of the central committee after several SYRIZA officials belonging to the party's radical left wing called for the government not to pursue negotiations with Greece's lenders but to follow an "alternative" path.

Prime Minister Alexis Tsipras spoke at Monday's meeting of the political secretariat and insisted that the government has no other viable option than to agree a new bailout with the institutions. 

He proposed holding an emergency SYRIZA congress, probably in September, to allow party members to debate the issue.

However, the party's Left Platform, led by ex-Energy Minister Panayiotis Lafazanis is pushing for the congress to be held now, before a third bailout has been agreed.

The central committee members will have to decide whether they will accept either of these options or whether there should be a ballot of SYRIZA members to decide what should be done.
Meanwhile, creditors are "pleased" with how "cooperative" Greece is being now that they have been thoroughly humiliated and subdued (which recalls what theGerman Economic Council said on Tuesday about "uncooperative" states). "The teams from the institutions are now already on the ground in Athens since Monday and the talks have now been ongoing for the last couple of days," an EU Commission spokesperson said on Wednesday, adding that Brussels is "satisfied with the smooth and constructive cooperation with the Greek authorities and that should allow us to progress as swiftly as possible."
But as should be abundantly clear from the above, and as we and others have pointed out on quite a few occasions since Alexis Tsipras left Brussels on July 13, there's something very odd about leaving the implementation of an unpopular bailout program to the political party from which the staunchest opposition emanates.
The alleged plot to seize the country's currency reserves hatched in secrecy by Lafazanis only serves to reinforce the suspicions not only of creditors, but of the very same opposition lawmakers who helped Tsipras secure the necessary votes to pass the first two sets of prior actions.
Put simply, there seems to be a very real possibility that the Syriza rebellion will gather enough steam in the coming weeks to materially derail discussions. This is then a race – Tsipras needs to formalize the new program before Lafazanis (and perhaps Varoufakis) foment enough discontent to make a meaningful push to head off implementation.
And with that, we'll close with the following sound bites from Kathimerini which sum up the situation quite nicely.
#Tsipras: we are carrying a bomb right now, let's deactivate it first, then talk #Greece

— Kathimerini English (@ekathimerini) July 29, 2015
#Tsipras says SYRIZA should hold party congress early September after agreement with lenders sealed in August #Greece

— Kathimerini English (@ekathimerini) July 29, 2015
#Tsipras: If I do not have parliamentary majority, I will have to call snap elections #Greece

— Kathimerini English (@ekathimerini) July 29, 2015
Source: zerohedge.com
07.28.15 – If The American Dream Is To Own A Home, Then It Is In The Worst Shape Since 1967
Thanks to the "Obama recovery", the rate of homeownership in the United States has fallen to the lowest level in 48 years.  The percentage of Americans that own a home is widely considered to be a key indicator of the health of the middle class, and we have just learned that during the second quarter of 2015 that number dropped from 63.7 percent to 63.4 percent.  It is now the lowest that it has been since 1967.  Unlike a lot of other government economic statistics, this one is fairly difficult to manipulate.  Either someone owns a home or they do not.  And what the homeownership rate is telling us is that the percentage of Americans that can qualify for a mortgage has been falling dramatically.  Just take a look at the following chart.  This is not just a decline – this is a complete and utter collapse…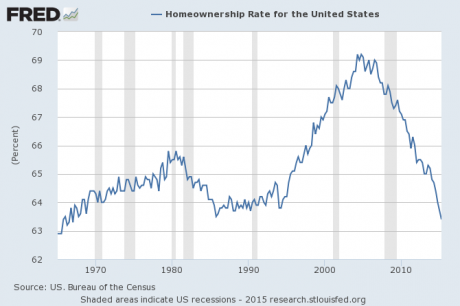 Never before in U.S. history has the rate of homeownership fallen so far or so fast.
So what is the bottom line to all of this?
The bottom line is that the middle class is dying.
When I was growing up, I lived in a pretty typical middle class neighborhood and I went to a pretty typical high school.  I didn't know anybody that was "rich", but I didn't know anybody that was poor either.  At that time, it seemed like just about anyone that was willing to work hard and be dependable could find a decent job.  Most families that I knew had a nice home and a couple of vehicles in the driveway.  Life was not perfect, but at least things felt "normal".
But now things have changed.  The "American Dream" is becoming out of reach for an increasingly large number of people.  In fact, the percentage of Americans that do not believe that they will be able to buy a home "for the foreseeable future" just continues to soar.  The following comes from Zero Hedge…
Three months ago, just as the last Census Homeownership and residential vacancy report hit, Gallup released its latest survey which confirmed just how dead the American Dream has become for tens if not hundreds of millions of Americans.

According to the poll, the number of Americans who did not currently own a home and say they do not think they will buy a home in "the foreseeable future," had risen by one third to 41%, vs. "only" 31% two years ago. Non-homeowners' expectations of buying a house in the next year or five years were unchanged, suggesting little change in the short-term housing market.

As Gallup wryly puts it, "what may have been a longer-term goal for many may now not be a goal at all, and this could have an effect on the longer-term housing market."
Why are so many Americans unable to buy homes?
It is because of a lack of good jobs.
Since the year 2000, real median household income in the United States has declined by about 5000 dollars.  Good paying manufacturing jobs that once fueled the rise of the middle class are being shipped overseas, and they are being replaced by low paying service jobs.
This is the new "Obama economy", and it is absolutely shredding the middle class.
Back in 2008, 53 percent of all Americans still considered themselves to be part of the "middle class".
By 2014, that number had fallen to just 44 percent.
Since fewer and fewer of us can now afford a mortgage, more people than ever are being forced to rent, and this has helped push rents into the stratosphere.  Here is more from Zero Hedge…
Because as homeownership falls, demand for rental housing is booming. The vacancy rate for rented homes in the U.S. fell to 6.8% in the first quarter from 7.5% a year earlier. It was the lowest first-quarter rate since 1986.

And the punchline, which should come as no surprise to anyone: the median monthly asking rent just rose to a record $803 across the US.
Unfortunately, as bad as these numbers are right now, they are about to get a whole lot worse.
As I have been warning about repeatedly, we stand on the very precipice of the next great financial crisis.  These are the last days of "normal life" in America, and we are about to enter a period of time which is going to be extraordinarily difficult and which is going to last for years.
So the truth is that this is not really a good time to be taking out a huge mortgage anyway.  During this next crisis, it will be very important to be "lean and mean".  The less debt you have, the better off you will be.
If you do have a mortgage right now, that is okay.  Just be sure to build up an emergency fund so that you can make your mortgage payments if you lose your job or your business suffers a reversal.
Don't forget what happened back in 2008.  When the stock market collapsed, millions of Americans started to lose their jobs, and because most of them were living paycheck to paycheck all of a sudden a whole lot of them could not make their mortgage payments.
We saw foreclosures surge like crazy, and millions of families that were once living comfortable middle class lifestyles very rapidly found themselves dumped out of their homes.
This is why I am constantly pounding away on the need for a sizable emergency fund.  During a crisis situation, the last thing that you are going to need is for someone to be trying to kick you out of your home.  Please make sure that you have a fund that can cover your rent or mortgage for at least six months.
If you are living paycheck to paycheck and you can barely afford the home that you are currently living in, there is no shame in selling your current place and moving to a more affordable location.  It is very, very tough for many people to downsize, but it could end up being a huge blessing in the end.
We are moving into a time in which conditions are going to be changing rapidly.
Source: endoftheamericandream.com
07.28.15 – Out of Shadows: New tech allows face recognition in utter darkness
German researchers have developed a new technology that can identify a person in poor lighting or even in absolute darkness thus potentially solving one of the main issues of the modern face recognition systems.
Today's facial recognition systems are based on matching clean and well-lit photos taken in the broad light. This poses a problem for law enforcement and security services when their object is in the shade.
However, a group of German scientists claim to have found a solution to this as they develop a new type of face-recognition system that analyzes a person's thermal signature instead of relying on traditional methods.
As a part of the new study, Saquib Sarfraz and Rainer Stiefelhagen, two computer scientists from the Karlsruhe Institute of Technology, Germany, created a system that analyzes mid- or far-infrared images and matches them with the ordinary photos thus allowing the people's faces to be recognized.
However, such matching also poses a challenge for computer systems as connection between human appearance in visible and infrared light is highly nonlinear. The way human face emits thermal signatures when infrared images are taken is absolutely different from the way the face reflects light during a regular photo session.
Additionally, thermal emissions vary depending on the environment temperature, temperature of the skin, person's activity level or even a change of expression.
Besides, the images taken by infrared cameras usually have much lower resolution than normal photos. All these factors make the matching of two types of images a challenging task.
The research team managed to overcome this difficulty by using the so-called deep neural network system.
Deep neural network is a computer system designed to imitate the functioning of a human brain. It can make connections and draw conclusions based on complex sets of factors provided that a large enough dataset is available for the system.
However, such smart system still needs a vast bank of both infrared and visible light images allowing it to make comparisons and "learn." For their study, German researchers used the University of Notre Dame set that contains a significant number of both types of images, including people shot with different facial expressions, under different lightning conditions and multiple images of the same person over a certain time period.
The data set used in the study consisted of 4.585 both infrared and visible light images of 82 people. For the research, the scientists divided the set into two parts and used the images of the first 41 people to "train" their system and the images of the rest 41 people to test it.
The results of the experiment showed that the new system considerably surpasses its existing counterparts. "The presented approach improves the state-of-the-art by more than 10 percent," Sarfraz and Stiefelhagen said as quoted by the MIT Technology Review.
Additionally, the system is capable of matching the images and recognizing a face in just 35 milliseconds. "This is therefore, very fast and capable of running in real-time at about 28 fps," the researchers say.
However, the development of the technology is only at the initial stages so it is far from perfect as its accuracy reaches only about 80% in case when the system has many visible light images in its database to compare to the thermal image. With only one visible image available, the accuracy of the system falls to 55%.
Source: rt.com
---
LEGAL DISCLAIMER: Regarding Copyright Law
All articles on the X22 Report site are used for the purpose of criticism, comment, news reporting, teaching or research and is NOT an infringement of copyright
The "Fair Use" Provisions outlined in Title 17, Chapter 01 Article 107 of the US Copyright Law states the following:
Notwithstanding the provisions of sections 106 and 106A, the fair use of a copyrighted work, INCLUDING SUCH USE BY REPRODUCTION IN COPIES or phonorecords or BY ANY OTHER MEANS specified by that section, for purposes such as criticism, comment, news reporting, teaching (including multiple copies for classroom use), scholarship, or research, is NOT an infringement of copyright. In determining whether the use made of a work in any particular case is a fair use the factors to be considered shall include:
(1) the PURPOSE and CHARACTER of the use, including whether such use is of a commercial nature or is for NON-PROFIT educational purposes;
(2) the NATURE of the copyrighted work;
(3) the amount and substantiality of the portion used in relation to the copyrighted work as a whole; and
(4) THE EFFECT OF THE USE UPON THE POTENTIAL MARKET FOR OR VALUE OF THE COPYRIGHTED WORK.
The fact that a work is unpublished shall not itself bar a finding of fair use if such finding is made upon consideration of all the above factors.
Tags: banks, constitution, cyber attacks, DHS, economic collapse, finance, financial collapse, gold, police state, preppers, prepping, silver, stock market, war, wwIII