---
Send us your Sentinel Alert to Submit Sentinel Alert:
---
---
Scroll Down To See More News Alerts
05.23.17-   UK Deploys Army As Terror Threat Raised To Critical, May Warns "More Attacks Imminent"
In a televised statement from Downing Street, UK PM Theresa May said Britain has increased its security threat level to the highest possible "critical" from "severe", following Monday's suicide attack in Manchester that killed 22 people, and she also said members of the army would be positioned at key sites to free up police for patrols and military personnel might be deployed at public events such as concerts and sports events as a further attack was seen as potentially imminent.
"Members of the armed forces deployed in this way will be under the command of police officers," May said, adding that "we cannot ignore that there is a wider group of individuals linked to Manchester attack".
The Prime Minister also said the independent body which sets the threat level had recommended it be raised from "severe" after a man named by police as Salman Abedi set off an improvised bomb on Monday night as crowds streamed out of a concert.
"It is now concluded on the basis of today's investigations that the threat level should be increased for the time being from severe to critical," she said in a televised statement following a meeting of the government's crisis response committee. This means that their assessment is not only that an attack remains highly likely but that a further attack may be imminent."
May continued: "I do not want the public to feel unduly alarmed. "We have faced a serious terror threat in our country for many years and the operational response I have just outlined is a proportionate and sensible response to the threat that our security experts judge we face.
"I ask everybody to be vigilant and to co-operate with and support the police as they go about their important work.
"I want to end by repeating the important message I gave in my statement earlier today. We will take every measure available to us and provide every additional resource we can to the police and the security services as they work to protect the public.
"And while we mourn the victims of last night's appalling attack, we stand defiant. The spirit of Manchester and the spirit of Britain is far mightier than the sick plots of depraved terrorists, that is why the terrorists will never win and we will prevail."
May, who is facing a national election in two weeks, said the man named by police as the attacker, Salman Abedi, was born and brought up in Britain and investigations into whether he was working alone were ongoing.
Full Statement:
* * *
Britain's threat level has been at the "severe" level since 2014. It has only been at a "critical" level twice before, in 2006 and 2007 (see table below). May said the independent body which sets the threat level had recommended it be raised after a man named by police as Salman Abedi set off an improvised bomb on Monday night as crowds streamed out of a concert.
Terror threat now critical. And 5k troops on streets guarding parliament, stations etc.
Extraordinary http://gu.com/p/6fypj?CMP=Share_iOSApp_Other …

Manchester Arena bombing: Theresa May raises threat level, and troops to be deployed on Britain's…

Police say attacker died after detonating 'improvised explosive device' in foyer of concert hall

theguardian.com
 More than 5,000 soldiers could be deployed on the streets of Britain in the wake of major terrorist attacks, under a secret Government plan, it has emerged.

The troops would be sent to guard key targets in major cities if Isil or other terror groups launched multiple attacks on UK soil, under the plan, codenamed Operation Temperer.

Details of the operation were disclosed by the Mail on Sunday after accidentally being uploaded to the National Police Chiefs Council website last week.

Officers had been briefed on the plan by Deputy Chief Constable Simon Chesterman, the 'national lead' for armed policing, during an NPCC meeting in Leicester in April.

Under the heading 'counter terrorism post Paris large scale military support to the police', minutes of the meeting disclosed that up to 5,100 troops could be deployed "based on force assessments of how many military officers could augment armed police officers engaged in protective security duties".

Soldiers would serve alongside armed police officers to protect against further attacks while plotters were hunted down.
A spokesman for the Ministry of Defence said: "The MOD works closely with other government departments and agencies to ensure that it is able to provide appropriate assistance in response to any security threats, including national security. We keep contingency plans under constant review."
May says the public should not be "unduly alarmed" and says the deployment is proportional to the situation. The good news is these 'critical' alerts usually do not last long…
The last two occasions the threat level was raised to Critical the alert lasted no more than a few days:
Martial laws & threats levels escalated in two countries in 24-hours only because of #ISIS. Panic is going from regional to global now..
05.23.17-  Greek Debt Relief Deal Fails In Last Minute, As Germany, IMF Clash Again
Stop us if you've heard this story before.
Insolvent Greece, having last week voted itself into even more austerity in hopes of unlocking some of the money promised it by Brussels so it can then use it to repay debt maturities owed to the ECB (whether it will actually follow through with said austerity measures remains unclear, though most likely not), is dragged to the finish line of yet another Euro finance minister negotiating session with promises that this time a debt relief deal is virtually guaranteed, and then… it all falls apart.
That's what again happened today, when Euro-area finance ministers gathered in Brussels with hopes, at least for the Greek delegation, to come home with a signed agreement, only to fail to break the impasse on debt relief for Greece, delaying the conclusion of the country's bailout review and the disbursement of fresh loans needed to repay obligations in July.
"The Eurogroup held an in-depth discussion on the sustainability of Greece's public debt but did not reach an overall agreement," said Jeroen Dijsselbloem, the Dutch finance minister who presides over meetings with his euro-area counterparts, and who again failed to reach a solution after another hardline stance by his German colleague, Wolfgang Schauble, prevented any potential concessions. As a reminder, ever since the 3rd Greek bailout in the summer of 2015, rhe IMF and Germany have been at odds over Greece's economic outlook and the amount of debt relief required to assure economic stability: it was the same debate, that prevented a deal from being inked on Monday.
The big issue is what happens to the Greek economy after 2018, when the current bailout expires. The IMF, which has demanded debt haircuts in order to fund the ongoing bailout, has repeatedly raised doubts about Greece's ability to maintain such an optimistic budget performance for decades – it's like Bank of America's forecast for US GDP through 2027 which anticipated precisely zero recessions; meanwhile, key creditors are pushing for a more positive outlook (guess who will be wrong). The reason is that less ambitious fiscal targets would increase the amount of debt relief needed, meanwhile the Greek population continues to suffer.
As Bloomberg explained after the latest meeting, the debt measures proposed by euro area finance ministers were not enough for the IMF to come on board the Greek bailout, and unequivocally say that Greece's debt is sustainable, according to an official familiar with the discussion.
 There was some movement, though not quite enough, official says, asking not to be named as Eurogroup meeting wasn't public There's some frustration with the IMF among euro area finance ministers, pressure on Fund to move will increase over the coming weeks
In any case, work will continue in the coming weeks with the aim of reaching a conclusion on June 15 at the next meeting of ministers, Dijsselbloem said.
Last May, Euro-area finance ministers committed to a set of measures to ease the repayment terms on Greek bailout loans after the end of the program in 2018, but the degree to which these measures will be implemented is still a subject of contention.
 Among the options listed is the extension of maturities on euro-area loans to Greece, as well as the capping and deferral of interest payments. The IMF has said it wants these options to be specified further, so that numbers "add up" and annual Greek debt refinancing needs are kept below clearly defined thresholds
According to Bloomberg, after eight hours of talks and multiple draft compromises, Athens and its creditors couldn't reach an accord that would ease Greece's debt and that would convince the International Monetary Fund to agree to help finance the country's bailout. The IMF has been seeking more debt relief for the country, pushing euro-area creditors to ensure the sustainability of Greece's €315 billion ($354 billion) of obligations before it participates in the program. Some nations including Germany object to a debt restructuring while also insisting that the Washington-based fund join the program to lend credibility to the bailout.
The reason why the can was kicked again is that Greece doesn't have a large maturity deadline until July, when €7 billion euros in obligations come due, and Europe has a habit of waiting until the last moment before disbursing the funds that Athens will then turn around and use to repay the ECB.
Delaying resolution of the program review adds to months of uncertainty that have taken their toll on the Greek economy – which has slipped back into recession –and kept the country from returning to the bond market.
Recession notwithstanding, Dijsselbloem also said the parties agreed on a target for Greece's primary surplus, which excludes interest payments, of 3.5% of gross domestic product until 2022. Which is funny: it was Mario Draghi's secret deals with Greece when he was still part of Goldman, that masked the Greek debt mountain, and made the country's surplus appear artificially high. The eventual result was not one, not two, but three Greek bailouts.
"The Greek authorities are taking their responsibilities and I think the partners of Greece are also taking their own responsibilities," European Union Economic and Monetary Affairs Commissioner Pierre Moscovici said. "There's been a shared effort to narrow the gap between positions — we haven't yet concluded but I hope under the guidance of the president of the Eurogroup it will possible three weeks from now."
Additional debt relief is also needed for the ECB to include Greek bonds in its asset purchases program, which would ease the country's access to bond markets, and is the reason why last week, Greek lawmakers approved more austerity measures in hopes of mollifying creditors, including pension cuts, tax hikes and other structural economic reforms. The resulting hope that Greece would be included in the ECB's QE was the longest winning streak in Greek capital markets in years.
For now, however, Greece has to wait, most likely until the very last minute before the €7 billion in July obligations come due.
Source: zerohedge.com
05.22.17-  The Tens Of Millions Of Forgotten Americans That The U.S. Economy Has Left Behind
The evidence that the middle class in America is dying continues to mount.  As you will see below, nearly half the country would be unable "to cover an unexpected $400 expense", and about two-thirds of the population lives paycheck to paycheck at least part of the time.  Of course the economy has not been doing that well overall in recent years.  Barack Obama was the only president in all of U.S. history not to have a single year when the economy grew by at least 3 percent, and U.S. GDP growth during the first quarter of 2017 was an anemic 0.7 percent.
During the Obama era, it is true that wealthy enclaves in New York, northern California and Washington D.C. did thrive, but meanwhile most of the rest of the country has been left behind.
Today, there are approximately 205 million working age Americans, and close to half of them have no financial cushion whatsoever.  In fact, a new survey conducted by the Federal Reserve has found that 44 percent of Americans do not even have enough money "to cover an unexpected $400 expense"…
Nearly eight years into an economic recovery, nearly half of Americans didn't have enough cash available to cover a $400 emergency. Specifically, the survey found that, in line with what the Fed had disclosed in previous years, 44% of respondents said they wouldn't be able to cover an unexpected $400 expense like a car repair or medical bill, or would have to borrow money or sell something to meet it.
Just as concerning were other findings from the study: just under one-fourth of adults, or 23%, are not able to pay all of their current month's bills in full while 25% reported skipping medical treatments due to cost in the prior year. Additionally, 28% of adults who haven't retired yet reported to being grossly unprepared, indicating they had no retirement savings or pension whatsoever.
But just because you can pay your bills does not mean that you are doing well.  Tens of millions of Americans barely scrape by from paycheck to paycheck each and every month.
In fact, a survey by CareerBuilder discovered that 75 percent of all Americans live paycheck to paycheck at least some of the time…
Three-quarters of Americans (75 percent) are living paycheck-to-paycheck to make ends meet, according to a survey from CareerBuilder. Thirty-eight percent of employees said they sometimes live paycheck-to-paycheck, 15 percent said they usually do and 23 percent said they always do. While making ends meet is a struggle for many post-recession, those with minimum wage jobs continue to be hit the hardest. Of workers who currently have a minimum wage job or have held one in the past, 66 percent said they couldn't make ends meet and 50 percent said they had to work more than one job to make it work.
So please don't be fooled into thinking that the U.S. economy is doing well because the stock market has been hitting new record highs.
The stock market was soaring just before the financial crisis of 2008 too, and we remember how that turned out.
The truth is that the long-term trends that have been eating away at the foundations of the U.S. economy continue to accelerate, and the real economy is in substantially worse shape this year than it was last year.
Just about everywhere you look, businesses are struggling and stores are shutting down.  Yes, there are a few wealthy enclaves where everything seems wonderful for the moment, but for most of the country it seems like the last recession never ended.
In a desperate attempt to stay afloat, a lot of families have been turning to debt to make ends meet.  U.S. household debt has just hit a brand new all-time record high of 12.7 trillion dollars, but we are starting to see an alarming rise in auto loan defaults and consumer bankruptcies.  This is precisely what we would expect to see if the U.S. economy was moving into another major recession.
In fact, we are seeing all sorts of signs that point to a major economic slowdown right now.  Just check out the following from Wolf Richter's latest article…
Over the past five decades, each time commercial and industrial loan balances at US banks shrank or stalled as companies cut back or as banks tightened their lending standards in reaction to the economy they found themselves in, a recession was either already in progress or would start soon. There has been no exception since the 1960s. Last time this happened was during the Financial Crisis.

Now it's happening again – with a 1990/91 recession twist.

Commercial and industrial loans outstanding fell to $2.095 trillion on May 10, according to the Fed's Board of Governors weekly report on Friday. That's down 4.5% from the peak on November 16, 2016. It's below the level of outstanding C&I loans on October 19. And it marks the 30th week in a row of no growth in C&I loans.
Perhaps we will be very fortunate and break this pattern that has held up all the way back to the 1960s.
But I wouldn't count on it.  Here is what Zero Hedge has to say about this alarming contraction in commercial and industrial loans…
Here's the bottom line: unless there is a sharp rebound in loan growth in the next 3-6 months – whether due to greater demand or easier supply – this most accurate of leading economic indicators guarantees that a recession is now inevitable.
We are way overdue for a recession, the hard economic numbers are screaming that one is coming, and the financial markets are absolutely primed for a major crash.
As Americans, we tend to have such short memories.  Every time a new financial bubble starts forming, a lot of people out there start behaving as if it can last indefinitely.
But of course no financial bubble is going to last forever.  They all burst eventually, and now the biggest one in U.S. history is about to end in spectacular fashion.
Trump will get a lot of the blame since he is the current occupant of the White House, but the truth is that the conditions for the next crisis have been building up for many years, and the horrors that the U.S. economy is heading for were entirely predictable.
Source: theeconomiccollapseblog.com
05.21.17-  Paul Craig Roberts Laments "The Assault On Trump"
We are witnessing an assault by the national security state and its liberal media on a President of the United States that is unprecedented.
Wild and unsupported accusations of treasonous or illegal Russian connections have been the mainstay of the news since Trump's campaign for president. These accusations have reached the point that there is an impeachment movement driven by the national security state and its liberal media and endorsed by Democrats, the American leftwing which has turned against the working class as "Trump deplorables," and luminaries such as Harvard Law Professor Larry Tribe.
The Washington Post, which was not present at the meeting of President Trump with Russian Foreign Minister Lavrov, purports to know that Trump gave Lavrov US national security information.
The Russian government has offered the presstitute media a transcript of the meeting, but, of course, the pressitutes are not interested.
The latest story is that Trump tried to bribe FBI Director Comey, before he fired him, not to investigate Trump as part of the "Russian investigation." Clearly there is no intelligence left in the American media. The President doesn't need to bribe someone he can fire.
What we are witnessing is the determination of the national security state to keep their prized "Russian Threat" in its assigned role as the Number One Threat to the US. The liberal media, owned by the CIA since the 1950s is in accord with this goal.
The American media is so accustomed to its enslavement by the national security state that it does not think of the consequences. But Professor Stephen Cohen does. I agree with him that the greatest threat to national security "is this assault on President Trump." 
Cohen said that there is a 4th branch of government, the intelligence community, which obstruts the management of American foreign affairs by the executive branch and Congress.
As an example, he reminded us that "In 2016, President Obama worked out a deal with Russian President Putin for military cooperation in Syria. He said he was going to share intelligence with Russia, just like Trump and the Russians were supposed to do the other day. Our department of defense said it wouldn't share intelligence. And a few days later, they killed Syrian soldiers, violating the agreement, and that was the end of that. So, we can ask, who is making our foreign policy in Washington today?"
In the 1960s, President John F. Kennedy thought he was in charge, and he was assassinated for his belief. JFK blocked an invasion of Cuba, the Northwoods project, a preemptive nuclear strike on the Soviet Union, and spoke of ending the Cold War.
In the 1970s President Nixon was driven from office, because he thought he was in charge of foreign policy. Like Kennedy, Nixon was a threat to the national security state. Nixon pushed through SALT 1 and the anti-ABM Treaty, and he opened to China, defusing those tensions as well. The military/security complex saw its budget dwindling as the threat dwindled. Nixon also determined to withdraw from Vietnam, but was constrained by the national security state. Nixon, the most knowledgeable president about foreign affairs, was forced from office, because his efforts in behalf of peace constituted a threat to the power and profit of the military/security complex.
It is important to understand that there is no evidence whatsoever against Nixon in the Washington Post "investigation." The Post's reporters simply put together a collection of inuendoes that cast aspersion on Nixon, whose "crime" was to say that he learned of the Watergate buglary at a later date than he actually did. Nixon kept the burglary quiet until after his reelection, because he knew that the CIA's Washington Post would use it in an effort to prevent his reelection.
The "crime" for which Nixon was really removed was his success in establishing more peaceful and stable relations with Russia and China.
Trump, being in real estate and entertainment, was unaware of the landmines on which he was stepping when he said it was time to normalize relations with Russia and to rethink the purpose of NATO.
The US military/security complex sits on a budget extracted from very hard-pressed American taxpayers of $1,000 billion dollars annually. By threatening to normalize relations with the enemy which was created in order to justify this vast budget, Trump presented as the major threat to the American National Security State's power and profit.
This is why Trump will be broken and/or removed as President of the United States.
Once again democracy in American is proving to be powerless. There is no one in Washington who can help Trump. Those who could help him, such as myself, cannot be confirmed by the US Senate, which is owned lock, stock, and barrel by the military/security complex, Wall Street, and the Israel Lobby.
Trump tried to connect the suffering American people to their government, an act of treason against the oligarchy, who are now making an example of Trump that will dissuade politicians in the future from making populist appeals to the people.
 Source: paulcraigroberts.org
05.20.17-  Want to Understand Rising Wealth Inequality? Look at Debt and Interest
"Governments cannot reduce their debt or deficits and central banks cannot taper. Equally, they cannot perpetually borrow exponentially more. This one last bubble cannot end (but it must)."
I often refer to debt serfdom, the servitude debt enforces on borrowers. The mechanism of this servitude is interest, and today I turn to two knowledgeable correspondents for explanations of Correspondent D.L.J. explains how debt/interest is the underlying engine of rising income/wealth disparity:
Here is a table of the growth rate of the GDP.
If we use $16T as the approximate GDP and a growth rate of, say, 3.5%, the total of goods and services would increase one year to the next by about $500B.
Meanwhile, referencing the Grandfather national debt chart with the USDebtClock data, the annual interest bill is $3 trillion ($2.7 trillion year-to-date).
In other words, those receiving interest are getting 5-6 times more than the increase in gross economic activity.
Using your oft-referenced Pareto Principle, about 80% of the population are net payers of interest while the other 20% are net receivers of interest.
Also, keep in mind that one does not have to have an outstanding loan to be a net payer of interest. As I attempted to earlier convey, whenever one buys a product that any part of its production was involving the cost of interest, the final product price included that interest cost. The purchase of that product had the interest cost paid by the purchaser.
Again using the Pareto concept, of the 20% who receive net interest, it can be further divided 80/20 to imply that 4% receive most (64%?) of the interest. This very fact can explain why/how the system (as it stands) produces a widening between the haves and the so-called 'have nots'.
In other words, the wealthy own interest-yielding assets and the rest of us owe interest on debt.
Longtime correspondent Harun I. explains that the serfdom imposed by debt and interest is not merely financial servitude–it is political serfdom as well:
As both of us have stated, you can create all of the money you want, however, production of real things cannot be accomplished with a keystroke.
Then there is the issue of liberty. Each Federal Reserve Note is a liability of the Fed and gives the bearer the right but not the obligation to purchase — whatever the Fed deems appropriate. How much one can purchase keeps changing base on a theory-driven experiment that has never worked. Since the Fed is nothing more than an agent of the Central State, the ability to control what the wages of its workers will purchase, is a dangerous power for any government.
If a Federal Reserve Note is a liability of the central bank, then what is the asset? The only possible answer is the nations productivity. So, in essence, an agent of the government, the central bank, most of which are privately owned (ownership is cloaked in secrecy) owns the entire productive output of free and democratic nation-states.
People who speak of liberty and democracy in such a system only delude themselves.
Then there is the solution, default. That only resolves the books, the liability of human needs remain. Bankruptcy does not resolve the residue of social misery and suffering left behind for the masses who became dependent on lofty promises (debt). These promises (debts) were based on theories that have reappeared throughout human history under different guises but have never worked.
More debt will not resolve debt. The individual's liberty is nonexistent if he does not own his labor. A people should consider carefully the viability (arithmetical consequences) of borrowing, at interest, to consume their own production. The asset of our labor cannot simultaneously be a liability we owe to ourselves at interest.
Thank you, D.L.J. and Harun. Is there an alternative to the present system of debt serfdom and rising inequality? Yes, there is, one I describe in my book A Radically Beneficial World: Automation, Technology & Creating Jobs for All. But is an alternative system possible? Not in our Financialized, Neofeudal-Neocolonial Rentier Economy; but this doesn't mean the status quo is permanent. As Harun noted in another email,"Governments cannot reduce their debt or deficits and central banks cannot taper. Equally, they cannot perpetually borrow exponentially more. This one last bubble cannot end (but it must)."
Correspondent J.F. recently submitted a helpful way of conceptualizing $1 trillion: One million seconds ago was eleven days ago. One billion seconds ago was 1982. One trillion seconds ago was 30,000 BC.
Here is federal debt, topping $20 trillion and soaring to the moon: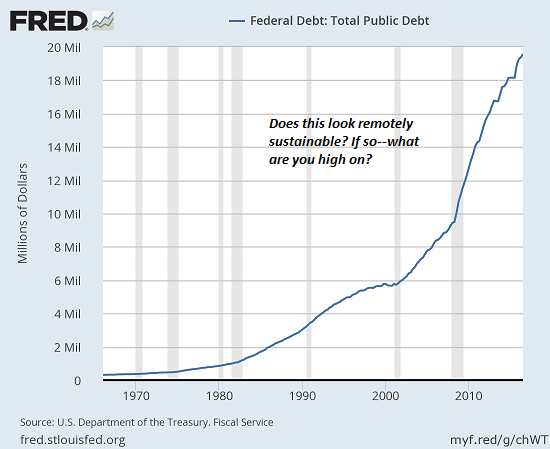 What we're really discussing is what will replace the current system after it self-destructs.
Source:   charleshughsmith.blogspot.com
05.19.17-  The Deep State's Political Coup: A Special Prosecutor Means The 2018 Elections Are Life Or Death For The Trump Presidency
The deep state is orchestrating a political coup against President Trump, and this latest move makes it clear that they are going for the jugular. Now that former FBI director Robert Mueller has been appointed as "special counsel" to investigate the scandals swirling around the Trump administration, the mid-term elections in 2018 have become of the utmost importance. There is a reason why most people refer to a "special counsel" as a "special prosecutor".
Special prosecutors usually spend years digging around even if there is absolutely no evidence that any crimes have been committed, and in the end they are always going to find someone to prosecute to justify all of the time, money and energy that they have expended. According to the Wall Street Journal, Mueller "will now have unlimited time and resources to investigate more or less anything and anyone he wants." So in the end someone is almost certainly going to get charged with something, and it could ultimately be Trump himself.
Fortunately, special prosecutors usually take a lot of time to complete their work, and that means that it is likely that Mueller will probably not complete his investigation before the mid-term elections in 2018 have taken place.
If an impeachment process moves forward, it is going to be really tough to stop it in the Senate. No matter what the evidence shows, virtually every Democrat and many anti-Trump Republican senators would gleefully vote to impeach Trump. It would be wonderful if we could get rid of the most anti-Trump members of the Senate such as John McCain and Lindsey Graham, but neither of them is up for re-election in 2018.
However, every single seat in the House of Representatives will be up for grabs in 2018, and that is our best shot of stopping Trump from being impeached. If we can pack the House with Trump supporters, we can stop impeachment before it ever gets to the Senate.
At this point, there is no evidence that Trump has done anything wrong, and even if everything in the Comey memo is 100% true it still would not amount to obstruction of justice.
But the establishment has seized on this as their opportunity to get rid of Trump, and so now a full-blown political coup is underway. If we want to stop this witch hunt, we are going to have to take dramatic action. I have previously called for an army of pro-Trump activists to run for Congress in 2018, and now there is far more at stake than when I first issued that call.
If the deep state is successful in taking Trump down, the entire political movement around Trump will be wiped out and our constitutional republic may never recover. Trump is our last, best chance to dethrone the progressive globalist establishment, and that is why they hate him so much.
So they are using the law as a weapon to try to destroy him, and as Dick Morris has pointed out, special prosecutors always want to come up with something "to justify their own existence"…
The Trump Administration may never recover from the decision of Deputy Attorney General Rob Rosenstein to cave into Democratic pressure and appoint a special prosecutor to investigate the totally fictitious "scandal" of Trump's relationship with Putin.

The prosecutor, hired to investigate something that never happened, will not report Trump's innocence. Special prosecutors never do. They justify their own existence, importance, budget, and staff by finding something to prosecute. Usually the "crime" they end up going after is one that his own investigation has created.
Not in my experience. Because it would be a big deal to tell the FBI to stop doing something like that — without an appropriate purpose.

I mean where oftentimes they give us opinions that we don't see a case there and so you ought to stop investing resources in it. But I'm talking about a situation where we were told to stop something for a political reason, that would be a very big deal.

It's not happened in my experience.
You can watch Comey making these statements under oath on YouTube right here…
But just because Comey is a dead end doesn't matter now, because Mueller will be able to take his investigation in any direction that he would like. There are thousands upon thousands of laws that apply to the executive branch, and by the end of his investigation he should be able to come up with something.
Meanwhile, the Trump agenda is likely to come to a grinding halt as the Trump administration constantly deals with this endless crisis. Here is more from Dick Morris…
In the meantime, they hobble the president, drain away his political credibility, separate him from his supporters, and paralyze his administration. No legislator is willing to lend his support for fear of what the prosecutor might find. Each one will run for cover rather than work with Trump to get something done.

In appointing a prosecutor, Rosenstein has killed this Administration's ability to function. No health care overhaul. No tax cuts. No government reform. All while we await the results of a nothing investigation into a nothing scandal.
So what can we do?
I don't buy into the talk of those that are saying that things are hopeless. The promise of the Trump presidency can still be realized, but we are going to have to be willing to work together.
This is what I propose…
#1 We need pro-Trump activists to be willing to run for Congress in districts all over the nation. Don't just sit back and wait for someone else to do it. If you live in a district where a Democrat or an anti-Trump Republican currently has a seat, you may want to consider if you should run in 2018. And if you are planning to run, please contact me so that we can rally pro-Trump voters to support you.
#2 We need to be willing to support those that are willing to stand up and run.
This isn't a lot to ask, and if Trump supporters are not willing to do these things then there really isn't any hope for the future of this political movement.
But I believe that there is a future for this movement. Against all odds, Trump convinced millions upon millions of Americans that we could turn this country in a positive direction, and he absolutely shocked the world when he defeated Hillary Clinton in November.
Now we have to fight for the future of this political revolution, and I believe that good men and good women all over America will rise up and answer the call.
Source: endoftheamericandream.com
05.18.17-   World Money: Five Hidden Signals From The IMF
Less than a month ago a handful of the world's policy makers gathered in Washington at the International Monetary Fund (IMF), no surprising headlines were run – but an obscure meeting and a discreet report launched exclusive signals for the next global economic crisis.
The panel, which included five of the most elite global bankers, was held during the IMF's spring meetings to discuss the special drawing rights (SDR) 50th anniversary.  On the surface the panel was a snoozefest, but reading beyond the jargon offers critical takeaways.
The discussion revealed what global central banks are planning for a future crisis and how the IMF is orchestrating policy for financial bubbles, currency shocks and institutional failures.
Why the urgency from the financial elites?
In theApril 2017 "Global Financial Stability Report," IMF researchers targeted the U.S corporate debt market and how extreme changes in its equity market has left the global economy at risk. While the report may have been missed by major financial news outlets, it was enough to give major concern to those paying attention.The IMF research report noted:
"The [U.S.] corporate sector has tended to favor debt financing, with $7.8 trillion in debt and other liabilities added since 2010…"
In another segment the IMF report said:
"Corporate credit fundamentals have started to weaken, creating conditions that have historically preceded a credit cycle downturn. Asset quality—measured, for example, by the share of deals with weaker covenants—has deteriorated."
"At the same time, a rising share of rating downgrades suggests rising credit risks in a number of industries, including energy and related firms in the context of oil price adjustments and also in capital goods and health care. Also consistent with this late stage in the credit cycle, corporate sector leverage has risen to elevated levels."
This report  together with the panel discussion highlights a very concerning trend. Jim Rickards, a currency wars expert and macroeconomic specialist, has identified the special drawing rights (SDR) as a class of world money that is a tool used to bailout central banks during crisis.
World Money, The IMF and Signals for Economic Crisis
World money was praised for its ability to be a catalyst for international loans during the IMF spring panel discussion.
The panel discussion was moderated by Maurice Obstfeld, an established academic who serves as a Director of Research at the IMF. Obstfeld is connected, knows the right people, and can see the macroeconomic implications of SDRs.
In his opening remarks Obstfeld identified, "There has been increasing debate over the role of the SDR since the global financial crisis. We in the Fund have been looking more intensively at the issue over whether an enhanced role for the SDR could improve the functioning of the international monetary system."
"The official SDR is something we are familiar with but is there a role for the SDR in the market or a market SDR? What is the SDR's role for the unit of account?"
Here's the five most important signals from the world money panel, what they could mean for the international monetary system and the future of the dollar.
1. China Spars for the SDR Market
Yi Gang, the Deputy Governor of the People's Bank of China disclosed to the IMF panel that, "China has started reporting our foreign official reserves, balance of payment reports, and the international investment position reports."
"All of these reports, now, in China are published in U.S dollars, SDR and Renminbi rates… I think that has the advantage of reducing the negative impact of negative liquidity on your assets."
What that means in real terms is that China views the opportunity of being a part of the exclusive world money club as an opportunity to diversify away from the U.S dollar.
The Bank of China official took that message even further saying that he hopes that China could lead in world money operations by integrating it into the private sector.
"If more and more people, companies and the market use SDR as unit of accounts – that would generate more activity in the market with focus on the MSDR. [The hope would be] that they could create more products and market infrastructures that would be available for trade products to be denominated in SDR."
The People's Bank of China official referenced how this trend was already underway. Just last year Standard Chartered bank began to maintain accounts in SDR's. "In terms of the first and secondary markets they will develop fairly well."
Perhaps the most important segment that the Chinese official signaled was his reference that, "The Official Reserve SDR (OSDR) that allocation from the IMF is very important. [This allows] Central Banks to make the SDR an official asset, and easier for them to convert that asset into the reserve currency they need."
What that means is that China will become an even greater player in the world money market.
Nomi Prins, an economist and historian stated when analyzing China's economic positioning, "The expanding SDR basket is as much a political power play as it is about increasing the number of reserve currencies for central banks for financial purposes."
2. Special Drawing Rights: The Case for Liquidity and Central Banks
Jose Antonio Ocampo, one of the foremost scholars on international economics and a board member of the Central Bank of Colombia noted, "The main objective of SDR reform is actually… for it to be a major reserve asset for the international monetary system."
"First of all, it is a truly global asset. It is backed by all of the members of the IMF and it doesn't have the problems that come with using a national currency as international currency. Second, it has a much better form of distribution of the creation of liquidity. Because it is shared by all members of the IMF… in that regard, it does serve as unconditional liquidity."
That means that IMF and institutional economists view the SDR as a potential way of financing not only national government loans, but markets.
The most fascinating point that Ocampo made about the SDR was about the position of conditional reserves and what it could mean for more SDR reform. Conditional reserves reference the ability of central banks to borrow and repay loans in a timely manner with conditionality.
"Countries that hold excess SDR's should deposit them in the IMF. The IMF then could use those SDR's to finance its lending. [This will reduce] the need to have quotas, borrowing arrangements and methods to finance IMF programs. Like any decent central bank in the world they could use their own creation of liquidity as a sort of financing of that central bank."
While the IMF has been a "central bank for central banks" this proposal would see the international monetary system shift entirely.
Jim Rickards takes his analysis a step further showing that the liquidity and lending offer the IMF the ability to act during a crisis, as it did during the most recent global financial crisis.
Rickards, The New York Times best-selling author, reveals, "The 2009 issuance was a case of the IMF 'testing the plumbing' of the system to make sure it worked properly. With no issuance of SDRs for 28 years, from 1981–2009, the IMF wanted to rehearse the governance, computational and legal processes for issuing SDRs."
"The purpose was partly to alleviate liquidity concerns at the time, but also partly to make sure the system works in case a large new issuance was needed on short notice."
3. Elites Signaling the Blueprint Plan for World Money
Mohamed El-Erian a former Deputy Director of the IMF and the Chief Economic Adviser at Allianz (affiliated with PIMCO) was the premier panelist to discuss the future blueprint plan of world money.
El-Erian started out his discussion, "If the SDR is to play a really important role you cannot go through the official sector only today."
He outlined the current political landscape for world money saying, "The politics today do not favor delegating economic governance from national to multilateral levels. Yet the case for the SDR is very strong."
"It is not only about the Triffin Dilemma and [acting as] the official reserve, it's because if you ask anybody do you want to reduce the cost of self-insurance, they'll say yes. Do you want to facilitate diversification? They'll say yes. If you ask anybody, do you want to make liquidity less reciprocal, they'll say yes."
"The SDR helps address every one of these issues. So, it solves problems not just at the official level but it solves problems in the private sector."
To break that jargon down Jim Rickards offers, "In other words, the latest plan is for the IMF to combine forces with mega-banks, and big investors like BlackRock and PIMCO to implement the world money plan."
"El-Erian is 'signaling' other global elites about the SDR plan so they can prepare accordingly."
4. The SDR Signals Death of the Dollar
Catherine Schenk, a professor of International Economic History at the University of Glasgow, is one of the top scholars of economic relations. While speaking she took up the case of what the special drawing rights meant for the U.S dollar.
Dr. Schenk when asked whether the international market could proceed without a "lender of last resort" she pressed, "Why would you use a relatively illiquid element when you have the U.S dollar?"
"The U.S dollar has a lot of problems, some of it is unstable but the depth and liquidity of it in financial markets are unrivaled. The history of trying to create bond markets for other currencies or other instruments shows that it takes a long time."
She then elaborated later in the conversation the premise that, "What we are talking about with the market SDR is trying to turn it and add more facilities to turn it into money. That will take time. Having reluctant issuing, I am worried about how that market it going to be created."
As the dollar continues to have its issues what central banks like the Federal Reserve select to do matters significantly.
Christopher Whalen pens, "Whether you look at US stocks, residential housing markets or the dollar, the picture that emerges is a market that has risen sharply, far more than the underlying rate of economic growth. This is due to a constraint in the supply of assets and a relative torrent of cash chasing the available opportunities."
Whalen then asks the bigger question and one that could specifically matter for the SDR when he notes, "What happens when this latest dollar super cycle ends?"
How the competition for the top world reserve position unfolds between the SDR and U.S dollar will be answered in time.
5. World Money Becomes Central Bank Money
During the final Q&A for the panel on the SDR's, they were asked what the political climate looks like facing the issues of world money and the direction of political headwinds?
In response Jose Antonio Ocampo said, "In the issue of liquidity, we still have a basic problem during a crisis – which is, how do you provide liquidity during crisis?"
Ocampo, the Colombian central bank official disclosed, "My view is that it is a function for the SDR as central bank money, let's say."
The SDR specialist took it further, "The real question is whether any of the major actors… and whether the U.S, either from the previous administration or the current administration, was willing [to politically act]?"
He offered, "From the point of view of the U.S the use of SDR's as a market instrument should be more problematic than the reforms of the SDR to be used as central bank money."
Under such circumstances the demand and confidence for the U.S dollar as a global reserve would be diminished.
Jim Rickards summarizes, "By the time the final loss of confidence arrives, much of the damage will already have been done. The analytic key is to look for those minor events pointing in the direction of lost confidence in the dollar."
"With that information investors can take defensive measures before it's too late."
As was confirmed by both the IMF report and the elite panel on special drawing rights, the U.S dollar is facing severe competition while undergoing a fiscal crisis.
Rickards leaves a stark warning, "The U.S. is playing into the hands of these rivals by running trade deficits, budget deficits and a huge external debt."
 Source:  dailyreckoning.com
05.17.17-  "It's Much Bigger Than WannaCry": New Stealthy Cyberattack Could Dwarf Last Week's Global Worm Epidemic
Another large-scale, stealthy cyberattack is underway on a scale that could dwarf last week's assault on computers worldwide, a global cybersecurity firm told AFP on Wednesday.
Meet Adylkuzz – the new cyberattack that "is much bigger than WannaCry."
 Instead of completely disabling an infected computer by encrypting data and seeking a ransom payment, Adylkuzz uses the machines it infects to "mine" in a background task a virtual currency, Monero, and transfer the money created to the authors of the virus.

Proofpoint said in a blog that symptoms of the attack include loss of access to shared Windows resources and degradation of PC and server performance, effects which some users may not notice immediately.

"As it is silent and doesn't trouble the user, the Adylkuzz attack is much more profitable for the cyber criminals. It transforms the infected users into unwitting financial supporters of their attackers," said Godier.
Proofpoint said it has detected infected machines that have transferred several thousand dollars worth of Monero to the creators of the virus. The firm believes Adylkuzz has been on the loose since at least May 2, and perhaps even since April 24, but due to its stealthy nature was not immediately detected. Proofpoint's vice president for email products, Robert Holmes, told AFP...
  "We don't know how big it is" but "it's much bigger than WannaCry",

"We have seen that before — malwares mining cryptocurrency — but not this scale," said Holmes.
It uses the hacking tools recently disclosed by the NSA "in a more stealthy manner and for a different purpose." As InfoRiskToday details…
 The SMB flaw (file-sharing network protocol) targeted by this Adylkuzz campaign existed in all versions of Windows since XP and came to light in April, via a dump of "Equation Group" tools released by the Shadow Brokers.

Many security experts believe the Equation Group is the National Security Agency, and that the Shadow Brokers may be part of a psychological operations campaign run by Russian intelligence.

One of the Equation Group exploits included in the April dump, called EternalBlue, is designed to exploit the SMB flaw in Windows. If successful, the Equation Group would then often install a backdoor called DoublePulsar onto the exploited endpoint to give it persistent, quiet access to the system.
Rather than freeze files demanding a ransom, Adylkuzz uses the hundreds of thousands of infected computers to mine virtual currency… As InfoRiskToday details…
 The WannaCry outbreak began May 12. But Proofpoint says that the Adylkuzz campaign that targeted DoublePulsar and EternalBlue appears to have begun as early as April 24 – nearly three weeks earlier – and hasn't stopped.

"This attack is ongoing and, while less flashy than WannaCry, is nonetheless quite large and potentially quite disruptive," Kafeine says in a Monday blog post.

In addition, Proofpoint reports that multiple outbreaks that were attributed to the WannaCry campaign, but which involved no ransom notice, may, in fact, have instead been part of the Adylkuzz campaign.
As with WannaCry, the Adylkuzz malware first attempts to exploit a system via EternalBlue, and if successful then infects the endpoint with DoublePulsar, Kafeine says.
 "Once running, Adylkuzz will first stop any potential instances of itself already running and block SMB communication to avoid further infection, Kafeine says. "It then determines the public IP address of the victim and download the mining instructions, cryptominer, and cleanup tools."
This Adylkuzz campaign is mining not for the world's most well-known cryptocurrency, but rather for monero.
Also known as XMR, InfoRiskToday notes that the creators of the cryptocurrency claim that it's more private and difficult to trace than bitcoin. Unlike bitcoin, it also has no hardcoded block size limit, meaning that – at least in theory – an infinite amount of monero could be mined.
So far it's not clear who's behind this cryptocurrency mining operation. A version of WannaCry seen in February contains code that was used in a 2015 attack tied to Lazarus – a hacking group security experts say ties to North Korea. But anyone could have reused the 2015 code, which is publicly available, Matt Suiche, managing director at incident response firm Comae Technologies, tells Cyberscoop.
 "Attribution can always be faked, as it's only a matter of moving bytes around," he says.
As InfoRiskToday.com concludes ominously, the discovery of the cryptocurrency mining botnet shows that organizations that fail to patch their systems aren't just at risk from flashy attacks, such as WannaCry, but also stealthier attacks that don't always announce their presence.
Source: zerohedge.com
05.17.17-   Paul Craig Roberts Fears "The Exponential Growth Of Global Insecurity"
There is no such thing as cyber security. The only choice is more security or less security, as the recent hack of the National Security Agency demonstrates.
Hackers stole from NSA a cyber weapon, which has been used in attacks (at time of writing) on 150 countries, shutting down elements of the British National Health Service, the Spanish telecommunications company Telefonica, automakers Renault and Nissan, Russia's Interior Ministry, Federal Express, the energy company PetroChina, and many more.
The news spin is to not blame NSA for its carelessness, but to blame Microsoft users for not updating their systems with a patch issued two months ago. But the important questions have not been asked: What was the NSA doing with such malware and why did NSA not inform Microsoft of the malware?
Clearly, NSA intended to use the cyber weapon against some country or countries. Why else have it and keep it a secret from Microsoft?
Was it to be used to shut down Russian and Chinese systems prior to launching a nuclear first strike against the countries? Congress should be asking this question as it is certain that the Russian and Chinese governments are. As I previously reported, the Russian High Command has already concluded that Washington is preparing a nuclear first strike against Russia, and so has China.
It is extremely dangerous that two nuclear powers have this expectation. This danger has received no attention from Washington and its NATO vassals.
Microsoft president Brad Smith likened the theft of the NSA's cyber weapon to "the US military having some of its Tomahawk missiles stolen." In other words, with cyber weapons, as with nuclear weapons and short warning times, things can go wrong in a big way. http://www.bbc.com/news/technology-39915440
What if the hackers had successfully attacked the Russian Ministry of Defense or radar warning systems, would the Russian High Command have concluded that the cyber attack was Washington's prelude to incoming ICBMs?
The fact that no one in Washington or any Western government has stepped forward to reassure the Russian government and demand the removal of the US missile bases surrounding Russia indicates a level of hubris or denial that is beyond comprehension.
In my May 12 posting I wrote: "The costs of the digital revolution exceed its benefits by many times. The digital revolution rivals nuclear weapons as the most catastrophic technology of our time." In response, Robert Henderson wrote to me from England that he had addressed the enormous costs of the digital revolution in 2010. Here is the link to his article, "Men and Machines: Which is Master Which is Slave?" 
Reading his article will raise your awareness. When you add up the vast financial costs, the depersonalization of human relationships, and the complete loss of individual privacy and security, the benefit of being connected is vastly outweighed by the costs.
Paper files are far more secure. Malware cannot be introduced into them. To steal a person's information required knowing the location of the information, breaking into the building, searching file cabinets for the information, and copying the information. To intercept a voice communication required a warrant to wiretap a specific telephone line.
People born into a world where the ease of communication comes at the price of the loss of autonomy never experience privacy. They are unaware that a foundation of liberty has been lost.
In our era of controlled print and TV media, the digital revolution serves for now as a check on the ruling elite's ability to control explanations. However, the same technology that currently permits alternative explanations can be used to prevent them. Indeed, efforts to discredit and to limit non-approved explanations are already underway.
The enemies of truth have a powerful weapon in the digital revolution and can use it to herd humanity into a tyrannical distopia. The digital revolution even has its own Memory Hole. Files stored electronically by older technology can no longer be accessed as they exist in an outdated electronic format that cannot be opened by current systems in use.
Humans are proving to be the most stupid of the life forms. They create weapons that cannot be used without destroying themselves. They create robots and free trade myths that take away their jobs. They create information technology that destroys their liberty.
Dystopias tend to be permanent. The generations born into them never know any different, and the control mechanisms are total.
And the digital screen serves as Soma.
Source:  paulcraigroberts.org
05.16.17-  Classified Bombshell Hyperventilation
Some people I would normally expect not to lose their minds following anti-Trump hype did lose their minds. Of course, the standard nutcases one might expect would lose their minds did so as well.
The result is has been a steady stream of nonsense all day regarding Trump's alleged disclosure of highly classified information to Russia.
It took a collaboration of six (Jack Goldsmith, Susan Hennessey, Quinta Jurecic, Matthew Kahn, Benjamin Wittes, Elishe Julian) to come up with Bombshell: Initial Thoughts on the Washington Post's Game-Changing Story.
The article starts out …
The Washington Post this afternoon published a stunning story reporting that President Trump disclosed highly-classified information to Russian Foreign Minister Sergei Lavrov and Ambassador Sergey Kislyak during their visit to the Oval Office last week.
After firing off rounds of innuendo from BuzzFeed, the New York Time, the Washington Post, and Reuters, the authors admit "the President did not 'leak' classified information in violation of law. He is allowed to do what he did."
In a very long-winded synopsis, the article discusses six points.
First, this is not a question of "leaking classified information" or breaking a criminal law.
Second, this is not a garden variety breach, and outrage over it is not partisan hypocrisy about protecting classified information.
Third, it is important to understand the nature of sources and methods information in order to fully understand the gravity of the breach.
Fourth, it really matters why Trump disclosed this information to Russian visitors.
Fifth, this may well be a violation of the President's oath of office.
Sixth, it matters hugely, at least from an atmospheric point of view, that the people in the room were Russian and one of them was Sergey Kislyak of all people.
Conjecture and Hype
Point number 1 is correct. So is point number 4.  The rest is conjecture and hype.
In regards to point number four, Trump may very well have decided it was in the US's best interest to cooperate with Russia. If so, I would agree wholeheartedly.
In points 2-6 the authors spew out hype about what Top Secret means and whether the president violated his oath of office.
Top Secret
I like this tidbit: "In general, a Top Secret classification is applied to information the unauthorized disclosure of which could be expected to cause exceptionally grave damage to national security…"
Does anyone believe that? I don't. Stuff is kept top secret for years to cover up lies, false flag events, support for corrupt regimes, illegal operations, and in general "cover my ass" kind of stuff that would be embarrassing but would constitute no real threat to national security.
Double Standard
The New York Times joins the BS parade with its take Trump Revealed Highly Classified Intelligence to Russia, in Break With Ally, Officials Say.
The revelation also opens Mr. Trump to criticism of a double standard. The president made Hillary Clinton's mishandling of classified information through her private email server central to his campaign, leading chants of "lock her up" at rallies. But there was never any indication that Mrs. Clinton exposed sensitive information from an ally or gave it to an adversary.
There is no "double standard". The president gets to decide what is classified and what isn't.
Does the NY Times presume everyone gets to decide for themselves?
What Did Trump Disclose?
The answer is "information about an Islamic State plot" of some sort.
Good grief. After all the above hyperventilation, I have a simple question: Why shouldn't we disclose to Russia pertinent facts regarding Islamic state plots?
Do we want to keep this information to ourselves as happened on numerous occasions in Europe? As happened more recently with the NSA developing and using loopholes in Microsoft code?
If the US has information on an alleged plot by ISIS we absolutely should disclose that fact to other governments unless we believe they may be involved or compromised.
Off the Deep End
Nancy Pelosi asks 'What do the Russians have on Donald Trump?'
In another clickbait article Harvard law professor Alan Dershowitz hypes 'This is the most serious charge ever made against a sitting president'
When you write bullsheet like that, expect to be mocked, not taken serious, at least by any rational person.
Nutting was expected. I replied to Baum …
Impeachment?! Over What?
Hopefully, Baum was joking and I failed to catch it.
For the record, I disagree withy Trump on NAFTA, free trade in general, the Wall, his immigration order, and numerous other things.
However, talking with Russia makes sense, warmongering with Russia over Syria doesn't.
Source: mishtalk.com
05.16.17-  Murdered DNC Staffer Seth Rich Was In Contact With Wikileaks Says Former DC Homicide Detective
It's been close to a year since Seth Rich, the 27 year old computer expert who worked for the DNC, was murdered – shot twice in the back without anything of value taken from him.  Rich was found alive and in shock before he bled out – his death ruled nothing more than a botched robbery.
Many believe Rich was a victim retaliation for being the source who provided Wikileaks with a trove of DNC emails. Rumors were fueled by the odd circumstances surrounding his death, the sudden retirement of D.C. Police Chief Cathy Lanier five weeks after the murder, and an email John Podesta sent to Hillary's inner circle about making an example of a suspected leaker.
In the aftermath of the shooting, the Rich family hired a private investigator – Rich Wheeler, a former D.C. homicide detective who says evidence on Seth Rich's laptop suggests he was in contact with WikiLeaks prior to his death. Of note, Wheeler does not have possession of the laptop in question – however he said specific information will be released on Tuesday (5/16).
Furthermore, Wheeler believes there has been a cover-up:
 "The police department nor the FBI have been forthcoming," said Wheeler. "They haven't been cooperating at all. I believe that the answer to solving his death lies on that computer, which I believe is either at the police department or either at the FBI. I have been told both."

When we asked Wheeler if his sources have told him there is information that links Rich to Wikileaks, he said, "Absolutely. Yeah. That's confirmed."

"I have a source inside the police department that has looked at me straight in the eye and said, 'Rod, we were told to stand down on this case and I can't share any information with you.' –Fox5
So a former D.C. homicide detective, hired by the Rich family, claims he was told directly by a source within D.C. police that they were told to stand down.
It also casts doubt on the Russian hacking narrative…
Furthermore, Wheeler said there's more to come:
 I don't think it comes from the chief's office, but I do believe there is a correlation between the mayor's office and the DNC and that is the information that will come out [Tuesday].
Assange
Let's not forget Julian Assange heavily implied that Seth Rich was a source, and Wikileaks offered a $130,000 reward for information leading to the murderer:
Tying together with Dr. Pie's narrative
Right before the election Dr. Steve Pieczenik – ex deputy Sec. of State under Kissinger – told the world that the Wikileaks releases were part of a 'counter-coup' in which elements within the US Intelligence community decided Hillary Clinton and the globalist interests she represented couldn't be allowed to reach the Oval Office. In response, US citizens – not Russia, gave the DNC / Podesta / Hillary emails to Wikileaks for a timed release schedule during the 2016 Presidential race.
How Wikileaks changed the course of history
When the Wikileaks were released, there was no table of contents or any other guide. Instead, these were raw – DKIM verified emails, which would take nothing short of a massive crowd-sourced effort to process and decipher. Within days however, dots were rapidly being connected across various message boards – mostly 4chan and Reddit's "The_Donald". New discoveries reached massive audiences through digital megaphones provided by social media giants Twitter and Facebook, and eventually made it into the mainstream.
The results of the online efforts were staggering, as the world witnessed revelations of "Pay for Play" by Clinton Foundation donors who funded ISIS, the DNC cheating against Bernie Sanders, MSM collusion with the Clinton campaign, Hillary's dreams of open borders, "unaware and compliant" citizens, #SpiritCooking, Wet Works, and evidence of Aliens and Zero Point Energy – (either that or a completely insane Edgar Mitchell (15052)).
Back to detective Wheeler and Seth Rich
If Seth Rich was in fact one of Wikileaks' sources, it's far less of a stretch to conclude that he was murdered. Moreover, what's left of the Russian hacking narrative is now – in my opinion, moot. More to come Tuesday, when this could get even more interesting.
 Source:zerohedge.com
All information used from other websites on X22 Report is used for educational/criticism and commentary purposes only.

Fair Use Notice: This video contains some copyrighted material whose use has not been authorized by the copyright owners. We believe that this not-for-profit, educational, and/or criticism or commentary use on the Web constitutes a fair use of the copyrighted material (as provided for in section 107 of the US Copyright Law. If you wish to use this copyrighted material for purposes that go beyond fair use, you must obtain permission from the copyright owner. Fair Use notwithstanding we will immediately comply with any copyright owner who wants their material removed or modified, wants us to link to their web site, or wants us to add their photo.

The "Fair Use" Provisions outlined in Title 17, Chapter 01 Article 107 of the US Copyright Law states the following:

Notwithstanding the provisions of sections 106 and 106A, the fair use of a copyrighted work, INCLUDING SUCH USE BY REPRODUCTION IN COPIES or phonorecords or BY ANY OTHER MEANS specified by that section, for purposes such as criticism, comment, news reporting, teaching (including multiple copies for classroom use), scholarship, or research, is NOT an infringement of copyright. In determining whether the use made of a work in any particular case is a fair use the factors to be considered shall include:

(1) the PURPOSE and CHARACTER of the use, including whether such use is of a commercial nature or is for NON-PROFIT educational purposes;
(2) the NATURE of the copyrighted work;
(3) the amount and substantiality of the portion used in relation to the copyrighted work as a whole; and
(4) THE EFFECT OF THE USE UPON THE POTENTIAL MARKET FOR OR VALUE OF THE COPYRIGHTED WORK.

The fact that a work is unpublished shall not itself bar a finding of fair use if such finding is made upon consideration of all the above factors.
Tags: banks, constitution, cyber attacks, DHS, economic collapse, finance, financial collapse, gold, police state, preppers, prepping, silver, stock market, war, wwIII