---
Send us your Sentinel Alert to Submit Sentinel Alert:
---
---
Scroll Down To See More News Alerts
02.25.17 –  Retired Green Beret Warns "There Are Destabilizing Forces At Work Here"
As of this writing a tremendous number of things are happening in North Korea and Russia.  Although these are not events that seem momentous, they are quite profound when taken into consideration with the grand scheme: the worldwide plot to form a state of global governance.  These behind-the-scenes maneuverings are not in the forefront of the news; however, they are having effects within the nations mentioned and influencing their current actions.
Almost a month ago, it was reported that one of the foremost militia commanders in the separatist-controlled Donbass area of Eastern Ukraine was assassinated via car bomb.  Then almost immediately afterward, just a few weeks later, the Chief of Staff of the Ukrainian Army of the Kiev government mysteriously died on duty of a "heart condition" although he was in his early fifties.  These "tit for tat" actions stimulated a new wave of fighting in the Eastern Provinces.
The truce between the separatists and Kiev government has been violated without ceasing, primarily by the Ukrainian military under the direction of the US-sponsored president of Ukraine, Petro Poroshenko.  At this time, there is an uneasy "stalemate" between the U.S. and Russia in a proxy war between the U.S-backed Kiev government and the Eastern Ukrainian separatists supported by Russia.
Next, we have North Korea, where Kim Jong Un is ramping up the bellicose rhetoric against the U.S.  Yes, we have heard it before, but this time it is a little different.  On Monday, 45-year-old Kim Jong Nam, the half-brother of North Korean dictator Kim Jong Il was assassinated in Malaysia.  Here is an excerpt of a report on it:
"North Korean dictator Kim Jong Un's half-brother was assassinated Monday in Malaysia, South Korean news agency Yonhap reported early Tuesday, citing a government source.  Kim Jong Nam was attacked by two unidentified women who stabbed him with "poisoned needles" at a Malaysian airport before fleeing, according to cable TV broadcaster TV Chosun."

Fox News World, 2/14/17
Sounds "cut and dry" but examine the simplicity of the method of assassination (overly simplistic), and it yet becomes more complicated, as reported in another article:
"The two female and four male suspects in the killing of Kim Jong-nam are hired assassins who did not know each other before they were brought together for the murder plot, a Malaysian security source has told the Telegraph.  The six suspects, most of whom are thought to be sleeper agents, were all living in Kuala Lumpur and were recruited and briefed for the hit by a secret agent point man or woman, the source, who did not want to be named, said.  Lawmakers in South Korea earlier cited their spy agency as saying it suspected two female North Korean agents had murdered Mr Kim. US government sources also said they believed North Korean assassins were responsible."

www.telegraph.co.uk  2/16/17
A very complex plot for North Korean agents, wouldn't you say?  It sounds pretty much "par for the course" for a Western intelligence agency, such as MI6 or the CIA.  The bio of the half-brother does not leave room for any "intentions" as reported by the US and South Koreans for the half-brother to try and displace Kim Jung Un.  The narrative is being "crafted" little by little in Western News Media sources, and take note of this excerpted report.  The article Navy fleet commanders: The next conflict hotspot is going to be in Korea, was released by Business Insider regarding developments with North Korea:
"SAN DIEGO, Calif. — Two top Navy fleet commanders said Tuesday that the next potential conflict hotspot would likely be in Korea. "If there's a fight tonight, it's probably going to happen on the Korean peninsula," said Vice Adm. Joseph Aucoin, commander of 7th Fleet, in a panel discussion at the AFCEA West 2017 conference." 
As the anti-ICBM missile systems are emplaced in South Korea and possibly Japan, the North Koreans have been test firing more submarine-launched ballistic missiles and have increased the war-rhetoric.  We view it from a "North Korea BS" perspective; however, it is a hotspot that is fostered by the globalists toward their own ends: a small piece in the puzzle but a potential flashpoint to trigger a world war.  North Korea may very well be the vehicle they use to initiate hostilities that ends the map of the world as it is now and places the ball in their court for global rule.
Finally, we have what has been occurring with Russian diplomats.  There is an excellent report by Stefan Stanford at All News Pipeline released on entitled Are Russian Diplomats Being Assassinated? Globalists Continue March Towards World War 3 As Russian Ambassador To The UN Mysteriously Dies In New York.
This report summarizes everything in astounding detail concerning the astonishing number of Russian Diplomats "buying the farm" since December of 2016.  There are no coincidences in "statecraft," specifically the business of assassinations and counter-intelligence operations that "mutate" into those lines…specifically referring to those sponsored by governments.  These deaths do not even include other "accidents," such as the death of Vladimir Putin's chauffer last year who many believe was killed as a warning to Putin by Obama.
As I have mentioned in previous articles, Sen. John McCain (R, AZ) is a major contributing factor to the chaos we're seeing in Ukraine and Russia.  Cool heads are prevailing right now, and we have a President who is determined to make inroads with Russia and reset the relations with all of the nations that the State Department has left in shambles.  Still, there are forces at work here whose destabilizing efforts may lead to a different reaction than hoped for.  As long as globalist oligarchs such as Soros and the Rothschilds are operating, we can bank on continued destabilization and the creation of hot spots in addition to the three outlined in this article.
Source: shtfplan.com
02.24.17 – Move Over Greece, Italy's Crisis Will Be Worse
Early last month, in a column on my hopes and fears for 2017, I fretted about fiscal chaos in Italy leading to default and bailouts.
Simply stated, I fear that Italy, along with certain other "Club Med" nations, has passed the point of no return in terms of big government, demographic decline, and societal dependency.
And this means that, sooner or later, the proverbial wheels are going to fall off the bus. And it might be sooner.
On Shaky Ground
I don't always agree with his policy recommendations, but I regularly read Desmond Lachman of the American Enterprise Institute because he is one of the best-informed people in Washington on the fiscal and economic mess in Europe.
And Italy, to be blunt, is in a mess.
Here's what Desmond just wrote about the country's economy.
 …while the euro could very well survive a Greek exit, it certainly could not survive in anything like its present form were Italy to have a full-blown economic and financial crisis that forced it to default on its public debt mountain. …Among the reasons that there should be greater concern about an Italian, rather than a Greek, economic crisis is that Italy has a very much larger economy than Greece. Being the third-largest economy in the eurozone, Italy's economy is around 10 times the size of that of Greece. Equally troubling is the fact that Italy has the world's third-largest sovereign bond market with public debt of more than $2.5 trillion. Much of this debt is held by Europe's shaky banking system, which heightens the risk that an Italian sovereign debt default could shake the global financial system to its core. …the country's economic performance since 2008 has been abysmal. Indeed, Italian living standards today are around 10 percent below where they were 10 years ago. Meanwhile, Italy's banking system has become highly troubled and its public sector debt as a share of gross domestic product (GDP) is now the second highest in the eurozone."
And here's some of what he wrote late last year.
 …today there would seem to be as many reasons for worrying about the Italian economy as there were for worrying about the Greek economy back in 2009. Like Greece then, Italy today checks all too many of the boxes for the making of a full-blown economic and financial crisis within the next year or two. …the Italian economy today is barely above its level in 1999 when the country adopted the Euro as its currency. Worse still, since the Great Global Economic Recession in 2008-2009, the Italian economy has experienced a triple-dip recession that has left its economy today some 7 percent below its pre-2008 crisis peak level and its unemployment rate stuck at over 11 percent. …deficiencies of its ossified labor market that contributes so importantly to the country's very poor productivity performance. As a result, since adopting the Euro in 1999, Italy's unit labor costs have increased by around 15 percentage points more than have those in Germany. …Italian banks now have around EUR 360 billion in non-performing loans, which amounts to a staggering 18 percent of their loan portfolio. If that were not bad enough, the Italian banks also hold unhealthily large amounts of Italian government debt, which now total more than 10 percent of their overall assets. …the country's public debt level has risen from 100 percent of GDP in 2008 to 133 percent of GDP at present."
The numbers shared by Lachman are downright miserable.
And he's not the only one pointing out that Italy's economy is in the toilet.
I shared numbers last year showing the pervasive stagnation in the country.
Falling Birthrates
So what's the Italian government doing to solve these problems? Is it slashing tax rates? Reducing the burden of government? Cutting back on red tape?
Of course not. The politicians are either making things worse or engaging in pointless distractions.
Speaking of which, I'm tempted to laugh at the Italian government's campaign to boost birthrates. Here's some of what's been reported by the New York Times.
 …a government effort to promote "Fertility Day" on Sept. 22, a campaign intended to encourage Italians to have more babies. …Italy has one of the lowest birthrates in the world… Italian families have been shrinking for decades. In 2015, 488,000 babies were born in Italy, the fewest since the country first unified in 1861. It has one of the lowest birthrates in Europe, with 1.37 children per woman, compared with a European average of 1.6, according to Eurostat figures."
By the way, I actually commend the government for recognizing that falling birthrates are a problem.
Not because women should feel obliged to have kids if that's not what they want. But rather because Italy has a massive tax-and-transfer welfare state that is predicated on an ever-expending population of workers (i.e., taxpayers) to finance benefits to retirees.
But old people are living longer and low birthrates mean that there won't be enough taxpayers to prop up the Ponzi Scheme of big government.
But while the government deserves kudos for acknowledging a problem, it deserves mockery for thinking empty slogans will make a difference.
More of the Same
Moreover, there's also a problem in that Italian voters have been so conditioned to expect handouts that they think the answer to the problem is even more government!
 The problem is not a lack of desire to have children, critics of the campaign say, but rather the lack of meaningful support provided by the government and many employers. …"I still feel very offended," said Vittoria Iacovella, 37, a journalist and mother of two girls, ages 10 and 8. "The government encourages us to have babies, and then the main welfare system in Italy is still the grandparents." …Italy's government has tried to help families with a so-called baby bonus of 80 to 160 euros, or about $90 to $180, for low- and middle-income households, and it has approved labor laws giving more flexibility on parental leave."
Ms. Iacovella is crazy for thinking that more taxes, more spending, more regulation, and more mandates will make things better.
Heck, even leftists are now admitting such laws undermine employment and specifically hurt women by making them less attractive to employers.
Meanwhile, the Italian government is taking lots of other dumb steps. Including, as reported by the Telegraph, creating a new entitlement for teenagers.
 Italian school leavers may face the dismal prospect of 40 per cent youth unemployment, but at least they have one thing to look forward to – a €500 "culture bonus", courtesy of the government. From next month, every 18-year-old will be entitled to claim the money and spend it on culturally enriching pursuits such as going to theatres, concerts and museums, visiting archaeological sites, and buying books. The scheme, which starts on Sept 15, will benefit 575,000 teenagers, at a cost to the government of €290 million (£250 million)."
By the way, is anyone shocked to learn that Italian teenagers look forward to these handouts?
 …it has been welcomed by 18-year-olds, who face a difficult economic landscape when they leave school – high unemployment, a lack of secure, long-term contracts and an economy that has performed dismally for a decade. "Of course we're happy…," said Angelica Magazzino, a teenager from the southern region of Puglia who turns 18 in November."
If you read the entire story, you'll learn that the government justifies this new entitlement by saying it will fight terrorism. I don't know if that's more crazy or less crazy than the American leftists who blame terrorism on climate change or inequality.
Say What?
Last but not least, CNN is reporting that the government is also enabling other forms of Italian "culture."
 Italy's highest court has ruled that masturbation in public is not a crime, as long as it is not conducted in the presence of minors."
 The decision came down from the Italian Supreme Court…in the case of a 69-year-old man…The man was convicted in May 2015 after he performed the act in front of students on the University of Catania campus, according to documents filed with Supreme Court. The man was sentenced to three months in prison and ordered to pay a fine of €3,200 (around $3,600). However, the defendant's lawyer appealed the case to the country's highest court, which ruled on the side of the accused in June but only just made its decision public. Judges ruled that public masturbation out of the presence of minors is no longer deemed criminal conduct due to a change in the law last year, which decriminalized the act."
Great. I'm looking forward to my next trip to Italy. Though I guess it's nice to see Italian seniors are staying active in their communities.
More seriously, this is why I'm sympathetic to Italians that are either privately dodging or publicly revolting when you have a government this profligate and senseless.
P.S. Amazingly, some leftists think the United States should have a bigger government and be more like Italy.
 Source:  fee.org
02.23.17 – O'Keefe Drops "Bombshell" Undercover Footage From Within CNN
As promised two days ago on the Sean Hannity radio show, James O'Keefe and his team at Project Veritas just released covertly captured, previously unheard audio footage from within the CNN newsroom.  But unlike his usual undercover sting operations, this footage was allegedly sourced from a CNN insider who apparently grew frustrated with the perpetually biased reporting of the "fake news" media outlet.
Per O'Keefe's website, today's release includes 119 hours of secretly recorded raw footage from an inside source at CNN with another 100 hours of footage still to be released.  Given the volume of footage to be released, O'Keefe is asking for help to transcribe and investigate the recordings and encourages users to provide tips on interesting discoveries here.
 The audio was secretly recorded in 2009 by an anonymous source inside CNN's Atlanta headquarters who we are identifying as Miss X. The tapes contain soundbites from current and previous CNN employees Joe Sterling, Arthur Brice, and Nicky Robertson, as well as numerous others. 

In order to expose media malfeasance within CNN, we need your help transcribing, investigating and connecting the dots on these 200+ hours of audio. Leave comments, upload transcriptions or contact us with your tips below.
 Among other things, the audio recordings reveal CNN attempting to misrepresent polling data…
  Miss X: "I read a CNN poll that was taken on June 26 and 28th, and I know that the hearing for the case, the fire fighters case was on the 29th, so the poll was done right before it, and those are still the poll results we're reporting, so I asked someone in DC who does the poll results about why we hadn't updated it, and said there were a few newer polls from last week and the week before and there's CBS news polls and a Rasmussen poll, and he said we don't use Rasmussen, and I said does CNN plan to do another poll if we're only using that. He said we're not going to be doing another poll, those are the results we'll be using. So I don't see how that's reporting all sides because that poll said hold for release until Friday the 10th."

Arthur Brice: "Who did you talk with?"

Miss X: "Paul [CNN's Deputy Political Director Paul Steinhauser]."

Arthur Brice: "Yeah, he's your director. Yeah, he's pretty high up in the food chain. I agree. I think it's dishonest to use outdated information if new information shows something that is in variance with what you're reporting. It's just, it's dishonest."
…and again with polling data related to Supreme Court Justice Sotomayor:
  Miss X: "This wasn't released until two weeks after. So can we say a newly released poll?"

Joe Sterling: "No, you can't say that. You can't say that at all. This isn't a newly released."

Miss X: "But it says newly released on Friday."

Joe Sterling: "I know, how did we write about this? Did we write a wire about this? "I don't think we stand to change how people think of her [Sotomayor]. Geez, I mean if someone picked this up it's not going to change – it's not going to change anybody's opinion."
And, admitting what we all knew already, here is CNN's former News Desk Editor, Joe Sterling, revealing his clear bias for Obama.
Joe Sterling, once News Desk Editor @CNN admits he has a clear bias in favor of @POTUS44. Doesn't #CNN claim to be "most trusted?" #CNNLeaks
With that brief intro, here is O'Keefe's latest work.

The full 119 hours of audio footage will eventually be available here, but for now PV's servers seem to be having a difficult time keeping up with the overwhelming demand from supporters eager to hear first-hand accounts of CNN's bias.
Meanwhile, noting that this is just the "beginning of the end for the MSM", O'Keefe also announced that he will pay a $10,000 award to anyone who comes forward with legally obtained audio or video footage exposing media malfeasance.
If you are an employee in a newsroom and hear or see something unethical, record it. If it's good enough I'll pay you $10k. #cnnleaks
I want to start exposing the media and their flaws. This is the beginning of the end for the MSM. And it starts today. @CNN
Have video inside a newsroom? I will go to jail to protect your name. We will defend you. Come to me. Come to us. I will protect you.
And apparently President Trump has now weighed in on O'Keefe's latest project.
Source: zerohedge.com
02.23.17 –  How Tennessee Could Be About To Start A Constitutional Crisis
The State Senate of Tennessee has laid the legislative groundwork for something that hasn't been done in the United States of America since the Constitutional Convention of 1787 in Philadelphia.  With a vote of 27-3, the Tennessee Senate has voted to call a "convention of the states" in order to draft and pass an amendment to the Constitution that would require balanced budgets to be passed every year.
 For those who are little fuzzy on their high school U.S. history knowledge, the Tennessean explains that the U.S. Constitution can be amended in two ways.  The first would require a two-thirds majority vote in both chambers of Congress, an unlikely outcome in today's hyper-partisan political arena.  The second, on the other hand, requires that two-thirds of the states (34 in total) pass a resolution calling for a Constitutional Convention.
 There are two ways to propose amendments to the Constitution. The first and more traditional method is through a two-thirds majority vote in both the House of Representatives and the Senate. Then the amendment is sent to the state legislatures, where it needs ratification by three-fourths or 38 states in order to become law. Nearly all 27 amendments have followed this path.

But the Constitution also provides a second, more populist path to amending the document. If two-thirds or 34 states pass a resolution calling for a Constitutional Convention, delegates from all 50 states will meet to draft an amendment. This is what the Tennessee lawmakers are calling for in their resolution.
Of course, calls for a convention to pass a balanced budget amendment started in the 1970s and have failed each time.  That said, with Republicans now controlling 32 state legislatures, this latest effort initiated by Tennessee seems to have the best chance of succeeding so far. 
And while there have been close calls for Constitutional Conventions before, each time Congress has acted preemptively to stave off the need for a convention. In 1911, for example, 28 states of the required 32 passed a resolution calling for direct election of Senators before Congress intervened and drafted the Seventeenth Amendment instead.
But, as the Tennessean notes, the problem with amending the Constitution through a convention is that once the convention is convened anything can happen.  For example, the last time the states gathered for a convention in 1787 they ended up tossing out the Articles of Confederation and forming an entirely new government based on the current Constitution.
 The last time the states gathered to amend a governing document on the scale the resolution calls for, the delegates threw out America's first basis of government and replaced it with the Constitutional system used today.

"They were supposed to meet to make amendments to the Articles of Confederation but ended up with a whole new form of government," said Nathan Griffith, an associate professor of political science at Belmont University. "Not just a new constitution, but a whole new form of government."
If enough states pass a similar resolution, then a planning convention could meet as early as this upcoming July, and by November the first Article V Convention in history could be called by Congress.
Meanwhile, as we noted earlier today, President Trump offered his own warning on America's national debt this morning saying that "[spending] was out of control," as officials gathered to discuss the budget, adding that there is "enormous work to do on the national debt."
 There is a "moral duty" to taxpayers, President Trump says at White House budget lunch, "we must do a lot more with less."

"Our budget is absolutely out of control" he added, and in the future "will reflect our priorities."

The hiring freeze for non-essential workers will remain.

"We have enormous work to do on the national debt"

There will be "no more wasted money, we will spend in a careful way."
Of course, we're not really sure what all the fuss is about…only $10 trillion has been added to the national debt over the past 8 years, which, when you think about it, is a very manageable $31,000 per man, woman and child.
And balancing the budget 5 years out of 50 is pretty good, right?
Source: zerohedge.com
02.22.17 –  Can Americans Really Depend On Social Security?
In 1935 the government passed Social Security into law setting up a government managed retirement plan for the majority of US workers. To fund the plan, they passed the Federal Insurance Contribution Act (FICA). The law mandates that employers withhold a portion of the worker's salary (contribution) and requires the employer to match the contribution.
It was sold to the public as a form of annuity, with each worker's contributions and benefits based on their income. While Social Security has features similar to an annuity (paying lifetime benefits), in many ways it is different.
In 1960 the Supreme Court (Flemming v. Nestor) ruled, "that no one has an accrued property right to benefits from Social Security." Contributions are now taxes with an indirect correlation to benefits.
An annuity with a private insurance company is a legally binding contract. The insurance company must honor the agreement or risk being sued for breach of contract.
With Social Security the government is the insurer holding all the power.
Social Security is nothing more than a government promise that can be unilaterally modified or broken.
The government has made many modifications since 1935.
There is a "Social Security Trust Fund" which many feel has been raided. While there may be a fund, allegedly $2.6 trillion, it consists of Treasury IOU's. It was great for the government when the amount of social security taxes collected exceeded benefits being paid. Today baby boomers are retiring at a rate of 10,000 per day and benefits paid exceed current taxes. The government must borrow to make up the difference – in addition to the normal government borrowing to support their deficit spending.
US government debt roughly doubled from $10 to $20 trillion from 2009-2016. Debt will continue to escalate unless there are radical changes in taxes and spending. Raising taxes and cutting spending is politically unpopular, creating class warfare, while politicians pander to their political base.
Young people today must understand what Social Security is, and is not. A portion of their salary will be taxed, with a government promise to pay them benefits for their lifetime once they retire. How much those benefits will be, when they can retire, and the correlation of benefits to their personal wealth is undetermined.
Workers will probably get something; however it's likely the promises will be modified many times. The government will jerk them around like The Wild Mouse roller coaster before the end of their ride. Benefits are nothing more than political promises.
The negotiation games are beginning
Yahoo Finance published the First Draft of the GOP's Plan to Overhaul Social Security. Rep. Sam Johnson (R-TX), Chair of the House Ways and Means Subcommittee on Social Security, drafted the plan and has now introduced it as a bill.
A second group chimed in:
"…Rep. Tom Cole of Oklahoma, an influential House Republican, and Rep. John Delaney of Maryland, a moderate Democrat, renewed their support for a plan to create a bipartisan, 13-member panel to recommend to Congress ways to prevent the massive trust fund from running out of money …"
Remember a camel is a horse designed by a committee. A bipartisan committee of politicians produces a camel the size of a giant blow up balloon in a Macy's parade! It is jam packed with compromises to satisfy everyone to the point it is unlikely to come close to the original objective.
Here are highlights in the current bill in the House of Representatives:
Gradually increasing the retirement age for full benefits from age 67 to 69.
Adopting a less generous Cost of Living Adjustment (COLA) Formula.
Means testing, reducing benefit payments to wealthier retirees.
Eliminate COLA increases for wealthier individuals.
Increase the minimum benefit for lower-income workers.
The article summarizes, "Johnson's proposal … is little more than an opening bid in a much larger conversation about entitlement reform in the coming year."
The government is broke and eventually changes will be made. Everyone will bear some burden of "entitlement reform." Young workers will see higher taxes. Increasing benefits for low-income workers, benefits based on means testing and eliminating COLA adjustments for wealthier individuals is turning Social Security into a wealth redistribution program.
Inflation – the elephant in the room!
The impact of COLA changes will have major negative effects on baby boomers and retirees.
Prior to the high inflation Carter presidency, retirees had a fixed monthly check. Congress occasionally voted to increase benefits. The elderly cheered – the benevolent Uncle Sam gave them a raise. Historically the increases did not come close to keeping up with inflation.
Future inflation risk cannot be accurately calculated. During the five-year period, 1977-1981, accumulated inflation amounted to 59.9%. If a person retired on 1/1/77 and received $1,000 per month, five years later they would need $1,599 per month to have the same buying power.
Will we experience high inflation in the future? The way the government is creating trillions out of thin air, there is a high probability. No worker, young or old wants to bet his or her future financial survival on low inflation for the next several decades. Inflation is the government's friend and stated goal. They want inflation to sneak up on seniors, unlike the double-digit increases like the Carter years.
The deck is stacked. Younger workers will find their taxes increasing and their retirement date pushed back, while seniors and savers will see reduction in the buying power of their benefits.
What's missing from the plan?
If the Hon. Representative Sam Johnson (R-TX) wants his bill passed he needs more public appeal. How about a provision calling for immediate elimination of all pensions for current and former federal elected officials? Congress should be on Social Security, just like the rest of us. The public is fed up with the elites. Put all elected officials under Social Security and Medicare like most Americans and then address changes.
While it is fun to dream, putting congress on the same plan with everyone else is for our emotional benefit. The system is broken and expecting politicians to fix it is foolhardy.
What should all workers do now?
 1. Recognize Social Security for what it is and work around it. Social Security was designed to provide supplemental income for retirees based on their income. It's now another typical government "entitlement program" redistributing the wealth of the nation. The working class may end up with something; however the benefits will have little correlation to your contributions.

2. Maximize your savings, particularly your 401(k). Workers cannot depend on Social Security to protect their lifestyle. The proposed changes are designed to punish savers; the wealthier you become the more your benefits will be reduced. Workers will have to go head on into the incoming tide and move forward. Maximize your savings in 401(k) type accounts – particularly if you have some sort of employer matching. You have the benefit of reducing your current taxable income and accumulating wealth on a tax-deferred basis.

3. Invest your 401(k) wisely. Having your investment income tax deferred is a good benefit but only if you grow your wealth. Don't just make contributions and ignore where it is invested. If you need professional help to guide you, it is money well spent.

4. Increase your inflation hedge. The most buying power a retiree will have will be their first monthly check. By design, the buying power of each additional monthly check will decrease. For the "wealthy" the process will be faster. In addition to maxing out your 401(k), continue to regularly buy gold. Only Gold provides historical gold prices. On 1/1/77 the gold price was priced at $133.77/oz. On 12/31/81 the price rose to $400/oz. During the Carter years gold almost tripled in value, appreciating well ahead of the inflation rate. Buy and accumulate well past your normal retirement age. Your social security check will not keep up with inflation. Eventually retirees will have to sell small amounts to make up the difference to pay the bills.

5. Think before deciding to defer benefits. The government offers higher benefits to those who defer taking them when they are eligible. Making the wrong decision could cost thousands of dollars. The decision about when to draw benefits is different for each individual. Not only do you need to "run the numbers", realize you are making a bet with the government on how long you will live. How much do you trust the government not to change things?

6. Can Americans really depend on Social Security? It depends on your definition of depend! Retirees need "income certainty" – having enough money to pay the bills regardless of what happens in the markets, inflation increases or any other unexpected economic changes – without having to worry. Should means testing and reduced COLA adjustments become part of the revision, income certainty will be replaced with worry. Retirees can depend on the government to send them something every month, but they cannot depend on it to continue to pay all the bills it may have covered in the past.
 A government big enough to give you everything you want, is strong enough to take everything you have. – Thomas Jefferson
Source:  milleronthemoney.com
02.22.17 –  Virtually Everyone Agrees That Current Stock Market Valuations Are Not Sustainable And That A Great Crash Is Coming
Current stock market valuations are not sustainable.  If there is one thing that I want you to remember from this article, it is that cold, hard fact.  In 1929, 2000 and 2008, stock prices soared to absolutely absurd levels just before horrible stock market crashes.  What goes up must eventually come down, and the stock market bubble of today will be no exception.  In fact, virtually everyone in the financial community acknowledges that stock prices are irrationally high right now.
Some are suggesting that there is still time to jump in and make money before the crash comes, while others are recommending a much more cautious approach.  But what almost everyone agrees on is the fact that stocks cannot go up like this forever.
On Tuesday, the Dow, the S&P 500 and the Nasdaq all set brand new record highs once again.  Overall, U.S. stocks are now up more than 10 percent since the election, and this is probably the greatest post-election stock market rally in our entire history.
But stocks were already tremendously overvalued before the election, and at this point stock prices have reached a level of ridiculousness only matched a couple of times before in the past 100 years.
Only the most extreme optimists will try to tell you that stock prices can stay this disconnected from economic reality indefinitely.  We are in the midst of one of the most outrageous stock market bubbles of all time, and as MarketWatch has noted, all stock market bubbles eventually burst…
The U.S. stock market at this level reflects a combination of great demand, great complacency, and great greed. Stocks are clearly in a bubble, and like all bubbles, this one is about to burst.
If corporations were making tremendous amounts of money, rapidly rising stock prices would make logical sense.
But that is not the case at all.  Corporate earnings for the fourth quarter of 2016 were actually quite dismal, and this disconnect between Wall Street and economic reality is starting to really bug financial analysts such as Brian Sozzi…
The S&P 500 has gone 89 straight sessions without a 1% decline. Considering that Corporate America didn't exactly light up on the top and bottom lines during the fourth quarter, such a streak is rather troublesome. Granted, the stock market is a forward-looking mechanism that appears to be trading on hopes that Trump's unannounced stimulus and tax plans will be lifting economic growth in 2018. Even so, the inability of investors to at least acknowledge persistent struggles among companies and ongoing chaos in Washington is starting to become disturbing.
It is a basic fact of economics that stock prices should accurately reflect current and future earnings.
So if corporate earnings are at the same level they were at in 2011, why has the S&P 500 risen by 87 percent since then?  The following comes from Wolf Richter…
The S&P 500 stock index edged up to an all-time high of 2,351 on Friday. Total market capitalization of the companies in the index exceeds $20 trillion. That's 106% of US GDP, for just 500 companies! At the end of 2011, the S&P 500 index was at 1,257. Over the five-plus years since then, it has ballooned by 87%!

These are superlative numbers, and you'd expect superlative earnings performance from these companies. Turns out, reality is not that cooperative. Instead, net income of the S&P 500 companies is now back where it first had been at the end of 2011.
The cyclically adjusted price-to-earnings ratio was originally created by author Robert Shiller, and it is widely regarded as one of the best measures of the true value of stocks in existence.  According to the Guardian, there have only been two times in our entire history when this ratio has been higher.  One was just before the stock market crash of 1929, and the other was just before the bursting of the dotcom bubble…
Traditionally, one of the best yardsticks for whether shares are over-valued or under-valued has been the cyclically adjusted price earnings ratio constructed by the economist Robert Shiller. This ratio is currently at about 29 and has only twice been higher: in 1929 ahead of the Wall Street Crash, and in the last frantic months of the dotcom bubble of the late 1990s.
We can definitely wish for the current euphoria on Wall Street to last for as long as possible, but let there be absolutely no doubt that it is going to end at some point.
It would take a market decline of 40 or 50 percent to get the cyclically adjusted price-to-earnings ratio back to a level that makes economic sense.  Let us hope that the market does not make such a violent move very rapidly, because that would likely be absolutely crippling for our financial system.
Markets tend to go down a lot faster than they go up, and every other major stock market bubble in U.S. history has ended very badly.
And this bubble is definitely overdue to burst.  The bull market that led up to the great crash of 1929 lasted for 2002 days, and this week the current bull market will finally exceed that record.
Trying to pick a specific date for a market crash is typically a fruitless exercise, but market watchers are becoming very concerned about some of the signs that we are now seeing.  For example, the "CCT indicator" is currently showing "the lowest bullish energy ever"…
The first factor is the CCT indicator. This indicator is a proprietary internal measurement of the general volume of the New York Stock Exchange. The measurements take into account the institutional participation as a ratio of the overall volume. Also measured is the duration of heavy block buying in rallies.

The sum total of all the measurements now shows the lowest bullish energy ever — even lower than in 2008, just before the market crash.
In other words, this current bull market appears to be completely and utterly exhausted.
The laws of economics cannot be defied forever.  Traditionally, commodity prices and stock prices have tended to move in unison.  And this makes perfect sense, because commodity prices tend to rise when economic conditions are good, and in such an environment stock prices are typically going to move up.
But now we are in a time when commodity prices and stock prices have become completely disconnected.  In order to bring this ratio back into line, the S&P 500 would need to fall by about 1000 points, and such a decline would cause a level of financial chaos that would be absolutely unprecedented.
This current stock market bubble has lasted much longer than many of the experts originally anticipated, but that just means that the eventual crash will likely be that much more devastating.
In the end, you don't need to know all of the technical details in this article.
But what you do need to know is that current stock market valuations are not sustainable and that a great crash is coming.
It may not happen next week or next month, but it is going to happen.  And when it does happen, it is likely to make what happened in 2008 look like a Sunday picnic.
Source: theeconomiccollapseblog.com
02.21.17 – The Billionaire-Owned, Corporate Media Is As Worthless As Ever
Rather than focus its journalistic energy on chronicling the economic insecurity plaguing so many of our fellow Americans, the billionaire-owned corporate media appears entirely obsessed with chattering endlessly about Russia conspiracy theories and domestic coup plots. Instead of looking in the mirror and admitting how its countless errors and propaganda pushing led to multiple humanitarian disasters over the last couple of decades, the oligarch-owned mainstream media insist upon a narrative that Trump the individual is at the root of our problems, as opposed to an entrenched executive branch with excessive power.
This is because the mainstream media isn't actually concerned about our cancerous, systemic metastasizing statism, it merely doesn't want Trump in charge of it. I, on the other hand, want to dismantle that unconstitutional state entirely and transfer power to the American people where it belongs — self-government. Does anyone actually think for a second the media would be this adversarial if Hillary won?
This weekend's article by Nicholas Kristof in The New York Times represents a sort of coming out party for the billionaire-owned, corporate media. More than anything else I've seen, it perfectly demonstrates how completely disconnected and worthless billionaire-owned media truly is. It's the height of absurdity that these media organizations, owned by billionaires or giant corporate conglomerates, are playing the victim in all this when they've been the world's primary abuser for the entire 21st century.
You can be a staunch defender of the free press and the 1st Amendment, and at the same time point out that the billionaire-owned media has failed us. This is my position, and Trump's election hasn't changed that. The handful of corporations and billionaires who control the mainstream press does not = "the press." They (and the deep state) are currently trying to convince the public that they're the only ones standing between you and fascism. This is complete stupidity, and if we fall for it, we will get what we deserve.
The billionaire-owned media is far more complicit in creating the imperial Presidency than Donald Trump, he merely figured out a way to get control of it. Now these same charlatans are pretending to put out a fire they themselves started, and want to be celebrated for being so courageous. This is eerily similar to the scam pulled off by the Federal Reserve during and after the financial crisis.
With that introduction out of the way, let's take a look at a few excerpts from the mind-bogglingly explicit piece in this past weekend's New York Times, titled brazenly enough, How Can We Get Rid of Trump?
 Maybe things will settle down. But what is striking about Trump is not just the dysfunction of his administration but also the — vigorously denied — allegations that Trump's team may have cooperated with Vladimir Putin to steal the election. What's also different is the broad concern that Trump is both: A) unfit for office, and B) dangerously unstable. One pro-American leader in a foreign country called me up the other day and skipped the preliminaries, starting with: "What the [expletive] is wrong with your country?"

 So let's investigate: Is there any way out?

 Trump still has significant political support, so the obstacles are gargantuan. But the cleanest and quickest way to remove a president involves Section 4 of the 25th Amendment and has never been attempted. It provides that the cabinet can, by a simple majority vote, strip the president of his powers and immediately hand power to the vice president. The catch is that the ousted president can object, and in that case Congress must approve the ouster by a two-thirds vote in each chamber, or the president regains office.
It's never been attempted in the history of the country, but let's promote it anyway!
 The 25th Amendment route is to be used when a president is "unable" to carry out his duties. I asked Laurence Tribe, the Harvard professor of constitutional law, whether that could mean not just physical incapacity, but also mental instability. Or, say, the taint of having secretly colluded with Russia to steal an election?

 Tribe said that he believed Section 4 could be used in such a situation.

 "In the unlikely event that Pence and a majority of Trump's bizarre cabinet were to grow the spine needed to do the right thing with the process set up by that provision, we would surely be in a situation where a very large majority of the public, including a very substantial percentage of Trump's supporters, would back if not insist upon such a move," Tribe said. "In that circumstance, I can't imagine Trump and his lawyers succeeding in getting the federal courts to interfere."
As a reminder, here's an example of the intellectual and ethical wasteland known as Laurene Tribe's mind as of late:
 The better known route is impeachment. But for now it's hard to imagine a majority of the House voting to impeach, and even less conceivable that two-thirds of the Senate would vote to convict so that Trump would be removed. Moreover, impeachment and trial in the Senate would drag on for months, paralyzing America and leaving Trump in office with his finger on the nuclear trigger.
In Kristof's mind, a major downside to pursuing impeachment is that it won't get rid of Trump fast enough. Is this really a paper the public can remotely trust to report on the country's problems in a fair manner?
Now here's where it starts to get simply comical. Kristoff writes:
 Some people believe that the 2018 midterm elections will be so catastrophic for the G.O.P. that everyone will be ready to get rid of him. I'm skeptical. In the Senate, the map is disastrous for Democrats in 2018: The Republicans will be defending only eight Senate seats, while Democrats will in effect be defending 25.

 So while Democrats can gnash their teeth, it'll be up to Republicans to decide whether to force Trump out. And that won't happen unless they see him as ruining their party as well as the nation.
Perhaps instead of "gnashing their teeth," Democrats could come up with a coherent platform that doesn't revolve around worshiping Wall Street.
Finally, here's how Kristoff ends his pathetic plea for overthrowing Trump.
 And what does it say about a presidency that, just one month into it, we're already discussing whether it can be ended early?
No Nicholas, "we" aren't already discussing it. You are. You and your media peers. Which brings me to the most infuriating aspect of what is happening in American discourse today. What is someone like me, who dislikes Trump, but dislikes the corporate media even more, supposed to do?
This is the uncomfortable position I find myself in today, and if I'm there, millions of others are there as well. Trump understands this, which is why he continues his unrelenting attacks on elements of the corporate press. Personally, my dislike of Trump would be far more acute if not for my total disdain for the billionaire-owned media. Journalists are supposed to be adversarial toward power generally, not pick and choose which powerful figures to challenge based on political ideology. The corporate media has clearly failed the country, thus Trump is being politically savvy by picking a fight with it. As I noted last week on Twitter:
I've said this forever.
If Trump targets elitist institutions, he will win.
If he targets average people, he will lose.
Not complicated.
Once again, the corporate media is proving its worthlessness by making everything about a man, as opposed to the systemic disaster that is the oligarch-controlled society we live in. The current President isn't charismatic enough, and doesn't espouse the right platitudes when he bombs Muslim women and children. That's the media's red line apparently. If it sounds like I'm against everything, there's a reason. Our culture is deranged and corporate media deserves a lot of the blame.
Finally, here's an article published by Forbes last year to get you up to speed on what we're up against: These 15 Billionaires Own America's News Media Companies.
Billionaires don't buy media outlets to make money, they already have that. They buy them to manipulate public opinion.
Source libertyblitzkrieg.com
02.20.17 – The Unthinkable Just Happened in Spain
Untouchable. Inviolable. Immunity. Impunity. These are the sort of words and expressions that are often associated with senior central bankers, who are, by law, able to operate more or less above the law of the jurisdictions in which they operate.
Rarely heard in association with senior central bankers are words or expressions like "accused", "charged" or "under investigation." But in Spain this week a court broke with that tradition, in emphatic style.
As part of the epic, multi-year criminal investigation into the doomed IPO of Spain's frankenbank Bankia – which had been assembled from the festering corpses of seven already defunct saving banks – Spain's national court called to testify six current and former directors of the Bank of Spain, including its former governor, Miguel Ángel Fernández Ordóñez, and its former deputy governor (and current head of the Bank of International Settlements' Financial Stability Institute), Fernando Restoy. It also summoned for questioning Julio Segura, the former president of Spain's financial markets regulator, the CNMV (the Spanish equivalent of the SEC in the US).
The six central bankers and one financial regulator stand accused of authorizing the public launch of Bankia in 2011 despite repeated warnings from the Bank of Spain's own team of inspectors that the banking group was "unviable."
Though they have so far only been called to testify, the evidence against the seven former public "servants" looks pretty conclusive. Testifying against them are two of Banco de España's own inspectors who have spent the last two years investigating Bankia's collapse on behalf of the trial's presiding judge, Fernando Andreu. There are also four emails from the Bank of Spain's inspector in charge of overseeing Bankia's IPO, José Antonio Casaus, to the assistant director general of supervision at the Bank of Spain, Pedro Comín, that very clearly express concerns about the bank's "serious and growing" profitability, liquidity, and solvency issues.
here are four brief excerpts:
[April 8, 2011] "Bankia is unviable, both economically and financially. In the end, the FROB [Spain's state-owned Fund for Orderly Bank Restructuring] will have to convert its debt into shares for the BFA [Spain's state-owned banking group] and refund holders of Bankia's subordinate bonds and "preferentes" shares. […] Find a buyer for the group."
[April 14,2011] "This is not working, it's getting worse. […] Bankia's capacity to generate resources is deteriorating."
[May 10, 2011, uppercase used by Causus for emphasis] "The endogenous solution put forward by Bankia — a public listing with a double banking structure without the necessary structural changes — WILL NOT WORK AND WILL HAVE A DEVASTATING IMPACT ON TAXPAYERS."
[May 16, 2011, 2 months before the IPO] "The (bank's) board is highly politicized and unprofessional. It still has the same directors that led the former entities to need public assistance: [they are] discredited in the eyes of the markets."
As the court's edict reads, the contents of the emails unequivocally demonstrate that the Bank of Spain's management was perfectly aware of the "inviability of the group" as well as "the fabricated financial results it had presented." Yet, together with the CNMV, it lent its blessing to those results, knowing full well they bore no relation to reality .
Featured in the IPO prospectus, those results were crucial in luring 360,000 credulous investors into buying shares in the soon-to-be-bankrupt bank, not to mention the 238,000 people who bought "preferentes" shares or other forms of high-risk subordinate debt instruments being peddled by Bankia's sales teams as "perfectly safe investments." Most have since been refunded by Spanish taxpayers.
The IPO prospectus was also signed off on by Bankia's auditor, Deloitte, whose Spanish representatives are also warming the defendants' bench. Deloitte was not just the bank's auditor, it was also the consultant responsible for formulating its accounts. As El Mundo put it, first Deloitte built Bankia's balances, then it audited them, in complete contravention of the basic concept of auditor independence [read: Deloitte About to Pay for its Spanish Sins?].
Given this deeply compromising, not to say illegal, set-up, it's hardly any surprise that Deloitte was happy to confirm in Bankia's IPO prospectus that the newly born frankenbank was in sound financial health, having made a handsome profit of €300 million just before its public launch. It was a blatant lie: in reality Bankia was bleeding losses from every orifice.
Now, just about everybody who played a role in this momentous deception, with the exception of the government itself, is standing trial. That includes 65 former members of Bankia's management team including its former President and ex-chief of the IMF, Rodrigo Rato, who faces charges of money laundering, tax fraud, and embezzlement.
In his testimony to the court almost exactly two years ago, Rato argued (quite rightly) that the blame for Bankia's collapse should be much more evenly spread out. Bankia's public launch "was not a whimsical decision" taken by its chief executives, he said, but was the inevitable result of regulatory changes at the beginning of 2011. According to Rato, the CNMV even played an active role in drawing up the bank's lie-infested IPO brochure.
Now, two years later, some of Spain's most senior central bankers and financial regulators find themselves in the rare position of having to explain and defend the actions and decisions they took that helped pave the way to the biggest bank bailout in Spanish history. It will be one of the first times that senior members of the global central banking complex have had to face trial for the consequences of their actions.
That's not to say that justice will prevail. Spain's legal system is notoriously slow, especially when it's convenient, and heavily politicized. There's also the possibility that the ECB may intervene as it did in Slovenia's investigation of its central bank's alleged misuse of bailout funds. The last Spanish judge that dared to take on the financial elite, Elpidio Silva, sent Caja Madrid's CEO Miguel Blesa to jail — not once, but twice – and was barred from the bench for 17 years. As such, the presiding judge of the current case, Fernando Andreu, would do well to tread carefully; he risks stepping on some very important toes.
Source: wolfstreet.com
02.19.17 – The Left-Right Deep State Is One In The Same: "The Goal Is The Enslavement And Complete Control Of All Of Mankind"
In past articles the fact of a long struggle was mentioned and how it ties in with the current first year of the President's administration.  The struggle is not merely to overcome the executive actions and orders of Obama.  The true battle is to remove the Marxists from bureaucratic fiefs established by Obama for carryover into the current administration and to deflect and negate their attacks and the attacks of others.
The circuit court in San Francisco and the Department of Justice have been waging a seesaw-type of battle over the executive order signed by the President.  The order's intent is to stem the illegal aliens and foreigners entering the U.S. from Middle Eastern nations either openly hostile to or providing the highest probability (intentionally or indirectly) for terrorists to enter the country.  This makes perfect sense, and because it does, one can easily see that only those hell-bent on weakening the U.S. and fostering infiltration would be against the order: those Marxists of the Left labeled as "Democrats" and calling themselves "Progressives."
They are not alone: they are aided by the Left-Right, which is even worse.  The Left-Right are those masquerading as Republican Conservatives, when they are Marxist-Leftists and proponents of Global Governance and the New World Order.  They are the Paul Ryans, the Mitch McConnells, and the Newt Gingriches.  They are the pseudo-Republican politico's in office presently and in the past who have those CFR slots and are working toward their fantasy: The Utopia of Oligarchs.
Even if they do not overtly act on behalf of the Marxists, they have been guilty…numerous times…of enabling the Marxists through the complacency of inactivity.
They do not simply wish to derail the actions of President Trump: it is a much larger concept than that.  They see themselves as "partners" with the Left in the same game: to establish an elitist politico-oligarchic ruling class, broken down into divisions throughout the globe for ethno-cultural manipulation, yet with the same end-state.  That goal is the enslavement and complete control of all of mankind with the elitists ensconced as the ruling moneyed class.  They see themselves as the educated, sensible minority with tender sensibilities and true humanistic views…who must…must…take a stand in the globalist crusade against the barbaric Neanderthals of the proletariat and populist serfs.
This new President has taken more action and more rapidly than even President Reagan did when he took office, and that is saying something.  Even those globalists playing the part of conservatives are knuckling under in lock step, shivering internally: A President is in the White House that can turn these bedbugs out of the mattress and burn them.  This new President quietly and without fanfare made it a point to be there for the SEAL who was killed in Yemen as his casket was brought back home.
That should speak volumes on the caliber of the man who is in the White House.
Everything that he does is attacked by the media and disparaged by the leftists.  Even the removal of Dodd-Frank (let's remember…that was Christopher Dodd and Barney Frank…two troglodytes…who came up with that one) is sneered at.  The executive order to halt the illegals from potential hotbeds of Middle Eastern terrorism is challenged by states packed with liberals and also by the business and industry oligarchs who would rather the U.S. be vulnerable if they can continue to hire "tax-free" day-laborers for less than minimum wage with impunity.
Senator John McCain (R- AZ) wants to go to war with Russia and he wants to reshape eastern Europe.  McCain and Lindsey Graham were instrumental in the Obama-ordered and sanctioned coup d'état that brought down Ukraine's government and president and installed a U.S. puppet picked by Victoria Nuland.  McCain hasn't stopped: he's just been "on hold" to see where he can take footing when the dust settles from the initial Trump shakeup.
In previous articles, it was mentioned how critical this first 6 months to one year-period in office is for the President, namely because of the midterm elections.  If the public does not see results, they could very well change the complexion and composition of Congress in 2018 and the Republicans could lose control of either one of or both houses of Congress.  The President realizes this, and he is moving swiftly.
The public will also see that he is doing good things, and that it is the Democrats who are attempting to obstruct his efforts.  This will carry the Republicans through in the midterm elections, and thus all legislative efforts by the President will be able to be enacted.  It's a tough fight and at times it's uphill, but he started out well, and right…and the Democrats won't be able to hold him off.
Source: shtfplan.com
02.18.17 –  The Mother Of All Financial Bubbles: "This Is The Very Definition Of Unsustainable"
Within 72 hours of the Japan tsunami in 2011, we had analyzed the situation and concluded with high probability that three core meltdowns had occurred at the Fukushima nuclear plant. While it took years for officials to finally admit to the full extent of the crisis, history has validated our initial analysis.
How did we get it right? By using a science-based approach grounded in observation, deduction and a healthy skepticism of what the "experts" in charge claimed. We also went to great lengths to educate our readers about the science in play, explaining in detail how radioactivity and contamination differ, the health risks from such a nuclear accident, and what concerned folks could do to remain as safe as possible.
When California's authorities suddenly reversed course and scrambled to evacuate nearly 200,000 residents living downstream of the Oroville dam, within an hour, we had released an analysis of the situation, explaining the critical differences among the primary spillway, the main dam, and the auxiliary spillway.
Where mainstream media outlets were consumed by covering the Grammy's, we were able to tweet and blog relevant details to the worried people hungry for information about the dam's integrity, keeping them both grounded and informed:
By 10:00pm that same Sunday night of February 12th, we had shared a series of updates with schematics, images and conclusions that was more complete, accurate and hysteria-free than any other news source we could find at the time.
By the next morning, we had located and interviewed one of America's top dam experts, who provided an absolutely spectacular assessment of the situation at Oroville. That podcast has been listened to by nearly 50,000 people at this point, including residents of Oroville who have used its insights to determine whether or not to return home at this time.
And on top of all this, our own community began filling in the blanks with their expertise. One community member, an emergency worker deployed to the dam earlier this week, has been providing us with valuable insider information that state officials have resisted making public.
The reason I'm relating all of this now is because of the instructive lessons involved. It's worth noting that communications from officials in Oroville transitioned from a steady, repeated stream of "Everything is fine. There's nothing to worry about" to suddenly "Run for your lives!" within an hour.
Of course, the 188,000 people living downstream from the dam were caught off guard by the mandatory evacuation order. Many left with none of their possessions, only to get hopelessly caught on clogged roads. It was a time of panic and disorder, with no one seemingly in control.
The main lesson from Oroville — or Fukushima, or Katrina —  is that governments do a poor job of relating accurate information to their citizens when big threats are involved. Part of that is likely due to a desire to avoid stoking fear. Part probably due to politics and bureaucracy. And part probably due to plain old incompetence.
Regardless of the cause, it means that the public — even the vigilant ones — suffer information deficits when it matters most. Simply put, the authorities do not share all the facts necessary for making informed decisions.
Why is why our longstanding advice has been a straightforward call to 'trust yourself' when assessing crisis risk. In most cases, good old-fashioned common sense and a little sleuthing will get you far closer to the truth, and faster, than 99% of your peers who are relying on being told what's happening by those in charge.
In most cases, the information you need to assess the truth will be right there, hiding in plain sight but always obvious in retrospect. This means it's also available to you in real-time, providing you're willing to trust your own eyes and you know where to look.
Which brings us to one of the truly great risks we're facing today. One with much more destructive potential than a single failed dam but, like Oroville, one the authorities are desperate to keep us in the dark about.
The Mother Of All Financial Bubbles
We are now living through the mother of all financial bubbles. We've been living with it so long now that we have to take three giant steps backwards to even detect its broad outlines.
As a reminder, a bubble exists when asset prices rise beyond what incomes can sustain. Florida swampland in the 1920's, tech stocks in the late 1990s, or Toronto real estate today — all are fine examples of this.
The US government and the private banking cartel known as the Federal Reserve, in cahoots with a very compliant and complicit mainstream media, are doing everything in their vast and considerable power to convince us that we are living in an golden era of risk-free prosperity. And that tomorrow will be even better.
Now, regular readers of PeakProsperity.com's reports will know there's a mountain of evidence contracting this. But it's critical to understand that this is the same public perception management style as we've recently seen at Oroville: Deny, deny, deny… and then finally admit the obvious.
So let's take those three giant steps backwards and see if we can spot the flaw in the 'everything is awesome!' meme that the Fed et al are trying to paint for everyone by flooding the "markets" with so much thin-air liquidity (between $150-$200 billion a month) that nobody has any clue what anything is truly worth anymore.
Giant Step Backwards #1: Infinite growth is impossible.
This is such an easy concept that I'm continually surprised at how poorly appreciated it is and how much resistance it receives when raised. But it works like this: the earth is a sphere and therefore has a defined surface area and a defined amount of resources available for use.
The availability of these resources ranges across a spectrum from dense/concentrated on one end to dilute/useless at the other. Humans have already extracted and consumed most of the easily obtainable stuff. Now it gets harder.
Regardless of the economics of these resources, they are finite. And as our economic requires resources to function, if we want our economy to grow from here, that means consuming more resources at a faster rate then we have been. If resources are finite, then growth will one day prove finite, too.
This should be utterly, blindingly obvious to everyone. But it's not, apparently. The Federal Reserve and the central banks in other nations are unified in their call for more economic growth, always and forever. That's plan A. There is no plan B.
Giant step backwards #2: You can't print your way to prosperity.
History is replete with the failed attempts of nations to print their way to prosperity. The pursuit operates on the same principle as alchemy: trying to get something for nothing. It has invariably and always ended the same way. In tears.
At first it, issuing more currency feels good because those closest to the money printing get stinking rich while doing practically nothing. As that trickles down, everybody initially feel smart and wealthier. Well, not everybody; but those running the system sure do.
After a while, though, all that feel-good activity is revealed as a fraud. It turns out prosperity wasn't printed, instead it was redistributed. From one party's pocket into another. And in most cases, from poorer pockets into those of the already-privileged.
The same is happening today with the "thin air" money printing being conducted by the world's central banks. We are now living with one of the most extreme wealth gaps in US history, with the top 1% (really, the top 0.1%) owning a greater percentage of the nation's wealth than they ever have.
But it's even more nefarious than that, because the Fed is not simply stealing from today's public; it is also stealing the prosperity of future generations. When the party being stolen from hasn't been born yet, it can't fight back.
In short, you cannot print your way to prosperity. Yet somehow we've forgotten that. And we're dooming ourselves (and our children and grandchildren) to becoming serfs in the process.
Giant step backwards #3: You can't grow your debts faster than your income forever.
This, too, should be completely obvious.  You know perfectly well it holds true for your personal life or your business, if you have one. And it's equally true for a nation, which is simply an aggregation of individuals and businesses. But somehow this simple truth has been either forgotten or deliberately ignored by today's economists and politicians.
Our grand experiment in debt-based fiat currency — unbacked by anything tangible, like gold — began on August 15th, 1971 when Nixon unilaterally broke the Bretton Woods agreement and forced the entire world off of the gold standard. Not that the world minded much, because this then meant that politicians and monetary hacks everywhere could ignore centuries of economic lessons and begin making exorbitant promises by printing currency like mad.
The giant step towards monetary (and debt) expansion this represented is clear to anybody who can read a chart.
Here's the total credit market debt in the US. It has exploded higher at a near-perfect exponential rate since that fateful day in 1971:
But what we really need to do is compare debt to income. Remember, you're not supposed to grow the former at faster rate than the latter. So let's add (nominal) GDP to our chart and see what comes up:
As you can see, those lines began diverging a long time ago (aha! Right around 1971. Imagine that.). They've been diverging at an increasing pace for prety much the entire adult lives of everybody in power. At this point, our leaders just assume "This is how the world works."
"Reagan proved that deficits don't matter"

~ Vice President Dick Cheney
The little wiggle in the exponential curve there, during 2008-2009, was the wiggle that almost destroyed the world. Our entire system of credit and money came very close to full-scale collapse, simply because it didn't grow for a few brief years. Makes you shudder to think what would have happened had it acutally contracted…
But back to the main point. If we compare the beginning of this wanton debt-binge in 1970 with the state of things today:
We see that debt has shot up by a factor of 40 while income has only increased by a factor of 17. We have indeed grown our debts wildly faster than our income over the past 45 years
And, it should be noted, a lot of that GDP 'growth' is the byproduct of borrowing and spending money we don't have on things we don't need. Said differently: the debts will remain during any serious future economic downturn but the GDP that is fraudulently based on excessive rates of borrowing will vaporize as if it never existed in the first place.
That, my friends, right there is the very definition of unsustainable.
If something cannot go on, it won't.
But the Federal Reserve, under the leadership of a pure academic like Janet Yellen, cannot conceive of any approach other than perpetuation of the same system that has been in place while she's built her career.
Conclusion
The Fed is desperately seeking to keep the status quo in place, praying that somehow things turn out OK, and clearly scared to death behind the scenes. But, just like the officials at Oroville, when the cameras are on her, Yellen smiles and tells us that all is well.
The Fed has printed as much money as it has dared for the time being. It has since handed the baton over the ECB, and the Bank of Japan, who have stepped in to keep the wheels of the world's debt production well-greased.
Around and around the baton gets passed. And we're told by our government and media that this is all in our best interests. However, the only thing these central banks are truly doing is stealing from savers and the elderly today, and pretty much everyone tomorrow.
What have they done with the trillions in "thin air" currency they have printed up? They handed them to the big banks, to speculators and the already wealthy. Which should come as little surprise. These are the people they count on for their high-status jobs, as well as the big payouts awaiting them when they return to the private sector.
In the meantime, they've blown the Mother Of All Financial Bubbles.
This is primarily a bubble in debt (i.e., the bond market). But in its making, new bubbles in real estate, stocks and a whole slew of other asset classes were created.
When these bubbles burst, and they must, it will be a massively destructive event. There will literally be nowhere to hide from the repercussions.
You simply cannot count on anyone in power giving you anything like timely warning or useful advice in advance. You need to find accurate, trustworthy indicators on your own, and then decide how you're going to position yourself, your loved ones, and your wealth accordingly.
In Part 2: How Bad Will It Get? we detail the tremendous scale of the losses that will result when this Mother Of All Financial Bubbles bursts. It will be a traumatizing time for society, and many, many people will see their wealth vaporize.
The key objective at this time is to position yourself for physical and financial safety. For those who do will be in a position to prosper greatly, as well as offer much-needed support to others, when the coming reset arrives.
Source: peakprosperity.com
02.18.17 –  Mike Pence Vows "Unwavering Support" For NATO, Pledges To Hold Russia "Accountable"
One day after John McCain made a questionable diplomatic outburst when as part of a US diplomatic tour meant to reassure Europe, and NATO, of Trump's support, the Senator told participants at a Security Conference in Munich that the Trump administration is in "disarray", on Saturday morning Vice President Mike Pence did his best to return to conventional foreign policy after he vowed that the United States will "hold Russia accountable." In an address to the Munich Security Conference, Pence assured European allies that the U.S. "strongly supports" NATO and will be "unwavering" in its commitment to trans-Atlantic institutions like NATO.
Pence also said the U.S. would demand that Russia honor a 2015 peace deal agreed upon in Minsk, Belarus, to end violence in eastern Ukraine between government forces and Russia-backed separatists.
"Know this: The United States will continue to hold Russia accountable, even as we search for new common ground which as you know President Trump believes can be found," Pence said.
To reinforce his message, he also tweeted the following:
 We must hold Russia accountable and demand that they honor the Minsk Agreements, beginning by de-escalating the violence in eastern Ukraine.

Know this: The US will continue to hold Russia accountable, even as we search for new common ground, which @POTUS believes can be found.

Under @POTUS, the US will remain committed to ensuring Iran never obtains a nuclear weapon capable of threatening our countries or allies.

As @POTUS has made clear, the US will fight tirelessly to crush these enemies & consign them to the ash-heap of history, where they belong.
In Munich, the American allies were searching for clues from Pence as to how the Trump administration plans to deal with Russia in the aftermath of Flynn's departure, U.S. inquiries into Russia's involvement in the presidential election and Trump's past praise for Putin.
As previewed yesterday, in his first overseas trip as vice president, Pence sought to calm nervous European allies who remain concerned about Russia – and have made their "nerves" rather visible by sending major military reinforcements to Eastern European nations – and have been alarmed by Trump's positive statements about Russian President Vladimir Putin. The address to foreign diplomats and security officials also sought to "reassure international partners who worry that Trump may pursue isolationist tendencies", the AP reported.
After his speech, Pence met with the symbolic leader of the European establishment, German Chancellor Angela Merkel, who addressed the conference prior to the vice president. Merkel reiterated a recurring message and stressed the need to maintain international alliances and told the audience, with Pence seated a few feet away, that NATO is "in the American interest." Pence also scheduled meetings Saturday with the leaders of the Baltic States of Estonia, Latvia and Lithuania, and with Ukrainian President Petro Poroshenko — countries that have been most vocal about their fears of future Russian incursion. Pence also planned to meet with Turkish Prime Minister Binali Yildirim.
As AP notes, "European countries along Russia's border are rattled by the prospect of deeper U.S.-Russia ties after Trump suggested sanctions imposed after Russia's annexation of Crimea could be eased in exchange for a nuclear weapons deal, and after the president referred to NATO as "obsolete" in an interview before his inauguration. Trump has since tempered his language, stressing the importance of the NATO alliance during his telephone conversations with foreign leaders."
Of course, an alternative view of events is that the Ukraine fallout was the result of a CIA-sponsored violent presidential coup, meant to provide a legitimate basis for further NATO deployment along Russia's border. That narrative, however, has been largely designated to the "fake news" trash heap by the mainstream media and establishment powers.
To be sure, Europe was glad to receive Pence's "reassuring" message: "The vice president has sent reassuring messages through his own
engagement but that hasn't been enough to dispel the concerns that you
see in many parts of Europe," says Jeff Rathke, a senior fellow with the
Center for Strategic and International Studies. "There are such grave
challenges that the U.S. and Europe faces that it only heightens the
desire for additional clarity from Washington."
However, despite Pence's attempt to clear the air, the vice president did confirm that one of NATO's bigger fears remains on the table: Trump's demand that alliance members satsify their spending obligations. In his remarks, Pence reaffirmed what Jim Mattis said earlier in the week, when he reinforced the Trump administration's message that NATO members must spend more on defense.
NATO's 28-member countries committed in 2014 to spending 2 percent of their gross domestic product on defense within a decade. But only the U.S. and four other members of the post-World War II military coalition are meeting the standard, Pence said.
Failure to meet the commitment, he said, "erodes the very foundation of our alliance."
"Let me be clear on this point: The president of the United States expects our allies to keep their word, to fulfill this commitment and, for most, that means the time has come to do more," Pence said.
Pence is also expected to meet with the leaders of Iraq and Afghanistan, where the U.S. is embroiled in two separate wars. Trump has made clear his intention to defeat the Islamic State group. But he also said the U.S. may get a second chance to take Iraqi oil as compensation for its efforts in the war-torn country, a notion rebuffed by Iraqi Prime Minister Haider al-Abadi, who will be meeting with the vice president.
Source: zerohedge.com
02.17.17 – This Is How The Status Quo Unravels
The politics of the past 70 years was all about horsetrading who got what share of the growing pie: the "pie" being cheap energy, government revenues and consumption, sales and profits.
Horsetrading over a growing pie is basically fun. There's always a little increase left for the losers, so there is a reason for everyone to cooperate in a broad political consensus.
Horsetrading over a shrinking pie is not fun. Everybody is shrilly demanding their piece of the pie should either grow or be left untouched; any cuts must come out of someone else's slice.
Everyone turns on their most compelling emotion-based defense: "we wuz promised" is a reliable standard, as is "we need more money to defend the nation from the rising threat of XYZ." "Help those in need" plays the heartstrings effectively–as long as the "help" comes out of somebody else's pocket.
Everyone sharpens their knives, the better to carve a slice off somebody else's slice of the pie. A passive-aggressive free-for-all ensues as everyone reacts with aggrieved defensiveness to any attempt to diminish their slice, even as they launch shrill attacks on everyone else's defense.
As the pie shrinks, the motivation to join a broad consensus vanishes like mist in Death Valley. Any cooperation is merely a brief tactical move designed to carve a big chunk off another player's slice. Once that's accomplished, the alliance quickly splinters as the survivors battle over the meager spoils.
Any victory is temporary, as a new alliance will arise to decimate the previous winner. Winners in the zero-sum game of divvying up a shrinking pie merely set themselves up as the juicy target for the next ferocious attack by the resentful losers.
Political survival boils down to masking the cuts behind illusory "victories" and bogus projections of solvency. Some modest policy tweak will be heralded as "saving Social Security," meanwhile the end result is a reduction in the purchasing power of whatever benefits remain.
You may well get "what we wuz promised" but it will only buy 50% of what it did a few years ago, after taxes, inflation and "adjustments" are factored in.
Every compromise will be projected to restore solvency to imploding entitlement programs, but it will all be illusion. In two years, insolvency will rear its ugly head again.
The debts, unfunded liabilities, demographics and diminishing pools of income to tap are beyond policy tweaks and minor cuts. Take a look at these charts to grasp the unwelcome realities: sorry, we can't "grow our way out of debt" because the debts and unfunded liabilities are simply too large and expanding at too fast a rate.
Here's the current federal spending pie: 55% is entitlements and interest. Both of those are set to soar as the populace ages and interest rates rise.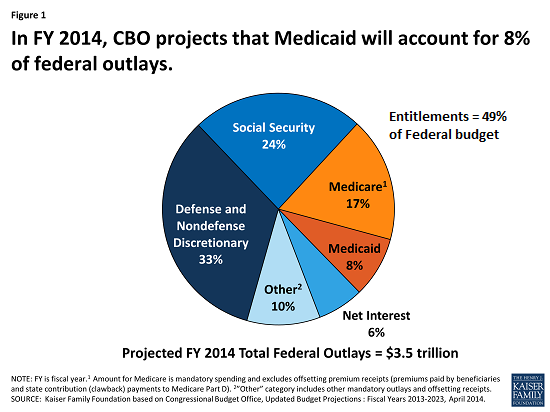 Massive, ever-expanding deficits will push federal debt much higher, pushing interest rates up. Everybody wants to raise taxes on "the rich," but a funny thing happens when tax revenues soar above a threshold–the economy spirals into recession, and employment, profits and tax revenues all plummet, forcing even higher deficits.
Entitlement program deficits are exploding higher, and all the conventional policy fixes are like building sand castles to stop a tsunami.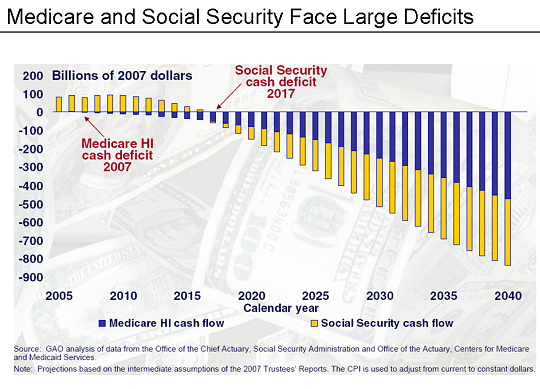 The problem is global: as we consume the cheap energy, what's left to extract and refine is more expensive, so energy costs rise. As the population ages, entitlements soar. As the "growth fixes everything" model fails under the burden of skyrocketing debts, the harsh reality becomes unavoidable:
We haven't "grown" at all. What we've done is borrow from future generations to create the illusion of growth.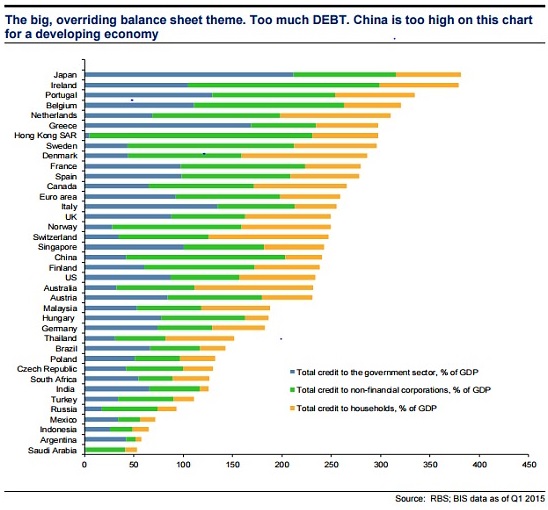 Here's another look at debt: the global bond market has soared from $10 trillion to $100 trillion.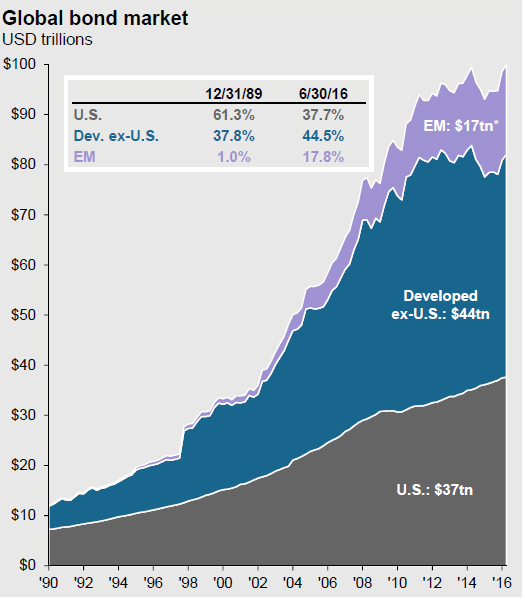 Fragmentation, discord, discontent, class war: this is the inevitable result of a shrinking pie. Our political, social and economic systems have no history or memory of how to navigate this systemic Degrowth successfully. Everyone will blame someone else for the insolvency and failure, and that is not a recipe for successful adaptation.
Source:  charleshughsmith.blogspot.com
02.16.17 –  This Is One Of The Big Reasons Why So Many Families Are Feeling Extreme Financial Stress
When the cost of living rises faster than paychecks do year after year, eventually that becomes a very big problem.  For quite some time I have been writing about the shrinking middle class, and one of the biggest culprits is inflation.  Every month, tens of millions of American families struggle to pay the bills, and most of them don't even understand the economic forces that are putting so much pressure on them.
 The United States never had a persistent, ongoing problem with inflation until the debt-based Federal Reserve system was introduced in 1913.  Since that time, we have had non-stop inflation and the U.S. dollar has lost more than 98 percent of its value.  If our paychecks were increasing faster than inflation this wouldn't be a problem, but in recent years this has definitely not been the case for most Americans.
And unfortunately inflation is starting to accelerate once again.  In fact, it is being reported that inflation rose at the fastest pace in four years in January…
The prices Americans pay for goods and services surged in January by the largest amount in four years, mostly reflecting a rebound in the cost of gasoline that's taking a bigger chunk out of household incomes.

The consumer price index, or cost of living, rose by a seasonally adjusted 0.6% in January, the government said Wednesday.
Meanwhile, our incomes have been incredibly stagnant.   In fact, we just learned that median household income did not go up at all during 2016.
This is one of the reasons why we consistently see families fall out of the middle class month after month.  Even if you keep the same job year after year, your standard of living is going to steadily go down unless your pay goes up.
The things that we all spend money on month after month just keep going up in price.  I am talking about food, housing, medical care and other essentials.  If there is one thing that we can always count on, it is the fact that things are going to cost more tomorrow than they do today.
Let's talk about food for a moment.  Whenever I go to the grocery store, I am almost always shocked.  I still remember a time when I could get everything that I needed for an entire week for about 20 bucks, but these days you can't even fill up one cart for 100 dollars.
That is because food prices have been rising aggressively for many years.  The following is a list that was posted on The Economic Policy Journal that shows how much some food and grocery items have increased over the past decade…
1. Tobacco and smoking products
-Price increase: 90.4%
2. Margarine
-Price increase: 63.6%
3. Uncooked ground beef
-Price increase: 46.3%
4. Shelf stable fish and seafood
-Price increase: 45.0%
5. Prescription drugs
-Price increase: 43.5%
6. Rice, pasta, cornmeal
-Price increase: 40.3%
7. Bread
-Price increase: 38.9%
8. Snacks
-Price increase: 38.4%
9. Miscellaneous poultry including turkey
-Price increase: 37.0%
10. Apples
-Price increase: 36.6%
11. Frankfurters
-Price increase: 35.8%
12. Canned vegetables
-Price increase: 35.3%
13. Salt and other seasonings and spices
-Price increase: 34.0%
14. Miscellaneous fats and oils including peanut butter
-Price increase: 34.0%
15. Miscellaneous processed fruits and vegetables including dried
-Price increase: 33.7%
16. Bacon and related products
-Price increase: 33.2%
17. Fresh whole chicken
-Price increase: 32.5%
18. Cakes, cupcakes, and cookies
-Price increase: 32.1%
19. Flour and prepared flour mixes
-Price increase: 32.1%
20. Canned fruits
-Price increase: 32.0%
And thanks to out of control government spending and reckless manipulation by the Federal Reserve, we have come to a time when inflation is starting to accelerate once again.
According to John Williams of shadowstats.com, if honest numbers were being used the government would be telling us that inflation is rising at a 6 percent annual rate for the first time since 2011.
At the same time, evidence is mounting that U.S. consumers are simply tapped out.  Previously, I have explained that interest rates are going up, consumer bankruptcies are rising, and lending standards for consumers are really tightening up.
All of those are things we would expect to see if a new recession was starting.
And today we learned that the number of Americans refinancing their homes has fallen to the lowest level that we have seen since 2009…
A slowdown in refinancing pulled down the total mortgage application volume last week as changes to certain government-loan programs made refinances less lucrative. Refinance volume now stands at its lowest level since June 2009.
If you will remember, we also saw a slowdown in mortgage refinancing just before the great financial crisis of 2008.
For mortgage applications overall, they are now down almost 31 percent from where they were a year ago…
Total mortgage application volume fell 3.7 percent on a seasonally adjusted basis last week from the previous week, and are nearly 31 percent lower than the same week a year ago, according to the Mortgage Bankers Association.
A 31 percent decline in a single year is catastrophic.
If this continues, it won't be too long before everyone is talking about a new housing crash.
And we also learned this week that FHA mortgage delinquencies increased during the fourth quarter "for the first time since 2006″…
Federal Housing Administration mortgage delinquencies jumped in the fourth quarter for the first time since 2006, the Mortgage Bankers Association reported Wednesday. The FHA insures low down-payment loans and is a favorite among first-time homebuyers.

The seasonally adjusted FHA delinquency rate increased to 9.02 percent in the fourth quarter from 8.3 percent in the third quarter, MBA data show.
So many things are happening right now that we have not seen happen in many years, but most people are choosing not to see the red flags that are popping up all around us.
None of our long-term economic problems have been fixed.  And even though Donald Trump won the election, the truth is that our economy is in the worst shape it has been since the last financial crisis.  I continue to encourage all of my readers to get prepared for very hard times, but just like back in 2007 we are experiencing a wave of tremendous optimism right now and most people think that the party can somehow continue indefinitely.
Whether Donald Trump won the election or not, the truth is that a major economic downturn was going to come anyway.  You see, Donald Trump is not some magician that can just wave a wand and somehow make the consequences of decades of very foolish decisions instantly disappear.
We have been on the biggest debt binge in human history, and there is going to be a great price to pay when this immense debt bubble finally bursts.
Unfortunately, most people are not going to acknowledge the truth until it is too late.
Source: theeconomiccollapseblog.com
02.16.17 –  "Wake Up America" Dennis Kucinich Defends Trump, Issues Dire Warning About "Deep State"
Dennis Kucinich, Former U.S. Rep. and Democratic presidential candidate, defended Donald Trump on "Mornings with Maria" on Tuesday.
In regards to Michael Flynn's resignation, Kucinich defended Trump and told America to "Wake Up"
Anti-Russia Game
In the interview, Kucinich blamed factions of the US intelligence community for wanting to end any positive relationship between Russia and the US, hoping for a return of the cold war.
 "…the American people have to know that there's a game going on inside the intelligence community… at the bottom of all this is the fact that there are those that seek to separate US from Russia to reignite the cold war… wake up America!!"
Kucinich did not see this as an anti-Trump game, but rather an anti-Russia game:
 "It's not just this administration. I want to remind the views and all those who are on the panel that in the closing months of the Obama administration, they put together a deal with Russia to create peace in Syria. A few days later, a military strike in Syria killed a hundred Syrian soldiers and that ended the agreement. What happened is inside the intelligence and the Pentagon there was a deliberate effort to sabotage an agreement the White House made."
This is like "Deep State" said Kucinich.
My take: Anyone against war wanting to open ties with Russia has at least something on the ball.
Source:  mishtalk.com
02.16.17 –  Whatever Happened to Inflation after All This Money Printing? It Has Arrived!
Consumer prices surged 0.6% in January from December, double the consensus forecast of a 0.3% rise. The sharpest monthly increase since February 2013, according to the Bureau of Labor Statistics.
Energy prices jumped 4% month over month, including gasoline which jumped 7.8%. Food prices edged up 0.1%. Within this group, "food at home" was unchanged, but prices for "food away from home" – restaurants, taco trucks, and the like – rose 0.4%. In just one month, the prices of apparel rose 1.4%, of new vehicles 0.9%, of auto insurance 0.8%, of airline fares 2.0%.
 Shelter rose "only" 0.2%, as the national numbers are now feeling the downward pressure on rents in some of the most expensive rental markets in the US.
This chart  shows just how sharp that jump in monthly price increases is, compared to recent years: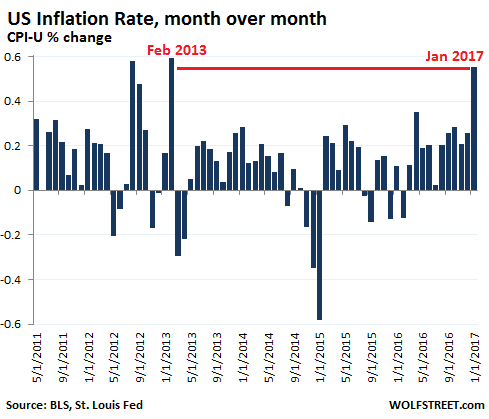 Compared to January a year ago, consumer prices as measured by CPI-U surged 2.5%, after having already jumped 2.1% in December. The rate of inflation has now accelerated for the sixth month in a row. It has surged one full percentage point over the past four months and hit the highest rate since March 2012: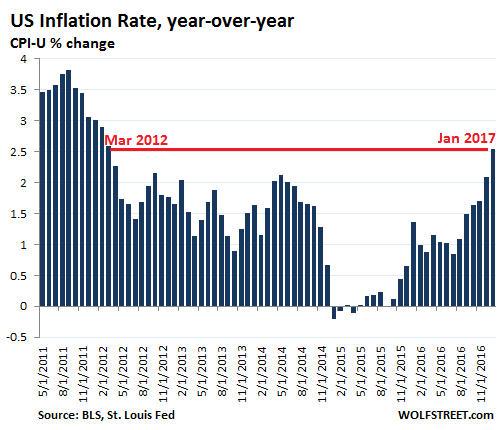 So-called core inflation – which excludes food and energy – jumped 2.3% in January from a year ago. The consensus expected 2.1%. So you can't just blame the rising costs of energy. This "core" measure of price increases has been above 2% since November 2015. Even during the Financial Crisis, when overall year-over-year CPI dipped briefly into the negative, core CPI remained in positive territory.
However much these inflation measures may understate actual increases in the costs of living that people experience in their daily lives, even those understated measures are now beginning to exude a lot of heat. And afterwards, the consensus will say that no one saw this coming.
So here is what inflation does to workers and consumers: it eats up the purchasing power of their wages. In that vein, the Bureau of Labor Statistics also reported today that real (inflation adjusted) average weekly earnings dropped 0.6% in January from a year ago, as nominal wage increases were more than wiped out by inflation.
But businesses are in denial, according to the Atlanta Fed's survey of Business Inflation Expectations, also released today. Businesses anticipate 2.0% inflation over the coming year. That's down from two months ago when they expected inflation over the next 12 months to increase by 2.2%.
The Fed has a special term for this phenomenon of denial: inflation expectations are "well anchored."
Bondholders are in denial too, or they quietly accept "financial repression" as their fate. This is when yields do not compensate bondholders for the loss of purchasing power of the principal when the bond is redeemed at maturity.
The 10-year Treasury yield inched up today to 2.5%, even with January's year-over-year inflation rate. All shorter maturities are way below the rate of inflation with the annualized 3-month yield at 0.53% and the 2-year yield at 1.25%. At these yields, inflation consumes all of the yield plus some of the purchasing power of the principal. In other words, investors end up in the hole.
Savers have been forced into financial repression since whenever, but no one cares about them. They're sitting ducks. They've been among those that were tasked by the Fed to pay for the biggest wealth transfer of all times that is now morphing into the next stage via inflation.
So what would Yellen do?
The fear of "waiting too long" to raise rates is spreading. The Fed Chair has been voicing that fear recently, as have other Fed governors. But there are some Fed governors who have been suggesting that "waiting too long" is just fine. San Francisco Fed President John Williams said last year that the Fed should consider targeting inflation in the range of 3% to 4%, which would more effectively wipe out savers, workers, and those bondholders who bought their government instruments when yields were near zero.
More Fed flip-flopping is expected. But at the current pace of acceleration of inflation, even the doves are waking up.
The Fed focuses on the core PCE inflation index, which is usually lower than the already understated CPI index and largely detached from the reality of rising costs of living that many people experience. So the Fed's target of around 2% inflation – which it ironically calls "price stability" as part of its Fed propaganda speak – is based on core PCE. In December, the core PCE inflation index rose 1.7%. Not far off the Fed's target. A little push in January will get it there.
The surge in consumer prices also sheds some light on retail sales for January reported today by the Census Bureau. Retail sales rose 5.6% year-over-year. But they're not adjusted for price changes. For example, gasoline sales jumped 14.2%, based largely on the soaring prices mentioned above. Take the price increases out of the equation, and suddenly retail sales don't look so hot anymore.
The Fed is already sitting on a powder keg, after years of QE and zero-interest-rate policy that have caused mind-boggling asset price inflation, including in housing, which is filtering into the costs of living. During this period, corporations and governments have loaded up on record amounts of debt, as have many consumers. But someone owns this debt as assets. Now add a surge of inflation to the mix, along with the Fed's reaction to that surge, to get some possibly very toxic effects along with some new groups of losers of Fed policy, or the same groups of losers, as decided by the Fed.
Is it the fear of "waiting too long" or of "having already waited too long?"
Source: wolfstreet.com
02.15.17 –  The Selling Ends: Foreign Central Banks Buy The Most Treasuries In Over Two Years
Over half a year after we first reported last August that foreign official institutions – central banks, sovereign wealth funds and reserve managers – are liquidating US Trasuries in record amounts, a process that only accelerated into last month when official entities sold a record $405 billion in US paper in the LTM period, Bloomberg decided to catch up to the topic with "America's Biggest Creditors Dump Treasuries in Warning to Trump."
Well, not so fast, because as we also warned last month, based on more concurrent data from the Fed, showing Treasuries held in custody, the selloff most likely peaked in November, as December was a month in which foreigners were actively buying, not selling Treasuries.
Moments ago, data released by Treasury International Capital confirmed this, when it showed that in December after 12 consecutive months of selling by foreign official institutions amounting to $405 billion, in December the selling finally reversed, and foreign central banks added $18.6 billion in Treasuries, the single biggest monthly purchase of US paper since June of 2014….
… pushing total LTM sales by $67 billion higher to $338 billion.
The flipside to this buying, however, is that while official accounts were waving it in, foreign private accounts, i.e., corporate institutional and retail investors were selling. In fact, in December they sold $40.4 billion in Treasurys, the single largest monthly amount going back to April.
Furthermore, with all eyes on China, it was Japan where the action was because as reported earlier this week using Japanese government data, in the last month of the year Japan sold $21 billion in TSYs: the biggest net selling since May 2013.
Today's TIC confirmed as much, because while China actually added $9 billion in Treasurys, pushing its total from a 5 year low to $1,058.4 billion, it was Japan – the (recently) largest US creditor – that sold some $18 billion in US paper, bringing its total below $1.1 trillion for the first time in over a year, or $1,090.8 billion to be precise.
Still, despite Japan's selling, it was everyone else who chipped in, and in December, the report of major foreign holders showed a rebound in the total foreign holdings, which had recently dropped to a 5 years low of $5.944 trillion, back over six trillion or $6,003.9 billion to be precise. And, of this number, it was the foreign official holdings, i.e., foreign central banks, that saw the biggest rebound, rising from $3,770.5 billion to $3,814.1 billion.
So is the selling over? Probably not: while custody holdings rebounded in December by almost $60 billion, the selling has since resumed and at last check total Treasury holdings were back down to $2.848 trillion, with the recent jump in 10Y yields hardly serving as a solid basis for foreign official buyers to step in front of what may soon be an inflationary steamroller.
Source: zerohedge.com
02.15.17 –  Trump Slams Russia Connection "Non-Sense"; Accuses "Fake News Media" Of Creating "Conspiracy Theories"
With the news cycle once again squarely focused on Mike Flynn in particular, and the Trump Administration's ties to Russia in general following a volley of news last night from NYT, WaPo and CNN that Trump advisors allegedly communicated with members of Russian intellgience in the year preceding the election, it was expected that Trump's first comment of the day would be focused on the story du jour, and sure enough in his first tweet on Wednesday, President Trump blasted the "fake news media," saying it is "going crazy with conspiracy theories and blind hatred."
Trump also slammed MSNBC and CNN, but said Fox News's "Fox & Friends" is "great!"
"The fake news media is going crazy with their conspiracy theories and blind hatred. @MSNBC & @CNN are unwatchable. @foxandfriends is great!" he tweeted.
The fake news media is going crazy with their conspiracy theories and blind hatred. @MSNBC & @CNN are unwatchable. @foxandfriends is great!
In a follow up tweet, Trump also said "this Russian connection non-sense is merely an attempt to cover-up the many mistakes made in Hillary Clinton's losing campaign."
This Russian connection non-sense is merely an attempt to cover-up the many mistakes made in Hillary Clinton's losing campaign.
Trump also blasted the continued "illegal leaks", saying it was "just like Russia":
"Information is being illegally given to the failing @nytimes & @washingtonpost by the intelligence community (NSA and FBI?).Just like Russia"
Information is being illegally given to the failing @nytimes & @washingtonpost by the intelligence community (NSA and FBI?).Just like Russia
As reported overnight, the president's tweets follow reports in The New York Times and CNN that Trump campaign aides were in "constant" contact with Russian officials.
The officials cited in the Times report said they have not discovered collaboration between the Trump campaign staff and Russian officials related to the hacking of Democratic organizations.
The Intelligence Community in a report released last month concluded that Russian President Vladimir Putin called for an influence campaign in an effort to help Trump win the White House. That report noted that it did not assess the impact of Russia's actions on the 2016 election.
Trump's tweets also come after a shake-up in the White House following the resignation of his national security, Michael Flynn, late Monday. Flynn resigned after reports that he misled White House officials, including Vice President Mike Pence, on conversations he had with Russia's ambassador to the United States before Trump's inauguration. Flynn originally said he did not discuss sanctions with the ambassador, Sergey Kislyak. The Washington Post later reported that the two did discuss sanctions prior to Trump taking office.
Source: zerohedge.com
02.14.17 –  This Is Why You Don't Own A Lot Of Stocks
You'd think that by now every relevant measure of stock market overvaluation would have been converted into a chart and circulated throughout the blogosphere. But Zero Hedge has come up with a new one depicting how long the typical wage slave has to work to buy the typical stock. And – surprise – it shows historic, egregious overvaluation which, if history is any guide, implies a crash is close at hand.
How did workers come to be priced out of their slice of the American capitalist pie?
First, an ever-rising share of the new wealth being created – in the form of corporate profits – is being siphoned off by said corporations, leaving less for the people depicted in the above chart.
Second, monetary policy has been so insanely loose in recent decades that the hot money thus created is pouring into equities, pushing up their market value.
Combine these two trends and you get greater concentration of wealth at the top and increasing difficulty on the lower rungs of the economic ladder. Which in turn explains President Trump, Brexit, Marine Le Pen and all other manner of political upheaval around the world. Middle and formerly middle-class voters, who overwhelmingly outnumber the 1%, are done being harvested and will now vote for anyone, right or left, who promises to take back what's been stolen.
So yes, history remains a good guide to the future. But maybe a different slice of history. Instead of 1999 or 2007, where stock market crashes were followed by a return to more-or-less statistically normal times, the French Revolution or the 1929 crash, after which things changed radically, might be worth studying.
Source: dollarcollapse.com
02.14.17 – Is Greece Really On The Verge Of Another Financial Crisis?
Just about every adult on earth has seen this show before. Greece faces a debt repayment that it cannot meet: for this performance, €86 billion due in July. It needs fresh bailout funds from the European Union and/or the International Monetary Fund because borrowing directly on global capital markets comes at too high a cost—10 percent to replace the maturing bonds. Germany, leading the EU, states that before Greece receives a single euro it must first commit to more severe budget policies.
The IMF points out that Greece cannot possibly live up to Germany's demands, and even if it did, the country would not be able to repay its outstanding debt burden, which at last count stood at 181 percent of Greece's gross domestic product. The IMF goes on to hint that Greece may have to leave the eurozone. Throughout this familiar point and counterpoint, few focus on Greece's need for the fundamental economic reforms that offer the country its only hope of using its own resources to meet its obligations.
Pretty much the same actors are playing the same roles as a couple of years ago, when Europe last staged this farce. Greek prime minister Alexis Tsipras has assumed his same initial tough stance toward Greece's creditors, just as he did last time, before he caved into EU demands. German finance minister Wolfgang Schäuble insists that the EU will give no help until Greece broadens its income tax and cuts public pensions enough to create a budget surplus excluding debt service costs—known as a primary surplus—that is equal to 3.5 percent of GDP and maintain that surplus for ten years. Greece has countered by saying that it might commit to three years. The head of the IMF's Europe department, Poul Thomsen, has argued that such goals are impossible. He has pointed out that next year Greece expects a primary budget surplus of only 1.5 percent—even after two years of severe budget constraints. He has also gone on to stress that such fiscal severity is counterproductive given Greece's depressed economy and fragile politics.
The IMF has a point. Past budget stringency has failed to relieve Greece's predicament. To be sure, Greece has never really lived up to its commitments in this regard, but even previous watered-down tax hikes and spending cuts have so depressed growth that progress on public finances has remained problematic. Since this crisis first emerged in 2010 and Greece first began to comply with EU budget demands, the real economy has shrunk 4.2 percent a year through 2015 (the last full year for which data is available). Unemployment has climbed to 26.2 percent of the workforce, and youth unemployment stands at 49.8 percent. Such economic reverses have increased needs for government relief, even as they have reduced government revenue flows from income and value-added taxes. As a result, public finances have suffered. German demands for more severe action along these lines seem unlikely to have a different, more favorable effect going forward.
Meanwhile, everyone seems to ignore the fundamental economic reforms that might get Greece out of its untenable situation. If Greece were to liberalize its constraining labor and product laws and ease restrictions on new business formation, then its economy could grow—even in the face of stringent budget regimes. Unfortunately, since the 2010 opening night of this farce, Greek governments left and right have resisted such steps. Instead, Greece's established business interests have managed to keep down competition with a regime of government red tape, which is extreme even by European standards. Instead, Greece maintains a set of product regulations that stymies the free flow of goods in favor of existing buyers and suppliers. Instead, unions and others in established positions have secured themselves behind labor laws that constrain the ability of businesses to either hire or fire—at the expense of job seekers.
If Athens were to unwind this crony-capitalist regulatory regime, it would generate an economic dynamism that Greece desperately needs. Organic economic momentum would overcome the constraining effects of German budget demands. The country could break the vicious cycle it is in, where budget stringency fails to improve public finances because it also impedes growth and leads to more calls for greater restraint. That cycle only redoubles the weight on the country's economy and future budgets. By promising organic growth, fundamental reforms might even give private investors enough confidence to lend Athens money at supportable rates and obviate its need to go to Europe, hat in hand.
But such reform is unlikely to take place any time soon. Since Athens has overseen an economic disaster without tackling the entrenched interests that benefit from the status quo, then it is a good bet that the current regulatory mess will prevail. That leaves only two potential paths for Greece and Europe. In one, Greece fails, stiffs its creditors and leaves the eurozone to return to a depreciated drachma. Greece would have trouble borrowing at supportable rates for years following such an event, and though a depreciated drachma might help Greek exports and tourism, it would further impoverish an already suffering population by reducing the global buying power of its income. Such an event would also raise additional doubts about the European experiment as it is currently structured. But what is more likely is that Greece will pretend to comply with the EU's demands, secure funding and avert a crisis until it becomes apparent that Athens cannot make the next big payment. At that time, the same players—or their understudies—will take the stage for the next remake of this show.
 Source: zerohedge.com
02.13.17 –  Why Donald Trump Needs The Next Recession To Start As Quickly As Possible
A new recession is coming, and Donald Trump needs it to begin sooner rather than later.  As I explained last week, most American voters tend to care about their pocketbooks more than anything else.  If the next recession were to officially start during the first quarter of 2017, it would be very easy for Trump to blame it on Obama, and then he could portray himself as the one that pulled the U.S. economy out of recession in time for the 2020 election.  But if the next recession does not begin until 2018 or 2019, everybody is going to blame it on Trump even if it is not his fault.  In politics, who gets the blame for whatever goes wrong is often the most important thing, and if Trump wants to avoid blame for the next recession he needs for it to start as quickly as possible.
For most of 2016, the mainstream media was warning that a new recession was probably coming no matter who won the election.  For one example, just check out this Bloomberg article.
And for once, the mainstream media was precisely correct.  Barack Obama left us with an enormous economic mess, and it would take an economic miracle of unprecedented proportions to keep the U.S. economy from going into a recession at this point.
During the Obama years, the U.S. went on a debt binge unlike anything we have ever seen before.
The U.S. national debt almost doubled.  During Obama's time in the White House, it increased from 10.6 trillion dollars to nearly 20 trillion dollars, and that means that over 9 trillion dollars of future consumption was brought into the present.  That incredible boost to spending would have shot U.S. economic growth into the stratosphere during normal times, but because we were struggling so much all we got out of it was eight years of economic stagnation.
In fact, Barack Obama was the only president in modern American history never to have a single year when the U.S. economy grew by at least 3 percent, and he had two terms to try to accomplish that goal.
And remember, Obama also had the benefit of doctored economic numbers.  John Williams of shadowstats.com tracks what the figures would look like if honest numbers were being used, and according to his calculations the U.S. economy has actually continually been in a recession since 2005.
In addition to government debt, other forms of debt are way out of control as well.  The total amount of consumer debt in the United States has now hit 12 trillion dollars, and corporate debt has approximately doubled since the last recession.
When levels of debt grow much, much faster than the overall economy, it is inevitable that a crash will come.
If you look back throughout history, I don't know if you can find a single example where debt has grown this quickly and a crash has not happened afterwards.
By some miracle if we are able to avoid a major economic downturn this time, we will literally be defying the laws of economics.
The employment crisis also threatens to get a lot worse in the months ahead.  The mainstream media keeps trying to tell us that we are almost at "full employment", but the truth is that more than 100 million Americans do not have a job right now.
Yes, there are a few areas of the country where jobs appear to be plentiful, but there are many more areas where they are not.
For example, you will never, ever be able to convince 23-year-old Tyler Moore that the job market is good…
Tyler Moore's late-December drive to Louisville, Ky., was one of desperation. He was headed four hours west on Interstate 64 to interview for a job. Even if he landed the position, filling his gas tank had left him with $8 to his name. He would have to sleep at a friend's place until he could earn enough to pay rent.

The 23-year-old had run out of options. He'd applied for dozens of jobs within an hour and a half of his hometown of Lovely, once a coal-mining stronghold. Instead of opportunities, he had found waiting lists.

"Minimum-wage jobs, fast-food restaurants, Wal-Mart, anything like that, a lot of them has already been took," he says in an Appalachian drawl, explaining that the backlog just to interview was as long as a year. "There are no jobs."
If the U.S. economy is in "good shape", then why can't people like Moore find a job?
Yes, there is a tremendous amount of optimism in the financial markets right now and the stock market has been soaring.
But the exact same things were true in 2007, and we remember how that turned out.
There is no possible way that the S&P 500 can continue to generate an 18% annual return without corresponding economic growth.  The following comes from David Stockman…
Altogether the S&P 500 now stands at 3.4X its post-crisis low, having generated an 18% annual return (including dividends) for nearly eight years running.

To be sure, in an honest free market that very fact would be a flashing red light, warning that exceptionally high gains over an extended period necessitate a regression to the mean in the period ahead.
A lot of people get caught up in trying to predict exactly when the stock market will crash, but what everybody should be able to agree on is that it will crash.
There is no possible way that stocks can stay at such ridiculously overpriced levels indefinitely.
Throughout history, stocks have always moved back in the direction of the long-term averages, and this time will be no exception.
And just like last time, the beginning of a new recession will likely be accompanied by a major financial correction.
In recent articles, I have been highlighting some of the reasons why it appears that a new recession is imminent…
-Federal tax receipts have gone negative for the first time since the last recession.
-Job growth at S&P 500 companies has gone negative for the very first time since the last recession.
-The U.S. trade deficit in 2016 was the largest in four years.
-Lending standards have tightened up for medium and large sized firms for six quarters in a row.
-Lending standard are also tightening up for consumers.
-We just saw the largest percentage decline in average weekly hours since the recession of 2008.
-Gross private domestic investment is down.
-Consumer bankruptcies are rising.
-Commercial bankruptcies are rising.
All of this is not necessarily bad news for Trump.
A horrible recession started during the early years of Ronald Reagan's presidency, but the U.S. economy turned around later in his first term and that momentum helped propel him to an easy victory in 1984.
Similarly, Trump could actually take advantage of the coming economic downturn as long as he is able to pin all of the blame for it on the previous administration.
If there is one thing that is true about U.S. voters, it is the fact that they tend to care about their own economic well-being more than anything else.
If you doubt this, just check out the results of a recent Fox News poll…
The latest Fox News Poll also asks, what defines the American Dream today? At the top, according to the national survey released Wednesday, is "retiring comfortably." Some 88 percent feel that is extremely or very important to realizing the dream.

Next, 76 percent say "having a successful career" is important. That's followed by "raising a family" (74 percent) and "making a valuable contribution" to their community (74 percent).

"Owning a home" is seen as a big part of achieving the dream for nearly 7 in 10 (69 percent). About 6 in 10 say "graduating college" (61 percent) and "being better off" than their parents (57 percent).
To most Americans, being "successful in life" comes down to how much money they have.
That should not be true, but it is.
And this is ultimately what Trump will be judged on.
If the economy is improving by 2020, voters will tend to evaluate him favorably.  But if the economy is faltering during the next election season, it will be more difficult for him to get a second term.
So what Trump and all those that support Trump should want is for the coming recession to begin and end as quickly as possible.
However, there is also the possibility that the next recession may be a particularly bad one.  Because we are in the midst of the biggest debt bubble in human history, any major downturn could ultimately spiral completely out of control.  In other words, we may be facing the kind of crisis from which we never quite recover.
One expert that is warning about such a scenario is legendary investor Jim Rogers…
…get prepared because we're going to have the worst economic problems we've had in your lifetime or my lifetime and when that happens a lot of people are going to disappear.

In 2008 Bear Stearns disappeared, Bear Stearns had been around over 90 years. Lehman Brothers disappeared. Lehman Brothers had been around over 150 years. A long, long time, a long glorious history they've been through wars, depression, civil war they've been through everything and yet they disappear.

So the next time around it's going to be worse than anything we've seen and a lot of institutions, people, companies even countries, certainly governments and maybe even countries are going to disappear. I hope you get very worried.

when you start having bear markets as you I'm sure well know one bad thing happens and another bad thing happens and these things snowball just like in bull markets good news comes out then more good news comes out the next thing you know you're five or six or seven years into a bull market.

Well bear markets do the same thing and so we have a lot of bad news on the horizon. I haven't even gotten to war. I haven't even gotten to trade war or anything like that but you know things do go wrong.
If it is as bad as Rogers is suggesting, it wouldn't be too long before conditions in America would begin to resemble those portrayed in my novel.
Let's hope that does not turn out to be the case.
Let's hope that the next recession begins and ends as quickly as possible and that the U.S. economy is on a solid upswing by 2020.
And if you are a Trump supporter, don't be too dismayed if the U.S. economy takes a major downturn in 2017.  As I discussed above, it could actually be just the thing that Trump needs to set the stage for another election victory in 2020.
Source: theeconomiccollapseblog.com
All information used from other websites on X22 Report is used for educational/criticism and commentary purposes only.

Fair Use Notice: This video contains some copyrighted material whose use has not been authorized by the copyright owners. We believe that this not-for-profit, educational, and/or criticism or commentary use on the Web constitutes a fair use of the copyrighted material (as provided for in section 107 of the US Copyright Law. If you wish to use this copyrighted material for purposes that go beyond fair use, you must obtain permission from the copyright owner. Fair Use notwithstanding we will immediately comply with any copyright owner who wants their material removed or modified, wants us to link to their web site, or wants us to add their photo.

The "Fair Use" Provisions outlined in Title 17, Chapter 01 Article 107 of the US Copyright Law states the following:

Notwithstanding the provisions of sections 106 and 106A, the fair use of a copyrighted work, INCLUDING SUCH USE BY REPRODUCTION IN COPIES or phonorecords or BY ANY OTHER MEANS specified by that section, for purposes such as criticism, comment, news reporting, teaching (including multiple copies for classroom use), scholarship, or research, is NOT an infringement of copyright. In determining whether the use made of a work in any particular case is a fair use the factors to be considered shall include:

(1) the PURPOSE and CHARACTER of the use, including whether such use is of a commercial nature or is for NON-PROFIT educational purposes;
(2) the NATURE of the copyrighted work;
(3) the amount and substantiality of the portion used in relation to the copyrighted work as a whole; and
(4) THE EFFECT OF THE USE UPON THE POTENTIAL MARKET FOR OR VALUE OF THE COPYRIGHTED WORK.

The fact that a work is unpublished shall not itself bar a finding of fair use if such finding is made upon consideration of all the above factors.
Tags: banks, constitution, cyber attacks, DHS, economic collapse, finance, financial collapse, gold, police state, preppers, prepping, silver, stock market, war, wwIII