---
Send us your Sentinel Alert to Submit Sentinel Alert:
---
---
Scroll Down To See More News Alerts
07.28.16 – If Everything Is So Great, Then Why Do Two-Thirds Of Americans Say The Country Is On The Wrong Track?
Americans appear to be increasingly pessimistic about the future of America.  According to a Real Clear Politics average of recent polls, 68.9 percent of Americans believe that the country is on the wrong track, and only 23.1 percent of Americans believe that we are headed in the right direction.  But if you have been listening to the endless parade of political speeches at the Democratic and Republican National conventions, you would be tempted to think that the greatest days for the United States are right around the corner.  The politicians keep promising us that better times are coming if we will just make the "correct" choices on election day, but no matter who we send to Washington D.C. things just seem to keep getting worse and worse.  Let's take a look at just a few of the signs that indicate that our country is going in the wrong direction…
-The rise in violent crime: We haven't seen crime rise this rapidly in our major cities in a very long time, and according to a report that was just released this week many forms of violent crime are way ahead of where they were at this time last year…
A new report published by the Major Cities Chiefs Association said that violent crime – homicides, rapes, robberies, assaults and shootings – is on the rise nationwide.

The troubling results, though just one survey, could provide vindication to Republican presidential candidate Donald Trump. President Barack Obama has contested Trump's assertion– made prominently in his nomination acceptance speech last week – that crime is a national epidemic and major problem.

The mid-year violent crime survey, released Monday, shows307 more homicides so far in 2016, according to data compiled from 51 law enforcement agencies from some of America's largest cities, including Chicago, Los Angeles and New York. There have also been 1,000 more robberies, approximately 2,000 more aggravated assaults, and 600 more nonfatal shootings in 2016 compared to this time in 2015.
-Police officers are being shot at a staggering rate: The number of police officers shot in the United States during the first half of 2016 was up 78 percentcompared to the exact same time period last year.
-Mass shootings: In just the past few weeks we have seen the worst mass shooting in U.S. history in Orlando, and there were mass shootings of police in Dallas and in Baton Rouge.
-The U.S. economy continues to crumble: We just learned that orders for durable goods fell again in June, Gallup's U.S. economic confidence index just hitthe lowest level so far this year, and at this moment 43 million Americans are on food stamps.
-The U.S. consumer appears to be increasingly tapped out as the middle class shrinks: Most of the country is living paycheck to paycheck these days.  One recent survey found that 62 percent of all Americans have less than $1,000 in savings, and U.S. News & World Report is reporting that some analysts are projecting that we are heading for a "restaurant recession"…
Analysts are forecasting a "restaurant recession" in the U.S., which is bad news for America's food and drink establishments and potentially even worse news for the economy at large.

Paul Westra, a senior research analyst at Stifel Financial Corp., said in a research note Tuesday that he'd turned "decidedly bearish" on the restaurant industry, downgrading Stifel's stance on 11 different restaurant stocks, including Chipotle Mexican Grill, Panera Bread and Cheesecake Factory.

He and his colleagues now "confidently believe" that the weak restaurant consumer spending seen in the second quarter of the year "reflects the start of a U.S. restaurant recession."
-Business is not booming: The total amount of stuff our businesses have been selling has been declining since mid-2014, and it is being projected that corporate earnings will be down for a fifth consecutive quarter.  Earlier today, we learned that our biggest aircraft manufacturer, Boeing, has reported its first quarterly loss in nearly seven years.
-Government debt continues to explode: The U.S. national debt has hit a staggering 19.4 trillion dollars, and we have added an average of more than 1.1 trillion dollars to the debt since Barack Obama has been in the White House.
-Our politicians just continue to go from bad to worse: If you thought that the Obama years were bad, just wait until you see what Hillary Clinton can do.  The woman that the Democratic Party just nominated for president of the United States is one of the most evil, wicked and corrupt politicians the nation has ever seen.
-Everywhere you look, evil is exploding: The social fabric of our nation is coming apart all around us, and most of our men are hooked on pornography…
A 2014 national survey commissioned by the organization found one-third of men ages 18-30 admitted they are either addicted to porn (23 percent) or are unsure if they are addicted (10 percent).

"According to our survey, over one-half (52 percent) of men age 18-30 admit to risking their careers and livelihood by viewing porn at work within the past 3 months," Hesch told WND. "The numbers are even higher for men ages 31-49, with nearly three-fourths (74 percent) watching porn at work."
-Sadly, most Americans are way too addicted to entertainment to bother noticing that our nation is rapidly going down the toilet: In America today, millions of people would rather spend endless hours playing video games such asPokemon Go on their phones rather than getting involved in their communities.  And it is difficult to say that we even have "communities" anymore when most people spend far more time online than in face to face interaction with others.  If you can believe it, one recent survey found that half the population of the United States and Canada uses Facebook at least once a day.
I could go on and on, but hopefully you are getting the point.
The average American spends more than five hours a day watching television, and the television is telling them that everything is going to be just wonderful and that they should go out and vote for Hillary Clinton because she would be the first woman president and that would make history.
Meanwhile, our society is falling apart in literally thousands of different ways, and most Americans know deep inside that our country is deeply, deeply broken.  That is why more than two-thirds of us tell the pollsters that America is on the wrong track.  Virtually all of us know that something is seriously wrong with the United States, even if we can't always agree on what the solutions should be.
Let us work very hard to wake our fellow Americans up while we still can, because time for turning this country in the right direction is rapidly running out.
Source: endoftheamericandream.com
07.27.16 – Why A "Dollar" Should Only Be A Name For A Unit Of Gold
Once Upon a Time…
Prior to 1933, the name "dollar" was used to refer to a unit of gold that had a weight of 23.22 grains. Since there are 480 grains in one ounce, this means that the name dollar also stood for 0.048 ounce of gold. This in turn, means that one ounce of gold referred to $20.67.
A 1922 20 dollar gold certificate – this note was actually redeemable for gold on demand, i.e., it was a money substitute. Today irredeemable banknotes are "standard money".
Now, $20.67 is not the price of one ounce of gold in terms of dollars as popular thinking has it, for there is no such entity as a dollar. Dollar is just a name for 0.048 ounce of gold. On this Rothbard wrote:
  No one prints dollars on the purely free market because there are, in fact, no dollars; there are only commodities, such as wheat, cars, and gold.
Likewise, the names of other currencies stood for a fixed amount of gold. The habit of regarding these names as a separate entity from gold emerged with the enforcement of the paper standard.
Over time, as paper money assumed a life of its own, it became acceptable to set the price of gold in terms of dollars, francs, pounds, etc. (the absurdity of all this reached new heights with the introduction of the floating currency system). In a free market, currencies do not float against each other. They are exchanged in accordance with a fixed definition.
If the British pound stands for 0.25 of an ounce of gold and the dollar stands for 0.05 ounce of gold, then one British pound will be exchanged for five dollars. This exchange stems from the fact that 0.25 of an ounce is five times larger than 0.05 of an ounce, and this is what the exchange of 5-to-1 means.
In other words, the exchange rate between the two is fixed at their proportionate gold weight, i.e., one British pound = five US dollars.
An Absurd System
The absurdity of a floating currency system is no different from the idea of having a fluctuating market price for dollars in terms of cents. How many cents equal one dollar is not something that is subject to fluctuations. It is fixed forever by definition.
The present floating exchange rate system is a by-product of the previously discredited Bretton Woods system of fixed currency rates of exchange, which was in operation between 1944 to 1971.
Within the Bretton Woods system the US$ served as the international reserve currency upon which all other currencies could pyramid their money and credit. The dollar in turn was linked to gold at $35 per ounce. Despite this supposed link to gold, only foreign governments and central banks could redeem their dollars for gold.
A major catalyst behind the collapse of the Bretton Woods system was the loose monetary policy  of the US central bank which pushed the price of gold in the gold market above the official $35 per ounce. The price, which stood at $35/oz in January 1970 jumped to $43/oz by August 1971 — an increase of almost 23 percent.
The growing margin between the market price of gold and the official $35 per ounce created an enormous profit opportunity, which some European central banks decided to exercise by demanding from the US central bank to redeem dollars for gold.
Since Americans didn't have enough gold to back up all the printed dollars they had to announce effective bankruptcy and cut off any link between dollar and gold as of August 1971. In order to save the bankrupt system policymakers have adopted the prescription of Milton Friedman to allow a freely floating standard.
Milton Friedman, Richard Nixon and then Fed chairman Arthur Burns. We're not sure if they were fully aware what the adoption of a completely unanchored fiat money system implied. Today Friedman is famous for being a supporter of the free market, but he was actually a central planner when it came to monetary policy.
No More Limits
While in the framework of the Bretton Woods system the dollar had some link to the gold and all the other currencies were based on the dollar, all that has now gone. In the floating framework there are no more limitations on money printing. According to Murray Rothbard:
One virtue of fixed rates, especially under gold, but even to some extent under paper, is that they keep a check on national inflation by central banks. The virtue of fluctuating rates — that they prevent sudden monetary crises due to arbitrarily valued currencies — is a mixed blessing, because at least those crises provided a much-needed restraint on domestic inflation.
Through policies of coordination central banks maintain synchronized monetary pumping so as to keep the fluctuations in the rate of exchanges as stable as possible.
Obviously in the process such policies set in motion a persistent process of impoverishment through consumption that is not backed up by the production of real wealth.
Furthermore, within this framework if a country tries to take advantage and depreciate its currency by means of a relatively looser monetary stance this runs the risk that other countries will do the same.
Printing money with gay abandon… US broad true money supply TMS-1 since 1986 – click to enlarge.
Euro area M1 (currency and overnight deposits) since 1980 (national currencies used prior to euro introduction) – more of the same. The main question seems to be which currency is going to be printed to oblivion first – click to enlarge.
Consequently, the emergence of competitive devaluations is a sure way of destroying the market economy and plunging the world into a period of crisis. On this Mises wrote in Human Action:
 A general acceptance of the principles of the flexible standard must therefore result in a race between the nations to outbid one another. At the end of this competition is the complete destruction of all nations' monetary systems.
Source: zerohedge.com
07.27.16 – Stop Drinking The Kool-Aid, America: Political Fiction In An Age Of Televised Lies
"We've got to face it. Politics have entered a new stage, the television stage. Instead of long-winded public debates, the people want capsule slogans—'Time for a change'—'The mess in Washington'—'More bang for a buck'—punch lines and glamour."— A Face in the Crowd (1957)
Politics is entertainment.
It is a heavily scripted, tightly choreographed, star-studded, ratings-driven, mass-marketed, costly exercise in how to sell a product—in this case, a presidential candidate—to dazzled consumers who will choose image over substance almost every time.
This year's presidential election, much like every other election in recent years, is what historian Daniel Boorstin referred to as a "pseudo-event": manufactured, contrived, confected and devoid of any intrinsic value save the value of being advertised. It is the end result of a culture that is moving away from substance toward sensationalism in an era of mass media.
As author Noam Chomsky rightly observed, "It is important to bear in mind that political campaigns are designed by the same people who sell toothpaste and cars." In other words, we're being sold a carefully crafted product by a monied elite who are masters in the art of making the public believe that they need exactly what is being sold to them, whether it's the latest high-tech gadget, the hottest toy, or the most charismatic politician.
Tune into a political convention and you will find yourself being sucked into an alternate reality so glossy, star-studded, emotionally charged and entertaining as to make you forget that you live in a police state. The elaborate stage show, the costumes, the actors, the screenplay, the lighting, the music, the drama: all carefully calibrated to appeal to the public's need for bread and circuses, diversion and entertainment, and pomp and circumstance.
Politics is a reality show, America's favorite form of entertainment, dominated by money and profit, imagery and spin, hype and personality and guaranteed to ensure that nothing in the way of real truth reaches the populace.
After all, who cares about police shootings, drone killings, SWAT team raids, asset forfeiture schemes, private prisons, school-to-prison pipelines, overcriminalization, censorship or any of the other evils that plague our nation when you can listen to the croonings of Paul Simon, laugh along with Sarah Silverman, and get misty-eyed over the First Lady's vision of progress in America.
But make no mistake: Americans only think they're choosing the next president.
In truth, however, they're engaging in the illusion of participation culminating in the reassurance ritual of voting. It's just another Blue Pill, a manufactured reality conjured up by the matrix in order to keep the populace compliant and convinced that their vote counts and that they still have some influence over the political process.
Stop drinking the Kool-Aid, America.
The nation is drowning in debt, crippled by a slowing economy, overrun by militarized police, swarming with surveillance, besieged by endless wars and a military industrial complex intent on starting new ones, and riddled with corrupt politicians at every level of government. All the while, we're arguing over which corporate puppet will be given the honor of stealing our money, invading our privacy, abusing our trust, undermining our freedoms, and shackling us with debt and misery for years to come.
Nothing taking place on Election Day will alleviate the suffering of the American people.
The government as we have come to know it—corrupt, bloated and controlled by big-money corporations, lobbyists and special interest groups—will remain unchanged. And "we the people"—overtaxed, overpoliced, overburdened by big government, underrepresented by those who should speak for us and blissfully ignorant of the prison walls closing in on us—will continue to trudge along a path of misery.
With roughly 22 lobbyists per Congressman, corporate greed will continue to call the shots in the nation's capital, while our elected representatives will grow richer and the people poorer. And elections will continue to be driven by war chests and corporate benefactors rather than such values as honesty, integrity and public service. Just consider: it's estimated that more than $5 billion will be spent on the elections this year, yet not a dime of that money will actually help the average American in their day-to-day struggles to just get by.
And the military industrial complex will continue to bleed us dry. Since 2001 Americans have spent $10.5 million every hour for numerous foreign military occupations, including in Iraq and Afghanistan. There's also the $2.2 million spent every hour on maintaining the United States' nuclear stockpile, and the $35,000 spent every hour to produce and maintain our collection of Tomahawk missiles. And then there's the money the government exports to other countries to support their arsenals, at the cost of $1.61 million every hour for the American taxpayers.
Then again, when faced with the grim, seemingly hopeless reality of the American police state, it's understandable why Americans might opt for escapism. "Humankind cannot bear too much reality," T. S. Eliot once said. Perhaps that is one reason we are so drawn to the unreality of the American political experience: it is spectacle and fiction and farce all rolled up into one glossy dose of escapism.
Frankly, escapism or not, Americans should be mad as hell.
Many of our politicians live like kings. Chauffeured around in limousines, flying in private jets and eating gourmet meals, all paid for by the American taxpayer, they are far removed from those they represent. Such a luxurious lifestyle makes it difficult to identify with the "little guy"—the roofers, plumbers and blue-collar workers who live from paycheck to paycheck and keep the country running with their hard-earned dollars and the sweat of their brows.
Conveniently, politicians only seem to remember their constituents in the months leading up to an election, and yet "we the people" continue to take the abuse, the neglect, the corruption and the lies. We make excuses for the shoddy treatment, we cover up for them when they cheat on us, and we keep hoping that if we just stick with them long enough, eventually they'll treat us right.
People get the government they deserve.
No matter who wins the presidential election come November, it's a sure bet that the losers will be the American people.
As political science professor Gene Sharp notes in starker terms, "Dictators are not in the business of allowing elections that could remove them from their thrones." As I make clear in my book Battlefield America: The War on the American People, the Establishment—the shadow government and its corporate partners that really run the show, pull the strings and dictate the policies, no matter who occupies the Oval Office—are not going to allow anyone to take office who will unravel their power structures. Those who have attempted to do so in the past have been effectively put out of commission.
So what is the solution to this blatant display of imperial elitism disguising itself as a populist exercise in representative government?
Stop playing the game. Stop supporting the system. Stop defending the insanity. Just stop.
Washington thrives on money, so stop giving them your money. Stop throwing your hard-earned dollars away on politicians and Super PACs who view you as nothing more than a means to an end. There are countless worthy grassroots organizations and nonprofits working in your community to address real needs like injustice, poverty, homelessness, etc. Support them and you'll see change you really can believe in in your own backyard.
Politicians depend on votes, so stop giving them your vote unless they have a proven track record of listening to their constituents, abiding by their wishes and working hard to earn and keep their trust.
Stop buying into the lie that your vote matters. Your vote doesn't elect a president. Despite the fact that there are 218 million eligible voters in this country (only half of whom actually vote), it is the electoral college, made up of 538 individuals handpicked by the candidates' respective parties, that actually selects the next president. The only thing you're accomplishing by taking part in the "reassurance ritual" of voting is sustaining the illusion that we have a democratic republic. What we have is a dictatorship, or as political scientists Martin Gilens and Benjamin Page more accurately term it, we are suffering from an "economic élite domination."
A healthy, representative government is hard work. It takes a citizenry that is informed about the issues, educated about how the government operates, and willing to make the sacrifices necessary to stay involved, whether that means forgoing Monday night football in order to attend a city council meeting or risking arrest by picketing in front of a politician's office.
It takes a citizenry willing to do more than grouse and complain. We must act—and act responsibly—keeping in mind that the duties of citizenship extend beyond the act of voting.
Most of all, it takes a citizenry that cares enough to get mad and get active. As Howard Beale declares in the 1976 film Network:
"I want you to get up right now, sit up, go to your windows, open them and stick your head out and yell, 'I'm as mad as hell and I'm not going to take this anymore.' Things have got to change. But first, you've gotta get mad!…You've got to say, 'I'm as mad as hell, and I'm not going to take this anymore!' Then we'll figure out what to do about the depression and the inflation and the oil crisis. But first get up out of your chairs, open the window, stick your head out, and yell, and say it."
Source: zerohedge.com
07.26.16 –  "30 Seconds To Midnight"
Former US Secretary of Defense William Perry warns that the world is on the knife edge of nuclear catastrophe. Such catastrophe can result accidentally from electronic failures or glitches in warning systems and from the recklessly aggressive and unnecessary force buildup against Russia. Conn Hallinan discusses these issues. http://fpif.org/may-greater-risk-nuclear-catastrophe-cold-war/
I doubt Hallinan is correct about Washington's military predominance. This is Washington's view, and this view makes Washington confident that it holds the aces. It is a mistake for Hallinan to encourage Washington in this view. Nevertheless, Hallinan makes it clear that we could all be vaporized at any minute. This extremely high risk has been created entirely by the Clinton, George W. Bush, and Obama regimes in which zionist neoconservatives have controlled foreign and military policies.
It is tiresome to hear the argument that nuclear war won't happen because it makes no sense. William Perry points out that the failure of a 49-cent computer chip resulted in NORAD's computers signaling that the Soviets had launched 220 nuclear missiles at the United States. Just think about all the failures and glitches in our own personal computers, even the best ones.
Human miscalculation is also an enormous risk. Miscalculation is a dominant human trait. Consider that 50 percent of Americans' choices of marriage partner are miscalculations as established by the divorce rate.
The mere existence of nuclear weapons means the nonexistence of life on earth. It will happen sooner or later. To raise the risk as the crazed American government is doing with irresponsible provocations of the Russians and Chinese is the ultimate criminal act.
There is no greater threat to human rights than to endanger all life, and that is what Washington and its two-bit punk NATO vassals are doing by increasing tensions between nuclear powers.
The neoconservatives in Washington have replaced nuclear disarmament with a new nuclear arms race. All of the hard work and accomplishments of previous US administrations to ease tensions and to reduce the stockpiles of nuclear weapons has been thrown away by the psychopaths who control the government in Washington.
Source: paulcraigroberts.com
07.25.16 –  How Do We Make America Strong Again? Start Telling The Truth
You want to make America strong again? The only way to do so is to start telling the truth and insisting on the truth.
"Making America Strong Again" is a potent political narrative. But what does "being strong" mean? For some, it's a code-phrase for bullying–forcing other nations to do our bidding.
For others, it describes a re-emergence of widespread domestic economic vitality.
Another audience sees the rebuilding of a social contract and social cohesion as the essence of strength.
As laudable as some of these interpretations of strength might be, to me "being strong" boils down to one principle, and only one principle: tell the truth, however painful and unwelcome as it might be. The essence of weakness is the cowardice of avoiding the truth. We as a nation have grown accustomed to the cowardice of half-truths, half-confessions, half-apologies and a financial system that rewards fraud in all its variations of artifice, deception and lies.
What's presented as "fact" is actually a spectrum of manipulation and lies. Does anyone with a basic grasp of the economy really believe unemployment is 5% or less? Does anyone seeking the truth believe that a person working one hour a week is equivalent to someone working 40 hours a week? Isn't counting both of these positions as equally statistically important jobs a form of not telling the truth?
If you hold great wealth and power, and the source of your wealth and power is illegitimate, you must dissemble, fabricate, propagandize and lie to hide the illegitimacy of your power. That is the status quo of the U.S. in a nutshell. Those who earned wealth and gained power legitimately have no fear of the truth. Those whose wealth and power is illegitimate fear the truth more than anything else.
The Power Elite of the nation has purposefully co-joined "America" and "Empire," as if the two cannot be separated. They have successfully conned much of the public into a strained belief that the U.S. isn't an Imperial Project, that we're just looking out for our "interests," which just happen to extend into every nook and cranny of the entire planet.
The Power Elite has also purposefully confused bullying with strength. Bullying fails because the bullied hate the bully with every fiber of their being. True strength flows from opt-in, mutually beneficial alliances that people and nations join out of self-interest. Such opt-in relationships can only endure if telling the truth is the core principle, for truth is the foundation of trust, and trust is the foundation of durable alliances and cooperative networks.
The Power Elite of the nation has pushed the narrative that its own rising power reflects the rising power of the nation. Nothing could be further from the truth. The increasing concentration of wealth and power in the hands of the few at the expense of the many is the source of America's weakness, vulnerability and fragmentation.
Take a look at this chart. While GDP per person (per capita) has been rising, household income has been declining. What does that tell us about the economic growth we keep hearing about? That it's flowing to the top and being drained from the bottom 80%.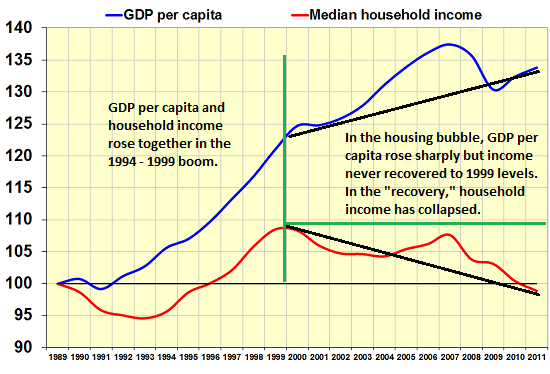 Telling the truth, and insisting on the truth, requires courage, a moral foundation and strength. Telling lies, accepting half-truths and living with fraud as a way of life is easy because it requires no courage, moral foundation or strength.
You want to make America strong again? The only way to do so is to start telling the truth and insisting on the truth. Accepting statistical lies, propaganda and fraud as "truth" because it's easy and doesn't challenge our assumptions is a one-way road to ruin.
Source: zerohedge.com
07.24.16 –  "Policymakers Have Been Calling A 'Depression' A 'Recovery' For Nearly A Decade"
Some people have impeccable timing. Even if by accident, there are occasions when what they say or write comes out in almost perfect sequence. At the end of August 2014, UC Berkeley economist J. Bradford DeLong wrote an article for Project Syndicate that argued in favor of proper categorization. The lack of recovery was so drastic that the economist community and indeed the world at large needed to come to terms with what was actually taking place; and that was not anything like what was being described especially at that time.
To have such a Keynesian of prominence make such an indictment like that may seem somewhat surprising, as it has been they who have most objected to classifying this economy as anything but robust. Some of it is surely political, or at least loyalty to the good standing monetarist/Keynesians (neo-Keynesian, saltwater-ists, or whatever they call themselves these days) at the Federal Reserve, where no economist shall direct any disparaging comments toward the palace. But to DeLong, the issue had never been about recession at all:
 Cumulative output losses relative to the 1995-2007 trends now stand at 78% of annual GDP for the US, and at 60% for the eurozone. That is an extraordinarily large amount of foregone prosperity – and a far worse outcome than was expected. In 2007, nobody foresaw the decline in growth rates and potential output that statistical and policymaking agencies are now baking into their estimates.

By 2011, it was clear – at least to me – that the Great Recession was no longer an accurate moniker. It was time to begin calling this episode "the Lesser Depression."
As I wrote above, the timing was perfect at the front edge of the "rising dollar." The economy of greater eurodollar shortage and inflexibility has served, in this context, to demonstrate the claim. Rather than sail off into the Hollywood sunset as Bernanke and then Yellen assured us, the economy instead went the other way, and not just here. Further, subsequent data revisions have shown that it was folly all along to believe that 2014 was anything other than the anomaly; and a fictional one beside.
The idea of calling it the "Lesser Depression" makes good sense because the similarities with the Great Recession are in some ways unbelievably close. What made the Great Depression was not just its collapse but how it lingered interminably for more than a decade. What makes this the Lesser Depression is that same time problem, only following a much smaller contraction at its start. When comparing them, the real difference is the scale of collapse at the front, leaving what followed each as remarkably, undeniably similar.
This is where Ben Bernanke's forced reputation intrudes; he will claim, has claimed, that it was his efforts that made all the difference. Indeed, that is one reason, as DeLong wrote in August 2014,
 it was dubbed the "Great Recession." And, with the business cycle's shift onto an upward trajectory in late 2009, the world breathed a collective a sigh of relief. We would not, it was believed, have to move on to the next label, which would inevitably contain the dreaded D-word.
All the world's central banks did exactly that. Congratulating themselves on a job well-done, they moved on to the cyclical recovery and the universal accolades that would surely follow. By 2011, however, as DeLong also notes, it had become clearsomething was very wrong. Policymakers have spent the last five years trying to deny to themselves as much as anyone in the public that wasn't true. Deep down, however, they must have known or at least allowed themselves in their whatever brief moments of clarityoutside their dense bubble to worry that they really could have it all wrong.
That was the whole point of QE3, Draghi's promise, QQE, etc. They would go so far, so big, and so long that they would leave nothing to chance, all doubts erased by sheer size and determination. If the economy didn't want to follow the script then they would call down the monetary thunder and make it. That was the narrative setting for 2014, and the small improvement from 2013 was their mountain of a molehill "proving" it.
While I personally believe the actions of central bankers from 2011 to 2014 was unforgivable (there really is no excuse, they should have known better; it was their job and self-appointed sacred duty to know better) you can make a case that it was all understandable and perhaps legitimate. After 2014, however, that ship sailed. What has happened in 2015 and 2016 has been to wholly repudiate cyclicality down to the simplest terms. Janet Yellen really cannot claim to be expecting recovery when it was on such shaky ground to begin with and then that ground falling out from underneath her in the trembling earthquake of the "rising dollar" she tries to pretend the FOMC can't see or hear ("global turmoil").
As noted yesterday, the bond market is making this act of willful blindness that much more impossible especially in light of the comparison to the 1930s; yet central bankers carry on because they can. They can play themselves into fools in public and in private, but it doesn't matter because they are still politically insulated. They have called a depression a recovery for years on end, but there are no repercussions for having done so; indeed, their dutiful media still reports everything they say as fact and everything they do as "stimulus."
At her regular press conferences nobody in the press bothers to ask Chairman Yellen the simplest yet most poignant question of all; why is she still looking for a recovery through constant "accommodation" seven years after the recession officially ended?The answer is equally simple and straight forward – Brad DeLong was right; it was never a recession.
The monetary tools of QE and ZIRP are meant as temporary measures. The turn to QE2, as then the third and the fourth, was supposedly a reflection of the severity of the recession, but that also was a false assumption. Monetary policy is meant to cushion the blow as the economy is pushed to heal, in what none other than Brad DeLong (with Larry Summers) wrote in 1988 was an intentional, determined attempt to, "fill in troughs without shaving off the peaks." The idea is to use monetary (and fiscal) policy to buy time so that no matter how bad it never gets too bad – like 1929.
Rather than buy time, however, monetary policy has instead squandered it by thinking that "shaving off the peaks" was something that had been avoided not just as a circumstance but even as a possibility. If this all is a "Lesser Depression", mimicking the lack of recovery in the 1930's so well, then that, too, must be made accountable. How could the global economy fall into depression when such an outcome was held out for decades as totally impossible? For that to have happened could have only meant the rules of the game changed on them without their notice. That is an entirely new class of negligence, gross misconduct that is costing the world lost economy beyond all comprehension.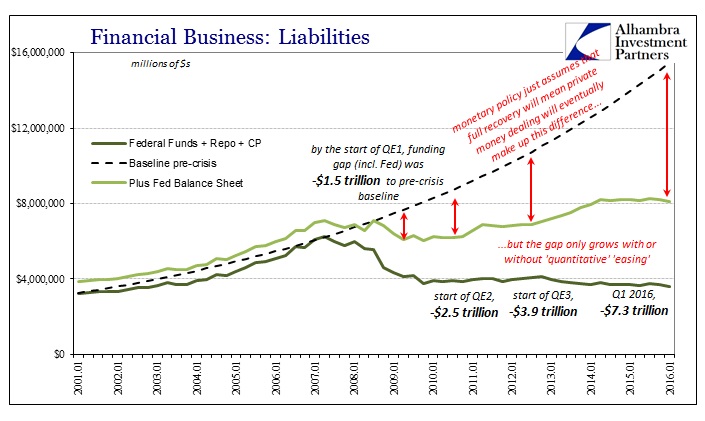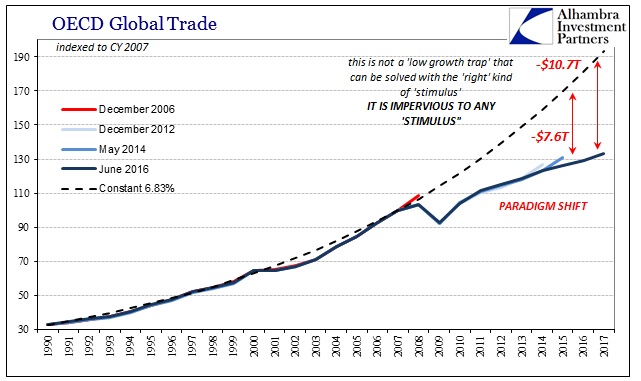 A comprehensive survey of our predicament isn't universally bad, however. There are small fissures of hope taking the form of political revolt and populism, as I wrote earlier today. There was Brexit and now:
 The light at the end of this tunnel is in the growing body of evidence that we are not yet Japan. The lost decades of the Japanese economy are both parts monetary criminality ("stimulus" after "stimulus" after "stimulus" with nothing ever being stimulated) but also political status quo to further entrench bad economics. Just this week, the Republican National Committee unveiled its commitment to restoring some type of Glass-Steagall. I have no idea how committed they really are, or exactly through what mechanism it might work, and I don't really care. More important to me is the symbolism of even saying that they will do it and that banking (really money) is no longer a sacred political cow; recognizing just how far that is from TBTF.
In some ways it astounding it has taken this long; in other ways, in terms of glacial political shifts, it is amazing in only two presidential cycles just how far it has come. The last Republican President was committed to Too Big To Fail. That idea was birthed under cyclicality, where the Great Recession would be kept to a recession if Ben Bernanke and Hank Paulson got what they wanted and the awful ramifications of depression avoided by bailouts, monetarism, and the status quo. But we got the ramifications of depression anyway, showing yet again it was all a lie.
As much progress as this dramatic change may be, we aren't nearly there yet. Central bankers are not anywhere close to having been brought to heel, and they have proved time and again they will not themselves stop. That actually creates something of a vacuum, a window actually for the most unpleasant opportunity:
 The real danger of 2016 and immediately beyond, then, is this race; those that are catching up to the real problem and trying to find a real solution not of inflation or deflation but of stable money will need time to find and then implement it (this is where the lost opportunity of 2008 is so tragic). Against them are those who would impede intellectual growth (as what did happen in 2008). But as confidence in the old order falls and the strong populist desire to look elsewhere begins to take its place, into that messy void is still the potentially disruptive force of bad economics. Where do all these curves meet? In other words, what is the point at which shrinking faith, desperate central banks, and growing economic despair all conspire to push us into the darker reaches?
That is the real difference in 2016 – desperate central banks. They were (mostly) content to sit back in 2015 under expectations they formed from 2014. It was a big mistake in so many ways, not the least of which was growing suspicion from markets, even the stock markets (bank stocks as prime examples). They have rallied somewhat this year, with the ECB and now Bank of Japan leading – but all still in hope, not actual results. If this is a depression, and that is where all the evidence points, from GDP to labor to consumers, then this burst of desperation will have the same effect; nothing. Then what?
The narrative basis of my column was the German hyperinflationary episode of 1922 and 1923. I am not claiming that is the next step awaiting central bank bungling inside of the current depression, merely pointing out the commonalities of the situations that can lead to bigger, more intense problems of all kinds of bad possibilities.
 In other words, German monetary officials, particularly Reichsbank head Rudolf von Havenstein and Minister of Finance Karl Helfferich, denied that Germany had an inflation problem at all – right up until the end. Minister Helfferich declared that Germany had better gold coverage after the war than before it, despite that more than quadrupling of currency volume. One economics professor, Julius Wolf, wrote in 1922 that, "in proportion to the need, less money circulates in Germany now than before the war." As much as the easy-to-see Versailles excuse played a part, there can be no doubt that beyond 1921 the German people themselves began to recognize that authorities had no idea what they were doing; worse, they came to see that even though policymakers were inept and incompetent, officials themselves would never admit as much and thus nothing would prevent Germany from its fate. That awakening meant an increase in danger that French occupation could never have unleashed on its own. [emphasis added]
Confidence is truly a big part of economics (small "e"); that is why orthodox Economists (capital "E") spend so much time with asset prices, infatuating themselves with bubbles while also convincing themselves they aren't that. It isn't something that can be conjured out of nothing, manipulated like a regression variable (raise stocks X, confidence increases Y, economy grows Z). But it can work in the other direction, such as when policymakers claim the "wealth effect" and then watch the economy instead sink. The real danger in terms of money and economy might be when the world wakes up to what I wrote above; policymakers have been calling a depression a recovery for nearly a decade. The implications of that might be where this possible event horizon sits; that central banks have exhausted themselves and we still got depression anyway.
I'd like to think that logic and reality will prevail; that distaste for being told how great the world is has become sufficiently revolting and obviously false to stir the world's populace to end the imbalances. But that, again, will take time, perhaps a good deal of time; until then, whenever it hopefully is, central banks continue to operate with impunity even though the risks of their intemperance rise exponentially as time further accumulates and their claims fall further from reality. It's not a good set of circumstances, especially since all QE did everywhere it was tried was show that confidence in it was sorely, disastrously misplaced.
Source: zerohedge.com
07.23.16 – America Needs A Good, Old-Fashioned Economic Depression
Artificial measures to stave off a downturn will only make it much worse.
Describing what he called the "crack-up boom", Ludwig von Mises, the great Austrian economist, said:
The boom cannot continue indefinitely. There are two alternatives. Either the banks continue the credit expansion without restriction and thus cause constantly mounting price increases and an ever-growing orgy of speculation – which, as in all other cases of unlimited inflation, ends in a "crack-up boom" and in a collapse of the money and credit system.
Or the banks stop before this point is reached, voluntarily renounce further credit expansion, and thus bring about the crisis. The depression follows in both instances. (emphasis added)
Although it would be the wiser policy, there is no evidence that the world's central bankers have the wisdom, either individually or collectively, to select the second alternative. More specifically, they lack "the courage to act" (as Ben Bernanke's recent, self-congratulatory memoir was so ironically titled); they and their political, big finance and big business cronies are afraid to swallow the "d-pill", the economic medicine named "depression".
A good, old-fashioned, pre-1929 depression (like the short-lived, eleven-month depression in 1920-1921, before the days of "modern" central banking and "enlightened" Keynesian intervention "cures") is the only tonic that can clear out the malinvestment built up since the beginning of the fiat money era. That era began in August of 1971. That is when Richard Nixon, informed that U.S. gold reserves were precipitously declining as a result of President Johnson's March 1968 action to reduce the gold reserve ratio from 25 percent to zero, "temporarily" suspended the convertibility of the U.S. Dollar into gold. That "temporary" measure has been in effect for forty-five years.
Finally freed from the constraints of what they could not print (i.e., gold), central bankers and their cronies in government, finance and big business were given a license to debase all formerly hard currencies. (Such currencies were "hard", as they were linked, via the Bretton Woods arrangement, to the dollar, which was backed by gold.) And debase they did: they replaced real investment capital (i.e. actual savings) with cheap, invented credit; they replaced market-derived price (of money) discovery, i.e., market-derived interest rates, with central-bank-proclaimed interest rates.
The actions of central bankers to suppress real price discovery (i.e., market-derived interest rates) now has led to nearly $12 trillion of sovereign debt having been issued with interest rates below zero ("NIRP", or "negative interest rate policy"). That means that more than one third of all sovereign debt worldwide now carries negative interest rates.
That nearly $12 trillion total includes $3.2 trillion of short-term sovereign debt and $8.5 trillion of long-term sovereign debt. The total NIRP debt is up $1.3 trillion from the end of May. Even more astounding is that the total amount of negative-yielding debt with maturities of seven years or longer has ballooned to $2.6 trillion. That is nearly double just since April of this year. In fact, all of the debt issued by the Swiss government – every borrowed franc, even Swiss fifty-year bonds – now carries a negative yield. All of the debt issued by the Japanese government (JGBs) with maturities up to twenty years now carries a negative yield.
Imagine lending money to anyone, even the Swiss government, for fifty years, ultimately getting back less than you loaned … and paying for the privilege! What such an investor has to believe, in order to make such a loan, is that inflation over the next fifty years will be substantially negative (i.e., a great, and long-lasting deflation), with the result that the purchasing power of the Swissie will increase substantially over the next fifty years. But every major currency on the planet, including the US dollar, the British pound, the Japanese yen and the Euro/DM, has lost purchasing power over the last forty-five years (since the end of Bretton Woods).
Without some form of scarce commodity backing (e.g., precious metals) for currencies, why would anyone, particularly sovereign bond investors, believe that currency units, which can be conjured at will from thin air (not a scarce commodity) by desperate governments, will be worth more, not less, over the next fifty years? But believe it they do, proving that, at least with respect to high finance (better named low-IQ finance?), you can fool all of the people (the investment public) all of the time.
NIRP simply never could exist in a real-money world, where credit, like all commodities, is scarce and must be rationed by the market. But European Central Bank chief Mario Draghi, with the implicit and explicit assent of all the world's central bankers and the urging of their cronies in government, finance and big business who get "first crack" at the conjured money, has reiterated over and over that there would be "no limits" to what he and the ECB might do with respect to printing money and further reducing interest rates. (No wonder the workaday citizens of Great Britain voted overwhelmingly for Leave.)
ZIRP and NIRP certainly have well served the central banks and their crony political, finance and big business elite masters (the top 1 percent of the top 1 percent). Money printed by central banks ex nihilo (out of nothing) has poured into the world's stock markets, fueling stock buybacks that enrich big-business management via soaring stock-options values. Money printed by central banks has fueled an auto-loan bubble, with total auto debt now more than $1 trillion. Money printed by central banks has fueled the rapid increase in student debt that either will enslave American youth, preventing most from participating in the "American Dream" of home ownership and a reasonable retirement, or turn them into rabid supporters of socialist politicians (e.g., Bernie Sanders) who promise to absolve them of their unpayable debts.
But the central bankers' ability to defy economic gravity may, at long last, be coming to an end. Even the radical Keynesian, Richard Koo has recognized the outrage of NIRP, which he recently described as "an act of desperation born out of despair over the inability of quantitative easing and inflation targeting to produce the desired results… the failure of monetary easing symbolizes crisis in macroeconomics."
The failure of ZIRP, QE and now NIRP is easy to see from recent corporate earnings reports and associated PE multiples: As of close of trading on Friday, July 1, 2016, the S&P 500 was trading at 24.3 times earnings over the last twelve months, close to an historical record high PE multiple. Generally (meaning before fiat money), elevated PE multiples were notched during times of increasing earnings. But for the first fiscal quarter of 2016 (FQE 3/31), S&P 500 earnings per share were only $87. That is 18 percent less than the $106-per-share earnings peak reported for the third quarter (FQE 9/30) of 2014. If money printing and central-bank-dictated interest rates were the saviors of the real economy, and if the United States were actually experiencing a real economic recovery, corporate earnings would be increasing, not declining precipitously.
Interestingly, the first quarter 2016's $87 per share earnings were eerily equivalent to the $85 earnings per share for the last twelve months just preceding the 2008 crash. And the S&P 500 multiple was only 18.4 at that time. So stocks have a long way to fall from their elevated current levels, levels only reached as a result of share buybacks (artificially increasing earnings per outstanding share and increasing per share prices), which buybacks were (and continue to be) fueled by relentless near-ZIRP maintained by the U.S. Federal Reserve, as well as so-called "carry-trade" borrowings in currencies with NIRP (such as the Japanese yen).
The failure of ZIRP, QE and now NIRP also is easy to see from recent corporate sales reports: According to the most recently updated Inventories to Sales Ratio compiled by the Federal Reserve Bank of St. Louis, the inventory to sales ratio is hovering at 1.35, just below the highest recorded (1.41 in January of 2009) in over twenty years. That ratio exploded higher (meaning unsold goods are piling up) every quarter since the end of the second quarter of 2014. If money printing and central bank-dictated interest rates were the saviors of the real economy, and if the United States were actually experiencing a real economic recovery, inventories would not be languishing unsold on the shelves of suppliers and merchants. Workers with higher pay checks would be consuming them.
Which brings us to perhaps the easiest way to understand the failure of ZIRP, QE and now NIRP: the labor market. Contrary to the claims of the Obama administration's Bureau of Labor Statistics' headline unemployment numbers (which counts job slots, so that a part-time gig is the equivalent of a forty-hour-per-week career job paying over $50,000 per year), there is not more work being done in America. There actually is less, as former full time jobs (with benefits) have been, and continue to be, replaced with more part-time, lower paying jobs (without benefits). Indeed, as former OMB chief David Stockman has instructed, the number of what can be called "breadwinner jobs", which are jobs that can support a family of four, is now almost one million below the number of such jobs in the year 2000. If money printing and central bank-dictated interest rates were the saviors of the real economy, and if the United States were actually experiencing a real economic recovery, there would be more "breadwinner jobs" now than in 2000, when the population was considerably lower.
The crack-up boom, fueled by fiat money, QE, ZIRP and now NIRP, is coming. It will hit on a global scale, and "rock the casbah" (and all points north, south, east and west thereof). It will make the Great Depression look like a picnic party in the park. Why will it be worse? Consider just two simple facts: first, supply chains are much longer and considerably more intricate than eighty-five years ago. As they fail (due to bankruptcies and business failures of those in the chain), basic necessities will not get to those in need of them. Second, compared to eighty-five years ago, the world has billions more mouths to feed, and many fewer people, including millions fewer farmers, who actually know how to produce the basic necessities.
Yes, central bankers can print currency units, but not food, energy or other commodities necessary for sustaining life. As basic commodities become more scarce or are priced out of the reach of average folks, wars, riots, rebellions, diseases and repressive governments will result. All of this human suffering will be the progeny of ZIRP, QE and NIRP, which in turn are the progeny of the replacement of the gold standard by the Ph.D standard.
Source: zerohedge.com
07.22.16 –  End Of An Era: The Rise And Fall Of The Petrodollar System
 "The chaos that one day will ensue from our 35-year experiment with worldwide fiat money will require a return to money of real value. We will know that day is approaching when oil-producing countries demand gold, or its equivalent, for their oil rather than dollars or euros. The sooner the better."

Ron Paul
A new oil pipeline is built in the Saudi desert… this one is apparently destined for the Ghawar oil field, one of the oldest fields in Saudi Arabia and still the largest in the world
The intricate relationship between energy markets and our global financial system, can be traced back to the emergence of the petrodollar system in the 1970s, which was mainly driven by the rise of the United States as an economic and political superpower.
For almost twenty years, the U.S. was the world's only exporter of petroleum. Its relative energy independence helped support its economy and its currency. Until around 1970, the U.S. enjoyed a positive trade balance.
Oil expert and author of the book "The Trace of Oil", Bertram Brökelmann, explains a dramatic change took place in the U.S. economy, as it experienced several transitions: First, it transitioned from being an oil exporter to an oil importer, then a goods importer and finally a money importer. This disastrous downward spiral began gradually, but it ultimately affected the global economy.
A petrodollar is defined as a US dollar that is received by an oil producing country in exchange for selling oil. As is shown in the chart below, the gap between US oil consumption and production began to expand in the late 1960s, making the U.S. dependent on oil imports.
Village in the desert: this compound in the Sahara houses people working at Saudi Arabia's Shaybah oil field.
And while it led to the U.S. Dollar being established as the world's premier reserve currency, it also contributed to the country's increase in debt. The oil embargo of 1973-74 was a major hit that exposed the vulnerability of the U.S. economy.
Nevertheless, under the banner of "national security" the future policy course was firmly set: in a 1973 National Security Council (NSC) paper, it was stated that "U.S. leverage in energy matters resulted from its economic and political influence with Saudi Arabia and Iran, the two leading oil exporters".
US petroleum production, consumption and net imports – after surging dramatically from 1950 to the early 21st century, US energy imports have declined dramatically since the mid 2000ds as a result of the fracking boom. This is inter alia beginning to affect global dollar liquidity.
From a Gold-Based Monetary System to the Petrodollar System
Former U.S. Senator Ron Paul explains that "understanding the Petrodollar system and the forces affecting it, is the best way to predict when the U.S. Dollar will collapse." The origins of the petrodollar system go back to the Bretton Woods system, the 1944 post-war agreement, which made the U.S. Dollar the sole reserve currency.
Bretton Woods monetary conference at the Mt. Washington Hotel in July 1944
From then on, only the U.S. Dollar would be convertible into gold at a fixed rate of USD 35 per ounce. This also meant that only the U.S. was able to change the price of gold and, in turn, it committed to maintaining the value of the Dollar by buying and selling unlimited quantities of gold, at the agreed upon rate of USD 35 per ounce.
In 1945, the U.S. Treasury held 17,848 metric tons of fine gold, which at the time represented around 63% of official global gold reserves. The gold-backed Dollar offered the world a reliable and stable reserve currency. However, cracks in the Bretton Woods system began to emerge, as US export surpluses began to drop after 1960.
The Kennedy and Johnson administrations were rather big on money printing, be it to finance the space race, or to spend on domestic social programs. A significant burden on the U.S. budget were also the wars fought in Korea and Vietnam, which had to be paid for by resorting to the usual war funding mechanisms, i.e. by borrowing money.
Thus, the country began to live on credit and banks worldwide were  flooded with US dollars. These dollars represented gold claims on the United States though. In 1971, the US "temporarily" suspended convertibility of the Dollar into gold, and announced that the dollar would be devalued to USD 38.00 per ounce.
Richard Milhouse Nixon. Here is a link to a video of his announcement of the US gold default in 1971. It is a classical example of how governments are routinely telling bald-faced lies when imposing steps to combat "economic emergencies" they themselves have caused. These steps invariably mean that someone's wealth is stolen or diminished in favor of the State.
A run on gold ensued, as European states, particularly France and Germany, were skeptical and wary of another devaluation. As a result, US gold reserves eventually shrunk to about 286 million ounces. Richard Nixon then "closed the gold window" in August 1971 and the dollar was devalued for a second time by 10%.
The gold price shot up to USD 42.22 in one go. This essentially meant that the U.S. Treasury defaulted on its promise to back the dollar with gold and thus, the financial system as it was constituted at the time was no longer sustainable.
Gold price from 1967 to 1973. In the late 1960s there was an attempt by governments to keep the gold price under control through the "London Gold Pool" – they lost gold so fast in this market manipulation effort that they soon gave up again. It foreshadowed the eventual default. Monetarist economists like Milton Friedman told Nixon that the gold price would fall to $6 if the US were to "demonetize" gold – once again proving that the forecasts of most economists aren't worth much – click to enlarge.
1973 was an important year for oil: the oil embargo was imposed as a reaction to the Yom Kippur war, but it also related to the closure of the gold window. The Dollar became nothing more than a fiat currency and the Fed was free to pursue monetary expansion completely unhindered. The main problem the US faced was how to motivate other countries to hold and use US dollars. Saudi Arabia became the lynchpin of this effort.
According to leaked documents, there were other interested parties that helped to "orchestrate" these developments in 1973-74. Henry Kissinger held a meeting in Bilderberg in the Netherlands with an influential group of men: Lord Greenhill of BP, David Rockefeller of Chase Manhattan Bank, George Ball of Lehman Brothers and Zbigniew Brzezinski.
The came to the conclusion that OPEC "could completely disorganize and undermine the world monetary system" and so they decided to target the commodity it controlled. Oil was to save their banks and financial interests from the collapse of the dollar.
Kissinger meets with King Faisal of Saudi Arabia. At this point, the latter seemed not quite convinced yet. In the end, the Saudi royals realized what a great deal this would be for them.
Shortly thereafter, Kissinger negotiated with the Saudi monarchy,  and helped steer events in the direction that would eventually lead to an agreement between Saudi Arabia and the United States. It has only recently been disclosed that there was another covert meeting between the Saudis and newly appointed U.S. Treasury secretary, William Simon.
The objective was to find a way to convert the then hostile Saudis to US allies and by doing so create the petrodollar so as to reanimate the ailing US economy. Nixon would not take no for an answer – not only was it a matter of economic security, but he also wanted to block the Soviet Union from getting a toehold in the region.
Former US treasury secretary William Simon – it has only recently emerged that he actually went on a secret mission to Saudi Arabia to persuade the Saudis to take dollars for oil and recycle them into treasury debt
Simon knew how to sell the idea: America was the safest place for the Saudis to invest their petrodollars and no one would know about it (Saudi investments were not disclosed separately, instead they were grouped with other oil exporting countries). As shown in the chart below, today Saudi Arabia is the largest US creditor among oil exporting countries, holding about USD117 billion in treasury securities.
US treasuries held by oil-exporting countries. In this group, Saudi Arabia is the largest creditor of the US – click to enlarge.
And so, a partnership and a strategic alliance were formed: The US agreed it would guarantee the survival of the House of Saud, provide military security for the Saudi oil fields, as well as sell arms weapons to the Saudi government.
In return, Saudi Arabia would use its leverage in OPEC to ensure all oil transactions would be in USD, invest its own Dollars generated from oil sales in US investment vehicles, maintain influence over price levels and prevent another oil embargo.
This alliance marked a paradigm shift, the transition to the "petrodollar system". It enabled the US to fill the vacuum that was left by the closure of the gold window. The oil conglomerates and financial oligarchs secured the flow of funds by creating a new wave of demand for US dollars.
Though artificial and baseless, it was backed by the increasing demand for oil worldwide. And this, also artificial, demand has successfully supported the continuation of expansionary US monetary policy for decades – at least until the beginning of the global financial crisis and the point where we find ourselves now.
Is Another Paradigm Shift Underway?
Similar to the paradigm shift that followed with the collapse of the Bretton Woods system, there is another major shift underway today. According to Ron Paul, we will know its consequences in full, the day oil-producing countries demand gold for their oil rather than dollars.
Rosneft facility in Siberia
We have already seen changes in oil sale agreements made in recent years. In 2013, Russia's Rosneft agreed to supply China with oil worth USD 270 billion, the largest agreement to date. Additionally several OPEC nations are allowing oil transactions to be carried out in a currencies other than the dollar.
In January 2016, India and Iran agreed to settle their oil sales in Indian rupees. In 2014, Qatar agreed with China to be the first hub for clearing transactions in the Chinese yuan. In December 2015, the United Arab Emirates (UAE) and China created a new currency swap agreement for the yuan. Both steps strongly indicate that the Gulf states are taking measures to reduce their dependence and exposure to the US dollar.
It is therefore clear why all eyes are set on the geopolitical turmoil in the Middle East.Concerns have intensified after a failed military intervention by the US, the slowly weakening strategic position of Saudi Arabia in the region and the increasing strength of Iran after the removal of economic sanctions.
President Obama and Saudi Arabia's new King Salman find something to laugh about. In reality, relations between the US and Saudi Arabia have steadily deteriorated in recent years, official proclamations to the contrary notwithstanding.
In addition, U.S.-Saudi relations are currently on shaky ground. In April Saudi Arabia warned it could proceed to sell off billions worth of US treasury bonds if Congress passed a bill that would allow the kingdom to be held liable in U.S. courts for the Sept. 11 terrorist attacks.
That bill indeed passed the Senate in May and is now in the hands of the House of Representatives, but a vote is yet to be scheduled. The Saudi threat has not yet materialized, but if it did, it would pull billions of dollars out of the US treasury bond market – it would be a move of great moment, symbolically ending more than 40 years of cooperation in the petrodollar system.
Source: zerohedge.com
All information used from other websites on X22 Report is used for educational/criticism and commentary purposes only.

Fair Use Notice: This video contains some copyrighted material whose use has not been authorized by the copyright owners. We believe that this not-for-profit, educational, and/or criticism or commentary use on the Web constitutes a fair use of the copyrighted material (as provided for in section 107 of the US Copyright Law. If you wish to use this copyrighted material for purposes that go beyond fair use, you must obtain permission from the copyright owner. Fair Use notwithstanding we will immediately comply with any copyright owner who wants their material removed or modified, wants us to link to their web site, or wants us to add their photo.

The "Fair Use" Provisions outlined in Title 17, Chapter 01 Article 107 of the US Copyright Law states the following:

Notwithstanding the provisions of sections 106 and 106A, the fair use of a copyrighted work, INCLUDING SUCH USE BY REPRODUCTION IN COPIES or phonorecords or BY ANY OTHER MEANS specified by that section, for purposes such as criticism, comment, news reporting, teaching (including multiple copies for classroom use), scholarship, or research, is NOT an infringement of copyright. In determining whether the use made of a work in any particular case is a fair use the factors to be considered shall include:

(1) the PURPOSE and CHARACTER of the use, including whether such use is of a commercial nature or is for NON-PROFIT educational purposes;
(2) the NATURE of the copyrighted work;
(3) the amount and substantiality of the portion used in relation to the copyrighted work as a whole; and
(4) THE EFFECT OF THE USE UPON THE POTENTIAL MARKET FOR OR VALUE OF THE COPYRIGHTED WORK.

The fact that a work is unpublished shall not itself bar a finding of fair use if such finding is made upon consideration of all the above factors.
Tags: banks, constitution, cyber attacks, DHS, economic collapse, finance, financial collapse, gold, police state, preppers, prepping, silver, stock market, war, wwIII