---
Send us your Sentinel Alert to Submit Sentinel Alert:
---
---
Scroll Down To See More News Alerts
12.01.15 –    Millennials Increasingly Believe The American Dream "Is Not Really Alive"
If you're a millennial, you'd be forgiven for being disillusioned with the American dream.
After all, there's a good chance you just found out that the college degree you paid $35,000 (or more) for isn't worth much in today's labor market. Even if you're lucky enough to find a full-time job that doesn't involve serving Jager shots at three in the morning, your wages aren't likely to keep up with the soaring cost of living let alone be sufficient to service your mountainous student debt.
Meanwhile, you might have also discovered that the "economic recovery" your econ teachers told you about really never took place and that Ben Bernanke's "courage" really didn't do much of anything to improve the lot of the Middle Class, which you probably thought you were set to join within a month of graduation.
In fact, statistics show there's about a one in three chance that you're back living in your parents' basement, which means you get the privilege of eating dinner with the family every night and listening to your dad tell you how disgusted he is with the fact that he can't get a promotion but his boss just bought a new Maserati thanks to a Fed-assisted tripling of the company's stock price.
No sir, we don't blame you for being disgusted nor were we surprised to discover that compared to young Americans in 1986, you're three times as likely to think the American dream is dead and buried.
As WaPo notes, "young workers today are significantly more pessimistic about the possibility of success in America than their counterparts were in 1986, according to a new Fusion 2016 Issues poll – a shift that appears to reflect lingering damage from the Great Recession and more than a decade of wage stagnation for typical workers."
More color on the methodology:
The Fusion poll replicated the questions from a Roper/Wall Street Journal poll of young Americans that was conducted in 1986, the year Mister Mister topped the pop charts and Bill Buckner's error cost the Boston Red Sox a World Series title. Both polls posed a series of questions about the American Dream: what it meant to individuals, whether it actually existed and, if it did, how hard it was to attain.
In the three decades between the surveys, pollsters found, share of young Americans overall who said the American Dream "is not really alive" grew sharply from 12 to 29 percent. Among white people, it nearly tripled from 10 percent to 29 percent. One in three white non-college graduates now say it is not alive, compared to one-fifth of white college graduates; the increase from 1986 was larger for non-graduates than for graduates.
Of course maybe if you just wait long enough, the Bernanke QE "wealth effect" will eventually trickle down. Or better still, maybe lackluster revenue growth will miraculously pick up for American corporates, ending the necessity of using financial engineering to squeeze EPS beats out of topline misses thus sparking a frenzied hiring spree.
But above all, don't rest on your laurels. You, like Ben, should have "the courage to act."
Source: zerohedge.com
12.01.15 –    The Boots Are Back On The Ground: US Officially Deploys Special Forces To Iraq
Just to be clear, everyone who's been paying attention knows there have been US boots on the ground in Syria and Iraq for quite some time.
When Obama announced last month that Washington would be deploying "less than 50" Spec Ops to Syria, the public's reaction (as exemplified by the painful presser with White House Press Secretary Josh Earnest) seemed to indicate that everyone had forgotten that just five months ago, US commandos executed a raid in Syria that purportedly killed Islamic State's "gas minister" (and yes, that's just as absurd as it sounds). And then there was the Peshmerga-assisted raid on an ISIS prison in the northern Iraqi town of Huwija that resulted in the first US combat death in the country since 2006. Footage from that operation was plastered all over the news in a desperate attempt to prove the US is still serious about fighting terror.
Additionally, Washington has made no secret of the now defunct "train and equip" program for Syrian rebels – clearly, the American public hadn't thought very hard about who was doing the on-the-ground "training."
Finally, there's no telling how many CIA operatives and black ops have been running around in Syria assisting Saudi Arabia and Qatar's proxy armies from the very beginning.
As Anthony Cordesman, a security and intelligence analyst for past US administrations told The Guardian, no boots on the ground "doesn't mean every damn boot."
Well just moments ago, Ash Carter announced that the US would deploy an "expeditionary targeting force" to Iraq. Here are the details via Bloomberg:
Specialized U.S. "expeditionary targeting force" to assist Iraqi, Kurdish Peshmerga forces, puts "even more pressure on" Islamic State, Defense Secretary Ashton Carter tells House Armed Services Cmte.
"These special operators will over time be able to conduct raids, free hostages, gather intelligence, and capture ISIL leaders," Carter Says
Raid "creates a virtuous cycle of better intelligence, which generates more targets, more raids, and more momentum"
Iraq raids "will be done at the invitation of Iraqi government/ focused on defending its borders and building the ISF's own capacity
Expeditionary force '' will also be in a position to conduct unilateral operations into to Syria,'' Carter says in statement
NOTE: Carter statement does not indicate how many special operations force will be deployed in ''expeditionary targeting force"
The announcement comes as lawmakers and former defense officials call for a greater US commando presence to fight ISIS (the same ISIS that US commandos armed and trained along with the Saudis, Turkey, and Qatar). "The goal is to start a chain reaction of intelligence-driven raids that increase in frequency and expand in scope over time. The metric becomes can you disrupt and dismantle the network faster than the enemy can repair and regenerate it" Robert Martinage, a former deputy assistant secretary of defense for special operations under Obama said this week.
As Bloomberg noted on Monday, "the model would be the commando raid that killed al-Qaeda leader Osama bin Laden in Pakistan in 2011. The tactics, honed in hundreds of raids in Iraq and Afghanistan, were developed by groups such as Task Force 714 in Iraq, which joined the intelligence resources of the CIA, FBI and National Security Agency with Navy Seal Team Six and Army Delta Force commandos."
So in short, expect more helmet cam footage designed to drum up public support for an increased troop presence in Iraq and eventually in Syria because as last week's events clearly demonstrate, the stakes are now quite high.
* * *
From "Kurdish fighters say US special forces have been fighting Isis for months," via The Guardian
On a damp afternoon in Iraqi Kurdistan, a 29-year-old peshmerga fighter named Peshawa pulls out his Samsung Galaxy mobile phone, flicks hurriedly through his library until he finds the video he wants, and presses play.
The clip, filmed just after dawn on 11 September, shows four tall and western-looking men in the heat of a battle against Islamic State militants in northern Iraq. "These are the Americans," says Peshawa in a secretive tone.
One is crouched behind a machine gun firing round after round from the top of a fortified mound; another lies on his front a few feet away, legs outstretched and taking aim at the enemy with a long rifle. A third wields a long-lens camera taking photo after photo, and the last stands back, apparently overseeing the others during the combat south-west of the city of Kirkuk.
The footage, Peshawa says, is evidence that US special forces have been waging a covert war on the frontline in Iraq for months. Such a claim could alter the feverish debate over whether Barack Obama should move farther and faster against Isis in the wake of the Paris attacks.
In another video, dated 11 June, an American soldier wearing the fatigues and insignia of a Kurdish counter-terrorism unit can be seen walking alongside two dozen peshmerga in the aftermath of a seven-hour firefight with Isis militants in the village of Wastana and Saddam settlement, according to the peshmerga who filmed the video.
The American special forces arrived in Kirkuk earlier this year to train, advise and support peshmerga forces fighting Isis. According to a Kurdish peshmerga commander, about 30 American special forces operatives set up an operations room in the city.
A senior peshmerga commander, who did not wish to be named, said: "In February, for the first time, four American snipers came to south Kirkuk because we had lost several peshmerga to the Isis snipers.
"The peshmerga snipers were weak and before we could hit a single Isis sniper, we would lose a few men. Therefore we desperately needed American snipers. They had taken part in all the fights in south Kirkuk and they had really good snipers."
Source: zerohedge.com
12.01.15 –    Life In The Electronic Concentration Camp: The Surveillance State Is Alive & Well
"Big Brother in the form of an increasingly powerful government and in an increasingly powerful private sector will pile the records high with reasons why privacy should give way to national security, to law and order […] and the like." ? William O. Douglas, Supreme Court Justice
Bottle up the champagne, pack away the noisemakers, and toss out the party hats.
There is no cause for celebration.
We have secured no major victories against tyranny.
We have achieved no great feat in pushing back against government overreach.
For all intents and purposes, the National Security Agency has supposedly ceased its bulk collection of metadata from Americans' phone calls, but read the fine print: nothing is going to change.
The USA Freedom Act, which claimed to put an end to the National Security Agency's controversial collection of metadata from Americans' phone calls, was just a placebo pill intended to make us feel better and let the politicians take credit for reforming mass surveillance.
In other words, it was a sham, a sleight-of-hand political gag pulled on a gullible public desperate to believe that we still live in a constitutional republic rather than a down-and-out, out-of-control, corporate-controlled, economically impoverished, corrupt, warring, militarized banana republic.
You cannot restrain the NSA. The beast has outgrown its chains.
You cannot reform the NSA. A government that lies, cheats, steals, sidesteps the law, and then absolves itself of wrongdoing does not voluntarily alter its behavior.
You cannot put an end to the NSA's "technotyranny." Presidents, politicians, and court rulings have come and gone over the course of the NSA's 60-year history, but none of them have managed to shut down the government's secret surveillance of Americans' phone calls, emails, text messages, transactions, communications and activities.
Indeed, the government has become an expert in finding ways to sidestep niggling, inconvenient laws aimed at ensuring accountability, bringing about government transparency and protecting citizen privacy.
It has mastered the art of stealth maneuvers and end-runs around the Constitution.
It knows all too well how to hide its nefarious, covert, clandestine activities behind the classified language of national security and terrorism. And when that doesn't suffice, it obfuscates, complicates, stymies or just plain bamboozles the public into remaining in the dark.
Case in point: the so-called end of the NSA's metadata collection of Americans' phone calls.
This, of course, is no end at all.
On any given day, the average American going about his daily business will still be monitored, surveilled, spied on and tracked in more than 20 different ways, by both government and corporate eyes and ears.
More than a year before politicians attempted to patch up our mortally wounded privacy rights with the legislative bandaid fix that is the USA Freedom Act, researchers at Harvard and Boston University documented secret loopholes that allow the government to bypass Fourth Amendment protections to conduct massive domestic surveillance on U.S. citizens.
It's extraordinary rendition all over again, only this time it's surveillance instead of torture being outsourced.
In much the same way that the government moved its torture programs overseas in order to bypass legal prohibitions against doing so on American soil, it is doing the same thing for its surveillance programs. By shifting its data storage, collection and surveillance activities outside of the country, the government is able to bypass constitutional protections against unwarranted searches of Americans' emails, documents, social networking data, and other cloud-stored data.
Heck, the government doesn't even need to move all of its programs overseas. It just has to push the data over the border in order to "[circumvent] constitutional and statutory safeguards seeking to protect the privacy of Americans."
Credit for this particular brainchild goes to the Obama administration, which issued Executive Order 12333 authorizing the collection of Americans' data from surveillance conducted on foreign soil.
Using this rationale, the government was able to justify hacking into and collecting an estimated 180 million user records from Google and Yahoo data centers every month because the data travels over international fiber-optic cables. The NSA program, dubbed MUSCULAR, is carried out in concert with British intelligence.
No wonder the NSA appeared so unfazed about being forced to shut down its much-publicized metadata program. It had already figured out a way to accomplish the same results (illegally spying on Americans' communications) without being shackled by the legislative or judicial branches of the government.
Mind you, this metadata collection now being carried out overseas is just a small piece of the surveillance pie. The government and its corporate partners have a veritable arsenal of surveillance programs that will continue to operate largely in secret, carrying out warrantless mass surveillance on hundreds of millions of Americans' phone calls, emails, text messages and the like, beyond the scrutiny of most of Congress and the taxpayers who are forced to fund its multi-billion dollar secret black ops budget.
The surveillance state is alive and well and kicking privacy to shreds in America.
Whether you're walking through a store, driving your car, checking email, or talking to friends and family on the phone, you can be sure that some government agency, whether the NSA or some other entity, will still be listening in and tracking your behavior. This doesn't even begin to touch on the corporate trackers that monitor your purchases, web browsing, Facebook posts and other activities taking place in the cyber sphere.
We are now in a state of transition with the police state shifting into high-gear under the auspices of the surveillance state.
Having already transformed local police into extensions of the military, the Department of Homeland Security, the Justice Department and the FBI are preparing to turn the nation's police officers into techno-warriors, complete with iris scanners, body scanners, thermal imaging Doppler radar devices, facial recognition programs, license plate readers, cell phone Stingray devices and so much more.
Add in the fusion centers, city-wide surveillance networks, data clouds conveniently hosted overseas by Amazon and Microsoft, drones equipped with thermal imaging cameras, and biometric databases, and you've got the makings of a world in which "privacy" is reserved exclusively for government agencies.
Thus, telephone surveillance by the NSA is the least of our worries.
Even with restrictions on its ability to collect mass quantities of telephone metadata, the government and its various spy agencies, from the NSA to the FBI, can still employ an endless number of methods for carrying out warrantless surveillance on Americans, all of which are far more invasive than the bulk collection program.
As I point out in my new book Battlefield America: The War on the American People, just about every branch of the government—from the Postal Service to the Treasury Department and every agency in between—now has its own surveillance sector, authorized to spy on the American people.
Then there are the fusion and counterterrorism centers that gather all of the data from the smaller government spies—the police, public health officials, transportation, etc.—and make it accessible for all those in power.
And of course that doesn't even begin to touch on the complicity of the corporate sector, which buys and sells us from cradle to grave, until we have no more data left to mine. Indeed, Facebook, Amazon and Google are among the government's closest competitors when it comes to carrying out surveillance on Americans, monitoring the content of your emails, tracking your purchases and exploiting your social media posts.
"Few consumers understand what data are being shared, with whom, or how the information is being used," reports the Los Angeles Times. "Most Americans emit a stream of personal digital exhaust — what they search for, what they buy, who they communicate with, where they are — that is captured and exploited in a largely unregulated fashion."
It's not just what we say, where we go and what we buy that is being tracked.
We're being surveilled right down to our genes, thanks to a potent combination of hardware, software and data collection that scans our biometrics—our faces, irises, voices, genetics, even our gait—runs them through computer programs that can break the data down into unique "identifiers," and then offers them up to the government and its corporate allies for their respective uses.
All of those internet-connected gadgets we just have to have (Forbes refers to them as "(data) pipelines to our intimate bodily processes")—the smart watches that can monitor our blood pressure and the smart phones that let us pay for purchases with our fingerprints and iris scans—are setting us up for a brave new world where there is nowhere to run and nowhere to hide.
For instance, imagine what the NSA could do (and is likely already doing) with voiceprint technology, which has been likened to a fingerprint. Described as "the next frontline in the battle against overweening public surveillance," the collection of voiceprints is a booming industry for governments and businesses alike. As The Guardian reports, "voice biometrics could be used to pinpoint the location of individuals. There is already discussion about placing voice sensors in public spaces, and [Lee Tien, senior staff attorney with the Electronic Frontier Foundation] said that multiple sensors could be triangulated to identify individuals and specify their location within very small areas."
Suddenly the NSA's telephone metadata program seems like child's play compared to what's coming down the pike.
That, of course, is the point.
The NSA is merely one small part of a shadowy permanent government comprised of unelected bureaucrats who march in lockstep with profit-driven corporations that actually runs Washington, DC, and works to keep us under surveillance and, thus, under control. For example, Google openly works with the NSA, Amazon has built a massive $600 million intelligence database for CIA, and the telecommunications industry is making a fat profit by spying on us for the government.
In other words, Corporate America is making a hefty profit by aiding and abetting the government in its domestic surveillance efforts.
At every turn, we have been handicapped in our quest for transparency, accountability and a representative democracy by an establishment culture of secrecy: secret agencies, secret experiments, secret military bases, secret surveillance, secret budgets, and secret court rulings, all of which exist beyond our reach, operate outside our knowledge, and do not answer to "we the people."
Now there are still those who insist that they have nothing to hide from the surveillance state and nothing to fear from the police state because they have done nothing wrong.
To those sanctimonious few, secure in their delusions, let this be a warning: the danger posed by the American police state applies equally to all of us—lawbreaker and law abider alike, black and white, rich and poor, liberal and conservative, blue collar and white collar, and any other distinction you'd care to trot out.
In an age of too many laws, too many prisons, too many government spies, and too many corporations eager to make a fast buck at the expense of the American taxpayer, there is no safe place and no watertight alibi. We are all guilty of some transgression or other, and eventually, we will all be made to suffer the same consequences in the electronic concentration camp that surrounds us.
Source: zerohedge.com
11.30.15 –   2015: The Last Christmas In America
The game of enabling more debt by lowering interest rates and loosening lending standards is coming to an end.
If we define Christmas as consumer spending going up while earnings are going down, 2015 will be the last Christmas in America for a long time to come. In broad brush, Christmas (along with all other consumer spending) has been funded by financialization, i.e. debt and leverage, not by increased earnings.
The primary financial trick that's propped up the "recovery" for seven years is piling more debt on stagnating incomes. How does this magic work? Lower interest rates.
In a healthy economy, households earn more money (after adjusting for inflation, a.k.a. loss of purchasing power), and the increased earnings enable households to save, spend and borrow more.
In an unhealthy, doomed-to-implode economy, earnings are declining, and central banks enable more borrowing by lowering interest rates to zero and loosening lending standards so anyone who can fog a mirror can buy a new pickup truck with a subprime auto loan.
The problem with financialization is that it eventually runs out of oxygen. As earnings decline, eventually there's no more income to support more debt. And once debt stops expanding, the economy doesn't just stagnate, it implodes, because the entire ramshackle con game of financialization requires a steady increase in debt and leverage to keep from crashing.
The trickery of substituting financialization for earned income–the trickery that fueled the last seven years of "recovery"–is exhausted.
The incomes of even the most educated workers are going nowhere, while the earnings of the bottom 90% are sliding: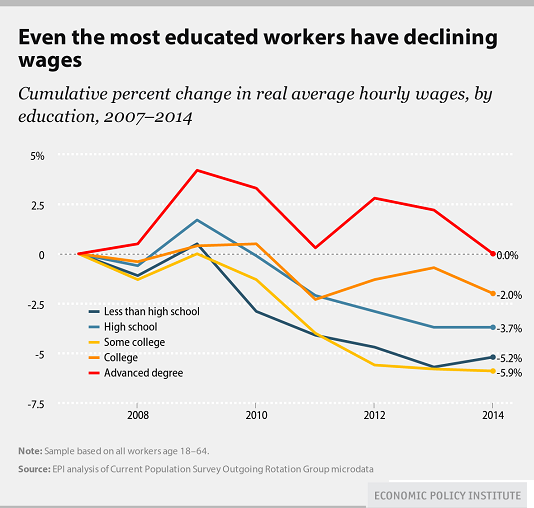 Wages as a percentage of gross domestic product (GDP) have been declining for decades. Note the diminishing returns on financialization and asset bubbles that always bust: wages blip up in the bubble and then crash to new lows when the bubble bursts: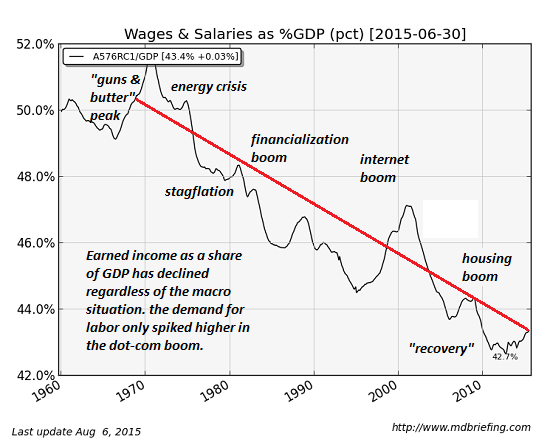 Look at how debt has soared while GDP has essentially flatlined. This is diminishing returns writ large: we have to pile on ever-increasing mountains of debt just to keep GDP from going negative.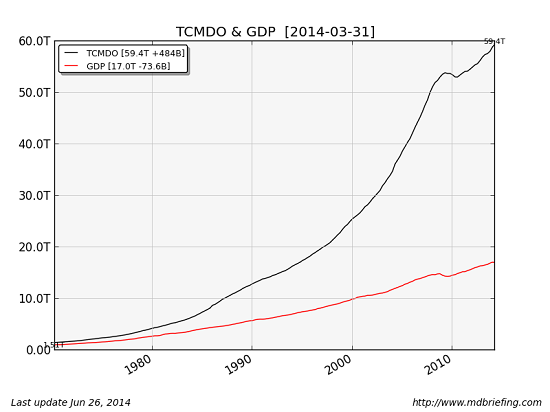 This dependence on debt for "growth" leaves the economy exquisitely sensitive to any decline in debt growth. The slightest drop in debt growth in the Global Financial Meltdown almost collapsed the entire global economy: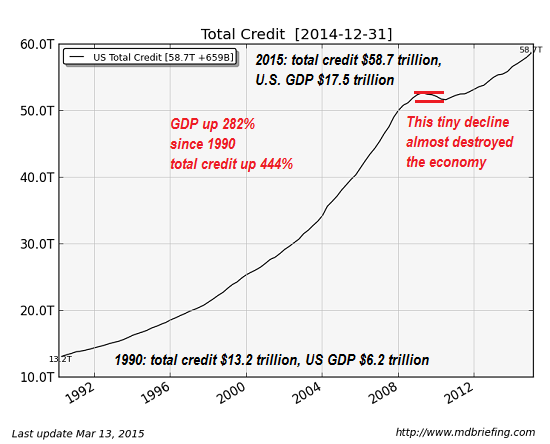 The essential fuel of "growth"–credit expansion–is rolling over: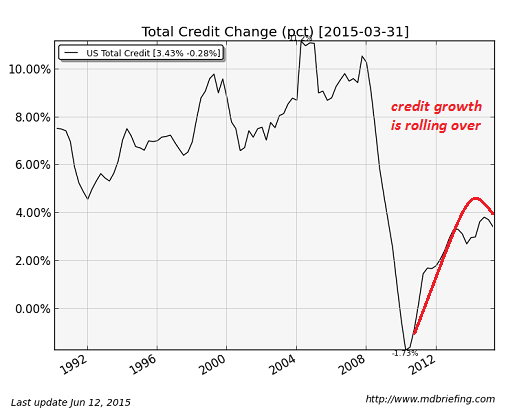 Even the vaunted prop under a soaring stock market, corporate profits, are rolling over as the stronger dollar and stagnating sales pressure profits: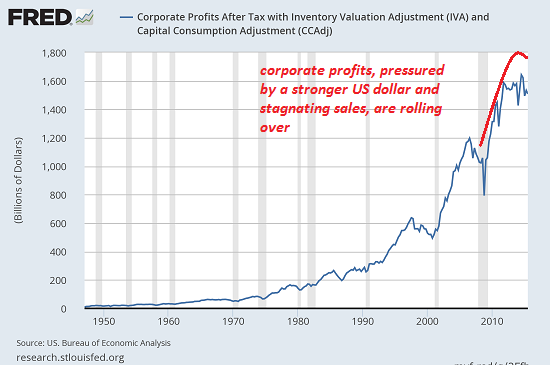 The game of enabling more debt by lowering interest rates and loosening lending standards is coming to an end. Debt is not a sustainable substitute for income, and households are increasingly finding themselves in two camps: those who can no longer afford to borrow and spend, and those who recognize that going in to debt to support spending is a fool's path to poverty and insolvency.
Say good-bye to Christmas, America, and debt-based spending in general–except, of course, for the federal government, which can always borrow another couple trillion dollars on the backs of our grandchildren.
Source: zerohedge.com
11.30.15 –   Russia Sends NATO A Clear Message By Arming Fighter Jets With First Air-To-Air Missles
A month ago, US and Russian military officials signed a memorandum of understanding that included steps their pilots should take to avoid an inadvertent clash over Syria as they carry out separate air strikes against armed groups. That MoU has now been shredded, as it certainly did not involve Russian fighter jets operating above Syria being armed with short and medium range air-to-air missiles as a direct threat to other fighter jets also operating above Syria – mostly those of Turkey, France and the US.
Which is precisely what Russia has done as disclosed in an announcement moments ago by the Russian defense ministry, and furthermore, has released a clip as a warning to not only Turkey, but all NATO forces in the region, that any further provocations at its jets will be met with an immediate and proportional response.
Igor Klimov, spokesman for the Russian Air Force, said that "today, Russian Su-34 fighter-bombers have made their first sortie equipped not only with high explosive aviation bombs and hollow charge bombs, but also with short- and medium-range air-to-air missiles The planes are equipped with missiles for defensive purposes."
"The missiles have target-seeking devices and are capable of hitting air targets within a 60km radius."
And the video that was released to commemorate the warning to the "anti-ISIS" alliance:
Source:
zerohedge.com
11.30.15 –  Russia Bans Soros Foundation As A "Threat To National Security And Constitutional Order"
Following Russia's official retaliation to the Turkish downing of its jet a week ago, in which Putin issued an executive order limiting employment for Turkish workers, restricting Turkish organizations, and reducing the amount of bilateral trade with Ankara, perhaps a far more notable development took place earlier today when the Russian Prosecutor General's Office issued a statement in which it recognized George Soros's Open Society Institute and another affiliated organization as "undesirable groups", banning Russian citizens and organizations from participation in any of their projects.
In a statement released on Monday, prosecutors said the activities of the Open Society Institute and the Open Society Institute Assistance Foundation were athreat to the foundations of Russia's Constitutional order and national security. They added that the Justice Ministry would be duly informed about these conclusions and would add the two groups to Russia's list of undesirable foreign organizations.
Are the "globalization gloves" finally coming off?
According to RT, prosecutors launched a probe into the activities of the two organizations – both sponsored by the well-known US financier George Soros – in July this year, after Russian senators approved the so-called "patriotic stop-list" of 12 groups that required immediate attention over their supposed anti-Russian activities. Other groups on the list included the National Endowment for Democracy; the International Republican Institute; the National Democratic Institute; the MacArthur Foundation and Freedom House.
Open Society is not the first: in late July, the Russian Justice Ministry recognized the US National Endowment for Democracy as an undesirable group after prosecutors discovered the US NGO had spent millions on attempts to question the legitimacy of Russian elections and tarnish the prestige of national military service.
The Law on Undesirable Foreign Organizations came into force in early June this year. It requires the Prosecutor General's Office and the Foreign Ministry to draw up an official list of undesirable foreign organizations and outlaw their activities. Once a group is recognized as undesirable, its assets in Russia must be frozen, its offices closed and the distribution of any of its materials must be banned. That said, it is doubtful that Soros still has any active assets in Russia – his foundation, which emerged in Russia in its early post-USSR years in the mid-1990s, wrapped up active operations in 2003 when Putin cemented his control on power.
If the ban is violated, the personnel of the outlawed group and any Russian citizens who cooperate with them could face heavy fines, or even prison terms in the case of repeated or aggravated offences.
And while it is doubtful that Soros will be making landfall in Moscow any time soon and thus be subject to an arrest warrant, it is notable that the first financial spillover effect from the year's most dramatic geopolitical event involves note other than the famed "globalizer" and the person who as recent hacked emails divulged was the puppet-master behind the Ukraine presidential coup.
Will the US retaliate in kind and expand its year-long sanctions against Russia as a result as the world continues to careen into fragmented, multi-polar chaos? Or will there be another provocation between NATO-member Turkey and Russia as a result, perhaps one involving Russian ship transit through the Boshporus? With events now moving fast, we should have an answer in the very near future.
Source: zerohedge.com
11.30.15 –  Chinese yuan to become global reserve currency
The International Monetary Fund (IMF) is expected to give the yuan a vote of confidence on Monday and include the Chinese currency in its Special Drawing Rights (SDR) that unites the US dollar, euro, British pound and the Japanese yen.
Adding the yuan as a reserve currency will allow central banks to buy more of the Chinese currency, and boost investment in the Chinese stock market. According to Standard Chartered bank, within five years market players will invest at least $1 trillion in Chinese assets.
The historic decision will come after years of negotiations between Beijing and the IMF. The main obstacle was China's monetary policy of keeping the yuan artificially low to boost domestic exports.
The list of currencies in the basket hasn't been updated by the IMF since 2000, when the euro superseded the franc and deutschmark.
The main opponents of including the yuan as reserve currency have been Japan and the US. According to Eswar Prasad, a professor at Cornell University and former head of the IMF's China Division, the two countries are unlikely to thwart the deal this time. "I think it will be very difficult for the IMF, especially given all that China has done this year, to deny China the prize it really wants," he told Reuters in October.
Beijing devalued the yuan in August in a shock move to respond to slowing growth. That decision was praised by IMF Chief Christine Lagarde, who said the Chinese currency became more market-oriented. However, the yuan is still tightly controlled by the People's Bank of China, the country's central bank.
Although the decision is expected on Monday, the yuan will not officially become a reserve currency until September 2016.
Source: rt.com
11.29.15 –  EU Reaches Deal With Turkey, Will Pay €3 Billion To Stem Refugee Outflow But Not Everyone Wants To Pay Up
As previewed earlier today, moments ago the EU and Turkey reached a deal in which Europe would give Erdogan another €3 billion to be embezzled accordingly (perhaps to buy more tankers for Erdogan's son with which to ferry ISIS oil, or to build a new annex for his palace, or just to recycle the money and purchase even more F-16s from the US), in exchange for which Turkey would promise to close its borders to millions of outpouring Syrian refugees and agree to accept deported refugees already located in Europe.
Furthermore, as part of Turkey's long-running accession process into the EU, the republic where any journalist who disagrees with the president is promptly arrested, the European Commission has agreed to relax the visa requirements for Turkish citizens going into Schengen. Which is ironic considering Europe is selectively and actively putting up barriers to its own citizens within the customs union, and it remains to be seen if there even is a Schengen one year from now.
Meanwhile, the two Turkish journalists charged with "spying" over their reports about Ankara's alleged arms supplies to Syrian rebels urged the EU on Saturday not to compromise on human rights and press freedom as it looks to Turkey to help stem Europe's migrant crisis.
Writing from the Silivri prison near Istanbul, the opposition Cumhuriyet daily's editor-in-chief Can Dundar and Ankara bureau chief Erdem Gul said they hoped the meeting would produce a lasting solution to the crisis "that has concerned and touched all our hearts."
But they added: "We would also hope that your desire to end the crisis will not stand in the way of your sensitivity towards human rights, freedom of press and expression as fundamental values of the Western world.
"The Prime Minister of Turkey, whom you will meet this weekend, and the regime he represents are well known for policies and practices that have flouted human rights and freedom of the press," they said.
The letter was addressed to EU leaders as well as German Chancellor Angela Merkel, French President Francois Hollande and the British Prime Minister David Cameron.
The letter and their pleas landed on deaf ears.
The terms of the deal are largely as we noted previously, with the European Union agreeing on a three-billion-euro ($3.2-billion) aid package for Syrian refugees in Turkey, EU president Donald Tusk said after a summit in Brussels on Sunday. "Our agreement sets out a clear plan for the timely re-establishment of order at our shared frontier. We will also step up our assistance to Syrian refugees in Turkey through a new refugee facility of three billion euros," Tusk told a press conference with Turkish Prime Minister Ahmet Davutoglu.
Curiously, the EU appears to have steamrolled over at least some states' objections as seen in the following text released by the commission, in which it says that "the preparatory work for the opening of a number of chapters without prejudice to the position of Member States. "
Indeed as some noted after the presser, it was clear that at least one or more states were not too eager to "chip in":
#Merkel: it would be good if everyone would agree to chip into the 3bn for #Turkey. Meaning: not everyone wants to pay up…

— Bojan Pancevski (@bopanc) November 29, 2015
More from AFP:
The EU also agreed to open a new chapter in Turkey's stalled bid for membership of the bloc in exchange for Turkey's cooperation in reducing the flow of refugees and migrants, Tusk said.
Visa requirements for Turkish citizens visiting the EU's passport-free Schengen area would also be relaxed by October 2016, he said. Brussels would "monitor closely at least once a month" the progress being made by Turkey, Tusk added.
Davutoglu said the deal would "re-energise" Turkey's EU accession process, which has made little headway since it started in 2005.
"This is a historic day and a historic meeting, the first meeting of this kind since 11 years," the Turkish premier added.
"No one can guarantee anything on the Syrian issue, we don't know what will go on in Syria, but I can assure that Turkey will be fulfilling all the promises of the joint plan. Our purpose with the EU is to prevent new waves of refugees from Syria and to manage the existing refugee crisis," he said.
"This three billion euros is to be spent for refugees in Turkey, it's not for Turkey."
Actually, the money will be embezzled within moments of being wired over by the country's unaccountable despotic ruler, and any Turkish journalist who points this out will be immediately branded a spy traitor and charged with treason.
The full European Commission statement is below:
Meeting of heads of state or government with Turkey – EU-Turkey statement, 29/11/2015Today the Leaders of the
Today the Leaders of the European Union met in Brussels with their Turkish counterpart. Turkey has been a candidate since 1999 and negotiating for accession since 2005.
Turkey and the EU discussed the importance of overcoming the common challenges ahead. In line with the conclusions of the European Council of 15 October, they agreed that the accession process needs to be re-energized. They are committed to carry further their existing ties and solidarity and adopt result-oriented action to prepare their common future. They are determined to confront and surmount the existing risks and threats in a concerted manner to reinforce the European Project. Recalling the final declaration of the last G20 in Antalya, as well as the 2249 UNSC resolution, Turkey and the EU reaffirm that the fight against terrorism remains a priority.
For this purpose it was agreed that a structured and more frequent high-level dialogue is essential to explore the vast potential of Turkey-EU relations, which has not been realised fully yet. In this framework, both sides agreed to have regular Summits twice a year, in an appropriate format. Regular summits will provide a platform to assess the development of Turkey-EU relations and discuss international issues. Regular discussions and cooperation on foreign and security policy should be enhanced including on counter-terrorism against the background of serious security challenges notably the rising threat of terrorism in all its forms and manifestations. In this context, the two sides agreed to have comprehensive regular political dialogue meetings at Ministerial/High Representative/Commissioner level. These will be in addition to the regular Association Council meetings. High level dialogues should also be conducted on key thematic issues.
Both sides welcomed the announcement to hold the Intergovernmental Conference on 14 December 2015 for opening of chapter 17. Furthermore, they noted the European Commission's commitment to complete, in the first quarter of 2016, the preparatory work for the opening of a number of chapters without prejudice to the position of Member States. Preparatory work could subsequently begin also on further chapters.
The EU welcomed the commitment by Turkey to accelerate the fulfilment of the Visa Roadmap benchmarks vis-à-vis all participating Member States. The European Commission will present the second progress report on the implementation by Turkey of the visa liberalisation roadmap by early March 2016. Both sides agree that the EU-Turkey readmission agreement will become fully applicable from June 2016 in order for the Commission to be able to present its third progress report in autumn 2016 with a view to completing the visa liberalisation process i.e. the lifting of visa requirements for Turkish citizens in the Schengen zone by October 2016 once the requirements of the Roadmap are met.
The EU will provide immediate and continuous humanitarian assistance in Turkey. It will also expand significantly its overall financial support. A Refugee Facility for Turkey was established by the Commission to coordinate and streamline actions financed in order to deliver efficient and complementary support to Syrians under temporary protection and host communities in Turkey. The EU is committed to provide an initial 3 billion euro of additional resources. The need for and nature of this funding will be reviewed in the light of the developing situation. As Turkey hosts more than 2.2 million Syrians and as it has spent 8 billion US Dollars, the EU thus underlined the importance of burden-sharing within the framework of Turkey-EU cooperation. In this context, they underlined the contribution by Member State and existing EU resettlement schemes and programmes.
Turkey and the EU have decided to activate the Joint Action Plan that had been agreed until now ad referenda on 15 October 2015, to step up their cooperation for support of Syrians under temporary protection and migration management to address the crisis created by the situation in Syria. Results must be achieved in particular in stemming the influx of irregular migrants. The EU and Turkey agreed to implement the Joint Action Plan which will bring order into migratory flows and help to stem irregular migration. As a consequence, both sides will, as agreed and with immediate effect, step up their active cooperation on migrants who are not in need of international protection, preventing travel to Turkey and the EU, ensuring the application of the established bilateral readmission provisions and swiftly returning migrants who are not in need of international protection to their countries of origin. Equally, they welcomed the intention of Turkey to adopt immediately measures to further improve the socio-economic situation of the Syrians under temporary protection. Both sides underlined their shared commitment to take decisive and swift action to enhance the fight against criminal smuggling networks.
As stipulated in the European Council Conclusions on Enlargement of December 2014, Turkey and the EU have been working on the establishment of a High Level Economic Dialogue Mechanism which will contribute to further enhancement of economic relations and create a business platform to bring business circles together. They agreed to launch it in the first quarter of 2016.
They welcomed the establishment of a High Level Energy Dialogue and Strategic Energy Cooperation, which had been launched in Ankara on 16 March 2015. A regular exchange of information on energy cooperation at the global and regional level serves to the benefit of both sides. They agreed to hold the second meeting of this kind in the first quarter of 2016.
They took note of the launching of preparatory steps for upgrading the Customs Union. After completion of this preparatory work by both sides, formal negotiations could be launched towards the end of 2016.
All these elements will have to be taken forward in parallel and monitored closely. Turkey and the EU are determined to advance together the widespread spectrum of their actual agenda to ensure that this fresh impetus yields concrete results.
Source: zerohedge.com
11.29.15 –  Using New "Pre-Crime" Laws France Arrests 24 Climate Activists
As Intellihub's Shepard Ambellas writes, one-hundred and fifty heads of government, a.k.a. the elite, are gathering over the course of the next few weeks for a massive climate summit that's anticipated to attract and indoctrinate over 40,000 visitors from around the globe. The summit, dubbed COP21, is sponsored by the United Nations (UN) and will reportedly focus on combating climate change. However it's doubtful that geoengineering, which ironically is mostly to blame for current climate patterns, will even be a topic of interest to scheduled speakers. To boot any chance of that information making it out to the general public is limited as 24 activists have already been placed under house arrest."
He further observes that "emergency powers" declared in the wake of the recent Paris attacks – in the name of terrorism – and adopted virtually overnight, were extended for a period of up to 90-days by the country's leadership allowing for such activists to be jailed in advance of the summit or at anytime within period.
France 24 confirms the "pre-crime" arrests, writing that twenty-four environmental activists have been placed under house arrest ahead of the Paris climate summit, using France's state of emergency laws. Two of them slammed an attack on civil liberties. The order ends on December 12, the day the Paris climate summit draws to a close.
 French security forces have been on edge since Islamist gunmen killed 130 people in a deadly rampage across Paris on November 13, in the country's worst ever terrorist attacks.

The ensuing state of emergency, declared by President François Hollande and extended by lawmakers for three months, has given police sweeping powers to search homes, handcuff residents and place people under house arrest, without judicial oversight.
In other words, as of this moment, in France one doesn't have to actually do anything to get arrested – it is sufficient is for someone, somewhere in the chain of command to suggest any one individual is a potential threat, and they will be promptly removed from society for an indefinite period of time. As such, French "civil rights" have completed a full cricle and are now back to the infamous "Law of Suspects" drafter orifinally by Maximilien Robespierre during the French Revolution.
 On Thursday, one such raid in the western city of Rennes led police into an apartment shared by several unsuspecting flatmates.

"They entered the apartment with shotguns and assault rifles. It was quite violent. They pinned us to the ground," said Amélie, a young barmaid who did not wish to give her full name. "It lasted quite a long time. We had no idea why they were there."
Reuters also confirmed the arrests took place ahead of the summit and reported that the Interior Minister Bernard Cazeneuve, said the activists were suspected of planning violent protests at the talks which kick off on Sunday, a day ahead of the opening ceremony, and run until Dec. 11. "These 24 people have been placed under house arrest because they have been violent during demonstrations in the past and because they have said they would not respect the state of emergency," Cazeneuve said in a speech in Strasbourg.
As Ambellas summarizes, "while authorities know that these people have no connection to terror movements they have still managed to silence their voices", which means that pre-crime, no longer a concept out of Steven Spielberg movie about a dystopian future, has become an all too real part of daily lives.
Furthermore, citing the heightened terrorist threat, French authorities have issued a blanket ban on demonstrations – including all rallies planned to coincide with the climate summit, which Hollande is due to formally open on Monday. Some climate campaigners have vowed to defy the ban, and as the following images from Paris today show, have indeed done so.
According to AFP, French police fired teargas Sunday to disperse climate change activists in Paris who threw objects at them during a demonstration ahead of key UN talks. Riot police took action after a small group of masked protesters in the Place de la Republique square began chanting "State of emergency, police state", referring to measures restricting protests that were introduced after the November 13 terror attacks in the city.
As RT adds, crowds gathered in the French capital on Sunday to attend a global march for the climate, despite the ban on gatherings enforced by French authorities. When one of the groups charged a police cordon, tear gas was deployed to push them back. "Huge amounts" of tear gas were fired at protesters near Place de la Republique in central Paris, according to witnesses' reports on Twitter, with objects flying in the direction of security forces.
Sinon y a aussi des clowns qui dansent place de la #Republiquepic.twitter.com/7jJ5PfhMjS

— Christophe Gueugneau (@gueugneau) November 29, 2015
Charge de crs au niveau rue du temple #Republique lacrymos a gogo pic.twitter.com/RcriPoba3H

— Christophe Gueugneau (@gueugneau) November 29, 2015
Sinon y a aussi des clowns qui dansent place de la #Republiquepic.twitter.com/7jJ5PfhMjS

— Christophe Gueugneau (@gueugneau) November 29, 2015
Manifestation interdite à république, des éléments violents s'en prennent aux forces de l'ordre. pic.twitter.com/eWbqSah4VZ

— Préfecture de police (@prefpolice) November 29, 2015
In photos, tension high as police and protesters clash in Paris
FOLLOW LIVE: https://t.co/OxluNBbgB5 #Climat2Paixpic.twitter.com/r7uAlPSe85

— Ruptly (@Ruptly) November 29, 2015
Tear gas and clashes at #COP21 protest in Paris @Ruptlypic.twitter.com/TN8uhe6TEa

— Jon Scammell (@JonScammell) November 29, 2015
#COP21 protesters march in Paris @Ruptlypic.twitter.com/cXH24TSdzF

— Jon Scammell (@JonScammell) November 29, 2015
The march, which was set to take place in dozens of cities around the world, was restricted in the French capital falling under the ban on gatherings introduced after the November 13 terrorist attacks in Paris.
La Republique metro station, closest to the scene, has been closed by authorities, citing security measures. The riot police repeatedly attempted to push back the activists, spraying the crowds with tear gas. Ahead of the summit, 24 green activists were put under house arrest, with police saying they were suspected of planning violent protests, according to Reuters.
A live feed from Paris shows the current state of the protests which has been dying down in recent hours
Source: zerohedge.com
11.29.15 –  How A Secretive Elite Created The EU To Build A World Government
Voters in Britain's referendum need to understand that the European Union was about building a federal superstate from day one
As the debate over the forthcoming EU referendum gears up, it would be wise perhaps to remember how Britain was led into membership in the first place. It seems to me that most people have little idea why one of the victors of the Second World War should have become almost desperate to join this "club". That's a shame, because answering that question is key to understanding why the EU has gone so wrong.
Most students seem to think that Britain was in dire economic straits, and that the European Economic Community – as it was then called – provided an economic engine which could revitalise our economy. Others seem to believe that after the Second World War Britain needed to recast her geopolitical position away from empire, and towards a more realistic one at the heart of Europe. Neither of these arguments, however, makes any sense at all.
The EEC in the 1960s and 1970s was in no position to regenerate anyone's economy. It spent most of its meagre resources on agriculture and fisheries and had no means or policies to generate economic growth.
When growth did happen, it did not come from the EU. From Ludwig Erhard's supply-side reforms in West Germany in 1948 to Thatcher's privatisation of nationalised industry in the Eighties, European growth came from reforms introduced by individual countries which were were copied elsewhere. EU policy has always been either irrelevant or positively detrimental (as was the case with the euro).
Nor did British growth ever really lag behind Europe's. Sometimes it surged ahead. In the 1950s Western Europe had a growth rate of 3.5 per cent; in the 1960s, it was 4.5 per cent. But in 1959, when Harold Macmillan took office, the real annual growth rate of British GDP, according to the Office of National Statistics, was almost 6 per cent. It was again almost 6 per cent when de Gaulle vetoed our first application to join the EEC in 1963.
In 1973, when we entered the EEC, our annual national growth rate in real terms was a record 7.4 per cent. The present Chancellor would die for such figures. So the economic basket-case argument doesn't work.
What about geopolitics? What argument in the cold light of hindsight could have been so compelling as to make us kick our Second-World-War Commonwealth allies in the teeth to join a combination of Belgium, the Netherlands, Luxembourg, France, Germany and Italy?
Four of these countries held no international weight whatsoever. Germany was occupied and divided. France, meanwhile, had lost one colonial war in Vietnam and another in Algeria. De Gaulle had come to power to save the country from civil war. Most realists must surely have regarded these states as a bunch of losers. De Gaulle, himself a supreme realist, pointed out that Britain had democratic political institutions, world trade links, cheap food from the Commonwealth, and was a global power. Why would it want to enter the EEC?
The answer is that Harold Macmillan and his closest advisers were part of an intellectual tradition that saw the salvation of the world in some form of world government based on regional federations. He was also a close acquaintance of Jean Monnet, who believed the same. It was therefore Macmillan who became the representative of the European federalist movement in the British cabinet.
In a speech in the House of Commons he even advocated a European Coal and Steel Community (ECSC) before the real thing had been announced. He later arranged for a Treaty of Association to be signed between the UK and the ECSC, and it was he who ensured that a British representative was sent to the Brussels negotiations following the Messina Conference, which gave birth to the EEC.
In the late 1950s he pushed negotiations concerning a European Free Trade Association towards membership of the EEC. Then, when General de Gaulle began to turn the EEC into a less federalist body, he took the risk of submitting a full British membership application in the hope of frustrating Gaullist ambitions.
His aim, in alliance with US and European proponents of a federalist world order, was to frustrate the emerging Franco-German alliance which was seen as one of French and German nationalism.
.The French statesman Jean Monnet, (1888 – 1979), who in 1956 was appointed president of the Action Committee for the United States of Europe
The French statesman Jean Monnet, (1888 – 1979), who in 1956 was appointed president of the Action Committee for the United States of Europe
Monnet met secretly with Heath and Macmillan on innumerable occasions to facilitate British entry. Indeed, he was informed before the British Parliament of the terms in which the British approach to Europe would be framed.
Despite advice from the Lord Chancellor, Lord Kilmuir, that membership would mean the end of British parliamentary sovereignty, Macmillan deliberately misled the House of Commons — and practically everyone else, from Commonwealth statesmen to cabinet colleagues and the public — that merely minor commercial negotiations were involved. He even tried to deceive de Gaulle that he was an anti-federalist and a close friend who would arrange for France, like Britain, to receive Polaris missiles from the Americans. De Gaulle saw completely through him and vetoed the British bid to enter.
Macmillan left Edward Heath to take matters forward, and Heath, along with Douglas Hurd, arranged — according to the Monnet papers — for the Tory Party to become a (secret) corporate member of Monnet's Action Committee for a United States of Europe.
According to Monnet's chief aide and biographer, Francois Duchene, both the Labour and Liberal Parties later did the same. Meanwhile the Earl of Gosford, one of Macmillan's foreign policy ministers in the House of Lords, actually informed the House that the aim of the government's foreign policy was world government.
Monnet's Action Committee was also given financial backing by the CIA and the US State Department. The Anglo-American establishment was now committed to the creation of a federal United States of Europe.
Today, this is still the case. Powerful international lobbies are already at work attempting to prove that any return to democratic self-government on the part of Britain will spell doom. American officials have already been primed to state that such a Britain would be excluded from any free trade deal with the USA and that the world needs the TTIP trade treaty which is predicated on the survival of the EU.
Fortunately, Republican candidates in the USA are becoming Eurosceptics and magazines there like The National Interest are publishing the case for Brexit. The international coalition behind Macmillan and Heath will find things a lot more difficult this time round — especially given the obvious difficulties of the Eurozone, the failure of EU migration policy and the lack of any coherent EU security policy.
Most importantly, having been fooled once, the British public will be much more difficult to fool again.
Source: zerohedge.com
11.28.15 –  "On The Cusp Of A Staggering Default Wave": Energy Intelligence Issues Apocalyptic Warning For The Energy Sector
The Energy Intelligence news and analysis creator and aggregator is not one to haphazradly throw around hyperbolic claims and forecasts. So when it gets downright apocalyptic, as it did this week in a report titled "Is Debt Bomb About to Blow Up US Shale?", people listen… and if they are still long energy junk bonds, they panic.
The summary:
"The US E&P sector could be on the cusp of massive defaults and bankruptcies so staggering they pose a serious threat to the US economy. Without higher oil and gas prices — which few experts foresee in the near future — an over-leveraged, under-hedged US E&P industry faces a truly grim 2016. How bad could things get?"
The full report by Paul Merolli, a senior editor and correspondent at Energy Intelligence:
Debt Bomb Ticking for US Shale
The US E&P sector could be on the cusp of massive defaults and bankruptcies so staggering they pose a serious threat to the US economy. Without higher oil and gas prices — which few experts foresee in the near future — an over-leveraged, under-hedged US E&P industry faces a truly grim 2016. How bad could things get and when? It increasingly looks like a number of the weakest companies will run out of financial stamina in the first half of next year, and with every dollar of income going to service debt at many heavily leveraged independents, there are waves of others that also face serious trouble if the lower-for-longer oil price scenario extends further.
"I could see a wave of defaults and bankruptcies on the scale of the telecoms, which triggered the 2001 recession," Timothy Smith, president of consultancy Petro Lucrum, told a Platts energy conference in Houston last week. Much has been made about the resiliency of US oil production in the face of low prices, but the truth is that many producers are maximizing their output — even unprofitable volumes — because they need the cash flow to service their debt (related). "As an industry, we're at the point where every dollar of free cash flow now goes to paying back debt," Angle Capital's Steve Ilkay told the same conference. Ilkay, who advises North American producers on asset management, said during the boom years of 2012-14 about 55% of the sector's free cash flow, which is calculated by subtracting capital expenditures from operating cash flow, was allocated toward debt repayment.
With West Texas Intermediate (WTI) stuck below $50 per barrel since August — and closer to $40 recently — the industry has responded with deeper cuts to capex and a greater focus on efficiency (EIF Nov.4'15). However, experts say this won't be enough to avoid a bloody reckoning with persistent low oil and gas prices, as the sector grapples with some $200 billion-plus in high-yield debt, which it absorbed to finance the shale oil boom. Credit quality has been steadily deteriorating since June 2014, when WTI peaked at $108/bbl. Standard and Poor's says there have been 19 defaults so far in 2015 across the US oil and gas industry, while another 15 companies have filed for bankruptcy. Besides those that have missed interest or principal payments, the default category also includes companies that have entered into "distressed exchanges" with their creditors, including Halcon, SandRidge, Midstates, Goodrich, Warren, Exco, Venoco and Energy XXI (EIF Jul.8'15).
Of the 153 oil and gas companies that S&P applies credit ratings to, roughly two-thirds are E&P firms. Among these E&Ps, 77% now have high-yield or "junk" ratings of BB+ or lower. 63% are rated B+ or worse, and 31% — or 51 companies — are rated below B-. What does this all mean in layman's terms? "Quite frankly it's a lot of gloom and doom," says Thomas Watters, managing director of S&P's oil and gas ratings. "I lose sleep over what could unfold." He says companies with ratings of B- or below are "on life support," while those further down the ratings scale at C+ or lower are "maybe looking at a year, year-and-a-half before they default or file for bankruptcy." While capital markets were still open to struggling E&P firms in the first half of the year, they are closing fast as investors accept a "lower-for-longer" oil price scenario. High-yield E&P firms raised $29 billion from 44 issuances of public debt in 2014. So far in 2015, $13 billion in junk-rated debt been raised from 23 issuances — but only two have come after June (EIF Jul.29'15).
After posting negative free cash flow of $24 billion in 2015, capex cuts and efficiency measures should help the industry post positive free cash flow of $8 billion in 2016, S&P reckons. However, the high-yield E&Ps are expected to see negative free cash flow of $10 billion, so the group that can least afford a cash crunch will get just that. Better hedging could have helped, but data from IHS Energy shows a woefully under-hedged E&P sector in 2016. Small producers have 27% of their oil production hedged at an average price of $77/bbl; midsized firms have 26% hedged at $69; and large producers have just 4% hedged at $63. That is much less protection than E&P firms had in place for 2015 (EIF Aug.19'15).
Small and midsized producers, which rely heavily on revolving lines of credit with banks, have not yet seen these liquidity lifelines cut off. Some analysts were shocked after banks reduced lines to credit to E&Ps by just 10% on average during October redetermination negotiations (EIF Oct.14'15). Banks appear to be putting off the inevitable in hopes of a price rebound. Many have been using price forecasts above the average 12-month forward strip — suggesting the pain could extend to energy lenders if markets don't recover as they expect. Heading into October redeterminations, Macquerie Tristone's energy lending survey showed banks using an average 2016 WTI price outlook of $54. That has since dropped to around $47 this quarter — closer to the $46 indicated by the Nymex strip.
Yet another source of concern for E&Ps and their lenders are price-related impairments and asset write-downs (EIF Nov.11'15). Year-to-date, there has been $70.1 billion in asset write-downs in 2015, approaching the $94.3 billion total for the previous 10-year period of 2005-14, according to Stuart Glickman, head of S&P Capital's oil equities research. And he expects even more write-downs and impairments to emerge at year-end. "Companies are putting this off for a long as they can. You don't want to be negotiating in capital markets with a weakened hand," says Glickman. This will be a problem up and down the E&P sector, not just for the little guys. Chesapeake Energy, one of the largest US independent producers, shocked earlier this month by indicating a $13 billion reduction in the so-called PV-10, or "present value," of its oil and gas reserves to $7 billion. Had Chesapeake used 12-month futures strip prices — instead of Securities and Exchange Commission-mandated trailing 12-month prices for PV values — the value would've fallen to $4 billion. "That's staggering, just alarming to me," said Watters, noting that E&P firms' borrowing capacity is contingent on such measures (EIF Jul.22'15).
Many believe all of these issues will come to a head in first-half 2016, as the effect of fewer hedges is felt and banks once again reassess credit lines in April. Pitifully low natural gas prices could also play a big factor, especially if the US experiences a mild winter. The confluence of these factors could be the catalyst that finally spurs a long-awaited tidal wave of mergers and acquisitions throughout the sector (EIF Oct.28'15). News of rampant defaults, bankruptcies and write-downs, combined with closed capital markets, might be enough to lower upstream asset valuations to the point where buyers and sellers can more easily agree to deals. Watters describes an "M&A playland" for strong companies with investment-grade credit ratings, noting that the six largest integrated majors together hold a war chest of some $500 billion. Smith says it could be a great opportunity for majors to improve their positions in US shale, where they were famously late in the game. "Some of the best shale acreage is held by companies with poor balance sheets. It seems like a natural fit," he says.
But there's also some $100 billion in private equity sitting on the sidelines, meaning majors and large independents may face stiff competition (EIF Oct.28'15). Anadarko has openly complained about being outbid for assets by management teams backed by private equity. "Does that mean we're overpaying? No," insists one private equity executive. "It means we're willing to pay a bit more because we think our guys can run the assets better than some larger outfits, who can struggle with cost structures."
Source: zerohedge.com
11.27.15 –  Do Not Panic America – Elite FBI Teams Are Tracking At least 48 "High Risk" ISIS Suspects In The US
They are among us, appears to the message being delivered to America this Thanksgiving holiday. As Fox News reports, elite FBI teams are tracking at least 48 "high-risk" ISIS suspects within the U.S., as Republican Senator Dan Coats, who is on the Select Committee on Intelligence, said "there is a very significant number of people that are on suspicious watch lists, under surveillance… it's almost overwhelming."
Surveillance squads are following the men and women, who are believed to be radicalized, 24 hours a day in case they are planning acts of terrorism. At least a dozen highly trained agents work on each case, meaning far more than 500 are involved in tailing the suspicious individuals. As Fox News reports,
"There is a very significant number of people that are on suspicious watch lists, under surveillance," Republican Sen. Dan Coats said.
Coats, who sits on the Select Committee on Intelligence, would not comment on specifics, but said the around-the-clock surveillance is a major commitment for the bureau. "The FBI together with law enforcement agencies across the country are engaged in this. It takes enormous amount of manpower to do this on a 24-7 basis. It takes enormous amount of money to do this," Coats explained.
These elite FBI teams are reserved for espionage, mob violence and high-priority terrorism cases, like a joint terrorism task force case last June, where a 26 year old suspect Usaama Rahim, was killed outside a Massachusetts CVS. When a police officer and FBI agent tried to question him, the Boston Police Commissioner said Rahim threatened them with a knife, and was shot dead.
With at least a dozen agents assigned to each case, providing 24/7 coverage, this high level of surveillance reflects the severe risk associated with suspects most likely to attempt copycat attacks after Paris.
"It is a big resource drain. Yes it is. Almost overwhelming," Coats said when asked about the demand placed on the FBI. "There will be a lot of people over the Thanksgiving weekend that will not be enjoying turkey with their family. They'll be out there providing security for the American people and the threat is particularly high during this holiday period."
* * *
But apart from that (and the global terror alert) get out there and spend, spend, spend America – or the terrorists have won!
Source: zerohedge.com
---
LEGAL DISCLAIMER: Regarding Copyright Law
All articles on the X22 Report site are used for the purpose of criticism, comment, news reporting, teaching or research and is NOT an infringement of copyright
The "Fair Use" Provisions outlined in Title 17, Chapter 01 Article 107 of the US Copyright Law states the following:
Notwithstanding the provisions of sections 106 and 106A, the fair use of a copyrighted work, INCLUDING SUCH USE BY REPRODUCTION IN COPIES or phonorecords or BY ANY OTHER MEANS specified by that section, for purposes such as criticism, comment, news reporting, teaching (including multiple copies for classroom use), scholarship, or research, is NOT an infringement of copyright. In determining whether the use made of a work in any particular case is a fair use the factors to be considered shall include:
(1) the PURPOSE and CHARACTER of the use, including whether such use is of a commercial nature or is for NON-PROFIT educational purposes;
(2) the NATURE of the copyrighted work;
(3) the amount and substantiality of the portion used in relation to the copyrighted work as a whole; and
(4) THE EFFECT OF THE USE UPON THE POTENTIAL MARKET FOR OR VALUE OF THE COPYRIGHTED WORK.
The fact that a work is unpublished shall not itself bar a finding of fair use if such finding is made upon consideration of all the above factors.
Tags: banks, constitution, cyber attacks, DHS, economic collapse, finance, financial collapse, gold, police state, preppers, prepping, silver, stock market, war, wwIII