---
Send us your Sentinel Alert to Submit Sentinel Alert:
---
---
Scroll Down To See More News Alerts
09.24.17  –  GM Cuts Entire Shift at Factory for Crossovers, Laments "Moderating" Sales, Layoffs not Temporary
Hottest segment cools. Harvey and Irma Won't End Carmageddon.
For the first eight months of the year, car sales by GM and Ford plunged 19%. Industry car sales fell 11%, despite record incentives. Sales of trucks – pickups, SUVs, crossovers, and vans – have been the big hope. Total truck sales are up 3% for the year, reducing the overall sales decline to 3%. Particularly crossovers have been red-hot. Every manufacturer has jumped into this booming segment. They've been the big hope. But now, even that hope is fading.
 "Although crossovers now make up a larger share of the automotive industry, overall volumes are moderating," General Motors told employees in a layoff notice at its Spring Hill, Tenn., assembly plant that makes the GMC Acadia and Cadillac XT5. These crossover models are among the very vehicles GM is counting on to pull it out of its sales funk.
"We believe the best way to react…is to reduce output," the statement said.
GM will eliminate an entire overnight shift with about 1,000 workers. Some of the workers might be transferred to the engine or component manufacturing side of the plant, according to the GM spokesman.
The notice was sent on Friday. It was meticulously timed. By the time it was reported by the Wall Street Journal, the markets had already closed and no one was supposed to pay attention any longer.
Already in December 2016, GM announced that it would kick-start 2017 by temporarily closing five assembly plants, temporarily laying off 10,000 workers. But most of those employees were involved in making cars.
What GM told its employees on Friday was different: It would cut an entire shift, it would not be temporary, and the purpose would be to cut production of formerly hot crossovers.
Every automaker is pursuing the hot crossover segment with a vengeance. They're still selling, but not as well as expected, and demand is "moderating," as GM put it, and now overcapacity is setting in, the bane in auto manufacturing. It has been hounding plants that make cars. But now the problem is spreading the plants that make crossovers.
In June, GM already announced that it would extend its normal summer shutdown at some plants in the US.
Ford, just days ago, announced that it would idle three plants in the US and two in Mexico that employ tens of thousands of people. The shutdowns will range from one to three weeks. But they build mostly cars, whose sales have crashed as consumer went for crossovers and SUVs, presumably.
"We are continuing to match production with consumer demand, as we always do," Ford said in a statement, which is the same lingo it always uses during these occasions.
Given that the shutdown of the Ford plants impacts car production, they're still clinging to the script that car sales have crashed, while SUVs and crossovers are barely hanging on.
Earlier this month, Fiat Chrysler Automobiles announced that it would shut down its plant in Windsor, Ontario, for five weeks starting in October, to "balance production" of two minivans. It has already eliminated two car lines and no longer manufactures cars in the US. It has been the hardest-hit among US brands, with car sales down 22% this year, truck sales down 5%, and total sales down 7.7%. Only Hyundai (-12.7%) and Kia (-8.4%) have booked larger drops.
The plant shutdowns at GM and at Ford were announced after Hurricanes Harvey and Irma had entered the equation. The hurricanes were initially expected to cause an upsurge in new vehicle demand.
Everyone in the industry wants to know how many flood vehicles will be replaced by new cars, how many will be replaced by used cars, and how many will be repaired.
Warren Buffett, whose Berkshire Hathaway owns auto insurer Geico, shed some additional light on this last Tuesday. Geico is the second largest auto insurer in Texas and the largest in Florida. Harvey, with its catastrophic flooding, has likely caused losses for Geico on 50,000 vehicles, Buffett explained. And losses in Texas are likely to exceed "by quite a margin" its losses in Florida.
In other words, the damage to vehicles in Florida was far less than in Texas. And the damage in Texas appear to be less than originally expected as those estimates have come down.
InfoNation estimated a few days ago that about 300,000 vehicles were likely damaged in the greater Houston region as a result of Harvey. It added, "Since not all vehicles will be covered by insurance or recorded as flood damaged, the number of totally damaged vehicles will never be accurately known."
Given the new layoffs, particularly those at the GM plant that makes crossovers, which are popular in Texas, automakers may not expect a huge surge in demand for new vehicles from hurricane affected areas. They may expect that repairs and used vehicles will be called upon to a larger extent than originally hoped for.
So far this year, new vehicle sales are 321,000 units behind last year. Given the lowered expectations of demand from hurricane affected areas, the rest of the year is unlikely to fill that hole. Since sales have crashed in the hurricane affected areas in early September, and will take a while just to get back to "normal," total sales this year across the US will likely fall further behind. Even next year, there might not be enough demand from hurricane affected areas to alter the course of the downward spiral.
Auto sales in the Houston area, already battered by the oil bust and then by Hurricane Harvey, plunged to levels not seen since the depth of the Financial Crisis. In other sectors too, the damage is becoming clearer.
Source: wolfstreet.com
09.23.17  –   Russia Warns US In Unprecedented "Secret" Face-To-Face Meeting Over Syria, But What's The Endgame?
The moment the first Russian jet landed in Syria at the invitation of the Assad government in 2015, Putin placed himself in the driver's seat concerning the international proxy war in the Levant. From a strategic standpoint the armed opposition stood no chance of ever tipping the scales against Damascus from that moment onward. And though US relations with Russia became more belligerent and tense partly as a result of that intervention, it meant that Russia would set the terms of how the war would ultimately wind down.
Russia's diplomatic and strategic victory in the Middle East was made clear this week as news broke of "secret" and unprecedented US-Russia face to face talks on Syria. The Russians reportedly issued a stern warning to the US military, saying that it will respond in force should the Syrian Army or Russian assets come under fire by US proxies. 
The AP reports that senior military officials from both countries met in an undisclosed location "somewhere in the Middle East" in order to discuss spheres of operation in Syria and how to avoid the potential for a direct clash of forces. Tensions have escalated in the past two weeks as the Syrian Army in tandem with Russian special forces are now set to fully liberate Deir Ezzor city, while at the same time the US-backed SDF (the Arab-Kurdish coalition, "Syrian Democratic Forces") – advised by American special forces – is advancing on the other side of the Euphrates. As we've explained before, the US is not fundamentally motivated in its "race for Deir Ezzor province" by defeat of ISIS terrorism, but in truth by control of the eastern province's oil fields. Whatever oil fields the SDF can gain control of in the wake of Islamic State's retreat will then used as powerful bargaining leverage in negotiating a post-ISIS Syria. The Kurdish and Arab coalition just this week captured Tabiyeh and al-Isba oil and gas fields northeast of Deir Ezzor city.
The race is underway for Syria's most oil rich province. Syrian War Report (9/22/17) courtesy of  SouthFront.
At various times the Syrian-Russian side has come under mortar fire from SDF positions, even as Russia and the US are theoretically said to coordinate through a special military hotline. The SDF for its part claims it too has come under attack from the Syrian Army. The most significant event occurred just over a year ago when the US coalition launched a massive air attack on Syrian government troops in Deir Ezzor near the city's military airport at the very moment they were fighting ISIS. The US characterized it as a case of mistaken identity while Syria accused the US coalition of directly aiding ISIS by the attack. The end result was about 100 Syrian soldiers dead and over a hundred more wounded while ISIS terrorists were able to advance and entrench their positions.
Though US officials disclosed few elements of this week's unusual meeting, the US side did confirm Russia's threat of returning fire should Syrian soldiers come under attack. US coalition spokesman Colonel Ryan Dillon confirmed that, "They had a face-to-face discussion, laid down maps and graphics." But the Russians publicly delivered further details outlining its message to the US military. Russian Major-General Igor Konashenkov said in a statement,"A representative of the U.S. military command in Al Udeid (the U.S. operations center in Qatar) was told in no uncertain terms that any attempts to open fire from areas where SDF fighters are located would be quickly shut down." He added that, "Fire points in those areas will be immediately suppressed with all military means." Russia has further openly accused the US of violating previously agreed to 'de-escalation' zones in Idlib (as part of Astana talks) using al-Qaeda proxies to engaged the Syrian Army in Idlib.
The US coalition hinted in its statements that future military-to-military talks could continue regarding coordination in Syria. Though Russian warnings sound alarmist, and though the situation is increasingly very dangerous for the prospect of escalation, the US side appears to be in a vulnerable enough position to listen. The fact that the meeting occurred in the first place and was publicly acknowledged by the Pentagon is hugely significant as a US ban on such direct military talks was put in place after the collapse in relations between the two nations following the outbreak of the Ukraine proxy war in 2014.
In reality some degree of US-Russian back channel communication and intelligence sharing probably existed long before the SDF made gains in Syria's east – this according to Seymour Hersh's 2016 investigation entitled, "Military to Military". Though (ironically) the CIA's push for regime change against Damascus was still operational and presumably in full gear at that time, the Pentagon's actions in Syria were always perhaps more humble regarding pursuit of regime change.
But what are current Pentagon plans for its SDF proxy?
It's no secret that the core component force of the SDF – the Kurdish YPG – has at times loosely cooperated with the Syrian government when the situation pragmatically served both sides. At the same time Damascus has over the past few years recognized the Kurds as a militarily effective buffer against both ISIS and other powerful jihadist groups like al-Nusra Front and Ahrar al-Sham. While many Russian and pro-Damascus analysts have accused the SDF of being a mere pawn of US imperialism meant to permanently Balkanize the region, this is only partially true – the truth is likely more nuanced.
No doubt, the US is laying plenty of concrete in the form of forward operating bases across Kurdish held areas of northern and eastern Syria (currently about a dozen or more). And no doubt the US is enabling the illegal seizure of oil fields formerly held by the Islamic State, but Kurdish and US interests are not necessarily one and the same. The Kurds know that the best they can hope for in a post-war Syria is a federated system which allows Kurdish areas a high degree of autonomy. They also know, as decades of experience has taught them, that they will eventually be dumped by the US should the political cost of support grow too high or become untenable. For now the Kurds are gobbling up as many oil fields as possible before they are inevitably forced to cut deals with Damascus.
Though the US endgame is the ultimate million dollar question in all of this, it appears at least for now that this endgame has something to do with the Pentagon forcing itself into a place of affecting the Syrian war's outcome and final apportionment of power: the best case scenario being permanent US bases under a Syrian Kurdish federated zone with favored access to Syrian oil doled out by Kurdish partners. While this is the 'realist' scenario, there's of course always the question that an independent Iraqi Kurdistan could one day be realized out of the merging of Kurdish northern Iraq and Syria. But this would be nothing less than a geopolitical miracle. For now, early voting has begun in the Kurdish diaspora ahead of the planned for September 25th referendum on Kurdish independence, with the very first votes reportedly being cast in China.
Source: zerohedge.com
09.22.17  –    Global Strategist Forecasts: "A Massive Unwind Of The U.S. Dollar Is Coming… You're Going To See A Rush For Gold"
Global strategist Marin Katusa is the New York Times best selling author of The Colder War, which details the geo-political power shift that threatens the global dominance of the United States. He's also a well known resource hedge fund manager who legendary investor Doug Casey has called one of the best market analysts he's ever worked with. His prior forecasts noted that countries around the world would soon stop trading commodities like oil in the U.S. dollar, something we're already seeing with China, Russia, Iran, and Venezuela, all of which are preparing non-dollar, gold-backed mechanisms of exchange.
 This trend, according to Katusa in a must see interview with Future Money Trends, will only continue to weaken the U.S. dollar going forward and the result will be a massive capital flight to gold in coming years:
I think we'll have a near term bounce on the U.S. dollar… then it's going to be very weak… and then it's going to go much, much lower… With China and Russia working together to de-dollarize the U.S. dollar starting with oil, which is the biggest market… and then all the other commodities.

You're going to start seeing a massive unwind of these U.S. dollars in the emerging markets. 

…

When that money comes back… which it will… and the world starts cluing in that the emerging markets need gold to convert the Yuan and the Ruble and all these different factors, you're going to see a massive rush for gold.
Watch the full interview:

(Watch at Youtube)
Katusa notes that he is preparing to "load up" on gold-based assets as the dollar strengthens and puts additional pressure on gold prices, but says that by next year major fund managers will start moving capital back into precious metals in response to dollar weakness, global de-dollarization and economic crisis:
Everybody wants to rush in when something's exciting… but you take your position before the massive flow of money… I think we have a near term dead cat bounce for the U.S. dollar… which will mean we're going to have a little bit of weakness here in gold in the near term… the next six months is my time to load up.

…And when the funds flow come in… it's going to be the equivalent of Niagra Falls coming through your garden hose.
The geo-political realignment taking place now stands to upend the financial and economic systems as we know them. This shift will not come without crisis and panic. The time to position yourself in gold-based assets is now.
Source: shtfplan.com
09.21.17  –   Why Economic Data No Longer Matters
Back in mid-2009, we said that with the Fed and central banks nationalizing capital markets, macro and even micro data and newsflow will matter increasingly less and less, and the only thing that does matter is the Fed's weekly H.4.1 statement, showing the changes to the Fed's balance sheet. It also means that so-called "data dependency" is a farce (it is, and has always been "Dow dependency"), and that the impact of incremental newsflow will shrink with every passing week until virtually nobody pays attention (we have largely reached this state now).
Since then it has been entertaining to watch how one after another stoic trader and commentator has thrown in the towel on conventional market orthodoxy to adopt precisely this kind of "tinfoil" thinking, the latest example being Bloomberg's macro commentator Mark Cudmore, who in his overnight Macro View writes that "traders should should spend less time studying economic releases and listen to the clear guidance from officials instead."
 The relevance of data is declining. Policymakers around the world are trying to make crystal clear that they'll ignore that which doesn't fit their narrative. Many financial commentators have failed to make the transition and are incorrectly transfixed by each data release.
Or, in short, data no longer matters in a world of central planning.
Here is his latest Macro View in which Cudmore explains why "It's Time for Traders To Listen Rather Than Watch"
 Data-dependency is becoming passé for global policymakers. Traders should should spend less time studying economic releases and listen to the clear guidance from officials instead.

For years, policymakers have been emphasizing data dependency. Investors took a while to fully register the message and, as a result, often got whipsawed by throwaway comments from officials.

Market participants fully caught up with the idea in late 2016, but now policy has moved on.

The relevance of data is declining. Policymakers around the world are trying to make crystal clear that they'll ignore that which doesn't fit their narrative. Many financial commentators have failed to make the transition and are incorrectly transfixed by each data release.

The BOE has been hammering home the point that it wants to raise rates. When the most dovish member of the MPC confirms that message, it's not the time to worry whether U.K. inflation is peaking.

Brexit negotiations will matter for U.K. and European assets but again, it's about listening to the speeches, rather than trading the data prints.

U.S. inflation hasn't hit target in years but Fed members have been consistent in saying that's a side issue — the FOMC is focused on normalizing policy while the economy is strong enough to cope. So far in 2017 the year- on-year core PCE index fell from 1.9% to 1.4%, yet guidance remains hawkish.

Stop fretting about the marginal data print. Janet Yellen has made clear it will take a momentous and broad economic shift to alter the Fed's path. And if that shift happens, she'll make the new approach clear as well.

The ECB has flagged that it's eager to taper quantitative easing. Inflation isn't at target and the structural imbalances in the euro zone haven't been fixed, but that doesn't matter.

That isn't to say that data is completely irrelevant for traders, but it does decrease the importance of individual releases. And don't be too quick to fade asset price reactions to comments from officials.
Source: zerohedge.com
09.20.17  –   The Obamacare "Death Spiral": Health Plans Now Cost Employers More Than A New Car
With the Graham-Cassidy Obamacare replacement now officially dead, it appears Senate Republicans will be unable to pass a repeal-and-replace bill before the Sept. 30 deadline announced by the Senate Parliamentarian arrives – though it's impossible to rule out another long-shot plan gaining momentum in the coming days.
  After the deadline, Senate Republicans would need 60 votes for their repeal-and-replace bill, effectively killing the repeal-and-replace effort, at least for now.
As Republicans struggle to fulfill their campaign promises to the American people, the Wall Street Journal has published a report showing that rising premiums are forcing some small business owners to stop offering benefits, the latest sign that Democrats ignored Republican rhetoric about the bill's job-killing potential at their own political peril.
As we've reported time and time again, the bill has increased cost pressures on businesses, forcing them lay off employees or pare back benefits to stay in business.
According to WSJ, the average cost of health coverage offered by employers pushed toward $19,000 for a family plan this year, while the share of firms providing insurance to workers continued to edge lower, according to a major survey by the Kaiser Family Foundation.
Annual premiums rose 3% to $18,764 for an employer plan in 2017, from $18,142 last year, the same rate of increase as in 2016, according to an annual poll of employers conducted by Kaiser and the Health Research & Educational Trust, a nonprofit affiliated with the American Hospital Association.
Premiums for employers have been climbing for several years, though, as WSJ notes, their rise has been slowed somewhat by a shift toward larger out-of-pocket costs for employees in the form of higher deductibles. That move slowed this year, as deductibles were roughly flat, compared with 2016.
Kaiser foundation officials said it wasn't clear why the growth in deductibles appeared to pause this year. The average general deductible for single coverage among all workers, including those with no deductible, this year was $1,221 – the same as last year, but up sharply from $802 in 2012. This year, 28% of covered workers were enrolled in high-deductible plans that can be paired with savings accounts that aren't taxed, compared with 29% last year and 19% five years ago.
Drew Altman, chief executive of the Kaiser foundation, said it was too soon to tell if the growth in deductibles would quickly resume next year, or if employers are reluctant to keep pushing the tactic.
 "We'll have to watch it," Mr. Altman said. "It's possible it's playing itself out or reaching some kind of natural limit."
Still, the rise of premiums over time has resulted in family health plans that can annually cost more than a new car, though often most of the cost is borne by employers. Employees paid on average $5,714, or 31%, of the premiums, for a family plan in 2017, according to Kaiser.
In what should be interpreted as clear-cut evidence of the bill's job-killing potential, Gary Claxton, a vice president at the foundation, said that the overall cost of insurance appears to be driving small firms, particularly those with low-wage workers, to stop offering health benefits. Indeed, among small employers that didn't offer health insurance, 44% said the biggest reason for not providing the benefit was its cost. "It's harder for them to maintain coverage when it's so expensive," Mr. Claxton said.
However, among small employers that didn't provide health coverage, 16% did give workers some money they could use toward purchasing a plan themselves.
None of this should surprise readers, as we've been writing for years that the entire Obamacare system is on the "verge of collapse" as premiums soar, risk pools deteriorate and insurers were pull out of exchanges all around the country leaving many Americans with just a single 'option' for health insurance.
Meanwhile, for an individual worker, the average annual cost of employer coverage was $6,690 in the 2017 survey, up 4% from last year, with employees paying 18% of that.
In another troubling trend highlighted by WSJ, the number of employers offering health insurance as a benefit to employees has been declining even as the labor market has purportedly been tightening. This appears to jive with stagnant hourly earnings, which have shown little movement as most of the new jobs being created in the US are low-level, low-skill and low-pay.
The Kaiser survey was conducted between January and June of this year and included 2,137 randomly selected employers that responded to the full telephone survey.
Source: zerohedge.com
09.19.17  –  "This Is Where The Next Financial Crisis Will Come From"
In an extensive, must-read report published on Monday by Deutsche Bank's Jim Reid, the credit strategist unveiled an extensive analysis of the "Next Financial Crisis", and specifically what may cause it, when it may happen, and how the world could respond assuming it still has means to counteract the next economic and financial crash. In our first take on the report yesterday, we showed one key aspect of the "crash" calculus: between bonds and stocks, global asset prices are   the most elevated they have ever been.
With that baseline in mind, what happens next should be obvious: unless one assumes that the laws of economics and finance are irreparably broken, a deep recession and a market crash are inevitable, especially after the third biggest and second longest central bank-sponsored bull market in history.
But what will cause it, and when will it happen?
Needless to say, these are the questions that everyone in capital markets today wants answered. And while nobody can claim to know the right answer, here are some excerpts from what DB's Jim Reid, one of the best strategists on Wall Street, thinks will take place.
Below we present the key excerpts from his must read report;
* * *
We think that the post Bretton Woods (1971-) global financial system remains vulnerable to financial crises. A simple internet search of financial crises through history (Figure 1, LHS chart) confirms that the frequency has increased over this period. Examples include the UK secondary banking crisis (1975), the two Oil shocks (1970s), numerous EM defaults (mid-1980s), US Savings and Loans mass failures (late 80s/early 90s), various Nordic financial crises (late 80s), Japanese stock bubble bursting (1990-), various ERM shocks/devaluations (1992), the Mexican Tequila crisis (1994), the Asian crisis (1997), the Russian & LTCM crisis (1998), the Dot.com crash (2000), the various accounting scandals (02/03), the GFC (08/09) and the Euro Sovereign crisis (10-12).
A more quantitative search backs this up (Figure 1, RH chart). We show the number of DM countries (%) in our sample back to 1800 experiencing one of the following on a YoY basis; -15% Equities, -10% FX, -10% Bond move, a sovereign default, or +10% inflation. This is our crisis/shock indicator. 0% equals no country with one of these conditions met, 100% equals all in our sample with one being met.
It would therefore take a huge leap of faith to say that crises won't continue to be a regular feature of the current financial system that has been in place since the early 1970s. The near exponential growth of finance and its liberalisation since this point has encouraged this trend.
Indeed as we'll show in this report there are a number of areas of the global financial system that look at extreme levels. This includes valuations in many asset classes, the incredibly unique size of central bank balance sheets, debt levels, multi-century all-time lows in interest rates and even the level of potentially game changing populist political support around the globe. If there is a crisis relatively soon (within the next 2-3 years), it would be hard to look at these variables and say that there was no way of spotting them.
Having said that, crises tend to have a large element of unpredictability. If they didn't then surely more would predict their imminent arrival. So while we highlight a lot of the main global vulnerabilities in this report, history would tell us that there is still a chance that when the next crisis comes its origin will take us by surprise to a certain degree. As will its timing. In the remainder of this executive summary we highlight the conditions that have encouraged crises through history and the main areas of worry as to why we may be vulnerable for another financial crisis relatively soon.
Periods with a higher number of crises/shocks coincide with higher levels of debt….
…and with it higher budget deficits. G7 Government Debt was only previously higher with impact of WWII and before the early 1970s, persistent budget deficits only really existed in war time. Now a permanent feature.
We think the final break with precious metal currency systems from the early 1970s (after centuries of adhering to such regimes) and to a fiat currency world has encouraged budget deficits, rising debts, huge credit creation, ultra loose monetary policy, global build-up of imbalances, financial deregulation and more unstable markets.
The various breaks with gold based currencies over the last century or so has correlated well with our financial shocks/crises indicator. It shows that you are more likely to see crises/shocks when we break from hard currency systems. Some of the devaluation to Gold has been mindboggling over the last 100 years.
Perversely, the current post Bretton Woods system also allows for huge operations/stimulus to overcome any crisis/shock. We also shouldn't underestimate the positive impact that this can have on nominal asset prices. Cash is arguably a far more dangerous asset in a fiat currency but unstable regime than it is in a more stable less crisis prone one. However, by continually using stimulus to deal with crises and not letting creative destruction take over, you make a subsequent crisis more likely by passing the problem along to some other part of the global financial system, and usually in bigger size. In a fiat currency world, intervention and money creation is the path of least resistance. In a Gold standard world, mining new gold was the only stable way of increasing the money supply.
We think this leaves the current global economy particularly prone to a cycle of booms, busts, heavy intervention, recovery and the cycle starting again. There is no natural point where a purge of the excesses is forced by a restriction on credit creation.
So we're quite confident that there will likely be another financial crisis/shock pretty soon with their frequency continuing to be high until we create a more stable global financial framework.
* * *
So where will the next crisis come from?
An obvious issue is how we resolve the combination of the unwinding of unparalleled central bank balance sheet sizes at a time of record peacetime government debt and multi-century record low yields (Figure 5).
We also still have extreme levels of global imbalances (Figure 6) which pose a risk as international capital flows are necessary to support the status quo. These are harder to control by authorities or predict.
All this is occurring at a time of extremely high global asset prices and still low economic growth relative to the past. Could we be vulnerable to a major asset price correction that creates the conditions for a crisis?
Global central banks have facilitated these elevated asset prices. A long series of global financial problems have now been passed through all parts of the financial system with most of these problems stacked up and now resting with central banks and Governments. The buildup of debt that this has created has forced central banks to keep yields at ultra-low levels, thus raising the prices of a variety of other global assets.
Italy and Japan have seemingly unsustainable debt burdens and are likely vulnerable to a crisis outcome. However both have had this for some time which mitigates short-term risks. Italy is perhaps more vulnerable because of precarious and fragile politics, elevated levels of populism and a central bank that is regional and not domestically controlled. Japan shows how long a crisis can be avoided but that doesn't automatically mean we should be complacent, especially as the BoJ now owns over 40% of the JGB market (from under 10% in 2012).
On populism, our index (Figure 9) tracking its rise across key DM countries shows that we are close to the 1930s highs. Is this a precursor to a big crisis? Does it make for more unpredictable politics, economics and markets?
We see China's credit growth post GFC as also an area of great concern. As an example, in a recent IMF report they analysed 43 global cases of credit booms in which the credit to GDP ratio increased by more than 30 percentage points over a 5-year period. Only 5 cases ended without a major growth slowdown or financial crisis immediately afterwards.
The IMF also caveated that these 5 cases, considering country specific factors, provided little comfort. If that wasn't enough, the fund also points out that all credit booms that began when the ratios were above 100% ended badly.
These are perhaps the main observable risks out there but we go through a list of other potential catalysts in the piece. As we discuss at the top, by their very nature, financial crises or shocks are generally unpredictable.
While we can't be confident of where and when the next crisis will occur we can be pretty confident that the conditions remain in place for a world of frequent crises.
Source: zerohedge.com
09.18.17 – India May Issue Its Own Bitcoin-like Cryptocurrency As Legal Tender
Less than a year after India launched a shocking "war on cash" when on November 8, 2016 it unveiled a demonitization campaign in an effort to wipe out huge amounts of so-called 'black money' and streamline its largely cash-based economy, which however was called "a colossal failure which cost innocent lives and ruined the economy" by Rahul Gandhi earlier this month after it was revealed that 99% of the high denomination banknotes cancelled last year were in fact deposited or exchanged for new currency, even as India's GDP tumbled to 2 year lows…
 … on Saturday, the Business Standard reported that while working on creating a legal framework for bitcoin and other digital currencies, the Indian government is considering launching its own bitcoin-like cryptocurrency.
Preempting a report by the BIS released on Sunday, and which recommended that central banks should seriously consider launching cryptocurrencies of their own, the Indian press reports that the Indian government is considering "a proposal to introduce its cryptocurrency similar to bitcoin," and which will be issued by the Reserve Bank of India (RBI). This state-run cryptocurrency will be called "Lakshmi," the name of the Hindu goddess of wealth, fortune, and prosperity.
The proposal was reportedly "discussed by a committee of government officials, and the panel found the idea of setting up and running blockchain for financial services useful."
The report comes just days after RBI Executive Director Sudarshan Sen talked about the central bank's discomfort with Bitcoin at the India Fintech Day conference. He hinted at the time that the government may be introducing its own fiat cryptocurrency which will be issued by the RBI.
"Right now, we have a group of people who are looking at fiat cryptocurrencies. Something that is an alternative to the Indian rupee, so to speak. We are looking at that closely," he said. Echoing China's own displeasure with the soaring popularity of cryptocurrencies, the RBI executive stressed that the central bank is not comfortable with non-fiat cryptocurrencies such as bitcoin.
Despite the growing resentment toward bitcoin, the Indian government has also been working on creating a legal framework for bitcoin and other digital currencies. Last week, Money Control reported that "the government is going to prepare a framework for bitcoin soon."  According to bitcoin.com, In April, the same government set up a committee to investigate bitcoin. Last month, Money Control also reported that the committee has submitted its report to the government. It recommended "strict monitoring" of digital currencies, the news outlet detailed, adding that "there is no possibility of immediate restriction," but the government is also not in favor of promoting them.
The committee has additionally recommended a task force be created comprising of officers from the RBI, the Securities and Exchange Board of India (SEBI), the Income Tax Department, the Central Board of Excise and Customs (CBEC) and the Financial Intelligence Unit. The latter would then monitor the abuse of digital currencies, the news outlet noted.
So with China having already banned exchange-based trading of bitcoin, if not bitcoin itself just yet, and with India seemingly on pace to do the same as it pushes for its own, regulated and central bank-mandated cryptocurrency, the question on everyone mind is will this global crackdown against bitcoin and its peers boost their already near-record high popularity and price, or will it force holders to flee, wary of getting burned further by a wave of governments who have turned increasingly hostile to the ad-hoc cryptocurrencies which are not controlled by the central banks themselves, something Eric Peters hinted at earlier today. If the answer is the latter, will that prompt monetary purists and seekers of central bank inert currencies to finally start buying gold once again?
Source: zerohedge.com
09.17.17 –  Is Google Coming For Your Cryptos
The big boys, Apple and Google, are now actively developing a payment API for cryptos to use within their browsers.  This is a double-edged sword and possibly indicates a shift in tax policy.
I don't trust either Apple or Google at all.  The news from Coindesk about Apple and Google developing a payment API on the heels of multiple avenues of officaldom cracking down on cryptocurrencies is enough to give you whiplash.
The work, started by the World Wide Web Consortium (W3C) with the help of Microsoft, Google, Facebook, Apple and Mozilla, is a tangible step forward for a currency-agnostic web payment standard first conceived in 2013. Equally, as bitcoin and other cryptocurrencies gain more momentum, the launch signifies the growing recognition of cryptocurrency as a payments technology.

Indeed, the W3C has gotten more interested in blockchain technologies over the years, hosting its first ever blockchain workshop in June last year. But while participants were left with interest in standardizing and democratizing the technology's use, no formal work was decided upon then. That, however, has changed.

Announced on Thursday, the API is currently being implemented in browsers including Google's Chrome, Microsoft's Edge, Apple's Webkit, Mozilla's Firefox, the Samsung Internet Browser and Facebook's in-app browser. When activated, the Payment Request API will allow new payment types, including bitcoin, ether any any other available cryptocurrency (as well as more traditional online payment methods) to be stored directly in the browser.
The last thing anyone should want is for their cryptos to be held in their browser knowing that all code developed in the U.S. is subject to government intelligence oversight.
Trust Big Google
This is absolutely a Trojan Horse designed to look like it legitimizes cryptos like Bitcoin but immediately puts them at risk of seizure by anyone with malicious intent.
First, it's not like any code developed by these people is exploit-proof.  Let's get serious, security on Android, iOS and Windows is a joke.  Google took Linux and made it worse than Windows.  It's actually an astounding feat of bad engineering.
Microsoft, Apple and Google are all very tight with the U.S. government.
It's part of the reason why Russia continues to crack-down on use of their software.  Putin knows it's all spyware.
Second, if your cryptos are stored in your browser then they can be stolen from you.  Forget petty thieves.  I'm thinking much bigger than that.  Do you really think any of these companies would not comply with an IRS decree to seize your assets directly off of your computer?
If you do, then I have a nice piece of water-spanning real estate to sell you connecting Manhattan and Brooklyn.
Moreover, let's see how this "standard" develops.
Will it support third-party hardware wallets like a Trezor or Ledger?
Will it accept any crypto in payment, including the anonymous ones like Monero and Dash?
If the answers to these questions in no, then that's your sign that this API isn't simply another backdoor way to maintain control over everything.
Cause I'm the Tax Man
This announcement makes me believe that the recent bill introduced by House Reps Jared Polis (D-CO) and David Schweikert (R-AZ) will likely sail through Congress.  The bill would exempt cryptocurrency transactions under $600 from capital gains taxes.
While this bill is an unqualified good thing as it will radically improve liquidity it is also the prerequisite needed to jump start this API development. So, while the U.S. will continue to fight the crypto-market officially for as long as it can, it is also bowing to the pressure from its corporate partners to free them up for commerce to begin.
The IRS rule is actually choking off a significant amount of money velocity in the world economy.  This will only get worse if it doesn't change.  Bitcoin was designed to put purchasing power back in the hands of the people themselves and take it away from the banking system who demand their vig on every transaction.
So, there will be a trade-off to using this API when it is finally released if it doesn't support the part of the crypto-market the government doesn't have control over yet.
*  *  *
And finally, don't forget, "don't buy bitcoin… it's going to crash!"
Source:  tomluongo.me
09.16.17 –   Suddenly, "De-Dollarization" Is A Thing
For what seems like decades, other countries have been tiptoeing away from their dependence on the US dollar.
China, Russia, and India have cut deals in which they agree to accept each others' currencies for bi-lateral trade while Europe, obviously, designed the euro to be a reserve asset and international medium of exchange.
These were challenges to the dollar's dominance, but they weren't mortal threats.
What's happening lately, however, is a lot more serious.
It even has an ominous-sounding name: de-dollarization. Here's an excerpt from a much longer article by "strategic risk consultant" F. William Engdahl:
(Global Research) – China, increasingly backed by Russia—the two great Eurasian nations—are taking decisive steps to create a very viable alternative to the tyranny of the US dollar over world trade and finance. Wall Street and Washington are not amused, but they are powerless to stop it.

So long as Washington dirty tricks and Wall Street machinations were able to create a crisis such as they did in the Eurozone in 2010 through Greece, world trading surplus countries like China, Japan and then Russia, had no practical alternative but to buy more US Government debt—Treasury securities—with the bulk of their surplus trade dollars. Washington and Wall Street could print endless volumes of dollars backed by nothing more valuable than F-16s and Abrams tanks. China, Russia and other dollar bond holders in truth financed the US wars that were aimed at them, by buying US debt. Then they had few viable alternative options.

Viable Alternative Emerges

y, two of the foreign economies that allowed the dollar an artificial life extension beyond 1989—Russia and China—are carefully unveiling that most feared alternative, a viable, gold-backed international currency and potentially, several similar currencies that can displace the unjust hegemonic role of the dollar today.

For several years both the Russian Federation and the Peoples' Republic of China have been buying huge volumes of gold, largely to add to their central bank currency reserves which otherwise are typically in dollars or euro currencies. Until recently it was not clear quite why.

For several years it's been known in gold markets that the largest buyers of physical gold were the central banks of China and of Russia. What was not so clear was how deep a strategy they had beyond simply creating trust in the currencies amid increasing economic sanctions and bellicose words of trade war out of Washington.

Now it's clear why.

China and Russia, joined most likely by their major trading partner countries in the BRICS (Brazil, Russia, India, China, South Africa), as well as by their Eurasian partner countries of the Shanghai Cooperation Organization (SCO) are about to complete the working architecture of a new monetary alternative to a dollar world.

Currently, in addition to founding members China and Russia, the SCO full members include Kazakhstan, Kyrgyzstan, Tajikistan, Uzbekistan, and most recently India and Pakistan. This is a population of well over 3 billion people, some 42% of the entire world population, coming together in a coherent, planned, peaceful economic and political cooperation.

Gold-Backed Silk Road

It's clear that the economic diplomacy of China, as of Russia and her Eurasian Economic Union group of countries, is very much about realization of advanced high-speed rail, ports, energy infrastructure weaving together a vast new market that, within less than a decade at present pace, will overshadow any economic potentials in the debt-bloated economically stagnant OECD countries of the EU and North America.

What until now was vitally needed, but not clear, was a strategy to get the nations of Eurasia free from the dollar and from their vulnerability to further US Treasury sanctions and financial warfare based on their dollar dependence. This is now about to happen.

At the September 5 annual BRICS Summit in Xiamen, China, Russian President Putin made a simple and very clear statement of the Russian view of the present economic world. He stated, "Russia shares the BRICS countries' concerns over the unfairness of the global financial and economic architecture, which does not give due regard to the growing weight of the emerging economies. We are ready to work together with our partners to promote international financial regulation reforms and to overcome the excessive domination of the limited number of reserve currencies."

To my knowledge he has never been so explicit about currencies. Put this in context of the latest financial architecture unveiled by Beijing, and it becomes clear the world is about to enjoy new degrees of economic freedom.

China Yuan Oil Futures

According to a report in the Japan Nikkei Asian Review, China is about to launch a crude oil futures contract denominated in Chinese yuan that will be convertible into gold. This, when coupled with other moves over the past two years by China to become a viable alternative to London and New York to Shanghai, becomes really interesting.

China is the world's largest importer of oil, the vast majority of it still paid in US dollars. If the new Yuan oil futures contract gains wide acceptance, it could become the most important Asia-based crude oil benchmark, given that China is the world's biggest oil importer. That would challenge the two Wall Street-dominated oil benchmark contracts in North Sea Brent and West Texas Intermediate oil futures that until now has given Wall Street huge hidden advantages.

That would be one more huge manipulation lever eliminated by China and its oil partners, including very specially Russia. Introduction of an oil futures contract traded in Shanghai in Yuan, which recently gained membership in the select IMF SDR group of currencies, oil futures especially when convertible into gold, could change the geopolitical balance of power dramatically away from the Atlantic world to Eurasia.

In April 2016 China made a major move to become the new center for gold exchange and the world center of gold trade, physical gold. China today is the world's largest gold producer, far ahead of fellow BRICS member South Africa, with Russia number two.

Now to add the new oil futures contract traded in China in Yuan with the gold backing will lead to a dramatic shift by key OPEC members, even in the Middle East, to prefer gold-backed Yuan for their oil over inflated US dollars that carry a geopolitical risk as Qatar experienced following the Trump visit to Riyadh some months ago. Notably, Russian state oil giant, Rosneft just announced that Chinese state oil company, CEFC China Energy Company Ltd. Just bought a 14% share of Rosneft from Qatar. It's all beginning to fit together into a very coherent strategy.
Meanwhile, in Latin America:
(Zero Hedge) – Did the doomsday clock on the petrodollar (and implicitly US hegemony) just tick one more minute closer to midnight?

Apparently confirming what President Maduro had warned following the recent US sanctions, The Wall Street Journal reports that Venezuela has officially stopped accepting US Dollars as payment for its crude oil exports.

As we previously noted, Venezuelan President Nicolas Maduro said last Thursday that Venezuela will be looking to "free" itself from the U.S. dollar next week. According to Reuters, "Venezuela is going to implement a new system of international payments and will create a basket of currencies to free us from the dollar," Maduro said in a multi-hour address to a new legislative "superbody." He reportedly did not provide details of this new proposal.

Maduro hinted further that the South American country would look to using the yuan instead, among other currencies.

"If they pursue us with the dollar, we'll use the Russian ruble, the yuan, yen, the Indian rupee, the euro," Maduro also said.

The state oil company Petróleos de Venezuela SA, known as PdVSA, has told its private joint venture partners to open accounts in euros and to convert existing cash holdings into Europe's main currency, said one project partner.
This first step towards one or more gold-backed Eurasian currencies certainly looks like a viable and — for a lot of big players out there — welcome addition to the global money stock.
Venezuela, meanwhile illustrates the growing perception of US weakness. It used to be that a small country refusing to take dollars could expect regime change in short order. Now, maybe not so much.
Combine the above with the emergence of bitcoin and its kin as the preferred monetary asset of techies and libertarians, and the monetary world suddenly looks downright multi-polar.
Source:  dollarcollapse.com
09.15.17 –  America Is Going Broke At Mach 30 "And No One Cares"
"No one really cares about the U.S. federal debt," remarked a colleague and Economic Prism reader earlier in the week.  "You keep writing about it as if anyone gives a lick."
We could tell he was just warming up.  So, we settled back into our chair and made ourselves comfortable.
The voters certainly don't care about the federal debt," he continued.  "They keep electing the same spendthrifts to office.
"And the politicians know the voters don't care.  They also know that making more and more promises is the formula for getting reelected.
"Deep down, the aging masses know they need massive amounts of government debt to pay their social security, medicare, and disability checks.  On top of that, many of the so-called gainfully employed are really on corporate welfare; they hang their hats on government contracts to fund their paychecks.
"You know as well I do how this crazy debt based fiat money system works.  The debt must perpetually increase or the whole financial system breaks down.  The best we can hope for is that the ongoing currency debasement merely leads to a subtle erosion of living standards.  That's the best-case scenario.
"But, again, no one except maybe a handful of your readers' gives a rip about the federal debt.  Plus, if you're gonna keep writing about it you need to use better terminology.
"The federal debt has grown at such a rapid rate that standard dollar units no longer capture what's going on.  The debt numbers are so large it is difficult to distinguish between hundreds of billions and tens of trillions of dollars.
Going Broke at Mach 30
"For better perspective, you need to describe the debt growth in astronomical terms.  You see, astronomers use light years to adjust for large distances.  A light year, as its name suggests, is the distance light travels in one year.  One light year converts to light traveling about 5.87 trillion miles per year, excluding leap year of course.
"You noted that since President Obama took office in early 2009, at about the time the American Recovery and Reinvestment Act was passed, the U.S. federal debt has increased from $10.6 trillion to nearly $20 trillion.  Well, you were wrong.
"In the several days since you wrote that article, did you see the federal debt jumped to over $20.1 trillion?
"Apparently, after Congress suspended the debt limit last Friday, the Treasury went ahead and reported the $300 billion of off balance spending they'd run up over the last six months since hitting the debt ceiling in March.  This is what Treasury Secretary Mnuchin meant by resorting to 'extraordinary measures' to keep the government humming.  Sounds like Enron accounting to us.
"Anywho, over the last 104 months the federal debt has increased by $9.5 trillion – or at an annual rate of about $1.1 trillion.  This equals a rate of increase that's nearly 20 percent the speed of light.  This also pencil's out to $34,880 of new debt per second.  Are you starting to grasp the enormity?
"Still, if the speed of light example doesn't do it for you, how about the speed of sound?  When Chuck Yeager first outran sound he reached what was called Mach 1.  That equals 767 miles per hour – or 1,125 feet per second.
"So, at $34,880 of new debt per second, the federal government is running up the debt at a speed that's over Mach 30.  Yes, things have really gotten out of control!
To Hell In A Bucket
"You'd think that running up a tab at a rate like that would be a lot of fun.  But look around.  No one, including the upper crust, is having fun.
"Take that Facebook geek, for example.  Zuckerberg!  Have you seen the mug on that kid?  He wouldn't know what fun is, if it jumped up and bit him on the behind.
"How much longer this government debt binge can go on for is anyone's guess.  One thing is clear, however.  It has gone on much longer than any honest person could possibly fathom.
"Under George Dubya the federal debt doubled from $5 trillion to $10 trillion.  Then under Barry Big Ears the federal debt doubled again to $20 trillion.
"There are predictions floating around that The Donald will again double the federal debt, taking us to $40 trillion.  If he and Chuckles Schumer succeed in obliterating the debt ceiling, he just may pull it off.
"Can you imagine how miserable the economy will be when it's larded up with $40 trillion in government debt?  You'd be lucky if GDP merely flat lined.  The whole dang shebang will be crushed under weight of this massive debt.  And don't get me started on corporate and private debt – that's a whole other story.
"You see where this is all going, don't you?  To hell in a bucket!
"You'd think runaway government debt would be a big deal for people.  But it's not.  As I keep telling you, no one cares about the federal debt.
"If you want people to read your articles, you need to write about Amazon or Apple stock – or cryptocurrencies.  Tell them prices will double and then double again.  That's what people want to hear.  So why not give it to them?"
Source: economicprism.com
09.14.17 –   The Middle Class Is Being Destroyed: Now Only 25 Percent Of All Americans Have $10,000 Or More In Savings
We just got more evidence that the middle class is being systematically eviscerated.  According to a GOBankingRates survey that was just released, more than half the country has less than $1,000 in savings.  So in the event of a major economic disaster of some kind, over 50 percent of the nation is going to be completely out of cash almost immediately.  For years I have been writing about the steady decline of the middle class in the United States, but I still get astounded by numbers such as these.  According to this new survey, only 25 percent of all Americans have $10,000 or more in savings at this point…
$0 saved: 39 percent
Less than $1,000 saved: 18 percent
$1,000 to $4,999 saved: 12 percent
$5,000 to $9,999 saved: 6 percent
$10,000 or more saved: 25 percent
Other surveys have come up with similar results.  One discovered that about two-thirds of the country is living paycheck to paycheck, and another which was conducted by the Federal Reserve found that 44 percent of all U.S. adults do not even have enough money "to cover an unexpected $400 expense".
Most of us have grown accustomed to barely scraping by from month to month.  But that is not what being "middle class" is supposed to be about.  If you are in the "middle class" you should be making more than you are spending and building long-term wealth.
But just like our federal government, most of us are spending money like there is no tomorrow.  If we don't have quite enough money for what we want to do, we just borrow more.  Right now, U.S. consumers are more than 12 trillion dollars in debt, and it is impossible to build any real wealth when you are constantly drowning in red ink.
We are willingly enslaving ourselves, but most people were never even taught about the dangers of going into too much debt.
Another major factor in the decline of the middle class is the fact that we have been shipping millions of good paying jobs overseas.  We have lost more than 70,000 manufacturing facilities since China joined the WTO, and we have been replacing good paying manufacturing jobs with low paying service jobs.
Without enough good paying jobs, our middle class has been steadily shrinking.  In 2015, the middle class became a minority of the population in the United States for the first time ever recorded.
If you go back to the early 1970s, the middle class was well over 60 percent of the population, but now that number is hovering in the high 40s.
And things continue to get even worse.  For example, NBC News recently reported that the number of Americans that can't afford to be living in their own homes has more than doubled since 2001…
Over 38 million American households can't afford their housing, an increase of 146 percent in the past 16 years, according to a recent Harvard housing report.

Under federal guidelines, households that spend more than 30 percent of their income on housing costs are considered "cost burdened" and will have difficulty affording basic necessities like food, clothing, transportation and medical care.

But the number of Americans struggling with their housing costs has risen from almost 16 million in 2001 to 38 million in 2015, according to the Census data crunched in the report. That's more than double.
If we want to turn things around for the middle class, we need more entrepreneurs and more small businesses.
Small businesses have traditionally been the primary engine for job growth in this country.  But instead of encouraging small businesses to start and grow, the federal government has been absolutely killing small businesses with red tape and high taxes.
If I win my election, I am going to do all that I can to fight for entrepreneurs and small businesses.  Today, the percentage of Americans that work for themselves is close to a record low, and we desperately need to get that turned around.
So I I go to Congress, one of the first things I plan to do is to push for the elimination of the "self-employment tax".
If you are an entrepreneur, then you already know how painful that particular tax can be.
We have got to get this economy growing again.  Barack Obama was the only president in our entire history never to have a single year when the U.S. economy grew by at least 3 percent, and overall we have not had a year when our economy grew by at least 3 percent in over a decade.
And as I noted earlier this week, "our economy has still only grown at an average rate of just 1.33 percent a year over the last 10 years."
Is that acceptable to you?
I hope not, because it sure is not acceptable to me.
What we have been doing is simply not working.  In fact, if we were not propping up the economy with the greatest debt binge in human history, we would be a in a rip-roaring economic depression right now.
If we want America to once again become the greatest economic machine on the planet, we need to do the things that made us great in the first place.  We need an extremely limited federal government that stays out of the way of business, and we need to once again embrace the principles of free market capitalism.
Free markets work tremendously well if you allow them to do so.
But if we continue to march down the road toward big government socialism, we will get what we deserve, and it won't be pretty.
Source: theeconomiccollapseblog.com
09.13.17 –   Housing Bubble Symmetry: Look Out Below
Housing markets are one itsy-bitsy recession away from a collapse in domestic and foreign demand by marginal buyers.
There are two attractive delusions that are ever-present in financial markets:One is this time it's different, because of unique conditions that have never ever manifested before in the history of the world, and the second is there are no cycles, they are illusions created by cherry-picked data; furthermore, markets are now completely controlled by central banks so cycles have vanished.
While it's easy to see why these delusions are attractive, let's take a look at a widely used measure of the U.S. housing market, the Case-Shiller Index: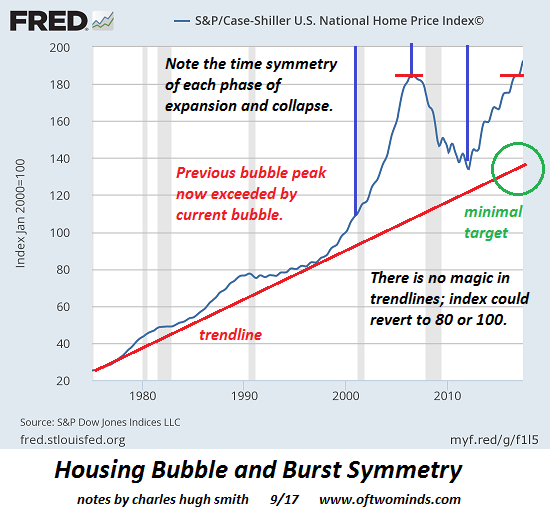 Housing markets are one itsy-bitsy recession away from a collapse in domestic and foreign demand by marginal buyers.

 

This time is different

 isn't always bullish.

If we look at this chart with fresh eyes, a few things pop out:
1. The U.S. housing market had a this time it's different experience in the 2000s, as an unprecedented housing bubble inflated, pushing housing far above the trendline of the Case-Shiller National Home Price Index.
2. It turned out this time wasn't different as this extreme of over-valuation collapsed.
3. For a variety of reasons (massive central bank and state intervention, the socialization of the mortgage market via federally guaranteed mortgages, historically low mortgage rates, massive purchases of mortgage backed securities by the Federal Reserve, etc.), the collapse in prices did not return to the trendline.
4. There is a remarkable time symmetry in each phase of expansion and collapse; each phase took roughly the same period of time to travel from trough to peak and peak to trough.
5. The Index has now exceeded the previous bubble peak, suggesting this time it's different once again dominates the zeitgeist.
6. Those denying the existence of cycles have difficulty adequately explain away the classic cyclical nature of the 2000-2008 bubble rise and its collapse, and the subsequent expansion of housing prices in a near-perfect mirror-image of the first housing bubble's steep ascent.
Claiming that this painfully obvious time symmetry is mere randomness/coincidence is not an explanation.
7. This time symmetry suggests that the current housing bubble is close to its zenith and will likely collapse over a time frame similar to Housing Bubble #1.
The basic arguments for ever-higher housing prices forever and ever are:
A. central banks completely control all markets, including housing, and they will never let the housing market decline ever again.
B. Foreign buyers paying cash (even if the "cash" was borrowed in Asia) will continue flooding into North America, elevating markets for the the foreseeable future.
The omnipotence of central banks is a matter of near-religious certainty among the faithful, but skeptics note that central banks have played major roles in markets for decades, yet every asset bubble eventually pops despite central bank/state management of markets.
True believers note that the central state/bank interventions have greatly expanded, and that there are no limits on future interventions; central banks can create trillions of dollars, yuan, yen, euros, etc., and use this "free money" to buy assets, propping up markets indefinitely.
In this line of thinking, central banks/states "learned their lesson" in the first housing bubble and will never let the housing market collapse again.
As for foreign demand: the number of buyers from China who are desperate to turn their cash into North American real estate holdings is practically limitless.
The counter-arguments are:
1. Despite the federal guarantees on mortgages, the housing market is still dominated by private-sector borrowers and lenders. As my colleague Mish has often pointed out, central banks/agencies cannot force people to borrow money to buy homes, vehicles, etc.
If everyone who is qualified to buy a house and wants to buy a house has bought a house, then demand is limited to new households and foreign buyers.
New household formation has recovered a bit but is still at historically low levels. New households burdened by student loan debt, high rents and stagnant wages are not qualified to borrow hundreds of thousands of dollars to buy homes at current nose-bleed valuations.
While the number of foreign buyers may appear to be limitless in specific markets, counting on marginal buyers with cash to prop up markets across the board is an iffy proposition, given the potential for conditions to reverse due to global recession, capital controls, higher taxes imposed on foreign owners of vacant homes, etc.
I would argue that this time is different, but not in a healthy way. Central bank/state interventions in the market have drawn in marginal borrowers who are a few paychecks away from default, and speculators who are leveraged to the hilt to buy homes to "flip for quick profits–a strategy that collapses if qualified buyers become scarce.
Globally, housing has become a flight-to-safety asset for the global elites, a development with disastrous consequences for residents. Housing owned for investment often sits empty, effectively withdrawing much-needed housing units from the market for shelter. This investment buying reduces the pool of available housing, driving up rents and home prices, pushing shelter out of reach of the bottom 95% of wage earners in desirable urban areas.
In response, municipalities are aggressively imposing fees on investment ownership of empty dwellings. At some point, these fees reduce demand for housing in "hot" markets. Once marginal cash purchases evaporate, markets fall back to what domestic demand can support.
Source: charleshughsmith.blogspot.com
09.12.17 –   Debt Nightmare: Does Anyone Actually Care That Our Exploding National Debt Is Destroying Our Future?
When will America finally wake up?  The borrower is the servant of the lender, and we now have a colossal 20 trillion dollar chain around our collective ankles.  We have willingly enslaved ourselves, our children and our grandchildren, and yet our addiction is so insatiable that we continue to add more than 100 million dollars to our debt load every single hour of every single day.
The national debt is sitting at a grand total of $20,162,176,797,904.13 at this moment, but now that the debt ceiling has been lifted that number is expected to shoot up very rapidly toward 21 trillion dollars by the end of the year.  The national debt had been held down by accounting tricks to keep it under the debt limit for many months, but every time this has happened before we have seen the national debt absolutely explode back to projected levels once the debt ceiling was raised.
But very few of our "leaders" in Washington seem to care that we are in the process of committing national suicide.  There is no possible way that we will be able to continue to be the most powerful economy on the planet if we continue down this road.  During Obama's eight years in the White House, we added more than 9 trillion dollars to the national debt.  That certainly improved things in the short-term, because if we could go back and take 9 trillion dollars out of the economy over the past 8 years we would be in an absolutely nightmarish economic depression right now.
But even with all of this borrowing and spending, our economy has still only grown at an average rate of just 1.33 percent a year over the last 10 years.
And by going into so much debt, we are literally destroying the future for our children and our grandchildren.
What we are doing to them is beyond criminal, and people should be going to prison over this.  But instead we just keep rewarding these Congress critters by sending the same cast of characters back to Washington over and over again.
Are we insane?
The feds are now projecting that the official yearly budget deficit will reach 1.4 trillion dollars by 2027.  Of course federal projections always end up being far more optimistic than reality.
And we are already spending about 500 billion dollars a year just on interest on the national debt, and by 2027 that number is projected to jump to 760 billion dollars a year.
This is complete and utter insanity, and yet we just can't control ourselves.  The government continues to throw around money as if there is no tomorrow, and our tax dollars are being wasted on some of the most ridiculous things imaginable.
For instance, the U.S. military is spending 42 million dollars each year on Viagra.
We must stop this madness, and we must stop it now.  I really like how an editorial in the Houston Chronicle made this point…
Tax-and-spend politics are bad, but borrow-and-spend is worse. While we have some control over whether our lawmakers raise taxes, our children and grandchildren don't get a vote on whether we burden them with debt.

Over the long run, huge government debt takes cash out of the economy and drives up interest rates, slowing economic growth and hurting private enterprise.

To protect the U.S. economy, Republicans need to nip plans to eliminate the debt ceiling in the bud and then get to work balancing the federal budget.
Will we ever learn?
Since the beginning of our nation, many of our most prominent statesmen have been warning about the dangers of accumulating government debt.  For example, during his farewell address President George Washington instructed the country to "avoid … the accumulation of debt not only by shunning occasions of expense but by vigorous exertions to discharge the debts, no throwing upon posterity the burden which we ourselves ought to bear."
And Thomas Jefferson famously said that he wished that he could have added one more amendment to the U.S. Constitution which would have banned government borrowing…
"I wish it were possible to obtain a single amendment to our constitution. I would be willing to depend on that alone for the reduction of the administration of our government to the genuine principles of it's constitution; I mean an additional article, taking from the federal government the power of borrowing."
This is one of the primary reasons why we must abolish the Federal Reserve system.  The Federal Reserve was actually designed to create a government debt spiral from which we could never possibly escape.  That is why the size of our national debt has gotten more than 5000 times larger since 1913, and we are never going to permanently solve our national debt problem until we get rid of the Fed.
Most Americans don't realize this, but the path that we are currently on is not sustainable by any definition.  Debt levels are growing much, much faster than GDP, and that is a recipe for disaster.  The following is an excerpt from one of my previous articles…
We are living in the greatest debt bubble in the history of the world.  In 1980, total government and personal debt in the United States was just over the 3 trillion dollar mark, but today it has surpassed 41 trillion dollars.  That means that it has increased by almost 14 times since Ronald Reagan was first elected president.  I am searching for words to describe how completely and utterly insane this is, but I am coming up empty.  We are slowly but surely committing national suicide, and yet most Americans don't even understand what is happening.

According to 720 Global, total government debt plus total personal debt in the United States was just over 3 trillion dollars in 1980.  That broke down to $38,552 per household, and that figure represented 79 percent of median household income at the time.

Today, total government debt plus total personal debt in the United States has blown past the 41 trillion dollar mark.  When you break that down, it comes to $329,961.34 per household, and that figure represents 584 percent of median household income.
Sadly, most people are entirely clueless about what we are doing to ourselves.  Investors are the most optimistic that they have been in years, and most of the talking heads on television seem to believe that the party can go on indefinitely.
But that is simply not possible.
And the same thing is true from a global perspective as well.  The following comes from Chris Martenson…
First: our entire economic model, which dependent on borrowing at a faster rate than income (GDP) grows, is something that simply cannot be maintained at its current rate or level. Check.

Second: depleting species, soils and aquifers are all wildly unsustainable practices that are accelerating. Check.

Last (and most glaring of all): the world's leadership (and we use that term very loosely) continues to insist on adhering to the indefensible idea that infinite growth on a finite planet is possible  Checkmate.
The clock is ticking, and disaster awaits at the end of this road.
Will somebody please do something?
Source: theeconomiccollapseblog.com
09.11.17 – America Is In For A Rude Awakening In January"
Dear President Trump,
Over the last couple of years I've been all over TV… from Fox News to CNBC, CNN and Bloomberg. I've been telling our fellow Americans that the financial global elite was planning to issue their own globalist currency called special drawing rights, or SDRs.
And that those elites would use this new currency to replace the U.S. dollar as the global reserve currency.
I've even written about this extensively in my best-selling booksThe Road to Ruin and The New Case for Gold.
I'm sure some people in the mainstream media thought I was out of line — but the United Nations and the International Monetary Fund (IMF) have both confirmed this plan to replace the U.S. dollar is real. I've made this warning many times, but it seems to be falling on deaf ears. That's why I'm writing directly to you.
Here's the proof that the U.S. dollar is under attack, right in front of our eyes:
 The UN said we need "a new global reserve system… that no longer relies on the United States dollar as the single major reserve currency."

And the IMF admitted they want to make "the special drawing right (SDR) the principal reserve asset in the [International Monetary System]."
More recently, the IMF advanced their plan by helping private institutions, such as the UK's Standard Chartered Bank, issue bonds in SDRs.
Although our mainstream media ignored this major event, the UK media reported:
This is all happening. And on January 1st, 2018, this trend to replace the U.S. dollar will accelerate. That's when the global elite will implement a major change to the plumbing of our financial system.
It's a brand-new worldwide banking system called Distributed Ledger Technology. And it will have a huge impact on seniors who are now preparing for retirement.
When this system goes live, many nations will be able to dump the U.S. dollar for SDRs.
For now, the U.S. dollar is still the world's reserve currency. Other nations have to hold and use the U.S. dollar for international trade, instead of their own currencies.
This creates a virtually unlimited demand for U.S. dollars, which allows us to print trillions of dollars each year to pay for wars, debt and anything we want. It keeps our country operating.
Now, we can see that the global elites are working to unseat the U.S. dollar as the global reserve currency.
Here are the three key pieces of information that prove this will happen.
Fact #1 — The IMF issues a globalist currency called special drawing rights, or SDRs.
Fact #2 — The IMF has confirmed they want to replace the U.S. dollar with SDRs.
Fact #3 — The IMF has confirmed Distributed Ledgers can be used for "currency substitution"… and they've even set up a special task force to speed up implementation.
The IMF is using this technology to create an SDR payment system, because that's the currency they issue.
As you know, Christine Lagarde, head of the IMF, is the woman in the middle.
When asked about the task force, she said:
 "As I see it, all this amounts to a brave new world for the financial sector."
Yes, a brave new world where the dollar is no longer the world reserve currency.
Barbara C. Matthews, a former US Treasury Department attaché to the European Union, has reached the same conclusion.
She said the link between the globalists' currency and Distributed Ledgers "is impossible to avoid."
And that "the IMF seems to be exploring the possibility of permitting a broader use of [their globalist currency] beyond internal transactions among member central banks."
Make no mistake, if the IMF is planning to use Distributed Ledgers to replace the U.S. dollar with SDRs. And just to be clear, when SDRs take over, the American people will be left with devalued dollars.
Once other nations start accumulating the globalist currency through Distributed Ledgers, they will no longer need to hold dollars. Once Distributed Ledgers go live, other nations will no longer need to buy Treasury bonds.
And that means our government — your government — will no longer be able to finance its normal operations, including welfare programs like Social Security. For those who have their retirement account parked in stocks, they could watch it evaporate in a matter of days. The weakest companies in the stock market could collapse once this plan goes live.
Just look what happened the last time we had a big change in our global financial system. In 1971, Nixon announced the U.S. would no longer officially trade dollars for gold. That created a lot of uncertainties, turning that decade into a nightmare for stock investors.
Take a look… the Dow Jones, an index of "stable" blue chip stocks (the kind most retirees like to hold), was cut in half. Stock investors bailed out of the market and, for the most part, didn't come back for a decade.
I expect something similar once Distributed Ledgers go live.
The transition from a U.S. dollar system to a new system dominated by SDRs will be messy. Stocks will collapse… and will stay down. There will be no recovery this time, because the U.S. government won't be able to come to the rescue like they did in 2008.
You won't even have funding for normal operations, let alone enough funds to save stock investors.
I know that governments have been patiently watching Distributed Ledger (often referred to as blockchain) technology develop and grow outside their control for the past eight years. Libertarian supporters of Distributed Ledgers celebrate this lack of government control.
Yet, their celebration is premature, and their belief in the sustainability of powerful systems outside government control is naïve. Governments don't like competition especially when it comes to money.
You probably know that you, or any government, cannot stop Distributed Ledger technology — in fact you probably don't want to. Governments and monetary elites want to control it using powers of regulation, taxation, and investigation.
An elite U.S. legal institution called the Uniform Law Commission, which proposes model laws intended for adoption in all fifty states, has released its latest proposal called the "Uniform Regulation of Virtual Currency Businesses Act."
This new law will not only provide a regulatory scheme for state regulators, but will also be a platform for litigation by private plaintiffs and class action lawyers seeking recourse against real or imagined abuses by digital coin exchanges and facilities.
We know the U.S. government will want to use this technology for its benefit. One step toward government control just occurred a few weeks ago.
On August 1, 2017, the SEC announced "Guidance on Regulation of Initial Coin Offerings," the first step toward requiring fundraising through Distributed Ledger, or blockchain-based tokens to register with the government.
But consider the following additional developments:
On August 1, 2017, the World Economic Forum, host body to the Davos conference of global super-elites, published a paper entitled "Four reasons to question the hype around blockchain."
On August 7, 2017, China announced they will begin using Distributed Ledger technology to collect taxes and issue "electronic invoices" to citizens there.
Perhaps most portentously, the International Monetary Fund (IMF) has weighed in.
In a special report dated June 2017, the IMF had this to say about Distributed Ledgers: The IMF favors control by a "pre-selected group of participants" or "one organization," rather than allowing "anyone" to participate.
This paper should be viewed as the first step in the IMF's plan to migrate its existing form of world money, the SDR, onto a DLT platform controlled by the IMF.
They're telling you exactly what their plan is. It would be foolish to ignore them, or assume the U.S. dollar will remain the global reserve currency much longer once this plan is implemented, as early as January 1, 2018.
You know the global elites' aren't your biggest fan. You know the U.S. dollar has been under attack.
This is the global financial elites' plan to remove the U.S. dollar from its position of power and to attack your administration all at once.
Who do you think American's will blame when the stock market crashes, or Social Security runs out? We can hear the talking heads already.
Best,
Source: dailyreckoning.com
All information used from other websites on X22 Report is used for educational/criticism and commentary purposes only.

Fair Use Notice: This video contains some copyrighted material whose use has not been authorized by the copyright owners. We believe that this not-for-profit, educational, and/or criticism or commentary use on the Web constitutes a fair use of the copyrighted material (as provided for in section 107 of the US Copyright Law. If you wish to use this copyrighted material for purposes that go beyond fair use, you must obtain permission from the copyright owner. Fair Use notwithstanding we will immediately comply with any copyright owner who wants their material removed or modified, wants us to link to their web site, or wants us to add their photo.

The "Fair Use" Provisions outlined in Title 17, Chapter 01 Article 107 of the US Copyright Law states the following:

Notwithstanding the provisions of sections 106 and 106A, the fair use of a copyrighted work, INCLUDING SUCH USE BY REPRODUCTION IN COPIES or phonorecords or BY ANY OTHER MEANS specified by that section, for purposes such as criticism, comment, news reporting, teaching (including multiple copies for classroom use), scholarship, or research, is NOT an infringement of copyright. In determining whether the use made of a work in any particular case is a fair use the factors to be considered shall include:

(1) the PURPOSE and CHARACTER of the use, including whether such use is of a commercial nature or is for NON-PROFIT educational purposes;
(2) the NATURE of the copyrighted work;
(3) the amount and substantiality of the portion used in relation to the copyrighted work as a whole; and
(4) THE EFFECT OF THE USE UPON THE POTENTIAL MARKET FOR OR VALUE OF THE COPYRIGHTED WORK.

The fact that a work is unpublished shall not itself bar a finding of fair use if such finding is made upon consideration of all the above factors.
Tags: banks, constitution, cyber attacks, DHS, economic collapse, finance, financial collapse, gold, police state, preppers, prepping, silver, stock market, war, wwIII