Podcast: Play in new window | Download (Duration: 31:34 — 37.1MB)
It has begun, after the real estate disaster in 2008 people needed to rent and rent skyrocketed. Now we see the opposite it happening, rents are starting to plummet because the demand is gone. The FED came out with their meeting minutes and they will not change anything. Trump want to repeal the tax mandate on Obamacare, this would be a smart move, it would put money back into the pockets of the people. The central banks are backed into a corner, they know if they try to do anything the economy will implode and they will be blamed for it, so better to keep it going as long as possible. The push is on to impeach Trump. The UK says it has finished its investigation and there is no sign that Russia tried to interfere with elections. North Korean defector says talks are what are needed not force. South Korea does not want nuclear weapons. Iraqi forces take control of the Syrian border. Tillerson says that if Iraq tells us to leave we will not. Another event in NY.
Check Out The X22 Report Spotlight YouTube Channel –  X22Report Spotlight
Please check Newzsentinel.com for the latest news on the economic collapse. The Sentinel Alerts are updated throughout the day. If you haven't already, go to "The People" and join the community of people who are helping each through the economic collapse.
---
Current News – 11.01.2017
---
Economy
Over the past few years, commercial real estate prices have boomed, and so has multi-family construction, enticed by dropping and desperately low rental vacancy rates that have pushed up rents. But vacancy rates bottomed out in Q2 2016 and have since turned up. In Q3 2017, the rental vacancy rate rose to 7.5%,  it's the highest rate in over three years: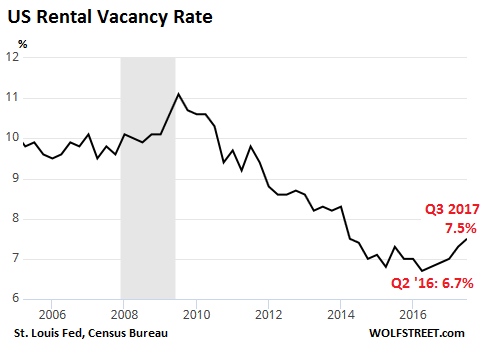 In New York City, the median asking rent for a one-bedroom dropped 4.3% year-over-year to $2,870. For two-bedrooms, it dropped 10.7% to $3,100. Measured from the peak in March 2016, asking rents – not including incentives – have plunged respectively 15% and 22%.
In Chicago, the median asking rent for a one-bedroom apartment dropped 15.9% year-over-year to $1,530, and 15.6% to $2,110 for a two-bedroom. Whatever the reasons – from Chicago's declining population to its fiscal woes – median asking rents have plunged by 25% and 20% respectively from their peaks in late 2015.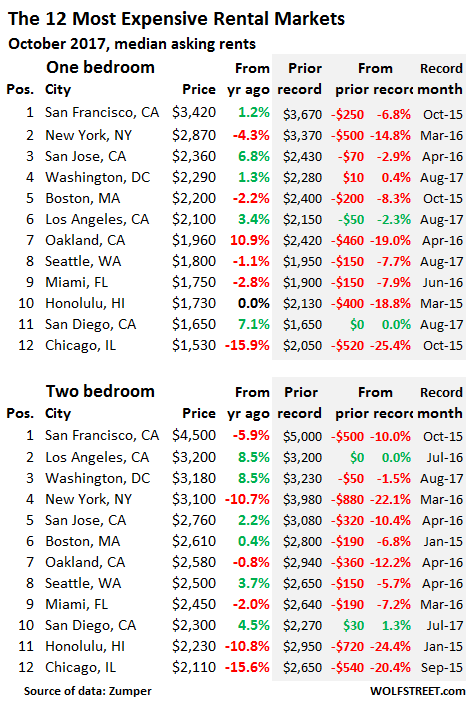 Source: wolfstreet.com
FOMC Leaves Policy Unchanged, Upgrades Growth To "Solid" From "Moderate" 
 The Fed  upgraded the economy from growth "moderately" to "at a solid rate"  inflation for items other than food and energy remained soft."
As a result of the neutral wording, a December rate hike now appears guaranteed 
Furthermore, the Fed unanimously voted to leave policy unchanged.
 
Fed says economic activity rising at solid rate despite storms
Fed: inflation for items other than food, energy remained soft
Fed: storms unlikely to alter economy's medium-term course
Fed: labor mkt continued to strengthen, unemployment declined
Fed repeats sees inflation stabilizing around 2% medium term
Source: zerohedge.com
Trump Proposes Repealing Obamacare's Individual Mandate To Pay For Tax Cuts 
In a proposal which will further infuriate Democrats, moments ago Trump suggested repealing Obamacare's individual mandate to fund his proposed tax cut.
"Wouldn't it be great to repeal the very unfair and unpopular individual mandate in ObamaCare and use those savings for further tax cuts for the Middle Class. The House and Senate should consider ASAP as the process of final approval moves along. Push Biggest Tax Cuts EVER," President Trump says in series of posts on Twitter.
Wouldn't it be great to Repeal the very unfair and unpopular Individual Mandate in ObamaCare and use those savings for further Tax Cuts…..
….for the Middle Class. The House and Senate should consider ASAP as the process of final approval moves along. Push Biggest Tax Cuts EVER
The Congressional Budget Office has estimated that repealing the mandate would save the government $416 billion over a decade. The mandate requires most people to pay a fine to the IRS if they do not have health insurance. 
 Source: zerohedge.com
---
Political/Rights
The grand jury indictments of former Trump campaign executive Paul Manafort and his longtime deputy Rick Gates (as well a billionaire Tom Steyer's World Series Ad pushing for Trump Impeachment) have apparently emboldened another progressive House Democrat to file articles of impeach against Trump, as murmurs about bringing the bill to a floor vote grow steadily louder despite Nancy Pelosi's desperate insistence that they would risk politicizing the Mueller probe and damaging the Dems during the 2018 midterms.
This time, it's Rep. Luis Gutiérrez (D-Ill.), who's leading the charge. Gutierrez, who told the Hill he's planning to file the articles but didn't specify a timeline, is the third House Dem to file articles of impeachment,
As a reminder, here's what an impeachment would look like, courtesy of Statista.
However, Gutiérrez,   declined to specify what grounds the articles will cite, saying only that the Democrats are working with constitutional scholars to solidify their case.
Source: zerohedge.com
---
Geopolitical/Police State
No evidence Russia ever meddled in UK democracy – Boris Johnson
Foreign Secretary Boris Johnson has conceded there is no evidence Russia has ever sought to interfere with British votes.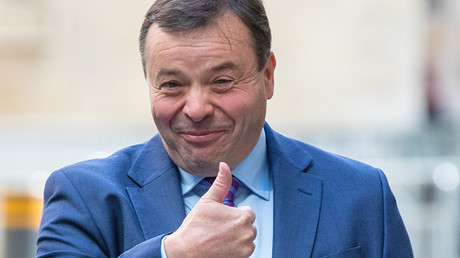 Source: rt.com
71% of Americans Say Political Correctness Has Silenced Discussions Society Needs to Have
The Cato 2017 Free Speech and Tolerance Survey, a new national poll of 2,300 U.S. adults, finds that 71% Americans believe that political correctness has silenced important discussions our society needs to have. The consequences are personal—58% of Americans believe the political climate prevents them from sharing their own political beliefs.  
Source: govtslaves.info
---
War
North Korean defector: Information, not force, can bring change
The highest-level North Korean defector in two decades says America should bring change peacefully by challenging the totalitarian regime's grip on information rather than resorting to military action.
"We should start from basic concepts of human rights and freedom," Thae said, not railing against the Kim dictatorship and communism.
Comment: There are possibly more revealing facts within the North Korean drama; that it's a pantomime diversion from the real world threat which is the United States and it's psychopathic war-mongers who are so over-stretched another war is not viable; and has the US become relatively powerless to stop the North Koreans what with the Russia-China alliance
Source: sott.net
Russia rejects US demands for changes to Iran nuclear deal
As Russian President Putin arrives in Iran for talks with Iran's top leadership the Russians have flatly rejected US suggestions – including from US President Trump – that the nuclear deal with the Iran – the Joint Comprehensive Plan of Action ("JCPOA") be amended or renegotiated.
Russia is a signatory and co-guarantor of the JCPOA alongside its ally China.  It is also a permanent member of the UN Security Council, whose agreement would be needed for any international sanctions on Iran.
That means that without the Russians' agreement the JCPOA cannot be changed or amended or renegotiated, and the UN Security Council cannot impose further international sanctions on Iran. 
Source: theduran.com
Iraqi forces liberate new areas near Syrian border – map
The Iraqi Armed Forces resumed their offensive to liberate the Syrian border, today, liberating new areas inside the Al-Anbar Governorate.
Source: almasdarnews.com
Testifying to the Senate Foreign Relations Committee, Secretary of State Rex Tillerson revealed that the US presence in Iraq is so permanent at this point that even if Iraq specifically requests the US withdraw and removes permission for them to be there, the US will remain.
Tillerson addressed the question from Sen. Tom Udall (D-NM), who asked whether the US intended to stay in Iraq uninvited like they are in Syria. Tillerson insisted the 2001 and 2002 Authorizations for Use of Military Force (AUMF) gave the US legal authority to stay.
Source: news.antiwar.com
US Commander Can't Remember If There Are 5K or 500 Troops In Syria
A senior US military commander in the operation against ISIS in Syria got slightly confused when asked about the exact number of US troops in Syria.
During his press briefing on Tuesday, James Jarrard a US Army major general, got in a muddle over a simple question from a journalist regarding the scale of the US presence in Syria. He needed a colleague from the Pentagon to intervene.
  At first, Jarrard said that there are 5,000 US troops in the region, but immediately corrected himself, lowering the figure to 4,000.
"I think it's a little over 4,000 US troops in Syria right now that are supporting efforts against Daesh [IS], and supporting the SDF [Syrian Democratic Forces]," he told Pentagon reporters in response to a question about the number of American troops in the region.  
Source: yoursnewswire.com
---
False Flags
Chilling Image Of ISIS Flag Was Taken At Exact Spot Where NYC Terror Attack Began
Investigators from the FBI and NYPD probing the background of 29-year-old suspected terrorist Sayfullo Saipov – who was taken into custody alive after yesterday's grisly Halloween attack in Lower Manhattan – 
However, in a chilling revelation that suggest Saipov might've left clues about his intentions for authorities, the Daily Mail reported that an image showing an individual, who isn't pictured, holding a photo of the ISIS flag at the exact spot where Saipov allegedly mounted the barrier onto the West Side Highway bike path, emerged online some two months ago.
In the photo, an individual can be seen holding a phone on the corner of Houston Street and West Street in Manhattan with skyscrapers including 1 World Trade Center in the background. According to the respected SITE group which monitors terror activity, the image appeared two months ago. ISIS propaganda was found at the crime scene, a long with knives purportedly belonging to Saipov.
Source: zerohedge.com
BREAKING: FBI Interviewed NYC Terrorist About His Ties to Terrorism BEFORE the Attack
A critical piece of information has emerged in the case of a terrorist attack that killed eight people in New York City on Tuesday—the suspected attacker was reportedly interviewed by federal agents under the suspicion that he had linked to terrorists in 2015.
In spite of having enough information to initiate contact with Saipov and interview him, DHS did not pursue the case, citing that "the agents did not have enough evidence to open a case on him."
Source:  thefreethoughtproject.com
ROUNDUP: NYC Terrorist's Past Riddled With Red Flags
Manhattan attacker Sayfullo Saipov's past is checkered with future indicators of his terrorist attack on pedestrians Tuesday.
Saipov is a legal permanent resident from Uzbekistan who has resided in the U.S. since 2010. He attacked and killed eight civilians and injured a dozen more Tuesday.
He reportedly left notes in the truck he used to plow through pedestrians that declared his allegiance for the Islamic State and has reportedly told investigators he is "proud" of his work, wishing only he had run over more people.
The terrorist reportedly berated cashiers at his local supermarket and discriminated his hatred towards them based on whether they were wearing a hijab or not.
Source: dailycaller.com
New York vs Las Vegas attacks: Where's the call for stricter truck rental controls?
  "The New York Police Department (NYPD) have since released an image of the suspected attacker, Sayfullo Saipov, 29 who is currently in custody. US media have reported that the vehicle involved in Tuesday's attack was a rental, and many on the right have sarcastically suggested that 'liberals' should be calling for car rental controls as well as stricter gun control.

In the wake of mass shootings, calls for stricter gun control regularly get shouted down by supporters of second amendment rights, with their primary argument being that stronger legislation wouldn't make any difference.

For Shauna Wright, a writer and public speaker, this was too much. She contrasted reactions to the New York attack on Tuesday, and the mass shooting attack in Las Vegas in October.
Source: sott.net
Trump To Ask Congress To 'Immediately' Close Down Diversity Visa Program
Source: dailycaller.com