Podcast: Play in new window | Download (Duration: 28:29 — 31.8MB)
Canadian's are living paycheck to paycheck and if the paycheck was late most would not be able to pay their bills. Toronto real estate is beginning to pop and it looks like we are entering a bear market. The central banks balance sheet is growing even though they have said they are going to shrink it.  Stanley Fischer resigns it looks like central bankers are starting to jump ship. Deutsche bank says everywhere you look you see a bubble and it is the central banks free money policy.  The corporate media and the cabal must be worried because there is now an investigation into the Trump dossier. There is a proposal to use blockchain in voting, this would make a truth machine. Top EU court wants countries to accept refugees or be sued. South Korea might implement THAAD system. The new is reporting that China is closing the border with NK. Trump says that military actions is not his first choice. Iran closes its airspace and the UN reports that the coalition forces have not protected civilians. The IS though Site Intelligence is reporting that they will poison the west food supply.
Check Out The X22 Report Spotlight YouTube Channel –  X22Report Spotlight
Please check Newzsentinel.com for the latest news on the economic collapse. The Sentinel Alerts are updated throughout the day. If you haven't already, go to "The People" and join the community of people who are helping each through the economic collapse.
---
Current News – 09.06.2017
---
Economy
More than a third of those polled say they feel 'overwhelmed' by debt levels
Nearly half of workers are living paycheque to paycheque due to soaring spending and debt levels, a new survey by the Canadian Payroll Association suggests.
The poll found 47 per cent of respondents said it would be difficult to meet their financial obligations if their paycheque were delayed by even one week.
The survey, which polled 4,766 Canadian employees between June 27 and Aug. 5, also found that 35 per cent said they feel overwhelmed by their level of debt.
Source: cbc.ca
Toronto Home Price Bubble Descends into Bear Market
With surprise rate hike, Bank of Canada turns against housing market.
Home sales in the Greater Toronto Area, the largest housing market in Canada, plunged 34.8% in August compared to a year ago, to 6,357 homes, with sales of detached homes and semi-detached homes getting eviscerated:
Sales by type:
Detached houses -41.6%
Semi-detached houses -37.3%
Townhouses -27.5%:
Condos -28.0%.
Even as total sales plunged, the number of active listings of homes for sale soared 65% year-over-year to 16,419, with 11,523 new listings added in August, according to the Toronto Real Estate Board (TREB).
And the average price of all homes, at C$732,292 in August, plunged 20.5% from the crazy peak in April (C$920,761). By this measure, it has now entered a bear market.
Source: wolfstreet.com
Central Bank Balance Sheets Are About to Hit $20 Trillion
We just hit a new record high.
No, I'm not talking about the stock market. I'm talking about Central Bank balance sheets. While everyone is talking about the Federal Reserve's proposal to shrink its balance sheet, globally other banks have been cranking up the printing presses.
As a result of this, the G-4 Central Banks balance sheets (Japan, the US, the ECB, and the UK) are closing in on an astounding $20 trillion.
H/T Dimit.
This is truly astonishing. And what's worse is that we're only going up from here. When the next Crisis hits, Central Banks will unveil truly NUCLEAR levels of QE and money printing. 
Source: zerohedge.com
Stanley Fischer, No. 2 at the Federal Reserve, resigns unexpectedly
Stanley Fischer, the number two official at the Federal Reserve, unexpectedly submitted his resignation Wednesday, citing "personal reasons."
The vice chairman's resignation, effective Oct. 13, will allow President Trump to replace him at the central bank three-quarters of a year ahead of schedule. Fischer likely would have been an obstacle to Trump's ambitions for cutting back regulations on banks, as he described the effort to loosen rules on big banks as "very, very dangerous" last month.
Already, Trump faced a major task in choosing the next chairman of the Fed before February and replacing most of the central bank's Board of Governors. One Fed watcher called it the biggest overhaul of the Fed's leadership since 1936.
Source: washingtonexaminer.com
Trump's ability to control Fed sped up by Fischer resignation
President Donald Trump's ability to gain control over the Federal Reserve has speeded up in wake of the departure of Federal Reserve Vice Chairman Stanley Fischer, analysts said Wednesday.
Trump will be able to appoint at least four and perhaps five of the seven-member Fed board. The only two holdovers are Fed Govs. Lael Brainard and Jerome Powell. Both were Obama nominees.
Source: marketwatch.com
"We're Now Seeing Bubbles Everywhere" – Deutsche Bank Boss Urges End To "Era Of Cheap Money"
The head of Germany's largest commercial bank warned of the fallout from cheap money, cautioning against using the strong euro as a justification for printing more.
Bloomberg reports that the Deutsche Bank Chief Executive Officer John Cryan called for an end to the era of cheap money in Europe, saying that the prolonged period of rock-bottom interest rates is starting to inflate asset bubbles and putting the bank at a disadvantage to U.S. rivals.
 We are now seeing signs of bubbles in more and more parts of the capital market where we wouldn't have expected them," Cryan said, adding that the interest-rate policy has been partly responsible for the decline in earnings at European banks.
We at Deutsche Bank had access to over 285 billion euros of liquidity at the end of the second quarter, because we are now receiving huge cash inflows. This money, which actually constitutes the strength of a bank, is costing us penalty interest."
In conclusion, Cryan urged that The ECB should "wave goodbye" to loose monetary policy because while it helped banks, financial markets and individual countries emerge from the financial crisis, it's now causing "ever greater upheaval."
Source: zerohedge.com
---
Political/Rights
House Panel Subpoenas DOJ, FBI For "Trump Dossier" Records
The one Russia-collusion narrative that Democrats have actively worked to suppress is coming back to haunt them.
Investigators from the House Intelligence Committee have issued subpoenas to the DOJ and FBI for information related to the now-infamous Trump dossier that, as we recently learned, was provided to the FBI even though it contained knowingly inaccurate allegations.
In reality, Democrats may be worried that, if the background materials are finally publicized, they could terminally damage the Trump-Russia collusion narrative.
  Republicans have rightfully argued that it is important to understand the genesis of the dossier and whether it was created to sabotage Trump during his successful campaign for president, and also whether Democrats intentionally tried to mislead the FBI.
The dossier was funded by a group called Fusion GPS that conducts political opposition research and was initially hired by anti-Trump Republicans during the primary before switching to the Democrats after Trump had secured the nomination. One of its co-founders, Glenn Simpson, a longtime investigative reporter at the Wall Street Journal, abruptly canceled voluntary testimony before the Senate Judiciary Committee back in July.
 Source: zerohedge.com
---
War
Top EU Court Threatens Poland, Hungary, Czech Republic With Fines If They Refuse Refugees
All four countries also say migrants will disrupt their societies and the EU's focus should be on protecting its external borders.
To enforce the decision, the EU executive also said on Wednesday it was ready to institute court proceedings within weeks that could lead to fines for Poland, Hungary and the Czech Republic if they refuse to take in refugees.    
Source: zerohedge.com
S. Korea to deploy new THAAD launchers just 3 days after announcement
South Korea is moving swiftly to install four new Terminal High Altitude Area Defense (THAAD) rocket launchers on its territory. They will be installed this week, despite protests from residents who have cited numerous concerns over the missile defense system.
US Forces Korea (USFK) will deploy the launchers at its new base in Seongju, some 300 kilometers (186 miles) south of Seoul, on Thursday, according to the South Korean defense ministry, cited by Yonhap news agency.   
Source: rt.com
China Closes North Korean Border Crossing
China has publicly denounced the US's plans for tightening sanctions against North Korea, but if local media reports are accurate, the world's second-largest economy has closed part of its border with its isolated neighbor without any external prompting, possibly to help comply with the latest round of UN Security Council sanctions, which took effect last month.
 "an internal source in the Quanhe Commercial District of Hunchun City informed us that the customs offices are preparing to close the gate today (September 4), and that Chinese businessmen and merchants staying in North Korea have been notified," a source in China with knowledge of the development told Daily NK."
However, the more widely used Sino-Korean Friendship Bridge, a road-rail bridge that spans the Yalu river into North Korea, connecting Dandong and Sinuiju and accounting for 70% of the trade volume between the two countries, remains open.
As we reported previously, China has been increasingly scanning for radiation along the North Korean border.
Source: zerohedge.com
De-escalation? Trump Says Military Action In North Korea "Not His First Choice"
In yet another attempt at de-escalation by the US, moments ago as president Trump was leaving the White House, he responded to a reporter question on whether there will be military action in North Korea, saying that "it's not his first choice", but adding that "we'll see what happens."  
Source: zerohedge.com
Moscow proposes building bridge connecting Russia and Japan
Russia would like Japan to consider the feasibility of building a road and rail bridge from Hokkaido to the south of Sakhalin island Russia is currently preparing to build a bridge from mainland Russia to Sakhalin, according to the minister."In this case, it will give us an additional opportunity to use our railway infrastructure, and Japan will become a continental state," Shuvalov said.Since August, Russia has allowed Japanese citizens, arriving in Sakhalin on a ferry from Hokkaido, to stay in the country without a visa for 72 hours. Russian officials are hoping for a similar move from Tokyo.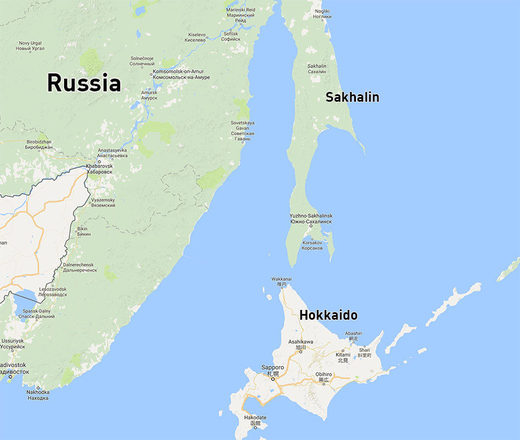 Source: sott.net
IRAN CLOSES ITS AIRSPACE FOR US, SAUDI AIRCRAFT – MEDIA
Iran has closed its airspace for US and Saudi Arabia as well as for other countries that have attacked Yemen, 
"After the cruelties against Yemen and given the fact that the military system of a country is not separate from its government and trade system, therefore, we cannot show double-standard behavior towards the world and for instance, when we say that the US is a world arrogant power, therefore, we don't allow the US aircraft, even passenger planes, to fly over the Islamic Republic of Iran because we are against its government's policies,"
Source: southfront.org
UN report slams US and allies for failing to protect civilians and violating international law
The report's mixed conclusions are indicative of a UN which is a deeply compromised international body.
The United Nations Syria Commission has found that the United States and its allies have not taken adequate steps to protect against multiple civilian casualties. 
Beyond this information, the Russian Foreign Minister Sergey Lavrov has repeatedly stated that US presence in Syria is illegal according to international law. US forces and those of their allies have not been authorised by the UN to conduct any military action on Syrian soil and likewise, they are not acting in accordance with the Syrian government. By contrast, Russia, Iran and Hezbollah forces are acting with the permission and cooperation of the Syrian government.  
Source: theduran.com
Russia sets up 'de-confliction' zone north of Aleppo
Security agreement sees Russian military police replace Kurdish armed groups in district north of Aleppo.  Russia's military on Wednesday said it had set up a zone north of the Syrian city of Aleppo to stop clashes between Kurdish fighters and opposition rebels.
"To prevent provocations and possible clashes between the Free Syrian Army in northern Syria and Kurdish militia, a de-confliction zone was created
Source: middle-east-online.com
UN: SYRIAN OPPOSITION MUST ACCEPT IT HAS NOT WON THE WAR

---
False Flags
ISIS Plans To Poison Supermarket Food With Cyanide
ISIS has sent out calls to militants located in Western countries to poison food in supermarkets with cyanide. 
In a message posted on the SITE Intel Group, ISIS has called for the mass poisoning of food in Europe, Russia, and the United States.
Speisa.com reports: In the third part of an English-language series promoting lone-wolf jihad in Western countries, potential attackers are advised to inject food for sale in markets with cyanide poison.
The terrorist organization has prepared for this and used prisoners for experiments with different chemicals and toxins, with very painful deaths as a result, The Times and Newsweek wrote in May: 
Source: yoursnewswire.com