Podcast: Play in new window | Download (Duration: 26:41 — 31.6MB)
A new record was set, there are now 95,385,000 people not in the labor force. Many Americans have looked for jobs but there are no jobs out there.Retail and those companies that make products for retailers are feeling the declining economy. Russia ramps up gold purchases in preparation for a failing global economy. Barcelona protests continue, 750,000 take to the streets for independence. Macron wants to re-work the Iran P5+1 deal. Arab League meets and prepares for battle, the cabal is pushing for the event of all events. Trump wants to work with Putin, North Korea and China. The Syrian war is coming to an end, the US and Russia come to agreement along with Jordan. The cabal will continue to push their agenda and try to get their event started.
Check Out The X22 Report Spotlight YouTube Channel –  X22Report Spotlight
Please check Newzsentinel.com for the latest news on the economic collapse. The Sentinel Alerts are updated throughout the day. If you haven't already, go to "The People" and join the community of people who are helping each through the economic collapse.
---
Current News – 11.12.2017
---
Economy
A new record yet again:  95,385,000 Americans not in labor force.  The army of non-working Americans continues to grow.
 we live in a place where 95,385,000 Americans are not in the labor force.  This new record was reached in the latest set of data released by the Bureau of Labor and Statistics (BLS).  This is a bigger issue than most would like to admit.  Many older Americans are drawing
substantially from the government and we now have a younger American population working in low wage positions.  This is a new record that isn't something to be proud about.
The number of Americans not in the labor force is troubling when you dig deep into the data.  
Take a look at the chart: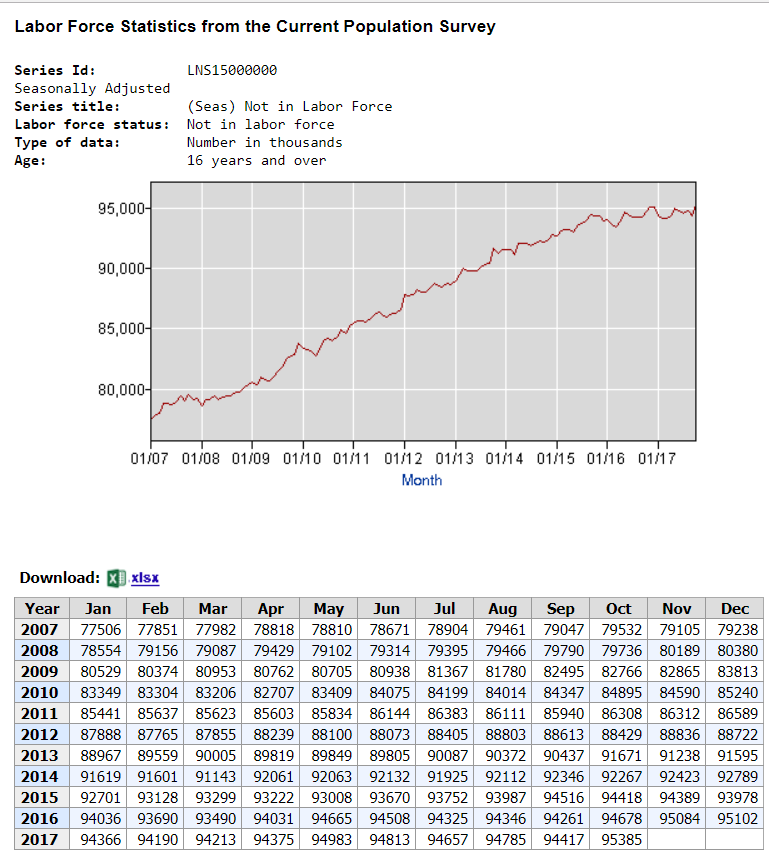 What is worth noting first is that since 2007 the number of Americans not in the labor force has increased by a stunning 17.8 million.  This is an incredible number and most of this increase occurred during a time that we were supposedly in a recovery.  This data coincides with the reality that many Americans are too broke to afford a home to purchase.
It is important to have an accurate assessment of those not in the labor force because you can game the unemployment rate by taking those people out.
Source: mybudget360.com
Retail woes: 5 big brands that may not be around much longer
While the whole structure of Sears Holdings (NASDAQ: SHLD) looks like it's teetering on the edge of bankruptcy,
The Limited was once a popular working woman's clothing brand owned by Limited Brands, which also owns Victoria's Secret and Bath & Body Works. But the parent company must have seen the writing on the wall when it sold The Limited to private-equity firm Sun Capital Partners. The Limited ended up closing every single one of its 250 brick-and-mortar stores and firing 4,000 employees, 
Toymaker Mattel (NASDAQ: MAT) is reeling from the poor retail environment that caused Toys R Us to go bankrupt, as well as Hollywood's bust of a summer blockbuster season. So bad was its third-quarter earnings report that it ended up suspending its dividend, a step few companies take unless they're in truly dire straits.
Mattel just can't sell its dolls anymore. Worldwide sales of Barbie were down 7%, American Girl dolls were down 30%, and other girl dolls like Monster High and Polly Pocket were down 42%.  
 J.C. Penney
The once venerable department store chain J.C. Penney (NYSE: JCP) is circling the drain right along with Sears.
Bed Bath & Beyond
It was expected that when Linens n Things went bankrupt, Bed Bath & Beyond (NASDAQ: BBBY) would pick up the ball and keep running downfield.
Source: wbir.com
Russia Gobbles up More Gold, Dumps More US Treasuries
Russia's Central Bank will continue to amass gold in its reserves while decreasing its share of US Treasuries
In the third quarter of 2017, the Central Bank of Russia bought 63 tons of the precious metal, bringing its gold stockpiles to 1,778.9 tons as of the end of September.
In September only, the regulator added 34.6 tons of bullion to its reserves, in the highest monthly increase since October 2016.
Currently, the Russian Central Bank has been ranked sixth in the world in terms of bullion reserves. The top five are the United States (8,133.5 tons), Germany (3,373.7), Italy (2,451.8 tons), France (2,435.9) and China (1,842.6).
If the Russian Central Bank continues to buy gold at the same pace Russia is likely to topple China as the world's fifth-biggest holder of bullion in early 2018, according to Kommersant. 
Source: russia-insider.com
---
Geopolitical/Police State
750,000 Protesters Clog Barcelona Streets, Demands Release Of "Political Prisoners"
Hundreds of thousands of people – 750,000 according to Barcelona police – backing Catalonia's bid to secede from Spain clogged the streets in downtown Barcelona Saturday to demand the release of jailed separatist leaders..
A separate court in Madrid granted bail on Thursday to another six Catalan lawmakers – including Catalan parliament's speaker Carme Forcadell – also being investigated over the secession push.
Source: zerohedge.com
US Brands RT a "Foreign Agent:" A Chilling Move Against Free Speech
On Thursday, RT America, the US-based subsidiary of RT (formerly known as Russia Today), announced that it would, under pressure from the United States government, register as a "foreign agent" under the Foreign Agents Registration Act (FARA).
The Justice Department's demand that RT register as a "foreign agent" is aimed at delegitimizing RT as a news source, intimidating its journalists and guests, and setting the precedent for taking similar actions against other news outlets.
The US government has given no public justification for its demand, which will require that RT America provide information on its finances and on individuals involved in directing the news outlet. RT clearly reflects the views of the Russian government and avoids criticism of the Putin regime. However, the US has made no similar demand in relation to other outlets that have government financing and backing—the BBC, for example. Moreover, the United States operates a vast network of news agencies that work, officially and unofficially, to promote the interests of the American ruling class all over the world.
This month, an organization calling itself the European Values Think-Tank, based in the Czech Republic and funded by the US embassy and foundations associated with billionaire George Soros, published just such a list, including the names of 2,300 RT guests, grouped into US and UK politicians, journalists, academics and celebrities. These individuals are, according to the think tank, "useful idiot[s]" for a "hostile foreign power."
The list includes journalists Julian Assange, Max Blumenthal, Seymour Hersh, Jeremy Scahill, Ed Schultz and Matt Taibbi, as well as the academics Noam Chomsky and Stephen Cohen, together with actor Russell Brand and filmmaker Oliver Stone.
Source: globalresearch.ca
---
War
French President Macron goes full idiot, seeks to revise Iran nuclear deal to avert Tehran's hegemony in Middle East
On Thursday, Macron suggested amending the JCPOA, despite eight International Atomic Energy Agency (IAEA) reports which have confirmed Iran's full compliance with the agreement.In particular, the French leader wants to renegotiate the question of the "ballistic activity of Iran" – not covered under the current accord – "with sanctions if necessary." He further wants discussions about "Iranian hegemony throughout the region."
 
Source: sott.net
Arab League To Hold Urgent Meeting On Iran As Saudis Mobilize F-15 Fighter Jets
The Arab League is set to hold an emergency meeting on Iran at Saudi Arabia's request,    
 The kingdom has mobilized its F-15 fighter jet fleet to launch a military operation against the Iranian-backed terrorist militia of Hezbollah in Lebanon, regional news website The Baghdad Post reports.

Sadi Arabia previously accused both Lebanon and Iran of committing an act of wars against it after rebels fired a missile at the King Khalid International Airport in the kingdom's capital of Riyadh.
Iran is currently being scapegoated for just about all tensions which have exploded in the gulf over the past week, including the following:
the civil war in Yemen,
the Qatar economic blockade and isolation over accusations that it is "Iran friendly",
the latest civil unrest in Bahrain and the alleged bombing of a major oil pipeline there,
Source: zerohedge.com
Secret documents made public by Israeli TV Channel 10 indicate that this provocative war scenario was  coordinated by Saudi Arabia and Israel to instigate a new Middle East war, with Lebanon the target, vilified as a proxy of Iran. This provocation follows a huge Israeli military exercise held in September simulating an invasion of Lebanon designed specifically to target the Lebanese group Hezbollah. This was Tel Aviv's largest military drill in 20 years, involving all branches of the Israeli military. 
Leaked cable shows Saudi-Israeli coordination
The cable was leaked by Barak Ravid, senior diplomatic correspondent for Channel 10 News. The communiqué, he said, was sent from the Israeli Ministry of Foreign Affairs in Jerusalem on Nov. 6 to all Israeli embassies. It instructed Israeli diplomats to to do everything possible to rev up diplomatic pressure against Hezbollah and Iran. The communication urged support for Saudi Arabia's war in Yemen, and for Israeli diplomats to appeal to the "highest officials" in their host countries to expel Hezbollah from Lebanese government and politics,"
Resignation leaves Lebanon vulnerable to attack
In Lebanon, Hariri's resignation is seen as having been forced by the Saudis in order to destabilize the Lebanese government, foment discord and leave Lebanon vulnerable to Israeli attack.
Source: globalresearch.ca
Muhammad Bin-Salman's Purge in Saudi Arabia is Prelude to Something Bigger
Our region stands on the brink of war. We should not let small details — such as the resignation of Lebanese Prime Minister Saad al-Hariri's resignation or the detention of princes and former ministers in Saudi Arabia — divert us from the big picture and the real developments taking place behind the scenes. The really dangerous phase is the one that will follow Crown Prince Muhammad Bin-Salman's purge on the domestic Saudi front. It may be the precursor to scenarios for a regional war that could, without exaggeration, end up being the most devastating in its modern history.
All that is currently happening is part of a carefully planned and crafted scheme, and the prelude to a sectarian war waged in 'Arab nationalist' guise against the growing power of 'Shia' Iran and its surrogates in Yemen, Lebanon and Iraq with American, regional and Israeli backing.
Source:  21stcenturywire.com
Jordan hails deal with Russia, US in Syria
Amman, Washington, and Moscow have signed a deal for a partial cessation of hostilities in the southern provinces of Syria based on "de-escalation zones" that they brokered last July.
Jordan's State Minister for Media Affairs Mohammad Momani said Saturday that the agreement on the ceasefire regime in southwestern de-escalation zone is a "key step" to ending the violence and creating the "proper conditions" for a sustainable political solution to the crisis in the country.
Source:  almasdarnews.com
'On-the-fly'? Joint US-Russian statement on Syria took months of preparation
A US State Department official has commented on the recent 'on-the-fly' greeting between Russian President Vladimir Putin and US President Donald Trump amid the APEC summit, suggesting that a joint US-Russian statement on Syria was preceded by months of painstakingly reciprocal diplomatic work.Following a brief meeting between Vladimir Putin and Donald Trump on the sidelines of the APEC Summit, the US President called for good relations with Russia, saying that a number of international issues could be solved with the assistance of Moscow.
Source: sott.net
Putin, Trump agree to defeat ISIS in Syria: Kremlin
Russian President Vladimir Putin and US President Donald Trump, in a joint statement on Syria
approved on the sidelines of the Asia-Pacific summit, agreed to continue joint efforts on fighting Islamic State in Iraq and Syria (ISIS) militants until it is defeated, the Kremlin said on Saturday (Nov 11).
The two leaders also confirmed their commitment to Syria's sovereignty, independence and territorial integrity and called on all parties to the Syrian conflict to take an active part in the Geneva political process.
Moscow and Washington agree there is no military solution to the conflict,
Source: straitstimes.com
Trump says US should team up with Russia to solve global issues 
US President Donald Trump considers it necessary to get back to cooperation with Moscow, which will be beneficial for the country and for the whole world,
Source:  tass.com