Podcast: Play in new window | Download (Duration: 25:05 — 30.5MB)
Malls are deteriorating at an accelerated pace. More and more space is becoming available as people find it more difficult to save and spend under this fake economy. US Gross National Debt spikes by 640 billion dollars in 8 weeks. Combined wealthiest billionaires fortunes top 6 trillion dollars. More Americans are denouncing their citizenship because of taxes.  New FOIA docs show that the FBI was investigation the Uranium 1 deal. McCain's assistant continues to side step the subpoena to testify about the dossier. Trump lands in Japan and begins talks about NK. The cabal might try an event while Trump is in Asia. Unnamed US Official is meeting with Syrian officials in Damascus something that has not happened since 2011, is change in the wind?  The fake war on terror has cost the American public 250 million dollars a day.
Check Out The X22 Report Spotlight YouTube Channel –  X22Report Spotlight
Please check Newzsentinel.com for the latest news on the economic collapse. The Sentinel Alerts are updated throughout the day. If you haven't already, go to "The People" and join the community of people who are helping each through the economic collapse.
---
Current News – 11.05.2017
---
Economy
Malls and their Hapless Investors Keep Getting Crushed 
CBL Properties, a mall REIT with 119 mostly retail-oriented properties, reported earnings, and shares plunged 26% on Friday, to $5.92. They'd already been dropping for years because the brick-and-mortar retail meltdown is structural, and not new, and will not turn around before it's finished melting down. Shares of CBL are down 50% year-to-date and 75% from May 2013.
"This quarter's results fell below our expectations as our revenues were impacted by additional bankruptcies, store closures and rent concessions," CEO Stephen Lebovitz summarized it in the third-quarter earnings report.
Though investors knew the brick-and-mortar industry is in turmoil, they were nevertheless taken aback by the fact that it can still get worse – and that the sacrosanct dividends of a REIT can get slashed in no time.
Occupancy rate of all properties declined 40 basis points to 93.1%. Mall occupancy rate declined a full percentage point to 91.6%.
 So other mall REITs dove in formation:
Kimco Realty (KIM) down 2.1% today and 42% since end of July 2016.
Macerich (MAC) down 2.2% today and 39% since end of July 2016.
Simon Property Group (SPG) down 2.7% today and 32% since the end of July 2016.
GGP (formerly General Growth Properties) down 2.9% today and 41% since the end of July 2016.
Federal Realty Investment Trust (FRT) down 1.3% today and 25% since the end of July 2016.
Regency Centers Corp (REG), down 1.8% today and 22% since the end of July 2016.
Source: wolfstreet.com
 
The debt ceiling charade being played out every few years in Congress makes the entire world shake its collective head and pray that Congress will for the umpteenth time raise the dang thing or at least "suspend" it. The other option is a US default, the global consequences of which are too ugly to imagine, even for Congress.
In its infinite wisdom, Congress didn't raise the debt ceiling in September; it only suspended it through December 8, after which the horse-trading will start all over again. But Congress is busy listening to lobbyists about the tax cuts – who gets them and who pays for them – and the debt ceiling isn't even on the back burner. So here we go again.
But this charade has some peculiar effects, beyond its entertainment value: For months on end, it covers up the true extent of US government debt, and its continued surge. Then suddenly, the floodgates open.
Over just these six years, the debt has ballooned by $5.7 trillion, or 39%, from $14.8 trillion to $20.5 trillion.
The current post-debt-ceiling spike has reached $640 billion and continues to surge: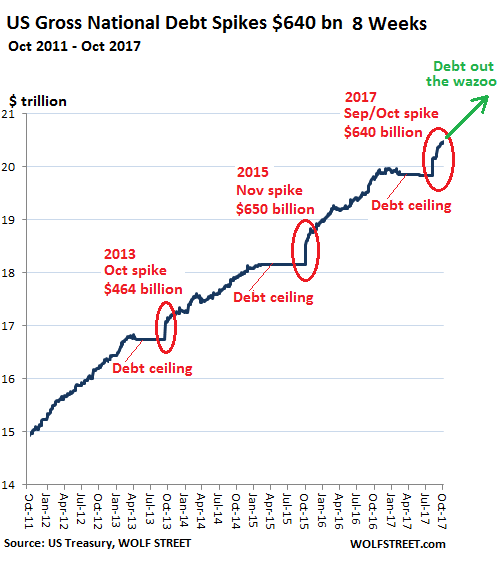 The last three debt ceiling spikes:
On October 17, 2013, the day after the debt ceiling was raised, gross national debt jumped $328 billion and then continued to surge. By November 25, it had jumped by $464 billion to $17.2 billion
On November 2, 2015, the day after the debt ceiling was raised, gross national debt jumped $340 billion and then continued to surge. By the end of November, it had spiked by $650 billion to $18.8 billion.
On September 8, 2017, the day after the debt ceiling was "suspended," gross national debt jumped by $329 billion, and by now has spiked by $640 billion to $20.5 trillion. This spike is somewhat lower than my estimate on August 21 of an $800-billion spike, but it's not through spiking yet either.
On November 1, the Treasury warned:
If Congress fails to increase or further suspend the debt limit by December 8, Treasury, as it has in the past, can take certain extraordinary measures to continue to finance the government on a temporary basis.

Extraordinary measures will allow the government to continue to meet its obligations through January 2018. It is currently too early to provide a more precise forecast as to how long the extraordinary measures will last.
So the preliminary out-of-money date is January 31. Congress knows that this out-of-money date can be pushed out, 
Source: woflstreet.com
Combined Wealth of World's Billionaires Now Tops $6 Trillion, and Rising Fast
 , recently published by UBS, show just how good the world's billionaires are doing right now. Their wealth is increasing at astronomical rates.
Billionaires increased their combined global wealth by almost a fifth last year to a record $6tn (£4.5tn) – more than twice the GDP of the UK. There are now 1,542 dollar billionaires across the world, after 145 multi-millionaires saw their wealth tick over into nine-zero fortunes last year, according to the UBS / PwC Billionaires report. [Source]
The UBS Billionaire's Report 2017 is an indication that we are entering a new and very unique time in history. Not since the Gilded Age of the early 1900s have we seen such a dramatic rise in the wealth of a small handful of people. This was during the rise of the industrial era, where a small handful of individuals and families were able to reshape entire cultures to work in their favor, ultimately ending in serious backlash from the general public. 
Source: zerohedge.com
Simon Black Says FACTA Repeal Conspiciously Missing From 'Tax Cuts And Jobs Act'
Every quarter the United States government publishes a list of individuals who have chosen to renounce their US citizenship.
The latest list came out yesterday, and 1,376 people are on it.
That might sound like a small number, but the total for 2017 is projected to be more than 20% higher than 2016… and 2016 was 26% higher than the total number from 2015.
In fact the number of Americans renouncing their citizenship has been rising dramatically for years.
The primary driver behind this is taxes, plain and simple.
The Land of the Free is one of the ONLY countries on the planet that taxes its citizens on their worldwide income, EVEN IF they don't live in the United States.
  the cost and hassle of maintaining tax compliance has grown worse ever since the US government passed the Foreign Account Tax Compliance Act (FATCA) back in 2010.
The idea behind FATCA was to uncover any hidden money that Americans might be hiding overseas… so the law included countless rules that were thrust upon foreign businesses, banks, and governments.
It was the height of arrogance– the US government extending its jurisdiction to the entire world and commanding everyone to follow its laws.
 FATCA created debilitating rules for certain taxpayers living abroad, to the point that many of them were driven to renounce their US citizenship.
When you go to renounce your citizenship at a US embassy overseas, State Department officials are required to debrief you and conduct an exit interview to find out WHY.
If there's even a hint that you're doing it for tax reasons, they can throw all sorts of penalties at you, including barring you from entry to the United States forever.
Source : silverdoctors.com
---
Political/Rights
New FOIA Documents Reveal FBI Scramble To Preserve CFIUS Records In Uranium One Scandal
An internet researcher has uncovered what appears to be proof that the FBI was investigating the Uranium One deal back in 2015 – months after the Peter Schweizer book Clinton Cash exposed the scheme, .
Twitter user Katica (@GOPPollAnalyst) – who notably discovered Hillary Clinton's IT guy 'Stonetear' asking Reddit users how to strip Clinton's name from archived emails – discovered several Preservation and Records requests sent by an FBI special agent to various agencies involved in the approval of the Uranium One deal on August 28th, 2015, as first published by The Conservative Treehouse. Katica found the requests buried in an FBI file released via the Freedom of Information Act (FOIA).
Revealing Timeline
What Katica discovered is that weeks after the criminal probe began, the FBI sent notices to every agency involved in the Uranium One approval process to preserve records.
This is huge… 
Five days after the initial request, the same FBI agent sent another round of notifications to the same agencies, adding the National Security Agency (NSA) and the U.S. Secret Service (USSS).
The next day, September 3rd, 2015, three more agencies were added to the preservation request: The CIA, the Defense Intelligence Agency (DIA) and the Department of Defense (DOD)
At this point, every single member of the Committee on Foreign Investment in the United States (CFIUS) which signed off on the Uranium One deal was served with a notice to preserve records. 
As The Conservative Treehouse notes:
It would be intellectually dishonest not to see the very likely attachment of the special agent's action.  That is to say an FBI probe originating as an outcome of information retrieved in parallel to the timing of the "criminal probe" of Secretary of State Hillary Clinton's email use.
So – while the FBI investigation into Hillary Clinton was sold as a simple matter of mishandling of classified material, we now have proof that the FBI set their sights on the Uranium One scandal weeks after they began looking into Hillary Clinton's emails. We also know that five FBI field offices and the IRS have been investigating the Clinton Foundation on accusations of pay-to-play and other criminal acts. 
Source: zerohedge.com
FBI Turns Over Hundreds Of Pages Of New Clinton Probe Documents
---
Geopolitical/Police State
Ousted Catalan Leader Turns Himself In To Belgian Police
Ousted Catalan president Carles Puigdemont and four ex-ministers on Sunday turned themselves in to Belgian authorities to start the process of their possible extradition to Spain. Puigdemont was accompanied by four other former Catalan officials who are also wanted by Spanish authorities after they fled to Belgium last week after their removed from power by Spanish authorities as part of an extraordinary crackdown to impede the region's illegal declaration of independence.
Source: zerohedge.com
---
War
'North Koreans are great people' – Trump
US President Donald Trump praised the "industrious" North Korean people before landing in Japan, where he warned the world against challenging America's military dominance.
Source: rt.com
Trump confirms plans to meet with Putin during his Asian tour
US President Donald Trump told reporters on his way to Japan on Saturday that he expected to meet with Russian President Vladimir Putin during his Asian tour.
"I think it's expected we'll meet with Putin," he said. "We want Putin's help on North Korea, and we'll be meeting with a lot of different leaders."
In a conversation with journalists, the US leader described the North Korean crisis as "a big problem" for his country and the entire world.
"We want to get it solved. It's a big problem for our country and for the world, and we want to get it solved. And there's been 25 years of total weakness, and so we're taking a very much different approach," he said.
Source :tass.com
US official met Syrian security chief in Damascus: Report 
The US official travelled to Damascus via Lebanon and discussed security matters with Syrian counterparts, Reuters reports
A senior US official met Syria's national security chief in Damascus this wee 
This is the highest ranking visit to Syria by a US official since the start of the civil war in 2011.
The regional official did not identify the US official who met Ali Mamlouk, Syria's national security chief. "It is an important step, but Damascus does not have confidence in the American position,"
Source: middleeasteye.net
---
False Flags
Bin Laden's Declassified Files Vanish From CIA Website
A trove of declassified files and documents that were obtained during bin Laden's assassination appear to have vanished from the CIA's official website, where they were originally published.
The collection of some 470,000 declassified documents that used to belong to the infamous leader of al-Qaeda, Osama bin Laden, became unavailable for browsing on Thursday, November 2, after it was published on the CIA's official website a day earlier.
According to Buzzfeed, a spokesperson for the CIA's Office of Media Affairs said Friday that this development was the result of a technical error that would soon be rectified. However, the office did not respond to a request for comment on Saturday as the archive still appears to be down.
Source: sputniknews.com
The 'War On Terror' Has Cost American Taxpayers $250 Million A Day For 16 Years
The U.S. government has spent a staggering $1.46 trillion on wars abroad since September 11, 2001, according to the Department of Defense's (DoD) periodical "Cost of War" report. As International Business Times reports, this amounts to $250 million a day for 16 years consecutively.
The newly released version, published by the Federation of American Scientists' Secrecy News blog, spans war-related activity from the September 11th terrorist attacks through mid-2017.
According to the report, despite the fact that the war on terror is still ongoing rapidly to this day, Operation Iraqi Freedom (2003-2011) and Operation Enduring Freedom (2001-2014) account for the vast majority of the cost, amounting to more than $1.3 trillion collectively.
It must be noted that this analysis only covers direct war-related expenses and is certainly on the lower side of such estimates of the cost of American wars to date. For example, in 2014, a report from Congress' nonpartisan research arm found that the government had already shelled out over $1.6 trillion for the war on terror. That estimate would amount to approximately $337 million per day every single day for that 13-year period.   
Source: zerohedge.com