Podcast: Play in new window | Download (Duration: 32:12 — 37.0MB)
Massive jobs loss in Germany as the second largest airline goes bankrupt. The US has a pension problem but so does Europe and it is really bad. Bubble are everywhere, this time it will be the everything bubble. Something just happened in the stock market, an indicator is now showing that the economy will be entering a recession, each time we've seen this the market comes down, red alert. Obamacare is in a death spiral and Trump is pushing it along. Google all of a sudden discovers Russian ads that were used during the election. France says they will not recognize Catalonia's independence. Mattis says ready for NK. NATO wants to make sure that Russia doesn't push peace in Libya. ISIS regime is collapsing. The cabal has just hit a brick wall, the Kurdish troops will no longer be paid by the US. The US drone program is in trouble, there is a virus that they cannot remove.
Check Out The X22 Report Spotlight YouTube Channel –  X22Report Spotlight
Please check Newzsentinel.com for the latest news on the economic collapse. The Sentinel Alerts are updated throughout the day. If you haven't already, go to "The People" and join the community of people who are helping each through the economic collapse.
---
Current News – 10.09.2017
---
Economy
Massive job losses at bankrupt Air Berlin as carrier to end flights this month
Germany's second largest airline, Air Berlin, which has long battled for survival could soon cut around 1400 workers, 
The document said many of the cuts would hit the insolvent airline's ground personnel and administration staff, whose contracts could end by the end of the month or in February 2018.
Air Berlin employs about 8,600 people, including part-timers, and flights will end on October 28 at the latest.
The media reported on Monday that talks between Air Berlin and easyJet over the sale of up to 30 planes are at risk of falling apart as the British airline had reduced its offer of around €50 million.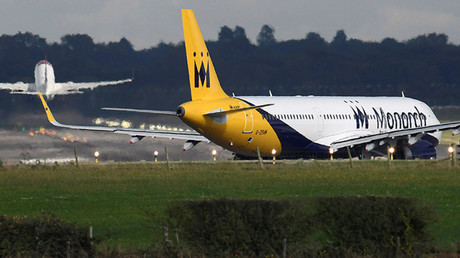 The German carrier announced a major restructuring plan last year to shrink its fleet and cut over a thousand jobs. It booked losses of €1.2 billion over the past two years, making the company rely on cash infusions from principal shareholder Etihad.
Source: rt.com
"This May Be The End Of Europe As We Know It": The Pension Storm Is Coming 
I've written a lot about US public pension funds lately. Many of them are underfunded and will never be able to pay workers the promised benefits – at least without dumping a huge and unwelcome bill on taxpayers.
 if you live outside the US, your country may be more like ours than you think.
This week the spotlight will be on Europe.
The UK Is Headed to a Retirement Implosion
The UK now has a $4 trillion retirement savings shortfall, which is projected to rise 4% a year and reach $33 trillion by 2050.
This in a country whose total GDP is $3 trillion. That means the shortfall is already bigger than the entire economy, and even if inflation is modest, the situation is going to get worse.
Plus, these figures are based mostly on calculations made before the UK left the European Union.  
  80% of the Irish who have pensions don't think they will have sufficient income in retirement, and 47% don't even have pensions. I think you would find similar statistics throughout much of Europe.
The Swiss Are No Different Despite the Prudence 
Earlier this month, Swiss voters rejected a pension reform plan that would have strengthened the system by raising women's retirement age from 64 to 65 and raising taxes and required worker contributions.
France, Belgium, Germany, Austria, Spain Are in Deep Trouble
The European nations noted above have nowhere near the crisis potential that the next group does: France, Belgium, Germany, Austria, and Spain.
They are all pay-as-you-go countries (PAYG). That means they have nothing saved in the public coffers for future pension obligations, and the money has to come out of the general budget each year.
The Spanish reserve fund at one time had €66 billion and is now estimated to be completely depleted by the end of this year or early in 2018.    
Source: zerohedge.com
The 5 Biggest Bubbles In Markets Today 
 
In 2000, we had the dot-com bubble.
In 2007, we had the housing bubble.
In 2017, we have the everything bubble.
Why do we call it the everything bubble? Well, there is a bubble in a bunch of asset classes simultaneously  
Real Estate
You can spot real estate bubbles all around the world now. Canada, Australia, Sweden, Hong Kong, China—and California—to name a few.
Home prices in California have risen by 69% since 2010. Meanwhile, Canadian housing has shot up 1040% over the same period. 
Stocks
Facebook, Amazon, Apple, Netflix and Google are responsible for over 30% of the S&P 500 index gain in market capitalization in 2017.
Still, investing in FAANG stocks is a fad like the Nifty Fifty was in the 60s. We may still be talking about the Nifty Fifty today, but nobody is investing in those stocks.
FAANG stocks are hard to short, because:
1.They are gifted and talented camps—companies whose sole purpose it is to hire the smartest people and turn them loose to solve hard problems.
2. They are passively engaged in surveillance.
3. CNBC talks about one of the FAANG stocks 90% of the time.
4. It is a frenzy.
Credit Bubble
Likewise, corporate bonds—particularly high yield, and especially European high yield—are a bubble.
Credit spreads are tighter than they have ever been, just as global central banks attempt to coordinate a tightening of monetary policy. Central banks tend to become most hawkish right as the economy is about to roll over.
We have all the classic warning signs of a big market top:
Extra-tight credit
Retail looking smart, pros looking stupid
Short rates rising, curve flattening
Pain trade is probably lower, not higher
And yet people are mostly ignoring them.
Source: zerohedge.com
A major warning signal just flashed for the stock market
For months, stock market pessimists have been saying that US equities are overvalued.
And as of this past week, they have a major piece of tangible evidence.
The measure in question is the so-called relative strength indicator (RSI), which indicates when the stock market has gotten too stretched in either direction. When the measure exceeds 70, that means it's overbought, and a downturn may be imminent. Meanwhile, a drop below 30 for the RSI indicates an oversold condition.
The RSI for the benchmark S&P 500 climbed above 70 last week, and stayed in that overvalued territory for five straight days. Now, the index's repeated climb to new record highs is in danger — at least if the past 12 months is any indication.
Source: finance.yahoo.com 
---
Political/Rights
Trump to Expedite the Death of Obamacare; Healthcare Stocks Clown-Punch Lower
Over the weekend it was announced that President Trump was going to ditch restrictions that banned people from buying health instance across state lines. he's going to allow competition and not force you to buy from your state monopoly. While this might sound wonderful, it will expedite the death of Obamacare — which is probably the gameplay here.  
Source: zerohedge.com
Google 'Suddenly' Discovers Questionable "Russia Ads" On YouTube, DoubleClick, Gmail
Google's discovery is "significant" because the advertisements in question do not appear to be from the same Kremlin-affiliated troll farm that bought ads on Facebook,  
Update (Noon ET): In an emailed statement, Google confirmed that it found $100,000 worth of questionable ads and said it's working with researchers and "other companies" on investigating abuse of its systems.     
---
Geopolitical/Police State
France won't recognize Catalonia independence declaration – minister 
France will not recognize Catalonia if it unilaterally declares independence, European Affairs Minister   said.  
Source: rt.com
Catalonia independence referendum: Big banks moving headquarters out of Catalonia
Spain's third largest bank has said it will move its headquarters from Catalonia amid increasing tensions in the region regarding an independence referendum.CaixaBank has made the decision following a decree from the government in Madrid that has made it easier for companies to move their bases out of the area.The Barcelona-based lender will now relocate to Valencia and is following in the footsteps of Sadabell, a bank which has moved out of Catalonia and relocated to Alicante.
Source: sott.net
Martin Armstrong Warns "Spain Is The Blueprint For How All Governments Will Act"
 

Spain's Constitutional Court, the puppet of Rajoy, on Thursday ordered the suspension of Monday's session of the regional Catalan parliament. Rajoy is demonstrating that government will not tolerate losing power.
You can always write a law and claim it is unconstitutional to separate. That does not make it legal, moral, or ethical. 
We have a choice. We either understand that government when unchecked will go too far and surrender as sheep, or we stand up and try to make the future better for our posterity. 
Spain is merely the blueprint. Watch carefully, for all governments will act the same.
Source: zerohedge.com
Germany's "Open Doors" Are Closing: Merkel Seeks New Limits On Refugees
After German Chancellor Angela Merkel admitted late last year that she had "lost control" of Germany's refugee crisis after adopting an "open door" policy that fueled an unprecedented spike in crime, her weakened ruling coalition announced Monday that it would seek to impose new restrictions on the number of refugees admitted to the country.
Migrants repaid Germany for its openness by committing 142,500 crimes during the first six months of 2016, including several high-profile sexual assaults.  
She said the parties agreed on measures that will ensure that the total number of admissions won't exceed 200,000 people a year.   
Source: zerohedge.com
---
War
US Army ready for 'military options' in North Korea, says Mattis 
US Defense Secretary James Mattis said the military should be ready to provide all options to the White House for dealing with North Korea. President Donald Trump said over the weekend that "only one thing will work" with Pyongyang, dismissing 25 years of talks. "There is one thing the US Army can do and that is you have got to be ready to ensure that we have military options that our president can employ if needed," Mattis said at the annual US Army association (AUSA) conference on Monday. He cautioned that the US is currently "in a diplomatic-led effort," however, pointing out that the UN Security Council has unanimously voted twice in a row for imposing stronger sanctions on North Korea.
Source: rt.com
Iran could declare US armed forces 'terrorist entities' – analyst
If the US attempts to declare the Iranian Revolutionary Guard a terrorist organization, then Tehran will give a similar designation to the US military. 
Source: rt.com
NATO Should Prevent Increase of Russia's Presence in Libya – Stoltenberg
NATO should not let Russia strengthen its presence in divided Libya as Moscow's involvement in the peace settlement process in Syria has only created an "even more difficult situation," NATO Secretary General Jens Stoltenberg said Monday.
"We are following closely the situation in Libya more generally. We have seen the effects of Russian presence in Syria, how that has created an even more difficult situation in Syria. Of course, we have to avoid anything similar happening in Libya. And we call on all actors, including Russia, to support the UN-led efforts and UN-recognized government [in Libya]," Stoltenberg said at the NATO Parliamentary Assembly in Bucharest.
According to Stoltenberg, NATO is not present in North Africa as an alliance as there has been no request for its involvement, while the states and organizations operating there, such the European Union, France and the United Nations, are capable of solving the crises in the region of Sahel themselves.
Source: sputniknews.com
Napoleon said, "In war, moral power is to physical as three parts out of four." The meaning being that manpower and materiel account for much less than unit esprit and cohesion and the will of the commander to win. That is as true today as it was two centuries ago.
Now a full blown dissolution is underway.  
More than a thousand  fled their crumbling Iraqi stronghold
Source: rawstory.com
Pentagon stops paying salaries to Kurdish Peshmerga
The US government has stopped paying Kurdish peshmerga fighters' salaries after a yearlong agreement expired over the summer, and there are no current plans to renew it.Under the deal negotiated by the Barack Obama administration in July 2016, the United States agreed to pay stipends to some 36,000 Kurdish fighters battling the Islamic State (IS) in Iraq. The agreement was expected to be renewed over the summer for another year, but US and Kurdish officials tell Al-Monitor that talks stalled as the Kurdistan Regional Government (KRG) pursued a divisive referendum on independence and the IS presence in the region began to collapse.Peshmerga sources flatly accuse the Donald Trump administration of withholding support because of opposition to last month's nonbinding referendum. The United States has taken Baghdad's side in the dispute and refused to recognize the results, which indicate overwhelming support for Kurdish independence. 
Source: sott.ne
---
Cyber Attacks
A Mysterious Virus Has Infiltrated America's Drone Program
There's something deeply wrong at Creech Air Force Base, the notorious home of America's drone program, where pilots remotely order US Reaper and Predator drones to unleash destructive missile strikes on unsuspecting villagers in Yemen, Libya, Iraq, Syria, Afghanistan and other war zones.
Less than a week after the Department of Homeland Security advised all federal agencies using anti-virus software created by Kaspersky Labs to remove the programs from their systems immediately, Ars Technica reports that two weeks ago the Defense Information Systems Agency detected mysterious spyware embedded in the drone "cockpits" – the control stations that pilots use to control the deadly machines.
Investigators have been unable to determine the virus's provenance, or even if it was intentionally introduced to the drone systems, or the result of an accidental infection. But perhaps the virus's most perplexing feature is its passivity. Instead of hastening away reams of classified information, it has simply logged keystrokes.
More curious still, the virus has resisted all attempts to remove it from the Air Force's systems. 
"We keep wiping it off, and it keeps coming back," says a source familiar with the network infection, one of three that told Danger Room about the virus. "We think it's benign. But we just don't know."  
Source: zerohedge.com