Podcast: Play in new window | Download (Duration: 28:28 — 34.0MB)
Malls are prices decline as retail implodes on itself. Banks hold loans on these malls so when the system implodes everything will go down at once. Banks have used tricky methods to go around regulations but they are still at risk when the system falls apart. The FED is falling apart and those in power are resigning and removing themselves from the system before the entire economic system collapses. Twitter revised its TOS  and is no longer open to the truth. McCain gets caught up in the Uranium 1 deal, he knew about it. Trump wants to know why Japan just doesn't shoot down the NK missiles. Saudi removes those who are not with the new regime, it looks like Saudi Arabia, Israel and other are pushing Iran now, there could be an event on the horizon. Pentagon says they would need to send in ground troops to get rid of NK nukes. Saudi shutting down all ports in Yemen, trying to squeeze the people. Another attempt to push for gun control in Texas, this has nothing to do with weapons this has to do with the person mental state.
Check Out The X22 Report Spotlight YouTube Channel –  X22Report Spotlight
Please check Newzsentinel.com for the latest news on the economic collapse. The Sentinel Alerts are updated throughout the day. If you haven't already, go to "The People" and join the community of people who are helping each through the economic collapse.
---
Current News – 11.06.2017
---
Economy
Commercial real estate prices soared relentlessly for years after the Financial Crisis, to such a degree that the Fed has been publicly fretting about them. Why? Because US financial institutions hold nearly $4 trillion of commercial real estate loans. But the boom in most CRE sectors is over.
The Green Street Property Price Index – which measures values across five major property sectors – had soared 107% from May 2009 to the plateau that began late last year, and 27% from the peak of the totally crazy prior bubble that ended with such spectacular fireworks. But it has now turned around, dragged down by a plunge in prices for retail space.
The CPPI by Green Street Advisors dropped 1.1% in October from September. In terms of points, the 1.4-point decline was the largest monthly decline since March 2009. The index is now below where it had been in June 2016: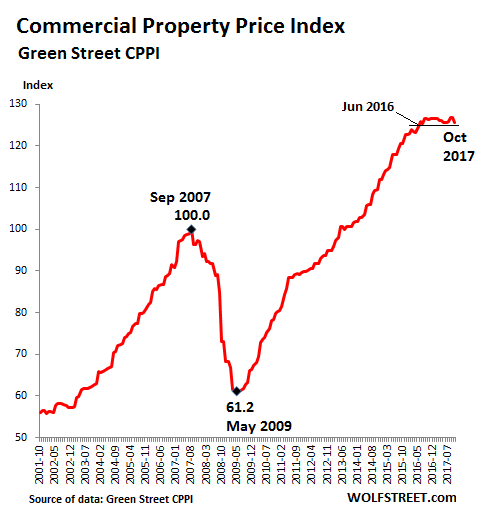 This phenomenal bubble, as depicted by the chart above, has even worried the Fed because US financial institutions hold nearly $4 trillion of CRE loans, according to Boston Fed governor Eric Rosengren earlier this year. Of them, $1.2 trillion are held by smaller banks (less than $50 billion in assets). These smaller banks tends to have a loan book that is heavily concentrated on CRE loans, and these banks are less able to withstand shocks to collateral values.
Which sector is plunging, and which is soaring?
Brick-and-mortar retail space is getting crushed. The index for strip retail fell 5% year-over-year. And the index for mall prices plunged 6% in just the month of October from September – a huge move in one month – and are down 11% from a year ago.
The self-storage sector, formerly the hottest sector of them all, having surged 180% since the trough of the Financial Crisis, has turned cold, and prices are down 3% year-over year.
Lodging took a 12% plunge that started in 2015, and it never recovered.
 
The apartment sector is still hanging on by its fingernails, with prices up a measly 1% from a year ago, but down from their peak.
The office sector  growth has slowed,
Source: wolfstreet.com
Banks are far more exposed to risky real estate loans than you think — thanks to this loophole
Big banks increasingly back debt funds and mortgage REITs
  banks are far more exposed to risky real estate loans than commonly thought thanks to a skyscraper-sized loophole: Instead of lending to construction projects directly, they increasingly lend to debt funds and mortgage trusts managed by private equity firms, which in turn lend to developers.
  ultimately, banks are still bearing some of the risk for construction projects and real estate acquisitions. But since on paper they are merely buying securities or extending supposedly low-risk credit lines to giant fund managers, they can often avoid the stringent limits on how much they can lend against real estate, sources said.
"Banks have become much more sophisticated" in extending credit lines to private funds, including debt funds, said Michael Wolitzer, an attorney at Simpson Thacher & Bartlett. "Now, banks have whole departments focused on it."
The rise of sideways lending
A repurchase agreement, or repo, happens when a bank buys a portfolio of loans from a fund or REIT, which then agrees to buy the loans back down the line at an agreed-upon price. The difference between the two purchase prices is effectively the interest that would be paid on a loan.
Individual facilities can be huge. Blackstone Mortgage Trust's largest facility, provided by Wells Fargo, has a maximum size of $2 billion (of which the REIT had used $1.23 billion as of the second quarter). The REIT had $9.63 billion in loans to real estate projects outstanding in the second quarter and owed $4.01 billion to banks under credit facilities. In other words: these bank deals fund over 40 percent of Blackstone Mortgage Trust's real estate loans.
Why banks do it
Regulators set limits on how much real estate lending a bank can do relative to its shareholder equity. If it exceeds these thresholds, it has to hold a larger capital buffer to insure against losses. There are also caps on loan-to-value ratios. Taken together, these rules have made it harder for banks to issue commercial mortgages.
And in early 2015, so-called High Volatility Commercial real Estate rules went into effect as part of the international Basel III framework, requiring banks to hold an extra capital buffer when they issue some construction loans.
Why this matters
So should there be concern that banks are finding a way around regulations designed to keep them out of risky real estate lending?
 
---
Political/Rights
Twitter Revises Terms Of Service, No Longer Believes In "Speaking Truth To Power" 
Having been caught in a crossfire over internet free speech and Russian conspiracy theories, Twitter has quietly made a significant change in its stated "Twitter Rules" terms of service.
Following several Congressional hearings meant to root out "Russian interference" by Twitter accounts, as well as an incident in which a disgruntled, now former employee, disabled Donald Trump's twitter account for 11 minutes, it appears that Twitter no longer believes in "speaking truth to power."
The change can be seen in Twitter's TOS, in the "Abusive Behavior" section, which currently states that "We believe in freedom of expression and open dialogue, but that means little as an underlying philosophy if voices are silenced because people are afraid to speak up."
… with believing in "speaking truth to power" replaced with "open dialogue."
The change took place just two days after November 1, when Twitter, along with Google and Facebook, were questioned by Congress 
Source: zerohedge.com
HUGE! MCCAIN was notified by official documents that Uranium was being transferred to Moscow in 2015. He passed it off to a congressional liaison rather than handle it as the ranking member of Homeland Security and Governmental affairs committee, and the Investigations subcommittee.
Source: investmentwatchblog.com
---
War
Trump says Japan can shoot North Korea's missiles
President Donald Trump has reignited a discussion over whether Japan should and could shoot down North Korean missiles in his visit to the country, the first stop on his five-nation Asia tour.
"He will shoot them out of the sky when he completes the purchase of a lot of military equipment from the United States," Trump said, referring to Japanese Prime Minister Shinzo Abe, who flanked him at a news conference in Tokyo on Monday.
"The Prime Minister of Japan is going to be purchasing massive amounts of military equipment, as he should," the president added.
Experts do not believe Japan has the ability to shoot down the missile launched by North Korea. Astronomer Jonathan McDowell said that Japan's sea-based Aegis missile defense system would have to be placed much closer to the North Korean coast to have a chance of intercepting and destroying a missile.
Japan is planning to deploy the land-based Aegis Ashore system,
Source: rawstory.com
Pentagon Says Securing North Korean Nuclear Sites Would Require "Ground Invasion"
 The Pentagon, in a letter to lawmakers, said that a full discussion of U.S. capabilities to "counter North Korea's ability to respond with a nuclear weapon and to eliminate North Korea's nuclear weapons located in deeply buried, underground facilities" is best suited for a classified briefing.
WMD Hoax
The letter also said that Pentagon leaders "assess that North Korea may consider the use of biological weapons" and that the country "has a long-standing chemical weapons program with the capability to produce nerve, blister, blood and choking agents."

The Pentagon repeated that a detailed discussion of how the United States would respond to the threat could not be discussed in public.    
One lawmaker cited estimates that a ground invasion of the North would leave 300,000 people dead in the first couple of days.
 The Pentagon's "assessment underscores what we've known all along: There are no good military options for North Korea,"

"It's important for people to understand what a war with a nuclear power would look like," said Lieu, citing estimates of 300,000 dead in the first few days alone. More than 100,000 Americans are potentially at risk. 
Source: zerohedge.com
Saudi prince dies in helicopter crash near Yemen one day after missile launch by Houthis
A Saudi prince who was deputy governor of the kingdom's Asir Province died in a helicopter crash on Nov. 5, reports said.
Prince Mansour bin Muqrin, the son of former Crown Prince Muqrin bin Abdulaziz, was in the southern part of the kingdom near Yemen when the aircraft went down, t
The crash occurred one a day after  Houthi rebels in Yemen launched a ballistic missile at an airport in the Saudi capital of Riyadh, state media reported.
The missile was intercepted and destroyed, according to reports.
Source: worldtribune.com
Saudis Call Missile Attack "Blatant Act Of Aggression" By Iran, "Could Be Considered Act Of War"
 state-run Saudi Press Agency, the missile that targeted Riyadh has been called "a direct military aggresion" by Iran against Sauid Arabia,  that "could rise to be considered an act of war." Furthermore, the Saudi-led coalition has closed all Yemen's land, sea and air ports after missile targeted Riyadh. 
the Coalition's Command considers this a blatant act of military aggression by the Iranian regime, and could rise to be considered as an act of war against the Kingdom of Saudi Arabia, and thus affirms the legitimate right of the Kingdom to defend its territory and people

 i 
The timing is fascinating. 
Source: zerohedge.com
Saudi Banks Begin Freezing Accounts Of Arrested Royals, Private Jets Grounded 
Two days after the most stunning purge in recent Saudi history, the so-called "anti-corruption probe" – which was really a countercoup – that led to the arrest of dozens of Saudi Arabian royals, ministers and businessmen allowing Mohammed to further cement control over the Kingdom,   Saudi banks begun freezing the accounts of those arrested. The Saudi central bank ordered commercial banks to freeze the accounts of people under investigation in the probe, the Reuters sources said, adding that the number of accounts affected could run into the hundreds, although the names of those affected have yet to emerge.
"
 Meanwhile, to prevent royals from quietly fleeing the country, a no-fly list has been drawn up and security forces in some Saudi airports were barring owners of private jets from taking off without a permit, pan-Arab daily Al-Asharq Al-Awsat reported.
Source: zerohedge.com
Royal coup: What happened in Saudi Arabia last night — and how Washington corruption enabled it
   
Comment: Something is cooking in the halls of power of the Middle East, and it does not smell good. Just as Mohammed bin Salman – who sees Iran as an enemy – was performing a coup of sorts in his kingdom, Lebanon's Prime Minister Saad al-Hariri – who also holds a Saudi nationality – announced his resignation 
Source: sott.net
Saudi Purge and Lebanese PM Resigns: New Front in the War for the Middle East?
The Saudi-Israeli-U.S. axis will lose this war while Iran and Russia will win from it.
Irony alert: The Lebanese PM (with a Saudi passport) resigns on order of Saudi Arabia, in Saudi Arabia, on Saudi Arabian TV. In his Saudi written resignation statement (excerpts) he accuses Iran of foreign meddling in Lebanese politics.
The U.S. will try to press the Lebanese army into a war against Hizbullah.
Israel will try to provoke and divert Hizbullah's attention by new shenanigans at the Lebanese and Syrian border. It will NOT start a war.
The plan is unlikely to succeed:
The Lebanese people as a whole have no interest in a new civil war.
The Lebanese army will not get involved on any specific side but will try to keep everyone calm.
Sanctions against Hizbullah will hit all of Lebanon, including Sunni interests.
The miscalculated Saudi/U.S./Israeli plan against Hizbullah can be understood as a helpless tantrum after their defeat in Syria and Iraq.
Source: moonofalabama.org
Yemen flights cancelled after Saudi-led coalition shuts all ports
Yemen's national airline said Monday it has cancelled all flights to the country's only two functioning airports after the Saudi-led coalition battling Houthi rebels announced the closure of all land, air and sea ports.
The coalition blamed Iran for Saturday's missile strike, saying it could be "considered as an act of war." Iran supports the Houthis but has denied arming them and said it had nothing to do with the missile launches. The Houthis have said their Volcano-variant ballistic missile is locally produced.
Source: cbc.ca
Syrian Army uncovers large ISIS explosives factory inside Deir Ezzor – video
The Syrian Arab Army (SAA) uncovered a massive explosives factory that belonged to the Islamic State (ISIS) in Deir Ezzor recently.
According to the Syrian Arab News Agency (SANA), the Syrian Army uncovered the IED (improvised explosive device) factory while combing through one of the liberated districts in the provincial capital.
Video footage of the factory below:
Source: almasdarnews.com
---
False Flags
REVEALED: Texas shooter sent 'threatening texts' to his mother-in-law, who attended church where he massacred 26 people before calling his father to say goodbye before committing suicide
Officials say Devin Patrick Kelley was in a domestic dispute with his mother-in-law Michelle Shields, who attended First Baptist Church in Sutherland Springs, Texas
At an afternoon press conference, it was revealed that Kelley sent 'threatening texts' to his mother-in-law
Officials wouldn't go into further details about the family fight
Wilson County Sheriff Joe Tackett said that Kelley and his wife Danielle were estranged 
Danielle used to work as a teacher at the church, her mother is friends with the pastor's wife
Records show they were married in April 2014, when Kelley was 23 and his bride was 19
He was also married at least once before, to a Tessa K Kelley
The couple divorced in 2012, the same year he was court-martialed for domestic violence   
After killing 26 in the church on Sunday, Kelley fled in his car and was found dead behind the wheel 
The official cause of death is pending, but officials believe he committed suicide by gun 
Before killing himself, he called his father and said he didn't think he was going to make it, officials said   
Source: .dailymail.co.uk
Here's What We Know About Texas Church Shooter Devin Kelley 
 Update:

 Officials 

revealed Monday

 that Kelley had sent threatening text messages to his mother-in-law, who was a parishoner at First Baptist church.
Devin Patrick Kelley "made threatening text?s? to ?his ?mother in law who went to ?the ?church," said Texas Department of Public Safety regional director Freeman Martin. The woman, who was not named, attends the church but was not there during the massacre Sunday, authorities said. Martin would not say whether the woman's membership with the church motivated Kelley.
"We know that he expressed anger toward his mother-in-law."
* * *
The deranged gunman who killed 26 churchgoers and wounded 20 more at a church in rural east Texas Sunday was an atheist who ranted on Facebook about "stupid" religious people, according to a now-deleted Facebook account that appears to be Kelley's.
 ince the screenshot was first circulated, a number of reports in fact-checking media have debunked it as a doctored image spread by right-wing activists. No official information about Kelley's possible affiliation with any group or political movement has been made available.
"
As it turns out, Kelley was court-martialed in 2012 for two counts of Article 128 of the Uniform Code of Military Justice, assault on his spouse and assault on their child, . He received a bad conduct discharge as a result, confinement for 12 months and a reduction in rank. The Air Force has not released a date of the discharge.
"His parents had him on high doses of 'psych' meds from 6th to 9th grade 
Source: zerohedge.com
Trump: Texas Massacre A "Mental Health" Problem, Not A "Guns Situation"
 "I think that mental health is your problem here,"

 Trump said during a news conference in Tokyo, Japan in response to a question about the massacre in Sutherland Springs, Texas.
"This was a very – based on preliminary reports – a very deranged individual. A lot of problems over a long period of time."
more people would have been killed if another armed person had not opened fire on the church gunman.
"Fortunately, somebody else had a gun that was shooting in the opposition direction," he said.

"Otherwise, it wouldn't have been as bad as it was, it would have been much worse."
Source: zerohedge.com
Guns Aren't the Problem — Knife-Attack Killed 29, Wounded 130 in China
 the Kunming Railway Station Massacre of 2014. As hundreds of Chinese went about their daily commutes, a group of four knife-men stormed the station and began the worst knife massacre in recent memory. Before the quartet of killers were done, at least 29 innocent Chinese were dead and 130 more were injured.
Before someone on the left says Kunming Railway was simply a red-herring, consider that multiple other mass knife attacks have occurred in the recent past, as reported by CNN here and here. Victims numbered 22 in one attack.
 
After that attacker was executed, another madman attacked another school, victimizing 16, and the next day 31 were injured in a different attack. The day after that (I'm not making this up), a rage-fueled homeowner barged into a school, hammer and can of gasoline in-hand. Three days, three attacks, 47 casualties, zero guns. Remarkable.
Want to hear something else remarkable? On that horrible day at Kunming, it was armed Chinese authorities who put down the attackers — just like Sunday at Sutherland Springs, where an armed citizen reportedly stopped the carnage, 
Source:conservativetribune.com