Podcast: Play in new window | Download (Duration: 32:09 — 37.3MB)
It has been revealed that Germany will do what ever it takes to keep the UK in the EU. Jamie Dimon says that Bitcoin is a fraud and bitcoin declines in value. Producer prices pushed up because of fuel costs.  Housing bubble looks exactly like the 2007-08 bubble.  Julian Roberts says there is a bubble and its the Federal Reserve. The central banks of central banks has now warned that the situation looks worse than 2008.It seem the Government officials are pushing Universal Healthcare. US threatens to cut off the SWIFT payment system from China. South Korea says it detects xenon gas in NK. It is now being reported that NK might have hacked bitcoin to use it to get around the dollar sanctions. Another truth bomb, the Pentagon was running a black market weapons ring to supply the paid mercenaries in Iraq and Syria. Russia closes the backdoor on the CIA and ends the spying ring. This is why the FBI wants companies to drop Kaspersky and go with another vendor. Putin warns that he is closing all the software back doors.
Check Out The X22 Report Spotlight YouTube Channel –  X22Report Spotlight
Please check Newzsentinel.com for the latest news on the economic collapse. The Sentinel Alerts are updated throughout the day. If you haven't already, go to "The People" and join the community of people who are helping each through the economic collapse.
---
Current News – 09.13.2017
---
Economy
REVEALED: The reason why Germany will do ANYTHING to STOP a hard Brexit
GERMANY will do anything to stop Britain's hard Brexit from the European Union – and a new study has revealed the reason why
new research from the Cologne Institute for Economic Research (IW) has now revealed the drastic extent to which Germany could face economic disaster following Brexit.
According to the study, many German manufacturers are dependent on the production of goods abroad – with many partners being based in Britain.
In 2014 alone, the British supplied intermediate goods worth EUR 200 billion to the EU, of which 36 billion went to Germany.
Source: express.co.uk
Bitcoin Tumbles After Jamie Dimon Calls It A Fraud: "Would Fire Anyone Trading It" 
 Jamie Dimon, who in an angry outburst during the same conference in which he preannounced JPM's 20% trading revenue drop, lashed out at the cryptocurrency, calling it a "fraud" which is "worse than tulip bulbs. It won't end well", will "blow up" and "someone is going to get killed." Oh, and in conclusion, "any trader trading bitcoin" will be "fired for being stupid." 
What is ironic is that this is not the first time Jamie Dimon has lashed out at bitcoin: the last time Dimon slammed bitcoin was November 2015, at the Fortune Global Forum in San Francisco. Here's what he had to say when asked directly about it by an audience member:
  "You're wasting your time with Bitcoin! Virtual currency, where it's called a bitcoin vs. a U.S. dollar, that's going to be stopped," said Dimon. "No government will ever support a virtual currency that goes around borders and doesn't have the same controls. It's not going to happen."

"Blockchain is like any other technology. If it is cheaper, effective, works, and secure, then we are going to use it. The technology will be used, and it could be used to transport currency, but it will be dollars, not bitcoins."
Incidentally, for those who "wasted their time" since Dimon's 2015 threat, Bitcoin is up 1,018%.
Source: zerohedge.com
August Producer Price Rise Disappoints, Despite Gasoline, Consumer Loan Cost Surge 
Despite significant acceleration year-over-year – thanks to a 9.5% surge in gasoline costs – producer price appreciation in August disappointed expectations. PPI Final Demand YoY accelerated from 1.9% to 2.4% (but fell below the 2.5% expectation), rising only 0.2% MoM.
The corest of the core PPI remained below The Fed's mandated inflation target for the second straight month…
Housing Bubble Symmetry: Look Out Below
Housing markets are one itsy-bitsy recession away from a collapse in domestic and foreign demand by marginal buyers.
There are two attractive delusions that are ever-present in financial markets:One is this time it's different, because of unique conditions that have never ever manifested before in the history of the world, and the second is there are no cycles, they are illusions created by cherry-picked data; furthermore, markets are now completely controlled by central banks so cycles have vanished.
While it's easy to see why these delusions are attractive, let's take a look at a widely used measure of the U.S. housing market, the Case-Shiller Index: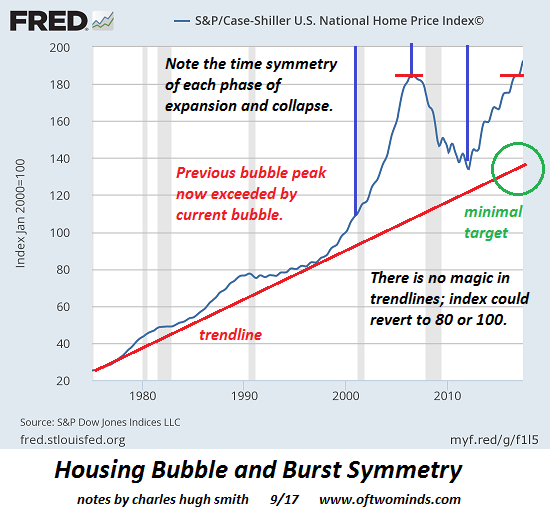 .If we look at this chart with fresh eyes, a few things pop out:
1
4. There is a remarkable time symmetry in each phase of expansion and collapse; each phase took roughly the same period of time to travel from trough to peak and peak to trough.
5. The Index has now exceeded the previous bubble peak, suggesting this time it's different once again dominates the zeitgeist.
6. Those denying the existence of cycles have difficulty adequately explain away the classic cyclical nature of the 2000-2008 bubble rise and its collapse, and the subsequent expansion of housing prices in a near-perfect mirror-image of the first housing bubble's steep ascent.
7. This time symmetry suggests that the current housing bubble is close to its zenith and will likely collapse over a time frame similar to Housing Bubble #1.
The basic arguments for ever-higher housing prices forever and ever are:
A. central banks completely control all markets, including housing, and they will never let the housing market decline ever again.
B. Foreign buyers paying cash (even if the "cash" was borrowed in Asia) will continue flooding into North America, elevating markets for the the foreseeable future.
Globally, housing has become a flight-to-safety asset for the global elites, a development with disastrous consequences for residents. Housing owned for investment often sits empty, effectively withdrawing much-needed housing units from the market for shelter. This investment buying reduces the pool of available housing, driving up rents and home prices, pushing shelter out of reach of the bottom 95% of wage earners in desirable urban areas. 
Source: charleshughsmith.blogspot.com
Julian Robertson: "There's A Bubble" And "It's The Federal Reserve's Fault" 
  JULIAN RBERTSON: Well, we're very, very high — have very high valuations in most stocks. The market, as a whole, is quite high on a historic basis. And I think that's due to the fact that interest rates are so low that there's no real competition for the money other than art and real estate. And so I think that's why the valuations are so high.  
JULIAN ROBERTSON: Yes. It's the Federal Reserve's fault, and the Federal Reserves all over the world. I mean, in Germany, in order to buy a bond, until recently, you actually had to pay interest.
To summarize: central banks have blown a bubble, it will burst, so buy FANGs.
Source: zerohedge.com
Former BIS Chief Economist Warns "More Dangers Now Than In 2007"
Having warned in the past that "the system is dangerously unacnhored," former chief economist of the Bank for International Settlements, William White,  the current situation "looks very similar to 2008," adding that OECD sees "more dangers" today than in 2007.
The chairman of Economic and Development Review Committee at OECD, warned that prices are very high – in particular for high yield assets, VIX is very low, house prices are rising strongly, equity markets rising, and all these are a source of concern.
Source: zerohedge.com
---
Political/Rights
THE OBAMACARE FIGHT IS OVER — NOW IT'S ON TO UNIVERSAL MEDICARE
IN JUNE, AS the fight over the repeal of the Affordable Care Act reached its climax, then-White House spokesman Sean Spicer delivered a warning. "It's not a question of Obamacare versus the AHCA," he said, referring to the GOP alternative, the since-failed American Health Care Act. The question, Spicer said, was between repealing Obamacare and moving to single payer.
History may prove him right. The battle over the Affordable Care Act is over. The fight for what comes next will begin in earnest on Wednesday with the introduction of Sen. Bernie Sanders' bill to create a universal Medicare program, the most fleshed-out single-payer proposal ever introduced in Congress. 
The bill starts by sweetening the pot for seniors who may be wary about welcoming the rest of the country into their warm pool. It eliminates copays and deductions, except for name-brand drugs when generics are available, and adds dental, vision, and hearing aid coverage to Medicare where it didn't exist before — huge benefits that have long been a goal of public health advocates.
At the same time, people aged zero to 18 would be eligible for the coverage in the first year. In year two, the eligibility age would be lowered to 45. The next year, it would drop again to 35. In year four, the age restrictions would be eliminated.
Source: theintercept.com
Last month, the Senate Intelligence Committee branded WikiLeaks a "non-state hostile intelligence service" in a throw-away sentence in the annual intelligence spending bill. The sentence doesn't officially proscribe any actions related to this.
But there are growing concerns about the clause's legal ramifications, particularly given its lack of specificity on what it's proposing. If the intelligence community uses this sentence to go after WikiLeaks and its "collaborators," it would likely include spying on American citizens under the guise of counter-espionage. 
The sentence echoes almost exactly a comment made by CIA Chief Mike Pompeo, who did seem to be keen to move against WikiLeaks over the matter. Any crackdown on WikiLeaks by the US government would likely center on trying to censor media outlets covering the leaks.
Source: news.antiwar.com
---
War
Hot air? US threatens to 'cut China off' from dollar if it does not uphold sanctions against N. Korea
The US could impose economic sanctions on China if it does not implement the new sanctions regime against North Korea, the US Treasury Secretary has warned. Steven Mnuchin said the restrictions could involve cutting off Beijing's access to the US financial system."North Korea economic warfare works," Mnuchin said Tuesday at the Delivering Alpha Conference in New York City. "We sent a message that anybody who wanted to trade with North Korea – we would consider them not trading with us."
Comment:."I believe the response from the United States and our allies should be supercharged," said Ed Royce, chairman of the House of Representatives Foreign Affairs Committee during a hearing Tuesday.
 Would Washington really follow up on this threat giving the real potential for economic instability and use the N. Korea crises as an excuse?
Washington runs a $350 billion annual trade deficit with Beijing. China also holds $1 trillion in US debt, which amounts to 28 percent of US Treasury bills, notes and bonds held by a foreign government.US lawmakers, however, seemed to be more inclined to exert pressure on Beijing and other countries striking deals with Pyongyang as they demand a "supercharged" response to North Korea's nuclear tests, including imposing sanctions on companies from China and any other country doing business in North Korea  
Source: sott.net
US THREATENS TO CUT OFF CHINA FROM SWIFT IF IT VIOLATES NORTH KOREA SANCTIONS
 US warned that if China were to violate or fail to comply with the newly imposed sanctions against Kim's regime, it could cut off Beijing's access to both the US financial system as well as the "international dollar system."  
Source: southfront.org
South Korea Detects Radioactive Xenon Gas From North Korea Nuclear Test
According to Reuters, South Korea's Nuclear Safety and Security Commission (NSSC) said its land-based xenon detector in the northeastern part of the country found traces of xenon-133 isotope on nine occasions, while its mobile equipment off the country's east coast detected traces of the isotope four times.
 "It was difficult to find out how powerful the nuclear test was with the amount of xenon detected, but we can say the xenon was from North Korea,"
Which suggests that more Xenon will be detected soon, and the market's current state of cautious optimism on the recent N.Korean easing in tensions will be violated.
Source: zerohedge.com
North Korea suspected of hacking bitcoin exchanges to get around sanctions
A report by cyber security firm FireEye suggests North Korean hackers are targeting cryptocurrency exchanges in South Korea in an attempt to avoid sanctions and fund "the state or personal coffers of Pyongyang's elite."According to FireEye, hackers linked to North Korea have stolen bitcoins from at least three South Korean cryptocurrency exchanges since May 2017. They used spear phishing – a fraudulent practice of sending fake emails – and dispersed malware to obtain virtual cash illicitly.Cryptocurrency attacks by North Korea were first detected in 2016. In April, four wallets on the Seoul-based cryptocurrency exchange Yapizon were compromised, but could not be clearly linked to North Korean involvement.The UN Security Council's (UNSC) sanctions against North Korea, "could be driving" the country's interest in cryptocurrencies, said FireEye, explaining it as an attempt to obtain hard cash in exchange for stolen virtual coins.
Source: sott.net
'The Problem is not North Korea, Russia or China, the Problem is the US' ~ John Pilger
Eminent author and filmaker, John Pilger speaks to RT about the ratcheting up of tensions between the US and North Korea, led, of course, by the US and its vassal states in the EU. In the last two days, the UN Security Council imposed the harshest-ever sanctions againstNorth Korea. 
These sanctions restricted North Korea's oil imports and banned textile exports, all an attempt to severely inhibit the recalcitrant nation's defensive nuclear and ballistic missile capability and to increase pressure to bring DPRK supreme leader, Kim Jong Un, to the negotiating table with the US.
"Today, we are attempting to take the future of the North Korean nuclear program out of the hands of its outlaw regime," said Nikki Haley, the U.S. ambassador to the United Nations.
 
"The United States is at a critical moment. Having exported its all-powerful manufacturing base, run down its industry and reduced millions of its once-hopeful people to poverty, principal American power today is brute force. 
Source: 21stcenturywire.com
US ignores North Korea's interest in talks: Russia
north Korea is "very interested" in discussing the mounting tension on the Korean peninsula directly with the U.S., 
"Pyongyang is very interested in direct dialogue with Washington," Russia's Deputy Foreign Minister Sergei Ryabkov told journalists in Moscow, hinting that he blamed Washington for the lack of diplomacy. "I do not have confidence that the U.S. administration has enough political will and decision for such a dialogue," he added.
Source: rawstory.com
BOMBSHELL REPORT CATCHES PENTAGON FALSIFYING PAPERWORK FOR WEAPONS TRANSFERS TO SYRIAN REBELS
A new bombshell joint report issued by two international weapons monitoring groups Tuesday confirms that the Pentagon continues to ship record breaking amounts of weaponry into Syria and that the Department of Defense is scrubbing its own paper trail. On Tuesday the Organized Crime and Corruption Reporting Project (OCCRP) and the Balkan Investigative Reporting Network (BIRN) produced conclusive evidence that not only is the Pentagon currently involved in shipping up to $2.2 billion worth of weapons from a shady network of private dealers to allied partners in Syria – mostly old Soviet weaponry – but is actually manipulating paperwork such as end-user certificates, presumably in order to hide US involvement.
The OCCRP and BIRN published internal US defense procurement files after an extensive investigation which found that the Pentagon is running a massive weapons trafficking pipeline which originates in the Balkans and Caucuses, and ends in Syria and Iraq. The program is ostensibly part of the US train, equip, and assist campaign for the Syrian Democratic Forces (SDF, a coalition of YPG/J and Arab FSA groups operating primarily in Syria's east). The arms transfers are massive and the program looks to continue for years. According to Foreign Policy's (FP) coverage of the report:
 "The Pentagon is removing any evidence in their procurement records that weapons are actually going to the Syrian opposition." The report is based on internal US government memos which reveal that weapons shipment destination locations have been scrubbed from original documents.
Falsified and altered Pentagon procurement documents (Click to enlarge):
Is an EUC (End User Certificate) still an EUC if it doesn't include an end user?
Source: southfront.org
The main issue under consideration is the shaping up of a de-escalation zone in the area of Idlib city. In the follow-up to the previous sessions, agreements were reached in May and July on the functioning of areas for de-escalation in the southwest of Syria, in Eastern Guta and in Homs, regarding which the issues of controller forces remain unsettled so far.
 .
Source: ass.com
---
Cyber Attacks
Russia Closes 'CIA Backdoor' Embedded In All Microsoft Software
Russia has issued a 'protective patch' against a CIA backdoor found embedded within all Microsoft software programs.
Kaspersky Lab, one of the world's largest privately owned cybersecurity companies, discovered the "backdoor" after running advanced scans on Microsoft software.
Kaspersky has a long history of thwarting US intelligence agencies' attempts to spy on citizens. As The Economist notes:
"Kaspersky Lab has repeatedly impressed skeptics by exposing genuine and serious cyber-security problems. In 2010, for instance, it helped uncover Stuxnet, a computer worm designed to sabotage the Iranian nuclear programme.
Source: yournewswire.com
Putin warns about "high security risks" of foreign software, urges greater domestic development
Russian President Vladimir Putin has called on IT companies in Russia to use domestically developed software, saying that soon the use of such foreign products will no longer be possible in certain sectors due to "high security risks."The IT industry in Russia should aim to develop more home-grown products and raise and train specialists, Putin said Friday during a meeting with representatives of information and communication companies in the Perm Region.At the moment, the amount of Russia-made software used in the country stands at around 30 percent, the president was told.

---
False Flags
BREAKING: Major bomb threats in Moscow force mass evacuations
Multiple locations in Moscow have been evacuated including schools, shopping centres, train stations and public squares due to "almost simultaneous" threats that they were rigged with explosive devices coordinated to cause a 9/11 style atrocity in the Russian capital.
Russia's emergency services issued the following statement,