Podcast: Play in new window | Download (Duration: 39:42 — 46.2MB)
Greece lashes out at the IMF. Midwest farm bubble is getting ready to pop, American farms are in decline. Student loan bubble is worse than ever and its getting ready to pop. World's largest container carrier has huge losses. Fitch has now created a narrative that if the economy should collapse it will be because of Trump. Recession warning, Treasury receipts turn negative. PWC has issued a new report which states that the western countries will become the new 'third world'.  This is in preparation for the collapse of the economy and how the monetary system will be moving from West To East. Record number of Americans have renounce their citizenship under Obama. 9th Circuit Court rejected Trump's ban and disregarded the key fact, the law. Media Matters conspiring with Google and Facebook to shutdown alternative media.DHS reports the wall Trump wants to build will be 22 billion dollars. US fires a missile from LA towards China. Russia working with Haftar, the UN Backed government days are numbered. Elite trying to push Trump into a war with China, Iran and Russia. Power outage in Syria, reason unknown.
Check Out The X22 Report Spotlight YouTube Channel –  X22Report Spotlight
Please check Newzsentinel.com for the latest news on the economic collapse. The Sentinel Alerts are updated throughout the day. If you haven't already, go to "The People" and join the community of people who are helping each through the economic collapse.
---
Current News – 02.10.2017
---
Economy
German finance minister Wolfgang Schäuble (shy bla)  went on TV saying the only way Greece can get a haircut is if it leaves the Eurozone.
The IMF reiterated that Greece will not be able to make its payments.
Greece insists the IMF is wrong, yet it wants credit relief.
Meanwhile, Greek unemployment is a "mere" 23%, despite the alleged Greek recovery.
Greece does not want the IMF in the troika but if the IMF leaves, Germany is set to pull the plug. There is obviously some sort of game here, but it is logically impossible for Greece to hold the conflicting positions it has.
Source: zerohedge.com
Midwest Farm Bubble Continues Collapse As Farm Incomes Expected To Crash In 2017
Trump Reverses, Agrees To Honor "One China" Policy In First Phone Call With Xi
 foreign governments are dumping US Treasuries. The signs are coming from all sides. The data from the US Treasury Department points at it. The People's Bank of China points at it in its data releases on its foreign exchange reserves. Japan too has started selling Treasuries, as have other governments and central banks.
Some, like China and Saudi Arabia, are unloading their foreign exchange reserves to counteract capital flight, prop up their own currencies, or defend a currency peg.
the net transactions of US Treasury bonds and notes in billions of dollars by foreign official institutions (central banks, government funds, and the like) on a 12-month moving average. Note how it started with a whimper, bounced back a little, before turning into wholesale dumping, hitting record after record (red marks added):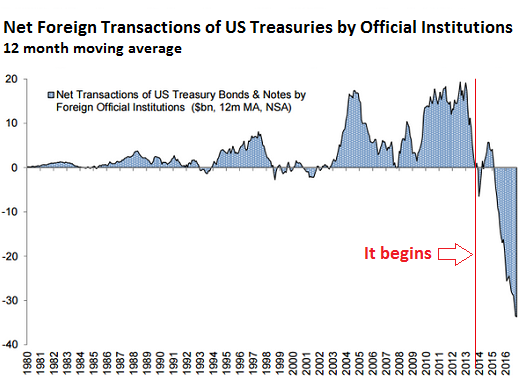 Source: wolfstreet.com
Recession Alert: Treasury Receipts Turn Negative For The First Time Since The Financial Crisis
in January the US Treasury brought in total receipts of $344 billion, versus outlays of only $293 billion, resulting in a surplus of $51 billion, substantially greater than the $40 billion expected (and well above last year's $28 billion deficit), a surplus which however was largely due to a law requiring the IRS to delay sending out tax refund checks to household claiming certain tax credits. For the fiscal year through Jan.31, the total US budget deficit was $157 billion, and set to keep rising this year and for the foreseeable future.
However, a more concerning datapoint emerges when looking at the annual change in the rolling 12 month total. It is here that we find the following, for the period ended Jan 31, total government receipts were $3.27 trillion. This number was 0.3% lower than the $3.28 trillion reported one year ago.
Why is this important  every time since at least 1970 when government receipts have turned negative on an annual basis, the US was on the cusp of, or already in, a recession. Indicatively, the last time government receipts turned negative was in July of 2008.
Source: zerohedge.com
Fitch Warns Trump Administration Could Lead To Global Economic Disaster
… moments ago Trump was also preemptively cast as the scapegoat for the next global economic crash by none other than rating agency Fitch.
In a self-explanatory report titled "The Trump Administration Poses Risks to Global Sovereigns", Fitch is sounding the alarm on the potentially negative consequences of Trump's economic policies, even though none have been officially disclosed yet.
In the report Fitch warns that "the Trump Administration represents a risk to international economic conditions and global sovereign credit fundamentals" and cautions that because "US policy predictability has diminished,
In short, one wrong policy by the Trump administration, and the carefully constructed house of cards, built over decades of globalization, is in danger of collapse, resulting potentially in a global economic crisis.
And so, after two official warnings by some of the most established institutions, Trump has been officially put on notice that should anything bad happen to the world economy, it will be his fault, as all those who lit the burning fire, quietly wash their hands.
 Source: zerohedge.com
Fitch Has Effectively Downgraded The Trump Administration, Albeit Too Late As Usual 
 Fitch has actually warned that the Trump administration is detrimental to sovereign ratings around the world. 
The West Will Become The New 'Third World': PricewaterhouseCoopers
First World

The term "First World" refers to so called developed, capitalist, industrial countries, roughly, a bloc of countries aligned with the United States after word war II, with more or less common political and economic interests: North America, Western Europe, Japan and Australia.


Second World

"Second World" refers to the former communist-socialist, industrial states, (formerly the Eastern bloc, the territory and sphere of influence of the Union of Soviet Socialists Republic) today: Russia, Eastern Europe (e.g., Poland) and some of the Turk States (e.g., Kazakhstan) as well as China.


Third World

"Third World" are all the other countries, today often used to roughly describe the developing countries of Africa, Asia and Latin America. The term Third World includes as well capitalist (e.g., Venezuela) and communist (e.g., North Korea) countries as very rich (e.g., Saudi Arabia) and very poor (e.g., Mali) countries.

according to a new report by management consultancy PricewaterhouseCoopers.

That report takes a particular metric and simply projects it into the future.  The First World will no longer be first. Indeed, arguably it will no longer even be second. The economic forecast in the PWC report shows the so-called First World on a steady slide to Third World status.
"By 2050, emerging economies such as Mexico and Indonesia are likely to be larger than the UK and France, while Pakistan and Egypt could overtake Italy and Canada," PWC said in a report published Tuesday.

 What metric does PricewaterhouseCooper rely upon as the basis for its economic projection? It uses an economic term called "purchasing power parity". It is the total purchasing power of that population.

While the U.S. mainstream media were presenting their usual "visions of sugar plums" (i.e. lies) about the U.S. economy before Christmas, they couldn't hide the truth from

the bottom line

.

"The strength around Thanksgiving and Christmas was insufficient to offset the sales weakness in the balance of the quarter," Stifel, Nicolaus & Co analyst Richard Jaffe wrote.



The only way that the U.S. retail sector was able to sell significant quantities of goods to consumers with near-empty wallets (and maxed-out credit cards) was by slashing prices to the bone – leaving little-to-nothing in profit. Does that sound like an economy that has been "recovering" for more than eight years? Does that sound like an economy literally overflowing with newly-conjured wealth? Hardly.

Source: zerohedge.com
---
Rights
Record Number Of Americans Renounce U.S. Citizenship In 2016; 2,200% Surge During Obama Reign
Andrew Napolitano: 9th Circuit Ruling 'Intellectually Dishonest'
The three-judge panel hearing the case included Judges William C. Canby Jr., a Jimmy Carter appointee; Richard R. Clifton, a George W. Bush appointee; and Michelle T. Friedland, a Barack Obama appointee.
"Rather than present evidence to explain the need for the Executive Order, the Government has taken the position that we must not review its decision at all. We disagree," they wrote.
(f) Suspension of entry or imposition of restrictions by PresidentWhenever the President finds that the entry of any aliens or of any class of aliens into the United States would be detrimental to the interests of the United States, he may by proclamation, and for such period as he shall deem necessary, suspend the entry of all aliens or any class of aliens as immigrants or nonimmigrants, or impose on the entry of aliens any restrictions he may deem to be appropriate.Remarkably, in the entire opinion, the panel did not bother even to cite this statute, which forms the principal statutory basis for the executive order (see Sections 3(c), 5(c), and 5(d) of the order). That's a pretty big omission over 29 pages, including several pages devoted to determining the government's likelihood of success on the merits of the case.
Andrew Napolitano: 9th Circuit Ruling 'Intellectually Dishonest'
Napolitano said, "The statute specifically says the president on his own, by proclamation, meaning he doesn't have to consult with anybody else, can make the decision. The decision to ban is not reviewable. Judges are incapable of second-guessing the president on it. For that reason, he may be thinking the Supreme Court is going to invalidate it."
Source: breitbart.com
State Department Doubles Refugee Inflow Since Court Ruling, Most From Terror-Prone Countries
The U.S. State Department has more than doubled the refugee inflow from seven terror-prone countries since a Seattle judge's decision to block President Donald Trump's immigration reform, according to a report in The Washington Times.
Since the Feb. 3 ruling, 1,100 refugees have entered the United States, with 77 percent arriving from the seven terror-prone countries outlined on Trump's executive order.
Source: breitbart.com
White House says it's investigating leaks
The White House says it is investigating leaks about President Trump's calls with foreign leaders.

"We're looking into the situation, yes, and it's very concerning," press secretary Sean Spicer said when asked about the leaks. "Some of them are done in a way that the release of that information is clearly a breach of a lot of protocols and laws."

Spicer has previously said that the White House would investigate the leaks.
Source: thehill.com
---
Police State
---
War
Air-Force Test-Launches Minuteman ICBM From California
The rattling of sabres grows ever louder. Military.com reports that the Air Force says an unarmed Minuteman 3 missile has been launched from California's central coast in the latest test of the intercontinental system.
The missile blasted off at 11:39 p.m. PDT Wednesday from Vandenberg Air Force Base northwest of Los Angeles.
The Air Force says the missile carried test re-entry vehicles that headed for a target area 4,200 miles away to the  the Marshall Islands in the Pacific Ocean.
The Air Force routinely uses Vandenberg to test Minuteman missiles from bases around the country.
This test involved personnel from Vandenberg's 576th Flight Test Squadron and the 91st Missile Wing, Minot Air Force Base, North Dakota.
Source: zerohedge.com
US, China Military Aircraft Have "Unsafe, Close Encounter" Over Contested Islands
"It must be pointed out that U.S. military planes frequently carry out reconnaissance in Chinese coastal waters, seriously endangering Chinese maritime security," China's Foreign Ministry spokesman Hong Lei Hong told reporters, adding that  "we demand that the United States immediately cease this type of close reconnaissance activity to avoid having this sort of incident happening again."
CNN reports that two US defense officials confirmed that there was an "unsafe" close encounter between a US Navy P-3 Orion aircraft and a Chinese surveillance aircraft Wednesday in the general vicinity of the contested Scarborough Shoal in the South China Sea.
One official said the Chinese plane was a People's Liberation Army Air Force KJ-200.
e two planes flew within 1,000 feet of each other in the general vicinity of the contested Scarborough Shoal in the South China Sea.
Source: zerohedge.com
Russian support for Haftar likely to shift governance eastwards and hasten collapse of Libya's UN-backed government
On 11 January, Libyan militia leader General Khalifa Haftar met Russian officials aboard a Russian aircraft carrier off the coast of Tobruq, in eastern Libya. nt.
During the Tobruq meeting, Haftar secured Russian support in exchange for unspecified basing rights in eastern Libya,  . This has prompted increased diplomatic activity from the European Union (EU) outlining an increased role for Haftar in the Libyan Political Agreement (LPA) that underpins the UN-backed Government of National Accord (GNA).
Source: janes.com
Russia says Syria friendly fire incident due to wrong Ankara data, Turkey insists gave all info
The Turkish military said Russia received all the necessary coordinates a day prior to the friendly fire incident in Syria which resulted in the deaths of three Turkish soldiers. Earlier, Moscow said its planes targeted the location in Syria based on guidance provided by Ankara.
Source: rt.com
Turkey Satisfied With Russia's Response After Airstrike Incident
Cost Of War Against ISIS Reaches $11 Billion
Since the air war against the so-called Islamic State kicked off in August 2014 ,the United States has spent just under $11 billion financing it. According to the most recent Pentagon figures, 
As of January 27, U.S. and coalition warplanes had flown 136,067 sorties to degrade and destroy the terrorist organization. 17,734 strikes had been carried out by the middle of last week with 10,948 occurring in Iraq and 6,785 happening in Syria. 31,900 targets had been reported damaged or destroyed by late September of last year including 164 tanks, 388 humvees and 8,638 fighting positions. A military official told CNN in early December that as many as 50,000 ISIS fighters are believed to have been killed since military operations began in 2014.
Source: zerohedge.com
US official: Raqqa will be isolated within weeks
Colonel John Dorrian, a spokesperson for the US-led coalition, has claimed that the ISIS capital of Raqqa will be isolated within weeks of operations.
"
Source: almasdarnews.com
Assad Dismisses 'Cosmetic' US Anti-Daesh Campaign, Praises Russian Involvement
The United States conducts a "cosmetic" military campaign against the outlawed Daesh jihadist group, which suffered losses in the wake of Russia's involvement, Syrian President Bashar Assad said.
Assad further asserted that Daesh began losing ground following Russia's involvement in September 2015.
Source: sputniknews.com
Amnesty International Fabrications on Syria Intended to Discredit Russia and Justify Trump Military Intervention in Syria "War on Terrorism"
This article analyses the role of Amnesty International in the disinformation campaign on Syria, and suggests that this recent fake-news endeavour by Amnesty may aim to influence political decision-making in Washington on behalf of the faction supporting the activities of 'moderate terrorists' combating the Syrian government.
President Donald Trump has announced in several occasions that he would cooperate with Russia to fight the jihadist-terrorist enclaves in the Middle East. [1] These terrorist strongholds foremost include those operating in Syria.
In this line, a variety of PSYOP have been undertaken, among other by Amnesty International, to discredit the role of Syria and Russia in the important combat against jihadist terrorism. Now has Amnesty published a new fabricated report – presenting no evidence whatsoever – around 'mass executions' that would have taken place in a Syrian prison named as 'Saydnaya', and whose fictional physical features are depicted in an 3-D artistic creation made-up in an UK visual laboratory. [3]
This is not the first time that Amnesty International faces international contempt for its biased position, respectively its groundless statements on the Syrian Conflict. Commenting the Amnesty report of December 23, 2015, "Syria: Russia's shameful failure to acknowledge civilian killings", the then United Nations Secretary General Ban Ki-moon concluded specifically regarding the verifiability issue in the said Amnesty report:
Source: globalresearch.ca
Syria hit by nationwide electricity blackout
A nationwide electricity blackout is currently plaguing Syria. The power cut was reported by the Syrian Ministry of Electricity today morning, via social media.
According to the Ministry, the outage was caused by a technical failure, which occurred at 11:00 AM (Syrian time), and engineers are currently working hard to fix the issue, and thus, return power to Syria.
Follow Reporter on Twitter for Updates: @SulimanM98