Podcast: Play in new window | Download (Duration: 34:00 — 36.6MB)
Nigel Farage is winning, his party has taken the lead, the people are speaking out. May has not delivered what she promised, the EU is trying to control the deal, next phase coming. The [DS],MSM and the [CB] didn't see Trump's shadow trade deals coming, now its to late, China is not that big of a worry as the MSM might have you think. Judy Shelton might be a contender for the Fed, she is also a gold bug. Sweden is going to reopen rape case, this is being done so Assange does not get extradited to the US.  Trump calls out FBI Directory Wray, is this being done on purpose to have Wray push what he has. No D's have looked at the unredacted Mueller report. Rep Ratcliffe says Comey is or might be investigated.Pompeo goes to Brussels to try to get the EU to drop the Iran deal. Q drops more bread. Boom week ahead, Is Collins about to drop the hammer.
Check Out The X22 Report Spotlight YouTube Channel X22Report Spotlight
Please check Newzsentinel.com for the latest news on the economic collapse. The Sentinel Alerts are updated throughout the day. If you haven't already, go to "The People" and join the community of people who are helping each through the economic collapse.
---
Current News – 05.13.2019
Watch The X22 Report On Video
---
Economy
HOW TO WIN BREXIT AND TAKEOVER THE EU IN ONE FELL SWOOP
Nigel Farage new party – the Brexit Party – is way ahead in the UK polls for the European Union elections to take place on May the 23rd.
This is happening because the Prime Minister could not get her lame deal through Parliament and cannot deliver Brexit to which she committed herself 101 times over.
She has failed: utterly and miserably. Her party is in tatters.
Dissatisfaction with both the Labour left and the Tory right in the UK is at an all-time high. The political class is the enemy of Brexit.
People want to throw them all out – just like they've done with Tory councilors in the recent local ballot.
Who stands to gain?
One Nigel Farage—the grandfather of Brexit and the cleverest political creature of his generation.
Nigel's plan is brilliant.
He will win the EU battle and then position his new party to deliver a real, clean Brexit very shortly in an upcoming UK election.
By winning the largest portion of the UK seats in the new EU Parliament, Farage will be in the drivers seat in Brussels
Source: thegatewaypundit.com
AS we discussed yesterday the China trade deal did not happen, this doesn't mean that its not going to happen it means we finally have a Presdident that is holding his ground and actually negotiating instead of giving away everything and making himself personally wealthy over a deal. Trump battles the MSM, DS on the China trade deal, he tweeted the following
I say openly to President Xi & all of my many friends in China that China will be hurt very badly if you don't make a deal because companies will be forced to leave China for other countries. Too expensive to buy in China. You had a great deal, almost completed, & you backed out!

— Donald J. Trump (@realDonaldTrump) May 13, 2019
President Trump Points Out Alternate Favorable Trade Partners – The 2017 "Golden Ticket" Summit….
Do you think the plan didn't have alternatives to China, Trump already laid the ground work, Trump tweeted out the following
We are right where we want to be with China. Remember, they broke the deal with us & tried to renegotiate. We will be taking in Tens of Billions of Dollars in Tariffs from China. Buyers of product can make it themselves in the USA (ideal), or buy it from non-Tariffed countries…

— Donald J. Trump (@realDonaldTrump) May 12, 2019
….We will then spend (match or better) the money that China may no longer be spending with our Great Patriot Farmers (Agriculture), which is a small percentage of total Tariffs received, and distribute the food to starving people in nations around the world! GREAT! #MAGA

— Donald J. Trump (@realDonaldTrump) May 12, 2019
Trump has a  long-game strategy, remember he did a marathon trip of Asia back in Nov 2017
 Trump quietly and methodically laid the groundwork with personal visits to: Prime Minister Shinzo Abe (Japan); President Moon Jae-in (S-Korea); President Tran Dai Quang (Vietnam); and President Rodrigo Duerte (Philippines).
Trump met face to face with all the leaders making bilaterial trade agreements,
These were unilateral meetings; and, in hindsight, clearly designed to structure the foundation of the current U.S-China trade conflict.
After the collapse of the U.S-China negotiations, there's a reason why President Trump says: "we're in no rush" to make a deal.
 United States Trade Representative Robert Lighthizer  released the following statement in response to President Trump's speech on trade between the United States and the Indo-Pacific region, at the Asia Pacific Economic Cooperation (APEC) CEO Summit (emphasis mine):
"The President spoke loud and clear: the era of trade compromised by massive state intervention, subsidies, closed markets and mercantilism is ending. Free, fair and reciprocal trade that leads to market outcomes and greater prosperity is on the horizon.

"President Trump understands that too many nations talk about free trade abroad, only to shield their economies behind tariff and non-tariff barriers at home. The United States will no longer allow these actions to continue, and we are willing to use our economic leverage to pursue truly fair and balanced trade.

"I look forward to doing as the President instructed me and to pursue policies that will improve the lives of our workers, farmers and ranchers." (link)
The relationships between our three countries is extremely — extremely good, extremely strong.
  this was the plan all along, Trump knew that China might push back on the trade deal, Trump needed leverage, so he made sure he had some, everything was done behind the scene
Source: theconservativetreehouse.com
The White House is considering conservative economist Judy Shelton to fill one of the two vacancies on the Federal Reserve Board of Governors that President Donald Trump has struggled to fill.

She's currently U.S. executive director for the European Bank for Reconstruction and Development, and previously worked for the Sound Money Project, which was founded to promote awareness about monetary stability and financial privacy.
Since President Trump announced his intention to nominate Herman Cain and Stephen Moore to serve on the Federal Reserve's board of governors, mainstream commentators have made a point of dismissing anyone sympathetic to a gold standard as crankish or unqualified.

But it is wholly legitimate, and entirely prudent, to question the infallibility of the Federal Reserve in calibrating the money supply to the needs of the economy. No other government institution had more influence over the creation of money and credit in the lead-up to the devastating 2008 global meltdown. And the Fed's response to the meltdown may have exacerbated the damage by lowering the incentive for banks to fund private-sector growth.

What began as an emergency decision in the wake of the financial crisis to pay interest to commercial banks on excess reserves has become the Fed's main mechanism for conducting monetary policy. To raise interest rates, the Fed increases the rate it pays banks to keep their $1.5 trillion in excess reserves—eight times what is required—parked in accounts at Federal Reserve district banks. Rewarding banks for holding excess reserves in sterile depository accounts at the Fed rather than making loans to the public does not help create business or spur job creation.

Meanwhile, for all the talk of a "rules-based" system for international trade, there are no rules when it comes to ensuring a level monetary playing field. The classical gold standard established an international benchmark for currency values, consistent with free-trade principles. Today's arrangements permit governments to manipulate their currencies to gain an export advantage.

Money is meant to serve as a reliable unit of account and store of value across borders and through time. It's entirely reasonable to ask whether this might be better assured by linking the supply of money and credit to gold or some other reference point as opposed to relying on the judgment of a dozen or so monetary officials meeting eight times a year to set interest rates. A linked system could allow currency convertibility by individuals (as under a gold standard) or foreign central banks (as under Bretton Woods). Either way, it could redress inflationary pressures.
Source: zerohedge.com
---
Political/Rights
Sweden to reopen rape case against WikiLeaks' Assange
Swedish prosecutors said Monday they are reopening a rape case against WikiLeaks founder Julian Assange, a month after he was removed from the Ecuadorian Embassy in London.
A case of alleged sexual misconduct was dropped in 2017 when the statute of limitations expired. That left a rape allegation, but officials couldn't pursue it because Assange was living at the embassy and there was no prospect of bringing him to Sweden.
The statute of limitations on that case expires in August 2020.
Source: breitbart.com
The question ia why are the pushing this now, the answer to make sure Assange is not extradited to the US
Extradition of Assange to the US is a good thing. The ONLY place on earth he is safe is in the hands of our own DOJ – although it would have been precisely the opposite if the witch had won. pic.twitter.com/OANFSNV8bB

— Joe M (@StormIsUponUs) May 13, 2019
This is the reason they are trying to stop what is coming
Ecuador will give US all documents & devices Assange left in London embassy – report
Ecuador's attorney general has informed Julian Assange's lawyer that the WikiLeaks co-founder's files, computer, mobile phones and other electronic devices will be seized during a search of the London embassy and sent to the US.
 the Ecuadorian government has reportedly greenlighted a US request to provide it with access to the documents and electronic devices
Personal files, Assange's computer, mobile phones, memory sticks, CDs and any other electronic devices uncovered during the searches will then be seized and sent to the US as a part of Ecuador's response to the Department of Justice's judicial request. The US is currently building a case to extradite Assange on hacking charges.
The US has until June 12 to build a case for extradition. Last week, Assange, who has been serving a 50-week sentence in a maximum-security Guantanamo Bay-style prison for skipping bail, faced an extradition judge for the first time.
Source: rt.com
---
Geopolitical/Police State
Secretary of State Mike Pompeo on Monday scrapped a scheduled trip to Moscow, diverting his plane for a surprise visit to Brussels to presumably crash an EU meeting exploring ways of salvaging the Iran nuclear deal.
It appears the "maximum pressure" campaign involves America's top diplomat throwing his weight around in person anywhere around the globe their might be dissent among US allies.
Source: zerohedge.com
---
Q
BOOM WEEK AHEAD.
Treason doesn't pay well in the end.
Q
Democrats have launched a proxy war smearing the attorney general when their anger actually lies with the president and the special counsel, who found neither conspiracy nor obstruction. Full statement below →

Dems are afraid of what the AG will find regarding FISA abuses at DOJ, including how the Russia investigation began. Reports suggest those conclusions could be explosive and lead to criminal prosecution. Desperate, Dems have resolved to neutralize Barr by attacking his integrity. pic.twitter.com/Ku7bKfaUBY

— Rep. Doug Collins (@RepDougCollins) May 8, 2019

Eyes on.
Q
Take a listen to Collins, it seems that he something big coming very soon
The House Permanent Select Committee on Intelligence has 53 transcripts in total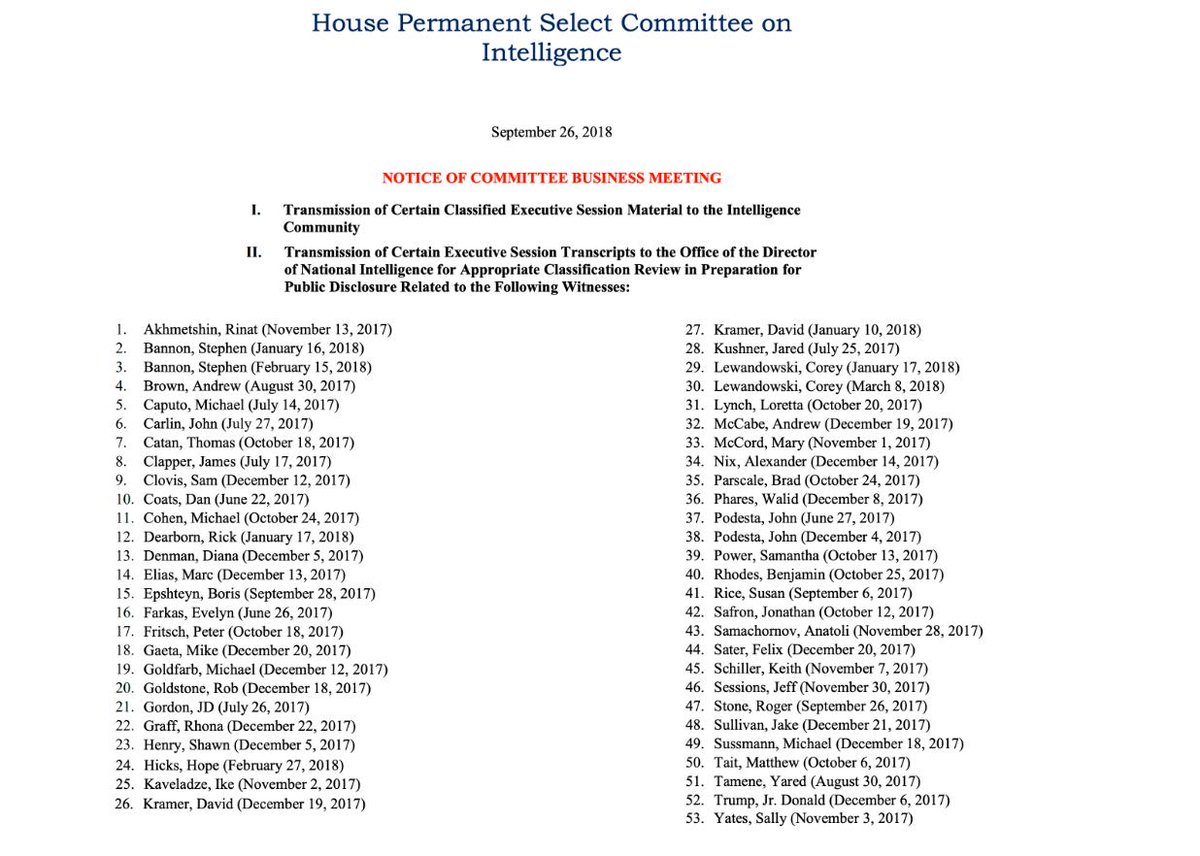 Lets go back to post 3328
Attempts by Dems, FAKE NEWS, and those 'guilty of TREASON' to shape the public narrative [prior to] by providing FALSEHOODS will FAIL.
TRUTH TO LIGHT.
NO SLEEP IN DC.
Q
House Intelligence Committee Chairman Adam Schiff (D-CA) said on Sunday that Joe Biden's Ukraine corruption scandal should be off limits as the 2020 US election approaches, and that President Trump shouldn't be allowed to investigate – or encourage Ukraine to investigate.
 Hunter was on the board of a Ukrainian natural gas firm for a full two years, before threatening to withhold $1 billion in US loan guarantees if the President of Ukraine didn't fire the guy investigating the Biden-linked Burisma, and Adam Schiff thinks that should be off limits to investigate, or for voters to consider, going into the 2020 election.
Source: zerohedge.com
Comeys Tweets and his townhall meeting trying to get out ahead of what is coming, Baker made the rounds, Strzok made the rounds etc…
the bradford file tweeted out the following
Adam Schiff was on ABC again this morning.

He is now claiming AG Barr is part of the conspiracy.

He was not asked to provide the "evidence of collusion" he promised.

He was not asked about his secret meeting with Glenn Simpson.

Schiff is SCARED.

— thebradfordfile™ (@thebradfordfile) May 12, 2019
Lindsey Graham Working to Declassify 'Sensitive Document' That Proves FBI Knew Steele Dossier Lacked Credibility (VIDEO)
Senate Judiciary Chairman Lindsey Graham (R-SC) appeared on "Sunday Morning Futures" and told host Maria Bartiromo that he is working to declassify a 'sensitive document' that will prove the FBI knew the Steele dossier lacked credibility before it was used to obtain a spy warrant on Carter Page. 
Source: thegatewaypundit.com