Podcast: Play in new window | Download (Duration: 31:46 — 35.8MB)
The Canadian housing crisis is imploding, sales have dropped on existing homes. Inflation is starting to pick up, once inflation gets going the central bank will not be able to control it.  The central banks are beginning to move into the blockchain arena, they are now working with Saudi Arabia to establish ripple as their cryptocurrency. Control is the game, control the currency at any cost as the system comes down. Tillerson denies the US gave weapons to the Kurds.The Taliban and the US are now willing to speak to each other about peace.  Russia says the entire story about Russian soldiers is completely fictitious. The Parkland shooting is a distraction, there are many anomalies that do not make sense. The are now reports of a second shooter, the search engines have the stories being reported 2 days before the shooting occurred. There was a shooter drill happening the same day of the shooting.
Check Out The X22 Report Spotlight YouTube Channel –  X22Report Spotlight
Please check Newzsentinel.com for the latest news on the economic collapse. The Sentinel Alerts are updated throughout the day. If you haven't already, go to "The People" and join the community of people who are helping each through the economic collapse.
---
Current News – 02.15.2018
---
Economy
After five straight months of acceleration, January saw Canadian existing home sales crash 14.5% – the biggest drop on record…
Home prices rose 2,3% over the past 12 months, but it appears a sudden close-eye on Chinese buyers has hit the market hard as Toronto home sales crashed a stunning 27% from December (prices down 4.4% YoY) and Vancouver sales down 10.5% MoM (prices up 18.1% YoY).
The Canadian job market has never lost more part-time jobs – ever – than in January...
Source: zerohedge.com
But the biggest surprise for both regional Feds was the blistering surge in the Prices Paid index, the clearest indicator of input cost inflation, which in the New York Fed surged from 36.2, to 48.6, the highest in six years, while according to the Philly Fed, "cost pressures were more widespread this month among the reporting manufacturers: The prices paid index increased 12 points to 45.0, its highest reading since May 2011" or in nearly 7 years.
Source: zerohedge.com
Ripple cryptocurrency announces their blockchain technology to be used in Saudi banks
  Ripple, will work in the banking system of the oil-rich Kingdom of Saudi Arabia, the firm claims.Saudi Arabia and Ripple, the company behind the XRP coin, will cooperate by using xCurrent, software that enables banks to instantly settle cross-border payments with end-to-end tracking."Central banks around the world are leaning into blockchain technology in recognition of how it can transform cross-border payments, resulting in lower barriers to trade and commerce for both corporates and consumers," said Dilip Rao, Ripple's global head of infrastructure innovation.The Saudi central bank will be the first to use Ripple's blockchain network.Ripple is being traded as a cryptocurrency, but it is more of a token than digital money. It peaked at $3.31 in January, but is trading at around $1.15 this week. The idea of the token is to act as a bridge between international bank transactions, not to become an alternative for fiat currencies. The majority of ripple tokens are held by the parent company, meaning that it can regulate their price.Ripple is often criticized by cryptocurrency enthusiasts, who say XRP undermines the whole idea of digital assets being deregulated and decentralized. The company's CEO Brad Garlinghouse has publicly said that Ripple "works within the system," and is not opposed to the traditional financial system.
Source: sott.net
---
Political/Rights
Bruce Ohr, the Department of Justice official who brought opposition research on President Donald Trump to the FBI, did not disclose that Fusion GPS, which performed that research at the Democratic National Committee's behest, was paying his wife, and did not obtain a conflict of interest waiver from his superiors at the Justice Department, documents obtained by The Daily Caller News Foundation show.
 
The Democratic National Committee (DNC) hired Fusion GPS to gather and disseminate damning info about Trump, and they in turn paid Nellie Ohr, a former CIA employee with expertise in Russia, for an unknown role related to the "dossier." Bruce Ohr then brought the information to the FBI, kicking off a probe and a media firestorm.
The DOJ used it to obtain a warrant to wiretap a Trump adviser, but didn't disclose to the judge that the DNC and former Secretary of State Hillary Clinton's campaign had funded the research and that Ohr had a financial relationship with the firm that performed it —
"The law provides that whoever 'knowingly and willfully' fails to file information required to be filed on this report faces civil penalties up to $50,000 and possible criminal penalties up to one year in prison under the disclosure law and possibly up to five years in prison under 18 USC 1001," he said. "Since he lists her income type as 'salary' as opposed to line 1 where he describes her other income as 'consulting fees' as an 'independent contractor' it's clear that she was employed by a company that should have been identified by name," he said.
"And even with respect to her 'independent contractor' listing, it appears incomplete by not describing what kind of services were provided. Both these omissions do not give the reviewing official sufficient information to determine whether there is a conflict," Kamenar added.  
Source: zerohedge.com

---
War
Tillerson says US never gave 'heavy arms' to Kurdish YPG
Turkey has said Washington must gather up its weapons now that fight against IS jihadists has passed.
BEIRUT – US Secretary of State Rex Tillerson said Thursday Washington has never supplied heavy weaponry in Syria to the Kurdish People's Protection Units (YPG), which Ankara blacklists as a terror group.
"We have never given heavy arms to the YPG so there is none to take back," Tillerson said in response to a question at a press conference in the Lebanese capital Beirut before heading for Ankara.
Turkey has repeatedly accused the United States of massively arming the YPG, and has said Washington must gather up its weapons now that the peak of the fight against jihadists has passed.
Source: Middle-east-online.com
Russia Slams Report Of "Hundreds Of Russian Fighters" Killed In Syria As Fake News

Russian Foreign Ministry spokeswoman Maria Zakharova said that reports by both Reuters and Bloomberg that Russian servicement were killed by US-led coalition strikes, stemmed from anti-government fighters in Syria, who spread them accompanied by doctored images.

"The reports on the deaths of dozens, hundreds, of Russians is classic disinformation," Zakharova said, who nonetheless admitted that some Russians did die, although in Moscow's official estimation, the number was far lower, no more than "5 people."

Source:zerohedge.com
---
False Flags
Florida school shooting suspect was ex-student who was flagged as threat
FBI alerted last fall that Florida killer Nikolas Cruz was "going to be a professional school shooter"

FBI Admits It Investigated YouTube "School Shooting" Threat, Failed To Identify Person Behind It
VALENTINE'S DAY MASSACRE: Here's why the Florida high school mass shooting was a false flag black operation
Immediate Demands for Gun Control

---
Calls for draconian G U N  C O N T R O L measures before all the shots are fired?
Screaming for gun control while the crime scene was still hot
How obvious was this false flag operation that so many Democrats all tweeted in unison the need for immediate gun control?
 
  distract from their naked criminality associated with Russiagate, FISAgate, Dossiergate, Intelgate, Emailgate, Weinergate, etc. 
What better way to divert the attention of the American people than to shoot up yet another high school…deep in dark blue country.
Location, Location, Location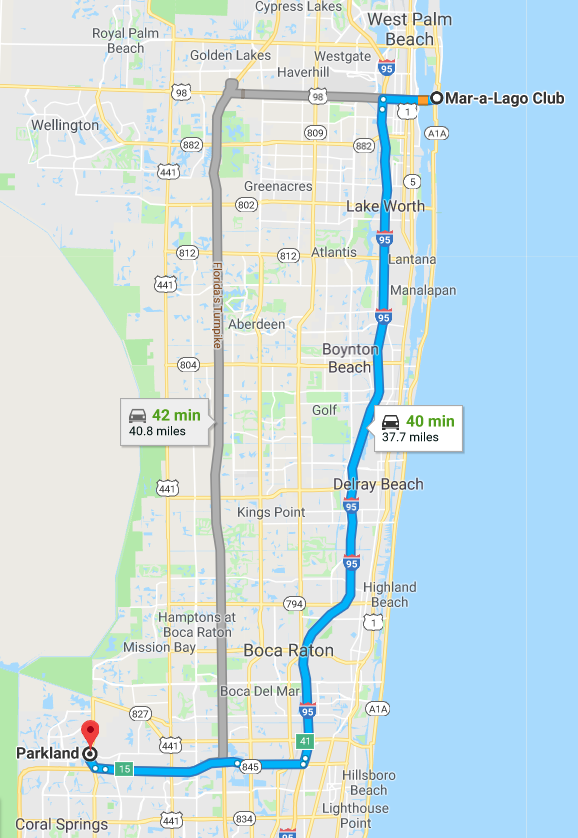 ---
KEY POINT: That a high school was selected in President Trump's own back yard in South Florida makes it very difficult for him to avoid the highly politicized parental backlash that is sure to manifest.  The Marjory Stoneman Douglas High School in Parkland, Florida is less than 40 miles south of Trump's Mar-a-Lago luxury resort that functions as Trump's Camp David.  How convenient for the perps to have shot up a school located in Broward County, perhaps the most ultra-liberal county south of the border.  Clearly, every single detail of this [SHOCKING] mass shooting was well thought out in advance in order to have maximum impact.  And so it has!
---
Timing
The timing of the Florida high school shooting is too perfect not to be a false flag operation executed to deflect attention away from the  serious scandals. 
---
KEY POINT: That's not to say that no one was shot and/or killed during this mass shooting.  Because of how scripted these false flag operations can be, it's almost impossible to discern between what is real and what is hoax.  Because whether any part of this shooting was staged drama or as real as can be, it still serves to traumatize those involved…even the body politic.  
That the alleged  gunman opted to use an "AR-15-style semiautomatic rifle and had multiple magazines" is a dead giveaway, as it is in virtually all of these school shootings.

  the shooters always doped up with powerful psychoactive pharmaceutical drugs? 
Source:  themillenniumreport.com

A "False Flag" for Valentine's Day: Suppressing "False Flags on Five Fronts"

 the students were informed that an active-shooter drill would be conducted at the high school, which left most students believing that this as it–which may have been the intended effect to avoid mass panic for a public relations exercise.
Witnesses thought, 'Is this another drill?'" –School held a safety drill, earlier in the day, according to Martha MacCallum on FoxNews Live –Earlier in the day, Shepard Smith reported that there was a drill held at Marjory Stoneman Douglas High School. One teacher said to hold on – the noises [of gunfire] may have been from the earlier drill. A fire alarm rang two time in one day [drill was held earlier in the day], according to a student witness. (Fox News, media conferences)
SWAT arrived very quickly, it was like they were there already
 The date time stamps do not make sense, the news already had the story a couple of days ahead of time.
Now there is a video that was shot with woman who said the fire alarm went off, she was speaking to Nicholas Cruz, she heard shots while walking with him, so there had to be another shooter.

Source: jamesfetzer.blogspot.ca