Podcast: Play in new window | Download (Duration: 41:53 — 42.5MB)
Australian housing market is not doing well, it is in decline. The Government told first time home buyers to get into the housing market and then it started to decline. Real spending crashes, but savings increase. The MSM and others are reporting that the tax refunds are low this year because of Trump' tax policies, it turns out the refunds are up 1.3 %. The Fed is keeping the interest rates steady, the next time they meet will be in March, control is the name of the game. BRICS, Russia, China and Europe are creating their own payment systems. AOC tweeted out that it was Donald Trump Jr who was involved in a criminal conspiracy, turns out to be false. Trump is hitting hard against, Cohen, the DOJ/FBI who were involved in spying on him and many other crimes. Trump is setting the stage for the MOAB. Trump makes an unexpected stop in Alaska to visit the troops. It seems the President of Afghanistan is sabotaging the peace talks. [DS] ready to deliver aid to Venezuela, beware of a FF. Q drops a single post, tells us that the countdown continues and get ready for tactical hits.
Check Out The X22 Report Spotlight YouTube Channel X22Report Spotlight
Please check Newzsentinel.com for the latest news on the economic collapse. The Sentinel Alerts are updated throughout the day. If you haven't already, go to "The People" and join the community of people who are helping each through the economic collapse.
---
Current News – 03.01.2019
Watch The X22 Report On Video
---
Economy
Home Prices in Sydney & Melbourne Spiral Down, Bust Spreads. IMF to Regulators: "Reinforce Financial Crisis Management"
The Australian Government has been telling first-time buyers 5 months before bust began to "get into the Sydney housing market"; once in, "you're pretty well set for life."
Across the metro area of Sydney, prices of all types of homes combined, according to CoreLogic's Home Value Index, fell 1.0% in February from January, 10.4% from a year ago, and nearly 13% from its peak in July 2017. Just over the past four months, the index has dropped 5.5%: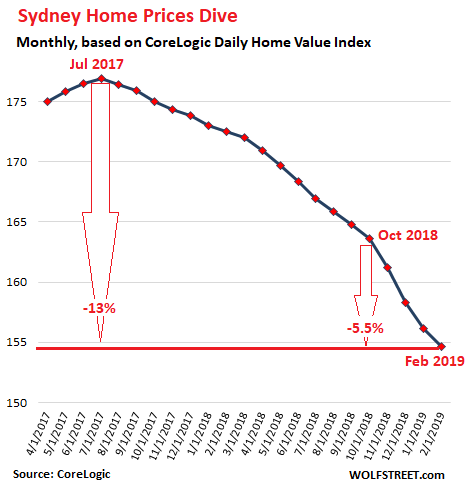 The volume of closed sales recorded in Sydney in February plunged 20.6% from the already weak sales in February last year, according to CoreLogic's report.
House prices dropped 1.1% in February and 11.5% year-over-year.
Condo prices dropped 0.8% in February and 8.8% year-over-year.: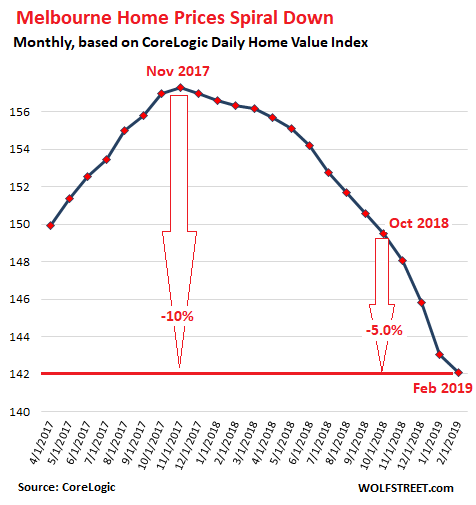 Source: wolfstreet.com
---
Political/Rights
Ocasio-Cortez Cites Debunked Michael Cohen Testimony In Don Jr. "Gotcha" Fail
Rep. Alexandria Ocasio-Cortez is catching major heat after she tweeted fake news about Donald Trump Jr. being the "second executive involved in criminal conspiracy," 
She tweeted out the following
ICYMI: Rep. Khanna got Cohen to testify that Don Jr. is the "second executive involved in criminal conspiracy."

His line of questioning was a very big deal. (He also happens to be a progressive Rep that rejects corporate money!)

— Alexandria Ocasio-Cortez (@AOC) March 1, 2019
Except there is a problem as the Wall Street Journal reported hours after Cohen's Wednesday testimony: "Cohen Erroneously Identifies Donald Trump Jr. as Executive Cited by Federal Prosecutors."

The Journal has previously identified "Executive-1" as Trump Organization CFO Allen Weisselberg. Mr. Cohen testified today that "Executive-2" in the charging document was Donald Trump Jr.

However, according to people familiar with the matter, the second executive was Trump Organization controller Jeffrey McConney, not the president's son.
Source: zerohedge.com
Source: zerohedge.com
Trump is setting the stage, getting ready to drop the hammer,  he is continually tweeting, talking $ appearing on TV, he is pushing the message that justice is coming.  No coincidence he appeared on hannity, Take a listen to Trump and Hannity
House Democrats Suffer Embarrassing Loss On Gun Control Amendment Vote
House Democrats are celebrating a victory over the passage of a new gun control bill. But Republicans attached an amendment to the bill and some Democrats actually joined them in voting for it.
The Washington Free Beacon reports
Dems Lose 'Embarrassing' Gun Control Amendment Vote After Multiple Defections

The House voted Wednesday on H.R. 8, the Bipartisan Background Checks Act of 2019. The bill would expand background checks to include all gun sales, rather than just sales by licensed gun dealers as under current law.

Republicans in the minority countered with an amendment to require that federal officials notify Immigration and Customs Enforcement whenever a lawful or unlawful immigrant tried to illegally purchase a firearm. That measure, opposed by most Democrats, was voted down when the bill was still in the House Judiciary Committee.

When Democratic leadership brought H.R. 8 to the full floor for a vote, Republicans made a motion to recommit the bill with the ICE amendment, usually a last-ditch symbolic action taken by the minority party with little chance of success. But in a surprising development, the motion passed 220-209, with 26 Democrats joining the Republicans.
It looks like the Democrats are not nearly as united as they and the media would like to think.
Source: thegatewaypundit.com
President Trump Surprises Troops During Stop at Elmendorf AFB, Alaska…
Today in Alaska, it was my great honor to visit with our brave men and women of the United States Military at Joint Base Elmendorf-Richardson. We are forever grateful for their service and sacrifice. THANK YOU! pic.twitter.com/4REVxKUsHT

— Donald J. Trump (@realDonaldTrump) March 1, 2019
Source: theconservativetreehouse.com
---
Geopolitical/Police State
---
War
Afghan President Ghani 'hindering' peace deal with Taliban – election rival
Venezuela Orders PDVSA Offices Relocate To Moscow; Putin Affirms Support To "Friend" Maduro
Muslim Brotherhood Calls On Turkey To Occupy Northeastern Syria
The Syrian wing of the Muslim Brotherhood Party released an official statement on February 28, in which it called on Turkey to occupy northeastern Syria and establish a "safe zone" there. Translation, OBama and the intelligence agencies are pushing Turkey to capture part of turkey so later on it can be split off.  The only problem is that Russia and Syria object to this, Russia already said no to Erdogan.

"The safe zone will not be safe unless it is sponsored by the country that has been the supporter, the cover and backer of all weak and afraid men, women and children since the beginning of the revolution of freedom and dignity," the Islamic party said in its official statement that was filled with words glorifying Turkey and its President, Recep Tayyip Erdogan.
Source: southfront.org
---
Q
---