Podcast: Play in new window | Download (Duration: 37:37 — 34.4MB)
Brazil is in a credit crisis as 5,525 business go out of business. Canadians are losing confidence as the economy spirals out of control. Consumer confidence in Norway declines. More layoffs in factories and companies. Home builder confidence tumbles as sales decline. Empire fed contracts for the 7th month in a row. Oil production is now frozen, Iran will continue to pump more oil. Central bankers pushing the idea to get rid of cash by dumping the $100 dollar bill. The Central Bankers want to initiate NIRP and they need to have a cashless society to accomplish this. US Government getting ready to go after private pensions to fund the government. Justice Scalia was murdered as more evidence surfaces. US Marshal arrest those students who are past due on student loans. Ukraine shuts down more checkpoints. Turkey continually bombing Syria for the 4 day now to keep the corridor open for the IS. NATO and the US pushing for WWIII.
Check Out The X22 Report Spotlight YouTube Channel –  X22Report Spotlight
Please check Newzsentinel.com for the latest news on the economic collapse. The Sentinel Alerts are updated throughout the day. If you haven't already, go to "The People" and join the community of people who are helping each through the economic collapse.
---
Current News – 02.16.2016
---
Economy
5,525 Companies Went Bankrupt In Brazil Last Year: "It's A Legitimate Credit Crisis"
Core retail sales in South America's most important economy slid 2.7% M/M in December,
Broad retail sales, meanwhile, declined 0.9% marking the eleventh decline in thirteen months. They're now off more than 16% since peaking in August of 2012.
 in 2015, 5,525 companies went bankrupt. That's the most since 2008
Source: zerohedge.com
Canadians are losing confidence in all sectors of their financial system
Consumer spending and affordability of products and services are just one component of a domestic economic system that alone it is not enough to bring a complete lack of confidence to a nation's financial system.  But when you add in a growing decline in confidence for that nation's currency, retirement programs, and investing structures, you have the ingredients for a rebellion that leads to collapse.
One of Canada's biggest insurance and financial services companies says nervousness among Canadian investors has risen to levels not seen since the financial crisis.
Source: tothedeathmedia.com
Consumer Confidence Crashes To 23-Year Low In Norway As Growth Grinds To A Halt
Mainland GDP, which excludes oil, gas, and shipping, rose just 0.1% in Q4, and Q3 was revised to unchanged.
"The economy of western Europe's biggest oil producer has been struggling to withstand a plunge in oil prices "Exports fell 2.9% in the fourth quarter, while petroleum and shipping industry output decreased 5.6%."
consumer confidence on Tuesday and (surprise!) it plummeted to a 23 year low:
Source: zerohedge.com
Homebuilder Confidence Tumbles To Lowest In 9 Months 
Current sales and buyer traffic tumbled in February for homebuilders whodowngraded their confidence index to 58 (from 61) missing expctations and at its worst level since May 2015. While futures sales hope rose very modestly, NAHB shows buyer traffic plunged to its lowest since March 2015 with every region seeing weakness (most notably The West).
All this is odd given the surge in new and existing home sales…
Source: zerohedge.com
Empire Fed Contracts For 7th Straight Month, Hovers At 7-Year Lows
The Empire Fed Manufacturing survey has been in contraction (below 0) since July 2015 and while February's -16.64 print was above January's -19.37, it was dramatically worse than the expected -10.0.
Baltic Dry Index climbs to 301, up 6
Saudis, Russians Fail To Cut Oil Production, Will Freeze Output At Record January Level
the two oil superpowers concluded and as expected the two failed to agree to any production cut; instead what they did agree on was to "freeze" production at January's already record levels, and furthermore make the agreement contingent on other OPEC members complying, something Iran has already said it would not agree to
Source: zerohedge.com
Larry Summers Launches The War On Paper Money: "It's Time To Kill The $100 Bill"
 the ECB has begun contemplating the death of the €500 EURO note, a fate which is now virtually assured for the one banknote which not only makes up 30% of the total European paper currency in circulation by value, but provides the best, most cost-efficient alternative (in terms of sheer bulk and storage costs) to Europe's tax on money known as NIRP.
That also explains why Mario Draghi is so intent on eradicating it first, then the €200 bill, then the €100 bill, and so on.
24 hours later, and another Harvard "scholar"  , Larry Summers, has just released an oped  "It's time to kill the $100 bill" in which he makes it clear that the pursuit of paper money is only just starting. Not surprisingly, just like in Europe, the argument is that killing the Benjamins would somehow eradicate crime, saying that "a moratorium on printing new high denomination notes would make the world a better place."
 $1.4 trillion in total U.S. currency in circulation, $1.1 trillion is in the form of $100 bills. Eliminate those, and suddenly there is nowhere to hide from those trillions in negative interest rate "yielding" bank deposits.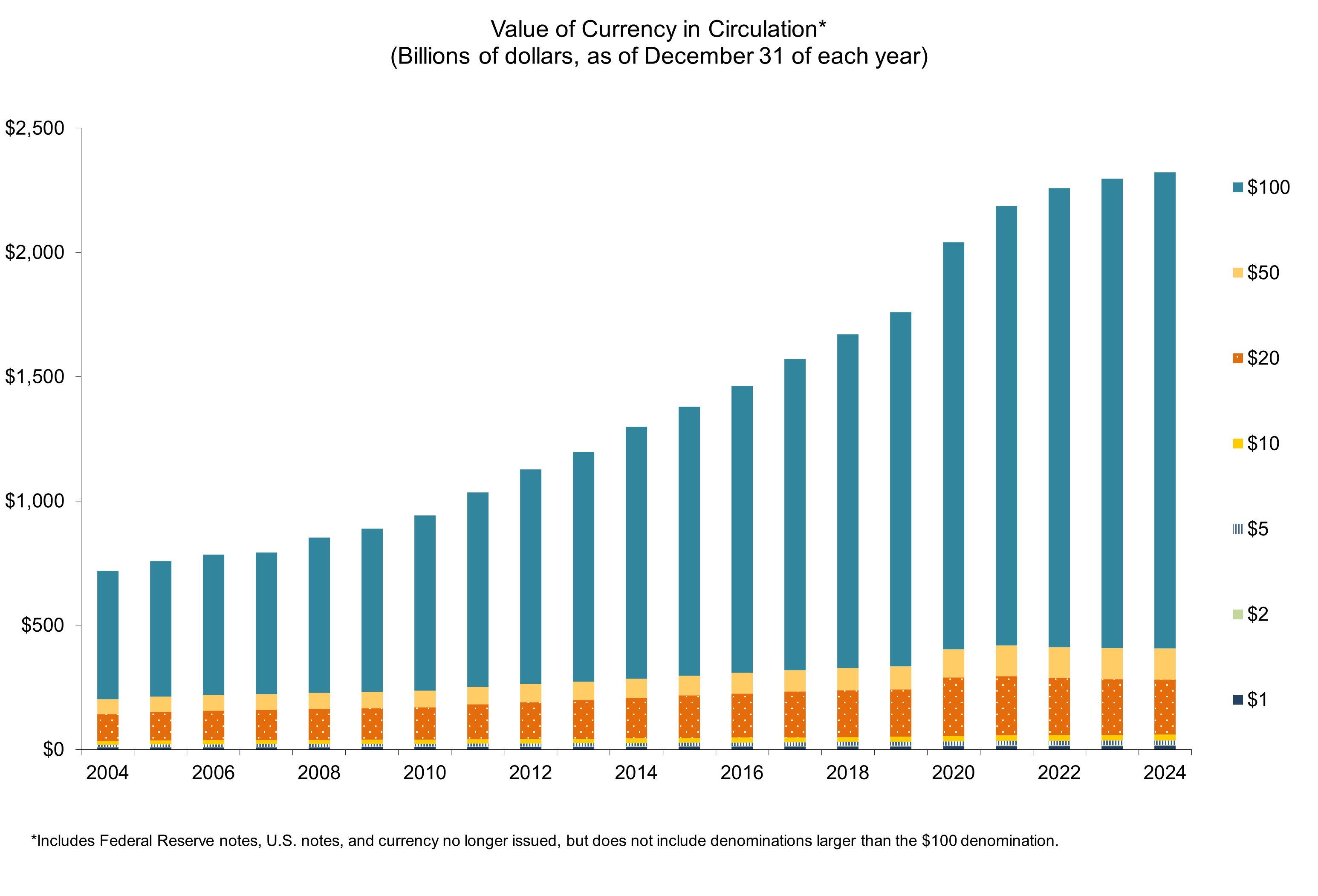 Lawrence Summers urged countries around the world to agree to stop issuing high-denomination banknotes,
"Even better than unilateral measures in Europe would be a global agreement to stop issuing notes worth more than say $50 or $100,
Source: zerohedge.com
Here's Why (And How) The Government Will "Borrow" Your Retirement Savings
According to financial research firm ICI, total retirement assets in the Land of the Free now exceed $23 trillion.
$7.3 trillion of that is held in Individual Retirement Accounts (IRAs).
Bottom line, they need more money. Lots of it. And there is perhaps no easier pool of cash to 'borrow' than Americans' retirement savings
And if you think it's inconceivable for the government to borrow your retirement savings, just consider the following:
 1) Borrowing retirement funds is becoming a popular tactic.

Forced loans have been a common tactic of bankrupt governments throughout history.

Plus there's recent precedent all over the world; Hungary, France, Ireland, and Poland are among many governments that have resorted to 'borrowing' public and private pension funds.

2) The US government has already done this with federal pension funds.

During the multiple debt ceiling fiascos since 2011, the Treasury Department resorted to "extraordinary measures" at least twice in order to continue funding the government.

What exactly were these extraordinary measures?

They dipped into federal retirement funds and borrowed what they needed to tide them over.

3) They've been paving the way to borrow your retirement savings for a long time.

Two years ago the government launched a new initiative to 'help Americans save for retirement.'

It's called MyRA. And the idea is for people to invest retirement savings 'in the safety and security of US government bonds'.

Just last week, Congress introduced the "Making Your Retirement Accessible", or MyRA Act, which would charge a penalty to employers whose workers don't have a retirement account.

The proposed penalty is $100. Per worker. Per day.
Source: zerohedge.com
---
Rights
Was Scalia murdered? Forget "conspiracy theory." This is real.
"William O. Ritchie, former head of criminal investigations for D.C. police":
"As a former homicide commander, I am stunned that no autopsy was ordered for Justice Scalia."
"You have a Supreme Court Justice who died, not in attendance of a physician. You have a non-homicide trained US Marshal tell the justice of peace that no foul play was observed. You have a justice of the peace pronounce death while not being on the scene and without any medical training opining that the justice died of a heart attack. What medical proof exists of a myocardial Infarction? Why not a cerebral hemorrhage?"
"How can the Marshal say, without a thorough post mortem, that he was not injected with an illegal substance that would simulate a heart attack…"
Scalia's federal protection had been removed while he was at the Texas ranch. We're told Scalia didn't want that protection. Maybe yes, maybe no. We're also told Scalia's family didn't want an autopsy. Again, maybe yes, maybe no. The family has been silent. Or if not, their statements aren't being reported.
Consider, as potentially relevant, the report that Scalia was found with a pillow over his head.
Consider, as relevant, that Judge Guevara, deciding without seeing the body that Scalia died from natural causes, ruled against doing an autopsy—and a counter-opinion, offered unofficially by another Texas judge, Bishop, that she would have wanted an autopsy
Source: jonrappoport.wordpress.com
Obama could use recess appointment to bypass Congress, install justice
The window is still open on President Obama's option of replacing the late Supreme Court Justice Antonin Scalia with a recess appointment,
The Senate is in the middle of a 10-day recess until Monday, giving Mr. Obama a chance to bypass Congress and install a successor quickly.
Source: washingtontimes.com
U.S. will sign Paris Agreement and stick to it – Stern
The United States will sign the Paris Agreement on climate change this year regardless of the Supreme Court's decision
The U.S. Supreme Court this month put on hold regulations to curb carbon dioxide emissions mainly from coal-fired power plants, prompting speculation the United States and other nations could delay formal signature of the Paris Agreement, reached in December.
Source: reuters.com
US Marshals make arrests over non-payment of student loans
Being behind on student loan payments in Texas could cost you more than your credit score. The US Marshals Service in Houston is arresting people who aren't paying their federal student debt.
Paul Aker said that seven deputy US Marshals showed up at his Houston home in combat gear.
"I was wondering, why are you here. I am home, I haven't done anything,"  he didn't receive any notice about a $1,500 student loan he received in 1987.
He claims he was taken to federal court, where he signed a payment plan for the debt.
"It was totally mind-boggling," Aker said.
This is far from an isolated incident, a source told the station. It isn't the first time Marshals have served someone for being behind on loans, and they are planning to serve between 1,200 and 1,500 other people who have student debt.
Source: rt.com
---
Police State
FBI unveils 'violent extremism' video game to educate teenagers
Months in the making, the FBI has released a low-grade, browser-based online game to try and educate teenagers about the tools used by "violent extremists" for recruitment purposes.
The FBI's interactive website, called "Don't Be a Puppet: Pull Back the Curtain on Violent Extremism," leads a viewer through a series of games and tips in order to teach what methods a radical group might use to recruit them. With each successful answer, scissors cut a puppet's string until the puppet is free.
The site's five sections try to explain the following: "What is Violent Extremism, Why Do People Become Violent Extremists? What are Known Violent Extremist Groups? How Do Violent Extremists Make Contact? And Who Do Violent Extremists Affect?"
Source: rt.com
---
War
Yats Is Out: Victoria Nuland's Appointed Prime Minister Of Ukraine Is About To Replaced
 Ukrainian billionaire president Petro Poroshenko called on Prime Minister Arseniy Yatsenyuk to resign and urged the formation of a technocratic government to end a political crisis and reignite an overhaul of the economy.
Update: Ukrainian deputies collected 159 signatures, more than 150 required, which will enable them to proceed w/ no-confidence vote in Prime Minister Arseniy Yatsenyuk's cabinet,  ,This means Yats is out.
Source: zerohedge.com
Months After Welcoming 100,000 Refugees To The U.S. John Kerry Warns Migrants Pose An "Existential Threat" To Europe
Numerous studies have found that immigrants bolster growth by increasing the labor force and consumer demand. immigrants generally pay more in taxes than they claim in government benefits. The less skilled often take jobs that are hard to fill, like in child care, for example, which allows more parents to work.
 The U.S. will accept 85,000 refugees from around the world next year, up from 70,000, and that total would rise to 100,000 in 2017,
Kerry warned that the mass influx of refugees and other migrants into Europe spells a "near existential threat" to the continent.
As for Kerry, we find it ironic that the person now warning about refugees posing "a near existential threat" to an entire continent, was just five months ago so very eager to welcome 100,000 Syrian refugees to the US.
Source: zerohedge.com
Russia submits to UN SC "express review" of gross violations of UN Charter by US, UK
Russia has presented at the UN Security Council on Monday an "express review" of the most flagrant cases of disregard for international law by the United States and the UK. The list covering events from the mid-20th century to the present day has been read out by Russia's deputy permanent representative to the UN
Source: tass.ru
Russia has no ship in Caspian Sea that could hit Syrian hospital with ballistic missile – MoD
Russia has no ships in the Caspian Sea fleet that could have hit the Syrian hospital in Idlib province with a ballistic missile, the Russian Ministry of Defense said in a statement,
Ankara has launched an "aggressive information campaign" against Russia to prevent losing control in northern and northwestern Syria, where the Turkish authorities have been "absolute rulers" in the past years, Konashenkov said.
Turkey Will "Definitely" Join Ground Operation In Syria, Accuses Russia Of "War Crimes"
Update: Here are the latest headlines out of Russia where the defense ministry is at wit's end with the Turks.
RUSSIAN DEFENCE MINISTRY SAYS 'TERRORISTS' IN SYRIA'S IDLIB AND ALEPPO PROVINCES CONTINUE TO RECEIVE WEAPONS AND REINFORCEMENTS FROM TURKISH TERRITORY – INTERFAX
TURKEY IS LAUNCHING 'MASSED' ARTILLERY STRIKES ON SYRIAN GOVT FORCES AND 'SYRIA'S PATRIOTIC OPPOSITION' – RIA CITES RUSSIAN DEFENCE MINISTRY
 Russian-backed Syrian pro-government forces have cut off the last supply route, known as the Azaz corridor, linking partially opposition-held Aleppo with Turkey. If the last corridor completely falls, the rebel groups could lose the quarters of Aleppo they currrently control, mostly in the east.

 It means that Assad's regime, backed by Iran and Russia, and the PYD will gain the power to control the entire Turkish-Syrian border
Source: zerohedge.com
Turkey revives plan for safe zone in Syria to stem flow of refugees
Officials call for no-fly zone and ground operation claiming 600,000 Syrians could cross border if Russian airstrikes continue
Turkey is planning to send troops 10km into Syria to establish "a safe zone."
Source: theguardian.com
BREAKING: TIGER FORCES ENTER THE THERMAL POWER PLANT IN EAST ALEPPO
, the "Tiger Forces" – the special forces elite unit of the Syrian Arab Army (SAA) – have just entered in the strategic Thermal Power Plant located in eastern Aleppo.
the Syrian forces entered the station after Islamic State militants fled from their positions witouth fighting.
Source: southfront.org
NATO driving us towards World War 3
The trigger for that war is now being set by NATO member Turkey, which wants to invade neighboring Syria, and which has the support of the Gulf Cooperation Council (including the world's biggest buyer of US weapons, Saudi Arabia) who are massing troops and weapons on Syria's northern border, in preparation for an invasion southward into Syria.
The NATO Treaty in its Article Five, 'Collective Defense', asserts (as summarized by NATO): Collective defense means that an attack against one Ally is considered as an attack against all Allies.
In other words, when Syria and Russia respond to Turkey's aggression by counter-invading Turkey, the entire NATO alliance are automatically Treaty-obligated to 'defend' Turkey from that justified invasion of Turkey by Syria and by Syria's Russian ally.
Source: hangthebankers.com
World War III Approaches: Saudi Arabia And Turkey Drop Hints That An Invasion Of Syria Is Imminent
This is the list of nations that are reportedly participating in these "exercises" so far…
-Saudi Arabia
-Jordan
-Bahrain
-Senegal
-Oman
-Qatar
-United Arab Emirates
-Sudan
-Kuwait
-the Maldives
-Morocco
-Pakistan
-Chad
-Tunisia
-Comoro Islands
-Djibouti
-Malaysia
-Egypt
-Mauritania
-Mauritius
 350,000 soldiers, 20,000 tanks, 2,450 warplanes and 460 military helicopters are reportedly gathering for these "military exercises".
Source: theeconomiccollapseblog.com