Podcast: Play in new window | Download (Duration: 39:24 — 46.6MB)
Hong Kong government released a report confirming Bitcoin is only a medium to low risk of being used for financial crimes. ADP prints a very weakest job gain, the economy is manipulated and these job number, gdp and other stats are created to make the country believe that we are in a recovery. Ford is restructuring and will be cutting thousands of jobs.Interest rates are increasing rapidly throwing many individuals out of the market, this will not end well. Fed is moving to a new platform, it isn't blockchain it is electronic money which they are going push to make everyone believe its something different than what we were using.The establishment is already pushing the agenda that the economy is not that strong under Trump.Mueller's questions were leaked on purpose to show that these questions have nothing to do with collusion. Facebook will tell you who to trust when it has to do with news. Skripal case falling apart. Hostages are being released in NK. ICRC reports that Syria is not being split up. German foreign minister says we need to look at the Iranian deal, this is the beginning. The plan moves forward.
Check Out The X22 Report Spotlight YouTube Channel –  X22Report Spotlight
Please check Newzsentinel.com for the latest news on the economic collapse. The Sentinel Alerts are updated throughout the day. If you haven't already, go to "The People" and join the community of people who are helping each through the economic collapse.
---
Current News – 05.02.2018
---
Economy
The Hong Kong Financial Services and Treasury (FSTB) released a report yesterday, April 30, on the status of money laundering (ML) and terrorism financing (TF). The report concluded that virtual currencies (VC), like Bitcoin (BTC), are not particularly involved in either type of financial crime.
The FSTB notes that "although there is inherent ML/TF vulnerability related to VCs":
"There does not seem to be any visible impact affecting the overall risk in Hong Kong so far. The risk of VCs is assessed as medium-low."
The report does mention the use of cryptocurrencies in Ponzi schemes and cybercrimes – specifically mentioning the WannaCry attack – citing 167 Bitcoin (BTC) related police reports from 2013-2017.
Keep this in mind because later we will discuss what the Fed plans on doing, remember they have been demonizing gold/silver and cryptocurrencies because they don't want people to catch to what they really are.
Source: zerohedge.com
Following March's big disappointment in BLS (and surge in ADP), perhaps today's better than expected print for April of +204k (+198k exp) is less relevant than ever. Service-providing jobs rose 160k, goods-producing rose 44k, and March's hot number was revised lower (from 241k to 228k).
.
 something odd has happened since President Trump was elected – ADP is constantly over-optimistic relative to BLS data, the exact opposite of its regime during Obama's tenure.
Source: zerohedge.com
Ford announced that it is hacking off a large portion of its business – a move that will make the company 90% reliant on its pickups, trucks, SUVs and commercial vehicles – by the year 2020. The company is targeting $25.5 billion in cost cuts by the year 2022.
It is a drastic move, as the company will be phasing out sedan models that have a long history with the company, including models like the recently revamped Ford Taurus.
We are in the midst of watching the subprime auto lending bubble burst in its entirety. Smaller subprime auto lenders are starting to implode, and we all know what comes next: the larger companies go bust, inciting real capitulation.
Source:zerohedge.com
this was fast. The average interest rate for 30-year fixed-rate mortgages with conforming loan balances – $453,100 or less with 20% down) jumped to 4.80% for the week ending April 27, from 4.73% in the prior week, and from 4.66% two weeks ago, the Mortgage Bankers Association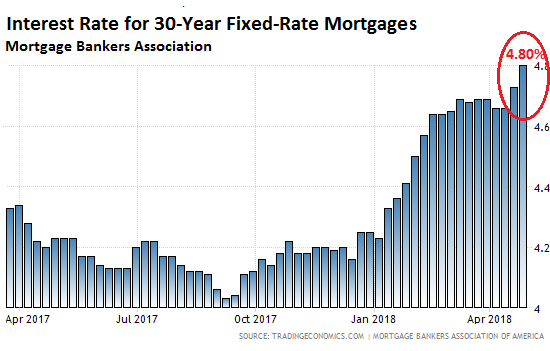 At 4.80%, the average 30-year fixed rate is now equal to the highest rate since September 2013. And the last time, the rate was higher than 4.80% was in 2011 (chart via Trading Economics):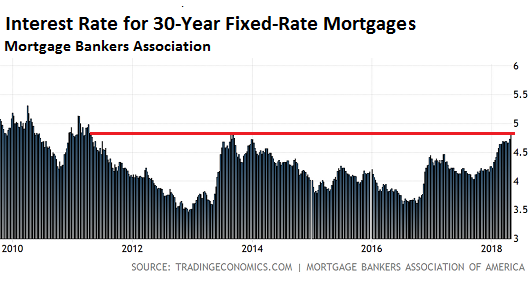 At 5.2%, the average mortgage rate will hit the highest level since 2010; 5.5% would take it to the highest level since 2008.
The big difference between 2010 and now, and between 2008 and now, is that home prices have skyrocketed since then in many markets – by over 50% in some markets, such as Denver, Dallas, or the five-county San Francisco Bay Area, for example, according to the Case-Shiller Home Price Index. In other markets, increases have been in the 25% to 40% range.
Source: wolfstreet.com
US MBA mortgage applications w.e. 27 April -2.5% vs prior -0.2%

Federal Reserve should give everyone checking accounts, new study says
 the Federal Reserve was open to the prospect of launching a cryptocurrency made headlines late last year, but what is actually much likelier is that the Fed will create "central bank electronic money for all," researchers at the St. Louis Fed
The latter would also be easy to implement. The Fed would only need to allow households and firms to open accounts with it, which would allow the central bank to make payments with Fed-issued electronic money instead of commercial bank deposits.
"A large part of the population will consider [Fed electronic money] a close substitute for cash, and this will make it easier to say goodbye to cash,"
For instance, legislation introduced last week by Sen. Kristin Gillibrand calls for the 36,000 post offices around the U.S. to add basic banking services, such as savings and checking accounts and short-term loans. It aims to reach a still significant number of unbanked and underbanked Americans with an offering similar to that of postal systems overseas. With the bill, the New York Democrat said she hopes to "wipe out" the so-called payday lenders that charge interest rates well above prevailing bank rates.
The new alternative form of electronic money would have a disciplinary effect on commercial banks. They would be forced to alter their business models to attract depositors; for example, taking fewer risks or holding more capital and offering higher interest rates.
The Fed could set the interest rates on the household accounts as its main policy tool.  Fed wants more control

The chatter that the Fed is eventually going to issue a crypto fashioned after bitcoin BTCUSD,

+1.16%

is "naive," according to Berentsen.
Central banks just don't want to get into the business of issuing anonymous virtual currency that could be used by a drug cartel to launder money, he said.
Source: marketwatch.com
Trump has not made the economy great again
The economy, according to initial estimates, has grown 2.9 percent the past year, but that doesn't mean that President Trump has made it great again. Not even close.
  Jason Furman, who was an adviser to President Barack Obama, points out, gives you a better idea of what the final GDP numbers will end up being revised to than the initial ones do themselves. And it's why you should be pretty skeptical of all the headlines saying that the economy is expanding at a pace of almost 3 percent.
  All of that slower growth last year, then, means that the economy is probably chugging along at the same 2 to 2.5 percent annual pace that it has been for most of the recovery. That makes sense when you consider that job growth hasn't sped up since Trump took office but has slowed a little.
 even if the Trump tax cuts do increase growth in the short term, they won't after that. Long-term growth, after all, is really about how many more people are working and how much more work they can do every day. In other words, how much the workforce and productivity are growing. Recently, neither has grown much. Labor force growth has slowed considerably for the very predictable reason that the baby boomers are now retiring en masse,
Source: washingtonpost.com
---
Political/Rights
Leaked Mueller questions prove investigation is a witch-hunt – Mueller wants to take Trump down, but doesn't have the evidence to do so
Trumps team might have leaked the mueller questions . These provide a fascinating insight into the state of his inquiry.Here is my take on these questions:

(1)

Robert Mueller is in possession of no facts which have not previously been made public

Every single one of the questions is obviously drawn on information which has already been made public and which has been widely discussed.The New York Times claims one exception.
What knowledge did you have of any outreach by your campaign, including by Paul Manafort, to Russia about potential assistance to the campaign?
Concerning which question The New York Times has this to say
This is one of the most intriguing questions on the list. It is not clear whether Mr. Mueller knows something new, but there is no publicly available information linking Mr. Manafort, the former campaign chairman, to such outreach. So his inclusion here is significant. Mr. Manafort's longtime colleague, Rick Gates, is cooperating with Mr. Mueller. (bold italics added)
  it is simply not true that there has been "no publicly available information linking Manafort to outreach to Russia".On the contrary that "publicly available information" has existed since the summer of 2016, was made "publicly available" in February 2017, and has been the subject of exhaustive discussion ever since.It is of course the Trump Dossier, in which Manafort plays a starring role as the mastermind of the supposed conspiracy between the Trump campaign and Russia.It seems that now that the Trump Dossier is publicly discredited The New York Times – Stalinist style – treats it as if it doesn't exist.An interesting approach from the "paper of record".

 

Donald Trump continues to be Robert Mueller's target

Recently there have been media reports that Robert Mueller's investigators have informed Donald Trump that he is not a target of the Mueller investigation.The highly aggressive questions Mueller wants to ask Trump however tell a very different story.


 

Obstruction of Justice has replaced collusion with Russia as the focus of the Mueller probe

  Remember Comey's memo and notes
  Trump neither instructing Comey nor requesting Comey to drop the investigation against Flynn, nor of Trump putting pressure on Comey to do so, but merely shows Trump expressing the "hope" Comey would do so, in any sane world no charge of obstructing justice or of perverting the course of justice brought upon it could possibly stick.
So, 

The collusion narrative has collapse, The House Intelligence Committee reported that there was no collusion
.Donald Trump has repeatedly referred to Mueller's investigation as a witch-hunt, and he is right.The questions Mueller is seeking to ask Trump confirm as much.
Source: sott.net
  Mueller Requests Michael Flynn Sentencing Be Delayed Two Months
Special Counsel Robert Mueller on Tuesday requested that sentencing for former Trump national security adviser Michael Flynn be delayed by at least two months.

Mueller's team and attorneys for Flynn submitted that Flynn is not ready for sentencing "due to the status of the special counsel's investigation," according to a court filing in U.S. District Court in Washington, D.C.

Source: thegatewaypundit.com
1281
 What was completed and released today? Re: Flynn? "Done in 30." Expand. Q
---
Geopolitical/Police State
Facebook will rank news sources by 'trust' – but who does Facebook trust?
Facebook will now rank news sources by "trustworthiness," promoting or suppressing content based on this criterion. However, news organizations enlisted to help define what "trustworthy" is seem to reveal a strong political bias.
 the company has already gathered data from users, who it asked to identify various news brands and score them by trust.
"We put [that data] into the system, and it is acting as a boost or a suppression, and we're going to dial up the intensity of that over time,"  "We feel like we have a responsibility to further [break] down polarization and find common ground."…. So we will choose what you want to see

So here are the new organizations the New York Times, CNN, the Wall Street Journal, NBC, Recode, Univision, Barron's, the Daily Beast, The Economist, the Huffington Post, Insider, The Atlantic, the New York Post, and others. Same exact players repeating the samething    
Source: rt.com
Skripal case: British confirm they have no suspect; Yulia Skripal vanishes, no word of Sergey Skripal
A week ago the British media were full of reports from the usual anonymous sources of a breakthrough in the Skripal case.
Allegedly the British authorities by comparing CCTV pictures from Salisbury and details of travellers to and from Britain had been to identify the persons who were supposedly responsible for the attack on Sergey and Yulia Skripal.
Police and intelligence agencies have failed so far to identify the individual or individuals who carried out the nerve agent attack in Salisbury, the UK's national security adviser has disclosed.
 we have heard nothing directly from Yulia Skripal at all, and there is no information about her whereabouts.
Instead we have heard at second hand and from the usual anonymous sources the strange story from a week ago of her unsuccessful attempts since her discharge to contact her fiancé Stepan Vikeev in Russia.
Meanwhile of Yulia's father Sergey Skripal we have heard nothing since 7th April 2018, when he was reported to be recovering strongly.
There is however no information about his present condition, though he is still presumably a patient in Salisbury Hospital.  I say this because there is no word that he has been discharged.

Source: theduran.com
---
War
"The US is currently pushing for Panmunjeom and North Korea for Pyongyang as the site of the summit," a source in Washington who is familiar with developments concerning the summit said on April 30.
Source: zerohedge.com
US Hostages In North Korea May Be Released Soon, Activist Reveals
---
Q