Podcast: Play in new window | Download (Duration: 42:34 — 39.0MB)
UK manufacturing has now been cut in half and the blame goes to China. More people are not counted in the unemployment figures to give the illusion that we are in a recovery. 689,000 native Americans lost their jobs in August. Automobile bubble is about to burst. The revenues of corporations are continually declining. This stock market crash is nothing this is just a little slump compared to the crash that is coming. China is now accelerating the dumping of Treasuries. China is now separating themselves from the private western central banking system. US now pushing to join the Arms Trade Treaty to remove the weapons from the American people. Canada's Bill C-51 will turn Canada into a fascist country. Ukraine might default on Russia bonds. Putin moving his chess pieces in Syria to put US on the defensive. US says Russia's interference in Syria might cause bigger problems, like destroying the US proxy army otherwise known as ISIS. Troops are now being prepared to march into Syria.
Check Out The X22 Report Spotlight YouTube Channel –  X22Report Spotlight
Please check the Sentinel Alerts for the latest news on the economic collapse. The Sentinel Alerts are updated throughout the day. If you haven't already, go to "The People" and join the community of people who are helping each through the economic collapse.
---
Current News – 09.07.2015
---
Economy
UK manufacturing hit by turmoil in China
a leading business group will warn on Monday as it slashes its outlook for the sector for UK manufacturers
The trade group is halving its growth forecast for manufacturing this year to 0.7% from 1.5%, citing a "rollercoaster of risks" that include renewed eurozone tensions and a slowdown in emerging markets, particularly China.
For the first time in more than two years, there were more companies reporting a drop in output than a rise,
Source: theguardian.com
If You Want To Know The Truth About The Unemployment Rate Read This
The Obama administration is telling us that the unemployment rate in the United States has fallen to 5.1 percent, but does that number actually bear any resemblance to reality? 
 the lowest since April 2008.
But do we actually have anything close to "full employment" in this country?
Of course not.
The truth is that the only way they have been able to get the official "unemployment rate" to steadily go down over the past few years is to eliminate hundreds of thousands of Americans that are chronically unemployed from the official labor force numbers every month. 
The fact is that 220,000 more Americans entered the work force in August. According to this survey, 196,000 more Americans were employed. In the real world this would result in the unemployment rate going UP. Not in the Bizarro world of the BLS. They expect us to believe that 261,000 Americans, of their own free will, voluntarily left the workforce in August because they don't need a job to pay the bills, feed themselves, and keep a roof over their heads.
Source: endoftheamericandream.com
698K Native-Born Americans Lost Their Job In August: Why This Suddenly Is The Most Important Jobs Chart 
 in August a whopping 698,000 native-born Americans lost their job. This drop was offset by 204,000 foreign-born Americans, who got a job in the month of August.
Source: zerohedge.com
Why The New Car Bubble's Days Are Numbered 
Automakers just unleashed a massive production surge to keep the dream alive… With inventories at record highs (having risen for 61 straight months)… Which would be fine if sales were keeping up – but they are not…

Edmunds.com estimates that around 28% of new vehicles this year will be leased – a near-record pace…

Which means… 13.4 million vehicles (leased over the past 3 years in The US) – compared with just 7 million in the three years to 2011 – are set to spark a massive surplus of high-quality used cars.

The only way automakers are making sales is by lowering credit standards to truly mind-numbing levels and increasing residuals to make the monthly nut affordable…. that cannot last.
Inventories of luxury high-quality used cars is at record highs and prices are tumbling.
And July saw a massive surge in producton.
What comes next is simple… a production slump

Source: zerohedge.com
Now that 495 of the S&P 500 companies have reported second quarter earnings, something has become abundantly clear: 2015 is going to be a nasty year for corporate revenues.
Blended revenue for the S&P 500 companies dropped 3.4% in Q2, according toFactSet. "Blended" because it includes estimates for the five companies that have not yet reported. This follows the first quarter, during which reported revenues also declined. The last time year-over-year revenues declined two quarters in a row was in Q2 and Q3 2009 during the Financial Crisis.
Analysts liberally blame the strong dollar. It's convenient. But numerous companies that mostly benefit from the strong dollar, such as GM (more on that in a second), still reported shrinking revenues in the quarter.
Here is a sample of revenue losers:
Caterpillar (-13%), Dow Chemical (-13%), MetLife (-12%), Microsoft (-4%), Intel (-5%), International Paper (-21%), JPMorgan Chase (-3%), Johnson Controls (-11%), Oracle (-5%), PepsiCo (-6%), Pfizer (-7%), Procter & Gamble (-12%), Union Pacific (-10%)….
Then there's former tech darling QUALCOMM (-14%), insurer ALFAC (-9%), and of course IBM, always, at least for longer than anyone can remember, well, for the thirteenth quarter in a row, strong dollar, weak dollar, hot China, cold China, nothing matters…. Its revenues decline through thick and thin, this time -15%.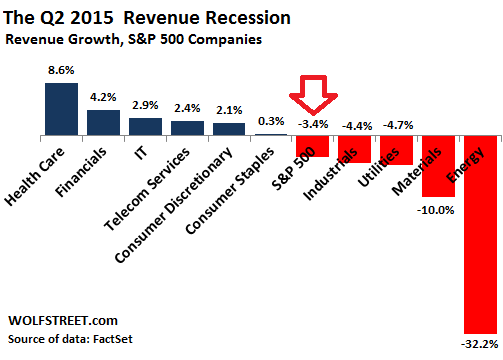 Four quarters in a row of declining year-over-year revenues! That sort of long-lasting revenue recession would take us back to the bowels of the Financial Crisis.
Source: wolfstreet.com
Jim Rickards: The US Economy Weak And Getting Weaker
If You Think That Was A Crash…
After this modest pullback from all-time highs, the S&P 500 is still overvalued by 92%:
It is time to assume crash positions because we have not experienced anything approaching a crash thus far. We've hit nothing but an air pocket.  As Dr. Hussman points out so succinctly, market crashes do not happen at the peak. There is usually an initial 10% to 14% decline as the smart money exits stage left, then the lemming dip buyers pile in and drive the market back up, but fail in bringing it above the initial high. It's only then that sentiment deteriorates, support levels are broken, and all hell breaks loose. That time is coming.
 Source: zerohedge.com
The Elite Have Prepared For The Coming Collapse – Have You?
The global elite buying extremely remote compounds that come with their own private airstrips in the middle of nowhere on the other side of the planet?  And why did they start dumping stocks like crazy earlier this year? 
The so-called smart money is pulling back from market risk, with fund managers taking down exposure to stocks, increasing cash holdings and buying protection against a sharp selloff.
Robert Johnson, president of the Institute of New Economic Thinking, told people at the World Economic Forum in Davos that many hedge fund managers were already planning their escapes.

He said: "I know hedge fund managers all over the world who are buying airstrips and farms in places like New Zealandbecause they think they need a getaway."
Keep in mind that these are not just some rumors that Robert Johnson has heard.  These are people that he knows personally and that he interacts with regularly.
Source: theeconomiccollapseblog.com
The Numbers Are In: China Dumps A Record $94 Billion In US Treasurys In One Month
the pace at which Beijing is burning through its USD assets in defense of the yuan has serious implications not only for investors' collective perception of market stability, but for yields on core paper, for global liquidity, and for US monetary policy. 
On Monday we got the official data from China and sure enough, we find out that the PBoC liquidated around $94 billion in reserves during the month of August  the "real" figure might have been closer to $115 billion.
Source: zerohedge.com
---
Rights
U.S. Official: "Energetically" Enforce UN Arms Trade Treaty
 representatives of the U.S. government met with delegations from other countries to gauge just how far America is willing to go in letting the United Nations repeal the right of Americans to keep and bear arms.
Assistant Secretary of State Thomas Countryman (shown above) represented the United States at the conference. He made it very clear in his official statement that he was on board with accelerating the move to give teeth to this globalist gun grab.
"We are here to take foundational decisions to operationalize this Treaty, to turn it from mere words on the page into a reality that makes a difference around the world. We are here to breathe life into this Treaty by standing up its international operation," Countryman declared.
As of today, the United States Senate has not ratified the treaty, but the Obama administration seems set on changing that before the president leaves office. There is only little more than a year left, then, to completely disengage the United States from this multinational morass and unconstitutional mass confiscation of firearms. Perhaps knowing a few of the ATT's key provisions will convince more Americans to join the fight to protect the Second Amendment.
First, the Arms Trade Treaty grants a monopoly over all weaponry
the treaty leaves private citizens powerless
Article 2 of the treaty defines the scope of the treaty's prohibitions. The right to own, buy, sell, trade, or transfer all means of armed resistance, including handguns, is denied to civilians by this section of the Arms Trade Treaty.
Article 3 places the "ammunition/munitions fired, launched or delivered by the conventional arms covered under Article 2" within the scope of the treaty's prohibitions, as well.
Article 4 rounds out the regulations, also placing all "parts and components" of weapons within the scheme. Article 5. Under the title of "General Implementation," Article 5 mandates that all countries participating in the treaty "shall establish and maintain a national control system, including a national control list."
Although Americans have allowed this right to be redefined by Congress, the courts, and the president, the plain language of the Second Amendment explicitly forbids any infringement on this right that protects all others.
In fact, the reason for inclusion of the Second Amendment in the Bill of Rights had little to do with the British and more to do with future attempts by an out-of-control, all-powerful central authority disarming the American people as a step toward tyranny.
Source: thenewamerican.com
FBI: AUGUST 2015 WAS BIGGEST AUGUST FOR BACKGROUND CHECKS EVER
According to the  FBI, August 2015 was the biggest August on record for background checks for gun purchases.
WTHR reports FBI figures showing "1.7 million background checks" for August. This is the largest number of background checks for any August since background checks began in 1998.
With 1.7 million background checks in August, it is important to note that those who pass checks can buy multiple guns. So 1.7 million may not even come close to representing the real number of guns that were sold in August.
Source: breitbart.com
Glenn Greenwald Debates Keith Alexander
Alexander said that he's not in favor of back doors in security systems, but wants some kind of "front door." FIB Director Comeyplays this wordgame too:
There is a misconception that building a lawful intercept solution into a system requires a so-called "back door," one that foreign adversaries and hackers may try to exploit.

But that isn't true. We aren't seeking a back-door approach. We want to use the front door, with clarity and transparency, and with clear guidance provided by law. We are completely comfortable with court orders and legal process–front doors that provide the evidence and information we need to investigate crime and prevent terrorist attacks.
They both see a difference here. A back door is a secret method of access, one that anyone can discover and use. A front door is a public method of access, one that — somehow — no one else can discover and use. But in reality, there's no difference. Technically, they're the same: a method of third-party data access that works despite the intentions of the data owner.
Source: schneier.com
---
Police State
Bill C-51 transforms Canada into a fascist state
Recently, preeminent Canadian constitutional lawyer Rocco Galati demonstrated that Bill C-51—which is now law—transforms Canada into a fascist state, complete with a modern day Gestapo.
Galati explains the powers and consequences of C-51 in these words:
It takes all our private information and shares it with all government agencies, including foreign government. For some citizens that becomes an eventuality of torture and/or death when travelling abroad.
It restricts arbitrarily who can travel.
Freedom of expression and political criticism with respect to "terrorism and the government's role" (becomes) a terrorist offence in itself. So words and thoughts become an act of terrorism under this bill.
It allows CSIS to disrupt covertly constitutionally-protected rights of association, expression, and protest.
It does all of this by taking away all and any transparent judicial oversight.
He says that "We've entered into the final fascist state."[i]
Canada is not alone. Similar legislation is being passed in other "Western" countries, including France, Australia, the US, UK, Germany, and Italy.[ii] It's going global.
Consider the examples of Iraq, Libya, Syria, and Venezuela:
Ghali Hassan reports in "Living Conditions In Iraq: A Criminal Tragedy"[viii] that, prior to 1991, Iraq had one of the best health care systems in the Middle East, and one of the best education systems, as well as modern sanitary and water infrastructure systems. He reports that Iraq ranked 50 out of 130 in the United Nations Development Program (UNDP) Human Development Index.
This author reports that prior to the NATO invasion, Libya[ix] had the highest standard of living in Africa, a high Human Development Index (HDI),ranked above the regional average, free public healthcare, free public education, 89% adult literacy rate
"Syria was formerly one of the fastest developing countries in the world, and one of the safest. We have free education and health care. We did not know poverty; we grew our food and produced our own clothing. At universities, 55 percent of the students were women."
Source: intrepidreport.com
---
War
South Korea, US Launch War Games Against Biological Attacks
"The latest South Korea-US biological defense exercise will examine and enhance the countries' combined response system regarding the naturally- or intentionally-raised biological threats that can take place on the Korean Peninsula," the ministry said in a press release.
Source: sputniknews.com
Ukraine Prepares to Default on its Russian Loan
Ukraine's failure to secure a bigger haircut on its private debt means that it now has no alternative but to default on its loan to Russia.
The only question is whether the IMF will then break its rules and continue to support it
Since the debt was made to Ukraine out of Russia's National Welfare Fund, agreeing to restructure it might be contrary to Russian law.The Ukrainians are now all but saying that if the Russians won't restructure it, they will default on it.That throws the ball directly back into the IMF's court .
Source: russia-insider.com
Kiev to Ignore Russia's Remarks on Constitution Amendments – Poroshenko
Kiev will not take into account Russia's comments on the participation of Donetsk and Luhansk in the process of amending the Ukrainian Constitution on decentralization, President Petro Poroshenko said Sunday.
"We have fulfilled our obligations regarding the start of the constitutional process
"If there are elections, we will negotiate and reach an agreement with the international coalition in support of Ukraine concerning the extension and deepening, expansion and increase of sanctions," Poroshenko stated.
Poroshenko mentioned "Plan B" on which he is working.
"Plan B is what I am busy working on right now, although I still have hopes and am doing my best to… return Ukrainian territories under Ukraine's control," the president said.
Source: sputniknews.com
Gaza water crisis worsens under Israel blockade: Report
Water problem in the Gaza Strip is deteriorating following three destructive wars and eight years of Israeli-imposed blockade, with Palestinians saying they can no longer drink, cook or wash with the water, a report says.
According to a recent UN report, over 90 percent of Gaza's water is undrinkable and the Palestinian territory has only one source of fresh water that is a coastal aquifer beneath the ground and shared with Israel and Egypt.
The document by the United Nations Conference on Trade and Development (UNCTAD) also said that Gaza will become uninhabitable by the end of the decade in 2020.
Source: presstv.ir
'Step towards normality'? Austria plans to shut emergency corridor for refugees
Austria and Germany have acted quickly and humanely in an emergency situation to help around 12,000 refugees, but now the time has come to move back towards "normality" and reinstate proper border controls, the Austrian chancellor has announced.
The emergency measured negotiated by Berlin and Vienna on Friday have allowed over 12,000 desperate refugees, stuck in the Hungarian capital and elsewhere across the country, to be swiftly transferred to Germany.
Hungary criticised Germany, which itself is due to welcome 800,000 asylum seekers by the end of the year, for accepting requests,
Source: rt.com
11,000 Icelanders Offer To House Syrian Refugees
The Icelandic government is reconsidering its national refugee quota after a social media campaign resulted in over 11,000 Icelanders offering up a room in their homes to refugees.
Source: zerohedge.com
UK to accept up to 20,000 Syrian refugees – PM David Cameron
Prime Minister David Cameron has pledged to accept 20,000 refugees from Syria and other war-torn countries over the next five years in response to the escalating crisis in the Middle East and North Africa.
Source: rt.com
France to take in 24,000 refugees over next two years
France is to accept 24,000 refugees over the next two years as requested by the European Commission, French President Francois Hollande has announced during his biannual press conference.
According to the UN Refugee Agency, more than 300,000 people have risked their lives to cross the Mediterranean Sea so far this year.
Source: middleeastmonitor.com
Qatar sends 1,000 ground troops to Yemen battle: Al-Jazeera
Qatar has sent around 1,000 ground troops to Yemen,
Military sources said Qatari forces were on their way to Yemen and preparing to join a new push on Houthi positions in the capital Sanaa
Source: dailystar.com.lb
ISIS captures parts of key regime-held Syria oilfield
ISIS fighters have seized an oil field in a vast desert area of central Syria where the army has been battling to regain ground from the ultra hardline militants
The Britain-based Syrian Observatory for Human Rights said Jazal, a medium-sized field that lies to the north west of the Roman ruin city of Palmyra, was now under the "full control" of the militants
Source: dailystar.com.lb
Russian Military Presence In Syria Risks "Confrontation" With US-Backed Forces, Kerry Warns Lavrov
US intelligence has captured evidence of a significant escalation of Russia's military engagement in Syria's civil war, including satellite images of an apparent Russian base for staging troops and heavy equipment under construction near a port city that is a stronghold for Syrian President Bashar Assad, U.S. officials say.
 The State Department says "the secretary made clear that if such reports were accurate, these actions could further escalate the conflict, lead to greater loss of innocent life, increase refugee flows and risk confrontation with the anti-ISIL coalition operating in Syria."
Source: zerohedge.com
DEMPSEY: RUSSIAN INVOLVEMENT IN SYRIAN ISIS FIGHT 'COULD COMPLICATE THINGS'
Chairman of the Joint Chiefs of Staff U.S. Army Gen. Martin Dempsey said
"If they occupy an airfield and conduct a train and equip program for the Syrian regime, that's one thing; if they actually participate in the campaign against what they believe to be ISIL it could complicate things,"
Source: breitbart.com
Lavrov tells Kerry discussing Russia's participation in operations in Syria premature
Russian Foreign Minister Sergey Lavrov has told US Secretary of State John Kerry that Moscow had never concealed its supplies of military equipment to Damascus for struggle against terrorism,
"In the course of the telephone conversation Kerry asked Lavrov for details about Russian assistance to the Syrian government in the struggle with terrorists. The Russian Foreign Minister confirmed that such assistance had been provided on all occasions and continued to be provided at the moment and that Russia had never made a secret of the supplies of military hardware to the Syrian authorities for struggle against terrorists," Zakharova said.
Source: tass.ru
EU Lawmaker Praises Idea of Anti-Terrorism Coalition Proposed by Putin
The international anti-terrorism coalition proposed by Russian President Vladimir Putin could be the first step toward peace and stability in the Middle East, an EU Parliament member
"We are in favor of an international peace movement that involves each country, including Russia of course, that makes any kind of efforts in order to establish peace and order in the area through the use of political and diplomatic means
Source: sputniknews.com
Greece confirms US asked to close airspace to Syria-bound Russian aid flights
The Greek Foreign Ministry has confirmed receipt of a request from Washington, asking that Russia be denied use of Greek airspace for aid flights to Syria, Reuters reported.
The announcement came from the Greek Foreign Ministry spokesman, who added the US request was being considered.
Greece had refused to close its airspace to Russian planes carrying humanitarian aid to Syria.
Source: rt.com
Plan B: Russia May Use New Aid Flight Routes to Syria Bypassing Greece
The Russian senator stressed that there Iran, Turkey and Central Asian states may assist Russia with regard to its humanitarian mission in Syria.
Commenting on the US' request to close Greek airspace to Russian humanitarian flights to Syria, the Russian senator said that Washington "is afraid of any assistance that Russia is providing to the Syrian people."
Source: sputniknews.com
Hollande's response to Europe's biggest refugee crisis since World War II by increasing the bombing of the very place from which the refugees are fleeing…
Source: zerohedge.com
Syria crisis: Government to make case for military action with vote as soon as next week
Syria Condemns Any UK Military 'Interference'
Syria has accused the UK of "interference" following reports the Government is seeking to persuade Labour MPs to back airstrikes in Syria.
The Syrian foreign ministry has sent two letters to United Nations chiefs objecting to "brazen standpoints" taken by British officials and accusing the UK of a "colonialist" agenda,
Source: news.sky.com
Troops May Be Needed In Syria, Says Senior MP
A senior Conservative MP has told Sky News that airstrikes on Islamic State in Syria may not be enough to restore peace –
Source: news.sky.com
U.S. rethinks strategy for battling Islamic State in Syria: NYT
The United States is rethinking its strategy for battling the Islamic State in Syria  the Pentagon looking into moving more fighters into safer zones, providing better intelligence and improving the skills of trained rebels.
The options, which are classified, are circulating among top officials at the Department of Defense, the newspaper reported, citing sources who spoke on condition of anonymity.
They include enlarging the size of the groups of trained rebels sent back into Syria and shifting the location of the deployments to places where there is more local support,
Source: reuters.com
---
Cyber Attacks
CyberWar & The False Comfort Of Mutually Assured Destruction
The next level of sophistication is a cyberhack, in which the target, say, a bank account record file or a stock exchange order system, is actually penetrated. Once inside, the attacking cyberbrigade can either steal information, shut down the system, or plant sleeper attack viruses that can be activated at a later date.
In 2010, the FBI and Department of Homeland Security located such an attack virus planted by Russian security services inside the Nasdaq stock market system. You have probably noticed that unexplained stock market outages and flash crashes are happening with increasing frequency.
The most dangerous attacks of all are those in which the enemy penetrates a bank or stock exchange not to disable it or steal information but to turn it into an enemy drone. Such a market drone can be used by attackers for maximum market disruption and the mass destruction of Americans' wealth, including your stocks and savings.
An attack of this type would be launched on a day when the market was already down 3% or more, about 550 points on the Dow Jones index. 
The result could be a market decline of 20% or more in a single day, comparable to the stock market crash of October 1987 or the crash of 1929
Source: zerohedge.com
---
False Flags
Another Chinese Chemical Plant Explodes, Huge Clouds Of Black Smoke Billow Skyward
An explosion shook a chemical plant in the Chinese province of Zhejiang, 
The blast caused a fire and thick smoke to bellow from the plant in Lishui city shortly before midnight, 

Source: zerohedge.com