Podcast: Play in new window | Download (Duration: 52:08 — 54.3MB)
Trump and the patriots are bringing manufacturing back to this country. Ford announces 1 billion dollar investment in the Chicago plant, new jobs. Trump is taking on the [CB] and [DS] at the same time. Once the [CB] system is removed the [DS] will not be able to function. Patriots are in control. Judge orders warrant of the Cohen raid made public. Trump trolls Elizabeth Warren. Trump tweets how there is no evidence of Russian collusion. The Mueller report is going to be released very soon. Trump says NK will be an economic force. Trump orders the troops home from Syria. Q is back and drops more bread. Q confirms RBG, tells us the countdown has begun. Optics are important. The [DS] and the MSM are believe they have the upper hand but its about to come down around them. The countdown has begun and nothing can stop it.
Check Out The X22 Report Spotlight YouTube Channel X22Report Spotlight
Please check Newzsentinel.com for the latest news on the economic collapse. The Sentinel Alerts are updated throughout the day. If you haven't already, go to "The People" and join the community of people who are helping each through the economic collapse.
---
Current News – 02.10.2019
Watch The X22 Report On Video
---
Economy
Ford Announces Additional $1 Billion Investment in Chicago Plant – 500 New Jobs…
  Only a few years ago the 'best play' for auto executives was shifting manufacturing overseas or to Mexico.
Today, with the advent of a comprehensive energy policy, enhanced U.S. investment incentives, re-prioritized trade expectations, focused tariffs, lowered regulations, and expanded  economic freedom allowing consumer demand to drive investment decisions, the entire landscape of a massive industry shifts
Ford said Thursday it will hire 500 workers and invest $1 billion in its Chicago assembly operations to help keep up with booming demand for sport and crossover-utility vehicles.
The announcement comes on the heels of cross-town rival GM axing 4,000 workers, and is part of the $11 billion restructuring Ford announced last fall that includes dropping all passenger car models except the iconic Mustang. It is shifting resources to light trucks, like those it is building in the Windy City.

[…] The investment plan will allow Ford to expand capacity for the Explorer as well as the new Explorer Police Interceptor it is launching. Ford has traditionally dominated the market for police vehicles and expects the Interceptor — which debuted last month at the Detroit Auto Show — to expand its hold.

Also scheduled to go into the Chicago Assembly Plant is the all-new Lincoln Aviator, a big, three-row sedan that is winning early praise and could become a critical part of Ford's drive to revive the long-struggling luxury brand.

The $1 billion investment will be used to add "advanced manufacturing technologies," according to company sources, and also to train workers to both boost plant efficiency and improve quality.  (read more)
Source: theconservativetreehouse.com
They are using the same script that they used before with Assad and others, Maduro was blocking aid from the US "out of refusal to relinquish power," preferring to starve "his own people" rather than feed them. I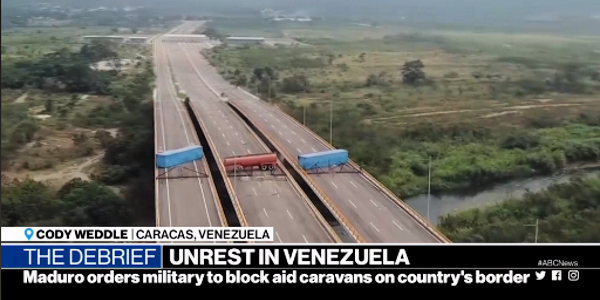 Both the Red Cross and UN warned the US not to engage in this aid PR stunt.
The bridge in question is a visual metaphor  it is of little practical relevance.
The person in charge of US operations in Venezuela has a history of using aid as a cover to deliver weapons to right-wing mercenaries.
  the international aid community not asked for the "aid," earlier this week, both the International Red Cross and United Nations warned the US to explicitly not engage in these types of PR stunts. As Washington Post contributor Vincent Bevins pointed out, the transparent cynicism of these efforts was preemptively warned about by the groups actually charged with keeping starving people fed: 
(2) Despite dozens of media outlets giving the impression (and sometimes explicitly saying) that the Venezuelan government shut down an otherwise functioning pathway into the country, the bridge in question hasn't been open for years.
It's true the Venezuelan government appears to have placed an oil tanker and cargo containers on the bridge to prevent incursion from the Colombian side, but the other barriers, as writer and software developer Jason Emery noted, have been in place since at least 2016.

 So why is this happening, why does it seem like trump wants to have regime change in Venezuela, he doesn't he is now preparing the the country for economic freedom.
What is the source of the DS [CB] power, they need oil, they need countries to pay for the oil using FR debt notes
1. Trump allowing the neocons CB DS do what they do best, regime change
2. Trump is going to allow them to push as hard as possible
3. Trump will tweet out they if Maduro wants to talk he is open to it, but he will wait for some time before he makes the announcement
4. Maduro might say that he will not talk to him, but in reality they are already talking
5. Trump will play with the neocons CB DS making it seem like we are going to war, we will invade
6. Maduro will reach out or Trump will reach out
The purpose of all this is to make a deal with Venezueala, remove the sanctions allow Venenzeula to sell its oil without using the US dollar, this will destroy the CB DS.
1. Middle east, petro dollar coming to an end
2. Venezuela petro dollar coming to an end
3. Next CB

Source: zerohedge.com
---
Political/Rights
Judge orders partial release of documents from Michael Cohen raid
A federal judge in New York on Thursday ordered the partial release of materials related to the FBI raid on properties belonging to Michael Cohen, President Trump's former personal attorney.
U.S. District Judge William Pauley III partially granted a request by numerous media organizations to release search warrants and other materials justifying the raid on Cohen's home, hotel room and office last April. The judge ruled that it is in the public interest for the files be released, with appropriate redactions to protect ongoing investigations and FBI methods and procedures. 

 .

The New York Times, Associated Press and other news organizations had petitioned for the release of copies of search warrants, warrant applications and supporting affidavits and riders in connection with the searches.
The government, meanwhile, opposed the effort, saying it would jeopardize an ongoing investigation and prejudice privacy rights of uncharged third parties. 
The judge ordered prosecutors to submit a sealed copy of materials with proposed redactions by Feb. 28. 
e
Source: thehill.com
President Trump Trolls Fake Indian Elizabeth Warren Hours After She Formally Announces 2020 Presidential Bid
The 2020 Presidential election cycle is going to be so much fun!
President Trump trolled fake Indian Elizabeth Warren just hours after she officially announced her 2020 presidential bid.

The President wondered if Warren was going to run as the first Native American presidential candidate — this was amazing!
TRUMP:  tweeted the following
Today Elizabeth Warren, sometimes referred to by me as Pocahontas, joined the race for President. Will she run as our first Native American presidential candidate, or has she decided that after 32 years, this is not playing so well anymore? See you on the campaign TRAIL, Liz!

— Donald J. Trump (@realDonaldTrump) February 9, 2019
"Elizabeth Warren has already been exposed as a fraud by the Native Americans she impersonated and disrespected to advance her professional career,
She cannot hide, running for the presidency will not protect her or anyone else. They are going to use canidacy and are firewall saying these attacks are being made by Trump because they are running for 2020 presidency.
Source: thegatewaypundit.com
JOHN SOLOMON: Adam Schiff and Glenn Simpson Held UNDISCLOSED MEETING Last Year, Raising Concern Inside House Intel Committee
The new Chairman of the House Intel Committee, Rep. Adam Schiff (D-CA) had an undisclosed meeting with Fusion GPS co-founder Glenn Simpson last July at a security conference in Aspen.
In other words, Congressman Adam Schiff was colluding with Russia-dossier-Hillary Clinton-waterboy Glenn Simpson at the height of the Russiagate cover-up.
Award winning investigative journalist John Solomon reported that there are photographs of Adam Schiff, in sport coat and open-neck dress shirt, and Glenn Simpson, wearing casual attire.
John Solomon reports.
"In the summer of 2018, Mr. Simpson attended a media-sponsored social event where he exchanged small talk with Rep. Schiff and many other people who were in attendance," Fusion GPS said in a statement to me. "The conversation between the two was brief and did not cover anything substantive. There has been no subsequent contact between Mr. Simpson and Rep. Schiff."

The congressman's response was even more vague: "The chairman did not have any pre-planned meeting with Glenn Simpson, and any conversation with him at the Aspen conference would have been brief and social in nature," Schiff spokesman Patrick Boland said.
Under House Committee rules, there is nothing illegal about Schiff's meeting with Glenn Simpson, however, Schiff hit Devin Nunes with an ethics investigation last year for much less.
Schiff hit Nunes with an 8-month long investigation for meeting with a source outside of the committee, calling it "a dead-of-night-excursion" because the committee was not informed.
Mr. Solomon taunted Schiff and tweeted. 
Did Adam Schiff's attack on Devin Nunes just boomerang https://t.co/TACYqrEALD

— John Solomon (@jsolomonReports) February 7, 2019
Trump and the patriots have all know all, the info on these traitors are being leaked out to trap them in their own lies.
Source: thegatewaypundit.com
Trump is continually tweeting out letting the public know that there was no collusion, he is doing this in prepatation for the Mueller collusion report,
The mainstream media has refused to cover the fact that the head of the VERY important Senate Intelligence Committee, after two years of intensive study and access to Intelligence that only they could get, just stated that they have found NO COLLUSION between "Trump" & Russia….

— Donald J. Trump (@realDonaldTrump) February 8, 2019
…It is all a GIANT AND ILLEGAL HOAX, developed long before the election itself, but used as an excuse by the Democrats as to why Crooked Hillary Clinton lost the Election! Someday the Fake News Media will turn honest & report that Donald J. Trump was actually a GREAT Candidate!

— Donald J. Trump (@realDonaldTrump) February 8, 2019
Not only did Senator Burr's Committee find No Collusion by the Trump Campaign and Russia, it's important because they interviewed 200 witnesses and 300,000 pages of documents, & the Committee has direct access to intelligence information that's Classified. @GreggJarrett

— Donald J. Trump (@realDonaldTrump) February 8, 2019
Senator Richard Burr, The Chairman of the Senate Intelligence Committee, just announced that after almost two years, more than two hundred interviews, and thousands of documents, they have found NO COLLUSION BETWEEN TRUMP AND RUSSIA! Is anybody really surprised by this?

— Donald J. Trump (@realDonaldTrump) February 10, 2019
The media leaked Trumps work schedule, they were trying to make it seems he has been doing nothing, but we know how much has been done in such a short amount of time. , Trump tweeted out the following
The media was able to get my work schedule, something very easy to do, but it should have been reported as a positive, not negative. When the term Executive Time is used, I am generally working, not relaxing. In fact, I probably work more hours than almost any past President…..

— Donald J. Trump (@realDonaldTrump) February 10, 2019
….The fact is, when I took over as President, our Country was a mess. Depleted Military, Endless Wars, a potential War with North Korea, V.A., High Taxes & too many Regulations, Border, Immigration & HealthCare problems, & much more. I had no choice but to work very long hours!

— Donald J. Trump (@realDonaldTrump) February 10, 2019
Trump accuses Democratic leaders of poisoning budget talks with 'out of the blue' demand
Crooked Hillary Attacks President Trump: "There's No National Emergency at Our Border" (VIDEO)
Hillary Clinton attacked President Trump's immigration policies in an interview with Showtime's "The Circus" which aired on Friday.
Crooked Hillary responded by saying, "I just don't think you should call national emergencies unless there truly is a national emergency. There's no national emergency at our border."
Hillary added that President Trump is "frustrated" because he can't get his border wall legislation passed through Congress

HRC is panicking, she knows he doesn't need congress, she knows that when the border wall goes up the following happens

1. Drug running comes to an end
2. Gun running comes to and end
3. Human Trafficking comes to an end
4. Illegals in the country to blend the nation for a 3rd world country comes to an end
5. illegal voting comes to an endThis effects everything they created, it all stops, panic
Source: thegatewaypundit.com
---
War
Ahead of a second US-NK summit in Hanoi later this month, President Trump has continued praise the brutal North Korean leader
In a series of tweets sent Friday night, Trump affirmed that the summit would take place on Feb. 27 and 28, something he had previously suggested during his State of the Union speech,
My representatives have just left North Korea after a very productive meeting and an agreed upon time and date for the second Summit with Kim Jong Un. It will take place in Hanoi, Vietnam, on February 27 & 28. I look forward to seeing Chairman Kim & advancing the cause of peace!

— Donald J. Trump (@realDonaldTrump) February 9, 2019
North Korea, under the leadership of Kim Jong Un, will become a great Economic Powerhouse. He may surprise some but he won't surprise me, because I have gotten to know him & fully understand how capable he is. North Korea will become a different kind of Rocket – an Economic one!

— Donald J. Trump (@realDonaldTrump) February 9, 2019
The implication here is clear: Trump has some serious leverage over Kim, as he holds the key to admitting North Korea into the global economy, which could lavish immense economic benefits on the extremely impoverished country. 
Source: zerohedge.com
The Syria withdrawal is happening: Trump's 'eye-to-eye' orders to US generals
 Trump said the following at his State of the Union address that "as a candidate for president, I loudly pledged a new approach…. Great nations do not fight endless wars," he drew a tepid response from Congress. The planned applause line fell discernibly flat.Perhaps that's not a surprise, given that the withdrawal has been condemned by leaders from across the political spectrum – including from Trump's own party.
  the reaction to Trump's decision was so overwhelmingly negative that Washington pundits speculated that it was only a matter of time before Trump "walked back" the decision by slowing the withdrawal – a deferential nod, it was said, to wiser and more seasoned foreign policy veterans. In fact, that not only hasn't happened, the president has dug in his heels, issuing eyeball-to-eyeball orders to military commanders that are anything but ambiguous.
Source: sott.net
---
Q
Optics are important.

when Q goes dark and you here the MSM continue with propaganda many people take this as Trump is losing the war. MSM with their production of a raid on stone, making it seem that Trump people are all being arrested, indictments are coming against Trump and family, this is part of the plan. Optics are important, this is a show, its about controlling the narrative, Trump, Q wants the public to question what is going on,  ask the questions and then look for the real answers. Remember The deep state knows Trump is threat to their corrupt political establishment

Stealth bombers silent?

Re_read Mueller re: 'designed to' drops.

let go to post 2397

What does the  Mueller investigation allow, it allows the anti Trump narrative, it blocks Trumps administration from bringing people to justice, stalls for time, divides the people.  But this is about to end.

Probe conclusion coming?

[-30]

Coincidence 'conclusion' occurring as new AG installed? 

Q is telling us that Muellers probe is going to be concluded with 30 days, think about this How would it be perceived by the public if Trump arrested all those who opposed him while the investigation was going on? It would look like Trump is retaliating and he would look guilty, this is why it had to play out . Optics are important , the arrest couldn't have happened, it would have backfired and the MSM the DS would have taken advantage of this move

What is the purpose of WHITAKER?

Re_read drops re: 'Scaramucci' model.

Purpose?

to removed certain people, RR

Who did Scaramucci remove?

Effective?

Optics important?

What occurs post installed 'BLOCKADE' removal?

DECLAS?

Will begin after Mueller report is released

[RR]

'complete' removal? 

Stealth

Whitaker

OIG release of findings?
How are they preparing to combat [narrative = vital]?
House intel launch of more 'FAKE' investigations in attempt to retain 'FALSE NARRATIVE' and claim 'POLITICAL ATTACK(S)' if investigated/prosecuted themselves? the DS moved the investigations to the House to protect themselves, if Trump prosecutes or even investigates they will say it is political attacks.
[AS]?
[SDNY-AG]?
Attempts to retain 'BLOCKADE'?
Attempts to prevent public release of the TRUTH?
ZERO leaks re: HUBER?
ZERO.
Do not mistake 'public' silence for inaction.
"This is not another 4-year election."
Q
Q

!!mG7VJxZNCI

ID: 32989a

No.3715238 


How do you navigate around installed BLOCKADE?

[

MUELLER]

designed to take-in evidence needed to 'expose' DS [DOJ block re: Mueller 'evidence' ongoing investigation].

[MUELLER] designed to limit POTUS' ability to maneuver.

[MUELLER] designed to 'stall-for-time' until MIDTERM ELECTIONS to TERMINATE all HOUSE / SENATE ongoing investigations.

[MUELLER] designed to 'safeguard' D_PARTY_BASE false narrative re: RUSSIA COLLUSION [POTUS CHEATED – EVIL – SKY FALLING] in effort to DIVIDE and MOBILIZE for future protests, riots, threats, violence, FF's, etc.

[MUELLER] designed to provide FAKE NEWS w/ ammunition to sway public opinion, obstruct foreign + domestic agenda, fuel impeachment/removal, fuel anti-POTUS [DIVISION] [prevent UNITY], etc..

[MUELLER] designed to demonstrate to foreign players that OLD GUARD still pulls strings.

[MUELLER] designed to mobilize D_PARTY for MIDTERM VOTE WIN.

[MUELLER] designed to push D_PARTY backers to DONATE [GOFUNDME – D_PARTY].

[MUELLER] designed as PUBLIC OUTCRY EXCUSE should criminal charges be brought against them

['we are being 'politically' attacked

because MUELLER…]

.

H

ow do you REMOVE installed BLOCKADE?
Whitaker "I have not talked to the President…about the special counsel's investigation"
Acting Attorney General Matthew Whitaker stood his ground Friday against hostile Democratic questioning about his private conversations with President Donald Trump, ongoing litigation and border security issues.
Although Whitaker did not divulge his private conversations with Trump, he did respond numerous times to multiple Democrats on one question regarding Special Counsel Robert Mueller's office. He emphatically stated that he has never discussed the subject with Trump.
Whitaker and Chairman of the House Judiciary Committee Jerry Nadler wrangled in several  dramatic heated exchanges. Nadler pressed Whitaker,   on his private conversations with Trump and other senior White House officials. Whitaker had already expressed at the onset of the hearing and earlier in the week that he would not divulge any private conversations with the president, as those conversations are protected by executive privilege.
"


But it didn't stop Democrats from pushing.
Rep. Val Demings, D-Florida, asked combative questions. She interrupted Whitaker multiple times as he attempted to answer her questions.
She questioned Whitaker's truthfulness. Demings asked Whitaker if he ever talked to anyone in the White House about Trump's former lawyer Michael Cohen. She then asked if Whitaker had ever discussed personnel at the Southern District of New York. Cohen is being charged with tax fraud, making false statements to a financial institution, unlawful campaign contributions and unlawful corporate contributions.
"Did you discuss with President Trump anything about Michael Cohen?" charged Demings, as her voice grew louder.
"Did you talk with anybody at all about reassigning or firing any personnel with the Southern District of New York? Anybody from the District of Virginia, firing or reassigning anyone at all," she scowled.
"I am not going to discuss my private conversations with the President of the United States," Whitaker responded.
Whitaker Debunks CNN Story 
Later under questioning by Rep. David Nicola Cicilline, D-Rhode Island, Whitaker was asked about a CNN story alleging that Trump had lashed out at him several times when Cohen pleaded guilty to lying to Congress about the proposed Trump Moscow project.
This time he answered.
"Did the President lash out to you after Michael Cohen's guilty plea about a Trump Organization project to build a tower in Moscow?" asked Cicilline.
"The president specifically tweeted that he had not lashed out," he responded.
Cicilline then said "I'm asking you Mr. Whitaker, did the president lash out at you, I'm not asking what he tweeted. I don't have a lot of confidence in the veracity of his tweets, I'm asking you."
"No, he did not," he said, after a short heated exchange.
Source: saracarter.com
>>5094289

We never left.

It's time to return publicly.

Q
When Q says they never left it is becaus  Q watches the interaction of the chan boards, just because Q is silent doesn't mean Q is gone, doesn't mean things are not happening in the background