Podcast: Play in new window | Download (Duration: 41:47 — 49.1MB)
Venezuela and Palestine decide to use cryptocurrency to bypass the dollar. More and more nations are starting to move into the blockchain so they do not need to deal with sanctions or the dollar.  The Fed has made it known that the Bitcoin futures market is what brought down the price of Bitcoin. Job openings soar and we are seeing the same indicators we saw back in 2008, its all starting to turn down. Something strange is happening with retail investors, something we never saw before. Deutsche is now going to layoff 20% of its workforce, more banks will start to downsize to prepare for the economic collapse, North Korean Kim Jong Un met with Xi Jing Ping for the 2nd time to discuss the peace deal. Lebanon elections did not go the way the deep state wanted.Haftar continues to destroy the IS and he takes control of more of the country. Trump makes his move to go after the deep state, he is cancelling the Iranian deal, Israel says its preparing for war because it believes Iran is ready to attack. Syrian army destroys the IS base in Yarmouk.  Q drops more intel, Q connects the dots and discusses the plan to take down the deep state. The deep state is now on the run more government employees are resigning, CEO's are resigning and Q says the investigation into the Iranian deal is moving forward to catch those who are using it for other purposes.
Check Out The X22 Report Spotlight YouTube Channel –  X22Report Spotlight
Please check Newzsentinel.com for the latest news on the economic collapse. The Sentinel Alerts are updated throughout the day. If you haven't already, go to "The People" and join the community of people who are helping each through the economic collapse.
---
Current News – 05.08.2018
---
Economy
Venezuela starts bi-national bank with Palestine using cryptocurrency
Yesterday kicked off a two day diplomatic visit between the leaders of Venezuela and Palestine.
The first item on the agenda was the signing of an agreement to create a bi-national bank to fund infrastructure, technology, and industry between the two countries.
The bank will be started off with 20 million Venezuelan Petros.
Source:  theduran.com
Federal Reserve: Bitcoin Futures Launch Led To December 2017 Price Decline
Тhe Federal Reserve Bank of San Francisco released an Economic Letter May 7, suggesting that Bitcoin's (BTC) decline following its $20,000 peak was the result of the launch of Bitcoin futures trading.
The Federal Reserve's letter says that "the rapid run-up and subsequent fall in the price after the introduction of futures does not appear to be a coincidence" and "it is consistent with trading behavior that typically accompanies the introduction of futures markets for an asset." 
Last week, a former Federal Reserve governor said that, had he been chosen as Chairman of the Fed instead of Jerome Powell, he would have introduced a working group to consider a federal digital currency.
Source: cointelegraph.com
One month after the number of US job openings reported by the JOLTS unexpectedly tumbled by 176,000 led by food service and construction workers, all it took was a month of revised data to set the seasonally-adjusted, statistically inferred US labor market back on track, and according to the latest JOLTS report, in March the number of job openings soared by 472,000, from 6.078 million to a record 6.550 million, the highest number of vacant jobs on record…
… and the biggest cumulative 3-month increase in job openings in history.
Source: zerohedge.com
the TD Ameritrade's Investor Movement Index (IMX) dropped another 8.2% in April, after having plunged 12% in March, 23% in February — the biggest month-over-month plunge in the history of the index — and 9% in January.
After climbing every month last year and forming a perfect spike, the index has now plunged every month so far this year, collapsing 44% from its peak in December. This – up on a steep escalator and down by express elevator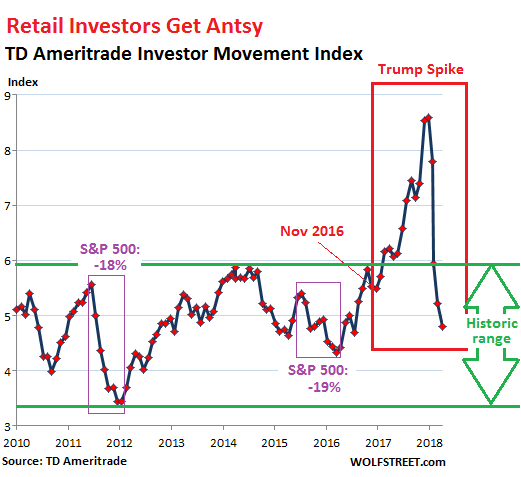 Source: wolfstreet.com
Two weeks after Deutsche Bank wasted no time at all to lay off 400 US bankers, or roughly 10% of total, as the bank's post-disastrous earnings purge began, today the purge is accelerating and according to Bloomberg, the biggest European bank is considering a sweeping restructuring, a less scary phrase than "mass termination" in the U.S. "that could result in cutting about 20% of staff in the region"
Source: zerohedge.com
---
War
  Chinese President Xi Jinping and North Korean leader Kim Jong Un met in the port city of Dalian over the past two days – the second meeting between top officials  in less than two months.
Kim traveled to China via an Air Koryo plane that's believed to be Kim's personal jet. Officials confirmed there are no direct air routes between Dalian and the North.
"As long as relevant parties eliminate the hostile policy and security threats against North Korea, North Korea does not need to have nuclear weapons, and denuclearization is achievable," Kim was quoted as saying.
Xi agreed that "positive progress" had been made since the two leaders first met, adding, "I feel happy about it."

Source: zerohedge.com
Lebanese parliamentary elections didn't turn out the way Washington and Israel wanted.
The May 6 general election was the first in nine years. Results were as follows:
Hezbollah and its allies won a 67-seat majority of parliament's 128 seats – equally divided between Muslims and Christians.
The right-wing Christian Lebanese Forces was the biggest winner in Sunday elections, nearly doubling its number of parliamentary seats from 8 to 15.
Hezbollah has 13. Its allies made significant gains, including the Shiite Amal Movement and President Michel Aoun's Christian Free Patriotic Movement.
For the first time, a proportionally representative system was in place, replacing the winner-take-all one, permitting more independent candidates to participate. Turnout was low at 49%. ISIS (deep state) was attacking the voting areas

I
Western favorite Hariri will likely remain prime minister, but the balance of power now favors Hezbollah and its allies.
Source: globalresearch.ca
Libya's Haftar launches offensive to seize eastern city from 'terrorists'
Libyan strongman Khalifa Haftar on Monday announced a military offensive to take from "terrorists" the city of Derna, the only part of the country's east outside the control of his forces.
"
Haftar said he had instructed his troops to spare the 150,000 residents of Derna, who have been under the control of the  Al-Qaeda

Source: france24.com/
 The United States will review assistance programs to South Sudan, the White House said on Tuesday, citing frustration with the lack of progress in reaching a peace agreement to end the violence in the country.
  the United States will initiate a comprehensive review of its assistance programs to South Sudan."
Source: reuters.com
CONFIRMED: US to withdraw from Iran nuke deal, impose new sanctions on Tehran
IRAN SAYS WILL START TALKS WITH EUROPEAN NATIONS, CHINA, RUSSIA
ROUHANI: FROM NOW ON, JCPOA IS BETWEEN IRAN AND 5 COUNTRIES
IRAN IS COMMITTED TO ITS OWN OBLIGATIONS, U.S. IS NOT: ROUHANI
Netanyahu Claims Iran Planning to Plant 'Very Dangerous Weapons in Syria'
 Benjamin Netanyahu has accused Iran of planting "very dangerous weapons" in Syria in a bid to threaten Israel.
According to the prime minister, Iran is "seeking to plant very dangerous weapons in Syria … for the specific purpose of our [Israel's] destruction."
He went on noting that Iran's alleged actions are directed against Israel, since Tehran "openly calls, daily, for the destruction, the elimination of Israel from the face of the earth."

Source: sputniknews.com
The Israeli Defense Force says it has identified "unusual movements of Iranian forces in Syria" and has responded by ordering the opening of shelters along the Golan Heights – its border area with Syria – and ordering its troops to be on "heightened alert" for an attack.
Source: zerohedge.com
Amazing footage of Syrian Army troops destroying ISIS base in Yarmouk Camp
The Syrian Arab Army (SAA) carried out a devastating assault on an Islamic State (ISIS) base inside the Yarmouk Camp this week.
Drone footage captured by ANNA News on Monday showed the Syrian Arab Army firing surface-to-surface missiles at the ISIS base, leading to its complete destruction.
---
Q
 Think LOGICALLY.c
Mass exodus in DC?
Mass exodus – corporate CEOs?
They're terrified. Trump admin is in control. The amount of homes in DC up for sale is waaaaay above what's typical.
Why?
This is the JUSTICE phase, after all.
Who has the POWER?
Who has theCONTROL?
POTUS and Good Guys.
If POTUS was NOT IN CONTROL would they be retreating?
No, they'd be trying to stage a coup, or worse.

Who is the AG?
Sessions
Who MUST approve the firing/dismissal of DOJ officials?
TRUST Sessions
Re_read DOJ org change (open source – more in pipe)
Chart pulled from: https://www.whitehouse.gov/sites/whitehouse.gov/files/omb/memoranda/2017/M-17-22.pdf


See that lower box on the left: Reorg Exective Order?
That refers to this executive order Trump signed on March 13, 2017:
Quite simply, when all this corrupt is exposed, agencies get completely dismantled, shuttered, or rolled into something completely new.
  it seems like the DOJ is laying the groundwork for a disaster scenario – which is exactly what we are expecting. The FBI will probably be gutted. The CIA won't exist any more. The NSA and DOJ will probably be the only two left functioning during this transition time, and if I had to guess, it's all going to get rolled into one new agency, overseen by the DOJ – especially when you consider their budget increased, year-over-year.

Who is the FBI director?
WRAY
Who MUST approve the firing/dismissal of FBI agents?
TRUST WRAY

If SESSIONS & WRAY are DC SWAMP/DEEP STATE why are they cleaning their respective houses?
Use LOGIC.
The obvious answer is, they're not Deep State.
Why are they slow walking unredacted data?
Why are they slow walking doc disclosures?
Probably because the root of this evil goes so deep. It takes time to uncover all the bad actors, while not giving yourself away. You want to purge these people; not have them acting as sleepers in the future, where they can work their way up the ranks, and start hiring other bad actors, until the whole agency is corrupt again.
Why is the WH backing up DOJ?

What if the same data is being used by other investigators?
There was the memo released , and I posted this on MeWe and Gab:

So Nunes subpoena'd Sessions for info on a Person of Interest.
The DOJ turned around and denied Nunes' subpoena for specific information about an individual, citing "severe consequences," "potential loss of life," and "compromis[ing] ongoing criminal investigations."
What does it mean if a grand jury is impanelled?
#Anon helps us with this one:
Why are confusing questions asked as to outcome re: Mueller?
 . What's useful is the cover of an investigation into Trump/Russian Collusion, meanwhile, Mueller is investigating HRC, Hussein, and #TheCabal. Get your enemy screaming that Mueller's investigation is legitimate for months, and then… what are they going to say when they are suddenly confronted with the truth? 
It will be too late to demand Trump fire him. They've been railing against it for MONTHS upon MONTHS now. 
What would be the purpose of creating confusion?
Cover! And keeping your enemies off-balance. They keep putting their energy in the wrong direction.
What was Sessions' Senate confirmation vote?
52 in favor, 47 against.
What was RR's Senate confirmation vote?
94 in favor, 6 against.
If RR is dirty, Mueller must also be dirty.
If Mueller is dirty, RR must also be dirty.
Common denominator.

They're both /ourguys/!!!!!
Why did Sessions pick RR?
COVER!
Everyone has an opinion.
Few have the facts.
Few know the plan.

We are watching a movie!
Midterms [save & push]?
Q has already said that the midterms are safe.
…
 Impeachment proceedings (open source) initiated?
Summary of H.Res.646 – 115th Congress (2017-2018): Impeaching Donald John Trump, President of the United States, of high misdemeanors.
www.congress.gov
Yeah, but it's nonsense that will never fly. Especially after The Don made so many new friends and allies after declaring "FREEDOM" to them during the SOTU Address.
Power at all costs?

Why must the DOJ & FBI be cleaned FIRST?
So arrests can actually be made.
What is the DOJ responsible for?
Prosecution of criminals.
What is the FBI responsible for?
Investigation into other branches of Government, namely.
Why did HRC get a free pass?
Use LOGIC.
Because she had some good friends in the DOJ and FBI. They let her go, knowing full-well what she did.
Define single shooter.
One guy, with on shot to get the job done.
Who is HUBER?
Huber is a Special Prosecutor from… ready for it? UTAH! (And remember what I said about Utah's death penalty?)

John W. Huber, the U.S. attorney in Utah, can convene a grand jury, issue subpoenas, collect evidence and order witnesses to testify — all the usual powers a federal prosecutor has — as he delves into whether the FBI abused its powers when it sought permission and then carried out wiretapping of a Trump campaign figure, or whether it trod too lightly in pursuing questions about Democratic presidential candidate Hillary Clinton.

 Mr. Sessions said the facts of the FBI situation don't yet rise to the level of demanding a special counsel, but Mr. Huber is as close as can be.

"He will have the full authority of a federal prosecutor," said Richard Painter, former chief ethics attorney for President George W. Bush. "If he looks at this and finds someone in the DOJ lied to a government official, he would be able to convene a grand jury, compel testimony and even prosecute them."
Define IG.
Inspector General Michael Horowitz.
When does SESSIONS step back in?
Refer back:
Sessions recused himself for Russian-related investigations, as they pertained to the TRUMP CAMPAIGN – given Sessions' involvement in the Trump campaign.
Once that's over… He's back!
Already is?
Probably, behind-the-scenes.
Why did SESSIONS secretly engage HUBER?
Sessions needed someone trustworthy to move against HRC and Hussein at a time when he really couldn't.
Why did SESSIONS reveal HUBER?
Because they're clearly getting ready to prosecute. They wanted to signal this to put them on the defensive.
Timing is everything.
Department of Justice does not discuss ongoing investigations or confirm specific matters,
Refer back to the memo to Nunes.
What about the active investigation into leaks?
I… didn't realize this was still ongoing. Been going on for more than a year now, if that's the case.
Getting rid of leakers is obviously part of the purge… but beyond that… I guess it depends on who is caught leaking. Senators? Congressmen? Senior officials?
"Horowitz oversees a nationwide workforce of more than 450 special agents, auditors, inspectors, attorneys, and support staff whose mission is to detect and deter waste, fraud, abuse, and misconduct in DOJ programs and personnel, and to promote economy and efficiency in Department operations."
Q just quoted his official bio section:
Why did MP step into the CIA prior to Sec of State?
They are deeply connected.
Think Offshore.
Pompeo did his investigation/purge, and found, I'm assuming, a giant slush fund. Perhaps the one Q has referenced earlier. HRC's State Department arranged all those horrible deals; Obama needed cash moved to Iran. And the CIA took care of the nitty-gritty.
MIL INTEL providing support during this time?
It would seem so… Pompeo couldn't get this done alone. He needed leads to pursue, to connect the dots and flush out the bad actors.
Why are select EO's aggressively being written and put into law?
Backing the deep state into a corner. NO ESCAPE!
State/CIA next?
Think logically.
Well, you've got Gina Haspel in line to take over the CIA next.
And if Trump's tweet is to be believed…

…you don't wanna mess with Gina.

No outside comms.
Got that, Corsi?

JUSTICE.
1317  -May 08 2018


Review Time.
Not seeking re-election.
[Senate] Bob Corker – Republican
Jeff Flake – Republican
Orrin Hatch – Republican
No Name – Republican [Departure Soon]
[House] Bill Shuster – Republican
Bob Goodlatte – Republican
Carol Shea-Porter – Democrat
Charles W. Dent – Republican
Darrell Issa – Republican
Dave Reichert – Republican
David Trott – Republican
Dennis Ross – Republican
Edward Royce – Republican
Elizabeth Esty – Democrat
Frank LoBiondo – Republican
Gene Green – Democrat
Gregg Harper – Republican
Ileana Ros-Lehtinen – Republican
Jeb Hensarling – Republican
Jim Bridenstine – Republican Joe Barton – Republican
John Delaney – Democrat
John J. Duncan, Jr. – Republican
Lamar Smith – Republican
Luis V. Gutierrez – Democrat
Lynn Jenkins – Republican
Niki Tsongas – Democrat
Paul Ryan – Republican
Rick Nolan – Democrat Robert Brady – Democrat
Rodney Frelinghuysen – Republican
Ruben J. Kihuen – Democrat
Ryan Costello – Republican
Sam Johnson – Republican
Sandy Levin – Democrat
Ted Poe – Republican
Thomas Rooney – Republican
Trey Gowdy – Republican [Resigned]
Al Franken – Democratic U.S. Senate
Blake Farenthold – Republican U.S. House
Jason Chaffetz – Republican U.S. House
John Conyers, Jr. – Democrat U.S. House
Louise Slaughter – Democrat U.S. House
Patrick Meehan – Republican U.S. House
Patrick J. Tiberi – Republican U.S. House
Thad Cochran – Republican U.S. Senate
Tim Murphy – Republican U.S. House
Trent Franks – Republican U.S. House
Xavier Becerra – Democrat
Attorney General of California + DOJ + FBI + CEOs Conspiracy?
Nothing happening? Goodlatte & Gowdy [important].
Chairman of the House Committee on the Judiciary.
Chairman of the House Oversight and Government Reform Committee.
Why is the NY AG resignation important?
What past/current 'high profile' FBI investigations are within the jurisdiction of NY?
Define roadblock.
You have more than you know.
Do not fall victim to MSM/other fake/false narrative pushes.
STAY THE COURSE.
WWG1WGA. Q
---
Uncensored