Podcast: Play in new window | Download (Duration: 44:28 — 45.4MB)
The debt level for American's is completely unsustainable. Most of the people need to use credit or they wouldn't be able to survive. The amount of personal debt has increased dramatically. American's have been resorting to payday loans to make ends meet. DR Horton reports that housing sales are declining because of the rising rates and skyrocketing housing prices. Peter Schiff says this economy has never recovered, the jobs numbers has been inflated by using debt and when everything falls apart it will be a disaster. The Fed is continuing its course, and will continue to raise rates, we are getting closer to the finale.  White House suspends CNN reporter Jim Acosta press Credentials. Trump might change the asylum rules with an EO. Facebook ignores call to appear in front of Canadian and UK lawmakers. UAE will reopen its Embassy in Damascus, other middle eastern countries will follow. Q drops more bread, ]Sessions[ was activated, it was not what we thought. Red October was on Nov 7. Q explains that the President is getting ready to declassify certain information and we might see protests, riots and much more. Remember Q said people will reject, fight against it etc.. Be prepared, conspiracy no more, it's time.
Check Out The X22 Report Spotlight YouTube Channel X22Report Spotlight
Please check Newzsentinel.com for the latest news on the economic collapse. The Sentinel Alerts are updated throughout the day. If you haven't already, go to "The People" and join the community of people who are helping each through the economic collapse.
---
Current News – 11.08.2018
Watch The X22 Report On Video
---
Economy
The State of the American Debt Slaves, Q3 2018
Consumers are being lackadaisical again with their plastic.
Consumer debt – or euphemistically, consumer "credit" – jumped 4.9% in the third quarter compared to the third quarter last year, or by $182 billion, to almost,  $4 trillion,

Consumer debt includes credit-card debt, auto loans, and student loans, but does not include mortgage-related debt: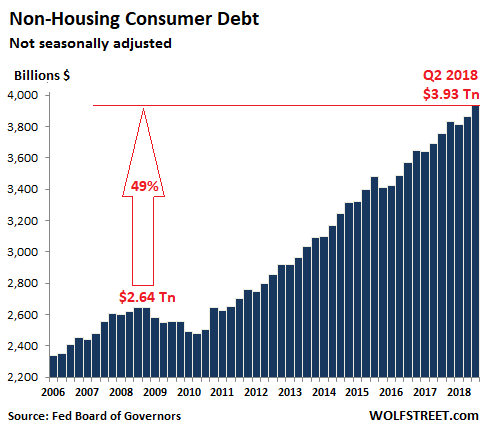 The nearly $4 trillion in consumer debt is up 49% from the prior peak at the cusp of the Financial Crisis in Q2 2008 (
Auto loans and leases for new and used vehicles in Q3 jumped by $41 billion from a year ago, or by 3.7%, to a record of $1.11 trillion. These loan balances are impacted mainly by these factors: prices of vehicles, mix of new and used, number of vehicles financed, the average loan-to-value ratio, and duration of loans originated in prior years.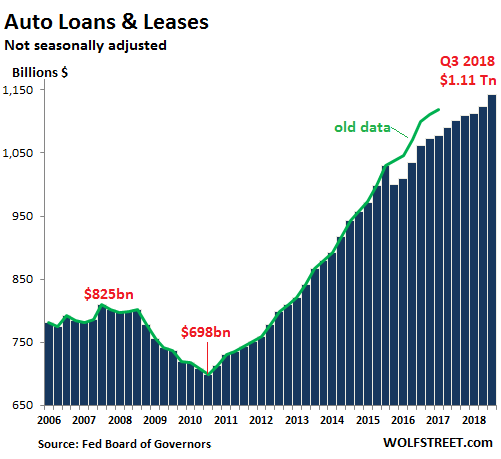 The student-loan GDP scam
Student loans in Q3 jumped by 5.6% year-over-year, or by $83 billion, to $1.56 trillion (not seasonally adjusted), another sad record: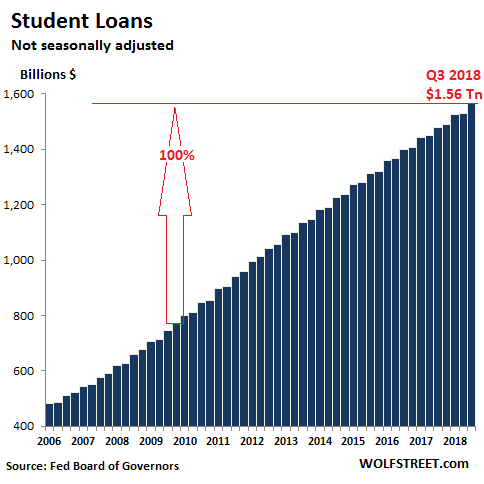 Source: wolfstreet.com
Americans take out roughly $50 billion in payday loans a year, each racking up hundreds of dollars in fees and interest.
the  entire industry of financial institutions are taking advantage of Americans struggling to live paycheck to paycheck, and payday lenders are really the most predatory and they are cashing in on this
Payday lenders say they provide a necessary service, with many Americans unable to come up with cash to cover an unexpected financial emergency. They also say they lend to the country's most desperate, who are often the highest risk for not paying back the loan.
Source: gotslaves.info
D.R. Horton says rising prices weighing on housing demand
D.R. Horton Inc (DHI.N), the largest U.S. homebuilder, said on Thursday rising home prices and higher mortgage rates were weighing on demand, particularly for expensive homes.
Mortgage rates are hovering over 5 percent for the first time in several years, raising concerns about a slowdown in the housing industry, even as the broader U.S. economy expands at a robust pace.
Source: reuters.com
Schiff says "the truth is we don't have a booming economy," and he's not the only one who has noticed.
Schiff says that jobs are just one more bubble that's about to burst.
Two hundred thousand jobs a month in an economy the size of ours, especially given how few people, or what a large percentage of the workforce is not working, we should be creating a lot more than 200,000 jobs per month. But we're not."

Even though wages are rising for people that have jobs, the cost of living is rising faster. But the cost of servicing their debt is rising even faster than that."
As far as the job growth goes, the mainstream keeps pointing to it as a sign of a booming economy. But as Peter pointed out, we're borrowing a tremendous amount of money to get this jobs growth.
Clearly, if we're running record budget deficits, and record trade deficits, and everybody is levered up, you know, spending all of that borrowed money creates some jobs. But those jobs are not sustainable because the debt is not sustainable. The consumption based on debt is not sustainable."
Source: zerohedge.com
Fed is set to keep rates on hold before a hike later in year
The Federal Reserve appears on track to raise interest rates once more this year but will likely hold off on any action when its latest policy meeting ends Thursday.
While Trump has called the Fed's rate hikes his "biggest threat," Powell, who was Trump's hand-picked choice to lead the Fed, has avoided responding directly to the criticism.
Source: beloitdailynews.com/
---
Political/Rights
Finally: White House Suspends CNN Reporter Jim Acosta Press Credential…
  the White House has finally suspended the "hard pass" press credential for CNN narrative engineer Jim Acosta following his rude behavior and physical confrontation with a White House intern earlier today.
Sarah Huckabee Sanders released the following statement:
"President Trump believes in a free press and expects and welcomes tough questions of him and his Administration. We will, however, never tolerate a reporter placing his hands on a young woman just trying to do her job as a White House intern. This conduct is absolutely unacceptable. It is also completely disrespectful to the reporter's colleagues not to allow them an opportunity to ask a question. President Trump has given the press more access than any President in history.
Full Video:
---
Geopolitical/Police State
Request Denied: Facebook Ignores Call for Zuckerberg to Appear Before Canadian, British Lawmakers
Facebook founder and CEO Mark Zuckerberg has refused to testify before Canadian and British lawmakers about the social media giant's data privacy breaches.
Zuckerberg has clearly decided he has no stomach for a repeat public examination of his "digital monster."
Source: breitbart.com
Germany has given its military a 5.7 billion Euro ($6.5 billion USD) boost a
The boost in spending comes amid pressure from US President Donald Trump, who has encouraged Germany to increase its military budget to 2% of its 3.67 trillion (USD) GDP from its current 1.2% –
Source: zerohedge.com
---
War
  United Arab Emirates is preparing to re-open its embassy in Damascus after six years of closure, which is to kickstart a new regional shift. This comes as Gulf Cooperation Council (GCC) countries are reportedly strongly considering the restoration of diplomatic ties with the Assad government after all GCC states had closed their Syrian embassies in 2012.
The significance of this is huge, coming after seven years of war driven by an official policy of Syrian regime change by these very GCC governments, foremost among them Saudi Arabia, the UAE, and Qatar.

 Abu Dhabi has "ordered full maintenance works to its Syrian embassy to be ready for opening within the next two weeks." 

Source: zerohedge.com
---
Q
Thank you for your service to our Country, Mr. Jeff Sessions!
Your sacrifices will never be forgotten.
Q+
>>428

https://twitter.com/realDonaldTrump/status/1060256623439110146📁

While we cannot telegraph everything, for reasons all can understand, we do try in our own way to inform loyal Anons & Patriots.

What are the odds "thank you for your service" was posted less than 1 hour prior to POTUS re: Sessions "thank you for your service?"

Do you believe in coincidences?

How many coincidences before mathematically impossible?

THE SENATE WAS THE KEY.

Enjoy the show!

Q
….We thank Attorney General Jeff Sessions for his service, and wish him well! A permanent replacement will be nominated at a later date.

— Donald J. Trump (@realDonaldTrump) November 7, 2018
Read the letter it does not have a date
Some have noted the letter of resignation is undated.  it was written prior to the official request from the office of the president. Once requested it was delivered.
When Q said activate sessions , did activating him mean going after these individuals or did it mean that he was activated to step down.
lets take a look at post 2197
Activate ]SESSIONS[
Q
A LOT OF 502s & /PF/ FUCKERY

>>3787701

Board under attack.

Do you understand why?

Q
959F6E7C-3334-4EB2-99C9-B7E3AC362E47.jpeg

>>3788121

There will be no recusal.

PANIC IN DC.

Q
Convinced that the deputy attorney general, Rod J. Rosenstein, was ready to resign after the revelation that he suggested President Trump was unfit for the job, senior White House aides got to work last weekend installing a replacement.
Matthew G. Whitaker, the chief of staff to Attorney General Jeff Sessions, would become the acting No. 2 official at the Justice Department, his White House counterpart,

Deputy Attorney General Rod Rosenstein will no longer oversee the Mueller investigation; Acting Attorney General Whitaker will take over in his place – NBC News
Top Senate Democrat Schumer: Whitaker should recuse himself from Russia probe 
  Senate Democratic leader Chuck Schumer said on Wednesday that acting Attorney General Matthew Whitaker, who was appointed by President Donald Trump after he fired Jeff Sessions, should recuse himself from oversight of the Russia probe.
"Given his previous comments advocating defunding and imposing limitations on the Mueller investigation, Mr. Whitaker should recuse himself from its oversight for the duration of his time as acting attorney general," Schumer said in a statement.
So far Whitaker as Acting AG is opposed by all of the people that are being investigated, Feinstein, Schumer, Pelosi, MSM
Fun Fact…today is the Anniversary of Red October in 1917!!

— 🇺🇸Jennifer🇺🇸 (@supermom43207) November 7, 2018
The revolution was led by the Bolsheviks, who used their influence in the Petrograd Soviet to organize the armed forces. Bolshevik Red Guards forces under the Military Revolutionary Committee began the occupation of government buildings on 7 November 1917 (New Style).
RED LINE ON THE ANNIVERSARY OF RED OCTOBER?
NOW WHAT ARE THE ODDS OF THAT?
Q
"Red Line," that Q mentions is explained in the next post
https://twitter.com/EricHolder/status/1060263157262893056📁

Imagine if the new acting AG now releases all previously 'blocked' doc requests by the House (including the

[RR]

secondary CLAS scope doc).

Stealth Bombers fly undetected.

The 'Red Line' months old 4am narrative should be updated.

Pain coming.

Q
Anyone who attempts to interfere with or obstruct the Mueller inquiry must be held accountable. This is a red line. We are a nation of laws and norms not subject to the self interested actions of one man.

— Eric Holder (@EricHolder) November 7, 2018
  four senior members – House Judiciary Committee Ranking Member Jerrold Nadler (D-NY), Intelligence Committee Ranking Member Adam Schiff (D-CA), Oversight and Government Reform Committee Ranking Member Elijah Cummings (D-MD), and Senate Judiciary Committee Ranking Member Dianne Feinstein – sent letters to top Administration officials demanding the preservation of all documents and materials relevant to the work of the Office of the Special Counsel or the firing of Attorney General Jeff Sessions.
In their letters, the Members wrote:
"Committees of the United States Congress are conducting investigations parallel to those of the Special Counsel's office, and preservation of records is critical to ensure that we are able to do our work without interference or delay.

Committees will also be investigating Attorney General Sessions' departure. We therefore ask that you immediately provide us with all orders, notices, and guidance regarding preservation of information related to these matters and investigations."
The letters were sent to numerous Trump administration officials including the White House Counsel Pat Cipollone, FBI Director Chris Wray, Director of National Intelligence Dan Coats, CIA Director Gina Haspel, Deputy U.S. Attorney for the Southern District of New York Robert Khuzami, Treasury Secretary Steven Mnuchin, NSA Director Paul Nakasone, IRS Commissioner Charles Rettig, and Acting Attorney General Matt Whitaker.
Source: zerohedge.com
Almost immediately following Sessions' resignation, we started to hear about pro mueller rallies that are being organized  around the nation, more on this in just a couple of minutes.

Martial law
Martial law is the imposition of direct military control of normal civilian functions of government, especially in response to a temporary emergency such as invasion or major disaster, or in an occupied territory.[1][2]
Martial law can be used by governments to enforce their rule over the public. Such incidents may occur after a coup d'état (Thailand in 2006 and 2014, and Egypt in 2013); when threatened by popular protest (China, Tiananmen Square protests of 1989, 2009's Iranian Green Movement that led to the takeover by Revolutionary Guards); to suppress political opposition (Poland in 1981); or to stabilize insurrections or perceived insurrections (Canada, The October Crisis of 1970). Martial law may be declared in cases of major natural disasters; however, most countries use a different legal construct, such as a state of emergency.
Martial law has also been imposed during conflicts, and in cases of occupations, where the absence of any other civil government provides for an unstable population. Examples of this form of military rule include post World War II reconstruction in Germany and Japan, the recovery and reconstruction of the former Confederate States of America during Reconstruction Era in the United States of America following the American Civil War, a
Posse Comitatus Act
Why is Q mentioning Martial Law and Pose Comitatus
First lets go way back to the beginning the first post of Q
>>146981635
Hillary Clinton will be arrested between 7:45 AM – 8:30 AM EST on Monday – the morning on Oct 30, 2017.

>>147005381
HRC extradition already in motion effective yesterday with several countries in case of cross border run. Passport approved to be flagged effective 10/30 @ 12:01am. Expect massive riots organized in defiance and others fleeing the US to occur. US M's will conduct the operation while NG activated. Proof check: Locate a NG member and ask if activated for duty 10/30 across most major cities.
Q

!!mG7VJxZNCI

ID: 32989a

No.3715238


Keep your eye on the ball.
Midterms & Memes.
[ ]
Remember, POTUS already ordered the DECLAS.
–[RR] pushed back hard
-OIG tasked to review [determine 'sensitive info']
-OIG works w/ HUBER (important to remember)
-HUBER reports 'directly' to SESSIONS (important to remember)
Was the DECLAS already cleared for release?
Was the gambit played by [RR] to stall & delay post election banking on [D's win House]?
POTUS AF1 [RR] > An enemy who feels safe [& in control] is an enemy who…..
POTUS AF1 [RR] > Mueller END
[Important to remember]
How do you navigate around installed BLOCKADE?
[MUELLER] designed to take-in evidence needed to 'expose' DS [DOJ block re: Mueller 'evidence' ongoing investigation].
[MUELLER] designed to limit POTUS' ability to maneuver.
[MUELLER] designed to 'stall-for-time' until MIDTERM ELECTIONS to TERMINATE all HOUSE / SENATE ongoing investigations.
[MUELLER] designed to 'safeguard' D_PARTY_BASE false narrative re: RUSSIA COLLUSION [POTUS CHEATED – EVIL – SKY FALLING] in effort to DIVIDE and MOBILIZE for future protests, riots, threats, violence, FF's, etc.
[MUELLER] designed to provide FAKE NEWS w/ ammunition to sway public opinion, obstruct foreign + domestic agenda, fuel impeachment/removal, fuel anti-POTUS [DIVISION] [prevent UNITY], etc..
[MUELLER] designed to demonstrate to foreign players that OLD GUARD still pulls strings.
[MUELLER] designed to mobilize D_PARTY for MIDTERM VOTE WIN.
[MUELLER] designed to push D_PARTY backers to DONATE [GOFUNDME – D_PARTY].
[MUELLER] designed as PUBLIC OUTCRY EXCUSE should criminal charges be brought against them ['we are being 'politically' attacked because MUELLER…].
How do you REMOVE installed BLOCKADE?
DECLAS—DECLAS—DECLAS
How do you navigate around installed corrupt [FBI][DOJ]?
USE A STEALTH BOMBER
———————–
VOTE! VOTE! VOTE!
Q
Q

!CbboFOtcZs

ID: 03ac69

No.1953310 

>>1952583
I almost hope they don't ask. It would be fun to watch them try to manage the spin when 90% of the country is aware of you and all that you've been shining a light on, while the MSM still can acknowledge it.
I can see them squirming now..
>>1952748
It must happen.
Conspiracy no more.
Think of every post made.
It would force us to prove everything stated to avoid looking crazy, correct?
What do they fear the most?
Public awakening.
If they ask.
They self destruct.
They know this is real.
See attacks.
The build is near complete.
Growing exponentially.
You are the frame.
You are the support.
People will be lost.
People will be terrified.
People will reject.
People will need to be guided.
Do not be afraid.
We will succeed.
Timing is everything.
Think Huber.
Think DOJ/FBI reorg.
Think sex/child arrests / news.
Think resignations (loss of control).
How do you remove evil in power unless you reveal the ultimate truth?
It must be compelling to avoid a divide (political attack/optics).
We are the majority (growing).
WW.
Sheep no more.
TOGETHER.
Q
Why is this all about to happen
Source: saracarter.com
It will be enacted to handle the impending riots.
 by the end of the day major leftist organizations had already put together protests in 900 U.S. cities to make a "public demand for action to correct this injustice".
It truly is amazing how rapidly these groups were able to put up web pages promoting these events and get the call out on social media.  It is almost as if they knew that this was coming.  MoveOn.Org is one of the organizations that is spearheading this effort, and their page promoting these protests is identical to the page promoting these protests on trumpisnotabovethelaw.org.  According to both pages, the protests will be held on November 8th at 5 PM local time…
BREAKING: PROTESTS CALLED FOR THURSDAY, NOVEMBER 8, 5 PM LOCAL TIME

Donald Trump has installed a crony to oversee the special counsel's Trump-Russia investigation, crossing a red line set to protect the investigation. By replacing Rod Rosenstein with just-named Acting Attorney General Matt Whitaker as special counsel Robert Mueller's boss on the investigation, Trump has undercut the independence of the investigation. Whitaker has publicly outlined strategies to stifle the investigation and cannot be allowed to remain in charge of it. The Nobody Is Above the Law network demands that Whitaker immediately commit not to assume supervision of the investigation. Our hundreds of response events are being launched to demonstrate the public demand for action to correct this injustice. We will update this page as the situation develops.
Source: zerohedge.com
A group of Antifa protesters which confronted Sen. Ted Cruz (R-TX) in a restaurant last month took to the residence of Tucker Carlson on Wednesday evening, ringing the doorbell of his upscale home while chanting: "Tucker Carlson, we will fight! We know where you sleep at night!"
The threatening protest, claimed by Anti-fascist group Smash Racism DC , echoes June protests at the homes of Trump admin officials Kristjen Nielsen and Stephen Miller amid controversy over immigration policy.
One protestor can be seen ringing the doorbell outside Carlson's residence, while the rest of the group chanted anti-Carlson slogans.
The co-founder of Smash Racism DC, fired college professor Michael Isaacson, made headlines last year after tweeting about teaching "future dead cops" and assassinating both President Trump and VP Mike Pence the day before they won the 2016 election. Isaacson describes himself as a "pansexual" activist not limited to a gender or sexuality.
Update: Twitter has suspended Smash Racism DC.