---
Send us your Sentinel Alert to Submit Sentinel Alert:
---
---
Scroll Down To See More News Alerts
04.25.2018  – OPCW Investigators Reportedly Found "No Evidence" Of Chemical Weapons At Syrian Facilities Bombed By US
While it will likely take the Organization for the Prohibition of Chemical Weapons weeks or even months to issue their final report on the alleged gas attack in Douma (an attack for which journalists and other independent parties have failed to find any evidence), the organization's investigators have apparently spoken with Russian military officials after visiting the site of the Barzeh research center in Damascus – one of the three facilities targeted by the strikes.
The Barzah Research and Development Center in Damascus, Syria, before it was struck by coalition forces on Saturday.
This satellite image, taken Monday morning, shows the Barzah Research and Development Center in Damascus after it was struck by coalition forces.
At the time we noted Paul Craig Roberts' 'awkward question' to Washington's warmongers:
If this were true, would not a lethal cloud have been released that would have taken the lives of far more people than claimed in the alleged Syrian chemical attack on Douma?

Would not the US missile attack be identical to a chemical weapons attack and thus place the US and its vassals in the same category as Washington is attempting to place Assad and Putin?
And now, according to Sputnik, the investigators, who spoke with Russian General Staff Col. Gen. Sergey Rudskoy, revealed that they had found no evidence of chemical weapons in the remains of research facilities that were supposedly integral to the Syrian Army's chemical weapons program. Of course, this shouldn't come as a surprise: After all, if the US, France and the UK really did bomb a building filled with chemical weapons, there would've been thousands – possibly tens of thousands – of bodies to show for it.
"Immediately after the attacks, many people who worked at these destroyed facilities and just bystanders without any protective equipment visited them. None of them got poisoned with toxic agents," Rudskoy said.
Rudskoy said there was similarly scant evidence of chemical weapons exposure at the Han Shinshar facility, located in the province of Homs. Russia registered only seven missiles had struck the facility, while the Pentagon claimed that it had successfully fired 22 missiles. Russia has previously claimed that only 71 of 103 missiles launched by the coalition made it past Syria's antiquated air defenses.
"According to the statements of the Pentagon's representatives, 22 missiles hit the above-ground facilities. We registered no more than seven hits, which is shown in the space image," he told a briefing.
Furthermore, the Russian Reconciliation Center for Syria said its representatives had questioned local doctors and investigated the site of the attacks. The doctors confirmed that they hadn't recently treated any patients with signs of exposure to chemical agents, and investigators searching the area found nothing suspicious. Moscow had said the April 7 gas attack that purportedly took place in Douma, part of the Eastern Ghouta region that was recently reclaimed following a military victory over the last rebel forces in the area, was in fact staged by the White Helmets, an NGO that supports US interests in Syria under the guise of altruism. While the US has refused to share the supposedly "slam dunk" evidence that the Syrian government was behind the attack, US and French authorities have cited videos posted to YouTube by the White Helmets as sufficient proof of an attack.
But as Ron Paul argued in a recent column, even if the Syrian army did carry out the gas attack in Douma, evidence of this still wouldn't justify the US, UK and France bombing targets inside a foreign country.
The Syrian civil war has been a bloody one. Hundreds of thousands of combatants (and tens of thousands of civilians) have been blown up by airstrikes, ripped to pieces by shrapnel or mutilated and murdered in some other grotesque fashion. The problem is, the US intervention wasn't motivated by humanitarian instincts – rather, Washington's outrage is very selective and politically motivated.
We are not the policemen of the world, Paul added. Bad leaders do terrible things all the time – and this is true even in the US. The US has neither the moral authority – or the money – to carry out overseas bombings. Especially now that it has become clear the Trump administration didn't have sound evidence of an attack, the hasty decision to resort to force was a foolish one.
 Source: zerohedge.com

04.22.2018  –  OPCW Chemical Inspection Team Reaches Douma After Issuing Statement Negating "Russia Cover-Up" Claim
After many days of delay inside the security arch of Damascus' city center, the international chemical weapons watchdog group, Organisation for the Prohibition of Chemical Weapons (OPCW), announced that its team of investigators finally entered the Damascus suburb town of Douma early on Saturday. 
In an official statement posted to its website, the OPCW confirmed the following:
The Fact-Finding Mission (FFM) team of the Organisation for the Prohibition of Chemical Weapons (OPCW) visited one of the sites in Douma, Syrian Arab Republic today to collect samples for analysis in connection with allegations of chemical weapons use on 7 April 2018. The OPCW will evaluate the situation and consider future steps including another possible visit to Douma.
The OPCW Fact-Finding Mission will initially study the collected samples at an OPCW lab in the Netherlands, with potential sample distribution to its other designated labs. In the past, it's take up to multiple weeks or months for the OPCW to issue a preliminary report to the public.

Image source: Hurriyet Daily NewsThe statement continues:
The samples collected will be transported to the OPCW Laboratory in Rijswijk and then dispatched for analysis to the OPCW's designated labs. Based on the analysis of the sample results as well other information and materials collected by the team, the FFM will compile their report for submission to the States Parties to the Chemical Weapons Convention for their consideration.
It is unclear if any of what was collected includes tissue samples from corpses as it's now being widely reported that the jihadist group which previously held the area – Jaish al-Islam – hastily buried the bodies of alleged chemical attack victims.
Though the team was invited into the country by the Syrian and Russian governments – both signatories to the international body devoted to decommissioning global stockpiles of banned chemical weapons – there's been much spin and obfuscation regarding why the team was actually delayed, with a number of media outlets in the West falsely claiming that Syria and Russia were attempting a cover-up.
This was based in part on the unverified claims of political leaders in the West who have long sought Syrian President Bashar al-Assad's ouster, and who have given covert aid to various jihadist rebel groups.
France's foreign minister, for example, accused both Damascus and Russia of "obstructionism [which] is obviously undermining the caliber of the investigation. It is most likely aimed at removing evidence and other material elements linked to the chemical attack on the very site where it took place."
However, in spite of multiple international headlines, Western leaders, and journalists who reside far outside of Syria claiming a chemical cover-up conspiracy in the making, the OPCW in official statements confirmed that they were prevented from visiting Douma not by Syrian or Russian authorities, but by United Nations Department of Safety and Security (UNDSS), which has the final say over OPCW movements within Syria. 
On Wednesday (April 18) the Director General of the OPCW Ahmet Üzümcü, issued a statement which proved the "Syria/Russia hiding evidence" theory false:
On 16 April, we received confirmation from the National Authority of the Syrian Arab Republic that, under agreements reached to allow the evacuation of the population in Ghouta, the Syrian military were unable to enter Douma. The security for the sites where the FFM plans to deploy was under the control of the Russian Military Police. The United Nations Department of Safety and Security (UNDSS) has made the necessary arrangements with the Syrian authorities to escort the team to a certain point and then for the escort to be taken over by the Russian Military Police. However, the UNDSS preferred to first conduct a reconnaissance visit to the sites, which took place yesterday. FFM team members did not participate in this visit.

On arrival at Site 1, a large crowd gathered and the advice provided by the UNDSS was that the reconnaissance team should withdraw. At Site 2, the team came under small arms fire and an explosive was detonated. The reconnaissance team returned to Damascus.
Though the OPCW statement further acknowledged the area to be a "highly volatile environment" fraught with "security risks" – a number of journalists actually made it into Douma early in the week prior to the OPCW team's arrival.
Some among this early group of journalists which gained entry to the site, such as the UK Independent's Robert Fisk and One America News Network's Pearson Sharp found no evidence that a chemical attack took place in Douma, contrary to what's been widely reported in international media.
Source: zerohedge.com
04.18.2018  –  Nunes, Gowdy And Goodlatte Go Nuclear After Comey Memos Released
Facing an imminent Congressional subpoena, the Department of Justice finally turned over James Comey's now-infamous memos Thursday night – which were promptly leaked and published by AP.
We already know that Comey's leak to the press was illegal – as the FBI's chief FOIA officer, David Hardy, gave a sworn declaration to Judicial Watch in which he says that all seven of Comey's memos were classified at the time they were written, and they remain classified.
Perhaps most disturbing is that James Comey's memos do not make a compelling case for obstruction whatsoever – which Deputy AG Rod Rosenstein (who Comey said "I didn't have confidence" in), used to launch the special counsel investigation headed by former FBI Director Robert Mueller.
In response to the Comey memos, Congressional Committee chairs Devin Nunes (R-CA), Bob Goodlatte (R-VA) and Trey Gowdy (R-SC) fired off a scathing rebuke, in which they made it abundantly clear that the Mueller investigation is a farce based on yet another example of the FBI using a flimsy document to launch a politically motivated investigation.
"These memos are significant for both what is in them and what is not," begins the joint statement, which goes on to completely dress down the FBI and James Comey:
Former Director Comey's memos show the President made clear he wanted allegations of collusion, coordination, and conspiracy between his campaign and Russia fully investigated.
The memos also made clear the 'cloud' President Trump wanted lifted was not the Russian interference in the 2016 election cloud, rather it was the salacious, unsubstantiated allegations related to personal conduct leveled in the dossier.
The memos also show former Director Comey never wrote that he felt obstructed or threatened. "he never once mentioned the most relevant fact of all, which was whether he felt obstructed in his investigation."
The memos also make certain what has become increasingly clear of late: former Director Comey has at least two different standards in his interactions with others. He chose not to memorialize conversations with President Obama, Attorney General Lynch, Secretary Clinton, Andrew McCabe or others, but he immediately began to memorialize conversations with President Trump. It is significant former Director Comey made no effort to memorialize conversations with former Attorney General Lynch despite concerns apparently significant enough to warrant his unprecedented appropriation of the charging decision away from her and the Department of Justice in July of 2016.
These memos also lay bare the notion that former Director Comey is not motivated by animus. He was willing to work for someone he deemed morally unsuited for office, capable of lying, requiring of personal loyalty, worthy of impeachment, and sharing the traits of a mob boss. Former Director Comey was willing to overlook all of the aforementioned characteristics in order to keep his job. In his eyes, the real crime was his own firing.
The memos show Comey was blind to biases within the FBI and had terrible judgment with respect to his deputy Andrew McCabe. On multiple occasions he, in his own words, defended the character of McCabe after President Trump questioned McCabe.
Finally, former Director Comey leaked at least one of these memos for the stated purpose of spurring the appointment of Special Counsel, yet he took no steps to spur the appointment of Special Counsel when he had significant concerns about the objectivity of the Department of Justice under Attorney General Loretta Lynch.
"As we have consistently said, rather than making a criminal case for obstruction or interference with an ongoing investigation, these memos would be Defense Exhibit A should such a charge be made."
In response to the memo's release, President Trump exclaimed over Twitter:
"James Comey Memos just out and show clearly that there was NO COLLUSION and NO OBSTRUCTION." adding "Also, he leaked classified information. WOW! Will the Witch Hunt continue?"
Then again, given that the Special Counsel has gone from investigating whether or not the Trump campaign colluded with Russia – to raiding Trump's lawyer over documents related to paying off a porn star, perhaps Mueller's probe is getting a bit long in the tooth…
Source:zerohedge.com
04.18.2018 –  US Told Russian Embassy No New Sanctions Are Coming

The blossoming feud between Trump top economic advisor Larry Kudlow and UN Ambassador Nikki Haley over whether Haley experienced a moment of "momentary confusion" when she revealed that the US was planning more Russia sanctions may finally be put to rest.
That is, if a Bloomberg report about a notification delivered to Russia's US embassy is accurate.
Speaking on condition of anonymity, a Foreign Ministry official told BBG that a US official had notified the embassy that no sanctions would be forthcoming, contradicting Haley's comments from Sunday but affirming a Washington Post report the following day.
On Tuesday, White House economic adviser Larry Kudlow told reporters that "additional sanctions are under consideration" though he added that Haley had "got ahead of the curve" by discussing them publicly.
Of course, the US imposed sanctions on dozens of Russian tycoons and companies earlier this month in what were the most punitive measures since the US first slapped economic penalties on Russia four years ago over the Ukrainian conflict.
One of Russia's most powerful businessmen, billionaire Oleg Deripaska, was hit hardest and shares of his aluminum giant Rusal have plunged about 70% in Hong Kong since the US effectively cut the company off from the dollar system.
Back in the US, conflicting signals from Washington have sent markets gyrating in recent days. When official Russian news agencies reported the US notification early Wednesday, the ruble went from being the worst performing emerging-market currency to the best in the first hour of Moscow trading.
Moscow is also planning to sell bonds this week after axing a planned auction last week, the first time Russia has cancelled a debt auction since 2015.
Still Russian lawmakers maintained early Wednesday that, should sanctions come down, Russia's response would be "precise".
Meanwhile, Talking Points Memo reported Wednesday that Kudlow has called Haley to apologize for his insensitive comments. Haley famously fired back "with all due respect, I don't get confused," in response to the call-out.
Source: zerohedge.com
04.17.2018- Famed War Reporter Robert Fisk Reaches Syrian 'Chemical Attack' Site, Concludes "They Were Not Gassed"
Robert Fisk's bombshell first-hand account for the UK Independent runs contrary to nearly every claim circulating in major international press concerning what happened just over week ago on April 7th in an embattled suburb outside Damascus: not only has the veteran British journalist foundno evidence of a mass chemical attack, but he's encountered multiple local eyewitnesses who experienced the chaos of that night, but who say the gas attack never happened.
Fisk isthe first Western journalist to reach and report from the site of the alleged chemical weapons attackwidely blamed on Assad's forces. Writing from Douma in eastern Ghouta, Fisk has interviewed a Syrian doctor who works at the hospital shown in one of the well-known videos which purports to depict victims of a chemical attack.

The Independent: "Middle East Correspondent Robert Fisk in one of the miles of tunnels hacked beneath Douma by prisoners of Syrian rebels." (source: Yara Ismail via the Independent)Importantly, the report, published late in the day Monday, is causing a stir among mainstream journalists who–minutes after the Saudi-sponsored jihadist group Jaish al-Islam (Army of Islam) accused the Syrian Army of gassing civilians–began uncritically promoting the "Assad gassed his own people" narrative as an already cemented and "proven" fact based on the mere word a notoriously brutal armed group who itself has admitted to using chemical weapons on the Syrian battlefield in prior years. Also notable is that no journalist or international observer was anywhere near Douma when the purported chemical attack took place. 
Controversy ensued immediately after Fisk's report, especially as he is among the most recognizable names in the past four decades of Middle East war reporting, having twice won the British Press Awards' Journalist of the Year prize and as seven time winner of the British Press Awards' Foreign Correspondent of the Year (the NY Times has referred to him as "probably the most famous foreign correspondent in Britain" while The Guardian has called him "one of the most famous journalists in the world"). An Arabic speaker, Fisk became famous for being among the few reporters in history to conduct face-to-face interviews with Osama bin Laden, which he did on three occasions between 1993 and 1997.
Fisk says he was able to walk around and investigate newly liberated Douma without Syrian government or Russian minders (in part this is likely because he has reported from inside Syria going back decades, in war-torn 1982 Hama, for example), and he begins his account as follows:
This is the story of a town called Douma, a ravaged, stinking place of smashed apartment blocks–and of an underground clinic whose images of suffering allowed three of the Western world's most powerful nations to bomb Syria last week. There's even a friendly doctor in a green coat who, when I track him down in the very same clinic, cheerfully tells me that the "gas" videotape which horrified the world– despite all the doubters–is perfectly genuine.

War stories, however, have a habit of growing darker. For the same 58-year old senior Syrian doctor then adds something profoundly uncomfortable: the patients, he says, were overcome not by gas but by oxygen starvation in the rubbish-filled tunnels and basements in which they lived, on a night of wind and heavy shelling that stirred up a dust storm.
Fisk goes on to identify the doctor by name – Dr. Assim Rahaibani – which is notable given the fact that all early reporting from Douma typically relied on "unnamed doctors" and anonymous opposition sources for early claims of a chlorine gas attack (lately morphed into an unverified "mixed" chlorine-and-sarin attack).
The doctor's testimony is consistent with that of the well-known Syrian opposition group Syrian Observatory for Human Rights (SOHR), which initially reported based on its own pro-rebel sourcing that heavy government bombardment of Douma city resulted in the collapse of homes and underground shelters, causing civilians in hiding to suffocate.
According to SOHR, which has long been a key go-to source for mainstream media over the course of the war, "70 of them [women and children] have suffered suffocation as a result of the demolition of home basements over them due to the heavy and intense shelling."
Though outlets from The Guardian to The Washington Post to The New York Times have quoted SOHR on a near daily basis throughout the past six years of war, the anti-Assad opposition outlet's reporting of mass asphyxiation due to collapse of shelters has been notably absent from the same publications.
Fisk to Spirit Radio: "The video is real, but they are not suffering from gas poisoning…"
Fisk details the Syrian doctor's testimony, who is adamant in his emphasis that civilians were suffocating en masse, and were not gassed:
It was a short walk to Dr Rahaibani. From the door of his subterranean clinic–"Point 200", it is called, in the weird geology of this partly-underground city–is a corridor leading downhill where he showed me his lowly hospital and the few beds where a small girl was crying as nurses treated a cut above her eye.

"I was with my family in the basement of my home three hundred metres from here on the night but all the doctors know what happened. There was a lot of shelling [by government forces] and aircraft were always over Douma at night–but on this night, there was wind and huge dust clouds began to come into the basements and cellars where people lived. People began to arrive here suffering from hypoxia, oxygen loss. Then someone at the door, a "White Helmet", shouted "Gas!", and a panic began. People started throwing water over each other. Yes, the video was filmed here, it is genuine, but what you see are people suffering from hypoxia–not gas poisoning."
In addition to interviewing a doctor while standing in the very hospital featured in White Helmets footage of the events, Fisk cites the testimonies of multiple locals in the following:
Before we go any further, readers should be aware that this is not the only story in Douma. There are the many people I talked to amid the ruins of the town who said they had "never believed in" gas stories–which were usually put about, they claimed, by the armed Islamist groups. 

These particular jihadis survived under a blizzard of shellfire by living in other's people's homes and in vast, wide tunnels with underground roads carved through the living rock by prisoners with pick-axes on three levels beneath the town. I walked through three of them yesterday, vast corridors of living rock which still contained Russian–yes, Russian–rockets and burned-out cars.
And further fascinating is that the veteran British war correspondent comes upon local Douma residents who have so long been trapped in an isolated 'fog of war' battlefield environment, that they are not even aware of the international importance that the town has played in the US coalition decision to bomb Syria:
So the story of Douma is thus not just a story of gas–or no gas, as the case may be. It's about thousands of people who did not opt for evacuation from Douma on buses that left last week, alongside the gunmen with whom they had to live like troglodytes for months in order to survive.

I walked across this town quite freely yesterday without soldier, policeman or minder to haunt my footsteps, just two Syrian friends, a camera and a notebook. I sometimes had to clamber across 20-foot-high ramparts, up and down almost sheer walls of earth. Happy to see foreigners among them, happier still that the siege is finally over, they are mostly smiling; those whose faces you can see, of course, because a surprising number of Douma's women wear full-length black hijab.

…Oddly, after chatting to more than 20 people, I couldn't find one who showed the slightest interest in Douma's role in bringing about the Western air attacks. Two actually told me they didn't know about the connection.

But it was a strange world I walked into. Two men, Hussam and Nazir Abu Aishe, said they were unaware how many people had been killed in Douma, although the latter admitted he had a cousin "executed by Jaish el-Islam [the Army of Islam] for allegedly being "close to the regime". They shrugged when I asked about the 43 people said to have died in the infamous Douma attack.
Evidence? …A video montage of the Pentagon and State Department's awkward attempts to dodge the question of evidence. 
Concerning the White Helmets, who have played a dubious role throughout the war while presenting themselves as "impartial" and "neutral" rescue workers and film-makers, though known to operate exclusively in al-Qaeda and other jihadist-controlled areas of Syria, Fisk reports the following:
The White Helmets–the medical first responders already legendary in the West but with some interesting corners to their own story–played a familiar role during the battles. They are partly funded by the [British] Foreign Office and most of the local offices were staffed by Douma men. 

I found their wrecked offices not far from Dr Rahaibani's clinic. A gas mask had been left outside a food container with one eye-piece pierced and a pile of dirty military camouflage uniforms lay inside one room. Planted, I asked myself? I doubt it. The place was heaped with capsules, broken medical equipment and files, bedding and mattresses.

Of course we must hear their side of the story, but it will not happen here: a woman told us that every member of the White Helmets in Douma abandoned their main headquarters and chose to take the government-organised and Russian-protected buses to the rebel province of Idlib with the armed groups when the final truce was agreed.
And Fisk further narrates the strangeness of some of the reporting now happening far outside of Douma which flatly contradicts the testimonies of civilians still inside Douma that he encounters:
How could it be that Douma refugees who had reached camps in Turkey were already describing a gas attack which no-one in Douma today seemed to recall? It did occur to me, once I was walking for more than a mile through these wretched prisoner-groined tunnels, that the citizens of Douma lived so isolated from each other for so long that "news" in our sense of the word simply had no meaning to them. 

Syria doesn't cut it as Jeffersonian democracy–as I cynically like to tell my Arab colleagues–and it is indeed a ruthless dictatorship, but that couldn't cow these people, happy to see foreigners among them, from reacting with a few words of truth. So what were they telling me?

They talked about the Islamists under whom they had lived. They talked about how the armed groups had stolen civilian homes to avoid the Syrian government and Russian bombing. The Jaish el-Islam had burned their offices before they left, but the massive buildings inside the security zones they created had almost all been sandwiched to the ground by air strikes. A Syrian colonel I came across behind one of these buildings asked if I wanted to see how deep the tunnels were. I stopped after well over a mile when he cryptically observed that "this tunnel might reach as far as Britain". Ah yes, Ms May, I remembered, whose air strikes had been so intimately connected to this place of tunnels and dust. And gas?
For a prime example of what Fisk references as refugees in Turkey "already describing a gas attack which no-one in Douma seemed to recall…" CNN aired a segment from one such refugee camp which is absolutely bizarre and stunning in its claims. 
During the segment which aired "hours after" the US-led airstrikes on Damascus, CNN's Arwa Damon began sniffing a 7-year-old Syrian girl's backpack while concluding, "I mean there's definitely something that stings…" – with the implication that empirical proof had been found of government chemical weapons use against the little girl and her family.
And in the full segment, Damon attempts to subtly introduce the idea of a nerve agent used against the family (though initial claims were widely reported to be chlorine) by awkwardly including the account of the girl's escape from Douma: "She could barely breath…she felt as if her entire nerves basically released." 
Though it's unclear what the strange phrasing of "her entire nerves basically released" actually means, CNN's Arwa Damon is ultimately claiming to be able to safely and comfortably handle and sniff a backpack which contains residual sarin and chlorine agents, while simultaneously presenting the backpack as "proof" of a chemical attack which happened a week prior (to say nothing the clearly unscientific and bogus nature all of the above).
Notably, in addition to Fisk's bombshell report filed from ground zero of the claimed chemical attack in Douma, cable network One America News has also issued a report from on the ground in the newly liberated town, finding "no evidence" – in its words – that a chemical attack took place there. 
Robert Fisk's report for The Independent and the One America News segment constitute the first major international media reports from the location of the alleged chemical attack. But it will be interesting to see the extent to which international chemical and weapons experts either validate or refute their conclusions once the site is inspected.
Meanwhile, the Organization for the Prohibition of Chemical Weapons (OPCW) Fact-Finding Mission (FFM) team arrived in Damascus on Saturday, April 14th – after the US-led overnight strikes which primarily hit government buildings in the capital.
Source: zerohedge.com

04.15.2018- Independent Swiss Lab Says 'BZ Toxin' Used In Skripal Poisoning; US/UK-Produced, Not Russian
Somebody has some explaining to do… or did the Syrian airstrikes just 'distract' the citizenry from the reality surrounding the Skripal poisoning.
Remember how we were told my the politicians (not the scientists) that a deadly Novichok nerve agent – produced by Russia – was used in the attempted assassination of the Skripals? Remember the 50 questions (here and here) we had surrounding the 'facts' as Theresa May had laid them out? Ever wonder why, given how utterly deadly we were told this chemical was, the Skripals wondered around for a few hours after being 'infecte' and then days later, survived with no chronic damage?
Well those doubts may well have just been answered as according to the independent Swiss state Spiez lab, the substance used on Sergei Skripal was an agent called BZ, which was never produced in Russia, but was in service in the US, UK, and other NATO states.
RT reports that Russian Foreign Minister Sergey Lavrov said, citing the results of the examination conducted by a Swiss chemical lab that worked with the samples that London handed over to the Organisation for the Prohibition of the Chemical Weapons (OPCW), that Sergei Skripal, a former Russian double agent, and his daughter Yulia were poisoned with an incapacitating toxin known as 3-Quinuclidinyl benzilate or BZ.
The Swiss center sent the results to the OPCW.
However, the UN chemical watchdog limited itself only to confirming the formula of the substance used to poison the Skripals in its final report without mentioning anything about the other facts presented in the Swiss document, the Russian foreign minister added.
He went on to say that Moscow would ask the OPCW about its decision to not include any other information provided by the Swiss in its report.
On a side note, the Swiss lab is also an internationally recognized center of excellence in the field of the nuclear, biological, and chemical protection and is one of the five centers permanently authorized by the OPCW.
The Russian foreign minister said that London refused to answer dozens of "very specific" questions asked by Moscow about the Salisbury case, as well as to provide any substantial evidence that could shed light on the incident.
Instead, the UK accused Russia of failing to answer its own questions, he said, adding that, in fact, London did not ask any questions but wanted Moscow to admit that it was responsible for the delivery of the chemical agent to the UK.
But hey, who cares about any of that? Diplomats have been sent home, Putin has been anointed Hitler, and besides, what about those missiles in Syria?
Source: zerohedge.com
04.13.2018-  Doug Casey Warns "It's Going To Get Very Unpleasant In The US At Some Point Soon"
You're likely aware that I'm a libertarian. But I'm actually more than a libertarian. I don't believe in the right of the State to exist. The reason is that anything that has a monopoly of force is extremely dangerous.
As Mao Tse-tung, lately one of the world's leading experts on government, said: "The power of the state comes out of a barrel of a gun."
There are two possible ways for people to relate to each other, either voluntarily or coercively. And the State is pure institutionalized coercion. It's not just unnecessary, but antithetical, for a civilized society. And that's increasingly true as technology advances. It was never moral, but at least it was possible, in oxcart days, for bureaucrats to order things around. Today it's ridiculous.
Everything that needs doing can and will be done by the market, by entrepreneurs who fill the needs of other people for a profit. The State is a dead hand that imposes itself on society. That belief makes me, of course, an anarchist.
People have a misconception about anarchists. That they're these violent people, running around in black capes with little round bombs. This is nonsense. Of course there are violent anarchists. There are violent dentists. There are violent Christians. Violence, however, has nothing to do with anarchism. Anarchism is simply a belief that a ruler isn't necessary, that society organizes itself, that individuals own themselves, and the State is actually counterproductive.
It's always been a battle between the individual and the collective. I'm on the side of the individual.
I simply don't believe anyone has a right to initiate aggression against anyone else. Is that an unreasonable belief?
Let me put it this way. Since government is institutionalized coercion—a very dangerous thing—it should do nothing but protect people in its bailiwick from physical coercion.
What does that imply? It implies a police force to protect you from coercion within its boundaries, an army to protect you from coercion from outsiders, and a court system to allow you to adjudicate disputes without resorting to coercion.
I could live happily with a government that did just those things. Unfortunately the US Government is only marginally competent in providing services in those three areas. Instead, it tries to do everything else.
The argument can be made that the largest criminal entity today is not some Colombian cocaine gang, it's the US Government. And they're far more dangerous. They have a legal monopoly to do anything they want with you. Don't conflate the government with America—it's a separate entity, with its own interests, as distinct as General Motors or the Mafia. I'd rather deal with the Mafia than I would with any agency of the US Government.
Even under the worst circumstances, even if the Mafia controlled the United States, I can't believe Tony Soprano or Al Capone would try to steal 40% of people's income from them every year. They couldn't get away with it. But—perhaps because we're said to be a democracy—the US Government is able to masquerade as "We the People." That's an anachronism, at best. The US has mutated into a domestic multicultural empire. The average person has been propagandized into believing that it's patriotic to do as he's told. "We have to obey libraries of regulations, and I'm happy to pay my taxes. It's the price we pay for civilization." No, that's just the opposite of the fact. Those things are a sign that civilization is degrading, that the society is becoming less individually responsible, and has to be held together by force.
It's all about control. Power corrupts, absolute power corrupts absolutely. The type of people that gravitate to government like to control other people. Contrary to what we're told to think, that's why you get the worst people—not the best—who want to get into government.
What about voting? Can that change and improve things? Unlikely. I can give you five reasons why you should not vote in an election (see this article). See if you agree.
Hark back to the '60s when they said, "Suppose they gave a war and nobody came?" But let's take it further: Suppose they gave a tax and nobody paid? Suppose they gave an election and nobody voted? What that would do is delegitimize government. I applaud the fact that only half of Americans vote. If that number dropped to 25%, 10%, then 0%, perhaps everybody would look around and say, "Wait a minute, none of us believe in this evil charade. I don't like Tweedledee from the left wing of the Demopublican Party any more than I like Tweedledum from its right wing…"
Remember you don't get the best and the brightest going into government. There are two kinds of people. You've got people that like to control physical reality—things. And people that like to control other people. That second group, those who like to lord it over their fellows, are drawn to government and politics.
Some might ask: "Aren't you loyal to America?" and "How can you say these terrible things?" My response is, "Of course I'm loyal to America, but America is an idea, it's not a place. At least not any longer…"
America was once unique among the world's countries. Unfortunately that's no longer the case. The idea is still unique, but the country no longer is.
I'll go further than that. It's said that you're supposed to be loyal to your fellow Americans. Well, here's a revelation. I have less in common with my average fellow American than I do with friends of mine in the Congo, or Argentina, or China. The reason is that I share values with my friends; we look at the world the same way, have the same worldview. But what do I have in common with my fellow Americans who live in the trailer parks, barrios, and ghettos? Or even Hollywood, Washington, and Manhattan? Everyone has to be judged as an individual, but probably very little besides residing in the same political jurisdiction. Most of them—about 50% of the US—are welfare recipients, and therefore an active threat. So I have more personal loyalty to the guys in the Congo than I do to most of my fellow Americans. The fact we carry US passports is simply an accident of birth.
Those who find that thought offensive likely suffer from a psychological aberration called "nationalism"; in serious cases it may become "jingoism." The authorities and the general public prefer to call it "patriotism." It's understandable, though. Everyone, including the North Koreans, tends to identify with the place they were born. But these things should be fairly low on any list of virtues. Nationalism is the belief that my country is the best country in the world just because I happen to have been born there. It's most virulent during wars and elections. And it's very scary. It's like watching a bunch of chimpanzees hooting and panting at another tribe of chimpanzees across the watering hole. I have no interest in being a part of the charade—although that's dangerous.
And getting more dangerous as the State grows more powerful. The growth of the State is actually destroying society. Over the last 100 years the State has grown at an exponential rate, and it's the enemy of the individual. I see no reason why this trend, which has been in motion and accelerating for so long, is going to stop. And certainly no reason why it's going to reverse.
It's like a giant snowball that's been rolling downhill from the top of the mountain. It could have been stopped early in its descent, but now the thing is a behemoth. If you stand in its way you'll get crushed. It will stop only when it smashes the village at the bottom of the valley.
This makes me quite pessimistic about the future of freedom in the US. As I said, it's been in a downtrend for many decades. But the events of September 11, 2001, turbocharged the acceleration of the loss of liberty in the US. At some point either foreign or domestic enemies will cause another 9/11, either real or imagined. It's predictable; that's what sociopaths, which I discussed earlier, do.
When there is another 9/11—and we will have another one—they're going to lock down this country like one of their numerous new prisons. I was afraid that the shooting deaths and injuries of several hundred people in Las Vegas on October 1st might be it. But, strangely, the news cycle has driven on, leaving scores of serious unanswered questions in its wake. And about zero public concern.
It's going to become very unpleasant in the US at some point soon. It seems to me the inevitable is becoming imminent.
Source: zerohedge.com
04.12.2018- The Genie's Out of the Bottle: Eight Defining Trends Are Reversing

Though the Powers That Be will attempt to placate or suppress the Revolt of the Powerless, the genies of political disunity and social disorder cannot be put back in the bottle.
the saying "the worm has turned" refers to the moment when the downtrodden have finally had enough, and turn on their powerful oppressors. The worms have finally turned against the privileged elites — who have benefited so greatly from globalization, corruption, central bank stimulus and the profiteering of state-enforced cartels. It doesn't matter as much as the punditry assumes whether they are turning Left or Right; the important thing is that the powerless have finally started challenging their privileged overlords.
Though the Powers That Be will attempt to placate or suppress the Revolt of the Powerless, the genies of political disunity and social disorder cannot be put back in the bottle. It took a generation of rising inequality, corruption and the erosion of opportunity to create a society of the protected (the haves) and the unprotected (the have-nots), and rubber-stamping more regulations and distributing Universal Basic Income (UBI) will not rebalance a system that is irrevocably out of balance.
But the rise of resistance, as yet nascent, is only half the story: economic trends andcycles are turning as well, and even if the worms remain passively underground, these reversals will disrupt the status quo. The dominant narrative–the rightness, goodness and sustainability of endless growth of consumption and debt–will unravel, and the internal contradictions of this New Gilded Age (widening wealth/income/power inequality) will finally burst through the thin façade of stability that's been patched together over the past nine years of "recovery."
Eight Key Trends/Cycles Are Turning
Here's the thing about trends and cycles: when they inevitably lose altitude or reverse, we rush around trying to identify the cause. All sorts of theories are put forth, but as a general rule, it rarely boils down to one dynamic.
Consider the decline and fall of the Western Roman Empire. Efforts to identify the cause go back hundreds of years, and include everything from barbarian invasions to the use of lead pipes to deliver water.
A new book, The Fate of Rome: Climate, Disease, and the End of an Empire, pins a significant part of the responsibility on climate change and pandemic diseases—system-wide dynamics that slowly sapped Rome's vigor, food supplies, capital and labor force.  Not only that, but cooling weather patterns in Eurasia may have been behind the westward movement of the mobile tribes (the Huns and Mongolians) that pushed existing tribes on Rome's borders into Roman territories—the so-called Barbarian Invasions.
The point here is that systemic trends and cycles are often causally connected and tend to reinforce each other. This is how a stable, wealthy and resilient society gets hollowed out: trends end and cycles reverse, and forces that added stability, capital and resilience when they were working together are slowly replaced by forces that erode the foundations of wealth and stability.
In the current era, eight interconnected trends/cycles are either reaching the end of their run or reversing:
— Central bank distortion/manipulation of markets.
— The business cycle of credit/debt expansion and contraction.
— The yield/interest rate cycle.
— The commodity cycle.
— The stock market cycle.
— Regulation.
— Globalization.
— Demographics.
Each of these would need a short book to do the topic even partial justice, but let's summarize each trend/cycle.
Let's stipulate that technology isn't a cycle or a trend; its disruptions of existing sectors and institutions accelerate and decelerate over time, but it is woven inseparably into all the trends and cycles listed above.   That said, the emergence of some new technology doesn't mean the business cycle will be repealed for all time; cycles and trends are influenced by Human Wetware V1.0, an OS developed between 100,000 and 160,000 years ago and still in Version One.
Resource depletion is another background to these trends and cycles: robots and drones will not restore depleted ground water or bring back ocean fisheries.
Central Bank Distortion / Manipulation of Markets
Minus the $21 trillion in central bank asset purchases and trillions more in liquidity/credit programs, would the global economy be growing and global markets be at nosebleed heights? We all know the answer is "no."
Central banks have engineered a "recovery" that looks real enough on the surface, but what are its foundations? Gamed statistics and manipulated markets—in other words, controlling not just the narrative but the information available to market participants.  To achieve the desired outcome—rising equity markets, near-zero bond yields and incentivizing the purchase of risk-on assets—central banks have distorted market information and mechanisms.
The returns on this coordinated distortion are diminishing.  The "buzz" from the initial injections has faded, and now that the monetary authorities are trying to wean the markets off of their drug, the markets have lost the ability to discover the price of assets, risk and capital on their own.
No wonder volatility is rising.
Flooding the economy with trillions in new stimulus worked wonders in the initial stage, but after 9 years, the unintended consequences are metastasizing.
Goosing asset valuations higher in service of "the wealth effect" has widened wealth/ income inequality, creating a New Gilded Age of a few haves and many have-nots. The benefits of the central bank punch bowl—near-zero interest rates, leverage and access to unlimited credit–are reserved for those few at the top of the wealth-power pyramid; very little of the stupendous wealth created out of thin air has trickled down to the bottom 95%.
The relentless rise in asset valuations has pushed homes out of reach of those living in desirable urban/suburban markets, and exposed buyers to the risks of an inevitable reversion to the mean, i.e. a collapse of bubble prices back to historical norms.
Capital is not incentivized to invest in productivity or communities for the long haul; the incentives are for stock buybacks and short-term leveraged speculative bets, forms of mal-investment that hollow out the productive real economy is favor of a momentum-driven financialization boom.
Much of the political resistance troubling the status quo can be traced directly to central bank policies that have exacerbated the New Gilded Age inequalities and excesses. If the central banks can't find the will to reduce their distortions in service of the few, the political will of the many will do it for them.
The Business Cycle of Credit Expansion & Contraction
The business cycle is a basic structure of any economy based on credit and flows of capital seeking the highest available returns at the lowest available risk. In the expansion stage, households and enterprises borrow more money to boost production and satisfy unmet demand.  Speculators find opportunities in new enterprises and new markets.
In the contraction phase, all the inevitable excesses of freely available credit come home to roost. Marginal investments in new production fail to become profitable and go bust. Marginal household borrowers default, and speculators who bet the farm on momentum plays watch their capital evaporate like mist in Death Valley.
When too much income is being devoted to servicing existing debt, there's no more net income available to support additional borrowing. Lenders facing losses due to defaults tighten lending standards, and credit—and thus the economy—contracts.
This cycle is an essential dynamic of capitalism.  Central banks have attempted to eliminate the contraction phase that acts as the immune system, washing out bad debt and marginal borrowers.  This has left the economy saddled with "zombie" corporations and debtors that would be liquidated if monetary policies weren't enabling their feeble survival.
But even the most powerful central banks can't force firms and individuals to borrow more money when it no longer makes sense to do so. And keeping zombie banks, corporations and households on life support weakens the financial system by piling up the equivalent of dead wood in the forest. When the inevitable conflagration of bad debt catches fire, many of the healthy trees will also be consumed in the flames.
The Yield / Interest Rate Cycle
Many observers are confident interest rates cannot rise due to the deflationary forces in play. Indeed, they predict a future decline in rates back to zero. Perhaps, but history suggests interest rates typically move in long cycles of roughly two or three decades. The current downtrend in rates dates back to 1981, which means the current trend is pushing 40 years. That's stretching the historical boundaries.
As noted earlier, trends change and then we seek the causes. Interest rates are rising, and perhaps we need no explanation other than reversion to the mean.
The Commodity Cycle
Compared to the stock market (the S&P 500), commodities are at their cyclical lows. As to what happens next, we need only look at a single chart, courtesy of Incrementum AG:
The Stock Market Cycle
We're implicitly being told that stock markets can loft higher forever, as long as central banks are pumping out the financial stimulus. But nothing goes up forever; valuations get stretched, marginal buyers disappear and doubts about the continuing efficacy of central bank distortions creep in.
The typical Bull Market has a leading sector.  Starting with the mass-market Industrial Revolution in the 19th century, leaders tend to be new industries: railroads, radio, computers, the Internet, etc., or existing industries that have been revolutionized by some innovation: for example, banks freed from regulatory oversight discovered subprime mortgages in the 2000s.
The current leaders—the so-called FAANG stocks—are getting tired.  The tech leaders have reached a scale where growth must slow; the expansion of Facebook from 100 million users to 1 billion was a 10-fold increase; the expansion from 1 billion to 2 billion, a double. Are there even another billion potential users with the bandwidth, devices and interest to join? How much additional revenue can be extracted by selling the data of increasingly marginal users?
The same issues of scale are sapping the growth of Apple, Google, et al.  What happens when Apple has already sold an iPhone to everyone with the means and interest to own one?
There is now political pushback against the quasi-monopolies of big tech. Politicians are being forced to "do something," i.e. increase regulations, whether they accomplish the intended goal or not.
Valuations and profits are at the top of their respective cycles, the leaders are faltering, victims of their own dominance, and central banks are feeling pressured to reduce the punch bowl of free money for financiers.
Regulation
Democracy is no longer about solving real problems and being held accountable; it's all about persuading the public that all is well, or distracting them with ginned up controversies. Incumbents get re-elected because they vacuum up enough campaign contributions to buy influence via the mass (corporate) media. They have little incentive to respond to voters, so they don't.
What they can do is look like they're doing something other than protecting the cartels and financiers that fund their permanent re-election campaigns. So they propose more regulations, most of which fail to achieve the desired results but succeed in burdening legitimate enterprises to the point of failure. Small enterprises simply fold up when the exhausted owners can no longer bear the burdens and corporations offshore everything that's over-regulated.
The neoliberal ideology held that the many would benefit if regulations limiting enterprise were eased, and when done judiciously and with common sense, this has functioned as designed. But in the corrupt form of governance that dominates the global economy, regulatory capture means regulations protect cartels and insiders from competition.  Insiders have rigged the system so they can punish competitors and let their cronies off the hook.
The useful regulations protecting the many from the exploitation of the few are being buried by counter-productive "do something" regulations and regulatory moats that protect cartels and insiders.
Globalization
Global trade has a long history, stretching back to the Bronze Age (1500 B.C.). Like every other market, it expands and contracts as conditions change.  The emergence of China (and other nations) since the mid-1980s greatly expanded global trade and capital flows. This distributed new income and prosperity to hundreds of millions of people, and yet it also concentrated much of the newfound wealth in the hands of the few and left many behind.
Nothing goes up forever, not even globalization.  Those left behind are starting to wonder if the good of globalization outweighs the costs.
Demographics
If high-population-growth Africa is set aside, the world's working age populace is perched on the precipice of decline while the populace of retirees is exploding, not just in the developed world but in the developing world.
Although many put their hopes on robots generating unlimited wealth that will support the elderly and free the working age populace from labor, the more likely prospect is an economy that cannot fulfill the promises made to retirees back when the worker-retiree ratio was 10-to-1 and not the present-day 2-to-1.
Chris Hamilton has written three excellent explorations of demographics that cover the basics. The bottom line is the trend of rapidly-expanding workforces and modest numbers of dependent retirees has reversed:
The Most Important Economic Charts…Aren't Economic Charts
China's Booming Middle Class Set To Bust?
Ultimate Indicator Suggests US Never Truly Recovered From the Great Financial Crisis
To underscore this point, chew on this sobering projection: in the US, for the first time ever, retirees will outnumber kids within just 20 years.
Source: oftwominds.com
04.10.2018- Trump Warns Russia "Missiles Are Coming" At Syria After Moscow Vows To Shoot Them Down
Does this make any sense, warn Putin, have Assad evacuate the bases move personnel to the Russia bases. If there is an attack it will not be against Assad, it will be against the Deep State. Trump made the announcement of troop withdrawal which then pushed the deep state into overdrive to push a false flag.

A shooting war between the US and Russia appears imminent.
Following overnight speculation that the US may launch an airstrike on Syria at any moment, this morning, in his latest fiery tweetstorm, after slamming the failing New York Times and again lashing out at the Russia collusion probe and Cohen's office raid, Trump tweeted that "Russia vows to shoot down any and all missiles fired at Syria. Get ready Russia,  because they will be coming, nice and new and "smart!" You shouldn't be partners with a Gas Killing Animal who kills his people and enjoys it!"
In any case, Trump's comment came in response to a statement by the Russian ambassador to Lebanon Alexander Zasypkin who said overnight that any U.S. missiles fired at Syria will be shot down and their launch sites targeted in response to Trump promise of a forceful response to an alleged chemical attack on a rebel enclave near Damascus.
"If there is a strike by the Americans, then we refer to the statements of President [Vladimir] Putin and the chief of staff that the missiles will be downed and even the sources from which the missiles were fired," Zasypkin told Hezbollah's al-Manar TV.
In response, Russian foreign ministry spokeswoman Maria Zakharova said that US "smart missiles should fly towards terrorists, not a legitimate government that has been fighting international terrorism for several years on its territory" and sarcastically noted that the US "smart missiles" could be an attempt to destroy evidence of the alleged "chemical attack" on the ground in Syria.
Earlier, Kremlin spokesman Dmitry Peskov told reporters that Russia "categorically" disagrees that a chemical attack took place in Syria. "I still want to hope that all parties will avoid any steps, which in reality aren't provoked by anything, that can destabilize the already fragile situation in the region."
Peskov also said that Putin has no plans so far for phone talks with Donald Trump, while adding that Russian market volatility is partly emotional, partly speculative; Russian economy has sufficient durability, Peskov says
Meanwhile, indicating that a US strike on Syria is imminent, on Tuesday Trump canceled a trip to Latin America to focus on the Syria incident, the White House said. Defense Secretary Jim Mattis also canceled plans to travel to California in the coming days, as Trump told reporters all options were on the table regarding Syria.
As we reported on Monday, the USS Donald Cook, a Navy destroyer, left a port in Cyprus on Monday. The guided missile destroyer is armed with Tomahawk cruise missiles, which were used a year ago after an alleged sarin gas attack on Syrian civilians.
Also overnight, Eurocontrol, the European air traffic control agency, warned airlines Tuesday to exercise caution in the eastern Mediterranean due to possible airstrikes in the next 72 hours.
Retired Adm. James Stavridis, a former head of NATO and an NBC News analyst, warned that any U.S. strike on Syria would likely require manned aircraft and characterized it as a "high-risk operation."
"Last year was about sending a signal," Stavridis said, referring to the April 2017 strike ordered by Trump. "This year its about destroying actual Syrian capability."
Of course, if Russia is serious and it intends to shoot down not only US missiles but their sources – including ships and fighter jets – what happens in the next several hours could unleash World War III. Which would be bizarre if the only purpose for that is for Trump to prove to Mueller that he is not, in fact, a Russian puppet, even as the Military Industrial Complex enjoys its final victory.
Perhaps somewhat surprisingly, futures did not like the news that war between the US and Russia may be coming, and slumped to session lows.
Source: zerohedge.com
04.10.2018- Peter Schiff: Nobody Is Prepared For The Long-Term Pain That's Coming
Peter Schiff has been saying for weeks this is a bear market. Well, now even Pres. Trump has said investors may see some short-term pain in the stock market. But the president says it will all be worth it because we will get long-term gain, referring to the benefits we'll reap when we win the trade war. In his most recent podcast, Peter said that's not how it's going to play out.
We're going to have short-term pain and then the pain is going to get worse in the long-run."
The big problem is, nobody is really ready for any pain at all.
Peter said this is pain for no reason because these policies are a mistake. Not that some short-term pain wouldn't be beneficial. But policymakers aren't willing to take the real steps necessary to reap long-term benefits – cut government spending, cut entitlements, cut defense spending, and shut down government agencies and government departments.
There would be some short-term pain that would deliver some long-term gain. How about if the Fed normalizes interest rates and lets the bubbles collapse, lets people lose money, lets the markets restructure? That is short-term pain for long-term gain. That is what a real free-market recession is like. Let the government get out of the way. Let the central bankers get out of the way, and let the free market correct the imbalances and create a good foundation where we can build a lasting, sustainable, viable recovery."
But Peter says that's not what Pres. Trump is all about. He's about avoiding the short-term pain by kicking the can down the road.
Peter also noted that even while stocks are falling, there is no flight to the dollar. When stocks fell in 2008, people ran to the dollar, but this time, the greenback is not a safe haven. He said the dollar is consolidating for its next big leg down. It's the opposite for gold.
Gold is getting ready to blow through the roof."
But right now, people are still complacent. They still believe the fundamentals are good. Peter repeated something he said in a previous podcast – in a sense they are right. The fundamentals haven't changed. They were lousy when the market was going up and they are lousy as the market is coming down. But the key thing to understand is that the fundamentals are actually getting worse.
This is a time bomb. The debt keeps going up. Every day we're closer to the crisis. Every day there is more and more debt, right? And so, every day that goes by, we're one day closer to the debt imploding."
Peter went on to break down the most recent jobs report and highlighted some other bad economic news that didn't get much play in the mainstream media.
He also talked about what will happen if the Fed doesn't follow through with interest rate normalization. The market certainly isn't prepared for that.
Normally the markets are forward-looking. They discount things that they think are going to happen. Well, if you don't think something is going to happen, how can it be discounted? So, it's when the markets are blindsided, when they're surprised, that's when you see the biggest moves because they didn't get discounted in advance. You can't buy the rumor and sell the fact if you've never bought the rumor because you don't know there's a rumor or you don't believe it. So when the fact happens, nobody is positioned for it. Nobody is prepared for it. And that's where we are in the gold market. That's where we are in the gold stock market, in the bond market, in the US stock market. Nobody is prepared for any of the things that are going to happen because nobody believes that they are going to happen."
Source:schiffgold.com
04.09.2018- Were Trade Wars Inevitable?
Trade in which mobile capital is the comparative advantage is a system of Neocolonial exploitation of developing-world nations.
Were trade wars inevitable? The answer is yes, due to the imbalances and distortions generated by financialization and central bank stimulus. Gordon Long and I peel the trade-war onion in a new video program, Were Trade Wars Inevitable? (27:48)
Let's stipulate right off the bat that trade is not necessarily win-win–the winners (corporations, financiers and the financial sector) have skimmed the majority of the gains, leaving the losers with a few pennies of dubious value.
Consumers' got a nickel in savings and a disastrous decline in quality, while corporations reaped 95 cents of additional profits: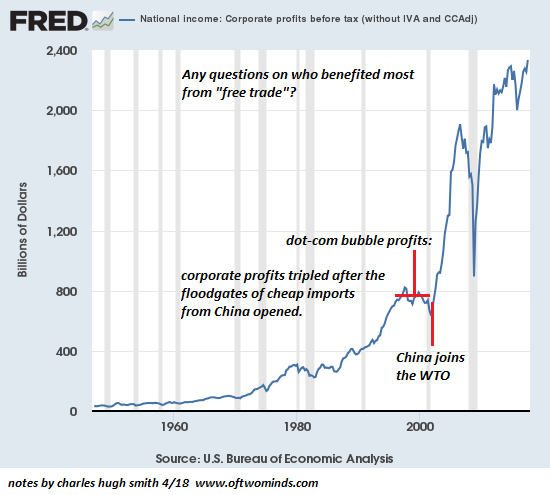 As I explained in Forget "Free Trade"–It's All About Capital Flows (March 9, 2018), the comparative advantage into today's global economy is mobile capital: i.e. access to low-cost credit in nearly unlimited sums.
Those with low-cost credit created by central banks issuing reserve currencies in nearly unlimited sums can outbid everyone else for productive assets.
In effect, trade in which mobile capital is the comparative advantage is a system of Neocolonial exploitation of developing-world nations which don't have reserve currencies they can create out of thin air. Trade is exploitation via cheap credit.
The winners are the few at the top of the wealth-power pyramids in both exporting and importing nations. I discussed this recently in There is No "Free Trade"–There Is Only the Darwinian Game of Trade (March 12, 2018).
Central bank policies don't just distort domestic economies, they distort global trade, which parallels domestic distributions of winners (a few at the top) and losers (everyone else).
Trade is intertwined with currencies. China has used its currency peg to the USD to avoid being exploited; China has followed a "Goldilocks" strategy that keeps its currency, the yuan/RMB, in a narrow range: not too costly, not too cheap.
Due to complexity of supply chains, we have a very distorted view of trade; you can't count an iPhone arriving at Long Beach as a $500 import from China; as little as $10 of the $500 price tag actually stays in China. The majority of the value (software, marketing, profits) flows to Apple HQ in Cupertino, CA.
Globalized, financialized trade flows are neither "free" nor "fair," and now as global growth slows, the major economies and their citizenry are finally facing the reality that trade is Darwinian, not win-win.
The imbalances, distortions and inequalities are manifesting in trade disputes and conflicts, manifestations made inevitable by central bank-driven financialization and perverse incentives to maximize short-term profits at the expense of the citizenry, the nation and the productive economy.
Source:oftwominds.com
04.06.2018-  "We May Take A Hit": Trump Warns Investors To Prepare For "Pain" In The Market
Two days ago, when we commented on the early morning plunge in stocks (which was subsequently fully reversed by the close in a historic 800 point Dow reversal), we said that a long-standing question – will Trump pick plunging stocks or trade war – had finally gotten its answer when CNBC's Eamon Javers said that a "White House official said the the WH recognizes that Trump's actions are hitting the stock market, but this is "a longer term thing," and the president has to follow through on a key campaign promise."
Moments ago, Trump himself confirmed that when in a radio interview on Friday morning, the president said that U.S. markets could face some "pain'' from the trade standoff with China and other countries, but – like on Wednesday – asserted that in the long-run, Americans would be better off due to his protectionist actions.
Speaking on WABC Radio's "Bernie & Sid in the Morning'' program, Trump said "I'm not saying there won't be a little pain so we might lose a little of it but we're going to have a much stronger country when we're finished, and that's what I'm all about.'
"We have to do things that other people wouldn't do. So we may take a hit, but you know what, ultimately we're going to be much stronger for it,'' Trump said during the radio interview on Friday. "It's something we had to do, and ultimately if you take a look it's not only trade with China – it's everybody."
To be sure, stocks have fluctuated dramatically in the past few weeks when Trump drastically intensified trade actions and jawboning against several countries, mostly China. Indicating that he is willing to accept some notable losses in the S&P, Trump said in the interview Friday that "the market's gone up 40% or 42%." Which suggests that the president would be ok with a drop of 20% or so if it means winning trade war against China.
Meanwhile, as reported earlier, in response to Trump's latest tariff announcement, China said it would counter U.S.  protectionism "to the end, and at any cost," as a war of words over Trump's proposed tariffs on Chinese imports escalated.
"The Chinese side will follow suit to the end and at any cost, and will firmly attack, using new comprehensive countermeasures, to firmly defend the interest of the nation and its people," the Commerce Ministry said in a statement on its website on Friday.
Finally, recall that China yesterday admitted that "squeezing" the US stock market is perhaps its biggest leverage. It now has a green light from the president himself to do just that…
… and between that, and Trump's admission that stocks are going lower, it may be time to sit on the sidelines for a while.
Source: zerohedge.com
04.05.2018 –  How To Recognize When Your Society Is Suffering A Dramatic Decline
When historians and analysts look at the factors surrounding the collapse of a society, they often focus on the larger events and indicators — the moments of infamy. However, I think it's important to consider the reality that large scale societal decline is built upon a mixture of elements, prominent as well as small. Collapse is a process, not a singular event. It happens over time, not overnight. It is a spectrum of moments and terrible choices, set in motion in most cases by people in positions of power, but helped along by useful idiots among the masses. The decline of a nation or civilization requires the complicity of a host of saboteurs.
So, instead of focusing on the top down approach, which is rather common, let's start from the foundations of our culture to better understand why there is clear and definable destabilization.
Declining Moral Compass
There is always a conflict between personal gain and personal conscience — this is the nature of being human. But in a stable society, these two things tend to balance out. Not so during societal decline, as personal gain (and even personal comfort and gratification) tends to greatly outweigh the checks and balances of moral principles.
People often mistake the term "morality" to be a religious creation, but this is not what I am necessarily referring to. The concepts of "good" and "evil" are archetypal — that is to say they are psychologically inherent in most human beings from the moment of birth. This is not a matter of faith, but a matter of fact, observed by those in the field of psychology and anthropology over the course of a century of study.  How we relate to these concepts can be affected by our environment and upbringing, but for the most part, our moral compass is psychologically ingrained. It is up to us to either follow it or not follow it.
Watching how people handle this choice is a bit of hobby of mine, and I do take notes. You can learn a lot about the state of your environment by observing what people around you tend to do when faced with the conflict of personal gain versus personal conscience. It is saddening to admit that even though I live in rural America, where you are more likely to find self-reliance and cultural stability, I can still see a faltering nation bleeding through.
I have seen supposedly good people act dishonestly in business agreements. I have seen local institutions scam hardworking citizens. I have seen a court system rife with bias and a "good old boy" attitude of favoritism. I have seen local companies pretend to be benevolent contributors to the community while at the same time running constant frauds and rackets. I have even seen a few people within the liberty movement itself put the movement at risk with their own avarice, gluttony, narcissism and sociopathy.
Again, it is important to make a note of such people and institutions, for as the system continues its downward spiral it is these people that will present the greatest threat to the innocent.
As Carl Jung notes in his book The Undiscovered Self, there is always a contingent of latent sociopaths and psychopaths within any culture; usually about 10% of the population. In normal times, they, at least most of them, are forced into moral acclimation by the rest of the populace. But in times of decline, they seem to leak out of the woodwork like a slimy fungus. During heightened collapse, they no longer have to pretend to be upstanding and they show their true colors.
Most dangerous is when latent sociopaths or full blown sociopaths assume roles of leadership or power during the worst of times. With everyone distracted by their own plight, these people can become a cancer, infecting everything with their narcissistic pursuits and causing destruction in their wake.
Disinterest In Rewarding Conscience
During wider cultural collapse, it can become "fashionable" to see acts of principle as something to be scoffed at or ridiculed or to even see them as threats to the status quo. The concept of "going along to get along" takes precedence over doing what is right even when it is hard; this attitude is not relegated to the less honest people within society.
As a system collapses, a fog of apathy can result. Good people can become passive, scrambling to their individual corner of the world and hoping evil times will simply pass them by. The phrase "I just want to put all this behind me" is spoken regularly; but as we ignore the trespasses of terrible men and women, we also enable them. How? Because by doing nothing we allow them to continue their criminality, and we subject future persons and generations to victimization.
When doing the right thing is treated as laughable or "crazy" by what seems like a majority in the midst of widespread corruption, you are truly in the middle of a great decline.
In Christian circles, the idea of "the remnant" is sometimes spoken of. In Christian terms, this usually represents a minority of true believers surviving a tumultuous and immoral era. I see "the remnant" not so much as a contingent of Christians alone, but as a contingent of people that continue to maintain their principles and conscience when faced with unprecedented adversity. In the worst of times, these people remain stalwart, even if they are ridiculed for it.
Disinterest In Independent Effort
It is said that in this world there are two kinds of people — leaders and followers.  I'm not so sure about that, but I can see why this philosophy is promoted; it helps evil people in power stay in power by encouraging passive acceptance.
I would say that there are in fact two kinds of people in this world — people who want to control others and the people that just want to be left alone. In life sometimes we are both leaders and followers; we just have to be sure that when we lead we lead by example and not by force, and when we follow, we follow someone worth a damn.
In any case, passivity is not a solution to determining our roles in society. In most situations, independent action is required by every person to make the world a better place. Yet, in an era of systemic crisis, it is usually independent effort that is the first thing to go out the window. Millions upon millions of people wait around for someone, anyone, to tell them what they should be doing and how they should be doing it. In this way, society finds itself in stasis, frozen in a position of inaction.  Poisonous collectivism wins through mass aggression, but also through mass passivity.
In fact, when individualists do take action they can be admonished for it during times of societal breakdown, even if their actions have the potential to solve a problem. The idea that one man or woman (or a small group of people) could do anything about anything is sneered at as "fantasy" or "delusion."  But mass movements of citizens working towards a practical goal are rare, and even more rare is when these movements are not controlled or manipulated to benefit the established order. It is not mass movements that change the world for the better, but individual people and small organizations of the dedicated, acting without permission and without administration.
It is these individuals and small groups that, over time and through relentless effort, inspire a majority to do what is necessary and right. It is these people that inspire others to finally take leadership in their own lives.
Individual Self-Isolation
I write often on the plight of the individual and individual rights within society, and I continue to see the factor of the individual as the most important element in any culture. A culture based on protecting and nurturing individualism and voluntarism is the only culture, in my view, that will ever be successful at avoiding full spectrum collapse. That said, the downside to overt individualism is the danger of self isolation. That is to say, when true individuals only concern themselves with their personal circumstances and ignore the circumstances of the rest of the world, they eventually set themselves up to be crushed by that world.
Organization on a voluntary basis is not only healthy but vital in the longevity of a society. The more people turn in on themselves and only care about their own general conditions, the easier it is for evil people to do evil things unnoticed. Also, self isolation in the wake of collapse sets individuals up for failure, as no one is capable of surviving without at least some help from a wider pool of knowledge and talents.
In a system based on corruption, the establishment will encourage self isolation as a means to control the populace. Or, they will offer a false choice, between self isolation versus mindless collectivism. The truth is there is always a middle ground. Voluntary organization and individualism are not mutually exclusive. I call this the "difference between community and collectivism." A community does not supplant the individual, while a collective requires the complete erasure of individual pursuits and thought.
If you find yourself surrounded by people who refuse any organization, even practical and voluntary organization in the face of instability, then your society may be in the latter stages of a collapse.
Disaster Denial
Even as a crisis or collapse unfolds, if a society actually reels or reacts to it and takes note of the problem, there is hope for that society. If, however, that society willfully ignores the danger and denies it exists when presented with overwhelming evidence, then that society will likely suffer complete disintegration and will probably have to start all over from scratch — hopefully with a set of principles and ideals based on conscience and honor.
The strength of a culture can be measured by its willingness to self reflect. Its survival can be determined by its willingness to accept its flaws when they arise and its willingness to repair the damage done. Self-aware societies are difficult to corrupt or control. Only in denial can people be easily manipulated and enslaved.
If you cannot accept the reality of the abyss, you cannot move to avoid it or prepare yourself to survive the fall. I see this issue as perhaps the single most important element in the fight to save the portions of our society worth saving. Educating people on the blatant facts behind our own national decline can dissolve the wall of denial, and perhaps we will find when disaster strikes that there are far more awake and aware individuals ready to act than we originally thought.
Source: alt-market.com
04.03.2018 –   The Problem with a State-Cartel Economy: Prices Rise, Wages Don't
The vise will tighten until something breaks. It could be the currency, it could be the political status quo, it could be the credit/debt system–or all three.
The problem with an economy dominated by state-enforced cartels and quasi-monopolies is that prices rise (since cartels can push higher costs onto the consumer) but wages don't (since cartels can either dominate local labor markets or engage in global wage arbitrage: offshore jobs, move to lower-wage states, etc.)
Think about the major expenses of the typical household: Internet, telephony, cable and other digital services: cartels. Airlines: cartel. Healthcare insurance, providers and Big Pharma: cartels. Defense weaponry: cartel. Higher education and student loans: cartels. Mortgages: cartel. And so on.
The economy is now dominated by two consequences of state-enforced cartels:
1. High profits / high incomes for the owners and managers at the top who reap most of the gains of the cartel: high-income individuals pay most of the income taxes and fund most of the political class's campaign contributions. No wonder the political class insures that the state protects cartels from competition: it's called self-interest.
2. Debt. i.e. credit for consumers, so they can continue to borrow more to pay the ever-higher costs of living.
But debt has a cost, too, and even at low rates of interest, eventually the interest on ever-larger mountains of debt crimps households' spending and their ability to borrow more.
When consumers aren't earning more and can no longer borrow more to support additional consumption, consumption and the rate of new debt expansion both decline, guaranteeing recession.
Cartels don't really have competition, and so there is no pressure to lower costs; cartels have no incentives to innovate in ways that radically reduce costs and improve their services. Consumers see this most dramatically in healthcare and higher education, where costs just keep rising year after year.
If consumers can't borrow more to pay higher costs, then cartels lobby for the government to pay their rising costs via deficit spending, i.e. the government borrows more to fund the cartels.
Now that students are over-indebted, the higher education/lending cartels are demanding that the government pay the students' debts, so neither cartel suffers any decline in income/profits.
Since competition would threaten profits and higher prices, cartels buy political influence to protect their rackets. Politicos, always desperate to raise millions for their permanent campaigns for re-election, are happy to comply.
The only output of this system is higher public and private debt taken on to pay the rising prices imposed by cartels, and stagnation as wages no longer enable the bottom 80% of consumers to keep up with ever-higher prices.
The vise will tighten until something breaks. It could be the currency, it could be the political status quo, it could be the credit/debt system–or all three.
Here's a chart of the net result of a financialized state-cartel economy: the politicos skimming fortunes in campaign contributions love it, and the protected cartel insiders skimming the nation's wealth love it, too. Well let's see, that's all the important people, so what's not to like?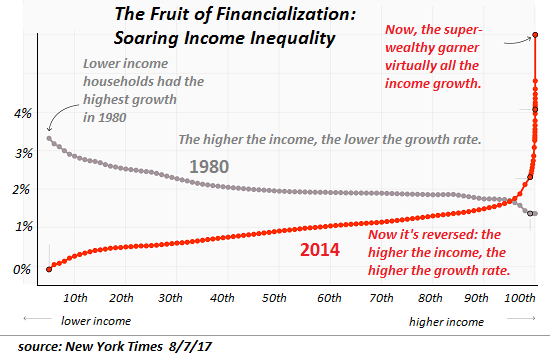 Source: oftwominds.com

04.01.2018 – This is what fake news looks like.
This is what fake news looks like. pic.twitter.com/qedn0Z1J4Z

— Paul Joseph Watson (@PrisonPlanet) April 1, 2018
04.01.2018 – US-South Korea Joint Military Drills Kick Off After Delay
The US and South Korea on Sunday kicked off their annual joint military exercises which had been postponed until after the Winter Olympics, South Korean Defense Ministry sources said. About 11,500 U.S. and 300,000 South Korean soldiers will take part in the drill that was originally set for March. The start of the drills comes around a week after Kim made a surprise visit to Beijing where he held his first summit with Chinese President Xi Jinping.
The exercises, which both countries stress are defense in nature, take place as both Seoul and Washington prepare for separate summits with North Korean leader Kim Jong Un amid a sudden diplomatic thaw on the Korean peninsula.
According to Reuters, the "Foal Eagle" field exercise, which usually involves combined ground, air, naval and special operations troops, will continue for a month. The computer-simulated command-post "Key Resolve" exercise will get under way later in the month and last two weeks, which means they are going to overlap with a historic summit between North Korea's leader Kim Jon-un and South Korea's President Moon Jae-in on April 27.
Furthermore, in a sign of deescalation of tensions, while both the South Korean Defense Ministry and the U.S. Department of Defense said last month that the exercises would be roughly the size of those in previous years, local media reported that the joint drills this year will be shorter than originally planned, and that a nuclear-powered aircraft carrier will not take part.
The annual joint exercises, which have taken place since 1997, ran for two months in 2017 but have been reduced to just one month this year, according to Yonhap. One of the highlights of this year's Foal Eagle maneuvers will be the involvement of the USS 'Wasp' amphibious-assault ship, which has recently been spotted operating off the coast of Okinawa. The Japanese island plays a strategic role for US deployment in the region and hosts some 26,000 US troops.
According to the US Navy, the warship will be carrying fifth-generation F-35B stealth fighter jets. The US Navy, which has not commented on the potential involvement of the 844ft-long "quasi" aircraft carrier in the drills, recently announced a first successful landing of an F-35B on the USS 'Wasp' in the Pacific, describing it as "one of the most significant leaps in warfighting capability for the Navy-Marine Corps team in our lifetime."
According to Yonhap, the USS 'Bonhomme Richard,' another Wasp-class amphibious-assault ship, will also participate in the maneuvers. An amphibious landing exercise codenamed SsangYong, or "Double Dragon," will be held through April 8.
While North Korea has long opposed both exercises as "preparations for invasion", during a meeting last month, the country's leader Kim told South Korean officials in Pyongyang that he understands Seoul's stance that it is hard to postpone the military drills again or suspend them.
Kim is scheduled to hold a summit with South Korean President Moon Jae In on April 27 and is expected to meet with U.S. President Donald Trump possibly by the end of May.
The drills which were initially scheduled to be launched in late February or early March, were postponed because of the Olympic and Paralympic Games, which concluded on March 18 and marked the beginning of a thaw in relations between the two Koreas.
The relatively low-key exercises will finish just ahead of the widely anticipated talks between US President Donald Trump and North Korean leader Kim Jon-un. The much-hyped meeting, whose date has yet to be set, is expected to take place by May.
Pyongyang has repeatedly denounced US-South Korean joint maneuvers on its doorstep as a provocation and a rehearsal for invasion. The US military, however, insists that the planned exercises are "defense-oriented" and that "there is no reason for North Korea to view them as provocation." North Korea was notified of the drills in advance through the United Nations Command, the Pentagon said one week ago.
Source: zerohedge.com

03.30.2018 –  Turkey Breaks With NATO, Refuses To Expel Russians
Following the alleged March 4th alleged Russian poisoning of Sergei Skripal, an ex-double agent in the UK, several European countries and the US have begun ejecting Russian diplomats from their countries. With both the UK and US each ejecting dozens of diplomats, it stands to reason that every other NATO country would follow suit.
You will find more infographics at Statista
However, several European Union members have yet to follow London's lead. One important NATO country isn't bowing to western Russophobia: Turkey.
Despite calls from the UK for all of their allies to stand with them in "punishing Russia" they have failed to convince many of their fellow EU members, Israel, and Turkey to follow their suggestions. While there isn't much London can do to their fellow European states, and obviously, they can't criticize Israel; tension between Turkey and the EU has reached a point where it's fashionable to demonize Ankara.
Both the US and UK often pander to Turkey due to the country's strategic location and their control of the second largest military in NATO. This, however, has become much more difficult in recent months due to the increasingly authoritarian governance of the country leading to arrests of western employees, global kidnappings, and blatant defiance of international law.
This tense relationship between Turkey and the EU was on full display yesterday as Turkish President Recep Erdogan met with EU leaders about his nation's prospects of joining the bloc. Predictably, no new results were achieved between Brussels and Ankara. This allows Erdogan to go back to turkey and play the victim, likely in anticipation of this announcement on Russia, which he will probably frame as 'retaliation.'
Tensions between NATO and Turkey have also increased following the recent decision by Ankara to purchase Russian-made S-400 anti-air missile systems rather than the US Patriot missiles. According to Turkey the decision for this purchase was due to the vast amount of red tape around the purchase of the Patriot systems (although, they may have dodged a bullet as the Patriots have recently shown to be ineffective).
The Turks have also found themselves quarreling with the US over their support for the Kurds in northern Syria. According to Ankara (and some high level US officials) the Syrian Kurdish group's armed by the US have very public connections to the terrorist group, the Kurdistan Workers Party (PKK).
Combine all these factors and it shouldn't be surprising to hear the Turkish Deputy Prime Minister, Bekir Bozdag announce that "Turkey isn't considering taking any decisions against Russia." According to Bozdag, the current crises in US-Turkish relations is a large factor in their decision not to alienate Moscow at a time when "there is a positive and good relationship between Turkey and Russia."
While nobody can be sure what to believe coming from the Turks, Erdogan also confirmed the decision to not retaliate against Russia although he "condemns what happened in the UK and regards the use of chemical weapons as a crime against humanity."
Source:  geopoliticsalert.com
03.27.2018 –  15 Years of War: To Whose Benefit?
As for Iraq, the implicit gain was supposed to be access to Iraqi oil.
Setting aside the 12 years of "no fly zone" air combat operations above Iraq from 1991 to 2003, the U.S. has been at war for almost 17 years in Afghanistan and 15 years in Iraq. (If the word "war" is too upsetting, then substitute "continuing combat operations".)
Since the burdens and costs of these combat operations are borne solely by the volunteers of the U.S. Armed Forces, the American populace pays little to no attention to the wars unless a household has a family member in uniform who is in theatre.
Permanent combat operations are now a barely audible background noise in America, something we've habituated to: the human costs are invisible to the vast majority of residents, and the financial costs are buried in the ever-expanding mountain of national debt. What's another borrowed trillion dollars on top of the $21 trillion pile?
But a nation continually waging war should ask: to whose benefit? (cui bono) As near as I can make out, the nation has received near-zero benefit from combat operations in Afghanistan, one of the most corrupt nations on Earth where most of the billions of dollars "invested" have been squandered or stolen by the kleptocrats the U.S. has supported.
What did the nation gain for the tragic loss of lives and crippling wounds suffered by our personnel and Afghan civilians?
As for Iraq, the implicit gain was supposed to be access to Iraqi oil. As near as I can make out, the U.S. imports about 600,000 barrels of oil per day from Iraq, a relatively modest percentage of our total oil consumption of 19.7 million barrels a day.
(Note that the U.S. was importing around 700,000 barrels a day from Iraq before Operation Iraqi Freedom was launched in March 2003–and imports from Iraq declined as a result of the war. So what was the energy-security gain from launching the war?)
Meanwhile, Iraq exports over 2 million barrels a day to China and India, where the presumed benefit to the U.S. is that U.S. corporations can continue to produce shoddy goods using low-cost Asian labor that are exported to U.S. consumers, thereby enabling U.S. corporations to reap $2.3 trillion in profits every year.
(Before China joined the World Trade Organization (WTO), U.S. corporate profits were around $700 billion–less than one-third the current gargantuan sum. Isn't this suggestive of the immense profits gained by offshoring production to Asia and reducing the quality of the goods being manufactured?)
Since "energy security", i.e. access to oil, was the implicit reason for going to war, let's ask: were all the sacrifices of lives and limbs and the direct costs of roughly $1 trillion worth the roughly $200 billion in oil that the U.S. has imported from Iraq– and if history is any guide, could have imported without going to war at all?
It's far easier to blunder into war than it is to blunder out of war. But hey, it's certainly been profitable for a few at the top of the financial heap.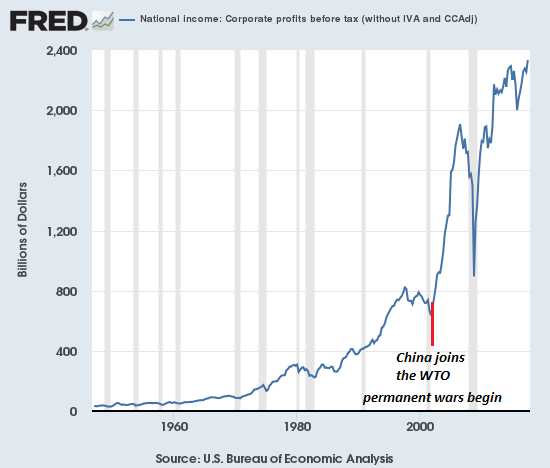 Source:  oftwominds.com
03.26.2018 –   Decrypting The Appointment Of John Bolton
So perhaps the dominant wing of the Deep State is finally willing to cut a deal with Trump.
To many observers, the appointment of John Bolton as national security advisor is the functional equivalent of appointing the Anti-Christ–or maybe worse. Indeed, these observers would, when comparing the two, find grudging favor with the Anti-Christ.
Bolton is a founding member of the neoliberal, neoconservative, neo-colonial interventionist Globalist wing of the Deep State. The antipathy he inspires is partly due to the enjoyment he takes in wielding power. (Note that the Anti-Christ is not a victim–he enjoys being the Anti-Christ.)
This wing of the Deep State, unquestionably in charge until the election of Donald Trump, finds Trump, well, interesting. Trump can congratulate Vladdy Putin on his shoo-in re-election one day and eject a bunch of Russian diplomats the next.
This sort of non-linear, non-ideologically pure "policy" (or lack thereof) discombobulates the Deep State, which is accustomed to presidents rubber-stamping their agenda and supporting their narrative.
They're having a tough time controlling Trump, as it's difficult to read how best to play him: is Trump a master of the Crazy Ivan or is he just winging it? Assuming the latter leaves those acting on that premise vulnerable to a Crazy Ivan once Trump has extracted whatever value he sought from the person or policy.
So how do we decrypt the appointment of Bolton? Here are two possibilities:
1. Trump appointed bete noire Bolton to do the dirty work of cleaning house and ridding the National Security Council and staff of any loyalists to previous presidents or cliques. This Bolton seems prepared to do with both alacrity and relish. This appointment also throws a bone to those demanding a harsher, more interventionist foreign policy.
Once Bolton has cleaned house and disrupted or fired the status quo holdovers from the Obama administration, he'll be fired like everyone else. Crazy Ivan!
2. The neo-liberal /neo-conservative /neo-colonial wing of the Deep State has given up trying to evict Trump from the White House or manage him. Both of these strategies carry high risks and the assessment has likely been made that both have not just failed, they're increasingly counter-productive, eroding the legitimacy of those pushing them.
So perhaps the dominant wing of the Deep State is finally willing to cut a deal with Trump: Trump appoints Bolton, whom the Deep State views as the adult supervising the playground, and in return, the Mueller investigation goes away and the Clintons will finally lose the protection of the security agencies. (They've become enormous liabilities anyway, and there's no benefit to the high cost of continuing to protecting them.)
If Trump is just winging it, the Deep State might finally re-exert some of the control it has lost in the White House and desperately needs to re-consolidate. But if Trump is actually adept at the Crazy Ivan, this deal plays right into his hands: the security services lower the moat gate, letting the wolves in to ravage Castle Clinton, Bolton cleans house and Mueller wraps up his hunt for obstruction of justice and accepts retirement.
Once these goods have been delivered, Trump fires Bolton and the neo-cons in the Deep State get nothing except another lesson in Crazy Ivan.
It will be interesting to see how this plays out. I will be greatly surprised if Bolton lasts a year.
Source:oftwominds.com
03.23.2018 –  The Stock Market Falls Another 724 Points! What In The World Is Happening On Wall Street?
We just witnessed the 5th largest single day stock market crash in U.S. history.  On Thursday the Dow Jones Industrial Average plunged 724 points, and many believe that this is just the beginning of another huge wave down for stock prices.  After this latest dramatic decline, the Dow is now down 3.1 percent so far in 2018, and overall it is down 9.99 percent from the all-time high in January.  A 10 percent decline is officially considered to be "correction" territory, and that means that we are just about there.
So why are stock prices falling so much?  Well, USA Today is blaming the potential for a trade war with China, the latest Facebook scandal and "the impact of rising interest rates on the economy"…
U.S. stocks sold off sharply Thursday, with the Dow tumbling more than 700 points amid growing fears of a trade fight between the U.S. and its trading partners after President Trump said he will impose billions of dollars in tariffs on Chinese imports.

The heavy selling on Wall Street was exacerbated by continued weakness in shares of Facebook as well as concerns about the impact of rising interest rates on the economy.
Of course the possibility of a trade war between the two largest economies on the planet is certainly the greatest concern that the markets are grappling with at the moment.  According to Ian Winer, any sign of retaliation by China "will really spook people"…
"A global trade war, whether it's real or perceived, is what's weighing on the market," said Ian Winer, head of equities at Wedbush Securities. "There's this huge uncertainty now. If China decides to get tough on agriculture or anything else, that will really spook people."

Trump announced tariffs on about $50 billion worth of Chinese imports on Thursday afternoon. It's not clear which products will be hit, but the action is aimed at curbing China's troubling theft of US intellectual property.
And we can be quite sure that China will retaliate.
In fact, before the end of the day on Thursday the Chinese embassy boldly declared that China will "fight to the end"…
The Chinese embassy released a statement late Thursday saying China "would fight to the end..with all necessary measures."
What people need to understand is that China has been taking advantage of us for decades.
For example, many U.S. vehicles cost three times as much in China because of all the tariffs that China slaps on them.  But we have been allowing China to flood our shores with giant mountains of super cheap goods with no tariffs at all.
This is why we have been buying far more from China than they have been buying from us.  It has been an unfair playing field.  As a result of our massive trade deficit with China, they have been systematically getting wealthier and we have been getting poorer.
Since China joined the WTO in 2001, we have lost more than 70,000 manufacturing facilities and millions of good paying jobs.  We have to beg China to lend us back a lot of the money that we send to them, and as a result the Chinese now own more than a trillion dollars of our national debt.
So we simply cannot afford to continue to allow China to take advantage of us, but if we start standing up to them it is inevitable that they will strike back. Here are just a few of the things that they could do…
1. Impose higher tariffs on all US exports to China
2. Restrict market access for US firms in China
3. Provide preferential treatment to US competitors
4. Restrict US travels by Chinese nationals
5. Sell US treasuries and buy other government bonds
But what is the alternative?
Should we just continue to allow China to walk all over us?
Hopefully we can negotiate with China without causing a horrible trade war, because without a doubt trade wars are not good for the global economy…
Trade wars are bad for the global economy, as they cause prices that consumers and businesses pay for goods and services to rise. A rise in inflationary pressures could prompt the U.S. central bank to speed up its pace of interest rate hikes, which could slow economic growth. Trade skirmishes can also hurt U.S. exports and corporate earnings.
And in the short-term, any news about a potential trade war will continue to rattle the financial markets.  At this point more than half of the companies on the S&P 500 are already in "correction territory", and dozens of companies are already down at least 20 percent from their one year highs…
The U.S. stock market is under pressure once again, with more than half the S&P 500 falling into correction territory.

More than 275 components in the broad index were down at least 10 percent from their 52-week highs as of 11:04 a.m. ET. Of those companies, 84 were in bear-market territory, or down at least 20 percent from their one-year high.
Source:theeconomiccollapseblog.com
03.22.2018 –  Solutions Only Arise Outside the Status Quo

Solutions are only possible outside these ossified, self-serving centralized hierarchies.
Correspondent Dan F. asked me to reprint some posts on solutions to the systemic problems I've outlined for years, most recently in How Much Longer Can We Get Away With It? and Checking In on the Four Intersecting Cycles. I appreciate the request, because it's all too easy to dwell on what's broken rather than on the difficult task of fixing what's broken.
I've laid out a variety of solutions to structural problems in my many books, and I'll attempt a brief synthesis in this post.
1. The dynamics of stagnation are built into the system. Centralized systems optimize specific solutions to a specific set of problems that prompted the development of the system.
In the U.S., the empire that resulted from the global effort to win World War II and the Cold War competition with the Soviet Union spawned centralized bureaucracies to manage the complexities and budgets of this new era.
In effect, the system was optimized to the circumstances of 1950 or perhaps 1960. Though circumstances have changed, the system remains essentially unchanged, except bureaucracies and budgets have ballooned in response to the dynamics of bureaucracies: the initial purpose erodes and is replaced with self-aggrandizement of insiders and bureaucratic bloat.
As the systems optimized for a bygone era start failing, due to the erosion of accountability and transparency as insiders mask their self-serving ineffectiveness, the organizational structure attempts to meet the challenges by doing more of what's failing: since every layer of bureaucracy now has a constituency that will fight to the death to maintain its power, budget and perquisites, a ratchet effect is the dominant dynamic: budgets and power cannot decline due to resistance, but the path to increases in power and budget is well-greased.
Since the structures are optimized for a bygone era, the institutions are fundamentally incapable of responding effectively or reforming themselves. The universal solution to failing institutions and hierarchies is to throw more money at the failings in the doomed hope that doing more of what's failed will magically solve the systemic problems.
The Lifecycle of Bureaucracy (December 2, 2010)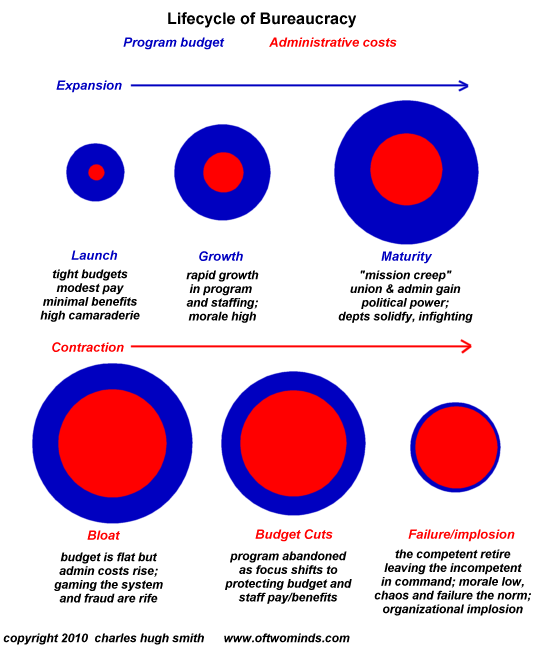 As a result, solutions are only possible outside these ossified, self-serving centralized hierarchies.
We see this dynamic in all the major public-private structures of our economy/society: higher education (solution: make students borrow even more trillions, or have the government borrow more trillions); healthcare (government needs to borrow more trillions), and national defense/security (government needs to borrow more trillions).
The failings and ineffectiveness of the systems themselves are ignored, lest insiders lose power and budgets.
2. Democracies have a fatal flaw: politicians win re-election by promising something for nothing: more benefits and entitlements and lower taxes. The gap between higher costs and declining revenues will be filled by government borrowing.
All this additional borrowing will be paid by the magic of "growth", which will expand tax revenues at a rate that exceeds the cost of borrowing.
But demographics, resource depletion and the diminishing returns of a consumer economy fueled by rapidly expanding public and private debt have sapped "growth" in fundamental ways. Ironically, borrowing and spending more to spur "growth" only hastens the diminishing returns of increasing debt to fund consumption today.
Democracies are thus optimized for rapid "growth" and are ill-suited to transition to DeGrowth, i.e. less of everything for the vast majority of the citizenry.
3. When faced with fiscal crises, central states/banks inevitably succumb to the temptation to print/borrow currency in whatever sums are needed to fill the shortfall of the moment. This profligate creation of currency seems to be magic at first; everyone accepts the "new money" at the current value. But eventually gravity takes hold and the currency's purchasing power declines, as the real economy (the production of goods and services) grows at rates far below the expansion of currency.
Even the greatest empires in human history have been unable to resist the "easy" solution of devaluing currency as the means of fulfilling all the promises that were made in less trying and more prosperous times.
4. The progression of centralized power slowly but surely replaces the self-organizing, resilient, decentralized structures of civil society with tightly bound hierarchical centralized structures that are increasingly ineffective (as outlined above), increasingly costly and increasingly brittle/fragile, i.e. increasingly prone to failure or collapse.
This replacement of resilient, localized civil society by a central state is so gradual that the loss of civil society is not even grasped or understood: the economy and society are hollowed out without anyone even noticing, as the apparently all-powerful central state accumulates power over every aspect of life, supposedly for the benefit of all.
5. The only currencies that won't be debauched by insiders desperate to maintain the illusion that the status quo is permanent are decentralized, distributed non-state currencies that are accessible to everyone with a mobile phone or digital connection.
6. Traditional forms of money such as gold and silver are fine for those who are already wealthy and thus have the means to buy and stockpile precious metals, but for the billions of humans who lack wealth, the only real solution is access to a digital currency that is created and distributed specifically to everyone who labors on behalf of their local community.
This is the purpose of my CLIME system: the community labor integrated money economy, which creates and distributes non-state digital community to everyone who performs work that benefits their local community.
A new structure that directly funds and nurtures the decentralized, resilient locally controlled civil society lost to centralization is the one essential systemic solution. I describe how CLIME works in my book A Radically Beneficial World: Automation, Technology and Creating Jobs for All.
7. Existing systems optimized for bygone eras and maximizing the security and wealth of insiders are doomed to fail. Throwing money at these systems only speeds the dissolution of the entire financial system.
Solutions will only arise outside the control and boundaries of existing systems, as all structural solutions threaten to obsolete or replace existing structures, displacing all the incumbents and insiders who benefit from the continuing failure of the institutions they manage and control.
Source:oftwominds.com
03.20.2018 – Recession: When You See It, It Will Be Too Late
"There are no signs of recession. Employment growth is strong. Jobless claims are low and the stock market is up."
This is heard almost daily from the media mainstream pablum.
The problem with a majority of the "analysis" done today is that it is primarily short-sighted and lazy, produced more for driving views and selling advertising rather than actually helping investors.
For example:
"The economy is currently growing at more than 2% annualized with current estimates near 2% as well."
If you are growing at 2%, how could you have a recession anytime soon?
Let's take a look at the data below of real economic growth rates:
January 1980:        1.43%
July 1981:                 4.39%
July 1990:                1.73%
March 2001:           2.30%
December 2007:    1.87%
If you look at each of those dates, the economy was clearly growing. But each of those dates is the growth rate of the economy immediately prior to the onset of a recession.
You will remember that during the entirety of 2007, the majority of the media, analyst, and economic community were proclaiming continued economic growth into the foreseeable future as there was "no sign of recession."
I myself was rather brutally chastised in December of 2007 when I wrote that:
"We are now either in, or about to be in, the worst recession since the 'Great Depression.'"
Of course, a full year later, after the annual data revisions had been released by the Bureau of Economic Analysis (BEA), the recession was officially revealed. Unfortunately, by then it was far too late to matter.
It is here the mainstream media should have learned their lesson. But unfortunately, they didn't.
The chart below shows the S&P 500 index with recessions and when the National Bureau of Economic Research dated the start of the recession.
There are three lessons that should be learned from this:
The economic "number" reported today will not be the same when it is revised in the future.
The trend and deviation of the data are far more important than the number itself.
"Record" highs and lows are records for a reason as they denote historical turning points in the data.
For example, the level of jobless claims is one data series currently being touted as a clear example of why there is "no recession" in sight. As shown below, there is little argument that the data currently appears extremely "bullish" for the economy.
However, if we step back to a longer picture we find that such levels of jobless claims have historically noted the peak of economic growth and warned of a pending recession.
This makes complete sense as "jobless claims" fall to low levels when companies "hoard existing labor" to meet current levels of demand. In other words, companies reach a point of efficiency where they are no longer terminating individuals to align production to aggregate demand. Therefore, jobless claims naturally fall.
But there is more to this story.
Less Than Meets The Eye
The Trump Administration has taken a LOT of credit for the recent bumps in economic growth. We have warned this was not only dangerous, credibility-wise, but also an anomaly due to three massive hurricanes and two major wildfires that had the "broken window" fallacy working overtime.
"The fallacy of the 'broken window' narrative is that economic activity is only changed and not increased. The dollars used to pay for the window can no longer be used for their original intended purpose."
If economic destruction led to long-term economic prosperity, then the U.S. should just regularly drop a "nuke" on a major city and then rebuild it. When you think about it in those terms, you realize just how silly the whole notion is.
However, in the short-term, natural disasters do "pull forward" consumption as individuals need to rebuild and replace what was previously lost. This activity does lead to a short-term boost in the economic data, but fades just as quickly.
A quick look at core retail sales over the last few months, following the hurricanes, shows the temporary bump now fading.
The other interesting aspect of this is the rise in consumer credit as a percent of disposable personal income. The chart below indexes both consumer credit to DPI and retail sales to 100 starting in 1993. What is interesting to note is the rising level of credit card debt required to sustain retail sales.
Given that retail sales make up roughly 40% of personal consumption expenditures which in turn comprises roughly 70% of GDP, the impact to sustained economic growth is important to consider.
Furthermore, what the headlines miss is the growth in the population. The chart below shows retails sales divided by the current 16-and-over population. (If you are alive, you consume.) 
Retail sales per capita were previously on a 5% annualized growth trend beginning in 1992. However, after the financial crisis, the gap below that long-term trend has yet to be filled as there is a 23.2% deficit from the long-term trend. It is also worth noting the sharp drop in retail sales per capita over just the last couple of months in particular.
Since 1992, as shown below, there have only been 5-other times in which retail sales were negative 3-months in a row (which just occurred). Each time, the subsequent impact on the economy, and the stock market, was not good.
So, despite record low jobless claims, retail sales remain exceptionally weak. There are two reasons for this which are continually overlooked, or worse simply ignored, by the mainstream media and economists.
The first is that despite the "longest run of employment growth in U.S. history," those who are finding jobs continues to grow at a substantially slower pace than the growth rate of the population.
If you don't have a job, and are primarily living on government support (1-of-4 Americans receive some form of benefit) it is difficult to consume at higher levels to support economic growth.
Secondly, while tax cuts may provide a temporary boost to after-tax incomes, that income boost is simply being absorbed by higher energy, gasoline, health care and borrowing costs. This is why 80% of Americans continue to live paycheck-to-paycheck and have little saved in the bank. It is also why, as wages have continued to stagnate, the cost of living now exceeds what incomes and debt increases can sustain.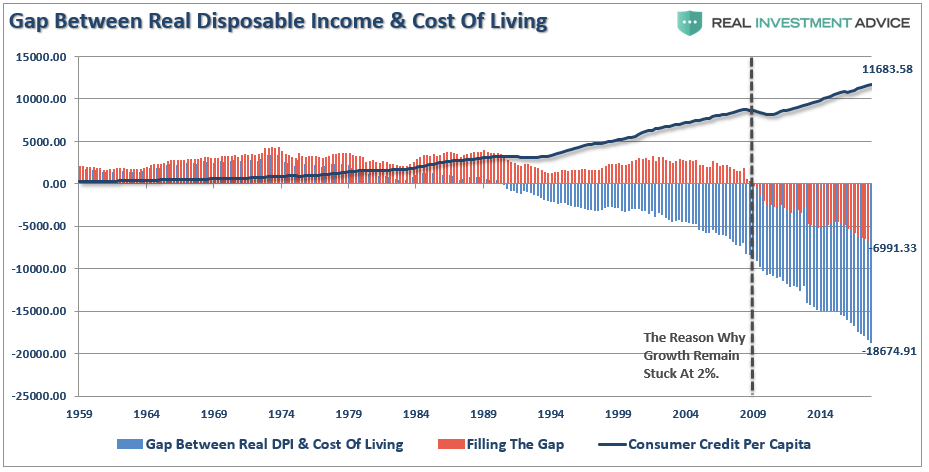 As I have discussed several times during the 4th-quarter of 2017:
"Very likely, the next two quarters will be weaker than expected as the boost from hurricanes fade and higher interest rates take their toll on consumers. So, when mainstream media acts astonished that economic growth has once again slowed, you will already know why."
Not surprisingly the economic data rolling in has been exceptionally weak and the first quarter GDP growth is now targeted at less than 2% annualized growth.
However, it is not only in the U.S. the economic "bump" is fading, but globally as well as Central Banks have started to remove their monetary accommodations. As noted by the ECRI:
"Our prediction last year of a global growth downturn was based on our 20-Country Long Leading Index, which, in 2016, foresaw the synchronized global growth upturn that the consensus only started to recognize around the spring of 2017.

With the synchronized global growth upturn in the rearview mirror, the downturn is no longer a forecast, but is now a fact.

The chart below shows that quarter-over-quarter annualized gross domestic product growth rates in the three largest advanced economies — the U.S., the euro zone, and Japan — have turned down. In all three, GDP growth peaked in the second or third quarter of 2017, and fell in the fourth quarter. This is what the start of a synchronized global growth downswing looks like."
"Still, the groupthink on the synchronized global growth upturn is so pervasive that nobody seemed to notice that South Korea's GDP contracted in the fourth quarter of 2017, partly due to the biggest drop in its exports in 33 years. And that news came as the country was in the spotlight as host of the winter Olympics.

Because it's so export-dependent, South Korea is often a canary in the coal mine of global growth. So, when the Asian nation experiences slower growth — let alone negative growth — it's a yellow flag for the global economy.

The international slowdown is becoming increasingly obvious from the widely followed economic indicators. The most popular U.S. measures seem to present more of a mixed bag. Yet, as we pointed out late last year, the bond market, following the U.S. Short Leading Index, started sniffing out the U.S. slowdown months ago."
You can see the slowdown occurring "real time" by taking a look at Personal Consumption Expenditures (PCE) which comprises roughly 70% of U.S. economic growth. (It is also worth noting that PCE  growth rates have been declining since 2016 which belies the "economic growth recovery" story.)
The point here is this:
"Economic cycles are only sustainable for as long as excesses are being built. The natural law of reversions, while they can be suspended by artificial interventions, cannot be repealed." 
While there may currently be "no sign of recession," there are plenty of signs of "economic stress" such as:
Rising levels of charge-offs
Weakening rates of consumption
The shift caused by the financial crisis, aging demographics, massive monetary interventions and the structural change in employment which has skewed the seasonal-adjustments in economic data. This makes every report from employment, retail sales, and manufacturing appear more robust than they would be otherwise. This is a problem mainstream analysis continues to overlook but will be used as an excuse when it reverses.
While the calls of a "recession" may seem far-fetched based on today's economic data points, no one was calling for a recession in early 2000 or 2007 either. By the time the data is adjusted, and the eventual recession is revealed, it won't matter as the damage will have already been done.
As Howard Marks once quipped:
"Being right, but early in the call, is the same as being wrong." 
While being optimistic about the economy and the markets currently is far more entertaining than doom and gloom, it is the honest assessment of the data, along with the underlying trends, which are useful in protecting one's wealth longer-term.
Is there a recession currently? No.
Will there be a recession in the not so distant future? Absolutely.
But if you wait to "see it," it will be too late to do anything about it.
Whether it is a mild, or "massive," recession will make little difference to individuals as the net destruction of personal wealth will be just as damaging. Such is the nature of recessions on the financial markets.
Source:  realinvestmentadvice.com
03.18.2018 –  The Fed Has Its Finger On The Button Of A Nuclear Debt Bomb
I hear a lot of talk lately in the alternative media (and even the mainstream media) of the potential for World War III. The general assumption when one hears that term is that "nuclear conflict" is imminent. But a world war does not necessarily have to be fought with nukes. For example, we are perhaps already witnessing the first shots fired in a global economic war as the Trump administration gets ready to implement far-reaching trade tariffs. This action might provide cover (or justification) for destructive attacks on the U.S. fiscal system by China, Japan, Russia, the EU, OPEC nations, etc. The ultimate attack being a dumping of their U.S. debt holdings and the death of the dollar's world reserve status.
Of course, an economic "world war" between nations would in itself be a smokescreen for and an even more insidious internal war being waged against the global economy by central banks.
There is a longstanding misconception that central banks always manipulate economic conditions to make them appear "healthy" and that the main concern of central bankers is to "defend the golden goose." This is false. According to the evidence at hand as well as open admissions by central bankers, these private institutions have throughout history also deliberately created financial crises and collapses.
The question I always get from people new to the field of alternative economics is — "Why would central bankers crash a system they benefit from?" This question is drawn from a flawed understanding of the situation.
First, there is the assumption that economic systems are static rather than fluid. In reality, vast sums of wealth can be transferred into and out of any notion on a whim and at the speed of light. The collapse of one economy or multiple economies does not necessarily include the destruction of banker wealth. Even if wealth was their top goal (which it is not), global banks and central banks do not see any particular economy as a "cash cow" or a "golden goose." From their behavior and tactics in the past, it is more likely that they see national economies as mere storage containers.
Banks can pour their wealth, which they create from thin air, into one or more of these many available containers. They can circulate that wealth within the container for a time and then pour all their wealth out at a moment's notice. One container is no more valuable to them than any other container, and sometimes sacrificing a container can be beneficial.
The perceived destruction of a national economy can often be exploited as a means to a greater end. Usually this "greater end" means exploiting the crisis to justify centralization of power or the transfer of power from the public into the hands of an elitist class.
I have outlined the history of such transfers on numerous occasions, including the liquidity crisis of 1914 (just after the establishment of the Federal Reserve) leading into World War I and the subsequent hoarding of financial power by banks as well as the creation of the League of Nations.
Or how about the artificial bubble in multiple asset classes created by the Federal Reserve in the 1920s through low interest rates? A bubble which was then burst through the aggressive raising of interest rates at the onset of the Great Depression. This crash coincided with other fabricated economic disasters in Europe and Asia, leading to social despair, the rise of communism and fascism and World War II. This crisis benefited the banking establishment greatly as thousands of smaller independent banks were crushed and a handful of major banks devoured all assets. And, let's not forget that WWII led to the creation of globalist edifices like the United Nations, the IMF, World Bank, the beginning roots of the European Union, etc.
Every new economic calamity seems to consolidate property and bureaucratic control into the hands of the same class of technocrats. And each calamity is linked to a very important economic factor — massive debt dependency.
So, let's fast forward to today's era of burgeoning crisis and how central banks like the Fed are feeding the fire of disaster. I would like to focus most of all on our debt situation to illustrate how the Fed can and will trigger an explosion, a controlled demolition of our financial system. What is our debt situation in the U.S. today?
The Consumer Debt Bomb
Total American household debt skyrocketed beyond $13 trillion at the end of 2017, well beyond historic highs. This is the fifth consecutive year of household debt increases, including credit cards, auto loans, mortgages, student loans, etc. This trend suggests that the "economic recovery" so far has not actually been based on any legitimate wealth creation or resurgence, but an even greater dependence on the same debt that helped cause the crash of 2008. The Fed's money printing did NOT trickle down to consumers as was originally promised.
While these sectors of consumer debt did not necessarily enjoy the same near-zero rates as banks and corporations did after the crash and the bailout bonanza, their rates are now rising along with the Fed's rate increases. This is affecting numerous asset classes including housing markets and auto loans.
The cold hard reality is that as the Fed raises interest rates all other areas of the economy come under pressure. The average citizen, with his/her record debt levels, is now subject to the machinations of the central bank through the arbitrary shifting of a single data point like "inflation".
The Corporate Debt Bomb
This debt bomb is possibly the most subversive and the least understood. I have been warning about how corporate debt and rising interest rates could cause a stock market crash for quite some time, but only recently have mainstream analysts caught up to this realization.
Today, institutions like S&P Global Ratings are showing that at least 37% of 13,000 corporations examined have a debt to earnings ratio of five times, making them "highly leveraged." This debt level is also even higher than it was in 2007 just before the collapse of Lehman and the beginning of the credit crisis.
The concern goes beyond debt holdings, though. Consider the fact that corporations have been exploiting low interest rates to borrow incredible sums of cash for the sole purpose of purchasing their OWN stocks. Stock buybacks are basically a legal form of market manipulation in which companies buy stocks back from the public and greatly reduce the number of existing stocks circulating in the market, thereby artificially increasing the value of each stock overall and keeping the Dow in the green.
Stock buybacks have been the primary fuel for the longest bull market in history, a bull market so fake that even the mainstream media has been questioning its validity lately. Stock buybacks are completely dependent on cheap debt, and cheap debt is disappearing as the Fed continues raising interest rates. The natural reaction by stock markets will be a crash.
Some people may question whether or not the Fed is actually doing this "deliberately," or if they are simply ignorant. I would refer them to the recently released Fed minutes from 2012, in which Jerome Powell, now the chairman of the Federal Reserve, talked repeatedly of the negative reaction that would occur within markets once the Fed began cutting its balance sheet holdings and raising interest rates after addicting equities markets to the drug of easy profits.
Jerome Powell himself is recorded as knowing exactly what will happen as interest rates rise, and he is continuing to raise them anyway, while also cutting the Fed balance sheet far faster than was originally telegraphed to the public. How can anyone in their right mind argue that the Fed is not bringing the U.S. economy down deliberately?
The National Debt Bomb
This debt bomb has a much longer fuse that the other two, but in the wake of a potential global trade war (World War III), the question arises as to how long it will take before major U.S. treasury bond holders like China dump their holdings in retaliation.
With Trump refusing to take a stand against the continued raising of the national debt ceiling, and the addition of his $1.5 Trillion infrastructure spending plan, there is little doubt that our national debt will continue to rise. Therefore, foreign investment is essential.
It is important to remember that the Federal Reserve used to be the largest purchaser of U.S. debt or the "buyer of last resort." Now, the Fed has ended quantitative easing and is cutting its balance sheet swiftly. So, the only buyers left are foreign central banks and investors. My prediction is that the Fed will not step in if a trade war escalates to a treasury bond dump. Or, that they will not step in until it is far too late to stall the resulting crisis.
In Barack Obama's eight years as president the national debt was essentially doubled. This is a unsustainable rate of debt issuance, even for a nation with the world reserve currency. If we lose foreign investment and the world reserve currency then that debt accumulation will come back to haunt us.
It is important to remember that whatever happens within our economy and the global economy, central banks like the Fed have fully facilitated the bubbles produced as well as the inversions that result. The Fed knows exactly what it is doing. And all other factors, from the Trump trade wars to foreign dumping of U.S. treasuries and the dollar, will be a distraction from the banking elites truly culpable.
Economic warfare can in some cases be just as devastating as nuclear warfare.  It can wipe out entire populations, give rise to tyrants and enslave the minds of individuals through the weaponization of resource scarcity.  Such wars, though less psychologically immediate as our cinematic fears of atomic doom, should be taken very seriously, and the culprits behind them have to be dealt with harshly.
Source: alt-market.com
03.16.2018 –   How Much Longer Can We Get Away With It?
Alas, fakery isn't actually a solution to fiscal/financial crisis..
This chart of "debt securities and loans"–i.e. total debt in the U.S. economy–is also a chart of the creation and distribution of new money, as the issuance of new debt is the mechanism in our financial system for creating (or "emitting" in economic jargon) new currency: when a bank issues a new home mortgage, for example, the loan amount is new currency created out of the magical air of fractional reserve banking.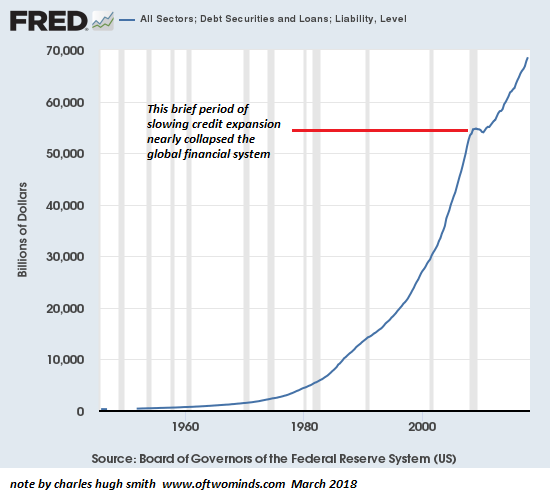 Central banks also create new currency at will, and emitting newly created money is how they've bought $21 trillion in assets such as bonds, mortgages and stocks since 2009. Is there an easier way to push asset valuations higher than creating "money" out of thin air and using it to buy assets, regardless of the price? If there is an easier way, I haven't heard of it.
Which brings us to the question: how much longer can we get away with this travesty of a mockery of a sham? How much longer can we get away with creating "money" by issuing new debt/liabilities to grease the consumption of more goods and services and the purchases of epic bubble-valuation assets?
Since humans are still using Wetware 1.0 (a.k.a. human nature), we can constructively refer to the Roman Empire's experience with creating "money" with no intrinsic value. The reason why the Roman Empire (Western and Eastern) attracts such attention is 1) we have a fair amount of documentation for the period, something we don't have for other successful empires such as the Incas, and 2) we're fascinated by the decline and collapse of the Western Empire, a structure so vast and successful that collapse seemed impossible just a few decades before the final unraveling.
One of the books I'm currently enjoying is The Fate of Rome: Climate, Disease, and the End of an Empire, a new exploration of the impact of climate change and pandemics on the Roman Empire's final few centuries.
The key takeaway is that climate change undermined the production of grain while the arrival of previously unknown diseases via trade routes stretching from Rome to China, India and the interior of Africa decimated the productive populace. Add in the rise of well-organized "barbarians" and the political instability born of a self-serving, ossified elite and voila, you have an excellent recipe for crisis.
Crises tend to reduce tax collections and increase government/Imperial costs, and this creates a fiscal/financial crisis. The Romans didn't have a fiat currency that a central bank could create out of thin air, so they did the next best thing which was to replace their mostly-silver coinage with new base-metal coinage that had been washed in silver. That is, they debased/devalued their money, replacing coinage with an intrinsic value of silver with coinage with little to no intrinsic value.
They got away with this debasement/ devaluation for quite a few years, and so naturally they reckoned they could get away with it forever. But alas, debauching the currency is not a permanent solution to insolvency; it is a one-time trick that fools the market and populace for a time but soon enough people catch on and bad money drives out good money (Gresham's law) as people hoarded the old silver coins and tried to trade the worthless new coins for anything but more worthless "money."
In the present, we see this process at work in Venezuela, where the government has debauched the nation's currency, the bolivar, to the point that inflation (i.e. loss of purchasing power) is running around 7,000% annually.
So how long can we get away with creating "money" out of thin air and using it to pump up asset prices? The Roman leaders who in desperation debased the Empire's currency/coinage must have been chortling at the fast one they pulled on the Empire's merchants, markets, farmers and soldiers, and we must forgive their avid willingness to believe that they could get away with it essentially forever.
Alas, fakery isn't actually a solution to fiscal/financial crisis. At this moment in time, our "leadership" is basking in the hubris-soaked confidence that we can get away with it if not forever then for decades to come: we can borrow currency into existence in as many trillions as we desire, and inflation will remain dormant, consumption will remain robust and everyone will accept the debauched currency as having value.
Until they don't. This is typically a sudden and unexpected event, as this chart of the exchange rate of the bolivar to the US dollar shows: the slide from 10 bolivars to the USD to 25 bolivars to one USD was gradual, but the implosion to 200,000 bolivars to the USD was frighteningly rapid.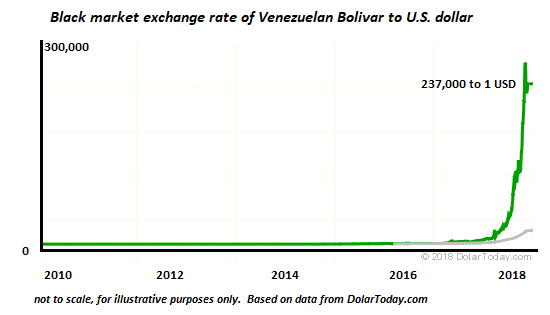 No doubt the Romans said, "it can't happen here"–but they were wrong.
Source: oftwominds.com

03.15.2018 –  France, Germany, US Demand Russia Explain UK Attack Despite Decrying May's "Fantasy Politics"
So without any evidence, no investigation and proof these countries want answers from Russia. This is a push to get Russia off of the UN Security Council. The deep state cannot push their agenda with Russia vetoing everything they want to do.
Update: Just hours after Macron issued the statement below demanding "more proof" and decrying May's "fantasy politics," it appears a phone call with the UK has changed the attitude and Germany, US, and France have now issued a statement that says they agree with UK that "Russia must be responsible" for the UK attack.
The countries are "horrified" at the attack, according to the joint statement, and explain in full-Haley (Colin-Powell-esque) fearmongery, warn the attack "threatens the security of us all" and Russia must explain the UK attack.
As AP reports, the leaders of the United States, France, Germany and Britain say they are united in blaming Russia for a nerve agent attack on former spy Sergei Skripal.
In a rare joint statement, President Donald Trump, President Emmanual Macron, Chancellor Angela Merkel and Prime Minister Theresa May say "there is no plausible alternative explanation" to Russian responsibility in the March 4 attack in England.

They say Russia's failure to respond to Britain's "legitimate request" for an explanation "further underlines its responsibility."

First use of nerve agent in Europe since World War II "threatens all of our security"

The leaders say the use of a chemical weapon is "an assault on U.K. sovereignty" and "a breach of international law."

"We call on Russia to respond to all questions connected with the attack in Salisbury," particularly those relating to its Novichok program
Britain has expelled 23 Russian diplomats and suspended high-level contacts with Moscow over the incident. Russia is expected to take retaliatory measures soon.
*  *  *
As we detailed earlier, UK Prime Minister made many of her European allies uneasy (particularly those who, like Germany, rely on Russia for supplies of LNG) on Monday when she accused the Russian government of masterminding an attack on former Russian spy Sergei Skripal and his daughter Yulia Skripal – an attack that left 18 bystanders and one law-enforcement officer hospitalized.
And with Russia threatening to retaliate, France's Emmanuel Macron – hardly a far-right authoritarian – is speaking up and undermining May's push to rally international support for another round of sanctions against Russia, according to RT.
Macron said he wants more proof linking Russia to the attack – which occurred at a shopping center in Salisbury earlier this month. So far, the UK government has essentially admitted that its strongest evidence was the presence at the scene of a nerve agent known to have been developed in Russia. May has threatened sanctions in response to the attack. And on Tuesday, she ordered 23 Russian diplomats to leave the country. The reaction resembled the UK's response to the death via radiation poisoning of Alexander Litvinenko.
Via a spokesman, Macron accused May of engaging in "fantasy politics."
On Wednesday, May announced the expulsion of 23 Russian diplomats and the suspension of bilateral talks. May claimed Russia was "culpable" for the poisoning of former double agent Sergei Skripal and his daughter Yulia, which amounted to "unlawful use of force against the UK."

However, President Emmanuel Macron's spokesman suggested May was acting prematurely. "We don't do fantasy politics. Once the elements are proven then the time will come for decisions to be made, Benjamin Griveaux told a news conference in Paris.

Griveaux added that France was waiting for "definitive conclusions" and evidence that the "facts were completely true" before taking a position. He said that the Salisbury poisoning was a "serious act" against a strategic ally, but France would await evidence of Russian involvement before taking a position.
Russian Foreign Minister Sergei Lavrov has asked the UK for a sample of the toxin that it's citing as evidence so that it might be examined by Russia.
Lavrov has also threatened to retaliate by expelling British diplomats. Russia has also refused to respond to the UK's demand that it furnish an explanation for how the nerve agent came to be found at the scene. Did Russia deliberately plan the attack? Or did it simply recklessly lose track of dangerous chemical weapons? The UK said it would give Russia a day to respond, infuriating the Kremlin.
In return, Russia has sternly rebuked the UK for its conduct, cautioning that "one does not give 24 hours notice to a nuclear power."
In addition to refusing to share the toxin, the UK is resisting settling the issue through the proper channels – ie the Organization of the Prohibition of Chemical Weapons. Russia and the UK are both members.
Moscow's permanent representative to the United Nations, Vassily Nebenzia, said Wednesday that "we demand that material proof be provided of the allegedly found Russian trace in this high-resonance event. Without this, stating that there is incontrovertible truth is not something that we can take into account."
Even Labour leader Jeremy Corbyn has also challenged May's evidence of Russian culpability. Corbyn believes there is not enough proof to conclude Russia was behind the incident.
"The government has access to information and intelligence on this matter which others don't. However, there is also a history in relation to weapons of mass destruction and intelligence which is problematic, to put it mildly," said Corbys spokesman Seumas Milne. "I think the right approach is to seek the evidence to follow international treaties, particularly in relation to prohibitive chemical weapons."
* * *
However, as one Twitter user pointed out, if Russian President Vladimir Putin really did personally authorize the "wet job" – FSB-speak for assassination – then for a reportedly 'smart guy', he picked a remarkably ill-time moment to carry out such an attack…
This Putin guy is really something: at the height of anti-Russian hysteria in the west, and right before both the Russian election and World Cup, he decides the time is right to execute a spy living openly in the UK since 2010 using a Russian nerve agent.

— Tom Slaughter (@tgs31952) March 12, 2018
 Source:zerohedge.com
03.13.2018 –    The Amazing Amount of Gold The U.S. Exported Since 2000
The U.S. exported a stunning amount of gold since the turn of the century.  As the price of gold surged along with the massive increase in U.S. debt, gold exports jumped to record highs.  In 2012 alone, the United States exported nearly 700 metric tons of gold.  The total amount of U.S. net gold exports over the past 17 years equaled the combined gold reserves of six high ranking countries.
While the U.S. exported nearly 8,000 metric tons (mt) of gold since 2001, it also imported a great deal as well.  Thus, we arrive at a "net export" figure by subtracting gold imports from gold exports.  During the past 17 years, there were only four years where the U.S. imported more gold than it exported.  These net gold import years were in 2004-2005 and 2010-2011 and totaled only 322 mt.
However, U.S. gold net exports were the mainstay as a staggering 2,340 mt of gold were shipped abroad.  If we look at the chart below, U.S. gold net exports picked up during the 2007-2008 U.S. Housing and Investment Banking collapse:
From 2012 to 2017, U.S. net gold exports totaled 1,354 mt or 43.5 million.  That's one heck of a lot of gold.  Of course, the United States produces a lot of gold, 210-225 mt annually, however, domestic demand consumes a large percentage of that amount.
Now if we compare U.S. net gold exports versus the official reserves at top-ranking countries, the number turns out to be quite large.  The combined official gold holdings of the U.K., Saudi Arabia, Portugal, Taiwan, European Central Bank and India of 2,512 mt is about the same amount of U.S. net gold exports (2,430 mt) from 2001 to 2017.  Moreover, Italy (2,452 mt) and France (2,436 mt) which rank 4th and 5th respectively in official world gold reserves, are approximately the same amount of U.S. net gold exports during the same period (official gold reserves: source, World Gold Council).
The majority of U.S. gold exports were shipped to Switzerland, the U.K., and Hong Kong.  These three countries received more than 80% of U.S. gold exports during the 17-year period.
When the U.S. Dollar finally loses its world reserve status, Americans are going to wish that they held onto their gold instead of sending it overseas, ending up mostly in China and India.
Source: srsroccoreport.com
03.12.2018 –  Trump Trade Wars A Perfect Smokescreen For A Market Crash
First, I would like to say that the timing of Donald Trump's announcement on expansive trade tariffs is unusual if not impeccable. I say this only IF Trump's plan was to benefit establishment globalists by giving them perfect cover for their continued demolition of the market bubbles that they have engineered since the crash of 2008.
If this was not his plan, then I am a bit bewildered by what he hopes to accomplish. It is certainly not the end of trade deficits and the return of American industry. But let's explore the situation for a moment…
Trump is in my view a modern day Herbert Hoover. One of Hoover's first actions as president in response to fiscal tensions of 1929 was to support increased tax cuts, primarily for corporations (this was then followed in 1932 by extensive tax increases in the midst of the depression, so let's see what Trump does in the next couple of years).  Then, he instituted tariffs through the Smoot-Hawley Act.  His hyperfocus on massive infrastructure spending resulted in U.S. debt expansion and did nothing to dig the U.S. out of its unemployment abyss. In fact, infrastructure projects like the Hoover Dam, which were launched in 1931, were not paid off for over 50 years. Hoover oversaw the beginning of the Great Depression and ended up as a single-term Republican president who paved the way socially for Franklin D. Roosevelt, an essential communist and perhaps the worst president in American history.
This is not to say Hoover was responsible for the Great Depression.  That distinction goes to the Federal Reserve, which had artificially lowered interest rates and then suddenly raised them going into the economic downturn causing an aggressive bubble implosion (just like the central bank is doing right now).  But Hoover did actually aid the Fed in their undermining of economic stability by pursuing policies which were poorly timed.
I'm hitting readers with all of this because I am growing rather tired of the contingent of Trump apologists in the liberty movement scrambling to defend every single Trump action no matter how illogical. These people should know better.  Sorry, but Trump is not "playing 4D chess" against the globalists.  His primary initiatives have only served so far to create a useful distraction away from the globalists.
The disturbing key to all of this is the fact that many of Trump's policies are things that I and many others have argued for in the past. The problem is, he is implementing them out of order and with bad timing, which will only make such policies appear destructive in the end, rather than constructive.
In terms of the implementation of tariffs, the people who are defending this action at this time do not seem to understand the basics of international trade. Tariffs can only be enacted from a position of economic strength and resource development. This strength comes from internal self-sufficiency in production; meaning, in order for the U.S. to force a trade balance (which is what tariffs are supposed to do) the U.S. must have a strong industrial base and MUST be capable of producing most if not all necessary goods and goods in broad demand.
The fact is, U.S. manufacturing has been utterly outsourced by the very corporations Trump just gave a 10% tax cut to, and rebuilding that industrial base would take decades. Why? Because there are no incentives for corporations to bring manufacturing back.
As I already stated, Trump is instituting potentially solid policies but he is doing so out of order. Tax cuts for corporations should have been enacted only as an incentive for manufacturing jobs to be returned to America. Instead, corporations got tax cuts for absolutely nothing. And will those tax cuts go towards more jobs or innovation? Nope. They will be going to pay off unprecedented corporate debts, and stock buybacks, most of which were accrued through borrowing from the Federal Reserve.
Will this stock buyback bonanza even generate new highs in the Dow? Probably not. But I'll explain why that is later.
If Trump had given tax incentives for corporations to bring manufacturing back into the U.S., and then given those corporations a few years to make the shift, only then would tariffs have been an effective action. But as the situation stands now, we have minimal tangible production in this country, and, historic debts held by the same overseas competitors that Trump is now seeking to "teach a lesson."
Debt is the next issue which needs to be addressed before tariffs can ever be implemented in a practical way. In terms of national debt, rather than setting up a plan to reduce U.S. debt expenditures, Trump is increasing debt by reducing taxes while at the same time increasing spending. Trump did not take a hard stand on the debt ceiling debate as he originally claimed he would, and so, the debt train continues unabated.
Who is going to purchase this debt, I wonder? Over the past several years the largest buyer of U.S. treasury debt was the Federal Reserve through fiat money creation. Now, the Fed has tapered quantitative easing and is dumping their balance sheet at a rate faster than anyone expected. The Fed is pulling the plug on its artificial support of the economy.
The next largest buyers are major foreign central banks in countries like China, Japan and to some extent the supranational EU. If the debt buyers of last resort are now the very same countries Trump is seeking to enact tariffs over, how do you think this little theater will end? Yes, with a dump of U.S. treasury bonds and perhaps the dollar as world reserve by those nations.
But what about the U.S. consumer? Isn't the consumer market in America so enticing that nations like China would "never dare" dump U.S. debt or the dollar? No, not really. If we are talking about a trade "war," then a country like China, which has a vast manufacturing base and which has also been building up its own domestic consumer market, would be willing to make the sacrifice. America would be hurt far more by the threat of debt default and the loss of the dollar's international buying power than China ever would be by the loss of American consumers.  With tariffs being implemented, they may lose the American consumer anyway.
Our retail market is hardly as appetizing as it was 10 years ago given the decade of drudgery Americans have endured, with the largest number ever of working age citizens no longer participating in the jobs market, as well as real worker wages in continued decline while the American consumer is now more indebted than at any other time in history.
All of these negative effects are weighing down our economy while the Federal Reserve is quickly deflating the fraudulent markets that the establishment used during the Obama administration to argue that America was "in recovery." Of course, alternative economists have known since the beginning that this was a lie, and that the only thing propping up the economy and stock markets was central bank manipulation.
The Fed under Jerome Powell has made it crystal clear that they WILL be raising interest rates and cutting the Fed balance sheet, perhaps more than their dot plots had indicated in the past. Without low rates and a steadily rising balance sheet we have already seen the results. Stocks in particular have gone crazy compared to the past few years, dumping nearly 10% one week, spiking about half that the next week. One thing is certain, the supposedly endless bull market induced by the Fed years ago is now over. Stocks are in heart attack mode.
It is no coincidence that the first two times the Fed reduced its balance sheet the Dow plunged over 1,000 points. The latest dump of $23 billion at the end of February resulted in a drop of around 1,500 points. It is too early in this process to know what the trend will be, but it seems to me that stocks are being steam valved down every month. With a marked decline just after a balance sheet dump, followed by a less impressive dead cat bounce the week after.
In the meantime, Trump's "trade war" is now being blamed in the mainstream for the decline in stocks that the Fed is actually responsible for. As I have always said, Trump is the ideal scapegoat for the inevitable economic crisis the central bankers have staged.  Trump's tariffs might exacerbate the problem, just as Hoover's policies did in the beginning of the Great Depression, but the blame rests squarely on the Federal Reserve and central banks around the world.  Will the average person understand this dynamic once the dust settles on our financial system?  Probably not.
So, to summarize, while Trump has indeed set in motion policies that conservatives in general tend to approve of, he has done so in an impractical way that will ultimately be blamed for a market crash the Fed created.  If conservative ideals such as limited government and sovereign trade protection get the blame for an unprecedented economic crisis then this could sabotage conservatism for generations to come.  If elections are still even a factor as this crisis unfolds, the chances of the public accepting a socialistic nightmare regime after Trump exits the White House are high. And, the banking elites that conjured the whole mess will escape once again without any punishment.
The question we must ask is this – Is Trump aware that his policies are creating a perfect distraction for those same banking elites? I believe we will know for certain the answer to that before 2018 is over.
Source:   alt-market.com
03.10.2018 –   Disgraced Parkland Officer Lied, Radio Dispatch Recording Reveals
As gunman Nikolas Cruz went on a rampage at Stoneman Douglas High School on February 14, firing on students and teachers until his semiautomatic AR-15 jammed, Broward Deputy Scot Peterson cowered outside behind the safety of cover, "pointing his gun at nothing."
Peterson publicly stated that he thought gunfire was happening outside on campus, not inside the building – perhaps to justify not going in to stop the shooting which claimed 17 lives.
He lied.
Internal radio dispatches released by the Broward County Sheriff's Office Thursday reveal Peterson immediately focused on Building 12 and radioed that gunfire was happening "inside." 
What's more – Peterson warned his fellow officer to stay away – despite wounded students and staff inside who required assistance. Broward Sheriff's Office (BSO) policy requires deputies to engage an active shooter and eliminate the threat.
"Do not approach the 12 or 1300 building, stay at least 500 feet away," shouted a panicked Peterson as people screamed in the background.
The timeline of events and audio recording of police radio chatter shed new light on the response by the BSO.
The records appear to support Broward Sheriff Scott Israel's contention that Peterson, a longtime school resource officer, should have entered Building 12 to engage Cruz and try to prevent deaths. They also appear to show that other deputies may have refrained from rushing into the school at the direction of Peterson and a Parkland captain. The response by the agency has been the subject of national scrutiny, and is currently under review by the Florida Department of Law Enforcement. –Miami Herald
BSO police union president Jeff Bell welcomed the release of the audio and timeline of events.
"It certainly backs up that he never went into the school," Bell said of Scot Peterson. "At one point he says to keep back 500 feet. Why would he say that?"
Timeline of events via the Miami Herald
Cruz was dropped off at the school by an Uber at 2:19 p.m. Two minutes later, he entered Building 12. He began firing within 15 seconds. Peterson, at the time, was near the administration building.
At 2:22 p.m. the fire alarm was triggered, blaring throughout the entire campus. The first 911 call also went out, via Coral Springs emergency dispatch center.
"Be advised we have possible, could be firecrackers. I think we have shots fired, possible shots fired —1200 building," Peterson radioed at 2:23 p.m.
At that moment, according to the video, Peterson arrived at the southeast corner of Building 12, where he appeared to remain "for the duration of the incident." "We're talking about the 1200 building, it's going to be the building off Holmberg Road," Peterson said frantically seconds later.
"Get the school locked down, gentlemen!" he shouted.
As the shots intensified, other deputies began racing to the scene, radioing in. One believed he heard shots by the football field, something Peterson mentioned in a statement released last month by his attorney, arguing that the school resource deputy thought shots were coming from outside the 1200 building.
"BSO trains its officers that in the event of outdoor gunfire one is to seek cover and assess the situation in order to communicate what one observes with other law enforcement," Peterson's attorney said.
But Peterson, according to the timeline and radio dispatches reviewed by the Miami Herald, remained focused on Building 12.
"All right… We also heard it's by, inside the 1200," Peterson said at 2:25 p.m.
Joseph DiRuzzo, Peterson's attorney, did not respond to an email and a call to his office. Peterson resigned eight days after the shooting rather than be suspended without pay pending an internal affairs investigation.
As the shooting progressed, calls began "blowing up" the 911 call centers. Students were spilling out of the campus. Peterson radioed to make sure "no one comes inside the school."
At 2:27 p.m., six minutes after Cruz went into Building 12, the shooting stopped. Cruz ditched his AR-15 in the third-floor stairwell and left.
Five seconds later, Peterson radioed for officers to "stay at least 500 feet away at this point." A dispatcher repeated, "Stay away from 12 and 1300 building."
Coral Springs officer Tim Burton had just arrived at Douglas High. At 2:28 p.m., he radioed out the first description of Cruz: "White male with ROTC Uniform Burgundy Shirt" — exactly what the shooter was wearing when he was arrested later. How Burton obtained the information was unclear from the timeline.
At 2:29 p.m., as officers began encountering wounded students, Burton met with Peterson outside Building 12.
The chaos continued. Deputies tried getting into Building 13 next door, but it was locked. A fleeing student appeared to be stuck in a fence; a deputy asked for bolt cutters. One deputy called for a command post to be set up.
"We need to get units in here so we can try to find this guy," a deputy radioed.
At 2:31 p.m., BSO Capt. Jan Jordan, whose supervision of the response has also been scrutinized amid questions about whether she slowed police response by ordering a perimeter, speaks for the first time: "Do we have a perimeter set up right now and everyone cleared out of the school?"
"That's negative," a dispatcher responds.
It was at 2:32 — 11 minutes after the shooting began — that four Coral Springs officers and two BSO deputies made the first police entrance into the building, helping to "extract a victim."
Jordan is back on the radio one minute later: "I want to make sure that we have a perimeter set up (unintelligible), all the kids are getting out, but we need to shut down around this school."
By 2:35 p.m., officers were seen transporting a victim on a golf cart. One minute after that, 10 officers burst into Building 12 through an east-side entrance.
Down the street, Cruz had entered a Walmart and bought a drink at the Subway inside. At 3:40 p.m., a Coconut Creek officer saw Cruz and arrested him without incident. Cruz was indicted Wednesday on 17 counts of first-degree murder and 17 counts of attempted murder.
The Broward Sheriff's Office released the timeline Thursday following weeks of mounting pressure to make the details of its police response public. The Miami Herald, South Florida Sun-Sentinel and CNN sued the agency last month to force it to release surveillance video outside of the 1200 building, and their lawyers argued in court Thursday that it was in the public interest to release the footage.
Also Thursday, the sheriff's office released 911 calls received by dispatchers and police documents related to its handling of calls to Cruz's various addresses detailing his family's troubled domestic life.
The sheriff's office tweeted about the case Thursday evening.
"BSO agreed in court today with the media that surveillance video from outside Marjory Stoneman Douglas High should be released publicly. Legal exemptions block the release unless a judge approves. The judge took it under advisement and we hope for a ruling shortly."
Source: zerohedge.com
03.08.2018 – Meet The 'Man' Who Crashed Bitcoin In 2018
Bitcoin's Tokyo Whale (not to be confused with that Tokyo Whale) revealed on Wednesday that he has sold off about $400 million in bitcoin and bitcoin cash since late September.
Nobuaki Kobayashi, bankruptcy trustee for Mt. Gox, the largest bitcoin exchange in the world before hackers absconded with tens of thousands of customers' bitcoins worth billions at recent prices, said he started selling in late September, meaning it's quite possible he sold at least some of the coins at the highs reached toward the end of last year.
Kobayashi made his disclosure in the report from the 10th creditors' meeting, which took place Wednesday.
In the report, he said he'd started selling off the bitcoin and bitcoin cash to raise money for disbursements that the trustee will soon need to begin making as bankruptcy claims are being evaluated, per Bloomberg.
Which brings us to the crash of Bitcoin from December 2017 through February 2018.
Matt Odell (@Matt_Odell) presents the full list of transfers out of their wallet.


h/t @alistairmilne
As Odell points out "More than half of the bitcoin they sold (18k btc) was transferred to an exchange on Feb 5th. The day before bitcoin hit its 3 month low of ~$6000. They panicked and sold the bottom. Market absorbed it well."
This is what Kobayashi's "sells" look like on the chart of Bitcoin…
Odell explains "The arrows on the chart above mark the dates of each Gox wallet transfer. Worth noting, these aren't the dates of the sales, those most likely happened right after, these are the dates of the transfers to the exchange."
So that explains – or reveals – the mysterious man on the offer-side of Bitcoin for two months.
Still, Bloomberg reports that Kobayashi is sitting on another approximately $1.9 billion, which he says he plans to offload soon…
*  *  *
Notably, buried deep in the report, Kobayashi disclosed that he's asked US prosecutors for more information about the arrest of Alexander Vinnik, a Russian national who was charged with laundering $4 billion in stolen Mt. Gox profits through his old exchange, BTC-e.
It's unclear whether Kobayashi is planning on trying to recover some of these funds…
Source: zerohedge.com

03.06.2018 – How Liars in US 'News'-Media Build on Prior Lies in US 'News'
The means by which the vast majority of Americans are deceived to believe fake 'news' that's based on fake 'history', will be described here, so as to enable America to be understood correctly, as a fake 'democracy', the perpetual-war-for-perpetual-peace nation that the entire world considers to be by far the most dangerous nation, the biggest threat to world peace, anywhere on this planet. The system of mass-deceit in America, will be the subject, and examples will be cited here as embodiments displaying this system of mass-deceit — the mass-deceit that enables the U.S. Government to be the world's most aggressive, most destructive, not only in Iraq, and in Yemen, but shamelessly, and repeatedly, destroying worldwide, with no respect for international laws that this Government blatantly violates, and is never held accountable for having violated. How is this mass-deceit, and total impunity, to be understood correctly, truthfully? That's the question addressed here.
TIME magazine's cover-story, "VOICES FROM THE RUBBLE: Syrians on living in the line of fire", issue-date 12 March 2018, was co-authored by Wendy Pearlman, who recently published a book of narratives from many Syrian-war victims who blame Bashar al-Assad (whom the U.S. Government wants to overthrow) for the miseries they've suffered since the "Arab Spring" started in 2011. Her co-authored article in TIME reads like a brief version of her sole-authored book. To read either the book or the article is to receive the impression that Assad must be a monster, and that he certainly is an extremely unpopular person in Syria. However, both impressions are demonstrably false. This isn't necessarily to assert that Pearlman doesn't believe what she writes, but only that there's a great willingness on the part of U.S.-and-allied 'news'-media to spread (i.e., to hire and publish propagandists who write such) extremely one-sided accounts that support the U.S. Government's regime-change story-line (in today's Syria, just the same as it was in 2003 Iraq — but then it was against Saddam Hussein), so that America's 'news'media might as well be controlled by the very same people who control America's invasion-craving international corporations, like Lockheed Martin and ExxonMobil. Accounts from the other side of this war — the side that will here be documented to be the truth, namely that Bashar al-Assad is overwhelmingly popular amongst the Syrian people — have been published online-only, by terrific investigative journalists such as Vanessa Beeley, and Eva Bartlett, among others; but, none of those high-quality journalists have been accepted for publication by mainstream members of the U.S. and allied 'news'-media. That side regarding this war, the "inconvenient" truth about it, is instead blacked-out, by the mainstream 'news' media — the U.S. regime's PR mouthpieces.
Perhaps what's even worse is that 'alternative-news' media in the U.S. and its allies, have, likewise, almost universally, given voice only (or, in other cases, mainly) to the anti-Assad side of this war. Are they, too, controlled by the U.S. aristcracy?
The following report exposes one faux-'progressive' war-monger and propagandist for U.S. invasions of countries that never invaded nor even threatened the U.S.: Amy Goodman, and her "Democracy Now!" 'alternative' 'news' media for Democratic Party billionaires' international operations (such as for regime-change in Syria). These propaganda-operations (just like the acknowlegedly mainstream ones, such as TIME) promote using U.S. taxpayers' money (the U.S. military, which is the most respected institution amongst Americans and thus receives "the benefit of the doubt" regarding any atrocities it may perpetrate — such as its having poisoned Iraq with depleted uranium, for example) — using taxpayers' money for so-called 'humanitarian' reasons that are actually just sales-angles for American billionaires' bloody conquests of resistant foreign countries (in this case, Syria). This propaganda is aimed at fooling liberals, or even "peaceniks," into supporting what are actually hidden financial benefits for these behind-the-scenes billionaires.
Exposed here will be the depths that hypocrisy and psychopathy (both of which are pervasive at the very top of society, amongst the aristocrats and their retainers) plunge down to, in American 'news'. This type of operation can be done only by taking advantage, especially, of well-intentioned Democrats, in order for billionaires to become enabled to use taxpayers' money, to boost actually the private wealth not only of Democratic Party billionaires, but even of Republican Party billionaires — even of 'the political opposition.' The example that will be presented in detail here, typifies a depraved scheme for the warfare-state (not the welfare-state, which instead becomes proportionately reduced as the warfare-state becomes increased), a scheme (support of the military-industrial complex, or "MIC," and its permanent-war-for-permanent-peace economy) which largely controls America, in order to build and maintain the public's support for obscenely high 'defense' spending and billionaires' 'defense' profits, which government-spending produces catastrophes for the victim-nations, such as Iraq 2003, Libya 2011, and Syria 2012-, all of which invasions are especially profitable for the owners of America's 'defense' contractors such as General Dynamics and Lockheed Martin, which depend upon war in order to funnel money from the domestic masses, to the domestic classes, via taxes. And, of course, American resource-extraction corporations, such as oil-and-gas giants, also benefit handsomely from it, by grabbing foreign resources. Megabanks benefit, too. After all: it's the U.S. aristocracy that's behind this, the ultimate paymasters for these propaganda-operations (and some details of this fact of aristocratic sponsorship will be documented here).
——
Goodman opened her February 23rd youtube,
As Death Toll Rises in Eastern Ghouta, Has International Community Abandoned the Syrian People?
Democracy Now! 23 February 2018
"A 'monstrous campaign of annihilation' — that's how the United Nations is describing the Syrian Government's recent barrage of air strikes and artillery fire against the rebel-held enclave of Eastern Ghouta."
and she introduced there what were actually her carefully vetted neoconservative-neoliberal three guests, to discuss why Syria's Government is (supposedly) the enemy of the Syrian people, and thereby, also supposedly, America's enemy (though it's actually neither — but it is instead the enemy of American, Saudi, and Qatari, billionaires):
"On Thursday [February 22nd], we hosted an extended web-only conversation with Rawya Rageh of Amnesty International, Syrian-American journalist Alia Malek and Wendy Pearlman, author of 'We Crossed a Bridge and It Trembled: Voices from Syria'."
The first thing that was hidden from her viewers was that all three guests are propagandists whose careers are heavily dependent upon their having won approval from U.S. billionaires and centi-millionaires, and from those individuals' foreign colleagues.
The Wikipedia article about Raya Rageh lists the numerous employers and sponsors of her career, such as Columbia University Graduate School of Journalism, and Al Jazeera — the broadcast network controlled by the royal Thani family, who own gas-rich Qatar (and who want a gax-pipeline to be built through Syria into the European Union), and whose media-strategy (since they're allies of U.S. billionaires) is to broadcast pro-jihadist propaganda inside the country that they own (Qatar), in its Arabic language, which few Westerners can understand, but to broadcast anti-jihadist propaganda in Western languages in Western and anti-jihadist countries.
Alia Malek received the 2016 Hiett Prize award from The Dallas Institute, which was founded by Margaret McDermott, the former society-page editor of the Dallas Morning News, and the widow of Geophysical Service Inc. co-founder Eugene McDermott, whose company developed technology for finding oil-and-gas deposits, such as in Qatar. Malek was a senior writer for the Thanis' Al Jazeera America, and has also been published in New Yorker, New York Times, and The Nation. Her popularly selling 2017 book blaming Bashar al-Assad for the war in Syria, The Home That Was Our Country: A Memoir of Syria, describes the "oppression that exists in a dictatorship," and makes no mention, at all, of the 2014 elections in Syria, which were internationally monitored since there was a war going on, and in which, Syrians, not only inside Syria but who had escaped the war and lived abroad, voted, and in which the sitting President, Assad, won 89% of the total votes cast.
Furthermore, the British polling firm Orb International's 2014 nationwide Syrian poll found (page 10) 35% support for "The Assad Government" and only 21% support for "Political Opposition" and 14% support for "Moderate armed opposition" plus 13% support for "Violent extremist religious groups".
A year later, Orb polled again, and found ("Table 3") that 47% of Syrians said that Assad had a "positive" effect on the country (this question hadn't been asked in the year-earlier, 2014, poll); 37% said "Arab Gulf Countries" (the U.S. Government's allies) did; 36% said "Free Syrian Army" (America's proxies or boots-on-the-ground fighting against Assad) did; 25% said "Nusra Front" (Al Qaeda in Syria, which trained and led the Free Syrian Army) did; and 21% said "Islamic State" (ISIS or ISIL) did. 76% said ISIL had a "negative effect" on Syria, and a full 82% of Syrians said (Table 26) "ISIL is produced by the United States."
So, Amy Goodman's propaganda in "Democracy Now!" regarding Syria, was actually against any democracy at all, in Syria; because, clearly, democracy would retain the existing Syrian President in office. Her position was thus identical to former U.S. President Barack Obama's position, against democracy in Syria, and for Al Qaeda in Syria. U.S. President Donald Trump continues that policy.
Here is what Goodman's guest Wendy Pearlman had written in Huffington Post, on 23 April 2014, under the headline "The Argument Against U.S. Intervention in Syria… And Why It's Wrong":
Jihadist groups became powerful in Syria because blood flowed for months while the opposition's cries for assistance went ignored. Had the international community acted earlier, these extremists might never have emerged on the scene. Most Syrians view al-Qaeda as another form of tyranny. Many have risked their lives to protest agianst [against] it. It is a cruel irony that the United States, which championed the "war on terror," now leaves besieged civilians to fight al-Qaeda on their own. …
In Iraq and Afghanistan, the U.S. imposed regime change from the outside. In Syria, an anti-regime struggle emerged from the grassroots. …
The reality (quite the opposite of Pearlman's "It is a cruel irony that the United States, which championed the 'war on terror,' now leaves besieged civilians to fight al-Qaeda on their own") is that ever since 2012 the U.S. regime has actually been supporting and supplying arms to Al Qaeda in Syria so as to overthrow the secular, non-sectarian, Government of Syria — which Assad heads — and to replace it by a fundamentalist-Sunni theocratic one, which will cooperate with Qatar and Saudi Arabia to allow U.S. oil-and-gas pipelines to be built through Syria. The reality is also that U.S. President Barack Obama entered office in 2009 hoping to do this, and that the entire "Arab Spring" movement was aimed at achieving the Thanis' will throughout the region: The Thanis are the main financial supporters of the Muslim Brotherhood (which briefly took over in Egypt after the "Arab Spring"), but they also back Al Qaeda when America's White House does (such as in Syria). And the U.S. Government had long been preparing the "Arab Spring" movement — by no means was it only the Thanis. (In fact, Obama came into office hoping for something like that; and, by 2011, his Administration was actively planning to exploit it specifically so as to overthrow Bashar al-Assad.
Source: strategic-culture.org
03.04.2018 –  Zuesse: America's News Media Foment Hate
Mimiccing the movie 1984, in its two-minute section "Two Minutes of Hate,"…
…the US-installed Ukrainian regime on Russia's doorstep, will soon be debating a bill to make hate of Russia obligatory to be inculcated into all Ukrainian children.
The Hill, on 9 November 2017, had the extraordinary courage to publish an opinion-piece that condemned the mainstream news-media's charges that reports of widespread "neo-Nazi formations in Ukraine" are nothing but "Russian propaganda." An editor who would accept a submission like that at such media as the Washington Post, New York Times, New Yorker, The Atlantic, or just about any other in America, would probably be fired or else re-assigned, so as to prevent a repeat. bankruptcy is going to catch everyone by surprise.
It's the way to achieve mass-indoctrination, which the Ministry of Truth specializes in. Thus, among the reader-comments to that bold article, the top-listed one under "sort by best" (in other words, the most popular) was the anti-Russian "Have you counted how many neo-Nazis are in the Russian army as well?"
But there is actually nothing at all in Russia which even begins to approach the outright nazi displays and rallies that are routine in today's Ukraine, and some of which Ukrainian marches are publicly displaying symbols from Hitler's regime — in fact, it's all outright illegal in Russia, which had lost (by far) more of its citizens to Germany's Nazis (13,950,000, or 12.7% of its population) than did any other country (except Belarus — another state within the Soviet Union — which lost 25.3% of its population). (The US, which might be where the obvious bigot who wrote that reader-comment resides, lost 419,400, or 0.32% of its population.) Metaphorically spitting like that, onto such millions of victims' corpses, is to be expected from bigots, and from the fools who "up-vote" them. Furthermore, the US CIA provided protection and employment in Germany for top members of Hitler's equivalent to the CIA, the Gehlen Organization. (America's CIA continues flagrantly to violate the law and hide from Congress and the American people crucial details of its relationship with the Gehlen Organization.) By contrast, the Soviet Union was unremitting in killing Nazis whom it captured. Understandably, Hitler is admired far less in Russia than in today's far-right United States, despite any lie such as "Have you counted how many neo-Nazis are in the Russian army as well?"
Stupid indoctrinated readers can't change the facts about the post-coup Ukraine, which are documented not only in that excellent opinion-piece at The Hill, but by innumerable thousands of uploaded videos and other evidences of the nazism of the US-imposed Ukrainian regime. In fact, under US President Barack Obama, whose Administration imposed this nazi government upon Ukraine, the US Government was one of only 3 in the entire world who stood up publicly for nazism at the U.N. The other two nations were Ukraine itself (this vote having occurred after the coup) and Canada. Then, under the current US President Donald Trump, the US was again one of this time the only 2 nations in the entire world who stood up publicly for nazism at the U.N. The other country on that occasion was Ukraine itself. Thereby, Trump took upon himself, Obama's nazi mantle. And, under Trump, there's now supply of US weaponry directly to proudly and publicly nazi battalions in Ukraine. Even Obama wasn't so bold as to do that. FDR would cry, but the Ministry of Truth has prohibited the public even to know about the reality.
Even UK's supposedly anti-nazi BBC routinely states such baldfaced lies as "Ukraine is emphatically not run by fascists", though clearly it is run by the worst type, racist fascists, ideological nazis, and they do typically nazi and outright horrendous things, which the Government that the US imposed refuses to punish anyone for having done. That's because what was done is what the US Government itself had wanted them to do. It had put these people into power.
Here are yet further evidences, that the silence about this fact – silence by virtually all US and allied 'news' media, about Ukraine's US-imposed nazism – is a scandalous proof of the utter corruptness of the US-and-allied 'news' media: "Nazism of Ukraine's Western-Backed Government Is Hidden by Western 'News' Media"
The US regime foisted nazi rule on Ukraine, and backs the ethnic-cleansing program there to kill or else cause to flee from Ukraine into Russia the residents in Ukraine's far-eastern Donbass region, in which over 90% of the people had voted for the democratically elected Ukrainian President that the US regime overthrew and replaced by fascists and nazis, in February 2014. Obama needed to get rid of those intensely anti-nazi voters, because otherwise the regime that he installed wouldn't have lasted beyond the first post-coup election. That's the purpose of ethnic cleansing – to get rid of unwanted voters. Western 'news' media portray it (when they do) simply as mass bigotry, but the installed political thugs have actually organized and armed it, in order to retain their power by getting rid of their political opponents' voters. (Obama required it, in this case, because Ukraine has Europe's longest border with Russia, and is thus ideal for posting US missiles).
But instead of The West's recognizing publicly that the ethnic-cleansing program exists, The West's propaganda-vehicles (called 'news' media by Big Brother) accuse Russia of 'aggression' for arming Donbass's residents and bringing in food and medicine so that these people can stay there instead of emigrating into Russia. Russia is doing what it can to help them, but turned down the residents' pleas to become admitted as a new region into Russia. Russia had gotten hit badly enough with America's sanctions which resulted from Russia's taking on the burden of protecting and allowing to become Russians again (as had been the case until the Soviet dictator in 1954 transferred them to Ukraine) Crimeans.
So: this ugly mindless and misinformed hate, which America's 'news' media foment by constant lies and distortions against Russia, is being fomented for a reason: conquest. Conquering Ukraine wasn't enough — the US regime wants, ultimately, to conquer Russia; and, so, that's what all of this hate build-up is actually about. It's the prelude to an invasion. Otherwise, it wouldn't be done, at all. Invasion of Russia, is the sole sensible ultimate reason.
The American people would not tolerate, even for just ten seconds, Russia overthrowing Canada's Government – our next-door neighbor – in order to place missiles on our border, but people who say such things as "Have you counted how many neo-Nazis are in the Russian army as well?" are, in effect, approving of our country doing that to the Russian people.
Ukraine is Russia's equivalent to our Canada. And, America's media constantly feed this stupidity and hate, by Americans against Russia, and blindly ignore the hate that the US regime has already unleashed in Ukraine, against Ukraine's next-door neighbor, in preparation for an invasion of Russia. Never has the US sunk so low, at least not in modern times, but the direction in which we are heading is toward even worse, even lower than now, even more like Hitler's Germany. Candidate Trump had promised to be the non-Obama, but turns out, on the most important matter of all, to be instead the super-Obama. This is playing with fire — a global fire. And the US Government is doing it with the most-evil intent imaginable. And the media play right along with it, and they whip the hatred even higher than they already have done.
Things aren't looking good. There are too many lies, for any intelligent person to be able to feel at all comfortable about where we're headed.
The sound of those two minutes of hate is becoming unbearable, for anyone with the ears and brain to hear it. It's now all around us.
Source:   strategic-culture.org

03.02.2018 –   Peter Schiff: "We Will Live Through Another Greater Depression…"
Financial guru Peter Schiff, who accurately predicted the recession of 2008, says the problems we face now are even bigger. We will live through another Great Depression if Schiff is correct. And one of the main concerns is something very few dare to even mention or show a concern about: the national debt.
Schiff's podcast from a few days ago highlights a very important problem with not only the economy as we know it but the mainstream media as well. Unable to take their attention off gun control regulations for even a moment to focus on a much bigger concern, the national debt, the mainstream media is effectively trying to hide what's coming down the pipe. The lack of coverage seems to be spurring a lackadaisical attitude about the almost $21 trillion debt.
Let's start at the beginning. Schiff begins his podcast talking about a book his father wrote; one of the only books to have been banned by the United States government. Yes, the US government banned a book titled "The Federal Mafia: How It Illegally Imposes And Unlawfully Collects Income Taxes" by Irwin Schiff in the "land of the free."
"The bad news is, we are going to live through another Great Depression and it's going to be very different. This will be in many ways, much much worse, than what people had to endure during the Great Depression," Schiff says. "This is going to be a dollar crisis."

"These hot inflation numbers that we've been getting are going to get a lot hotter…all this inflation that has been in the financial markets, in the stock markets, in the bond market, in the real estate market, everybody loved inflation when it was making you rich…the problem is going to be when it makes you poor. That's when it starts showing up in the cost of living; all the things you need to buy end up being a lot more expensive."

"When you are talking about the magnitude of the debt we have, that extra money [raising interest rates] is big. That's going to be a big drain on the economy to the extent that we have to pay higher interest to international creditors…a lot of this phony GDP is coming from consumption, while the average American who is consuming is deeply in debt and they are going to impacted dramatically in the increase in the cost of servicing that debt…given how much debt we have, and how much debt is going to be marketed the massive increase in supply will argue for interest rates that are higher."

"The Fed thinks they create economic growth…by [saying] 'let's jack up the stock market and then the economy's going to grow and people are going to go out and spend more money.' It's actually doing damage. If you create a bunch of phony wealth, and people end up spending money that they otherwise would have saved, you are undermining economic growth."

"Everything the Fed has done has undermined real economic growth, that is why this coming collapse is going to be so devastating," says Schiff. "It's shrinking government that grows the economy.  When you make government smaller and you free up resources back into the private sector, that's what grows the economy."
 Schiff again suggests looking at gold as a way to protect yourself against the dollar's collapse.
 Source: shtfplan.com
03.01.2018 – 12 Years In A Row And Counting: The U.S. Has Not Had A Year Of 3 Percent Economic Growth In More Than A Decade
If the U.S. economy is in good shape, then why has economic growth been so anemic for more than a decade?  It has been 12 long years since the economy grew by at least 3 percent, and for most of that time my website has been one of the leading voices chronicling America's long-term economic problems.  In 2017, U.S. GDP increased by just 2.3 percent, but at least that was better than the pathetic 1.5 percent figure that was posted for 2016.  With Donald Trump in the White House, we have taken some steps in the right direction, but we must never forget that our long-term economic and financial problems continue to steadily get worse.
As I travel around Idaho's first congressional district, I often tell voters that we have not had a year of 3 percent economic growth since the middle of the Bush administration, and a lot of people have a really hard time believing that this is accurate.  But of course it is 100 percent true, and earlier today CNS News published an article highlighting this fact…
The United States has gone a record 12 straight years without 3-percent growth in real Gross Domestic Product, according to data released today by the Bureau of Economic Analysis.
This drought is highly, highly unusual.  In fact, before this 12 year stretch the previous record was just four years…
Before the current period, when the nation has seen twelve straight years without 3 percent growth in real GDP, the longest stretch of years in which real GDP did not grow by at least 3 percent was during the Great Depression—when there were four straight years (1930-1933) when real GDP did not grow that much.
Have we entered a new era of low economic growth?
Is 3 percent the best that we can hope for from now on?
I have pointed out many times that Barack Obama was the only president in all of U.S. history never to have a single year of 3 percent economic growth, and he had two terms to try to achieve that.
Of course the U.S. economy began struggling far before Obama entered the White House.  As the U.S. has increasingly embraced socialism, our once vibrant economy has really had a tough time.  In fact, since the end of the Reagan administration our economic growth numbers have not been good at all…
The last time it grew by more than 7 percent was 1984, when Ronald Reagan was president. That year, it grew by 7.3 percent.

In the years after 1984, the highest level of economic growth achieved by the United States was in 1999, when real GDP grew by 4.7 percent.
Hopefully things can turn around under President Trump, and that it is why it is so imperative that we send pro-Trump candidates for Congress to Washington.
The U.S. economy is way overdue for a recession, and many believe that the next major economic downturn is right around the corner.  We just witnessed the worst February for stocks in 9 years, and the Dow ended the month on a huge down note.  Hopefully things will rebound in March, but there is absolutely no guarantee that will happen.
The following are some more facts about what transpired in February from Zero Hedge…
Trannies worst month since Jan 2016
Small Caps worst month since Oct 2016
VIX biggest monthly jump since Aug 2015
30Y TSY Yield biggest monthly jump since Nov 2016
2Y TSY Yield up 6 straight months
HY Credit (HYG) worst month since Jan 2016
HY Spreads worst month since Sept 2015
USD Index up most since Feb 2017
WTI worst month since Aug 2017
Gold worst month since Sept 2017
Silver worst month since Nov 2016
I know that I didn't write very much this month, and that is because I have been relentlessly working to win my race for Congress.
We are less than 80 days away from May 15th, and it is an exceedingly close race between me and three other major candidates.
If you live in Idaho's first congressional district, please mark May 15th on your calendar.  Our numbers are surging and we feel very good about the race, but without a doubt we are going to need every single vote that we can get.
Source: theeconomiccollapseblog.com
02.27.2018 –  Mass Shootings Will Never Negate The Need For Gun Rights
Though the media often attempts to twist the gun rights debate into a web of complexity, gun rights is in fact a rather simple issue — either you believe that people have an inherent right to self defense, or you don't. All other arguments are a peripheral distraction.
Firearms are a powerful epoch changing development. Not because they necessarily make killing "easier;" killing was always easy for certain groups of people throughout history, including governments and organized thugs. Instead, guns changed the world because for the first time in thousands of years the common man or woman could realistically stop a more powerful and more skilled attacker. Firearms are a miraculous equalizer in a world otherwise dominated and enslaved by everyday psychopaths.
The Founding Fathers understood this dynamic very well. Despite arguments from the extreme left falsely insinuating that the founders are essentially barbarians from a defunct era that were too stupid to understand future developments and technology, the fact is that they knew the core philosophical justification for an armed citizenry was always the most important matter at hand. Today's debates try to muddle meaningful discourse by swamping the public in the minutia of background checks, etc. But the following quotes from the early days of the Republic outline what we should all really be talking about:
"The laws that forbid the carrying of arms are laws of such a nature. They disarm only those who are neither inclined nor determined to commit crimes…. Such laws make things worse for the assaulted and better for the assailants; they serve rather to encourage than to prevent homicides, for an unarmed man may be attacked with greater confidence than an armed man."
– Thomas Jefferson, Commonplace Book (quoting 18th century criminologist Cesare Beccaria), 1774-1776
"To disarm the people…[i]s the most effectual way to enslave them."
– George Mason, referencing advice given to the British Parliament by Pennsylvania governor Sir William Keith, The Debates in the Several State Conventions on the Adoption of the Federal Constitution, June 14, 1788
"Before a standing army can rule, the people must be disarmed, as they are in almost every country in Europe. The supreme power in America cannot enforce unjust laws by the sword; because the whole body of the people are armed, and constitute a force superior to any band of regular troops."
– Noah Webster, An Examination of the Leading Principles of the Federal Constitution, October 10, 1787
"Guard with jealous attention the public liberty. Suspect everyone who approaches that jewel. Unfortunately, nothing will preserve it but downright force. Whenever you give up that force, you are ruined…. The great object is that every man be armed. Everyone who is able might have a gun."
– Patrick Henry, Speech to the Virginia Ratifying Convention, June 5, 1778
"The right of the citizens to keep and bear arms has justly been considered, as the palladium of the liberties of a republic; since it offers a strong moral check against the usurpation and arbitrary power of rulers; and will generally, even if these are successful in the first instance, enable the people to resist and triumph over them."
– Joseph Story, Commentaries on the Constitution of the United States, 1833
"On every occasion [of Constitutional interpretation] let us carry ourselves back to the time when the Constitution was adopted, recollect the spirit manifested in the debates, and instead of trying [to force] what meaning may be squeezed out of the text, or invented against it, [instead let us] conform to the probable one in which it was passed."
– Thomas Jefferson, letter to William Johnson, 12 June 1823
The inborn right to self defense and the ability of the people to maintain individual liberties in the face of tyranny supersedes all other arguments on gun rights. In fact, nothing else matters. This key point is so unassailable that anti-gun lobbyists have in most cases given up trying to defeat it. Instead of trying to confiscate firearms outright (which is their ultimate goal), they attempt to chip away at gun rights a piece at a time through endless flurries of legislation. This legislation is usually implemented in the wake of a tragedy involving firearms, for gun grabbers never let a good crisis go to waste. Exploiting the deaths of innocent people to further an ideological agenda is a common strategy for them.
This leads us to the recent mass shooting at a high school in Parkland, Florida. The narrative being constructed around this event is the same as usual — that stronger "gun control and background checks" are needed to prevent such things from ever happening again.
Of course, Nikolas Cruz, the alleged perpetrator of the shooting, obtained his firearms legally and by passing existing background checks. Being that these background checks have been highly effective in stopping the vast majority of potential criminals from purchasing firearms through legal channels, one wonders what more can be done to make these checks somehow "foolproof."
Around 1.5 million 4473 forms (background checks) have been rejected by the ATF in the two decades since more stringent background checks were instituted. As many as 160,000 forms are denied each year for multiple reasons, including mental health reasons.
So, the question is, did background checks fail in the case of Nikolas Cruz? And would any suggested amendments to current 4473 methods have made any difference whatsoever in stopping Cruz from purchasing a weapon? The answer is no. No suggested changes to ATF background checks would have made a difference. But there are stop-gaps to preventing mass shootings other than the ATF.
The FBI, for example, had been warned on multiple occasions about Cruz, including his open threats to commit a school shooting. Yet, the FBI did nothing.
Could the FBI have prevented the killings in Parkland by following up repeated warnings on Nikolas Cruz? I would say yes, it is possible they could have investigated Cruz's threats, verified them and prosecuted for conspiracy to commit a violent crime, or at the very least, they could have frightened him away from the idea.
Was the Parkland shooting then a failure of background checks or a failure of the FBI? And, if it was a failure of the FBI, then shouldn't anti-gun advocates focus on revamping the FBI instead of pushing the same background check and gun show "loophole" rhetoric they always do?
They aren't interested in instituting changes at the FBI because this could help solve the problem, and they do not care about solving the problem, they only care about pursuing their ultimate goal of deconstructing the 2nd Amendment for all time.
Gun control advocates will conjure up a host of arguments for diminishing gun rights, but just like the background check issue and Nikolas Cruz, most of them are nonsensical.
They'll make the claim that guns for self defense are fine, but that high capacity military grade weapons were never protected under the Constitution. "The founding fathers were talking about single shot muskets when they wrote that…" is the commonly regurgitated propaganda meme. This is false. High capacity "machine guns" (like the Puckle gun and the Girandoni rifle) and even artillery were actually common during the time of the founders and were indeed protected under the 2nd Amendment. In fact, the 2nd Amendment applies to all firearms under common military usage regardless of the era.
They'll claim that high capacity "assault weapons" are not needed and that low capacity firearms are more practical for self defense. They obviously are ignoring the circumstances surrounding any given self defense scenario. What if you are facing off with multiple assailants? What if those assailants are mass shooters themselves and obtained their weapons on the black market as the ISIS terrorists in Paris did in 2015? What if the assailant is a tyrannical government? Who is to say what capacity is "practical" in those situations?
They'll claim that tougher gun laws and even confiscation will prevent mass shootings in the future, yet multiple nations (including France) have suffered horrific mass shootings despite having far more Orwellian gun laws than the U.S.
Criminals and terrorists do not follow laws. Laws are words on paper backed up by perceived consequences that only law abiding people care about.  The vast majority of successful mass shootings take place in "gun free zones," places where average law abiding citizens are left unarmed and easy prey.
So, what is the solution that gun grabbers don't want to talk about? What could have stopped the shooting in Parkland? What is the one thing that the mainstream media actively seeks to avoid any dialogue about?
The solution is simple — abolish all gun free zones. If teachers at the high school in Parkland had been armed the day Nikolas Cruz showed up with the intent to murder, then the entire event could have gone far differently. Instead of acting helplessly as human shields against a spray of bullets, teachers and coaches could have been shooting back, actually stopping the threat instead of just slowing it down for a few seconds. Or, knowing that he might be immediately shot and killed before accomplishing his attack, Cruz may have abandoned the attempt altogether. There is no way to calculate how many crimes and mass shootings have been prevented exactly because private gun ownership acted as a deterrent.
Most gun grabbers are oblivious to this kind of logic because they are blinded by ideological biases. Some of them, however, understand the truth of this completely, and they don't care. They are not in the business of saving lives; they are in the business of exploiting death. They want something entirely different from what they claim they want. They are not interested in life, they are interested in control.
Source:   alt-market.com
02.25.2018 –   US Gross National Debt Spikes $1 Trillion in Less Than 6 Months
And these are the good times.
As of the latest reporting by the Treasury Department, the US gross national debt rose by $41.5 billion on Thursday, February 22, to a grand total of $20.8 trillion.
Here's the thing: On September 7, 2017, five-and-a-half months ago, just before Congress suspended the debt ceiling, the gross national debt stood at $19.8 trillion.
At that time, I was holding my breath waiting for the gross national debt to take a huge leap in a single day – as it always does after the debt ceiling gets lifted or suspended – and jump to the next ignominious level. It sure did the next day, when it jumped $318 billion.
And it continued. Over a period of 8 weeks, the gross national debt jumped by $640 billion. Four weeks after that, it had ballooned by $723 billion, at which point Fed Chair Yellen – whose cheap-money policies had enabled Congress to do this for years – said that she was "very worried about the sustainability of the US debt trajectory."
Then Congress served up another debt ceiling – a regular charade lawmakers undertake to extort deals from each other, beat the White House into submission, and keep the rest of the world their on their toes. It goes like this: First they pass the spending bills, directing the Administration to spend specific amounts of money on a gazillion specific things spread around specific districts. Then they block the means to pay the credit card bill.
That debt ceiling was suspended on February 8, at which point the gross national debt began to surge again, adding $1 trillion ($960.4 billion rounded to the nearest 100 million), a 5% jump in the gross national debt in just 5.5 months: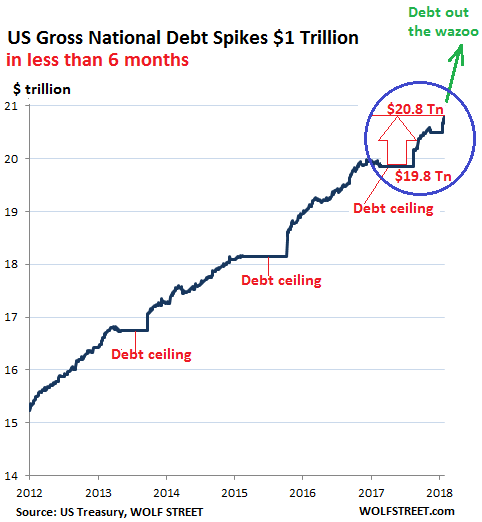 In the chart, note the somewhat technical jargon (marked in green) of what will happen going forward. The past week saw record issuance of Treasury debt, and that surge of Treasury debt issuance will continue. The Treasury department now expects that the debt will increase by $617 billion by mid-year.
The debt ceiling is like playing toss with a loaded gun: The gun will normally not go off because almost everyone is trying very hard to catch the gun without pulling the trigger. And historically speaking, it hasn't gone off yet, and everyone hopes that it will never go off. It's dramatic, and sound bites from those playing toss permeate the media, but what it really does is distract from the consequences of the fiscal policies that these same people are hammering out in Congress. Those consequences are best summed up over time in the gross national debt.
The trillions fly by so fast these days, we can't even see them anymore. And afterwards we wonder: What was that? Where did it go?
The Treasury Department, in its Financial Report for fiscal 2017, which it just released, and which was silenced to death by the media, shows where that money came from and where it went. Now, just add the tax cuts and the ballooning expenditures.
Source: wolfstreet.com
02.23.2018 – Debt On Track To Destroy The American Middle Class
Economists report the household debt to be at its highest in decades.  Yet, at the same time, we are being told that the economy is doing great. Does anyone see a serious contradiction?
In fact, the current economy only favors the wealthy owing to their flourishing financial assets such as stocks and bonds. Owing to the lack of real assets such as property and commodities, the middle and lower classes are becoming overwhelmed due to the serious consequences of the spending/debt cycle.
American consumers have a collective outstanding household debt of about $13.15 trillion of which nearly $1 trillion is the credit card debt alone, households are truly on a debt binge. These figures should be a wake-up call to all the Americans. The convulsive household debt has surpassed the bubble of 2008 and is still escalating. The economy may not be doing so great, after all.
Compared to 2008, the automobile credit balances have increased to $367 billion whereas the outstanding student loans are around $671 billion. Moreover, 67 percent of household debts belong to consumer mortgages. In 2016, twenty-five percent of all the Americans purchased a new or used vehicle and two-thirds of them are repaying through high-interest, long-term loans.
In fact, the consumer debt has exceeded their income for majority of the Americans.
Consumers have become accustomed using easy credit to maintain a lifestyle unaffordable for them otherwise. If this trend continues, and facts indicate that it will, we will be facing a monumental credit crisis in the near future.
A huge portion of credit card debt is the interest. Credit cards are a convenience and consumers readily pay for the privilege. However, it is necessary for consumers to know how credit card interest actually works.
Take the Smiths, a typical family with $2,000 in credit card debt. The Smiths don't have a considerable cash reserve and only make a minimum monthly payment of $60.00 at 20 percent interest. The monthly payment against the principal is $26.67 while the interest amount is $33.33. With this payment schedule, the Smiths will pay $4,240 over a period of 15 years.
Mortgages are also a part of the household debt. While outstanding mortgages haven't reached the bubble of 2008, they have still increased indicating  the possibility of another housing crisis in the not-too-distant future. Moreover, with the rising interest rates, the consumer credit may default. Some families rely on credit cards to meet the basic needs. This is the opposite of economic growth.
The decline in automobile sales is already an indication of the future consumer debt crisis. If lenders continue to provide easy access to credit regardless of its looming default and delinquent potential, retail purchase will face a sharp decline in 2018. This will have serious consequences on the overall economy.
The Federal Reserve and other global lenders are a significant contribution to the problem. They allow printing of trillions of dollars and yens for the lenders to distribute to the borrowing consumers at a high interest, leading to a worldwide inflation. All this printed wealth is merely an illusion yet it is raising the cost of living. Prices are rising at an alamingly faster rate compared to the consumer income. There is no increase in real assets. All this is but a mere mushrooming of debt.
The consequences of federal policy will be inescapable unless reversed and there are no signs of any reversal in near or distant future. At this rate, the consumers will soon face a critical financial bubble. Financial assets, such as stocks and bonds, risk losing substantial value. The wealthy can absorb the losses but the poor and middle class will face financial ruin. Consumers need to seriously consider the need to increase their "real" assets, such as real estate and commodities to prevent a long-term financial nightmare.
The chart below shows how the real assets have curved to an all-time low.
It is high time for the American consumers to wake up and stop believing in the magic of easy credit before it is too late. Their upgraded lifestyle is a bubble of an illusion that will burst soon enough.
Source:  goldtelegraph.com
02.22.2018 – The End of (Artificial) Stability
The central banks'/states' power to maintain a permanent bull market in stocks and bonds is eroding.

There is nothing natural about the stability of the past 9 years. The bullish trends in risk assets are artificial constructs of central bank/state policies. As these policies are reduced or lose their effectiveness, the era of artificial stability is coming to a close.
The 9-year run of Bull-trend stability is ending as a result of a confluence of macro dynamics:
1. Central banks are under pressure to reduce, end or reverse their unprecedented monetary stimulus, and the consequences are unpredictable, given the market's reliance on the certainty that "central banks have our back" is ending.
2. Interest rates / bond yields may well plummet in a global recession, but if we look at a 50-year chart of interest rates, we see a saucer-shaped bottoming in play. Technician Louise Yamada has been discussing the tendency of interest rates/bond yields to trace out a multi-year saucer bottom for over a decade, and we can now discern this.
Even if yields plummet in a recession, as many analysts predict, this doesn't necessarily negate the longer term trend of higher yields and rates.
3. The global economy is overdue for a business-cycle recession, which is characterized by a retrenchment of credit and the default of marginal debt. The "recovery" is the weakest recovery in the past 60 years, and now it's the longest expansion.
4. The mainstream financial media is telling us that everything is going great in the global economy, but this sort of complacent (or even euphoric) "it's all good news" typically marks the top of stocks, just as universal negativity marks secular lows.
5. What happens to markets characterized by uncertainty? Once certainty is replaced by uncertainty, markets become fragile and thus exposed to sudden shifts of sentiment. This destabilization is expressed as volatility, but it's far deeper than volatility as measured by VIX or sentiment indicators.
Market participants have become accustomed to an implicit entitlement: that investors / speculators will earn consistently positive returns on their capital, as central banks and governments have both the power and the mandate to "save" participants from losses and generate phantom wealth ("gains").
This entitlement is ending, as the central banks'/states' power to maintain a permanent bull market in stocks and bonds is eroding, and I suspect few participants have a strategy for a permanently riskier environment going forward.
How much will risk assets have to decline for "wealth" to return to the production of real-world wealth in the real-world economy? Clearly, the answer is "a lot."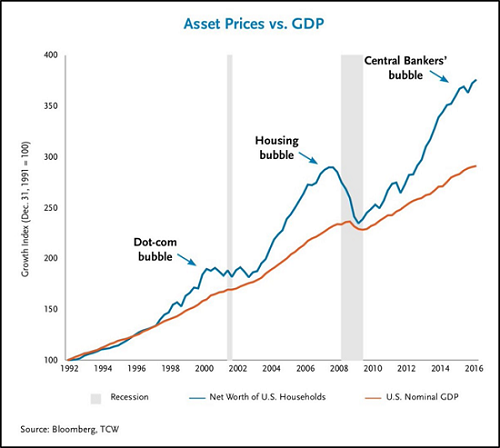 Source: oftwominds.com
02.21.2018 –  Peter Schiff Warns "We're Ripe For A 1987-Style Crash"
Stock markets have settled down after an awful couple of weeks earlier this month.  On Feb. 5, the Dow Jones suffered its largest-ever drop in terms of points. It was down 1,600 at one point and ultimately lost 1,175.21 points, a 4.6% drop that day. At one point during that week, the Dow was off 10% in correction territory. But everything is calm now and most of the mainstream is once again feeling bullish and optimistic.
Peter Schiff spoke at the Vancouver Resource Investment Conference 2018 last month before the market tanked. But his message remains relevant in the aftermath of the plunge and the subsequent recovery because the dynamics in the market remain pretty much the same. Conditions are still ripe for a 1987-style market crash.
Investors have not been this optimistic…since 1987. They are even more optimistic than they were at the height of the technology bubble, the dot-com bubble, the new era. Of course, 1987 didn't end well, right? We had a stock market crash, and there's a lot about what's happening today that reminds me about what was happening in '87."
"The economy has not improved under Trump. We don't have a booming economy. I mean, Trump keeps telling us we have a booming economy, but nothing is booming."
"When Donald Trump was a candidate for president, he said that the unemployment numbers were phony. They were fake. They were a fraud. They were a con. He said the real unemployment rate is 30%, 40%. Now, every time there is an unemployment number that comes out, he's tweeting about how great it is we have this record low unemployment and we should all give him credit for it."
"Now, the tax cuts, are they going to grow the economy? No! Because they didn't cut government spending. See, you don't get government for nothing. Taxes pay for government. But if you cut taxes and you don't cut government, how do you pay for that government?"
"I believe the debt and inflation we have to create to finance the tax cuts will be a bigger drag on the economy than the tax cuts are a boost."
"Where there will be growth is in the budget deficits and that kind of is where I see some of the similarity now in the 1980s – 1987 – because these big budget deficits are going to be a big problem."
"Rather than having continuous economic growth, I think the economy is going into recession. Now, I believe that had Donald Trump lost that election, the US would already be in recession. I think we were clearly headed to recession before he won. And when he won, he created this huge burst of misplaced optimism that probably postponed the onset of that recession by another year or two."
"The most recent trade deficit hit the highest level I think in six years… The trade deficit is heading much higher and so is the budget deficit. You have these twin deficits. And the last time they were a big problem was 1987."
"I believe that this year, the dollar is going to hit an all-time record low. I think we're going to crack below 6-to-1 in yuan."
"If the dollar is going down, why would anyone outside the United States want to buy a 10-year Treasury yielding 2.6%?"
"Here's the problem. America's broke. America has more debt than ever before … The debt has more than doubled since the financial crisis. Why did we have a financial crisis? We had too much debt!"
"What has really been propping up the US economy is cheap money and cheap gas."
"Here is the self-perpetuating spiral that we're in. As the deficits go up, now we have to sell more bonds. Well, that puts more downward pressure on bond prices and more upward pressure on interest rates. So, as rising interest rates create bigger deficits, those bigger deficits create rising interest rates."
Source: schiffgold.com
All information used from other websites on X22 Report is used for educational/criticism and commentary purposes only.

Fair Use Notice: This video contains some copyrighted material whose use has not been authorized by the copyright owners. We believe that this not-for-profit, educational, and/or criticism or commentary use on the Web constitutes a fair use of the copyrighted material (as provided for in section 107 of the US Copyright Law. If you wish to use this copyrighted material for purposes that go beyond fair use, you must obtain permission from the copyright owner. Fair Use notwithstanding we will immediately comply with any copyright owner who wants their material removed or modified, wants us to link to their web site, or wants us to add their photo.

The "Fair Use" Provisions outlined in Title 17, Chapter 01 Article 107 of the US Copyright Law states the following:

Notwithstanding the provisions of sections 106 and 106A, the fair use of a copyrighted work, INCLUDING SUCH USE BY REPRODUCTION IN COPIES or phonorecords or BY ANY OTHER MEANS specified by that section, for purposes such as criticism, comment, news reporting, teaching (including multiple copies for classroom use), scholarship, or research, is NOT an infringement of copyright. In determining whether the use made of a work in any particular case is a fair use the factors to be considered shall include:

(1) the PURPOSE and CHARACTER of the use, including whether such use is of a commercial nature or is for NON-PROFIT educational purposes;
(2) the NATURE of the copyrighted work;
(3) the amount and substantiality of the portion used in relation to the copyrighted work as a whole; and
(4) THE EFFECT OF THE USE UPON THE POTENTIAL MARKET FOR OR VALUE OF THE COPYRIGHTED WORK.

The fact that a work is unpublished shall not itself bar a finding of fair use if such finding is made upon consideration of all the above factors.