---
Send us your Sentinel Alert to Submit Sentinel Alert:
---
---
Scroll Down To See More News Alerts
11.14.2018 –  Understanding the Global Recession of 2019

Isn't it obvious that repeating the policies of 2009 won't be enough to save the system from a long-delayed reset?
2019 is shaping up to be the year in which all the policies that worked in the past will no longer work. As we all know, the Global Financial Meltdown / recession of 2008-09 was halted by the coordinated policies of the major central banks, which lowered interest rates to near-zero, bought trillions of dollars of bonds and iffy assets such as mortgage-backed securities, and issued unlimited lines of credit to insolvent banks, i.e. unlimited liquidity.
Central governments which could do so went on a borrowing / spending binge to boost demand in their economies, and pursued other policies designed to bring demand forward, i.e. incentivize households to buy today what they'd planned to buy in the future.
This vast flood of low-cost credit and liquidity encouraged corporations to borrow money and use it to buy back their stocks, boosting per-share earnings and sending stocks higher for a decade.
The success of these policies has created a dangerous confidence that they'll work in the next global recession, currently scheduled for 2019. But policies follow the S-Curve of expansion, maturity and decline just like the rest of human endeavor: the next time around, these policies will be doing more of what's failed.
The global economy has changed. Demand has been brought forward for a decade, effectively draining the pool of future demand. Unprecedented asset purchases, low rates of interest and unlimited liquidity have inflated gargantuan credit / asset bubbles around the world, the so-called everything bubble as most asset classes are now correlated to central bank policies rather than to the fundamentals of the real-world economy.
Keenly aware that they've thinned their policy options and financial buffers to near-zero, central banks are struggling to normalize their policies by raising rates, reducing their balance sheets by selling assets and tightening lending conditions / liquidity.
Unfortunately for central banks, global economies are now junkies addicted to zero interest rates and central bank stimulus / support of bond markets, stock markets and real estate markets. The idea of normalization is to slowly inch the financial system and economy back to levels that were normal in previous eras, levels that allowed some room for central banks to respond to recessions and global financial crises by lowering rates and extending credit to insolvent lenders.
But reducing the drip of financial heroin hasn't ended global economies' addiction to extraordinary easy financial conditions. Rather, it's illuminated the dangers of their continued addiction.
As soon as authorities attempt to limit their support / stimulus, markets wobble into instability. The entire economic structure of "wealth" is now dependent on asset bubbles never popping, for any serious decline in asset valuations will bankrupt pension funds, insurers, local governments, zombie companies and overleveraged households–every entity which is only solvent as long as asset bubbles expand or maintain current valuations.
So how do central banks normalize their unprecedented policies without popping the asset bubbles they've created? The short answer is: they can't. Rising interest rates are a boon to savers and Kryptonite to borrowers–especially over-leveraged borrowers who must roll over short-term debt and borrow more just to maintain the illusion of solvency.
As if this wasn't enough to guarantee recession in 2019, there's the unintended consequences of capital flows. Capital famously flows to where it's treated best, meaning wherever it earns the highest yields at the lowest risk, and where the rule of law protects capital from predation or expropriation.
When all central banks pursued roughly the same policies, capital had options. Now that the Fed has broken away from the pack, capital has only one option: the U.S. The Federal Reserve should have begun normalizing rates etc. back in 2013, and if they'd been wise enough to do so then even baby steps over the past 5 years would have led to a fairly normalized financial environment.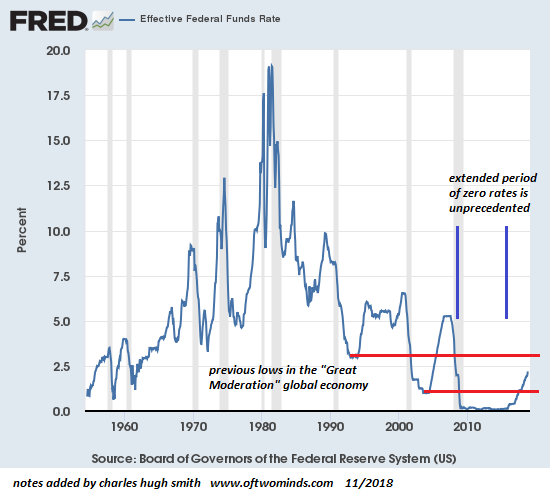 But Ben Bernanke and Janet Yellen blew it, so it's been left to the current Fed leadership to do the heavy lifting over a much shorter timeline. Predictably, pulling away the punch bowl has spoiled the asset-bubble party, and now all the asset bubbles are increasingly at risk of deflating.
But the yields and relative risk available in US-dollar denominated assets is starting to look a lot more attractive and lower risk than assets denominated in yen, yuan and euros. Capital flows tend to be self-reinforcing: as capital flows out of at-risk economies, it dampens investment, speculation and spending as the economy is drained of capital.
Owners of assets notice this decay and so they decide to sell and move their capital to safer ground. Selling begets selling, and pretty soon nobody's left to catch the falling knife, ie. buy assets that are rapidly losing value.
This is what surprised Alan Greenspan (by his own account) in 2008: bubbly markets quickly become bidless, that is, buyers vanish and sellers who want to unload their assets for cash find nobody's willing to part with cash for a plummeting asset.
The central bank "solution" to bidless markets is to become the buyer of last resort: when no sane investor will buy bonds, stocks or real estate, then the central bank starts buying everything in sight.
We are already seeing this in action as Chinese governmental agencies have started quietly buying empty flats in ghost buildings to prop up the housing market. The idea here is to restore confidence with a relatively modest burst of quiet buying. But when markets turn and confidence is lost, sentiment can't be restored so easily: sensing their last chance is at hand, sellers dump assets at a quickening pace, overwhelming the modest central bank buying.
This leaves the central bank with a stark and sobering choice: either let the asset bubble collapse and accept the immense destruction of "wealth," or buy the whole darn market. This is the unintended consequence of employing unprecedented policies for a decade: like using antibiotics every day for years, eventually resistance develops and the "fix" no longer works.
Now that central banks have inflated assets into the stratosphere, there's $300 trillion in global financial assets sloshing around seeking higher yields and capital gains. How much of this $300 trillion can central banks buy before they destabilize currencies? How much can they buy before they run out of political goodwill?
Isn't it obvious that repeating the policies of 2009 won't be enough to save the system from a long-delayed reset?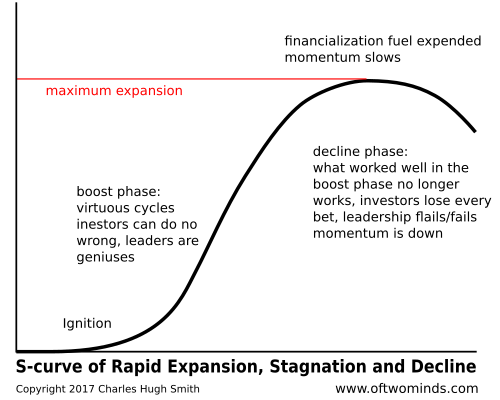 Source: oftwominds.com
11.09.2018 – Why Are So Few Americans Able To Get Ahead?
Our entire economy is characterized by cartel rentier skims, central-bank goosed asset bubbles and stagnating earned income for the bottom 90%.
Despite the rah-rah about the "ownership society" and the best economy ever, the sobering reality is very few Americans are able to get ahead, i.e. build real financial security via meaningful, secure assets which can be passed on to their children.
As I've often discussed here, only the top 10% of American households are getting ahead in both income and wealth, and most of the gains of these 12 million households are concentrated in the top 1% (1.2 million households). (see wealth chart below).
Why are so few Americans able to get ahead? there are three core reasons:
1. Earnings (wages and salaries) have not kept up with the rising cost of living.

2. The gains have flowed to capital, which is mostly owned by the top 10%, rather than to labor ((wages and salaries).

3. Our financialized economy incentivizes cartels and other rentier skims, i.e. structures that raise costs but don't provide any additional value for the additional costs.
It's instructive to compare today's household with households a few generations ago. As recently as the early 1970s, 45 years ago, it was still possible for a single fulltime-earner to support the household and buy a home, which in 1973 cost around $30,000 (median house price, as per the St. Louis FRED database).
As recently as 20 years ago, in 1998, the median house price in the U.S. was about $150,000— still within reach of many two-earner households, even those with average jobs.
As the chart below shows, real median household income has only recently exceeded the 1998 level— and only by a meager $1,000 annually. If we use real-world inflation rather than the under-estimated official inflation, real income has plummeted by 10% or more in the past 20 years.
This reality is reflected in a new study of wages in Silicon Valley, which we might assume would keep up due to the higher value of the region's output.The study found the wages of the bottom 90% declined when adjusted for inflation by as much as 14% over the past 20 years:
"The just-released report showed that wages for 90 percent of Silicon Valley workers (all levels of workers except for the top 10 percent) are lower now than they were 20 years ago, after adjusting for inflation. That's in stark contrast to the 74 percent increase in overall per capita economic output in the Valley from 2001 to 2017."

source: Why Silicon Valley Income Inequality Is Just a Preview of What's to Come for the Rest of the U.S.
Meanwhile, the median house price has more than doubled to $325,000 while median household income has stagnated. Please note this price is not adjusted for inflation, like the median income chart. But if we take nominal household income in 1998 (around $40,000 annually) and compare it to nominal household income now in 2018 (around $60,000), that's a 50% increase–far below the more than doubling of house prices.
To raise stagnant incomes, the Federal Reserve and other central banks have attempted to generate a wealth effect by boosting the valuations of risk-on assets such as stocks, bonds and commercial real estate. But the Fed et al. overlooked the fact that the vast majority of these assets are owned by the top 10%–and as noted above, the ownership of the top 10% is concentrated in the top 1% and .1%.
As a result, the vast majority of the wealth effect capital gains have flowed to the top 1%:
Lastly, the cartel structure of the U.S. economy has raised costs while providing no additional value. One example is higher education, a cartel that issues diplomas with diminishing economic value that now cost a fortune, a reality reflected in this chart of student loan debt, which simply didn't exist a generation ago:
Our entire economy is characterized by cartel rentier skims, central-bank goosed asset bubbles and stagnating earned income for the bottom 90%. Given these realities, the bottom 90% are left with few pathways to get ahead in terms of financial security and building secure family wealth
Source: oftwominds.com
11.05.2018 –  Turn Off, Tune Out, Drop Out
An unknown but likely staggeringly large percentage of small business owners in the U.S. are an inch away from calling it quits and closing shop.
Timothy Leary famously coined the definitive 60s counterculture phrase, "Turn on, tune in, drop out" in 1966. (According to Wikipedia, In a 1988 interview with Neil Strauss, Leary said the slogan was "given to him" by Marshall McLuhan during a lunch in New York City.)
An updated version of the slogan might be: Turn Off, Tune Out, Drop Out: turn off mobile phones, screens, etc.; tune out Corporate Media, social media, propaganda, official and unofficial, and drop out of the status quo economy and society.
Dropping out of a broken, dysfunctional status quo in terminal decline has a long history. The chapter titles of Michael Grant's excellent account of The Fall of the Roman Empire identify the core dynamics of decline:
The Gulfs Between the Classes
The Credibility Gap
The Partnerships That Failed
The Groups That Opted Out
The Undermining of Effort
Our focus today is on The Groups That Opted Out. In the decline phase of the Western Roman Empire, people dropped out by abandoning tax-serfdom for life in a Christian monastery (or as a worker on monastery lands) or by removing themselves to the countryside.
Today, people drop out in various ways: early retirement, disability or other social welfare, homesteading or making and saving enough money in the phantom-wealth economy that they can quit official work in middle age.
We can see this in the labor participation rates for the populace at large, women and men. The labor participation rate reflects the percentage of the population that's in the workforce, either working or actively looking for work.
That the number of people in the workforce has declined significantly is well-known. The US Census pegs the number of people 'not in the labor force' at 95 million. This includes people who are disabled, in school, etc., so the number should be taken with a grain of salt. But the decline in the relative size of the labor force is remarkable: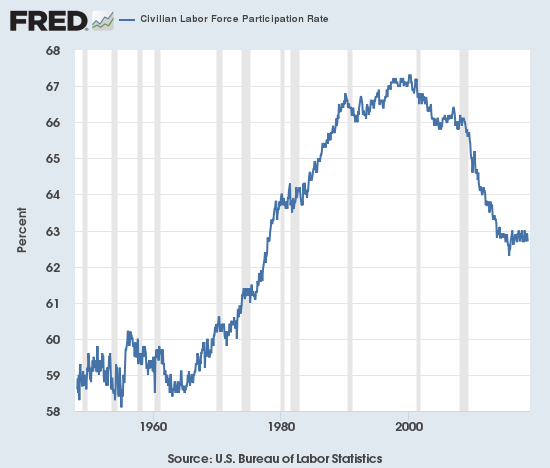 Interestingly, the labor participation rate for women has held steady compared to the entire populace.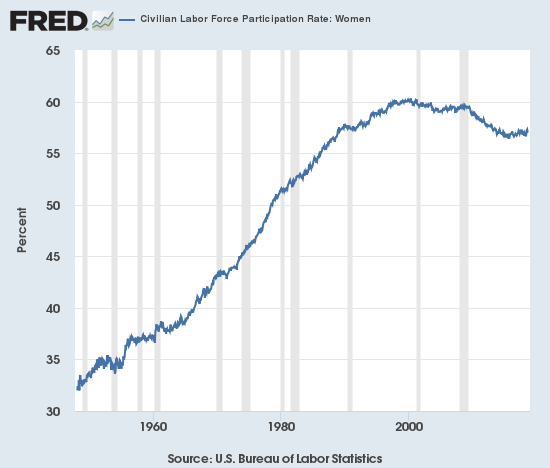 Now compare it to the labor participation rate for men, which has absolutely cratered: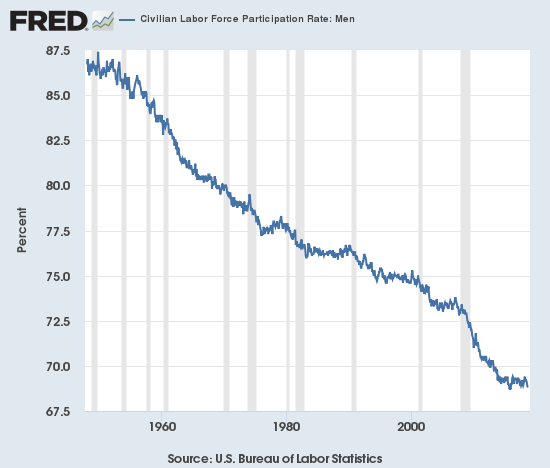 The difference between genders is striking. Gender roles in society and the economy are clearly causal factors. Many have speculated that the decline in traditional strongholds of male employment such as manufacturing explain the decline of males in the workforce. As for the high participation of women, we might speculate that being caregivers for children and elderly parents requires earning an income, and as these responsibilities continue to fall more heavily on females, it may be that fewer women have the option of dropping out.
As for turning off, consider this account of tech overlords turning off their own childrens' access to screens (via GFB): A Dark Consensus About Screens and Kids Begins to Emerge in Silicon Valley "I am convinced the devil lives in our phones."
I've written about mobile phone and social media addiction many times, so the reluctance of tech elites to let their own children suffer the ravages of digital addiction isn't surprising.
As for tuning out, the strident voices of political polarization are not as widespread as generally perceived: Hidden Tribes: A Study of America's Polarized Landscape found that the rabidly leftist / "progressive" tribe is a mere 8%, and their opposite tribe on the right is equivalently modest in number.
It doesn't take much observation to surmise that the majority in the middle are tuning out both polarizing extremes. Partisans may view this abandonment as negative, i.e. apathy, but this would be misreading the situation: the reality is the majority are tired of the poisonous polarities and the stultifying, going-nowhere toxic frenzy that destroys participants' equilibrium and sanity.
An unknown but likely staggeringly large percentage of small business owners in the U.S. are an inch away from calling it quits and closing shop. At some point the ever-higher costs of burdensome, mostly useless bureaucratic compliance and complexity, the ever more costly junk fees, filing fees, permits, penalties and taxes, the higher costs of labor overhead (healthcare insurance, workers comp, etc.) and the ever-rising costs of materials and services make it an easy decision to drop out of the rat race and either sell the business to someone less grounded in reality or just close it down.
Those who tire of being nailed by "tax the rich" schemes can drop out by earning less. Sell out, move out, drop out. Unfortunately for all those who depend on the Savior State, the state cannot force people losing money and their mental health to continue operating enterprises. (At least not yet.) Once small business and the productive wealthy (i.e. upper middle class) sell out, move out and drop out, it's game over for the "tax the rich" crowd and the local economy.
Dropping out is an increasingly attractive option. For those unable to drop out, turning off and tuning out are increasingly attractive options.
Source: oftwominds.com
10.31.2018  – It's A BOMBSHELL, We Are At A Tipping Point, Fake News
One of the best compilations I've ever seen.

It's a BOMBSHELL. pic.twitter.com/V0oLimbKnT

— Mike (@Fuctupmind) October 29, 2018
10.27.2018  – Stock Market Plunges Again – Global Stocks Down 5 Weeks In A Row – 8 Trillion Dollars In Wealth Wiped Out
It's not over.  The worst October stock market crash since 2008 got even worse on Friday.  The Dow was down another 296 points, the S&P 500 briefly dipped into correction territory, and it was another bloodbath for tech stocks.  On Wednesday, I warned that there would be a bounce, and we saw that happen on Thursday.  But the bounce didn't extend into Friday.  Instead, we witnessed another wave of panic selling, and that has many investors extremely concerned about what will happen next week.  Overall, global stocks have now fallen for five weeks in a row, and during that time more than 8 trillion dollars in global wealth has been wiped out.  That is the fastest plunge in global stock market wealth since the collapse of Lehman Brothers, and it is yet another confirmation that a major turning point has arrived.
The wild swings up and down that we witnessed this week are very reminiscent of what we saw in 2008.
Markets just don't go down in a straight line.  In fact, some of the best days in all of Wall Street history happened right in the middle of the last financial crisis.
When markets are very volatile, the overall trend tends to be down.  So what investors should be hoping for are extremely boring days on Wall Street when not much happens.  That has been the usual state of affairs for much of the past decade, but now volatility has returned with a vengeance.  The following is how CNBC summarized the carnage that we witnessed on Friday…
The Dow Jones Industrial Average closed 296.24 points lower at 24,688.31 after dropping 539 points at its lows of the day. The Nasdaq Composite dropped 2.1 percent to 7,167.21. At its lows, the tech-heavy Nasdaq had fallen more than 3 percent.

The S&P 500 fell 1.7 percent to 2,658.69 and briefly entered into correction territory, trading more than 10 percent below its record high reached in September. The average stock market correction, since WWII, results in a 13 percent drop and lasts for four months if it does not turn into a full-fledged bear market.

Larry Benedict, CEO of The Opportunistic Trader, said traders "don't want to be long heading into the weekend." He added, "S&P now down on the year and people are more afraid to be long today than they were when market was 10 percent higher."
And when you step back and take a longer-term view of things, the devastation is breathtaking.  The following facts come from Zero Hedge…
Dow down 9% from record high (down 4 of last 5 weeks)
S&P down 10.1% from record high (down 4 of last 5 weeks)
Nasdaq down 13% from record high (down 4 weeks in a row)
Dow Transports down 15.2% from record high (down 6 weeks in a row)
Small Caps down 15.8% from record high (down 6 weeks in a row)
More importantly, global systemically important bank stocks have now fallen for 5 weeks in a row, and they have now plunged more than 30 percent from the peak.
In other words, the "too big to fail banks" around the world have already seen almost a third of their value wiped out.
There are quite a few global candidates that could potentially become "the next Lehman Brothers", and once one "too big to fail bank" goes down, it could escalate this new financial crisis very rapidly.
But for most ordinary Americans, the main concern is about keeping their own money safe.  Thanks to low returns almost everywhere else, more retirement money is in the stock market than ever before, and many Americans are very anxious about what a stock market crash would mean for their savings…
Nearly 40 percent of Americans said they were "anxious" about stock market volatility, according to Allianz Life's 2018 Market Perceptions study, mainly because they worried they would not be able to protect their retirement savings.
In the end, a lot of people are going to get completely wiped out.
Hopefully you will not be one of them.
Of course the mainstream media continues to insist that everything is going to be just fine.  In fact, CNN is telling people that now is "a good time for investors to double down on their investments"…
Experts say big sell-offs are often a good time for investors to double down on their investments. One recommended looking for companies that are expected to post healthy gains in sales and earnings. A strong balance sheet and a steadily growing dividend don't hurt either.

"With earnings season in full force, this is when stock pickers can add a lot of value," said Ernesto Ramos, managing director of active equities with BMO Global Asset Management. "There really was no good reason for the market to be down as much as it was Wednesday."
That is about the exact opposite from the advice that they should be giving, but unfortunately this is the narrative that we get from the corporate media before every major crisis.
October has historically been the most volatile month for stocks, and without a doubt this has been a wild month.  Of course the midterm elections are coming up early next month, and those results could potentially spook investors.  But once we get past that, hopefully the markets will start to settle down.
But if things continue to unfold as they did in 2008, this crisis could continue to escalate during the months ahead, and that would especially be true if some sort of "trigger event" sent a major surge of panic through the marketplace.
At this point, investors are extremely jumpy.  For example, even though Amazon reported very good earnings this week, the stock crashed on Friday because revenue growth was slightly below expectations.
Any piece of bad news could send the markets tumbling right now, and if a major disaster were to happen we could be talking about a total collapse.
Source: theeconomiccollapseblog.com
10.22.2018  – Johnstone: An Embarrassing End May Soon Be Near For Russia-Gaters
After more than two years of mania about Russia stealing the 2016 election for Trump and demonization of anyone who questioned it, an embarrassing end may soon be near for the Russia-gaters…
In a new article titled "Mueller report PSA: Prepare for disappointment", Politico cites information provided by defense attorneys and "more than 15 former government officials with investigation experience spanning Watergate to the 2016 election case" to warn everyone who's been lighting candles at their Saint Mueller altars that their hopes of Trump being removed from office are about to be dashed to the floor.
"While [Mueller is] under no deadline to complete his work, several sources tracking the investigation say the special counsel and his team appear eager to wrap up," Politico reports.

"The public, they say, shouldn't expect a comprehensive and presidency-wrecking account of Kremlin meddling and alleged obstruction of justice by Trump – not to mention an explanation of the myriad subplots that have bedeviled lawmakers, journalists and amateur Mueller sleuths," the report also says, adding that details of the investigation may never even see the light of day.
Russiagate is bullshit, and we fucking told you so.https://t.co/ENWPRfR8Yq

— Caitlin Johnstone (@caitoz) October 19, 2018
So that's it then.
An obscene amount of noise and focus, a few indictments and process crime convictions which have nothing to do with Russian collusion, and this three-ring circus of propaganda and delusion is ready to call it a day.
This is by far the clearest indication yet that the Mueller investigation will end with Trump still in office and zero proof of collusion with the Russian government, which has been obvious since the beginning to everyone who isn't a complete fucking moron. For two years the idiotic, fact-free, xenophobic Russiagate conspiracy theory has been ripping through mainstream American consciousness with shrieking manic hysteria, sucking all oxygen out of the room for legitimate criticisms of the actual awful things that the US president is doing in real life. Those of us who have been courageous and clear-headed enough to stand against the groupthink have been shouted down, censored, slandered and smeared as assets of the Kremlin on a daily basis by unthinking consumers of mass media propaganda, despite our holding the philosophically unassailable position of demanding the normal amount of proof that would be required in a post-Iraq invasion world.
As I predicted long ago, "Mueller isn't going to find anything in 2017 that these vast, sprawling networks wouldn't have found in 2016. He's not going to find anything by 'following the money' that couldn't be found infinitely more efficaciously via Orwellian espionage. The factions within the intelligence community that were working to sabotage the incoming administration last year would have leaked proof of collusion if they'd had it. They did not have it then, and they do not have it now. Mueller will continue finding evidence of corruption throughout his investigation, since corruption is to DC insiders as water is to fish, but he will not find evidence of collusion to win the 2016 election that will lead to Trump's impeachment. It will not happen." This has remained as true in 2018 as it did in 2017, and it will remain true forever.
None of the investigations arising from the Russiagate conspiracy theory have turned up a single shred of evidence that Donald Trump colluded with the Russian government to rig the 2016 election, or to do anything else for that matter. All that the shrill, demented screeching about Russia has accomplished is manufacturing support for steadily escalating internet censorship, a massively bloated military budget, a hysterical McCarthyite atmosphere wherein anyone who expresses political dissent is painted as an agent of the Kremlin and any dissenting opinions labeled "Russian talking points", a complete lack of accountability for the Democratic Party's brazen election rigging, a total marginalization of real problems and progressive agendas, and an overall diminishment in the intelligence of political discourse. The Russiagaters were wrong, and they have done tremendous damage already.
In a just world, everyone who helped promote this toxic narrative would apologize profusely and spend the rest of their lives being mocked and marginalized. In a world wherein pundits and politicians can sell the public a war which results in the slaughter of a million Iraqis and suffer no consequences of any kind, however, we all know that that isn't going to happen. Russiagate will end not with a bang, but with a series of carefully crafted diversions. The goalposts will be moved, the news churn will shuffle on, the herd will be guided into supporting the next depraved oligarchic agenda, and almost nobody will have the intellectual honesty and courage to say "Hey! Weren't these assholes promising us we'll see Trump dragged off in chains a while back? Whatever happened to that? And why are we all talking about China now?"
But whether they grasp it or not, mainstream liberals have been completely discredited. The mass media outlets which inflicted this obscene psyop upon their audiences deserve to be driven out of business. The establishment which would inflict such intrusive psychological brutalization upon its populace just to advance a few preexisting agendas has proven that it deserves to be opposed on every front and rejected at every turn.
And those of us who have been standing firm and saying this all along deserve to be listened to. We were right. You were wrong. Time to sit down, shut up, stop babbling about Russian bots for ten seconds, and let those who see clearly get a word in edgewise.
*  *  *
Thanks for reading! The best way to get around the internet censors and make sure you see the stuff I publish is to subscribe to the mailing list for my website, which will get you an email notification for everything I publish. My articles are entirely reader-supported, so if you enjoyed this piece please consider sharing it around, liking me on Facebook, following my antics on Twitter, checking out my podcast, throwing some money into my hat on Patreon or Paypal,buying my new book Rogue Nation: Psychonautical Adventures With Caitlin Johnstone, or my previous book Woke: A Field Guide for Utopia Preppers.
Source: caitlinjohnstone.com
10.17.2018  – The Market Isn't The Economy: A Snapshot From The Depression
"We gathered on porches; the moon rose; we were poor.

And time went by, drawn by slow horses.

Somewhere beyond our windows shone the world.

The Great Depression had entered our souls like fog." – Pantoum of the Great Depression – Donald Justice.
Wall Street insiders relish market troughs.
They bask sanguine in their confidence of history. Tenured pros are comforted in the belief that monetary and fiscal stimulus triggers are cocked and at the ready, reinforced in the knowledge that taxpayers without choice in the matter, will again, be the bail-out solution.
In a last irony to turn the blade in the back slowly, this group confidently takes credit for saving a system they helped to bust in the first place.
They are the strong hands who patiently await to scoop up shares when markets falter. As the smart money, these players unload inflated shares to the 'dumb' money or retail investors at "FOMO" or fear-of-missing-out emotional peaks.
The masses are advised to blind buy and hold. Retail investors are cajoled as "brave" if they "ride it out." And whatever "it" is can be counted in years, even decades. Time is precious to us mere mortals. Our lives are finite; Wall Street lives on forever. The precious time it takes to break-even is ignored. Not relevant.
One of my favorite Nashville-based songwriters Drew Holcomb begins a song with a seminal line:
"Time steals every paradise I've been looking for."
When Wall Street prospers, Main Street doesn't necessarily follow a similar, prosperous path.
For example, Pew Research Center outlines that overall, American Household wealth has not fully recovered from the Great Recession. As early as 2016, median wealth of all U.S. households was $97,300; well below median wealth of $139,700 before the recession began in 2007.
Haven't most Americans benefited from the triple-digit returns of the stock market since March 2009?
Not really.
According to the Federal Reserve's Changes in U.S. Family Finances survey published in September 2017, median values of retirement accounts were little changed, remaining at about $60,000 in 2016. For the top income group, the rate of stock ownership, directly or indirectly, increased, continuing the trend from the 2010 survey. Stock ownership for this group was 93.6 percent in 2016.
Main Street or the middle-class' primary motivation is wages and wage growth. Appreciation of primary residences is a strong second. Finally, signs of life exist with inflation-adjusted wages (red line), exceeding 1999 levels. Notice the average (blue line), skewed by higher wage earners.
The stock market is finally paying heed to the bond market; rising rates are having a material impact on housing as 30-year mortgage rates reach an eight-year high. Increased corporate leverage is threatening to put profit margins at risk.
A spike in ten-year Treasury rates from 3.05-3.25% (3.15% at the time of this writing), was enough to get the stock market's attention especially at a time where there was dearth of earnings news to distract it.
Also, an observation – the uncustomary silence and respectively, bearish tones from a Fed Chair and the scattered Governor minions during the recent stock market routing didn't help. We're not used to silent treatment from the Fed when stocks pull back or volatility picks up. Investors have gotten accustomed to the Fed jawboning the markets quiet or higher.
Fed head-honcho Powell believes the economy is running hot and he's just the fireman to tame the flames.
Believe him.
I write this because interest rates matter; accommodative monetary, and or fiscal, policies that increase liquidity can be significant stock market catalysts, even while a majority of Main Street's populace suffers.
As a leading indicator, markets are characterized by a counterintuitive nature that leaves investors – novice or experienced along with the general population, dumbfounded.
I thought the Great Depression, a tragic slice of American history could prove my point.
Six weeks into his new administration, FDR wasn't fooling around. He came out of the gate as a strong, determined hand at the nation's helm. He held strong convictions that weren't going to be deterred. Lack of ethics in business, the excesses of the 1920s were his targets, and he had the courage to expose and correct them.
The Roosevelt Program wasn't popular. Businesses from meat packers to investment bankers believed the Roosevelt Program spelled hardship for their businesses. It was difficult (even more so today), to separate special individual or trade business interests from their interests as citizens or units in the overall poor state of the nation.
A big disagreement at the time was what to do with current wages. A majority of business leaders were advocates for a reduction in wages as prices for goods were quickly deflating. The consumer price index fell by close to 27% from 1929 to 1933. Less wages would translate to more bodies employed. Employees would be putting in less hours in a day however, the strategy would allow additional workers to be hired. Although a good idea, the resistance was too strong.
One of the most aggressive FDR initiatives was to aggressively deflate debt for those who held farm and home mortgages. In 1933, the economic life of your everyday Americans simply couldn't pay mortgage interest at 1929 levels. The plan was to lower interest rates dramatically from 1929 to 1933 levels. At the time, the action was deemed 'heroic,' by advocates.
Uncle Sam was to gather mortgages that concern the mortgagee and crush the mortgagor. The lenders to receive Federal Land Bank bonds at 4.5% as against 7-10% on present mortgages with the Federal government to guarantee the interest. Business could not revive within an environment choked by debt. The overall deflation of debt was inevitable.
Interest rates as represented by call loan and discount, began their ascension in 1928 to cool off speculation in securities markets. By 1930, the discount rate fell from 6% to 2.5% as the Fed realized they may have overdone it to tighten the money supply.
One theory is that the Fed kept rates too low in the 1920s which was a catalyst for errant lending that lead to the great bust. Another is the money supply was too tight during the early 30s as the monetary base suffered a great decline. Deflation was a culprit, not inflation.
Consequently, the discount rate should have been close to 1% or less! In other words, The Federal Reserve's monetary policy and interest rates were catalysts to boom and bust in the economy and markets.
Stocks had a dazzling run from 1933-1936 due to accommodative monetary and fiscal policies. The Roosevelt Program along with the money supply – M2 (M2 is cash and deposits (M1) + time deposits), bottoming and beginning to improve, sparked a hunger by Wall Street players for speculative assets like stocks. Main Street was disinterested. Unemployment was a shade lower than a tragic 25% in 1933. It fell to 16.9% in 1936.
"Hoovervilles" or tent cities remained prominent. Before 1935, there were very few relief systems in place outside of local churches and whatever services cities could provide.
But that stock market whew, what a run!
We ponder the question –
"How can the stock market do so well when the economy appears broken?"
A picture does more to showcase the reality of the time than any words I share:
Here is Florence Owens Thompson. She was an iconic image of the Great Depression.
She's 32 years old in this photo (what age does she look to you?)
Florence was a migrant worker in California in 1936. Here she is with her two children. She had seven. From 1931-1936, the stock market as represented by the Dow Jones was up 136 percent.
Now matter how you cut it, things were just fine on Wall Street.
Not so for Florence and many others at the intersection of Main Street and the Great Depression.
One lesson to never forget: Markets can and do indeed prosper during tough economic cycles due to fiscal and monetary stimulus. Markets falter when rates increase.
As the Fed continues to drain liquidity from the system, target a neutral rate, normalize (whatever that is), all of us as investors may finally understand how painful it can be for stocks, again.
Source: Richard Rosso, MS, CFP, CIMA is the Head of Financial Planning for Clarity Financial. He is also a contributing editor to the "Real Investment Advice" website and published author of "Random Thoughts Of A Money Muse."  Follow Richard on Twitter.
10.15.2018  –FBI Concealed Evidence That "Directly Refutes" Premise Of Trump-Russia Probe: GOP Lawmaker\
After hinting for months that the FBI was not forthcoming with federal surveillance court judges when they made their case to spy on the Trump campaign, Texas Rep. John Ratcliffe (R) said on Sunday that the agency is holding evidence which "directly refutes" its premise for launching the probe, reports the Daily Caller's Chuck Ross.
Texas Rep. John Ratcliffe provided Sunday the clearest picture to date of what the FBI allegedly withheld from the surveillance court.

Ratcliffe suggested that the FBI failed to include evidence regarding former Trump campaign adviser George Papadopoulos, in an interview with Fox News.

Ratcliffe noted that the FBI opened its investigation on July 31, 2016, after receiving information from the Australian government about a conversation that Papadopoulos had on May 10, 2016, with Alexander Downer, the top Australian diplomat to the U.K. –Daily Caller
While Australia's Alexander Downer claimed that Papadopoulos revealed Russia had "dirt" on Hillary Clinton, Ratcliffe – who sits on the House Judiciary Committee – suggested on Sunday that the FBI and DOJ possess information which directly contradicts that account.
"Hypothetically, if the Department of Justice and the FBI have another piece of evidence that directly refutes that, that directly contradicts that, what you would expect is for the Department of Justice to present both sides of the coin to the Foreign Intelligence Surveillance Court to evaluate the weight and sufficiency of that evidence," Ratcliffe said, adding: "Instead, what happened here was Department of Justice and FBI officials in the Obama administration in October of 2016 only presented to the court the evidence that made the government's case to get a warrant to spy on a Trump campaign associate."
The FBI referred to Papadopoulos in a Foreign Intelligence Surveillance Act (FISA) warrant application – however what has been released to the public is so heavily redacted that it's unclear why he is mentioned.
As The Hill's John Solomon notes, based on Congressional testimony by former FBI General Counsel James Baker – the DOJ / FBI redactions aren't hiding national security issues – only embarrassment.
Other GOP lawmakers have suggested that evidence exists which would exonerate Papadopoulos – who pleaded guilty to lying to the FBI about his contacts with Maltese professor (and self-professed member of the Clinton Foundation), Joseph Mifsud.
Ratcliffe suggested that declassifying DOJ / FBI documents related to the matter "would corroborate" his claims about Papadopoulos.
Republicans have pressed President Trump to declassify the documents, which include 21 pages from a June 2016 FISA application against Page. House Intelligence Committee Chairman Devin Nunes has said that the FBI failed to provide "exculpatory evidence" in the FISA applications. He has also said that Americans will be "shocked" by the information behind the FISA redactions. –Daily Caller
President Trump issued an order to declassify the documents on September 17, but then walked it back – announcing that the DOJ would be allowed to review the documents first after two foreign allies asked him to keep them classified.
"My opinion is that declassifying them would not expose any national security information, would not expose any sources and methods," said Ratcliffe. "It would expose certain folks at the Obama Justice Department and FBI and their actions taken to conceal material faces from the Foreign Intelligence Surveillance Court."
Source: zerohedge.com
10.11.2018  –  Trump: Fed Is "Making A Big Mistake" With "Ridiculous" Rate Hikes
Here we go again…
After roiling stock markets in Asia and Europe last night when he blamed the longest stock-market losing streak of his presidency on the Federal Reserve and its "crazy" interest rate hikes, President Trump again lit into the central bank in a Fox News interview Thursday morning where he said the Fed has gotten "a little too cute" with its interest rate hikes. "It's ridiculous what they're doing," he added.
US Pres Trump: Federal Reserve Is Getting A Little Bit Too Cute – Fox

— LiveSquawk (@LiveSquawk) October 11, 2018
He added that he's "paying high interest rates because of the Fed" and that Powell & Co. are "making a big mistake" and that he'd like the Fed to "not be so aggressive."
BREAKING: Trump says Fed 'making a big mistake' by being too aggressive pic.twitter.com/Iro7MQXXN9

— AFP news agency (@AFP) October 11, 2018
But Trump quickly turned his attacks on the Obama Administration, accusing Democrats of "having it easy" and insisting that the economy is still doing "great" because "we have more people working in the US today than at any time in the history of our country" (though he did say he could "work with the Democrats" on infrastructure spending).
.@POTUS: "We're doing great. We're setting records with the economy. We're setting records with unemployment." @foxandfriends pic.twitter.com/6JrV3kwJJx

— Fox News (@FoxNews) October 11, 2018
Turning to his trade war with China (a war that markets have finally acknowledged), Trump said his protectionist policies have hurt China, but added that "I have a lot more to do."
As Trump ramps up his attacks on the central bank, we imagine Powell is convening a meeting of the PPT as we speak…
Another 2% down in spoos and Powell can start putting his coffee cups and pencils in a cardboard box

— Not Jim Cramer (@Not_Jim_Cramer) October 10, 2018
Here's a roundup of headlines from the interview (where Trump also claimed that being president has cost him "between $2 billion and $3 billion).
*TRUMP SAYS TARIFFS ON CHINA ARE HAVING BIG IMPACT
*TRUMP SAYS FED MAKING BIG MISTAKE BY BEING TOO AGGRESSIVE<.p>
*TRUMP SAYS FED IS GETTING A BIT `TOO CUTE'
*TRUMP SAYS HE COULD WORK WITH DEMOCRATS ON INFRASTRUCTURE
*TRUMP SAYS BEING PRESIDENT HAS COST HIM $2-3 BILLION
*TRUMP SAYS HE'D OVERRULE SESSIONS ON PRISON REFORM IF NEEDED
Source: zerohedge.com
Towards the end of economic expansions, interest rates usually start to rise as strong loan demand bumps up against central bank tightening.
At first the effect on the broader economy is minimal, so consumers, companies and governments don't let a slight uptick in financing costs interfere with their borrowing and spending. But eventually rising rates begin to bite and borrowers get skittish, throwing the leverage machine into reverse and producing an equities bear market and Main Street recession.
We are there. After a year of gradual increases, interest rates are finally high enough to start popping bubbles. Consider housing and autos:
Mortgage Rates Up, Affordability Down, Housing Party Over
The past few years' housing boom has been relatively quiet, but a boom nonetheless. Mortgage rates in the 3% – 4% range made houses widely affordable, so demand exceeded supply and prices rose, eventually surpassing 2006 bubble levels in hot markets like Denver and Seattle.
But this week mortgages hit 5% …
… and people have begun to notice. Here's an example of the resulting media coverage:
Mortgage rates top 5 percent, signaling more home price cuts

Some of us out there still remember when the average rate on the 30-year fixed mortgage hit 9 percent, but we are not the bulk of today's buyers. Millennials, now in their prime homebuying years, may be in for the rude awakening that credit isn't always cheap.

The average rate on the 30-year fixed loan sat just below 4 percent a year ago, after dropping below 3.5 percent in 2016. It just crossed the 5 percent mark, according to Mortgage News Daily. That is the first time in 8 years, and it is poised to move higher. Five percent may still be historically cheap, but higher rates, combined with other challenges facing today's housing market could cause potential buyers to pull back.

"Five percent is definitely an emotional level inasmuch as it scares prospective buyers about how high rates may continue to go," said Matthew Graham, chief operating officer of MND.

Home sales have been sliding for much of this year, and total annual sales are expected to come in lower than last year. Affordability is the clear culprit. With rates now more than a full percentage point higher than a year ago, that adds at least $200 more to a monthly mortgage payment for a $300,000 loan. It also knocks some borrowers out of qualification because lenders are strict on how much debt a borrower can carry in relation to his or her income.
Some recent headlines illustrate the sudden shift in housing sentiment:
Auto Sales Run Out Of Gas
For autos, it's the same general story, as low interest rates – in the form of 0% financing and too-good-to-be-true lease terms – produced the highest sales ever in 2016.
But lately a couple of things have happened: Everyone who could possibly qualify for a 7-year car mortgage has done so, depleting the pool of potential buyers. And interest rates have risen enough to make it uneconomic for car companies to keep offering yesterday's crazy-low rates. From today's Wall Street Journal:
Zero-Percent Financing Deals Fade From the New-Car Lot as Interest Rates Rise

Car buyers on the hunt for a 0% financing deal are going to have to look harder.

Auto lenders are pulling back on the no-interest financing offers that had become widespread in new-car ads and dealer showrooms for much of this decade. Cheap financing reinvigorated the U.S. auto industry's sales following the recession, helping to keep monthly payments affordable and draw buyers from the used-car market, where lending rates are usually higher.

But as interest rates rose, the cost of such deals has increased, pinching profits for car makers that finance vehicles through their lending arms and must pay the difference to keep the rate at zero for the customer. With U.S. auto industry sales slowing, car companies are turning to other types of sale incentives, such as cash rebates and discount lease rates, to lure buyers to showrooms, dealers and industry analysts say.

"For a long time, everything was 0%," said Adam Lee, chairman of Lee Auto Malls, a dealership chain in Maine. At first, buyers could find 0% finance deals on 48-month car loans, and then auto lenders started extending those deals to 60-month loans and eventually 72-month loans, he said. "There are fewer and fewer of those deals now," Mr. Lee added.

In September, the percentage of new cars financed with an interest rate of 1% or less fell to 5.3% for the month, down from 8.2% in September 2017 and 11.7% in September 2016, the year U.S. auto sales peaked, according to market research firm J.D. Power.

No-interest loans have become even scarcer, accounting for 3.4% of all new-car financing in September, down from 9.1% two years ago, J.D. Power said.

The average financing rate for a new-car purchase was 5.75% in the second quarter, up from 4.82% two years ago when auto sales were at their strongest, according to Experian Automotive.

"You're definitely seeing the entire industry pulling back," said Jack Hollis, general manager of Toyota North America, of the scaling back of interest-free auto loans. "Obviously, interest rates rising is a reality in the marketplace, and we're going to react."
As this post was being written, Ford announced an 11% drop in monthly sales.
To sum this up, millions of Americans who were happily signing on the dotted line because of irresistibly cheap financing are done with that kind of thing. The companies selling cars and houses to these people are now desperately trying to cut their expenses to fit their much lower year-ahead sales projections. Those companies' suppliers are scaling back in response, and so on down the line as two major industries go from boom to bust.
Housing and autos aren't the only ones hitting a brick wall of higher interest rates. Lots of other businesses depend on their customers' ability and willingness to borrow. They'll be the subject of future posts in this series.
Source: dollarcollapse.com

10.08.2018  –  Ron Paul Is Warning That A 50% Stock Market Decline Is Coming – And That There Is No Way To Stop It
Is Ron Paul about to be proven right once again?  For a very long time, Ron Paul has been one of my political heroes.  His willingness to stand up for true constitutional values and to keep saying "no" to the Washington establishment over and over again won the hearts of millions of American voters, and I wish that there had been enough of us to send him to the White House either in 2008 or in 2012.  To this day, I still wish that we could make his classic work entitled "End The Fed" required reading in every high school classroom in America.  He was one of the few members of Congress that actually understood economics, and it is very sad that he has now retired from politics.  With the enormous mess that Washington D.C. has become, we sure could use a lot more statesmen like him right now.
But even though he has retired from politics, Ron Paul is still speaking out about the most important issues of the day.  And what he recently told CNBC is extremely ominous.
The following comes from a CNBC article entitled "Ron Paul: US is barreling towards a stock market drop of 50% or more, and there's no way to prevent it"…
According to the former Republican Congressman from Texas, the recent jump in Treasury bond yields suggest the U.S. is barreling towards a potential recession and market meltdown at a faster and faster pace.

And, he sees no way to prevent it.
Of course lots of such predictions are flying around these days.
In fact, at this point even the IMF is warning of a "second Great Depression".
So when it actually takes place it won't be much of a surprise.  However, I do believe that many will be surprised by the ferocity of the coming crash.  According to Ron Paul, stock prices could end up falling by up to 50 percent…
Paul is a vocal Libertarian known for an ardent grassroots fanbase that propelled him to multiple presidential runs, as well as his grim warnings about the economy. Yet he has been warning investors for years that an epic drop of 50 percent or more will eventually hit the stock market. He predicted the February correction, but not in size and scope.
Actually, stock prices need to fall by at least 50 percent in order for stock valuations to get close to their long-term averages.
In the end, if stocks only fall by 50 percent we will be extremely fortunate.  Stock valuations always, always, always return to their long-term averages eventually, and usually they fall below those averages during a period of adjustment.
And the mood on Wall Street has definitely changed.  The euphoria that we once witnessed is now gone, and instead it has been replaced by a gnawing sense that a really big downturn is coming.  In his most recent piece, John Hussman compared it to the fading out of a pop song…
In recent days, the combination of extreme valuations and unfavorable market internals has been joined by acute dispersion in daily trading data that often occurs within a few days of pre-collapse peaks in the market. My opinion is that the music has already quietly faded out like the end of a pop song, in a wholly uneventful way, and that even a surprise push to further highs would be marginal.
And he concluded his most recent piece with this very chilling statement…
For now, and until market conditions shift, there's an open trap door under the equity market, and it's a very long way down.
The end of last week was very bad for the markets, and so Monday and Tuesday will be key.
If stock prices continue to fall, this could be the beginning of a race for the exits.
But if stock prices rebound a bit, it means that we could have some more time.
And keep an eye on junk bonds.  They crashed really hard just before the financial crisis of 2008, and they are starting to slip here in October 2018.
A full-blown junk bond panic would definitely be a very clear sign that a major market crash is imminent.
As I write this, all of the markets in Asia are down.  Chinese stocks have fallen almost 3 percent, and that is very troubling news.
But whether a massive crisis erupts right now or not, the truth is that there is no way that we are going to avoid the consequences of our actions.
At this moment we are in the terminal phase of the biggest debt bubble in human history.  In fact, total indebtedness in the United States has increased by more than 2 trillion dollars over the past 12 months…
In total, indebtedness of consumers, corporations, and all governments has grown by $2.04 trillion over the past four quarters. And they're going to be paying higher interest rates on this ballooning debt. In other words, debt service costs are going to rise substantially.
All of this debt has fueled a short-term bubble of relative "prosperity", but meanwhile all of our long-term problems just continue to get worse.
There is no possible way that our debt bubble can continue to grow much faster than the overall economy indefinitely.  In fact, we have already been defying the laws of economics for way too long.
Eventually all debt bubbles burst, and when this one bursts we are going to experience economic pain on a scale that America has never seen before.
Source: theeconomiccollapseblog.com
10.04.2018  –  Explosive Report Details Chinese Infiltration Of Apple, Amazon And The CIA
One week ago, President Trump stood up at a meeting of the United Nations Security Council and accused China of attempting to tamper with US elections – mimicking some of the same allegations that had first been levied against Russia nearly two years prior. In his speech, Trump claimed that China was working to undermine Republicans, and even the president himself, warning that "it's not just Russia, it's China and Russia." While the media largely shrugged off this proclamation as more presidential bombast probably inspired by the burgeoning US-China trade beef, the administration continued to insist that it was taking a harder line against Chinese efforts to subvert American companies to aide the Communist Party's sprawling intelligence apparatus. As if to underline Trump's point, the FBI had arrested a Taiwanese national in Chicago the day before Trump's speech, accusing the 27-year-old suspect of trying to help China flip eight defense contractors who could have provided crucial intelligence on sensitive defense-related technology.
But in a game-changing report published Thursday morning, Bloomberg Businessweek exposed a sprawling multi-year investigation into China's infiltration of US corporate and defense infrastructure. Most notably, it confirmed that, in addition to efforts designed to sway US elections, China' intelligence community orchestrated a pervasive infiltration of servers used to power everything from MRI machines to the drones used by the CIA and army. They accomplished this using a tiny microchip no bigger than a grain of rice.
BBG published the report just hours before Vice President Mike Pence was expected to "string together a narrative of Chinese aggression" during a speech at the Hudson Institute in Washington. According to excerpts leaked to the New York Times, his speech was expected to focus on examples of China's "aggressive moves against American warships, of predatory behavior against their neighbors, and of a sophisticated influence campaign to tilt the midterms and 2020 elections against President Trump". His speech is also expected to focus on how China leverages debt and its capital markets to force foreign governments to submit to its will (something that has happened in Bangladesh and the Czech Republic.
But while those narratives are certainly important, they pale in comparison to Bloomberg's revelations, which reported on an ongoing government investigation into China's use of a "tiny microchip" that found its way into servers that were widely used throughout the US military and intelligence infrastructure, from Navy warships to DoD server farms. The probe began three years ago after the US intelligence agencies were tipped off by Amazon. And three years later, it remains ongoing.
Nested on the servers' motherboards, the testers found a tiny microchip, not much bigger than a grain of rice, that wasn't part of the boards' original design. Amazon reported the discovery to U.S. authorities, sending a shudder through the intelligence community. Elemental's servers could be found in Department of Defense data centers, the CIA's drone operations, and the onboard networks of Navy warships. And Elemental was just one of hundreds of Supermicro customers.

During the ensuing top-secret probe, which remains open more than three years later, investigators determined that the chips allowed the attackers to create a stealth doorway into any network that included the altered machines. Multiple people familiar with the matter say investigators found that the chips had been inserted at factories run by manufacturing subcontractors in China.
With those two paragraphs, Bloomberg has succeeded in shifting the prevailing narrative away from Russia and toward China. Or, as Pence is expected to state in Thursday's speech (via NYT) "as a senior career member of our intelligence community recently told me, what the Russians are doing pales in comparison to what China is doing across this country."
The story begins with a Silicon Valley startup called Elemental. Founded in 2006 by three engineers who brilliantly anticipated that broadcasters would soon be searching for a way to adapt their programming for streaming over the Internet, and on mobile devices like smartphones, Elemental went about building a "dream team" of coders who designed software to adapt the super-fast graphics chips being designed for video gaming to stream video instead. The company then loaded this software on to special, custom-built servers emblazoned with its logo. These servers then sold for as much as $100,000 a pop – a markup of roughly 70%.  In 2009, the company received its first contract with US defense and intelligence contractors, and even received an investment from a CIA-backed venture fund.
Elemental also started working with American spy agencies. In 2009 the company announced a development partnership with In-Q-Tel Inc., the CIA's investment arm, a deal that paved the way for Elemental servers to be used in national security missions across the U.S. government. Public documents, including the company's own promotional materials, show that the servers have been used inside Department of Defense data centers to process drone and surveillance-camera footage, on Navy warships to transmit feeds of airborne missions, and inside government buildings to enable secure videoconferencing. NASA, both houses of Congress, and the Department of Homeland Security have also been customers. This portfolio made Elemental a target for foreign adversaries.
Like many other companies, Elementals' servers utilized motherboards built by Supermicro, which dominates the market for motherboards used in special-purpose computers. It was here, at Supermicro, where the government believes – according to Bloomberg's sources – that the infiltration began. Before it came to dominate the global market for computer motherboards, Supermicro had humble beginnings. A Taiwanese engineer and his wife founded the company in 1993, at a time when Silicon Valley was embracing outsourcing. It attracted clients early on with the promise of infinite customization, employing a massive team of engineers to make sure it could accommodate its clients' every need. Customers also appreciated that, while Supermicro's motherboards were assembled in China or Taiwan, its engineers were based in Silicon Valley. But the company's workforce featured one characteristic that made it uniquely attractive to China: A sizable portion of its engineers were native Mandarin speakers. One of Bloomberg's sources said the government is still investigating whether spies were embedded within Supermicro or other US companies).
But however it was done, these tiny microchips somehow found their way into Supermicro's products. Bloomberg provided a step-by-step guide detailing how it believes that happened.
A Chinese military unit designed and manufactured microchips as small as a sharpened pencil tip. Some of the chips were built to look like signal conditioning couplers, and they incorporated memory, networking capability, and sufficient processing power for an attack.
The microchips were inserted at Chinese factories that supplied Supermicro, one of the world's biggest sellers of server motherboards.
The compromised motherboards were built into servers assembled by Supermicro.
The sabotaged servers made their way inside data centers operated by dozens of companies.
When a server was installed and switched on, the microchip altered the operating system's core so it could accept modifications. The chip could also contact computers controlled by the attackers in search of further instructions and code.
In espionage circles, infiltrating computer hardware – especially to the degree that the Chinese did – is extremely difficult to pull off. And doing it at the nation-state level would be akin to "a unicorn jumping over a rainbow," as one of BBG's anonymous sources put it. But China's dominance of the market for PCs and mobile phones allows it a massive advantage.
One country in particular has an advantage executing this kind of attack: China, which by some estimates makes 75 percent of the world's mobile phones and 90 percent of its PCs. Still, to actually accomplish a seeding attack would mean developing a deep understanding of a product's design, manipulating components at the factory, and ensuring that the doctored devices made it through the global logistics chain to the desired location – a feat akin to throwing a stick in the Yangtze River upstream from Shanghai and ensuring that it washes ashore in Seattle. "Having a well-done, nation-state-level hardware implant surface would be like witnessing a unicorn jumping over a rainbow," says Joe Grand, a hardware hacker and the founder of Grand Idea Studio Inc. "Hardware is just so far off the radar, it's almost treated like black magic."

But that's just what U.S. investigators found: The chips had been inserted during the manufacturing process, two officials say, by operatives from a unit of the People's Liberation Army. In Supermicro, China's spies appear to have found a perfect conduit for what U.S. officials now describe as the most significant supply chain attack known to have been carried out against American companies.
Some more details from the report are summarized below:
The government found that the infiltration extended to nearly 30 companies, including Amazon and Apple.
One official says investigators found that it eventually affected almost 30 companies, including a major bank, government contractors, and the world's most valuable company, Apple Inc. Apple was an important Supermicro customer and had planned to order more than 30,000 of its servers in two years for a new global network of data centers. Three senior insiders at Apple say that in the summer of 2015, it, too, found malicious chips on Supermicro motherboards. Apple severed ties with Supermicro the following year, for what it described as unrelated reasons.
Both Amazon and Apple denied having knowledge of the infiltration (Amazon eventually acquired Elemental and integrated it into its Amazon Prime Video service). Meanwhile, the Chinese government issued a conspicuous non-denial denial.
In emailed statements, Amazon (which announced its acquisition of Elemental in September 2015), Apple, and Supermicro disputed summaries of Bloomberg Businessweek's reporting. "It's untrue that AWS knew about a supply chain compromise, an issue with malicious chips, or hardware modifications when acquiring Elemental," Amazon wrote. "On this we can be very clear: Apple has never found malicious chips, 'hardware manipulations' or vulnerabilities purposely planted in any server," Apple wrote. "We remain unaware of any such investigation," wrote a spokesman for Supermicro, Perry Hayes. The Chinese government didn't directly address questions about manipulation of Supermicro servers, issuing a statement that read, in part, "Supply chain safety in cyberspace is an issue of common concern, and China is also a victim." The FBI and the Office of the Director of National Intelligence, representing the CIA and NSA, declined to comment.
Bloomberg based its story on interviews with 17 anonymous sources, including 6 former government intelligence officials. One official told BBG that China's long-term goal was "long-term access" to sensitive government secrets.
In all, 17 people confirmed the manipulation of Supermicro's hardware and other elements of the attacks. The sources were granted anonymity because of the sensitive, and in some cases classified, nature of the information.
The companies' denials are countered by six current and former senior national security officials, who – in conversations that began during the Obama administration and continued under the Trump administration – detailed the discovery of the chips and the government's investigation. One of those officials and two people inside AWS provided extensive information on how the attack played out at Elemental and Amazon; the official and one of the insiders also described Amazon's cooperation with the government investigation. In addition to the three Apple insiders, four of the six U.S. officials confirmed that Apple was a victim. In all, 17 people confirmed the manipulation of Supermicro's hardware and other elements of the attacks. The sources were granted anonymity because of the sensitive, and in some cases classified, nature of the information.
One government official says China's goal was long-term access to high-value corporate secrets and sensitive government networks. No consumer data is known to have been stolen.
Notably, this revelation provides even more support to the Trump administration's insistence that the trade war with China was based on national security concerns. The hope is that more US companies will shift production of sensitive components back to the US.
The ramifications of the attack continue to play out. The Trump administration has made computer and networking hardware, including motherboards, a focus of its latest round of trade sanctions against China, and White House officials have made it clear they think companies will begin shifting their supply chains to other countries as a result. Such a shift might assuage officials who have been warning for years about the security of the supply chain—even though they've never disclosed a major reason for their concerns.
As one government official reminds us, the extent of this attack cannot be understated.
With more than 900 customers in 100 countries by 2015, Supermicro offered inroads to a bountiful collection of sensitive targets. "Think of Supermicro as the Microsoft of the hardware world," says a former U.S. intelligence official who's studied Supermicro and its business model. "Attacking Supermicro motherboards is like attacking Windows. It's like attacking the whole world."
But perhaps the most galling aspect of this whole scandal is that the Obama Administration should have seen it coming.
Well before evidence of the attack surfaced inside the networks of U.S. companies, American intelligence sources were reporting that China's spies had plans to introduce malicious microchips into the supply chain. The sources weren't specific, according to a person familiar with the information they provided, and millions of motherboards are shipped into the U.S. annually. But in the first half of 2014, a different person briefed on high-level discussions says, intelligence officials went to the White House with something more concrete: China's military was preparing to insert the chips into Supermicro motherboards bound for U.S. companies.
And thanks to Obama having dropped the ball, China managed to pull off the most expansive infiltration of the global supply chain ever discovered by US intelligence.
But that's just what U.S. investigators found: The chips had been inserted during the manufacturing process, two officials say, by operatives from a unit of the People's Liberation Army. In Supermicro, China's spies appear to have found a perfect conduit for what U.S. officials now describe as the most significant supply chain attack known to have been carried out against American companies.
The inconspicuous-looking chips were disguised to look like regular components but they helped China open doors that "other hackers could go through" meaning China could potentially manipulate the systems being infiltrated (as a reminder, these chips were found in servers used in the US drone program).
The chips on Elemental servers were designed to be as inconspicuous as possible, according to one person who saw a detailed report prepared for Amazon by its third-party security contractor, as well as a second person who saw digital photos and X-ray images of the chips incorporated into a later report prepared by Amazon's security team. Gray or off-white in color, they looked more like signal conditioning couplers, another common motherboard component, than microchips, and so they were unlikely to be detectable without specialized equipment. Depending on the board model, the chips varied slightly in size, suggesting that the attackers had supplied different factories with different batches.
Officials familiar with the investigation say the primary role of implants such as these is to open doors that other attackers can go through. "Hardware attacks are about access," as one former senior official puts it. In simplified terms, the implants on Supermicro hardware manipulated the core operating instructions that tell the server what to do as data move across a motherboard, two people familiar with the chips' operation say. This happened at a crucial moment, as small bits of the operating system were being stored in the board's temporary memory en route to the server's central processor, the CPU. The implant was placed on the board in a way that allowed it to effectively edit this information queue, injecting its own code or altering the order of the instructions the CPU was meant to follow. Deviously small changes could create disastrous effects.
Since the implants were small, the amount of code they contained was small as well. But they were capable of doing two very important things: telling the device to communicate with one of several anonymous computers elsewhere on the internet that were loaded with more complex code; and preparing the device's operating system to accept this new code. <strong>The illicit chips could do all this because they were connected to the baseboard management controller, a kind of superchip that administrators use to remotely log in to problematic servers, giving them access to the most sensitive code even on machines that have crashed or are turned off.
This system could let the attackers alter how the device functioned, line by line, however they wanted, leaving no one the wiser. To understand the power that would give them, take this hypothetical example: Somewhere in the Linux operating system, which runs in many servers, is code that authorizes a user by verifying a typed password against a stored encrypted one. An implanted chip can alter part of that code so the server won't check for a password—and presto! A secure machine is open to any and all users.
Shortly after the report was published, the US Department of Defense has scheduled a national-security related press conference for 9:30 am ET on Thursday. It didn't reveal the subject of the briefing, but the timing is certainly suspicious…
Something's popping tomorrow pic.twitter.com/z66dNh6Px6

— Chuck Ross (@ChuckRossDC) October 4, 2018
But regardless of what is said on Thursday, one thing probably won't change: Expect to hear a lot less about Russia, and a lot more about China as the deep state's interference myopic focus on the former shifts to the latter. As Kevin Warsh framed the question during a Thursday interview with CNBC where he asked "are we at the beginning of a 20-year Cold War?" in response to a question about curbing China's influence – both economically and defensively. We imagine we'll be hearing a lot more about the breach from senior US officials, including both the vice president and the president himself, in the very near future.
Source: zerohedge.com
All information used from other websites on X22 Report is used for educational/criticism and commentary purposes only.

Fair Use Notice: This video contains some copyrighted material whose use has not been authorized by the copyright owners. We believe that this not-for-profit, educational, and/or criticism or commentary use on the Web constitutes a fair use of the copyrighted material (as provided for in section 107 of the US Copyright Law. If you wish to use this copyrighted material for purposes that go beyond fair use, you must obtain permission from the copyright owner. Fair Use notwithstanding we will immediately comply with any copyright owner who wants their material removed or modified, wants us to link to their web site, or wants us to add their photo.

The "Fair Use" Provisions outlined in Title 17, Chapter 01 Article 107 of the US Copyright Law states the following:

Notwithstanding the provisions of sections 106 and 106A, the fair use of a copyrighted work, INCLUDING SUCH USE BY REPRODUCTION IN COPIES or phonorecords or BY ANY OTHER MEANS specified by that section, for purposes such as criticism, comment, news reporting, teaching (including multiple copies for classroom use), scholarship, or research, is NOT an infringement of copyright. In determining whether the use made of a work in any particular case is a fair use the factors to be considered shall include:

(1) the PURPOSE and CHARACTER of the use, including whether such use is of a commercial nature or is for NON-PROFIT educational purposes;
(2) the NATURE of the copyrighted work;
(3) the amount and substantiality of the portion used in relation to the copyrighted work as a whole; and
(4) THE EFFECT OF THE USE UPON THE POTENTIAL MARKET FOR OR VALUE OF THE COPYRIGHTED WORK.

The fact that a work is unpublished shall not itself bar a finding of fair use if such finding is made upon consideration of all the above factors.