---
Send us your Sentinel Alert to Submit Sentinel Alert:
---
---
Scroll Down To See More News Alerts
05.03.2019 – WaPo, CNN Virtually Silent After NYT Reveals 2nd FBI Spy Sent To Infiltrate Trump Campaign
After the New York Times revealed that the FBI sent a second spy to infiltrate the Trump campaign during the 2016 US election – a 'honeypot' who went by the name of Azra Turk who posed as a research assistant to the first spy they sent in, Stefan Halper – the rest of the MSM has been virtually silent.
Both the Washington Post and CNN – which breathlessly reported on their peers' anonymously-sourced anti-Trump propaganda for two years – have somehow failed to write a single article mentioning Azra Turk.
It's been 24 hours since the New York Times reported that the FBI sent a honeypot with a fake name and job to entrap a Trump campaign advisor overseas, and the Washington Post is still refusing to report on it. Any thoughts, @ErikWemple? pic.twitter.com/Alpc8XmEWU

— Sean Davis (@seanmdav) May 3, 2019
Rather than admit they were wrong and that Barr was right about the Obama administration sending spies overseas to entrap Trump campaign advisors, the Collusion Truthers have apparently decided to just ignore the news entirely. pic.twitter.com/GnMVqxkS5B

— Sean Davis (@seanmdav) May 3, 2019
As the Times revealed on Thursday, the FBI operative who went by the name Azra Turk repeatedly flirted with Trump aide George Papadopoulos during their encounters as well as in email exchanges according to an October, 2018 Daily Caller report, confirmed by the Times.
While in London in 2016, Ms. Turk exchanged emails with Mr. Papadopoulos, saying meeting him had been the "highlight of my trip," according to messages provided by Mr. Papadopoulos.

"I am excited about what the future holds for us :)," she wrote. –New York Times
And as the Times makes clear, "the FBI sent her to London as part of the counterintelligence inquiry opened that summer" to investigate the Trump campaign.
In his House testimony, George Papadopoulos described undercover FBI informant Stefan Halper introducing him to undercover FBI informant 'Azra Turk.' pic.twitter.com/8jO4lK6Ldt

— Byron York (@ByronYork) May 2, 2019
CNN has made mention of the report on-air, yet they haven't written a single article mentioning "Azra Turk."
One of the NYT reporters who wrote the FBI honeypot story was asked on CNN whether honeypot "Azra Turk" worked for the FBI.

His response: "I'm just going to leave it right now as a 'government investigator.' I use that wording for a reason, and I'm going to leave it at that." pic.twitter.com/yVwezWnUWf

— Sean Davis (@seanmdav) May 3, 2019
Meanwhile, a Russian-born academic falsely accused of being a Kremlin 'honeypot' operative against Mike Flynn, Svetlana Lokhova, has an interesting theory as to why the Times published the '2nd spy' revalation in the first place.
2/ You might remember that McCabe picked Goldman of all people to interview him about the use of 'Confidential Human Sources' in Operation Crossfire Hurricane – funny that! https://t.co/87Qp4sM3Fr

— Svetlana Lokhova (@RealSLokhova) May 3, 2019
4/ Goldman's (McCabe's) argument is that the President was a national security risk because he fired Comey. "Counterintelligence investigators had to consider whether the president's own actions constituted a possible threat to national security." https://t.co/1Myo2IbnDo

— Svetlana Lokhova (@RealSLokhova) May 3, 2019
6/ Goldman is the go-to guy whenever the heat about the FBI spying on the campaign gets too much. Trump smokes Halper out in May 2018: pic.twitter.com/DQHP58npdR

— Svetlana Lokhova (@RealSLokhova) May 3, 2019
8/ What was it that prompted Goldman (ie McCabe) to publish his latest article on the FBI Russia investigation? Answer: Barr's criticism's of the FBI. pic.twitter.com/SqLlwB56v6

— Svetlana Lokhova (@RealSLokhova) May 3, 2019
10/ The main message is that the Russia investigation was legally predicated, started on 31 July 2016, and was conducted properly. if only it were true..

— Svetlana Lokhova (@RealSLokhova) May 3, 2019
12/ The reason why spying by Halper on Gen Flynn is absent from the latest FBI propaganda piece by NYT is because it predates the official timeline by many months and was not legally predicated.

— Svetlana Lokhova (@RealSLokhova) May 3, 2019
CNN law enforcement analyst and retired FBI agent James A. Gagliano opined on Twitter that perhaps the Times was helping the intelligence community get out in front of the upcoming Inspector General report on the FBI's conduct during the 2016 election.
Unless it was foreign intelligence service supplying the "honey trap." Papadopoulos argued *Azra Turk* had thick accent — which wouldn't preclude her from FBI service, if US citizen. Some argue Agency employee. Surmise, absent heavy redaction, pending IG report lays this bare.

— James A. Gagliano (@JamesAGagliano) May 3, 2019
MAYBE this is why @nytimes helped get out in front of the news cycle that will roil following IG report that may be released this month or next.

Curious, as others have opined, that this "nugget" about *Turk* suddenly revealed in the Times. Almost TOO obvious a peremptory leak.

— James A. Gagliano (@JamesAGagliano) May 3, 2019
Source: zerohedge.com
04.11.2019 – Julian Assange Arrested In London On "Behalf Of US Authorities"
Update (8:30 am ET): Reporters have uncovered some more information about the circumstances surrounding Assange's arrest. But first, former Ecuadorian President Rafael Correa, who initially welcomed Assange when the Wikileaks founder sought asylum in 2012, derided his successor, Lenin Moreno, as "corrupt" and accused him of committing a crime that "humanity will never forgive."
The greatest traitor in Ecuadorian and Latin American history, Lenin Moreno, allowed the British police to enter our embassy in London to arrest Assange.
Moreno is a corrupt man, but what he has done is a crime that humanity will never forget. https://t.co/XhT51MA6c6

— Rafael Correa (@MashiRafael) April 11, 2019
The Guardian has confirmed that the US has confirmed what Assange's lawyer said about the US extradition request…the wheels that will ultimately bring Assange to the US to face espionage charges have already been put in motion.
US did not waste any time putting in extradition request for Assange. Terrible precedent if journalist/publisher ends up in US jail for Iraq war logs and state department cables.

— Ewen MacAskill (@ewenmacaskill) April 11, 2019
US grand jury behind Assange charges met in secret in 2010 after Guardian, Der Spiegel, NYT published cables. Why are they not being prosecuted? Only difference would be if Assange accused of encouraging Chelsea Manning to leak them?

— Ewen MacAskill (@ewenmacaskill) April 11, 2019
And we finally have an answer about the book/magazne that Assange was seen clutching as he was dragged out of the embassy: Gore Vidal's "history of the national security state".
Everyone is asking what Julian is holding. It's Gore Vidal's History of the National Security State. pic.twitter.com/EKrveYKhgm

— Cassandra Fairbanks (@CassandraRules) April 11, 2019
* * *
Update (7:20 am ET): Assange's lawyer has just confirmed that he was arrested not solely on charges stemming from skipping bail in the UK, but "on behalf of the United States authorities", in connection with an extradition request from the US.
Just confirmed: #Assange has been arrested not just for breach of bail conditions but also in relation to a US extradition request. @wikileaks @khrafnsson

— Jen Robinson (@suigenerisjen) April 11, 2019
From #Assange: The US warrant was issued in December 2017 and is for conspiracy with Chelsea Manning @xychelsea in early 2010.

— Jen Robinson (@suigenerisjen) April 11, 2019
The US warrant was delivered in December 2017, showing that the US prosecutors were behind his arrest.
* * *
Press reports suggested that Assange was arrested at around 10 am London Time (5 am New York) in what appeared to be a "planned operation." Though his first battle will be with the British legal system over charges of skipping bail when he sought asylum in 2012, analysts expect that he will eventually face extradition to the US, after a sealed indictment against him were accidentally revealed last year. Wikileaks accused Ecuador of illegally terminating Assange's asylum, adding that the Ecuadorian ambassador invited police inside the embassy to take Assange into custody.
URGENT: Ecuador has illigally terminated Assange political asylum in violation of international law. He was arrested by the British police inside the Ecuadorian embassy minutes ago.https://t.co/6Ukjh2rMKD

— WikiLeaks (@wikileaks) April 11, 2019
In a tweet published moments ago, Ecuadorian President Lenin Moreno said that Assange's "discourteous and aggressive" behavior, as well as "hostile" acts committed by Wikileaks, pushed Ecuador to revoke his asylum. Moreno cited Wikileaks' publication of sensitive Vatican documents earlier this year as the straw that finally broke the camel's back. Members of the organization purportedly visited Assange in the embassy after the leak, apparently substantiating suspicions that Assange was still in charge of the organization.
Furthermore, Moreno declared his asylum "unsustainable and no longer viable" because Assange had repeatedly violated "clear cut provisions of the conventions of on diplomatic asylum."
In a sovereign decision Ecuador withdrew the asylum status to Julian Assange after his repeated violations to international conventions and daily-life protocols. #EcuadorSoberano pic.twitter.com/pZsDsYNI0B

— Lenín Moreno (@Lenin) April 11, 2019
Following reports last week that the termination of Assange's asylum was imminent, a UN envoy on torture warned Ecuador that revoking Assange's protection would be a violation, since he could face "torture" and mistreatment should he be extradited to the US. Assange's relationship with his host had become increasingly strained over the past year. Last year, Ecuador briefly revoked some of Assange's "privileges", including access to the Internet, over his 'poor hygiene habits', the #INAPapers about offshore money laundering, implicating the Ecuadorian president in a corruption scandal.
Edward Snowden reminded journalists of the UN's finding in a tweet following Assange's arrest.
Important background for journalists covering the arrest of Julian #Assange by Ecuador: the United Nations formally ruled his detention to be arbitrary, a violation of human rights. They have repeatedly issued statements calling for him to walk free–including very recently. pic.twitter.com/fr12rYdWUF

— Edward Snowden (@Snowden) April 11, 2019
The expulsion comes just a day after Wikileaks held a press conference accusing Ecuador of carrying out an "extensive spying operation" on Assange and handing intel over to the British and American authorities.
During the press conference, Fidel Narvaez, the former Consul of Ecuador to London, warned that "the Ecuadorian embassy is not protecting Assange any more…It is doing everything possible to end the asylum."
RT published video of a bearded, disheveled-looking Assange shouting at police as he was dragged out of the embassy and loaded into a van.
BREAK: Full @Ruptly video of WikiLeaks founder Julian Assange's arrest by British police this morning pic.twitter.com/tdBw1Kbpxn

— Barnaby Nerberka (@barnabynerberka) April 11, 2019
According to Wikileaks, Assange is saying "the UK must resist this attempt by the Trump administration…" though his words are hard to make out. Footage of Assange's arrest shows him holding a peculiar magazine that some suggested might have been an attempt to send his supporters a message.
What's this book or magazine that Assange is holding? pic.twitter.com/lHDfw4PiNI

— Jessica Elgot (@jessicaelgot) April 11, 2019
Whatever Assange's intentions might have been, others pointed out that the Wikileaks founder and former hacker was looking seriously vitamin D deficient…his time inside the embassy, where he was largely cut off from sunlight, have clearly taken a toll on him, as this photo from 2012, taken shortly after he arrived, clearly shows.
Journalist Cassandra Fairbanks, who had been in London to protest revocation of the asylum, tweeted what appears to be a first-hand account of the arrest.
They just dragged him out of the embassy. Cucked piece of shit @lenin just let the UK GOVERNMENT GO INSIDE THE EMBASSY TO ARREST A MAN WITH ASYLUM.

FUCK YOU FUCK YOU FUCK YOU

— Cassandra Fairbanks (@CassandraRules) April 11, 2019
She also pointed out that Moreno will visit Washington DC in five days.
ECUADORIAN PRESIDENT @LENIN WILL BE IN DC IN FIVE DAYS. I AWAIT YOUR VISIT YOU FUCKING MONSTER

— Cassandra Fairbanks (@CassandraRules) April 11, 2019
As mainstream journalists scoffed at claims that UK 'secret police' had planned the operation to arrest Assange, Fairbanks reupped a video she filmed days ago where she identified a man she believed to be an undercover officer keeping tabs on the #ProtectAssange demonstration that was happening outside the embassy…he was also one of the men filmed arresting Assange.
This is one of the guys who was arresting Julian. So many people tried to tell me I was crazy and that they weren't cops. https://t.co/xBpTgap6Zw

— Cassandra Fairbanks (@CassandraRules) April 11, 2019
Scotland Yard has confirmed that Assange is in custody.
Julian Assange has been arrested by officers from the Metropolitan Police Service https://t.co/yhOIPbmMo2 pic.twitter.com/dUrDp228In

— Metropolitan Police (@metpoliceuk) April 11, 2019
Home Secretary Sajid Javid thanked Ecuador for its cooperation, suggesting that pressure from the British government was also a factor in Ecuador's decision to revoke asylum.
Nearly 7yrs after entering the Ecuadorean Embassy, I can confirm Julian Assange is now in police custody and rightly facing justice in the UK. I would like to thank Ecuador for its cooperation & @metpoliceuk for its professionalism. No one is above the law

— Sajid Javid (@sajidjavid) April 11, 2019
While Foreign Secretary Jeremy Hunt thanked Ecuador and said Assange was "no hero" and that "no one is above the law."
Julian Assange is no hero and no one is above the law. He has hidden from the truth for years. Thank you Ecuador and President @Lenin Moreno for your cooperation with @foreignoffice to ensure Assange faces justice

— Jeremy Hunt (@Jeremy_Hunt) April 11, 2019
Foreign office minister Alan Duncan has issued a statement, calling the arrest "absolutely right" and adding that the UK courts will "deicde what happens next."
"It is absolutely right that Assange will face justice in the proper way in the UK. It is for the courts to decide what happens next. We are very grateful to the government of Ecuador under President Moreno for the action they have taken."

"Today's events follow extensive dialogue between our two countries. I look forward to a strong bilateral relationship between the UK and Ecuador in the years ahead."
A spokeswoman for Russia's foreign ministry denounced the arrest as 'the hand of democracy squeezing the throat of freedom'.
With Assange facing a complicated, Continent-spanning legal fight, Wikileaks is soliciting donations for its 'defense fund' on Twitter.
URGENT: Julian Assange has been arrested by UK police.

DONATE:https://t.co/vvbZBOgCwL

— WikiLeaks (@wikileaks) April 11, 2019
They also accused the CIA of orchestrating his arrest.
This man is a son, a father, a brother. He has won dozens of journalism awards. He's been nominated for the Nobel Peace Prize every year since 2010. Powerful actors, including CIA, are engaged in a sophisticated effort to dehumanise, delegitimize and imprison him. #ProtectJulian pic.twitter.com/dVBf1EcMa5

— WikiLeaks (@wikileaks) April 11, 2019
Assange's arrest marks the end of an era, and the ignominious close of a nearly decade-long struggle. Much has yet to be determined, including this.
Who will look after #Assange's cat? 😳

— Testiculi ad Brexitam! (@testiculi) April 11, 2019
Amid the chaos…a new hashtag has been born #FreeAssange.
The arrest of @wikileaks founder Julian #Assange by British police is outrageous! #FreeAssange

— Andrea Marchello (@AndreaMarchell0) April 11, 2019
Source: zerohedge.com
03.11.2019 –  Here's Why The Media Is Lying About "Reconstruction" At North Korea's Sohae Launch Facility
In the aftermath of the Hanoi Summit, President Trump has been barraged with attempts to undermine his confidence in the good faith of Kim Jong Un and his intentions to deal fairly with the United States in the negotiation process concerning denuclearization and de-escalation of tensions on the Korean Peninsula. One of the primary causes of concern has been a series of reports from NBC News claiming that "commercial" satellite footage shows that the Democratic People's Republic of Korea (DPRK) has been engaging in fresh construction at their Sohae Launch Facility in preparation for an alleged missile launch or test.
Not only is the use of the term "commercial" misleading in nature, but analysis of the photos indicates that the activity at the Sohae facility is related to deconstruction. The reports are driven by a number of entities with connections to the Central Intelligence Agency and a number of other special interests which call into credibility both the veracity of the reports and the journalistic integrity of NBC News.
I. Satellite Footage Of Sohae Launch Facility Is Misrepresented
The NBC report, written by Courtney Kube, Carol E. Lee and Andrea Mitchell, concerns satellite imagery released by the Center for Strategic and International Studies (CSIS) purported to have been taken on March 2, 2019. The imagery suffers from two defects – the fact that the images show two different facilities being attributed as one by the media, and that the purported construction activity indicates dismantling of the Sohae site rather than fresh additions or repairs. Side by side comparisons of the photos show that they are in fact taken from two different locations. This discrepancy might be apparent to an analyst with knowledge of North Korea's Sohae Launch Facility, but not to an average member of the public.
Analysis of the photos indicates deconstruction for a number of reasons which are outlined below:
The positioning of the two cranes in the photo is not advantageous for construction of a tower since they cannot efficiently raise material to it from the ground level. The cranes are so close together that their arms are at risk of colliding during construction.
The image shows that materials are in fact being moved from the towers into a paved area in the center of the facility where they can be more easily removed by vehicles.
Tire skid marks on the pavement in the facility appear to show that vehicles were loaded with heavy materials before leaving rather than entering with large amounts of freightage on board.
Buildings at the facility are in a state of partial dismantlement or have otherwise been untouched. If the facility was being rebuilt, all surrounding buildings would be refurbished before work began on the tower.
The crane closest to the tower has been outfitted with a shorter arm. This is a strong indication that it is bringing tower segments down to the ground level rather than raising them. The second crane is outfitted with a longer arm to take pieces disassembled by the first crane and lower them to the ground level in the center of the facility where they would be stacked for removal.
The photo even appears to show a flatbed trailer near the central paved area which may have been used for the purpose of removing disassembled materials. The activity in the photos has been totally misrepresented with the intent to cause viewers to interpret the activity as construction. This analysis is consistent with a report from the Washington Post in July 2018 labeling similar behavior at Sohae Satellite Launching Station as dismantling of a rail-mounted processing building.
Additional footage released by CSIS which was purported to have been taken on March 6, 2019 shows imagery where the photographed facility displays apparent distress or overgrowth on the pavement in the center, while solar glare obstructs an optimally clear view of the buildings that are claimed to be under "construction." Structures that appear in the supposed March 2, 2019 photos are also mysteriously missing less than one week later. Considering the analysis mentioned above, these defects do not create confidence in the veracity of the claims being presented to President Trump and the public.
II. The Sources Of The Imagery Are Tied To Intelligence Services & Special Interests
An investigation into the sources of the imagery and accompanying analysis creates serious doubts about the incentives with which they are being presented to the public and the groups involved in the Korean peace negotiations. NBC News based their report on the Sohae activity on analysis from Beyond Parallel, a project run by CSIS. An examination of Beyond Parallel's About page shows ties to  the Heritage Foundation, the Atlantic Council-connected Korea Foundation and the Brzezinski Institute on Geostrategy. All of these groups have advocated for hawkish US policies towards North Korea that will not be conducive to productive negotiations.
CSIS itself is currently run by John Hamre, former Deputy Secretary of Defense under President Bill Clinton and former Rockefeller fellow. CSIS' corporate officers include members of the Brzezinski Institute on Geostrategy, a Henry A. Kissinger Chair and other individuals with work histories related to foreign policy and the American defense industry. It would be remiss to say that such connections do not indicate a strong bias against President Trump's attempts to seek denuclearization and peaceful dialogue with North Korea.
The images themselves were represented by NBC News as being "commercial" in nature. An examination of the companies from which they are sourced shows that they are in fact deeply tied to groups that do consistent business with the CIA and defense industry. The March 2, 2019 photos are sourced from DigitalGlobe. DigitalGlobe is an American vendor of satellite imagery founded by a scientist who worked on the US military's Star Wars ICBM defense program under President Ronald Reagan. DigitalGlobe began its existence in Oakland, CA and was seeded with money from Silicon Valley sources and corporations in North America, Europe and Japan. Headquartered in Westminster CO, DigitalGlobe works extensively with defense and intelligence programs. In 2016, it was revealed that DigitalGlobe was working with CIA chipmaker NVIDIA and Amazon Web Services to create an AI-run satellite surveillance network known as Spacenet.
In June 2018, Disobedient Media reported that the CIA was using Ken Dilanian, a known media asset of the Agency, to push reports with NBC News claiming that the DPRK was increasing nuclear production at "secret sites" without providing any actual evidence for such claims. The report carried satellite images claiming to show improvements to North Korea's Yongbyon Nuclear Scientific Research Center which were obtained from Airbus Defense and Space SAS, a subsidiary of European multinational conglomerate Airbus Group SE. Airbus was the brainchild of Germany's DaimlerChrysler Aerospace and British Aerospace. The association of a German connected transnational group in efforts to undermine Korean peace negotiations is interesting given the strong connections they held with the now scandalized South Korean government of Park Geun-hye. Airbus also provided imagery of the Sohae Launch Facility circulated by CSIS on March 8, 2019.
III. NBC News Has Destroyed It's Journalistic Integrity On North Korean Issues
NBC News' report also cited analysis from 38north.org. 38 North is a project run by the Henry L. Stimson Center. The Stimson Center's Board of Directors includes individuals associated with organizations such as Northrop Grumman, the Boeing Company, Warburg Pincus, the Carnegie Endowment, Mercy Corps, The Council on Foreign Relations, the Department of Defense, the CIA and US Department of the Treasury. Their Partners include the George C. Marshall Foundation, Saudi Arabia's Gulf Research Center and the Jinnah Institute.
The decision by NBC News to include a plethora of biased sources of analysis which appear to have intentionally been misrepresenting the nature of satellite footage of the DPRK's Sohae Satellite Launching Station seriously calls their journalistic integrity into question. Their decision to represent satellite footage obtained from intelligence contractors and defense industry sources as "commercial" totally removes any remaining doubts that the recent reports of alleged North Korean activity after the breakdown of the Hanoi Summit are solely distributed with the intention of propagandizing not only the public but also President Trump himself. It is a pathetic effort to undermine the potential for peace and economic opportunity for the purpose of continued tensions that only benefit select special interests.
As Disobedient Media has previously noted, the negotiations have been largely successful in spite of a few recent missteps. Dialogue and constant communication between the DPRK and US negotiating teams must continue. If all parties can ignore the static created by bad faith actors attempting to scuttle the process there is a bright future ahead for not only the notorious hermit kingdom but its neighbors who have long lived in apprehension of a day where renewed violence might break out on the Korean Peninsula.
Source: zerohedge.com
02.12.2019 – Senate Intel Committee Confirms "No Collusion"
Nearly a year after their colleagues in the House reached a similar conclusion, the Senate Intel Committee said on Tuesday that it was preparing to conclude its investigation into whether the Trump campaign colluded with Russia after finding – get this – no direct evidence of a conspiracy, according to NBC News.
The investigation is coming to a close after 2 years and more than 200 interviews. Senate Intel Committee Chairman Richard Burr said the decision to end the probe was made after the committee started running out of new questions to ask.
"If we write a report based upon the facts that we have, then we don't have anything that would suggest there was collusion by the Trump campaign and Russia," said Sen. Richard Burr, R-N.C., the chairman of the Senate Intelligence Committee, in an interview with CBS News last week.

Burr was careful to note that more facts may yet be uncovered, but he also made clear that the investigation was nearing an end.
"We know we're getting to the bottom of the barrel because there're not new questions that we're searching for answers to," Burr said.
Unsurprisingly, Democrats on the committee that the more than 100 contacts between Trump campaign staff and the Russians before Trump's inauguration (some of which, of course, were made after the election) raised reason for suspicion, though they didn't challenge Burr's characterization of the probe.
Democratic Senate investigators who spoke to NBC News on condition of anonymity did not dispute Burr's characterizations, but said they lacked context.

"We were never going find a contract signed in blood saying, 'Hey Vlad, we're going to collude,'" one Democratic aide said.

The series of contacts between Trump's associates, his campaign officials, his children and various Russians suggest a campaign willing to accept help from a foreign adversary, the Democrats say.

By many counts, Trump and his associates had more than 100 contacts with Russians before the January 2017 presidential inauguration.
Meanwhile, reports surfaced recently suggesting that the Mueller probe might also soon be coming to an end after several of his prosecutors left or were transferred elsewhere within the DOJ…but this wouldn't be the first time that reports of the Mueller probe's imminent end proved wrong.
Source: zerohedge.com
01.27.2019 –Dark To Light
01.10.2019 – Argument For The Wall
This is why we need a wall

Illegal immigration is a serious threat to our country

90% of all heroin comes across the border

Thousands of kids are Sex trafficked

Illegals cost US taxpayers $135 billion a year

We support the shutdown for a wall!

RT!

— Charlie Kirk (@charliekirk11) December 22, 2018
01.09.2019 –   Goodbye [RR], Rod Rosenstein Expected To Resign In Coming Weeks: Report
Following a series of conflicting signals earlier on Wednesday – when the BBC published then deleted a story – the Financial Times has apparently confirmed that Deputy Attorney General Rod Rosenstein, the top DOJ official tasked with overseeing the Mueller probe, is planning to resign as soon as next week.
The controversial deputy – one of Trump's favorite targets for criticism particularly since he appointed Special Counsel Robert Mueller to take over an investigation into suspicions of collusion between Russia and the Trump campaign – reportedly planning to leave after Trump's AG pick, William Barr, is confirmed by the Senate – a confirmation that, thanks to the Republican majority – is extremely likely
Rod Rosenstein, the US deputy attorney-general, is expected to leave the Department of Justice in the coming weeks, according to a person familiar with the matter.

His departure is expected to follow the confirmation of William Barr, Donald Trump's pick for attorney-general, according to the person, who said Mr Rosenstein wanted "to ensure a smooth transition" for the incoming head of the justice department.

A justice department spokesperson declined to comment. News of Mr Rosenstein's exit was reported earlier by ABC News.

The deputy attorney-general had overseen the Russia investigation led by Robert Mueller, the special counsel. Mr Barr will take responsibility for the probe if he is confirmed following his Senate confirmation hearings next week.

The person familiar with the matter said Mr Rosenstein was not being pushed out and that he had long viewed the role as a two-year job. He was confirmed to the position in April 2017.
Rosenstein reportedly came close to resigning back in September following reports that he tried to organize an internal mutiny against Trump, even going so far as to urge cabinet members to secretly record their conversations with the president. These reports were later disputed, and Rosenstein and Trump appeared to reconcile after a meeting. Before that, Trump repeatedly toyed with firing Rosenstein, though he reportedly opted to keep him on each time.
According to the Washington Post, confirmation hearings for Barr are slated for Jan. 15 and 16.
Source: zerohedge.com
12.29.2018 – The Biggest Critics Of Trump's Syria Withdrawal Fueled Rise Of IS
Too many of those protesting the removal of U.S. forces are authors of the catastrophe that tore Syria to pieces…
President Donald Trump's announcement of an imminent withdrawal of US troops from northeastern Syria summoned a predictable paroxysm of outrage from Washington's foreign policy establishment. Former Secretary of State and self-described "hair icon" Hillary Clinton perfectly distilled the bipartisan freakout into a single tweet, accusing Trump of "isolationism" and "playing into Russia and Iran's hands."
Michelle Flournoy, the DC apparatchik who would have been Hillary's Secretary of Defense, slammedthe pull-out as "foreign policy malpractice," while Hillary's successor at the State Department, John Kerry, threw bits of red meat to the Russiagate-crazed Democratic base by branding Trump's decision "a Christmas gift to Putin." From the halls of Congress to the K Street corridors of Gulf-funded think tanks, a chorus of protest proclaimed that removing US troops from Syria would simultaneously abet Iran and bring ISIS back from the grave.
Yet few of those thundering condemnations of the president's move seemed able to explain just why a few thousand U.S. troops had been deployed to the Syrian hinterlands in the first place. If the mission was to destroy ISIS, then why did ISIS rise in the first place? And why was the jihadist organization still festering right in the midst of the U.S. military occupation?
Too many critics of withdrawal had played central roles in the Syrian crisis to answer these questions honestly. They had either served as media cheerleaders for intervention, or crafted the policies aimed at collapsing Syria's government that fueled the rise of ISIS. The Syrian catastrophe was their legacy, and they were out to defend it at any cost.
Birthing ISIS From the Womb of Regime Change
During the run-up to the invasion of Iraq, Clinton, Kerry, and the rest of the Beltway blob lined up reflexively behind George W. Bush. The insurgency that followed the violent removal of Iraq's Ba'athist government set the stage for the declaration of the first Islamic State by Abu Musab Zarqawi in 2006. Five years later, with near-total consent from Congress, Hillary enthusiastically presided over NATO's assault on Libya, cackling with glee when she learned that the country's longtime leader, Moammar Gaddafi, had been sodomized with a bayonet and shot to death by Islamist insurgents — "We came, we saw, he died!" It was not long before an Islamist Emirate was established in Gaddafi's hometown of Sirte, while 31 flavors of jihadi militias festered in Tripoli and Benghazi.
Architects of chaos in Syria.
While still defending her vote on Iraq, Hillary made the case for arming the anti-Assad opposition in Syria. "In a conflict like this," she said, "the hard men with the guns are going to be the more likely actors in any political transition than those on the outside just talking."
In 2012, the CIA initiated a one billion dollar arm-and-equip operation to fund the so-called "moderate rebels" united under the banner of the Free Syrian Army (FSA). A classified Defense Intelligence Agency memo distributed across Obama administration channels in August of that year warned that jihadist forces emanating from Iraq aimed to exploit the security vacuum opened up by the US-backed proxy war to establish a "Salafist principality in eastern Syria" — an "Islamic State," in the exact words of the memo.
Referring to Al Qaeda in Mesopotamia's Syrian affiliate by its name, Jabhat al-Nusra, before Western media ever had, the DIA emphasized the close ties the group had fostered with Syria's "moderate rebels": "AQI supported the Syrian opposition from the beginning, both ideologically and through the media. AQI declared its opposition to Assad's regime from the beginning because it considered it a sectarian regime targeting Sunnis."
The memo was authored under the watch of then-Lt. Gen. Michael Flynn, who was convicted this year of failing to register as a foreign agent of Turkey — an extremely ironic development considering Turkey's role in fueling the Syrian insurgency. Predictably, the document was ignored across the board by the Obama administration. Meanwhile, heavy weapons were flowing out of the U.S. Incirlik air base in Turkey and into the hands of anyone who could grab them across the Syrian border.
As early as February 2013, a United Nations independent inquiry report concluded, "The FSA has remained a brand name only." The UN further issued a damning assessment of the role of the United States, UK and their Gulf allies in fueling extremism across Syria. "The intervention of external sponsors has contributed to the radicalization of the insurgency as it has favoured Salafi armed groups such as the al-Nusra Front, and even encouraged mainstream insurgents to join them owing to their superior logistical and operational capabilities," the report stated.
US Arms, ISIS Caliphate
How ISIS overran large swaths of territory in northeastern Syria and established its de facto capital Raqqa is scarcely understood, let alone discussed by Western media. That is partly because the real story is so inconvenient to the established narrative of the Syrian conflict, which blames Assad for every atrocity that has ever occurred in his country, and for some horrors that may not have ever taken place. Echoing the Bush administration's discredited attempts to link Saddam Hussein to Al Qaeda, someneoconservative pundits hatched a conspiracy theory that accused Assad of covertly orchestrating the rise of ISIS in order to curry support from the West. But the documented evidence firmly established the success of ISIS as a byproduct of the semi-covert American program to arm Assad's supposedly moderate opposition.
Opposition activists fly the flag of the US-backed Free Syrian Army alongside the flag of ISIS in the center of Raqqa, December 2013. (Raqqa Media Center)
Back in March 2013, a coalition of Syrian rebel forces representing the CIA-backed FSA, the Turkish and Qatari proxy, Ahrar al-Sham, and the Al Qaeda affiliate, al-Nusra, overwhelmed the Syrian army in Raqqa. Opposition activists declared the city the "icon of the revolution"and celebrated in Raqqa's town center, waving the tricolor flags of the FSAalongside the black banners of ISIS and al-Nusra, which set up its headquarters in the city's town hall.
But disorder quickly spread throughout the city as its residents attempted to order their affairs through local councils. Meanwhile, the US-backed FSA had ceded the city to al-Nusra, taking the fight to the front lines against government forces further afield. The chaos stirred by the insurgents and their foreign backers had created the perfect petri dish for jihadism to fester.
A month after Raqqa was taken, the Iraqi zealot and ISIS commander Abu Bakr al-Baghdadi revealed that al-Nusra had been a Trojan horse for his organization, referring to its commander, Mohammed Jolani, as "our son." Jolani, in turn, admitted that he had entered Syria from Iraq as a soldier of the Islamic State, declaring, "We accompanied the jihad in Iraq as military escorts from its beginning until our return [to Syria] after the Syrian revolution."
By August, Baghdadi completed his coup, announcing control over the city. According to the anti-Assad website, Syria Untold, the U.S.-backed FSA had "balked in the face of ISIS and avoided any military confrontation with it." Many of its fighters quickly jumped ship to either the Islamic State or al-Nusra.
"The [FSA] battalions are scared to become the weakest link, that they will be swallowed by ISIS," a media activist named Ahmed al-Asmeh told the journalist Alison Meuse. "A number joined ISIS, and those who were with the people joined Jabhat al-Nusra."
Backing "Territorial ISIS"
As the insurgency advanced towards Syria's coast, leaving piles of corpses in its wake and propelling a refugee crisis of unprecedented proportions, the U.S. stepped up its arm-and-equip program. By 2015, the CIA was pouring anti-tank missiles into the ranks of Nourredine Al-Zinki, an extremist militia thateventually forged a coalition with bands of fanatics that made no attempt to disguise their ideology. Among the new opposition umbrella group was one outfit called, "The Bin Laden Front."
Despite all its war on terror bluster, the U.S. was treating ISIS as an asset in its bid to topple Assad. Then Secretary of State Kerry copped to the strategy in a leaked private meeting with Syrian opposition activists in Sept. 2016: "We were watching," Kerry revealed. "We saw that Daesh [ISIS] was growing in strength and we thought Assad was threatened. We thought, however, we could probably manage, you know, that Assad might negotiate and instead of negotiating, you got Assad, ah, you got Putin supporting him."
When Russia directly intervened in Syria in 2015, the Obama administration's most outspoken interventionists railed against its campaign to roll back the presence of Al Qaeda and its allies,comparing it to the Rwandan genocide. These same officials were curiously quiet, however, when Russia combined forces with the Syrian military to drive ISIS from the city of Palmyra, to save the home of the world's most treasured antiquities from destruction.
At a March 24, 2016, press briefing, a reporter asked U.S. State Department spokesman Mark Toner, "Do you want to see the [Syrian] regime retake Palmyra, or would you prefer that it stays in Daesh's [ISIS] hands?"
Toner strung together empty platitudes for a full minute.
"You're not answering my question," the reporter protested.
Toner emitted a nervous laugh and conceded, "I know I'm not."
About a year later, New York Times columnist Thomas Friedman openly called for the U.S. to use ISIS as a strategic tool, reiterating the cynical logic for the strategy that was already in place. "We could simply back off fighting territorial ISIS in Syria and make it entirely a problem for Iran, Russia, Hezbollah and Assad," Friedman proposed. "After all, they're the ones overextended in Syria, not us. Make them fight a two-front war—the moderate rebels on one side and ISIS on the other."
Giving ISIS 'Breathing Space'
Palmyra saved twice from ISIS. (Wikimedia Commons)
When the U.S. finally decided to make a move against ISIS in 2017, it was gripped with anxiety about the Syrian government restoring control over the oil-rich areas ISIS controlled across the northeast.
With help from Russia, and against opposition from the U.S., Syria had alreadyliberated the city of Deir Ezzor from a years-long siege by the Islamic State. Fearing that ISIS-occupied Raqqa could be next to be returned to government hands, the U.S. unleashed a brutal bombing campaign while its allies in the Kurdish-led Syrian Democratic Forces (a rebranded offshoot of the People's Protection Units or YPG) assaulted the city by ground.
The U.S.-led campaign reduced much of Raqqa to rubble. In contrast to Aleppo, where rebuilding was underway and refugees were returning, Raqqa and outlying towns under U.S. control were cut off from basic government services and plunged into darkness.
The U.S. proceeded to occupy the city and its outlying areas, insisting that the Syrian government and its allies were too weak to prevent the resurgence of ISIS on their own. But almost as soon as U.S. boots hit the ground, ISIS began to gather strength. In fact, a report this August by the UN Security Council's Sanctions Monitoring Team found that in areas under direct American control, ISIS had suddenly found "breathing space to prepare for the next phase of its evolution into a global covert network."
This October, when Iran launched missile strikes against ISIS, nearly killing the ISIS emir, Baghdadi, the Pentagon complained that the missiles had struck only three kilometers from U.S. positions. The protest raised uncomfortable questions about what the top honchos of the Islamic State were doing in such close proximity to the American military, and why the U.S. was unwilling to do what Iran just had done and attack them. No answers from the Pentagon have arrived so far.
Target: Iran
With the appointment this August of James Jeffrey, a self-described "Never Trumper" from the pro-Israel Washington Institute for Near East Policy, as Trump's special representative for Syria engagement, it became clear that the mission to eradicate ISIS was of secondary importance. In testimony before Congress this December, Jeffrey laid out an agenda that focused heavily on what he called "Iran's malign influence in the region," "countering Iran in Syria," and "remov[ing] all Iranian-commanded forces and proxy forces from the entirety of Syria." In all, Jeffrey made 30 mentions of Iran, all of them hostile, while referring only 23 times to ISIS. It was clear he had regime change in Tehran on the brain.
Trump, for his part, had been mulling a removal of U.S. forces from northern Syria since at least last Spring, when he put forward a vision for an all-Arab military force funded by Saudi Arabia to replace them. But when Saudi journalist Jamal Khashoggi was sawed apart inside his country's embassy in Istanbul this October, Trump's plan went to pieces as well. Turkish President Recep Tayyip Erdoganexploited the Khashoggi saga to perfection, helping to transform Saudi Crown Prince Mohamed Bin Salman from the darling of America's elite into persona non grata in Washington. As a result, he arranged a front line position for Turkey in the wake of any U.S. withdrawal.
There are now real reasons to fear that a Turkish advance will ignite a resurgence of ISIS. Turkey was not only a source of aid and oil sales to the jihadist group, it currently oversees a mercenary force of Salafi militiamen that includes droves of former Islamic State fighters. If the Turkish onslaught proves destabilizing, Iran and its allied Shia militias could ramp up their deployment in Syria, which would trigger a harsh reaction from Israel and its Beltway cut-outs.
Then again, the Kurdish YPG is in high level negotiations with Damascus and may team up with the Syrian military to fill the void. From an anti-ISIS standpoint, this is clearly the best option. It is  therefore the least popular one in Washington.
Whatever happens in Syria, those who presided over U.S. policy towards the country over the past seven years are in no position to criticize. They set the stage for the entire crisis, propelling the rise of ISIS in a bid to decapitate another insufficiently pliant state. And though they may never face the accountability they deserve, the impending withdrawal of American troops is a long overdue and richly satisfying rebuke.
*  *  *
Please give to Consortium News' end-of-year fund drive, by clicking Donate.
Source: ConsortiumNews.com
12.19.2018 –Boom, Coincidence,? In Drastic Reversal, US Set For "Full Withdrawal" From Syria As Trump Claims Victory Over ISIS
update: It's official, within an hour after the first headline the president tweeted "We have defeated ISIS in Syria" and in reference to reports of a planned US troop withdrawal from Syria which unnamed officials say is to be initiated "immediately," he added that the terror group's defeat was "my only reason for being there".
We have defeated ISIS in Syria, my only reason for being there during the Trump Presidency.

— Donald J. Trump (@realDonaldTrump) December 19, 2018
Minutes after the WSJ first broke the story, The Washington Post confirmed the following through a defense official:
The official, who spoke on the condition of anonymity to discuss a decision that has not yet been announced, said the decision would include the entire force of more than 2,000 U.S. service members. It was made on Tuesday, the official said.

President Trump has long promised to conclude the campaign against the Islamic State and has questioned the value of costly and dangerous military missions overseas.
***
The WSJ just reported a monumental and historic reversal in White House policy on Syria, revealing Wednesday morning the Pentagon is preparing to withdraw all forces from northeastern Syria "immediately":
In an abrupt reversal, the U.S. military is preparing to withdraw its forces from northeastern Syria, people familiar with the matter said Wednesday, a move that throws the American strategy in the Middle East into turmoil.

U.S. officials began informing partners in northeastern Syria of their plans to begin immediately pulling American forces out of the region where they have been trying to wrap up the campaign against Islamic State, the people said.
The WSJ notes the complete 180 reversal in policy, which just days ago was reiterated by officials as an "indefinite" American presence in Syria in order to "counter Iran" while bolstering Kurdish and Arab SDF forces in the East (the YPG-dominated Syrian Democratic Forces), comes following a phone call last week between President Trump and Turkish President Recep Tayyip Erdogan.
For the past week Erdogan has threatened to launch a full-scale cross border assault on US-backed Kurdish forces in Syria, which Turkey has long considered an terrorist extension of the outlawed PKK. This would potentially bring American troops and advisers under fire, who've found themselves in the awkward position since entering Syria of training Syrian Kurdish militias on the one hand, and coordinating broadly with a NATO ally on the other.
Perhaps Trump finally took full stock of the fact that the prior planned "indefinite" presence of some 4000 American troops was recipe for a quagmire sure to be Washington's next Afghan or Iraq style "endless war"?
As one recent intelligence study put it: "The prospect of US being militarily involved in Syria, caught in middle of one of most complex conflicts in recent memory, with shifting objectives & ambiguous endgame, has been met with congressional indifference and public apathy." 
Will America finally exit Syria? Is Trump belatedly making good on his campaign promises?
We have defeated ISIS in Syria, my only reason for being there during the Trump Presidency.

— Donald J. Trump (@realDonaldTrump) December 19, 2018
Source: zerohedge.com
12.17.2018 – Trump Slams Fed On Eve Of Rate Decision: "Incredible" Fed Hiking With "World Blowing Up"
On the eve of Wednesday's Fed decision, President Trump is once again bashing the Federal Reserve over its plans to raise interest rates at a time when markets are already in chaos and the "world is blowing up" thanks in part to the central bank's "double-barreled blitz" of higher rates and tighter liquidity.
But instead of insinuating that Fed Chairman Jerome Powell is trying to undermine the administration, the president ticked off a reasonable list of factors that should give a truly "data-dependent" Fed reason to reconsider.
Instead of moving ahead with more rate hikes, Trump said the Fed should "Take the Victory!" Trump said.
It is incredible that with a very strong dollar and virtually no inflation, the outside world blowing up around us, Paris is burning and China way down, the Fed is even considering yet another interest rate hike. Take the Victory!

— Donald J. Trump (@realDonaldTrump) December 17, 2018
Trump's Monday tweet follows a widely discussed op-ed published by investor Stanley Druckenmiller and former Fed Governor Kevin Warsh, who became the latest establishment heretics to side with President Trump over the economic establishment by urging the Fed to stop raising interest rates – for now, at least – due to "recent economic and market developments." The two authors wrote that the Fed should have stopped QE years ago before the easy money policies helped blow a massive asset-price bubble that could collapse as liquidity is withdrawn and borrowing costs are raised.
In a first-best world, the Fed would have stopped QE in 2010. It might then have mitigated asset-price inflation, a government-debt explosion, a boom in covenant-free corporate debt, and unearned-wealth inequality. It might also have avoided sowing the seeds of future financial distress. Booms and busts take the Fed furthest from its policy objectives of stable prices and maximum sustainable employment.

In a second-best world, on Mr. Powell's arrival in February 2018, the Fed would have shrunk its balance sheet with speed and determination before raising rates. The economic expansion was still gaining traction at home and abroad. Tax and regulatory reforms were jolting the supply side of the economy from its slumber. Accelerated Fed QT, in the absence of rate rises, would have been much less disruptive to the real economy. Asset prices could then have found a more durable equilibrium and laid a stronger foundation for future growth.

The time to be dovish was when the crisis struck and the economy needed extraordinary monetary accommodation. The time to be more hawkish was earlier in this decade, when the economic cycle had a long runway, the global economy ample momentum, and the future considerably more promise than peril.

This is a time for choosing.

We believe the U.S. economy can sustain strong performance next year, but it can ill afford a major policy error, either from the Fed or the rest of the administration.

Given recent economic and market developments, the Fed should cease – for now – its double-barreled blitz of higher interest rates and tighter liquidity.
Powell himself recently acknowledged that Trump might have a point by shifting his rhetoric to note that the Fed funds rate is just below the policy range, and the market is increasingly in Trump's camp – expects just 10bps of rate hike in 2019 and expects 10bps of rate cuts in 2020.
Though some were still eager to pin the selloff on Trump and his 'irresponsible' fiscal policies.
The President just doesn't know when to let go when it comes to his attacks on the Fed. He just ran up the biggest fiscal deficit on record for a November ($205 bn) but somehow this is all on Powell.

— David Rosenberg (@EconguyRosie) December 17, 2018
Source: zerohedge.com
12.10.2018 – Comey: FBI Probe Initially Focused On Four Americans
James Comey made the surprise revelation in his congressional testimony on Friday that the FBI opened investigations into four Trump associates in late July 2016.
It was previously known that four Trump advisers were the focus of the FBI probe, but it was not known that they were targeted at the outset of the investigation.
It was previously believed that former Trump aide George Papadopoulos was the catalyst for the investigation, which was dubbed Crossfire Hurricane.
The FBI opened counterintelligence investigations into four Trump campaign associates in late July 2016, earlier than previously known, former FBI Director James Comey told Congress Friday.
"I was briefed sometime at the end of July that the FBI had opened counterintelligence investigations of four individuals to see if there was a connection between those — any of those four and the Russian effort," Comey said during a seven hour interview with the House Judiciary and House Oversight Committees.
The revelation comes as something of a surprise because Democrats and many in the media have insisted that the probe, dubbed Crossfire Hurricane, was launched solely based on information that the Australian government provided the FBI on Trump aide George Papadopoulos.
It is not clear why the FBI added three other Trump associates to its investigation. Comey declined to name the four Americans, though The New York Times has previously reported that the initial focus of the investigation was Papadopoulos, Carter Page, Michael Flynn and Paul Manafort…Read More
Source: dailycaller.com
12.05.2018 – No Jail Time For Flynn; Mueller Says Former Trump Official Provided "Substantial" Assistance
Special counsel Robert Mueller has recommended no jail time for former National Security Adviser Michael Flynn, writing in a late Tuesday sentencing memorandum that Flynn provided "substantial" assistance to his investigation after taking part in 19 interviews related to Mueller's probe of the 2016 US election and any links between the Trump campaign and Russia, as well as Russian meddling.
While there is no indication that Flynn threw Trump under the bus, Mueller's memorandum certainly suggests that the former Trump administration official provided the special counsel with information that they were pleased with.
Or, in the alternative, the FBI altered their "302" interview records with Flynn to set him up, and this is how the Department of Justice has chosen to carefully disentangle themselves from the situation.
To briefly review from a February report; Flynn and Russian Ambassador Sergey Kislyak had a phone conversation in late December, 2016. On its face, there was absolutely nothing wrong with an incoming National Security Advisor having a conversation with a Russian government official. Following the conversation, which was surveilled by the Obama administration and then leaked to the press,
The first thing to remember is that it appears Flynn did nothing wrong in having those talks. As the incoming national security adviser, it was entirely reasonable that he discuss policy with representatives of other governments and Flynn was getting calls from all around the world. –Washington Examiner
What happened next is strange; on January 12, WaPo columnist David Ignatius reported that Flynn and Kislyak had talked – implying some type of malfeasance. Days later, on January 15, Vice President-elect Mike Pence denied that Flynn had discussed sanctions with the Russian ambassador. The on January 24, Obama holdover and acting Attorney General Sally Yates sent two FBI agents to interview Flynn without a lawyer present.
Two days later, on January 26, Yates and a colleague visited the White House to tell White House counsel Don McGahn that Flynn may have violated the obscure logan act, and in fact discussed sanctions with Kislyak – possibly subjecting Flynn to blackmail.
Yates then explained to McGahn her theory that Flynn might be vulnerable to blackmail. The idea was that Flynn had discussed sanctions with Kislyak, which of course the Russians knew. And then if Flynn lied to Pence, and Pence made a public statement based on what Flynn had told him, then the Russians might be able to blackmail Flynn because they, the Russians, knew Flynn had not told the vice president the truth. –Washington Examiner
Meanwhile, on January 23, the Washington Post reported that they had "not found any evidence of wrongdoing or illicit ties to the Russian government," after having reviewed the leaked conversation.
Interestingly, FBI investigators Peter Strzock and his partner who interviewed Flynn thought Flynn was telling the truth about his conversations with Kislyak, and that any inaccuracies in his answers were unintentional – according to accounts of a closed-door March 2017 briefing given to lawmakers by former FBI Director James Comey.
According to two sources familiar with the meetings, Comey told lawmakers that the FBI agents who interviewed Flynn did not believe that Flynn had lied to them, or that any inaccuracies in his answers were intentional. As a result, some of those in attendance came away with the impression that Flynn would not be charged with a crime pertaining to the January 24 interview. –Washington Examiner
Source: zerohedge.com
12.01.2018 – FBI Raids Home Of New Clinton Foundation, Uranium One Whistleblower
The FBI conducted a six-hour raid on the home of a recognized Justice Department whistleblower who had confidentially submitted documents related to the Clinton Foundation and Uranium One to a government watchdog, according to the Daily Caller, citing the whistleblower's attorney.
The Justice Department's inspector general was informed that the documents show that federal officials failed to investigate potential criminal activity regarding former Secretary of State Hillary Clinton, the Clinton Foundation and Rosatom, the Russian company that purchased Uranium One, a document reviewed by The Daily Caller News Foundation alleges.

The delivered documents also show that then-FBI Director Robert Mueller failed to investigate allegations of criminal misconduct pertaining to Rosatom and to other Russian government entities attached to Uranium One, the document reviewed by TheDCNF alleges. Mueller is now the special counsel investigating whether the Trump campaign colluded with Russia during the 2016 election. –Daily Caller
"The bureau raided my client to seize what he legally gave Congress about the Clinton Foundation and Uranium One," said the whistleblower's lawyer, Michael Socarras – adding that he considered the FBI raid on his client, Dennis Nathan Cain, an "outrageous disregard" of whistleblower protections.
Cain – a former FBI contractor, was faced with sixteen federal agents during the November 19 raid on his Union Bridge, Maryland home, according to Socarras. The raid was authorized on November 15 after federal magistrate Stephanie A. Gallagher of the US District Court for Baltimore signed a court order.
The special agent who led the raid alleged that Cain possessed stolen federal property, and demanded entry to his home, Socarras added.
"On Nov. 19, the FBI conducted court authorized law enforcement activity in the Union Bridge, Maryland area," said FBI spokesman Dave Fitz, adding that the agency had "no further comment."
Cain told the agents at his doorstop that he was a recognized and protected whistleblower under the Intelligence Community Whistleblower Protection Act, and that DOJ Inspector General Michael Horowitz had recognized his status, according to Cain's attorney.
Cain further told the FBI agent the potentially damaging classified information had been properly transmitted to the Senate and House Intelligence committees as permitted under the act, Socarras said. The agent immediately directed his agents to begin a sweep of the suburban home, anyway.

Frightened and intimidated, Cain promptly handed over the documents, Socarras told TheDCNF. Yet even after surrendering the information to the FBI, the agents continued to rummage through the home for six hours. –Daily Caller
"After asking and getting my approval to do so, DOJ IG Michael Horowitz had a member of his staff physically take Mr. Cain's classified document disclosure to the House and Senate Intelligence committees," Socarras told the Caller, adding "For the bureau to show up at Mr. Cain's home suggesting that those same documents are stolen federal property, and then proceed to seize copies of the same documents after being told at the house door that he is a legally protected whistleblower who gave them to Congress, is an outrageous disregard of the law." 
According to Socarras, Cain came across "potentially explosive information while working for an FBI contractor," after which he met with a senior member of Horowitz's office at a church close to the White House, where he delivered a cache of documents.
Cain sat in a pew with a hoodie and sun glasses, Socarras said. Cain held a double-sealed envelope containing a flash drive with the documents. The IG official met him and, without saying a word, took the pouch over Cain's shoulder and left. –Daily Caller
The Whistleblower Protection law requires the Inspector General to share potentially damaging information with the attorney general, who at the time was Jeff Sessions. According to Socarras, two law enforcement officials directed the documents to the Senate and House Intelligence committees for review, which were hand delivered by an IG official.
"I cannot believe the Bureau informed the federal magistrate who approved the search warrant that they wanted to search the home of an FBI whistleblower to seize the information that he confidentially disclosed to the IG and Congress," said Socarras.
The FBI has yet to discuss the matter with Cain's attorney despite the raid.
"After the raid, and having received my name and phone number from Mr. Cain as his lawyer, an FBI agent actually called my client directly to discuss his seized electronics," said Socarras. "Knowingly bypassing the lawyer of a represented client is serious misconduct."
Source:  zerohedge.com
11.24.2018 –  MI6 Scrambling To Stop Trump From Releasing Classified Docs In Russia Probe
The UK's Secret Intelligence Service, otherwise known as MI6, has been scrambling to prevent President Trump from publishing classified materials linked to the Russian election meddling investigation, according to The Telegraph, stating that any disclosure would "undermine intelligence gathering if he releases pages of an FBI application to wiretap one of his former campaign advisers."
Trump's allies, however, are fighting back – demanding transparency and suggesting that the UK wouldn't want the documents withheld unless it had something to hide.
The Telegraph has talked to more than a dozen UK and US officials, including in American intelligence, who have revealed details about the row.

British spy chiefs have "genuine concern" about sources being exposed if classified parts of the wiretap request were made public, according to figures familiar with discussions.

"It boils down to the exposure of people", said one US intelligence official, adding: "We don't want to reveal sources and methods." US intelligence shares the concerns of the UK.

Another said Britain feared setting a dangerous "precedent" which could make people less likely to share information, knowing that it could one day become public. –The Telegraph
The Telegraph adds that the UK's dispute with the Trump administration is so politically sensitive that staff within the British Embassy in D.C. haver been barred from discussing it with journalists. Theresa May has also "been kept at arms-length and is understood to have not raised the issue directly with the US president."
In September, we reported that the British government "expressed grave concerns" over the material in question after President Trump issued an order to the DOJ to release a wide swath of materials, "immediately" and "without redaction."
Trump walked that order back days later after the UK begged him not to release them.
Mr Trump wants to declassify 21 pages from one of the applications. He announced the move in September, then backtracked, then this month said he was "very seriously" considering it again. Both Britain and Australia are understood to be opposing the move.

Memos detailing alleged ties between Mr Trump and Russia compiled by Christopher Steele, a former MI6 officer, were cited in the application, which could explain some of the British concern. –The Telegraph
I met with the DOJ concerning the declassification of various UNREDACTED documents. They agreed to release them but stated that so doing may have a perceived negative impact on the Russia probe. Also, key Allies' called to ask not to release. Therefore, the Inspector General…..

— Donald J. Trump (@realDonaldTrump) September 21, 2018
….has been asked to review these documents on an expedited basis. I believe he will move quickly on this (and hopefully other things which he is looking at). In the end I can always declassify if it proves necessary. Speed is very important to me – and everyone!

— Donald J. Trump (@realDonaldTrump) September 21, 2018
The New York Times reported at the time that the UK's concern was over material which "includes direct references to conversations between American law enforcement officials and Christopher Steele," the former MI6 agent who compiled the infamous "Steele Dossier." The UK's objection, according to former US and British officials, was over revealing Steele's identity in an official document, "regardless of whether he had been named in press reports."
We noted in September, however, that Steele's name was contained within the Nunes Memo – the House Intelligence Committee's majority opinion in the Trump-Russia case.
Steele also had extensive contacts with DOJ official Bruce Ohr and his wife Nellie, who – along with Steele – was paid by opposition research firm Fusion GPS in the anti-Trump campaign. Trump called for the declassification of FBI notes of interviews with Ohr, which would ostensibly reveal more about his relationship with Steele. Ohr was demoted twice within the Department of Justice for lying about his contacts with Fusion GPS.
Perhaps the Brits are also concerned since much of the espionage performed on the Trump campaign was conducted on UK soil throughout 2016. Recall that Trump aid George Papadopoulos was lured to London in March, 2016, where Maltese professor Joseph Mifsud fed him the rumor that Russia had dirt on Hillary Clinton. It was later at a London bar that Papadopoulos would drunkenly pass the rumor to Australian diplomat Alexander Downer (who Strzok flew to London to meet with).
Also recall that CIA/FBI "informant" (spy) Stefan Halper met with both Carter Page and Papadopoulos in London.
Halper, a veteran of four Republican administrations, reached out to Trump aide George Papadopoulos in September 2016 with an offer to fly to London to write an academic paper on energy exploration in the Mediterranean Sea.

Papadopoulos accepted a flight to London and a $3,000 honorarium. He claims that during a meeting in London, Halper asked him whether he knew anything about Russian hacking of Democrats' emails.

Papadopoulos had other contacts on British soil that he now believes were part of a government-sanctioned surveillance operation. –Daily Caller
In total, Halper received over $1 million from the Obama Pentagon for "research," over $400,000 of which was granted before and during the 2016 election season.
Papadopoulos, who was sentenced to 14 days in prison for lying about his conversations with a shadowy Maltese professor and self-professed member of the Clinton Foundation, has publicly claimed he was targeted by UK spies, and told The Telegraph that he demands transparency. Trump's allies in Washington, meanwhile, have suggested that the facts laid out before us mean that the ongoing Russia investigation was invalid from the start.
In short, it's understandable that the UK would prefer to hide their involvement in the "witch hunt" of Donald Trump since much of the counterintelligence investigation was conducted on UK soil. And if the Brits had knowledge of the operation, it will bolster claims that they meddled in the 2016 US election by assisting what appears to have been a set-up from the start.
Steele's ham-handed dossier is a mere embarrassment, as virtually none of the claims asserted by the former MI6 agent have been proven true.
Steele, a former MI6 agent, is the author of the infamous and unverified anti-Trump dossier. He worked as a confidential human source for the FBI for years before the relationship was severed just before the election because of Steele's unauthorized contacts with the press.

He shared results of his investigation into Trump's links to Russia with the FBI beginning in early July 2016.

The FBI relied heavily on the unverified Steele dossier to fill out applications for four FISA warrants against Page. Page has denied the dossier's claims, which include that he was the Trump campaign's back channel to the Kremlin. –Daily Caller
That said, Steele hasn't worked for the British government since 2009, so for their excuse focusing on the former MI6 agent while ignoring the multitude of events which occurred on UK soil, is curious.
Source: zerohedge.com
11.14.2018 –  Understanding the Global Recession of 2019
Isn't it obvious that repeating the policies of 2009 won't be enough to save the system from a long-delayed reset?
2019 is shaping up to be the year in which all the policies that worked in the past will no longer work. As we all know, the Global Financial Meltdown / recession of 2008-09 was halted by the coordinated policies of the major central banks, which lowered interest rates to near-zero, bought trillions of dollars of bonds and iffy assets such as mortgage-backed securities, and issued unlimited lines of credit to insolvent banks, i.e. unlimited liquidity.
Central governments which could do so went on a borrowing / spending binge to boost demand in their economies, and pursued other policies designed to bring demand forward, i.e. incentivize households to buy today what they'd planned to buy in the future.
This vast flood of low-cost credit and liquidity encouraged corporations to borrow money and use it to buy back their stocks, boosting per-share earnings and sending stocks higher for a decade.
The success of these policies has created a dangerous confidence that they'll work in the next global recession, currently scheduled for 2019. But policies follow the S-Curve of expansion, maturity and decline just like the rest of human endeavor: the next time around, these policies will be doing more of what's failed.
The global economy has changed. Demand has been brought forward for a decade, effectively draining the pool of future demand. Unprecedented asset purchases, low rates of interest and unlimited liquidity have inflated gargantuan credit / asset bubbles around the world, the so-called everything bubble as most asset classes are now correlated to central bank policies rather than to the fundamentals of the real-world economy.
Keenly aware that they've thinned their policy options and financial buffers to near-zero, central banks are struggling to normalize their policies by raising rates, reducing their balance sheets by selling assets and tightening lending conditions / liquidity.
Unfortunately for central banks, global economies are now junkies addicted to zero interest rates and central bank stimulus / support of bond markets, stock markets and real estate markets. The idea of normalization is to slowly inch the financial system and economy back to levels that were normal in previous eras, levels that allowed some room for central banks to respond to recessions and global financial crises by lowering rates and extending credit to insolvent lenders.
But reducing the drip of financial heroin hasn't ended global economies' addiction to extraordinary easy financial conditions. Rather, it's illuminated the dangers of their continued addiction.
As soon as authorities attempt to limit their support / stimulus, markets wobble into instability. The entire economic structure of "wealth" is now dependent on asset bubbles never popping, for any serious decline in asset valuations will bankrupt pension funds, insurers, local governments, zombie companies and overleveraged households–every entity which is only solvent as long as asset bubbles expand or maintain current valuations.
So how do central banks normalize their unprecedented policies without popping the asset bubbles they've created? The short answer is: they can't. Rising interest rates are a boon to savers and Kryptonite to borrowers–especially over-leveraged borrowers who must roll over short-term debt and borrow more just to maintain the illusion of solvency.
As if this wasn't enough to guarantee recession in 2019, there's the unintended consequences of capital flows. Capital famously flows to where it's treated best, meaning wherever it earns the highest yields at the lowest risk, and where the rule of law protects capital from predation or expropriation.
When all central banks pursued roughly the same policies, capital had options. Now that the Fed has broken away from the pack, capital has only one option: the U.S. The Federal Reserve should have begun normalizing rates etc. back in 2013, and if they'd been wise enough to do so then even baby steps over the past 5 years would have led to a fairly normalized financial environment.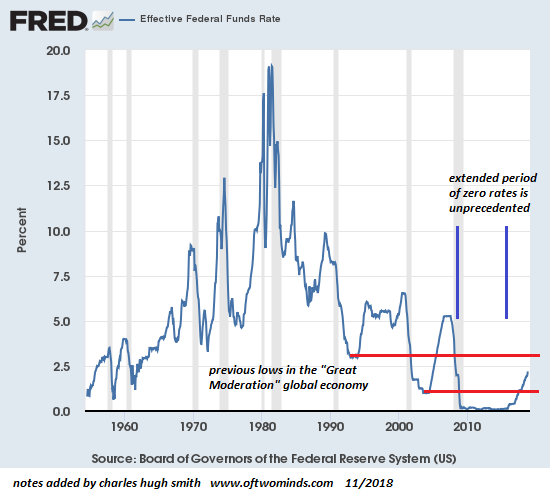 But Ben Bernanke and Janet Yellen blew it, so it's been left to the current Fed leadership to do the heavy lifting over a much shorter timeline. Predictably, pulling away the punch bowl has spoiled the asset-bubble party, and now all the asset bubbles are increasingly at risk of deflating.
But the yields and relative risk available in US-dollar denominated assets is starting to look a lot more attractive and lower risk than assets denominated in yen, yuan and euros. Capital flows tend to be self-reinforcing: as capital flows out of at-risk economies, it dampens investment, speculation and spending as the economy is drained of capital.
Owners of assets notice this decay and so they decide to sell and move their capital to safer ground. Selling begets selling, and pretty soon nobody's left to catch the falling knife, ie. buy assets that are rapidly losing value.
This is what surprised Alan Greenspan (by his own account) in 2008: bubbly markets quickly become bidless, that is, buyers vanish and sellers who want to unload their assets for cash find nobody's willing to part with cash for a plummeting asset.
The central bank "solution" to bidless markets is to become the buyer of last resort: when no sane investor will buy bonds, stocks or real estate, then the central bank starts buying everything in sight.
We are already seeing this in action as Chinese governmental agencies have started quietly buying empty flats in ghost buildings to prop up the housing market. The idea here is to restore confidence with a relatively modest burst of quiet buying. But when markets turn and confidence is lost, sentiment can't be restored so easily: sensing their last chance is at hand, sellers dump assets at a quickening pace, overwhelming the modest central bank buying.
This leaves the central bank with a stark and sobering choice: either let the asset bubble collapse and accept the immense destruction of "wealth," or buy the whole darn market. This is the unintended consequence of employing unprecedented policies for a decade: like using antibiotics every day for years, eventually resistance develops and the "fix" no longer works.
Now that central banks have inflated assets into the stratosphere, there's $300 trillion in global financial assets sloshing around seeking higher yields and capital gains. How much of this $300 trillion can central banks buy before they destabilize currencies? How much can they buy before they run out of political goodwill?
Isn't it obvious that repeating the policies of 2009 won't be enough to save the system from a long-delayed reset?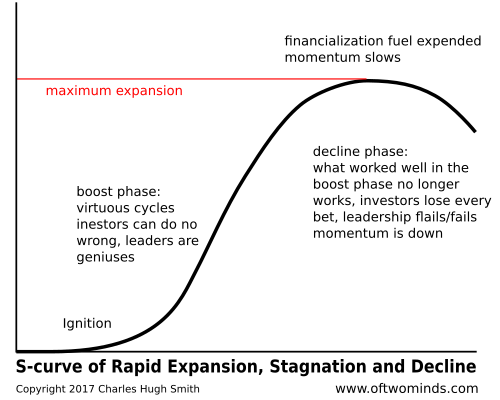 Source: oftwominds.com
11.09.2018 – Why Are So Few Americans Able To Get Ahead?
Our entire economy is characterized by cartel rentier skims, central-bank goosed asset bubbles and stagnating earned income for the bottom 90%.
Despite the rah-rah about the "ownership society" and the best economy ever, the sobering reality is very few Americans are able to get ahead, i.e. build real financial security via meaningful, secure assets which can be passed on to their children.
As I've often discussed here, only the top 10% of American households are getting ahead in both income and wealth, and most of the gains of these 12 million households are concentrated in the top 1% (1.2 million households). (see wealth chart below).
Why are so few Americans able to get ahead? there are three core reasons:
1. Earnings (wages and salaries) have not kept up with the rising cost of living.

2. The gains have flowed to capital, which is mostly owned by the top 10%, rather than to labor ((wages and salaries).

3. Our financialized economy incentivizes cartels and other rentier skims, i.e. structures that raise costs but don't provide any additional value for the additional costs.
It's instructive to compare today's household with households a few generations ago. As recently as the early 1970s, 45 years ago, it was still possible for a single fulltime-earner to support the household and buy a home, which in 1973 cost around $30,000 (median house price, as per the St. Louis FRED database).
As recently as 20 years ago, in 1998, the median house price in the U.S. was about $150,000— still within reach of many two-earner households, even those with average jobs.
As the chart below shows, real median household income has only recently exceeded the 1998 level— and only by a meager $1,000 annually. If we use real-world inflation rather than the under-estimated official inflation, real income has plummeted by 10% or more in the past 20 years.
This reality is reflected in a new study of wages in Silicon Valley, which we might assume would keep up due to the higher value of the region's output.The study found the wages of the bottom 90% declined when adjusted for inflation by as much as 14% over the past 20 years:
"The just-released report showed that wages for 90 percent of Silicon Valley workers (all levels of workers except for the top 10 percent) are lower now than they were 20 years ago, after adjusting for inflation. That's in stark contrast to the 74 percent increase in overall per capita economic output in the Valley from 2001 to 2017."

source: Why Silicon Valley Income Inequality Is Just a Preview of What's to Come for the Rest of the U.S.
Meanwhile, the median house price has more than doubled to $325,000 while median household income has stagnated. Please note this price is not adjusted for inflation, like the median income chart. But if we take nominal household income in 1998 (around $40,000 annually) and compare it to nominal household income now in 2018 (around $60,000), that's a 50% increase–far below the more than doubling of house prices.
To raise stagnant incomes, the Federal Reserve and other central banks have attempted to generate a wealth effect by boosting the valuations of risk-on assets such as stocks, bonds and commercial real estate. But the Fed et al. overlooked the fact that the vast majority of these assets are owned by the top 10%–and as noted above, the ownership of the top 10% is concentrated in the top 1% and .1%.
As a result, the vast majority of the wealth effect capital gains have flowed to the top 1%:
Lastly, the cartel structure of the U.S. economy has raised costs while providing no additional value. One example is higher education, a cartel that issues diplomas with diminishing economic value that now cost a fortune, a reality reflected in this chart of student loan debt, which simply didn't exist a generation ago:
Our entire economy is characterized by cartel rentier skims, central-bank goosed asset bubbles and stagnating earned income for the bottom 90%. Given these realities, the bottom 90% are left with few pathways to get ahead in terms of financial security and building secure family wealth
Source: oftwominds.com
11.05.2018 –  Turn Off, Tune Out, Drop Out
An unknown but likely staggeringly large percentage of small business owners in the U.S. are an inch away from calling it quits and closing shop.
Timothy Leary famously coined the definitive 60s counterculture phrase, "Turn on, tune in, drop out" in 1966. (According to Wikipedia, In a 1988 interview with Neil Strauss, Leary said the slogan was "given to him" by Marshall McLuhan during a lunch in New York City.)
An updated version of the slogan might be: Turn Off, Tune Out, Drop Out: turn off mobile phones, screens, etc.; tune out Corporate Media, social media, propaganda, official and unofficial, and drop out of the status quo economy and society.
Dropping out of a broken, dysfunctional status quo in terminal decline has a long history. The chapter titles of Michael Grant's excellent account of The Fall of the Roman Empire identify the core dynamics of decline:
The Gulfs Between the Classes
The Credibility Gap
The Partnerships That Failed
The Groups That Opted Out
The Undermining of Effort
Our focus today is on The Groups That Opted Out. In the decline phase of the Western Roman Empire, people dropped out by abandoning tax-serfdom for life in a Christian monastery (or as a worker on monastery lands) or by removing themselves to the countryside.
Today, people drop out in various ways: early retirement, disability or other social welfare, homesteading or making and saving enough money in the phantom-wealth economy that they can quit official work in middle age.
We can see this in the labor participation rates for the populace at large, women and men. The labor participation rate reflects the percentage of the population that's in the workforce, either working or actively looking for work.
That the number of people in the workforce has declined significantly is well-known. The US Census pegs the number of people 'not in the labor force' at 95 million. This includes people who are disabled, in school, etc., so the number should be taken with a grain of salt. But the decline in the relative size of the labor force is remarkable: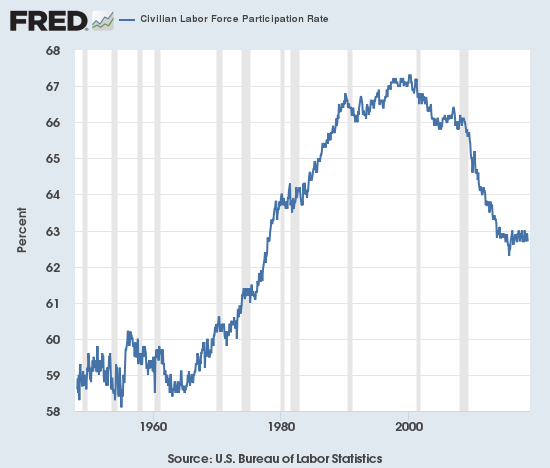 Interestingly, the labor participation rate for women has held steady compared to the entire populace.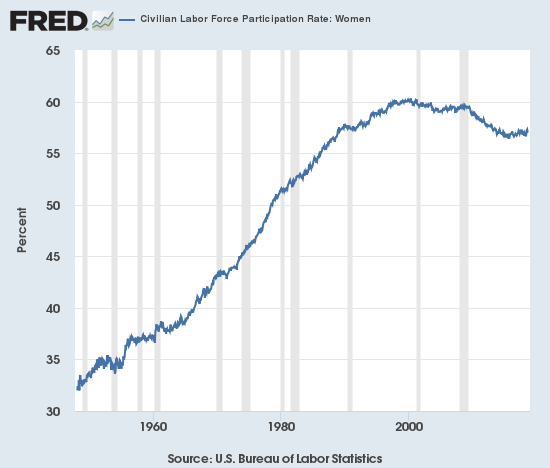 Now compare it to the labor participation rate for men, which has absolutely cratered: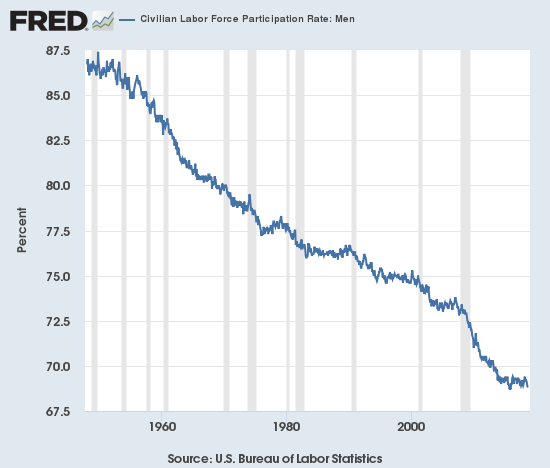 The difference between genders is striking. Gender roles in society and the economy are clearly causal factors. Many have speculated that the decline in traditional strongholds of male employment such as manufacturing explain the decline of males in the workforce. As for the high participation of women, we might speculate that being caregivers for children and elderly parents requires earning an income, and as these responsibilities continue to fall more heavily on females, it may be that fewer women have the option of dropping out.
As for turning off, consider this account of tech overlords turning off their own childrens' access to screens (via GFB): A Dark Consensus About Screens and Kids Begins to Emerge in Silicon Valley "I am convinced the devil lives in our phones."
I've written about mobile phone and social media addiction many times, so the reluctance of tech elites to let their own children suffer the ravages of digital addiction isn't surprising.
As for tuning out, the strident voices of political polarization are not as widespread as generally perceived: Hidden Tribes: A Study of America's Polarized Landscape found that the rabidly leftist / "progressive" tribe is a mere 8%, and their opposite tribe on the right is equivalently modest in number.
It doesn't take much observation to surmise that the majority in the middle are tuning out both polarizing extremes. Partisans may view this abandonment as negative, i.e. apathy, but this would be misreading the situation: the reality is the majority are tired of the poisonous polarities and the stultifying, going-nowhere toxic frenzy that destroys participants' equilibrium and sanity.
An unknown but likely staggeringly large percentage of small business owners in the U.S. are an inch away from calling it quits and closing shop. At some point the ever-higher costs of burdensome, mostly useless bureaucratic compliance and complexity, the ever more costly junk fees, filing fees, permits, penalties and taxes, the higher costs of labor overhead (healthcare insurance, workers comp, etc.) and the ever-rising costs of materials and services make it an easy decision to drop out of the rat race and either sell the business to someone less grounded in reality or just close it down.
Those who tire of being nailed by "tax the rich" schemes can drop out by earning less. Sell out, move out, drop out. Unfortunately for all those who depend on the Savior State, the state cannot force people losing money and their mental health to continue operating enterprises. (At least not yet.) Once small business and the productive wealthy (i.e. upper middle class) sell out, move out and drop out, it's game over for the "tax the rich" crowd and the local economy.
Dropping out is an increasingly attractive option. For those unable to drop out, turning off and tuning out are increasingly attractive options.
Source: oftwominds.com
10.31.2018  – It's A BOMBSHELL, We Are At A Tipping Point, Fake News
One of the best compilations I've ever seen.

It's a BOMBSHELL. pic.twitter.com/V0oLimbKnT

— Mike (@Fuctupmind) October 29, 2018
10.27.2018  – Stock Market Plunges Again – Global Stocks Down 5 Weeks In A Row – 8 Trillion Dollars In Wealth Wiped Out
It's not over.  The worst October stock market crash since 2008 got even worse on Friday.  The Dow was down another 296 points, the S&P 500 briefly dipped into correction territory, and it was another bloodbath for tech stocks.  On Wednesday, I warned that there would be a bounce, and we saw that happen on Thursday.  But the bounce didn't extend into Friday.  Instead, we witnessed another wave of panic selling, and that has many investors extremely concerned about what will happen next week.  Overall, global stocks have now fallen for five weeks in a row, and during that time more than 8 trillion dollars in global wealth has been wiped out.  That is the fastest plunge in global stock market wealth since the collapse of Lehman Brothers, and it is yet another confirmation that a major turning point has arrived.
The wild swings up and down that we witnessed this week are very reminiscent of what we saw in 2008.
Markets just don't go down in a straight line.  In fact, some of the best days in all of Wall Street history happened right in the middle of the last financial crisis.
When markets are very volatile, the overall trend tends to be down.  So what investors should be hoping for are extremely boring days on Wall Street when not much happens.  That has been the usual state of affairs for much of the past decade, but now volatility has returned with a vengeance.  The following is how CNBC summarized the carnage that we witnessed on Friday…
The Dow Jones Industrial Average closed 296.24 points lower at 24,688.31 after dropping 539 points at its lows of the day. The Nasdaq Composite dropped 2.1 percent to 7,167.21. At its lows, the tech-heavy Nasdaq had fallen more than 3 percent.

The S&P 500 fell 1.7 percent to 2,658.69 and briefly entered into correction territory, trading more than 10 percent below its record high reached in September. The average stock market correction, since WWII, results in a 13 percent drop and lasts for four months if it does not turn into a full-fledged bear market.

Larry Benedict, CEO of The Opportunistic Trader, said traders "don't want to be long heading into the weekend." He added, "S&P now down on the year and people are more afraid to be long today than they were when market was 10 percent higher."
And when you step back and take a longer-term view of things, the devastation is breathtaking.  The following facts come from Zero Hedge…
Dow down 9% from record high (down 4 of last 5 weeks)
S&P down 10.1% from record high (down 4 of last 5 weeks)
Nasdaq down 13% from record high (down 4 weeks in a row)
Dow Transports down 15.2% from record high (down 6 weeks in a row)
Small Caps down 15.8% from record high (down 6 weeks in a row)
More importantly, global systemically important bank stocks have now fallen for 5 weeks in a row, and they have now plunged more than 30 percent from the peak.
In other words, the "too big to fail banks" around the world have already seen almost a third of their value wiped out.
There are quite a few global candidates that could potentially become "the next Lehman Brothers", and once one "too big to fail bank" goes down, it could escalate this new financial crisis very rapidly.
But for most ordinary Americans, the main concern is about keeping their own money safe.  Thanks to low returns almost everywhere else, more retirement money is in the stock market than ever before, and many Americans are very anxious about what a stock market crash would mean for their savings…
Nearly 40 percent of Americans said they were "anxious" about stock market volatility, according to Allianz Life's 2018 Market Perceptions study, mainly because they worried they would not be able to protect their retirement savings.
In the end, a lot of people are going to get completely wiped out.
Hopefully you will not be one of them.
Of course the mainstream media continues to insist that everything is going to be just fine.  In fact, CNN is telling people that now is "a good time for investors to double down on their investments"…
Experts say big sell-offs are often a good time for investors to double down on their investments. One recommended looking for companies that are expected to post healthy gains in sales and earnings. A strong balance sheet and a steadily growing dividend don't hurt either.

"With earnings season in full force, this is when stock pickers can add a lot of value," said Ernesto Ramos, managing director of active equities with BMO Global Asset Management. "There really was no good reason for the market to be down as much as it was Wednesday."
That is about the exact opposite from the advice that they should be giving, but unfortunately this is the narrative that we get from the corporate media before every major crisis.
October has historically been the most volatile month for stocks, and without a doubt this has been a wild month.  Of course the midterm elections are coming up early next month, and those results could potentially spook investors.  But once we get past that, hopefully the markets will start to settle down.
But if things continue to unfold as they did in 2008, this crisis could continue to escalate during the months ahead, and that would especially be true if some sort of "trigger event" sent a major surge of panic through the marketplace.
At this point, investors are extremely jumpy.  For example, even though Amazon reported very good earnings this week, the stock crashed on Friday because revenue growth was slightly below expectations.
Any piece of bad news could send the markets tumbling right now, and if a major disaster were to happen we could be talking about a total collapse.
Source: theeconomiccollapseblog.com
10.22.2018  – Johnstone: An Embarrassing End May Soon Be Near For Russia-Gaters
After more than two years of mania about Russia stealing the 2016 election for Trump and demonization of anyone who questioned it, an embarrassing end may soon be near for the Russia-gaters…
In a new article titled "Mueller report PSA: Prepare for disappointment", Politico cites information provided by defense attorneys and "more than 15 former government officials with investigation experience spanning Watergate to the 2016 election case" to warn everyone who's been lighting candles at their Saint Mueller altars that their hopes of Trump being removed from office are about to be dashed to the floor.
"While [Mueller is] under no deadline to complete his work, several sources tracking the investigation say the special counsel and his team appear eager to wrap up," Politico reports.

"The public, they say, shouldn't expect a comprehensive and presidency-wrecking account of Kremlin meddling and alleged obstruction of justice by Trump – not to mention an explanation of the myriad subplots that have bedeviled lawmakers, journalists and amateur Mueller sleuths," the report also says, adding that details of the investigation may never even see the light of day.
Russiagate is bullshit, and we fucking told you so.https://t.co/ENWPRfR8Yq

— Caitlin Johnstone (@caitoz) October 19, 2018
So that's it then.
An obscene amount of noise and focus, a few indictments and process crime convictions which have nothing to do with Russian collusion, and this three-ring circus of propaganda and delusion is ready to call it a day.
This is by far the clearest indication yet that the Mueller investigation will end with Trump still in office and zero proof of collusion with the Russian government, which has been obvious since the beginning to everyone who isn't a complete fucking moron. For two years the idiotic, fact-free, xenophobic Russiagate conspiracy theory has been ripping through mainstream American consciousness with shrieking manic hysteria, sucking all oxygen out of the room for legitimate criticisms of the actual awful things that the US president is doing in real life. Those of us who have been courageous and clear-headed enough to stand against the groupthink have been shouted down, censored, slandered and smeared as assets of the Kremlin on a daily basis by unthinking consumers of mass media propaganda, despite our holding the philosophically unassailable position of demanding the normal amount of proof that would be required in a post-Iraq invasion world.
As I predicted long ago, "Mueller isn't going to find anything in 2017 that these vast, sprawling networks wouldn't have found in 2016. He's not going to find anything by 'following the money' that couldn't be found infinitely more efficaciously via Orwellian espionage. The factions within the intelligence community that were working to sabotage the incoming administration last year would have leaked proof of collusion if they'd had it. They did not have it then, and they do not have it now. Mueller will continue finding evidence of corruption throughout his investigation, since corruption is to DC insiders as water is to fish, but he will not find evidence of collusion to win the 2016 election that will lead to Trump's impeachment. It will not happen." This has remained as true in 2018 as it did in 2017, and it will remain true forever.
None of the investigations arising from the Russiagate conspiracy theory have turned up a single shred of evidence that Donald Trump colluded with the Russian government to rig the 2016 election, or to do anything else for that matter. All that the shrill, demented screeching about Russia has accomplished is manufacturing support for steadily escalating internet censorship, a massively bloated military budget, a hysterical McCarthyite atmosphere wherein anyone who expresses political dissent is painted as an agent of the Kremlin and any dissenting opinions labeled "Russian talking points", a complete lack of accountability for the Democratic Party's brazen election rigging, a total marginalization of real problems and progressive agendas, and an overall diminishment in the intelligence of political discourse. The Russiagaters were wrong, and they have done tremendous damage already.
In a just world, everyone who helped promote this toxic narrative would apologize profusely and spend the rest of their lives being mocked and marginalized. In a world wherein pundits and politicians can sell the public a war which results in the slaughter of a million Iraqis and suffer no consequences of any kind, however, we all know that that isn't going to happen. Russiagate will end not with a bang, but with a series of carefully crafted diversions. The goalposts will be moved, the news churn will shuffle on, the herd will be guided into supporting the next depraved oligarchic agenda, and almost nobody will have the intellectual honesty and courage to say "Hey! Weren't these assholes promising us we'll see Trump dragged off in chains a while back? Whatever happened to that? And why are we all talking about China now?"
But whether they grasp it or not, mainstream liberals have been completely discredited. The mass media outlets which inflicted this obscene psyop upon their audiences deserve to be driven out of business. The establishment which would inflict such intrusive psychological brutalization upon its populace just to advance a few preexisting agendas has proven that it deserves to be opposed on every front and rejected at every turn.
And those of us who have been standing firm and saying this all along deserve to be listened to. We were right. You were wrong. Time to sit down, shut up, stop babbling about Russian bots for ten seconds, and let those who see clearly get a word in edgewise.
*  *  *
Thanks for reading! The best way to get around the internet censors and make sure you see the stuff I publish is to subscribe to the mailing list for my website, which will get you an email notification for everything I publish. My articles are entirely reader-supported, so if you enjoyed this piece please consider sharing it around, liking me on Facebook, following my antics on Twitter, checking out my podcast, throwing some money into my hat on Patreon or Paypal,buying my new book Rogue Nation: Psychonautical Adventures With Caitlin Johnstone, or my previous book Woke: A Field Guide for Utopia Preppers.
Source: caitlinjohnstone.com
All information used from other websites on X22 Report is used for educational/criticism and commentary purposes only.

Fair Use Notice: This video contains some copyrighted material whose use has not been authorized by the copyright owners. We believe that this not-for-profit, educational, and/or criticism or commentary use on the Web constitutes a fair use of the copyrighted material (as provided for in section 107 of the US Copyright Law. If you wish to use this copyrighted material for purposes that go beyond fair use, you must obtain permission from the copyright owner. Fair Use notwithstanding we will immediately comply with any copyright owner who wants their material removed or modified, wants us to link to their web site, or wants us to add their photo.

The "Fair Use" Provisions outlined in Title 17, Chapter 01 Article 107 of the US Copyright Law states the following:

Notwithstanding the provisions of sections 106 and 106A, the fair use of a copyrighted work, INCLUDING SUCH USE BY REPRODUCTION IN COPIES or phonorecords or BY ANY OTHER MEANS specified by that section, for purposes such as criticism, comment, news reporting, teaching (including multiple copies for classroom use), scholarship, or research, is NOT an infringement of copyright. In determining whether the use made of a work in any particular case is a fair use the factors to be considered shall include:

(1) the PURPOSE and CHARACTER of the use, including whether such use is of a commercial nature or is for NON-PROFIT educational purposes;
(2) the NATURE of the copyrighted work;
(3) the amount and substantiality of the portion used in relation to the copyrighted work as a whole; and
(4) THE EFFECT OF THE USE UPON THE POTENTIAL MARKET FOR OR VALUE OF THE COPYRIGHTED WORK.

The fact that a work is unpublished shall not itself bar a finding of fair use if such finding is made upon consideration of all the above factors.