---
Send us your Sentinel Alert to Submit Sentinel Alert:
---
---
Scroll Down To See More News Alerts
06.19.2018 – CA Judge: Twitter Can Be Sued For Falsely Advertising They Allow Free Speech
A California judge has ruled that social media giant Twitter can be sued for falsely advertising free speech. The judge said that Twitter's policy of banning users "at any time, for any reason or for no reason" may constitute an "unconscionable contract" for a company which advertises free speech.
The judge rejected Twitter's motion to dismiss the lawsuit from Jared Taylor, who was banned by the platform in December last year, according to Breitbart.  Taylor, a self-described "white activist" may proceed with his lawsuit against Twitter because the social media company falsely advertises free speech, yet bans users for "any or no reason."  The judge also ruled that Twitter could be sued on the basis of misleading its users, due to the platform's promise not to ban accounts on the basis of viewpoint or political affiliation, which is frequently violated.
"This ruling has massive implications for the platform going forward," said Noah Peters, Jared Taylor's lawyer. "this is the first time that a social media company's argument that it can censor user speech has been rejected by a court."
Taylor describes himself as a "race realist" and has defended white separatism, claiming that races are "not equal", but his attorney says this trial is not about his client's particular views, and that's a correct assessment.  The trial is about Twitter's disallowance of free speech although they use that term to advertise the social media platform.
"Our lawsuit is not about whether Taylor is right or wrong," Peters said in February. "It's about whether Twitter and other technology companies have the right to ban individuals from using their services based on their perceived viewpoints and affiliations."
By now, it should be well understood that the terms "hate facts" and "hate speech" are nothing more than buzzwords used by the left as an excuse to suppress the speech of those with which they disagree.  This is becoming more and more apparent as we devolve quickly toward a fully totalitarian system too.

Breitbart reported that the most high-profile individual to be banned on this basis was Islam critic Tommy Robinson, who received a permanent ban from Twitter after he posted statistics showing that Muslims are vastly overrepresented in child grooming gangs in the UK. Robinson is now taking Twitter to court to prove that "facts are now treated as hate." –SHTFPlan
Twitter employees have also been caught on camera boasting about their actions to keep conservatives and Trump supporters off the platform.  They also, along with YouTube, have scrubbed videos that do not align with the government and mainstream media's "official narrative" with regards to incidents such as the Parkland, Florida school shooting. 
One employee even discussed shadowbanning political accounts, a practice that Twitter has continually denied using.  Another employee claimed that accounts that expressed an interest in "god, guns, and America" were likely to be flagged as "bots." Another employee, Mo Norai, explained that Twitter moderators regularly discriminated against accounts deemed to be pro-Trump.
Twitter's double standards can be seen in the way it handles complaints of abuse against conservatives and individuals linked to conservatives. But it isn't just Twitter who is attempting to censor and suppress free speech. YouTube, Google, and Facebook are on the front lines of the fight for totalitarianism by silencing those with whom they disagree, much like the Nazis of Hitler's regime.
Source: shtfplan.com
06.17.2018 –  America Loses When The Trade War Becomes A Currency War
There has been a longstanding narrative in economic circles that no matter what crisis occurs the U.S. dollar is essentially invincible.  I have never been one to buy into this assumption.
Reason 1: Because I remember distinctly just before the derivatives and credit crisis in 2007/2008 the majority of mainstream economists were so certain that U.S. housing and debt markets were invincible, and they were terribly wrong. Whenever the mainstream financial media are confident of an outcome, expect the opposite to happen.
Reason 2: Because karma has a way of crushing grand illusions. When you proudly declare a Titanic "unsinkable," nature or fate often tests that resolve and finds it wanting.
Reason 3: Because I understand that a primary goal of the internationalist, globalist, anti-sovereignty and New World Order crowd is to diminish U.S. economic performance dramatically, and this includes ending the reserve status and petro-status of the dollar in order to make way for a single global currency unit dictated by a single global economic administrator.
Mindless blind faith in the dollar (and U.S. treasury debt) seems to switch sides politically according to whose narrative it best suits. During the Obama administration, conservatives and Republicans witnessed unprecedented fiat currency creation and dollar devaluation by the Federal Reserve and rightly drew the conclusion that this would eventually trigger a currency crisis as various systems absorb and then regurgitate all these dollars back into the U.S. We saw the biggest foreign trading partners of the U.S. launching bilateral trade agreements that cut out the dollar as the reserve currency, and we witnessed many foreign creditors questioning the viability of U.S. debt.
Only a couple of years ago, conservatives were warning of potential disaster for the dollar caused by the bailouts and unchecked stimulus programs while leftists were staunchly defending the dollar as an immortal golden goose. Today, the roles appear to be switching, as many conservatives now defend "king dollar" in the wake of a Trump presidency, and adopt numerous arguments once reserved for ignorant lefty commentators.
One question that needs to be addressed is how long the current trade war will last? Some people claim that economic hostilities will be short-lived, that foreign trading partners will quickly capitulate to the Trump administration's demands and that any retaliation against tariffs will be meager and inconsequential. If this is the case and the trade war moves quickly, then I would agree — very little damage will be done to the U.S. economy beyond what has already been done by the Federal Reserve.
However, what if it doesn't end quickly? What if the trade war drags on for the rest of Trump's first term? What if it bleeds over into a second term or into the regime of a new president in 2020? This is exactly what I expect to happen, and the reason why I predict this will be the case rests on the opportunities such a drawn out trade war will provide for the globalists.
In my article World War III Will Be An Economic War, I reiterated my longstanding view that there is indeed a global war brewing between major powers, but that this war will be fought primarily with financial weapons, not nukes. I also summarized my position that this war will be engineered by globalists deliberately to provide cover for something they call the "great economic reset."
With Trump's cabinet currently loaded with banking elites and neoconservatives with ties to institutions like Goldman Sachs and the Council On Foreign Relations, institutions notorious for promoting one-world economic and political programs, it seems to me that the worst case scenario for the U.S. could easily be staged. If the goal is to kill the dollar's reserve status, then the trade war will be purposely prolonged.
The next question that needs to be addressed is how is the dollar actually vulnerable to destabilization?
Pro-dollar cheerleaders will say that the dollar is in high demand, with countries like India begging the Fed to stop balance sheet cuts for fear that this will reduce the amount of dollars and dollar denominated assets in circulation in emerging markets.
I see this as a gross misinterpretation of what India and others are warning about. Interestingly, foreign central banks are now sounding an alarm many of us in the alternative economic field have been sounding for years. When India's Reserve Bank Governor, Urjit Patel, writes about the danger of speedy balance sheet cuts by the Fed causing a liquidity crisis in global markets, this is not necessarily a declaration that India has a insatiable desire for more dollars. What it is a declaration of is the fact that the global economy is weakened by its dependency on the dollar as the primary international trade mechanism.
When I see India complaining about the frailties in dollar liquidity caused by Fed balance sheet reductions, I don't interpret that as them saying "go king dollar!" I interpret that as India coming to the realization that they are going to have to adopt other alternatives to the dollar, and they are going to have to do this quickly.
Emerging markets and much of the world have been propped up for the better part of a decade through Federal Reserve stimulus measures, from direct bailouts to near zero interest rate loans to asset purchases to outright stock market manipulation. The dollar has become a drug easing the pain of economic downturn, and many nations are addicted.
So what happens when the drug dealer, for whatever reason, suddenly stops providing the drug? The addict is going to look elsewhere for a fix.
The Fed is NOT going to stop its balance sheet cuts, and it's not going to stop interest rate hikes. Not with the current discussion on "inflation dangers." This will ultimately cause declines in various markets including equities, and I believe these declines will accelerate by the end of 2018. Meaning, liquidity in foreign trade and markets will have to be facilitated by other sources, such as the International Monetary Fund's (IMF) basket currency system, or the application of a new global cryptocurrency system, which the IMF has been avidly studying.
The IMF has even been singing the praises of cryptocurrencies recently, even depicting them as the next stage in human evolution and perpetuation the lie that crypto is "anonymous."
The dollar is vulnerable to destabilization by the very institutions and elitists that created it in the first place, and these people are seeking something much bigger than king dollar. The problem is, the globalists cannot implement such a vast "reset" in the economy without a considerable distraction. Enter Trump's trade war…
I have been outlining the reality behind dollar weakness for quite some time. Rehashing the facts over and over again becomes tiresome but is unfortunately necessary, because there is always some new contingent of the public that falls into the trap of dollar worship. So, let's do this one more time.
First, the dollar is NOT backed by U.S. military might. The U.S. military can barely manage its concerns in the Middle East, let alone take on nations like Russia or China in an attempt to force them to keep investing in U.S. treasury debt or retain the dollar as world reserve. If these countries drop the dollar, there is nothing the U.S. can do. Anyone who makes the dollar-by-military argument should not be taken seriously.
Second, while the dollar is in demand now, this is only because the current system has been propped up by endless Federal Reserve stimulus.  If the Fed continues to cut assets and raise interest rates, then emerging markets and others will look elsewhere for support. The dollar is only valuable to global markets so long as the Fed continues to provide a perpetual supply of liquidity. Economies are fickle, and welfare recipients are even more so. Stop giving people free goodies and they will abandon you angrily.
Major foreign economies like China and parts of Europe have been adopting bilateral trade relations for some time. Rather than intimidating these countries into capitulation, a trade war on the part of the U.S. is far more likely to drive them more closely together. Germany and China in particular have been establishing strong trade ties, and OPEC nations have been much cozier with the East. The idea that the U.S. is somehow a linchpin to the entire global economy is a lie. The world can and will organize trade avenues without us if pushed. In fact, this seems to be the plan.
The U.S. has only two major points of leverage in a trade war. First, the U.S. dollar's world reserve status, which I have already addressed as not a point of leverage at all unless the Fed continues stimulus indefinitely. Second, the U.S. consumer.
U.S. consumers and corporate buyers are sitting at historically high debt levels. In fact, their debt levels are higher than they were just before the crash of 2008. As the Fed continues to raise interest rates, this debt will become unsustainable and something will have to give. For corporations, this means job cuts and wage reductions. For consumers this means cuts to household spending. U.S. consumers are only a point of leverage in a trade war so long as they continue to consume at ever expanding rates. If we suffer another crash similar to 2008, foreign creditors will see this as a lack of incentive to continue placating the U.S.
Without a massive resurrection of American manufacturing and production, we enter into a trade war with little ammunition because we remain dependent on foreign production and goods, while other nations like China can easily expand into alternative markets and retain their own production capabilities. Trump could have launched a new renaissance of production in the U.S. if he had given corporations incentive to bring manufacturing back home. Instead, he gave them a sizeable tax cut without asking for anything in return. Those tax cuts, instead of creating jobs or luring factories back to the U.S., have instead been spent where we all knew they would be spent — on stock buybacks to prop up a flailing equities market.
The longer the trade war continues, the more other countries will consider the "nuclear option" of dumping the dollar as world reserve, or dumping U.S. debt. In my view, this is exactly what the globalists want. Trump bumbles into a trade war and is blamed for a crisis in the dollar as well as a crash in stock markets, while the banking elites introduce their new world order reset as a solution. In this case, I think the worst case scenario is the intended scenario.
Source: alt-market.com
06.14.2018 – Here We Go Again: Our Double-Bubble Economy
The bubbles in assets are supported by the invisible bubble in greed, euphoria and credulity.
Well, folks, here we go again: we have a double-bubble economy in housing and stocks, and a third difficult-to-chart bubble in greed, euphoria and credulity.
Feast your eyes on Housing Bubble #2, a.k.a. the Echo Bubble: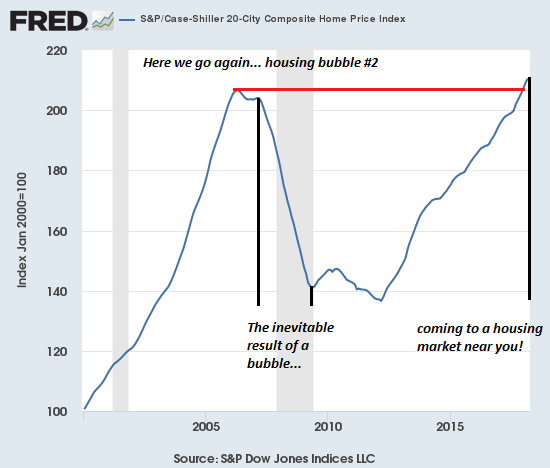 Here's the S&P 500 stock index (SPX): no bubble here, we're told, just a typical 9-year long Bull Market that has soared from a low in 2009 of 666 to a recent high of 2802 in January of this year: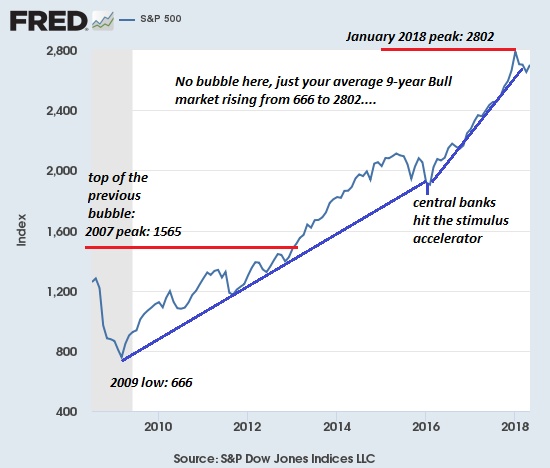 Here's a view of the same bubble in the Dow Jones Industrial Average (DJIA):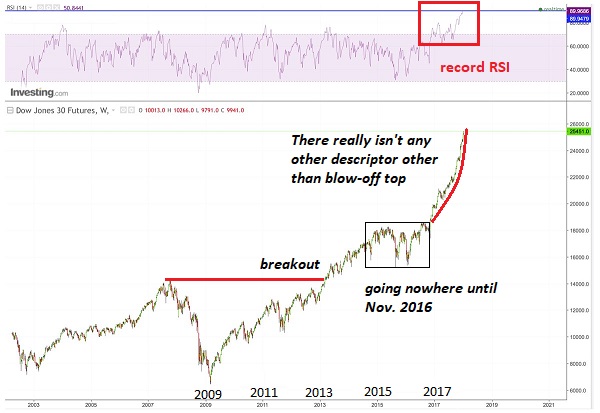 Is anyone actually dumb enough not to recognize these are bubbles? Of course not. Those proclaiming that "these bubbles are not bubbles" know full well they're bubbles, but their livelihoods depend on public denial of this reality.
And so we're inundated with justifications of bubble valuations, neatly bound with statistical mumbo-jumbo: forward earnings (better every day in every way!), P-E expansion, and all the rest of the usual blather that's spewed by status quo commentators and fund managers at the top of every bubble.
The problem with bubbles is they always pop. The market runs out of Greater Fools and/or creditworthy borrowers, and so sellers overwhelm the thinning ranks of buyers.
Those dancing euphorically, expecting the music will never stop, are caught off guard (despite their confidence that they are far too clever to be caught by surprise), and the panic-driven crowd clogs the narrow exit, leaving a ballroom of bag-holders to absorb the losses.
The other problem with bubbles is that we've become dependent on them as props holding up a rotten, corrupt status quo. Since the economy can no longer generate sufficient prosperity to go around via actual increases in productivity and efficiency, those skimming most of the gains rely on "the wealth effect" generated by expanding asset bubbles to create a dreamy illusion of prosperity.
Here's the third consequence of bubbles: the gains flow to the very top of the wealth-power pyramid: there is no other possible output of the bubble, since roughly 80% of all assets are owned by the top tier of households, and the majority of financial assets are owned by the top .1% (one-tenth of one percent).
Since only owners of assets reap gains from asset bubbles, only those who own assets benefit. That leaves out the bottom 90%, and if we're honest with ourselves (now verboten), the bottom 99.9%, despite the heady illusion at the apex of the bubble (i.e. the present housing and stock markets).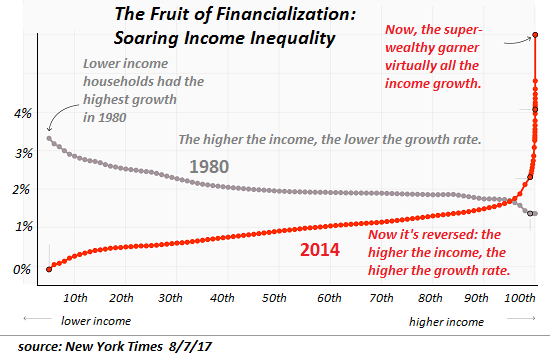 The bubbles in assets are supported by the invisible bubble in greed, euphoria and credulity. We believe what we believe will make us rich, what feeds our euphoric confidence that the bubble-music will never stop and our credulity that bubbles which we know will pop will not pop until we've safely cashed out.
Source: oftwominds.com
06.12.2018 – Trump Suspends Joint "War Games" With South Korea, As China Emerges Big Summit Winner
While Trump was quick to take a victory lap after signing a non-binding letter (of intent) with North Korea's leader Kim Jong Un to implement the dunclearization of North Korea, several questions have emerged among which:
the lack of deal enforcement
the lack of verifiability of N.Korea's denuclearization efforts as part of the "Complete, Verifiable, Irreversible  Denuclearization" or CVID protocol
the legitimization of North Korea's regime
China's role in the process
the end of joint military drills with South Korea.
While Trump's response to most critics was that the process is just starting and that it will take time to denuclearize, where Trump will see the greatest amount of pushback is on the last bullet point. Speaking in an interview with George Stephanopoulos shortly after the one-on-one with Kim, when asked if there was talk of pulling U.S. troops out of South Korea, Trump said the topic didn't come up, however he said the following:
"We didn't discuss that, no. We're not going to play the war games… I thought they were very provocative. I also they're also very expensive."
In his press conference after the summit, Trump reiterated that the US would halt joint war games with South Korea, as Pyongyang has agreed to destroy a "major" missile testing site.
"We will be stopping the war games," Trump said Tuesday during a news conference after four hours of meetings in Singapore with the North Korean leader. He offered no specifics about which exercises would be affected,.
According to Bloomberg, Trump's announcement came as a surprise to the South Korean government.
"At this point, we need to know President Trump's exact meaning or intentions," according to a statement released by the office of South Korean President Moon Jae-in. "However we think that it is crucial to pursue various solutions for better dialogue."
Pressed on what the United States gets in exchange for halting the military exercises, Trump said "we haven't given up anything."
"At some point," Trump said, "I want to bring our soldiers home. But that's not part of the equation right now."
* * *
This is where Trump will get much pushback because in its commentary on Trump and Kim, Beijing said that this is "precisely that goal that China had always sought and worked hard for, and that as part of the final agreement, China also includes withdrawal of US troops from the Korean Peninsula, elimination of US-ROK military exercises, and dismantlement of US-ROK joint missile defense systems.
China also includes withdrawal of US troops from the Korean Peninsula, elimination of US-ROK military exercises, and dismantlement of US-ROK joint missile defense systems.
I wonder which side gave #China advance notice that the regular joint #USA #SouthKorea military exercises were going to be cancelled? KimJong-un camp or DonaldTrump camp? Would love to know what the Pentagon & the generals in Seoul think of this. Big concession to #NorthKorea. https://t.co/am2AYg9ndh

— Stephen McDonell (@StephenMcDonell) June 12, 2018
China on Trump and Kim… pic.twitter.com/8gQqlqNoDQ

— Stephen McDonell (@StephenMcDonell) June 12, 2018
In other words, one could frame the summit as a victory for China which will soon see US presence in South Korea depart gradually (the same China which also carefully made its national interest clear when it brought Kim to Singapore).
Trump's take is that he knows "for a fact" that Kim is going to "start a process" when returns home that will "make a lot of people very happy and very safe."
And finally, there was another question mark: Trump and Kim capped off their summit Singapore by signing a statement committing the United States to unspecified "security guarantees" for Pyongyang in exchange for a denuclearized Korean peninsula.
"President Trump committed to provide security guarantees to [North Korea], and Chairman Kim Jong Un reaffirmed his firm and unwavering commitment to the complete denuclearization of the Korean peninsula," the statement said.
It remains unclear what these "guarantees" are.
Going back to the Stephanopoulos interview, the ABC anchor asked how Trump could trust the brutal dictator.
"I do trust him," Trump said. "Maybe in a year you'll be interviewing and I'll say I made a mistake. It's possible. We're dealing at a high level, a lot of things can change a lot of things are possible."
He pressed the president on his previous criticism of North Korea's human rights abuses including starving his people, running labor camps and assassinating members of his own family.
"George, I'm given what I'm given," Trump said. "This is what we have, this is where we are, and I can only tell you from my experience, and I've met him, I've spoken with him. I've met him. And this is, this has started early and it's been very intense. I think that he really wants to do a great job for North Korea. I think he wants to de-nuke, without that, there's nothing to discuss. It was on the table from the beginning, and you see a total denuclearization of North Korea – so important.
Trump added that he believes the North Korean leader "wants to do the right thing".
"Now, what it is I can't talk about – it doesn't matter," Trump said. "We're starting from scratch. We're starting right now, and we have to get rid of those nuclear weapons."
"We have the framework for getting ready to denuclearize," Trump said.
"He's de-nuking the whole place. I think he's going to start now. "Over my lifetime I've done a lot of deals with a lot of people and sometimes the people you most distrust turn out to be the most honorable ones and the people that you do trust turn out to be not the honorable ones," Trump said.
"I believe he wants to get it done."
It remains to be seen if the biggest "deal" of Trump's lifetime will also be his biggest blunder.
Didn't think the Rodman on CNN video could be topped. I was wrong. pic.twitter.com/J7uUBxlni3

— Rita Panahi (@RitaPanahi) June 12, 2018
Source: zerohedge.com
06.09.2018 – The Politics of Pretense: The Status Quo Is the Problem, But It Can't Be Touched
Ultimately, all doomed ruling elites face the same problem: there isn't enough money to fund their take and fuel the vast machinery of power.
The politics of the U.S. boils down to one sustained pretense: politicians win votes by promising to fix problems that are the direct result of our bloated, corrupt, unsustainable Status Quo, yet they fund their campaigns by promising insiders and self-serving elites that they won't touch their Status Quo gravy trains, power and privilege.
This is of course the politics of collapse: by protecting the entrenched, self-serving elites at the top of the wealth-power pyramid, including the political class itself, the political class is condemning the Status Quo to systemic implosion.
The political class is the handmaiden of a Status Quo that is doing everything in its formidable power to fend off any change that threatens its privileged-insiders-plunder. In effect, the political class is doing what's it been paid (via tens of millions of dollars in campaign contributions) to do: protect the Status Quo by any and all means available.
Throughout history, the ruling Status Quo self-destructs by refusing to adapt to changing circumstances. The real world is not static, but those in power are so thoroughly soaked in hubris and the delusions of power that they focus not on painful adaptation but on maximizing and protecting their self-aggrandizement.
Ultimately, all doomed ruling elites face the same problem: there isn't enough money to fund their take and fuel the vast machinery of power. Their solution is always the same: rather than make painful sacrifices to reduce their skim, they "print money" by one means or another: reduce the silver content of coinage, issue paper money, issue "stimulus" via central banks, and so on.
This self-serving mechanism hollows out and corrupts the economy, which consequently becomes increasingly fragile. The system's resilience (its buffers and ability to respond quickly and effectively to crises) erodes to near-zero, and one crisis or another that would have been handled in the past brings down the entire rotten edifice.
Here's the two-party system stripped to its essentials: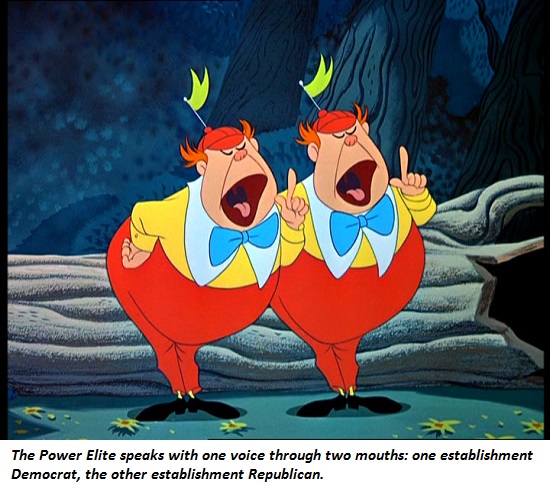 Here's our "leadership class" displaying their self-serving "leadership skills":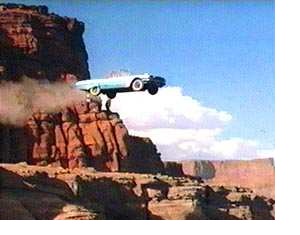 As the saying goes, follow the money:
Philanthro-crony-capitalism is a favored pretense of self-serving elites: things can go south when the plunder reaches extremes, of course….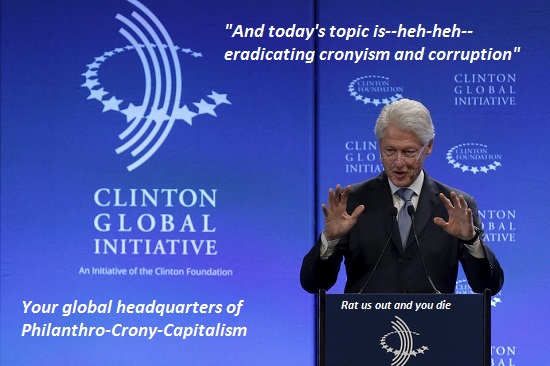 So keep this in mind when voting in this year's elections: you'll be promised "change" but real change is impossible because the real priority is preserving a self-serving, corrupt, bloated and unsustainable Status Quo by any means available.
You'll be told what you want to hear: the problems will all be fixed within the existing Status Quo. But the existing Status Quo is the source of the problems. Pretense feeds delusion which guarantees collapse.
As a reminder of how systems become fragile and collapse: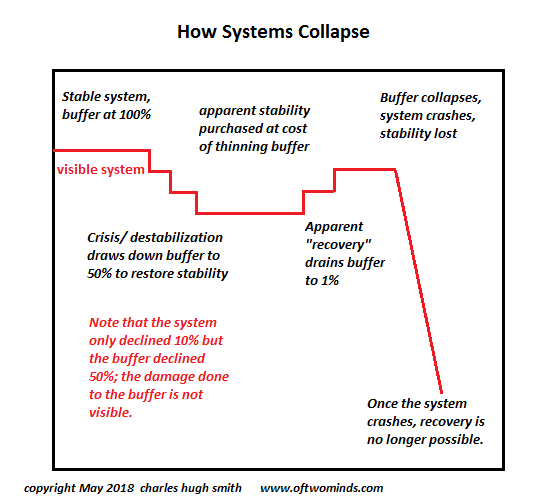 Source: oftwominds.com
06.06.2018 –  The Three Crises That Will Synchronize a Global Meltdown by 2025
We're going to get a synchronized global dynamic, but it won't be "growth" and stability, it will be DeGrowth and instability.
To understand the synchronized global meltdown that is on tap for the 2021-2025 period, we must first stipulate the relationship of "money" to energy: "money" is nothing more than a claim on future energy. If there's no energy available to fuel the global economy, "money" will have little value.
The conventional economists assure us that energy is now a small part of the overall economy, so fluctuations in energy prices will have a limited effect on global prosperity. But what's left of global prosperity when energy is unable to meet current demand at any price that consumers can afford?
The current "economic understanding" of energy and "money" is an artifact of a unique period of cheap, abundant fossil fuels. It is an article of faith in economics that energy will always become cheaper and more abundant as the pixie-dust of technology is irreversible. By the time fossil fuels become scarce many decades hence, we'll all have cold-fusion generators, or micro-nuclear power plants or nearly free electricity from solar panels, and so on.
This is of course complete rubbish. To scale up any energy source to replace fossil fuels will require decades and tens of trillions of dollars in capital investment. In other words, energy development is a financial dynamic. Technology is only the first small piece of a much larger puzzle.
This becomes clear when we ponder the unwelcome reality that the fracking miracle has resulted in $250 billion in losses. You mean all those companies lost money exploiting the miracle technologies of fracking?
My point is profits are not guaranteed in any industry that requires trillions in new investment before it earns a positive return. The financial graveyard is littered with the carcasses of costly energy technologies that were supposed to "save industrial civilization" with some new clean source of essentially limitless energy.
Conventional economists also tend to overlook the impact of rising domestic consumption of oil exporting nations. A funny thing happens when domestic demand rises with population and prosperity; the exporting nation may pump the same quantity of oil, but there's no longer much left to export.
Then there's the fantasy that governments can't go broke because they can always print as much money as they need. Venezuela proves this is correct, right? Oops, sorry: Venezuela proved that this faith in the power of the central bank/government printing press is rubbish.
You can't print more oil. You can print more future claims on oil (i.e. "money"), but all that does is devalue the existing stock of "money." Print enough "money" and all your "money" loses its purchasing power.
Inflation has a peculiar feature: printing more "money" doesn't solve the decline in purchasing power of inflation, it accelerates the decline in purchasing power. The mainstream has grown accustomed to the fantasy that all financial difficulties can be solved by central banks creating more credit / "money." But when inflation in real-world essentials like energy kicks in, expanding the pool of "money" and credit won't solve the supply-demand imbalance–it will only devalue the purchasing power of all existing "money," impoverishing everyone holding "money."
The third crisis is governance: around the world, regardless of the ideology or form of governance, the quality and legitimacy of governance is crumbling. Ruling Elites are doing everything they can to keep the privileged-insiders-plundering status quo intact, but the Elites' policies are hollowing out their economies and weakening the buffers supporting increasingly fragile civil societies.
The financial, energy and governance buffers will all start collapsing in a global synchronized meltdown in the 2021 – 2025 period. Why synchronized? Because the global financial and energy markets are one system. Once the system's buffers collapse, everyone dependent on trade, global finance and energy will collapse in a domino effect that will start with the weakest periphery nations. No nation or empire will be immune, as all the major powers rely on "money" with phantom value and energy that can't be printed by central banks.
Here's my diagram of how buffers weaken beneath the phony facade of "endless prosperity":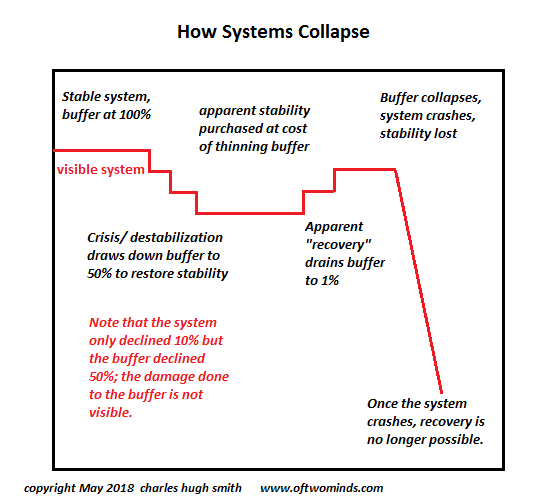 Venezuela's "money" exemplifies the future of all "money,", including the euro, yen, yuan/RMB and the U.S. dollar. There is nothing inherently permanent or valuable in "money" printed by central banks or governments; they are nothing but fast-accumulating claims on a diminishing supply of future energy.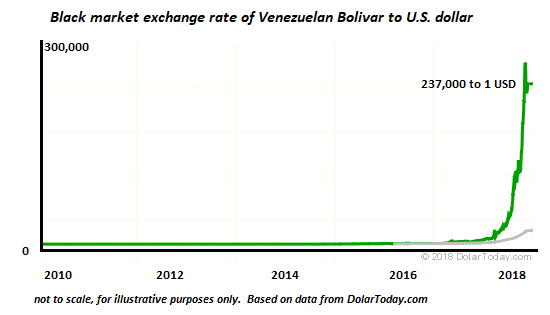 We're going to get a synchronized global dynamic, but it won't be "growth" and stability, it will be DeGrowth and instability. The harsh realities of energy, "money" and mis-governance will come home to roost, and all the fantasies that technology and central banks printing "money" will save us will dissolve into thin air.
Source: oftwominds.com
06.04.2018 – History Is Clear, Central Banks Fail To Assure Economic Stability
The world has been plagued with periodic bouts of the economic rollercoaster of booms and busts, inflations and recessions, especially during the last one hundred years. The main culprits responsible for these destabilizing and disruptive episodes have been governments and their central banks. They have monopolized the control of their respective nation's monetary and banking systems, and mismanaged them. There is really nowhere else to point other than in their direction.
Yet, to listen to some prominent and respected writers on these matters, government has been the stabilizer and free markets have been the disturber of economic order. A recent instance of this line of reasoning is a short article by Robert Skidelsky on "Why Reinvent the Monetary Wheel?" Dr. Skidelsky is the noted author of a three-volume biography of John Maynard Keynes and a leading voice on public policy issues in Great Britain.
Skidelsky: Central Banking Equals Stable Prices and Markets
He argues against those who wish to denationalize and privatize money and the monetary system. That is, he criticizes those who want to take control of money and monetary affairs out of the hands of the government, and, instead, put money and the monetary order back into the competitive, private market. He opposes those who wish to separate money from the State.
Skidelsky sees the proponents of Bitcoin and other "cryptocurrences" as "quacks and cranks." He says that behind any privatization of the monetary system reflected in these potential forms of electronic money may be seen "the more sordid motives" of "Friedrich Hayek's dream of a free market in money." The famous Austrian economist had published a monograph in 1976 on theDenationalization of Money, in which Hayek insisted that governments have been the primary cause behind currency debasements and paper money inflations through the centuries up to our own times. And this could not be brought to an end without getting government out of the money controlling and the money-creating business.
In Skidelsky's view, any such institutional change would be a disaster. As far as he is concerned, "human societies have discovered no better way to keep the value of money roughly constant than by relying on central banks to exercise control of its issue and to act directly or indirectly on the volume of credit created by the commercial banking system."
Robert Skidelsky is a highly regarded scholar and is knowledgeable about many of the important political and economic ideas and events of the twentieth century, about which he has often written. But one cannot help wondering if his views of central banks and the governments behind them over the last one hundred years don't concern life on some other planet; because they do not reflect the reality of monetary systems and government management of them on Planet Earth.
The Pre-World War I Gold Standard
The twentieth century began with all the major nations of the world having monetary systems based on a gold standard. Gold was money, the medium of exchange through which goods and services were bought and sold, and by which the savings of some were transferred to the hands of interested and credit-worthy borrowers for investment purposes through the intermediation of banks and other similar financial institutions. There were money-substitutes in the form of banknotes and checking accounts to ease the inconveniences and transaction costs of using metal coins and bullion in many everyday exchanges. But they were recognized and viewed as claims to the "real money," that is, specie money.
Yes, this was, in general, a central banking managed gold standard. And the gold standard "rules of the game" were not always followed, the essential general principle of which being that banknotes and deposit accounts should only increase for the banking system as a whole when there were net increases in the quantity of gold deposited in bank accounts, for which new banknotes would be issued as additional claims to that greater quantity of gold-money. And vice versa, if there was a net outflow of gold from the banking system due to banknotes being returned to the issuers for gold redemption, then the net amount of those banknotes in circulation was to be reduced.
Though this core "rule" of the gold standard was not always rigidly followed by national central banks, the consequence of which were occasional financial crises and "panics," the system worked amazingly smoothly, in general and on the whole, in providing a relatively stable monetary environment to foster and assist domestic and international trade, commerce and global investment. When the monetary system did periodically suffer disruptions, the mismanaging hand of the government and their central banks could usually be seen as the primary, or certainly a leading, cause behind it.
Monetary Madness During and After World War I
This came to an end with the coming of the First World War in 1914. All the belligerent nations in Europe went off the gold standard, with banknotes and other bank accounts no longer legally redeemable in gold. Governments used various direct and indirect methods to have their central banks finance growing amounts of loans in the form of created quantities of paper money to cover the costs of their, respective, war expenditures. To use British economist, Edwin Cannan's, somewhat colorful mode of expression concerning the currency situation of his own country, Great Britain was soon suffering from a "diarrhea" of paper money to feed the cost of the British war machine.
This culminated in the catastrophic hyperinflations that gripped many countries on the European continent in the years immediately following the end of the First World War in 1918. The worst of such instances were experienced in countries like Germany and Austria. Especially in Germany, the paper money had become virtually worthless by the time the hyperinflation was ended in November 1923, by shutting down the money printing presses and introducing a new currency promised to be linked to gold.
However, the new postwar monetary systems that one country after another attempted to introduce were not like the gold standard that has existed before the war. Nominally, currencies were linked to gold at new official redemption rates of so many banknotes in exchange for a unit of gold. But gold coins rarely circulated in daily transactions, as had often been the case before 1914; gold was redeemable only in larger quantities of bullion (gold bars); and few countries kept significant quantities of gold on deposit in their own central bank vaults any more. (See my articles, "War, Big Government, and Lost Freedom," and "Lessons from the Great Austrian Inflation".)
The Federal Reserve and the Coming of the Great Depression
The short-lived return to seeming economic "normalcy" with growth and stability in the mid and late 1920s, however, came to an end with the American stock market crash of October 1929, which began to snowball into the "Great Depression" in 1930 and 1931. But why had this happened? In the United States, a major cause was the Federal Reserve's attempt to "stabilize" the general price level at a time of economic growth and productivity gains that otherwise would have likely brought about a slowly falling general price level reflecting greater outputs of goods and services produced at decreasing costs that would have enabled an increasing number of those goods to be sold at lower prices. In other words, what has sometimes been called a "good deflation." That is, rising standards of living through a falling cost of living, which need not be detrimental to the profitability of many firms since their ability to sell at lower prices is due to their ability to produce more at lower costs of production.
The Federal Reserve's "activist" monetary policy to counteract this "good" deflationary process in the name of price level stabilization required an increase in the supply of money and credit in the banking system that pushed interest rates below market-determined levels and therefore brought about an imbalance and distortion between savings and investment in the American economy. When the Federal Reserve cut back on monetary expansion in 1928 and early 1929, the stage was set for a collapse of the unsustainable investment house of cards created by investment patterns out of sync with the real savings in the economy to sustain them.
What might have been a relatively short, "normal" recession and recovery process was disrupted first by the fiscal and regulatory policies of the Herbert Hoover Administration (including a trade-killing increase in U.S. tariffs that soon brought about retaliation by other countries). The was magnified to a degree never seen before in American history with the coming of Franklin Roosevelt's presidency and the New Deal in 1933: the imposition of a fascist-type system of economic planning in industry and agricultural; increases in taxes far exceeded by massive growths in government spending through budget deficits for "public works" and relate federal projects that increased the national debt; the abandonment of what nominally still remained of the gold standard, followed by foreign exchange instability and paper money expansion.
Matching this were wage and price rigidities due to trade union resistance to money wage adjustments in a post-boom environment, and goods prices frozen due to the regulations of the fascist-modeled National Recovery Administration (NRA); there was also a downward spiral in international trade resulting from the revival of global protectionism; and there was a monetary contraction exacerbated by a fractional reserve system built into the workings of the Federal Reserve that set off a multiplicative decrease in money and credit inside and outside the banking system as bank loans went bad and depositors "panicked" leading to bank runs. All this brought about the tragedy of the Great Depression, which dragged on through most of the 1930s.
How the disruptive inflations during and immediately after the First World War, or the misguided monetary policies of the 1920s which led to the Great Depression whose severity was due to Federal Reserve mismanagement and anti-market government interventions and controls can be laid at the feet of the "free market," as Skidelsky asserts, is beyond me.
Post-World War II Monetary and Government Mismanagements
But, perhaps, he means the more "enlightened" central banking policies of the leading nations of the world in the post-World War II period. The immediate years after 1945 saw "dollar shortages" due to government manipulation of foreign exchange rates, experiments in nationalization of industries, forms of "soft" planning, periodic currency crises, and often misguided fiscal policies. Does Mr. Skidelsky not remember how in the 1960s Great Britain was considered the "sick man" of Europe due to government fiscal, monetary, and regulatory policies; or the Lira crises in an Italy that seemed to have a new government every other week? Is all this to be put at the doorstep of the "free market"?
What about the era of "stagflation" in the 1970s, with its seeming anomaly of both rising prices and increasing unemployment that so confused the Keynesian establishment of the time? In America this had been set off by the Federal Reserve's accommodation starting in the 1960s to create the money to finance the "guns and butter" of the Vietnam War and LBJ's "Great Society" programs. Was it not the wise and trustworthy hands of the Federal Reserve Board of Governors whose monetary policies created in the late 1970s and early 1980s one of the worst price inflations experienced in American history, with nominal interest rates in the double-digit range?  Another "win," clearly, for the steady monetary central planning of the Federal Reserve!
What about the high-tech bubble of the late 1990s that went bust, or the recent financial and housing crash of 2008-2009 What had caused them? Alan Greenspan – the central banking "maestro" – set the stage for these with his "anti-deflation" policies at a time when prices were not falling, but which created unsustainable savings-investment imbalances not much different than the disastrous monetary policy followed by the Federal Reserve in the 1920s.
Under the additional guiding hand of Ben Bernanke at the Federal Reserve, interest rates between 2003 and 2008 in real terms were zero or negative; and government housing agencies subsidized tens of billions of dollars in home loans to uncredit-worthy borrowers made possible though monetary expansion and artificially low-cost lending backed with government guaranteed mortgage assurances. Was this all the fault of the "free market"? No. The fingerprints of the Federal Reserve and the agencies of the Federal government are all over this "economic crime."
Government's Hand Off the Monetary Printing Press
Yet, according to Robert Skidelsky it is the free market that cannot be trusted to competitively and privately integrate and coordinate the monetary system. How much worse of a track record could a private, competitive banking system create, compared to the monetary disasters of the last one hundred years under the control of central banks, including the American Federal Reserve?
It is not a matter of whether or not Bitcoin or other forms of cryptocurrencies end up being the market-chosen money or monies of the future. What is the fundamental issue is: monetary central planning – with its embarrassingly awful one hundred year track record with paper monies – or getting government's direct or indirect hand off the handle of the monetary printing press.
Governments cannot be trusted with this power and authority, whether it is done directly by them, or through their appointed central banks. Back in 1986, Milton Friedman delivered the presidential address at the Western Economic Association. He declared that after decades of advocating a "monetary rule," that is, a steady or "automatic" two or three percent annual increase in the supply of money in place of a more discretionary Keynesian approach, he had concluded that it was all spitting into the wind. Public Choice theory – the application of economic reasoning to analyze the workings of the political process – had persuaded him that the short-run self-interests of politicians, bureaucrats and special interest groups would always supersede the goal of long-run monetary stability, with the accompanying pressures on those in charge of even presumably "independent" central banks.
In this article and others written by him around the same time, Friedman never went as far as calling for the abolition of the Federal Reserve or a return to a gold standard. But he did say that, in retrospect, looking over the monetary history of the twentieth century, it would have been better to never have had a Federal Reserve or to have gone off the gold standard. The traditional criticisms of the costs of a gold standard, he said – mining, minting, storing the gold away, when the resources that went into all this could have been more productively been used in other ways – paled into almost insignificance compared to the costs that paper money inflations and resulting recessions and depressions had burdened society.
Skidelsky's Straw Man and Evasions
Robert Skidelsky creates a straw man when he tries to put fear into people about unregulated cryptocurrencies threatening the monetary and price stability of the world. He cannot even get his argument completely straight. On the one hand, he says that Bitcoin has an eventual built-in limit on how much of it might be mined; and he warns that a Bitcoin money, then, would reach an maximum that would not have the "elasticity" to meet growing monetary needs of the future. And in the next breath he warns that a Bitcoin-like currency might not have a built-in check against inflation.  Well, which is it: the danger of Bitcoin price deflation or Bitcoin price inflation?
There has emerged during the last three decades an extensive and detailed literature about the possibilities and potentials of a private, competitive free banking system. The economists who have devoted themselves to serious analysis and exposition of such as a free banking system, people such as Lawrence H. White, George Selgin, and Kevin Dowd, to merely name three of the more prominent ones, have demonstrated that a market-based commodity money and a fully market-based banking system would successfully operate with greater coordinating ability and with far less likelihood of any of the monetary and price instability experienced under central banking over the last one hundred years.
It is unfortunate that a scholar usually as careful and thorough as Robert Skidelsky has chosen to downplay the historical reality of the failure of central banking, and not grapple with the serious and real literature on the private competitive free banking alternative.
Source: fff.org/explore-freedom
06.03.2018 – Does Anyone Else See a Giant Bear Flag in the S&P 500?
We all know the game is rigged, but strange things occasionally upset the "easy money bet."
"Reality" is in the eye of the beholder, especially when it comes to technical analysis and economic tea leaves. It seems most stock market soothsayers are seeing a breakout of the downtrend that erupted in early February, and so the path to new all-time highs is clear.
Does anyone else see a giant bear flag pattern in the daily chart of the S&P 500? Maybe I'm the only one who sees a bearish signal instead of a bullish breakout.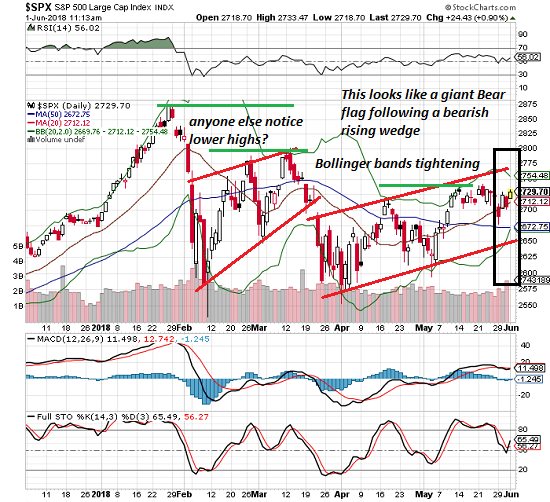 What I see post-mini-crash is a bearish rising wedge which broke to the downside as rising wedges are wont to do.
What followed the rising wedge? A bear flag. As the name implies, Bear Flags are, well, bearish; they tend to break lower in a continuation of trend. The consensus of soothsayers seems to be that the trend is still bullish. I guess I'm the only one who sees lower highs since late January, something that doesn't strike me as evidence of a bullish trend, the definition of which is higher highs.
Having treaded water for the better part of the month, the Bollinger bands are now tightening, a condition that typically presages a major move up or down.
If the consensus is correct and the technical snapshot is 100% bullish (breakout, up-trend, etc.) then the next big move will be to the upside. Plummeting volatility (VIX) suggests the majority of punters are in the 100% bullish-signals camp.
If the tin-foil hat outlier (me) who sees a big fat bear flag is correct, the next big move will "surprise to the downside."
Meanwhile, a smaller camp of soothsayers expects a trendless chopfest, i.e. a continuation of May's up and down action within a tight trading range.
The roulette wheel is still spinning, so place your bets. We all know the game is rigged, but strange things occasionally upset the "easy money bet."
Source: oftwominds.com
06.01.2018 –  Why Is The Mainstream Media Suddenly Buzzing About "Another Global Financial Crisis"?
All of a sudden, the mainstream media is starting to sound a lot like The Economic Collapse Blog.  Throughout the Obama years, the mainstream media in the United States always seemed extremely hesitant to suggest that difficult economic times may be ahead, but now talk of "another global financial crisis" seems to be all over the place.  Is this because they truly believe that one is coming, or is it just another angle that they can use to attack Donald Trump?  In any event, it is undeniable that evidence is mounting that big trouble could be right around the corner.  European financial markets are already in meltdown mode, a major international trade war has just erupted, the worst "retail apocalypse" in modern U.S. history is accelerating, and our debt problems continue to grow with each passing day.  Normally the mainstream news is much more subdued than I am about all of this stuff, and so I was very surprised to see reporter James Pethokoukis come out with an article entitled "Here comes another global financial crisis"…
Investors are increasingly worried that an escalating political crisis in Italy could lead to a populist, euroskeptic government taking power. As a result, there's rising uncertainty about whether the country might eventually abandon the euro currency zone or default on its giant debt pile. To make things worse, the Trump administration continues to toy with the idea of a trade war with Europe and China. That would be the last thing the global economy would need if the Italian situation deteriorates further. Debt crises and trade wars are a toxic combination.
And remember, this comes just days after George Soros ominously declared that "we may be heading into another major financial crisis."
So what has changed?
Certainly, what is happening in Italy is starting to get everyone's attention.  Here is more from James Pethokoukis…
Italy is the eurozone's third-largest economy, 10 times the size of Greece's. It also has the world's third-largest sovereign debt market, some $2.7 trillion. Only Greece has a higher public debt-to-GDP ratio in the eurozone. My AEI colleague Desmond Lachman, a former International Monetary Fund official and Wall Street emerging market strategist, argues that Italy's troubles have the potential to roil the global economy much like the 2008 Lehman bankruptcy. (The 10th anniversary of "Free Market Day" is coming!) America wouldn't be spared.
And it isn't just Italy.  Financial institutions all over Europe are deeply troubled, and that includes the largest bank in Germany.
On Thursday, Deutsche Bank's stock price crashed to an all-time low.  This caused such a stir that the bank was actually forced to issue a statement about it.
I have been writing about the troubles at Deutsche Bank for a very long time.  When they finally go down for good, it is going to create a "Lehman Brothers moment" for the entire planet.  This week, there were two key revelations that led to the dramatic stock price decline.  The following comes from Wolf Richter…
This came after leaked double-whammy revelations the morning: One reported by the Financial Times, that the FDIC had put Deutsche Bank's US operations on its infamous "Problem Bank List"; and the other one, reported by the Wall Street Journal, that the Fed, as main bank regulator, had walloped the bank last year with a "troubled condition" designation, one of the lowest rankings on its five-level scoring system.
Meanwhile, the other major factor that has investors starting to panic is the beginning of an international trade war.
It takes a great deal to get the Canadians upset, but they have already retaliated against the tariffs that the Trump administration just imposed on them…
Canada will retaliate against new U.S. tariffs by imposing its own trade barriers on U.S. steel, aluminum and other products, Canadian Foreign Minister Chrystia Freeland said Thursday.

Freeland said Canada plans to slap dollar-for-dollar tariffs on the U.S. The Nafta partner's proposed import taxes would also cover whiskey, orange juice and other food products alongside the steel and aluminum tariffs.
And it is expected that we will see retaliation from the Chinese, the Europeans and Mexico shortly.  All of this is causing a great deal of consternation on Capitol Hill, and it could mean big trouble for Republicans in November.
At the same time all of this is going on, this week we learned that 13 of Bank of America's 19 "bear market indicators" have now been triggered.  The following summary comes from Zero Hedge…
Specifically, the following indicators have now been triggered, with the latest 2 bolded:
Bear markets have always been preceded by the Fed hiking rates by at least 75bp from the cycle trough
Minimum returns in the last 12m of a bull market have been 11%
Minimum returns in the last 24m of a bull market have been 30%
9m price return (top decile) vs. S&P 500 equalweight index
Consensus projected long-term growth (top decile) vs. S&P 500 equalweight index
We have yet to see a bear market when the 100 level had not been breached in the prior 24m
Similarly, we have yet to see a bear market when the 20 level had not been breached in the prior 6m
Companies beating on both EPS & Sales outperformed the S&P 500 by less than 1ppt within the last three quarters
While not always a major change, aggregate growth expectations tend to rise within the last 18m of bull markets
Trailing PE + CPI y/y% >20 in the prior 12m
Based on 1- and 3-month estimate revision trends; see footnote for more detail
Trailing PE + CPI (y/y%) >20 within the last 12m
In the preceding 12m of all but one (1961) bull market peak, the market has pulled back by 5%+ at least once
And here are the 6 indicators that have yet to ring the proverbial bell.
Each of the last three bear markets has started when a net positive % of banks were tightening C&I lending standards
Companies with S&P Quality ratings of B or lower outperform stocks rated B+ or higher
Forward 12m earnings yield (top decile) vs. S&P 500 equalweight index
A contrarian measure of sell side equity optimism; sell signal trigged in the prior 6m
A contrarian measure of buy side optimism
Does not always lead or catch every peak and all but one inversion (1970) has coincided with a bear market within 24m
Like so many others, I've got a bad feeling about all of this.
And so does best-selling author James Rickards.  He seems quite convinced that we are heading for the largest market collapse that anyone has ever seen…
Each crisis is bigger than the one before. In complex dynamic systems such as capital markets, risk is an exponential function of system scale. Increasing market scale correlates with exponentially larger market collapses.

This means that the larger size of the system implies a future global liquidity crisis and market panic far larger than the Panic of 2008.

Today, systemic risk is more dangerous than ever. Too-big-to-fail banks are bigger than ever, have a larger percentage of the total assets of the banking system and have much larger derivatives books.
It has been 10 years since 2008, and conditions are definitely ripe for another great financial crisis.
Stay frosty my friends, because it looks like events are going to accelerate greatly in the months ahead.
Source: theeconomiccollapseblog.com
05.31.2018 –  The U.S. Has Decided To Fight Trade Wars With China, Europe, Canada And Mexico Simultaneously, And That Will Be Disastrous For The Global Economy…
One trade war may be enough to push the struggling global economy into another recession, but the U.S. government has apparently decided that it is time to fight trade wars with pretty much all of the major economies around the world at the same time.  This is utter insanity, and it is going to have disastrous consequences that will be felt all over the planet.  Yes, we need to get tough on trade.  If you have followed my work for the last eight years, than you know that I have been a very strong advocate of protecting U.S. manufacturers and U.S. workers.  But these things have got to be handled delicately, because any significant disruption at this point could lead to an absolutely crippling global economic crisis.  Negotiating on an international level requires a great deal of finesse, because if you mess up it can have monumental consequences.  For example, one thing that you shouldn't do is make an agreement with the second largest economy in the world and then tear it up less than two weeks later…
The odds of a messy trade war between the United States and China are rising again.

The Trump administration shocked the world on Tuesday by tearing up a truce with Beijing and announcing it would impose tariffs on $50 billion worth of Chinese goods and restrict Chinese investment in the United States.
Without a doubt China has been taking advantage of us for many years.  They have been slapping our goods with high tariffs and have been shamelessly stealing our intellectual property.  But the Chinese are very proud people, and now they feel like they have been slapped in the face.
So they won't back down in a trade war, and on Wednesday they said that they "aren't afraid of fighting one"…
China is ready to retaliate after the United States revived plans to hit it with new tariffs.

"We want to reiterate that we don't want a trade war, but we aren't afraid of fighting one," Chinese Foreign Ministry spokeswoman Hua Chunying said at a briefing on Wednesday.
Fighting a trade war with China would be bad enough, but it turns out that we are also starting one with the European Union.  The following comes from Zero Hedge…
Time's up! A month ago, President Trump delayed his EU steel and aluminum tariffs decision and as of Friday, that deadline is over and the US allies across Europe will face big decisions on retaliation.

Amid threats from various European leaders – and the potentially unipolar world order repressing blowback from Trump's Iran decision and subsequent sanctions – The Wall Street Journal reports that the Trump administration, unable to win concessions from European Union counterparts ahead of a Friday deadline, is planning to make good on a threat to apply tariffs on European steel and aluminum, according to people familiar with the matter.

The announcement is reportedly likely to occur on Thursday, and will be 25% on imported steel and 10% on imported aluminum.
Other than the United States, China and the European Union are the two greatest economic powers on the entire planet.
Picking a fight with both of them at the same time is not wise.
And like China, the Europeans are pledging "swift retaliation"…
The metal tariffs threaten €6.4 billion ($7.4 billion) worth of European exports, and the bloc has promised swift retaliation if it is not exempted from the trade penalties.

The European Union updated a list of American products earlier this month that would be hit with 25% tariffs if the United States moved forward. It includes US motorcycles, denim, cigarettes, cranberry juice and peanut butter.
There is more than a trillion dollars worth of trade between the United States and Europe each year, and so this is a very, very big deal.
A trade war should always be a last resort.  Every effort should have been made to negotiate a solution to our trade problems, and that does not appear to have happened.
And in addition to fighting China and Europe, the U.S. government has also decided now would be a good time to start a trade war with our neighbors here in North America as well.
In fact, tough tariffs on aluminum and steel imports from Canada and Mexico could start on Friday…
The import taxes could take effect as soon as Friday.

The move is likely to have an immediate impact on global trade in steel and aluminum, particularly between the United States and Canada, the nation's largest source of imported steel.

The decision also invites retaliation from each of the trading partners, which have vowed to erect new barriers to a range of U.S. products.
Canadians are perhaps the most polite people on the face of the planet, and so it really takes a lot to upset them.
But that is precisely what has happened, and they are pledging to "defend our workers and our industry"…
"Our government always is very ready and very prepared to respond appropriately to every action. We are always prepared and ready to defend our workers and our industry," Foreign Affairs Minister Chrystia Freeland said in Washington on Tuesday.

"Canadian steelworkers should absolutely know that the government of Canada has their back," she said.
If we start slapping tariffs on all of our trading partners and they retaliate by slapping more tariffs on us, that isn't suddenly going to bring manufacturing facilities and jobs back to America.
Instead, it will just result in a crippling economic slowdown.
It is true that we simply cannot continue to run a trade deficit of 40 or 50 billion dollars month after month.  The path that we are currently on is a path to national economic suicide.
But simultaneously fighting trade wars with China, Europe, Canada and Mexico is not going to solve anything.
In the end, our recklessness could ultimately be the trigger for the greatest economic crisis that any of us have ever seen.
Source: theeconomiccollapseblog.com
05.30.2018 –  Why the Eurozone and the Euro Are Both Doomed
Papering over the structural imbalances in the Eurozone with endless bailouts will not resolve the fundamental asymmetries.
Beneath the permanent whatever it takes "rescue" by the European Central Bank (ECB) lie fundamental asymmetries that doom the euro, the joint currency that has been the centerpiece of European unity since its introduction in 1999.
The key imbalance is between export powerhouse Germany, which generates huge trade surpluses, and its trading partners, which run large trade and budget deficits, particularly Portugal, Italy, Ireland, Greece and Spain.
Those outside of Europe may be surprised to learn that Germany's exports are roughly equal to those of China ($1.2 trillion), even though Germany's population of 82 million is a mere 6% of China's 1.3 billion. Germany and China are the world's top exporters, while the U.S. trails as a distant third.
Germany's emphasis on exports places it in the so-called mercantilist camp, countries that depend heavily on exports for their growth and profits. Other (nonoil-exporting) nations that routinely generate large trade surpluses include China, Japan, Germany, Taiwan and the Netherlands.
While Germany's exports rose an astonishing 65% from 2000 to 2008, its domestic demand flatlined near zero. Without strong export growth, Germany's economy would have been at a standstill. The Netherlands is also a big exporter (trade surplus of $33 billion) even though its population is relatively tiny, at only 16 million.
The "consumer" countries, on the other hand, run large current-account (trade) deficits and large government deficits. Italy, for instance, has a $55 billion trade deficit and a budget deficit of about $110 billion. Total public debt is a whopping 115.2% of GDP.
Spain, with about half the population of Germany, has a $69 billion annual trade deficit and a staggering $151 billion budget deficit. Fully 23% of the government's budget is borrowed.
This chart illustrates the dynamic between mercantilist and consumer nations: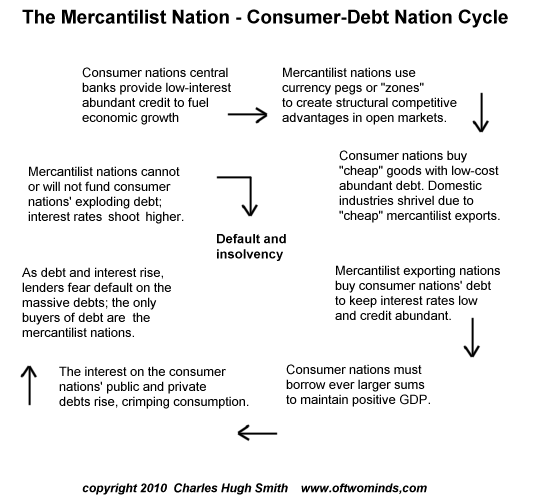 Although the euro was supposed to create efficiencies by removing the costs of multiple currencies, it has had a subtly pernicious disregard for the underlying efficiencies of each eurozone economy.
Though German wages are generous, the German government, industry and labor unions have kept a lid on production costs even as exports leaped. As a result, the cost of labor per unit of output — the wages required to produce a widget — rose a mere 5.8% in Germany in the 2000-09 period, while equivalent labor costs in Ireland, Greece, Spain and Italy rose by roughly 30%.
The consequences of these asymmetries in productivity, debt and deficit spending within the eurozone are subtle. In effect, the euro gave mercantilist, efficient Germany a structural competitive advantage by locking the importing nations into a currency that makes German goods cheaper than the importers' domestically produced goods.
Put another way: By holding down production costs and becoming more efficient than its eurozone neighbors, Germany engineered a de facto "devaluation" within the eurozone by lowering the labor-per-unit costs of its goods.
The euro has another deceptively harmful consequence: The currency's overall strength enables debtor nations to rapidly expand their borrowing at low rates of interest. In effect, the euro masks the internal weaknesses of debtor nations running unsustainable deficits and those whose economies had become precariously dependent on the housing bubble (Ireland and Spain) for growth and taxes.
Prior to the euro, whenever overconsumption and overborrowing began hindering an import-dependent "consumer" economy, the imbalance was corrected by an adjustment in the value of the nation's currency. This currency devaluation would restore the supply-demand and credit-debt balances between mercantilist and consumer nations.
Absent the euro today, the Greek drachma would fall in value versus the German mark, effectively raising the cost of German goods to Greeks, who would then buy fewer German products. Greece's trade deficit would shrink, and lenders would demand higher rates for Greek government bonds, effectively pressuring the government to reduce its borrowing and deficit spending.
But now, with all 16 nations locked into a single currency, devaluing currencies to enable a new equilibrium is impossible. And it leaves Germany facing with the unenviable task of bailing out its "customer nations" — the same ones that exploited the euro's strength to overborrow and overconsume. On the other side, residents of Greece, Italy, Spain, Portugal and Ireland now face the unenviable effects of government benefit cuts aimed at realigning budgets with the productivity of the underlying national economy.
While the media has reported the Greek austerity plan and EU promises of assistance as a "fix," it's clear that the existing deep structural imbalances cannot be resolved with such Band-Aids.
Either Germany and its export-surplus neighbors continue bailing out the eurozone's importer/debtor consumer nations, or eventually the weaker nations will default or slide into insolvency.
Germany helped enable the overborrowing of its profligate neighbors by buying their government bonds. According to BusinessWeek, German banks are on the hook for almost $250 billion in the troubled eurozone nations' bonds.
Now an inescapable double-bind has emerged for Germany: If Germany lets its weaker neighbors default on their sovereign debt, the euro will be harmed, and German exports within Europe will slide. But if Germany becomes the "lender of last resort," then its taxpayers end up footing the bill.
If public and private debt in the troubled nations keeps rising at current rates, it's possible that even mighty Germany may be unable (or unwilling) to fund an essentially endless bailout. That would create pressure within both Germany and the debtor nations to jettison the single currency as a good idea in theory, but ultimately unworkable in a 16-nation bloc as diverse as the eurozone.
Be wary of endless "fixes" to a structurally doomed system.
Source: oftwominds.com
05.28.2018 – In The UK… You're Not Allowed To Talk About It. About What? Don't Ask!
"I am in a country that is not free… I feel jealous as hell of you guys in America. You don't know how lucky you are." — Carl Benjamin (aka Sargon of Akkad), YouTuber with around a million subscribers.
"I am trying to recall a legal case where someone was convicted of a 'crime' which cannot be reported on." — Gerald Batten, UKIP member of the European Parliament.
"UKIP Peer Malcolm Lord Pearson has written to Home Secretary Sajid Javid today saying: if Tommy is murdered or injured in prison he and others will mount a private prosecution against Mr Javid as an accessory, or for misconduct in public office." — Gerald Batten.
Good on Lord Pearson.
On Friday, British free-speech activist and Islam critic Tommy Robinson was acting as a responsible citizen journalist — reporting live on camera from outside a Leeds courtroom where several Muslims were being tried for child rape — when he was set upon by several police officers. In the space of the next few hours, a judge tried, convicted, and sentenced him to 13 months in jail — and also issued a gag order, demanding a total news blackout on the case in the British news media. Robinson, whose real name is Stephen Yaxley-Lennon, was immediately taken to Hull Prison.
Hull Prison, in Kingston upon Hull, England, where Tommy Robinson was taken to serve a 13-month prison sentence just hours after his arrest on Friday, May 25.
Most media outlets were remarkably compliant. News stories that had already been posted online after Robinson's arrest at the Scottish Daily Record,Birmingham Live, The Mirror, RT, and Breitbart News were promptly pulled down, although, curiously, a report remained up at the Independent, a left-wing broadsheet that can be counted on to view Robinson as a hooligan. Indeed, the Independent's article described Robinson as "far-right" and, in explaining what he was doing outside the courthouse, used scare quotes around the word "reporting"; it then summed up the least appealing episodes in his career and blamed him for an attack on the Finsbury Park Mosque last January. Somehow, the Independentalso got away with publishing a report on London's Saturday rally in support of Robinson.
Also on Saturday, Breitbart UK posted a copy of the gag order, but redacted it as required. The resulting document proved to be a perfect illustration of Western Europe's encroaching tyranny.
Were all the articles in the British media pulled down "voluntarily"? There is no way to know for sure. On Sunday, at about noon Central European Time, one of my Facebook friends posted a link to what was apparently a new story at Breitbart UK, about Robinson's imprisonment in Hull. Three hours later, however, the story was no longer there. Shortly afterward, I clicked on a link to an article at the Hull Daily Mail that Google summed up as follows: "Supporters of former EDL leader Tommy Robinson are urging people to write to him in Hull Prison — where they say he is in 'grave danger.'" When I clicked on the link, however, the story had been pulled.
Carl Benjamin, who produces video commentary under the name "Sargon of Akkad," is a popular British YouTuber who has somewhere around a million subscribers, and who routinely criticizes Islam, identity politics, and political correctness with wit and panache. He is generally a lively, free-wheeling, sardonic fellow, but in the two-hour-plus video he posted on Saturday about the Robinson case, he was uncharacteristically sober, exceedingly cautious, and at times even sounded mournful.
"I did tell you that Britain isn't a free country, didn't I?" he said a minute or so into his video. "I've been saying it for ages… and nobody listens." He made it clear he was not about to violate the gag order — not, as he put it, about to "blunder into the jaws of the beast, in much the same way as I guess Tommy has," and thus "deliberately put myself in the line of fire with the UK government, giving them just cause to arrest me."
Benjamin is a gutsy guy, so it was unsettling to hear him speak this way. The look on his face somehow brought home the dark reality underlying Robinson's fast-track arrest, trial, conviction and incarceration. Benjamin emphasized that the most "sensible" thing for someone like himself [Benjamin] to do right now — he used that word, "sensible," repeatedly — is to do his best to stay out of jail so that he can continue to speak up. "I am in a country that is not free," he repeated gravely. "My options are limited… I feel jealous as hell of you guys in America. You don't know how lucky you are."
The upside — and the irony — of this case is that the gag order, while silencing the British news media, has caused people around the world to take notice. To be sure, a quick tour of major mainstream newspaper websites in Western Europe, North America and around the Anglosphere turned up nothing. But on alternative news sites around Europe, the story was front and center. The Fox News website reported on Robinson's arrest — but even Fox, frustratingly, insisted on calling him a "right-wing activist."
Judi McLeod, editor of the Canada Free Press, began her article:
"Where is Tommy Robinson? A question whose answer should be demanded rather than merely asked…. Modern day Merry England has become far more nightmare than fairytale, as it steadily works its way toward ugly police state status."
McLeod also challenged Fox's label for Robinson: "'Right wing activist'? How about civil rights activist or humanitarian activist?"
Yesterday, my article asked when anyone in a position of power in Britain would speak up against Robinson's arrest. Since then, Gerald Batten, a UKIP member of the European Parliament, has done so:
"I am trying to recall a legal case where someone was convicted of a 'crime' which cannot be reported on," he tweeted. "Where he can be cast into prison without it being possible to report his name, offence, or place of imprisonment for fear of contempt of court. Can anyone remember such a case"
Shortly after noon on Sunday, London time, Batten tweeted:
"UKIP Peer Malcolm Lord Pearson has written to Home Secretary Sajid Javid today saying: if Tommy is murdered or injured in prison he and others will mount a private prosecution against Mr Javid as an accessory, or for misconduct in public office."
Good on Lord Pearson. We can only hope his efforts make a difference — and that, in the end, a prosecution of Javid will not be necessary.
Source:  gatestoneinstitute.org
05.27.2018 – SGTReport Second Strike

05.27.2018 – US Officials Enter North Korea To "Prepare Trump-Kim Talks" As Kim Commits To "Complete Denuclearization"
Update: confirming that Trump's "dear Kim" letter was just a negotiating tactic, the WaPo reports that the US exploratory team is back in North Korea as Reuters previewed yesterday:
U.S. OFFICIALS CROSS INTO NORTH KOREA FOR SUMMIT PREPARATION TALKS DESPITE UNCERTAINTY SURROUNDING TRUMP-KIM MEETING – WASHINGTON POST
According to WaPo sources, former US ambassador to South Korea, Sung Kim, crossed into North Korea on Sunday to hold talks with Pyongyang's Vice-Foreign Minister, Choe Son Hui. The US envoy is accompanied by Allison Hooker, the Korea specialist on the National Security Council and an undisclosed official from the Defense Department, the source said.
The meetings between US and N.Korean officials are expected to continue on Monday and Tuesday with the aim of organizing "any summit" between Trump and Kim on the North Korean nuclear program.  Sung Kim and Choe reportedly know each other well as they were both involved in nuclear talks in previous years.
* * *
One day after Saturday's "surprise" second summit between the leaders of North and South Korea, President Moon Jae-in said on Sunday that his Northern counterpart Kim Jong Un reaffirmed his commitment to "complete" denuclearization of the Korean peninsula and to a planned meeting with U.S. President Donald Trump.
"Chairman Kim clearly appealed once again that his intent to completely denuclearize the Korean Peninsula is firm," Moon said quoted by Reuters.
The statement came one day after Moon and Kim agreed that the possible North Korea-U.S. summit must be held: "Chairman Kim and I have agreed that the June 12 summit should be held successfully, and that our quest for the Korean peninsula's denuclearization and a perpetual peace regime should not be halted," Moon said.
Moon also explained that he held Saturday's impromptu summit – the second between the two sides in a month – after Kim asked for a meeting "without any formality".
"A meeting was held because officials of both countries thought that meeting face-to-face would be better than a phone call," Moon said, noting that the summit was in line with previous agreements for the two leaders to meet more often.
The meeting was the latest dramatic turn in a week of diplomatic ups and downs surrounding the prospects for an unprecedented summit between the United States and North Korea, and the strongest sign yet that the two Korean leaders are trying to keep the on-again off-again meeting on track.
North Korea's state news agency, KCNA, said the Korean leaders had agreed to "high-level" talks between the two countries on June 1. "They shared the opinion that they would meet frequently in the future to make dialogue brisk and pool wisdom and efforts," KCNA said. KCNA also said that Kim expressed "his fixed will" on the possibility of meeting Trump as previously planned; the agency also said the two leaders had reached a "satisfactory consensus" and expressed "their stand to make joint efforts for the denuclearization of the Korean peninsula".
Meanwhile, on Saturday night President Trump also indicated he too was effectively ready to proceed with the summit, telling reporters that direct talks with North Korea are talking place and meetings were taking place "as we speak" in an unidentified location to push ahead with the summit which Trump unexpectedly canceled last week due to "open hostility" from North Korea. And just to make sure that the meeting takes place as previously scheduled, a White House team will travel to Singapore to continue preparations for the on-again, off-again meeting.
"We're doing very well in terms of the summit with North Korea," Trump said. "We're looking at June 12 in Singapore. That hasn't changed, and it's moving along pretty well. So we'll see what happens."
China's Foreign Ministry said in a statement sent to Reuters on Sunday it "firmly" hoped the summit could happen as scheduled and be successful and reiterated a call for both sides to be patient and show goodwill.
"We have always believed that direct contacts and dialogue between the leaders of North Korea and the United States are crucial to resolving the peninsula nuclear issue," it said.
* * *
As previously discussed, the biggest tension and dispute between the U.S. and North Korea boils down to how fast Kim should give up his weapons, and what he'll get in return. Previously, North Korea rejected outright calls from U.S. National Security Adviser John Bolton to follow the "Libya model" of quickly giving up its nuclear weapons before it gets anything in return, and for obvious reasons: Libya's dictator Moammar Qaddafi was killed in an uprising several years later.
Moon on Sunday dodged a question on whether Kim clearly mentioned if he would agree to the U.S. demand for complete, verifiable, irreversible denuclearization:  "What's unclear for Chairman Kim, in my opinion, is not his willingness for denuclearization but whether he can certainly trust the U.S. saying that it'll end hostile relations and guarantee the security of his regime after his denuclearization," Moon said.
In other words, Kim is worried that Trump will pull another Iran and reneg on a deal shortly after it has been enacted.
"If North Korea and the U.S. are to have a summit, then their summit is possible only after they confirm each other's intention on that regard," Moon said, however also confirming that the historic summit is all but assured after last week's negotiating detour by Trump, the South Korea president added that "the fact that North Korea and the U.S. agreed to have a summit and working-level talks indicates that the U.S. has already confirmed the North's intentions."
And in an indication that the White House is flexible as to the details of the denuclearization process, Press Secretary Sarah Huckabee Sanders said earlier this month that the administration will follow the "President Trump model." North Korea seized on that in a statement on Friday calling for talks with the U.S.
Secretary of State Mike Pompeo tweeted on Saturday to "Stay Focused. It's about the outcome. It's about keeping Americans and the world safe."
But the real catalyst was China, whose Foreign Ministry said in a statement sent to Reuters on Sunday it "firmly" hoped the summit could happen as scheduled and be successful and reiterated a call for both sides to be patient and show goodwill.
"We have always believed that direct contacts and dialogue between the leaders of North Korea and the United States are crucial to resolving the peninsula nuclear issue," it said.
And the only reason it said it? Because Trump caved on the ZTE sanctions, which in turn prompted China's president Xi to push Kim back to the negotiating table, but is also set to greenlight the NXP-Qualcomm deal which just a few weeks ago was all but dead, and which according to many is the biggest open arb currently on Wall Street.
In other words, it almost appears that a bunch of M&A arb hedge funds are running US foreign policy.
Source:zerohedge.com
05.25.2018 – Trump: : "Very Good" To Receive "Warm And Productive Statement From North Korea"
Crushing the "liberal media's" early excitement at the failure of Trump's North Korea Summit (and Nobel Peace Prize) hopes, the president took a moment to gloat Friday morning at getting Kim back to the table, after receiving what he described as a "warm and productive" statement from North Korea less than a day after he canceled a planned summit that was supposed to signal the start of North Korea's denuclearization.
Trump quickly pivoted to North Korea after discussing the Democrats' strategy of "so obviously rooting against us" during the US's ongoing talks with North Korea. Then he compared the Dems' defense of North Korea to the party's defense of of the FBI's decision to plant a mole within the Trump campaign.
Before moving on to international relations, Trump tweeted a quick congratulations to the Federalist's Mollie Hemingway, one of the first to publish the "monster story" about the FBI's operation involving embedding a mole within the Trump campaign – a story that the mainstream media hates (perhaps because their bias stopped them from exposing it first).
So, will the Democrats rationalization of the mole sway the American people to take their side? Or is the public waking up to the fact that maybe Trump was right and that the FBI was indeed spying on him… sorry, using a "Confidential Human Source",  as James Comey defined it, most certainly not a "spy."
Source: zerohedge.com
05.23.2018 –  The Next Recession Will Be Devastatingly Non-Linear
The acceleration of non-linear consequences will surprise the brainwashed, loving-their-servitude mainstream media.
Linear correlations are intuitive: if GDP declines 2% in the next recession, and employment declines 2%, we get it: the scale and size of the decline aligns. In a linear correlation, we'd expect sales to drop by about 2%, businesses closing their doors to increase by about 2%, profits to notch down by about 2%, lending contracts by around 2% and so on.
But the effects of the next recession won't be linear–they will be non-linear, and far more devastating than whatever modest GDP decline is registered. To paraphrase William Gibson's insightful observation that "The future is already here — it's just not very evenly distributed": the recession is already here, it's just not evenly distributed– and its effects will be enormously asymmetric.
Non-linear effects can be extremely asymmetric. Thus an apparently mild decline of 2% in GDP might trigger a 50% rise in the number of small businesses closing, a 50% collapse in new mortgages issued and a 10% increase in unemployment.
Richard Bonugli of Financial Repression Authority alerted me to the non-linear dynamic of the coming slowdown. I recently recorded a podcast with Richard on one sector that will cascade in a series of non-linear avalanches once the current asset bubbles pop and the current central-bank-created "recovery" falters under its staggering weight of debt, malinvestment and speculative excess.
The Intensifying Pension Crisis (37-minute podcast)
The core dynamic of the next recession is the unwind of all the extremes: extremes in debt expansion, in leverage, in the explosion of debt taken on by marginal borrowers, in malinvestment, in debt-fueled speculation, in emerging market debt denominated in US dollars, in financial repression, in political corruption–the list of extremes that have stretched the system to the breaking point is almost endless.
Public-sector pensions are just the tip of the iceberg. What happens when the gains in equities and bonds that have nurtured the illusion that public-sector pension funds are solvent and can be funded by further tax increases reverse into losses?
Pushing taxes high enough to fund soaring public pension obligations will spark taxpayer revolts as the tax increases will be monumental once the delusion of solvency is stripped away in the upcoming recession.
The entire status quo rests on the marginal borrower/buyer. All the demand for pretty much anything has been brought forward by the central banks' repression of interest rates and the relentless goosing of liquidity: anyone who can fog a mirror can buy a vehicle on credit, get a mortgage guaranteed by a federal agency, or pile up credit card and student loan debts.
Those with stock portfolios can gamble with margin debt; those with access to central bank credit can borrow billions to fund stock buy-backs or the purchase of competitors, the better to establish a cartel or quasi-monopoly.
What's not visible in all the cheery statistics is how many enterprises and households are barely keeping their heads above water as inflation shreds the purchasing power of their net incomes. Inflation is supposedly tame, but once again, following Gibson's aphorism, inflation is already here, it's just not evenly distributed.
While employees with employer-paid health insurance are dumbstruck by $50 or $100 increases in their monthly co-pays, those of us who are paying the unsubsidized "real cost of health insurance" are being crushed by increases in the hundreds of dollars per month.
The number of cafes, restaurants and other small businesses with high fixed costs that will close as soon as sales falter is monumental. Add up soaring healthcare premiums, increases in minimum wages, higher taxes and junk fees and rising rents, and you have a steadily expanding burden that is absolutely toxic to small businesses.
The first things to go are marginal employees, overtime, bonuses, benefits, etc.–whatever can be jettisoned in a last-ditch effort to save the company from insolvency. The first bills cash-strapped households will stop paying are credit cards, auto loans and student loans; defaults won't notch higher by 2%; they're going to explode higher by 20% and accelerate from there.
Here are a few charts that reveal the extremes that have been reached to maintain the illusion of "recovery" and normalcy: total credit has exploded higher, after a slight decline very nearly brought down the global financial system in 2008-09: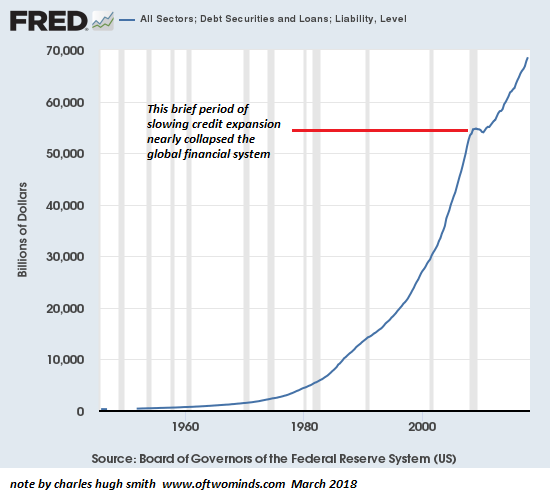 The massive expansion of assets purchased by central banks will eventually be slowed or even unwound, removing the rocket fuel that's pushed stocks and bonds to the moon: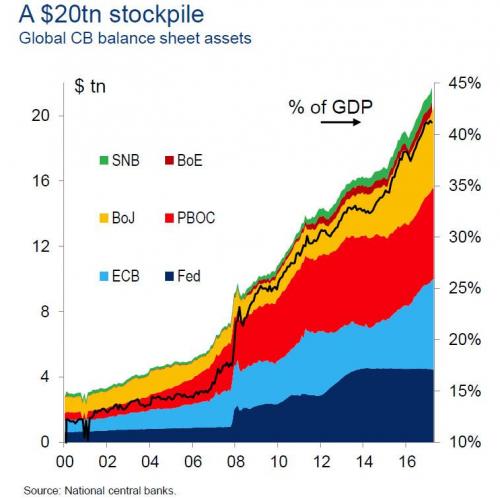 As governments/central banks borrow/print "money" in increasingly fantastic quantities to keep the illusion of "recovery" alive, the currencies being debauched lose purchasing power. Venezuela is not an outlier; it is the first of many canaries that will be keeling over in the coal mine.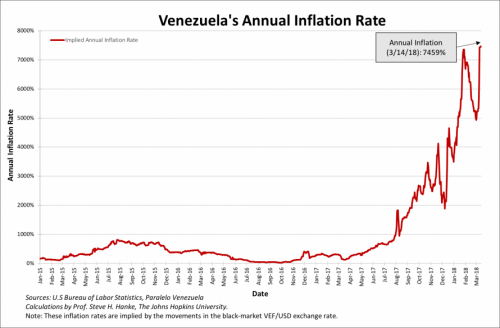 Wide swaths of the economy won't even notice the recession devastating the rest of the economy, at least at first. Public employees will be immune until their city, county, state or agency runs out of money and can no longer fund its obligations; shareholders of Facebook et al. who cashed out at the top will be doing just fine, booking their $18,000 a night island get-aways, and those few willing to bet on declines in the "everything bubbles" of real estate, stocks and bonds will eventually do well, though the Powers That Be will engineer massive short-covering rallies in a last-ditch effort to mask the systemic rot.
The acceleration of non-linear consequences will surprise the brainwashed, loving-their-servitude mainstream media. The number of small businesses that suddenly close will surprise them; the number of homeowners jingle-mailing their "ownership" (i.e. obligation to pay soaring property taxes) to lenders will surprise them; the number of employees being laid off will surprise them, and the collapse of new credit being issued will surprise them.
Don't be surprised; be prepared.
All information used from other websites on X22 Report is used for educational/criticism and commentary purposes only.

Fair Use Notice: This video contains some copyrighted material whose use has not been authorized by the copyright owners. We believe that this not-for-profit, educational, and/or criticism or commentary use on the Web constitutes a fair use of the copyrighted material (as provided for in section 107 of the US Copyright Law. If you wish to use this copyrighted material for purposes that go beyond fair use, you must obtain permission from the copyright owner. Fair Use notwithstanding we will immediately comply with any copyright owner who wants their material removed or modified, wants us to link to their web site, or wants us to add their photo.

The "Fair Use" Provisions outlined in Title 17, Chapter 01 Article 107 of the US Copyright Law states the following:

Notwithstanding the provisions of sections 106 and 106A, the fair use of a copyrighted work, INCLUDING SUCH USE BY REPRODUCTION IN COPIES or phonorecords or BY ANY OTHER MEANS specified by that section, for purposes such as criticism, comment, news reporting, teaching (including multiple copies for classroom use), scholarship, or research, is NOT an infringement of copyright. In determining whether the use made of a work in any particular case is a fair use the factors to be considered shall include:

(1) the PURPOSE and CHARACTER of the use, including whether such use is of a commercial nature or is for NON-PROFIT educational purposes;
(2) the NATURE of the copyrighted work;
(3) the amount and substantiality of the portion used in relation to the copyrighted work as a whole; and
(4) THE EFFECT OF THE USE UPON THE POTENTIAL MARKET FOR OR VALUE OF THE COPYRIGHTED WORK.

The fact that a work is unpublished shall not itself bar a finding of fair use if such finding is made upon consideration of all the above factors.