---
Send us your Sentinel Alert to Submit Sentinel Alert:
---
---
Scroll Down To See More News Alerts
02.22.2018 – The End of (Artificial) Stability
The central banks'/states' power to maintain a permanent bull market in stocks and bonds is eroding.

There is nothing natural about the stability of the past 9 years. The bullish trends in risk assets are artificial constructs of central bank/state policies. As these policies are reduced or lose their effectiveness, the era of artificial stability is coming to a close.
The 9-year run of Bull-trend stability is ending as a result of a confluence of macro dynamics:
1. Central banks are under pressure to reduce, end or reverse their unprecedented monetary stimulus, and the consequences are unpredictable, given the market's reliance on the certainty that "central banks have our back" is ending.
2. Interest rates / bond yields may well plummet in a global recession, but if we look at a 50-year chart of interest rates, we see a saucer-shaped bottoming in play. Technician Louise Yamada has been discussing the tendency of interest rates/bond yields to trace out a multi-year saucer bottom for over a decade, and we can now discern this.
Even if yields plummet in a recession, as many analysts predict, this doesn't necessarily negate the longer term trend of higher yields and rates.
3. The global economy is overdue for a business-cycle recession, which is characterized by a retrenchment of credit and the default of marginal debt. The "recovery" is the weakest recovery in the past 60 years, and now it's the longest expansion.
4. The mainstream financial media is telling us that everything is going great in the global economy, but this sort of complacent (or even euphoric) "it's all good news" typically marks the top of stocks, just as universal negativity marks secular lows.
5. What happens to markets characterized by uncertainty? Once certainty is replaced by uncertainty, markets become fragile and thus exposed to sudden shifts of sentiment. This destabilization is expressed as volatility, but it's far deeper than volatility as measured by VIX or sentiment indicators.
Market participants have become accustomed to an implicit entitlement: that investors / speculators will earn consistently positive returns on their capital, as central banks and governments have both the power and the mandate to "save" participants from losses and generate phantom wealth ("gains").
This entitlement is ending, as the central banks'/states' power to maintain a permanent bull market in stocks and bonds is eroding, and I suspect few participants have a strategy for a permanently riskier environment going forward.
How much will risk assets have to decline for "wealth" to return to the production of real-world wealth in the real-world economy? Clearly, the answer is "a lot."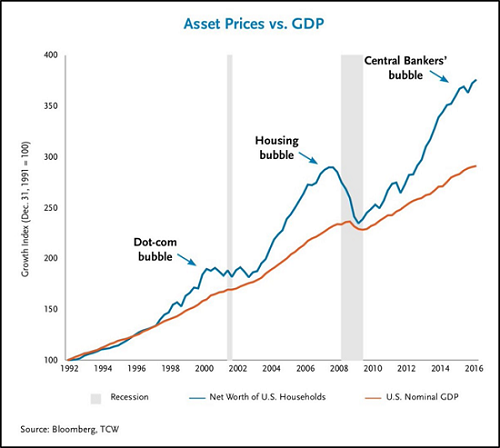 Source: oftwominds.com
02.21.2018 –  Peter Schiff Warns "We're Ripe For A 1987-Style Crash"
Stock markets have settled down after an awful couple of weeks earlier this month.  On Feb. 5, the Dow Jones suffered its largest-ever drop in terms of points. It was down 1,600 at one point and ultimately lost 1,175.21 points, a 4.6% drop that day. At one point during that week, the Dow was off 10% in correction territory. But everything is calm now and most of the mainstream is once again feeling bullish and optimistic.
Peter Schiff spoke at the Vancouver Resource Investment Conference 2018 last month before the market tanked. But his message remains relevant in the aftermath of the plunge and the subsequent recovery because the dynamics in the market remain pretty much the same. Conditions are still ripe for a 1987-style market crash.
Investors have not been this optimistic…since 1987. They are even more optimistic than they were at the height of the technology bubble, the dot-com bubble, the new era. Of course, 1987 didn't end well, right? We had a stock market crash, and there's a lot about what's happening today that reminds me about what was happening in '87."
"The economy has not improved under Trump. We don't have a booming economy. I mean, Trump keeps telling us we have a booming economy, but nothing is booming."
"When Donald Trump was a candidate for president, he said that the unemployment numbers were phony. They were fake. They were a fraud. They were a con. He said the real unemployment rate is 30%, 40%. Now, every time there is an unemployment number that comes out, he's tweeting about how great it is we have this record low unemployment and we should all give him credit for it."
"Now, the tax cuts, are they going to grow the economy? No! Because they didn't cut government spending. See, you don't get government for nothing. Taxes pay for government. But if you cut taxes and you don't cut government, how do you pay for that government?"
"I believe the debt and inflation we have to create to finance the tax cuts will be a bigger drag on the economy than the tax cuts are a boost."
"Where there will be growth is in the budget deficits and that kind of is where I see some of the similarity now in the 1980s – 1987 – because these big budget deficits are going to be a big problem."
"Rather than having continuous economic growth, I think the economy is going into recession. Now, I believe that had Donald Trump lost that election, the US would already be in recession. I think we were clearly headed to recession before he won. And when he won, he created this huge burst of misplaced optimism that probably postponed the onset of that recession by another year or two."
"The most recent trade deficit hit the highest level I think in six years… The trade deficit is heading much higher and so is the budget deficit. You have these twin deficits. And the last time they were a big problem was 1987."
"I believe that this year, the dollar is going to hit an all-time record low. I think we're going to crack below 6-to-1 in yuan."
"If the dollar is going down, why would anyone outside the United States want to buy a 10-year Treasury yielding 2.6%?"
"Here's the problem. America's broke. America has more debt than ever before … The debt has more than doubled since the financial crisis. Why did we have a financial crisis? We had too much debt!"
"What has really been propping up the US economy is cheap money and cheap gas."
"Here is the self-perpetuating spiral that we're in. As the deficits go up, now we have to sell more bonds. Well, that puts more downward pressure on bond prices and more upward pressure on interest rates. So, as rising interest rates create bigger deficits, those bigger deficits create rising interest rates."
Source: schiffgold.com
02.19.2018 –  Russian Meddling: Gagging On The Irony
The irony that is most gagging is that America's power elite is destroying the nation's social order by its concentration of wealth and abuse of power.
The irony of the Deep State's obsessive focus on "Russian meddling" in the precious bodily fluids of our hallowed democracy is so overwhelming that it's gagging. The irony is a noxious confluence of putid hypocrisy and a comically abject terror at the prospect that the citizenry may be awakening to the terrible reality that America has lost its soul as well as its democracy.
The foul stench of hypocrisy arises from the long and sordid history of America's meddling in the internal politics of virtually every nation on the planet— a deeply entrenched policy of meddling on such a vast scale that the Deep State minions tasked with projecting a wounded astonishment that some foreign power has the unmitigated gall to attempt to influence our domestic politics must have difficulty restraining their amusement.
America's foreign policy is one of absolute entitlement to influence the domestic affairs and politics of every nation of interest, which to a truly global empire includes every nation on the planet to the degree every nation is a market and/or a potential threat to U.S. interests.
Assassination of elected leaders–no problem. Funding the emergence of new U.S.-directed political parties–just another day at the office. Inciting dissent and discord to destabilize regimes–it's what we do, folks. Funding outright propaganda–one of our enduring specialties. Privatizing public assets to reward our cronies and domestic corporations–nothing's more profitable than a public monopoly transformed into a privately owned monopoly.
(If your nation hasn't been targeted for intervention and campaigns of hard and soft power influence, we apologize for the oversight. We'll get to destabilizing your political order and economy just as soon as the queue of pressing interventions clears a bit.)
One of our most effective means of meddling is economic. First we press the targeted foreign government and civilian power centers–universities, corporations, banks and other institutions–to liberalize the economy and banking system to allow foreign credit and investment in, under the guise of encouraging beneficial development.
Then we flood the economy with cheap, abundant credit, first to buy up natural resources and the most valuable assets, and secondly to fuel a consumption binge that feels like Utopia to credit-starved residents and enterprises: suddenly there's credit to buy almost everything consumers could hope for, and credit to expand production, tourism, etc.
The government is encouraged to borrow to fund large-scale infrastructure projects (which are of course built by foreign firms) and other development projects, with great big slices of the borrowed billions carved off for politicos, functionaries and others in line for bribes, fees and offshore accounts of stolen millions.
This monumental expansion of debt eventually undermines the nation's currency and its economy, as the addictive gush of credit quickly moved beyond sensible, productive projects into speculative ventures with little prospects beyond the initial profits earned by insiders.
As all these marginal projects default, the credit spigot is suddenly shut off, and waves of creditors who thought the good times would last forever go bankrupt.
This destabilization was not an unfortunate side-effect–it was the goal from the start. With the target nation's currency in a freefall and enterprises defaulting left and right, U.S. firms flush with U.S. dollars and banks with nearly unlimited lines of credit in dollars swoop in and offer to ease the pain by scooping up devalued assets for dollars, or extending credit denominated in dollars.
Compared to the scale of these interventions, $100,000 in Facebook adverts is like a pin prick. The indignation and outrage of America's power structure is a tell: how dare you give us a taste of our own medicine–only we're entitled to meddle and intervene as we see fit.
The other source of pungent irony is the failure of America's power structure to maintain the pretense of a functioning democracy and social contract. The nation we inhabit has strayed so far from the nation's founding principles and values that it is unrecognizable. In place of democracy, we have a permanent unelected, impervious-to-the-people Deep State and a pay-to-play system in which political power is auctioned off to the highest bidder.
A mercantile nation that sought to protect sea lanes and trade routes and avoid foreign entanglements has metastasized into an entitled Imperial Project, a Project that enriches domestic corporations and veritable armies of national defense / national security functionaries, think tank and university employees, philanthro-capitalist toadies, media factotums–a nearly endless profusion of beneficiaries of Imperial aspirations.
America's power elite isn't just entitled to intervene and meddle at will globally; it also feels entitled to select America's elected leadership. Elected leaders are anointed in the media, and the citizenry is expected to march to the drumbeat.
That the people failed to follow the directives of their betters was a shock that is still reverberating, hence the power elite's hysterical need to locate a source other than the power elite itself that can be publicly blamed and crucified.
Projection is a well-known psychological coping mechanism. That the loss of the nation's democracy and soul are the direct consequence of the self-serving power elite's own concentration and abuse of power–this is unacceptable. And so the responsibility must be pinned on some external demonic force.
The irony is the American social contract is in tatters due to the self-enriching extremes of the New Gilded Age: an era of unprecedented concentrations of wealth and power in which the citizenry has been reduced to dry tinder awaiting a spark.
Washington and the technocrats are aghast at reports that the opportunistic efforts of Russia-based groups to sow discontent ended up generating 300 million impressions says more about the corruption and abuses of power that have undermined the social order than it does about the diabolical effectiveness of amateurish front groups.
If the U.S. wasn't a nation of haves and have-nots, a nation stripmined by the few at the expense of the many, a nation befuddled by a grotesquely Orwellian media that goes into full propaganda mode if its group-think is questioned, a nation that until recently lauded tech giants whose profits flow exclusively from advertising aimed at users whose engagement is encouraged by just the sort of divisive, emotionally disturbing "news and opinion" that the Russian groups paid for–if the U.S. wasn't a rotten-to-the-core fake-news, fake-recovery, fake-democracy nation, then the modest efforts of the Russian interlopers would have been lost in a sea of legitimacy and authenticity.
The irony that is most gagging is that America's power elite is destroying the nation's social order by its concentration of wealth and abuse of power, yet this power elite claims a handful of social media sites undermined our democracy. How pathetic is that?
The correct question to ask is: what democracy?
Source:
02.17.2018 –  Our Approaching Winter of Discontent
The tragedy is so few act when the collapse is predictably inevitable, but not yet manifesting in daily life.
That chill you feel in the financial weather presages an unprecedented–and for most people, unexpectedly severe–winter of discontent. Rather than sugarcoat what's coming, let's speak plainly for a change: none of the promises that have been made to you will be kept.
This includes explicit promises to provide income security and healthcare entitlements, etc., and implicit promises that don't need to be stated: a currency that holds its value, high-functioning public infrastructure, etc.
Nearly "free" (to you) healthcare: no.
Generous public pensions: no.
Social Security with an equivalent purchasing power to the checks issued today: no.
As for the implicit promises:
A national currency that holds its value into the future: no.
High-functioning public infrastructure: maybe in a few places, but not something to be taken for granted everywhere.
A working democracy in which common citizens can affect change even if the power structure defends a dysfunctional and corrupt status quo: no.
A higher education system that prepares its graduates for secure jobs in the real-world economy: on average, no.
Cheap, abundant fossil fuels and electricity: during recessionary head-fakes, yes; but as a permanent entitlement: no.
High returns on conventional capital (the kind created and distributed by central banks): no.
A government that can borrow endless trillions of dollars with no impact on interest rates or the real economy: no.
Pay raises that keep up with real-world inflation: no.
Ever-rising corporate profits: no.
You get the idea: the status quo will be unable to keep the myriad promises made to the public, implicitly and explicitly. The reason is not difficult to understand:
Governments jealously protect their right to create currency ("money") out of thin air. This is known as seigniorage. Technically, it's the profit earned by issuing "money" with a market value above the cost of production. For example, if a $100 bill costs 10 cents to produce, the central state's seigniorage is $99.90.
(Central banks are part of the central state. Even though America's central bank, the Federal Reserve, is privately owned, it nonetheless functions as the federal government's central bank.)
To reward cronies and win elections, politcos promise everyone more of everything. Major campaign donors are promised tax breaks; powerful corporations are promised government-mandated cartels or monopolies. Private banks are promised cheap credit. Public unions are promised higher wages and heftier benefits. Voters are promised more infrastructure, more education and social spending, and more entitlements.
And so on.
Funding all these ever-expanding promises with cash would require higher taxes. Any attempt to trim the gravy train promised to one group will arouse that constituency to a frenzy of lobbying and noisy proclamations of disaster if even a penny of their promised gravy train is cut.
As for raising taxes, not only is that politically unpopular, it has an economic impact: every additional dollar taken in taxes is one less dollar available to households and enterprises to spend, save or invest.
If every additional tax dollar was recycled into the economy with the same efficiency as private spending and investment, i.e. the new spending decreased household and enterprise costs proportionately, the effects might be roughly neutral or even beneficial, if the public spending leveraged some new efficiency that was available to everyone.
(If a new tax radically reduced the cost of college tuition for every college student, at least some households would be able to offset the higher taxes with significantly lower expenses. The problem with this swapping of public spending for private spending is politically powerful constituencies typically get the extra public spending, and so the citizenry end up subsidizing political favored groups rather than broadly beneficial programs that actually reduce household/ enterprise expenses.)
So how can politicos fulfill their ever-more costly promises without generating political or economic blow-back? Borrow and/or create the money needed to fund the promises. Actually, these are one mechanism, as Japan has shown: the government borrows a trillion, then the central bank creates a trillion out of thin air and buys the government bond with the new trillion.
If central banks can keep interest rates low, the cost of servicing the new debt is modest–or the interest can be paid with more borrowed money. If the central bank buys the new debt, it's like a perpetual-motion financial machine: the government can borrow unlimited currency, as every new Treasury bond is helpfully purchased by the central bank with new currency created out of thin air.
You see the self-reinforcing feedback loop this creates.The ease of borrowing and the initially modest costs of servicing this additional debt encourages more reliance on borrowing as the politically practical way to meet all the promises while placating powerful constituencies and winning re-election.
The consequences of runaway currency creation/government borrowing are not immediately visible, as the financial system's buffers compensate / subdue the adverse effects.
In other words, the unlimited money-creation/borrowing regime appears stable and sustainable as the risks and consequences are buried in the financial system as a whole.
But the apparent lack of consequences doesn't mean there are no consequences. It means the imbalances and extremes are piling up beneath the surface as the system's buffers thin. New extremes are required to keep the system afloat, but there doesn't seem to be any upper limit on money creation or new government debt.
Until the buffers give way, and all the accumulated consequences manifest in sudden fashion. Here is a chart of the black market ("free") Venezuelan Bolivar to the U.S.dollar (data courtesy of dolartoday.com).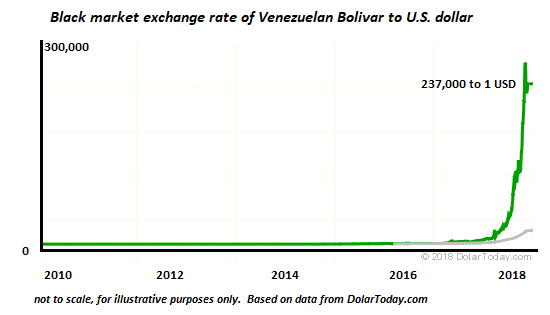 We're assured "that can't happen here," but history tells us that eventually it always "happens here." Ten years ago, few middle-class Venezuelans would have believed their national currency could sink to the point that a 100,000 bolivar bill was worth a mere 41 cents in US dollars.
The chart reveals the dynamic: the currency can be debauched for years with little apparent consequence, and then the buffers suddenly collapse and the currency is essentially worthless.
The collapse of the purchasing power of a currency can be slow or fast. Ten years of 10% annual inflation in an economy of near-zero wage inflation will do the trick, or a sudden crisis of faith creates a bidless market for the currency: nobody wants to part with anything of value for the currency.
The terrible financial hurricane wipes out all the accumulated savings (i.e. accumulated purchasing power) of everyone holding the currency as a "store of value." Only those who transferred their currency into durable stores of value before the collapse (stores of value that the desperate government can't expropriate) conserved their savings/ purchasing power.
Just as structures weaken imperceptibly before they collapse in a heap, the undermining of national currencies by excessive issuance of currency/credit and government debt is also imperceptible. The politicos and functionaries in charge of the debauching of the currency are at first nervous that the market might sniff out the debauchery; but the complacent acceptance of their fraud by the markets and the public gives them the green light to increase the issuance of currency and debt.
Their confidence that they can get away with paying yesterday's promises with money borrowed from the future essentially forever builds into an inevitably fatal hubris.
The tragedy is so few act when the collapse is predictably inevitable, but not yet manifesting in daily life. Screaming but we wuz promised won't nullify the hurricane.
My new book Money and Work Unchained Read the first section for free in PDF format.
Source:oftowminds.com
02.15.2018 – Russia Slams Report Of "Hundreds Of Russian Fighters" Killed In Syria As Fake News
Two days after Bloomberg reported that over 100 Russian fighters – mercenaries fighting on behalf of Syria's president Bashar al-Assad – were killed in Syria on February 7 by US air strikes – the Russian foreign ministry slammed these reports about alleged "dozens" or "hundreds" killed Russian military servicemen in Syria as "classic disinformation" that was "launched by anti-government militants."
During her weekly news conference, Russian Foreign Ministry spokeswoman Maria Zakharova said that reports by both Reuters and Bloomberg that Russian servicement were killed by US-led coalition strikes, stemmed from anti-government fighters in Syria, who spread them accompanied by doctored images.
The man who predicted the collapse of GM, Fannie, and Freddie says the next big bankruptcy is going to catch everyone by surprise. Learn more here.
"The reports on the deaths of dozens, hundreds, of Russians is classic disinformation," Zakharova said, who nonetheless admitted that some Russians did die, although in Moscow's official estimation, the number was far lower, no more than "5 people."
"Preliminary data shows the armed confrontation, the reasons of which are currently being investigated, could have resulted in deaths of five people, presumably Russian citizens," she said, adding that their citizenship still needs to be checked.
More importantly, Zakharova added that those who were killed in the airstrike did not serve in the Russian armed forces: she had to make that distinction because as we discussed earlier this week, the fact that the Kremlin was covering up death of armed men in Syria could quickly become a political scandal for Putin:
Vladimir Frolov, a former Russian diplomat and lawmaker who's now an independent political analyst in Moscow, said the clash marked the first such armed exchange between the two powers since the Vietnam War.

"This is a big scandal and a reason for an acute international crisis," Frolov said. "But Russia will pretend nothing happened."

Indeed, and as we noted last night, if and when the deaths are officially confirmed, it could turn into a political scandal for Putin, with the public demanding why the government is keeping military deaths under wraps. Already Grigory Yavlinsky, a veteran liberal politician who is running for president in elections next month, has called on Putin to disclose how many Russians had been killed in Syria and in what circumstances.

"If there was large-scale loss of life of Russian citizens, the relevant officials, including the commander-in-chief of our armed forces (Putin), are obliged to tell the country about it and decide who carries responsibility for this," Yavlinsky said in a statement released by his Yabloko party.
The scandal started with a US attack on February 7, when the Pentagon said it killed more than 100 Syrian militiamen allied with the government of President Bashar Assad. This was after some 500 fighters had targeted "well-established Syrian Democratic Forces headquarters" in Deir al-Zor province in what the Pentagon called an "unprovoked attack."
The Russian Defense Ministry later said 25 Syrian militia fighters had been wounded in the airstrike. The ministry added that they came under attack while conducting a reconnaissance operation that was not coordinated with the Russian side. No Russian military servicemen were in the area, according to the ministry, although that narrative now appears to have also changed with "at least" 5 Russians admittedly killed.
Source:zerohedge.com
02.13.2018 – Do Financial Markets Still Exist?
Do Financial Markets Still Exist?
Paul Craig Roberts, Dave Kranzler, Michael Hudson
For many decades the Federal Reserve has rigged the bond market by its purchases. And for about a century, central banks have set interest rates (mainly to stabilize their currency's exchange rate) with collateral effects on securities prices. It appears that in May 2010, August 2015, January/February 2016, and currently in February 2018 the Fed is rigging the stock market by purchasing S&P equity index futures in order to arrest stock market declines driven by fundamentals, and to push prices back up in keeping with a decade of money creation.
No one should find this a surprising suggestion.  The Bank of Japan has a long tradition of propping up the Japanese equity market with large purchases of equities. The European Central Bank purchases corporate as well as government bonds.  In 1989 Fed governor Robert Heller said that as the Fed already rigs the bond market with purchases, the Fed can also rig the stock market to stop price declines. That is the reason the Plunge Protection Team (PPT) was created in 1987.
Looking at the chart of futures activity on the E-mini S&P 500, we see an uptick in activity on February 2 when the market dropped, with higher increases in future activity last Monday and Tuesday placing Tuesday's futures activity at about four times the daily average of the previous month.  Futures activity last Wednesday and Thursday remained above the average daily activity of the previous month, and Friday's activity was about three times the previous month's daily average. The result of this futures activity was to send the market up, because the futures activity was purchases, not sales.  http://www.cmegroup.com/trading/equity-index/us-index/e-mini-sandp500_quotes_volume_voi.html 
Who would be purchasing S&P equity futures when the market is collapsing from under them? The most likely answer we can come up with is that the Fed is acting for the PPT. The Fed can actually stop a market decline without purchasing a single futures contract. All that has to happen is that a trader recognized as operating for the Fed or PPT enters a futures bid just below the current price. The traders see the bid as the Fed establishing a floor below which it will not let the market fall.  Expecting continuing declines to make the bid effective, they front-run the bid, and the hedge funds algorithms pick it up, and up goes the market.
Is there another explanation for the shift in the market from decline to rise?  Are retail investors purchasing dips?  Not according to this report in Bloomberg — https://www.bloomberg.com/news/articles/2018-02-12/record-23-billion-flees-world-s-largest-etf-as-panic-reigns — that last week a record $23.6 billion was removed from the world's largest ETF, the SPDR S& 500 index fund. Here we see retail investors abandoning the market.
If central banks can produce zero interest rates simultaneously with a massive increase in indebtedness, why can't they keep equity prices far above the values supported by fundamentals?  As central banks have learned that they can rig financial asset prices to the delight of everyone in the market, in what sense does capitalism, free markets, and price discovery exist? Have we entered a new kind of economic system?
Source:paulcraigroberts.org
02.12.2018 –  What Just Changed?
The illusion that risk can be limited delivered three asset bubbles in less than 20 years.
Has anything actually changed in the past two weeks? The conventional bullish answer is no, nothing's changed; the global economy is growing virtually everywhere, inflation is near-zero, credit is abundant, commodities will remain cheap for the foreseeable future, assets are not in bubbles, and the global financial system is in a state of sustainable wonderfulness.
As for that spot of bother, the recent 10% decline in stocks: ho-hum, nothing to see here, just a typical "healthy correction" in a never-ending bull market, the result of flawed volatility instruments and too many punters picking up dimes in front of the steamroller.
Now that's winding up, we can get back to "creating wealth" by buying assets–$2 million homes in Seattle that were $500,000 homes a few years ago, stocks, bonds, private islands, offshore wealth funds, bat guano, you name it. Just borrow whatever you need to borrow to buy more.
(But don't buy bitcoin. No no no, a thousand times no. It is going to zero, Goldman Sachs guaranteed it.)
Ahem. And then there's reality: something has changed, something important. What changed? The endlessly compelling notion that risk has magically vanished as the result of financial sorcery is now in doubt. If risk hasn't been made to disappear, and even worse, can't be corralled into a shortable instrument like VIX, then–gasp–every asset and instrument might actually be exposed to some risk.
As I've noted many times here, risk cannot be made to disappear; it can only be transferred onto others or off-loaded into the financial system itself. Risk can be cloaked or masked, and indeed, that is the beating heart of financial alchemy: we can eliminate risk by hedging via exotic instruments.
Once risk has been vanquished, then we can safely invest in all sorts of high-yield ventures that were once risky: junk bonds, emerging market debt, private wealth funds and so on.
But if risk cannot be destroyed, then where is it? If we can locate and isolate it, then we can hedge it, right?
But what if risk has been pushed into the vast machinery of the global financial system itself? This was the unwelcome (and as yet unlearned) lesson of the 2007-08 Global Financial Meltdown: risk, we were told, was confined to the subprime mortgage corral, and if you avoided that corral, your exposure to risk was near-zero.
That turned out to be false. The belief that risk exposure is near-zero generates an irresistable desire to load up on high-yield riskier assets because, hey, why not? If risk is near-zero, why leave all that low-hanging fruit on the tree?
This is a self-reinforcing feedback loop: the higher the yields available on risk assets, and the lower the perceived risk exposure, the greater the incentives to move more borrowed money into ever-riskier assets, which then pushes systemic risk ever higher.
The end-game of this self-reinforcing feedback loop is collapse, as risk inevitably emerges where it is least expected. Home mortgages were safe and boring. Well, not quite, after financial alchemy was applied to vanquish risk and thus unleash enormously profitable financialization.
Nobody knows where systemic risk might emerge, or how much risk exposure is lurking in assets. What was once safe is now less certainly safe. So where do you earn those fat returns without risk, the returns the world has come to see as entitlements due capital everywhere, at all times?
The illusion that risk can be limited delivered three asset bubbles in less than 20 years. Each bubble collapse caused more structural damage, and each central bank "save" introduced higher levels of systemic fragility, which is another way of saying systemic risk.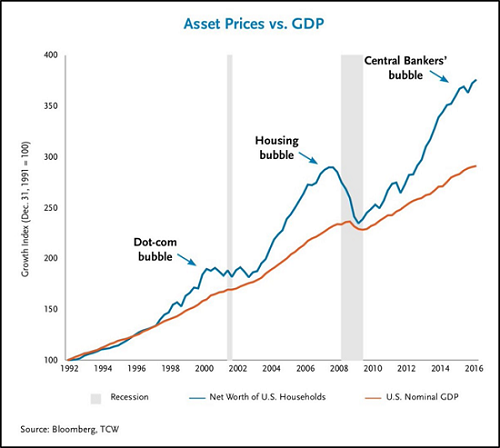 Though no one in the financial sector dares say this in public, the possibility that central banks can no longer sustain the illusion that risk has been vanquished is now front and center. If risk can't be corralled and quantified, then it can't be offset with any degree of confidence. If risk can't be corralled and quantified, it can't be offloaded onto unsuspecting others without the possibility that the system itself will collapse once the risk that's been piling up in the global machinery manifests.
Something has changed, but nobody dares talk about it. That tells those who listen to what's not being said something of great value.
Source: oftwominds.com
02.11.2018 –  Three Crazy Things We Now Accept as "Normal"
How can central banks "retrain" participants while maintaining their extreme policies of stimulus?
Human habituate very easily to new circumstances, even extreme ones. What we accept as "normal" now may have been considered bizarre, extreme or unstable a few short years ago.
Three economic examples come to mind:
1. Near-zero interest rates. If someone had announced to a room of economists and financial journalists in 2006 that interest rates would be near-zero for the foreseeable future, few would have considered it possible or healthy. Yet now the Federal Reserve and other central banks have kept interest rates/bond yields near-zero for almost nine years.
The Fed has raised rates a mere .75% in three cautious baby-steps, clearly fearful of collapsing the "recovery."
What would happen if mortgages returned to their previously "normal" level around 7% from the current 4%? What would happen to auto sales if people with average credit had to pay more than 0% or 1% for a auto loan?
Those in charge of setting rates and yields are clearly fearful that "normalized" interest rates would kill the recovery and the stock bubble.
2. Massive money-creation hasn't generated inflation. In classic economics, massive money-printing (injecting trillions of dollars, yuan, yen and euros into the financial system) would be expected to spark inflation.
As many of us have observed, "official" inflation of less than 2% does not align with "real-world" inflation in big-ticket items such as rent, healthcare and college tuition/fees. A more realistic inflation rate is 7%-8% annually, especially in the higher-cost regions of the US.
But setting that aside, there is a puzzling asymmetry between low official inflation and the unprecedented expansion of money supply, debt and monetary stimulus (credit and liquidity). To date, most of this new money appears to be inflating assets rather than the real world. But can this asymmetry continue for another 9 years?
3. Stock markets are soaring but sales and profits are stagnant. Everyone knows central banks are still pumping billions of dollars per month into the financial system, and this (coupled with central bank purchases of stocks and bonds) has been pushing stocks sharply higher for the past 9 years, with only a few hiccups along the way.
This is pushing valuations out of alignment with traditional metrics of valuing assets such as sales and profits–a process known as "price discovery." In essence, traders and investors have habituated to central banks driving private-sector markets higher, not because the assets are generating more value or profits. but simply as a function of centralized money creation and asset purchases.
All of these extremes generate mal-investment, diminishing returns and perverse incentives for ramping up unproductive and risky speculation, leverage and debt. Yet the central banks have trapped themselves in this risky trajectory because they've pushed the accelerator to the floorboard for 9 years. Any extreme held in place for 9 years has long slipped from "temporary" to permanent.
Participants have now habituated fully to central banks extreme stimulus of financial markets, and in a sense they've forgotten how to price assets based on real-world private-sector measures.
How can central banks "retrain" participants while maintaining their extreme policies of stimulus? The only possible answer is: they can't.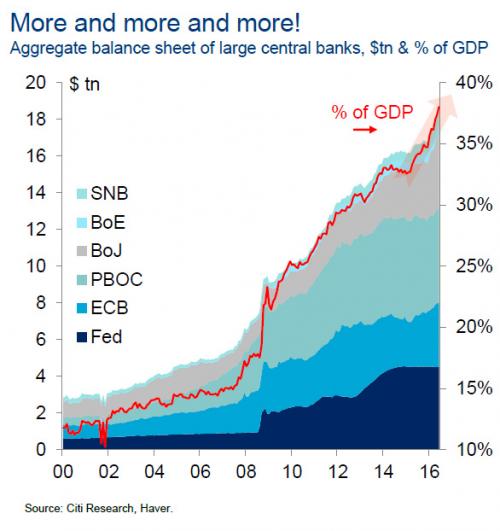 This essay was drawn from Musings Report 2018:1. The Musings Reports are emailed weekl to constributors, subscribers and patrons. Than you for your financial support of my work.
Source: oftwominds.com

02.09.2018 –  The Dow Falls 1,032 Points! Has The Financial Crisis Of 2018 Officially Arrived?
We haven't seen this kind of a bloodbath on Wall Street since the great financial crisis of 2008.  Prior to this week, the largest single day decline for the Dow Jones industrial average that we had ever seen was 777 points.  That record was absolutely shattered on Monday when the Dow fell 1,175 points, and on Thursday the Dow dropped another 1,032 points.  This was the third decline greater than 500 points within the last five trading days, and the Dow is poised to post its worst week since the dark days of October 2008.  So is this just a "correction", or has the financial crisis of 2018 officially arrived?
At this point, many of the experts are pointing to the bond market as the primary reason why stock prices are crashing.  The following comes from CNBC…
There's a not-so-quiet rebellion going on in the bond market, and it threatens to take 10-year yields above 3 percent much faster than expected just a few weeks ago.

As a result, the bumpy ride for stocks could continue for a while.
And without a doubt, analysts such as Jeff Gundlach clearly warned that there would be big trouble for stocks as bond yields rose…
Gundlach had correctly predicted that if the 10-year U.S. Treasury note yield went above 2.63 percent, U.S. stock investors would be spooked.

"Clearly, the market gets shaky when the 10-year hits 2.85 percent," Gundlach said. "Just look at this week, and today. Makes one consider what could be coming if 10s push over 3 and 30s (30-year Treasury bond) over 3.22 percent."

The 10-year yield is currently trading around 2.83 percent. Gundlach said it is "hard to love bonds at even a 3 percent" yield. "Rising interest rates are a problem and the U.S. is in debt and there is massive bond supply," Gundlach said.
Moving forward, it will be important to keep a close eye on bond yields.  Every time they start going back up, we are likely to see stock prices go down…
"We're in a vicious cycle here. If the yields go up, you have to sell stocks. If you sell stocks, and they crash, yields come back down," said Art Hogan, chief market strategist at B. Riley FBR.

The bond market's struggle to price in higher interest rates has been kneecapped each time the stock market reacts and sells off. Strategists expect the two markets to ultimately find an equilibrium but not without more sharp swings.
This is one of the reasons why the budget deal going through Congress right now is such a bad idea.  Hundreds of billions of dollars of additional spending on top of what we are already doing is going to push up bond yields, and that is just going to make the pressure on Wall Street even worse.
Of course the folks over at the Federal Reserve could intervene, but they don't seem inclined to do that at this point.  Late last year the Fed finally removed artificial life support from the financial system, and at first everything seemed to be going well.  But now a new crisis is brewing, and we shall see if the Fed still remains determined to keep raising rates.  The following comes from Peter Schiff…
"The Fed were dragging their feet in raising rates while Obama was president.  They talked about raising rates but at the end of the day, they barely moved them up. The pace of hikes has increased since Trump was elected, but part of the reason for that…I mean, the media is not talking down the economy; if anything they're overhyping the economy.  Everybody's talking about how strong the economy is, how everything is great. Everybody is taking credit for this great economy. The Fed wants to take credit for it, Trump wants to take credit for it, so if everybody wants to talk about how great the economy is, the Fed doesn't have any excuse if it doesn't raise rates…in order to keep up the pretense that the economy is as strong as everybody thinks, the Fed is in this box where it has to raise rates.

But they [the Fed] can't tell the truth that it's really a bubble, and if we raise rates, we're gonna prick it, so they're kinda in this bind.  And they are still telegraphing that they're gonna raise rates three or four times this year.  And that is the problem."
It has been my contention for a very long time that the greatest financial bubble in human history would not be able to continue without artificial support from the Fed and other global central banks.
Once the Fed finally ended their artificial support for the markets late last year, I anticipated that there would be trouble, but stock prices continued to rise through the holiday season.
But now reality is setting in, and investors are rushing like mad for the exits.  I really like how Brandon Smith described the current state of affairs in his recent article…
After I predicted the election of Donald Trump, I also predicted that central banks would begin pulling the plug on life support for equities markets. This did in fact take place with the Fed's continued program of interest rate increases and the reduction of their balance sheet, which effectively strangles the flow of cheap credit to banking and corporate institutions that fueled stock buybacks for years. Without this constant and ever expansionary easy fiat, there is nothing left to act as a crutch for stocks except perhaps blind faith. And blind faith in the economy always ends up being smacked down by the ugly realities of mathematics.
Without artificial support, gravity will try to pull stock valuations back to their long-term averages.  That would mean a decline for the Dow of at least 10,000 more points, but major financial institutions are so highly leveraged and Wall Street has become such a giant casino that our system literally cannot handle that sort of a decline.
The only way that the game can continue is for the Fed and other global central banks to intervene and prop up the absurd financial bubble that they originally created.
Absent that, this crisis is likely to go from bad to worse, and we may soon find ourselves facing a financial panic unlike anything that we have ever seen before.
Source: theeconomiccollapseblog.com
02.07.2018 –  Is the 9-Year Long Dead Cat Bounce Finally Ending?
Ignoring or downplaying these fundamental forces has greatly increased the fragility of the status quo.
The term dead cat bounce is market lingo for a "recovery" after markets decline due to fundamental reversals. Markets tend to bounce back after sharp declines as participants (human and digital) who have been trained to "buy the dips" once again buy the decline, and the financial media rushes to reassure everyone that nothing has actually changed, everything is still peachy-keen wonderfulness.
I submit that the past 9 years of market "recovery" is nothing but an oversized dead cat bounce that is finally ending. Here is a chart that depicts the final blow-off top phase of the over-extended dead cat bounce: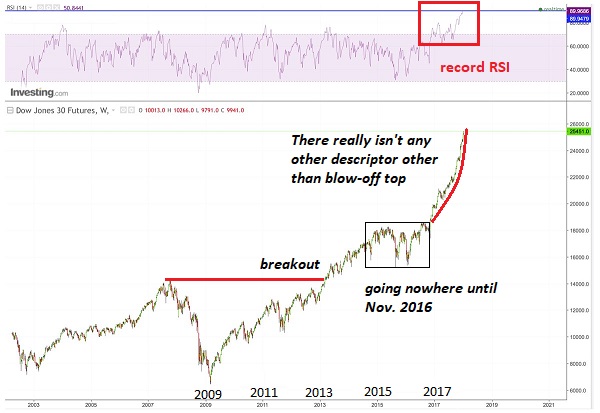 Why are the past 9 years nothing but an extended dead cat bounce? Nothing that's fundamentally broken has been fixed, and none of the dynamics that are undermining the status quo have been addressed.
The past 9 years have been one long dead cat bounce of extend and pretend, i.e. do more of what's failed because to even admit the status quo is being undermined by fundamental forces would panic those gorging at the trough of the status quo's lopsided rewards.
This 9-year dead cat bounce was pure speculation driven by cheap central bank credit and liquidity. Demographics, environmental degradation, the decline of middle class security, the erosion of paid work, the bankruptcy of public and private pension plans, the global debt bubble, soaring wealth and income inequality, the corruption of democracy into a pay-to-play bidding war, the destruction of price discovery via market manipulation by those who have turned markets into signaling devices that all is well, the laughable distortion of statistics to mask the real world decline in our purchasing power (inflation is near-zero–really really really), the perverse incentives to leverage up bets in financial instruments that have no connection to the real-world economy–none of these have been addressed in the market melt-up.
Source: oftwominds.com
02.06.2018 – So What Do I Think about the "Crash" in Stocks?
 A lot more will have to happen before this turns into a crash; and markets are not there yet.
With all this wailing in the media about stocks, you'd think there's at least some blood in the streets. But no. Not a drop.
The Dow fell 4.6% today to 24,345. This 1,175-point drop, as it was endlessly repeated, was the biggest point-drop in history – but irrelevant given how relentlessly inflated the industrial average had become. The percentage drop today, combined with the drops of last week, took the Dow down just 8.5% from its all-time high on January 26.
For the year, the Dow is down merely 1.5%. I mean, what horror. The last time this sort of debacle happened was way back in ancient history of January and early February 2016.
The Dow is not even in a correction (defined as -10% from its recent high). But that messy Friday and Monday, following a record 410-day streak without a 5% decline, did break the recently pandemic illusion that you cannot lose money in stocks.
When the Dow gained 1,000 points in the shortest time ever, after having already booked the fastest-ever 1,000-point gains in prior months and years, no one was complaining about it. These rapid-fire 1,000-point-gains had become the new normal. So today, one of those 1,000-point gains has been unwound.
The S&P 500 dropped 113 points, or 4.1%, to 2,648. This took the index back to December 8, 2017. The past six trading days were the worst decline since … well, since the weeks leading up to February 7, 2016, at which point the S&P 500 was off 19%, not quite enough for a dip into an official bear market.
The Nasdaq fell 272 points today, or 3.8%, to 6,967, below 7,000 for the first time since the end of December, but remains, if barely, in positive territory for the year.
What'll happen next? Dip buyers will come in, maybe at this very moment, or maybe later, and some of them will likely get plowed under, but there is way too much cash lined up in hedge funds specifically set up to profit from sell-offs. And dip-buyers have been rewarded relentlessly over the past eight years, and it's not until the dip buyers get massively destroyed and stop dip-buying that the market is in real trouble.
Because nothing goes to heck in a straight line.
But already, the coddled soothsayers on Wall Street are blaming the Fed. These are the same ones that could never get enough QE, that insisted on calling QE-3 "QE Infinity," clamoring at the time for eternal scorched-earth-monetary policies so that asset prices would recklessly get inflated to the moon. They're the same ones now clamoring for the Fed back off its "normalization" strategy.
They just sound like silly little crybabies that cannot deal with markets attempting however briefly and feebly to do some price discovery on their own.
Compared to the sell-off that has been crushing cryptocurrencies – even the largest ones have plunged 50% to 80% from their peak a month ago – the sell-off in stocks so far is mild. Oil sold off too. As did some other commodities and assets. And as confidence in them began to wobble, there are some things that have been rising over past few days, including gold prices.
As usual when too many retail investors suddenly realize that something is up, and they want to get their goods onto dry land, it didn't work. The websites of a number of online brokers, mutual fund firms, and fintech robo-advisers went down at least briefly under the onslaught of traffic. They included Charles Schwab, TD Ameritrade, Vanguard Group, T. Rowe Price, robo- adviser fintech startups Wealthfront and Betterment, and others.
This sort of thing happens frequently: When retail investors are rattled and are trying to sell, the system breaks for them. This shows how hard it can be for those waiting to sell at the absolute peak — if they could even identify it — to be able to get out at that peak, when everyone is trying to get out at the same time.
So do Friday and Monday count as a "rout?" Yes. But a crash? No. Far from it. A lot more will have to happen before this turns into a real crash, and markets are not there yet. But many people will need to get used to a new sensation in their lives: losing money in stocks.
In terms of bonds, it's only a question of how disruptive the adjustment will be, whether it will be just a painful sell-off or junk-bond mayhem.
Source: wolfstreet.com
02.04.2018 –   Is Congress Finally Pushing Back Against Security Agencies' Over-Reach?
The last time the U.S. Congress pushed back against the Imperial Presidency and the over-reach of the nation's Security Agencies was 43 years ago, in 1975.
The last time the U.S. Congress pushed back against the Imperial Presidency and the over-reach of the nation's Security Agencies was 43 years ago, in 1975. In response to the criminal over-reach of the Imperial Presidency (Watergate) and to the criminal over-reach of the security agencies (FBI, CIA, et al.), the Church Committee finally resusitated the constitutional powers of the Congress to serve the interests of the citizenry rather than the interests of political elites and the rogue agencies of the federal government.
The erosion of congressional power (or more correctly, the surrender of power by Congress) long pre-dates 9/11. The rise of the Imperial Presidency and the Shadow State of "national security" agencies dates back to World War II. Those interested in tracing this long-term and troubling decline of the constitutional powers of the elected representatives may find value in these two books: The Imperial Presidency (Arthur M. Schlesinger, Jr.) and Takeover: The Return of the Imperial Presidency and the Subversion of American Democracy
The constitution grants the greatest powers to the elected representatives of the citizenry. The power to declare war, for example, has been eroded to the point that the Imperial Executive can wage essentially unlimited wars with little actual oversight by Congress.
There is a bitter irony in the Democrats' rush to "defend" the indefensible over-reach of the FBI and CIA to those whose rights were abused by the FBI and the CIA in the blatantly illegal COINTELPRO programs aimed at destroying the anti-war/ anti-civil rights movements in the 1960s and early 1970s.
(It has been estimated that up to 80% of the FBI's resources were devoted to targeting a handful of draft resisters and civil rights groups in this era. While TV programs presented a propaganda facade of incorruptible crime fighters, in the real world FBI and CIA agents broke into private offices, hired thugs to beat up anti-war leaders, conducted illegal surveillance, and so on.)
The irony is that the agencies the Democrats are now rushing to defend were targeting the "progressives" who dared to resist the foreign policies and domestic oppression of the federal government.
(So much for the bona-fides of the current crop of self-proclaimed "progressives." Those of us hauled in for interrogation by the FBI for resisting state policies have a different definition of "progressive;" note to Democrats: rushing to defend the politicized American Stasi is the opposite of "progressive.")
We know from the Church Committee reports that the FBI and CIA broke numerous federal laws and violated every constitutional limit on their powers as a matter of daily policy. The abuses of power were not the work of rogue agents; they were the work of rogue agencies, from the top down.
For more on COINTELPRO, please read War at Home: Covert action against U.S. activists and what we can do about it and/or Cointelpro: The FBI's Secret War on Political Freedom.
And here we are again, with rogue security agencies abusing their powers. All that's changed is the political parties have switched places; where the Republicans were defending the status quo abuse of power then and the Democrats were pushing for a transparent investigation of the agencies' abuses of power, now it's the Democrats who are defending the agencies' abuses of power while the Republicans are pushing for a transparent investigation of the agencies' abuses of power.
I don't care which party is pushing for the unmasking of these undemocratic Shadow State agencies; I only care that Congress awakens from its decades of surrendering power to the out-of-control "security agencies" and the Imperial Presidency, which characterizes both Democrat and Republican presidents.
The task of uncovering security agencies' abuses of power is made more difficult by the rise of political polarization. Unmasking abuses of power shouldn't be a partisan issue, and the nation's best hope is the rise of independents who view both parties with revulsion born of the status quo's profound failures to defend the rights and livelihoods of the bottom 95%.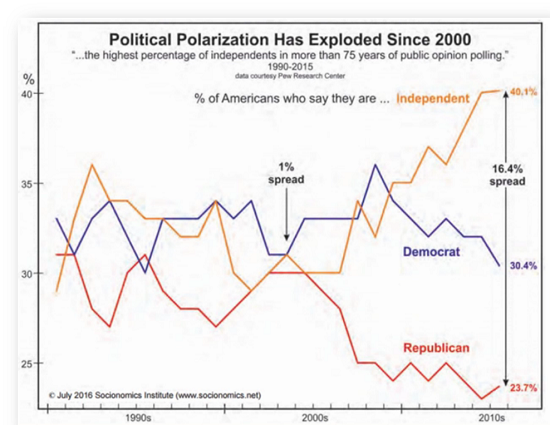 I've written extensively about state over-reach and illegal suppression of dissent: remember, the state exists to enforce the dominance of Elites: everything else is propaganda, misdirection and obfuscation.
Source: oftwominds.com
02.04.2018 – Political Correctness Serves Only The Ruling Elite
No wonder the Ruling Elites loves political correctness: all those furiously signaling their virtue are zero threat to the asymmetric plunder of the status quo.
The Ruling Elites loves political correctness, for it serves the Elite so well. What is political correctness? Political correctness is the public pressure to conform to "progressive" speech acts by uttering the expected code words and phrases in public.
Note that no actual action is required. This is why the Ruling Elite loves political correctness: conformity is so cheap. All a functionary of the Ruling Elite need do is utter the code words ("hope and change," "we honor diversity," "thank you for your service," etc.) and they get a free pass to continue their pillaging.
Those placated by politically correct utterances accept symbolic speech acts as substitutes for real changes in the power structure. This glorification of symbolic gestures–virtue signaling via social media, the parroting of progressive phrases, etc.–is as cheap as the mouthing of PC platitudes. Everybody gets to feel validated and respected at no cost to anyone: the progressives feel smugly superior because the Ruling Elite now feels compelled to parrot "progressive" speech acts in public, and the Ruling Elite is free to pillage without any demands for a radical restructuring of the incentives and distribution of the nation's wealth and income.
The rise of "progressive" speech acts and political correctness parallels the decline of the fortunes and incomes of the bottom 90%. While the "progressives" focus on cheap symbolism, the laboring classes are being gutted by the centralized financialization that rewards the few at the expense of the many.
Here's median family financial assets: back to the levels of 1995: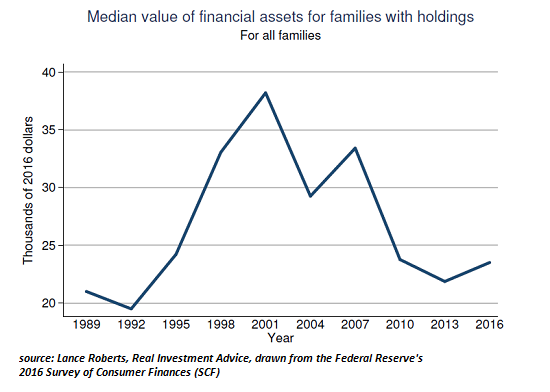 Here's civilian participation in the work force–back to the levels of 1975: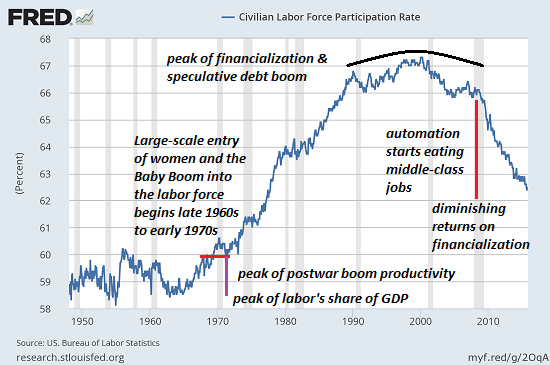 Here's the percentage of income going to the top 1% and the bottom 50%: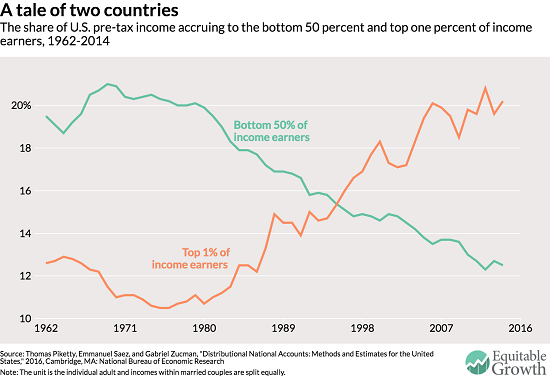 So while the "progressives" focus exclusively on their own ineffectual virtue-signaling and the empty "victories" of Ruling Elites mouthing the acceptable code words, our economy, society and the social contract are being shredded. No wonder the corporate media promotes empty gestures, virtue signaling and political correctness: all that phony compliance leaves the current wealth-power structure unchanged, and the Ruling Elite firmly in charge of the economy and governance.
No wonder the Ruling Elite loves political correctness: all those furiously signaling their virtue are zero threat to the asymmetric plunder of the status quo.
*  *  *
My new book Money and Work Unchained is $9.95 for the Kindle ebook and $20 for the print edition. Read the first section for free in PDF format. If you found value in this content, please join me in seeking solutions by becoming a $1/month patron of my work via patreon.com.
Source: oftwominds.com
02.03.2018 –  Nunes: FISA Memo Just "Phase One," Now Targeting State Department In "Phase Two"
Devin Nunes (R-CA) said that the investigation leading up to the four-page FISA memo released on Friday was only "phase one," and that the House Intelligence Committee is currently in the middle of investigating the State Department over their involvement in surveillance abuses.
"We are in the middle of what I call phase two of our investigation, which involves other departments, specifically the State Department and some of the involvement that they had in this," said Nunes.
"That investigation is ongoing and we continue work towards finding answers and asking the right questions to try to get to the bottom of what exactly the State Department was up to in terms of this Russia investigation."
#BREAKING: Devin Nunes says this is just the first memo to be released. He says there will be another one dealing specifically with the State Department's role in everything that happened. pic.twitter.com/kpHVDQ44WX

— Ryan Saavedra 🇺🇸 (@RealSaavedra) February 3, 2018
While it is unclear what role the State Department may have in surveillance abuses, the Washington Examiner's Byron York noted last month that former MI6 spy, Christopher Steele, was "well-connected with the Obama State Department," according to the book Collusion: Secret meetings, dirty money, and how Russia helped Donald Trump win" written by The Guardian correspondent Luke Harding and published last November.


Glenn Simpson, Christopher Steele
Harding notes that Steele's work during the World Cup soccer corruption investigation earned the trust of both the FBI and the State Department:
The [soccer] episode burnished Steele's reputation inside the U.S. intelligence community and the FBI. Here was a pro, a well-connected Brit, who understood Russian espionage and its subterranean tricks. Steele was regarded as credible. Between 2014 and 2016, Steele authored more than a hundred reports on Russia and Ukraine. These were written for a private client but shared widely within the State Department and sent up to Secretary of State John Kerry and to Assistant Secretary of State Victoria Nuland, who was in charge of the U.S. response to the Ukraine crisis. Many of Steele's secret sources were the same sources who would supply information on Trump. One former State Department envoy during the Obama administration said he read dozens of Steele's reports on Russia. The envoy said that on Russia, Steele was "as good as the CIA or anyone." Steele's professional reputation inside U.S. agencies would prove important the next time he discovered alarming material, and lit the fuse again.
Aside from the infamous 35-page "Trump-Russia" dossier Steele assembled for opposition research firm Fusion GPS (a report which was funded in part by Hillary Clinton and the DNC), Congressional investigators have been looking into whether Steele compiled other reports about Trump – and in particular, whether those other reports made their way to the State Department, according to The Examiner.
…they are looking into whether those reports made their way to the State Department. They're also seeking to learn what individual State Department officials did in relation to Steele, and whether there were any contacts between the State Department and the FBI or Justice Department concerning the anti-Trump material.
It will be interesting to see how the State Department – and in particular Secretary of State Rex Tillerson – responds to "phase two." 
Source: zerohedge.com
02.02.2018 – FISA Memo Released: Here's What It Says
Moments ago, the House Intel "FISA" memo authored by Devin Nunes was officially declassified, and according to the Washington Examiner's Byron York who has access to an early released version, a key point is that the salacious and still unproven Steele dossier formed the essential part of the initial and all three renewal applications against Carter Page, in line with what as previously leaked.
 As York also explicitly highlights, "The FBI's Andrew McCabe confirmed to the committee that no FISA warrant would have been sought from the FISA Court without the Steele dossier information."
This, as Fox News confirms, means that absent the dossier, at least one of the surveillance warrants in the case would not have been obtained, and – by implication – the entire Mueller probe is thus on shaky legal ground.
Back to the memo, which as York adds, "the political origins of the Steele dossier were known to senior DOJ and FBI officials, but excluded from the FISA applications."
More House Intel memo key point: The political origins of the Steele dossier were known to senior DOJ and FBI officials, but excluded from the FISA applications. https://t.co/jzSl1tzhfc

— Byron York (@ByronYork) February 2, 2018
As Dow Jones confirms, DOJ officials knew Steele was being paid by democrats, and that officials at the DOJ and FBI signed one warrant, and three renewals against Carter Page.
York also notes that DOJ official Bruce Ohr was relayed information about Christopher Steele's bias. Steele told Ohr that he, Steele, was desperate that Donald Trump not get elected president and was passionate about him not becoming president.
All else equal, sounds like a clear case of bias, and when extended, it would imply that the entire Mueller probe is base on grounds that could be overturned in court.
* *
To recap, here are the key points disclosed in the memo, as summarized by the Washington Exmainer which has an early unclassified version of the memo:
The Steele dossier formed an essential part of the intial and all three renewal FISA applications against Carter Page.
Andrew McCabe confirmed that no FISA warrant would have been sought from the FISA Court without the Steele dossier information.
The political origins of the Steele dossier were known to senior DOJ and FBI officials, but excluded from the FISA applications.
DOJ official Bruce Ohr met with Steele beginning in the summer of 2016 and relayed to DOJ information about Steele's bias. Steele told Ohr that he, Steele, was desperate that Donald Trump not get elected president and was passionate about him not becoming president.
As a reminder, the FBI and Justice Department mounted a months-long effort to keep the information outlined in the memo out of the House Intelligence Committee's hands. Only the threat of contempt charges and other forms of pressure forced the FBI and Justice to give up the material.
Once Intelligence Committee leaders and staff compiled some of that information into the memo, the FBI and Justice Department, supported by Capitol Hill Democrats, mounted a ferocious campaign of opposition, saying release of the memo would endanger national security and the rule of law.

But Intelligence Committee chairman Devin Nunes never wavered in his determination to make the information available to the public. President Trump agreed, and, as required by House rules, gave his approval for release.
Finally, the memo released today does not represent the sum total of what House investigators have learned in their review of the FBI and Justice Department Trump-Russia investigation. That means the fight over the memo could be replayed in the future when the Intelligence Committee decides to release more information.
Moments after the announcement that the memo was declassified, Trump spoke to reporters and was asked if the memo makes it more likely that he will fire Deputy AG Rod Rosenstein, to which Trump responded.
When asked if the memo makes it more likely he will fire Deputy Attorney General Rod Rosenstein, Trump responds: "You figure that one out." pic.twitter.com/8eyAtm8uKF

— BuzzFeed News (@BuzzFeedNews) February 2, 2018
Source: zerohedge.com
02.02.2018 –  Obama State Dept Secretly Distributed Its Own "Dossier" To Undermine Trump, FOIA Docs Reveal

Watchdog group Judicial Watch released 42 pages of heavily redacted State Department documents obtained through the Freedom of Information Act (FOIA), which reveal that the Obama State Department provided Senator Ben Cardin (D-MD) a "dossier of classified information on Russia" in order to undermine President Trump, according to Judicial Watch President Tom Fitton.
 "These documents show the Obama State Department under John Kerry gathered and sent its own dossier of classified information on Russia to Senator Ben Cardin, a political ally in the U.S. Senate, to undermine President Trump," said Judicial Watch President Tom Fitton. "Judicial Watch will pursue information on who pulled this classified information, who authorized its release, and why was it evidently dumped just days before President Trump's inauguration."
The documents show Russian political interference in elections and politics in countries across Europe.
According to a March 2017 report in the Baltimore Sun: "Maryland Sen. Ben Cardin received classified information about Russia's involvement in elections when the Obama administration was attempting to disseminate that material widely across the government in order to aid in future investigations, according to a report Wednesday … Obama officials were concerned, according to the report [in The New York Times], that the Trump administration would cover up intelligence once power changed hands." –Judicial Watch
In March 2017, Former Obama Deputy Assistant Secretary of Defense, Evelyn Farkas, made some stunning admissions during an interview with MSNBC's Mika Brzezinski.
While discussing the mad scramble by the Obama administration to collect and preserve intelligence on alleged Russian election hacking before Obama left office, it appears that Farkas accidentally implicated the Obama White House in the surveillance of Trump's campaign staff:
The Trump folks, if they found out how we knew what we knew about the Trump staff dealing with Russians, that they would try to compromise those sources and methods, meaning we would not longer have access to that intelligence. –Evelyn Farkas
Furthermore, Farkas effectively corroborated the March New York Times article which cited "Former American officials" as their anonymous source regarding efforts to leak this surveillance on the Trump team to Democrats across Washington DC.
I became very worried because not enough was coming out into the open and I knew that there was more. We have very good intelligence on Russia. So then I had talked to some of my former colleagues and I knew they were trying to also get information to the hill.

That's why you have the leaking. –Evelyn Farkas
Farkas resigned from the Obama administration in September of 2015 – begging the question as to how she knew so much about what the previous administration and intelligence community was up to.
Trump Tower
A section of the documents obtained by Judicial Watch is titled "Pro-Kremlin NGOs and Think Tanks," refers to "the Russian government funded Caucasus Research Network, which helped to spread anti-EU and NATO reports throughout the region. Also discussed is the Human Rights Accountability Global Initiative, which was founded by Natalia Veselnitskaya. The Initiative was reportedly "working to erode support for the Magnitsky Act (which imposes sanctions on … gross human rights violations). The organization screened an anti-Magnitsky film at Washington's Newseum in June."
Veselnitskaya infamously obtained a meeting with Donald Trump Jr. through associates of opposition research firm Fusion GPS, wherein she attempted to discuss the Magnitsky act before Trump Jr. shut down the meeting.
The Magnitsky Act attracted public attention earlier this year when it was reported Veselnitskaya obtained a meeting with Donald Trump Jr. with the purpose of seeking to undermine the act. It was reported that Russian President Vladimir Putin wanted to repeal the act at least in part because it targeted top Russian officials who had committed human rights violations and were the beneficiaries of a $230-million tax fraud that Magnitsky exposed. –Judicial Watch
Source: zerohedge.com
02.01.2018 –   FISA Memo Likely To Be Released Thursday: Administration Official
Republicans are reportedly planning to kick off the month of February by releasing the infamous FISA memo alleging "egregious abuses" of FISA surveillance powers by the FBI, Reuters reported citing a Trump administration official who said on Wednesday that the memo is "likely to be released on Thursday."
The four-page memo has circulated among the House, and has been seen by the president and his chief of staff, John Kelly. Trump has until Friday to decide whether the memo should remain classified.
The news comes after the FBI yesterday issued a "rare public statement" condemning the memo as factually inaccurate, saying it had "grave concerns" about its release, which it said could be detrimental to national security.

Even Democrats, who initially said the memo was intended to challenge the Mueller probe are now admitting that its contents could be damning, and raise questions about the bureau's decision to wiretap Trump campaign aide Carter Page – evidence that was used to help justify the launch of the Trump investigation. Adam Schiff, the top Dem on the House Intel Committee, reportedly said yesterday that it could lead the firings of Deputy AG Rod Rosenstein and Special Counsel Mueller.
Earlier this week, Deputy FBI Director Andrew McCabe announced his resignation, reportedly under pressure, as reports of an internal probe leaked. McCabe, along with Former FBI Director James Comey and Rosenstein are all reportedly named in the report.
Trump previously said this week that he was "100%" going to release the memo following a question from a Republican lawmaker following the State of the Union.
According to lawmakers who have reviewed the memo, it contains a discussion about the infamous dossier that was put together about then candidate Donald Trump by a British spy. Most of the claims in the scandalous dossier have not been verified. Most involve alleged ties to Russian entities.
As we reported earlier, the White House is still pondering whether to release the memo's supporting documents along with the memo.
Source: zerohedge.com
01.31.2018 – One Dead After Train Carrying Republican Lawmakers Collides With Dump Truck
Update 2: The National Transportation Safety Board says it's sending a "go team" to the site of today's fatal Amtrak crash in Virginia.
Make sure to follow @NTSB_Newsroom for additional updates regarding this launch and all NTSB accident launches. https://t.co/QmsC9Xzonp

— NTSB (@NTSB) January 31, 2018
* * *
Update: Of the three passengers that were aboard the dump truck, one has died, according to Fox News and the Washington Post.
BREAKING: Sen. Jeff Flake (R-Ariz.) tells me 3 passengers aboard the hit truck. 1 is dead. 2 injured. He and other lawmakers helped carry one of the injured truck passengers to an ambulance with local medical personnel.

— Ed O'Keefe (@edatpost) January 31, 2018
According to CNBC, one member of Congress has been sent to the hospital, but their identity has not yet been revealed.
* * *
A chartered train carrying dozens of Republican lawmakers to a Republican retreat in West Virginia collided with dump truck near Charlottesville, Virginia on Wednesday – but fortunately no lawmakers are believed to have been injured in the accident.
"We're fine, but our train hit a garbage truck. Members with medical training are assisting the drivers of the truck," Rep. Greg Walden, R-Ore., wrote on Twitter.
We're fine, but our train hit a garbage truck. Members with medical training are assisting the drivers of the truck. pic.twitter.com/0I9jOwHTmb

— Rep. Greg Walden (@repgregwalden) January 31, 2018
According to the Associated Press, a GOP aide said the train is partially derailed. GOP Rep. Tom Cole told the AP that a person in the truck may have been seriously injured.
Cole said he's not aware of any injuries on the train. A GOP aide speaking on condition of anonymity says no lawmakers were injured.
Cole said he believes the accident occurred south of Charlottesville. The train was en route to the Greenbrier resort in White Sulfur Springs for a three-day issues retreat featuring appearances by President Donald Trump and Vice President Mike Pence.
Rep. Bradley Byrne tweeted: "The train carrying GOP members to our retreat had a collision, but Rebecca and I are both okay. Security and doctors on board are helping secure the scene and treat injuries."
The train carrying GOP members to our retreat had a collision, but Rebecca and I are both okay. Security and doctors on board are helping secure the scene and treat injuries.

— Rep. Bradley Byrne (@RepByrne) January 31, 2018
Politico reported that riders are currently being checked for injuries.
NEWS — The train carrying GOP lawmakers to the retreat in West Virginia has collided with a dump truck. Initial reports indicate everything is OK.

— Jake Sherman (@JakeSherman) January 31, 2018
i amtold that this train crash will certainly delay GOP lawmakers arrival into The Greenbrier. Train riders being checked for injuries at the moment

— Jake Sherman (@JakeSherman) January 31, 2018
Good Grief! Look at the dump truck hit by the train carrying GOP lawmakers to their retreat. I hope the driver is okay. pic.twitter.com/Co4vnTikuc

— Regina Bratton (@ReginaNewsPro) January 31, 2018
Republican Rep. Martha Roby tweeted that lawmakers involved in the accident are "okay."
We are okay. Please pray for all involved in this accident. https://t.co/Z2sCRaLw8x

— Rep. Martha Roby (@RepMarthaRoby) January 31, 2018
Source: zerohedge.com
01.31.2018 – Economic Collapse: Will Cryptocurrency Save The Financial System?
In the second article of my three part series, I addressed how we got to the current state of this financial chaos. In this last article, I explain where we are heading and how cryptocurrency could be the last chance to create a sustainable economic system.
Where to go from here?
 If trust and sustainability were the two conditions that allowed for the transition from physical gold to paper currency, it is from this basis that we must start to analyze where we are going and what effects the next economic crisis could have.
In 2008, confidence in central banks saved the global economy. But as Mario Draghi said, the bazooka of quantitative easing was fired and a second hit during a crisis would have proved ineffective. The reason is complex and must be clearly explained. Most people are paid in a currency deposited in the bank, because that is where one keeps one's currency, able to withdraw it at any time. But in the event of an economic crisis, priority is given to the banks, whatever remaining liquidity being for the customers. The reason why there was no bank run in 2008, which would have led to the collapse of the global banking system, lies in the trust that ordinary people continued to place in the financial system, courtesy of what the corporate-controlled media told them.
The problem concerns the next financial crisis and how the world population will react. The path already seems to be traced, especially in geopolitical terms. Countries like China and Russia have created their own alternative banking and financial system to escape dollar sanctions; but they have also begun to de-dollarize by accumulating gold and using different payment methods to the US currency. In the same way, the desire to escape from a centrally controlled financial system, and the attendant need to remain anonymous, has produced a technological evolution known as cryptocurrency, much as the need to quickly communicate and globally exchange data in real time produced the Internet. Both evolutions find common roots in the American security services. The Internet stems from a DARPA project, and blockchain was outlined in NSA documents back in 1996.
It is easy to imagine that governments and central banks have been caught flat footed by the birth of the cryptocurrencies, but it would be better not to underestimate nations that have been ruling the world for decades and have their finger on the pulse. Although Washington's aggressive foreign policy has accelerated de-dollarization, one must consider the reason why cryptocurrencies have not been declared illegal.
Let us go back for a moment to the devastating effects of the loss of the gold standard. Looking at a chart, it is easy to see how the start of world debt coincided with the end of the dollar being linked to gold. This has led to an increase in inflation, calmed only by false economic data and a powerful financial manipulation by central banks in collusion with each other. Purchasing power has plummeted and the average person has as a result become impoverished.
When the ordinary person is overwhelmed by debts and sees his purchasing power steadily declining over the years, while continuously being told by the media that the exact opposite is happening, dissatisfaction and frustration increases to a point of passing a tipping point.
In the US in 2008, the burden of the bailout fell on the shoulders of ordinary citizens. Once bitten, twice shy.
People are placing less and less trust in the media and the banks.
From Gold to Money to Crypto.
In this sense, we can perhaps understand why bitcoin and blockchain technology have been able to prosper in complete freedom. It is conceivable that the project reflects an evolving world in which paper money disappears in favor of the digital one. How this transition could take place, and why some nations devoted to de-dollarization will find themselves in a privileged position compared to economies entirely tied to the dollar is a matter open to debate. The possible economic-shift must be considered real and probable for the sustainability of many nations, accompanied by the inevitable technological change and the need to anchor the global economy back to real values. The natural passage is a return to physical gold or to virtual gold, precisely the block chain and the value we bring with it.
We should not underestimate the power of central banks and their plans to invent their own cryptocurrency as a mean to perpetuate their Ponzi scheme.
What will make the main difference in the future is what backs up these virtual currencies.
For example, Russia and China have accumulated many tons of gold and diversified their assets, dumping USD in exchange for tangible goods. A Crypto-Yuan or Ruble will eventually be valued more than an empty crypto-dollar without any counter-value. In a not to long distant future, Yuan and Ruble will be backed with gold or other financial assets like bitcoin while new virtual currencies will continue to perpetuate their empty value as with fiat currency. No surprise that with the next financial crisis, fiat money will pour into gold and crypto market looking for a safe haven from the devaluing dollar.
In the next couple of years we can expect central banks such as those of the US, Europe and Japan develop their own crypto-currency and start pushing conversion from fiat money into their crypto, advancing their project of keeping the system centralized. We should not exclude drastic measures, such as banning non-state-actor cryptos, from governments when central banks start realizing having lost their competitive edge on currency manipulation.
The last straw will be related to US military power trying to enforce the use of USD. In a scenario of steady economic and military decline of power, the US will find itself unable to force certain countries to use their currency, therefore losing its main weapon to create chaos in the world to advance its geopolitical goals. Without the dollar as the main world reserve currency, Washington will be forced to reconcile with the rest of the world, understanding that the unipolar moment is over and the neoliberal hegemonic planes to rule the world are forever gone.
Source:  strategic-culture.org
01.30.2018 – House Judiciary Tells FBI To Preserve McCabe Emails Pertaining To Trump Election

The noose around the now former FBI Deputy Director Andrew McCabe appears to be getting tighter.
Just hours after news that McCabe was departing the FBI, allegedly forced out from his position, the Chair of the House Judiciary Committee Chairman, Republican Bob Goodlatte released a a letter urging FBI Director Christopher Wray to preserve Mr. McCabe's emails, and all other communications, before his official departure from the agency.
From Goodlatte's statement:
"Today's news that FBI Deputy Director Andrew McCabe is stepping down from the Bureau is overdue. Recent revelations call into question Mr. McCabe's leadership in the top operational post in the FBI.  However, Mr. McCabe's departure certainly does not mean that we are done rooting out the problems at the FBI. I continue to be extremely troubled by the decisions made by the FBI during the 2016 presidential election and the role senior FBI officials played in these questionable decisions and irregularities.

"The only way to ensure the FBI remains the premier law enforcement agency in the world is to ensure that the leadership at the Bureau holds the trust of the American people. This change in leadership at the FBI is a good first step in repairing the damage to their reputation."
And from his letter, highlights ours:
Deputy Director McCabe's decision to step down comes at a time where a confluence of events and reporting show serious irregularities in the FBI and DOJ's investigation of former Secretary of State Hillary Clinton's mishandling of classified information. Deputy Director McCabe was prominently involved in both that investigation and the FBI's pre-Special Counsel investigation into allegations of collusion between the Trump campaign and Russia. It is essential that the FBI preserve Mr. McCabe's emails, and all other communications, before his official departure from the agency.
Here is the request to preserve McCabe's emails and documents:
This Committee currently has an investigation open on the FBI's handling of the events surrounding the 2016 election. It is therefore essential that we have all of Deputy Director McCabe's documents and communications pertaining to the 2016 election. It is also in the public interest that all documents and communications pertaining to Mr. McCabe's involvement in the pre-Special Counsel Russia investigation be preserved from destruction or deletion. These measures are critical to ensure that this Committee and others can perform necessary and robust Congressional oversight.
Many have suggested that the timing of McCabe's abrupt departure – just as the FISA memo was set to be released -was not accidental. Although confirmation will have to wait, at least until such time as the FBI assures the public that Hillary Clinton's Bleach-Bit wasn't used on its own servers to delete a few thousand emails…
* * *
Full Goodlatte letter below (link):
Source: zerohedge.com
01.29.2018  – House Intel Committee Votes To Make "Shocking" FISA Memo Public
Donald Trump 1 – Deep State 0
In a highly anticipated decision, on Monday evening the House Intelligence Committee voted to make public the memo alleging what some Republicans say are "shocking" surveillance abuses at the Department of Justice regarding the Trump presidential campaign.
In immediate response to the vote, the Committee's top democrat Adam Schiff said that "we've crossed a deeply regrettable line", adding that the "committee voted to put the president's interest above the interest of the country."
We've crossed a "deeply regrettable line," @AdamSchiffCA says of Intel Co meeting https://t.co/WlCsSWb9pv

— lesley clark (@lesleyclark) January 29, 2018
Today this committee voted to put the president's interest above the interest of the country, @RepAdamSchiff says of R vote to release memo https://t.co/jHLS2Jkt45

— lesley clark (@lesleyclark) January 29, 2018
Adam Schiff's full post-memo release press conference is below:
The decision weeks of speculation over whether the memo, which was drafted by staff for committee chairman Devin Nunes (R- Calif) would be made public. At the same time, it intensifies the dispute over what Democrats say is an all-out assault by Republicans to undermine special counsel Robert Mueller's probe into Russian interference in the 2016 election.
Now the fate of the 4-page FISA memo is in the hands of Donald Trump: as we discussed earlier, the document will not be immediately released as under the House rule Republicans used to override the classification of the four-page memo, President Trump now has five days to review and reject its publication.
But, as per Bloomberg's reporting earlier, the White House has signaled support for the document's release and is widely expected to defy the DOJ in allowing the publication to go forward. The DOJ has opposed the release of the document, reportedly infuriating President Trump.
While Nunes has described the memo as "facts," Democrats have slammed it as a collection of misleading talking points they are unable to correct without exposing the highly classified information underpinning the document.
As Bloomberg disclosed earlier on Monday, releasing the memo without allowing them to review it on those grounds, Assistant Attorney General Stephen Boyd wrote to Nunes, would be "extraordinarily reckless."
Of course, the reason for the DOJ – and the Democrats' fury – is well-known: Republicans who have read the memo have hinted heavily that it contains information that could unravel the entire Mueller investigation, long described by the president as a "witch hunt."
In an amusing twist, now that transparency appears to be the watchword, the Republican controlled House Intel Committee also plans to release the transcript of the business meeting dealing with releasing the FISA memo.
Hse Intel Cmte plans to release transcript of business mtg dealing with releasing the FISA memo

— Chad Pergram (@ChadPergram) January 29, 2018
While the precise contents of the memo remain unknown, it's believed to contain allegations that the FBI did not adequately explain to a clandestine court that some of the information it used in a surveillance warrant application for Trump adviser Carter Page came from opposition research funded by the Clinton campaign, now known as the "Steele dossier."
As Bloomberg reported earlier, citing three House lawmakers who have read the memo, the memo claims FBI officials didn't provide a complete set of facts in requests made to a Foreign Intelligence Surveillance Act court to obtain a warrant or warrants on Carter Page, a Trump campaign associate.
Furthermore, the memo claims important details were left out that might have kept a judge from issuing a surveillance warrant, or possibly two, targeting Page. Those include its claims that investigators were relying partly on an unverified dossier put together by an opposition research firm that hired a former British spy, Christopher Steele — work that was funded by Trump's opponent, Hillary Clinton, and Democrats.
The memo also spotlights Deputy AG Rod Rosenstein's role in approving the warrant application, according to the New York Times. Rosenstein appointed Mueller and has become a recent target on the right — as well as reportedly garnering the frustration of the president.
* * *
According to The Hill, it's unclear how much input the DOJ will have prior to the publication of the memo. Typically, when sensitive documents are declassified, the agencies with equities in the intelligence weigh in to assess whether its release would damage national security. But the committee initially stonewalled the DOJ from viewing the document because, as one committee member put it last week, "They're the ones that have the problem."
On Monday morning, deputy press secretary Raj Shah hinted on CNN that the DOJ would also not have an opportunity to review the document during the White House pre-release review. "The Department of Justice doesn't have a role in this process," he told CNN.
FBI Director Christopher Wray was reportedly allowed to view the document in the committee's secure spaces over the weekend. A committee spokesperson declined to comment on Monday, as did the FBI.
Another unanswered question revolves around the highly-classified intelligence that underpins the memo, which came from documents provided to the committee by the DOJ as part of an agreement brokered by House Speaker Paul Ryan (R-Wis.). The DOJ has said that the release of the memo would be an abrogation of the terms of that agreement, an assertion that spokesmen for both Ryan and Nunes reject.
Lawmakers say the underlying intelligence justifying the memo's allegations is so sensitive that only eight members of Congress are able to view it. Nunes and ranking member Adam Schiff (D-Calif.) are two of the eight figures, but the other members of the Intelligence Committee are not. The top two lawmakers on the Senate Intelligence Committee are also part of the so-called Gang of Eight, but while they have access to the underlying intelligence, Nunes has denied committee requests to see the memo.

"Seeking Committee approval of public release would require [House Permanent Select Committee on Intelligence] committee members to vote on a staff-drafted memorandum that purports to be based on classified source materials that neither you nor most of them have seen," Boyd told Nunes.
Nunes has brushed aside the notion that the memo wouldn't be persuasive without the underlying intelligence to substantiate its claims, calling the argument Democratic obstruction of his investigation into DOJ misconduct.  The memo is a committee work product and the responsibility for releasing it, or not releasing it, rests with Congress.
The underlying intelligence, however, belongs to the executive branch, and Trump could unilaterally make it public if he wished.
For now, however, the decision whether the FISA memo will be made public – an event which is supposed to help Trump greatly in his ongoing battle against Special Counsel Mueller – is entirely in Trump's hands, which will be a welcome change for the president.
And incidentally, Trump will be delighted to learn that, in addition to blocking the Democrat memo, House Intel Committee member Adam Schiff admitted that the committee was also probing the DOJ and FBI, i.e., the "deep state" itself.
Hse Intel Cmte votes along party lines to release GOP FISA memo. Cmte votes to block Dem memo. Cmte says it is probing DoJ/FBI.

— Chad Pergram (@ChadPergram) January 29, 2018
Source: zerohedge.com
01.29.2018  – The Pie Is Shrinking for the 99%
The ensuing social disunity and disruption will be of the sort many alive today have never seen.
Social movements arise to solve problems of inequality, injustice, exploitation and oppression. In other words, they are solutions to society-wide problems plaguing the many but not the few (i.e. the elites at the top of the wealth-power pyramid).
The basic assumption of social movements is that Utopia is within reach, if only the sources of the problems can be identified and remedied.  Since inequality, injustice, exploitation and oppression arise from the asymmetry of power between the few (the financial and political elites) and the many, the solution is a reduction of the asymmetry; that is a tectonic realignment of the social structure that shifts some power—economic and/or political—from the few to the many.
In some instances, the power asymmetry is between ethnic or gender classes, or economic classes (for example, labor and the owners of capital).
Social movements are characterized by profound conflict because the beneficiaries of the power asymmetry resist the demands for a fairer share of the power and privileges, while those who've held the short end of the stick have tired of the asymmetry and refuse to back down.
Two dynamics assist a social, political and economic resolution that transfers power from those with too much power to those with too little power: 1) the engines of the economy have shifted productive capacity definitively in favor of those demanding their fair share of power, and 2) the elites recognize that their resistance to power-sharing invites a less predictable and thus far more dangerous open conflict with forces that have much less to lose and much more to gain.
In other words, ceding 40% of their wealth-power still conserves 60%, while stubborn resistance might trigger a revolution that takes 100% of their wealth-power.
History provides numerous examples of these dynamics.  Once the primary sources of wealth-generation shifted from elite feudal landowners to merchants and industrialists, the wealth (and thus the political power) of the landed elites declined. As the industrialists hired vast numbers of laborers drawn from small farms and workshops, this mass industrialized labor became the source of the wealth generation; after decades of conflict, this labor class gained a significant share of the wealth and political power.
The civil rights and women's liberation movements realigned the political and economic power of minorities and females more in line with their productive output, reducing the asymmetries of ethnic and gender privileges.
In broad-brush, progressive social movements seek to broaden opportunities and level the playing field by reducing the asymmetric privileges of dominant classes defined by power and privilege.  The core mechanism of this transition is the recognition and granting of universal human rights: the right to vote, the right to equal opportunity, and rights to economic security, i.e. entitlements that are extended universally to all citizens for education, healthcare, old-age pensions and income security.
Again in broad-brush, these movements have largely been categorized as politically Left, though many institutions deemed conservative (for example, various churches) have often provided bedrock support for progressive movements.
Social movements which seek to limit the excesses of state power tend to be categorized as conservative or politically Right, as they seek to realign the asymmetry of power held by the state in favor of the individual, family and the traditional social order.
The Expanding Pie Fueled Expanding Entitlements
Writer Ugo Bardi recently drew another distinction between Left and Right social movements: "Traditionally, the Left has emphasized rights while the Right has emphasized duties."
As rights manifested as economic entitlements rather than political (civil liberty) entitlements, rights accrue economic costs. As Bardi observes: "Having rights is nicer than having duties, but the problem is that human rights have a cost and that this cost was paid, so far, by fossil fuels. Now that fossil fuels are on their way out, who's going to pay?"
I would argue that the cost was also paid by higher productivity enabled by the technological, financial and social innovations of the Third Industrial Revolution, roughly speaking the interconnected advances of the second half of the 20th century.
These advances can be characterized as expanding the economic pie; that is, generating more energy, credit, technological tools, opportunities, security and capital (which includes financial, infrastructural, intellectual and social capital) for all to share in a socio-political-financial allocation broad enough to make everyone feel like they were making some forward progress.
This long-term, secular expansion of the pie naturally generated more demands for additional entitlements and rights, as the economy could clearly support the extra costs of allocating additional wealth and resources to the many.  From the point of view of the few (the elites), their own wealth continued expanding, so there was little resistance to expanding retirement, education and healthcare entitlements.
But in the 21st century, the expansion of the pie stagnated, and for many, it reversed. Adjusted for real-world inflation many households have seen their net incomes and wealth decline in the past decade.
Despite the endless media rah-rah about "growth" and "recovery," it is self-evident to anyone who bothers to look beneath the surface of this facile PR that the pie is now shrinking. This dynamic is increasing inequality rather than reducing it.
The Shrinking Pie And Stagnant Productivity
It is a truism of economics that widespread increases in productivity are required to generate equally widespread increases in income and capital, i.e. productive wealth. To the consternation of many, productivity has stagnated since 2010; no wonder household income for all but the upper crust has gone nowhere.
If we glance at a chart of productivity, we see a strong correlation with speculative investment bubbles (the dot-com and housing bubbles 1995-2005) and speculative spikes fueled by central bank monetary stimulus (2009-10).  Absent bubbles and monumental excesses of central bank stimulus, productivity quickly sinks to its secular trend line: downwards.
This next chart depicts the long-term trend line of productivity through all four industrial revolutions. Note the decline concurrent with the 4th Industrial Revolution (mobile telephony, the Internet, AI, robotics, peer-to-peer networks, etc.) and the depletion of cheap-to-access-and-refine oil:
The unwelcome reality is that the economy is changing in fundamental ways that cannot be reversed with policy tweaks, protests or wishful thinking.
Consider the percentage of the gross domestic product (GDP) that goes to employee compensation (wages and salaried). Labor's share of the GDP has been in a downtrend since 1970, which not coincidentally was the peak of secular productivity:
In this below chart of the distribution of wealth in the U.S., we find the same correlation to the downtrends in productivity and labor's share of the economy.  The bottom 90% of households' (the many) share of the wealth pie topped out in the early 1980s and has declined precipitously since, while the wealth of the top 0.1% (the few) has more than tripled since the late 1970s:
This next chart depicts the remarkable (and recent) spike income growth the few have recently enjoyed, at the expense of everyone else:
The increase in wealth and income inequality and the decline of productivity and labor's share of GDP are the result of structural changes in the economy, changes with far-reaching consequences.
While it's appealing to identify policies endorsed by self-serving insiders and elites as the source of these changes, that is far from the whole story. Much of this growing asymmetry stems from profound changes in the global economy that depreciate labor (as conventional labor is no longer scarce) and increase the gains of the top few in a "winner take most" allocation that benefits speculation, leverage and new ways of organizing labor and capital that reward the organizers far more than the users/participants.
In this new era of a steadily shrinking pie, the sources of inequality and related social problems have also shifted.  As a result, the social movements that were effective in the past are no longer effective today. Attempts to address rising inequality with the old tools are fueling frustration rather than actual solutions.
In Part 2 — Social Unrest: The Boiling-Over Point, we examine why our existing models for social change have slipped into ineffectual symbolic gestures that fuel fragmentation and frustration — and why that will lead to a dangerous boiling over of the 99% against the elites controlling the system.
When that happens (inevitable on our current trajectory), the ensuing social disunity and disruption will be of the sort many alive today have never seen.
Source: oftwominds.com
01.28.2018  – Two Lines Explain Why The Current Economic, Financial, (& Perhaps Social Systems) Are Breaking
Growth isn't about how many, but about how many more.  So, no argument that the world population of 7.4 billion is huge…but if we check under the hood we will find the much vaunted growth is not what we are being sold.
If we just isolate the annual change in the 0 to 55 year global population (minus Africa…explained HERE), we see annual population growth has decelerated by 77% or we are adding 49 million fewer 0 to 55yr/olds annually than we did during peak growth in 1988.  Within a decade, the world under 55yr/old population (excluding Africa) will cease growing and begin an unknown period of depopulation.  In fact, the forward estimates are based on the UN's more "optimistic" medium variant…the reality will almost certainly be lower.  Meanwhile, annual global GDP growth in dollar terms has been wildly gyrating from record growth to unprecedented record declines (chart below).

The same data below but in this time in percentage terms.  Annual percentage growth of the 0-55yr/old global population (excluding Africa) has decelerated from +2% annually to just +0.26% in 2018.  Likewise, the annual change in global GDP in % terms is trending lower highs and lower lows.


Due to decelerating organic growth among populations of potential consumers, the synthetic version of growth has been substituted.  Interest rate cuts and debt to fuel new capacity for a decelerating (and soon to be declining population) and debt to fuel consumer consumption.  The result, as the chart below shows, is disproportionate growth of debt versus actual economic growth.


And a best guess where this is going…Declining population of potential child bearing population, declining potential # of new home buyers, car buyers, tax payers, employees…and debt blowing through the roof and deeply negative interest rate policy in effect.


The Fed and like central banks of the world want economies to grow at rates far beyond what organic growth supports.  The further the central banks intervene to force populations whose growth is decelerating (and resultant potential economic growth) to overshoot, the longer the duration and severity of the resultant ultimate rebalancing.  One of the great many flaws of modern day, central bank driven economics is the idea that economic growth is all about increasing capacity or production.  Simply put, it doesn't matter how many widgets or how efficiently you can make them if there is a decelerating growth and soon an outright declining quantity of potential buyers on the other end.
Source: econimica.blogspot.com
The United States Air Force is launching its largest-ever three-week premier set of air war drills, called Red Flag 18-1, starting on Friday and will conclude February 16, said the 99th Air Base Wing Public Affairs.
On January 26, the air war drill, known as Red Flag, officially kicked off at Nellis Air Force Base, 20-miles outside of Las Vegas. Base officials have warned residents of increased military aircraft activity due to aircraft departing from Nellis Air Force Base twice-a-day to conduct war drills on the Nevada Test and Training Range.
"We're trying a few new and different things with Red Flag 18-1," said Col Michael Mathes, 414th Combat Training Squadron commander. "It's the largest Red Flag ever with the largest number of participants, highlighting the balance of training efficiency with mission effectiveness."
The drill involves a variety of attack, fighter and bomber aircraft as well as participants from the U.S. Air Force, U.S. Navy, U.S. Army, and Marine Corps. Foreign participants include Royal Australian Air Force and the Royal Air Force.
A video from the 2015 Red Flag drill is shown below.
"Red Flag 18-1 primarily is a strike package focused training venue that we integrate at a command and control level in support of joint task force operations," said Mathes. "It's a lot of words to say that we integrate every capability we can into strike operations that are flown out of Nellis Air Force Base."
According to The Drive, the air war drill is the largest of its kind in the 42-year history, as the United States prepares for a possible conflict on the Korean Penisula.
Further, the USAF is going to "blackout GPS over the sprawling Nevada Test and Training Range," said the Drive, which will provide realistic war-like conditions to challenge aircrews.
Flying.com reports the drills at the Nevada Test and Training Range will cause rolling GPS blackouts for the vast portions of the Western United States from January 26 through February 18. All GPS-equipped aircraft operating in the Western United States should be prepared for possible navigation failure in the region.
The NBAA Command Center reports the U.S. military will begin training exercises on the Nevada Test and Training Range between 0400Z until 0700Z daily. Training maneuvers will impact vast portions of the Western U.S. including California, Nevada, Oregon, Wyoming, Arizona, Utah, Colorado, Montana and New Mexico. FAA enroute ATC centers affected include Albuquerque (ZAB), Denver (ZDV), Los Angeles (ZLA), Salt Lake (ZLC), Oakland (ZOA) and Seattle (ZSE). Operations in R-2508 and R-2501 may also be impacted.  

"Arrivals and departures from airports within the Las Vegas area may be issued non-Rnav re-routes with the possibility of increased traffic disruption near LAS requiring airborne re-routes to the south and east of the affected area. Aircraft operating in Los Angeles (ZLA) center airspace may experience navigational disruption, including suspension of Descend-via and Climb-via procedures. Non-Rnav SIDs and STARs may be issued within ZLA airspace in the event of increased navigational disruption. Crews should expect the possibility of airborne mile-in-trail and departure mile-in-trail traffic management initiatives."
The Drive explains why the USAF is determined to use GPS spoofing and jamming technology but offers no insight into what a GPS blackout might mean for the millions of civilians who live in the Western region of the US.
GPS denial is a becoming a huge issue for American military planners. Peer states, especially Russia, are already putting GPS spoofing and jamming tactics to work during various training events near their own borders. We have discussed this situation in great depth before, and I would suggest you read this article to understand just how deeply the loss of reliable global positioning system data can mean for the U.S. and its allies during a time of war, as well as what is being done to overcome such a monumental hurdle.
The Pentagon has mysteriously tested technology that can jam GPS over a wide area before, and it is likely that this same capability will be put to use in the Nellis Test and Training Range for this Red Flag 18-1. Line-of-sight and distance impact the way in which GPS users, especially other airplanes, operating far outside the training area will be affected. Here is an article on those tests, which emanated from Naval Air Weapons Station China Lake, which is located on the western edge of the Mojave Desert in California, in June of 2016.
Below is a released image showing the impact of a GPS jammer unleashed on the Western United States in a June 2016 test:
If there is a concrete reason why the Department of Defense is quietly preparing a massive air war drill in Nevada now, while simultaneously forcing a gigantic GPS blackout for the Western part of the United States, it has not been disclosed aside from the obvious, of course.
We know one thing: this exercise will last a lengthy three weeks and could pose significant risks and threats to devices that rely on GPS signals, which according to the DHS chart below, is pretty much anything with electronics in it these days.
Let's hope that nothing goes wrong in the Western part of the United States if so, we will know whom to blame…
Source: zerohedge.com
All information used from other websites on X22 Report is used for educational/criticism and commentary purposes only.

Fair Use Notice: This video contains some copyrighted material whose use has not been authorized by the copyright owners. We believe that this not-for-profit, educational, and/or criticism or commentary use on the Web constitutes a fair use of the copyrighted material (as provided for in section 107 of the US Copyright Law. If you wish to use this copyrighted material for purposes that go beyond fair use, you must obtain permission from the copyright owner. Fair Use notwithstanding we will immediately comply with any copyright owner who wants their material removed or modified, wants us to link to their web site, or wants us to add their photo.

The "Fair Use" Provisions outlined in Title 17, Chapter 01 Article 107 of the US Copyright Law states the following:

Notwithstanding the provisions of sections 106 and 106A, the fair use of a copyrighted work, INCLUDING SUCH USE BY REPRODUCTION IN COPIES or phonorecords or BY ANY OTHER MEANS specified by that section, for purposes such as criticism, comment, news reporting, teaching (including multiple copies for classroom use), scholarship, or research, is NOT an infringement of copyright. In determining whether the use made of a work in any particular case is a fair use the factors to be considered shall include:

(1) the PURPOSE and CHARACTER of the use, including whether such use is of a commercial nature or is for NON-PROFIT educational purposes;
(2) the NATURE of the copyrighted work;
(3) the amount and substantiality of the portion used in relation to the copyrighted work as a whole; and
(4) THE EFFECT OF THE USE UPON THE POTENTIAL MARKET FOR OR VALUE OF THE COPYRIGHTED WORK.

The fact that a work is unpublished shall not itself bar a finding of fair use if such finding is made upon consideration of all the above factors.