---
Send us your Sentinel Alert to Submit Sentinel Alert:
---
---
Scroll Down To See More News Alerts
08.17.2018 – Economic Contagion? Central Banks Are The Real Culprit
The mainstream news has been awash lately in talk over the danger of economic "contagion," primarily due to lack of dollar liquidity in emerging markets. This lack of liquidity is being pegged as a trigger for instability in stocks, bonds and forex markets around the world, and this time around it is the nation of Turkey that is being called a potential trigger for a fiscal domino effect spreading through multiple countries.
We have heard talk of "contagion" before. Not long ago, Italy's political shift toward a supposedly populist government led to fears of debt contagion within the European Union; this is still a valid concern, just not for the reasons the mainstream financial media usually presents.
The issue of contagion must be examined through a different set of parameters besides those shoved in our faces by the financial media. In their world, everything is a matter of unpredictable cause and effect; everything is random and coincidental. Everything is chaos waiting to happen, and when crisis does strike, all can be blamed on a set of unrelated but interconnected scapegoats.
They will claim it was the "populists," conservatives, conservative philosophy or the notion of national sovereignty. Or they will blame it on even more abstract concepts of "human greed" and "individual selfishness."
These excuses for unstable systems and disasters stem from a propaganda ploy developed by DARPA called "Linchpin Theory." It is the widely promoted idea that human systems collapse "naturally" when they become "too complex," and all it takes to start this collapse in motion is a single well placed "linchpin" pulled at the right moment. In other words, DARPA wants you to believe that there is no such thing as organized conspiracy and that all disasters are caused by chance.
I wrote extensively about this subject in my article "The Linchpin Lie: How Global Collapse Will Be Sold To The Masses," published in 2013.
Of course, the linchpin idea and the notion that overcomplexity is to blame for all the world's ills helps globalists greatly. For if human systems need to be streamlined or "simplified", what better way to do this than to get rid of sovereign nation states, governments and economies and centralize everything down into a one world economy, a one world government, a new world order?
What linchpin theory ignores is the careful strategic planning required to position all the geopolitical dominoes in a perfect chain so that they can be knocked over by that one person, country or event.
Human systems actually tend to lean toward redundancy when we are left to build these systems ourselves — meaning, humans prefer to decentralize to a point. We do not like having ALL decisions bottlenecked through a single dictatorship. We do not like having all our resources controlled by a single source. We do not like having all trade and commerce and communication dominated by monopolies. We do not like our safety determined by a single watchman. We often end up rebelling against centralization because it is actually centralization that breeds weakness in systems, not complexity, which gives us checks and balances.
The protection of complexity is created through decentralization.
When we look at the true causes of numerous economic and political crises around the world, we usually find globalists and their agent institutions right at the center. Foremost of these institutions are central banks.
In my article "All The Old World Systems Are being Deliberately Torn Down," published in November of last year, I warned of several trends which would likely lead to economic instability. One of these trends was the possible breakup of NATO starting with Turkey. Turkey's leadership under Recep Erdogen has been increasingly erratic and violent, most notably after the highly suspicious and likely fake military coup attempt in 2016. The coup gave Erdogen a perfect rationale for his consolidation of power, all while his political opponents could be systematically rounded up and imprisoned.
The "thwarted coup" narrative has been popular lately. First in Turkey and then in Saudi Arabia under Mohammad Bin Salman — two nations that are quickly plunging into even more aggressive dictatorship and that are vital to the United States strategically and economically. Over the past two years, both countries have become more distant as allies. Saudi Arabia has consistently discussed moving away from its arrangements to continue holding U.S. treasury debt and using the dollar as the petro-currency. Turkey has consistently discussed breaking from NATO and ending its arrangement to allow U.S. military assets to stage within its borders.
Another narrative that has been popular lately has been the idea that the global trade war will be the cause of all our economic displacement for years to come. The trade war is a perfect distraction, providing the chaos fuel necessary to allow central banks to pull the plug on economic support and then blame the resulting crisis on various random "linchpins." This is exactly what they have been doing.
In terms of stock markets, I think it has now been clearly established that the Federal Reserve's balance sheet cuts and interest rate hikes are the main cause (if not the only cause) of stock rallies and declines. Almost every major decline in equities takes place within 7-10 days after the Fed dumps assets from its balance sheet. One can study the Fed's progressive cuts over the year on their own website and compare them to the moves in the Dow or S&P.
In July, for example, I told my readers to expect a recovery in stocks due to the Fed freezing balance sheet cuts during that month. The Fed held the balance sheet steady for most of July, only cutting a mere $12 billion at the end of the month.  As a result stocks rallied.  In August, the Fed has already cut over $20 billion and will probably cut more in the next two weeks, which would indicate an aggressive fall in stocks this month into September. The Fed controls when and how stock markets crash… at least for now.
This correlation and obvious causation are rarely if ever mentioned in the mainstream. Instead, we get talk of "contagion" caused by Turkey and the trade war.
The Fed's balance sheet cuts do not only cause havoc in stock markets. Emerging market economies have grown increasingly dependent on the flow of cheap dollars and financial assets precipitated by the Fed's stimulus measures over the past decade. If you were wondering where most of that bailout money and quantitative easing money were going over the years and you did not study the audit of TARP, then you might be surprised to find out that trillions in no interest overnight loans were going to foreign banks and corporations rather than U.S. banks. This included emerging market nations.
Countries like China, India, Brazil and even Turkey all used easy cash flow from central banks like the Fed to prop up their bond markets, and manipulate their currencies as well as their equities. India, for example, openly complained about the Fed's move to raise interest rates and cut the balance sheet, warning that it would cause instability in global markets dependent on dollar circulation.
The Fed's unwind of QE is hitting emerging markets first and mostly in terms of currency values.  The stronger dollar (relative to forex trading) is causing extensive havoc in forex trading and other sectors as investors pull funds from emerging markets due to a less favorable exchange rate.  But this does not necessarily mean that US based assets will benefit.
The U.S. economy is next on the chopping block as corporate debt now sits near historic highs. The only other safety net for U.S. stocks the past few years has been corporate stock buybacks, which corporations have been funding with no-interest loans from the Fed and other banks. As the Fed continues to raise interest rates, corporate debt costs will skyrocket and these stock buybacks will shrivel. After this happens, each new cut of the Fed's balance sheet will result in an even more dramatic fall in the Dow.
Ultimately, emerging markets are going to look for alternatives to the dollar as the world reserve if they don't get a supply of the fiscal stimulus drug they have become so addicted to. This is already happening in China and Russia as they dump U.S. Treasurys and de-dollarize in favor of other assets like gold.
So, we have international markets suffering from liquidity withdrawals due to the Federal Reserve, we have U.S. stock markets under threat of reversal due to Fed interest rate hikes and balance sheet dumps, and we have the dollar's world reserve currency status under threat as multiple nations seek out alternatives after feeling jilted by the Fed taking away the punch bowl.  Multiple tentacles are wrapped around the global economy and all of them attached to the same source.
It would appear that the only "contagion" is that of central banks; most of all the Federal Reserve. Yet, all we hear about in the mainstream is talk on the trade war and linchpins like Turkey. The public is being regaled with lies, conditioned to accept false explanations about the true cause of a crisis that is about to occur; a crisis which central bankers are deliberately engineering so that they can later promote the philosophy of "simplification" and one-world centralization as a cure-all.
Source: alt-market.com
08.15.2018 – US Can Legally Propagandize Its Own Citizens

08.13.2018 – Technocrats Rule: Democracy Is OK as Long as the People Rubberstamp Our Leadership
We are in a very peculiar ideological and political place in which Democracy (oh sainted Democracy) is a very good thing, unless the voters reject the technocrat class's leadership. Then the velvet gloves come off. From the perspective of the elites and their technocrat apparatchiks, elections have only one purpose: to rubberstamp their leadership.
As a general rule, this is easily managed by spending hundreds of millions of dollars on advertising and bribes to the cartels and insider fiefdoms who pony up most of the cash.
This is why incumbents win the vast majority of elections. Once in power, they issue the bribes and payoffs needed to guarantee funding next election cycle.
The occasional incumbent who is voted out of office made one of two mistakes:
1. He/she showed a very troubling bit of independence from the technocrat status quo, so a more orthodox candidate is selected to eliminate him/her.
2. The incumbent forgot to put on a charade of "listening to my constituency" etc.
If restive voters can't be bamboozled into passively supporting the technocrat status quo with the usual propaganda, divide and conquer is the preferred strategy. Only voting for the technocrat class (of any party, it doesn't really matter) will save us from the evil Other: Deplorables, socialists, commies, fascists, etc.
In extreme cases where the masses confound the status quo by voting against the technocrat class (i.e. against globalization, financialization, Empire), then the elites/technocrats will punish them with austerity or a managed recession. The technocrat's core ideology boils down to this:
1. The masses are dangerously incapable of making wise decisions about anything, so we have to persuade them to do our bidding. Any dissent will be punished, marginalized, censored or shut down under some pretext of "protecting the public" or violation of some open-ended statute.
2. To insure this happy outcome, we must use all the powers of propaganda, up to and including rigged statistics, bogus "facts" (official fake news can't be fake news, etc.), divide and conquer, fear-mongering, misdirection and so on.
3. We must relentlessly centralize all power, wealth and authority so the masses have no escape or independence left to threaten us. We must control everything, for their own good of course.
4. Globalization must be presented not as a gargantuan fraud that has stripmined the planet and its inhabitants, but as the sole wellspring of endless, permanent prosperity.
5. If the masses refuse to rubberstamp our leadership, they will be punished and told the source of their punishment is their rejection of globalization, financialization and Empire.
Technocrats rule the world, East and West alike. My two favorite charts of the outcome of technocrats running things to suit their elite masters are:
The state-cartel-crony-capitalist version: the top .1% skim the vast majority of the gains in income and wealth. Globalization, financialization and Empire sure do rack up impressive gains. Too bad they're concentrated in the top 1.%.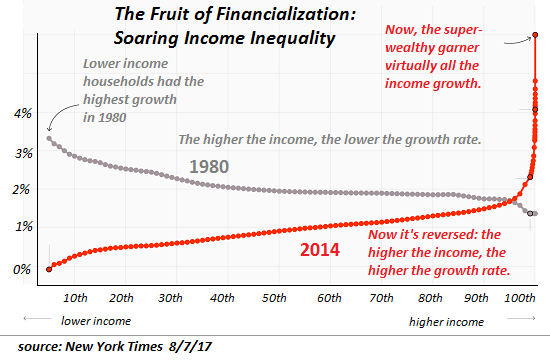 The state-crony-socialist version: the currency is destroyed, impoverishing everyone but the top .1% who transferred their wealth to Miami, London and Zurich long ago. Hmm, do you discern a pattern here in the elite-technocrat regime?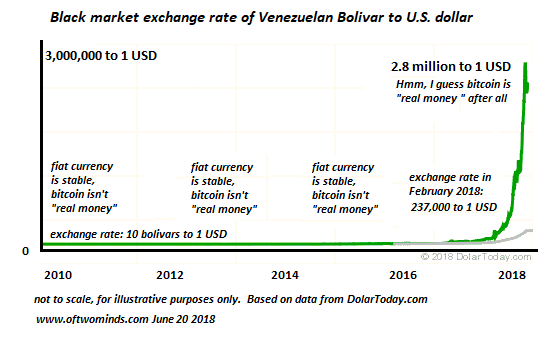 Ideology is just a cover you slip over the machine to mask what's really going on.
Source: oftwominds.com
08.11.2018 –  This Is Not America
08.10.2018 –  Bankrupt America: Bankruptcy Soars As The Country Grapples With An Unprecedented Debt Problem
America, you officially have a debt problem, and I am not just talking about the national debt.  Consumer bankruptcies are surging, corporate debt has doubled since the last financial crisis, state and local government debt loads have never been higher, and the federal government has been adding more than a trillion dollars a year to the federal debt ever since Barack Obama entered the White House.  We have been on the greatest debt binge in human history, and it has enabled us to enjoy our ridiculously high standard of living for far longer than we deserved.  Many of us have been sounding the alarm about our debt problem for a very long time, but now even the mainstream news is freaking out about it.  I have a feeling that they just want something else to hammer President Trump over the head with, but they are actually speaking the truth when they say that we are facing an unprecedented debt crisis.
For example, the New York Times just published a piece that discussed the fact that the bankruptcy rate among retirees is about three times higher than it was in 1991…
For a rapidly growing share of older Americans, traditional ideas about life in retirement are being upended by a dismal reality: bankruptcy.

The signs of potential trouble — vanishing pensions, soaring medical expenses, inadequate savings — have been building for years. Now, new research sheds light on the scope of the problem: The rate of people 65 and older filing for bankruptcy is three times what it was in 1991, the study found, and the same group accounts for a far greater share of all filers.
Overall, Baby Boomers are doing a whole lot better financially than the generations coming after them, and so this is very troubling news.
And here is another very troubling fact from that same article…
Not only are more older people seeking relief through bankruptcy, but they also represent a widening slice of all filers: 12.2 percent of filers are now 65 or older, up from 2.1 percent in 1991.

The jump is so pronounced, the study says, that the aging of the baby boom generation cannot explain it.
Of course it isn't just Baby Boomers that are drowning in debt.
Collectively, U.S. households are 13.15 trillion dollars in debt, which is the highest level in American history.
All over the nation, companies are also going bankrupt at a staggering pace.  This week we learned that the biggest mattress retailer in the entire country "Is considering a potential bankruptcy filing"…
Mattress Firm Inc, the largest U.S. mattress retailer, is considering a potential bankruptcy filing as it seeks ways to get out of costly store leases and shut some of its 3,000 locations that are losing money, people familiar with the matter said.

Mattress Firm's deliberations offer the latest example of a U.S. brick-and-mortar retailer struggling financially amid competition from e-commerce firms such as Amazon.com Inc (AMZN.O).
We have seen retailer after retailer go down, and it is being projected that this will be the worst year for retail store closings ever.
But it isn't just retailers that are hurting.  Yesterday, I came across an article about a television manufacturer in South Carolina that just had to lay off "94 percent of their workforce"…
A TV manufacturer based in South Carolina have blamed Trump's trade tariffs for laying off 94 percent of their workforce.

Element Electronics now has just eight employees in their company after letting 126 members of staff go.

They said the tariffs imposed on goods from China mean they can no longer buy essential components for their TVs.
During this next economic downturn, I believe that we are going to see the biggest wave of corporate bankruptcies that this country has ever seen.
State and local governments don't go bankrupt, but they are drowning in debt as well.  State and local government debt has ballooned to the highest levels on record in recent years, and one of the big reasons for this is because we are facing a coming pension crisis that threatens to absolutely overwhelm us…
Many cities and states can no longer afford the unsustainable retirement promises made to millions of public workers over many years. By one estimate they are short $5 trillion, an amount that is roughly equal to the output of the world's third-largest economy.

Certain pension funds face the prospect of insolvency unless governments increase taxes, divert funds or persuade workers to relinquish money they are owed. It is increasingly likely that retirees, as well as new workers, will be forced to take deeper benefit cuts.
Meanwhile, the federal government continues to engage in incredibly reckless financial behavior.  When Barack Obama was elected, we were 10 trillion dollars in debt, and now we are 21 trillion dollars in debt.
What that means is that we have been adding more than a trillion dollars to the national debt per year since 2008, and we continue to steal more than 100 million dollars every single hour of every single day from future generations of Americans.
And even though the Republicans have been in control in Washington, very few of our leaders seem to want to alter the trajectory that we are on.  But if something is not done, absolute disaster is a certainty.  At this point, it is being projected that our debt will reach 30 trillion dollars by 2028 if we stay on this current path.  It would be difficult to overstate the grave danger that we are facing, but nothing is being done to turn things around.  Here are some more projections from the Congressional Budget Office…
In 2022, the Highway Trust Fund will run out of full funding. In 2026, the Medicare Hospital Insurance Trust Fund follows. In 2032, the Social Security trust fund surpluses run dry, and all beneficiaries regardless of age or income level will face a 21 percent across-the-board benefit cut. Before 2030, we could have trillion-dollar annual interest payments. Interest rates have been low until now, but that is changing. As rates go up, we have to pay more on new debt and on all accumulated debt.

The amount we pay in interest on the debt is set to triple over the next ten years. But if interest rates rise just 1 point higher than expected, the government will owe an extra $1.9 trillion over 10 years.
On top of everything else, everyone else around the world has been on a massive debt binge as well.
Total global debt is well above 200 trillion dollars, and it has nearly quadrupled over the past 17 years.
Are you starting to understand why they call this a "debt bubble"?
Unfortunately, all debt bubbles must burst eventually, and the one that we are in right now is definitely on borrowed time.
Source: theeconomiccollapseblog.com
08.08.2018 –  Now That Facebook, YouTube And Apple Have Come For Alex Jones, Guess Who They Are Coming For Next?
August 6th was one of darkest days in the history of the Internet.  When I learned that Facebook, YouTube, Apple, Spotify, Pinterest and others had colluded to take down content from Alex Jones all on the same day, I knew exactly what was happening.  They timed their attack so that it would hit the press at the beginning of the weekly news cycle on Monday so that their purge would have maximum societal impact.  And the fact that there was such overt collusion was obviously meant to send a message.  We were supposed to understand that if they can do this to Alex Jones, they can do it to any of us, and so we better shut up and fall in line.  I can't even begin to tell you how sick I feel right now.  The big tech giants have made it abundantly clear how they feel about all of us, and there is no future for alternative points of view on any of their platforms.
The current purge of conservative voices has been going on for months, but this is the biggest bombshell by far.  The following excerpt from a Los Angeles Times article is a typical example of how the mainstream media covered this story…
Major technology companies including Apple, Facebook and YouTube deleted years of content from conservative conspiracy theorist Alex Jones and his Infowars platforms over allegations of hate speech, a sudden clampdown that is fueling the growing debate over how big technology companies choose to censor.

The move was unusual for its sweep and speed, suggesting a new assertiveness by technology companies that in the past have worked to avoid alienating conservatives, who often assert that left-leaning Silicon Valley is biased against them. The removals appeared to be prompted by more users flagging Infowars content for policy violations.
In addition to the "big three", Spotify and Pinterest pulled down content from Infowars as well, and there is no way that this could have been done simultaneously unless it was planned well in advance.  Lawyers have to be consulted, CEOs have to give their approval, etc.  This was a cold-blooded move that was carefully calculated down to the finest details.
So is there anything that conservatives can do?
Well, Mike Adams has suggested that these tech companies could be prosecuted for conspiracy…
This coordinated, illegal censorship is clear proof of an organized criminal racket being conducted by the tech giants. The RICO Act allows for federal prosecution of such criminal conspiracy.

The internet Dark Ages has now descended upon us, where radical left-wing tech giants run by deranged, mentally ill communists will decide whether your content qualifies as "hate speech." What is hate speech? It's anything uttered by a conservative.
I think that he is theoretically correct, but I doubt that it will ever actually happen.
Right now, the global elite do not have control of the White House, but they have discovered a powerful new weapon in the tech companies.  They are trying to use this new weapon to smash Alex Jones and other top conservative voices, and they are doing it with a tyrannical flair that is absolutely frightening.  I think that it was quite appropriate that the official WikiLeaks Twitter account made a parallel between this purge and an old Star Wars movie…
The empire strikes back: Apple, Spotify, Facebook and Google/Youtube all purge Infowars/Alex Jones. Yes, Infowars has frequent nonsense, but also a state power critique. Which publisher in the world with millions of subscribers is next to be wiped out for cultural transgression?
And it is quite noteworthy that this comes almost exactly three months before the mid-term elections.
Do you think that is just a coincidence?
After all of the uproar about "election interference", now the big tech companies are overtly doing it very publicly and in a way that nobody can misunderstand.
The biggest reason why they are lashing out at Alex Jones, Mike Adams and a whole host of other top conservative voices is because Donald Trump never would have gotten elected without them.  I guess they figure that if they can start silencing some of those voices that they can turn future elections in their favor.
If it was just a few conservative voices that were being censored, that would be one thing.  But the truth is that hundreds and hundreds of conservatives have had Facebook pages taken down, YouTube accounts terminated and Twitter accounts shadowbanned.  I won't repeat all of the information that I have previously published on this topic in this article.  Instead, if you would like to learn more I would recommend checking out some of my previous articles…
-"This Is The Worst Purge Of Conservative Voices In The History Of The Internet"
-"Governments And Social Media Companies Are Collaborating To Censor Anyone That Would Dare To Question Mainstream Media Narratives"
-"The Big Social Media Companies Are Being Used As A Weapon To Advance The Agenda Of The New World Order"
-"The Censorship Is Real – EndOfTheAmericanDream.com Is Being Completely Blocked By Library Internet Filters"
In the end, this is not about Alex Jones.
This is about a once free society that is becoming more Orwellian with each passing day.
Now that they have come for Alex Jones, they aren't going to stop.
It might not be tomorrow, but eventually they are going to come for you.
I would like to end this article with a few words from Dr. Michael Brown's excellent article about all of this censorship…
Let me repeat what I said in my earlier article about Infowars: Whether you're an Infowars fan or you find their work distasteful, their potential removal from YouTube should concern you.

Otherwise, soon enough, we'll have our own version of Martin Niemöller's famous poem, which will now sound something like this:

First they came for Infowars, and I did not speak out—because I found them offensive.

Then they came for Geller and Spencer, and I did not speak out­—because I found them obnoxious.

Then they came for Prager U, and I did not speak out—because I found them opinionated.

Then they came for a host of others, and I did not speak out—because I have my own life to live.

Then they came for me—and there was no one left to speak for me.
Source: theeconomiccollapseblog.com
08.05.2018 – Here's Why Rip-Roaring Inflation Is Inevitable
The stability of America's status quo is illusory.
One of the enduring mysteries of the past decade is why inflation has remained tame while the central bank and government have pumped trillions of dollars of newly created money into the economy. Millions of words have been written about this, and so some shortcuts will have to be taken to make sense of it in one essay.
Let's start with the basics.
1. Adding newly created money but not generating new goods and services of the same value reduces the purchasing power of existing money. To keep it simple: say the economy of a country is $20 trillion. (Hey, the US GDP is $20 trillion…) Say its money supply is $10 trillion.
So banks and/or the government create $2 trillion in new money but the value of goods and services only expands by $1 trillion. the "extra" $1 trillion of newly created money (either "printed" or borrowed into existence) reduces the value of all existing money.
In effect, the new money robs purchasing power from all existing money. Those holding existing money have lost purchasing power while the recipients of the new money receive purchasing power they didn't have prior to receiving the new money.
We can see how this works by looking at a chart of GDP to debt. As debt has soared (and remember, debt is "new money" that was loaned into existence), GDP has risen at a much lower rate, so the ratio of debt to GDP has skyrocketed. (see chart below)
2. Where "inflation" (higher prices for the same item) shows up depends on who gets the newly created money: the wealthy few or the wage-earning many. As I have explained many times, in our system, all newly issued money goes to banks, financiers and corporations–the super-wealthy few.
So what do already-wealthy people and companies do with trillions in new money? They buy assets–stocks and bonds and real estate. Wage earners who receive new money tend to save some of it but they also spend some of it. The super-wealthy and corporations already own more stuff than they know what to do with, so they spend the new money on income producing assets or stock buybacks.
The net result of giving all the new money to the wealthy is the inflation of an asset bubble, which is precisely what's happened in the past decade. Real estate: bubble. Corporate debt: bubble. Stocks: bubble. We can see this bubble by comparing the value of the stock market to the real economy (as measured by GDP): the higher the ratio of stocks to GDP, the greater the bubble.
Look at the chart below. The current stock market bubble is the greatest in history, exceeded only by the insanity of the last few months of the dot-com bubble, when companies with very little revenue and zero profits were valued in the billions of dollars.
Stocks are in a bubble, period. This is the inevitable result of shoveling all the new money into the hands of the wealthy and corporations. Real-world inflation is certainly higher than official inflation, but the real inflation (higher prices for the same item) is in assets, which have tripled or quadrupled in a mere decade.
3. The inevitable consequence of asset inflation is rising income and wealth inequality. The wealthy few have gorged on assets with all the newly issued credit-money, and as the assets soared in value, they've become immensely wealthier.
A funny thing happens on the way to extremes of wealth/income inequality: social unrest, disorder, revolt. The lackeys and apologists that serve the interests of the wealthy few label this "populism," but it's really just the inevitable response to extremes of wealth/income inequality generated by funneling trillions in new credit-money to the wealthy few at the expense of wage-earners and holders of existing money.
4. To quell the revolt of the many, the Powers That Be will create trillions in new money and helicopter-drop it to the masses. This mass distribution of newly created money (borrowed into existence by the central bank and/or government) will flow into the real-world economy, not assets, and so the inflation (higher prices for the same item) will manifest in good and services.
This helicopter drop of newly created money will be called pensions, Universal Basic Income, tax subsidies, negative tax rates, etc. There are a lot of names for distributing newly created money that's been borrowed into existence.
This is precisely what Venezuela has been doing for a decade: distributing newly created money that isn't matched by a corresponding increase in the production of goods and services. And as we know, the result of this has been the complete destruction of the purchasing power of Venezuela's money.
"That can't happen here" is just what the Venezuelans thought five years ago. But really, it boils down to math: creating money out of thin air and pumping it into a dysfunctional economy destroys the purchasing power of the existing money. Those receiving the new money are like a snake eating its own tail.
Real-world inflation will blow the doors off every forecast of low inflation forever. From the point of view of the wealthy few who control the status quo in the US, they have a stark choice: either continue pushing wealth/income inequality to extremes that trigger social and political revolt, which puts their control at risk, or create and distribute trillions in "free money."
They know this generates inflation, but the increases in the value of their assets have always far outstripped real-world inflation, so they don't care about inflation. That's for little people to worry about.
But what the wealthy few are forgetting is rip-roaring inflation destroys the system just as surely as wealth/income inequality. Just ask the Venezuelans how effective creating new money has been in terms of eliminating poverty: now their entire populace is impoverished, with the only exceptions being the wealthy few in control of the status quo.
The stability of America's status quo is illusory. Can't happen here is going to ring mighty hollow in five years.
Nothing to see here, move along. So what if debt has blown past GDP?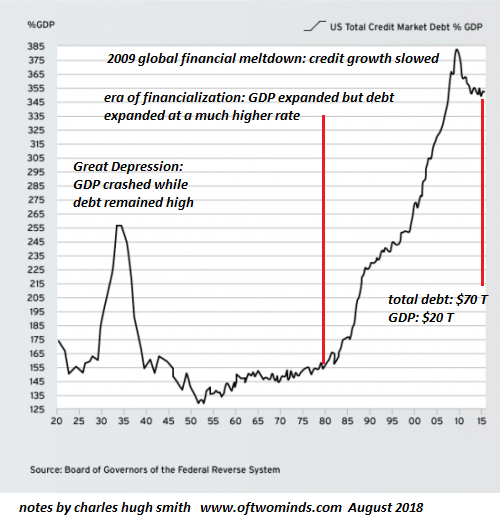 Rising stock valuations are good for America–or at least good for the few who own most of the stocks. Never mind this is the second-greatest bubble in history; stocks can never go down, volatility is low, the Fed has our backs, profits have never been higher, etc.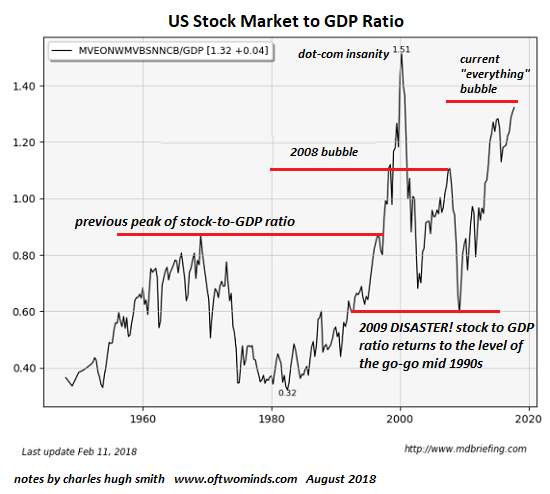 Source: oftwominds.com
08.02.2018 – The 21st Century Misery Index: Labor's Share of the Economy and Real-World Inflation
Isn't it obvious that those at the top of the wealth-power pyramid don't want us to know how much ground we've lost while they've gorged on immense gains?
In the late 1970s and early 1980s, an era of stagflation, the Misery Index was the unemployment rate plus inflation, both of which were running hot.
Now those numbers are at 50-year lows: both the unemployment rate and inflation are about as low as they can go, reaching levels not seen since the mid-1960s. (See chart below)
By these measures, the U.S. economy's Misery Index has never been lower and hence prosperity has never been higher or more widespread.
But this simply isn't true: the top 5% are indeed doing better than ever but the bottom 80% are losing ground and the middle 15% are only appearing to do well because asset bubbles have temporarily created illusory wealth.
I propose a 21st century Misery Index: Labor's Share of the Economy and Real-World Inflation. Headlines about labor shortages and rising wages are popping up, suggesting the long-awaited boost in labor's share of the economy's growth is finally starting.
But these measures of increases are flawed. Median wage increases mask the fact that most of the gains are flowing to the top wage earners; gains are not equally distributed.
Analysts touting increases in compensation costs paid by employers don't realize much of these increases aren't going into paychecks–they're rising because employee healthcare costs are soaring.
The one metric that counts is how much of the Gross Domestic Product is going to labor compensation. As the chart below illustrates, labor's share of the economy has hit historic lows, and the recent bump up has been modest.
If we look at weekly wages for full-time employees, we find exceedingly modest gains on the order of $6 per week since the Great Recession of 2009–$300 a year.
But this inflation-adjusted number is bogus: if wages were adjusted for real-world inflation, which is on the order of 7% to 8% for those exposed to real-world prices, i.e. those whose expenses aren't subsidized, then wages have lost purchasing power since 2009.
Here's how your government figures inflation: your tuition rose by $25,000, your healthcare costs are $25,000 higher, your childcare went up by $10,000, but your last TV was $200 cheaper–mix it all up and inflation is 2%. This is of course beyond absurd, as this chart reveals: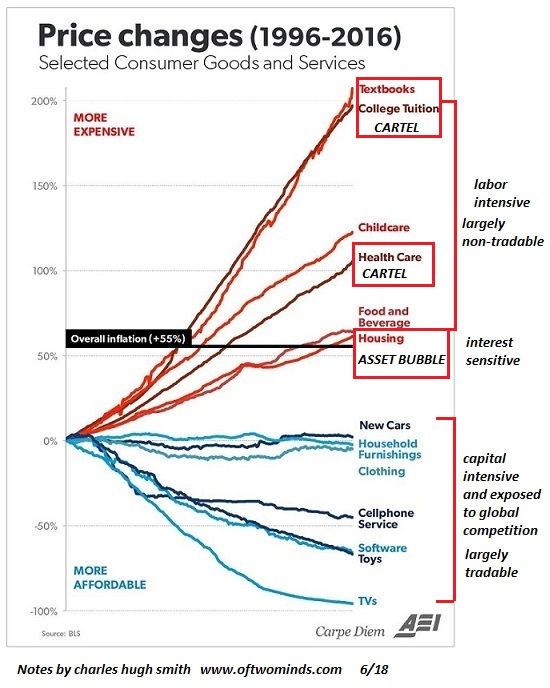 How can 50%, 100% and 200% increases in big-ticket items that cost tens of thousands of dollars when added up be negated by tiny declines in the costs of occasional purchases of TVs and clothing?
As I've explained before, it all depends on how much of one's exposure to real-world costs are being subsidized by the government or an institution. Those without subsidies are experiencing runaway inflation in big-ticket expenses such as rent, junk fees, childcare, college tuition/fees and healthcare.
The point is: if costs are soaring, the institutions subsidizing the costs are absorbing the higher inflation; the cost of healthcare isn't low because the subsidized patient pays $10 of a $1,000 bill.
Here's official inflation, which is used to create an illusion of near-zero cost increases and phantom increases in wages: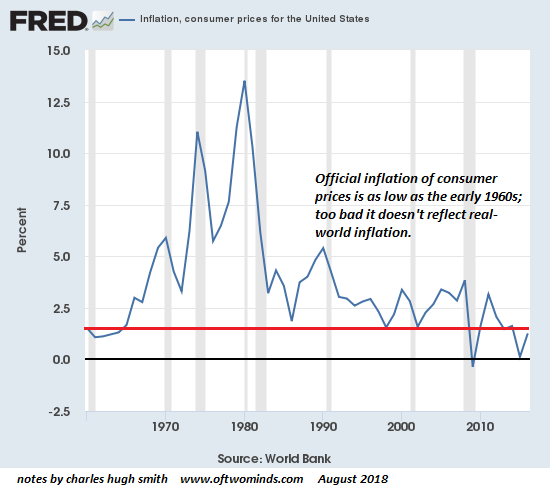 Here's labor compensation's share of GDP: rising modestly off historic lows: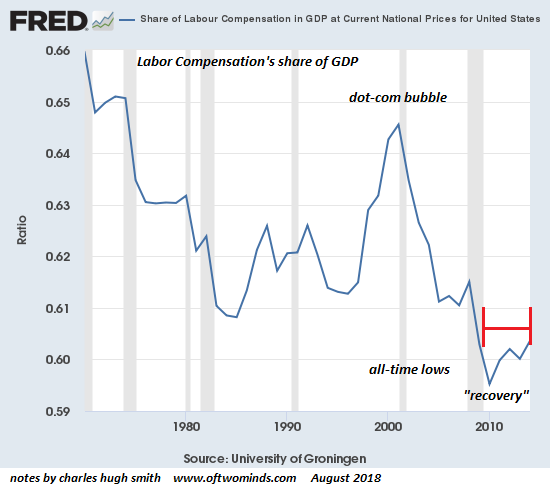 Wages are rising, but only at the top: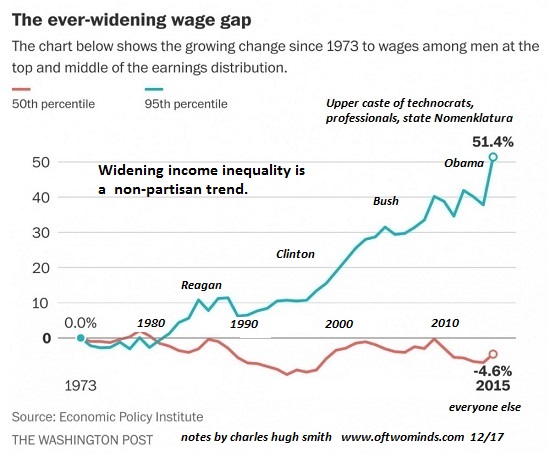 So wages have risen $300 a year, while real-world costs have risen $3,000: this is why people don't feel more prosperity in their paychecks: they've been losing ground for a decade or even longer.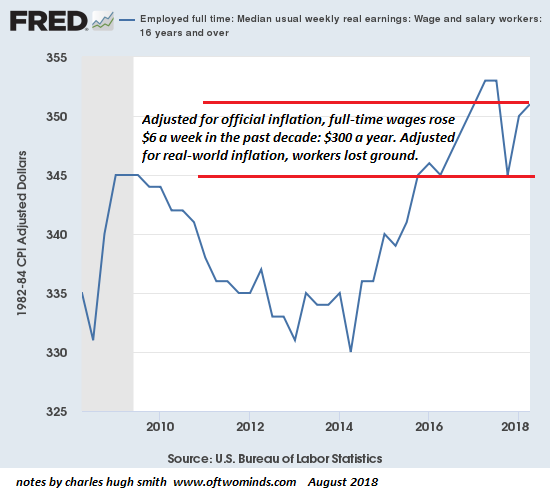 Can we be honest for moment? Isn't it obvious that those at the top of the wealth-power pyramid don't want us to know how much ground we've lost while they've gorged on immense gains? The 21st Misery Index isn't as pretty as the the official propaganda, but choose wisely when choosing what to believe is an accurate measure of the real world.
Source: oftwominds.com
07.30.2018 – Here's How Systems (and Nations) Fail
These embedded processes strip away autonomy, equating compliance with effectiveness even as the processes become increasingly counter-productive and wasteful.
Would any sane person choose America's broken healthcare system over a cheaper, more effective alternative? Let's see: the current system costs twice as much per person as the healthcare systems of our developed-world competitors, a medication to treat infantile spasms costs $8 per vial in Europe and $38,892 in the U.S., and by any broad measure, the health of the U.S. populace is declining.
This is how systems and nations fail: nobody chose the current broken system, but now it can't be changed because the incentive structure locks in embedded processes that enrich self-serving insiders at the expense of the system, nation and its populace.
Nobody chose America's insane healthcare system–it arose from a set of initial conditions that generated perverse incentives to do more of what's failing and protect the processes that benefit insiders at the expense of everyone else.
In other words, the system that was intended to benefit all ends up benefitting the few at the expense of the many.
The same question can be asked of America's broken higher education system: would any sane person choose a system that enriches insiders by indenturing students via massive student loans (i.e. forcing them to become debt serfs)?
Students and their parents certainly wouldn't choose the current broken system, but the lenders reaping billions of dollars in profits would choose to keep it, and so would the under-assistant deans earning a cool $200K+ for "administering" some embedded process that has effectively nothing to do with actual learning.
The academic ronin a.k.a. adjuncts earning $35,000 a year (with little in the way of benefits or security) for doing much of the actual teaching wouldn't choose the current broken system, either.
Now that the embedded processes are generating profits and wages, everyone benefitting from these processes will fight to the death to retain and expand them, even if they threaten the system with financial collapse and harm the people who the system was intended to serve.
How many student loan lenders and assistant deans resign in disgust at the parasitic system that higher education has become? The number of insiders who refuse to participate any longer is signal noise, while the number who plod along, either denying their complicity in a parasitic system of debt servitude and largely worthless diplomas (i.e. the system is failing the students it is supposedly educating at enormous expense) or rationalizing it is legion.
If I was raking in $200,000 annually from a system I knew was parasitic and counter-productive, I would find reasons to keep my head down and just "do my job," too.
At some point, the embedded processes become so odious and burdensome that those actually providing the services start bailing out of the broken system. We're seeing this in the number of doctors and nurses who retire early or simply quit to do something less stressful and more rewarding.
These embedded processes strip away autonomy, equating compliance with effectiveness even as the processes become increasingly counter-productive and wasteful. The typical mortgage documents package is now a half-inch thick, a stack of legal disclaimers and stipulations that no home buyer actually understands (unless they happen to be a real estate attorney).
How much value is actually added by these ever-expanding embedded processes?
By the time the teacher, professor or doctor complies with the curriculum / "standards of care", there's little room left for actually doing their job. But behind the scenes, armies of well-paid administrators will fight to the death to keep the processes as they are, no matter how destructive to the system as a whole.
This is how systems and the nations that depend on them fail. Meds skyrocket in price, student loans top $1 trillion, F-35 fighter aircraft are double the initial cost estimates and so on, and the insider solutions are always the same: just borrow another trillion to keep the broken system afloat for another year.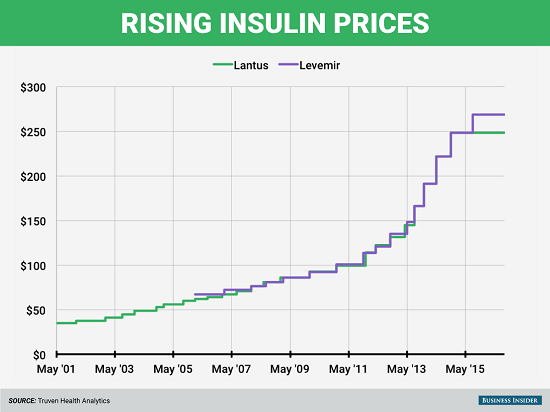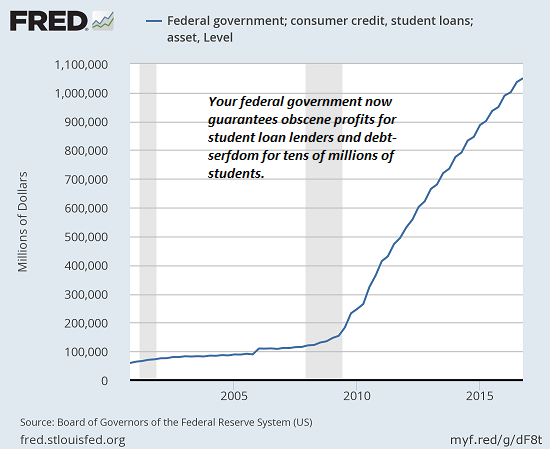 Source: oftwominds.com
07.24.2018 –  SGTReport Terminated
07.22.2018 – "Hoax From The Beginning": Carter Page FISA Application Exposes Flimsy Underpinnings Of FBI "Witch Hunt"
The late Saturday release of the FBI's heavily redacted FISA warrant application for Carter Page reveals that the Obama administration, eager to make a case to spy on a US citizen (and arguably the Trump campaign) cobbled together a combination of facts and innuendo from Page's business dealings in Russia, several press reports of varying reliability, and of course, the infamous Clinton-funded "Steele Dossier," which the FBI went to great lengths to justify despite being largely unable to verify its claims.
Perhaps the most concerning takeaway, however, is the stark disconnect between the FBI's multiple allegations against Page versus the fact that he hasn't been charged with a single crime after nearly two years of DOJ/FBI investigations.
Once issued, the FISA warrant and its subsequent renewals allowed the Obama administration to spy on the Trump campaign using a wide investigatory net, so the October, 2016 application painted Page in the most criminal light possible, as intended, in order to convince the FISA judge to grant the warrant. It flat out accuses Page of being a Russian spy who was recruited by the Kremlin, which sought to "undermine and influence the outcome of the 2016 U.S. presidential election in violation of U.S. criminal law," the application reads.
In order to reinforce their argument, the FBI used circular arguments which presented dossier claims as facts, such as "The FBI learned that Page met with at least two Russian officials" – when in fact that was simply another unverified claim from the dossier.
ALERT: The declassified FBI warrant application attests to secret FISA court that "THE FBI LEARNED that Page met with at least two Russian officials during the trip,"as if FBI learned this independently,when in fact it's clear it relied on Clinton-paid dossier for the information

— Paul Sperry (@paulsperry_) July 22, 2018
FBI represented to a federal judge that investigators knew for certain that Carter Page met w/ Igor Sechin and Diveykin. Except, the FISA app acknowledges this intel came from Steele dossier. And FBI has acknowledged dossier was not verifieid. https://t.co/7ZstgwlVOh pic.twitter.com/NDYvBIhXB0

— Chuck Ross (@ChuckRossDC) July 21, 2018
Another approach used to beef up the FISA application's curb appeal was circular evidence, via the inclusion of a letter from Democratic Senate Minority Leader Harry Reid (NV) to former FBI Director James Comey, citing information Reid got from John Brennan, which was in turn from the Clinton-funded dossier.
BREAKING: FBI's FISA warrant actually cites as "evidence" to spy on Carter Page/Trump campaign "Senate Minority Leader" Harry Reid's 2016 letter to Comey citing information he got from John Brennan who got it from the Clinton dossier — talk about circular evidence!

— Paul Sperry (@paulsperry_) July 22, 2018
In fact, aside from the Clinton-funded Steele dossier ("Source #1"), the FISA application cited no other evidentiary sources.
BREAKING: In all the FISA apps filed to spy on Trump advisor Page there is no evidentiary source listed other than "Source #1" — and "Source #1" is Christopher Steele. (There is no Source #2 or Source #3, etc. Just a single source — Source #1.)

— Paul Sperry (@paulsperry_) July 22, 2018
The application also reveals that FBI agent Peter Strzok lied when he said he had nothing to do with the FISA application, when in fact the disgraced FBI agent used Carter Page's September 2016 letter to Comey defending himself against a Yahoo! News article written by Michael Isikoff (who used information obtained directly from Steele) as a pretext to open the investigation on Page.
The FISA app also mentions a letter Page wrote to Coney denying the allegations made by Isikoff (through Steele).

Strzok used this as a pretext to interview Page. pic.twitter.com/hBdlPnZ5fG

— Techno Fog (@Techno_Fog) July 21, 2018
20) Also on September 25, Page sent a letter to the FBI denying the allegations in the Isikoff article. 21) On September 26, the Post's Rogin posted an interview with Page in which Page called the allegations 'garbage' and said he did not meet with Sechin or Divyekin. 11/14

— Byron York (@ByronYork) July 22, 2018
Meanwhile, the FBI tried to downplay Steele feeding Isikoff information for his article, falsely claiming in the FISA application that Steele did not "directly provide" information to the reporter, when in fact he did.
"Obviously the information that I got from Christopher Steele was information the FBI already had," Isikoff said in a February podcast.
FBI/DOJ telling the FISA court that Source 1 (Christopher Steele) did not "directly provide" information to reporter Isikoff.

It turns out that this was 100% false. Steele was the source.

They lied to the FISA court. pic.twitter.com/b0IoOnCNzL

— Techno Fog (@Techno_Fog) July 21, 2018
The FBI also went to extreme lengths to convince the FISA judge that Steele ("Source #1"), was reliable when they could not verify the unsubstantiated claims in his dossier – while also having to explain why they still trusted his information after having terminated Steele's contract over inappropriate disclosures he made to the media.
"Not withstanding Source1's reason for conducting the research into Candidate1's ties to Russia, based on Source1's previous reporting history with the FBI, whereby Source1 provided reliable information to the FBI, the FBI believes Source 1s reporting herein to be credible"
On top of that, Bill Priestap told Congress that corroboration of the dossier was in its "infancy" when FISAs were being granted. An FBI unit found dossier was only "minimally" corroborated.

— Chuck Ross (@ChuckRossDC) July 22, 2018
If the redacted portions of the Page FISAs are where the FBI provides proof of dossier's allegations (as ppl in my mentions are hoping is the case) then why is this passage included in all 4 of the FISA apps? It's not "we have proved Steele's claims"; it's "we trust Steele." pic.twitter.com/MJTHfSDRzg

— Chuck Ross (@ChuckRossDC) July 22, 2018
The warrant application also confirms a February report that the FBI received a copy of the dossier from the Obama State Department, after Steele provided it to senior DoS official Jonathan Winer. Winer was also approached by Clinton confidant Sydney Blumenthal with a separate anti-Trump dossier written by longtime Clinton pal Cody Shearer.
So two separate Clinton-originated dossiers went from Steele and Blumenthal to the State Department, which then gave it to the FBI. Of course, the agency also had a copy it received in early August, 2016 directly from Steele himself, and we also now know that there were multiple versions of the document which went through various conduits before reaching the FBI.
Curiously, the FBI spotlighted the dossier provided by the State Department, ostensibly to enhance its credibility.
The FBI's use of flimsy and uncorroborated evidence to support spying on Page, combined with the fact that a 3-month extension was granted despite the fact that it was obvious by June, 2017 he wasn't a Russian agent, will most certainly embolden those, like President Trump, who have called the entire Russia investigation a "witch hunt."
So now we know. The Russian collusion fairytale was a hoax from the beginning. What a disgrace. https://t.co/soHweYJYwe

— Dan Bongino (@dbongino) July 21, 2018
Finally, by June, 2017 it's obvious Carter Page isn't a Russian agent

But FISA app is extended another 90 days to coincide with Mueller appointment

This would allow Mueller to use FISA surveillance to prosecute the Trump team for matters unrelated to purpose of surveillance

— Techno Fog (@Techno_Fog) July 22, 2018
The 6/2017 FISA app was signed by McCabe and Rosenstein – immediately after Mueller was appointed.

Carter Page was no longer really "under investigation."

Page and the warrant were a pretext to surveille the rest of Team Trump. pic.twitter.com/1BVwlUQumF

— Techno Fog (@Techno_Fog) July 22, 2018
I honestly wonder how many prior FISA warrants have been based upon oppo research done by smear shops such as Fusion GPS working in conjunction with FBI to target American citizens because of their political affiliation?

— Nick Short 🇺🇸 (@PoliticalShort) July 22, 2018
Reassuring to know the FBI relies on flimsy, incomplete news stories to win warrants to wiretap US citizens. https://t.co/2p8KpcAO0p and https://t.co/b8MK6ZF8My pic.twitter.com/meJiYUt5AW

— Byron York (@ByronYork) July 22, 2018
Finally, on Sunday morning, president Trump responded with a series of tweets, including both his own thoughts, and quotes of others, stating that it is "looking more & more like the Trump Campaign for President was illegally being spied upon (surveillance) for the political gain of Crooked Hillary Clinton and the DNC. Ask her how that worked out – she did better with Crazy Bernie. Republicans must get tough now. An illegal Scam!"
Looking more & more like the Trump Campaign for President was illegally being spied upon (surveillance) for the political gain of Crooked Hillary Clinton and the DNC. Ask her how that worked out – she did better with Crazy Bernie. Republicans must get tough now. An illegal Scam!

— Donald J. Trump (@realDonaldTrump) July 22, 2018
.@PeteHegseth on @FoxNews "Source #1 was the (Fake) Dossier. Yes, the Dirty Dossier, paid for by Democrats as a hit piece against Trump, and looking for information that could discredit Candidate #1 Trump. Carter Page was just the foot to surveil the Trump campaign…" ILLEGAL!

— Donald J. Trump (@realDonaldTrump) July 22, 2018
Source: zerohedge.com
07.19.2018 – Central Banks Are Using The Trade War To Hide Their Direct Influence On Stocks
There has been a lot of confusion lately in the mainstream economic media as well as in independent media circles as to the behavior of stock markets in the wake of the recently initiated global trade war. In particular, stocks suffered one of the longest runs of negative days in their history in June, only to then spike just after Donald Trump "officially" began trade war tariffs in July. The expectation by many was that the headlines would cause an immediate and continued downturn in equities markets, but this was not the case. Many analysts have been left bewildered.
This is an issue I have touched on multiple times since the beginning of this year, and it is something I predicted long before Trump's election in 2016. But it is obvious that the schizophrenic nature of stocks needs to be addressed in a very concise, no-holds-barred fashion, because there are still far too many people who are looking at all the wrong causes and correlations.
First, let's be clear: stock markets are NOT tracking the news headlines. The past month should have proved this if there was any previous doubt.
It is hard for investors and some analysts to grasp this fact, primarily because for at least the past few years it appeared as though stock markets were utterly dictated by headlines out of Bloomberg, Reuters and other mainstream media outlets. Once investors and analysts became used to this narrative it was difficult for them to adapt when the dynamic changed. They are still living in the past based on an assumption that was never quite correct to begin with.
In reality, headlines never actually dictated stock prices; it was always the Federal Reserve among other central banks.
As I and others have noted consistently, stock market valuations for the past several years have tracked almost perfectly with the Fed's balance sheet. That is to say, every time the Fed purchased more assets and increased the balance sheet, stocks went up.
After years of the notorious "Fed Put," we now have an entire generation of investors and market writers that have never experienced a stock environment in which equities actually fall according to the health of their corresponding companies or the economy at large. The past year has been a bit of a shock for them, and it's only going to get worse.
The Fed's large scale interventions in stocks are now essentially over, which is exactly why stocks are no longer hitting new historic highs every month as they used to. The massive bull market rally of the post credit crash world of 2008 has stalled, and here are the reasons why.
Central Banks Tapering QE
The Federal Reserve was only the first to begin tapering its purchases of treasury bonds. Japan is now in the midst of what many are referring to as a "stealth taper" of its own bond purchases. The European Central Bank has announced it will likely end its QE program by the end of this year. Bond purchases helped first to support the ever growing debt burden of the governments and nations in question, but along with artificially low interest rates, it made bond investment less desirable in terms of profits. This pushed the majority of investors into stocks, where profits were essentially guaranteed by the central banks.
Now that QE is ending around the world and rates are rising along with yields, bonds are becoming a competing asset, luring investors away from stocks once more.
Central Banks Raising Interest Rates
The Federal Reserve has been raising rates consistently since the end of 2016, exactly as I predicted they would before the U.S. election.  Interest rates are a direct influencing factor in stocks — low interest rates and cheap overnight loans to corporations by the Fed allowed these companies to continually buy back their own stocks, thereby decreasing the number of stock offerings available on the market and artificially boosting the value of the stocks that were left circulating.
Corporation have taken on a historic level of debt not seen since 2007 in order to keep their stocks prices high. Now that interest rates are rising, the party is almost over. The only source of capital left to fuel the stock buyback bonanza has been the Trump corporate tax cut.  Instead of using this cut as a means to increase employment, innovation and to bring manufacturing back to the U.S., companies have instead squandered it on boosting the stock market yet again. However, as we have seen this year so far, without the aid of cheap money from the central bank the effects of stock buybacks are diminishing.
How long will it take for corporations to completely exhaust this last revenue stream? I predict stock buybacks will die off by the end of this year. And with rising interest rates, all that debt they took on in order to keep stocks elevated will now become rather expensive to hold onto. Once stock buybacks diminish, markets will crash.
It's important to note that the Fed is not the only central bank that is raising interest rates. The Bank of Canada and the Bank of England among others are beginning to push higher rates as well.
Federal Reserve Cutting Balance Sheet (And Hiding The Effects)

The Fed has been the single most important trigger for stock markets. Period. As noted above, it was the Fed that created the historic bull market rally after the derivatives collapse. Jerome Powell, the current chairman of the Fed, stated back in 2012 that this was the case, and also made statements on what would happen if the Fed ever raised interest rates and cut asset purchases, ending the central bank's "short volatility position."
What did Powell predict in 2012? Essentially, a stock market crash. And, yet, as the new Fed chair he is implementing the exact measures he warned about back in 2012.
With every new balance sheet cut and rate hike, the Dow Jones in particular tends to lose 1,000 points or more. The damages have been mitigated by continued stock buybacks from corporations as well as smaller asset purchases by the Fed after the fact, but as already mentioned, the buyback stop gap will be ending shortly.
I should also note that the St. Louis Fed recently ended its reporting of data on cuts from week-to-week (known as FRED data). There are other sources for this data, but they mainly show how much was cut per month, not WHEN in the month those cuts were made. The St. Louis data was originally reported on a weekly basis, which means we can more closely compare Fed asset cuts to stock market movements.
If we look at a 2018 year-to-date chart of the performance of the Dow Jones side by side with the St. Louis FRED chart of balance sheet cuts before the Fed discontinued it, we can see for example that on January 24th the Fed made a dramatic cut in their balance sheet, and two days later on the 26th the Dow began to drop precipitously.  On February 7th the Fed increased asset purchases slightly, and only two days later stocks began to recover.  On February 21st the Fed cut dramatically once again, and once again stocks plunged.  On March 2nd the Fed added a smaller level of assets and stocks recovered.  I would also note that when the Fed does not cut, but simply keeps assets mostly static as in May, stock rise.  Like clockwork, only when the Fed dumps its balance sheet do stock markets fall.
I believe the Fed is not attempting to hide the size of its asset dumps when it discontinued FRED data, but it is attempting to hide the exact TIMING of when the cuts occurred.  In this way, they hope to incrementally distance themselves from any blame by making it more difficult to connect Fed cuts to specific weekly plunges in stock markets.
A distracting argument has been circulating over the influence of algorithmic computers versus the Fed.  To be clear, the claim that market plunges and rallies are somehow due to algos and not the Fed is misguided.  FRED data was normally released long after stock movements had already begun.  Meaning, any influence algorithms might have had came AFTER the fact, not before or during the Fed's balance sheet actions.  Algos are not magic despite predominant and odd misconceptions; they DO NOT predict the timing of Fed asset cuts or purchases.  They do nothing more than lag behind the already direct influence of the Fed on equities.
The Fed is also suddenly attempting to change the way it reports on Yield Curve data, which has in the past been a very accurate indicator of when a recession will take place.  Why?  Most likely because the Fed has been pushing the claim that the economy is in swift recovery when their own data shows that it is actually in swift decline.  The Fed needs a rationale for their rate hikes and balance sheet cuts – actions which they KNOW will cause the next financial crash.  The central bankers are hiding FRED data and Yield Curve data because they are deliberately sabotaging what remains of the US economy, and they are seeking to do this without taking any responsibility.
Trade War Distraction
The trade war continues as the most effective possible distraction from central bank activities. In every instance of a stock market decline, which takes place after every instance of a Federal Reserve cut in the balance sheet or an interest rate hike, Donald Trump also seems to make yet another trade war announcement.  During Jerome Powell's most recent congressional hearing, discussion strayed far from any examination of the Fed's culpability for economic weakness.  Instead, the majority of questions revolved around the "threats" presented by Trump's tariffs and their negative affects on markets.
The only outlier has been the "official launch" of the trade war with China, which saw stock markets suddenly rise.  I have witnessed numerous analysts and commentators frantic over the fact that stocks did not fall on the headlines. Some have even suggested that the investment world "loves the trade war."
What these commentators do not understand is that the headlines are meaningless and the trade war has little to do with the behavior in equities. It is the Federal Reserve and to some extent other central banks that are controlling stock market prices, along with corporate stock buybacks which are facilitated by the Federal Reserve's low interest rates.
I've said it before and I'll say it again — what we are witnessing is a controlled demolition of the U.S. economy, and stock markets are merely an extension of this process. They are a lagging indicator, not a leading indicator. Stocks fall when the Fed dumps more assets, and these cuts are growing larger and larger as 2018 drags on. Stocks rise when the Fed slows asset cuts in a particular week, or when companies initiate more stock buybacks. That's it. That is all there is. There is nothing else to look at when predicting what stocks will do at any given time.
The facade will end when balance sheet cuts expand to a point at which buybacks cannot keep up and the slack in markets grows too fast.  Or when stock buyback cash runs out (probably by the end of this year). The trade war can and will cause various problems within the global economy, but the greater cause of fiscal distress will always be central banks. They are to blame for any future crisis.
Source: alt-market.com
07.16.2018 – The True Meaning Of "Collusion" Exposed
he indictment by Special Counsel Robert Mueller, whose task it is to investigate possible collusion between the Trump campaign and 'Russians', that was released yesterday by Deputy AG Rod Rosenstein, raises so many questions one has to be picky.
Many people have already stated that the report contains no proof of anything it claims, and that Mueller doesn't have to prove a thing, because the 12 Russians he accuses will never show up in a US court. Many of course also have at least questioned the timing of the release, 3 days before the Putin-Trump summit in Helsinki, of information Mueller and Rosenstein have allegedly been sitting on for months.
The idea that the event was not coordinated to inflict maximum damage to the summit seems indeed far-fetched.
But something else struck me in the report: the role of WikiLeaks (labeled "Organization 1"). Mueller very much focuses on both Julian Assange -though he doesn't get named and is not indicted- and his presumed links to the indicted Russians, who -allegedly- posed as Guccifer 2.0:
Use of Organization 1

47. In order to expand their interference in the 2016 U.S. presidential election, the Conspirators transferred many of the documents they stole from the DNC and the chairman of the Clinton Campaign to Organization 1. The Conspirators, posing as Guccifer 2.0, discussed the release of the stolen documents and the timing of those releases with Organization 1 to heighten their impact on the 2016 U.S. presidential election.

a. On or about June 22, 2016, Organization 1 sent a private message to Guccifer 2.0 to "[s]end any new material [stolen from the DNC] here for us to review and it will have a much higher impact than what you are doing." On or about July 6, 2016, Organization 1 added, "if you have anything hillary related we want it in the next tweo [sic] days prefable [sic] because the DNC [Democratic National Convention] is approaching and she will solidify bernie supporters behind her after." The Conspirators responded, "ok . . . i see." Organization 1 explained, "we think trump has only a 25% chance of winning against hillary . . . so conflict between bernie and hillary is interesting."

b. After failed attempts to transfer the stolen documents starting in late June 2016, on or about July 14, 2016, the Conspirators, posing as Guccifer 2.0, sent Organization 1 an email with an attachment titled "wk dnc link1.txt.gpg." The Conspirators explained to Organization 1 that the encrypted file contained instructions on how to access an online archive of stolen DNC documents. On or about July 18, 2016, Organization 1 confirmed it had "the 1Gb or so archive" and would make a release of the stolen documents "this week."

48. On or about July 22, 2016, Organization 1 released over 20,000 emails and other documents stolen from the DNC network by the Conspirators. This release occurred approximately three days before the start of the Democratic National Convention. Organization 1 did not disclose Guccifer 2.0's role in providing them. The latest-in-time email released through Organization 1 was dated on or about May 25, 2016, approximately the same day the Conspirators hacked the DNC Microsoft Exchange Server.

49. On or about October 7, 2016, Organization 1 released the first set of emails from the chairman of the Clinton Campaign that had been stolen by LUKASHEV and his co-conspirators. Between on or about October 7, 2016 and November 7, 2016, Organization 1 released approximately thirty-three tranches of documents that had been stolen from the chairman of the Clinton Campaign. In total, over 50,000 stolen documents were released.
This means Mueller et al claim that WikiLeaks received the DNC files from Russian parties which had hacked into DNC(-related) servers. Something Julian Assange has always denied. Now, remember that the Veteran Intelligence Professionals for Sanity (VIPS), a group of former US intelligence professionals, as well as others, have said that the speed with which the files were downloaded from the server(s) indicates that they were not hacked, but put onto a hard drive.
The person who is supposed to have done that is Seth Rich. Who was murdered on July 10 2016. Kim Dotcom has long claimed to have evidence that Seth Rich was indeed the person who provided the files to Assange. Today he said on Twitter that his lawyers warned him about exposing that evidence, citing his safety and that of his family.
Deep State activities like this indictment against 12 Russians confirm the advise of my legal team. Special Counsel Mueller and the DOJ cannot be trusted. My team asked me not to provide my Seth Rich evidence without solid legal protections for me and my family. They were right!

— Kim Dotcom (@KimDotcom) July 13, 2018
Half a year after Rich's -never solved- murder, in the first months of 2017, the US Department of Defense was involved in negotiations with Assange in which the latter was offered -temporary- 'safe passage' from the Ecuador Embassy in London where he is holed up, in exchange for Assange 'redacting' a batch of files on the CIA known as Vault 7.
These negotiations were suddenly halted in April 2017 through the interference of James Comey -then FBI chief- and Mark Warner, a US Senator (D-VA). In the talks, Assange had offered to prove that no Russians were involved in the process that led to WikiLeaks receiving the files.
Today, of course, Assange is completely incommunicado in the Ecuador embassy, so he cannot defend himself against the Mueller accusations. Mueller really doesn't have to prove anything: he can say what he wants. Comey and Warner prevented Assange from providing evidence exonerating 'the Russians', and Assange has been shut down.
Let me repeat once again: Assange is fully aware that the smallest bit of non-truth or half-lie would mean the end of WikiLeaks. It is based on ultimate trust. Nobody would ever offer a single file again if they wouldn't have full confidence that Wikileaks would treat it -and them- with the utmost respect. So the American approach is to smear Assange in any way possible, rape allegations, collusion with Russian agents, anything goes.
And 'the Russians' can be 'freely' accused in a 29-page indictment released on the eve of the first summit President Trump is supposed to have with his Russian counterpart a year and a half into his presidency, where his predecessors all had such meetings much earlier into their presidencies. With many lawmakers calling on him to cancel it.
Do we all still remember the true meaning of 'collusion'?
Source:theautomaticearth.com
07.13.2018 –  5 Of The Most Controversial Moments From Peter Strzok's Chaotic Testimony To Congress
On Thursday, Peter Strzok finally received his well-deserved congressional grilling, and it was quite a chaotic affair. Over nearly ten hours, there were shouting matches between Strzok and congressional Republicans, there were shouting matches between Republicans and Democrats, and there were quite a few moments that none of us will ever forget. It was a joint hearing of the House Judiciary and Oversight Committees, and the meeting room was absolutely packed. More than 70 members of the House were in attendance, and many came ready with some very pointed questions.
The following are five of the most controversial moments from Peter Strzok's ten hour testimony to Congress…
#5 Bob Goodlatte asks Strzok how he can "smell" Trump supporters at a Wal-Mart in southern Virginia…
#4 John Ratcliffe confronts Strzok about using "official FBI phones" on "official FBI time" to talk to Lisa Page about "stopping Trump" and "impeaching Trump". The following comes from CNN…
"When you said you never crossed that bright, inviolable line, what you meant to say was except for 50,000 times, except for hundreds of times a day where I went back and forth, expressing my personal opinions about 'f'ing' Trump and stopping Trump and impeaching Trump on official FBI phones, on official FBI time," said Rep. John Ratcliffe of Texas.

"Agent Strzok, are you starting to understand why some folks out there don't believe a word you say?" he added.
#3 Darrell Issa forces Strzok to read back some of the anti-Trump text messages that he sent to Lisa Page…
#2 Trey Gowdy uses his extensive legal skills to absolutely grill Strzok about his contradictory statements…
#1 Congressman Gohmert went where nobody else was willing to go when he asked Strzok "how many times did you look so innocent into your wife's eye and lie to her about Lisa Page?" The following comes from CNN…
"I've talked to FBI agents around the country. You've embarrassed them; you've embarrassed yourself," Gohmert said. "And I can't help but wonder, when I see you looking there with a little smirk, how many times did you look so innocent into your wife's eye and lie to her about Lisa Page?"
You can see video of this exchange between Strzok and Congressman Gohmert right here…
Wow. Congressman Gohmert went there. pic.twitter.com/RWjayDOn7J

— Scott Whitlock (@ScottJW) July 12, 2018
If it was virtually anyone else, I would feel very badly for them.
But if this is the worst that Strzok gets, then he will be getting off very easy.
Strzok definitely qualifies as a member of "the deep state", and it is very rare for anyone in "the deep state" to be held accountable on this level.
Peter Strzok really missed his true calling in life as a bad guy manager for @WWE. pic.twitter.com/yn7yPV9mtS

— Andrew Surabian (@Surabees) July 13, 2018
We are in a struggle for the soul of our government, and if we ever hope to turn things around we have got to clean out swamp creatures such as Peter Strzok. I believe that Thursday's hearing was certainly a step in the right direction, and hopefully Congress will do much more to restore our faith in the integrity of our law enforcement agencies.
Source:   endoftheamericandream.com
07.09.2018 – The USA Is Now a 3rd World Nation
I know it hurts, but the reality is painfully obvious: the USA is now a 3rd World nation.
Dividing the Earth's nations into 1st, 2nd and 3rd world has fallen out of favor;apparently it offended sensibilities. It has been replaced by the politically correct developed and developing nations, a terminology which suggests all developing nations are on the pathway to developed-nation status.
What's been lost in jettisoning the 1st, 2nd and 3rd world categories is the distinction between developing (2nd world) and dysfunctional states (3rd world), states we now label "failed states."
But 3rd World implied something quite different from "failed state": failed state refers to a failed government of a nation-state, i.e. a government which no longer fulfills the minimum duties of a functional state: basic security, rule of law, etc.
3rd World referred to a nation-state which was dysfunctional and parasitic for the vast majority of its residents but that worked extremely well for entrenched elites who controlled most of the wealth and political power. Unlike failed states, which by definition are unstable, 3rd World nations are stable, for the reason that they work just fine for the elites who dominate the wealth, power and machinery of governance.
Here are the core characteristics of dysfunctional but stable states that benefit the entrenched few at the expense of the many, i.e. 3rd World nations:
1. Ownership of stocks and other assets is highly concentrated in entrenched elites. The average household is disconnected from the stock market and other measures of wealth; only a thin sliver of households own enough financial/speculative wealth to make an actual difference in their lives.
2. The infrastructure of the nation used by the many is poorly maintained and costly to operate as entrenched elites plunder the funding to pad their payrolls, pensions and sweetheart/insider contracts.
3. The financial/political elites have exclusive access to parallel systems of transport, healthcare, education, etc. The elites avoid trains, subways, lenders, coach-class air transport, standard healthcare and the rest of the decaying, dysfunctional systems they own that extract wealth from the debt-serfs.
They fly on private aircraft, have their own healthcare and legal services, use their privileges to get their offspring into elite universities and institutions and have access to elite banking and lending services that are unavailable to their technocrat lackeys and enforcers.
4. The elites fund lavish monuments to their own glory disguised as "civic or national pride." These monuments take the form of stadiums, palatial art museums, immense government buildings, etc. Meanwhile the rest of the day-to-day infrastructure decays in various states of dysfunction.
5. There are two classes that only interact in strictly controlled ways: the wealthy, who live in gated, guarded communities and who rule all the institutions, public and private, and the debt-serfs, who are divided into well-paid factotums, technocrat lackeys and enforcers who serve the interests of the entrenched elites and rest of the populace who own virtually nothing and have zero power.
The elites make a PR show of being a commoner only to burnish the absurd illusion that debt-serf votes actually matter. (They don't.)
6. Cartels and quasi-monopolies are parasitically extracting the wealth of the nation for their elite owners and managers. Google: quasi-monopoly. Facebook: quasi-monopoly. Healthcare: cartel. Banking: cartel. National defense: cartel. National Security: cartel. Corporate mainstream media: cartel. Higher education: cartel. Student loans: cartel. I think you get the point: every key institution or function is controlled by cartels or quasi-monopolies that serve the interests of the few via parasitic exploitation of the powerless.
7. The elites use the extreme violence and repressive powers of the government to suppress, marginalize and/or destroy any dissent. There are two systems of "law": one for the elites ($10 million penalties for ripping off the public for $10 billion, no personal liability for outright fraud) and one for the unprotected-unprivileged: "tenners" (10-year prison sentences) for minor drug infractions, renditions or assassinations (all "legal," of course) and institutional forces of violence (bust down your door on the rumor you've got drugs, confiscate your car because we caught you with cash, so you must be a drug dealer, and so on, in sickening profusion).
8. Dysfunctional institutions with unlimited power to extract money via junk fees, licensing fees, parking tickets, penalties, late fees, etc., all without recourse. Mess with the extractive, parasitic bureaucracy and you'll regret it: there's no recourse other than another layer of well-paid self-serving functionaries that would make Kafka weep.
9. The well-paid factotums, bureaucrats, technocrat lackeys and enforcers who fatten their own skims and pensions at the expense of the public and slavishly serve the interests of the entrenched elites embrace the delusion that they're "wealthy" and "the system is working great." These deluded servants of the elites will defend the dysfunctional system because it serves their interests to do so.
The more dysfunctional the institution, the greater their power, so they actively increase the dysfunction at every opportunity.
The USA is definitively a 3rd World nation. Read the list above and then try to argue the USA is not a 3rd World nation. Try arguing against the facts displayed in this chart: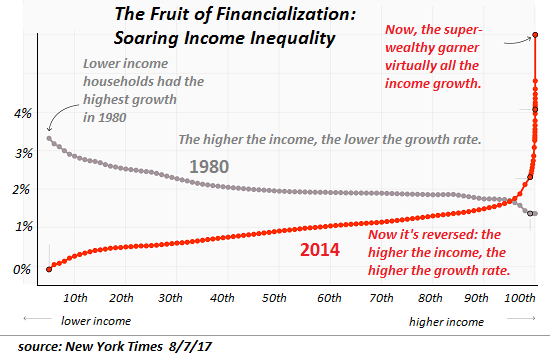 I know it hurts, but the reality is painfully obvious: the USA is now a 3rd World nation.
Source:   charleshughsmith.blogspot.com
07.08.2018 – Experts Warn Of Chaos For The U.S. Economy As China Declares That "The Biggest Trade War In Economic History" Has Begun
Nothing is going to be the same after this.  On Friday, the United States hit China with 34 billion dollars in tariffs, and China immediately responded with similar tariffs.  If it stopped there, this trade war between the United States and China would not be catastrophic for the global economy.  But it isn't going to stop there.  Donald Trump is already talking about hitting China with an additional 500 billion dollars in tariffs, which would essentially cover pretty much everything that China exports to the U.S. in a typical year.  The Chinese have accused Trump of starting "the biggest trade war in economic history", and they are pledging to fight for as long as it takes.  As I discussed yesterday, the only way that one side is going to "win" this trade war is if the other side completely backs down, and that simply is not going to happen.  So there is going to be economic pain, and that pain is likely to intensify for as long as this trade war persists.  U.S. businesses that will be affected by foreign tariffs are already cutting back production and laying off workers, and CNN is reporting that 1,300 products have suddenly become more expensive for U.S. consumers.  There will be nowhere that anyone can hide from this trade war, and it will ultimately affect every single man, woman and child in the entire country.
Most Americans are not paying any attention to these ongoing developments, but the Chinese sure are.
Earlier today, the Chinese Ministry of Commerce called the U.S. tariffs "typical trade bullying", and it warned that this trade war could trigger "global market turmoil"…
"This act is typical trade bullying," the spokesperson said, before adding: "It seriously jeopardizes the global industrial chain … Hinders the pace of global economic recovery, triggers global market turmoil and will affect more innocent multinational companies, general companies and consumers."
China's primary English language newspaper was even more direct with their criticism…
The government-run English language China Daily newspaper said: "The Trump administration is behaving like a gang of hoodlums with its shakedown of other countries, particularly China."
Here in the United States, the start of a major trade war with China really doesn't seem like that big of a deal if you listen to the mainstream media.  Most people just seem to think that things will continue to go well for our country no matter how many stupid decisions we make.  It is almost as if a lot of Americans no longer understand that extremely reckless acts can have exceedingly severe consequences.
One man that understands what is happening is the founder of the largest hedge fund on the entire planet.  On Friday, Ray Dalio posted the following ominous message on Twitter…
"Today is the first day of the war with China."
Today is the first day of the war with China.

— Ray Dalio (@RayDalio) July 6, 2018
Please note that he did not say "the trade war with China".
The truth is that trade wars can often lead to shooting wars, and we need to hope that cooler heads will prevail.
But for now, it looks like things will continue to escalate…
But Trump has said his administration will respond to retaliation from Beijing with much bigger waves of tariffs, raising the prospect of worsening tit-for-tat reprisals. On Thursday, he suggested the possibility of tariffs on almost $500 billion more of Chinese goods.

He described the potential escalation to reporters aboard Air Force One: "Thirty-four, and then you have another 16 in two weeks and then, as you know, we have 200 billion in abeyance and then after the 200 billion we have 300 billion in abeyance. OK?" Trump said. "So we have 50 plus 200 plus almost 300."
If we hit China with 500 billion dollars in tariffs, there is no telling what the Chinese might do.
As I discussed the other day, the Chinese could start dumping our debt or cut off our access to rare earth elements.
Either move would be absolutely catastrophic for the United States.
We don't know how this trade war will ultimately end, but as Reuters has pointed out, "it's going to get ugly"…
The U.S.-China trade war will be fought in the trenches, and it's going to get ugly. The first round of tariffs hits on Friday, and U.S. President Donald Trump says they might come to cover more than $500 billion of goods. Exporters will feel the pain first, but uncertainty will also dampen investment, impede research and twist reform. It marks a moment of mourning for those who hoped the world's two largest economies could work things out.
And guess what?
Russia just joined the trade war against the United States as well.  The following comes from Zero Hedge…
Whether this is a coordinated response is unclear – and certainly on a much smaller scale – but Bloomberg reports that Russian Prime Minister Dmitry Medvedev signed a decree this morning imposing higher tariffs on U.S. products in retaliation for U.S. duties on metals imports, according to Economy Ministry statement.

Reuters reports that Russia's additional duties will apply to imports of fiber optics, equipment for road construction, oil and gas industry, metal processing and mining, according to an economy ministry statement.
These tariffs are going to have very real consequences for U.S. businesses and U.S. workers.
Even though this trade war just started, some firms are already being hit very hard.  Here is one example from USA Today…
Trans-Matic, of Holland, Michigan, shapes metal, mostly into auto parts, as well as components for door locks. It has paid higher steel costs for several months as U.S. steelmakers raised prices in anticipation of higher American tariffs on metal imports, company Chief Financial Officer Steve Patterson says.

Trans-Matic has passed along the price hikes to its auto-supplier customers, but some have scaled back orders, reducing Trans-Matic's revenue in that key sector by 5 to 10 percent, Patterson says. As a result, the company is giving its 300 U.S. employees about five hours a week in overtime instead of their usual 10.
For other firms, layoffs have already become a reality.  Just ask the largest nail maker in the United States…
In Poplar Bluff, Missouri, Mid-Continent Nail, the nation's largest nail maker, laid off 60 workers last month. Sales plunged 70 percent after Trump placed a 25 percent tariff on steel from Mexico and Canada. When the company boosted its prices, customers defected. Now, Mid-Continent is strongly considering a second round of 200 layoffs, company spokeswoman Elizabeth Heaton says, and all 500 employees could be axed by Labor Day.
The longer this trade war lasts, the worse things are going to get.
Fighting a trade war just with China would have been bad enough.  But instead, we have decided that we are going to take on pretty much the entire world simultaneously, and I don't know if I have the words to describe how painful that is going to be for all of us.
Many Americans seem to believe that the U.S. economy is an unsinkable ship, and at this moment we are heading directly for an absolutely enormous iceberg.
Let us hope that someone is able to pull a rabbit out of a hat, because right now things are looking quite bleak.
Source:theeconomiccollapseblog.com
07.06.2018 – The Dark Cloud Of Global Debt… The Perfect Storm Looms
While everyone is debating the effects of possible trade sanctions on the global economy, few are paying attention to a far more serious issue. Enormous global debt, combined with low-interest rates, have set the stage for a global recession that has the potential for economic chaos.
The combination of enormous debt and artificially low-interest rates were at the center of the 2008 credit bubble. One would expect central banks to be aware of this and show more concern. However, the overall silence has been astonishing.
An exception to this is the Bank for International Settlements (BIS), which has been making loud noises about the toxic level of global debt and the anticipated bubble. It recently reported that the global debt of 2008 was $60 trillion, small when compared to the current debt of $170 trillion. To make matters worse, today's global debt is 40 percent higher in relation to GDP than it was in 2008, just prior to the Lehman Bros. downfall. To add to the current headache are the rising debt levels of emerging markets and corporate debts. According toMcKinsey & Company, a global consulting firm, two-thirds of U.S. corporate debt are from corporations that pose a high default risk.
Countries such as Brazil, India, and China have been busy issuing questionable credit. This dubious credit being issued in many emerging markets has come with extremely low-interest rates. If the borrowers' default, the lenders won't be looking at enough compensation to recoup their loses. Low-interest rates have become an overall global problem, including the rates in the U.S. high-yield bond market. Central banks around the world have been keeping interest rates artificially low while printing money with abandon. The current global debt is the direct result of this policy.
$2 trillion in corporate debt will be maturing annually through 2022. A considerable amount of this debt may default and cause debt repricing. The damage caused by central banks and their policy of easy credit has been done, and there is little that can be done at this point to stem the tide. It can only be hoped that they are more aware now than they were in 2008.
Just prior to 2008, during the halcyon days of easy mortgages, homeowners jumped onto the debt bandwagon by refinancing their homes and incur more than $300 billion in debt as the value of their properties increased. Many used their new-found wealth to purchase furnishings, automobiles, vacations or reinvest in the stock market. By the time anyone realized that the homes and stocks were highly overvalued, the stock market took a tumble, major lenders declared bankruptcy, and the world suffered through a massive recession.
More than a decade later, as global economies are still climbing out of the mire, the story is repeating itself, this time with major corporations leading the way. These companies are using cheap credit to pay dividends to stockholders and buy back their own stock. This has driven corporate debt to record heights with inflated assets. Sooner or later, the bubble will burst.
Awash in cash, corporations have created a "buyback" economy. They purchase their own stock for a short-term profit. Companies are expected to pour 2.5 trillion in buybacks and M&A this year. 
Corporations used to invest in equipment, products, and innovative services to generate growth and profits. In the buyback economy, the cash goes to stockholders, instead, while the companies stagnate.
Apple recently announced a $100 billion buyback of its stock. Since 2012, the company has paid $210 billion to its shareholders. In 2017, public companies used more than $800 billion of their equity to buy back stock and increase their debt.
As a consequence of this corporate borrowing spree, more companies are binging on debt vs. focusing on their bottom line. This is a bad position to be in during any kind of economic turndown or when interest rates rise. When the time comes, a large amount of defaults is expected, causing renewed economic stress. It should serve as a warning to companies of problems that may lie ahead.
The world is drowning in debt. In addition to corporate debt, household and government debt are at a record high level, while interest rates are historically low.
With the recent tax cuts initiated by President Trump, the federal deficit is expected to exceed $1 trillion next year. This is in addition to the $20 trillion of already existing debt. Interest payments alone on this colossal federal debt will increase from $316 billion in 2018 to $915 billion in 2028. This is just the interest payments.
Consumers seem to have also forgotten the lessons from 2008. Household debt, in the form of mortgages, credit card, auto and student loans, have returned to record high levels. Thirty-eight percent of individual credit card balances are over $10,000.
As central banks contemplate rate increases, consumer interest payments will reduce buying power and cause a slowdown in the economy, bankruptcies, and eventually, perhaps a recession.
At the moment, the global economy is filled with a number of sharp pins, and no one knows which pin will be the first to prick the debt bubble. But a burst is almost certain.
Source:  goldtelegraph.com
07.05.2018 – We Are Witnessing Unusual Stock Market Behavior That Is Unlike Anything That We Have Seen Since 2008
We have not seen Wall Street this jumpy since just before the great financial crisis of 2008.  As I have explained so many times before, when the waters are calm and there is low volatility, markets tend to go up.  And when the waters are choppy and volatility starts to spike, markets tend to go down.  That is why the behavior that we have been witnessing from investors during the first two quarters of 2018 is so alarming.  A high level of market turnover is often a sign of big trouble ahead, and according to Bloomberg our financial markets "are churning at the fastest rate since 2008″…
From junk bonds to emerging-market stocks, market turnover is through the roof, reaching multi-year highs. Within the S&P 500 Index, investors traded more than $2.9 trillion worth of shares in each of the past two quarters, a feat last achieved in early 2008.
Bloomberg is not prone to hyperbole, and so when they say that "market turnover is through the roof", I hope that you will take that statement seriously.
We truly are facing a scenario that Wall Street has never seen before.  The Wilshire 5000 stock index to nominal GDP ratio has been hovering near all-time highs, and what that tells us is that stock prices are more overvalued today than they have been at any other point in modern American history.  Meanwhile, all sorts of red flags continue to indicate that big trouble is on the horizon, but most investors are ignoring those red flags.
But if you look closely, it is becoming clear that the most savvy investors are getting out while the getting is good.  In a previous article, I explained that the "smart money" is getting out of stocks at a pace that we have not seen since just before the last financial crisis.  Fortunately for them, the "dumb money" has been willing to buy what they are selling at these massively inflated prices.
We see a similar spike in the "churn rate" when we look at emerging markets.  In fact, Bloomberg says that we have not seen this much volatility in emerging market stocks since the international financial crisis of 1998…
It's a similar story for developing-nation assets at the mercy of a strengthening U.S. dollar and trade tensions. Volume on the MSCI Emerging Market index reached $1.9 trillion in the three months through June, the most since 1998 when a wave of currency devaluations and defaults ripped through emerging economies from Thailand to Russia.
As I mentioned a couple of days ago, global stocks lost approximately 10 trillion dollars in value during the first six months of 2018.
Just think about that.
10 trillion dollars is almost half of the U.S. national debt.
If global stocks continue to fall at a similar pace during the second half, it is only a matter of time before U.S. stocks get absolutely slammed.
One of the emerging markets that is showing significant signs of trouble is India.  According to Bloomberg, India's banks are now dealing with 210 billion dollars of bad debts…
India's nearly $1.7 trillion formal banking sector is coping with $210 billion of soured or problem loans, and some regional banks have been ensnared in fraud scandals.
If U.S. banks had 210 billion dollars of bad debts that would be a big problem.
In India, a number like that is a complete and utter financial catastrophe that is not going to be easy to clean up.
According to CNBC, most of the bad loans are owned by India's state-controlled banks…
India's public-sector financial institutions control about 70 percent of all banking assets in the country, but they have the highest exposure to soured loans amounting to as much as $150 billion. In fact, the 21 state-owned banks had stressed loans of about 8.26 trillion rupees ($120 billion) as of Dec. 31, Reuters reported. Private sector lenders, meanwhile, reportedly had a bad loan pile of just about 1.1 trillion rupees.
Things have already gotten so bad in India that some people are starting to panic.
In fact, it is being reported that ATMs in some areas of the nation have been "running dry"…
On top of that, ATMs in some parts of the country have been reported to be running dry in recent days. There's an unusually high demand for cash, according to the Finance Ministry. The rupee shortage is being blamed on everything from farm spending to looming elections and hoarding by some families.
This is yet another example that shows that it always pays to not put all of your eggs in one basket.  In the event of a major emergency, you will want access to cash, and you cannot necessarily count on your bank to always be there for you.
As we move forward into the second half of 2018, red flags continue to appear on an almost daily basis.  The Federal Reserve is steadily raising interest rates, civil unrest is erupting in the streets of America, and the Trump administration is starting trade wars with virtually everyone else on the planet.
In the end, these trade wars are going to prove to be very painful for U.S. businesses.  Earlier today, CNBC posted a piece about the impact that tariffs are likely to have on our pork producers…
U.S. pork producers are about to be bitten by a second batch of hefty retaliatory tariffs from China and Mexico — and that has some large producers predicting they could lose big money and be forced to invest overseas.

Executives say the pork industry has been expanding in recent years, in part on the expectation of export opportunities that would continue to support growth. However, the threat of a trade war is adding uncertainty and driving fear. One in 4 hogs raised in the U.S. is sold overseas, and the Chinese are the world's top consumers of pork.
As I write this article, I can hear fireworks going off in the background.  The 4th of July is always a time for celebration, and without a doubt many Americans are extremely optimistic right now.
But as I have just explained, major storm clouds are gathering, and it isn't going to take much to push the U.S. economy into another major crisis.
Source: theeconomiccollapseblog.com
07.03.2018 – Keynesian Economics Is an Artifact of Cheap Energy
Printing / borrowing money to generate the unsustainable illusion of "growth" sets up the collapse of the entire Keynesian edifice.
Of the many delusions of modern economics, perhaps the greatest is that the dominant Keynesian model reflects permanent dynamics of advanced economies. Economics, along with other social sciences, makes an implicit claim that its econometric claims are the equal of the "hard sciences" of physics and chemistry.
In other words, the econometrics of Keynesian economics is presented as possessing the same timeless validity of the natural sciences.
The reality is that Keynesianism arose in an era of abundant cheap energy, and it is an artifact of that brief one-off period in which industrialization, consumption and the human population were able to expand by leaps and bounds due to cheap energy and new technologies that leveraged greater value ("work," output) from the cheap energy.
Once energy is no longer cheap or abundant, the Keynesian model of paying people to dig holes and fill them as a means of boosting "aggregate demand" falls apart. In the Keynesian model, "growth" as measured by consumption (gross domestic product) is assumed to be permanent and the highest goal of any economy.
If an economy starts contracting (i.e. recession), the one-size-fits-all solution in the Keynesian model is to boost consumption, i.e. "growth" by any means available: paying people to produce no useful output (building bridges to nowhere, etc.), distributing newly created money via "helicopter drops" into consumers' laps via tax rebates, tax cuts, increased social welfare spending, etc.
This "solution" implicitly assumes the energy needed to fuel this unproductive labor, investment and consumption is permanently abundant and cheap. It also assumes that the quantity of energy available to fuel the economy will always expand, and as a result new currency ("money") can be issued by central banks with few (if any) constraints.
The connection between currency and energy is: "money" is nothing but a claim on future energy. Without energy to power the future economy, the "value" of "money" vanishes.
As a result, printing/borrowing vast sums of new money into existence when the supply of affordable energy is stagnating leads to inflation/ loss of purchasing power as the expanding supply of money is chasing a stagnating quantity of energy and what requires energy to generate output, i.e. the vast majority of the economy.
We have a test case for how well the Keynesian model works in periods in which energy is scarce and costly. That test case is the 1970s, the era of stagflation: as governments and central banks pumped freshly created money into the economy to generate "growth," what they got wasn't "growth"–they got inflation and stagnating output and consumption.
The Keynesian model failed to work as advertised. The reason is obvious: the model is an artifact of an era of cheap, abundant energy, as it only functions when energy is cheap and abundant.
In effect, the Keynesian model of how the economy works was saved by the discovery of super-giant oil and gas fields in the 1970s that expanded oil production and dramatically lowered the cost of energy for the rest of the 20th century.
The Keynesian illusion was again saved in the early 21st century by the widespread application of fracking technologies that boosted supply and suppressed the cost of energy.
But fracking is not the equivalent of bringing new super-giant oil/gas fields into production. Where super-giant fields produce for decades, fracked wells deplete very quickly–two or three years.
Fracking is even more capital-intensive than the horrendously capital-intensive super-giant fields. Fracking is an artifact of cheap capital in much the same way that the Keynesian model is an artifact of cheap abundant energy: without an essentially limitless supply of cheap, abundant credit, fracking would not be feasible.
Even with unlimited cheap credit, fracking makes no financial sense at today's relatively modest energy prices; the fracking sector has famously burned $500 billion, i.e. the sector has lost $500 billion providing energy at today's prices.
This consumption of capital in service of affordable energy is not sustainable.
The Keynesian model makes another implicit assumption: that technology + cheap abundant energy will always generate increasing productivity: in other words, the same quantity of inputs (energy, labor, capital) will yield greater outputs due to rising productivity.
But as this chart of productivity illustrates, productivity is in a long-term secular decline. Productivity is a proxy for cheap, abundant energy as well as for technology. Clearly, technology alone is not the driver of increasing productivity. Despite tremendous advances in various technologies, broad measures of productivity are in secular decline.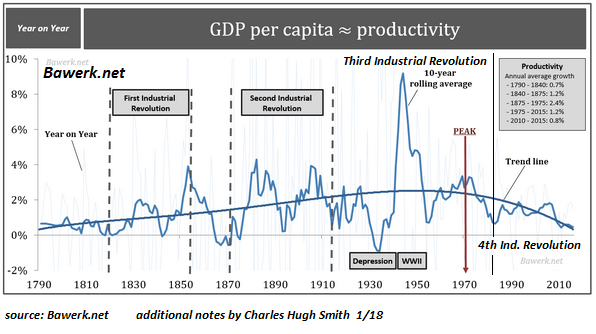 The secular decline in productivity has puzzled mainstream economists who expected productivity to increase at the same rates logged in previous eras. This trend is complex and can't be distilled down to one cause, but the point here is that "growth" is ultimately dependent on rising productivity: printing / borrowing money to generate the unsustainable illusion of "growth" sets up the collapse of the entire Keynesian edifice.
Source: oftwominds.com
07.01.2018 – Riot Breaks Out In Portland As Antifa Activists Clash With Conservative Marchers
Members of Antifa clashed with members of the conservative group Patriot Prayer Saturday evening in Portland, Ore., forcing police to declare that a riot was taking place as officers fired paintballs filled with tear gas into the crowd, according to the Oregonian.
Scuffles broke out shortly after 6 pm local time as Antifa protesters pelted marchers from the conservative  group with eggs, water bottles and firecrackers as the marchers spilled out into downtown Portland for their legally permitted march in support of a conservative Republican candidate for the U.S. Senate. The march followed an afternoon rally at Terry Schrunk Federal Plaza, Reuters reported.
Officers seized weapons like utility knives, clubs and chemical sprays from Antifa protesters as they gathered nearby for their counter-rally.
Portland police eventually made four arrests during the demonstrations – though they said none of them were related to the day's events. Four others had to be taken to the hospital after being struck by projectiles.
The hostilities started escalating around 4 pm local time, as busloads of Patriot Prayer protesters arrived at Terry Schrunk Federal Plaza, while members of Antifa gathered for a counter-demonstration at Chapman Square, directly across the street.
Federal police are searching someone who just tried to come into the rally at Terry Schrunk Plaza. Not sure why, although they removed his backpack before leading him to this SUV. pic.twitter.com/zPb35XXnBH

— eder campuzano 🇲🇽🇺🇸🎮🎶📽 (@edercampuzano) June 30, 2018
Federal Dept. of Homeland Security police are making the new arrivals return anything that can be used as a weapon, plus any pepper spray they may be carrying. pic.twitter.com/bODdHU8L7b

— eder campuzano 🇲🇽🇺🇸🎮🎶📽 (@edercampuzano) June 30, 2018
There were roughly 150 Patriot Prayer protesters while the Antifa protesters numbered at least twice that. Still, the dueling protests were a fraction of an earlier march in support of immigrant families separated at the border, part of a wave of marches that unfolded in cities across the US. Nearly 5,000 people attended that event.
Patriot Prayer founder Joey Gibson, the organizer of the rally, said during a  rally that he wanted to "bring light into a city that's full of darkness". He bashed Portland Mayor Ted Wheeler and Oregon Gov. Kate Brown. Gibson is one of 13 candidates running for the GOP nomination to face off against Democratic Washington Senator Maria Cantwell.
Source: zerohedge.com
All information used from other websites on X22 Report is used for educational/criticism and commentary purposes only.

Fair Use Notice: This video contains some copyrighted material whose use has not been authorized by the copyright owners. We believe that this not-for-profit, educational, and/or criticism or commentary use on the Web constitutes a fair use of the copyrighted material (as provided for in section 107 of the US Copyright Law. If you wish to use this copyrighted material for purposes that go beyond fair use, you must obtain permission from the copyright owner. Fair Use notwithstanding we will immediately comply with any copyright owner who wants their material removed or modified, wants us to link to their web site, or wants us to add their photo.

The "Fair Use" Provisions outlined in Title 17, Chapter 01 Article 107 of the US Copyright Law states the following:

Notwithstanding the provisions of sections 106 and 106A, the fair use of a copyrighted work, INCLUDING SUCH USE BY REPRODUCTION IN COPIES or phonorecords or BY ANY OTHER MEANS specified by that section, for purposes such as criticism, comment, news reporting, teaching (including multiple copies for classroom use), scholarship, or research, is NOT an infringement of copyright. In determining whether the use made of a work in any particular case is a fair use the factors to be considered shall include:

(1) the PURPOSE and CHARACTER of the use, including whether such use is of a commercial nature or is for NON-PROFIT educational purposes;
(2) the NATURE of the copyrighted work;
(3) the amount and substantiality of the portion used in relation to the copyrighted work as a whole; and
(4) THE EFFECT OF THE USE UPON THE POTENTIAL MARKET FOR OR VALUE OF THE COPYRIGHTED WORK.

The fact that a work is unpublished shall not itself bar a finding of fair use if such finding is made upon consideration of all the above factors.