Podcast: Play in new window | Download (Duration: 40:29 — 44.5MB)
UMich confidence drops as the rate hikes take effect. The people are starting to feel the rate hikes, businesses are starting to feel it, the Fed will be blamed. Credit card delinquencies shoot up. Realtors urge the Fed to slow the rate of interest rate increases. Mortgage financing down to an 18 month low. Trump wants the Fed to lower rates. Q drops a post letting everyone know that this is not about saving the Fed economy its about putting the people back in power. Watch CA, people arrested for election fraud. Assange leaked indictment is nothing more than projection to counter what is coming. North Korea destroys lookout towers in the DMZ zone. Q drops more bread, tells us the plan is much larger than just arrests, it's about restoring the power to we the people. D5 is on its way, nothing will stop it. It all begins on Dec 5.
Check Out The X22 Report Spotlight YouTube Channel X22Report Spotlight
Please check Newzsentinel.com for the latest news on the economic collapse. The Sentinel Alerts are updated throughout the day. If you haven't already, go to "The People" and join the community of people who are helping each through the economic collapse.
---
Current News – 11.21.2018
Watch The X22 Report On Video
---
Economy
October's final UMich consumer sentiment data disappointed and slipped from September's data, with current conditions and expectations both declining.
As UMich explains:
Interest rate expectations have always traced the outlines of economic cycles. As expansions lengthened, more consumers would expect interest rate increases, pushing the series to cyclical lows; then consumers would suddenly reverse course, lowering expectations just as downturns were about to commence (see the chart above). Note that recession dating lags by about one year, meaning that expected declines in rates are recorded about one year before the official announcement. While there is no reason to anticipate a sudden change in expectations in the months ahead, consumers have begun to resist rising interest rates on purchases of housing and vehicles.

Hopefully this time the Fed will manage interest rates to avoid hitting the threshold that causes widespread postponement as has been true in the past.
Source: zerohedge.com
Subprime Rises: Credit Card Delinquencies Blow Through Financial-Crisis Peak at the 4,705 Smaller US Banks
 the delinquency rate at the 4,705 smaller banks in the US – spiked to 6.2%. This exceeds the peak during the Financial Crisis for these banks (5.9%).
The credit-card "charge-off rate" at these banks, at 7.4% in the third quarter, has now been above 7% for five quarters in a row. During the peak of the Financial Crisis, the charge-off rate for these banks was above 7% four quarters, and not in a row, with a peak of 8.9%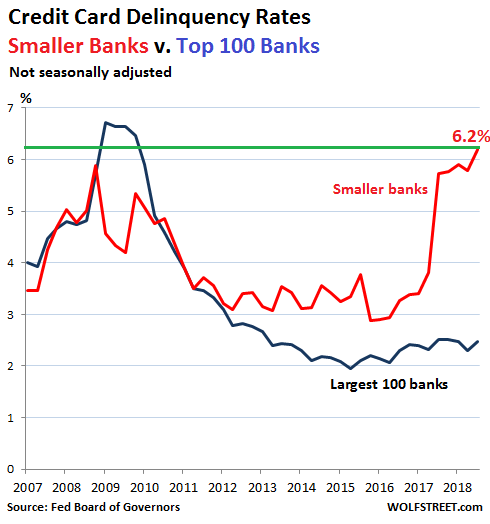 Credit card balances are deemed "delinquent" when they're 30 days or more past due. Balances are removed from the delinquency basket when the customer cures the delinquency, or when the bank charges off the delinquent balance. The rate is figured as a percent of total credit card balances. In other words, among the smaller banks in Q3, 6.2% of the outstanding credit card balances were delinquent.
With credit cards, the US banking system has split in two.
The largest banks can offer the most attractive incentives on their credit cards (cash-back, miles, etc.) and thus attract the largest pool of applicants. Then they can reject those with higher credit risks – having not yet forgotten the lesson from the last debacle.
The thousands of smaller banks cannot offer the same incentives and lack the marketing clout to attract this large pool of customers with good credit. So they market to customers with less stellar credit, or with subprime-rated credit — and charge higher interest rates. 30% sounds like a deal, even if the customer will eventually buckle under that interest rate and will have to default.
consumers are getting into trouble with their credit cards, having borrowed too much at high rates. They'll never be able to pay off or even just service those balances. For them, there is only one way out – to default.
what does mean, consumers are having a very tough time.
Source: wolfstreet.com
 existing home sales slumped 5.1% year-over-year – the biggest drop since 2014.
Source: zerohedge.com
U.S. home refinancing requests fall near 18-year low: mortgage group
U.S. borrowers filed the fewest applications for home refinancing in almost 18 years last week even as mortgage rates drifted lower in step with U.S. bond yields, the Mortgage Bankers Association said on Wednesday.
Source: reuters.com
Federal Reserve Not Likely Swayed by Recent Stock Market Declines
Central bank officials have indicated they plan to proceed with a December rate hike
Trump Blasts Fed, Says Interest Rates Are Too High
President Donald Trump Federal Reserve on Tuesday described the Federal Reserve as a "problem" and said its interest rate target was too high.
"I'd like to see the Fed with a lower interest rate. I think the rate's too high. I think we have much more of a Fed problem than we have a problem with anyone else," said Trump to reporters outside the White House. "I think your tech stocks have some problems."
Source: breitbart.com
Q

!!mG7VJxZNCI

ID: 6e0a05

No.3978190 


  This election was not about fixing the economy, trade, borders, military, protecting our children etc. all so another corrupt politician or 'insider' can simply undo it [band-aid]. This was not simply another 4-year election, but, a crossroads in the history of our civilization that will determine whether or not, WE, THE PEOPLE, reclaim control over our gov't.

Q
---
Political/Rights
DbMgsrGU8AEibfe.jpg \

News unlocks.
Q
Election fraud scheme on L.A.'s skid row got homeless to sign fake names for cigarettes and cash, D.A. says
Using cash and cigarettes as lures, the defendants approached homeless people on skid row and asked them to forge signatures on state ballot measure petitions and voter registration forms, the district attorney's office said.

The charges, which were filed three weeks ago but made public Tuesday, followed a Los Angeles Police Department crackdown on suspected election fraud on skid row earlier in the year.
"They paid individuals to sign the names," Officer Deon Joseph, the senior lead officer on skid row, told The Times in September. "That's an assault on our democracy."
Source: latimes.com
Trump: 'I don't know anything' about Julian Assange
P

resident Trump said Tuesday that he doesn't "know anything" about WikiLeaks publisher Julian Assange, who is reportedly facing a secret criminal case filed by the Trump administration.
"I don't know anything about him, really," Trump said on the south lawn of the White House after being asked if Assange should go free and if the Justice Department should drop its case. "I don't know much about him. I really don't"
An accidental court filing first reported last week appeared to reveal that Assange faces a sealed criminal case in the U.S., a scenario long feared by the Australian-born transparency activist.
Source: washingtonexaminer.com
Q

!!mG7VJxZNCI

ID: d24699

No.3317104 

Read letter from Clinton

---
War
North Korea Destroys 10 Border Posts on DMZ Per Agreement with South Korea
The Democratic People's Republic of Korea (DPRK) destroyed 10 guard posts inside the Demilitarized Zone (DMZ), as agreed upon, Seoul's defense ministry said Tuesday.
The DPRK notified South Korea Sunday of its plan to explode 10 guard posts along the inter-Korean border as the two Koreas agreed to completely destroy 11 guard posts inside the DMZ on a trial basis.
Source: thegatewaypundit.com
---
Q
House GOP to hold hearing into DOJ's probe of Clinton Foundation
Rep. Mark Meadows (R-N.C.) said Tuesday that House Republicans plan to hear testimony on Dec. 5 from the prosecutor appointed by former Attorney General Jeff Sessions to probe alleged wrongdoing by the Clinton Foundation.
Meadows, who is chairman of the House Oversight Subcommittee on Government Operations, told Hill.TV's "Rising" that it's time to "circle back" to U.S. Attorney General John Huber's investigation with the Justice Department into whether the Clinton Foundation engaged any improper activities.
"Mr. [John] Huber with the Department of Justice and the FBI has been having an investigation – at least part of his task was to look at the Clinton Foundation and what may or may not have happened as it relates to improper activity with that charitable foundation, so we've set a hearing date for December the 5th," he told Hill.TV during an interview on Wednesday.
Meadow's said the committee plans to delve into a number of Republicans concerns surrounding the foundation, including whether any tax-exempt proceeds for personal gain and whether the Foundation complied with IRS laws.
MSM  are not impressed with the prospects of the December 5th hearing featuring John Huber.
D5 = largest measurement on the avalanche scale. There is more that is associated with D5 and we will get into that in just a minute

How awesome! Latest cover pic on @GenFlynn's page came from a video recorded by our Patriot brother, @Cordicon!https://t.co/Z973EQRVuz pic.twitter.com/lo4K22l3Ps

— Lisa Mei Crowley (@LisaMei62) November 21, 2018
Senate Judiciary chair Grassley's move leaves key opening
Senator Chuck Grassley said on Friday he will relinquish his job as U.S. Senate Judiciary Committee Chairman next year,
Republican Senator Lindsey Graham,   has publicly stated his interest in becoming Judiciary Committee chairman in the event of a vacancy.

Grassley, an Iowa Republican who turned 85 in September, said in a statement that in giving up the Judiciary Committee post he would instead seek to replace retiring Senator Orrin Hatch as chairman of the tax-writing Senate Finance Committee,
PANIC IN DC
[LL] talking = TRUTH reveal TARMAC [BC]?
[LL] talking = TRUTH reveal COMEY HRC EMAIL CASE?
[LL] talking = TRUTH reveal HUSSEIN instructions re: HRC EMAIL CASE?
[LL] talking = TRUTH reveal BRENNAN NO NAME COORD TO FRAME POTUS?
……………..
FISA = START
FISA BRINGS DOWN THE HOUSE.
WHEN DO BIRDS SING?
Q
Panic in DC
Did Whitaker remove [SC] 'special articles' inserted by [RR] re: expanded scope v2?
Was the scope narrowed to the original mandate assigned?
Item used when walking a dog?
Q
Yes, Whitaker put a leash on Mueller and the scope was narrowed to the original mandate
OH on the Q train intercom: "Attention passengers. The intercom phone is for emergencies only, it is not for asking the conductor questions."

— Maggie Haberman (@maggieNYT) November 21, 2018
 Haberman is a Clinton, Deep State operative.  her name appeared in the Podesta Leaks 
Q might be saying that 3 bad FBI and 1 DOJ deep state actords left to go 
So what does this tweet actually mean, some anons decided to dig deep into it.
Lets go back to the date 11.11.18, we are starting to find out that this might not have been a date,  one anon believes  it is an ip address, the first three digits give us the geolocation
The Ivanka Trump email story pops up shortly after a federal court orders Hillary Clinton to answer key questions on her email scheme. I'm sure it is just a coincidence. https://t.co/vpoPn4Skui pic.twitter.com/ESnVRoLHIr

— Tom Fitton (@TomFitton) November 21, 2018
Last year's story about Ivanka's emails. Last year's story about Trump wanting to prosecute Hillary and Comey. MSM & the Deep State know what's coming. PAIN
Fake News Attacking POTUS (DOJ Interference) and Ivanka Trump (Email Usage)
Pompeo: U.S. Ties to Saudi Arabia About National Security, Not Business
Secretary of State Mike Pompeo told reporters on Tuesday that a continued close relationship with Saudi Arabia is not a matter of arms sales but national security.
Pompeo made his remarks following a White House statement confirming that the United States would take no further action against Saudi Arabia following anonymously sourced mainstream media reports claiming the Central Intelligence Agency (CIA) believes Saudi officials ordered the murder of Washington Post contributor Jamal Khashoggi.
Source: breitbart.com
#Khashoggi #Breaking: Just Found Out #Khashoggi Was Not US Legal Resident (Never got Residency In USA.Remember, last week we also broke: Khashoggi, Only months before his consulate trip, got married to an Egyptian Woman, which raises serious questions re: Turkish Fiancé Story!!! https://t.co/mgSHFHdC3y

— Sibel Edmonds (@sibeledmonds) November 21, 2018
Just ask yourself in #Khashoggi Case: 1- Why #MSM knowingly kept lying & stating that he was a US resident? 2-Why #MSM despite knowledge (#WashingtonPost) hid his recent & well-known marriage? & promoted Fiancé Story? 3-Why #MSM Been blacking Out real reason 4 his trip to Turkey? pic.twitter.com/yJGzQ5S5jJ

— Sibel Edmonds (@sibeledmonds) November 21, 2018
#Khashoggi: #MSM lied about his background (#OBL, #SaudiIbtel, #CIA, #MuslimBrotherhood), His US residency status (He was NOT), His #Soros NGO Business, His Recent Marriage To an Egyptian Woman, His Alleged Fiancé, the real reason he went to #Turkey & his new businesses there…

— Sibel Edmonds (@sibeledmonds) November 21, 2018
In a single day, POTUS turns a blind eye to the barbaric murder of journalist and we learn that he tried to order DOJ to go after his political adversaries. Is there no depth to which he will not sink? We can't let him drag America down with him.

— Sally Yates (@SallyQYates) November 21, 2018
It IS a mean & nasty world, but Trump's siding with the meanest and nastiest out there (whether Duterte, Sisi, Putin, or assassin MBS) will leave the world even nastier. This statement is a green light for would-be murderers in countries that have things Trump thinks we need. https://t.co/YIN6uXUGpj

— Samantha Power (@SamanthaJPower) November 20, 2018
Since Mr. Trump excels in dishonesty, it is now up to members of Congress to obtain & declassify the CIA findings on Jamal Khashoggi's death. No one in Saudi Arabia—most especially the Crown Prince—should escape accountability for such a heinous act. https://t.co/exQrZKybhk

— John O. Brennan (@JohnBrennan) November 20, 2018
>>3979662 D's want to look at Ivanka's emails
>>3979709 75 Judges waiting to be confirmed
>>3979734, >>3980005 Whitaker previously outlined a plan to keep Mueller's investigation on a tight leash by defunding it
>>3979791 US Suspends $1.66Bln in Security Aid to Pakistan After Trump, Khan Twitter Row
>>3979970 Head of National Park Service Climate Change Adaption Program Resigns
>>3980019, >>3980204 December 5th – This Day in History
>>3980178, >>3980192 Flynn's Birthday is on the 5th of December
>3980193 Judicial Watch: Justice May Provide Redacted Portions of Rosenstein Mueller "Scope" Memo
3980282 New POTUS Tweet: AMERICA FIRST!
The cabal have been running a coordinated mass blackout drill exercise. They phased it to prevent suspicion, but social networks, telecoms and iTunes consecutively tested. When the big stuff hits, they will flip the disconnect switch to shield them from exposure. https://t.co/Z269we31sm

— Joe M (@StormIsUponUs) November 21, 2018
Please refer back and collect my crumbs.
As discussed, we've anticipated the Twitter and other social media blackouts.
Rogue agents/programmers.
Per sealed Federal orders, we quickly tracked and reinstated.
Expect outages periodically (infiltrated).
If this doesn't signal what I've been saying I don't know what will.
Q
TWITTER has been given the green light to blanket censor all content deemed to threaten their SURVIVAL [election].
GOOG – FB will follow.
EXPECT COMMS BLACKOUT ATTEMPT (POTUS TWITTER)
[ROGUE_EMPLOYEE_EXCUSE]
Welcome to the POLICE STATE.
THEY KNOW IF THEY LOSE IT'S OVER.
THE TIME TO FIGHT!!!!!!!! IS NOW.
GOOD V EVIL
HUMANITY IS AT STAKE
DROP THE MEMES
SILENT MAJORITY NO MORE
BE LOUD – YOU HAVE A VOICE
ARE YOU REGISTERED?
VOTE THEM ALL OUT
PREPARE
RED OCTOBER
WE STAND TOGETHER.
Q
Twitter outage
Facebook
YouTube
Google
Google goes dark? Mysterious error brings down internet search giant in parts of US & Europe
Google services went down for US users sometime around 11 am Eastern Time on Wednesday, according to downdetector.com, a site where users can report website outages.
Some users reported the problem as specific to Google's DNS service. DNS is widely used to link IP addresses to recognizable domain names.
Source: rt.com
---