Podcast: Play in new window | Download (Duration: 40:30 — 41.9MB)
Ford is restructuring and laying off middle management globally. The company is removing bureaucracy and increasing the number of workers that report to managers. Farmers will be able to do business with Canada and Mexico. Chicago Fed says economic index falling. The [CB] is losing speed, Trump will begin to push the Fed towards lower rates and stimulus. The MSM  is now going after Trumps finances, Trump calls them out. UK intelligence were briefed early on. EH panicks and goes after Barr, Sol Wisenberg hits back. Trump calls out that Biden should be investigated regarding China. Justin Amash has business with China.Trey Gowdy hints of docs that American's need to see. Meadows says Declass is right around the corner. [DS] push their agenda in Iran. Trump points the finger at the military industrial complex.  Patriots are controlling the timetable.
Check Out The X22 Report Spotlight YouTube Channel X22Report Spotlight
Please check Newzsentinel.com for the latest news on the economic collapse. The Sentinel Alerts are updated throughout the day. If you haven't already, go to "The People" and join the community of people who are helping each through the economic collapse.
---
Current News – 05.20.2019
Watch The X22 Report On Video
---
Economy
In a  letter to employees, Ford CEO  Jim Hackett has confirmed that the company will eliminate 7,000 jobs, representing 10% of its global salaried workforce

The company said Monday that the plan will save about $600 million per year by eliminating bureaucracy and increasing the number of workers reporting to each manager.
'Source: zerohedge.com
Starting Monday, our great Farmers can begin doing business again with Mexico and Canada. They have both taken the tariff penalties off of your great agricultural product. Please be sure that you are treated fairly. Any complaints should immediately go to @SecretarySonny Perdue!

— Donald J. Trump (@realDonaldTrump) May 20, 2019
U.S. economic activity slumped in April, according to the Federal Reserve Bank of Chicago. The Chicago Fed national activity index, which draws on 85 economic indicators, was -0.45 in April versus an upwardly revised +0.05 in March (and expectations of -0.20).
33 of the 85 monthly individual indicators made positive contributions
52 of the 85 monthly individual indicators made negative contributions
this is the weakest level of national economic activity since May 2016…
A reading below zero indicates below-trend-growth in the national economy and a sign of easing pressures on future inflation.
…more bad news is good news? More ammo for The Fed to stay lower for longer.
Source: zerohedge.com
  national savings rate is currently at 3%. It is historically 6%. We are running half of normal.   the government sector is running at -6% and dragging down national savings. That is where the problem lies.
But it is not going to stay there – the government deficit is moving even lower into negative territory.
 there is an insufficiency of savings to absorb ever-larger budget deficits. National savings is not staying at 3%, it is going to decline. Real investment is going to decline. It is possible the private sector will save more but that means there will be less consumption.
In other words, the public sector is going to constrain the private sector and the economy. (SB: Debt acts as a noose around the economy's neck.)… and guess which sector provides the basis for better growth, the private sector or the public sector?
In other words, the government sector's budget deficits are too large for the level of savings
We simply have an insufficiency of savings and it cannot be corrected.

The good news. If you want to call it that, is the US is the best in town.
Meaning we are not as far along the diminishing returns path as the rest of the world.
Irving Fisher (1934), in perhaps his most important piece said, "When economies are highly indebted, economies slow."
Source: zerohedge.com
---
Political/Rights
Trump responded to a New York Times story about Deutsche Bank staff flagging 'suspicious' activity in Trump's and Kushner's accounts, President Trump again blasted the "Failing New York Times" for daring to suggest that Trump only banked with Deutsche Bank and Capital One because other banks didn't want to work with him. trump tweeted out the following
The Failing New York Times (it will pass away when I leave office in 6 years), and others of the Fake News Media, keep writing phony stories about how I didn't use many banks because they didn't want to do business with me. WRONG! It is because I didn't need money. Very old

— Donald J. Trump (@realDonaldTrump) May 20, 2019
….fashioned, but true. When you don't need or want money, you don't need or want banks. Banks have always been available to me, they want to make money. Fake Media only says this to disparage, and always uses unnamed sources (because their sources don't even exist)……

— Donald J. Trump (@realDonaldTrump) May 20, 2019
The Mainstream Media has never been as corrupt and deranged as it is today. FAKE NEWS is actually the biggest story of all and is the true ENEMY OF THE PEOPLE! That's why they refuse to cover the REAL Russia Hoax. But the American people are wise to what is going on…..

— Donald J. Trump (@realDonaldTrump) May 20, 2019
….Now the new big story is that Trump made a lot of money and buys everything for cash, he doesn't need banks. But where did he get all of that cash? Could it be Russia? No, I built a great business and don't need banks, but if I did they would be there…and DeutscheBank……

— Donald J. Trump (@realDonaldTrump) May 20, 2019
…..was very good and highly professional to deal with – and if for any reason I didn't like them, I would have gone elsewhere….there was always plenty of money around and banks to choose from. They would be very happy to take my money. Fake News!

— Donald J. Trump (@realDonaldTrump) May 20, 2019
 some of these tweets seemed a little disjointed, Trump confirmed that a couple of tweets from this thread never posted –

Trump tweeted the following

Source: zerohedge.com
HUGE! British Spy Chiefs Were Briefed on Junk Steele Dossier BEFORE Trump Knew of It's Existence — UK WAS IN ON IT!
The British spy chiefs were briefed on Christopher Steele's junk Trump-Russia dossier before Donald Trump knew of its existence.

The heads of MI5, MI6 + one of Theresa May's most trusted security advisers all knew of the Russian links claims before Trump.
Trump knew the UK was in on it
"Former CIA analyst Larry Johnson accuses United Kingdom Intelligence of helping Obama Administration Spy on the 2016 Trump Presidential Campaign." @OANN WOW! It is now just a question of time before the truth comes out, and when it does, it will be a beauty!

— Donald J. Trump (@realDonaldTrump) April 24, 2019
Since this tweet, the Russia fairy tale has fallen apart!  Corrupt Mueller and his team of conflicted, biased and corrupt and angry Democrat investigators and attorneys have found nothing related to their target, President Trump, and now their indictments are unraveling.
As the Russia meddling into the 2016 US election unwinds, the meddling by the UK, is becoming more and more apparent.
**Exclusive**

British spy chiefs were briefed on Christopher Steele's dossier before Donald Trump knew of its existence.

Heads of MI5, MI6 + one of Theresa May's most trusted security advisers all knew of the Russian links claims before Trump.

Summary thread below… pic.twitter.com/a5T4aaKkGl

— Ben Riley-Smith (@benrileysmith) May 19, 2019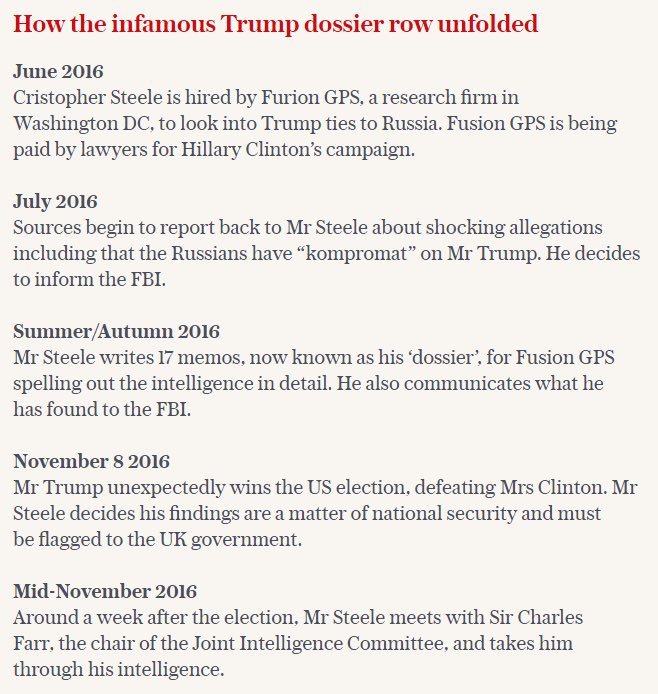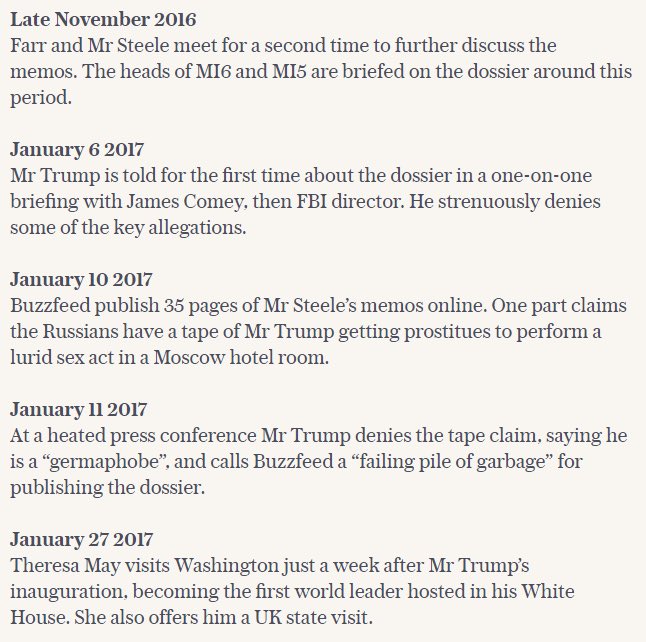 Obama's 'Wingman' Eric Holder Viciously Attacks Bill Barr For Launching Massive Investigation Into Spygate, "He is Not Fit to Lead DOJ"
Attorney General Eric Holder lashed out at Bill Barr this weekend., Holder is panicking

Holder accused Barr of protecting President Trump and asserted that the Attorney General started his probe of the Intel/FBI for political reasons.
"He is not fit to lead the DOJ," Holder said.
HOLDER: "tweeted out the following"
AG Barr has deliberately misrepresented the Mueller report. He has started examinations of the conduct of Intell/FBI personnel without a predicate-for political reasons. He is protecting the President. He does not stand up for the good people he leads. He is not fit to lead DOJ.

— Eric Holder (@EricHolder) May 18, 2019
Source: thegatewaypundit.com
BOOM! Eric Holder Body Slammed by Former Deputy Ind. Counsel Sol Wisenberg Over Attack on AG Barr
Sol Wisenberg, the former Deputy Independent Counsel under Ken Starr,  destroyed  l Eric Holder for attacking Attorney General William Barr as "not fit to lead the DOJ".
Wisenberg called out Holder's corrupt behavior in office from his service in the Obama presidency, including the Fast and Furious gun running to Mexican cartels scandal, to his tenure as Deputy Attorney General in the Clinton administration and his shepherding of the pardon for fugitive Marc Rich whose ex-wife Denise was a major Clinton donor ("Denise Rich had given more than $1 million[28] to Clinton's political party (the Democratic Party), including more than $100,000 to the Senate campaign of the president's wife, Hillary Rodham Clinton, and $450,000 to the Clinton Library foundation during Clinton's time in office.[24]

Wisenberg tweeted out the following
You: swore falsely under oath in Fast & Furious and dared not name a Special Counsel; failed to name a Special Counsel in the IRS targeting scandal; failed to prosecute key players in the mortgage meltdown; aided and abetted the Marc Rich pardon. You sir, were unfit to lead DOJ. https://t.co/fWGPz1rYXH

— Solomon L. Wisenberg (@WisenbergSol) May 20, 2019
Source: thegatewaypundit.com
NY Post: Trump Calls for Biden-China Probe After Schweizer 'Secret Empires' Revelations
Trump is calling for an investigation into the Biden family over their financial ties to the Chinese government
Source: breitbart.com
Justin Amash is calling for impeachment of Trump, why now, well might have found our answer of why Justin Amash is pushing so hard to get rid of Trump
Justin Amash's Business Interests in China Underscore His Push to Impeach Trump
While Amash acts like his support of impeachment is rooted in constitutional grounds, there may be a financial motive to his opposition to Trump. It has been revealed that Amash has significant business interests in China that may be harmed by Trump's 'America First' trade policies.
In Amash's financial disclosure forms for the year of 2015, he was shown as receiving up to $1 million in annual income due to his ownership stake in Michigan Industrial Tools (MIT). MIT is the parent company of Tekton Tools, Amash's family business, that benefits directly from Chinese manufacturing.
An article from MLive in 2010 exposed Amash as being the co-owner of Dynamic Source International (DSI), a Chinese company that was once an MIT supplier. Amash's family have been outspoken advocates of the globalist trade status quo for many years.
"
Source: bigleaguepolitics.com
Trey Gowdy Says He Has Seen Exculpatory Transcripts of FBI Spies Engaged With Papadopoulos…
Trey Gowdy, tells Maria Bartiromo that he has seen transcripts of the Halper/Turk operation, and those transcripts exonerate Papadopoulos. Take a listen

Source: theconservativetreehouse.com
George Papadopoulus lays it all out
I guarantee you as declassification and the new investigations ramp up into DOJ/intel agency corruption, ALL the bizarre assets who were running into me from 2015-2017 will try and discredit me. We already see a coordinated media strategy by the higher ups. Only a matter of time.

— George Papadopoulos (@GeorgePapa19) May 20, 2019
Trump continues to ask the question why isn't anyone looking into the real crimes, but we know there are investigations, he is exposing their cover up, continually looking at the hoax and not looking at the real crimes.
Why are the Democrats not looking into all of the crimes committed by Crooked Hillary and the phony Russia Investigation? They would get back their credibility. Jerry Nadler, Schiff, would have a whole new future open to them. Perhaps they could even run for President!

— Donald J. Trump (@realDonaldTrump) May 20, 2019
Mark meadows tells the world to get ready the declass is right around the corner, they are not giving dates they want the DS to use ammunition. take a listen
Q

!!mG7VJxZNCI

ID: 7390a9

No.5271872


The DECLASSIFICATION of all requested documents (+ more) will occur.

This is not a game.

Do not let personal (emotional) desires ("do it now""now""what is taking so long""NOW!") take over.

Logical thinking and strategy should always be applied.

Game-Theory.

WE ALL WANT TO SEE EQUAL JUSTICE UNDER THE LAW.

NEW THREATS (investigations by [SDNY], [AS], [MW] in an effort to delay/prevent release ('insurance extension') WILL FAIL.

TRANSPARENCY is the only way forward.

Define the following:

Treason.

Sedition.

Subversion.

Conspiracy to commit…

Do you understand and fully appreciate the GRAVITY of the situation?

Do you understand and fully appreciate what POTUS endures each and every singly day?

He loves this County.

He loves you.

WE MUST STAND TOGETHER IN THIS FIGHT.

There is EVIL in this world.

There is DARKNESS in this world.

There are those in POWER who wish to CONTROL (enslave) you.

To keep you sedated.

To keep you unaware.

To keep you blind.

This will be on our timetable.

(….AND WE WILL DELIVER).

(Transparency and Prosecution)

There is simply no other way.

[Except 1]

Q
Q

!!mG7VJxZNCI

ID: ffa98c

No.6335075 

23ceb48bc3b4ea850d29b94c309e6f09.jpg

>>6334984
Declass is coming!
>>6335030

DECLAS pre or post IG report?

[Comey] pre or post IG report?

C comes before D.

Q
Now down at the border there have been reports that Trump is dumping illegals all over the country, they cited Florida and other places, Trump tweeted out that this is false reporting, this is what he tweeted out.
False reporting yesterday. "There are no plans to send migrants to Northern or Coastal Border facilities, including Florida." @FoxNews Not by airplanes or any other way. Our Country is FULL, will not, and can not, take you in!

— Donald J. Trump (@realDonaldTrump) May 19, 2019
---
War
Rocket Fired into Baghdad's Green Zone Less Than One Mile from U.S. Embassy
A rocket was fired into Iraq's capital of Baghdad on Sunday evening, landing less than a mile from the U.S. Embassy,
The rocket did not cause any casualties, according to the Associated Press, citing Iraq's state-run news agency. It came just days after the U.S. embassy in Baghdad evacuated non-essential personnel amid alleged threats from Iran against U.S. troops and civilian employees in Iraq.
Source: breitbart.com
Trump To Tehran Regime: If You Threaten U.S. Again, It Will Be The Official End of Iran
President Trump warned the Iranian regime Sunday afternoon, Trump tweeted the following

If Iran wants to fight, that will be the official end of Iran. Never threaten the United States again!

— Donald J. Trump (@realDonaldTrump) May 19, 2019
The DS tried to push Trump into a war by firing a rocket at the US embassy, the rocket came from the east which is home to several Iran backed shiite militants, 
Logical thinking
1. Iran has not started a war in 200 years
2. Why would they start a war with the US, it is a no win situation
3. China and Russia have Irans back, but if Iran attacks I don't know if Russia would come immediatley to help them, China and Russia do not want a war with the US
4. Question who wants a war, Iran, the people of Iran, no. It is the DS, they are pushing an event, they know the clock is ticking down and everything is going to be exposed.
Sneaky rod tweeted out the flloowing
Source: saracarter.com
1) CHECK THIS OUT!

Do we all remember how Trump handled KJU? Told him if he f*cks with us there will be "fire and fury the likes of which the world has never seen".

Trump is now doing the same thing to Iran. Which tells me he's already won. The timing is far too convenient. https://t.co/7IrzaYACK1

— Sneaky Rod (@RodSneaky) May 20, 2019
2) Trump is building his 2020 resume and simultaneously about to command the media narrative for the coming weeks/months if he negotiates peace with Iran. Trump will use the positive media optics to gain public approval going into the DECLAS. He'll maximize public support.

— Sneaky Rod (@RodSneaky) May 20, 2019
3) He did THE SAME EXACT THING with the Korean Summit. He used the accomplishment to boost his public perception and then dropped the IG report on the FBI/Hillary/Comey 5 weeks later.

This is how Trump uses his political ammunition to amplify acceptance of these reports.

— Sneaky Rod (@RodSneaky) May 20, 2019
4) The fact that Trump is calling out Iran on twitter means white hats already have control and they feel it's now time to reveal this to the public. The negotiations with Iran are already done. White hats kept it hidden to space out the use of their political ammunition.

— Sneaky Rod (@RodSneaky) May 20, 2019
5) Instead of Trump revealing it to the world all at once, he spaced it out so the media had to talk about it for more time and give him more positive optics.

Once you adopt the Sun Tzu teachings, the plan is visible.

White hats in control.

END/

— Sneaky Rod (@RodSneaky) May 20, 2019
The Fake News put out a typically false statement, without any knowledge that the United States was trying to set up a negotiation with Iran. This is a false report….

— Donald J. Trump (@realDonaldTrump) May 20, 2019
….Iran will call us if and when they are ever ready. In the meantime, their economy continues to collapse – very sad for the Iranian people!

— Donald J. Trump (@realDonaldTrump) May 20, 2019
President Trump Takes Aim at the Military Industrial Complex: 'They Never Want to Leave, They Always Want to Fight'
"Well, I'm the one that talks about these wars that are 19 years (long), and people are just there. And don't kid yourself, you do have a military industrial complex. They do like war,"take a listen

Source: thegatewaypundit.com
---