Podcast: Play in new window | Download (Duration: 35:06 — 37.3MB)
SEC rules Ethereum is not a security, which means that other cryptocurrencies will most likely fall into this category. The reason stated is because the network is decentralized.  Unemployment has dropped to the lowest point in 45 years. There are now fewer people on government support than ever before. Retails bounces back, but there is a catch. We are now in a double bubble area. This is not going to end well. The dollar is losing its purchasing value. The economy is breaking down and the plan is to control the narrative by continuing what the establishment has setup in the past, this will be used to blame the establishment and the central banks. IG report is out with redactions, this is not the full report, this is the modified report. POTUS has the power to DECLAS the entire report.  The corporate media left out important texts from Strzok and Page. Merkel is in trouble with her immigration policy. Pentagon and South Korea confirm the drills will come to and end. Military commanders from Russia, Syria, Iraq and Iran meet in Baghdad. Assad points the finger at the west, they are the invading force in Syria. Q drops more posts, these new bread crumbs tell us that the IG report is the modified version and POTUS has the full report.
Check Out The X22 Report Spotlight YouTube Channel X22Report Spotlight
Please check Newzsentinel.com for the latest news on the economic collapse. The Sentinel Alerts are updated throughout the day. If you haven't already, go to "The People" and join the community of people who are helping each through the economic collapse.
---
Current News – 06.14.2018
Watch The X22 Report On Video
---
Economy
Two thirds of the job cuts will fall in Britain. Rolls is the biggest employer in the city of Derby, central England, with 15,700 at its headquarters.
Source: reuters.com
Here We Go Again: Our Double-Bubble Economy
double-bubble economy in housing and stocks, a
Feast your eyes on Housing Bubble #2, a.k.a. the Echo Bubble: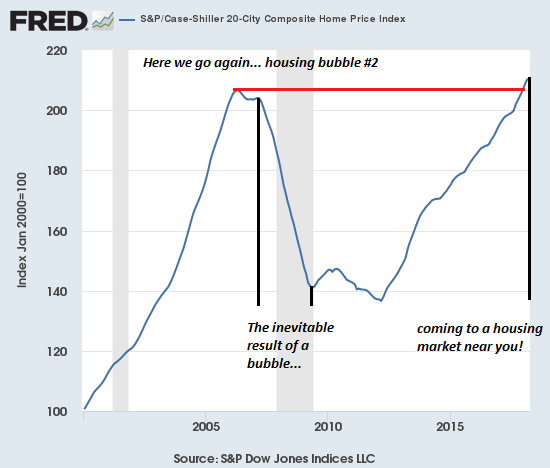 Here's the S&P 500 stock index (SPX): no bubble here, we're told, just a typical 9-year long Bull Market that has soared from a low in 2009 of 666 to a recent high of 2802 in January of this year: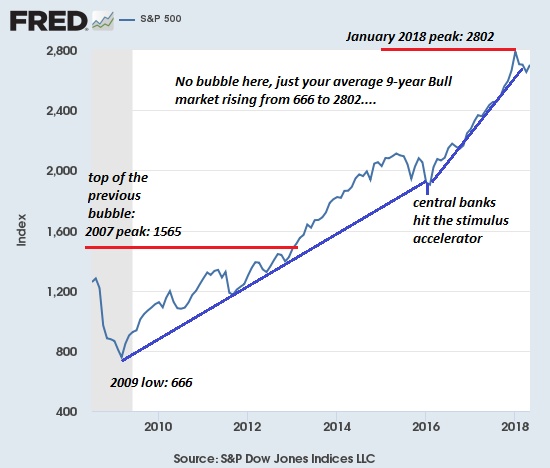 Here's a view of the same bubble in the Dow Jones Industrial Average (DJIA):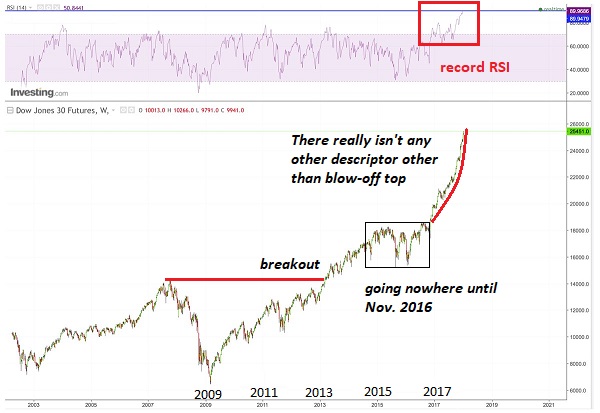 Is anyone actually dumb enough not to recognize these are bubbles? Of course not. Those proclaiming that "these bubbles are not bubbles" know full well they're bubbles, but their livelihoods depend on public denial of this reality.
The problem with bubbles is they always pop. The market runs out of Greater Fools and/or creditworthy borrowers, and so sellers overwhelm the thinning ranks of buyers.
The other problem with bubbles is that we've become dependent on them as props holding up a rotten, corrupt status quo. Since the economy can no longer generate sufficient prosperity to go around via actual increases in productivity and efficiency, those skimming most of the gains rely on "the wealth effect" generated by expanding asset bubbles to create a dreamy illusion of prosperity.
Here's the third consequence of bubbles: the gains flow to the very top of the wealth-power pyramid:
  only owners of assets reap gains from asset bubbles, only those who own assets benefit. That leaves out the bottom 90%,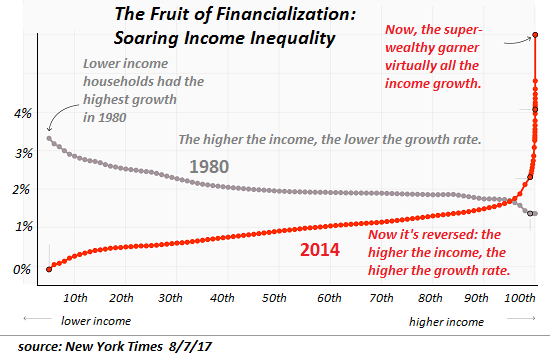 Source: oftwominds.com
---
Political/Rights
Blast Thread on OIG Report Briefings and Releases – Chaff and Countermeasures….

---
Geopolitical/Police State
---
War
Pentagon Announces Suspension of US Drills With South Korea
US, Turkey agree to force YPG leave Manbij in July
Turkey's Chief of General Staff General Hulusi Akar and NATO's Supreme Allied Commander Europe General Curtis Scaparotti agreed via telephone on Wednesday to force the Kurdish-led People's Protection Units (YPG) to leave Manbij by July.
In a statement released on Thursday, the Turkish General Staff said Akar and Scaparrotti developed a roadmap to end the disagreement over Manbij.

Source: almasdarnews.com
Military commanders from Iraq, Syria, Iran, Russia meet in Baghdad
Military commanders from Iraq, Syria, Iran, and Russia held a meeting in Baghdad on Wednesday to discuss regional security and their continued cooperation in the battle against terrorism,  .
  representatives of the four countries emphasized the need to continue and expand cooperation in fight against terrorism.
Source: almasdarnews.com
Syria's Assad says US, French, Turks, Israeli troops are occupying forces
---
Q
A Call to Arms! The ROARING Majority! #NewQ #QAnon #GreatAwakening #Declassify #FullDisclosure #TELLTHETRUTH
Q is straight-up spelling it out for us. RR is finished!

No, this isn't the "tarmac meeting," That happened on a private jet; not a commercial United flight.
At least… not that tarmac meeting.
Besides, this is a Boeing 737:
That car itself is also a Mercedes S-class, and it looks like it's parked in a hanger – meaning it's probably San Francisco.
So who was in San Fran? And who were they meeting with?
Q mentions "Think image drop."
What image?
This image!
And she's in Hanoi, Vietnam in this pic.
Would that require a layover in San Fran? Or maybe she left from San Fran?
I think we have a potential candidate for who was on that plane. She does fly commercial, after all.
And that photo was taken in August of 2015…
Which would be before Justice Antonin Scalia's death in 2016!
Go to  Apr 15th drops:

Q then adds:

So did Ginsburg meet with Brennan, in order to sign off on the plan to not only assassinate Justice Scalia, but step down herself, and allow Loretta Lynch to fill her Supreme Court seat?
Is this a photo of the "reporter" who was there to capture it all?
Look again at the photo Q dropped tonight:
Who is that on  the right look like to you?

  Trump never misses an opportunity to signal.
Ladies and gentlemen – and I feel pretty confident in saying this – meet the reporter who caught it all.
Maria Bartiromo!
Source: neonrevolt.com
1498

321RR.jpg  ⤓ 

[[RR]] approved/signed FISA-warrant application(s) to extend surveillance on POTUS/others.
What evidence to support?
Snowball.
[[RR]] @ WH.
Why was Rachel Brand removed?
Critical thinking.
Q