Podcast: Play in new window | Download (Duration: 34:31 — 39.8MB)
Canadian housing is now in the perfect storm trajectory, all the indicators are lining up for the entire system to come crashing down. The global economy is imploding, there are several signs showing that the system will break down and there is nothing that can stop it at this point. The next economic crisis is not going to go well for the everyday worker, we never recovered from the last recession so this time around there will be less jobs than before. Trump and Putin just did the impossible, they met it went well and they broadcasted a message to the globalists, this is the end. Trump and Putin established a ceasefire in Syria and talked about working together on strong cyber security to stop election hacking. Mosul in Iraq is liberated and the IS is now on the run. Tillerson is getting ready to broker a meeting with the Gulf Nations and Qatar. The Syrian ceasefire is now in effect, but we must remember the last ceasefire the deep state attacked the Syrian troops with drones. Many more deep state and neocon individuals need to be removed from government, the UN Ambassador Nikki Haley needs to be replaced.
Check Out The X22 Report Spotlight YouTube Channel –  X22Report Spotlight
Please check Newzsentinel.com for the latest news on the economic collapse. The Sentinel Alerts are updated throughout the day. If you haven't already, go to "The People" and join the community of people who are helping each through the economic collapse.
---
Current News – 07.09.2017
---
Economy
Canadians Brace For A "Perfect Storm" Brewing In Housing Market 
  could very well be a "perfect storm" brewing in several Canadian housing markets as the result of extreme pricing bubbles, over-indebted consumers, a major tightening of mortgage rules and the prospect of rising rates.
On the regulatory front, Canada's Office of the Superintendent of Financial Institutions (OSFI), is considering new rules that would require lenders to effectively "stress-test" borrowers .From a practical standpoint, such a move would immediately remove roughly 20% of the average Canadian's home buying power.
 Canada's banking regulator (OSFI) is proposing that anyone who gets a mortgage at a bank or bank-funded lender prove they can afford a rate that is at least 200-basis-points higher than their actual rate.
  U.S. had a similar housing bubble issue a few years back 
Source: zerohedge.com
"It's Too Late" –  Signs Global Economy Can't Avoid Economic Apocalypse
 SIGN 1: TIGHTENING MONETARY POLICY
 A cycle of global monetary tightening has begun.
Market expectations are now being set by officials at the Bank of Canada and the Bank of England for higher interest rates in both Canada and the UK in the near future.
Due to Australia's record high foreign debt, increases in the international cost of credit are being passed onto Australian borrowers through the banking system, particularly on interest-only and investor loans.
SIGN 2: INVERTED AND FLATTENING YIELD CURVES
In May 2017, the Chinese Government bond market recorded its first ever inverted yield curve. Also, the US Government bond yield curve, over the past 6 months, has significantly flattened as some market analysts anticipate an inverted US yield curve in late 2017.
Inverted yield curves (or where long-term debt instruments have a lower yield than short-term debt instruments of the same credit quality) are known as a market predictor of a coming market crash or broader economic recession.
SIGN 3: SOVEREIGN AND CORPORATE DEFAULTS 
Sovereign government and corporate defaults in both developed and developing economies are beginning to emerge. For example, China has registered in 2017 its highest level of corporate defaults in the first quarter of a calendar year on record. Delinquencies and charge-offs in the United States soared to $US1.4 billion in the first quarter of 2017, the highest recorded level since the first quarter of 2011.
SIGN 4: FALLING CONFIDENCE AND CREDIT DOWNGRADES
In May 2017, six major Canadian banks were downgraded by Moody's Investor Service (Moody's) as concerns rise over soaring Canadian household debt and house prices leave lenders more vulnerable to losses. Moody's also downgraded China's sovereign debt in May 2017 for the first time since 1989 and has warned of further downgrades if further reforms are not enacted.
In May 2017, S&P has downgraded 23 small-to-medium Australian financial institutions as the risk of falling property prices increases and potential financial losses start to increase. In June 2017, Moody's downgraded 12 Australian banks, including Australia's four major banks.
SIGN 5: EMERGING CHINESE CREDIT CRISIS 
Significant concerns among international observers are now being discussed publicly regarding the $US4 trillion Chinese Wealth Management Product (WMP) market as Chinese bank regulators are now taking significant interventionist steps to drain liquidity and reduce financial risk. As a result of recent interventionist steps, the one-year Shanghai Interbank Offered Rate hit a two year high at 4.30% in May 2017.
SIGN 6: SIGNIFICANT GROWTH IN VALUE OF CRYPTO CURRENCIES 
In the past five months, the crypto currencies industry (especially the leading five internationally recognised cryptocurrencies) have experienced tremendous growth in market capitalisation indicating that investors are seeking to escape the formal banking and financial system as well as government mandated fiat currencies.
This is particularly acute in Japan where Japanese businesses and citizens have been pouring into Bitcoin given the Bank of Japan's unconventional monetary policy measures, such as negative interest rates, as well as that Bitcoin has become legal tender in Japan in April 2017.
Source: zerohedge.com
Why the Next Recession will be a Doozie for Consumers
 the Fed wants to "normalize" policy now is to put aside some dry powder for the next recession or crisis. And it will come. Recessions are an essential part of the business cycle. If allowed to proceed, they'll blow the cobwebs from the system, remove excess debts, and clean out the misallocation of capital – at the expense of creditors and investors. It's a fresh start for the economy.
But here is the thing about employment and recessions: Something big changed since 2000. It can be seen in the employment-population ratio, which tracks people over 16 years of age who have jobs, as defined by the Bureau of Labor Statistics. From the 1960s until 2000, the ratio fell during recessions, but then during the recovery regained all the lost ground plus some, ratcheting up to new records after each recession. Some of this had to do with women entering the work force in large numbers.
But since the ratio's peak in April 2000 at 64.7%, a new pattern has developed. As before, the ratio drops before the official recession begins and keeps dropping until after the recession has ended. But when employment recovers, the ratio ticks up only slowly, recovering only a fraction of the ground lost, before the next recession hits. This has happened over the last two recessions.
  the ratio plunged from 63.4% to 58.2% in November 2010 and again in June and July 2011. It plunged 5.2 percentage points in 4.5 years. During that time, nonfarm payrolls plunged by 8.7 million jobs. Over the seven-plus years of the jobs recovery since then, the economy added 16.7 million jobs (146.4 million nonfarm payrolls, as defined by the BLS).
But the employment-population ratio only made it to 60.1%. It regained only 1.9 percentage points, after having plunged 5.2 percentage points. In other words, after seven-plus years of jobs recovery, it has regained less than one-third of what it had lost: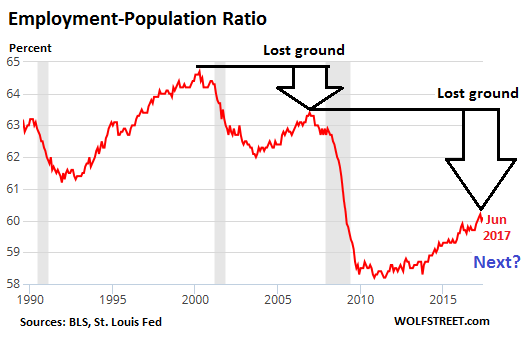 And now the Fed is preparing for the next recession.
 What happens during the next recession?
  one thing we know from the past two downturns: During the next employment downturn, the employment-population ratio will get crushed — from a much lower base than during the prior recessions 
 One thing we know for sure, : the next recession will be even tougher on people who want to work, on consumers overall, and by extension, much rougher on the economy that is so dependent on these consumers.
Source: wolfstreet.com
---
Political/Rights
In Victory For Trump, Most Americans Now Support Travel Ban
As Statista's Niall McCarthy notes, the research found that 37 percent of people strongly support the State Department's guidelines while 23 percent somewhat support them.
Only 14 percent are both opposed and strongly opposed to the legislation while 11 percent said they don't know or have no opinion.  
.
Source: zerohedge.com
---
Geopolitical/Police State
Turkey Suspends Climate Deal Ratification After US Withdrawal 
It appears that the US' decision to withdraw from the Paris climate agreement had far-reaching consequences as Turkey also moved to suspend the ratification of the deal.
 Turkey has stopped ratification of the Paris climate agreement following the United States' withdrawal from the deal, Turkish President Recep Tayyip Erdogan said
"
Source: sputniknews.com
Trump says it's time for constructive work with Russia
US President Donald Trump has stressed it is time to move forward in constructive cooperation with Russia.
Source: tass.com
Trump: "Putin & I Discussed Forming Impenetrable Cyber Security Unit" To Prevent Election Hacking 
 "I strongly pressed President Putin twice about Russian meddling in our election. He vehemently denied it. I've already given my opinion….." Trump tweeted and added "we negotiated a ceasefire in parts of Syria which will save lives. Now it is time to move forward in working constructively with Russia!" he added.
Trump  said  that he and Putin "discussed forming an impenetrable Cyber Security unit" so that election hacking and "many other negative things" will be guarded and safe.      
Source: zerohedge.com
---
War
North Korea warns of nuclear war after US bombers carry out 'provocative' live-fire drills
North Korean state media has condemned a US bombing drill on the Korean peninsula,  
The US Air Force sent two B-18 strategic bombers to carry out live-fire tests on a training range in South Korea Friday. Fighter jets from South Korea and Japan also joined in the drill.
The US military said the drill "demonstrated America's ironclad commitment to the defense of our allies".
Source: rt.com
Tillerson personally to mediate Qatar dispute from Kuwait
  Secretary of State Rex Tillerson has decided to personally intervene in the ongoing Persian Gulf dispute that has threatened U.S. counterterrorism operations in the Middle East.
Tillerson will travel late Monday to Kuwait,
 
Tillerson, along with Defense Secretary Jim Mattis, has called for the parties to resolve their differences sooner rather than later. While both agree that Qatar could do more to stem terror financing from within its borders, they believe the same, in varying degrees, of all the gulf countries.
Tillerson has pointedly suggested that the Saudis are using the headline-grabbing terrorism issue as a cover to alter other Qatari policies they have long found displeasing.
The terrorism-financing  may be the easiest to resolve with increased U.S. monitoring, administration officials said.
Source: stripes.com
BREAKING: Saudi ship surrenders itself to Iranian Navy
Moments ago, the Iranian coast guard apprehended four Saudi Arabian sailors after they had entered Iran's territorial waters in the Persian Gulf. The Saudi vessel was also seized, according to state media in Tehran.
The Saudi Arabian crew is currently being interrogated although no further hostilities were reported 
Source: almasdarnews.com
ISIS vows fight to death as Iraqi military says Mosul just 'meters' from imminent liberation
Islamic State terrorists have vowed to "fight to the death" and are using civilians as human shields in Mosul as Iraqi forces make a final push to retake Iraq's second-largest city.
US-Russian Ceasefire Deal Goes Into Effect In Southwest Syria
A U.S.-Russian brokered ceasefire in southwest Syria was holding several hours after it took effect
"In the first stage, Russian military police, as well as the Americans and the Jordanians, will ensure security around this de-escalation zone covered by the ceasefire," Lavrov explained. 
Source: zerohedge.com
Reminder: The Last US-Russian Ceasefire In Syria, US Droned Syrian Soldiers
  On September 9 of last year, then-Secretary of State John Kerry announced that the United States and Russia had successfully worked together to negotiate a nationwide ceasefire in Syria, set to take effect September 12th, which was fully supported by the Syrian government. Kerry and Russian Foreign Minister Sergey Lavrov said that if the ceasefire lasted seven days, negotiations would begin for the US and Russia to begin collaborating against Al-Qaeda in the region. 
On September 17th, five days after the ceasefire took effect, the US admitted that its drones had attacked the Syrian military, killing 62 soldiers and injuring 100 others, saying that it had mistaken them for ISIS fighters.
Source: gotslaves.info
Nikki Haley is still Trump's UN Ambassador. Why?
 Ambassador to the United Nations Nikki Haley, who is particularly dangerous as she is holding a position where she can do bad things. Haley has been shooting from the lip since she assumed office and, it has become clear, much of what she says goes without any vetting by the Trump administration. It is never clear whether she is speaking for herself or for the White House. That issue has reportedly been dealt with by having the State Department clear in advance her comments on hot button issues,Haley is firmly in the neocon camp, receiving praise from Senators like South Carolina's Lindsey GrahamHaley is inevitably a hardliner on Syria,
Source: sott.net