Podcast: Play in new window | Download (Duration: 44:12 — 48.2MB)
Germany is starting to feel the heat, unemployment explodes the most since the financial crisis. The housing bubbles in the US are gigantic, much larger than the financial crisis housing bubbles. The [CB] is responsible for creating these bubbles. Trump has trapped China by using Huawei, the Chinese have no other ammunition, the rare earth elements are a dead end, other countries have the ability to supplies these. Two individuals from the Fed resigned. Cummings defends himself again against allegations that funds were misappropriated. Panic in [DC], the [DS] players are lashing out at Trump, they will do everything and anything to stop this their life depends on it. Mueller gave a press conference today, this was planned. Barr needed Mueller to do a couple of things during the press conference and Mueller followed through, the [DS] is now trapped. The [DS] has sent another message to the patriots.
Check Out The X22 Report Spotlight YouTube Channel X22Report Spotlight
Please check Newzsentinel.com for the latest news on the economic collapse. The Sentinel Alerts are updated throughout the day. If you haven't already, go to "The People" and join the community of people who are helping each through the economic collapse.
---
Current News – 05.29.2019
Watch The X22 Report On Video
---
Economy
 Germany reported that its economy appears to have finally hit major pothole as German unemployment unexpectedly surged for the first time in almost two years as the economic slowdown finally started to take a toll on the labor market, according to Bloomberg.
Specifically, in May the number of people out of work climbed by 60,000 compared with economists' forecasts for a decline of 8,000, while the jobless rate also increased to 5% from a record-low 4.9%.
"We are seeing the first signs of a weakening economy on unemployment," 
Source: zerohedge.com
The Most Splendid Housing Bubbles in America: Seasonal Upticks Too Small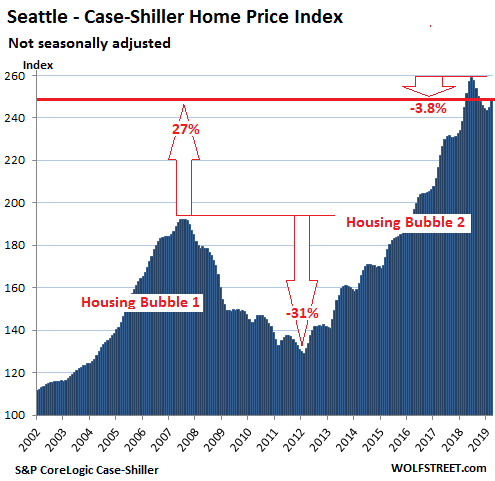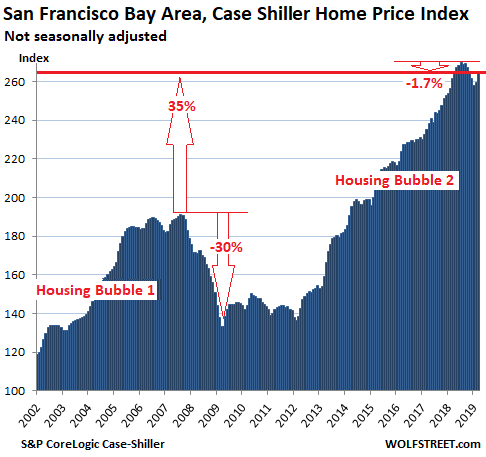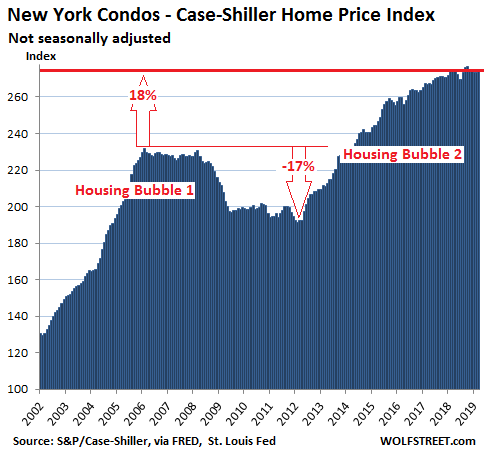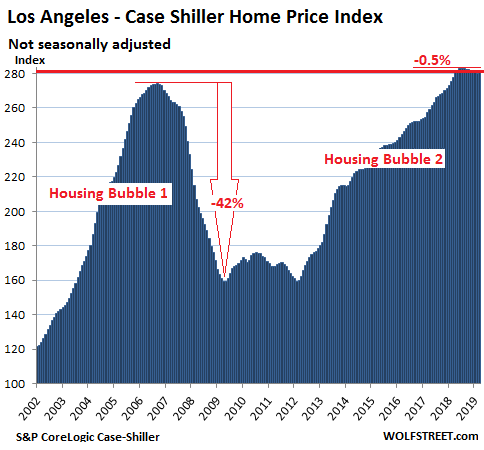 Source: wolfstreet.com
---
Political/Rights
DEVELOPING: As ratings plummet, CNN has been forced to fire essentially all of their London correspondents, shutting down London coverage/programs, asking them to re-apply for a job.

— BNL NEWS (@BreakingNLive) May 28, 2019
Looky 'ere. #FakeNewsCNN are collapsing and they are phasing it to avoid bad optics. They just shut down London. Where's James Earl Jones when you need him: "CNN no-longer-international".https://t.co/AreuaPTFDB

— Joe M (@StormIsUponUs) May 29, 2019
Democrat Rep. Cummings Fights Back After He and His Wife Accused of Massive Pay-to-Play Scandal
Last week it reported that a charity run by Maya Rockeymoore, the wife of Rep. Elijah Cummings, received millions from special interest groups and corporations that had business before her husband's committee.
Democrat Maryland Rep. Elijah Cummings, Chairman of the House Oversight Committee was in very poor financial condition and heavily in debt due to unpaid child support to three women he had children with — until the last 10 years or so after he married his young, politically connected wife, Maya Rockeymoore.
Cummings blasted a complaint to the IRS against his wife as "baseless,"

Source: thegatewaypundit.com
Now we need to remember that the DS will never give up attacking trump, why? Because of what is on the line, their lives, remember there are going to be criminal charges brought against them, do you think they are just giong to roll over and let him it happen, the fight is going to get very nasty and heated as we move forward, 
The DS is panicking, this is what it looks like
Mad Maxine Waters Unhinged – Calls on 'Lowlife, Lying, Crooked, Tax Evader, Porn Star Fornicator' Trump to Resign
Democrat Rep. Maxine Waters (CA) completely went off the rails Tuesday and called for Trump to resign in one of her craziest tirades yet.
Waters tweeted out the following
Low life Trump – lying, crooked, tax evader, porn star fornicator – should take his ridiculous self home, resign, and free us of what we will have to do to impeach him and throw him out of office!

— Maxine Waters (@RepMaxineWaters) May 28, 2019
Remember those who scream the loudest have the most to lose.
Source: thegatewaypundit.com
John Brennan responds to Trumps post, Trump tweeted out the following
You do not have a scintilla of the intellect, decency, & principles of VP Biden. What you do have is #BidenEnvy. https://t.co/Uhc31KGJRb

— John O. Brennan (@JohnBrennan) May 29, 2019

I was actually sticking up for Sleepy Joe Biden while on foreign soil. Kim Jong Un called him a "low IQ idiot," and many other things, whereas I related the quote of Chairman Kim as a much softer "low IQ individual." Who could possibly be upset with that?

— Donald J. Trump (@realDonaldTrump) May 28, 2019
James comey is writing multiple op-eds trying to prove that Trump is a liar
Nervous Jim?… Fired FBI Chief James Comey Pens New Oped in Far Left WaPo — Tears into President Trump, Calls Him a 'Liar'
 Comey tore into President Trump again in his latest op-ed in the Washington Post. He called him a liar

Comey still is running with the talking point that the Russians were engaged in a massive effort to interfere with the 2016 election.
It is well established that Russia's $160,000 in Facebook ads was a drop in the bucket compared to the hundreds of millions of dollars spent on Facebook by the two campaigns and their PACs.
Comey is very concerned as the walls close in around him.
From his Washington Post oped:
It is tempting for normal people to ignore our president when he starts ranting about treason and corruption at the FBI. I understand the temptation. I'm the object of many of his rants, and even I try to ignore him.

But we shouldn't, because millions of good people believe what a president of the United States says. In normal times, that's healthy. But not now, when the president is a liar who doesn't care what damage he does to vital institutions. We must call out his lies that the FBI was corrupt and committed treason, that we spied on the Trump campaign, and tried to defeat Donald Trump. We must constantly return to the stubborn facts.

Russia engaged in a massive effort to interfere in the 2016 presidential election. Near as I can tell, there is only one U.S. leader who still denies that fact. The FBI saw the attack starting in mid-June 2016, with the first dumping of stolen emails. In late July, when we were hard at work trying to understand the scope of the effort, we learned that one of Trump's foreign policy advisers knew about the Russian effort seven weeks before we did.
Comey goes on to accuse George Papadopoulos for interacting with Russians when we now know that is untrue.
As you can see from Comey, Brennan, Waters and the rest they are sticking with the story of Russian Collusion, obstruction etc.. why? Because they have nothing else to use at this point.
Source: thegatewaypundit.com
Mark Meadows Blasts Comey's WaPo Op-Ed, "He Knows His Actions Are About to be Exposed by the Evidence"
Mark Meadows responds to Comey
For someone so quick to accuse @realdonaldtrump of lying, James Comey is awfully eager to hide documents on the Russia investigation from Americans.

The math is not hard to do. He knows his actions are about to be exposed by the evidence. https://t.co/L8es543Aa7

— Mark Meadows (@RepMarkMeadows) May 28, 2019
Meadows said that he was at the DOJ "reviewing text messages and new correspondence that pertains to the Strzok coverup."
Source: thegatewaypundit.com
Schiff is trying to recreate what was suppose to happen with the Mueller case, his is panicking and he is trying to find anytype of evidence.  Paul Sperry tweeted out
BREAKING: Sources tell me Democratic House Intel Chair Adam Schiff is demanding document production & testimony even from witnesses & subjects who had only bit parts in Mueller's probe & report,repaving not only old "collusion" ground but minor ground in Russia hoax. #Harrassment

— Paul Sperry (@paulsperry_) May 29, 2019
George Papa tweeted out
My advice to the investigators: keep the heat on the UK/Australia and Italy/Malta (the weak links in the chain). There was a coordinated effort here to take us down. These countries have no loyalty anymore to the previous admin. Political change has rocked Europe. Leverage it!

— George Papadopoulos (@GeorgePapa19) May 28, 2019
Think about all of these DS actors, they are lashing out, writing opeds, calling Trump names, this is the sign of someone that is panicking, compare this to Admiral Rogers, George Papa, Gen Michael Flynn, do you hear any of this from them, no, because they know they did nothing wrong.
Paul Sperry wants us to remember a specific person, he tweeted the following
Familiarize yourself with this name: Gabriel R. Sanz-Rexach. He was the FISA gatekeeper at DOJ in October 2016 when warrant to spy on Trump campaign was authorized.

— Paul Sperry (@paulsperry_) May 29, 2019
Mueller held a press conference today, the question is
Did Barr no about it? I believe he did, and this was planned. The question is why now?

So first Mueller said something very interesting
Mueller Accuses Russia and Wikileaks of Working Together: Email Releases Were "Designed and Timed" to Damage Hillary
 Robert Mueller once again accused Wikileaks of working together with Russia to damage the Hillary Clinton campaign in 2016.

This is not the first time Mueller made this accusation.
 there is no evidence of DNC server being obtained and reviewed by the FBI or Mueller team and no evidence that Mueller ever spoke with WikiLeaks who released Hillary Campaign Manager John Podesta's emails!
The Mueller report was just released and Mueller's gang still clings to their previous claims that Russia hacked the DNC and then provided these emails to WikiLeaks –
This is being used to protect Hillary Clinton and the DNC, The Mueller report was suppose to show Russians hacked and Wikileaks was in on it and Trump colluded with Russia and tried to obstruct the investigation,

So there is no obstruction and no collusion, the clinton emails, dnc and wikileaks, this will come out later and when it does, it will show Mueller was covering for the DNC and HC and it was a hit job against wikileaks.
Several minutes into the presser, Mueller dropped a bomb on Pelosi and the Democrats and said Bill Barr actually released more of his report than he initially requested.

Mueller praised Attorney General Bill Barr's good faith in his decision to release the full report (except for the grand jury material).
"At one point in time, I requested that certain portions of the report be released — the Attorney General preferred to make the entire report public all at once and we appreciate the Attorney General made the report largely public and I certainly did not question the Attorney General's good faith in that decision," Mueller said.
This completely obliterates Pelosi's assertion that Bill Barr lied and purposely misled the American people about Mueller's report.
Mueller did not question Bill Barr's decision to release the report to Congress and the American people.
Boom, Barrs name is cleared
Source: thegatewaypundit.com
Paul Sperry pointed out something very interesting
Mueller just misrepresented his own report. He claimed there was "insufficient" evidence to charge collusion conspiracy & that he was "forbidden" from charging Trump with obstruction. But here's what he wrote in his report:

— Paul Sperry (@paulsperry_) May 29, 2019
"The evidence does not establish that the termination of Comey was designed to cover up a conspiracy b/t the Trump campaign and Russia [b/c] the investigation did not establish that the president or those close to him were involved in the charged Russian computer-hacking or …

— Paul Sperry (@paulsperry_) May 29, 2019
"active-measure conspiracies, or that the president otherwise had an unlawful relationship with any Russian official."

— Paul Sperry (@paulsperry_) May 29, 2019
Robert Mueller Drops Bomb on Trump — "If We Had Confidence President Did Not Commit a Crime We Would Have Said So" (VIDEO)
"If we had confidence the president DID NOT commit a crime we would have said so. We did not however make a determination if the president did commit a crime."
Mueller then said, "The president cannot be charged WHILE IN OFFICE."
Source: thegatewaypundit.com
Lets review
Lets break the Mueller statement into two parts.
1. "If we had confidence the president DID NOT commit a crime we would have said so.

No that is not the job of the special counsel. the rule of law is innocent until proven guilty, you prove guilt  in a court of law not innocence, but first you must gather the evidence to bring the case to court, you must have evidence to support the crime, Mueller didn't have the evidence. Mueller's job is not to say the President was innocent or guilty, his job is to gather evidence, the court decides if he is guilty or not, since Mueller couldn't provide the evidence there is no guilt, trump is innocent. 
Then he said the following
We did not however make a determination if the president did commit a crime."
They weren't able to prove that the president committed a crime, after all the subpoenas, all the warrants, everyone testifying, they ended up with nothing,   they couldn't prove there was a crime, if you can't prove it than the president is innocent of a crime
He went on to say  say that even if the president was to have committed a crime, he would never pursue indicting the president because he legally cannot, he said they could indict co-conspirators, but none were indicted, why? because they couldn't find evindence.

2.Dems claimed Mueller was going to testify and tell us about the conspiracy. Narrative busted.
The entire song and dance of having Mueller testify in front of the house is now gone.
4. Dems claimed Barr was hiding conspiracy from the public in redactions, they needed the entire report, Barr gave it to them and Mueller backs this up.

Mueller Praises Barr, says the report speaks for itself, Barr decided to release the full report except for the grand jury part, Barrs name is cleared. Pelosi, Naddler, Schiff and the rest are the liers. 
3. Mueller says the case is closed, this is the end, he will not testify, he will not answer questions, we now have closure, nothing was found, Barr is in full control, no longer can the DS use Mueller
Trump tweeted out the following
Nothing changes from the Mueller Report. There was insufficient evidence and therefore, in our Country, a person is innocent. The case is closed! Thank you.

— Donald J. Trump (@realDonaldTrump) May 29, 2019
The WH ttweeted out the following
White House Statement on Mueller statement today: pic.twitter.com/f5TXzf3Qpd

— Sarah Sanders (@PressSec) May 29, 2019
This was a setup, remember the senate was the key, remember there is no crime, there is no evidence, the Dems are falling into the trap, if they push for impeachment, the will need evidence they don't have any, there never was a crime, the crime was on the other side, but lets say they get the vote in the house to impeach, it moves to the senate, the senate then shoots it down, trump is then vindicated by the senate and Mueller
Nadler Threatens Impeachment after Mueller Remarks: Time for Congress to "Respond to Trump Crimes" – "Hold President Accountable"
Following his remarks far left House Judiciary Chairman Jerry Nadler released a prepared statement.
Nadler and Democrats will move ahead with and hold President Trump accountable.
Here comes the impeachment vote….
Source: thegatewaypundit.com
Remember what Nadler just said, nobody is above the law, well played.
Q

!!mG7VJxZNCI

ID: 539e80

No.5140929


POTUS: "This can never be allowed to happen again (in our Country or to another President)."

How do you deter & prevent this from happening again?

Simply by terminating employment of those responsible?

Simply by conducting a few 'non-threatening' investigations?

Or by:

Prosecuting those responsible to the fullest extent of the law?

Setting up new checks & balances and oversight designed to increase transparency?

Provide OIG office(s) w/ funding inc (size) ++ authority?

Provide select committees w/ access and in-house viewing of non NAT SEC CLAS material?

Provide a check on Directors/Dep Directors/Asst Directors of all such ABC agencies?

Establish 'financial checks/reviews' of those in senior (critical) positions (audits) + direct family (close proximity)?

Transparency and Prosecution is the only way forward to save our Republic and safeguard such criminal and treasonous acts from occurring again.

While some want to quietly remove those responsible and go about our business (save face on the World Stage), those in control, understand, this band-aid will simply not work.

Nobody should be above the law (no matter how massive the spider-web is (entangled)).

This will never happen again.

TRUTH WORKS.

FACTS MATTER.

Q
John Cardillo sums up what Mueller just did
The Trooper didn't catch you speeding and has no evidence that you were speeding, but he doesn't have confidence that you clearly weren't speeding so your insurance company should infer what they will and change your rates accordingly.

That's what Mueller just did

— John Cardillo (@johncardillo) May 29, 2019
So the question is why now, why did Mueller do this, was it to help the DS, no, they need facts, proof, evidence, they don't have it, they have propaganda, I believe Barr thought it necessary to clear his name before he proceeds with the declass and everything else,
1. Mueller praised Barr and said he wasn't going to release the entire report, but Barr decided to go ahead and do it.
2. the report says it all, there is no other evidence etc…
3. He is not going to testify in front of the House.
Key Senate Democrat warns of Barr's expanded powers
Sen. Mark Warner of Virginia, in a letter , said he fears Trump is giving Barr "the right to selectively declassify certain information for purposes of political gain." He asked that the leaders of the nation's spy agencies contact lawmakers if Barr's investigation threatens their work.
Warner's letter is dated Friday, the day after Trump's directive, and was addressed to the heads of the FBI, the CIA, the NSA and the director of national intelligence. It warned that "politically driven investigations such as Barr's" could endanger sources, damage relations with foreign intelligence agencies and drive career professionals from government service.
Source: apnews.com
Here is a preview of what is to come
Office OF the Inspector General
INVESTIGATIVE SUMMARY
Findings of Misconduct by an FBI Deputy Assistant Director for Unauthorized Contacts with the Media, Disclosing Law Enforcement and Other Sensitive Information to the Media, and Accepting a Gift from the Media
The Department of Justice (DOJ), Office of the Inspector General (OIG) initiated this investigation upon the receipt of information from the Federal Bureau of Investigation (FBI), alleging that a then FBI Deputy Assistant Director (DAD) had numerous contacts with members of the media in violation of FBI policy.
Additionally, it was alleged that the DAD may have disclosed law enforcement or other sensitive information to the media without authorization. This matter is among the OIG investigations referenced on page 430 of the OIG's Review of Allegations Regarding Various Actions by the Department and the Federal Bureau of Investigation (FBI) in Advance of the 2016 Election (June 2018; https://www.justice.gov/file/1071991/download ).
The OIG investigation concluded that the DAD engaged in misconduct when the DAD: (1) disclosed to the media the existence of information that had been filed under seal in federal court, in violation of 18 USC § 401, Contempt of Court; (2) provided without authorization FBI law enforcement sensitive information to reporters on multiple occasions; and (3) had dozens of official contacts with the media without authorization, in violation of FBI policy.
The OIG also found that the DAD engaged in misconduct when the DAD accepted a ticket, valued at approximately $225, to attend a media-sponsored dinner, as a gift from a member of the media, in violation of federal regulations and FBI policy. Prosecution of the DAD was declined. The OIG has completed this investigation and is providing this report to the FBI for appropriate action.
***Unless otherwise noted, the OIG applies the preponderance of the evidence standard in determining whether Department of Justice (DOJ) personnel have committed misconduct.
Posted to oig.justice.gov on May 29, 2019
---
War
John Bolton claims that Iran was 'almost certainly' behind attacks on Saudi oil tankers
US National Security Advisor John Bolton accused Iran Wednesday of "almost certainly" being behind sabotage attacks on oil tankers off the UAE coast this month, as he visited Abu Dhabi amid soaring tensions between Washington and Tehran.
Bolton said that additional US forces in the region were sent as a "deterrent" and that Washington's response will be prudent.
The four ships, including two Saudi tankers, were attacked by "naval mines almost certainly from Iran", Bolton told a press conference in the UAE capital.
"
Source: rawstory.com
  Iranian President Hassan Rouhani signaled on Wednesday that talks with the United States might be possible if Washington lifted sanctions, days after U.S. President Donald Trump said a deal with Tehran on its nuclear programme was conceivable.
Source: reuters.com
---
Q
A message was sent to Trump and the patriots
Secret Service: Man Set Himself on Fire at Ellipse Near White House (Video Update)
The Secret Service reported a man set himself on fire on near the White House Wednesday afternoon on the Ellipse, just south of the Executive Mansion. The man was reportedly taken to the hospital with life threatening burns.

"At approximately 12:20 p.m. a man lit himself on fire on the Ellipse near 15th and Constitution Ave.,
Source: thegatewaypundit.com
A demonstration was made today in front of the WH.

It showed they can control '

innocents

'.

It was a direct THREAT.

This is not a game.

The MSM is creating emotional conflict.

This destabilizes certain minds to become suspectable to outside control.

What you SEE is 2%.

The WAR is REAL.

These people are SICK.

Watch the news this week.

Q
---