Podcast: Play in new window | Download (Duration: 41:45 — 43.0MB)
Auto sales have been declining for a while, they used channel stuffing to hide the fact that they weren't selling cars, now it is completely noticeable so the automakers will no longer report monthly sales.  Construction workers are being let go. Manufacturing is declining along with the stock market. Apple declines and many other companies will decline. Trump used the Tariffs to bring revenue,even the playing field and have companies stock up on supplies. The Fed is trying to save face by saying they might not raise rates in 2019. The Fed is the target and the MSM is trying to convince everyone that the Fed needs to be independent. Mueller gets caught in a sting op. Evidence was withheld in the Flynn case, he approval to speak to the Russians. Senate confirms appointees for Trump but no judges. Border patrol defends itself over the holidays, the caravan attacked the border.US vet caught spying in Russia. The [DS] is pushing their agenda and will not stop, this is exactly what we thought would happen, they are using all their ammo. Trump telegraphs a message to all anons and to the [DS]. This message was put their on purpose.
Check Out The X22 Report Spotlight YouTube Channel X22Report Spotlight
Please check Newzsentinel.com for the latest news on the economic collapse. The Sentinel Alerts are updated throughout the day. If you haven't already, go to "The People" and join the community of people who are helping each through the economic collapse.
---
Current News – 01.03.2019
Watch The X22 Report On Video
---
Economy
  Ford reported that its sales for December were down 9%. Ford's fleet sales and car sales both cratered, falling well into the double digits, or -19.5% and -27.8%, respectively.
 . Taking a page out of General Motors' book, Ford announced that they were no longer going to report monthly sales data and will be moving to reporting sales data on a quarterly basis instead.
As a reminder, when General Motors changed its reporting of sales, it hilariously stated that reducing its disclosures would "give a more accurate view of its business operations".

  Challenger jobs report found that seven of 28 industries tracked by Challenger had 3k or more layoffs in December, the most since April 2015,
 according to Challenger, the December 2018 layoff total of 43,884, was nearly 29% higher than last year and the highest total since 2015. Additionally, in 2018, 538,659 job cuts were announced, 28.6% higher than the 418,770 announced in 2017. This is the highest annual total since 598,510 cuts were recorded in 2015, and the second-highest total since 2011, when 606,082 cuts were announced.
And an even more troubling observation: the number of layoffs in the construction industry jumped by 8,822 – this was not only more than all 15 prior months combined, but was the most since at least October 2006 when Challenger started tracking the industry. I
Challenger also noted some special factors, noting that the majority of job cut announcements were due to companies restructuring, with 185,931 cuts were attributed to this reason. Another 145,298 were due to closings. Voluntary severance, such as buyouts or early retirement offers, claimed 48,745.
Challenger tracked 798 announced job cuts specifically due to enacted tariffs.
Source: zerohedge.com
… and the biggest one month drop going back to the financial crisis, when in October 2008 it dropped by 9 points.
Source: zerohedge.com
 
On Wednesday after the market closed, Apple released a letter to shareholders in which it said that revenues are going to be a lot worse in the quarter ended December 29 than its guidance two months ago, that iPhone revenues have dropped year-over-year, that China's economic problems are deeper than expected, and that iPhone revenues are hurting elsewhere too. This confirms a series of revenue warnings from Apple suppliers.
Shares plunged 7.5% after hours to $146. If shares close at this level on Thursday, it would be the lowest close since November 7, 2017. Shares have plunged 38% in three months. Wow, this was quick: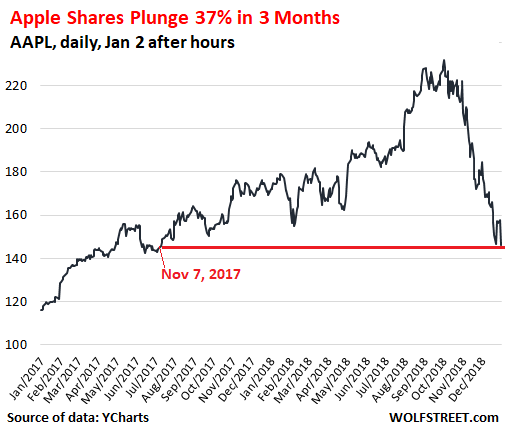 But it's not just China that's responsible for year-over-year iPhone revenue declines. It's China plus…
Plus, "other emerging markets"
Plus, "some developed markets," where "iPhone upgrades also were not as strong as we thought they would be."
I
Source: wolfstreet.com
According to the chairman of the White House Council of Economic Advisers, Kevin Hassett, more U.S. companies to join Apple in announcing lower than expected earnings.
 "There are a heck of a lot of U.S. companies that have sales in China that are going to be watching their earnings being downgraded next year until we get a deal with China."
He concluded by saying that "If we have a successful negotiation with China then Apple's sales and everybody else's sales will recover."
Source: zerohedge.com
 Trump's tariffs have helped plug the hole in the budget deficit left by Trump's tax reform package.Trump tweeted the following

The United States Treasury has taken in MANY billions of dollars from the Tariffs we are charging China and other countries that have not treated us fairly. In the meantime we are doing well in various Trade Negotiations currently going on. At some point this had to be done!

— Donald J. Trump (@realDonaldTrump) January 3, 2019
Tariff Revenue has surged in recent months
In other words, if Congress were to simply monetize the tariff revenues, it would already have enough money to pay for Trump's wall.
Source: zerohedge.com
Dallas Fed President Robert Kaplan sent a"new message" –  he believes the Fed should hold off on its next interest-rate hike until the second half of 2019 –   Kaplan said that the Fed must be "very vigilant" about how its QE unwind is impacting markets and the economy…and be ready to "make adjustments" to its plans when needed.
Source: zerohedge.com
Trump's growing anger with Fed chief poses market risks
The Fed is considered critical to the stability of the U.S. economy, and its policies have profound influence over foreign counterparts. Analysts say if Trump threatens the Fed's independence, it could throw the global financial system into chaos.
"Increased attacks on the Fed do more damage than they should," said Karen Petrou, managing partner at Federal Financial Analytics.
Petrou said that while skepticism of the Fed is historically bipartisan, so is support for the central bank's independence.
"They know the United States economy needs a stabilizing force that they doubt — correctly, I think — would come from the administration or Treasury," Petrou said. "Even if you don't like the Fed, you know how dangerous that would be."
Without clear guidance from the Fed, global markets could be roiled by uncertainty and fears of growing instability triggered by internal turmoil at the central bank. Trump's influence would also raise questions about the Fed's loyalty to its dual mandate of stable prices and maximum employment.
"If investors don't believe the Fed is independent, they're going to bail," said Mark Zandi, chief economist at Moody's Analytics. "An independent central bank is key to a well-functioning financial system and economy."
Source: thehill.com
---
Political/Rights
Dublier sets up Mueller and he fell for it.
  Concord's attorneys now claim that they provided documents to the court that were supposed to be protected and the Mueller team somehow obtained access to these documents –
Source: thegatewaypundit.com
Exculpatory Russia evidence about Mike Flynn that US intel kept secret
For nearly two years now, the intelligence community has kept secret evidence in the Russia collusion case that directly undercuts the portrayal of retired Army general and former Trump national security adviser Michael Flynn as a Russian stooge.
That silence was maintained even when former Acting Attorney General Sally Yatespublicly claimed Flynn was possibly "compromised" by Moscow.
And when a Democratic senator, Al Franken of Minnesota, suggested the former Defense Intelligence Agency (DIA) chief posed a "danger to this republic."
And even when some media outlets opined about whether Flynn's contacts with Russia were treasonous.
Yes, the Pentagon did give a classified briefing to Senate Judiciary Committee Chairman Chuck Grassley (R-Iowa) in May 2017, but then it declined the senator's impassioned plea three months later to make some of that briefing information public.
"It appears the public release of this information would not pose any ongoing risk to national security. Moreover, the declassification would be in the public interest, and is in the interest of fairness to Lt. Gen. Flynn," Grassley wrote in August 2017.
Were the information Grassley requested made public, America would have learned this, according to my sources:
Before Flynn made his infamous December 2015 trip to Moscow — as a retired general and then-adviser to Donald Trump's presidential campaign — he alerted his former employer, the DIA.
He then attended a "defensive" or "protective" briefing before he ever sat alongside Vladimir Putin at the Russia Today (RT) dinner, or before he talked with Russian Ambassador Sergey Kislyak.
The briefing educated and sensitized Flynn to possible efforts by his Russian host to compromise the former high-ranking defense official and prepared him for conversations in which he could potentially extract intelligence for U.S. agencies such as the DIA.
When Flynn returned from Moscow, he spent time briefing intelligence officials on what he learned during the Moscow contacts. Between two and nine intelligence officials attended the various meetings with Flynn about the RT event, and the information was moderately useful, about what one would expect from a public event, according to my sources.
DIA spokesman James Kudla on Wednesday declined comment about Flynn.
Rather than a diplomatic embarrassment bordering on treason, Flynn's conduct at the RT event provided some modest benefit to the U.S. intelligence community, something that many former military and intelligence officers continue to offer their country after retirement when they keep security clearances.
It's important to wind back many months to where the Russia collusion narrative started and the media frenzy-driven suggestion that Flynn may have been on a mission to compromise America's security and endanger this great republic when he visited Moscow.
Would the central character in a Russian election hijack plot actually self-disclose his trip in advance? And then sit through a briefing on how to avoid being compromised by his foreign hosts? And then come back to America and be debriefed by U.S intelligence officers about who and what he saw?
And would a prosecutor recommend little or no prison time for a former general if that former military leader truly had compromised national security?
Highly unlikely.
Source: thehill.com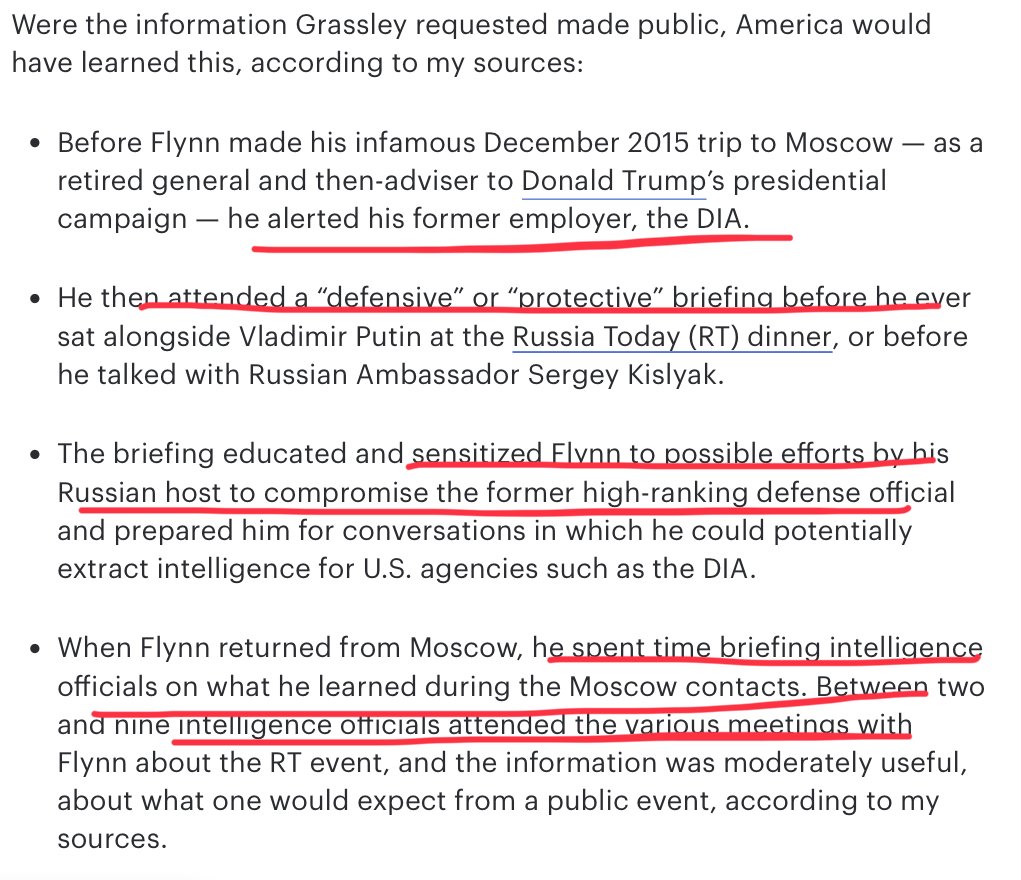 It's Official: Gen. Flynn's Dinner with Putin was Perfectly Appropriate
The has finally confirmed dozens of stalled trump nominees, senator john cornyn tweets out.
Senate confirms U.S. ambassadors to Australia, Yemen, Kenya, Azerbaijan, Central African Republic, Tunisia, Cyprus, Botswana, Mali, Republic of Guinea, Kazakhstan, Madagascar, Gambia, Mozambique, Benin, Republic of Equatorial Guinea, Mongolia, Guyana, and Bosnia and Herzegovina

— Senator John Cornyn (@JohnCornyn) January 3, 2019
There is one problem, the list excluded federal judges
Senate confirms dozens of stalled Trump nominees hours before the 115th Congress ends
 

In total, the Senate cleared 77 nominees by voice vote, among them 23 ambassadors

The Senate confirmed eight U.S. attorneys and eight U.S. marshals, a member of the Federal Maritime Commission, and two members of the Federal Communications Commission.
The Senate confirmed James Carroll Jr. to be director of National Drug Control Policy. It also confirmed Ellen McCarthy to serve as assistant secretary of state.
And it confirmed Kelvin Droegemeier to serve as the director of the White House Office of Science and Technology Policy.
"
McConnell had hoped to confirm more than a dozen federal judges at the end of the year, but Schumer, under pressure from his party's progressive base, blocked a bipartisan deal.
Those judges will now move through the Judiciary Committee and onto the Senate floor where they will likely pass with a GOP majority vote.
sgrZzEo.png

Thank you for your service to our Country, Mr. Trey Gowdy!
Thank you for your service to our Country, Mr. Bob Goodlatte!
Your sacrifices will never be forgotten.
Q+

>>428

https://twitter.com/realDonaldTrump/status/1060256623439110146

While we cannot telegraph everything, for reasons all can understand, we do try in our own way to inform loyal Anons & Patriots.

What are the odds "thank you for your service" was posted less than 1 hour prior to POTUS re: Sessions "thank you for your service?"

Do you believe in coincidences?

How many coincidences before mathematically impossible?

THE SENATE WAS THE KEY.

Enjoy the show!

Q
Q

!!mG7VJxZNCI

ID: 6e0a05

No.3978509 

Source: washingtonexaminer.com
Border Patrol: 'Violent Mob' Attacked Agents, Attempted to Push Minors Over Barbed-Wire 
The migrants gathered at the San Diego sector of the United States border with Mexico on New Year's Eve tried to force their way over the barrier. When turned back by Customs and Border Patrol agents, some in the group started throwing rocks and attempted to push children over the barbed wire atop the barrier.
"Once again we have had a violent mob of migrants attempt to enter the United States illegally by attacking our agents with projectiles," Katie Waldman, Department of Homeland Security spokeswoman said. "The agents involved should be applauded for handling the situation with no reported injuries to the attackers."
Source: breitbart.com
Official: Dems 'Refused' To Even Listen To Border Security Briefing At White House
Democratic lawmakers brought a border security briefing at the White House to a screeching halt Wednesday, refusing to even listen to Homeland Security Secretary Kirstjen Nielsen,

House Majority Leader Kevin McCarthy echoed this version of events to reporters outside the White House immediately after the briefing, saying, "Once the secretary started, Schumer interrupted her and didn't want to hear it."
Source: dailycaller.com
Nielsen tweeted the following
I am disappointed that Dems did not want to hear from @DHSgov about the security & humanitarian crisis we are facing at the border. They didn't want to hear about criminal aliens, drug smugglers, smuggled & abused children or violent caravans trying to breach the border wall.

— Sec. Kirstjen Nielsen (@SecNielsen) January 3, 2019
House Democrats Trying To Restore Funding For Overseas Abortions
H

ouse Democrats are reportedly trying to restore federal funding for overseas abortions Thursday in a spending bill that is supposedly designed to end the partial government shutdown.
 the legislation is also about providing abortions to third world countries

Source: dailycaller.com
Nobel secretary regrets Obama peace prize
Awarding the Nobel Peace Prize to US President Barack Obama in 2009 failed to achieve what the committee hoped it would, its ex-secretary has said.
Geir Lundestad told the AP news agency that the committee hoped the award would strengthen Mr Obama.
Instead, the decision was met with criticism in the US. Many argued he had not had any impact worthy of the award.

"Even many of Obama's supporters believed that the prize was a mistake," he says. "In that sense the committee didn't achieve what it had hoped for".
Source: bbc.com
---
---
False Flags
Russia Charges US Citizen With Espionage

  Russia has formally indicted US citizen Paul Whelan, a 48-year-old US Marine and security contractor, for being a spy, according to a report in Russian news agency Interfax being cited by US media. 
Whelan was arrested by Russia's security services Dec. 28 while in Moscow on a personal trip. Whelan's Russian lawyer Vladimir Zherebenkov, who was appointed to represent him, said earlier Thursday that the American will remain in custody in Moscow until the end of February.
Source: zerohedge.com
---
Q
HIGHLY CALCULATED
DEEP STATE CONSPIRACY:
No U.S. President has ever been under such blistering and constant siege by the perfidious Mainstream Media (MSM).
The unrelenting and highly negative media coverage of President Trump's every move and word is being executed with great purpose and extraordinary calculation.
The globalist's covert plan is quite simple: Carry out a comprehensive and scorching campaign of character assassination against Trump prior to implementing "Phase 2" of their seditious scheme to overthrow the POTUS.
The New World Order globalist cabal, that uses this same blueprint for neutralizing nationalist leaders around the globe, has set their sights on Trump like no other leader in modern history.
But why such a transparent and relentless and outrageous plot to a presidential takedown?
Because the perps know that, were they to resort to physical assassination, a critical mass of American people must first be brainwashed to hate Trump.
You see, the globalists know that, if they were to take out Trump via a C.I.A. assassination team like the Operation 40 hit squad that killed President John F. Kennedy, the U.S. citizenry must be conditioned beforehand to accept the gruesome outcome.
The Deep State knows that the American people are now onto their multi-decade crime spree marked by high treason, state-sponsored terrorism, crimes against humanity, serial war criminality, grand theft on a grand scale, VIP assassinations worldwide, etc., etc., etc.  Let's not forget: The Greatest Act of Collective Treason in U.S. History
The cabal also knows that there is no place to go.
https://www.foxnews.com/politics/mccain-associate-gave-unverified-steele-dossier-to-buzzfeed-court-filing-says📁

Future proves past.

News unlocks.

You have more than you know.

"….and House Speaker Paul Ryan's chief of staff, John Burks."

When did Paul Ryan announce he was retiring?

Why would the Speaker of the House retire?

Age of Paul Ryan?

Sometimes reading between the lines demonstrates those complicit in treasonous / traitorous acts are no longer (or soon to be) in positions of power.

Forced?

R's easier to remove than D's?

D's holding on to power as long as possible hoping to sway pending action [cover]?

Think DECLAS.

Think SC.

………..

How many senior FBI & DOJ officials have been removed?

None left by choice.

Nothing To See Here.

Nothing is being done.

The Biggest 'ACCURATE' Conspiracy….

FAKE NEWS ATTACKS DEMONSTRATE WHAT?

Q
Source: stateofnation2012.com
Day One: Democrat to Introduce Articles of Impeachment Against Donald Trump
Rep. Brad Sherman (D-CA) plans to introduce articles of impeachment against President Donald Trump on Thursday — the first day that Democrats control the majority in the U.S. House of Representatives.
Q

!!mG7VJxZNCI

ID: 97260a

No.4260467

Senate was the key, Senate was the target
Source: breitbart.com
Rand Paul: 'New World Order' Terrified of Trump
Senator Rand Paul took to Twitter to defend President Trump, claiming that the 'New World Order' are terrified of his success.

Like other Big Government Republicans who never liked Reagan, Mitt Romney wants to signal how virtuous he is in comparison to the President. Well, I'm most concerned and pleased with the actual conservative reform agenda @realDonaldTrump has achieved.
https://t.co/vNvp2ZwyK7

— Senator Rand Paul (@RandPaul) January 2, 2019
Source: yournewswire.com
Trump fires back at Presidential canditates, he decided to troll Warren
Warren 1/2020th

— Donald J. Trump (@realDonaldTrump) January 3, 2019
Trump's 'Game of Thrones'-style poster makes cryptic cameo at Cabinet meeting
Remember that "Game of Thrones"-inspired poster Trump used to announce that his administration would be reimposing economic sanctions on Iran?
The one that showed a pensive president staring dramatically into the dark and stormy distance, warning, "SANCTIONS ARE COMING NOVEMBER 5"?
Well, the Hollywood-style poster reemerged Wednesday, resting on a table during a Cabinet meeting at the White House, where Trump talked about the government shutdown and the holidays at 1600 Pennsylvania Ave. When the conversation turned to Iran, he said the sanctions had worked, and "Iran is a much different country than it was when I became president."
"Iran is in trouble," he added.
It was not clear why the poster was brought along.
Source: washingtonpost.com
The "O" is written in the same way it is for Game of Thrones, Winter is Coming (get it, "sanctions are coming")

Also, a big part of the Game of Thrones plot is about a huge wall and border security protecting the kingdom from an invading army of demonic white walkers. The plot includes how most citizens are going about their lives naively unaware of the huge threat marching their way at the wall (the meaning behind winter is coming). Has to be symbolism in that as well.

Also notable is the GOT reference to Winter is Coming. They said it and said it and said it the entire show until the very last when it finally did happen. So…it could be Trump telling us that they will eventually pay the price for their treason. Q and the Patriots have been saying it and saying it and saying it….but we don't see the high profile arrests yet. They are possibly telling us that indeed Winter IS Coming for them and nothing will stop it.

https://en.wikipedia.org/wiki/Sanctions_(law)

SANCTION. Def.

Sanctions, in law and legal definition, are penalties or other means of enforcement used to provide incentives for obedience with the law, or with rules and regulations.[1] Criminal sanctions can take the form of serious punishment, such as corporal or capital punishment, incarceration, or severe fines. Within the civil law context, sanctions are usually monetary fines, levied against a party to a lawsuit or his/her attorney, for violating rules of procedure, or for abusing the judicial process.

So, what happened on Nov 4th? Qanon posted this message to 8chan. Notice the post involves fictive movie posters. From left to right: Guardians of the pedophiles. Panic in DC. FISAGATE.

Direct link: https://8ch.net/patriotsfight/res/62.html#406

look at the timeline. In summary:

The new poster was deliberately modified from Trump's original tweet to now link it to a specific Qanon post.
The Qanon post was also about movie posters, which point to the corruption of the establishment / deep state
The modified poster was actually printed