Podcast: Play in new window | Download (Duration: 47:01 — 49.6MB)
The [CB] is declining rapidly, the [CB] economy cannot be saved, it can only be kicked down the street. This is exactly what the patriots have planned, to kick it down the street past the 2020 elections. The jobs numbers, housing and retail numbers are sliding, its time for stimulus and multiple rate cuts. Wolf shows us how many rates cuts are coming. The great awakening is here, the information that is flowing out is to wake the general public up, the storm is upon us, it is here. The [DS] will use all their ammunition to stop the truth from coming out. We have new info that the Russians that met with certain individuals were not Russian they were informants. JW uncovers documentation on [HRC]. Durham is completed focused on the FISA applications, its all about to hit and the [DS] is getting ready to control the narrative, the truth cannot be controlled.
Check Out The X22 Report Spotlight YouTube Channel X22Report Spotlight
Please check Newzsentinel.com for the latest news on the economic collapse. The Sentinel Alerts are updated throughout the day. If you haven't already, go to "The People" and join the community of people who are helping each through the economic collapse.
---
Current News – 06.07.2019
Watch The X22 Report On Video
---
Economy
only 75,000 jobs created in May…
… this was not only the worst print since the shocking 56,000 February report, but also 100,000 below the consensus number of 175,000.
The two-month revision subtracted a total of 75,000 jobs, as March was revised down from +189,000 to +153,000, and the change for April was revised down from +263,000 to +224,000, making it a net zero for the month and suggesting some serious deceleration in the labor market
Source: zerohedge.com
China is subsidizing its product in order that it can continue to be sold in the USA. Many firms are leaving China for other countries, including the United States, in order to avoid paying the Tariffs. No visible increase in costs or inflation, but U.S. is taking in Billions!

— Donald J. Trump (@realDonaldTrump) June 7, 2019
Late last year, when President Trump first raised the possibility that the Federal Reserve could cut interest rates, everybody dismissed this as more unhinged ramblings from a president who, they said, didn't understand monetary policy or the business cycle, or the needs of savers.
But things have changed dramatically since then. And the same sell-side strategists who once dismissed the presidet have now reworked their forecasts in a way that makes it seem like they're trying to one up each other for the most dovish forecasts. Barclays is currently in the lead, forecasting three rate cuts before the end of the year.
Now, strategists at the big banks are scrambling to adjust their forecasts fast enough 
  Trump repeated his criticism of the Federal Reserve's interest rate increases and said the stock market would be 10,000 points higher had the Fed kept rates lower take a listen
It's just another example of how bankers who once dismissed Trump as 'crazy' have come around to his line of thinking.
Dec 2018:
Goldman – "4 more rate hikes"
Trump – "Fed should be cutting rates now"
Everyone – "Trump is insane"

June 2019:
Everyone – "Fed should be cutting rates now"
Source: zerohedge.com
Stock market and corporate bond market are in la-la-land, pricing in an economic boom. They're not seeing a rate-cut economy. So why would the Fed?
  The probability of three and even four rate cuts by December 11 are suddenly gaining the most favor  
In other words, the market is betting there's just a near-zero chance the Fed's target for the federal funds rate will remain at the current range between 2.25% and 2.50% (chart via Investing.com):
The chance of only one rate cut by December has collapsed to only 13.6% at the moment,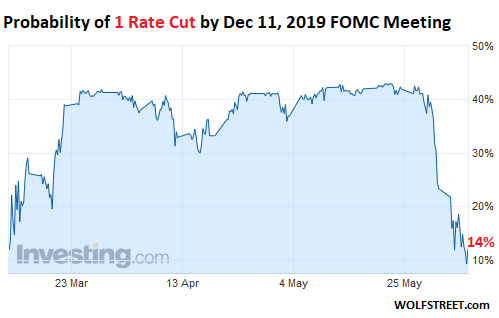 The bet on two rate cuts by December 11 is  34%,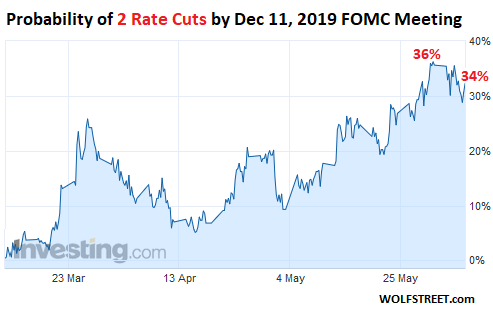 The probability of three rate cuts by December 11 has now soared to 34%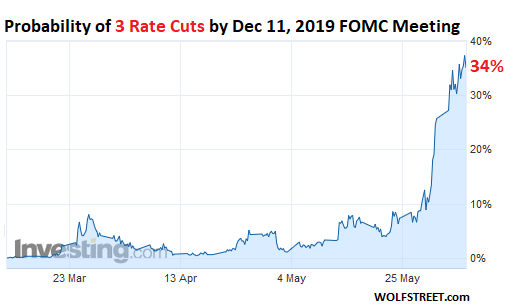 .
So neither stocks nor riskier bonds are seeing a recession. And yet a different end of the market – the one that bets on Treasury securities, Fed Fund futures, and the like, is betting on three or four rate cuts over the next six months.
Source: wolfstreet.com
---
Political/Rights
Rep. Ilhan Omar Found Guilty of SIX Campaign Finance Violations – Ordered to Pay Fines

Radical Muslima Rep. Ilhan Omar
Rep. Ilhan Omar (D-MN) was ordered to pay a $500 civil fine for violating campaign finance law.
Fox 9 reported:
 U.S. Rep. Ilhan Omar must personally pay a $500 civil fine to the state for violating a campaign finance law, the Minnesota Campaign Finance and Public Disclosure Board ordered Thursday.

In addition, Omar must reimburse her political campaign $3,469 for improperly used campaign funds, the board said in its decision.

Five times, Omar's campaign improperly paid hotel or travel expenses for Omar to attend out-of-state events in 2017, the board found. In other cases, the board found Omar's campaign had paid for Omar's immigration records and two years of tax returns without justifying their benefit to her campaign.
Source: thegatewaypundit.com
So now we have Elija Cummings and wife and Omar with some sort of campaign violation
DOJ Releases Flynn FBI Interview Report (FD-302) by Joe Pientka and Peter Strzok…
The DOJ has released the FBI agent report (FD-302) written after their interview of Michael Flynn on Jan 24th, 2017. (
However, for some reason, within the DOJ release of the report they are continuing to redact the name Joe Pientka. [Could be due to ongoing employment]
It's worth noting according to Mark Meadows the Office of Inspector General Michael Horowitz has interviewed Joe Pientka extensively; prior attempts by congress to gain testimony from Pientka were blocked by the FBI and Rod Rosenstein.
FBI Agent Joseph Pientka was never interviewed by the joint House judiciary and oversight committees (Goodlatte and Gowdy).   The reason, as explained by Meadows, was simple; Pientka was on Weissmann and Mueller's special counsel team. Congress was not allowed to interfere in the Mueller probe.  In hindsight this looks like Weissmann, Mueller & Rosenstein strategically using the investigation as a shield from sunlight.
Prosecutor Brandon Van Grack filed a cover letter attempting to explain the reason for the Flynn interview on January 24th, 2017, and a delay in the official filing of the interview notes (FD-302) on February 15th, 2017, and then another edit on May 31st, 2017.
To explain the FBI delay, Van Grack claimed the FD-302 report "inadvertently" had a header saying "DRAFT DOCUMENT/DELIBERATIVE MATERIAL" (screen grab)
We now know there was a deliberative process in place, seemingly all about how to best position the narrative, because we can see the deliberations in text messages between Lisa Page and Peter Strzok: See below (note the dates):
The text message conversation above is February 14th, 2017.
The Michael Flynn FD-302 was officially entered into the record on February 15th, 2017, per the report:
It was a deliberative document from the outset. Thanks to the Strzok/Page text messages we know the 2018 cover letter from the Special Counsel is misleading. The Feb 15th, 2017, date was the day after McCabe approved it (three weeks after the FBI interview).
May 17th, 2017, Robert Mueller was assigned as special Counsel. Then, the FD-302 report was re-entered on May 31st, 2017, removing the header; paving the way for Mueller's team to use the content therein.
Source: theconservativetreehouse.com
NEW: Judge Sullivan Orders Public Release of Audio of Trump Atty Voicemail to Flynn Lawyer
Judge Emmet Sullivan, ordered the public release of the November 2017 audio recording from Trump attorney John Dowd's voicemail to Flynn's lawyer.
Recall, on Friday evening Deep State Federal prosecutors released the full transcript from President Trump's attorneys to General Michael Flynn's attorneys.
Mueller and Weissmann used the phone call as evidence that Trump was attempting to interfere with the special counsel Russia collusion witch hunt.
After the call was released several internet sleuths compared the call transcript to the transcript published in the Mueller report.
Robert Mueller and his hitman Andrew Weissmann manipulated the transcript and lied about the call.
This is more proof the deep state used any means possible including lying to get Trump.
Judge Sullivan is ordering the public release of Flynn's lawyers voicemail to Trump's lawyer,  
  Flynn fired his lawyers and replaced them with a high-profile lawyer ahead of his sentencing.
When asked by a reporter if he is now representing General Flynn, Joe DiGenova responded, "We are not at liberty to discuss."
Source: thegatewaypundit.com
Judicial Watch: DOJ Documents Show Bruce Ohr Was Given a $28,000 Bonus During Russiagate Investigation Plus a Raise
Judicial Watch today released documents from the U.S. Department of Justice in response to a Freedom of Information Act (FOIA) request showing the removal of Bruce Ohr from the position of Associate Attorney General in 2017; his transfer from Organized Crime Drug Enforcement Task Force to International Affairs in 2018; and that Ohr received a total of $42,520 in performance bonuses during the Trump/Russia investigation. Ohr's bonus nearly doubled from $14,520 (received in November 2015) to $28,000 in November 2016.
The released documents were Notification of Personnel Action (SF-50) and Request for Personnel Action (SF-52) forms that were FOIA requested by Judicial Watch in January 2018.
The documents show that on November 13, 2016, Ohr was given a performance award of $28,000. This was during the time of his deep involvement in the highly controversial Justice Department surveillance of the Trump presidential campaign. The bonus was nearly double the $14,250 performance award he was given on November 29, 2015.
Judicial Watch has five current lawsuits pursuing information on Bruce Ohr.
Source: judicialwatch.com
Mark Meadows Drops Bomb on Democrats: Mueller Report is Filled with Multiple Omissions, Inaccuracies… "The Deeper We Dive the More Problems We Find" (VIDEO) 
Mark Meadows joined Sean Hannity to discuss the growing number of lies, omissions and inaccuracies in the Mueller Report.
Mark Meadows told Sean Hannity: "The best day the Democrats had and will have was the day Robert Mueller spoke… As we look at the Mueller report, there are multiple omissions, (exculpatory omissions)… other material facts are just not accurate in the Mueller Report… Jim Jordan and I are getting prepared, and I tell you the deeper we dive the more problems we find.
Source: thegatewaypundit.com
JOHN SOLOMON BOMBSHELL: Key Figure That Mueller Report Linked to Russia Was Actually a State Department Intel Source
 
In Mueller's report, Ukrainian businessman, Konstantin Kilimnik — the so-called Russian who Paul Manafort shared internal polling data with (gasp) isn't a Russian, he's actually as a "sensitive" intelligence source for the U.S. State Department who informed on Ukrainian and Russian matters 
John Solomon reviewed hundreds of pages of government documents proving Kilimnik is indeed a State Department intel source — even worse, Mueller possessed these documents since 2018.
This very important piece of information was omitted from Mueller's report , seems meadows is right again
John Solomon of The Hill:
The incomplete portrayal of Kilimnik is so important to Mueller's overall narrative that it is raised in the opening of his report. "The FBI assesses" Kilimnik "to have ties to Russian intelligence," Mueller's team wrote on page 6, putting a sinister light on every contact Kilimnik had with Manafort, the former Trump campaign chairman.What it doesn't state is that Kilimnik was a "sensitive" intelligence source for State going back to at least 2013 while he was still working for Manafort, according to FBI and State Department memos I reviewed.Kilimnik was not just any run-of-the-mill source, either.He interacted with the chief political officer at the U.S. Embassy in Kiev, sometimes meeting several times a week to provide information on the Ukraine government. He relayed messages back to Ukraine's leaders and delivered written reports to U.S. officials via emails that stretched on for thousands of words, the memos show.The FBI knew all of this, well before the Mueller investigation concluded.
It get worse
Mueller's report stated that Kilimnik delivered a 'peace plan' to the Trump campaign for settling the Crimea conflict between Russia and Ukraine…but there is just one problem…
State Department emails reviewed by John Solomon reveal this exact peace plan was delivered to the Obama Administration in May of 2016 during Kilimnik's visit to Washington DC.
"Kilimnik requested the meeting to deliver in person a peace plan for Ukraine that Manafort acknowledged to the Special Counsel's Office was a 'backdoor' way for Russia to control part of eastern Ukraine," the Mueller report stated.But State emails showed Kilimnik first delivered a version of his peace plan in May 2016 to the Obama administration during a visit to Washington. Kasanof, his former handler at the U.S. Embassy in Ukraine, had been promoted to a top policy position at State, and the two met for dinner on May 5, 2016.The day after the dinner, Kilimnik sent an email to Kasanof's official State email address recounting the peace plan they had discussed the night before.
"So Kilimnik's delivery of the peace plan to the Trump campaign in August 2016 was flagged by Mueller as potentially nefarious, but its earlier delivery to the Obama administration wasn't mentioned.
remember what Mark Meadows said , there are many lies, omissions and inaccuracies in the Mueller Report
Source: thegatewaypundit.com
Mueller didn't just mislead the public when he described Kilimnik as someone w "ties to Russian intelligence" when he knew he was a US informant; he also deceived when he described Mifsud as someone who had "connections to Russia," when in fact he was a Western intelligence asset

— Paul Sperry (@paulsperry_) June 7, 2019
Slowly but surely the entire scandal is being brought out into the open, the patriots are drip feeding the public, this is why the DS is now taking action to shutdown/silence as many people as possible, they are trying to control the narrative
House Democrats Introduce Contempt Resolution For AG Bill Barr, Former White House Counsel Don McGahn
House Democrats officially introduced a resolution to hold Attorney General Bill Barr and former White House counsel Don McGahn in contempt for defying congressional subpoenas. 
The contempt resolution will give House Judiciary Chairman Jerry Nadler (D-NY) the opportunity to go to court to seek civil enforcement of the subpoena to force Barr to turn over Mueller's unredacted report and the underlying intelligence, as well as for Don McGahn to turn over documents and publicly testify. they only part of the report that is no redacted is the grand jury portion and according to the law this will stay sealed, optics are everything, Nadler can read the report but he already knows that it has nothing he wants., this is a move to try to stop what is happening, it will fail
The House is expected to vote on the resolution on Monday.
Source: thegatewaypundit.com
US Attorney Durham 'Very Dialed In" on Obama FISA Court Scandal – Will Handle Prosecution of Any Criminal Action
According to DOJ sources   US Attorney John Durham's investigation on the origins of the Russia collusion probe say he is very dialed in.
Any criminal actions uncovered in the investigation will be handled by Durham.

According to DOJ sources, US Attorney John Durham is examining documents generated by an inter-agency "fusion cell" that former CIA Chief John Brennan set up in mid 2016.
This suggests a broader inter-agency effort is underway
Investigative journalist Paul Sperry tweeted the folllowing

BREAKING: According to Main DOJ sources, Durham's portfolio for looking into the provenance of CH includes examining docs generated by an interagency "fusion cell" Brennan set up in mid-2016 on Russian election interference + pre-election briefings Steele gave to UK intelligence

Durham is specifically reviewing the FISA warrant obtained by the FBI to surveil former Trump aide Carter Page, as well as general issues relating to surveillance during the 2016 campaign and matters flowing from the FISA process.
Source: thegatewaypundit.com
If the IG finds the FBI/DOJ violated Carter Page's civil rights by spying on him w/o probable cause b/t Oct 2016 & Sept 2017, then that means they violated everybody's rights who communicated with Page (via voice, text, email) between Oct 2016 and Sept 2017, including journalists

— Paul Sperry (@paulsperry_) June 7, 2019
Judicial Watch Uncovers 'Cover-Up' Discussions in Latest Production of Clinton Email Documents
Judicial Watch announced today that it uncovered 422 pages of FBI documents showing evidence of "cover-up" discussions related to the Clinton email system within Platte River Networks, one of the vendors who managed the Clinton email system. The documents also show Intelligence Community Inspector General (ICIG) Charles McCullough forwarding "concerns" about classified information in former Secretary of State Hillary Clinton's emails.
The new documents uncovered by Judicial Watch also contain Clinton's 2009 classified information Non-Disclosure Agreement bearing her signature.
documents show Platte River Networks' use of BleachBit on the Clinton server. The BleachBit program was downloaded from a vendor called SourceForge at 11:42am on March 31, 2015, according to a computer event log, and over the next half hour, was used to delete the files on Hillary's server.
Source: judicialwatch.com
---
Geopolitical/Police State
To Avoid Tariffs Mexico Pledges Troops to Border, Trump Response: 'Results First' – Tariffs Will Commence…
In an effort to avoid the tariffs scheduled to begin next Monday; and not admitting they have no ability to influence the U.S-Mexico border region controlled by drug cartels; the conniving Mexican government is pledging to send troops to their southern border.
However, President Trump isn't in the mood for more empty promises.  In essence, the U.S. position led by Vice-President Mike Pence and Secretary of State Mike Pompeo is: do it, and let's see… in the meantime, tariffs will commence until Mexican priorities are improved.
The Mexican official and the U.S. official said the countries are negotiating a sweeping plan to overhaul asylum rules across the region, a move that would require Central Americans to seek refuge in the first foreign country they set foot upon after fleeing their homeland.
Under such a plan, the United States would swiftly deport Guatemalan asylum seekers who set foot on U.S. soil to Mexico. And the United States would send Honduran and Salvadoran asylum applicants to Guatemala, whose government held talks with acting Homeland Security Secretary Kevin McAleenan last week. Central American migrants who express a fear of death or torture if sent back to their home countries would be interviewed by a U.S. asylum officer to determine if the chances of such harm were more likely than not — a higher screening standard with a greater likelihood of rejection than current procedures.
Speaking to reporters after a Pennsylvania speech, Vice-President Mike Pence said while the U.S. appreciates the position of the Mexican government, unless the administration sees measurable results, the tariffs will go into effect as scheduled.
Source: theconservativetreehouse.com
REPORT: ISIS Planned to Send Terrorists Into U.S. Through Mexican Borden
An ex-ISIS terrorist explained how the terrorist group wanted to send members into the United States.
A new report from Homeland Security Today, which interviewed a former ISIS soldier, said that the Islamic State planned to send terrorists into the United States through the open border with Mexico.
"They, what they will have, what they wanted to do, basically, is they wanted to do financial attacks. Financial attacks to cripple the [U.S.] economy," Abu Henricki al Canadi said. "Apparently, they have the contacts or whatever papers they can get to a false ID, false passports [to send me out for this kind of attack]. They have their system of doing it. So that's maybe the way that I could have gone out with other individuals. It wasn't me alone. They were sending you to Puerto Rico and from Puerto Rico [to Mexico]."
Source: bigleaguepolitics.com
---
War
Venezuela Explores Peace Talks. Will US Allow It?
Since the neocon push to have regime change failed in Venezuela and there will be no military intervention the only way forward is peace negotiations.   the way ahead seems to lie in building up the Oslo peace process, which began on May 16. This is just the beginning, they will fail, the groups will be brought back together this is how negotiations work, everyone will have to give little until you reach a deal 
Maduro recently disclosed, "We have held secret talks for two or three months already, and then we set down at the negotiations table in Norway. I want to achieve a peace agreement for Venezuela." On Wednesday, Maduro further said, "We are ready to hold parliamentary elections. The country wants the composition of the National Assembly to be renewed."
This entire situation has been primed, all trump needs to do is to say, I am open to a conversation, call me. 
Source: orientalreview.org
Putin says talks with Trump 'inspire optimism' on global security
 Putin 

said

 that his recent talk with the American leader 'inspired certain optimism.'

Donald…understands how much the United States and other countries spend on armaments. This money could be diverted to other purposes. I fully agree with him.
While noting that global security depends largely on negotiations between the US and Russia, Putin encouraged other nuclear states to join the discussion. Such broad talks could become "the light at the end of the tunnel," In a subsequent tweet, Trump said it was a "long and very good conversation"adding that "getting along" with Russia is a "good thing."
Source: sott.net