Podcast: Play in new window | Download (Duration: 44:33 — 46.8MB)
Theresa May is trying once again to get her BREXIT deal passed, it will not work, this will be her last and she will have to resign. The BREXIT party will now handle the BREXIT, everything is about to change. US retail expectantly declines. Trucking and rail shipments decline, the [CB] system is imploding. Industrial products declines. The Fed is now talking about lowering interest rates, this is what control looks like. Don Jr makes a deal he will testify in front of the Senate. Matt Gaetz says transcripts will be released very soon. Gowdy says that this is much worse than people think. Papadopoulos says Brennan lies, he spied on me. Joe D, it all leads back to Brennan. The dossier was used as the cover-up. NY is being challenged about the gun rules. DOJ reports 43% offenders are illegal immigrants, wall being built in California. The push is now in Iran, the patriots are going after the [DS].
Check Out The X22 Report Spotlight YouTube Channel X22Report Spotlight
Please check Newzsentinel.com for the latest news on the economic collapse. The Sentinel Alerts are updated throughout the day. If you haven't already, go to "The People" and join the community of people who are helping each through the economic collapse.
---
Current News – 05.15.2019
Watch The X22 Report On Video
---
Economy
 reports suggest that May will step aside this summer – possibly as soon as late next month – but not before giving her old Brexit withdrawal agreement one last try in the Commons.
The next vote now has a date: June 3. Which just so happens to coincide with President Trump's upcoming state visit.
Though, if the last three votes are any indication about how the next one might turn out, the odds are stacked against her. Even the third vote still failed by 58 votes.
Conservatives pushed into fifth place in our latest European Parliament voting intention survey (fieldwork 8-9 May)
Brexit Party – 34%
Lab – 16%
Lib Dem – 15%
Green – 11%
Con – 10%
Change UK – 5%
UKIP – 3%https://t.co/W4o6NfLQkL pic.twitter.com/aQ1swhpFRE

— YouGov (@YouGov) May 13, 2019
Source: zerohedge.com
Retail sales in the United States fell in April, suggesting that economic growth was sluggish as the second quarter began.
Falling sales hit most major areas of retail, including online sales, autos, home and garden centers, clothing shops, pharmacies, and electronic stores.
Sales at gas stations were up but that gain was due to higher gasoline prices.
The weaker auto sales and stronger gas station sales were both widely expected. But the decline in electronics and appliance sales, following on a weak March, was not expected.  Furniture store sales, which declined sharply in March, failed to bounce back and were flat for the month.
Source: breitbart.com
Trucking & Rail Shipments Sink as US Goods-Based Sector Slows
Weakness in transportation deepens. Freight rates still rising, but also coming under pressure.
It has become a cacophony across earnings reports by trucking companies and railroads: Shipment volumes are declining, and revenues are propped up by higher freight rates, but now freight rates are coming under pressure too, as companies are getting more aggressive to pick up shipments. The latest two to report were YRC Worldwide, one of the largest truckers in the US, and BNSF Railway. Before them, it was J.B. Hunt and others.
This is summarized by the Cass Freight Index. Freight shipment volume in the US across all modes of transportation – by truck, rail, air, and barge – in April fell 3.2% compared to April last year, the fifth month in a row of year-over-year declines, and the first batch of declines since the transportation recession of 2015 and 2016. month a year earlier: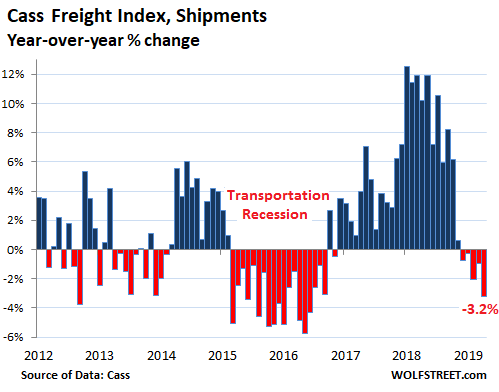 The last two times this happened was in 2013 and 2009. Some had blamed the slowdown in the winter on the weather, but there should have been a pickup in March and April, and the opposite happened.

Source: wolfstreet.com
 US industrial production  has stagnated for the last four months, April is expected to be more of the same – unchanged from March – but it didn't, missing dramatically and tumbling 0.5% MoM.
This is the biggest MoM drop since May 2018
And the slowest YoY growth since March 2017
Most major market groups posted decreases in April.

More 'hard' data for The Fed to consider – time for a rate-cut?
Source: zerohedge.com
Trump approval at 51%, winning millennials, trusted more than Democrats on economy
President Trump has crossed the critical 50% approval line needed to win reelection as millennials and independents are moving to embrace him, according to a new survey.
The latest Zogby Poll put Trump's approval rating at 51%, his highest ever in the trademarked survey.
Zogby Analytics pollster Jonathan Zogby said that the president is riding a booming economy and could be hard to beat should the nation's economic health continue to improved
His survey found that several groups that had been leaning against Trump were starting to favor him in large part because they have growing confidence in the economy and Trump's handling of it. Notably millennials and independents have turned in his direction.
 voters said that they trusted Trump over Democrats, 46%-42%, to "grow" the economy.
Source: washingtonexaminer.com
Trump could get his Fed rate cut after all, but not for the right reasons
The president, in a tweet, called for a Fed interest rate cut, on the first day of the Fed's last meeting on April 30. He criticized the central bank and said it was holding back the economy.
China will be pumping money into their system and probably reducing interest rates, as always, in order to make up for the business they are, and will be, losing. If the Federal Reserve ever did a "match," it would be game over, we win! In any event, China wants a deal!

— Donald J. Trump (@realDonaldTrump) May 14, 2019
  The market had been pricing in an 80% chance the Fed would cut interest rates by 25 basis points in December on Friday. By the end of next year, the market expects at least two rate cuts. 
Source: cnbc.com
  Kansas City Fed President Esther George said she's opposed to cutting interest rates in order to raise inflation to the central bank's 2% target, warning that could lead to asset-price bubbles and ultimately an economic downturn.
  – said that "lower interest rates might fuel asset price bubbles, create financial imbalances, and ultimately a recession." 
Source: zerohedge.com
---
Political/Rights
Donald Trump Jr. Cuts Deal for Limited Interview with Crackpot GOP Senator Burr and the Senate Intel Committee
Last Wednesday Senate Intelligence Committee Chairman Senator Richard Burr subpoenaed Donald Trump Jr. to testify before his committee on the Trump-Russia collusion hoax. This was just days after Senate Majority Leader Mitch McConnell said the Russia witch hunt was over.

On Thursday several RINO anti-Trump senators defended their colleague. Senators Cornyn (R-TX), Collins (R-MN) and Thune (SD) all defended their colleague and dunce Richard Burr.
Mitch McConnell could step in and end this nonsense but so far has remained silent.
After two years of Trump it is clear the Republican Party does not have his back nor do they respect their voting base.
On Tuesday Donald Trump Jr. reached a deal to testify once again before the Senate Intelligence Committee.

Source: thegatewaypundit.com
The [DS] is now scrambling, information is pouring out against them, the common theme is that they knew the dossier was fake before they submitted the information to the FISA court. Lets start laying all this out. First Matt Gaetz tweeted the following
Dan Coats has over 50 transcripts from Clapper, Comey, Brennan, and McCabe that have been voted out of the House Intel Committee to be declassified. We need to get to the bottom of where these lies existed and how this terrible investigation started. pic.twitter.com/hakJ6Ho2il

— Rep. Matt Gaetz (@RepMattGaetz) May 14, 2019
Gowdy: FBI Cited Articles And Info From Clinton Ally To Corroborate Steele Dossier
Former Republican South Carolina Rep. Trey Gowdy dropped a potential bombshell Tuesday regarding what information the FBI relied on to corroborate claims in the Steele dossier.
Gowdy said when he was in office, he saw an FBI spreadsheet that cited news articles and information from longtime Clinton insider Sidney Blumenthal as corroboration for the dossier.
Gowdy did not identify what information from Blumenthal was cited, but the Clinton ally shopped around a dossier of his own containing allegations about Donald Trump.
He said the following
"I've seen the spreadsheet, Martha, I have seen each factual assertion listed in that dossier, and then I've seen the FBI's justification. And when you're citing newspaper articles as corroboration for a factual assertion that you have made, you don't need an FBI agent to go do a Google search,"
"When the name Sidney Blumenthal is included as part of your corroboration, and when you're the world's leading law enforcement agency, you have a problem."
WATCH:
Source: dailycaller.com
Papadopoulos: John Brennan is Lying – CIA Targeted and Spied On Me In London
George Papadopoulos says that John Brennan the former CIA Director was lying when he told MSNBC this week that the agency does not spy against "domestic individuals."
"That's the reason why I was flown to London, to be spied on, and why the British were also meeting with me and probing me on the same exact day that these two figures were paying me and spying on me and recording my conversation," Papadopoulos said.
"Yeah, usually the CIA doesn't spy domestically, and that's why they brought me to London to meet Stefan Halper and this informant," he told MacCallum. "So I have to highly disagree with John Brennan and I think the CIA is up to their neck in this."
Source: saracarter.com
Joe diGenova: For the First Time I Believe These Guys are Going to Jail… This is Big Time! Brennan and Comey Needs 5 Attorneys
JOHN SOLOMON: State Department's Red Flag on Steele Went to Senior FBI Official 8 Days Before FISA Warrant Granted on Carter Page
Last week,   John Solomon obtained memos from a high-ranking government official who met with former British spy Christopher Steele in October of 2016, who determined that Steele's 'dirt' on Trump was inaccurate and likely leaked to the media.
Kavalec flagged this in memos and handwritten notes just 10 days before the first FISA warrant on Trump campaign advisor Carter Page was granted.
Multiple sources confirmed to John Solomon on Tuesday that Kavalec's red flag on Steele was immediately sent to a senior FBI official.
The email from State Department official Kathleen Kavalec was sent to Special Agent Stephen Laycock, then the FBI's section chief for Eurasian counterintelligence, 8 days before the first FISA warrant was granted on Carter Page.
  the FBI swore to the FISA judge that Christopher Steele's "reporting has been corroborated and used in criminal proceedings" and the FBI determined him to be "reliable" and was "unaware of any derogatory information pertaining" to their CHS [Confidential Human Source], who was also working for Fusion GPS, the oppo research firm paid by Hillary Clinton and Perkins Coie to dig up dirt on Trump.
One red flag Kavalec caught? Steele claimed that 'payments to those recruited by the Russians to target the election were made out of the Russian Consulate in Miami.' There's only one problem with this claim — there is no Russian Consulate in Miami.
John Solomon pointed out another mystery: Kavalec had two exchanges with FBI officials about Christopher Steele two weeks before her meeting:
The officials also declined to address another mystery that has caught congressional investigators' attention: Kavalec had two exchanges with FBI officials about Steele approximately two weeks before her meeting. The email contacts on Sept. 29-30, 2016, have been redacted, except for a single phrase "Thank you Kathy." Congressional investigators want to know if the earlier exchange resulted in Kavalec learning in advance of Steele's work for the FBI, or was a further tipoff to the FBI of Steele's intention to visit State, a department where he had offered pro bono information in the past.
Source: thegatewaypundit.com
When Trump called the Mueller investigators "18 angry Democrats," he wasn't kidding.
According to 73 pages of records obtained by Judicial Watch, Mueller special counsel prosecutor Andrew Weissmann led the hiring effort for the team that investigated the Trump campaign.
Remember Weissman attended Hillary Clinton's election night party in 2016, and wrote a positive email to former Acting Attorney General Sally Yates when she refused to defend the Trump administration's travel ban. And as you will see below, he was on a mission to recruit a politically biased fleet of lawyers for the Mueller probe.
Tom Fitton says the following "These documents show Andrew Weissmann, an anti-Trump activist, had a hand in hiring key members of Mueller's team – who also happened to be political opponents of President Trump,"   "These documents show that Mueller outsourced his hiring decisions to Andrew Weissmann. No wonder it took well over a year to get this basic information and, yet, the Deep State DOJ is still stonewalling on other Weissmann documents!"
Weissman's calendar shows that he began interviewing people for investigator jobs on the Mueller operation almost immediately after it was announced that he had joined the team in early June.

On June 5, 2017, he interviewed former Chief of the Public Corruption Unit of the U.S. Attorney's Office for the Southern District of New York Andrew Goldstein. Goldstein was a Time magazine reporter. Goldstein contributed a combined $3,300 to Obama's campaigns in 2008 and 2012. His wife, Julie Rawe, was a reporter and editor for Time for 13 years, until 2013. He became a lead prosecutor for Mueller.

The next day, on June 6, 2017 Weissmann had a meeting with "FARA [Foreign Agents Registration Act] counsel."

Weissmann interviewed another prosecutor, Kyle Freeny, from the DOJ Money Laundering Section for the team on June 7, 2017. She contributed a total of $500 to Obama's presidential campaigns and $250 to Hillary Clinton's. She was later detailed to the Mueller investigation.

He interviewed a trial attorney who worked with him in the Criminal Fraud Section, Rush Atkinson, on June 9, 2017. Records show that Atkinson donated $200 to Clinton's campaign in 2016. He is a registered Democrat and contributed $200 to Hillary Clinton's 2016 campaign. Atkinson also became part of the Mueller team.

Weissmann interviewed DOJ Deputy Assistant Attorney General Greg Andres for the team on June 13, 2017. Andres donated $2,700 to the campaign for Sen. Kirsten Gillibrand (D-N.Y.) in 2018 and $1,000 to the campaign for David Hoffman (D) in 2009. Andres is a registered Democrat. His wife, Ronnie Abrams, a U.S. district judge in Manhattan, was nominated to the bench in 2011 by Obama. He joined the Mueller team in August 2017. –Judicial Watch
Source: zerohedge.com
Remember The crime is not where people get caught, it is normally them trying to coverup the crime, Devin Nunes and many others are pointing everyone to the origin of the investigation and there is a reason for this.
Devin Nunes Discusses Importance of Russia Narrative Origination….
Devin Nunes is letting everyone know why the origin of the Russia narrative is important.  The scale and scope of the fraudulent construct is now a strongly enmeshed narrative, toxic to the systems of cohesive government:
If you read the Weissmann/Mueller report carefully one aspect stands out strongly; the Mueller investigation was fully committed to The Steele Dossier. An inordinate amount of the report is focused on justifying their investigative validity and purpose in looking at the claims within the Steele Dossier.
Repeatedly, the investigative unit references their mandate based around the Steele Dossier, and the mid-summer 2016 origin of the FBI counterintelligence operation.
Why? Why was/is Crossfire Hurricane (July '16) and the Steele Dossier (Oct. '16) so important to the principle intelligence apparatus, and the Mueller team ('17, '18, '19)?
I believe former NSA Director Admiral Mike Rogers has told us the answer. In early 2016 Rogers caught on to a massive and pre-existing weaponization of government surveillance and the use of collected NSA metadata for political spy operations. Everything, that comes AFTER March 2016 is one big blanket cover-up operation….. ALL OF IT.
The Russian election interference narrative; the use of Joseph Mifsud, Stefan Halper, the London and Australian embassy personnel; Erika Thompson, Alexander Downer, U.S. DIA officials; everything around Crossfire Hurricane; and everything after to include the construct of the Steele Dossier; all of it was needed for the creation of an 'after-the-fact' plausible justification to cover-up what Mike Rogers discovered in early 2016, AND the downstream unmasked records that existed in the Obama White House SCIF.
Fusion GPS was not hired in April 2016 to research Donald Trump. The intelligence community was already doing surveillance and spy operations. They already knew everything about the Trump campaign. The Obama intelligence community needed Fusion GPS to give them a justification for pre-existing surveillance and spy operations.
That's why the FBI, and later the Mueller team, are so strongly committed to, and defending, the formation of the Steele Dossier and its dubious content.
Why is the Steele Dossier so important?
From the beginning most people have thought the Fusion-GPS objective was to dig up dirt on Trump for political exploitation. However, with all the recent information outlined there's actually a more significant role for Fusion.
The overall intelligence apparatus of the U.S. government was already conducting political surveillance on their political opposition. The systems of the intelligence apparatus such as FISA-702(16)(17) databases searches were being exploited months (if not years) beforehand.
When NSA Director Admiral Mike Rogers discovered the use of the database he shut down contractor access on April 18th, 2016.
When Fusion GPS was hired by the DNC and Clinton team; also in April of 2016 immediately following the shut-down of FBI contractor access; it now appears the purpose was to provide cover for government surveillance already taking place. Perhaps part of that motive was fear of what NSA Mike Rogers might do.
The Obama administration (U.S. government intelligence apparatus) needed an external source of information that could cover their domestic surveillance and spy operations. That's why Fusion GPS was hired, and why emphasis was put on using European and Australian intelligence contacts to create the plausible process to continue surveillance that was always taking place.

Source: theconservativetreehouse.com
DEEP STATE IN DEEP PANIC: Circular Firing Squad Forming, Crooked Officials Already Hurling Blame at Their Peers (VIDEO)
The deep state is in a total panic and already the former DOJ, FBI and CIA officials are accusing eachother of criminal acts.
Lovebirds Peter Strzok and Lisa Page are blaming Loretta Lynch for the rigging of the Hillary investigation and her server and obstruction of justice.
Bruce Ohr is blaming the DOJ and FBI officials for ignoring his warning about Christopher Steele and the dossier.
Fired FBI chief James Comey is bashing Strzok, Page and Rod Rosenstein on national TV.
Rod Rosenstein if firing back at Comey.
Andrew McCabe is attacking "anyone pretty much with a pulse."
Source: thegatewaypundit.com
---
Geopolitical/Police State
DOJ report: 43% of all offenders last year were non-citizens
 The latest report from the U.S. Sentencing Commission demonstrates that the 800-pound gorilla in the room clogging up the federal criminal justice system is immigration, not "low-level" domestic offenders.
If we only solved our border problem and deported illegal aliens before they commit more crimes, not only would we be safer, but we'd save a ton of money on the federal criminal justice system – without irresponsibly releasing American criminals back into our communities, as proposed by jailbreak proponents.
According to the U.S. Sentencing Commission, in its recently published 2018 report on federal sentencing statistics, 54.3 percent of the 69,425 federal offenders last year were Hispanic, and 42.7 percent of offenders were non-citizens. The two biggest offense categories were immigration (34.4 percent) and drugs (28.1 percent).
Source:  conservativereview.com
DHS Issues Waiver to Expedite Border Wall Projects in California
The Department of Homeland Security (DHS) has issued a waiver, which will ensure expeditious construction of approximately 15 miles of new border wall system in place of dilapidated and outdated designs in the state of California within U.S. Border Patrol's San Diego and El Centro Sectors
The geographic scope of this waiver covers the two areas defined below. These projects will total approximately 15 miles of new border wall system located within these areas (approximately 4 miles in the San Diego Sector and approximately 11 miles in the El Centro sector).

Within the San Diego Sector, starting approximately one mile west of Border Monument 245 and extending east to approximately one mile east of Border Monument 243;
Within the El Centro Sector, starting approximately one and one-half (1.5) miles west of Border Monument 223 and extending east approximately eight miles; and
Within the El Centro Sector, starting at Border Monument 221 and extending east to Border Monument 219.
A couple reports ago we talked about how NY doesn't allow you to transport weapons to shooting ranges or to your other home if you own two, The supreme court has been looking at this and it is completely unconstitutional, John Ratcliffe tweeted out the following
New York City's ban on transporting handguns outside city limits clearly infringes on the constitutional right to bear arms.

I've joined @RepByrne and a coalition of my colleagues to file an amicus brief in support 2nd Amendment rights, as this case heads to the Supreme Court. pic.twitter.com/wcUaTQoWfu

— John Ratcliffe (@RepRatcliffe) May 15, 2019
Joe Biden: Second Amendment Does Not Say You're 'Entitled' to Own a Gun
Former Vice President Joe Biden admitted that the "Second Amendment exists" but stressed during his speech in New Hampshire on Tuesday that it does not say everyone is "entitled" to own a gun.
Biden also spoke about past gun bans he supported. He specifically referenced the 1994 "assault weapons" ban and noted that it also "limited the number of bullets in a clip." Additionally, he spoke about being former President Barack Obama's point man for gun control following the December 14, 2012, attack on Sandy Hook Elementary School.
Source: breitbart.com
Joe Biden's Introduction of Gun-Free School Zones Act Comes Back To Haunt Him
 LEts go back in time.
Joe Biden was responsible for introducing the Gun-Free School Zones Act in 1990.
Charlie Kirk claims that "Biden has done more to allow school shootings than the NRA or any Republican ever has." he tweeted out the folowing

Did you know:

Since 2009, 92% of mass shootings in America have occurred in Gun Free Zones Why do we have gun free zones?

Because in 1990, Joe Biden introduced the Gun Free School zones act

Biden has done more to allow school shootings than the NRA or any Republican ever has

— Charlie Kirk (@charliekirk11) May 13, 2019
Source: bigleaguepolitics.com
As we discussed before inaminate objects do not commit crimes, if a person drives a car into a group of people you don't ban cars, proof of this is in the UK, they have very strict gun laws and everyone says shooting are down, but knife attacks are up
A leading surgeon has warned that the UK's knife crime epidemic is having a "ripple effect" across the National Health Service (NHS), causing operations to be cancelled, delays in seeing patients and strains on ambulance services.
The National Clinical Director for Trauma at NHS England, Professor Chris Moran highlighted the growing problem in comments this week, saying: "there's a large number who've got very serious injuries who need the trauma team, they need admission, they need … intensive care… it means operating time is lost, while we do extra emergency cases."
Khan's London: 500 Knives Seized at Family Court in Just Four Months https://t.co/i37ohRNvJz

— Breitbart London (@BreitbartLondon) May 11, 2019
the British newspaper the Daily Mail, Prof. Moran even said that police had even had to be called to monitor some hospital wards after armed gangs tried to attack patients they had previously injured. He described them as trying to "finish the job" while the victims were in hospital.
The warnings from Prof. Moran come amid rising levels of violent crime across the country. Recent figures by the Office for National Statistics show that violent crime has increased by a staggering 19 per cent in one year. Among the figures was a six per cent rise in knife crime, with 40,829 incidents reported across England and Wales involving a knife or sharp object, an average of 112 every day.

Source: breitbart.com
---
War
State Department pulls employees out of Iraq amid tensions with Iran
The State Department moved Wednesday to evacuate non-emergency personnel from Iraq and urged U.S. citizens not to travel to the country amid heightened tensions with Iran.
"The U.S. State Department has ordered the departure of non-emergency U.S. Government employees from Iraq, both at the U.S. Embassy in Baghdad and the U.S. Consulate in Erbil,"

"Normal visa services at both posts will be temporarily suspended," it added. "The U.S. government has limited ability to provide emergency services to U.S. citizens in Iraq."
Source: thehill.com
Iran officially stops some commitments under nuclear deal – report
Iran has halted some of its commitments under the 2015 nuclear deal with world powers following an order from its national security council
Tehran announced its decision last week, giving world powers 60 days to resolve the issue with the US, which last year unilaterally withdrew from the accord and re-imposed sanctions on the Gulf state. If Iran is not protected from American sanctions, it has vowed to start enriching uranium to a higher level.
Under the nuclear deal signed between Iran and world powers in 2015, Tehran agreed to limit its nuclear activities and was allowed to produce limited amounts of low-enriched uranium and heavy water. The Iranian official said that Tehran is no longer imposing limits on itself for the production of enriched uranium and heavy water.
Source: rt.com