Podcast: Play in new window | Download (Duration: 39:57 — 41.7MB)
Trump and the patriots are working to revitalize the US, they are rushing against the clock. The [CB] is imploding and they are doing everything to keep it from going down before everything is place to transition into the new economy. The housing market is collapsing, it looks like it might be time for the Fed to cut rates. Trump almost has all the players in wants in the Fed to restructure it, the people that he placed in the Fed are all on the same page. After the Mueller report the MSM, [DS] and others are completely freaking out, they are panicking like we have never seen. Those who scream the loudest have the most to lose. The [DS] wants the unredacted report to see who is listed in the ongoing investigations. [RR] is on his way out.  Comey tweets a pic of the forest and then another of new trees growing. The NYT puts out an article about ND and explains that the attic was called the forest. Patriots are in control, next DECLASS.
Check Out The X22 Report Spotlight YouTube Channel X22Report Spotlight
Please check Newzsentinel.com for the latest news on the economic collapse. The Sentinel Alerts are updated throughout the day. If you haven't already, go to "The People" and join the community of people who are helping each through the economic collapse.
---
Current News – 04.19.2019
Watch The X22 Report On Video
---
Economy
---
Political/Rights
Kim Foxx Officials Flee Office After Decision To Drop Charges Against Jussie Smollett
Robert Mueller's report is released to Congress https://t.co/5nkoSgTw06 via @WSJ pic.twitter.com/Xh0zbEjogl

— WSJ Graphics (@WSJGraphics) April 18, 2019
Trump Lashes Out At 'Crazy Mueller Report': 'Fabricated And Totally Untrue'
Anything the Russians did concerning the 2016 Election was done while Obama was President. He was told about it and did nothing! Most importantly, the vote was not affected.

— Donald J. Trump (@realDonaldTrump) April 18, 2019
Paul Sperry tweeted the following
BREAKING: Rep. Nunes maintains that Rosenstein in still-redacted August 2017 "scoping" memo directed Mueller to use the Clinton-funded dossier as the foundation for his investigation. #TheMuellerDossier

— Paul Sperry (@paulsperry_) April 19, 2019
The Mueller report takes 448 pages to essentially corroborate the 250-page Nunes report

— Paul Sperry (@paulsperry_) April 19, 2019
and then we come to find that Mueller had nothing a year into the investigation, Paul Sperry tweeted out the following
BREAKING: Mueller knew he had no collusion case more than a year before the midterm elections, yet kept teasing collusion in court filings throughout the 2018 campaign. Some suggest Mueller had a more Machiavellian plan: swaying the congressional electionshttps://t.co/pA1hrclaP8

— Paul Sperry (@paulsperry_) April 19, 2019
Robert Mueller Interviewed President Trump Six Days After Criminal "Obstruction" Investigation Began…
Source: theconservativetreehouse.com
BUSTED: Big League Politics Speaks To Man Who Tried To Sell Hillary Oppo To Roger Stone, Even Though Mueller Said He Could Not Find Him!
Special counsel Robert Mueller's report claimed that Mueller's office could not locate Alexei Rasin, the Ukrainian who tried to sell supposed Hillary Clinton opposition research to Roger Stone alongside a Russian using the fake name "Henry Greenberg."
Big League Politics located Alexei Rasin and spoke to him by phone. Rasin did not know that he was in the Mueller report. When told that he appeared in the report, Rasin said, "Wow, quite interesting." He declined to be interviewed or to state whether or not Mueller ever contacted him.
Rasin met with Stone in May 2016 alongside Rasin's associate "Henry Greenberg," whose name is Gennadiy Vasilievich Vostretsov and who also goes by "Henry Oknyansky." Greenberg/Vostretsov/Oknyansky was identified by Stone's lawyer as a longtime FBI informant.
Mueller claimed he could not find Rasin during his investigation, even though Rasin has a current condo address in Naples, Florida, a mailbox address in North Miami, and recently appeared pro se in court to file bankruptcy on loans including a loan from the U.S. Department of Education. Rasin's court date occurred in November 2017 while the Mueller investigation was active.
Mueller clearly did not make much of an effort to contact this mysterious figure who tried to sell Clinton research to Stone.
Source: bigleaguepolitics.com
this investigation had nothing to do with Russian collusion,
1. It was a blockade for the corrupt in government
2. It was used to exonerate Clinton, and point the finger at Russia and Wikileaks
3. They were using it to prove obstruction because they knew there was no collusion
The MSM and the DS are in a panic like we never seen before, there entire narrative just went up in smoke and now we are seeing the MSM and the same players trying to spin the Mueller report and others are just screaming loudly, Why are all these people so upset, isn't it a good thing that an American President didn't collude with Russia, they never cared about that, they were protecting themselves. Thats why they are screaming panicking
Ocasio-Cortez Demands New Russia Investigation
Democrat socialist Alexandria Ocasio-Cortez responded to the release of the Mueller report by calling for an entirely new Trump-Russia investigation.
She tweeted the following
Source: newspunch.com
Sara Carter: Deep State DOJ and FBI Operatives are Panicked, Ratting Out Each Other (VIDEO)
Sara Carter and FOX News legal adviser Gregg Jarrett joined Sean Hannity on Thursday night following the release of the Mueller Report.

Sara Carter told Hannity that her sources are telling her the deep state officials in the DOJ and FBI are turning on each other.
When do Birds Sing, in the Spring
PANIC IN DC

[LL]

talking = TRUTH reveal TARMAC

[BC]

?

[LL]

talking = TRUTH reveal COMEY HRC EMAIL CASE?

[LL]

talking = TRUTH reveal HUSSEIN instructions re: HRC EMAIL CASE?

[LL]

talking = TRUTH reveal BRENNAN NO NAME COORD TO FRAME POTUS?

……………..

FISA = START

FISA BRINGS DOWN THE HOUSE.

WHEN DO BIRDS SING?

Q
Sara Carter: There will be indictments. It will be an avalanche and according to the sources I was speaking with just today people are already turning on each other. So we are going to see people, senior officials within the FBI, people within the DOJ, that are going to try to throw their colleagues under the bus just to save themselves. And I think they need to be very concerned about what they did.
Take a listen

Source: thegatewaypundit.com
Rosie O'Donnell And Celebs React To Mueller Report Findings: 'Trump Is F—ed'
Q

!!mG7VJxZNCI

ID: 58bc71

No.2601101


Ex 1.1

(MOS)

/ \

(Alt + US Media) (US Politicians)

/ \

(…………………..)(…………………….)

Those who scream the loudest….

Find the connections.

1:1:1:1

Primary>>AffiliateA>>AffiliateB>>AffiliateC>>

Marching to the same beat?

Coincidence?

Logical thinking.

Q
Dl8fQTCW4AArdi1.jpg
Q

!!mG7VJxZNCI

ID: a22a92

No.4243831

Clapper: If Active Collusion Wasn't Proven, I Think We Have 'A Case of Passive Collusion
Clapper said, "I think, if there wasn't active collusion proven, then I think what we have here is a case of passive collusion, where, in some cases, unwittingly — to include candidate Trump himself, who retweeted messages that had been planted by the Russians in social media, and so, that's a small, but important example of how members of the campaign were used and manipulated by the Russians."
Source: breitbart.com
Maggie Haberman who never got off the train when Q gave her the choice tweeted out the following
The WH is "defined by a president who lies to the public and his own staff, then tries to get his aides to lie for him." https://t.co/DH35jlnmUP

— Maggie Haberman (@maggieNYT) April 19, 2019
Think mirror,just like the DS, CB everything these people are saying is what they have done, they lied to the public, made up sources, had other people lie for them, they know whats coming, but liars only cover up their lies with more lies, they cannot tell the truth because if they do the entire house comes down.
colluded with Russia, Clinton, Mueller, Comey, Obama U1
obstructed justice, comey, changing the wording and protecting HRC,
Clinton deleted emails, bleaching the server
DNC hack blamed on Russia, no FBI investigation to confirm
Spying by using illegal FISA warrants
Guiliani explains what the prosecutors job is, its not to pardon, its not to say the person is innocent, guilianni explains
Rudy Giuliani: Sentence in Mueller report about obstruction 'turns around 2,000 years of law'
Guiliani took issue with the words "if we had confidence after a thorough investigation of the facts that the President clearly did not commit obstruction of justice, we would so state."
"When the hell did a prosecutor ever try to figure out if you didn't do it?" "Prosecutors have to figure out did you do it."
"That turns around 2,000 years of Roman, English and American law, the presumption of innocence," Giuliani added. "He doesn't have to prove his innocence. He doesn't have to prove 'I didn't do it'. When can you prove a negative?"
Source: foxnews.com
Nadler Will Subpoena for Full Unredacted Mueller Report Today
Why does NAdler want the unredacted report, what is he and others looking for, they want to see whos names are listed, are they the ones being investigated
Rep Doug collins tweeted out the following
Yesterday, Chairman Nadler held a press conference to admit he'd only skimmed the report. Now — less than 24 hours after its release — he's rushing to subpoena material that, by law, can't be shared outside @TheJusticeDept. My full statement: pic.twitter.com/XZhplwZTT1

— Rep. Doug Collins (@RepDougCollins) April 19, 2019
---
Geopolitical/Police State
Immigrants Outnumber Americans Who Resettle in California
Source: truepundit.com/
---
War
Trump gave South Korean president message for Kim Jong Un
White House says Trump spoke to Libyan commander Haftar on Monday
The White House said Friday that U.S. President Donald Trump spoke by phone on Monday to Libyan military commander Khalifa Haftar and discussed "ongoing counterterrorism efforts and the need to achieve peace and stability in Libya."
The statement said Trump "recognized Field Marshal Haftar's significant role in fighting terrorism and securing Libya's oil resources, and the two discussed a shared vision for Libya's transition to a stable, democratic political system."
Source: dailystar.com.lb
---
Q
Anons believe they narrowed down where this pic was taken,   Seal Beach which is near the port of Long Beach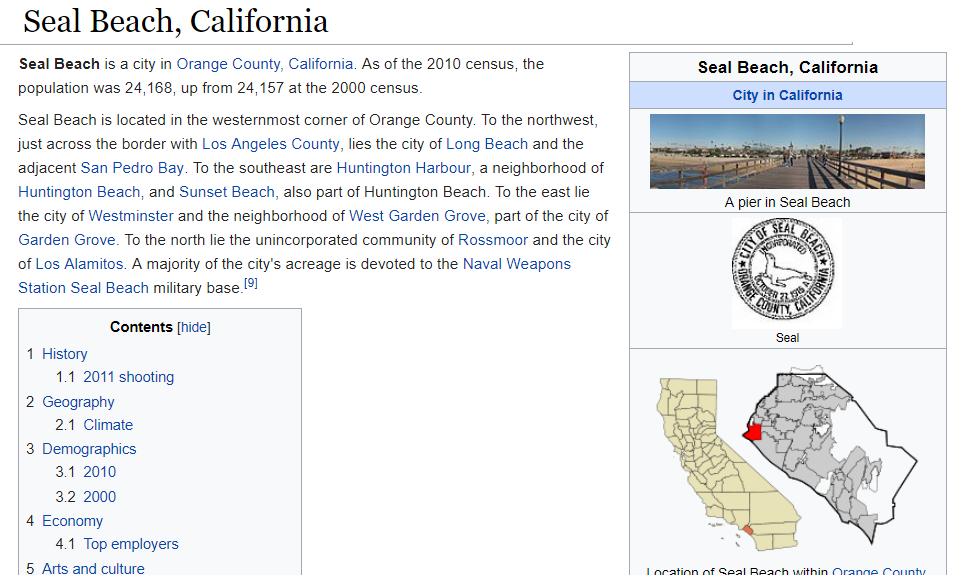 ---