Podcast: Play in new window | Download (Duration: 1:02:53 — 65.6MB)
European car sales fall again, this is the 5th month in a row. Europe is in trouble, the recession is hitting. Trump and Xi are very close to making a trade deal, but this is much more than a trade deal, this is a deal to bring down the [CB] system and to take care of the debt the [CB] enslaved us with. Foreign countries are now dumping treasuries, the foreign market is shrinking and the domestic market is growing.  Jussie Smollett was caught in his own hoax, the truth is now coming out. McCabe let the truth out about the coup d'etat that was planned, now Mueller and the rest are panicking. Schiff signals that they need to take over the Mueller investigation, others are saying that Schiff must recuse himself because he had dealing with the dossier creator.  It is being reported that Heather Nauert is now declining the offer to become the UN Ambassador. Q dropped more bread, the [DS] fell right in to the trap, Trump moves forward with the wall. The Truth is now overshadowing the propaganda, more to come.
Check Out The X22 Report Spotlight YouTube Channel X22Report Spotlight
Please check Newzsentinel.com for the latest news on the economic collapse. The Sentinel Alerts are updated throughout the day. If you haven't already, go to "The People" and join the community of people who are helping each through the economic collapse.
---
Current News – 02.17.2019
Watch The X22 Report On Video
---
Economy
In keeping with the global stagnation that has enveloped the auto industry, the latest EU/EFTA vehicle registration data paints an ominous picture to start 2019 in Europe, where passenger car registrations dropped 4.6% year over year and sales declined in all of largest markets in Germany, France, the U.K., Italy and Spain.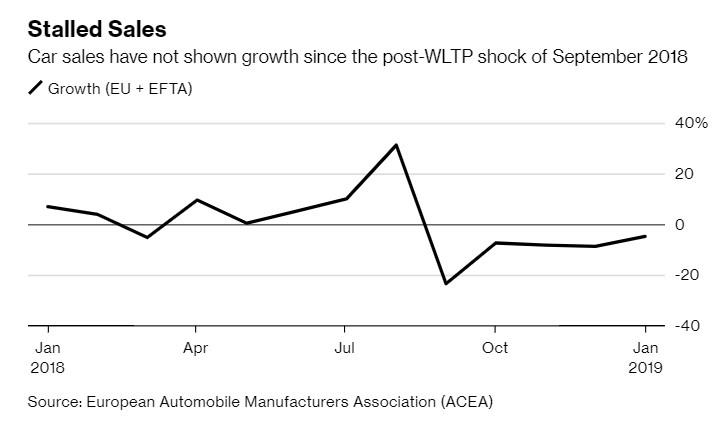 .
Here's how the data looked on a per manufacturer basis:
VW Group sales drop 6.4% y/y; ytd down 6.4%
PSA Group sales drop 2.3% y/y; ytd down 2.3%
Renault Group sales drop 0.9% y/y; ytd down 0.9%
Ford sales drop 6.6% y/y; ytd down 6.6%
FCA Group sales drop 14.9% y/y; ytd down 14.9%
BMW Group sales drop 3.1% y/y; ytd down 3.1%
Daimler sales drop 1.5% y/y; ytd down 1.5%
Toyota Group sales drop 6% y/y; ytd down 6%
Nissan sales drop 24.7% y/y; ytd down 24.7%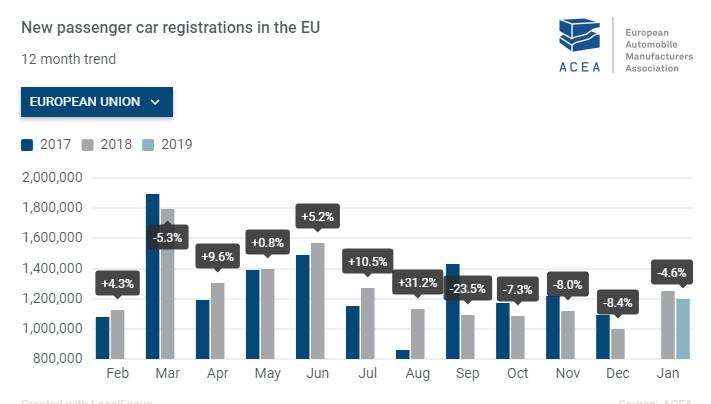 Leading the global malaise in the auto market has been China, which is set to report January sales numbers this coming Monday. That report should give clarity as to whether or not China has turned the corner, or is continuing at the anemic pace with which it ended 2018.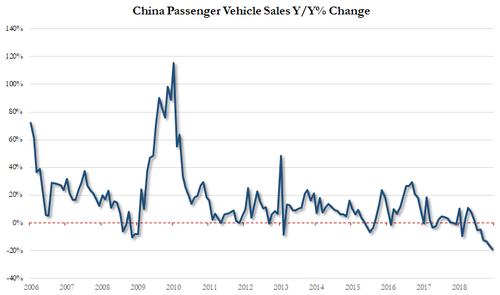 Source: zerohedge.com
Trump has tweeted out the following in regards to the the China trade deal.
Trade negotiators have just returned from China where the meetings on Trade were very productive. Now at meetings with me at Mar-a-Lago giving the details. In the meantime, Billions of Dollars are being paid to the United States by China in the form of Trade Tariffs!

— Donald J. Trump (@realDonaldTrump) February 17, 2019
Important meetings and calls on China Trade Deal, and more, today with my staff. Big progress being made on soooo many different fronts! Our Country has such fantastic potential for future growth and greatness on an even higher level!

— Donald J. Trump (@realDonaldTrump) February 17, 2019
  US Treasury bonds have become increasingly unattractive to foreign buyers.
 to underscore just how low yielding US paper is on an FX-hedged basis, we showed that in a world in which there is still approximately $8 trillion in negative yielding debt, the debt instrument which has the lowest, FX-adjusted yields is… the 10Y US Treasury!
foreign holdings of US Treasurys have been declining in recent years, and dropped to just over 36% as a percentage of total holdings, the lowest in over a decade, as domestic holdings of US paper have risen to just shy of 50%, and near all time highs.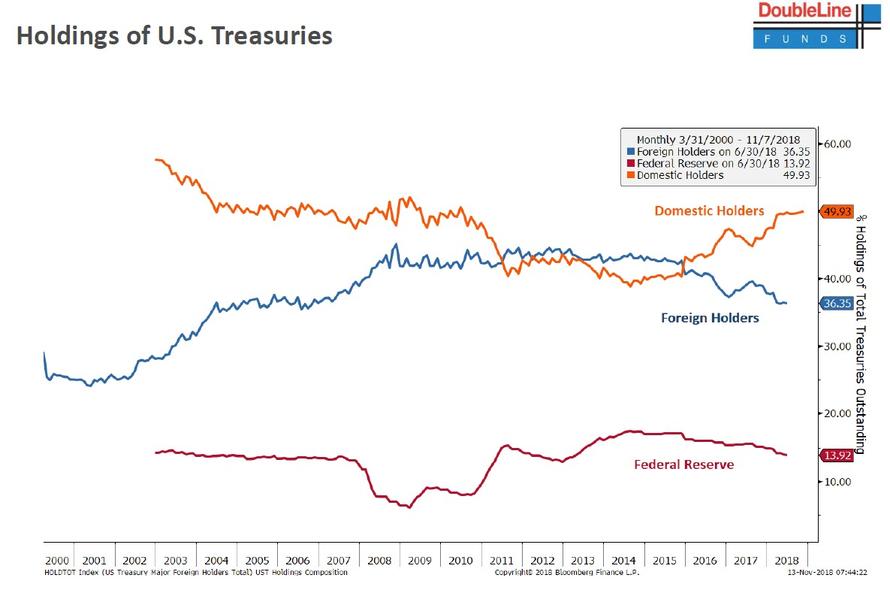 Foreign investors dumped over $77 billion in US treasuries in December – the most on record –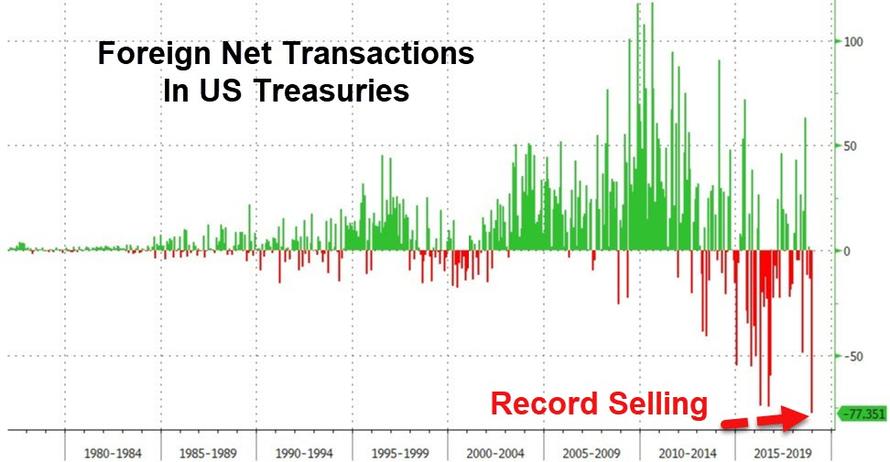 The big sellers were France, Brazil, and Germany:
Source: zerohedge.com
---
Political/Rights
Nigerian Bros Purchased the Rope Found Around Jussie Smollett's Neck at Ace Hardware – Claim Smollett Paid Them to Orchestrate Attack
Jussie Smollett alleged two white Trump supporters violently attacked him at 2 AM in the streets of Chicago when he was walking home from Subway with a sandwich in his hand
Smollett told police the attackers were white and hurled homophobic and racial slurs at him while they beat him, poured bleach on him then put a noose around his neck.
Strangely, Mr. Smollett still had the rope around his neck when the police arrived to his apartment to take a report of the attack.
According to Rafer Weigel, the Nigerian brothers agreed to cooperate with police after the police threatened to charge them with battery.
"There are unconfirmed reports that Smollett paid the two brothers to perform the alleged scheme," Rafer Weigel reported.
Fox 32 reporter Rafer Weigel said Saturday afternoon that Chicago police sources confirmed detectives were able to show that the Nigerian brothers who were "persons of interest" and questioned by police, bought the rope found around Jussie Smollett's neck at Ace hardware.
Abimbola 'Abel' (left), 25, and Olabinjo 'Ola' Osundairo (right) are the Nigerian brothers questioned in the Jussie Smollett case. (Daily Mail)

CWB, a local Chicago crime blog is reporting the Nigerian brothers, who appeared as extras on the show 'Empire' may have flipped on Jussie Smollett.
It was reported Friday that Jussie Smollett hired high-powered criminal defense attorney Michael Monico. Mr. Monico also represents Michael Cohen.
According to reports, police released the Nigerian brothers based on "new evidence" in the case — detectives are also analyzing a bottle of bleach seized from Jussie Smollett's apartment.
Source: thegatewaypundit.com
Donald Trump Jr. tweeted out the following
Shocked, I really thought MAGA folks (who are all over downtown Chicago) were waiting with a rope/bottle of bleach to ambush a righ guy at 2am in minus 4 degrees because those are conditions where all people go out for Subway rather than order Seamless.
Seemed so real🙄🙄🙄 https://t.co/E4z9aaX5v1

— Donald Trump Jr. (@DonaldJTrumpJr) February 17, 2019
Mueller Panics After McCabe Admits to Deep State Coup to Remove Trump — Recycles Debunked Roger Stone Smear
Fired Deputy FBI Director Andrew McCabe said  that top officials at the Department of Justice and FBI discussed recruiting cabinet members to push President Trump out of office.
McCabe, James Comey, Rod Rosenstein and the top officials at the DOJ were actively strategizing how to remove the duly elected President of the United States.
In third world banana republics they call this a coup d'etat.
Treason is punishable by death in the United States.
In response to this news the Mueller team re-released debunked smear on Roger Stone.
They wanted to change the story
Mueller deep state hacks re-released documents on Friday they claim shows that Roger Stone was communicating with Wikileaks.
Julian Assange and Wikileaks DENIED ANY COLLUSION with Roger Stone, Donald Trump Jr., Jerome Corsi, Michael Flynn, or any other Trump official during the 2016 election.
And late last night Roger Stone responded saying the Friday report was a recycled report on innocuous Twitter direct messages that were already fully disclosed to House investigators.

The Mueller deep state  just wanted to change the subject.
Source: thegatewaypundit.com
 Rep. Adam Schiff (D-CA) hinted that he would not accept the findings of special counsel Robert Mueller as the end of the investigation into President Donald Trump and Russia.

Schiff, "We're going to have to do our own investigation, and we are. We'll certainly be very interested to learn what Bob Mueller finds. We may have to fight to get that information.
Source: breitbart.com
Maria Bartiromo tweeted out the following
Happening now: "We now find that Adam Schiff met was Glenn simpson last year. Why did he fight telling us who paid for the dossier. He shd hold himself to same standard. He shd recuse himself from russia probe" – @GOPLeader @SundayFutures @FoxNews @kevinomccarthy

— Maria Bartiromo (@MariaBartiromo) February 17, 2019
---
Geopolitical/Police State
"The past two months have been gruelling for my family and therefore it is in the best interest of my family that I withdraw my name from consideration," Nauert said in a State Department statement.
The statement did not specify the hardship on her family but the Washington Post said Nauert's husband and children had remained in New York while she was working in Washington.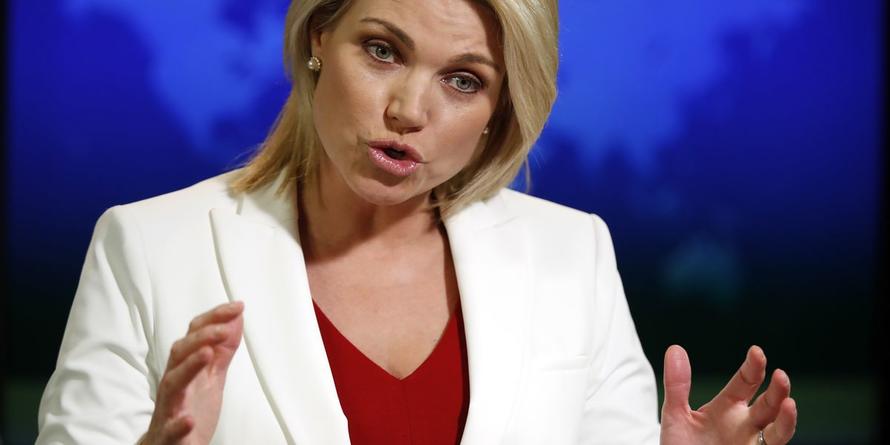 The State Department confirmed another nominee would be announced "soon".
Source: zerohedge.com
Yellow Vests Movement Protest in France for 14th Week
The yellow vests are rallying for the fourteenth straight weekend in Paris and other major French cities on 16 February.
Source: sputniknews.com
Macron Govt: 8,400 Yellow Vest Protesters Arrested Since Movement Began
The French Interior Ministry has announced that around 8,400 Gilets Jaunes (Yellow Vest) protestors have been arrested since November,
Over a three-month period, the French authorities have arrested around 8,400 Yellow Vests, of which 7,500 were placed into police custody according to new figures released by French Interior Minister Christophe Castaner, Le Figaro reports.
Source: bretibart.com
Haiti continues to be gripped by civil unrest and mass protests demanding that President Jovenal Moise step down over charges of corruption and and rampant inflation under his watch  . Starting Thursday the US State Department urged all American citizens out of the country and issued a no-not-travel advisory due to "crime and civil unrest".

Source: zerohedge.com
Q

!A6yxsPKia.

ID: 32060e

No.2538955


HRC has taken a number of villages from Haiti

DXp07zWVoAA9o7d.jpg

>>2538860
Re_read drops re: Haiti.
At some point it will not be safe for them to walk down the street.
PURE EVIL.
HOW MANY IN WASHINGTON AND THOSE AROUND THE WORLD (IN POWER) WORSHIP THE DEVIL?
Conspiracy?
Fake News?
The World is WATCHING.
Q
SA [ACCESS] CLOSED.
EPSTEIN ISLAND [ACCESS] CLOSED.
HAITI [ACCESS] CLOSED.
NK [ACCESS] CLOSED.
CHINA [ACCESS] CLOSED.
RUSSA [ACCESS] CLOSED.
CUBA [ACCESS] CLOSED.
SUDAN [ACCESS] PENDING [GOV'T][SA US PUSH]
SYRIA [ACCESS] PENDING [GOV'T]
YEMEN [ACCESS] PENDING [GOV'T][SA US PUSH]
LIBYA [ACCESS] PENDING [MAIN PORT CLOSED][LIMITED]
SOMALIA [ACCESS] PENDING [SA US PUSH]
Q
---
War
US Expected to Pull 1,000 Troops From Afghanistan in 'Efficiency Effort'
Syria accuses US of transporting its captured gold
Syrian state-run news agency SANA has cited local sources as saying that US forces have used helicopters to transfer large boxes full of the "spoils" of Daesh* terrorists from the al-Dashisha area in Hasaka province's southern countryside.
The sources claim that the boxes contained huge amounts of gold that the terrorist group had safely stored east of al-Shadadi city — an account, which, as SANA stresses, corresponds with other reports that Daesh had transported some 40 tonnes of gold bullions stolen from Mosul in Iraq and other areas in Syria to al-Dashisha.
Source: almasdarnews.com
---
Q
DHS official: Border security bill does not contain 'amnesty' poison pills

major alleged "poison pill" that may be misunderstood is a clause requiring the federal government to "confer and seek to reach mutual agreement" with local governments before building any wall.

The Center for Immigration Studies, which favors lower immigration levels, tweeted that "the spending bill would give local governments in the Rio Grande (all of which are *heavily* Democratic) the ability to veto the fence. If those blue municipalities don't agree with DHS, the fence can't get built."

But the DHS official told Fox News on background that the exact language in the budget — "confer and seek to reach mutual agreement" – nowhere requires the federal government to actually reach an agreement before building fences.

Rather, it just requires DHS to consult with local governments – something DHS already generally does, the official noted.

Be careful who you follow.

Q
DZDsPa1U0AEa8sy.jpg

The tweet says the following

After declaring a national emergency, President @realDonaldTrump is briefed by U.S. Army Chief of Engineers, Commanding General Ltg. Todd T. Semonite on the status to date of the border wall – and all future construction, to begin along the southern border…

The pic shows the army chief of engineers working with trump

Army Chief of Engineers?

ALL 'FUTURE' CONSTRUCTION?

How long have Anons known?

FAKE NEWS attacking us daily?

D's are predictable (stupid).

Nothing to See Here.

Q
This is a video showing how trump battles the fake news media, the original video was taken down, Trump retweeted CarpeDonktum video, there were complaints because REM's song 'Everybody Hurts' was used in the video and they said it was copyright violation,so Carpe Donktum created this new one.

On the daily.

Q
Anonymous

An anon put up a tweet by Devin Nunes

2121132321.jpg

This brings us to post 2043, where Q is talking about LL and what she did to help create a russian collusion story

DybBmI9UYAAWF2s.jpg

>>5208844

You have more than you know.

Why did

[LL] [ATTORNEY GENERAL OF THE UNITED STATES]

grant 'special entry' to Natalia Veselnitskaya (Don Jr. 'set up' meeting)?

So lets go back in time, this part is from the hil

l

DOJ let Russian lawyer into US before she met with Trump team

The Russian lawyer who penetrated Donald Trump's inner circle was initially cleared into the United States by the Justice Department under "extraordinary circumstances"

This revelation means it was the Obama Justice Department that enabled the newest and most intriguing figure in the Russia-Trump investigation to enter the country without a visa called immigration parole


Why was [NV] barred from entering prior to?

 Veselnitskaya applied for a visa to represent her client back in Oct 2015, this is way before the Presidential election, her client was Denis Katsyv, the owner of Prevezon holdings, this company was being sued by US government. The visa was deniedVeselnitskaya, however, wasn't admitted into the U.S. in June 2016 because of her role in the Prevezon case. In fact, then U.S. Attorney Preet Bharara of Manhattan specifically refused Veselnitskaya's request that the Justice Department authorize her trip via a mechanism known as immigration parole, which allows the attorney general to temporarily suspend immigration requirements on a case-by-case basis.

Out of Reuters : Bharara's office has recommended immigration paroles for Veselnitskaya on three occasions, when her client, Katsyv, was being deposed in the U.S. in the Prevezon case. But in March 2016, Bharara's office said no. In a letter to Prevezon's U.S. lawyers, prosecutors said such paroles aren't appropriate for foreign lawyers asking to help U.S.counsel prepare for appellate arguments or to attend appellate proceedings. "Since neither Katsyv nor Veselnitskaya are required to appear as witnesses in person at this stage of proceedings, we do not believe that immigration parole is appropriate," After she was denied many times and she wasn't required to appear as witnesses in person why did LL allow her in.

If you have no real evidence of 'Russian Collusion' you must attempt to manufacture.
Q
Lynch allowed NV to enter US, this stage was set, the meeting place, time was coordinated, the tower was bugged, all to set up Don Jr. at Trump Tower mtg. As Q says if there is no russian collusion what do you need to do, you need to manufacture one.   The FISA warrants were all used to spy on the Trump administration or those associated with Trump not foreign individuals, FVEYS was also used. 
 The targets who were illegally spied on by the Obama administration allowed Trump's enemies to spy on the entire campaign. The targets were referred for prosecution by Mueller which prevented them from publicly discussing the methods used to spy on them.
Tweet says the following, Another one in Jersey City NJ

This is a pic of bus stop with WWG1WGA sprayed on it

Bigger than you realize.

  people are waking up to the TRUTH every day.

Purpose of FAKE NEWS attacks (slow growth/reach).

to stop the movement or slow it

Q
This tweet is the letter Q on the doors of the Scottish Parliament

Similar to below?, Q gives us a link to youtube, this is the movie V, Q is letting us know this is the same type of movement, The media puts out propaganda with the help of the clowns, V is spreading the truth for all to see

https://www.youtube.com/watch?v=KKvvOFIHs4k📁

Q
https://www.breitbart.com/the-media/2019/02/16/networks-refuse-cover-senates-no-russia-collusion-report/📁

Nolte: Networks Refuse to Cover Senate's 'No Russia Collusion' Report

How do you know when the media is biased and pushing a knowingly false (fake) narrative?
Disinformation campaign designed to buy 'them' more time by attempting to 'con' enough people in order to remove the duly elected POTUS in order to 'save' themselves from prosecution.
Enemy of the People.
Q
"But the Lord is faithful, and he will strengthen you and protect you from the evil one." – 2 Thessalonians 3:3
"God is our refuge and strength, an ever-present help in trouble." – Psalm 46:1
"And lead us not into temptation, but deliver us from the evil one." – Matthew 6:13
Q
Former top FBI lawyer: 2 Trump Cabinet officials were 'ready to support' 25th Amendment effort

Information waterfall.
Buckle up!
[Traitors]
Q
Q responds to the anon who wrote the following

Former top FBI lawyer: 2 Trump cabinet officials were 'ready to support' 25th Amendment effort

Former top FBI lawyer James Baker, in closed-door testimony to Congress, detailed alleged discussions among senior officials at the Justice Department about invoking the 25th Amendment to remove President Trump from office, claiming he was told Deputy Attorney General Rod Rosenstein said two Trump Cabinet officials were "ready to support" such an effort.

During his testimony, Baker acknowledged he was not directly involved in the May 2017 discussions but testified over a two-day period in October that McCabe and Page came to him contemporaneously after meeting with Rosenstein for input in the days after Comey was fired by the president.

They were removed.
When was Page removed from the investigation?
What month?
July 2017? (Early)
When was Scaramucci hired?
July 2017? (Late)
Re: the 'Scaramucci' model
5:5?
Those who left (majority) did not have a choice.
ALL remained pro MAGA and loyal to POTUS?
Why are we attacked by pro MAGA?
The 'establishment' runs deep.
Logical thinking.
Q
Carter Page would have been prosected by Mueller, but investigators were looking at the FISA applications, if Mueller proceeded it would have brought the DS methods in the public spotlight
https://www.whitehouse.gov/briefings-statements/president-donald-j-trumps-border-security-victory/📁

President Donald J. Trump's Border Security Victory

SECURING OUR BORDER: President Donald J. Trump is following through on his promise to secure the border with legislation and Executive action.

The funding bill contains robust resources and additional provisions to secure the border and strengthen immigration enforcement.

T

he bill provides $1.375 billion for approximately 55 miles of border barrier in highly dangerous and drug smuggling areas in the Rio Grande Valley, where it is desperately needed.

$415 million will go toward addressing the humanitarian crisis at the border by providing medical care, transportation, processing centers, and consumables.

President Trump successfully rejected efforts by some to undercut Immigration and Customs Enforcement's (ICE) ability to uphold our laws and detain illegal aliens, including criminals.

ICE funding supports nearly 5,000 additional beds to detain illegal aliens and keep criminals off our streets.

Customs and Border Protection will receive funding for 600 additional officers.

This bill will help keep deadly drugs out of our communities by increasing drug detection at ports of entry, including opioid detection staffing, labs, and equipment.

Including funding in Homeland Security appropriations, the Administration has so far identified up to $8.1 billion that will be available to build the border wall once a national emergency is declared and additional funds have been reprogrammed, including:

About $601 million from the Treasury Forfeiture Fund

Up to $2.5 billion under the Department of Defense funds transferred for Support for Counterdrug Activities (Title 10 United States Code, section 284)

Up to $3.6 billion reallocated from Department of Defense military construction projects under the President's declaration of a national emergency (Title 10 United States Code, section 2808)

ADDRESSING THE CRISIS AT HAND: President Trump is taking the necessary steps to address the crisis at our Southern Border and stop crime and drugs from flooding into our Nation.

Cartels, traffickers, and gangs, like the vile MS-13 gang, have taken advantage of our weak borders for their own gain.

Immigration officers have made 266,000 arrests of criminal aliens in the last two fiscal years.

This includes aliens charged or convicted of approximately 100,000 assaults, 30,000 sex crimes, and 4,000 killings.

Tons of deadly drugs have flooded across the border and into our communities, taking countless American lives.

Statement by the President

Today, I have signed into law H.J. Res. 31, the "Consolidated Appropriations Act, 2019" (the "Act"), which authorizes appropriations to fund the operation of a number of agencies in the Federal Government through September 30, 2019.

Q
An anon responds to Qs post 2746 with the following

>>5218735

Q !!mG7VJxZNCI No.443 📁

Nov 10 2018 12:44:56 (EST)

The 'Scaramucci' Play

Temp hire to remove embedded 'untrustworthy' staffers?

>Spicer

>Priebus

Temps can be very dangerous to those who are targeted.

Think Whitaker.

[NEXT WEEK]

Q responds to the anon with post 2468
Anonymous

An anon put up a part of the briefing statement by the president, here is the part

Screenshot_2019-02-16 Statement by the President The White House.png

So all restrictions are off?

This is the interesting part  My Administration will make appropriate efforts to notify the relevant committees before taking the specified actions and will accord the recommendations of such committees all appropriate and serious consideration, but it will not treat spending decisions as dependent on the approval of congressional committees.

>>5219066

Trust your President!

Q
Trumps statement is brilliant Deep State loaded the bill with multiple facets to block it and his white house statement just released systemically points out section by section where they tried to block him and he's countering that by citing presidential and constitutional authority.

Shall we play a game?

#WWG1WGA #Qanon #PATRIOTS #TheGreatAwakening
The DS loaded the bill with landmines, Trump said they were looking for landmines so they could counter each one
>>5219223

I trust Potus

And I trust the LORD.

The Lord is leading Potus, of that I'm certain.

The Lord is leading us all.
Good v Evil
Q
An anon responds to Q when Q posted the two links of the Presidents statement and border security victory

These phrases below imply that Trump plans on following his constitutional rights no matter what he signed iin the "Consolidated Appropriations Act, 2019" (the "Act"), which authorizes appropriations to fund the operation of a number of agencies in the Federal Government through September 30, 2019.

"My Administration will treat each of these provisions consistent with the President's constitutional authorities with respect to foreign relations."

And

"my Administration will continue the practice of treating provisions like these as advisory and non-binding."

And

"My Administration will make appropriate efforts to notify the relevant committees before taking the specified actions and will accord the recommendations of such committees all appropriate and serious consideration, but it will not treat spending decisions as dependent on the approval of congressional committees."

You are the news now.
Q
So lets talk about the border and Trump, Q and the other Patriots were able to do to put one over on the DS, #winningbigly
First Thebradfordfile tweeted out the following
Carter: The border is a crisis.

Reagan: The border is a crisis.

Bush 41: The border is a crisis.

Clinton: The border is a crisis.

Bush 43: The border is a crisis.

Obama: The border is a crisis.

Trump: I declare a national emergency!

Democrats: What crisis?

— thebradfordfile™ (@thebradfordfile) February 16, 2019
During Trumps press conference Acosta from CNN tried to use stats to show why the border crisis is not an emergency, Trump did not fall for it, he shut Acosta down.  CNN continued using stats while talking to former border patrol chief, the border patrol chief shut down CNN stats. take a listen
We know that trump is not just fighting the Dems DS but the DS is all in the republican party along with the neocons and many others, mark meadows said the following
Mark Meadows says renegade GOP lawmakers will fail to derail Trump's border emergency
Given Congress will try to block this executive action, I'm seeing speculation Congress could override a POTUS veto w/ GOP votes. They will not. The votes will not be there. There is broad GOP + American support for POTUS taking legal, constitutional action to protect families.

— Mark Meadows (@RepMarkMeadows) February 15, 2019
Source: washingtonexaminer.com
President Trump is using Barack Obama's previous national emergency on Mexican drug cartels to get funding for the border wall.
Via Law and Crime:
As it turns out, back in 2011 then-President Barack Obama issued an executive order "blocking property of transnational criminal organizations organizations." Obama cited his authority as granted through the Constitution to invoke the International Emergency Economic Powers Act, 50 U.S.C. 1701, and the National Emergencies Act, 50 U.S.C. 1601. The latter is the same legislation that Trump is citing to get funding for the wall to achieve his immigration reform goals. That executive order targeted a number of criminal organizations, including the Mexican Los Zetas cartel, an ally of the MS-13 gang President Trump has regularly called out as a danger to Americans.

"Drugs, gangs and people — an invasion," Trump said on Friday. "We have an invasion coming into this country."

Trump all but thanked his predecessor on Friday.

"We may be using one of the national emergencies that [Obama] signed having to do with criminal cartels… it's a very good national emergency… we're going to be using parts of it," he said.
Source: thegatewaypundit.com
Trump Wipes Out Passages In New Spending Bill That Conflict With His Authority
It seems the president is saying in this announcement that those passages in the spending bill he signed that restrict his authority are null and void because they interfere with executive functions under the constitution. He has probably gotten legal advice to this effect.
Source: investmentwatchblog.com
President Trump's Emergency Declaration Is Much Less Radical Than TDS Sufferers Are Claiming
The WH did not make one executive action. In reality they made three, only one of which involved an emergency declaration.
First the WH announced they would be funding $601 million in wall construction from the Treasury Forfeiture Fund, relying on 31 U.S.C. § 9705. This does not require an emergency declaration.

Second, the WH announced they would be funding $2.5 billion in wall construction under 10 U.S.C. § 284 (this is MilCon $ for combating drug trafficking). This does not require an emergency declaration.

Finally, the WH announced they would be funding $3.6 billion under 10 U.S.C. § 2808. This money does require an emergency declaration.
According to the WH this money will be spent sequentially so the § 9705 money will be spent first then the § 284 money then the § 2808 money. 6/
So depending on how fast they can begin construction, they will have to spend over $5 billion (including the $1.3 billion in fencing appropriations) before any of the emergency money is ever tapped 7/
Source: redstate.com
So while the DS is distracted with their lawsuits, Trump and team will begin building the wall because he has the funds to do this, the DS has lost, the wall is being built and their is nothing that can stop it.
Take a listen to the following tweet by teaboots, the message is clear
---
Uncensored