Podcast: Play in new window | Download (Duration: 44:41 — 46.1MB)
Theresa May is trying to sell the plan to the people and they will do everything and anything to make the people back her for the unfinished plan. Mortgage application plummet, interest rates are rising and people are being bumped out of the market, this will not end well. The MSM is pushing back at Trump, and trying to project why the Fed needs to be around and why the Fed should be independent. SWIFT caves and shuts-down payment to Iran. This shows control over the central bankers. The elections went as planned, it was not about getting the house and senate it was about getting the senate, the investigations are complete, they are now in the hands of the senate, the FISA declas will bring down the house. The deep state is in a panic, this is not what they thought was going to happen, they believe they have the control in the house but this will be short lived. Stay strong, fight, fight, fight.
Check Out The X22 Report Spotlight YouTube Channel X22Report Spotlight
Please check Newzsentinel.com for the latest news on the economic collapse. The Sentinel Alerts are updated throughout the day. If you haven't already, go to "The People" and join the community of people who are helping each through the economic collapse.
---
Current News – 11.07.2018
Watch The X22 Report On Video
---
Economy
It sounds like Theresa May and her cabinet are putting the cart before the horse.
  May's leadership team has decided to skip the hard part and start formulating a plan to sell the deal – whatever that might be. 
  May will  try to sell the deal, May and her top officials plan to stress a strategy of "measured success", according to the BBC, which reportedly saw a copy of May's government's plan to market the deal.
"The narrative is going to be measured success, that this is good for everyone but won't be all champagne corks popping."
The plan relies on endorsements from foreign leaders like Japanese Prime Minister Shinzo Abe, as well as a flurry of corporate endorsements, to help shore up support before May shares the details of the deal in a speech to the CBI, one of the UK's biggest and most influential business groups. The campaign strategy will culminate with an all-out blitz on the evening of the vote, expected late this month, demanding that lawmakers put their own agendas aside and put the country's interests first.
Of course, no matter the text of the deal, Parliament still has the power to send negotiators back to square one which, this late in the game, would almost certainly lead to a "no deal" Brexit. T
Source: zerohedge.com
With purchase applications tumbling alongside the collapse in refinancings, the headline mortgage application data slumped to its lowest level since September 2000 last week.
This should not be a total surprise as Wells Fargo's latest results shows the pipeline is collapsing – a forward-looking indicator on the state of the broader housing market and how it is impacted by rising rates, that was even more dire, slumping from $67BN in Q2 to $57BN in Q3, down 22% Y/Y and the the lowest since the financial crisis.
Sparking further weakness in the housing market…
And absent Xmas weeks in 2000 and 2014, this is the weakest level of mortgage applications since September 2000…
What these numbers reveal, is that the average US consumer can barely afford to take out a new mortgage at a time when rates continued to rise – if not that much higher from recent all time lows.

 the weakening housing market is similar to the last market high, just before the subprime housing bubble burst a decade ago.
Source: zerohedge.com
Trump's Fed bashing is wrong. But should the Fed be entirely independent?
President Trump has publicly and harshly rebuked Federal Reserve Board Chairman Jerome H. Powell for what the president regards as misguided interest-rate increases that threaten continued economic expansion. As with much of what Trump says and does, this way of doing business is counterproductive — irrespective of whatever merit his underlying position may have.
No self-respecting central banker can be seen as yielding to pressure from a politician facing a difficult election. A central bank that appears subservient to political concerns will rapidly lose credibility in the markets, resulting in increases in inflation expectations and rising long-term interest rates.    Fed bashing is a fool's game —
there is a need for pragmatism regarding the independence of central banks. It is important they resist the kind of pressure for inflationary policy that Trump has recently engaged in.
The point is not that central banks should be made more subject to political pressure. That is Trump's bad idea. It is that, as their activities expand beyond pure monetary policy, there will be a need for coordination between the banks and elected government.
Source: washingtonpost.com
Shortly after Trump reimposed nuclear sanctions on Tehran on November 5, the international financial messaging system SWIFT announced the suspension of several Iranian banks from its service. "In keeping with our mission of supporting the resilience and integrity of the global financial system as a global and neutral service provider, SWIFT is suspending certain Iranian banks' access to the messaging system," SWIFT said.
The Belgium-based financial messaging service added:
"This step, while regrettable, has been taken in the interest of the stability and integrity of the wider global financial system."

Source: zerohedge.com
---
Political/Rights
Trump, with a wink, endorses Pelosi for House speaker
President Donald Trump on Wednesday enthusiastically threw his support behind Nancy Pelosi in her bid to once again become House speaker,
 Trump — have long used Pelosi as a bogeyman to rile up their base on the campaign trail.
Trump tweeted out the following
In all fairness, Nancy Pelosi deserves to be chosen Speaker of the House by the Democrats. If they give her a hard time, perhaps we will add some Republican votes. She has earned this great honor!

— Donald J. Trump (@realDonaldTrump) November 7, 2018
Source: politico.com
---
Q
We won't telegraph our moves to the

ENEMY

.

We will however light a FIRE to flush them out.

Q
FISA

FISA

FISA

[20]

Public disclosure.

Impossible to defend.

ILLEGAL.

Re: MSM

"Never Interfere With an

Enemy

While He's in the Process of Destroying Himself."

Q
POTUS AF1 [RR] > An enemy who feels safe [& in control] is an enemy who…..Q
https://twitter.com/realDonaldTrump/status/1060022696703070208📁

We got what we needed.

Thank you, Patriots!

Senate means everything.

Think Judges (SC) & Cabinet.

DECLAS overrides all potential House blockades.

POTUS has ultimate authority.

Shift to Senate Judiciary (oversight) from House to now occur (stronger position and held in reserve for this scenario).

Lower chamber (House) used as 2-year starter.

Upper chamber (Senate) will be used next 2-year closer.

https://www.judiciary.senate.gov/about/jurisdiction📁

Military planned.

No impact re: ongoing investigations

Team is stronger

[PRO]

.

Q
Tremendous success tonight. Thank you to all!

— Donald J. Trump (@realDonaldTrump) November 7, 2018
Jurisdiction
In addition to its critical role in providing oversight of the Department of Justice and the agencies under the Department's jurisdiction, including the Federal Bureau of Investigation, and the Department of Homeland Security, the Judiciary Committee plays an important role in the consideration of nominations and pending legislation.
Executive nominations for positions in the Department of Justice, Office of National Drug Control Policy, the United States Parole Commission, the United States Sentencing Commission, and the State Justice Institute, as well as select nominations for the Department of Homeland Security and the Department of Commerce are referred to the Senate Judiciary Committee.
The Judiciary Committee is also charged with the consideration of all Article III judicial nominations.  These include Supreme Court nominations, appellate court nominations, and district court nominations.  The Committee also considers nominations to the Court of International Trade.
In addition to its role in conducting oversight and consideration of nominations, the Senate Judiciary Committee also considers legislation, resolutions, messages, petitions, memorials and other matters, as provided for in the Standing Rules of the Senate.  These areas include:
Apportionment of Representatives
Bankruptcy, mutiny, espionage, and counterfeiting
Civil liberties
Constitutional amendments
Federal courts and judges
Government information
Holidays and celebrations
Immigration and naturalization
Interstate compacts generally
Judicial proceedings, civil and criminal, generally
Local courts in territories and possessions
Measures relating to claims against the United States
National penitentiaries
Patent Office
Patents, copyrights, and trademarks
Protection of trade and commerce against unlawful restraints and monopolies
Revision and codification of the statutes of the United States
State and territorial boundary lines
Do you believe in coincidences?

Which (2) House members ran the investigations re: DOJ/FBI etc.?

https://judiciary.house.gov/press-release/goodlatte-gowdy-reach-agreement-with-the-department-of-justice/📁

Gowdy resignation.

What role did he play re: House investigations?

House Oversight and Government Reform Committee Chairman

Goodlatte resignation.

What role did he play re: House investigations?

House Judiciary Chairman

House >>> Senate

House >>> Senate

House >>> Senate

TRUST GRASSLEY

Senate Judiciary Chairman

[House of Cards]

Military planning at its finest.

Q
Goodlatte, Gowdy Reach Agreement with the Department of Justice
Today, House Judiciary Committee Chairman Bob Goodlatte (R-Va.) and House Oversight and Government Reform Committee Chairman Trey Gowdy (R-S.C.) released the following statement after reaching an agreement with Department of Justice (DOJ) Assistant Attorney General Stephen E. Boyd and United States Attorney John Lausch to review and obtain documents and information pursuant to the Committees' joint investigation into decisions made in 2016 and 2017.
"The Committees have reached an agreement with the Department of Justice to access the documents we have been requesting for months. We look forward to reviewing the information to better understand the decisions made by the Department of Justice in 2016 and 2017. Congress has a constitutional responsibility to preserve the integrity of our justice system by ensuring transparency and accountability of actions taken."
Background:
• In October 2017, the Committees opened a joint investigation into the decisions made by the Department of Justice in 2016 and 2017.
• In December 2017, the Committees sent a follow-up letter requesting documents and information regarding the FBI's decision making in 2016 and 2017.
• On March 22, the House Judiciary Committee issued a subpoena to the Department of Justice for documents pursuant to the Committees' joint investigation.
• On April 11, Chairman Goodlatte and Chairman Gowdy met with U.S. Attorney John Lausch to discuss the Committees' access to documents related to our joint investigation.
TRUST THE PLAN a few days ago Q showed an overlay of illegals distribution.   If we look at the house seats that were flipped, they correlate! The democrats plan has been to use illegals to take power for years.  They had these assets in place waiting. This is why Pelosi said she was 100% sure they would take back the house. Let the deep state play their hand.
remember "Never Interfere With an Enemy While He's in the Process of Destroying Himself."
They think they are in control, they think they are safe, Nancy Pelosi As Speaker, Maxine Waters, Adam Schiff, Elijah Cummings In Leadership Roles
POTUS ordered the declass of the FISA docs. Rosenstein has sat on them. He has also refused to appear before congress. Q has always said enjoy the show, how many times have you watched a movie and you thought one thing was happening but in reality something else was happening.
FISA has been held back till after the election on Purpose, Q and team knew they would take the house, FISA brings down the house.    Pelosi, Schumer, et al are going down face first into concrete.
What does that mean?  The investigation/evidence/FISA warrants will show deep state/democrat voter fraud, it  will cast the legitimacy of the House into question … they won't be able to accomplish anything against Trump's agenda … the leadership of the house may even be under question while they resolve it all.Q said we will be united as a country again on 11.11 … and Q just confirmed that DECLAS brings down the HOUSE of REPRESENTATIVES
Q told us about a  " stealth bomber". Just imagine how many Dems currently elected in the House will be indicted and removed from power once the DECLAS hits.
Remember this bit from post #432: House cleaning (TOP). ** Senate, Supreme Court (including DOJ, FBI, NSA) Restructuring (1 to 2). **The HOUSE. FISA BRINGS DOWN THE HOUSE!!!! (we are going through stage #2) Q.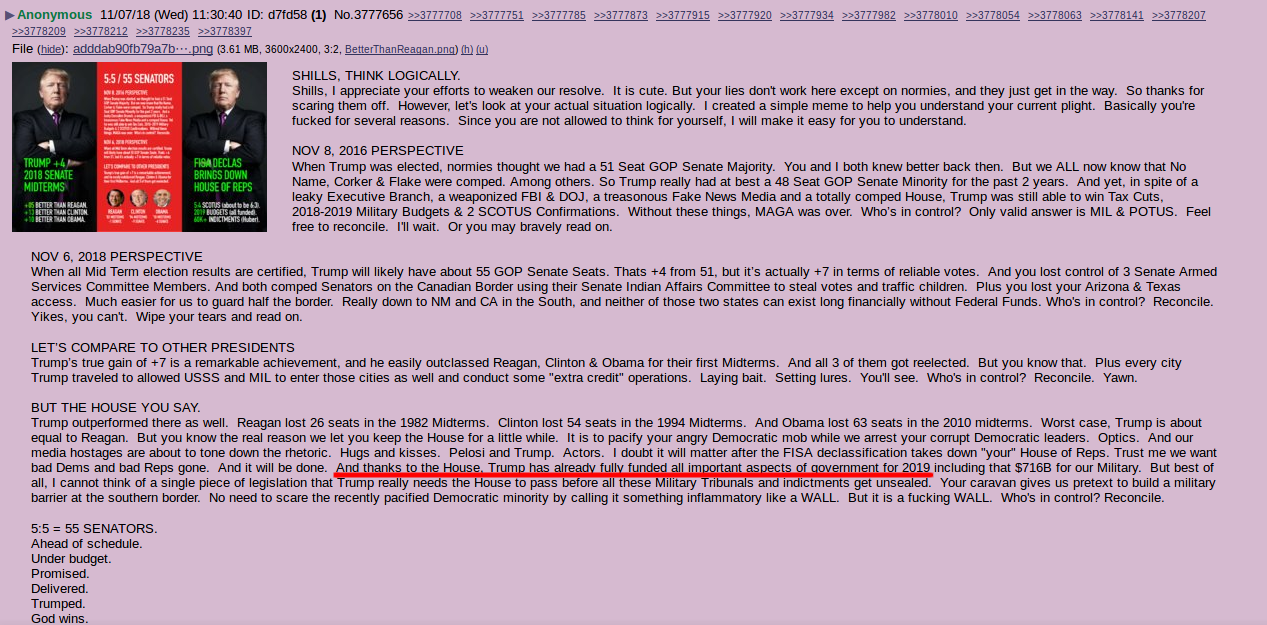 We are pleased to announce that Matthew G. Whitaker, Chief of Staff to Attorney General Jeff Sessions at the Department of Justice, will become our new Acting Attorney General of the United States. He will serve our Country well….

— Donald J. Trump (@realDonaldTrump) November 7, 2018
….We thank Attorney General Jeff Sessions for his service, and wish him well! A permanent replacement will be nominated at a later date.

— Donald J. Trump (@realDonaldTrump) November 7, 2018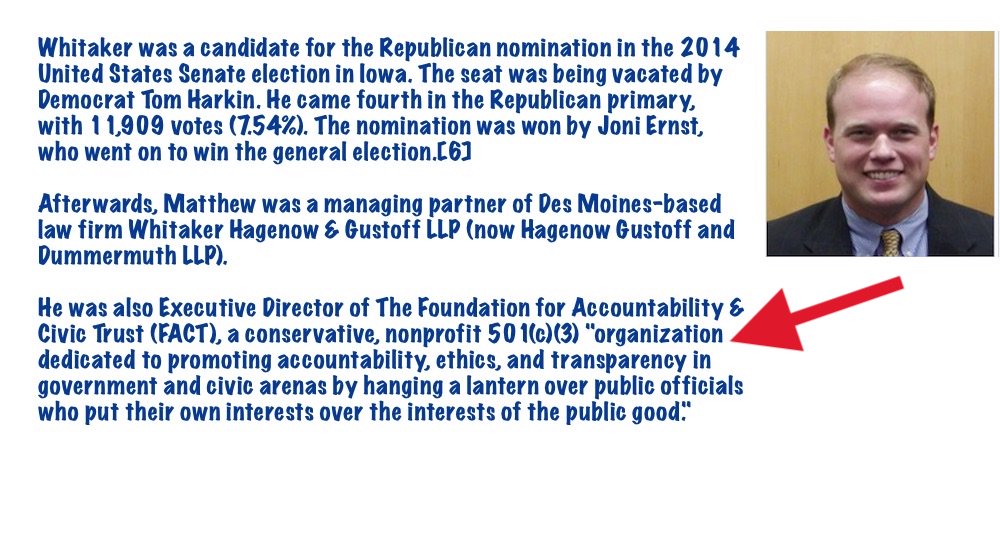 The Guy Who Said, In 2016, There's Enough Evidence to Have a Special Prosecutor Investigate The Clinton Foundation
---
Uncensored