Podcast: Play in new window | Download (Duration: 36:14 — 42.9MB)
Consumer spending will dip in February because the delay in refunds from the IRS. Baltic Dry Index has now fallen back to 688 pts. Bloomberg comes out with article that fake news drives markets. China, Japan, Russia and many other countries are dumping Treasuries. The corporate media is blaming it on Trump. Germany received its full allotment of gold but they notice they labels were different on certain bars. Fed says they are lost at the moment. IMF says Trumps economic policies will help but there is a danger that the global economy might deteriorate. Illegal immigrant caught trying to purchase a grenade launcher. Mauro kicks out CNN for fake news. The elite are now teaching the young in schools to on how to spot fake news. Apple wants to throttle fake news. Obama is building an army of agitators in DC. Libyan people are creating their own National Guard and the Unity government is worried and says its illegal. US war enter the middle east. The Pentagon has been reporting airstrikes since 2011 and now we find out they they are incorrect which means that other data must be incorrect. The corporate media is pushing the chlorine gas propaganda when Syria as taking back Aleppo.
Check Out The X22 Report Spotlight YouTube Channel –  X22Report Spotlight
Please check Newzsentinel.com for the latest news on the economic collapse. The Sentinel Alerts are updated throughout the day. If you haven't already, go to "The People" and join the community of people who are helping each through the economic collapse.
---
Current News – 02.13.2017
---
Economy
Consumer Spending "Pothole" Ahead: IRS Refunds Tumble As New Law Delays Payments 
A period of consumer spending, retail sales and housing weakness may be imminent, after federal tax refunds tumbled by 78% in the early part of February compared to 2016, the  result of a new law which requires the IRS to delay the printing of checks to households claiming specific tax credits.  The reason for the slowdown is that in late 2015 Congress passed a law
forcing the IRS to hold back refund checks related to the earned-income tax credit and the child tax credit until at least Feb. 15. The delay would reportedly give the IRS more time to match tax returns with income data on W-2s filed by employers. Allegedly, such payments had become a tempting target for identity thieves and unscrupulous tax preparers, who falsify tax returns to get thousands of dollars.
The IRS has told affected taxpayers that they shouldn't expect to receive their refunds until Feb. 27
 According to a WSJ analysis, refunds paid through Feb. 3 were only $13.2 billion, down almost 80% from $58.6 billion through Feb. 5, 2016. Additionally, the average refund also declined, to $1,994 from $3,385.
 expected decline of 40%-50% in February refunds would be "surprisingly large."
Source: zerohedge.com
Baltic Dry Index falls to 688, down 14 points
Fed Study: Fake News drives Fake Markets
Thanks Bloomberg, for another useless piece of regurgitated info we've known for years; fake news drives the fake markets which are artificially inflated.  Actually thanks to the Fed for doing the academic research on this topic to confirm what we've known for years – the markets are rigged and one way they are manipulated is by the mainstream news.
Source: zerohedge.com
"It Was A Deer In Headlights Moment": Japan Dumps Most US Treasuries Since May 2013
… will persist, with a focus on whether China's near record selling of US paper will persist.
US Treasuries were sold to the tune of ~¥2.4 trillion (~$21bn) in December, the largest net selling flow since May-13.
Source: zerohedge.com
Fake News by Bloomberg: Creditors Dumping U.S. Treasuries Because of Trump
Bloomberg is out with a fictional piece this evening — asserting that creditors are selling treasuries because of Trump.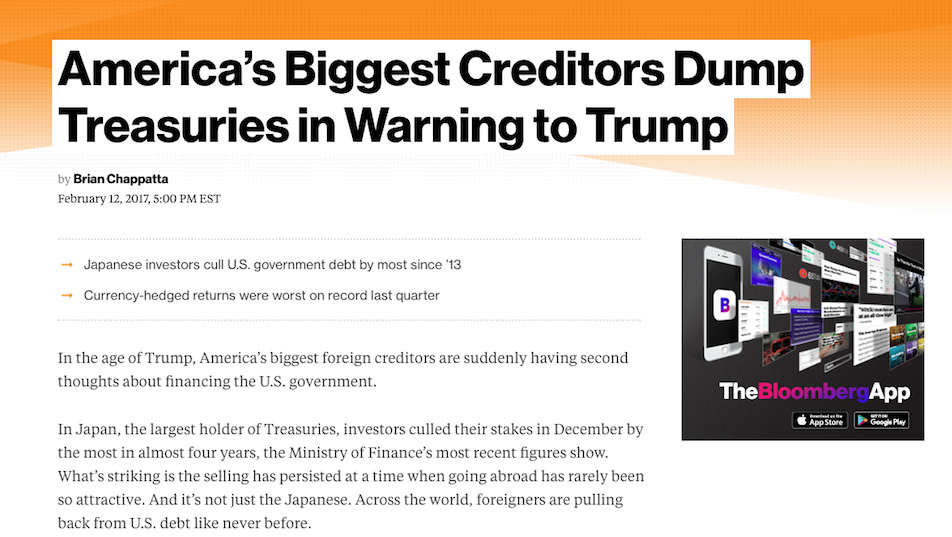 so called 'creditors' are small time holders of treasuries, in comparison to our own Federal Reserve — who own upwards of $2t in U.S. debt.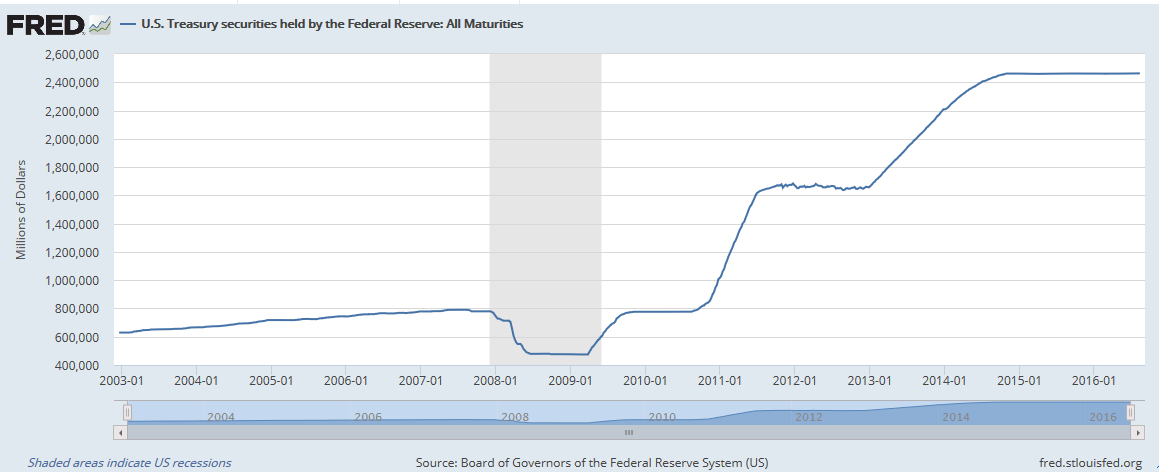 Across the world, foreigners are pulling back from U.S. debt like never before.
Nevertheless, any consistent drop-off in foreign demand could have lasting consequences on America's ability to finance itself cheaply, particularly in light of Trump's ambitious plans to boost infrastructure spending, cut taxes and put "America First."
Notice how the other glosses over the fact that the former largest holder of U.S. debt, China, has been culling its treasury holdings for 7 years — all of which done under the Obama
Source: zerohedge.com
US Scrambled to Fill Empty Vaults After Germany Requested Return of 300 Tons of Gold
Valentin Katasonov, a professor at the International Finance Department at the Moscow State Institute of International Relations (MGIMO),suggested that the US disposed of Germany's gold bars at its own discretion.

"There are a lot of signs that the gold was not physically presented in the New York vaults when Germany called it back. Of course, the US began to return it to Germany but there is one interesting detail. When you leave your suitcase in the luggage storage you expect to get back the same suitcase. But Germany took the wrong 'suitcase,'" Katasonov told Radio Sputnik.

According to the economist, the gold bars that Bundesbank repatriated have different labels. He suggested that the US might have replaced the German bullion with different gold bars bought from the market.
All of this suggests of course that the U.S. had to buy gold off the market to fill Germany's order
Source: russia-insider.com
Federal Reserve Vice Chair Stanley Fischer cites 'significant uncertainty' about fiscal policy under Trump
U.S. Federal Reserve Vice Chair Stanley Fischer said there was significant uncertainty about U.S. fiscal policy under the Trump administration,
IMF head: Trump good for US economy for now as trouble looms
The head of the International Monetary Fund said Sunday that U.S. President Donald Trump taking office is likely good for the American economy in the short term, though rising interest rates and a strengthening dollar will challenge global trade.

Christine Lagarde said Trump's plans for additional investment in U.S. infrastructure and his likely tax reforms will boost America's economic fortunes.

However, Lagarde acknowledged that Trump's policies likely will squeeze international markets.

"That's a tightening that is going to be difficult on the global economy and for which economies have to prepare," Lagarde said during an event at the World Government Summit in Dubai.

"We have been saying globalization is great, international trade is great — and it is," she said. "But we have not looked at those who were badly, negatively impacted."

She blamed those negative impacts in part on the rise of robots taking jobs, as well as the shrinking gains of the global middle class.
Source: usnews.com
Barclays: "Significant Change Is Coming To The Fed Over The Next 18 Months"
 Barclays' Fed-watcher Michael Gapen warns that no matter what, "significant change is coming to the Federal Reserve Board of Governors over the next 18 months," a
Fed Governor Daniel Tarullo to resign
 Federal Reserve Board Governor Daniel Tarullo will resign on or around April 5, and the Federal Reserve's website has posted a copy of his letter of resignation.

 Hence,

any new appointment by the Trump administration to the Board of Governors could also be slated to fill the vice chair of supervision role and supplant Daniel Tarullo in the process.

Tarullo's resignation only further cements our view that significant change is coming to the Federal Reserve Board of Governors over the next 18 months.
Source: zerohedge.com
---
Rights
Illegal Immigrant Stung Buying Grenade Launcher in South Texas
An illegal immigrant from Mexico has been charged in connection with the attempted purchase of at least one grenade launcher and three AK-47s in Texas; it remains unclear if the weapons were meant for a drug cartel. The grenade launcher was bound for Mexico before the bust.
Agents from the U.S. Bureau of Alcohol Tobacco Firearms and Explosive arrested 31-year-old Oscar Fredy Garcia last week near Los Fresnos, Texas, during the failed purchase of an M-203 grenade launcher, court records revealed. Garcia is listed as an illegal immigrant from Mexico.
The case began on February 6 when Garcia met with an undercover ATF agent to purchase the grenade launcher and three AK-47 rifles at a price of $5,000. During the meeting, Garcia gave the undercover agent $300 as a down payment.
On February 7, Garcia met with the undercover agent to take delivery. The location of the meeting i
Grenade Launcher in South Texas by ildefonso ortiz on Scribd
Source: breitbart.com
Maduro Kicks CNN Out Of Venezuela, Accuses It Of Spreading Fake News
Venezuela's President Nicolas Maduro said on Sunday he wanted CNN out of the country, accusing it of spreading fake news, misrepresenting the truth and meddling in issues that are not of its concern.
"CNN, do not get into the affairs of Venezuelans. I want CNN well away from here. Outside of Venezuela. Do not put your nose in Venezuela," said Maduro during a political statement. Quoted by Fox News, Maduro made the comment after blaming the U.S. network of distorting the facts when reporting on irregularities at a Caracas public high school.
Source: zerohedge.com
Fake news: Tips on how to distinguish it from the real thing
Teachers from elementary school through college are instructing students on how to decipher fact from fiction when it comes to online news, after an election season that saw made-up stories abound. Some of their media literacy lessons:
A major news organization probably isn't headquartered in a house.
– Does it make you mad? False reports often target emotions with claims of outlandish spending or unpatriotic words or deeds. If common sense tells you it can't be true, it may not be.
– If it's real, other news sites are likely reporting it.
– How is the writing? Caps lock and multiple exclamation points don't have a place in most real newsrooms.
– Who are the writers and the people in the story? Google names for clues to see if they are legitimate, or not.
– What are fact-checking sites like Snopes.com and FactCheck.org finding?
– It might be satire. Sometimes foolish stories aren't really meant to fool.
– Think twice before sharing. Today, everyone is a publisher.
Poison the well

Poisoning the well (or attempting to poison the well) is a fallacy where irrelevant adverse information about a target is preemptively presented to an audience, with the intention of discrediting or ridiculing everything that the target person is about to say. 

If Adam tells Bob, "Chris is a fascist so do not listen to him",
Source: washingtontimes.com
Here are just a few samples:
Source: original.antiwar.com
Apple's Tim Cook Urges "Massive" Government Crackdown On 'Fake News': "It's Killing People's Minds" 
Apple CEO Tim Cook has dragged up another narrative calling for a "massive campaign" against fake online news stories. "It's killing people's minds," exclaims Cook who calls for governments to fund a Ministry of Truth-sounding "modern version of a public service announcement" in order to fight the epidemic (and education campaigns in schools).
Trust in the mainstream media is at a record low…
 to be ingrained in the schools, it has to be ingrained in the public," said Mr Cook. "There has to be a massive campaign. We have to think through every demographic.

"We need the modern version of a public-service announcement campaign. It can be done quickly if there is a will."

"All of us technology companies need to create some tools that help diminish the volume of fake news.

"We must try to squeeze this without stepping on freedom of speech and of the press, but we must also help the reader. 
So to clarify Cook's thoughts – tech firms should throttle newspeak from sources they deem 'fake', so-called "high quality journalism" should be promoted, and kids should be indoctrinated from an early age to read what the government (or liberal billionaire tech CEOs) deems 'proper'...
Source: zerohedge.com
'Swastikas' Uncovered by Sarah Silverman Turn Out To Be Utility Markings
Sarah Silverman appears to be losing her mind in the wake of Donald Trump's election.
After calling for a military coup to overthrow Trump earlier this month, on Sunday she mistook a couple of utility markings on the sidewalk as "swastikas" drawn by "neo nazis."
Walking to get coffee saw these all over a sidewalk in the town I'm in. Is this an attempt at swastikas?
Source: informationliberation.com
---
Police State
Sperry: Obama Organizing Violent Anti-Trump Protesters Just Miles from White House
Paul Sperry writes that former President Barack Obama is setting up a "shadow White House" in Washington, DC, for organizing anti-Trump protests nationwide and "rebuilding the ravaged Democrat Party."
When former President Barack Obama said he was "heartened" by anti-Trump protests, he was sending a message of approval to his troops. Troops? Yes, Obama has an army of agitators — numbering more than 30,000 — who will fight his Republican successor at every turn of his historic presidency. And Obama will command them from a bunker less than two miles from the White House.
Source: breitbart.com
---
War
China "Seriously Concerned And Opposed" After Trump Backs Japan Over Disputed East China Sea Islands
On Friday, when President Trump confirmed that the US alliance with Japan covers the contested "Senkaku" islands located in the East China Sea, and which prompted a diplomatic scandal between China and Japan in 2013, we predicted that China would not be happy.
Sure enough, on Monday our prediction was confirmed after China's Foreign Ministry expressed displeasure after Japan got continued U.S. backing for its dispute with Beijing over islands in the East China Sea during a meeting between U.S. President Donald Trump and Japanese Prime Minister Shinzo Abe, Reuters reported.
"No matter what anyone says or does, it cannot change the fact that the Diaoyu Islands belong to China, and cannot shake China's resolve and determination to protect national sovereignty and territory," Geng told a daily news briefing in Beijing.
Source: zerohedge.com
NKorea says successfully tested new ballistic missile
North Korea said Monday it had successfully tested a new ballistic missile, triggering a U.S.-led call for an urgent U.N. Security Council meeting after a launch seen as a challenge to President Donald Trump.
Source:  dailystar.com.lb
Testing Trump? North Korea launches ballistic missile
Source: sott.net
Ukraine used Weapons of Mass Destruction against Donbass civilians – Investigation Report
The Russian Investigative Commitee says it has received rock-solid proof that Ukrainian armed forces have been using WMD weapons against Civilians in the Lugansk People's Republic.
"The office of the Russian State Investigative Committee, dealing with crimes involving the use of prohibited means and methods of warfare, has discovered and procedurally documented irrefutable evidence that the Armed Forces of Ukraine have been using weapons of mass destruction, namely the Tochka-U tactical missile complexes [SS-21 Scarab in NATO classification] against civilians in the armed conflict in the south-east of Ukraine," t
"Such weapons [as the Tochka-U] can be classified as weapons of mass destruction, having an extremely high destructive power over a large area. 
"The use of such weapons shows that authorities in Kiev pursues the goal of total annihilation of the population and infrastructure in the country's south-east," the committee concluded.
Source: dninews.com
Libya unity govt slams creation of rival 'national guard'
Libya's U.N.-backed unity government Sunday slammed the creation by armed groups of a national guard rival to its own presidential guard in the capital Tripoli.
The Government of National Accord said it considered the creation of the "Libyan National Guard" to be "an attempt to form a parallel body to the Presidential Guard" it has formed.
"These groups and those supporting it are considered to be outlaws," the GNA said in a statement.
Source: dailystar.com.lb
US Builds Up Red Sea Naval Presence with Two Arleigh-Burke Destroyers
The US Navy has decided to deploy two more Arleigh-Burke class destroyers in the Red Sea in order to fend off attacks from Yemeni Houthi rebels.
The US Navy is deploying the USS Laboon and the USS Truxtun to supplement the naval group that is already located in the sea between Africa and Arabian peninsula.
This decision comes about two weeks after the US dispatched another Arleigh-Burke destroyer, the USS Cole, to Bab al-Mandab Strait, the entrance to the Red Sea from the Gulf of Aden,
The Pentagon currently refuses to confirm or deny the decision. The only comment comes from Christopher Sherwood, a Defense Department spokesman, who said that "the US Navy maintains a continuous combat-ready force within the Arabian Gulf, Gulf of Oman, Arabian Sea, Gulf of Aden, and Red Sea to protect the free-flow of commerce,
Source: sputniknews.com
George H.W. Bush Strike Group Starts Pounding Daesh From Mediterranean
 The George H.W. Bush Strike Group has begun airstrike operations against Daesh from the eastern Mediterranean Sea in the 6th Fleet area of responsibility, the US Navy said
The strike group includes the flagship George HW Bush aircraft carrier with Carrier Strike Group 2, Carrier Air Wing 8 and Destroyer Squadron 22.
Source: sputniknews.com
Pentagon Caught Fudging Airstrike Data
This latest revelation revolves around the database of airstrikes maintained by the US Air Forces Central Command.
In short, the reliability of these summaries is an important thing. That's why The Military Times decided to actually investigate whether the summaries are, in fact, reliable.
Their finding? "The U.S. military's stats on deadly airstrikes are wrong. Thousands have gone unreported."
As they note in their exclusive investigation: "In 2016 alone, U.S. combat aircraft conducted at least 456 airstrikes in Afghanistan that were not recorded" "
According to the report, part of the problem is that the standards and protocols that have been set up for tracking and reporting these airstrikes just seem to have (gosh darn, wouldn't you know it) things like Apache helicopters that, somehow or other, manage to fall through the cracks.
"Most alarming is the prospect this data has been incomplete since the war on terrorism began in October 2001. If that is the case, it would fundamentally undermine confidence in much of what the Pentagon has disclosed about its prosecution of these wars, prompt critics to call into question whether the military sought to mislead the American public, and cast doubt on the competency with which other vital data collection is being performed and publicized.
To put that in plain English: Until proven otherwise by a thorough audit conducted by an independent party, everything that the military has said about deaths, dollars and drones during the never-ending War Of Terror should be assumed to be false.
Source: theinternationalforecaster.com
---
False Flags
Syrian army 'used chemical bombs in co-ordinated Aleppo assault'
Syrian government forces conducted coordinated chemical attacks in opposition-controlled parts of Aleppo during the final month of the battle for the city, Human Rights Watch said on Monday.
The rights group said it collected evidence that showing government helicopters dropping chlorine bombs in residential areas on at least eight occasions between 17 November and 13 December.
Source: middleeasteye.net