Podcast: Play in new window | Download (Duration: 34:52 — 41.2MB)
UK retail sales decline at the fastest pace since 2016.  Sears is in trouble they are closing more stores as sales decline. First it was new home sales, now its existing home sales, the real estate market is imploding. Germany has been repatriating their gold and the US visited Fort Knox to assure the American people that the gold is there. Why now, are countries preparing the collapse of the system .Looking at the gold Germany has received something does not look right.  A judge approves a warrant to investigate Antifa. The Guardian is pushing censorship. Lavrov says the Afghanistan strategy that Trump proposed is a dead end. Afghanistan has many players in the country and huge amount of natural resources. Russian Ambassador to Sudan died of a heart attack. Russia flies bombers near North Korea. Russia pushing peace in Libya, trying to get both sides to cooperate. US flies a B-52 bomber of Raaqa but did not bomb the area. The cabal pushing the idea that Syria is responsible for the chemical attacks and Russia is still waiting for the proof.
Check Out The X22 Report Spotlight YouTube Channel –  X22Report Spotlight
Please check Newzsentinel.com for the latest news on the economic collapse. The Sentinel Alerts are updated throughout the day. If you haven't already, go to "The People" and join the community of people who are helping each through the economic collapse.
---
Current News – 08.24.2017
---
Economy
U.K. Retail Sales Slump at Fastest Pace Since July 2016: Chart
U.K. retail sales dropped at the fastest pace since July 2016 in the year through August, another sign of the increasing fragility of the nation's consumers. Data from the Confederation of British Industry on Thursday showed 34 percent of retailers said that sales volumes were up in August on a year ago, while 44 percent said they were down –  An earlier report from the Office for National Statistics showed consumer spending grew just 0.1 percent in the second quarter.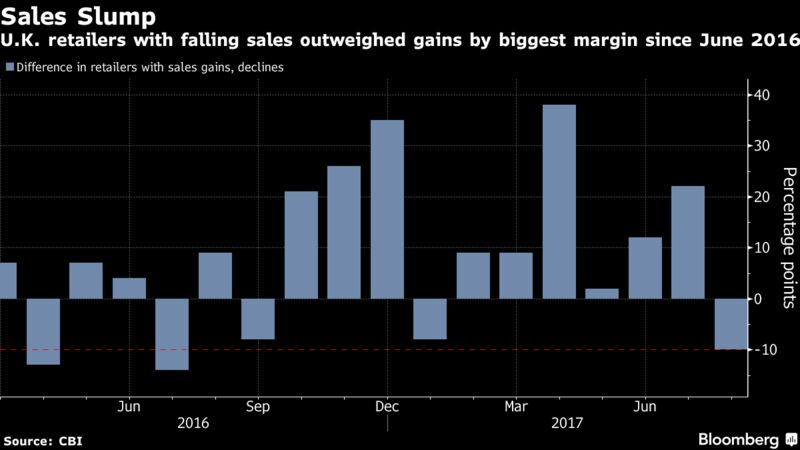 Source: bloomberg.com
Sears Same-Store Sales Plunge 11.5%; To Close Another 28 Stores
 Near insolvent retailer Sears Holdings reported another quarterly loss, with same store sales plunging in Q2 more than expected as the company offered more margin-crushing discounts amid an industry that is, in the words of Dick's CEO, in "panic mode". The company blamed a "retail environment that remained challenging, with continued softness in store traffic and elevated price competition."
 , as same-store sales plunged 11.5%, worse than the expected 7.1 percent decline.
Source: zerohedge.com
Corporate Debt Threatens U.S. Economic Prospects
By Pam Martens and Russ Martens: August 24, 2017
According to recent studies, U.S. corporations' debt levels could pose some serious headwinds for the United States' economy in the next major downturn. In April, the International Monetary Fund announced the following red flags:
The U.S. corporate sector has added $7.8 trillion in debt and other liabilities since 2010;
Among S&P 500 firms, median net debt "is close to a historic high of more than 1 ½ times earnings";
Looking at a "broader set of nearly 4,000 firms accounting for about half of the economy-wide corporate sector balance sheet, suggests a similar rise in leverage across almost all sectors to levels exceeding those prevailing just before the global financial crisis";
Debt is especially high "in the energy, real estate, and utilities sectors, ranging between four and six times earnings";
In July 2016, S&P Global released a report which found that "global corporate credit quality has been weakening over recent years." It said that in a sampling of about 14,400 nonfinancial corporations around the globe, "two out of five" are highly leveraged. The report noted further:
"Much of the debt sold by companies in recent years has been used to buy back their own shares, pay out higher dividends or finance big mergers and acquisitions. While these buybacks funded by cheap borrowing have boosted earnings, a missing ingredient has been spending on investment to build their businesses."
Source: wallstreetonparade.com
Mnuchin's PR Visit to Fort Knox proves nothing about the US Gold Reserves 
 August 21, US Treasury Secretary Steven Mnuchin, Senate Majority Leader Mitch McConnell, Kentucky Governor Matt Bevin, and Kentucky Congressman Brett Guthrie took a visit to the vault of the US Mint's gold depository in Fort Knox, Kentucky, a vault which, according to the US Treasury, holds gold bars containing   (4583 tonnes of gold).
The trip was notable in that it is one of the rare occasions in history that a US political/congressional delegation has ever visited the Fort Knox depository, and Mnuchin is now only the 3rd treasury secretary ever to make this visit.
 it was announced to the media and public at extremely short notice, and there is no evidence that any media representatives participated, or at least if they did, they have kept very quiet about it.
 
"Inside the famed vaults at Fort Knox, Senate Majority Leader Mitch McConnell held a 27-pound gold bar in his hands Monday as part of the first civilian delegation to see most of the country's bullion reserves in more than 40 years."
 As of right now there are no photos of any of the delegation either inside the depository. This would suggest that there were no media photographers nor camera people present inside the vault. For such a historic trip, this is itself quite bizarre. Until that is, you realize that in 1978, the US Mint made the internal plans and structures of Fort Knox classified, which effectively bans any photography or filming from inside the depository.
Only One Compartment Viewed
By opening just one of the 13 compartments for Mnuchin & Co to peer into, that leaves 12 of the supposed gold storage compartments that were not opened.
Source: zerohedge.com
The United States Army and the whole entire system is hanging in the balance…
One of the little-known items on the Fed's balance sheet is a vital asset it received from the U.S. Treasury a long time ago…
During the Great Depression, in 1933, President Roosevelt issued an executive order requiring anyone with gold to surrender it to a Federal Reserve bank or any member bank of the Federal Reserve system.
The Federal Reserve banks also required the commercial banks to hand over their gold to the Fed. Now, suddenly, the gold went out of the commercial banks into the Federal Reserve Bank.
But under the Gold Reserve Act of 1934, the Fed was ordered to surrender all its gold to the Treasury Department. All the nation's gold in effect came under direct government ownership.
Now, this is key: The Federal Reserve is actually a private system, while the Treasury is an arm of the U.S. government. And the Fifth Amendment of the Constitution prevents the government from taking private property without just compensation.
To get around that legality, the "just compensation" was a gold certificate the Treasury issued to the Fed in exchange for its physical gold.
 if you take the face value of the gold on the Fed balance sheet, divide it by $42 an ounce and then come up with a number of ounces and convert that into tons, it comes out to over 8,000 tons.
That's highly interesting, because that's how much gold the Treasury currently owns.
The Treasury needs at least 8,000 tons of gold to back up that paper certificate it handed the Fed back in the 1930s to satisfy the Fifth Amendment.
If you take the 8,000 tons on the Fed balance sheet in the form of this gold certificate, market to market at $1,300, that mounts to well over $300 billion.
So the secret to the Fed's balance sheet is its "hidden gold asset," that gold certificate it received from the Treasury in the 1930s.
Nobody talks about this or admits it. But our whole system is based on gold.
But what about the gold in Fort Knox? Is it actually there?
If you are the Fed or the Treasury and you want people to think that gold is unimportant — which they do — why would you audit it?
You audit things that are important. You do not audit things that are unimportant. If the Fed doesn't want you to think that gold is important, it follows that they would not audit it. Auditing it pays gold too much respect.  
Source: sott.net
"Paint by Numbers" quickly reveals the picture, and after the Epic Fort Knox Mnuchin Fail, Today's German Faux Pas seems like they are getting their paintings from the dollar store…
German central bank completes move of €24bn worth of gold

Germany's central bank has completed its plan to shift 54,000 gold bars from vaults in New York and Paris to beneath its Frankfurt headquarters without a major glitch.
Upon further investigation, we can see that the Germans have been repatriating their gold for years:
 Now, get ready for the punchline, or the punch in the face:
Source: silverdoctors.com
---
Political/Rights
The Guardian Views Censoring The Internet As "Necessary"
  some limits must exist, and they must be enforced.
The questions are: who should set these limits and who then should police them?
Both governments and private companies have a part to play, even if government action often takes the form of demanding that private companies execute government policies. 
The justification for government censorship is that some hate speech is an incitement to violence or a dangerous ratcheting of community tensions, whereas some – no matter how offensive – should be permitted by law, even if we are happy for private companies to act against it.
Source: zerohedge.com
Judge Approves Warrant For "Antifa" User Data From Anti-Trump Website
A District of Columbia Federal Judge has approved a government warrant seeking information about users and subscribers to an anti-Trump website which has been linked to rioting during the presidential inauguration in Washington, D.C., but he added protections to safeguard "innocent users."
Chief Judge Robert Morin ruled that DreamHost, an LA-based web-hosting company, must turn over data about visitors to the website disruptj20.org, which is a home to political activists who organized protests at the time of Donald Trump's inauguration as U.S. president in January, many of whom have since morphed into the controversial "antifa" movement.
Morin, who will oversee review of the data, also said the government must explain what protocols it will use to make sure the data of "innocent users" is not seized by prosecutors,
"I'm trying to balance the First Amendment protections and the government's need for this information," Morin said. "   Prosecutors also say they will set aside any information that doesn't involve rioters and have it sealed.
Source: zerohedge.com
---
Geopolitical/Police State
Death of Russian ambassador to Sudan confirmed
Russia's envoy to Sudan, has died in the capital, Khartoum, the Russian Foreign Ministry said Wednesday evening, confirming earlier reports that the diplomat was found dead.Employees of the embassy discovered Shirinsky at his residence around 6pm local time, the press secretary of the Sudan mission, Sergey Konyashin, told RT.
The diplomat, who was 62 years old, appeared to have symptoms consistent with a serious heart seizure, Konyashin said, adding that doctors were immediately called to the scene, but were unable to save his life. .
Source: sott.net
---
War
LAVROV: Trump Afghanistan policy a "dead end"
Lavrov has implied that the Trump plan is the worst of all possible options.
Russian Foreign Minister Sergey Lavrov has voiced his country's disapproval of Donald Trump's military surge in Afghanistan.
Lavrov has stated,
"The main emphasis in the new strategy, which was announced by Washington, is made on settlement through use of force. We believe that it's a dead-end approach".
He continued,
 

"If I've got the new US strategy right, it allows contacts with the Taliban without them fulfilling any conditions at all.
I don't think that it goes in line with our joint interest to follow the negotiated, coordinated line which is approved by the UN Security Council. But I hope that within the framework of the expert-level contacts we have with our American colleagues, we will be able to clarify this apparent contradiction..
Source: theduran.com
More American Troops to Afghanistan, To Keep the Chinese Out? Lithium and the Battle for Afghanistan's Mineral Riches
These mineral reserves include huge veins of iron, copper, cobalt, gold and lithium, which is a strategic raw material used in the production of high tech batteries for laptops, cell phones and electric cars.
The implication of Trump's resolve is to plunder and steal Afghanistan's mineral riches to finance the "reconstruction" of a country destroyed by the US and its allies after 16 years of war, i.e  "War reparations" paid to the aggressor nation?  
What this 2007 report does not mention is that this resource base has been known to both Russia (Soviet Union) and China going back to the 1970s.
While the Afghan government of President Ashraf Ghani has called upon President Donald Trump to promote US. investments in mining, including lithium, China is in the forefront in developing projects in mining and energy as well as pipeline projects and transport corridors.
China is a major trading and investment partner with Afghanistan (alongside Russia and Iran), which potentially encroaches upon US economic and strategic interests in Central Asia
"War is Good for Business" 
The US military bases are there to assert US control over Afghanistan's mineral wealth. According to Foreign Affairs, "there are more U.S. military forces deployed there [Afghanistan] than to any other active combat zone", the official mandate of  which is "to go after" the Taliban, Al Qaeda and ISIS as part of the "Global war on Terrorism".
Why so many military bases? Why the additional forces sent in by Trump?
The unspoken objective of US military presence in Afghanistan is to keep the Chinese out, i.e hinder China from establishing trade and investments relations with Afghanistan.
Source: globalresearch.ca
Germany 'will not automatically side with US' in war with N. Korea – Merkel
Berlin will not "automatically" side with the US should it face an armed conflict with North Korea, German Chancellor Angela Merkel has said. Merkel believes the North Korean crisis cannot be resolved through military means.
When asked about the worst-case scenario, namely an armed conflict between Washington and Pyongyang, Merkel said that Germany would not necessarily back America.
"No, not automatically. I do not see any military solution to [the crisis with] North Korea. I think it is wrong," Merkel said.
Source: rt.com
Russia Deploys Nuclear-Capable Bombers Near Korea
Russia's Defense Ministry said in a statement the Tupolev-95MS "Bear" bombers, flew over neutral waters and were accompanied by Russian Sukhoi-35S fighter jets and A-50 early warning and control aircraft. The Russians gave no details about the overall number of aircraft that had taken part in what it called "scheduled flights over neutral waters" and did not say when or why the mission took place.
Source: zerohedge.com
Russia Is Trying to Get Rival Libyan Governments to Sit Down at a Table in Moscow
Instead of backing the Tobruk government militarily as general Hiftar is begging them to do, the Russian diplomacy is working toward a peaceful resolution
After being absent from the divided Libyan political landscape for months, Moscow again made headlines by hosting Gen. Khalifa Hifter for a three-day visit earlier this month, meeting with the foreign and defense ministers, his usual Russian interlocutors. Once again, the general's visit had experts debating exactly what role Russia plays in mentoring Hifter and whether Russia really sees him as its "point-man" in Libya.
 . The general reiterated his request for Russian military aid to his Libyan National Army, despite countless previous rejections. His request remains unfulfilled.
Source: al-monitor.com
Islamic State asks Hezbollah, Syrian Army for withdrawal from Syria-Lebanon border: source
 Islamic State has asked the Syrian Army and its ally Hezbollah to let it withdraw from Syria's border with Lebanon to the eastern province of Deir al-Zor,  
Source: reuters.com
Netanyahu meets with Putin. Warns that Iran's influence in Syria will come with conflict
Israel is threatening to escalate military action in Syria against perceived Iranian interests. This week Netanyahu declared, "we will act when necessary according to our red lines"  is: Assad" and "We have to accept that Assad will win in Syria" and "How Assad is Winning".
Source: theduran.com
Russia: US Has Not Provided Proof of Assad's Guilt in Syrian Chemical Attacks
Zakharova said at a weekly briefing on Thursday that as the State Department "once again named the Syrian authorities as those guilty of a chemical attack four years ago," adding that the US hasn't presented any proof.
She noted that Washington also "rubberstamped" its accusation against Damascus of perpetrating the April 4, 2017, attack on Khan Sheikhoun.
"We still have not heard a coherent, objective reasoning in this respect. We still do not understand why Washington is so confident in [Syrian President Bashar] Assad's guilt in these incidents," Zakharova said.
Source: sputniknews.com
American B-52 bomber makes a run over Raqqa city 
  US Air Force (USAF) B-52 strategic bomber passing over the city of Raqqa where American-backed, Kurdish-led forces are currently engaged against ISIS.
The photo (above) was reportedly taken on Wednesday (August 23).
There is no evidence to suggest that American strategic bombers are carrying out large-area carpet bombings over Raqqa and so it seems highly unlikely due to the political repercussions of such extreme military action by the US.
Source: almasdarnews.com