Podcast: Play in new window | Download (Duration: 47:42 — 49.5MB)
Trump and Xi meet at the G20 summit, trade talks will resume.  Trump will not raise tariffs, tariffs will be dropped once China keeps its promises. Boom, the transition is moving forward. Trump making deals with many leaders, the transition is coming close to competition. There is now a call to remove the federal withholding tax, this is part of the plan and it was dripped out to start the conversation. [DS] believes that when they are arrested, Trump will lose the 2020 election and they will be pardoned. Nunes cautious about Mueller testifying, but says all questions need to be answered. JW via testimony shows Obama's DOJ granted immunity to [HRC] lawyer. Trump and Putin get along at the G20 meeting. Trump says no to climate change accord. Trump made history, meets Kim at the DMZ and walks into NK. This plan is complete, blacksites removed, [DS] no control. Everything is falling into place. Next Iran, and we are getting closer to a peace deal.
Check Out The X22 Report Spotlight YouTube Channel X22Report Spotlight
Please check Newzsentinel.com for the latest news on the economic collapse. The Sentinel Alerts are updated throughout the day. If you haven't already, go to "The People" and join the community of people who are helping each through the economic collapse.
---
Current News – 06.30.2019
Watch The X22 Report On Video
---
Economy
President Trump Tweets Details of U.S. -vs- China Status – Talks Resume, Tariffs Remain, Ag Purchases and Non-NatSec Tech…
Trade talks resume from former stalled point. [Likely Vice-Premier Liu He is back representing Chairman Xi Jinping – Beijing retreat]
Current enhanced tariff's remain in place. [The tariffs that were raised when talks collapsed will remain raised and in force. – Beijing retreat]
China resumes AG purchases. [Likely soy beans will be priority – Beijing retreat]
U.S. will allow trade purchases, exports, to Huawei of non-National Security tech. 
Trump tweeted out the following
I had a great meeting with President Xi of China yesterday, far better than expected. I agreed not to increase the already existing Tariffs that we charge China while we continue to negotiate. China has agreed that, during the negotiation, they will begin purchasing large…..

— Donald J. Trump (@realDonaldTrump) June 29, 2019
….amounts of agricultural product from our great Farmers. At the request of our High Tech companies, and President Xi, I agreed to allow Chinese company Huawei to buy product from them which will not impact our National Security. Importantly, we have opened up negotiations…

— Donald J. Trump (@realDonaldTrump) June 29, 2019
….again with China as our relationship with them continues to be a very good one. The quality of the transaction is far more important to me than speed. I am in no hurry, but things look very good! There will be no reduction in the Tariffs currently being charged to China.

— Donald J. Trump (@realDonaldTrump) June 29, 2019
From this summation it would appear President Trump has created an exit ramp for Chairman Xi Jinping that allows him to save face.  However, obviously with retention of the recent tariff increases the benefits beyond optics all favor President Trump.
What we might be seeing is a significant retreat by Beijing.
If Beijing was not going to accept the closed chapters of the prior negotiation; a position they previously rebuked; then there would be no starting point between the Chinese and U.S. teams.
 
 President Trump, has kept the larger tariff level despite China's re-engagement.  Trump has allowed the restart itself to be the face-saving Xi needed, yet he retains the prior tariff gains.   Team Trump yielded nothing back.
Do not take this dynamic lightly.  China has never negotiated for, nor accepted, less-lossbefore.  Understanding this is new ground for them we can only imagine the anxiety within internal discussions.
As President Trump just said: "The quality of the transaction is far more important to me than speed. I am in no hurry."
The tariffs will continue until behavior improves.
Source: theconservativetreehouse.com
I am in South Korea now. President Moon and I have "toasted" our new Trade Deal, a far better one for us than that which it replaced. Today I will visit with, and speak to, our Troops – and also go to the the DMZ (long planned). My meeting with President Moon went very well!

— Donald J. Trump (@realDonaldTrump) June 29, 2019
The leaders of virtually every country that I met at the G-20 congratulated me on our great economy. Many countries are having difficulties on that score. We have the best economy anywhere in the world, with GREAT & UNLIMITED potential looking into the future!

— Donald J. Trump (@realDonaldTrump) June 30, 2019
The founding principle of government by the consent of the governed seems lost to history, as unelected judges and unelected bureaucrats within all the endless agencies that make up the federal leviathan make most of the governing decisions.
 Americans rightly feel as if government seems to work for every interest but theirs.
 
 one policy change could radically change all of this immediately. And it wouldn't require an insurmountable task, as would a constitutional amendment getting enough support in such a balkanized America. It also wouldn't require raising or cutting taxes, nor establishing or cutting a single program to do it.
If you want to change America immediately, and most likely for the better, just end federal paycheck withholding.
I've been asked several times in my career what one policy I would make happen if I were empowered to do so, and this is it. The reason being is simple yet profound – if the American people had to write that check to Washington themselves, they'd be a lot more aware of how much of their productivity is being confiscated.
Which means they'd also be a lot more mindful about monitoring the way their government is spending their money. We'd get back to seeing those in government as our employees because we're paying them rather than them taking from us. Accountability, which is all but gone now, would return. 
About 10 percent of the American workforce are independent contractors and thus do pay-as-you-go taxation directly to the IRS. So the collection process necessary to end federal paycheck withholding for everyone else is already there and accessed by millions of Americans. There is literally nothing standing in the way of changing the dynamic that also would change the way Americans view the way their government spends.
Ending federal paycheck withholding would go a long way towards changing the paradigm accordingly because it empowers the individual taxpayer instead of making the federal tax-taker all-powerful as it is now.
Let's make self-government great again. End federal paycheck withholding.
---
Political/Rights
Many people are wondering why the DS is running, hiding, screaming and yelling. First of all they are panicking, but they do believe they are in control and they will stay in control because they believe they will be able to win the 2020 election. Why do I think this, becuase they won the house in 2018 and now they believe that their strategy will allow them to win the 2020 election. Lets look at Comeys tweet
I hope everyone who wants to defeat Donald Trump participates in the Democratic primary process. The majority who oppose him should choose the candidate to defeat him.

— James Comey (@Comey) June 28, 2019
His message is as follows, when I am arrested for treason and other crimes, the new president in 2020 will pardon me and all others. They believe they will be pardoned once trump is out. 
Now the DS wants Mueller to testify on July 17 and we know they have a plan to keep the illusion alive that they have something on Trump, but Nunes agrees with Schiff, that Mueller needs to answer every question
Nunes: I agree with Adam Schiff, 'Mueller Should Answer Every Question'
Rep. Devin Nune said, "I actually agree with [Adam] Schiff, if Mueller comes in to testify he has to answer every questions that members of congress have for him," 
"Mueller should, if he thinks is classified, than he should go down into a security area so we can ask him the questions there on the record," continued Nunes.
Source: saracarter.com
JW just released vital information
Judicial Watch: Obama's DOJ Granted Immunity to Hillary Clinton's Lawyer Who Destroyed 33,000 Emails
 Judicial Watch on Friday released testimony from Hillary Clinton's White House-Liaison-at-the-State Department-turned-lawyer, Heather Samuelson and it shows what she told Judicial Watch is at odds with what she previously told the FBI about Hillary's private email use.
Samuelson testified under oath to Judicial Watch that the DOJ granted her immunity in June of 2016 — remember this is around the same time Bill Clinton met with then-AG Loretta Lynch on the Phoenix airport tarmac.
Heather Samuelson testified under oath to Judicial Watch that contrary to what she told the FBI, she was indeed aware of the fact that Hillary Clinton was using a private email account while she was Secretary of State.
Samuelson's testimony is a part of a court-ordered discovery granted to Judicial Watch by Judge Royce Lamberth who called Hillary's use of a private server "one of the gravest modern offenses to government transparency."
Via Judicial Watch:
Samuelson: I was provided limited production immunity by the Department of Justice.

Judicial Watch: And when was that?

Samuelson: My recollection, it was June 2015 [later corrected to 2016].
"The news that the Obama DOJ gave immunity to Heather Samuelson, Hillary Clinton's lawyer responsible for the infamous deletion of 33,000 emails, further confirms the sham FBI/DOJ investigation of the Clinton email scandal," said Judicial Watch President Tom Fitton. "And it is curious that Ms. Samuelson changed her story about what she knew and when about the Clinton email system. Attorney General Barr can't reopen the Clinton email investigation fast enough."
Source: thegatewaypundit.com
A reporter from Russia 24, a Russian state-owned television station, approached Trump and asked him how he'd liked his meeting with Putin. Trump replied with praise for the Russian leader. "He is a great guy. I think we had a really good meeting. I think he is a good person, we started discussing trade. I think we should have trade between Russia and USA, two great countries. We had a great meeting yesterday. He is a terrific person," Trump said.
When Trump was asked what the two planned to discuss, Trump said, "it's a great honor to be with President Putin" and promised that "a lot of very positive things are going to come out of the relationship."
One reporter told Trump, "On Russia, respectfully, it seemed like you didn't really mean it when you said yesterday, 'Don't meddle in our elections, Mr. President,' and then you guys both started laughing."
Trump pushed back against the idea that he had been flippant. "Well, I did say it. You're going to have to take a look at the words. I did say it," he said. And, after going on a brief tangent about his desire to increase trade with Russia, Trump hinted that he talked with Putin about election interference "a little bit" during their private meeting.
Trump then made it clear that Putin still denies Russia's involvement in election interference. "You know he denies it totally, by the way, how many times can you get somebody to deny something? But he has in the past denied it. He has denied it also publicly. But we talked about it," Trump said.
Source: washingtonexaminer.com
Trump rejects need for climate action at G-20: US has 'cleanest' water and air 'we've ever had'
President Trump broke with the Group of 20 (G-20) nations on the need for climate change action on Saturday, saying the United States has the "cleanest water we have ever had."  
Source: thehill.com
A federal district judge issued a permanent injunction on Friday blocking construction of President Donald Trump's border wall, holding that it was illegal for his administration to spend current funding for that purpose. The U.S. Department of Justice (DOJ) will immediately appeal.
There are several ongoing lawsuits trying to stop the border wall. This case is before Judge Haywood Gilliam for the U.S. District Court for the Northern District of California, who was appointed by Barack Obama. The Sierra Club brought suit in that court because it is currently one of the most liberal federal trial courts in the nation.
DOJ argued in court that "plaintiffs fall outside the zone of interests of § 8005 and thus cannot sue to enforce it," and besides that, that the Defense Department "has satisfied the requirements set forth in § 8005." Gilliam rejected those arguments.
He also held that § 8005 funds could be used only for "unforeseen military requirements" and that constructing the border wall did not qualify.
The Sierra Club also argued that the use of these military funds under another part of federal law, 10 U.S.C. § 284, is illegal. But since those funds go through the Sections 8005 and 9002 accounts in any event, Gilliam declined to rule separately on the legality of Section 284 funds.
One win for the Trump administration in this case is that Gilliam continued to reject Sierra Club's claims under the National Environmental Policy Act (NEPA). The left has had high hopes that it could block the wall by arguing that building the wall is illegal because the federal government has not gone through NEPA's cumbersome and time-consuming requirements, but even Gilliam acknowledged that the Department of Homeland Security had authority to waive those requirements, which the department did.
Finally, although parts of the case are ongoing and therefore normally this case would be stuck in district court for the time being, Gilliam certified his partial summary judgment decision for immediate appeal. As a consequence, the Justice Department will now take the case to the U.S. Court of Appeals for the Ninth Circuit.
Source: breitbart.com
 The DS, MSM they are becoming very desperate, the NYTIMEs put out an oped saying that customs and border protection agents personal/private information be made public.
Scott Greer tweeted out the following
New York Times publishes oped calling for the harassment and doxing of everyone involved in immigration enforcement https://t.co/HrMZCkPIwM pic.twitter.com/rYm7BV3woi

— Scott Greer (@ScottMGreer) June 29, 2019
Those children that are being separated from the adults are not families, human trafficking is taking place,  and doxxing is against the law, the MSM is getting desperate because the truth is being dripped out and the public will soon wake up to how the migrants are really treated and that the reports they are producing is propaganda.
Now Andy  
Several media pundits dismissed reports of a conservative journalist's attack during a rally Saturday in Portland, Oregon. 
Footage of the attack shows a group of masked protesters swarming Ngo, punching him, and pouring milkshakes over him. He reportedly sustained serious injuries.
Source: dailycaller.com
Sen. Ted Cruz Calls on Federal Law Enforcement to Investigate, Bring Legal Action Against Portland Mayor – Who Ordered Police "To let Citizens Be
Ngo was later hospitalized Saturday night with a brain bleed
Following the attack Michelle Malkin set up a GoFund me account for Ngo, who was also robbed during the attack. So far $77,000 has been raised for Andy Ngo.
Senator Ted Cruz, himself a victim of leftist violence, lashed out on Twitter following the brutal attack.
Cruz called on federal law enforcement to investigate and bring legal action against Portland Mayor Ted Wheeler who reportedly called on police officers to stand down on Saturday.
Cruz also called on law enforcement to find and prosecute the "violent felons" behind the attack.
To federal law enforcement: investigate & bring legal action against a Mayor who has, for political reasons, ordered his police officers to let citizens be attacked by domestic terrorists. https://tinyurl.com/y2udrv5d https://twitter.com/tedcruz/status/1145212511966441473 …

Portland Mayor Ted Wheeler Under Fire for Not Stopping Antifa Protests

Wheeler's hands-off policy when it comes to Antifa came under scrutiny on Saturday after journalist Ngo was assaulted by masked assailants.

breitbart.com

To law enforcement: find & prosecute these violent felons. https://twitter.com/tedcruz/status/1145212299914952704 …
Source: thegatewaypundit.com
The portland police have already started to make a arrests and they say more on the way
Three Arrested in Connection with Violent Antifa Protests in Portland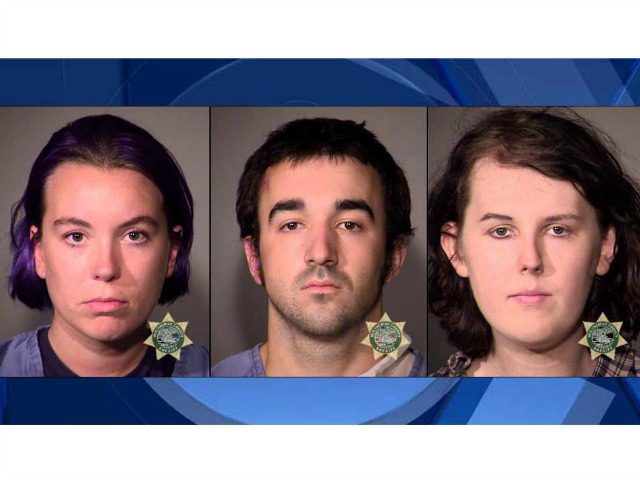 According to KPTV, police have arrested

 three suspects. 
Details via KPTV:
Gage Halupowski, 23, on charges of second-degree assault and assault on a public safety officer.
James K. Stocks, 21, on the charge of harassment.
Maria C. Dehart, 23, on the charge of second-degree disorderly conduct and harassment.
Portland Police also confirmed that some of the milkshakes thrown by protesters contained quick-drying cemen
KPTV noted that more arrests could be on the way.
Source: breitbart.com
DbqFW2HW4AA0Luo.jpg

https://twitter.com/Ruptly/status/1081555779059105793📁

Complete BLACKOUT by the FAKE NEWS MEDIA?

Ask yourself, why?

Are they afraid of U.S. Patriots engaging in the same tactics?

Did the LIBERAL LEFT (OLD GUARD) engage and form organizations such as ANTIFA TO COMBAT AND SILENCE (FASCISM) any such DEVIATION OF THE CONTROLLED NARRATIVE?

Do the actions of those Patriots abroad DESTROY THE FAKE NEWS NARRATIVE re: majority agree w/ the policies of the LIBERAL LEFT?

WE WILL NOT GO SILENT INTO THE NIGHT.

WE WILL NOT GO WITHOUT A FIGHT.

DO YOU BELIEVE THIS MOVEMENT AND WW EVENTS ARE SIMPLY A COINCIDENCE?

DIVIDED YOU ARE WEAK.

TOGETHER YOU ARE STRONG.

WE, THE PEOPLE.

WE, THE PEOPLE, HAVE THE POWER.

EO ACTIVE.

WHERE WE GO ONE, WE GO ALL!!!

Q
---
Geopolitical/Police State
Project Veritas Informs Congressional Leaders about Google's Manipulating of Elections
Veritas is making sure Congress knows about Big Tech threatening our democracy.
The organization's legal counsel, Benjamin Barr of Statecraft Law, sent letters to a bipartisan group of lawmakers in Washington D.C. including Sens. Ted Cruz (R-TX), Elizabeth Warren (D-MA), Mike Lee (R-UT), Josh Hawley (R-MO), Richard Blumenthal (D-CT), Mark Warner (D-VA), and Ed Markey (D-MA) as well as Reps. Louis Gohmert (R-TX), David Cicilline (D-RI), Steve King (R-IA), and Jim Jordan (R-OH) informing them that Big Tech is an existential threat to our democratic process.
Veritas provided a link to the letter they sent to Sen. Cruz where they outlined exactly how Google was violating election law with their abhorrent practices.
"Under the Federal Election Campaign Act ("FECA"), federal election law prohibits corporations from making contributions," Barr explained in the letter. "This prohibition includes in-kind contributions by corporations where something of value is offered that supports or opposes a candidate for office. As an incorporated entity, Google is forbidden under the FECA to use resources to 'never let[] somebody like Donald Trump [to] come to power again.'""
Source: bigleaguepolitics.com
---
War
Incredible – President Donald Trump Historic Visit to North Korea….
The world was watching history being made and overnight millions of Americans stayed up to watch the first sitting U.S. president cross into North Korea.  President Trump and North Korea's Chairman Kim Jong-un took a massive step toward deconfliction and peace.
An incredible moment.  WATCH:
.
. Source: theconservativetreehouse.com
@realDonaldTrump handling China and No. Korea just like a master negotiator. It's great for USA that we have someone who puts US first. Compare it to VP Biden caving in to China while his son was getting $1.5 billion investment from China. Where is FakeNews on real corruption?

— Rudy Giuliani (@RudyGiuliani) June 29, 2019
The MSM and the DS are trying to down play this, but this is very important, this is the first time a sitting president set foot on NK land. Trump has removed the black sites, removed the DS and the MSM call for war has been distinguished, the denuclearization and peace deal will move forward.
Do you think this wasn't planned from the beginnging, of course it was, timing is everything
Remember Kim and Trump correspond via letter, the DS and the MSM have no idea whats going on
Now trump has met with Moon Jae in, peace is here, next is iran
Q

 

!CbboFOtcZs

 

ID: 3497f0

 No.1699714


Does Kim look nervous prior to the 'BIG' meeting w/ POTUS?
Did they already meet long ago?
Is he preparing at his hotel w/ his advisors ahead of time?
Or, is he out enjoying the 'FREEDOM' he never had in the past?
Deal done?
Safe?
On guard?
POTUS moves up departure – why?
The World is Safer.
IRAN developments…
Q
Iran to Exceed Enriched Uranium Limit Under JCPOA Soon – Reports
Iran reportedly will soon exceed the enriched uranium limit under its nuclear deal after the remaining signatories of the Joint Comprehensive Plan of Action (JCPOA) .
  European countries had offered too little at last-ditch talks to persuade Tehran to back off from its plans to breach limits imposed by the deal,
Source: sputniknews.com
The New York Times is outraged, just outraged! — that US anti-tank missiles have been found in "unknown" Libyan rebel hands.
Currently, it's the UN-backed government in Tripoli which finds itself on the receiving end of deadly accurate high-tech US-made weapons systems, according to the MSM:
Libyan government fighters discovered a cache of powerful American missiles, usually sold only to close American allies, at a captured rebel base in the mountains south of Tripoli this week.

The four Javelin anti-tank missiles, which cost more than $170,000 each, had ended up bolstering the arsenal of Gen. Khalifa Hifter, whose forces are waging a military campaign to take over Libya and overthrow a government the United States supports.

Markings on the missiles' shipping containers indicate that they were originally sold to the United Arab Emirates, an important American partner, in 2008
It was only months ago that President Trump for the first time voiced public support to Haftar's forces, which are engaged in a renewed civil war against the UN-supported Government of National Accord (GNA) in Tripoli. The president's April comments signaled a complete reversal of US policy, given that up to that point the US had officially backed the GNA.