Podcast: Play in new window | Download (Duration: 44:08 — 44.7MB)
The MSM is pushing the idea that without the government the GDP numbers will be zero, we all know that the stats are manipulated, Trump holds the magic wand and could make these numbers look anyway he wanted. If the numbers are poor it shows the entire economy is dependent on the government, if the numbers are good it shows we don't need the government. The MSM is trying to push the idea that the US canceled trade meetings with China, this turns out to be false. Control is the name of the game and the CB and DS do not have it. The Covington event is being pushed by the MSM, they need to because of what is coming. The insurance policy is now being moved from Mueller to the House, get ready Mueller's report will show nothing. Cohen is postponing his Feb 7 house testimony, but there is more to this story. The dossier was a setup, the leaked information proves it. Nancy Pelosi rejects Trumps offer to do the SOTU in the capital building. She just put a wall, and she says walls don't work. We are watching a show, the plan is playing out as planned, projecting and blocking will not save the [DS].
Check Out The X22 Report Spotlight YouTube Channel X22Report Spotlight
Please check Newzsentinel.com for the latest news on the economic collapse. The Sentinel Alerts are updated throughout the day. If you haven't already, go to "The People" and join the community of people who are helping each through the economic collapse.
---
Current News – 01.23.2019
Watch The X22 Report On Video
---
Economy
White House Council of Economic Advisers Chair Kevin Hassett warned  that if the government shutdown continues, there is a chance of zero growth in the first quarter:
"It is true that if we get a typically weak first quarter and extended shutdown that we could end up with a number that is very low."
However, Hassett was quick to note that this could be followed by "humongous" growth in the second quarter if the government reopens.
Source: zerohedge.com
White House Denies Report That It Canceled Trade Meeting With China
The White House denied a media report that it rejected a trade-planning meeting with Chinese officials this week because of disputes over the structural reforms that China had promised to make.

A White House spokesperson, however, told The Epoch Times that there was no meeting with the Chinese officials formally scheduled for this week, and, hence, denied rumors that the White House canceled a meeting.
The spokesperson also said, "the teams remain in touch in preparation for high-level talks with Vice Premier Liu He at the end of this month."
Beijing last week confirmed that Liu would travel to Washington by the end of this month to hold meetings on Jan. 30-31 with Treasury Secretary Steven Mnuchin and U.S. Trade Representative Robert Lighthizer.
Source: theepochtimes.com
---
Political/Rights
Convington Event is being ripped apart, the MSM is trying to control this narrative, Benny Johnson said it perfectly, he tweeted
Just a reminder that when the media gets something horrifically wrong and look like idiots they will band together & dig up anything & everything to try to exonerate themselves and prove they were right all along.

Please see: Trump election victory 2016, Russian Meddling https://t.co/jPSf5X5RxE

— Benny (@bennyjohnson) January 23, 2019
So lets go over some facts
The truth on #NathanPhillips per DD214 fm #DonShipley A poseur assassinhttps://t.co/1h4P6xAadj
Not a Vietnam vet
Served in USMC 72-76
Drumroll please
Refrigerator mechanic not a "Recon Ranger
& the big finish
3 AWOLS

Thanks for your service Nate
Now shut up

NSFW but awesome pic.twitter.com/AcZciLewKi

— Jim Hanson (@Uncle_Jimbo) January 23, 2019
Nathan Phillips Tried to Disrupt Catholic Mass by Chanting, Beating Drum
A group of Native American activists, led by native elder Nathan Phillips, allegedly tried to enter a Catholic church in Washington, DC, on Saturday while chanting and banging on their drums.
Nathan Phillips, along with about twenty other activists, tried to disrupt a January 19th evening Mass at the Basilica of the National Shrine of the Immaculate Conception, while chanting and banging on their drums, according to the Catholic News Agency (CNA).
Source: breitbart.com
Now it turns out the Nathan Phillips was in a music video, so is he an actor, it is starting to look this way.
Comic Kathy Griffin Forced to Delete False Tweet About Covington Teens
Comedian and former CNN host Kathy Griffin was forced to delete a tweet that showed students at Covington Catholic High School—the same school involved in a viral confrontation with protesters in Washington D.C.—playing basketball.
"Covington's finest throwing up the new nazi sign," wrote Griffin, claiming that some players were holding their thumb and pointer fingers together along with three other fingers up in the air.
But she appears to have mistaken the standard "OK" sign with the standard celebration after a three-point shot is made.
Griffin deleted the tweet, which included a photo of the basketball game.
Source: theepochtimes.com
This event is being kept alive, why, so they can use this later on
Here We Go – Impeachment Chairman Jerry Nadler Sends Demand Letter to AAG Matt Whitaker… https://theconservativetreehouse.com/2019/01/22/here-we-go-impeachment-chairman-jerry-nadler-sends-demand-letter-to-aag-matt-whitaker/

The House Judiciary Committee is the lead committee on the constitutional process to evoke articles of impeachment.  Jerry Nadler is the committee Chairman.  Speaker Pelosi previously created specific rules for the House in a well planned construct to empower three committee heads (Cummings, Schiff and Nadler) toward a narrow path.
Oversight Chairman Elijah Cummings is leading off on Thursday February 7th, 2019, with testimony from Trump's former legal counsel Michael Cohen.  It should be noted Mr. Cohen is being represented at the committee hearing by DNC operative Lanny Davis. However, Mr. Lanny Davis is not being paid by Mr. Cohen; he is being paid by democrat groups supporting the 'resistance' strategy.
The very next day, Friday February 8th, Nadler has scheduled the DOJ to appear for his first round approach in the legislative trident.   This is all being done by a well-crafted design.
Source: theconservativetreehouse.com
Michael Cohen will postpone his Feb. 7 House testimony, citing President Trump's tweets about his family https://t.co/vAobK010QH

— The Wall Street Journal (@WSJ) January 23, 2019
A Desperate Man : Michael Cohen
Don't be distracted by the gossip and tittle-tattle being spread about Michael Cohen. Forget taxi medallions and porn stars. They're meant to distract.  the true DOJ investigations are likely focussed on Cohen's connections to illegal lobbying by Clinton proxies, on behalf of Ukraine.
Here's an extract of Bloomberg's misleading opening paragraph yesterday, about the Skadden, Arps, Slate, Meagher & Flom LLP agreement to pay $4.6 million, as part of a settlement with the U.S. Justice Department. The settlement was:
"over unregistered work it did with Paul Manafort to benefit the government of Ukraine in 2012 and 2013."
Er, NO. Here's a correction. It was over:
"unregistered work it did with Paul Manafort, VIN WEBER AND TONY PODESTA to benefit the government of UKRAINE'S PRESIDENT, Putin-backed YANUKOVYCH in 2012 and 2013."
See how that works? Bloomberg left out critical names. Ditto, all the FakeNews mainstream outlets.
But that typo should have been easy to correct. After all, it was widely reported in August 2018 that Special Counsel Mueller had referred Manafort and Gates (Essential Consultants), Podesta (Podesta Group) and Vin Weber (Mercury Group) to DOJ prosecutors at SDNY, in relation to non-FARA illegal lobbying work carried out on behalf of the Putin-backed Ukrainian leader, Yanukovych.
And here's the thing : they likely illegally lobbied for Yanukovych's rival, Poroshenko, after he came to power.
Yes they lobbied for rivals?   That's how amoral crooks roll.
Before we get into Michael Cohen
 Here's a few interesting facts 
– Cohen's company, Essential Consultants, allegedly received a $500,000 payment from a company connected to Russian oligarch and Putin ally, Viktor Vekselberg, a close ally of Yanukovych and Viktor Pinchuk.
– Cohen's family has extensive and powerful connections to Ukraine and Russia. He has also spent much of his personal and professional life with immigrants from Russia and Ukraine.
– His father-in-law, who helped establish him in the taxi business, was born in Ukraine and is very well connected in the corrupt cesspool of Ukrainian politics and business.
Trump tweeted out the following
Kevin Corke, @FoxNews "Don't forget, Michael Cohen has already been convicted of perjury and fraud, and as recently as this week, the Wall Street Journal has suggested that he may have stolen tens of thousands of dollars…." Lying to reduce his jail time! Watch father-in-law!

— Donald J. Trump (@realDonaldTrump) January 18, 2019
  Cohen received a  payment of at least $400,000 to fix talks between the Ukrainian president, Poroshenko and President Trump, according to sources in Kiev close to those involved (the meeting never happened, by the way).
Now of course, Trump's deranged opponents allege that Cohen's background somehow connects him with Trump and Putin, to steal the 2016 election, a ridiculous over-reach, that has no evidence to support it. And as usual, in their incompetence they miss the bigger story – Cohen was likely working with the lobbyists Podesta, Manafort/Gates and even Weber, to get a cut of the action, from their unregistered lobbying work on behalf of Ukraine.
  Cohen voted Obama in 2008 and before that, was photographed with none other than Hillary Clinton, at what he called 'The Kennedy Compound':
#tbt being received by two great Americans…Hillary Clinton and Patrick Kennedy at the Kennedy Compound pic.twitter.com/z57PXfWxfW

— Michael Cohen (@MichaelCohen212) June 26, 2014
Note the date of that tweet: June 27, 2014. No wonder Clinton was celebrating. That was the date that the new President of Ukraine, Petro O. Poroshenko, signed a long-delayed trade pact with Europe, that Moscow had bitterly opposed.
that is the same Poroshenko who backed Hillary Clinton in 2016. I
  the Clinton's link to Ukraine is better understood by their relationship with Victor Pinchuk, not with particular leaders. Ukraine is a land of extreme corruption and political upheaval. Billionaires such as Pinchuk go with the flow, greasing the palms of politicians to preserve the legitimate and illegitimate businesses. The Clintons worked out early that it was to their benefit, to hitch their wagon to the Pinchuk wagon.
And Michael Cohen, who had business interests outside the Trump world, is likely implicated in the corruption.   Behind the scenes, it is more likely that the SDNY investigations are focussed on Cohen's role in the corrupt Clinton-Pinchuk nexus, as well as his links with illegal lobbying by Manafort, Podesta and Weber.
Oh, they'd be looking at something else too – Cohen's role in the framing of Donald Trump, as well as his covert profiteering, via his connection to Trump. It's not just payments from Poroshenko that Cohen is alleged to have secretly pocketed. And what about this? There's also alleged evidence that as early as September 2015, one of Hillary Clinton's closest allies, made a bizarre $150,000 donation to the Donald J. Trump Foundation.
Who was the ally? None other than Viktor Pinchuk.
Who solicited that donation?
Why, none other than Michael Cohen.
A liar, traitor and crook, who chose the wrong side in 2015/16.
And in 2019, as the walls collapse around him, is now a very desperate man.
Source: quodverum.com
 We need to go back to post 2672
So lets continue, this is all the information that is coming out and will be used against them, we are watching the preview to the main event. '
What we are witnessing is the build up to the declassification, this is why the MSM is pushing their agenda, they know they need to use as much ammunition as possible to try to stop it all from coming out, once the truth comes out, people start to wake up and you cannot put them back to sleep
Top FBI Official-Comey Confidante Met with DNC Lawyer who Leaked to Media
Former FBI General Counsel James Baker met with the Democratic party's top lawyer, Michael Sussmann, to discuss the ongoing investigation by the bureau into the Trump campaign's alleged ties with Russia. This meeting happened prior to the FBI's initial warrant to spy on short-term campaign volunteer Carter Page, sources close to the investigation have told SaraACarter.com. Moreover, information provided by Baker, who gave extensive testimony Wednesday to lawmakers behind closed doors, coincides with the House Intelligence Committee's final Russia report that suggests Sussmann was also leaking unverified information on the Trump campaign to journalists around the same time he met with Baker, according to the report and sources close the investigation.
These sources say this new information from Baker exposes the bureau's failure to inform the secretive Foreign Intelligence Surveillance Court (FISC) that the evidence used to spy on Page was partisan and unverified. It further reveals the extensive role and close connection Sussmann, a cybersecurity and national security lawyer with Perkins Coie, had with the now-embattled research firm, Fusion GPS. The Democratic National Committee and Hillary Clinton Campaign retained Fusion GPS through Perkins Coie during the 2016 election to investigate alleged ties between the Trump campaign and Russia. Fusion GPS then hired former British spy, Christopher Steele, who compiled the unverified dossier during the summer and fall of 2016

In 2016, the Clinton campaign and the DNC paid $9.1 million to the law firm, according to reports. Sussmann, however, is also connected to CrowdStrike.  CrowdStrike is the private cybersecurity that was retained by Perkins Coie for the DNC to investigate the breach of its server after it was discovered that it had been hacked in April 2016. Although the FBI has conducted its own investigation into the breach of the server the Democratic National Committee never gave the FBI permission to access the server itself.
"These parallels between the law firm and CrowdStrike also need to be investigated," said a former FBI official familiar with the security firm. "All of these connections aren't coincidences and it smells to high heaven."
There's no way the FBI could have not known it was Perkins Coie being paid by the DNC and Clinton campaign
Source: saracarter.com
FED BOMBSHELL: Fusion GPS Bribed Dozens of MSM Journalists With Cash, While News Companies Paid Firm to Dig Dirt on Trump
High-ranking FBI insiders are pulling back the curtain on Fusion GPS, the firm that commissioned and spread the bogus Trump dossier.
It appears the embattled intelligence firm was quite busy paying off Big Media reporters, according to federal sources who have traced dozens of transactions between TD Bank and media members as well as media organizations, sources confirm.

But stunningly, Big Media organizations have employed Fusion GPS to dig dirt on politicians and D.C.'s elite — namely Donald Trump.
"Fusion GPS was on the payroll of the media and in turn had members of the media on its payroll," one FBI insider said.
Bombshell revelations.
 ,
"There are dozens of payments from the media flowing into their (Fusion GPS') account," one federal law enforcement official said. "One company wired funds to Fusion (GPS) more than a dozen times."
 Source: truepundit.com
Adam Schiff admits to leaks that Don Jr accused him of, but wants you to call it something less slimy
House Intelligence Committee Chair Adam Schiff defended himself Tuesday against Donald Trump Jr.'s accusation of leaking by stating he didn't "leak" testimony, but rather he exposed it.
"That's not a leak, it is exposure of his non-cooperation and his stonewalling of our committee,"
"
Trump said he believes "there's a 99.9 percent chance [Schiff is] the guy" who has been leaking private testimony that he gave in 2017 when he appeared before the House Intelligence Committee to discuss the now-infamous Trump Tower meeting.
"I came out of testimony 8 at night and CNN is running quotes from noon on about my testimony, you know, in the House Intelligence Committee," Trump said. "I mean, that has to say something about what is going on and who they are. Since [Schiff has] never met a camera he didn't love, I would bet a lot of money that it was him."
Source: bizpacreview.com
White House announces 51 judicial picks, including two for liberal 9th Circuit
The White House on Tuesday announced the re-nomination of 51 federal judicial nominees left over from the previous Congress, kickstarting the administration's effort to install more conservative judges after GOP activists worried that such appointments had stalled.
Nine of the 51 appointments are for spots on prestigious and influential federal appellate benches, including two on the mostly liberal San Francisco-based 9th Circuit Court of Appeals, which President Trump has often derided as "disgraceful" and politically biased.
Source: foxnews.com
Republican Senate Majority Leader Mitch McConnell said he planned to hold a vote on Thursday on a Democratic proposal that would fund the government for three weeks but does not include the $5.7 billion in U.S.-Mexico border wall funding demanded by President Donald Trump.

Its prospects appeared grim. The House of Representatives has passed several similar bills, but Trump has rejected legislation that does not include border wall funding. McConnell previously said he would not consider a bill the Republican president refused to sign.

McConnell also planned to hold a vote on legislation that would include border wall funding and relief for "Dreamers," people brought illegally to the United States as children, a compromise Trump proposed on Saturday.

Rep Dan Crenshaw tweeted the following
Big deal that never got reported:

Last week, House GOP voted to pay federal employees their 1st paycheck of 2019, despite shutdown. Only 6 Dems voted with us. It failed.

Dem priority is not paying workers or opening gov't. It is opposing Trump. https://t.co/i9TKGIjRnY

— Rep. Dan Crenshaw (@RepDanCrenshaw) January 23, 2019
Now trump tweeted out a new slogan for the wall, heres the tweet
BUILD A WALL & CRIME WILL FALL! This is the new theme, for two years until the Wall is finished (under construction now), of the Republican Party. Use it and pray!

— Donald J. Trump (@realDonaldTrump) January 23, 2019
Source: huffingtonpost.com
Trump is pushing forward with the SOTU, he wrote a letter to Nancy Pelosi.
President Trump's letter to Speaker Pelosi on the State of the Union pic.twitter.com/B4QN9hDJnv

— Sarah Sanders (@PressSec) January 23, 2019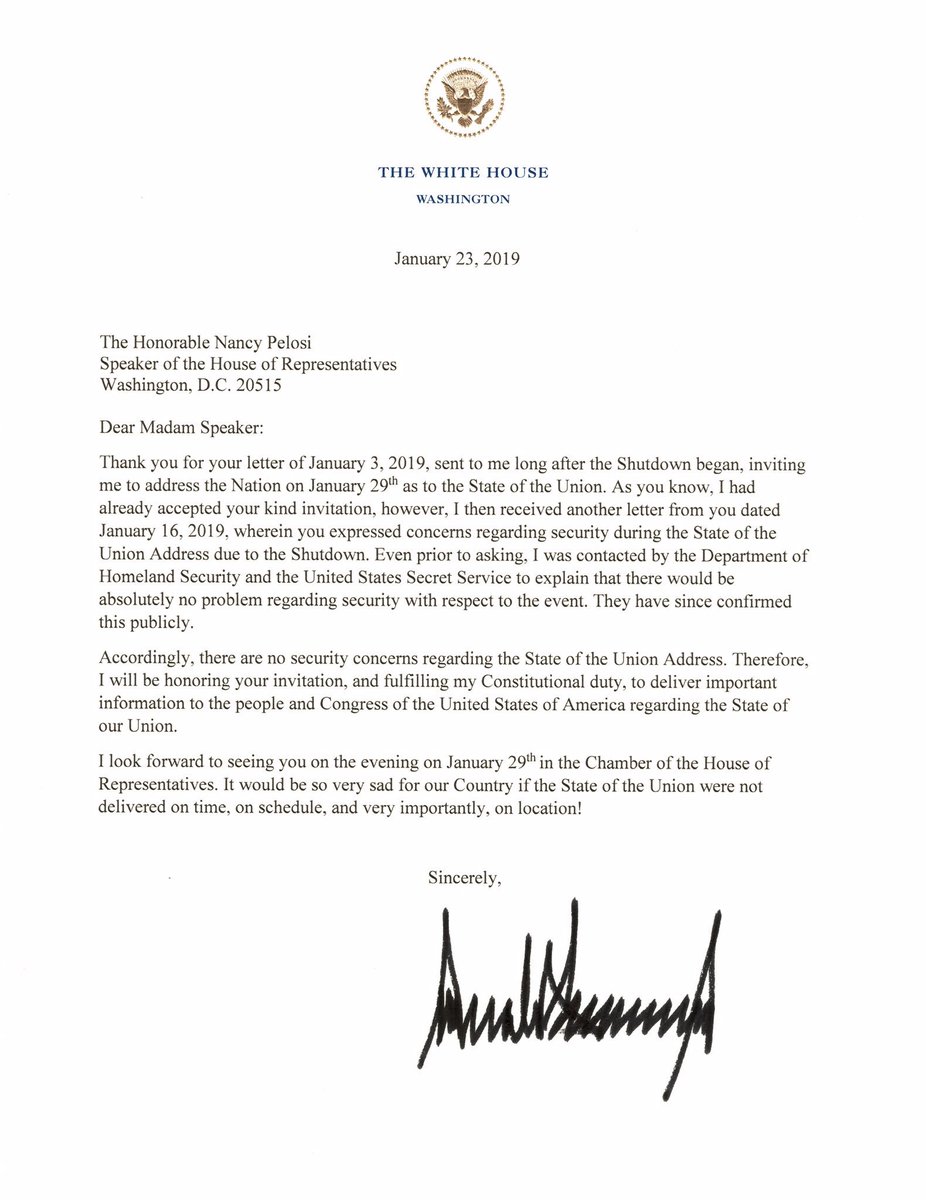 ---
---
War
Erdogan in Moscow for talks with Putin on Syria safe zone
Russian President Vladimir Putin and his Turkish counterpart Recep Tayyip Erdogan met for Syria talks in Moscow Wednesday, with Turkey saying they would focus on Ankara's so-called "security zone" in northern Syria.
Source: dailystar.com.lb
Source: zerohedge.com

Israel must stop 'arbitrary strikes' in Syria – Zakharova
The spokesperson for the Russian Foreign Ministry Maria Zakharova said on Wednesday that Israel must halt their "arbitrary strikes" in Syria, as it violates international law.
"The practice of arbitrary strikes on the territory of a sovereign state, in this case, we are talking about Syria, should be ruled out," Foreign Ministry spokeswoman Maria Zakharova said,
She said such strikes added to tensions in the region, something she said was not in the long-term interests of any country there, including Israel.
Source: almasdarnews.com