Podcast: Play in new window | Download (Duration: 39:38 — 45.3MB)
As interest rise the emerging markets are being demolished. The bonds that Argentina issued are worthless and they are looking to get a bailout from the IMF. Hedge fund investors are now shorting the market, plus they are saying many corporations are going down with the ship. Putin pushes the agenda to move away from the dollar, time is closing in on the economy completely breaking down and it seems Russia and China are ready to breakaway and be independent. McCain admits he passed along the dossier to get Trump.US/NK summit will take place on June 12 in Singapore. Macron and Merkel are scrambling now, Merkel says the US cannot protect us. Macron tries to keep the Iran deal together. Israel has now pushed a false flag to help the rebels in Syria. Syria intercepts Israel's missiles. Q drops more intel, the middle east is plan it about to trap those who have been using slush funds and laundering money in Iran to push their agenda with the Uranium one deal. The plan is to get Syria hardened with missile tech, trap the traitors and expose the entire operation.
Check Out The X22 Report Spotlight YouTube Channel –  X22Report Spotlight
Please check Newzsentinel.com for the latest news on the economic collapse. The Sentinel Alerts are updated throughout the day. If you haven't already, go to "The People" and join the community of people who are helping each through the economic collapse.
---
Current News – 05.10.2018
---
Economy
As US Dollar & Interest Rates Rise, All Heck Breaks Loose in Emerging Market Currencies
When the "hot money" gets antsy, a currency crisis morphs into a debt crisis.
 Argentina sold new foreign-currency bonds,  in June last year $2.75 billion of 100-year bonds at a yield of 7.9% and in January this year $9 billion of bonds, composed of five-year bonds at a yield of 4.625%, 10-year bonds at a yield of 6%, and 30-year bonds at a yield of 7%.
Argentina's peso is now in free-fall even though the Central Bank raised its interest rate three times last week to a stunning 40% to halt the plunge. Inflation is 25% and might get worse. And on Tuesday, the government began begging the IMF for a bailout to help deal with its currency crisis that is morphing into a dollar-denominated-debt crisis. Investors are ruing the day.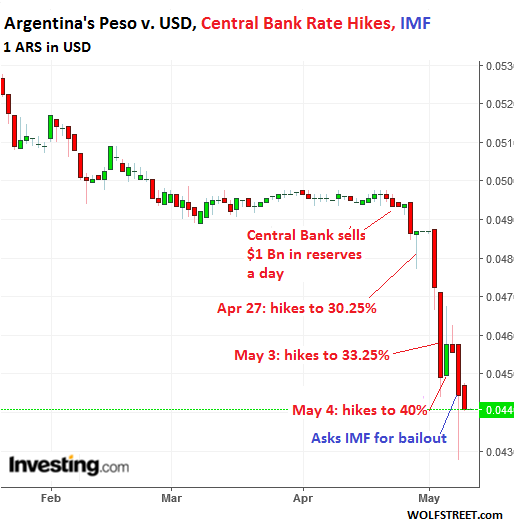 But it's not just Argentina.
The Brazilian real has dropped 12% against the dollar since the end of January:
The Turkish lira has dropped 13% against the USD since early February:
The Russian ruble has dropped 11.5% since early February, despite the surge in the price of oil since then
 Rising interest rates in the US has unleashed competition among banks for deposits for the first time in a decade, and the Fed is allowing it to happen.
Source: wolfstreet.com
"This is not a time to be rewarded for long market exposure…"
Market shifts are inherently difficult to anticipate and when they happen, they do not ring a bell but they do blow a dog whistle, as we have said in the past. Our job is to listen carefully and to take decisive action when we suspect change is afoot. We believe that the increase in our short book and our reduced net and gross reflect what we are hearing.

Source: zerohedge.com
Putin calls for a Russian independence from the Petrodollar system
 Putin observed the necessity of increasing Russia's economic sovereignty and independence from the petrodollar system, stressing that the West is boosting this process through its economic bullying in the form of sanctions.

"This is not merely a separation from the dollar; this refers to the need of strengthening our economic sovereignty," Putin said.

"Our gold and foreign currency reserves undergo diversification and we will continue to do it," he added.
Generally speaking, any country that wants to buy oil needs to buy dollars first, with which to accomplish the commodity purchase, which is a major aspect of the dollar's global hegemony in international trade.
The US, in attempting to maintain this, has been resorting to international bullying in its sanctions and financial practices, which, continuing down this path, is only ensuring America's eventual irrelevance on the global economical stage.
We have seen how this is happening around the world, with China's introduction of the Petroyuan, Venezuela's petro, and with bilateral trade deals and banks being erected so as to side step both the dollar and American economic sanctions. Putin cites Russia's gold and foreign currency reserves, and his intention to do something about Russia's dependence on the American dollar backed oil system.
Source: theduran.com
---
Political/Rights
John McCain Admits: He Gave Comey The Unverified, Clinton-Funded Trump Dossier
 McCain finally admits he is the source that gave former FBI Director James Comey the shameful, unverified dossier which was compiled by Christopher Steele, the former British intelligence officer. As we've now learned, that research was funded by the Hillary Clinton campaign and the Democratic National Committee, and the document was used in front of FISA judges to allow for the wiretapping of Trump campaign insiders.

Source: thepoliticalinsider.com
BREAKING: Emails reveal that James Comey coordinated his 6/8/2017 testimony in front of the Senate intel committee with special counsel Robert Mueller – Judicial Watch
---
War
The highly anticipated meeting   will take place in Singapore on June 12th. We will both try to make it a very special moment for World Peace! 
Source: zerohedge.com
US treasury issues new sanctions against Iran
The US Treasury has blacklisted six individuals reportedly associated with Iran's Islamic Revolutionary Guard Corps (IRGC) and three related business entities, just days after the US withdrew from the 2015 nuclear deal.
The list of sanctioned individuals was updated Thursday with the names of Meghdad Amini, Mohammad Hasan Khodai, Said Najafpur, Masud Nikbakht, Foad Salehi and Mohammadreza Khedmati Valadzaghard, said by the government to be linked to "Quds Force" of the IRGC.
Source: rt.com
  Merkel said that Europe can no longer rely on US "to protect it."
"It's no longer the case that the United States will simply just protect us. Rather, Europe needs to take its fate into its own hands, that's the task of the future," 
Source: zerohedge.com
Israel said that Iran has crossed the red line (deep state speak).  Iran has done nothing, there is no reason to attack Israel or US, Iran has not started a war in over 200 years.
Iran Claims Israel Attack Was A False Flag
In the aftermath of one of the most severe Israeli attacks on Syria "in decades," Iranian lawmakers said Thursday that Iran had no role in the attack, and that Shia nation doesn't operate any bases in Syria.
  Iranian Parliament's national security and foreign policy committee, said Israel's claim that Iran had provoked Israel by firing first was "a lie," adding that "Israel's history of carrying out unprovoked attacks in Syria has been well-documented."
"Iran does not have military base in Syria," Nobandegani added.
And while Iran maintains that last night's skirmish between the Israeli Defense Force and Syrian Army forces was a false flag, and that the IDF struck first (continuing its pattern of airstrikes and other military assaults in Syria),
Unsurprisingly, the alleged Iranian attack resulted in no casualties or damage to Israeli infrastructure, with no rockets hitting Israeli-held territory (the Golan Heights border region is considered Syrian territory occupied by Israel).b
Source: zerohedge.com
Russia urges Iran, Israel to show restraint
Moscow expects Iran and Israel to exercise restraint and use only political and diplomatic means to resolve the situation, Acting Russian Presidential Spokesman Dmitry Peskov told reporters.
Source: tass.com
A HQ of the border brigade 9900
A HQ of the border brigade 810
A technical and electronic survey facility
A HQ of the EW jamming facility
A communication and transmission facility
A helicopters airfield
An outpost at Hermon Mount
Alpinist unit HQ
The Israeli side accused Iran of conducting this attack, which some experts viewed as Teheran's response to the recent Israeli strikes on the T4 airbase in Syria where some Iranian servicemen were killed.
Some   channels spread a following pic as an example of the damage caused by the rocket shelling. It is fake.
For example:
In response, the Israeli military shelled positions of the Syrian Arab Army and the National Defense Forces near Hadar and Khan Arnabah in the southern Syrian governorate of al-Quneitra.
Later Israel carried out strikes on 35 targets across Syria, including areas in the southern part of the country, the Damascus countryside and the province of Homs.
According to the Syrian state-run news agency SANA, the Syrian Air Defense Forces intercepted tens of the Israeli missiles "preventing most of them from reaching their targets". However, a part of the missiles hit "a number of air defense battalions, radars, and an ammo depot".
The Lebanese military said that 4 Israeli warplanes had violated Lebanese airspace at the same time when Israel was carrying out strikes on Syria.
Syrian troops and parts of the intercepted missile:
Source: southfront.org
Developing: Rebels take advantage of Israeli attack to launch offensive against Syrian Army
The rebel forces in Al-Quneitra took advantage of the recent Israeli attack to launch a powerful offensive against the Syrian Arab Army (SAA) in the Al-Quneitra Governorate tonight.

No gains have been reported.
The Syrian Arab Army is attempting to push back the rebels, but they are currently under attack from several axes.
Source: almasdarnews.com
---
Cyber Attacks
Iran 'likely' to launch cyber attack on Western firms in nuclear deal revenge
Iran is "likely" to launch cyber attacks on Western businesses "within months" in retaliation for the US pulling out of the nuclear deal, security experts have warned.
The businesses at greatest risk are banks and financial services, critical infrastructure providers and energy companies along with government departments.

Source: telegraph.com
---
Q
1323
https://www.iranwatch.org/authoring-agency/rosatom-state-nuclear-energy-corporation
ROSATOM to Support Massive Scale-Up of Iran's Civilian Nuclear Program
ROSATOM, one of the world's biggest nuclear energy companies, announced today further details of yesterday's agreement with the Islamic Republic of Iran to scale-up the country's civilian nuclear program, which has been constrained for decades by war and international political pressure.
The wide-ranging agreement is set to transform the energy infrastructure and economy of Iran, which is around 90% dependent on domestically-produced oil and gas for its electricity. As many as nine million homes will be supplied with electricity by the expanded nuclear facilities, meeting around a third of the country's power needs and enabling hydrocarbon reserves to be conserved for future export.
The cornerstone of the agreement is the further expansion of the Bushehr Nuclear Power Plant on the Persian Gulf, which ROSATOM completed in 2013. It is also the only civilian nuclear facility in the Middle East, and with a 1GWp VVER-1000 reactor, today supplies one million Iranian homes.
Under the terms of the agreement, ROSATOM will add two further VVER nuclear reactors at Bushehr in the short-term. The exact type of the reactors, as well as the financial terms and timetable will be agreed in the coming months. Two further reactors will be built at Bushehr in the medium-term. A new seawater desalination plant is under consideration that would be powered by the expanded power station.
In addition, the parties agreed to develop an entirely new nuclear power plant in the country with four VVER reactors. The location has yet to be announced by the Iranian nuclear authorities.
We know Rosatom is the Russian link to Uranium One. We know Uranium One involves treasonous action by Cabal & Co. to make money and to divert American product toward Sum of All Fears end…
Thus, Iran Deal can be assumed as hush money to the Iranians, to keep their mouth shut about the source of Uranium and I assume, to do their part/stick to the story whatever the evil plan was.
Trump cuts off payments, Iranian regime is free to speak the truth, unless Europe saves the deal soon (comes up with the payments, I assume). HRC is in New Zealand to access 5 eyes intel in real-time, but also to get far away from arrest/meet with shady actors.
So we should be meme'ing: "WHAT DOES IRAN KNOW? WHY THE HUSH MONEY TO IRAN?"
File (5649fd705ec4041⋯.png (28.29 KB, 647×121, 647:121, #uranium2.png) (h) (u)
):
File (a735134a0f39cc7⋯.png (71.18 KB, 649×292, 649:292, #uranium3.png) (h) (u)
):
File (5486b59a1bd46db⋯.png (116.94 KB, 665×547, 665:547, #uranium4.png) (h) (u)
):
We know Rosatom is the Russian link to Uranium One. We know Uranium One involves treasonous action by Cabal & Co. to make money and to divert American product toward Sum of All Fears end…
Thus, Iran Deal can be assumed as hush money to the Iranians, to keep their mouth shut about the source of Uranium and I assume, to do their part/stick to the story whatever the evil plan was.
Trump cuts off payments, Iranian regime is free to speak the truth, unless Europe saves the deal soon (comes up with the payments, I assume). HRC is in New Zealand to access 5 eyes intel in real-time, but also to get far away from arrest/meet with shady actors.

Iran plan
1. Get out of Iran deal
2. Set Iran free
3. Trap the deep state
4. Force Israel into pushing an event in Syria
5. Force Russia to Deliver S300 missile system to Syria, something Israel does not want
6. Shut down the push into Syria
7. Iran has already purchased anti air missile systems
8. Expose the deep state on how the Uranium deal was delivered and used to setup Russia
9. Expose the slush fund money that is used to fund the entire operation
Russia will now sell the S300 to Syria, Iran is purchased the
Russian President Vladimir Putin has ordered his defense ministry to plan for the possible transfer of S-300 anti-air missiles to Syria following the U.S. and allied cruise missile strikes that easily penetrated Syria's Soviet-era defenses.
 Russia's Kommersant newspaper, citing sources, said that S-300s would be given — not sold — to Syria and that issues surrounding the transfer "have practically been resolved."
Source: military.com/
 .
Russia delivered the SA-20c SAM system in 2016, providing Iran with its most advanced air-defense system. Now, Iran has "the flexibility of a highly mobile, long-range, strategic surface-to-air missile," Lieutenant General Robert Ashley, the DIA director, said in written testimony submitted Tuesday to the Senate Armed Services Committee.
Source: bloomberg.com
1324

https://mobile.twitter.com/realDonaldTrump/status/994586105822564353

Names?

No Name prev meeting(s)?

Panic?

Discussions of death/funeral?

Medical or escape?

Now comes the pain.

Q
Out of the blue, on Thursday morning a euphoric President Trump tweeted on Thursday that five of the "Most Wanted leaders of ISIS" have been captured.
Hours before, a security advisor to Iraq's government said that Iraqi agents had detained a top aide to ISIS leader Abu Bakr al-Baghdadi, then used an app on his smartphone to lure four commanders from the terrorist organization into a trap – convincing the four Iraqis and one Syrian to cross the border from Syria to Iraq where they were captured by officials.
Those arrested included Saddam al-Jammel, a Syrian who had been the head of the Islamic State territory around Deir al-Zour, and Abu Abdel al-Haq, an Iraqi who had been the head of internal security for the group. Two other Iraqis were also arrested, the officials said. –
Source: zerohedge.com
---
Uncensored