Podcast: Play in new window | Download (Duration: 39:12 — 42.9MB)
Durable goods disappoints, the people were not purchasing the big ticket items. Spending on homes dropped,  existing, new home purchases declined at a time in the summer when they are suppose to be doing well. The bubble is popping, traffic is drying up. Trump wins trade war with the EU, the reshaping of the central banks has begun. The new GDP numbers are out and they are not what they seem, there was a big revision to make it look like the economy is doing well. The White House begins put procedures in place to remove the security clearance of certain individuals. Illegals are being reunited with their families, but not all because they do not have parents in the US. Twitter was caught shadow banning, this is a practice of hiding search results and many companies use this to hide certain information from the public. North Korea is returning the remains of the soldiers. Syria finds weapons at the White Helmet base. Q has dropped more bread crumbs and Q has confirmed the central bank the way we know it today is going to change.
Check Out The X22 Report Spotlight YouTube Channel X22Report Spotlight
Please check Newzsentinel.com for the latest news on the economic collapse. The Sentinel Alerts are updated throughout the day. If you haven't already, go to "The People" and join the community of people who are helping each through the economic collapse.
---
Current News – 07.27.2018
Watch The X22 Report On Video
---
Economy
Spending on Housing Dropped 12% in Canada in June
The national slowdown was particularly unkind to the province of BC.
 National home sales fell 11% year-over-year in June,
As sales dipped, so too did the total amount spent on real estate. The total dollar volume dipped 12% year-over-year in June, totaling C$23.5 billion. A tough blow to government tax coffers which have reaped record sums of property tax dollars in recent years.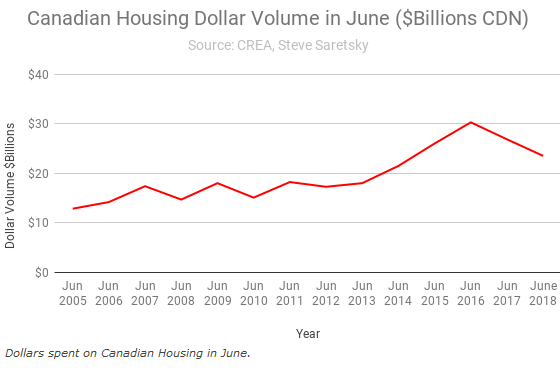 Source: wolfstreet.com
Home Sales Data Show The Bubble Is Bursting
There's no question in my mind now that the housing "snowball" has started downhill and it won't take long to develop into an avalanche. In addition to all of the "for sale" and "for rent" signs I'm seeing with my own eyes popping up around Denver, I've been receiving emails from subscribers describing the same thing in their area. –
The existing and new home sales reports this week were worse than everyone expected.  Given the statistical manipulation tools used by the National Association of Realtors (existing home sales) and the Census Bureau (new home sales) – both entities use the same regression software – one can only wonder about the true rate of home sales decline.
This explains why the homebuilder stocks are in an official "bear market," with some homebuilder stocks down over 30% since late January. I have yet to hear or read about this fact from the mainstream financial media or Wall Street.
Today's new home sales report, along with the serial decline in the housing starts  data, disproves the "low inventory" narrative.  Affordability, rising rates and a shrinking pool of potential homebuyers who can qualify for a conforming mortgage has torpedoed demand.  The latest U of Michigan Consumer Sentiment report featured this chart on homebuying sentiment:
Source:  investmentresearchdynamics.com
Trump Wins Trade Concessions from Europe, Agrees to Work Toward Zero Tariffs
---
Political/Rights
White House: Trump Has Started 'Mechanism' for Pulling Security Clearances from 'Certain Individuals'
US Reunites 1,442 Migrant Children With Parents
---
War
North Korea to transfer remains of U.S. soldiers from Korean War on Friday
North Korea will transfer the remains of an unspecified number of soldiers killed in the Korean War on Friday,  after accepting about 100 wooden caskets sent by the United States.
The planned transfer would coincide with the 65th anniversary of the 1953 armistice agreement that ended fighting.
A U.S. military transport plane was set to fly to an airfield in North Korea's northeastern city of Wonsan to accept the remains, Yonhap reported. They would then be flown to Hawaii after an initial DNA analysis at Osan air base in South Korea.
Source: reuters.con
North Korea returns US war dead, White House says
Syrian authorities release first photos from White Helmets base in southwest Syria
The Syrian authorities have released the first photos from the White Helmets base that was uncovered by the Syrian Arab Army (SAA) in southwest Syria this morning.
t is still not entirely clear why these weapons were stored inside of this White Helmets base; however, a local source told Al-Masdar that the explosives could have been stored in the base after the Islamic State (ISIS) took over the town.
Source: almasdarnews.com
---
Q
Because Q just followed it up, big-time.
The 2 + 2 confirmations which Q references are, I believe, his two previous posts about the Federal Reserve (which I posted in the previous article), and the two news articles you see before you.
I can't wait to see what specific course of action Trump ends up taking.

No R's, no X's, no T's, no Z's.
Only Q.
Got it?
Not so sure this is a message to us, but to all the good men and women working throughout the intelligence community.
That said, it didn't stop #anons from getting in on the action:
Although, I will add here that Q did invoke a marker he had used twice before; "The time is now."
I'm not sure what the marker signifies. You would think "the time is now" would refer to something in the present, but he's been saying it since November – so I don't think that's it. There's also nothing, as far as I can see, thematically connecting these drops, and nothing with the timestamps.
My best guess is that it's some kind of operational signal in relation to "the plan" we've talked about before; Q's Grand Plan, if you will.
Q has said in the past that "timetables shift." I think this is what that marker relates to – shifting timetables. QTeam has to take into account all sorts of variables for their plan to go off without a hitch, so depending on how different people and political actors in the world respond to certain actions undertaken by the Trump administration, QTeam has all sorts of counter-responses they can take to ensure the plan continues along, as "scheduled."
Now, we can speculate as to what events causes these timetable shifts in the past, but I think you'll see the most recent one very clearly at the end of this article.
Q+!!! POTUS speaking!
Now this was a very interesting, because some enterprising anons stepped in and pretty much decoded this stringer:
Wild stuff, huh?
Pray for the speedy and safe release of this man, if you would.
What's REALLY staggering, however, is that Clowns tried to use the stringer as a setup for a False Flag, but were called out by Anons who were quicker than them.
What anon did here is search for the stringer on youtube, and timestamp his post with no results as proof that no such video with that title existed.
Later, a Clown posted a youtube link to a video with a Tel Aviv skyline in it.
Think they were going to try to attack here and play it off as Q's "cray-zay followers' fault?"
They've already done worse.
Good job, anon. You might have saved lives with this post.
Q's quoting from the Declaration of Independence, in case that wasn't clear.
We're "throwing off" such a Government, and providing new Guards for our future security.
Now here's the story I was talking about; the potential impetus for such a "timetable shift," because we had a binary outcome here: the EU could either agree to no tariffs, or they could disagree and force POTUS to use tariffs.
In planning out Q's Grand Plan, QTeam needed to account for both outcomes.
If they got the good one, they could signal "the time is now."
That's just speculation on my part, but I think you can see where I'm coming from.
Trump posted a video on Twitter after they struck a deal, by the way:
Q asked a question:
AFTER SUCH AN ENORMOUS ANNOUNCEMENT WHAT QUESTION(S) WERE SHOUTED @ POTUS?
Unfortunately, I could not find a source that had clear enough audio to determine the actual questions that were shouted at him. You hear several voices in the clip #POTUS tweeted, but their words are faint and unclear. Likewise, every other source I watched of the Rose Garden announcement was also too unclear.
I did attempt to isolate the audio track from the cleanest source I could find, and clean it up a bit further, but it's still very hard to hear.
Audio Player
I get bits and pieces of words, like the female reporter yelling, 'DO YOU NOW ACKNOWLEDGE [unintelligible] PAYMENT…" But that's about it. Maybe you guys will have better luck sussing this out or finding a cleaner source.
Q says "RUSSIA DELAY IN MEETING PUTIN (DC)," but I can't hear the full question in regards to that. Regardless, his point is that the MSM isn't our friend.
This is still hilarious, though:
Here's Q's link as well:
Businesses with ties to Sen. Claire McCaskill's (D-MO) husband have received $131 million in federal government subsidies since McCaskill's election to the Senate in 2007, according to a report released Tuesday.

The Kansas City Star reported that McCaskill's husband, Joseph Shepard, had personal income from investments in federally-funded housing projects receiving money from the Department of Housing and Urban Development (HUD) and the U.S. Department of Agriculture (USDA) that grew exponentially after McCaskill took office in 2007.

In 2006, the year before McCaskill became a senator, McCaskill's husband reported making between $1,608 and $16,731 from these investments. In 2017, five years into McCaskill's second Senate term, Shepard reported earning between $365,374 and $1,118,158 in personal income from his investments.
It's a nice gig, if you can get it, right? Pffft. When can we lock these criminals up, Q?
Check out this line near the end, though:
McCaskill is considered to be one of the most vulnerable Democratic senators up for re-election in 2018, since her state went for President Trump in the 2016 presidential election.

The most recent Real Clear Politics (RCP) average of polls places McCaskill with a one-percent lead over her Republican opponent, Josh Hawley—which is within the margin of error.
You have to remember how much the Cabal, but the Democrats specifically, have relied on tampering with the voting machines to win elections. It's one of the reasons why "they never expected her to lose."
And Q is dropping this during a week when, just a few days ago, this story came out:
I think Q is signalling that she won't be able to win this; not this time. Let's hope the right guy wins this time.
And as for "GO KANSAS!"
Pompeo testified before the Senate Foreign Relations Committee today:
Here's the whole testimony:
His responses to Booker and Menendez are particularly notable. (They're both towards the very end).
"Senator, there is vigorous debate in this Administration about lots of things, there is no doubt about that. The President didn't hire a single shrinkin' violet, not a one of us!"
TOP KEK, Kansas.
And then that death stare at the end to Menendez, and –
"Not a word."
It was at that moment he was done communicating, and he just knew what is awaiting Menendez in the very near future. It was like he was thinking, "Don't worry, buddy. You'll get yours."
Heeeeeeeeere's #NONAME!
Think his "cancer" has come back yet?
/u/Abibliaphobia had a good theory on when this trip happened. Hopefully he/she doesn't mind me reposting their scribe here:
I'd still like some kind of solid date confirmation, but this is some solid speculation.
Well, they're certainly trying to get him.
I don't think POTUS will allow that to happen.
The news unlocks in about an hour (as of this writing).
Stay tuned! Big things are happening – with EVEN BIGGER THINGS to come!
Source: neonrevolt.com