Podcast: Play in new window | Download (Duration: 44:41 — 45.5MB)
Nigel Farage is now speaking out against the globalist, it is time to remove them from power. The globalist do not benefit the people they benefit themselves and their own agenda. The everyday American cannot afford a home, wages have not kept up under the [CB] system. The MSM is pushing their agenda by not telling the complete facts about Trump's Huawei position. The MSM is trying to control the economic narrative by saying stimulus and rate cuts will not help the economy. Who has the magic wand? Brennan and Comey are lashing out at Trump, ammunition is running real low. Nunes is very concerned out Mueller testifying, because Weissman is testifying behind closed doors. Trump is bringing attention the NY, on how they are going after his foundation, they are projecting and he points out that nobody is looking into [HRC] foundation. 2020 elections are safeguarded. Since Mexico deployed troops the number of migrants have dropped.El Salvadore says Trump is not to blame for the border, El Salvador and other countries are to blame.  NYT puts out a fake story about NK, Bolton calls out the NYT. Trump ready for the 4th of July, Power returning to the people.
Check Out The X22 Report Spotlight YouTube Channel X22Report Spotlight
Please check Newzsentinel.com for the latest news on the economic collapse. The Sentinel Alerts are updated throughout the day. If you haven't already, go to "The People" and join the community of people who are helping each through the economic collapse.
---
Current News – 07.01.2019
Watch The X22 Report On Video
---
Economy
Brexit Party leader Nigel Farage has said that patriots must end the "globalist drive" to outsource decision-making to supranational bodies like the EU, warning that the elites want to see the nation-state "dissolved".
Farage said on the Candice Owens Show "Brexit is saying: 'We want to govern our own country, we want to make our own laws, we want to live in democracy, and we want the people who make the decisions who affect our lives to be directly accountable to us.' We want to be able to sack them at the next election. With the European Commission, you can't do that,"
Farage has observered that  in Hungary and Italy — there has been a resurgence of conservativism and pro-democracy movements, and expressed a hope that, post-Brexit, the United Kingdom and European nations could trade and co-operate freely as "neighbours" and "friends" in a relationship between fellow sovereign nations.
He continued and said "We've got to end this globalist drive to give away the ability to determine our own futures. The whole thing's effectively bought and paid for by a handful of giant multinational companies, one or two very rich individuals. and they basically would like to see the nation-state almost be dissolved.
"It's why in many ways the Trump victory was so important, because Hillary Clinton was completely sold on this European [project]," he added.
"The European Union agenda is basically a prototype for a bigger form of global government and co-operation. [Clinton] actually said to her friends in Wall Street that she wanted America to join a 'hemispheric common market'… because she is a globalist."
ATTOM Data Solutions published its 2Q19 US Home Affordability Report, which reveals median home prices last quarter weren't affordable for the average American in 74% (353 of 480 counties) of the counties analyzed.
The most unaffordable counties, the reported noted, were in Los Angeles County, California; Cook County (Chicago), Illinois; Maricopa County (Phoenix), Arizona; San Diego County, California; and Orange County, California. 
House price appreciation outpaced weekly wage growth in 40%, or 192 of the 480 counties, including Maricopa County (Phoenix), Arizona; Riverside County, California; San Bernardino County (Riverside), California; Tarrant County (Dallas-Fort Worth), Texas; and Wayne County (Detroit), Michigan.
The Media Intentionally Mislead Americans on Trump's Huawei Position…
On May 20th, 2019, Commerce Secretary Wilbur Ross announced the U.S. Dept. of Commerce, Bureau of Industry and Security, would be issuing Temporary General License (TGL) permits for U.S. business interests who wish to engage in commercial exchanges with Huawei.
The Commerce Department reviews each request, outlines what products can be exchanged, and restricts the company to a transaction of product approved by the license.  Each license lasts 90-days.
"The Temporary General License grants operators time to make other arrangements and the Department space to determine the appropriate long term measures for Americans and foreign telecommunications providers that currently rely on Huawei equipment for critical services," said Secretary of Commerce Wilbur Ross. "In short, this license will allow operations to continue for existing Huawei mobile phone users and rural broadband networks."  (link)
Under the new regulations any company wishing to engage in a commercial transaction with Huawei has to apply and gain pre-approval from the U.S. Commerce Department.  Hence, the issuance of a 90-day license.  Any product or service not approved by the license is not allowed to be exchanged.
This process began on May 20th and still exists today.  This process is what President Trump was referencing when he announced the U.S. and China would restart trade negotiations as it related to Huawei.  Specifically when the president said: "Ross will evaluate each request".
Nothing can be purchased from, or sold to, Huawei Technologies Co. Ltd and/or its sixty-eight non-U.S. affiliates, without getting permission from the U.S. commerce department.  Nothing in the agreement between President Trump and Chinese Chairman Xi Jinping changes that process.
Unlike traditional trade agreements with one enforcement chapter that encompasses all of the sectors within the aggregate agreement, Bob Lighthizer built specific enforcement mechanisms into each sector.  Essentially, each product had it's own compliance requirements unique to the sector of trade.
That multi-layered compliance is where China recoiled because they saw the U.S. as having ultimate decision-making about whether the rules were being followed.  However, that construct was/is the unidirectional price Lighthizer was applying due to the history of Chinese duplicity and cheating.
Any U.S. company (or U.S. entity) harmed by Chinese trade practices (ie. 'cheating', 'theft', 'coercion', etc.) would have a set of enforcement provisions to protect their interests specific to their unique sector inside the agreement.  The scale of this approach is rather overwhelming to consider; however, as Lighthizer told congress this is the only way to insure compliance and protect very diverse U.S. trade interests.
Lost in all of the discussions by western media is the fact that no-one has ever attempted to structure a comprehensive and enforceable trade agreement with China before.  What the U.S. team is attempting will be the road-map for all other nations who will likely write similar agreements of their own.
Source: theconservativetreehouse.com
This week, CNN reported  that a  persistent low-interest rate policy — one pursued by the central bank since the 2008 financial crisis — brings with it a serious downside. In a section titled "The mixed blessing of low interest rates" author Lydia DePillis discusses how low-interest rates have reduced the standard of living for those on mixed incomes, and has destabilized pension funds. Low rates have also made big firms even bigger at the expense of smaller firms: 
There are three big takeaways here, and it's surprising CNN has mentioned them.
Low interest rates have produced a quest for yield that favors the wealthy over the middle class.
Low interest-rate policy hurts regular people who depend on fixed incomes and low-risk sources of interest income.
Low interest rates favor large established firms over startups. 
Why is CNN mentioning this now, we have been talking about this for a very long time, why hasn't the MSM ever mentioned this before, because it wasn't part of their agenda. Their agenda is protect the DS and the CB, now that Trump is pushing for this they are free to report on it because Trump is pushing for it. They are trying to build the case that Trump is destroying the middle classes wealth, the question is why now they are trying to control the economic narrative, but this to will fail, They have brainwashed the people for so long that all they look at is the stock market, gdp, and unemployment numbers, Trump will be able to use this against them and when the time is right transition the people to the economy
Source: zerohedge.com
The MSM is putting out article after article, their goal, control the economic narrative, here is another article. 
Trump keeps talking about 'quantitative tightening,' but he's overstating its impact
President Donald Trump has repeatedly railed against the Federal Reserve and what he calls "quantitative tightening."
The name describes the Fed's effort to reduce the bond holdings on its balance sheet, which was once as high as $4.5 trillion.
Trump has said the Dow Jones Industrial Average would be 10,000 points higher and economic growth would be around 5% had the Fed not been tapping the brakes.
The president soon will get his wish to see the Fed out of the way, as the balance sheet rolloff is expected to end in September or possibly earlier.
President Donald Trump has railed repeatedly about the Federal Reserve's "quantitative tightening" and the impact it has had on economic growth during his administration. The program will be over soon, which may not bring as much relief as Trump thinks.
One reason the president may not want to get his hopes up too much is that he may be overstating its impact.
Source: cnbc.com
54% in Poll! I would be at 75% (with our great economy, maybe the best ever) if not for the Phony Witch Hunt and the Fake News Media!

— Donald J. Trump (@realDonaldTrump) June 28, 2019
---
Political/Rights
The [DS] players know where all this is going, think about what Trump and the patriots have done so far
reversed all trade deals
reversed regulation for companies
created tax incentives
Trade deal in China almost complete
blacksites removed from NK, Iran, soon Venezuela
all the endless wars coming to an end
patriots have the source, julian assange
they investigating the spying, FISA, email scandal, uranium one etc…
Patriots are in total control
Trump just walked from SK into NK via the DMZ and stepped foot in NK
 Iran peace deal about to be revealed.
Patriots ready to expose the DS, no wonder they are lashing out at Trump
Comey and Brennan Attack President Trump While He is on the World Stage Meeting with Foreign Leaders at G20 Summit in Japan
Former FBI Director James Comey along with his partner-in-crime ex-CIA Chief John Brennan both attacked President Trump while he was in Japan meeting with foreign leaders at the G20 Summit.
It is wonderful as well as inspirational to see that our country, once again, has someone of such great talent, grit, & integrity representing our country on the world stage. Congratulations & thank you…..Megan Rapinoe!!!!! You make America proud! https://t.co/kkUB6KeCt6

— John O. Brennan (@JohnBrennan) June 29, 2019
Is this all he has left,  
Comey on Friday encouraged people to vote Democrat to defeat Trump.
I hope everyone who wants to defeat Donald Trump participates in the Democratic primary process. The majority who oppose him should choose the candidate to defeat him.

— James Comey (@Comey) June 28, 2019
Beat him in 2020 because when they throw me in prison I will need to be pardoned.
Both former heads of very powerful law enforcement and intel agencies attacked President Trump while he was overseas on the world stage meeting with foreign leaders. Let that sink in.
Source: thegatewaypundit.com
NUNES: There's Something 'Odd' About Mueller's Upcoming Testimony – 'There Won't Be Enough Time to Get Everyone's Questions In' (VIDEO)
Rep. Devin Nunes (R-CA) told Judge Jeanine on Saturday night that there is something 'odd' about Mueller's upcoming testimony to Congress.
"What's odd about this is, supposedly he's only agreed to testify for four hours — but four hours with the House Intelligence Committee and the House Judiciary Committee is not enough time to get everyone's questions in," he said.
Mueller refuses to testify behind closed doors so he's sending his "pit bull" Weissmann and his crooked team in to testify.
Former US Attorney Joe diGenova also fired a warning shot about Mueller's bizarre testimony.
DiGenova warned that the real damage to President Trump will be done when Andrew Weissmann testifies in "executive session with unlimited questioning."
"[Mueller's} testimony is going to be basically worthless," diGenova said   "The real damage is going to be done the next day when they have testimony from Weissmann and his aides which will be done in executive session with unlimited questioning. That's when the damage to the president is going to be done," he said.
DiGenova called Mueller a "figurehead" and asserted that this has always been the Weissmann investigation and it will be "the Weissmann testimony," he added.
This is where they are going to create their propaganda, remember this will be behind closed doors and they will leak information out to the MSM to build up it that there was a coverup or something like this, they are going to use this to deflect from what is coming
Source: thegatewaypundit.com
It is very hard and expensive to live in New York. Governor Andrew Cuomo uses his Attorney General as a bludgeoning tool for his own purposes. They sue on everything, always in search of a crime. I even got sued on a Foundation which took Zero rent & expenses & gave away…

— Donald J. Trump (@realDonaldTrump) July 1, 2019
….more money than it had. Going on for years, originally brought by Crooked Hillary's Campaign Chair, A.G. Eric Schneiderman, until forced to resign for abuse against women. They never even looked at the disgusting Clinton Foundation. Now Cuomo's A.G. is harassing all of my….

— Donald J. Trump (@realDonaldTrump) July 1, 2019
….New York businesses in search of anything at all they can find to make me look as bad as possible. So, on top of ridiculously high taxes, my children and companies are spending a fortune on lawyers. No wonder people and businesses are fleeing New York in record numbers!

— Donald J. Trump (@realDonaldTrump) July 1, 2019
That's right, The Trump Foundation gave away 100% plus, with Zero rent or expenses charged, and has been being sued by Cuomo and New York State for years – another part of the political Witch Hunt. Just in case anyone is interested – Clinton Foundation never even looked at!

— Donald J. Trump (@realDonaldTrump) July 1, 2019
We are getting closer and closer to the 2020 elections, Q has told us that the 2020 election are protected, FloridaDude297 tweeted out the following
BOOM! BOOM! BOOM! The 4th Circuit of Appeals has signaled that its ready to reverse a 2016 opinion striking down North Carolina Voter ID law. After the DOJ found 262K illegal Aliens voting the Court admits "They may have been wrong."

— FloridaDude297 (@FloridaDude297) June 30, 2019
>>4280189

Will voter fraud be exposed before January?

No.

2019 push Voter ID based on verifiable intel (fraud).

2020

+ safeguarded.

Q
Leaked Border Arrest Figures Reveal Dramatic Drop, Weeks After Mexican National Guard Deployed
It appears that Mexico's act of good faith to avoid tariffs may have begun to pay off.
According to leaked figures, US Border Patrol apprehensions of illegal immigrants dropped precipitously in June, weeks after Mexico announced the deployment of 15,000 National Guard troops to the US-Mexico border and froze the bank accounts of 26 human traffickers with "probable links with human trafficking and illegal aid to migrant caravans."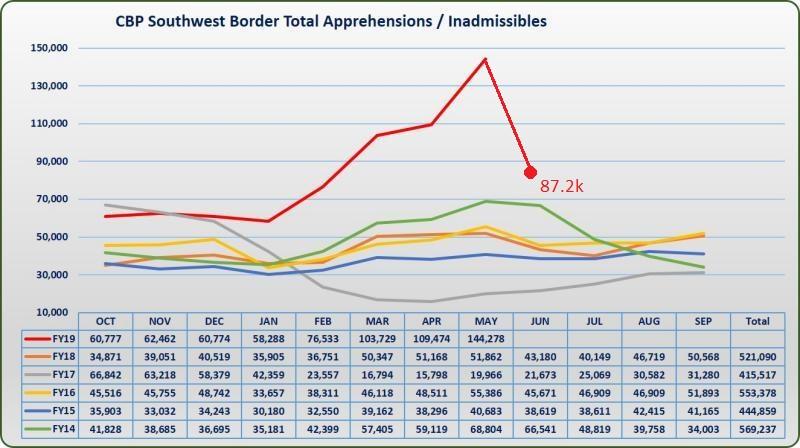 there were over 87,000 apprehensions in the month of June, a drop of nearly 35% vs. 132,887 apprehensions in May.
Roughly 7,000 of the apprehensions were unaccompanied minors, 52,000 were family units, and 28,000 (roughly 1/3) were single adults according to the report.  
Source: zerohedge.com
"People don't flee their homes because they want to, people flee their homes because they feel they have to," President Nayib Bukele told the BBC.
"Why? Because they don't have a job, because they are being threatened by gangs, because they don't have basic things like water, education, health," Bukele said.
"We can blame any other country but what about our blame? What country did they flee? Did they flee the United States? They fled El Salvador, they fled our country. It is our fault."
Source: saracarter.com
---
War
The MSM is trying to gain the narrative on the Trump/KJU meeting, the NYT put out an article:In New Talks, U.S. May Settle for a Nuclear Freeze by North Korea
bolton tweeted the following
Glad to see National Security Advisor Bolton push back hard against the NY Times narrative stating the Administration would accept a nuclear freeze as an acceptable outcome by North Korea. https://t.co/4fO9VAnQUQ

— Lindsey Graham (@LindseyGrahamSC) July 1, 2019

Bolton

I read this NYT story with curiosity. Neither the NSC staff nor I have discussed or heard of any desire to "settle for a nuclear freeze by NK." This was a reprehensible attempt by someone to box in the President. There should be consequences.
To President Trump's great credit he has the right goal – which is irreversible, verifiable denuclearization of the Korean peninsula – with economic and security guarantees to North Korea in return.

— Lindsey Graham (@LindseyGrahamSC) July 1, 2019
This is the only win-win situation available for the Korean peninsula, United States, and the world at large.

Legitimizing a nuclear arsenal in the hands of an unstable, erratic despot will never be an acceptable outcome.

— Lindsey Graham (@LindseyGrahamSC) July 1, 2019
NYT putting out fake news again, remember the MSM is now in the dark, they have know idea what is going on, the DS intelligence has no idea.
Paul Sperry points out a difference between OBama in 2012 and Trump in 2019. Paul Sperry tweeted out the following
2012: Obama looks into North Korea with binoculars from bulletproof bunker

2019: Trump walks into North Korea pic.twitter.com/iBruWnictj

— Paul Sperry (@paulsperry_) July 1, 2019
trump has done something amazing in regards the demilitarized Zone,Moon Jae In said it best.
South Korean President: Trump Has Now Made the Demilitarized Zone a "Symbol of Peace" (VIDEO) 
 Trump has now made the demilitarized zne a "symbol of peace."
Source: thegatewaypundit.com
It is being reported that Iran has now breached the Uranium limit
Iran's FM Zarif Confirms Enriched Uranium Limit Now Breached 
this is the first known violation of the terms of the 2015 nuclear deal (JCPOA), Iran's stockpiles of enriched low-grade uranium have surpassed the limit of 300 kg,
 " Iranian Foreign Minister Javad Zarif was the first government official to confirm the country has exceeded the ceiling of 300kg,
European partners as lagging behind commitments to shield Iran from Washington sanctions
---
False Flags
Antifa Plots Acid Attack At DC Free Speech Rally
There is a petition going around to label antifa as a domestic terrorist organizaiton, it reads as follows
Demand President Trump label Antifa a domestic terrorist organization.
Created by E.T. on June 30, 2019
As President Trump's first term comes to a close, Antifa organizations all around the nation have gotten even more violent and depraved. They have burnt down universities, attacked the elderly and even threatened acid attacks. Antifa continues to target their fellow citizens with acts of violence and intimidation in order to reach a desired political outcome. Recently, members of Antifa brutally assaulted an independent journalist, who remains hospitalized with a brain bleed after being viciously beaten and doused in liquid concrete.
Demand the White House and President Trump take direct action in labeling Antifa as a domestic terrorist group, full stop. Our nation's security and homeland are at risk until we are able to clearly define Antifa as domestic terrorists.
---
Q
So many amazing things happened over the last three days. All, or at least most of those things, are great for the United States. Much was accomplished!

— Donald J. Trump (@realDonaldTrump) July 1, 2019
U.S. Attorney John Huber joined 93 U.S. Attorneys from around the country at their annual conference in Washington, D.C., last week. As vice chair of the Attorney General's Advisory Committee, USA Huber played a leadership role at the conference. @USAttorneys pic.twitter.com/nafwKlQJq3

— US Attorney Utah (@DUTnews) July 1, 2019
The White House is gearing up for a major patriotic rally, dubbed the "Salute to America," to celebrate the Fourth of July with a demonstration of military might and a speech from President Donald Trump.
Trump first got the idea for a military parade celebrating America after viewing the Bastille Day parade in France in 2017, telling reporters, "It was one of the greatest parades I've ever seen."
The White House started prepping for a similar parade in early 2018, according to reports, but the president put the brakes on the idea when he discovered it could cost upwards of $100 million.  Trump tweeted the following back in Aug 2018
The local politicians who run Washington, D.C. (poorly) know a windfall when they see it. When asked to give us a price for holding a great celebratory military parade, they wanted a number so ridiculously high that I cancelled it. Never let someone hold you up! I will instead…
HOLD THE DATE! We will be having one of the biggest gatherings in the history of Washington, D.C., on July 4th. It will be called "A Salute To America" and will be held at the Lincoln Memorial. Major fireworks display, entertainment and an address by your favorite President, me!

— Donald J. Trump (@realDonaldTrump) February 24, 2019
Now, it looks like Trump may get his wish.
In early June, reports surfaced that this year's Fourth of July celebration in Washington, DC would feature an Air Force One flyover over the National Mall.
The event will also feature a 35-minute long fireworks display, an address from the president, military bands and drill teams, and, potentially, armored military tanks speckled across the Mall.
The event is open to the public, but some lucky guests will receive VIP tickets to catch Trump's speech at the Lincoln Memorial in a special close-up and roped-off area.
The famous Blue Angels are expected to make an appearance, and Trump, who has used a heavy hand in planning the parade, even reportedly floated the idea of a surprise F-35 flyover.
It is unclear how much the entire event will cost taxpayers, but firework companies have donated nearly $1 million in pyrotechnics for the display, making it twice as long as previous shows..
Source: dailycaller.com
27264602991_ed3a1e66d0_z.jpg

https://www.youtube.com/watch?v=B5T7Gr5oJbM📁

Never, in our history, has a communications project such as this taken place.

>Return Power Back to the People

>Truth, Transparency, and Equal Justice Under the Law.

We hold these truths to be self-evident, that all men (& women) are created equal, that they are endowed by their Creator with certain unalienable Rights, that among these are Life, Liberty and the pursuit of Happiness. — That to secure these rights, Governments are instituted among Men (& Women), deriving their just powers from the consent of the governed, — That whenever any Form of Government becomes destructive of these ends, it is the Right of the People to alter or to abolish it, and to institute new Government, laying its foundation on such principles and organizing its powers in such form, as to them shall seem most likely to effect their Safety and Happiness. Prudence, indeed, will dictate that Governments long established should not be changed for light and transient causes; and accordingly all experience hath shewn that mankind are more disposed to suffer, while evils are sufferable than to right themselves by abolishing the forms to which they are accustomed. But when a long train of abuses and usurpations, pursuing invariably the same Object evinces a design to reduce them under absolute Despotism, it is their right, it is their duty, to throw off such Government, and to provide new Guards for their future security. —

"Freedom is never more than one generation away from extinction. We didn't pass it to our children in the bloodstream. It must be fought for, protected, and handed on for them to do the same." – Reagan

United We Stand.

July 4, 2019.

WWG1WGA!!!

Q