Podcast: Play in new window | Download (Duration: 37:51 — 41.0MB)
IMF reports that Venezuela inflation will hit 1 million percent. Venezuela is following in the footsteps of Germany in the 20's, Zimbabwe in 2000s. The US Government is spending $52,000 per second and his having problems paying its bills, which means the government needs to borrow more from the Fed. Russia dumps more Treasuries and is ramping up its gold purchases. IMF warns that the dollar is over valued but China is just right. Trump is DE-globalizing the world and the elite are angry about this. They spent years creating their one world government and now it is being ripped apart.  The deep state played their hand with Trump and it is not working, he has no objection to Mueller listening to the recordings that Cohen made. John Brennan is having a full meltdown. Allegedly Trump says that he will take away the security clearance to many individuals. Mexico's new President wants to work with Trump. New satellite images show North Korea is DE-nuclearizing, the MSM media is now admitting to that fact.  Putin receives invitation to the White House. The White Helmets are now being allowed to assimilate in the UK, Germany and Canada. Q has returned and the message is that it is time, Trump declassified the Carter Page FISA Warrant to drip the information out to the public. It's happening.
Check Out The X22 Report Spotlight YouTube Channel X22Report Spotlight
Please check Newzsentinel.com for the latest news on the economic collapse. The Sentinel Alerts are updated throughout the day. If you haven't already, go to "The People" and join the community of people who are helping each through the economic collapse.
---
Current News – 07.24.2018
Watch The X22 Report On Video
---
Economy
IMF says Venezuela to see one million per cent inflation by year-end
And the nation's economic collapse will increasingly spill over into neighbouring countries, the IMF said in its updated regional outlook for Latin America.
"We are projecting a surge in inflation to 1,000,000 per cent by end-2018 to signal that the situation in Venezuela is similar to that in Germany in 1923 or Zimbabwe in the late 2000s," said Alejandro Werner, head of the IMF's Western Hemisphere Department.
Venezuela's economy is expected to contract by 18 per cent this year, the third consecutive year of double-digit declines and three points worse than projected in May, amid falling oil production, he said in a statement.
Source: news.com.au
$52,000/Second: Ron Paul Warns Washington's Spending Its Way To A Fiscal Crisis
According to financial writer Simon Black, the federal government is spending approximately 52,000 dollars per second. This, not last year's tax cuts, is the reason why the national debt has reached a record 21 trillion dollars, which is more than America's gross domestic product (GDP).
Another ominous sign is that this year both Social Security and Medicare will have to draw down on their reserve funds to be able to pay benefits. The Social Security and Medicare trust funds will both soon be bankrupt, putting additional strains on the federal budget and American taxpayers.
The excessive debt caused by excessive spending will inevitably cause a major economic crisis.
Examples of fiscal irresponsibility on Capitol Hill are easy to find.
When the economic crisis hits, there will be no choice but to cut spending and raise taxes. Of course, Congress is unlikely to raise taxes or cut benefits. Instead, it will rely on the Federal Reserve to do the dirty work via the inflation tax. The inflation tax is the worst type of tax because it is both hidden and regressive.
Increasing federal debt will also put pressure on the Federal Reserve to keep interest rates low to prevent federal interest payments on the debt from skyrocketing.  Eventually, the Fed's monetization of the debt will lead to hyperinflation and a rejection of the dollar's world reserve currency status.
Source: zerohedge.com
  Russia has all but fully liquidated its US Treasury holdings through the months of April and May.
why was Russia dumping USTs and what will do with all the funds it garnered from liquidating US debt instruments?
The head of the Central Bank of Russia (CBR) Elvira Nabiullina explained that the slashing of the holdings was result of the systematic assessment of all kinds of risks, including financial, economic and geopolitical.
Meanwhile, Russia's gold holdings have been steadily increasing – for 39 straight months – bringing its share of the precious metal to its highest level in nearly two decades.
Russia's gold holdings in May grew by one percent to 62 million troy ounces, worth $80.5 billion, according to the CBR.
Source: zerohedge.com
 The International Monetary Fund said on Tuesday that the U.S. dollar is over-valued, China's yuan is in line with fundamentals and nearly half of global current account balances are now excessive, adding to growth risks and trade tensions.
Countries that it cited as having excessive current account deficits — those that borrow too much — included the United States, Britain, Turkey and Argentina.
The report said IMF staff assessed the U.S. dollar again to be over-valued compared to levels implied by medium-term fundamentals, by about 8 percent to 16 percent last year.
U.S. President Donald Trump has broken with protocol in recent days and complained that Federal Reserve interest rate hikes were causing the dollar's value to rise and to erode the U.S. "competitive edge" in exports.
Source: reuters.com
The globalization effort of the last several decades most benefited the owner class.  Factories were moved to places where $2/day workers were unlimited, while cheap petroleum permitted transportation of finished products to market on container ships and trucks.
Local econmies and local jobs were damaged as those pesky $25/hour union workers in small town USA could be laid off and the school systems funded by their taxes fell into decay.  T
But the owner class absolutely LOVED globalization.  It was enthusiasticly backed by both sides of the isle.
Then comes Trump disrupting trade agreements and sanctioning and threatening just about everybody trashing the globalized status quo.
From afar [Trump's actions] looks like the most wicked and non-sensical trade war the US via Trump, is waging against the rest of the world – à la "Make America Great Again". …. Knowingly and deliberately the west and it's financial key institutions, IMF, World Bank, FED, European Central Bank – trick the public at large into believing their statistics and predictions – which, if one goes back in history, have always been off, way off.

So, in response to the latest Trump-promoted trade fiasco at the G20 in Argentina, the IMF is up in arms, saying this might lower world GDP by at least 0.5%. – Even if true, so what?
  Trump is pissing off all the right people, so maybe he is doing something right.

Rather than have the entire globe be the personal sandbox of the oligarchy, the destruction of globalization can bring manufacturing and consumption back into a local focus.  This is the same kind of effect that the anticipated high oil prices of tomorrow will have.   Crashed trade agreements start this movement today, before high oil prices force it tomorrow.
And rather than the entire globe being a single sandbox for predatory harvesting by the elite, the focus is changed to local economies who deal with each other in ways that benefits those local economies.

Source: investmentwatchblog.com
---
Political/Rights
Federal prosecutors investigating former longtime Trump attorney Michael Cohen are reviewing 12 recordings seized during raids of his home, office and hotel room, after the President said he no longer objects to the government listening to the "12 audio items,"
Trump and Cohen had previously claimed that the 12 tapes were "privileged," and could not be reviewed by Special Counsel Robert Mueller's team investigating Trump-Russia connections, according to court-appointed "special master" who reviewed evidence seized from the raids – former federal judge Barbara Jones. 
President Trump's lawyer, Rudy Giuliani, confirmed that Cohen secretly recorded a conversation with Trump discussing payments to the National Enquirer to buy the rights to claims by a former Playboy Playmate, Karen McDougal.
Rudolph W. Giuliani, Mr. Trump's personal lawyer, confirmed in a telephone conversation on Friday that Mr. Trump had discussed the payments with Mr. Cohen on the tape but said the payment was ultimately never made. He said the recording was less than two minutes and demonstrated that the president had done nothing wrong. –NYT
"Nothing in that conversation suggests that he had any knowledge of it in advance," said Giuliani, adding that Trump had previously told Cohen that if he were to make a payment related to the woman, to write a check instead of sending cash so that the transaction could be properly documented. "In the big scheme of things, it's powerful exculpatory evidence," Giuliani added.
Source: zerohedge.com
He accuses Trump of treason.    He was director of the Central Intelligence Agency. He was Obama's counterterrorism advisor, helping the president decide who to kill every week, including American citizens. He spent 25 years at the CIA, and helped shape the violent policies of the post-9/11 Bush era. He was a fan of torture and extrajudicial killing to the point that a 2012 profile of him was entitled, "The Seven Deadly Sins of John Brennan." Another writer called Brennan "the most lethal bureaucrat of all time, or at least since Henry Kissinger."On Twitter this week, Brennan cartoonishly declaimed,


"Donald Trump's press conference performance in Helsinki rises to and exceeds the threshold of high crimes and misdemeanors. It was nothing short of treasonous. Not only were Trump's comments imbecilic, he is wholly in the pocket of Putin."

Brennan was never asked to explain exactly how a press conference exceeds the threshold of high crimes and misdemeanors the Constitution sets for impeachment, nor was he asked to lay a few cards on the table showing what Putin has on Trump. No, Brennan is a man of his times, all bluster and noise, knowing that so long as he says what a significant part of the country apparently believes – that the president of the United States is under the control of the Kremlin – he will never be challenged. 

If Trump is under Russian influence, he is the most dangerous man in American history. So why isn't Washington on fire? Why hasn't Mueller indicted someone for treason? If this is Pearl Harbor, why is the investigation moving at the pace of a mortgage application? Why is everyone allowing a Russian asset placed in charge of the American nuclear arsenal to stay in power even one more minute? 

Source: sott.net
Deep State Chaos: Now this is getting VERY entertaining!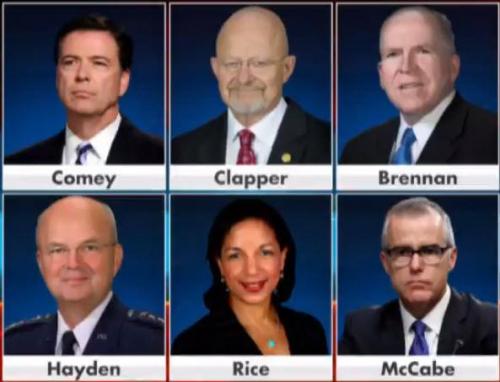 Trump To Revoke Security Clearance For Brennan, Clapper, Comey, McCabe, & Rice
Update: The responses have begun. James Clapper spoke on CNN this afternoon, calling Trump's actions "a petty way of retribution."
President Trump is exploring ways to strip several former Obama officials of their security clearances over politicized statements, including John Brennan, James Clapper, James Comey, Susan Rice, and Andrew McCabe, according to White House press secretary Sarah Huckabee Sanders.
Responding to a question about comments tweeted earlier in the day by Senator Rand Paul (R-KY) that former CIA Director Brennan should have his clearance stripped, Sanders replied:

Earlier in the day, Senator Rand Paul tweeted:

Is John Brennan monetizing his security clearance? Is John Brennan making millions of dollars divulging secrets to the mainstream media with his attacks on @realDonaldTrump ?

— Senator Rand Paul (@RandPaul) July 23, 2018
Source: stateofthenation2012.com
---
Geopolitical/Police State
We "Displaced The Political Establishment", Mexico's Leftist Leader Tells Trump
Mexicos President"  sent a letter to President Trump in hopes of jump-starting a new relationship between the neighboring countries.
The letter was reportedly delivered via a delegation of senior US officials that met him in Mexico City on July 13, and its contents read aloud by Obrador's proposed foreign minister Marcelo Ebrard at a press conference on Sunday. It suggests that the U.S. and Mexican administrations should work together on key issues of trade, migration, development and security after cooperation in these areas have reached their lowest point in decades, and further floated the idea of establishing a fund toward that end.
"I am encouraged by the fact that we both know how to fulfill what we say and we have faced adversity successfully. We managed to put our voters and citizens at the center, and displace the political establishment," Lopez Obrador wrote to Trump while playing on the sense of both leaders having general "outsider" status.

Andres Manuel Lopez Obrador with his book "Oye Trump" published just over a year ago in June 2017. 

It appears the conciliatory letter could already be making a positive impact, as Trump on Monday afternoon announced he's currently talking with Mexico about "very dramatic" trade action,
Source: zerohedge.com
---
War
New Satellite Imagery Reveals North Korea Dismantling Key Nuclear Facilities

Contrary to MSM reports from three weeks ago citing anonymous US officials, North Korea is actively dismantling key facilities related to their nuclear program, according to satellite imagery analyzed by 38 North, an important first step towards fulfilling commitments made by North Korean leader Kim Jong Un during a June 12 summit in Singapore with President Trump.
new commercial satellite imagery of the Sohae Satellite Launching Station (North Korea's main satellite launch facility since 2012) indicates that the North has begun dismantling key facilities. Most notably, these include the rail-mounted processing building—where space launch vehicles are assembled before moving them to the launch pad—and the nearby rocket engine test stand used to develop liquid-fuel engines for ballistic missiles and space launch vehicles. –38 North
These facilities are believed to have played a substantial role in North Korea's intercontinental ballistic missile (ICBM) program. Photos taken between July 20 and July 22 reveal the deconstruction, including the facility's rail-mounted transfer structure and other features.
Commercial satellite imagery of the launch pad from July 20 shows that the rail-mounted processing/transfer structure has been moved to the middle of the pad, exposing the underground rail transfer point—one of the few times it has been seen in this location. The roof and supporting structure have been partially removed and numerous vehicles are present—including a large construction crane. An image from two days later shows the continued presence of the crane and vehicles. Considerable progress has been made in dismantling the rail-mounted processing/transfer structure. One corner has been completely dismantled and the parts can be seen lying on the ground. In both images the two fuel/oxidizer bunkers, main processing building and gantry tower remain untouched. –38 North
By July 22, significant progress had been made in dismantling the rail-mounted transfer structure on the Sohae launch pad. (via 38 North)
Closeup of the partially dismantled structure

Source: zerohedge.com
Putin receives Trump invite, US visit could take place at end of 2018 – Kremlin
The Kremlin says it has received an invitation for Russian President Vladimir Putin to meet with President Trump in Washington at the end of the year,

While preparations for a new summit have not yet been made, Kremlin aide Yuri Ushakov told reporters that there was a need for another summit after last week's Helsinki meeting.
The survey, carried out for The Hill, also found that 61 percent of Americans say that better relations with Russia are in the best interest of the United States.
Source: rt.com
More Shocking Details Emerge Of White Helmets Evacuation From Syria

 joint Israeli-UN operation which successfully evacuated White Helmets members and their families from southwest Syria at the request of the US and European governments, new details and footage have emerged.

First, what we find most striking and woefully under-reported in international media is that the fact that armed groups immediately set fire to Quneitra crossing on the Syrian side of the border the morning just after the White Helmets passed through it to the Israeli side. 
The post acts as the only crossing between Syrian territories and the Israeli-occupied Golan Heights, and was formerly run by the United Nations Disengagement Observer Force (UNDOF). There is over a mile in distance between the Syrian and Israeli sides of the crossing.
  the crossing was used by Nusra militants (also called Jabhat Fatah al-Sham/JFS, or Syrian al-Qaeda) to store weapons, ammunition and various supplies provided by Israeli Army, suggesting that its destruction by al-Qaeda and FSA fighters may have been an attempt at concealing the extent of their external state sponsorship by the Israelis.

Over the weekend while the Israeli Defense Forces (IDF) began facilitating the covert cover of darkness plan to evacuate the White Helmets, which ended up being 422 people as opposed to initial Jordanian and Israeli statements indicating 800 persons, a separate convoy of buses simultaneously prepared to transport militants to Idlib who surrendered during a fierce Syrian Army advance on the area.

The blaze at Quneitra crossing appeared just as the militants departed and as the Syrian Army prepared to resume control of the area.
The UK, Germany, and Canada have confirmed they will resettle the White Helmets members and their families, with German Interior Minister Horst Seehofer announcing Germany would issue residency permits to eight White Helmets, allowing them to bypass asylum applications.
Source: zerohedge.com
Vanessa Beeley: Trudeau Government admits terrorist auxiliaries to Canada
the fact that Canada is admitting as refugees at least 250 White Helmets and their family members exposes the involvement of the Trudeau government, like the Harper government before it, in the illegal, US-led, regime-change operation in Syria.These two federal governments are collectively responsible for setting up and continuing the international coalition that produced the proxy war against Syria, using terrorist mercenaries as its footsoldiers; leading the international regime of brutal economic sanctions against Syria which turned about four million Syrians into refugees – (the international sanctions regime was drawn up in a meeting in Ottawa in June 2013); demonizing the legitimate government of Syria, breaking off diplomatic relations with it, and trying to delegitimize it in international forums; supporting armed rebels against Syria, a member state of the United Nations, by bringing their leaders to Ottawa and giving them funds; overflying Syria on military missions without the express consent of its government; and supporting the propaganda arm of the regime change operation through the White Helmets.Now that the Syrian government has liberated Deraa, where the western-sponsored regime-change operation began in 2011, the "rebels" and their auxiliaries have had to scramble to find places of refuge. Thus, the Trudeau government has felt obliged to admit as refugees to Canada some of their foreign policy assets, namely the White Helmets.
In fact, the White Helmets are a fiercely partisan organization of relatively well-paid employees, set up by British and US intelligence services inside of Turkey (a belligerent in the war against Syria) in 2013. A Madison Avenue public relations firm was contracted to develop the concept of the White Helmets as a humanitarian agency for public consumption in the West –

to provide a 'suger-coating' to an ugly and illegal imperial war

.
Source: sott.net
---
Cyber Attacks
---
False Flags
---
Q
Q

!CbboFOtcZs

ID: 5b7dc4

No.2262557


From Sea to Shining Sea.
Who does Huber report to [directly]?
Define evidence.
Who has the server?
Why does POTUS continually refer to the server?
POTUS does not speculate.
Future proves past.
Who has it all?
Topics stated in past.
Future BIG meaning?
Repeats important.
Think Twitter.
Those awake see.
Those asleep blind.
Fake news [prop arm of D/DS] failing.
Panic.
Silence is golden.
Q
from Sea to Shining Sea.
>WorldWide
Who does Huber report to [directly]?
>Sessions
Define evidence.
>"admissible in court"
Who has the server?
>We have the server
Why does POTUS continually refer to the server?
>To bring it back into public consciousness
POTUS does not speculate.
Future proves past.
>re read drops re: the server
Who has it all?
>NSA
Topics stated in past.
>Re read drops
Future BIG meaning?
Repeats important.
Think Twitter.
>algorithms slowly decaying
Those awake see.
Those asleep blind.
Fake news [prop arm of D/DS] failing. Democrats and Deep State?
>MSM/Shareblu
Panic.
>Q is in enjoying the show
Silence is golden.
The NSA has it all including the server, yet DJT keeps mentioning it over and over again on twitter to keep this topic relevant. Those who are awake are already awake and know it, those who are asleep will stay asleep, but it is necesarry to keep the server as a relevant topic for when it will be revealed publicly.
Q

!CbboFOtcZs

ID: da223e

No.2263460

Q

!CbboFOtcZs

ID: 07b0b9

No.2263659

On June 15, when he packed his AR-15 and drove an armored vehicle onto the bridge near Hoover Dam, Matthew Wright had a mission. He'd gleaned it from a berserk conspiracy theory that circulates mainly online, and now here he was, offline, near a very real dam, with a not-at-all-virtual rifle.

As he blocked traffic, he held up a sign. "Release the OIG report," it read. He wanted the same thing that so many others that subscribe to the all-encompassing QAnon conspiracy theory want: some sort of proof of a "deep state" conspiracy, run by the liberal elite and Hollywood, to commit and then cover up an array of atrocities, from child sex trafficking to false-flag shootings. And they thought they would find at least some damning evidence in the Department of Justice's inspector general report on the FBI's handling of the Hillary Clinton email investigation.

The report he was looking for had actually been released the day before, and it didn't have any of the information he and the rest of the QAnon followers sought. Of course, the theory's adherents believe there's another inspector general's report they haven't seen, one with all the "true" information, and they'll fight to get it.

On the day he was arrested in Arizona on a variety of federal charges, Wright was acting as a soldier for "Q." That's the handle of an anonymous poster on equally anonymous message boards 4chan and 8chan and on Reddit since late last year. In letters Wright wrote from jail, intended for President Donald Trump and various government offices, he signed off with the QAnon motto: "For where we go one, we go all." He also referred to a "Great Awakening," another likely allusion to QAnon.

Nobody was harmed in the bridge standoff. But Wright's crusade, along with a handful of other recent incidents, gives us an idea of what QAnon looks like when it emerges from its online cave, blinking in the sun. And it's a little terrifying.

It Seemed Harmless For A Minute There 
As conspiracies go, QAnon isn't even faintly plausible. It's every conspiracy, all at once, an orchestra tune-up of theories. It involves Hollywood, former presidents and the Democratic Party joining up to commit various heinous crimes. And on the other side is an anonymous hero named Q, who claims to have high-level government clearance.
In another, a Redditor used one of Q's posts to surmise that Barack Obama and Hillary Clinton's entire family fabricated the Parkland, Florida, school massacre to "advance the anti-2nd agenda." Commenters agreed and expressed their anger with all the maturity and expertise of a high school film studies class.
"It's just like watching V for Vendetta in how the people would trade away their freedom for security," one commenter wrote.
"The more I'm reading about the Q posts, the more it brings me back to that movie," said another. "False flags, under-age exploitation, and a top level conspiracy even among a major religion."
There are hundreds of these posts. Choose any conspiracy you like ― false-flag shootings, underground child sex dungeons run by elite predators, unreleased Justice Department reports that, if made public, would put Hillary Clinton in jail ― and you'll find them being discussed on QAnon forums.
Q

!CbboFOtcZs

ID: 07b0b9

No.2263683


Q

!CbboFOtcZs

ID: 07b0b9

No.2263659


>>2263659
Now do you understand why mirrors and disinformation is necessary?
Logical thinking.
[20]
Q
Trick them into thinking that you're weak enough to attack, now all of their attacks are on record, so when the LIGHT is full on…well, Libel Laws
Now do you understand why mirrors and disinformation is necessary?
understand mirrors and disinformation is necessary
understand mirrors and disinformation is(are)
mirrors and disinformation is R
mirrored
R is disinformation and mirrors
Is everyone missing the obvious Q proof today?
[20] days of silence = time to kill/FEED July 4 to July 24

[20] days of golden silence, while many committed political & career suicide in their state of a) thinking that the coast was clear of b) absolute & utter panic…no new drops for us meant no new drops for them either
Q

!CbboFOtcZs

ID: 07b0b9

No.2264304 


https://www.youtube.com/watch?v=G9GXgcoqJJI

Does FOIA cover FISA?

No.

[FISA highest level of CLAS]

How did FOIA generate redacted FISA

[Page]

?

DECLAS.

Who DECLAS?

Section 5.2 CLAS

[Office of President]

Why redacted?

Think HUBER.

WWG1WGA!

Q
Most of the filings and orders of the Foreign Intelligence Surveillance Court are classified. Moreover, as a federal court, it is outside the reach of the Freedom of Information Act. The FOIA does apply to intelligence agencies that interact with the court, e.g., the Department of Justice's National Security Division, FBI, and National Security Agency, but they frequently refuse to confirm or deny the existence of records about named individuals or organizations.
Recent FISA application was supposedly released due to FOIA requests.
They DOJ could have denied the FOIA because FISA is not beholden to those laws.
POTUS used DECLAS to put it out anyways.
Doing it this way means he is already using his DECLAS powers to push things along, but he hasn't had to stick his neck out and call attention to it yet (the media is just reporting this as FOIA).
Even though the POTUS DECLAS this time, it's very redacted because there are things that would cause alarms to go off and indicate guilt for individuals Huber is investigating, and they aren't ready for them to hit the public just yet.
---
Uncensored