Podcast: Play in new window | Download (Duration: 40:31 — 42.4MB)
The EU is now in a deep panic, they thought they were controlling the situation but now they realize the people are in control, they don't want a no-deal BREXIT because it would expose them. EU commission slashes forecast economic growth is slowing. The [CB] economy in the US is hitting a tipping point, the entire system is ripping itself apart. Wikileaks dumps docs showing the DS used the CB system to weaponize their attacks on other nations. The CB are not independent they are the problem. More proof the DNC was not hacked. Schiff pushes his agenda, wants to look at Trump's business dealing, this has nothing to do with Russian collusion anymore. Schiff says he will release the House Intelligence docs, the only problem Nunes already did this. Whitaker pushes back on the house and says the will talk to the committee as long as it kept non political.Rand Paul makes the call, sets up a Senate committee to investigate those individuals who lied to congress. Senate opens up investigation into Epstein Island, the Senate was the key. The Neocons are pushing their agenda in Venezuela, it seems like there are two operations happening in Venezuela, one run by the neocons the MSM and other by the patriots. Melania sends a message about RBG.
Check Out The X22 Report Spotlight YouTube Channel X22Report Spotlight
Please check Newzsentinel.com for the latest news on the economic collapse. The Sentinel Alerts are updated throughout the day. If you haven't already, go to "The People" and join the community of people who are helping each through the economic collapse.
---
Current News – 02.07.2019
Watch The X22 Report On Video
---
Economy
Brexiteers would 'DIVIDE HELL', says EU Parliament's Brexit negotiator, gets roasted
The EU parliamentarian apparently felt compelled to throw his support behind incendiary comments made by president of the EU Council, who wondered out loud on Wednesday what a "special place in hell looks like for those who promoted Brexit without even a sketch of a plan to deliver it safely."
Verhofstadt tweeted in reply: "Well, I doubt Lucifer would welcome them, as after what they did to Britain, they would even manage to divide hell."
The insult was met with an avalanche of angry comments.
Source: rt.com
Farage: EU 'Scared' of WTO Clean Brexit
Brexit architect Nigel Farage has said that Brussels bureaucrats are "scared" of a no-deal, clean Brexit because of the cost to European manufacturers and the looming eurozone recession.
Farage said, that They're scared, they're rattled. They really worried.
"I was in the parliament last Wednesday, I said that their arrogance and the behaviour of the unelected elites was driving British public opinion towards a WTO 'No Deal' Brexit.
"And I saw the fear in Juncker's face, in Barnier's face, and it was interesting — before that comment, what Tusk was saying what that we must not have a no-deal Brexit. 
Source: breitbart.com
EU Commission slashes forecast for eurozone economic growth this year to 1.3 percent from 1.9 ...
 . The surge in borrowing in November brought the total to just above $4 trillion for the first time ever on the back   auto and student loans.
Revolving credit increased by $1.7 billion to $1.045 trillion,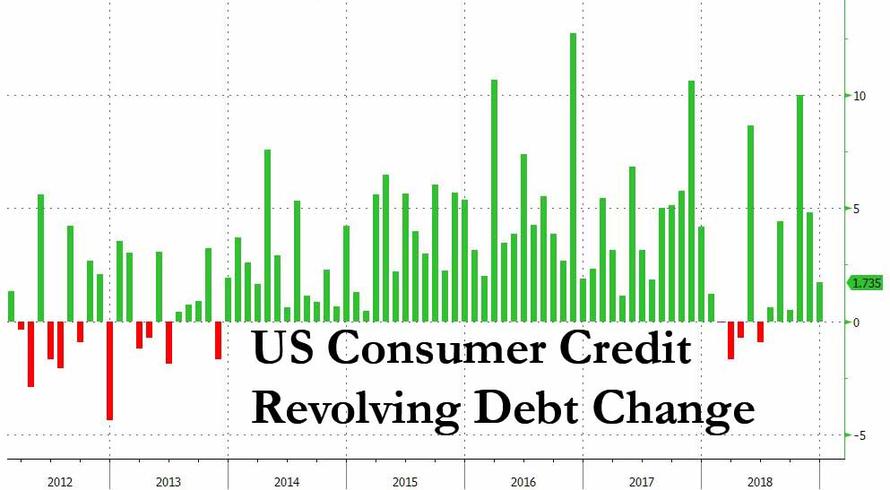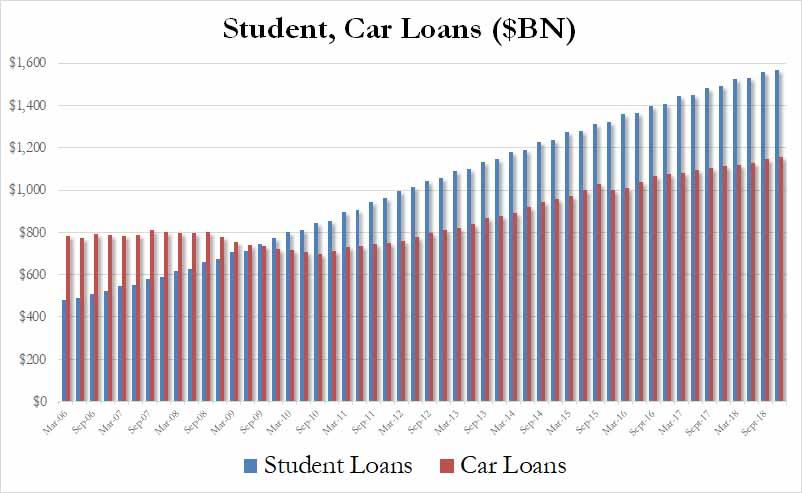 In short, whether they want to or not, Americans continue to drown even deeper in debt, and enjoying every minute of it.
Source: zerohedge.com
Not only have student loans become an unavoidable problem that is "affecting the blood pressure" of people over 60 and leading senior citizens to have their Social Security pay garnished, but nearly one in two millennials in New York are now reportedly tending bar or waiting tables to help pay off their student loan debt, as well. A new analysis shows that thousands of borrowers work as bartenders and waiters while paying down their student debts and seeking "more gainful employment" in their chosen field.
The article pointed out some striking state and Federal figures:
New York state's outstanding student debt now totals $90.6 billion.
45% of adults 18 to 35 in New York state owe student loan debt.
20% of New York state consumers have outstanding student debt.
If that wasn't bad enough, Millennials lives may be about to turn even gloomier as many in New York's restaurant industry are dreading the elimination of NY state's "tip credit" which allows restaurants and bars to pay tipped employees less. Many restaurant employees believe that if this is eliminated, the size of gratuities could fall, putting even more financial pressure on them.
Source: zerohedge.com
Leaked Wikileaks Doc Reveals US Military Use of IMF, World Bank as "Unconventional" Weapons
This "U.S. coup manual," recently highlighted by WikiLeaks, serves as a reminder that the so-called "independence" of such financial institutions as The World Bank and IMF is an illusion and that they are among the many "financial weapons" regularly used by the U.S. government to bend countries to its will.
In a leaked military manual on "unconventional warfare" recently highlighted by WikiLeaks, the U.S. Army states that major global financial institutions — such as the World Bank, International Monetary Fund (IMF), and the Organization for Economic Cooperation and Development (OECD) — are used as unconventional, financial "weapons in times of conflict up to and including large-scale general war," as well as in leveraging "the policies and cooperation of state governments."
WikiLeaks' recent tweets on the subject drew attention to a single section of the 248-page-long document, titled "Financial Instrument of U.S. National Power and Unconventional Warfare." This section in particular notes that the U.S. government applies "unilateral and indirect financial power through persuasive influence to international and domestic financial institutions regarding availability and terms of loans, grants, or other financial assistance to foreign state and nonstate actors," and specifically names the World Bank, IMF and The Organisation for Economic Co-operation and Development (OECD), as well as the Bank for International Settlements (BIS), as "U.S. diplomatic-financial venues to accomplish" such goals.
The manual also touts the "state manipulation of tax and interest rates" along with other "legal and bureaucratic measures" to "open, modify or close financial flows" and further states that the U.S. Treasury's Office of Foreign Assets Control (OFAC) – which oversees U.S. sanctions on other nations, like Venezuela — "has a long history of conducting economic warfare valuable to any ARSOF [Army Special Operations Forces] UW [Unconventional Warfare] campaign."

Source: mintpressnews.com
---
Political/Rights
MORE PROOF: The DNC Was Not Hacked by Russians in 2016 – It Was an Inside Job And the Deep State Knows It!
In 2016, numerous private emails from the Democrat Party (DNC) were released to the public by WikiLeaks. The emails unveiled activities of wrong doing by the Democrat and the Hillary camp and so the mainstream media (MSM) mostly ignored them.  Soon after,  the Democrats claimed that they were hacked by Russians.
New evidence shows that these emails most likely were never hacked at all, let alone by Russians.
In their recent book suggesting the Russians are to blame for Hillary's 2016 election loss, far-left writers Michael Isikoff and David Corn, two individuals involved in promoting and releasing the fake Trump – Russia dossier, attempt to tie the release of DNC emails to Russia. In their book Russian Roulette, Isikoff and Corn share the following about the firm (CrowdStrike) the Democrats used to look into their data breach (p. 74) –
One of CrowdStrike's first moves was to advise the DNC officials to do nothing. Don't shut down the system. Don't stop using it. The reason: Any dramatic action or change in routine could alert the hackers they had been spotted, and then the intruders might take steps to make it impossible to ferret them out of the system." (Isikoff, p. 74)
If the "intruders" could have "made it impossible to ferret them out of the system," this is the first thing they would have done. Not even CrowdStrike would have given the DNC the advice "to do nothing". The DNC and CrowdStrike coordinated and provided this false account in order to explain why the DNC did nothing when it discovered the breach.

"CrowdStrike and the lawyers warned the small circle of DNC officials in the know to keep their mouths shut. And this meant not telling anyone in the Clinton campaign." (Isikoff, p. 74-75)
Instead of installing additional controls to prevent hacking, adding additional malware protection or other related preventative actions, the DNC decided to the keep everything secret and the same?  This makes no sense at all.
The DNC was never hacked by Russians.  This was a tall tale developed by someone of the likes of Hillary's creepy Campaign Manger John Podesta.  If they were hacked they would have implemented aggressive controls to prevent future hacks.  They wouldn't have called a team meeting and asked the entire team to provide their laptops.
The actions taken by the DNC after the release of their emails were consistent with a loss of emails due to an insider job rather than a hacking from outsiders, let alone Russians.  The DNC never let anyone but CrowdStrike look at their server.  The FBI hasn't even reviewed their server, but the entire fairy tale led to the Mueller Witchhunt and it's all a lie.
Some say the insider who released the emails was Seth Rich. 
Source: thegatewaypundit.com
JUST IN: House Intel Chair Adam Schiff Announces Massive Investigation Into President Trump's Finances and Russia
House Intel Chairman Adam Schiff (D-CA) announced a sweeping investigation into President Trump's finances and Russia on Wednesday.

Interesting timing on Schiff's part — He decided to announce his massive investigation into Trump's finances the morning after the President's wildly successful SOTU address.
Schiff said in a statement released Wednesday:
"Consistent with its jurisdiction, investigative responsibilities, and building on substantial work undertaken during the last Congress, the House Permanent Select Committee on Intelligence ("Committee") will conduct a rigorous investigation into efforts by Russia and other foreign entities to influence the U.S. political process during and since the 2016 U.S. election. In addition, the Committee will investigate the counterintelligence threat arising from any links or coordination between U.S. persons and the Russian government and/or other foreign entities, including any financial or other leverage such foreign actors may possess.

"During the prior Congress, the Committee began to pursue credible reports of money laundering and financial compromise related to the business interests of President Trump, his family, and his associates. The President's actions and posture towards Russia during the campaign, transition, and administration have only heightened fears of foreign financial or other leverage over President Trump and underscore the need to determine whether he or those in his Administration have acted in service of foreign interests since taking office.
Schiff also announced Wednesday that the House Intel Committee voted to release all witness transcripts from its Russia investigation to the DOJ and Robert Mueller.
Source: thegatewaypundit.com
Shiff Feeds the Resistance Sheeple – HPSCI Chairman Grandstands on Transcripts and Cohen…
You might remember back in September 2018, those HPSCI transcripts were already released by Devin Nunes, given to the Intelligence Community [See Here], the DOJ/FBI, and also to Robert Mueller. Of course, the media ignore the manufactured Schiff grandstanding and run with the 'Muh Russia' narrative as if it's something new.  Silly.
Here's what appears to be going on…. Remember, Matt Whitaker is scheduled to testify before the House Judiciary Committee (Chairman Jerry Nadler) on Friday; and William Barr's confirmation vote from the Senate Judiciary is on hold.  All of this stuff is connected.
Mueller is a player in all of this because he too has material Deep State risk. Speaker Pelosi, Adam Schiff (HPSCI), Elijah Cummings (House Oversight), and Jerry Nadler (House Judiciary) are working with Robert Mueller (team) and Rod Rosenstein (internal DOJ corrupt officials) on a tenuously constructed timeline.
Pelosi, Schumer and the Democrats do not want William Barr to be able to write a summary, a public statement, based on the report delivered to him by Robert Mueller.
Instead, the Democrats want the report from Mueller, including all the investigative trails that were exhausted, and -more importantly- the narrative they know Andrew Weissmann will weave into the report,… so they can exploit aspects of the Mueller inquiry that were not able to be proven, and weaponize "innuendo" and "possibility" for political benefit.
The sequence of Cohen, Mueller, then a blitzkrieg of subpoenas is dependent on isolating Whitaker and Barr so they cannot filter through the Weissmann Mueller report.

Source: theconservativetreehouse.com
So now Congressman Adam Schiff announces, after having found zero Russian Collusion, that he is going to be looking at every aspect of my life, both financial and personal, even though there is no reason to be doing so. Never happened before! Unlimited Presidential Harassment….

— Donald J. Trump (@realDonaldTrump) February 7, 2019
….The Dems and their committees are going "nuts." The Republicans never did this to President Obama, there would be no time left to run government. I hear other committee heads will do the same thing. Even stealing people who work at White House! A continuation of Witch Hunt!

— Donald J. Trump (@realDonaldTrump) February 7, 2019
Acting AG Whitaker Pushes Back Against Dems – Says He Won't Testify Unless Dems Withdraw Subpoena Threat
In a 23-13 vote along party lines, the Democrat-led House Judiciary Panel authorized Congressman Nadler to subpoena Acting Attorney General Matt Whitaker if he does not answer certain questions.
Whitaker pushed back against the Dems Thursday in a statement, calling their threat to subpoena him an attempt to create a "public spectacle" adding, "political theater is not the purpose of an oversight hearing, and I will not allow that to be the case."
"Consistent with longstanding practice, I remain willing to appear to testify tomorrow, provided that the Chairman assures me that the Committee will not issue a subpoena today or tomorrow, and that the Committee will engage in good faith negotiations before taking such a step down the road," Whitaker said.
Assistant Attorney General Stephen Boyd backed up Whitaker in a separate letter demanding "written assurance" by a 6 PM deadline that the Judiciary Committee would not issue a subpoena.
Matthew Whitaker volunteered to appear before the Committee to testify, but the Democrats still threatening the head of the executive department with a subpoena in an effort to "refocus the hearing on President Trump's confidential communications with the Acting Attorney General, which raises confidentiality interests that are vital to a President's ability to discharge the responsibilities of his office," Boyd wrote in his letter.
"Absent such an assurance," Boyd wrote, Acting AG Whitaker will simply not show up for Friday morning's hearing.
The preemptive move to authorize a subpoena shows just how aggressive the Democrats are pursuing Trump officials — it should be used as a last resort to compel testimony., the are desperate

Source: thegatewaypundit.com
Rand Paul Calls for Senate Hearings on FBI Methods and Selective Prosecution of Trump Officials
Senator Rand Paul took to Twitter on Thursday to blast the Senate for allowing perjurers like James Clapper to get off scot-free while aggressively pursuing anyone associated with President Donald Trump.
The Kentucky senator declared that the Senate should investigate FBI methods and selective prosecution of Trump officials.
Justice is supposed to be blind. Why is it that an admitted liar like James Clapper perjured himself to Congress and got off scot-free? But if you're somehow associated with @realDonaldTrump, then they will pursue you relentlessly? This shouldn't be a one-way street!

— Senator Rand Paul (@RandPaul) February 7, 2019
Senator Paul added that "the Senate should investigate FBI methods and selective prosecution of Trump officials. TIME FOR HEARINGS!"
Source: thegatewaypundit.com
Jeffrey Epstein, the disgraced New York financier who served 13 months in prison for soliciting an underaged girl for prostitution, has served his time, and despite all of the negative press surrounding his "Lolita Express" and the many celebrities and politicians – including former President Bill Clinton and disgraced actor Kevin Spacey – who have reportedly traveled to his "orgy island",
 the DOJ has reportedly opened an investigation into the conduct of DOJ attorneys in the case, and whether they committed "professional misconduct" in their working relationship with Epstein's attorneys.
The probe was opened in response to a request lodged by Sen. Ben Sasse, a a Nebraska Republican and member of the Senate Judiciary Committee, who raised questions about the case after reading the Herald's stories about how Acosta and other DOJ attorneys worked with defense attorneys to cut a lenient plea deal for Epstein back in 2008, per the Herald.
Source: zerohedge.com
FBI: Pedophile Jeffrey Epstein was Informant for Mueller's FBI
Documents released by the FBI pertaining to Clinton-connected pedophile Jeffrey Epstein show that the known child predator had a professional relationship with then-FBI Director Robert S. Mueller.
"Epstein has also provided information to the FBI as agreed upon," says one of the court documents. "Case agent advised that no federal prosecution will occur in this matter as long as Epstein continues to uphold his agreement with the state of Florida.
T
Today's release shows that Epstein clearly cut a deal with Mueller's FBI to avoid prosecution, though it is unclear from the heavily-redacted documents what crime he was charged with.
Source: bigleaguepolitics.com
The Senate was the key, let the investigation begin, power returned to the people
---
Geopolitical/Police State
Juan Guaidó: The Man Who Would Be President of Venezuela Doesn't Have a Constitutional Leg to Stand On
Educated at George Washington University in DC, Guaidó was virtually unknown in his native Venezuela before being thrust on to the world stage in a rapidly unfolding series of events. In a poll conducted a little more than a week before Guaidó appointed himself president of the country, 81% of Venezuelans had never even heard of the 35-year-old.
To make a short story shorter, US Vice President Pence phoned Guaidó on the evening of January 22nd and presumably asked him how'd he like to be made president of Venezuela. The next day, Guaidó announced that he considered himself president of Venezuela, followed within minutes by US President Trump confirming the self-appointment.
A few weeks before on January 5, Guaidó had been installed as president of Venezuela's National Assembly, their unicameral legislature. He had been elected to the assembly from a coastal district with 26% of the vote. It was his party's turn for the presidency of the body, and he was hand-picked for the position. Guaidó, even within his own party, was not in the top leadership.
Although anointed by Trump and company, Guaidó's Popular Will Party is not representative of the "Venezuelan opposition," which is a fractious bunch whose hatred of Maduro is only matched by their abhorrence of each other. Leading opposition candidate Henri Falcón, who ran against Maduro in 2018 on a neoliberal austerity platform, had been vehemently opposed by Popular Will who demanded that he join their US-backed boycott of the election.
The Guaidó/Trump cabal does not reflect the democratic consensus in Venezuela, where polls consistently show super majorities oppose outside intervention. Popular opinion in Venezuela supports negotiations between the government and the opposition as proposed by Mexico, Uruguay, and the Vatican. The Maduro administration has embraced the negotiations as a peaceful solution to the crisis facing Venezuela.
 
The Guaidó/Trump cabal's fig leaf for legitimacy is based on the bogus argument that Article 233 of the Venezuelan constitution gives the National Assembly the power to declare a national president's "abandonment" of the office. In which case, the president of the National Assembly can serve as an interim national president, until presidential elections are held. The inconvenient truth is that Maduro has shown no inclination to abandon his post, and the constitution says no such thing.
In fact, the grounds for replacing a president are very clearly laid out in the first paragraph of Article 233 of the Venezuelan constitution and do not include fraudulent or illegitimate election, which is what the cabal has been claiming.
As Alfred de Zayas, United Nations independent expert on the promotion of a democratic and equitable international order, tweeted: "Article 233 of the Venezuelan constitution is inapplicable and cannot be twisted into legitimizing Guaidó's self-proclamation as interim President.
Source: dissidentvoice.org
Venezuela – U.S. Aid Gambit Fails – War Plans Lack Support
A day after the U.S. coup attempt in Venezuela the U.S. game plan was already quite obvious:
The opposition in Venezuela will probably use access to that 'frozen' money to buy weapons and to create an army of mercenaries to fight a 'civil' war against the government and its followers. Like in Syria U.S. special forces or some CIA 'contractors' will be eager to help. The supply line for such a war would most likely run through Colombia. If, like 2011 in Syria, a war on the ground is planned it will likely begin in the cities near that border.
bigger
The U.S. is using the pretext of 'delivering humanitarian aid' from Columbia to Venezuela to undermine the government and to establish a supply line for further operations. It is another attempt to pull the military onto the coup plotter's side:
[I]f the trucks do get across, the opposition can present itself as an answer to Venezuela's chronic suffering, while Mr. Maduro will appear to have lost control of the country's borders. That could accelerate defections from the ruling party and the military.Dimitris Pantoulas, a political scientist in Caracas, called the opposition's aid delivery plan a high-stakes gamble.
…
"This is 99 percent about the military and one percent about the humanitarian aspects," he said. "The opposition is testing the military's loyalty, raising their cost of supporting Maduro. Are they with Maduro, or no? Will they reject the aid? If the answer is no, then Maduro's hours are numbered."
According to Mr. Guaidó and other sources, $20 million in American medicines and food will be unloaded this week just outside Venezuelan territory in Cúcuta, Colombia; Brazil, and on a Caribbean island — either Aruba or Curaçao — near the Venezuelan coast.Venezuelan military officials and troops in exile will then move these supplies into Venezuela, where if all goes well, army troops still loyal to Mr. Maduro will not stop their passage nor fire upon them. If they do, the Brazilian and Colombian governments may be willing to back the anti-Maduro soldiers. The threat of a firefight with their neighbors might just be the incentive the Venezuelan military need to jettison Mr. Maduro, making the reality of combat unnecessary.
This escalation strategy is unlikely to work unless some additional provocation is involved. The Venezuelan government blocked the border bridge between Cúcuta in Colombia and San Cristobal in Venezuela. Its military stands ready to stop any violation of the country's border.
The U.S. responded to the blocking of the road with a sanctimonious tweet:
Secretary Pompeo @SecPompeo – 16:55 utc – 6 Feb 2019The Venezuelan people desperately need humanitarian aid. The U.S. & other countries are trying to help, but #Venezuela's military under Maduro's orders is blocking aid with trucks and shipping tankers. The Maduro regime must LET THE AID REACH THE STARVING PEOPLE. #EstamosUnidosVE
The U.S. government, which actively helps to starve the people of Yemen into submission, is concerned about Venezuela where so far no one has died of starvation? The lady ain't gonna believe that.
The Venezuelan military has shown no sign of interest to change its loyalty. The fake aid will be rejected.
The government of Venezuela does not reject aid that comes without political interference. Last year it accepted modest UN aid which consisted mostly of medical supplies from which Venezuela had been cut off due to U.S. sanctions. The UN claimed that around 12 percent of Venezuelans are undernourished. But such claims have been made for years while reports from Venezuela (vid) confirmed only some scarcity of specific products. There is no famine in Venezuela that would require immediate intervention.
The International Red Cross, the Catholic church's aid organization Caritas and the United Nations rejected U.S. requests to help deliver the currently planned 'aid' because it is so obviously politicized:
"Humanitarian action needs to be independent of political, military or other objectives," UN spokesman Stephane Dujarric told reporters in New York on Wednesday.
…
"What is important is that humanitarian aid be depoliticised and that the needs of the people should lead in terms of when and how humanitarian aid is used," Dujarric added.
Rejecting aid out of political reasons is not unusual. When the hurricane Katrina in 2005 caused huge damage along the U.S. gulf coast, a number of countries offered humanitarian and technical aid. U.S. President Bush accepted help from some countries, but rejected aid from other ones:
An offer of aid from the Venezuelan president, Hugo Chávez, which included two mobile hospital units, 120 rescue and first aid experts and 50 tonnes of food, has been rejected, according to the civil rights leader, Jesse Jackson.Mr Jackson said the offer from the Venezuelan leader, whom he recently met, included 10 water purification plants, 18 power generation plants and 20 tonnes of bottled water.
The U.S. intent to establish a 'humanitarian aid' supply line into Venezuela has a secondary purpose. Such aid is the ideal cover for weapon supplies. In the 1980s designated 'humanitarian aid' flights for Nicaragua were filled with weapons. The orders for those flights were given by Elliot Abrams who is now Trump's special envoy for Venezuela.
While the trucks from Colombia are blocked at the border other 'humanitarian aid' from the United States reached the country.
Officials in Venezuela have accused the US of sending a cache of high-powered rifles and ammunition on a commercial cargo flight from Miami so they would get into the hands of President Nicolás Maduro's opponents.Members with the Venezuelan National Guard [GNB] and the National Integrated Service of Customs and Tax Administration [SENIAT] made the shocking discovery just two days after the plane arrived at Arturo Michelena International Airport in Valencia.Inspectors found 19 rifles, 118 magazines and 90 wireless radios while investigating the flight which they said arrived Sunday afternoon. Monday's bust also netted four rifle stands, three rifle scopes and six iPhones.
The pictures show sufficient equipment for an infantry squad. Fifteen AR-15 assault rifles (5.56), one squad automatic weapon (7.62) with a drum magazine, and a Colt 7.62 sniper gun as well as accessory equipment. What is missing is the ammunition.
Where one such weapon transport is caught multiple are likely to go through. But to run a war against the government pure weapon supplies are not enough. The U.S. will have to establish a continuous supply line for heavy and bulky ammunition. That is where 'humanitarian aid' convoys come in.
Unless a large part of the Venezuelan military changes sides, any attempt to overthrow the Venezuelan government by force is likely doomed to fail. The U.S. could use its full military might to destroy the Venezuelan army. But the U.S. Senate is already quarreling about the potential use of U.S. forces in Venezuela. The Democrats strongly reject that.
A Senate resolution to back Venezuelan opposition leader Juan Guaido, once expected to get unanimous support, has been torpedoed by a disagreement over the use of military force, according to aides and senators working on the issue.
…
"I think it's important for the Senate to express itself on democracy in Venezuela, supporting interim President Guaido and supporting humanitarian assistance. But I also think it should be very clear in fact that support stops short of any type of military intervention," [Sen. Bob Menendez, D-N.J.] told NBC News.
It is unlikely that Trump would order a military intervention without bipartisan support.
The a clandestine insertion of a mercenary 'guerrilla' force into Venezuela is surely possible. Minor supply lines can be established by secret  means. But, as the war on Syria demonstrates, such plans can not be successful unless the people welcome the anti-government force.
Under the current government most people in Venezuela are still better off than under the pre-Chavez governments. This lecture and this thread explain the economic history of Venezuela and the enormous progress that was made under Chavez and Maduro. The people will not forget that even when the economic situation will become more difficult. They know who is pulling the strings behind the Random Guy Guaido who now claims the presidency. They know well that these rich people are unlikely to better their plight.
U.S. politicians are making the same mistakes with regards to Venezuela as they made with the regime change wars on Iraq and Syria. They believes that all people are as corrupt and nihilistic as they are. They believe that others will not fight for their own believes and their own style of life. They will again be proven wrong.
Source: moonofalbama.org
---
Q
Mystery of Melania's black glove!! **Anon post!**
Could she have been pointing us to #RBG? Any other thoughts @SmallCaps14 @realDonaldTrump pic.twitter.com/hkihRbXl5r

— RunningTheRace ⭐️⭐️⭐️ (@2runtherace) February 7, 2019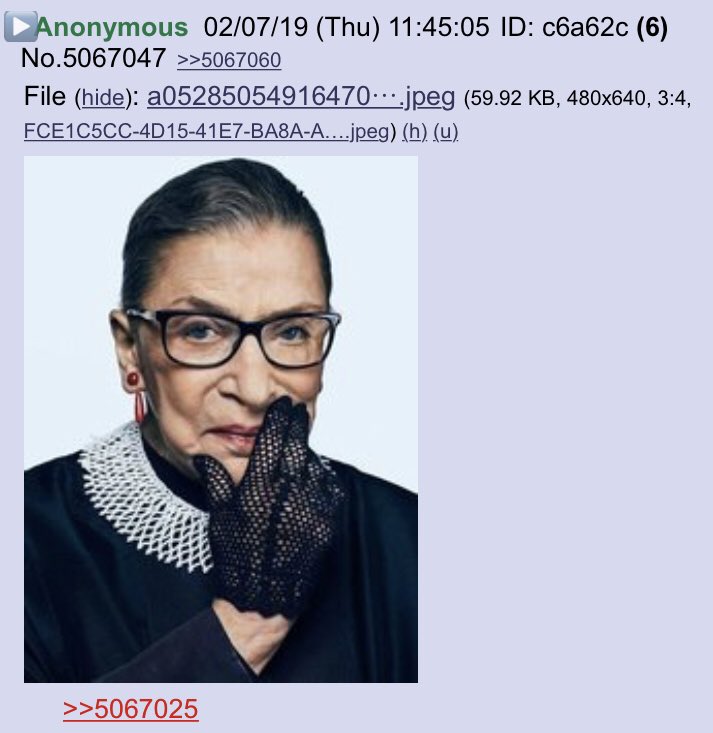 ---
Uncensored