Podcast: Play in new window | Download (Duration: 38:07 — 38.5MB)
German factory orders plunge the most since 2012.  The European economy is hitting the wall, the CB are stuck an they don't have a way out of this. Trump nominates David Malpass as the next President of the World Bank. First Trump went after the Fed, it is not controlled, then went after the globalist trade deals, he ripped them apart, then went after the trade deals with other nations, now the World Bank, the economic swamp is being drained. The MSM polls show that 72% like what Trump had to say. During the SOTU messages were being sent to anons and the [DS]. The clock is ticking down for the [DS]. The house postpones Michael Cohen's testimony behind close doors.Judicial Watch discovers that classified Russia docs were distributed to Senators. Trump will meet with Kim Jong Un in Vietnam. Peace talks are proceeding well in Afghanistan. Troops are being pulled out of Syria and certain neocons in the Senate created a bill to stop him. The movement cannot be stopped, lets make American great again.
Check Out The X22 Report Spotlight YouTube Channel X22Report Spotlight
Please check Newzsentinel.com for the latest news on the economic collapse. The Sentinel Alerts are updated throughout the day. If you haven't already, go to "The People" and join the community of people who are helping each through the economic collapse.
---
Current News – 02.06.2019
Watch The X22 Report On Video
---
Economy
Adding more fuel to the rapidly worsening outlook on the German economy, which economists at Deutsche Bank warned on Tuesday appeared to be drifting toward recession, German factory orders posted their biggest yoy slump since 2012 in December, extending a slump that began seven months ago.
December's 1.6% monthly drop was the steepest in six months, contributing to a staggering 7% drop yoy. This fed speculation that the German economy, seen as the growth engine of Europe, contracted in the final quarter of 2018. The latest downbeat print from Q4 suggests that growth may have turned negative in the closing months of last year. If the data bear this out, it would officially signal that Germany has entered recessionary territory.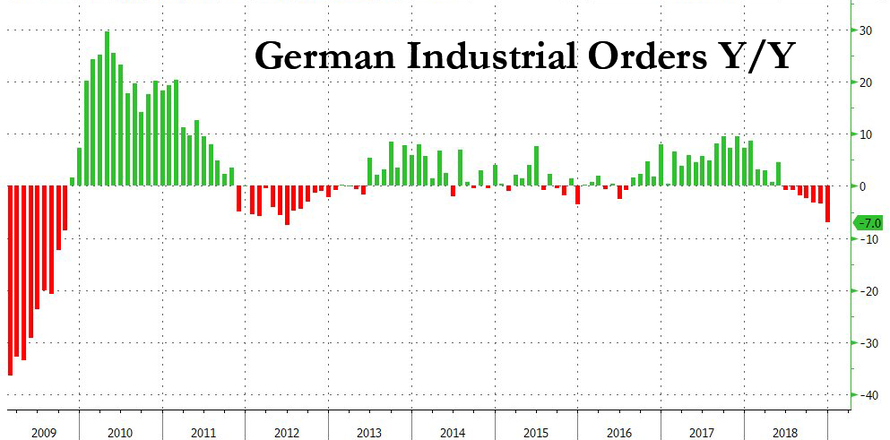 The biggest factor behind the slump was a drop-off in demand for investment goods from outside the eurozone. In one of the report's few bright spots, orders rose 0.3% in the fourth quarter, helped by demand for investment goods.

But overall, data released since the beginning of the year suggests the situation in Europe's largest economy has gone from bad to worse. A
Source: zerohedge.com
Trump shakes up World Bank with choice of harsh critic as next leader
P

resident Trump campaigned on his belief that America should put its own needs ahead of buoying other nations through cooperative efforts like the World Bank.
In David Malpass, the 62-year-old Treasury undersecretary he nominated Wednesday to lead the global lender and policy adviser, the White House found a government veteran who not only shares that viewpoint but also has been vocal about it.
"I am certain there could be no better candidate to lead the World Bank than David," Trump said at a Wednesday afternoon press conference. "My administration has made it a top priority to ensure that U.S. taxpayer dollars are spent effectively and wisely," he noted, and "David has been a strong advocate for accountability at the World Bank for a long time."
 So the will other nations that  represent the World Bank's board of governors let the Trump  undermine a key global institution. They have a choice. It's a simple majority vote,

Source: washingtonexaminer.com
---
Political/Rights
CBS State of Union Poll: 72% of Viewers Agree With President Trump Ideas on Immigration…

It is going to be harder for Nancy Pelosi and Chuck Schumer to work against funding border security after tonight.  President Donald Trump's State of The Union speech was measured by CBS after delivery.  The results were initally tweeted:
♦ 76 percent of CBS viewers approved of what they heard in President. Trump's

SOTU

speech;
♦ 72 percent of CBS viewers said they approved of President Trump's SOTU ideas for immigration.
Anon put this pic up – SOTU – CIA Director -is wearing an outfit of all White Hats
Krysten Sinema stood up and applauded  Trump, another individual turned to her and said watch your ass. Was this a threat.
During the Speech Trump spoke to the deep state and anons a couple of times, I believe it was actually meant for the DS, First he said the following
"IF I WASN'T ELECTED, I BELIEVE WE WOULD BE IN A WAR WITH NORTH KOREA RIGHT NOW."
59:49
as part of a bold new diplomacy we
59:53
continue our historic push for peace on
59:56
the Korean Peninsula our hostages have
60:01
come home nuclear testing has stopped
60:05
and there has not been a missile launch
60:08
in more than 15 months if I had not been
60:13
elected president of the United States
60:15
we would right now in my opinion be in a
60:20
major war with North Korea
WE Will Never Be A Socialist Country!
here in the United States we are alarmed
61:50
by the new calls to adopt socialism in
62:00
America was founded on liberty and
62:03
independence and not government coercion
62:07
domination and control we are born free
62:11
Take a listen to both
---
Geopolitical/Police State
Venezuela: Let's cut to the chase
Contrary to Western corporate media fake news, the latest elections in Venezuela were absolutely legitimate. There was no way to tamper with the made in Taiwan electronic voting machines. The ruling Socialist Party got 70 percent of the votes; the opposition, with many parties boycotting it, got 30 percent. A serious delegation of the Latin American Council of Electoral Experts (CEELA) was adamant; the election reflected "peacefully and without problems, the will of Venezuelan citizens."
Source: .intrepidreport.com
Venezuela's chaos exposes EU disarray on foreign policy
Venezuela is the country in chaos but it was the EU and its members that couldn't get their messages in order.
Many EU countries, including the bloc's major powers of France, Germany and the U.K., officially recognized Juan Guaidó on Monday as Venezuela's interim president .But other EU countries, including Belgium, Finland and Sweden, stopped short of recognizing Guaidó, the National Assembly president, and only issued messages of support.
Source: politico.eu
Venezuela Authorities Discover Cache of US-Made Weapons Amid US's Slow-Rolling Coup
Venezuelan authorities discovered a cache of weapons and ammunition from the United States and are investigating the intended recipient as the country faces a coup attempt backed by Washington.
In total, some 19 rifles, 118 magazines, 90 radios and six cell phones were uncovered inside a commercial cargo plan
Authrities believe the cache was sent from Miami, Florida, a city notorious as a nexus of Pink Wave emigres and a major throughway in the international black-market arms trade.
Source: mintpress.com
---
War
U.S. Envoy Arrives in North Korea to Prepare for Second Trump-Kim Summit
The U.S. envoy charged with leading efforts towards a fully verified denuclearization of the Korean Peninsula arrived in Seoul on Sunday to prepare for a second high-level meeting between President Donald Trump and North Korean  Kim Jong-un.
Source: breitbart.com
Trump says talks with Taliban 'constructive', hopes to reach political settlement in Afghanistan
Informing Congress that his administration is holding "constructive talks" with the Taliban, U.S. President Donald Trump said on Wednesday that after two decades of war in Afghanistan, the hour has come to at least try for peace..
Source: thehindu.com
US Intel Wrong as Usual. ISIS Is Too Weak to Take Advantage of US Withdrawl
Even if the US pulls out of Syria, ISIS cannot reclaim what it held at the height of its power
The US Intelligence community claims that the Islamic State (ISIS/ISIL) will return within twelve months of any US withdrawal from Syria and will be able to control a wide sweep of territory. In 2014 ISIS occupied an area the size of Great Britain– analysts claim that ISIS would soon be able to control half this much territory. At the same time US President Donald Trump is correctly announcing that ISIS is almost defeated, Pentagon sources claim there are still 20,000 to 30,000 ISIS fighters in Iraq and Syria.
These unfounded statements and predictions are made by analysts whose bread and butter is to keep the fear of ISIS alive. The reality on the ground is different. Indeed, Kurdish forces in Syria are overwhelmed not by attacks, but by the hundreds of ISIS surrendering to its forces, unwilling to continue and preferring prison to death. What is more, the families (women and children) of ISIS militants of various nationalities are flocking into the deserted area under Kurdish control east of the Euphrates and surrendering themselves. They are hungry and humiliated, and they loudly express their  the trap they were drawn into years ago to by the so-called Islamic State. Coalition forces and Iraqi artillery have been bombing ISIS's last strongholds .

These professional analysts are ignoring the fact that any war needs financing to ensure its success. The former Qatar foreign minister Hamad Bin Jassem claims his country $137bn to topple Syrian President Bashar Al-Assad; the amount Saudi Arabia spent for the same purpose is unknown but surely comparable. But today the countries most responsible for financing regime change efforts in Syria are no longer interested in Syrian events. They have lost the war, they have no trust in their proxies, and have abandoned them to their fate under Turkey's wing. Not only this: many Arab and non-Arab countries are preparing to reopen their embassies in Damascus and some have already done so despite US pressure to slow down the process.
Moreover, the US and Europe have organised themselves to establish tight controls on money flow and transfers from donors, banks and private institutions that used to find their way into al-Qaeda and ISIS hands in Syria and Iraq.
ISIS used to raise money by selling oil, imposing taxes on goods, agriculture, cars crossing its territory, looting, and the sale of looted ancient arts. All this is over
Source: russia-insider.com
Senate Approves Bill Supporting Middle East Allies, Rebuking Rapid Troop Withdrawals in Region
The Senate on Tuesday approved a bill that advocates for strong support for U.S. allies in the Middle East and critiques the Trump administrations plans to rapidly withdraw troops from Syria and Afghanistan.
The Republican-led Senate approved the S.1 bill, known…
Source: defensedaily.com
---
False Flags