Podcast: Play in new window | Download (Duration: 56:08 — 57.4MB)
Macron is in a deep panic, he is now pushing for the UK to drop the BREXIT plan because he has a better. plan. US credit card debt has hit an all time high, higher than the 2008 credit crisis. The Fed is now reporting that the economy is slowing, so they will now be patient and not raise rates. Trump is pushing 5g and 6g networks, the question is why, does this have to do with plans for gold, trade and the economy? Bloomberg and Clinton say they are out of the Presidential race. Christopher Steele backs out of an appearance. Jerry Nadler's son works for the law firm suing Trump, conflict of interest? The MSM is reporting that NK is rebuilding their nuclear system, right on schedule & predictable, they have done this before when they think the talks are not going well. Neocons and DS very happy that Trump is keeping troops in Syria, or is he. Q drops more bread, Q lets us know that the DS is now in a death blossom and soon it will be time to drop the Trump card. The DS is panicking, they are going in all different directions trying to bring down Trump. Time is running out, they know whats coming.
Check Out The X22 Report Spotlight YouTube Channel X22Report Spotlight
Please check Newzsentinel.com for the latest news on the economic collapse. The Sentinel Alerts are updated throughout the day. If you haven't already, go to "The People" and join the community of people who are helping each through the economic collapse.
---
Current News – 03.06.2019
Watch The X22 Report On Video
---
Economy
Macron Attacks Brexit, Calls for 'European Federalism' in Pre-Election War Cry
Globalist French President Emmanuel Macron has made a direct address to the over 500 million people who live in the European Union, calling on them to support his vision of a more centralised and powerful "project" European Union which, he believes, could even entice the United Kingdom into cancelling Brexit.
The plea to voters to back an enhanced European Union which would take more control over its member nation states comes just months before the continental power bloc holds elections to select Members of the European Parliament for the next five-year term.
Calling the Brexit vote a symbol of the "European trap", which he claimed was caused by lies and irresponsibility, the French president wrote, "We cannot let nationalists without solutions exploit the people's anger. We cannot sleepwalk through a diminished Europe."
Source: breitbart.com
U.S. Credit Card Debt Closed 2018 at a Record $870 Billion
U.S. credit card debt hit $870 billion — the largest amount ever — as of December 2018, according to the data from the Federal Reserve. Credit card balances rose by $26 billion from the prior quarter.
"The increase in credit card balances is consistent with seasonal patterns but marks the first time credit card balances re-touched the 2008 nominal peak," according to the report.
Nearly 480 million credit cards are now in circulation — up by more than 100 million since hitting bottom after the recession a decade ago.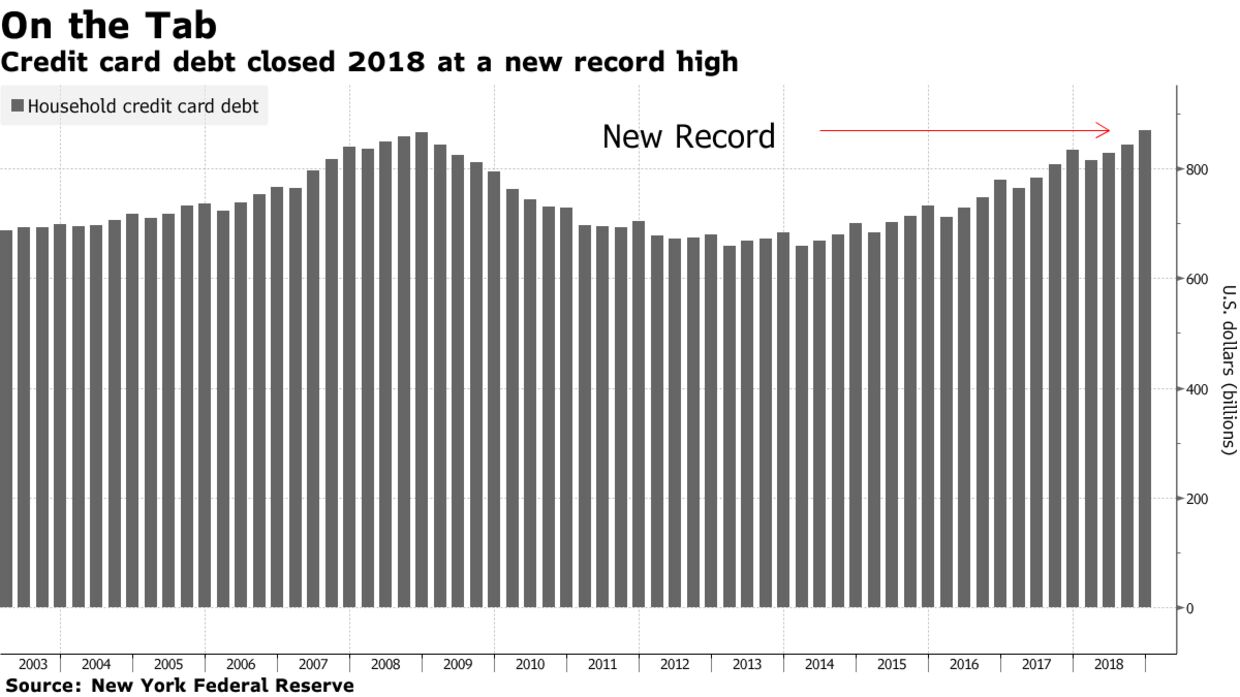 About 37 million credit card accounts had a 90+ days delinquent mark added to their credit report last quarter, an increase of about two million from the fourth quarter of 2017.
Over the weekend, President Donald Trump's 2020 campaign team renewed its controversial pitch on nationalizing the country's 5G network. In other words, the government would have control of 5G airwaves and lease access to private wireless providers.
Last month, President Trump himself tweeted the following

I want 5G, and even 6G, technology in the United States as soon as possible. It is far more powerful, faster, and smarter than the current standard. American companies must step up their efforts, or get left behind. There is no reason that we should be lagging behind on………

— Donald J. Trump (@realDonaldTrump) February 21, 2019
….something that is so obviously the future. I want the United States to win through competition, not by blocking out currently more advanced technologies. We must always be the leader in everything we do, especially when it comes to the very exciting world of technology!

— Donald J. Trump (@realDonaldTrump) February 21, 2019
But China keeps coming back around.
A memo from a National Security Council official, obtained by Axios, insisted that a strong, government-controlled 5G network is necessary as a bulwark against Chinese threats to America's economy and cyber security.
"China has achieved a dominant position in the manufacture and operation of network infrastructure…China is the dominant malicious actor in the Information Domain," the memo read.
 U.S. mobile providers such as  AT&T, Verizon and T-Mobile, for example, are investing heavily in this area and have promised to make 5G a reality later this year.
Source: zerohedge.com
BLOCKCHAIN AND 5G-ENABLED INTERNET OF THINGS (IOT) WILL REDEFINE SUPPLY CHAINS AND TRADE FINANCE
Existing Supply Chains and Trade Finance
Currently, the movement of goods and commodities across the globe is driven by processes that have remained static over many decades and, in some cases, centuries. Supply chains developed around the need to move away from barter-driven trade to one based on units of account and stores of value, such as gold, which allowed for the acquisition of goods for money. These advances led to the rise of marketplaces around the world. Ocean shipping made it possible to move large quantities of goods and commodities from one port to another far more efficiently.  Since then, many advances in our supply chains have focused on addressing certain fundamental issues that arise out of transactions not involving the contempo-raneous exchange of bartered goods or exchanges for money.
Impact of Blockchain and 5G/IoT on Sup-ply Chains and Trade Finance
The promise of secure, real-time data about goods in transit requires bandwidth having capacity that doesn't exist with our current infrastructure. 5G-enabled IoT is intended to greatly increase this capacity. Without this upgrade to our telecommu-nication infrastructure, the development and adoption of some blockchain solu-tions involving logistics will be limited to pilots and other deployments at reduced scale. Blockchain technology is particularly well-suited to respond to both the chal-lenges and opportunities of a 5G-enabled IoT. Therefore, it is very likely that each technology will spur greater adoption of the other.
---
Political/Rights
Michael Bloomberg will fight for a carbon-free future instead of the White House
Former New York City mayor Michael Bloomberg today announced that he will not run for president, but instead launch a campaign to rid the United States of fossil fuels as quickly as possible.
Bloomberg calls this latest effort Beyond Carbon,

I wonder if he is headed down the same path as Al Gore, carbon taxes for climate change, where they make billions by selling people carbon credits, what a scam
Source: theverge.com
Former MI6 spy Christopher Steele has suddenly backed out of a planned video appearance at a pro-democracy gathering in Baltimore next week

Perhaps Steele was 'spooked' by testimony last week from former Trump attorney Michael Cohen, who debunked a key claim in the dossier that he traveled to Prague in August 2016 to meet with Kremlin officials in order to arrange clandestine payments to hackers who stole emails from the Clinton campaign and the DNC.
Source: zerohedge.com
Weird that all of a sudden the Fake Dossier author (paid for by Hillary and the DNC etc) no longe wants to show up and testify!?!

Spooked? Christopher Steele Cancels Appearance After Cohen Testimony Destroys Dossier Allegation | Zero Hedge https://t.co/P5EJgGYzVl

— Donald Trump Jr. (@DonaldJTrumpJr) March 5, 2019
Dershowitz: I'd Consider Suing if I Got Letter or Subpoena From Congress – Their Investigations 'Look Like They're Going Too Far'
 Alan Dershowitz stated that the Congressional investigations into the president "look like they're going too far." He further stated that if he were one of the people who received a letter or subpoena from Congress, he would consider bringing a lawsuit.
Dershowitz said, "A balance has to be struck between the legitimate function of Congress to investigate. The framers didn't intend for Congress to become yet another prosecutorial branch, yet another investigative branch. They're supposed to pass laws, and so, it seems to me these investigations look like they're going too far."
He added, "If you go back to the cases in the 1950s, the courts sometimes did say, look, Congress, you've gone too far. This is not within your legitimate function. And so, if I were one of the people who got a letter or a subpoena, I would at least think about the possibility of bringing a lawsuit and suggesting that Congress is abusing its oversight function."
Source: breitbart.com
EXCLUSIVE: Jerry Nadler's Son Works For Firm Suing Trump, Which Presents Conflict of Interest
Democrat congressman Jerry Nadler, leading the investigative charge against President Donald Trump, has a son whose firm is trying to get access to Trump documents for their clients in numerous lawsuits against President Trump.
"Congressman Jerry Nadler has a big conflict," our source tells Big League Politics in Washington, D.C.
"His son (Michael Nadler) got a job with Gibson Dunn & Crutcher LLP in 2018.  That's convenient because Jerry Nadler and the Democrats just won control of the House in 2018.  
Source: bigleaguepolitics.com
Republicans Seek Obama Era Docs From DHS on Russian Election Interference
Republican lawmakers Jim Jordan and Mark Meadows requested a slew of Obama era documents and communications Tuesday related to "attempted interference in the" 2016 election from Department of Homeland Security Kirsjen Nielsen.
Documents and Materials requested:
All documents and communications created, prepared, or used for the purpose of briefing members of Congress about the threat of foreign interference in the 2016 presidential election;
All documents created, prepared, or used for the purpose of briefing campaign officials about the threat of foreign interference in the 2016 presidential election;
All documents and communications between or among Secretary Johnson or any other DHS employee, Director Comey or any other FBI employee, or Lisa Monaco or any other National Security Council employee referring to relating to briefing members of Congress about the Russian Government's attempts to interfere in the 2016 election; and
All documents and communications produced to the Senate Committee on Homeland Security and Governmental Affairs responsive to Chairman Johnson's request of June 6, 2018.
Source: saracarter.com
Jim Jordan: No evidence of Trump colluding with Russia, but 'all kinds' showing Clinton campaign did
Jim Jordan said

"What I know is there is not one bit of evidence to know any type of coordination, collusion, conspiracy whatsoever between the Trump campaign and Russia to impact the election," Jordan said.
"There is all kinds of evidence to show that the Clinton campaign worked with Russians to impact the elections, via that whole thing I just described where they fired the law firm who hired Fusion, who hired Christopher Steele, who communicated with Russians, and put together the fake dossier," he added.
Source: washingtonexaminer.com
Trump to nominate federal prosecutor for No. 3 DOJ role
---
War
North Korea Starts Rebuilding Long-Range Missile Site, Satellite Images Reveal
Mere hours after Kim Jong Un arrived back in Pyongyang after the breakdown in talks with President Trump in Hanoi, the North Korean dictator was greeted by a flurry of western media reports warning that his regime had started rebuilding one of its missile-launch facilities.
MSM [DS] right on schedule, predictable. The reports, which follow a decision by the US and South Korea to again suspend military exercises on the peninsula, suggest that the Kim regime may be hedging its bets and planning to restart its missile tests – which have been halted since November 2017 – if the US refuses to budge on sanctions relief for the North Korean economy, which is suffering through an acute economic crisis.
Source: zerohedge.com
Flashback in time
U.S. spy agencies: North Korea is working on new missiles -July 30,2018
A Rocket has not been launched by North Korea in 9 months. Likewise, no Nuclear Tests. Japan is happy, all of Asia is happy. But the Fake News is saying, without ever asking me (always anonymous sources), that I am angry because it is not going fast enough. Wrong, very happy!

— Donald J. Trump (@realDonaldTrump) July 23, 2018
In North Korea, Missile Bases Suggest a Great Deception
The story in the New York Times concerning North Korea developing missile bases is inaccurate. We fully know about the sites being discussed, nothing new – and nothing happening out of the normal. Just more Fake News. I will be the first to let you know if things go bad!

— Donald J. Trump (@realDonaldTrump) November 13, 2018
Neocons are Rejoicing at Trump Keeping Troops in Syria
America First took a blow yesterday after President Trump wrote to members of Congress that he now agrees "100%" in keeping a military presence in Syria.
A group of Senators and Representatives from both parties lauded Trump's decision to keep a small contingent of troops in Syria.
The group wrote, "We support a small American stabilizing force in Syria" and they added that a force "which includes a small contingent of American troops and ground forces from our European allies, is essential to ensure stability and prevent the return of ISIS."
NBC News obtained a copy of this letter, which had a paragraph that Trump highlighted. This paragraph said, "Like you, we seek to ensure that all of the gains made in Syria are not lost, that ISIS never returns, that Iran is not emboldened, and that we consolidate our gains and ensure the best outcome in Geneva for American interests."
Trump responded to this paragraph by writing directly on the letter and signing it:
"I agree 100%. ALL is being done."
Source: bigleaguepolitics.com
---
Q
I'll take What is a Q Proof for 1000 Alex!

Sometimes reading between the lines provides……

"Meet IG"

Q
POTUS' notes from March 2. What's missing? DATES? Shpoopy! pic.twitter.com/ySLbNwcOWW

— 🍻BeerAtTheParade🍻 (@beer_parade) March 5, 2019
@
beer_parade
tweeted a photo, many people believe its a photo of trump. We will get back to that in a minute, in the photo there is a list and the number of items are listed 1-23 and 15-19 are missing.  todd penlely said the following to  beer parade
I'll take, What is a Q Proof for 1000 Alex!
Q says that we need to read between the lines, Number 7 is
Meet IG
 People were questioning the photo, one anon asked, when did trump start wearing a ring, If you take the image url and insert it into tineye, it shows the original photo, this photo is not of Trump, it is Mike Pompeo
In Bitter Exchange, Pompeo Defends His Concerns for Diplomats' Security – NY Times May 23,2018
He came to the hearing with a "to do" list of 22 items that photographers captured.
Source: nytimes.com
There are currently 73 offices of US inspectors general, far more than the initial 12 offices created by the Inspector General Act of 1978. Along with administrative staff and several financial and procedural auditors, each office employs special agents—criminal investigators who are often armed. The questions is which one is he meeting, so is he meeting DOJ Inspector Mike Horowitz.

.@JerryNadler admits on #CNN they have no proof of Obstruction by @realDonaldTrump it's just his "personal opinion" Meet the new #WitchHunt Same as the old #WitchHunt

Listen carefully ref re: proof v evidence.

[D]

party con.

Define 'evidence'.

noun

1. the available body of facts or information indicating whether a belief or proposition is true or valid.

"the study finds little evidence of overt discrimination"

synonyms:

[proof]

, confirmation, verification, substantiation, corroboration, affirmation, authentication, attestation, documentation; Define 'proof'.

noun

1.

[evidence]

or argument establishing or helping to establish a fact or the truth of a statement.

"you will be asked to give proof of your identity"

synonyms: evidence, verification, corroboration, authentication, confirmation, certification, validation, attestation, demonstration, substantiation, witness, testament;

PROOF = EVIDENCE?

Listen to the clip again re: proof & evidence.

Define 'brainwashing'.

The TRUTH is RIGHT IN FRONT OF YOU.

Think for yourself!

Q
Anonymous

an anon posted a tweet by breaking 911

ClipboardImage.png

Coincidence post stringers dropped last night?

[-48] 

this might mean 48 house hours countdown

Watch the news.

Q
In posts 2962-2966 Q talked about fire, securing packages clearing and [-48]. Q included this in this post.
IEDs found in packages at major London transit hubs
The Met Police Counter Terrorism Command has launched an investigation after three suspicious packages were received at buildings in London today.
The packages – all white postal bags containing yellow padded shipping envelopes – have been assessed by specialist officers to be small improvised explosive devices. These devices, at this early stage of the investigation, appear capable of igniting an initially small fire when opened.
Q

!!mG7VJxZNCI

ID: e22e71

No.5508181


Protect_MGL
SJAH_X-830198374 [-48]
D Fire_Good
Location assist_Good
Q
"Meet IG"

Huber interview re:

"They range from domestic terrorism to court-authorized wiretaps of criminal organizations to child pedophiles and those who would exploit our children. Criminal aliens. Big fraud schemes."

Do you think the above is UT related?

YES

Crumbs are being dropped and missed.

Think scope.

Q
Q is letting us know that we are missing important crumbs during the countdown. Huber and team made major investigation and arrests in UT, this is connected.  Q has told us that 
Barr met with Huber  Horowitz,
Barr is now taking over the declass
Lets go back to post 2970, why are 15-19 missing, is this part of the countdown
>>5523765

Pointed this out earlier today. They specifically called them "bombs", not "suspicious packages", as per the norm.

>>5523830

"Fire."

Q told us to focus on the word fire, these devices created fires

Q
Every barrel has a bad apple.
But, in this case, bad apples do not spoil the bunch.
The core is what counts.
The SWAMP is EVERYWHERE.
Q
Q is letting us know that there are many bad apples (corruption) in government, but all are not bad, there are a few that are good, the core is what counts, the core can be relied upon, meadows, jordan, nunes etc…
The NSA twitter account tweeted the following
8chan.png

Follow the dragon! The #RSAC#Ghidra talk has moved! Now at Moscone West 3001, 3:40-4:40. Also streaming live in West 2000! Downloads go live after the talk.

Sometimes you need a little humor.
Look familiar?
Q
Q is comparing the NSA tweet to the 8ch logo, looks very similar
8chan.png

>>5524789

'X' also grew up watching 'Thundercats' so….

Q
Q says that someone on the team code name X watch Thundercats, the question is who is X
This is the tweet Trump tweeted out : "(Crooked) Hillary Clinton confirms she will not run in 2020, rules out a third bid for White House." Aw-shucks, does that mean I won't get to run against her again? She will be sorely missed!

Good catch, Patriot!

A puzzle within a puzzle.

Red/Green?

this is same code that Q used  for the Army Corps of engineers to build the wall

Magic swords? t

his was an op from last summer post 2064-66 sept 2018

NSA humor.

Q
Nolte: Hillary Clinton Flip-Flops: Might Still Run in 2020
A source "close with" Hillary Clinton says she has not "close[d] the door" on a 2020 presidential run.
This, obviously, is a complete reversal of what she said in an interview Monday.
"
 She has told her team she is waiting at least to see the Mueller report,"

Source: breitbart.com
I don't think Habberman got off the train like Q said she should of, now she is panicking, with Hillary not running or still deciding, who will protect her
Anonymous

an anon asks  a question referring to post 2970

Kansas. 

Q confirms that this is Mike Pompeo, in 1998, Pompeo moved to Wichita, Kansas

Q
Q
Trump issued the statement to push the DS, he wanted them to use up their ammunition, the wanted the DS to become desperate, plus once the Senate, House and the Mueller report says he is all clear he then has more leverage.
This crisis has been brewing for decades, it can no longer be ignored. Something has to be done both for national security and also for humanitarian reasons. Read Here: Border Crisis Hearing: "It's Real. It's Serious. It is a Threat."

Commissioner for U.S. Customs and Border Protection Kevin K. McAleenan strongly rebuked claims by opponents Wednesday that the border is not a crisis. He said he "fundamentally disagrees" with those who called President Donald Trump's national emergency a "fake emergency" and laid out a litany of statistics exposing the serious humanitarian crisis and national security implications for the United States.


McAleenan spoke after opening statements from Senate Judiciary Committee ranking member Dianne Feinstein, D-Ca, and Chairman Lindsey Graham gave their opening statements. 

The issues discussed ranged from drug smuggling, penetration of drug cartels deep in the United States and the counternarcotics efforts being addressed by Department of Homeland Security and its divisions. McAleenan argued — with statistics to back his claims — that Trump's request for $5.7 billion for border wall infrastructure is an absolute necessity as part of a comprehensive plan to address the crisis.

But, they [D's] already know, they just LIE [DISHONEST].
https://twitter.com/therealcornett/status/1102665191890866177📁

Hurry and watch this video of @SenFeinstein…. Twitter keeps deleting it so it doesn't get out in the public! ..take a listen to the feinstein she is discussing her true feeling on the border

Welcome to the

[D]

party CON.

Q
NYT Says Border at 'Breaking Point' 1 Month After 'Fact Check' Claimed No Emergency
One month after claiming there is "no emergency" at the border, the far-left New York Times now concedes the border is at a "breaking point."
In real time, as President Trump gave his State of the Union speech last month, the Times branded the president a liar over his claim that there is an "urgent national crisis" at our border.
"This is false," the Times told its readers, using a non sequitur about individuals attempting to cross the border, while admitting — at the bottom of the fact check —  that a "record number of families have tried to cross the border in recent months."
Border Report: Since October 260,000 Illegal Aliens Apprehended Crossing Border, 66,000 in February Alone…
~ Compare and Contrast ~
To adequately absorb the scale being outlined here: it must be remembered in July 2014 President Obama and DHS Secretary Jeh Johnson declared a "border crisis" and requested $3.7 billion in budget appropriations for a total of 60,000 illegal border crossings during the migrant travel season.  That's 60,000 TOTAL in 2014.
DHS Border Patrol stats, in the period of October 2018 through last week there have been more than 260,000 border apprehensions.
Again, for scale: 2019 (Trump) -vs- 2014 (Obama):
July 10th, 2014 – Facing pushback from congress as well as sticker shock at the $3.7 billion he was requesting, President Obama sends his DHS team to Capitol Hill to ramp up anxiety, and threats of consequences:
Homeland Security Secretary Jeh Johnson said Thursday that as many as 90,000 unaccompanied child migrants could cross the southwest border before the end of this fiscal year in September.

That will place a huge strain on immigration agencies, which will badly need new money to get through the summer, Johnson says.

The 90,000 number — the highest yet given by the administration —

Now to 2019:
[…] Between October and last week, Border Patrol agents have picked up more than 260,000 people — a 90 percent jump over the same period a year ago. (read more)
Source: theconservativetreehouse.com
FREEDOM OF THOUGHT WILL NOT ONLY SAVE YOU, BUT IT WILL SAVE THE WORLD.
THE DAYS OF FAKE NEWS [CONTROL OF NARRATIVE] [BRAINWASHING] ARE OVER.
ENEMY OF THE PEOPLE.
THE GREAT AWAKENING.
Q
>>5537906

Feinstein said this many decades ago, so she is absolutely full of it.

Why is POTUS pushing for TERM LIMITS?
TIME = CORRUPTION.
Q