Podcast: Play in new window | Download (Duration: 34:29 — 35.3MB)
IMF and the other [CB] are worried about the crypto market, they are creating an in house coin that will simulate a real world economy, the IMF says that the crypto market has shaken the system. Trump now has control of the economic system and the narrative, the [CB] is now boxed in. The [CB] is boxed in and the patriots are in control.  The Mueller report is coming this week and the [DS] will try to keep the news clogged with other stories, we can expect to see more events either this week or the week the Declass comes out. Trump has boxed in the [DS] in regard to immigration. The secret service is looking into the tweet that the Good Fight put out. Notre Dame is on fire and it is a terrible, terrible thing.
Check Out The X22 Report Spotlight YouTube Channel X22Report Spotlight
Please check Newzsentinel.com for the latest news on the economic collapse. The Sentinel Alerts are updated throughout the day. If you haven't already, go to "The People" and join the community of people who are helping each through the economic collapse.
---
Current News – 04.15.2019
Watch The X22 Report On Video
---
Economy
IMF and World Bank Launch Learning Coin to Educate Staff
The International Monetary Fund (IMF) and World Bank are launching their own blockchain and digital currency to familiarize staff with the concepts, the Financial Times reports.
The currency will only be accessible within the organizations and will not be able to buy real-world goods and services. But a model digital currency economy will operate, as a kind of trial run. Staff will earn the tokens by achieving training goals, then exchange their earnings for rewards of some kind. The tokens will be accessed on an app called 'Learning Coin' to emphasize its educational use. The app will also support the institutions' blogs, research and video content.

   It comes days after Christine Lagarde, the Managing Director of the IMF, told CNBC that cryptocurrencies were "clearly shaking the system".
Source:  breakermag.com
Top Trump Economist Kevin Hassett: Disposable Income Went Up $2,300 Per Individual in 2018 – Expect 3% Growth for Next Five Years (VIDEO)
Donald Trump Astonished by Positive Tax Cut Report in 'Very Fake' New York Times
President Donald Trump feigned astonishment on Monday after the New York Times published a positive article on his signature tax cut.
The president showed the audience a printout of the New York Times article during a roundtable discussion in Minnesota to promote its success in boosting the economy.
"I have an article here from one of the newspapers … the very fake New York Times," he said as the audience laughed. "And they must have made a mistake, I'm sure these writers will be fired very shortly."
The article Trump referred to was headlined: "Face It: You (Probably) Got a Tax Cut."
Trump said he did not read the full article because he could not believe the positive headline.
"
Source: breitbart.com
Fed's Charles Evans tells CNBC rates can stay unchanged into fall of 2020
I can see the funds rate being flat and unchanged into the fall of 2020. For me, that's to help support the inflation outlook," Evans
The central bank's preferred inflation metric rose to 2% in May 2018, but has had trouble maintaining that level.
Some Fed officials that have been concerned about spotty inflation reads have suggested that they'd be comfortable letting prices rise above a 2% pace.

Source: cnbc.com
---
Political/Rights
Rep. Mark Meadows Discusses "Spygate"….
 ranking member Devin Nunes, Mark Meadows and Jim Jordan recently visited with IG Horowitz and foresees future criminal referrals coming as an outcome of the IG investigation.
.
Source: theconservativetreehouse.com
Nunes dropped a nuclear bomb last night on Hannity.
Did you listen?
Nunes said the "illegal" op started late 2015, early 2016.
FVEY
The "legal" op didn't start until July 31st 2016.
Leaks fed back to intel to initiate a Special Counsel

Nunes is giving information to all of you! pic.twitter.com/OvF7b92vIJ

— ffe3301 (@ffe3301) April 13, 2019
 Justice Department spokeswoman Kerri Kupec announced this morning Attorney General William Barr is expected to send Special Counsel Robert Mueller's report to Congress and make it public on Thursday
As a reminder, Barr will testify about the Mueller report before the House and Senate Judiciary panels on May 1 and May 2
Source: zerohedge.com
The Mueller Report, which was written by 18 Angry Democrats who also happen to be Trump Haters (and Clinton Supporters), should have focused on the people who SPIED on my 2016 Campaign, and others who fabricated the whole Russia Hoax. That is, never forget, the crime…..

— Donald J. Trump (@realDonaldTrump) April 15, 2019
….Since there was no Collusion, why was there an Investigation in the first place! Answer – Dirty Cops, Dems and Crooked Hillary!

— Donald J. Trump (@realDonaldTrump) April 15, 2019
NY Times Fake News Factory Moves On to New Hoax: Immigrants Are Fleeing Central America Cuz of Global Warming – Not US Open Borders
NY Times Fake News Factory Moves On to New Hoax: Immigrants Are Fleeing Central America Cuz of Global Warming – Not US Open Borders
According to The New York Times the reason over 100,000 illegals crossed the US border in March is because of global warming.
The media has outdone itself this time.
Source: thegatewaypundit.com
The timing of this sudden movement in the Assange case after seven years of almost complete stasis is not a coincidence. Trump will begin making moves he has been delaying while waiting for the right time.
The Department of Justice's indictment of Assange was filed and sealed on March 6, 2018, which was more than a year ago. Interestingly enough, the Trump DOJ made this decision to likely make a deal with Ecuador and unseal Assange's indictment:
Shortly after the Mueller Special Counsel released its final report.
Immediately after Attorney General William Barr testified to the US Congress that he believes the Trump presidential campaign was spied on by U.S. intelligence and law enforcement agencies during the 2016 election.
All the federal law enforcement and intelligence agency officials who spied on Trump's campaign knew there was never any evidence of collusion between the Russian government and Trump's campaign—whether it was collusion on stolen DNC emails or anything else.
Mueller has confirmed this by ending his probe without charging a single person with any such activity. The publicly known evidence at this stage points to the fact that the people who launched the FBI's "Crossfire Hurricane" counter-intelligence investigation knew all along they were engaged in a massive fraud.
Now, I believe all of this is going to be demonstrated to the public as evidence is rolled out in a way that the Democrats and DNC Media can't stop, deny, or spin.
What's the biggest foundational belief of the entire Trump-Russia Election Collusion Hoax? What idea do those who are still pushing that hoax see as foundational to their position?
It's that Russian hackers stole DNC emails and that the Russian government made overtures to the Trump Presidential campaign about these emails before they were published by WikiLeaks.
  think about, what happens when it is proven that Trump and Putin never worked on getting the emails, what  if it was suddenly proven through documentary evidence and testimony by the person who published the stolen emails that no Russians whatsoever were involved in getting the emails to WikiLeaks? That instead of Russian hackers, Russian agents, or Trump associates, the emails were obtained in a different way, such as through a leak from within the DNC itself? SR ??

Assange is the another piece to the puzzle to show that the DS made all of this up and that they were the ones colluding, hiding evidence and committing crimes.
We are now seeing the MSM out there and they are saying  thatit's going to take "years" to extradite Assange to the United States. As if this wasn't already set up among the various parties involved before the events of April 11. Trump and Pompeo have massive leverage over the UK government
Source: theepochtimes.com
Q

!!mG7VJxZNCI

ID: e73272

No.4628579 


How many AUTH FISA UMBRELLA SURV warrants targeting those who illegally targeted

[ ]

are currently active?

Upstream collection can be very revealing.

When you no longer control the levers of POWER, do FVEY ('Allies') buckle & cooperate in order to preserve and maintain their future?

Germany losing stranglehold on EU?

The future will not repeat the past.

The clock is ticking.

Q
Nadler: Trump 'Has No Right to Spend Money…to Ship Immigrants All Over the County'
House Judiciary Chairman Nadler: "The president has no right to spend money appropritaed by Congress for other purposes to ship immigrants all over the country,"
"If someone requests asylum, he should be considered. There should be a place for that person to stay while that request is being adjudicated. This is just — nor is it right for the president to use immigrants or people who are claiming political asylum as pawns in a fight against political opponents.
source: cnsnews.com
During 2017, 2018 and 2019 we have had politcians, hollywood actors, singers etc telling us that we need to let the illegals into the country,
Lets got back in time back to 2017, cher tweeted out

Those Who Can Must Take a DREAMER In2 Their Home & Protect Them‼️I'm Ready 2 Do This & 🙏🏻Others in MY BUSINESS WILL DO THE SAME‼️SANCTUARY

— Cher (@cher) September 5, 2017
Cher: Los Angeles 'Can't Take Care of Its Own, How Can It Take Care of' More Immigrants
today's tweet is much different
I Understand Helping struggling Immigrants,but MY CITY (Los Angeles) ISNT TAKING CARE OF ITS OWN.WHAT ABOUT THE 50,000+🇺🇸Citizens WHO LIVE ON THE STREETS.PPL WHO LIVE BELOW POVERTY LINE,& HUNGRY? If My State Can't Take Care of Its Own(Many Are VETS)How Can it Take Care Of More

— Cher (@cher) April 14, 2019
The post came after President Trump threatened to bus border crossers and illegal aliens into sanctuary cities and states, like California, if the country's asylum laws were not changed. White House Press Secretary Sarah Huckabee Sanders confirmed that the White House is considering the plan.
Trump responded to cher
I finally agree with @Cher! pic.twitter.com/i5acSgUrCk

— Donald J. Trump (@realDonaldTrump) April 15, 2019
source: breitbart.com
James Woods explains whats happening in a tweet
This Democrat sponsored invasion is not an accident. It is a carefully engineered campaign to tip swing states blue. #Pelosi wants the illegal swarm to flood #Texas, because if Texas goes blue, Democrats will own the #ElectoralCollege forever. This is war. https://t.co/yATqSSz1lQ

— James Woods (@RealJamesWoods) April 13, 2019
Sanctuary Cities Welcome Illegal Aliens with 'Open Arms' While 38K American Veterans Remain Homeless
As of 2017, there were more than 2,700 Oakland residents who were homeless — an increase of 25 percent when compared to two years before. In all of Alameda County, there are about 5,630 homeless residents. In all of California, there are nearly 130,000 homeless residents, including nearly 11,000 homeless American Veterans.
Sanctuary city New York City's Mayor Bill de Blasio originally blasted Trump for the plan, claiming the president was using illegal aliens as "chess pieces," but he then advocated for giving illegal aliens driver's licenses in order to attract more illegal aliens to the state.
"Undocumented immigrants are our neighbors and part of the backbone of our economy," de Blasio wrote online. "It's mind-boggling that they aren't allowed to have driver's licenses in New York State."
New York City homelessness has reached the highest levels since the 1930s when the country struggled through the Great Depression. Today, there are nearly 64,000 homeless residents in New York City, including more than 15,000 homeless families with almost 23,000 homeless children. This is the largest metro area homeless population in the country. There are more than 1,200 homeless American veterans living in New York state.
In total, there are more than 550,000 American residents who are homeless nationwide. Meanwhile, the U.S. admits more than 1.5 million illegal and legal immigrants every year — the overwhelming majority of which are low skilled workers who compete for jobs against America's poor, working, and middle class.
Source: breitbart.com
Trump Calls Out 'Revolving Door' After Obama Official Hired By Chinese Telecom Giant Huawei
President Donald Trump called out an Obama-era White House cybersecurity official on Twitter Sunday night for taking a position lobbying for Chinese telecommunications giant Huawei.Trump tweeted the followoing
Samir Jain is the former senior director for cybersecurity policy at the White House National Security Council and registered with Congress to lobby for Huawei on March 27. He now works for law and lobbying firm Jones Day.
Chinese Telecom Giant Huawei hires former Obama Cyber Security Official as a lobbyist. This is not good, or acceptable! @FoxNews @SteveHiltonx

— Donald J. Trump (@realDonaldTrump) April 15, 2019
---
Geopolitical/Police State
Eric Swalwell: Second Amendment Isn't "Absolute Right"
Recently-announced Democratic presidential candidate Eric Swalwell expressed an ambiguous view on the Second Amendment
The California Congressman was asked if he supported an outright appeal of the constitutional amendment. He claimed he'd oppose such a dramatic proposal, while stating that "the Second Amendment is not an absolute right." The Democrat went on to invoke federal bans on destructive devices such as bazookas and rocket propelled grenades as a rationale for a federal ban on what he defines as "assault weapons," a political term invented to describe some of the most commonly owned firearms in America.
Swalwell's comparison of weapons designed for civilians and rocket-propelled grenades is a red herring, nothing more. Such devices have never been in widespread circulation among among American gun owners- although they're technically legal,   The assault weapons ban that Swalwell has expressed a desire to champion, however, would criminalize nearly 20 million firearms already owned by American gun owners.
Source: bigleaguepolitics.com
Dianne Feinstein Praises New Zealand Gun Ban: 'U.S. Should Follow Suit'
Less than a month after the deadly mass shooting in New Zealand assault rifles are now illegal. Lawmakers are charged with passing laws to keep the public safe. I applaud New Zealand on a job well done. As a country with a gun violence epidemic, the U.S. should follow suit.

— Sen Dianne Feinstein (@SenFeinstein) April 12, 2019
Source: breitbart.com
Pompeo Warns Cuba Against Supporting Maduro, Vows 'Conversation' With Russia
US Secretary of State Mike Pompeo kicked off Thursday's portion of his Latin America trip with a focus on engaging multilateral institutions to apply pressure on Venezuelan President Nicolas Maduro and his government.
Pompeo said the following, Cubans must understand too that there will be cost associated with continued support of Nicolas Maduro […] And we're going to have that same conversation with the Russians as well", Pompeo said, cited by Reuters.
Earlier, US Vice President Mike Pence said that Washington would soon announce new action against Cuba in response to what the administration of US President Donald Trump considers Havana's "malign influence" in Venezuela.
Source: sputniknews.com
---
War
Leaked Intelligence Document Reveals French Weapons, Ships, Being Used in Yemen
French weapons are being used by the United Arab Emirates and Saudi Arabia in Yemen, according to a classified note revealed by French media

The note from the French military intelligence service, published by new investigative media outlet Disclose, concluded that the UAE and Saudi Arabia deployed French weaponry from artillery to ships in their war against Huthi rebels.
The classified note — provided to the French government in October 2018, according to Disclose — said that 48 Caesar artillery guns manufactured by the Nexter group were being used along the Saudi-Yemen border.
  tanks, sold in the 1990s to the UAE, have also been used, as have Mirage 2000-9 fighter jets, while French missile-guiding technology
Cougar transport helicopters and the A330 MRTT refuelling plane have also seen action, and two French ships are serving in the blockade of Yemeni ports
Source: breitbart.com
---
Cyber Attacks
---
False Flags
CBS Drama 'The Good Fight' Tweet with 'Assassinate Trump' Sparks Calls for Secret Service Investigation
CBS crime drama The Good Fight tweeted an image on Friday from a recent episode, entitled, "The One Where Diane Joins the Resistance." The image showed a character pointing to a list of "target words" that included the phrases "Assassinate President Trump" and "Eliminate Mar-a-Lago." these tweets have been deleted but they were reported to the secret service.
The official CBS Twitter account for The Good Fight asked viewers if they had noticed any "Easter eggs" within the "target words" from the Mach episode.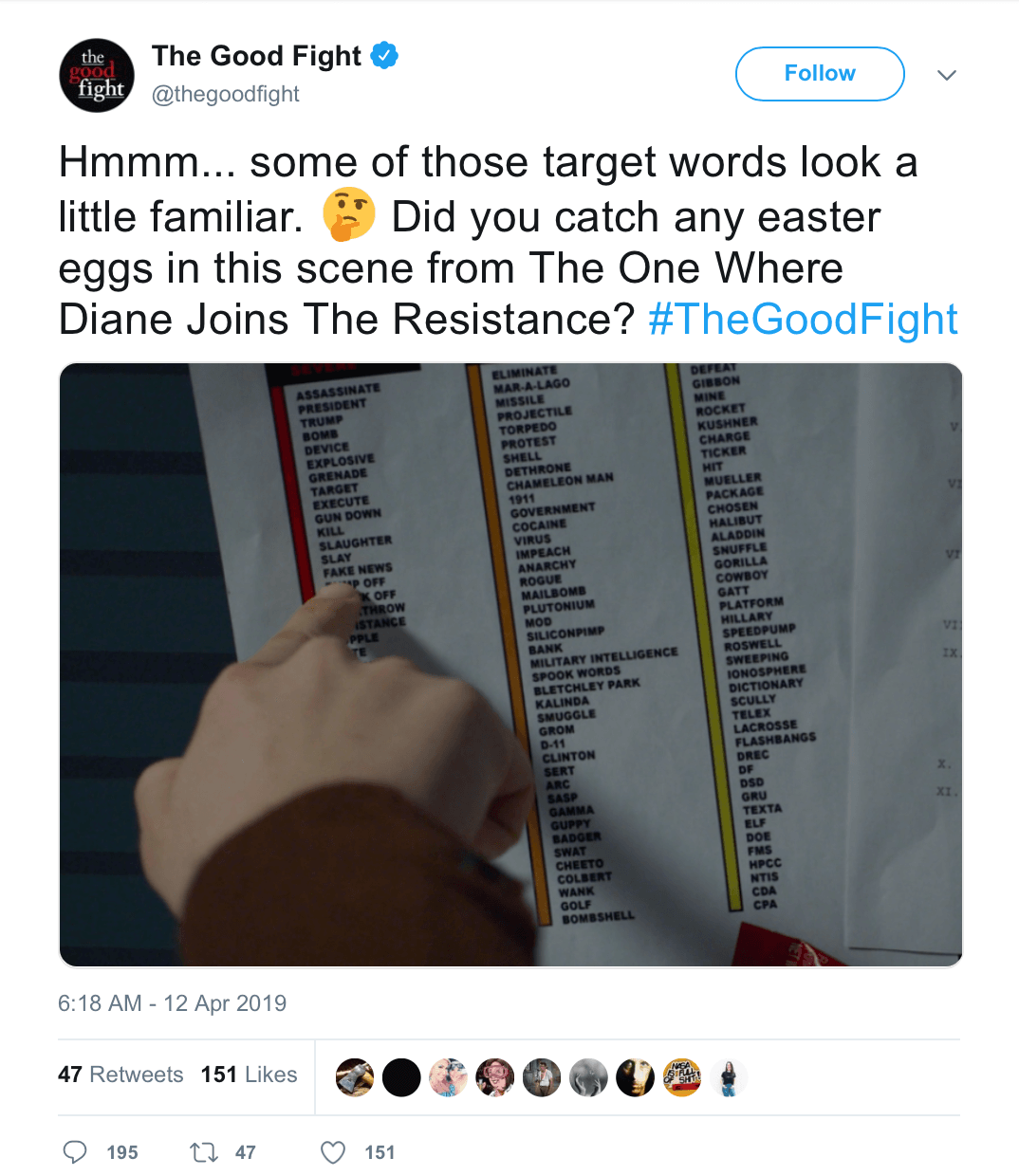 Source: breitbart.com
Trump says Notre Dame Cathedral fire a 'terrible sight to behold'
P

resident Trump on Monday mourned the fire that is engulfing the Notre Dame Cathedral in Paris, France, lamenting the destruction of what he called "one of the greatest treasures" of the world.
The president called the scene "terrible sight to behold," saying, "There's probably no cathedral in the world like it. It's a terrible scene," Trump said
Source: washingtonexaminer.com
So horrible to watch the massive fire at Notre Dame Cathedral in Paris. Perhaps flying water tankers could be used to put it out. Must act quickly!

— Donald J. Trump (@realDonaldTrump) April 15, 2019
President Trump Expresses Skepticism for 'Renovation' Theory For Notre Dame Fire
President Donald Trump expressed skepticism for the initial theory that the Notre Dame Cathedral in Paris burned to the ground due to a "renovation" accident.
"They think it was caused by — at this moment, they don't know. But they think it was caused by renovation," President Trump said at his economic roundtable Monday in Minnesota. "And I hope that's the reason. Renovation. You know, what's that all about? But it's a terrible sight to behold."
In February 10 churches in France were attacked in one week, causing some to fear increasing religious tensions in the migrant-friendly country.
Source: bigleaguepolitics.com