Podcast: Play in new window | Download (Duration: 34:43 — 35.7MB)
US Factory order tumbled in November, GM is looking to layoff 4000 employees to restructure, the car manufacture has been channel stuffing for years making it look like they were doing much better than they really were, now it is starting to show in the data and car sales are declining. Trump is disabling the globalist system one piece at a time, and while doing this preparing the world for new currency system. Trump is using the same players as when the system was brought online, they don't even know they are helping him. The governor and Lt. Governor are in trouble, tick tock it is all being exposed. [DS] sets their sights on Tulsi Gabbard, try to push the Russian card. Intel agencies are still working against Trump, but it is failing and Trump understands the game. The Old Guard is in trouble, the are exposed and the propaganda is not working anymore, the Washington Post pushed an advertisement during the Super Bowl to convince the world to trust the MSM, they are losing the narrative and Trump is winning.
Check Out The X22 Report Spotlight YouTube Channel X22Report Spotlight
Please check Newzsentinel.com for the latest news on the economic collapse. The Sentinel Alerts are updated throughout the day. If you haven't already, go to "The People" and join the community of people who are helping each through the economic collapse.
---
Current News – 02.04.2019
Watch The X22 Report On Video
---
Economy
After tumbling in October, US Factory Orders were expected to rebound (albeit modestly) in November's (shutdown-delayed) data, but they didn't…
US Factory Orders tumbled 0.6% MoM, notably worse than the 0.6% rebound expected after October's 2.1% plunge… This is the first consecutive monthly contraction since June 2016…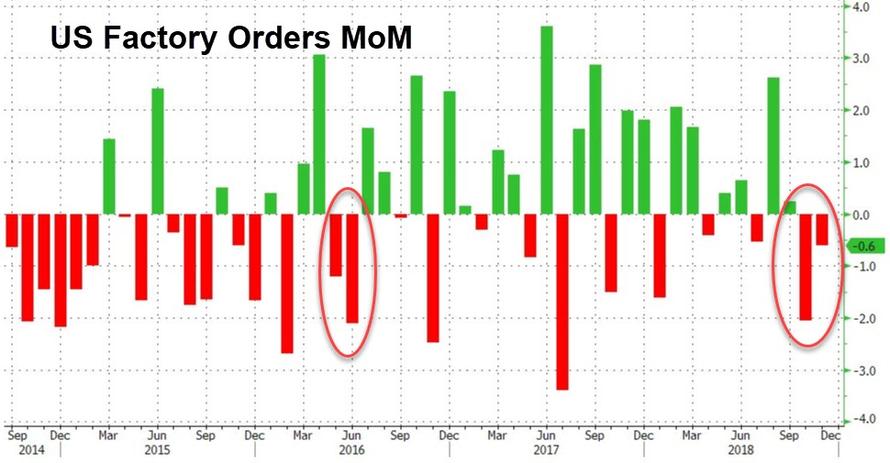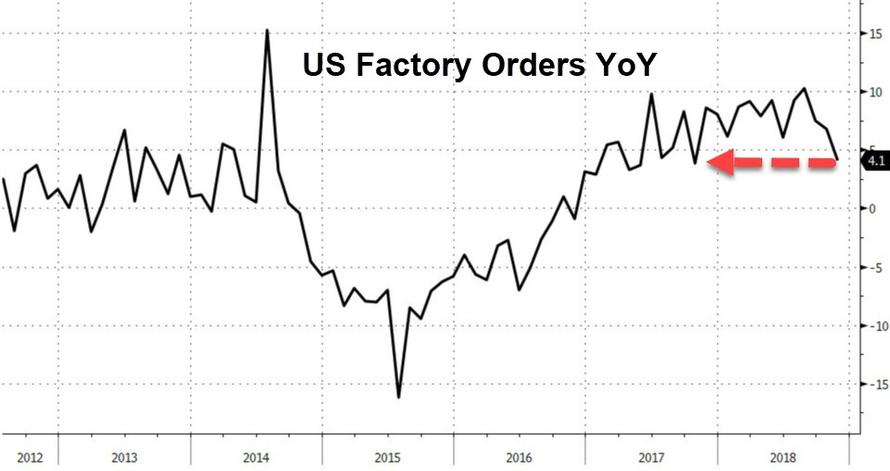 Source: zerohedge.com
"Black Monday" At GM: 4,000 Layoffs Expected This Week
Just days after we reported of the dismal start to 2019 for the U.S. auto industry, General Motors will begin involuntary layoffs that will leave at least 4,000 workers without a job.
According to the Detroit Free Press, the Detroit auto manufacturer is planning to begin layoffs just days before its fourth quarter earnings report. These layoffs are one of the first pieces of a larger restructuring that CEO Mary Barra announced in November. Five plants in North America are planned to halt production and 14,000 total jobs are slated to be cut.
Part of the restructuring is to realign the company's infrastructure to produce more electric vehicles. People familiar with the matter stated that the company was actively trying to complete as many layoffs as possible before earnings. GM hasn't confirmed this, stating: "We are not confirming timing. Our employees are our priorities and we will communicate with them first."
Source: zerohedge.com
Trump's Brilliant Strategy to Dismember U.S. Dollar Hegemony
The end of America's unchallenged global economic dominance has arrived sooner than expected, thanks to the very same Neocons who gave the world the Iraq, Syria and the dirty wars in Latin America. Just as the Vietnam War drove the United States off gold by 1971, its sponsorship and funding of violent regime change wars against Venezuela and Syria – and threatening other countries with sanctions if they do not join this crusade – is driving European and other nations to create their alternative financial institutions. Trump is not for globalism, he is a nationalist.

This break has been building for quite some time, and was bound to occur.  Trump is using the same neocons and DS individuals to help him achieve a new economic system, they just don't know it .
    The world of international diplomacy is being turned inside-out.

 countries are proceeding to de-dollarize and replace what U.S. diplomacy calls "internationalism" (meaning U.S. nationalism imposed on the rest of the world) with their own national self-interest.
  populist nationalism is today's road to election victory in Europe and other countries just as it was for Donald Trump in 2016.
Trump's agenda may really be to break up the American Empire, The CB and DS empire.   
He   is going for the Empire's most vital organs.

Dismantling Dollar Hegemony , removing the petro dollar, going after the central banks

Of all areas of global power politics today, international finance and foreign investment have become the key flashpoint. International monetary reserves were supposed to be the most sacrosanct, and international debt enforcement closely associated.

  So last year, Germany finally got up the courage to ask that some of its gold be flown back to Germany. , many other countries followed germany

But then came Venezuela. Desperate to spend its gold reserves to provide imports for its economy devastated by U.S. sanctions –  Venezuela directed the Bank of England to transfer some of its $11 billion in gold held in its vaults and those of other central banks in December 2018.

 "The U.S. officials are trying to steer Venezuela's overseas assets to [Chicago Boy Juan] Guaido to help bolster his chances of effectively taking control of the government. The $1.2 billion of gold is a big chunk of the $8 billion in foreign reserves held by the Venezuelan central bank. So bolton and pompeo are now sending the gold back to Venezuela.  Stopping the central banks from selling it.
 "Central bank officials in Caracas have been ordered to no longer try contacting the Bank of England. These central bankers have been told that Bank of England staffers will not respond to them."
Some of the gold has been sold


 We have known for  all longtime that Russia and China created their own payment system just in case the US unplugs them from SWIFT. This was actually going to be used when the DS and CB were in control,everything was going to move to China, now we have multiple payment systems, we do not have one system global system at this time, think about, decentralizing the central banks hold




 

 Europe had created its own bypass payments system for use with Iran and other countries targeted by U.S. diplomats. Germany, France and even the U.S. poodle Britain joined to create INSTEX — Instrument in Support of Trade Exchanges.

The World Bank, is changing,


 

  the IMF has been forced to admit that its basic guidelines were fictitious from the beginning. A central core has been to enforce payment of official inter-government debt by withholding IMF credit from countries under default. This rule was instituted at a time when most official inter-government debt was owed to the United States. But a few years ago Ukraine defaulted on $3 billion owed to Russia. The IMF said, in effect, that Ukraine and other countries did not have to pay Russia or any other country deemed to be acting too independently of the United States. The IMF has been extending credit to the bottomless it of Ukrainian corruption to encourage its anti-Russian policy rather than standing up for the principle that inter-government debts must be paid.

  Trump has made moves on Venezuela, Iran and Europe , China,  WTO, IMF, FED etc Trump is changing the CB system and breaking them down one piece at a time. The World is about To Change.

Source: unz.com
---
Political/Rights
Justin Fairfax, Northam's waiting successor, issues 3 a.m. statement denying #MeToo claim
V

irginia's Lt. Gov. Justin Fairfax on Monday denied a new sexual assault allegation against him, just as many were preparing for him to take over for embattled Virginia Gov. Ralph Northam.

 a claim from a woman, Vanessa Tyson, who said she was sexually assaulted by Fairfax at the DNC convention more than a decade ago.
"Imagine you were sexually assaulted during the DNC Convention in Boston in 2004 by a campaign staffer. You spend the next 13 years trying to forget it ever happened" Tyson wrote. "Then by strange, horrible luck, it seems increasingly likely that he'll get a VERY BIG promotion."
In a statement, he said that WaPo had looked into the claims, and found "significant red flags and inconsistencies within the allegation," and that the paper decided not to run the story for that reason.
But The Washington Post, at least in part, disagrees.

"Fairfax and the woman told different versions of what happened in the hotel room with no one else present," the paper said. "The Washington Post could not find anyone who could corroborate either version. The Post did not find 'significant red flags and inconsistencies within the allegations,' as the Fairfax statement incorrectly said."

The Post described the allegations they received in late 2017 about the 2004 Democrat National Convention:


The woman described a sexual encounter that began with consensual kissing and ended with a forced act that left her crying and shaken. She said Fairfax guided her to the bed, where they continued kissing, and then at one point she realized she could not move her neck. She said Fairfax used his strength to force her to perform oral sex.

Interestingly, WaPo doesn't reference the Christine Blasey-Ford's allegations against Justice Brett Kavanaugh in their rebuttal to Fairfax. The omission is striking given the specific details provided in Tyson's allegation such as a specific event, time and location, unlike Ford who couldn't remember what year the alleged assault occurred.

The Post let the accusations against Fairfax die in the darkness.
Source: washingtonexaminer.com
Compare and contrast the handling of the Fairfax story with  Justice Kavanaugh.
It is now out it the open, the MSM has been exposed, now lets look at what the DS is trying to do with Northram.
1. Push the Focus on the Gov VA away from the legistlation
2. Expose what they had on him, then Make him resign
3. The question is why, why are they pushing this
4. They are showing that they own their own scandals and they are pushing for their own to resign and the republicans should do the same, they are about to push this agenda hard. watch the attacks
NBC News published a predictably viral story Friday, claiming that "experts who track websites and social media linked to Russia have seen stirrings of a possible campaign of support for Hawaii Democrat Tulsi Gabbard."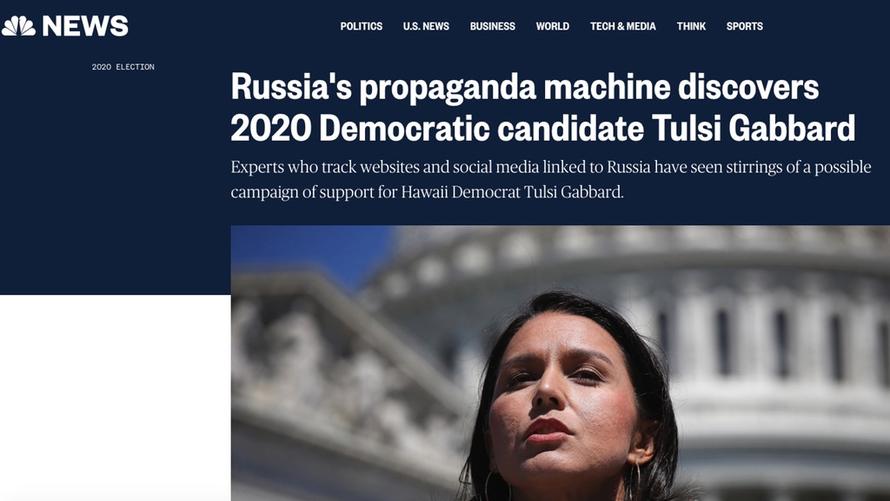 But the whole story was a sham: the only "experts" cited by NBC in support of its key claim was the firm, New Knowledge, that just got caught by the New York Times fabricating Russian troll accounts on behalf of the Democratic Party in the Alabama Senate race to manufacture false accusations that the Kremlin was interfering in that election.
To justify its claim that Tulsi Gabbard is the Kremlin's candidate, NBC stated:
"analysts at New Knowledge, the company the Senate Intelligence Committee used to track Russian activities in the 2016 election, told NBC News they've spotted 'chatter' related to Gabbard in anonymous online message boards, including those known for fomenting right-wing troll campaigns."
What NBC – amazingly – concealed is a fact that reveals its article to be a journalistic fraud: that same firm, New Knowledge, was caught just six weeks ago engaging in a massive scam to create fictitious Russian troll accounts on Facebook and Twitter in order to claim that the Kremlin was working to defeat Democratic Senate nominee Doug Jones in Alabama. 

 Source:zerohedge.com
Tulsi Gabbard lashed out at after NBC News was exposed trying to smear her as a Kremlin stooge. The network was called out over the weekend for relying on a Democrat-run firm that created fake Russian twitter bots to stage a "false flag" campaign against Republic Roy Moore in the 2017 Alabama special election – New Knowledge. 
The caravan is headed up to the border, perfect timing for Trump to push the wall, he tweeted out
With Caravans marching through Mexico and toward our Country, Republicans must be prepared to do whatever is necessary for STRONG Border Security. Dems do nothing. If there is no Wall, there is no Security. Human Trafficking, Drugs and Criminals of all dimensions – KEEP OUT!

— Donald J. Trump (@realDonaldTrump) February 3, 2019
ANOTHER huge caravan—this time over 12,000 migrants—will reach the US border this week.

President Trump is sending troops and focused on security.

We need a permanent fix. The Democrats must get serious about securing our southern border.

— Rep. Jim Jordan (@Jim_Jordan) February 4, 2019
Intel operation against Trump still going strong
There was a great deal of news this past week about President Trump's audacious disregard for the advice and warnings from his own intelligence community experts.
 It appears that anonymous intelligence officials are executing an operation against the sitting commander in chief. It might not qualify as all-out mutiny, but it's also not all that far from one.
Right under our noses, while still under investigation for allegedly orchestrating leaks and undermining candidate Trump in 2016, some in the intel community are orchestrating leaks and undermining President Trump in 2019. 
There's evidence of the existence of such an operation from the inspector general, various congressional probes and investigative reporting. They've alleged, and in some cases concluded, that some top intel officials improperly leaked information to the news media and engaged in politically motivated surveillance practices involving multiple Trump associates. 
In the newest press salvo, unnamed intel officials fanned out to air anonymous grievances against their commander in chief. They provided details of classified briefings and made inflammatory charges, such as that Trump is "endangering American security" with his "stubborn disregard" and "willful ignorance."

Presidential interactions with intel
Trump isn't the first commander in chief to question his intelligence briefers, yet the officials typically didn't go public with their gripes.
Some of the leaked information is designed simply to embarrass and discredit him,
Source: thehill.com
Huawei has long been involved in helping terrorist states and seemingly seeking to thwart U.S. sanctions. Meng is the daughter of Huawei's founder, Ren Zhengfei.
As details of Huawei's complicity with Iran emerge, it is time to look back on the Clinton family and its close relationship with Huawei. When their connection was first exposed more than a decade ago, it just seemed like another shady Clinton deal. But now, it becomes clear that Huawei has been central to the Iranian efforts to evade first U.N. and then U.S. sanctions.
The Clintons were apparently conspiring with the enemy.
Huawei has long been a bad actor in undermining U.S. foreign policy. The company has had a deep and long term relationship with the Clinton family.
Huawei and the Clintons' ties began when Terry McAuliffe, the Clintons' top fundraiser and future governor of Virginia, bought a Chinese car company — GreenTech Automotive — and moved it to the U.S. in the hopes that it would produce electric cars.
McAuliffe got Huawei to invest in GreenTech through a financing firm called Gulf Coast Funds Management, headed by Hillary's brother, Tony Rodham. Gulf Coast, boasting the Rodham name, agreed to help Huawei get visas for its top executives under the EB-5 program, which awards visas to those who invest at least $500,000 in the U.S. to create jobs.

According to the South China Morning Post, the U.S. action against Huawei "will severely damage, even cripple, the Chinese company. Of Huawei's 92 core suppliers, 33 are U.S. corporations, including chip makers Intel, Qualcomm, Broadcom, Marvell and Micron. If Washington now prohibits these companies from selling to Huawei, the Chinese telecoms giant will struggle to survive."
Source: westernjournal.com
During the superbowl the washington post had an ad running that was trying to convince the world to trust the MSM, why would they do this, because they are in the process of losing the narrative, the people are waking up and they are trying to stop it. to late the process has started.