Podcast: Play in new window | Download (Duration: 39:44 — 41.4MB)
The [CB] is putting the fear into the people in the UK. If there is no deal they won't be able to make trade deals with the WTO and they will be in a 30 year recession, think mirror, the economy will boom and it will reflect on [CB].  The new BREXIT date is set for Feb 14. Shoppers around the country applied for store credit cards, this was a 30% increase, other received higher credit limits because of the new FICO calculation. Trump tweets that because of the tariffs the steel industry is back. Part of the plan is to show the American people that the MSM uses propaganda and fake news. Stones arrest shows that there is no Russian collusion and the discovery is going to show very interesting things. Hillary Clinton looking to run in 2020. The [DS] is pushing HR1, failed on arrival, Senate was the key. Trump nominates 51 Federal judges. Macron pushes red scarves on the yellow vests. Trump using the same strategy with Venezuela as NK. [DS] panicking, trolling Trump, think mirror, who is control,Patriots.
Check Out The X22 Report Spotlight YouTube Channel X22Report Spotlight
Please check Newzsentinel.com for the latest news on the economic collapse. The Sentinel Alerts are updated throughout the day. If you haven't already, go to "The People" and join the community of people who are helping each through the economic collapse.
---
Current News – 01.28.2019
Watch The X22 Report On Video
---
Economy
The UK will be unable to have frictionless, tariff-free trade under World Trade Organization rules for up to seven years in the event of a no-deal Brexit, according to two leading European Union law specialists.

The ensuing chaos could double food prices and plunge Britain into a recession that could last up to 30 years, claim the lawyers who acted for Gina Miller in the historic case that forced the government to seek parliament's approval to leave the EU.

"No deal means leaving with nothing," she said. "The anticipated recession will be worse than the 1930s, let alone 2008. It is impossible to say how long it would go on for. Some economists say 10 years, others say the effects could be felt for 20 or even 30 years: even ardent Brexiters agree it could be decades."
The idea of a 30-year recession wins the blue ribbon for dumbest statement ever about Brexit, and that is saying quite a lot.
Hill deserves a blue ribbon herself for producing an absurd article full of clearly-overhyped nonsense, without even properly referencing who one her alleged "experts" is.
Source: zerohedge.com
Nearly 30% of shoppers applied for a store credit card over the holidays
Nearly three in ten Americans applied for a store credit card during the 2018 holiday season, according to a CompareCards.com report.
Thirty-two percent of people who applied were not approved. Of those who were approved, nearly half said they would pay off their card in one month or less.
Store credit cards are nothing new, but the number of shoppers who applied for one during the 2018 holiday season exceeded expectations. The CompareCards.com study revealed that consumers were tempted by the cards even though they come with an average annual percentage rate of around 25%, making them a very lucrative opportunity for retailers.
In the fall of 2018, another CompareCards.com study revealed that nearly half of all Americans who have a store credit card regret owning it.
Source: retaildive.com
Tariffs on the "dumping" of Steel in the United States have totally revived our Steel Industry. New and expanded plants are happening all over the U.S. We have not only saved this important industry, but created many jobs. Also, billions paid to our treasury. A BIG WIN FOR U.S.

— Donald J. Trump (@realDonaldTrump) January 28, 2019
---
Political/Rights
Yesterday we talked about how Trump and the patriots where setting up the media at every turn, showing how they use propaganda, fake news and how they are the enemy of the people
"In the Media's effort to destroy the President, they are actually destroying themselves. Given all of the tremendous headwinds this President has faced, it's amazing he has accomplished so much." DEROY MURDOCK @foxandfriends I agree!

— Donald J. Trump (@realDonaldTrump) January 28, 2019
The cover-up is worse than the (nonexistent) collusion in Roger Stone indictment
. Stone was charged in a seven-count indictment handed down by Mueller's grand jury, and related to the 2016 election attack.
But after sifting through the neat 24-page document (just the latest in a string of charging instruments aimed at Trump campaign consorts, by the Mueller team) I'm left wondering why there still appears to be no there there. Or, as former federal prosecutor Andrew McCarthy so aptly describes the indictment for National Review:

"It alleges no involvement — by Stone or the Trump campaign — in Russia's hacking. The indictment's focus, instead, is the WikiLeaks end of the enterprise — i.e., not the 'cyberespionage' of a foreign power that gave rise to the investigation, but the dissemination of the stolen emails after the hacking. And what do we learn? That the Trump campaign did not know what WikiLeaks had. That is, in addition to being uninvolved in Russia's espionage, the Trump campaign was uninvolved in Julian Assange's acquisition of what Russia stole."

Absent evidence of collusion, and since it appears the Trump campaign had no advance knowledge of, or participation in, any efforts to illegally hack computers belonging to Democrats, we are, once again, left with mere process crimes.
Source: washingtonexaminer.com
Nunes Predicts: Discovery Process In Roger Stone Case Will Be Fascinating
The process of discovery is going to be fascinating in this case, and I can't wait to watch it, Devin Nunes
Source: saracarter.com
Q

!CbboFOtcZs

ID: 267e20

No.1918277

Hillary Clinton Reportedly Weighing Third Presidential Bid
Clinton is reportedly telling friends and associates that she "hasn't closed the doors on a third presidential bid" after losing the 2008 Democratic primary to Barack Obama and then the 2016 presidential election to President Trump in one of the most spectacular upsets in the history of US politics.

Source: zerohedge.com
Q

!!mG7VJxZNCI

ID: 98088e

No.3093784 


>>3093306
Sexual misconduct is the 'public shelter' to accept resignation.
Watch those announcing 2020 P running.
"You cannot attack a political opponent"
None are protected.
None are safe.
Q
Senators introduce bill to require special counsel report be made public
A bipartisan pair of senators want to require that a report from special counsel Robert Mueller's Russia probe, as well as from other Justice Department special counsels, is released publicly once the investigation ends. 
Sens. Richard Blumenthal (D-Conn.) and Chuck Grassley (R-Iowa), both members of the Judiciary Committee, introduced legislation on Monday that would require a DOJ special counsel to hand over a report to Congress once either the probe ends or in the event a special counsel is fired or resigns.
Grassley added that requiring a public report would provide "oversight of and insight into activities" of a special counsel probe.
"I was encouraged to hear attorney general nominee William Barr place a high priority on transparency when asked at his confirmation hearing about Special Counsel Mueller's investigation, and there's no reason to think that Mueller won't be allowed to finish his work," Grassley added. 
Mueller, or another special counsel, would have to turn over the report within two weeks and must include "all factual findings and underlying evidence," according to a release from Blumenthal's office. An unclassified version would be made public, according to the legislation.
Q !!mG7VJxZNCI No.425 


Do you believe in coincidences?
Which (2) House members ran the investigations re: DOJ/FBI etc.?
https://judiciary.house.gov/press-release/goodlatte-gowdy-reach-agreement-with-the-department-of-justice/
Gowdy resignation.
What role did he play re: House investigations?
House Oversight and Government Reform Committee Chairman
Goodlatte resignation.
What role did he play re: House investigations?
House Judiciary Chairman
House >>> Senate
House >>> Senate
House >>> Senate
TRUST GRASSLEY
Senate Judiciary Chairman
[House of Cards]
Military planning at its finest.
Q
Source: thehill.com
Exclusive: Conservatives Unite Against H.R. 1, 'Ultimate Fantasy of the Left'
Over 150 conservative leaders nationwide released a "Memo to the Movement" from the Conservative Action Project on Monday, declaring that they are opposed to the Democrats' kick-off legislation H.R. 1, which would profoundly shift elections toward liberal candidates and open the door to rampant voter fraud, calling Speaker Nancy Pelosi's bill "the ultimate fantasy of the left."
" HR1 outlining how it is designed to ensure that a liberal Democrat wins the White House in 2020 and the Left gains unified control of Congress and well as take over state governments.
The Democrats' bill violates the First Amendment. It restricts political speech and election activities in several ways that the U.S. Supreme Court has made crystal clear violates the Constitution, such as groups' pooling resources to take out ads on the issues those groups advocate.
Pelosi's legislation is a massive federal power grab away from the states. The Constitution gives primary authority to the sovereign states to conduct elections. This bill empowers the federal government to micromanage elections by requiring states to get "preclearance" from Washington, D.C., before changing their election procedures.
H.R. 1 also mandates countless millions of taxpayer dollars be given to candidates for their campaigns, requiring citizens to fund candidates who those citizens actually oppose for office.
The Memo highlights several other features of the bill, including:
Forces all states to allow all convicted felons to vote.
Requires all states to allow same-day voter registration, which leads to voter fraud.
Makes it difficult for a state to discover if a voter is also voting in another state.
Prevents states from limiting early voting.
Prevents states from limiting voting by mail.
 
Criminalizes political speech that the government deems "discouraging" to voters who are statistically more likely to vote Democrat.
Takes redistricting away from elected leaders to give to left-leaning commissions.

Source: breitbart.com
Senate was the key, the firewall will block it all
Q

!!mG7VJxZNCI

ID: 0836cc

No.4280331


>>4280189

Will voter fraud be exposed before January?

>>4280236
No.
2019 push Voter ID based on verifiable intel (fraud).
2020+ safeguarded.
Q
Trump nominates 51 judges at once, enough to fill one-third of all court vacancies
I

n a sweeping move to further influence federal courts with conservative picks, President Trump on Wednesday renominated 51 judges who saw no action in the last Congress.
The list showed 37 nominees to district courts, nine to circuit courts, two each to the International Trade and Federal Claims courts, and one to the Military Commission Review.
The president is already on a historic pace to change the courts and fill vacancies with conservative picks. According to one tally, he has put 30 judges on the United States courts of appeals and 53 judges for the United States district courts.
He has also filled two Supreme Court vacancies.
Should the Senate move quickly to approve his picks, as it has done so far, the 51 picks would fill one-third of the 146 vacancies.
Source: washingtonexaminer.com
After all that I have done for the Military, our great Veterans, Judges (99), Justices (2), Tax & Regulation Cuts, the Economy, Energy, Trade & MUCH MORE, does anybody really think I won't build the WALL? Done more in first two years than any President! MAKE AMERICA GREAT AGAIN!

— Donald J. Trump (@realDonaldTrump) January 28, 2019
Pelosi invites POTUS for State of the Union on Feb. 5
Speaker Nancy Pelosi (D-Calif.) in a letter Monday said President Trump could give his annual State of the Union address in the House chamber on Feb. 5, shortly after lawmakers and the White House reached an agreement to end the partial government shutdown.
Source: thehill.com
---
Geopolitical/Police State
Thousands of pro-Macron climate activists materialized in Paris on Sunday to counter the Yellow Vest movement during the 11th straight week of protests against the French government.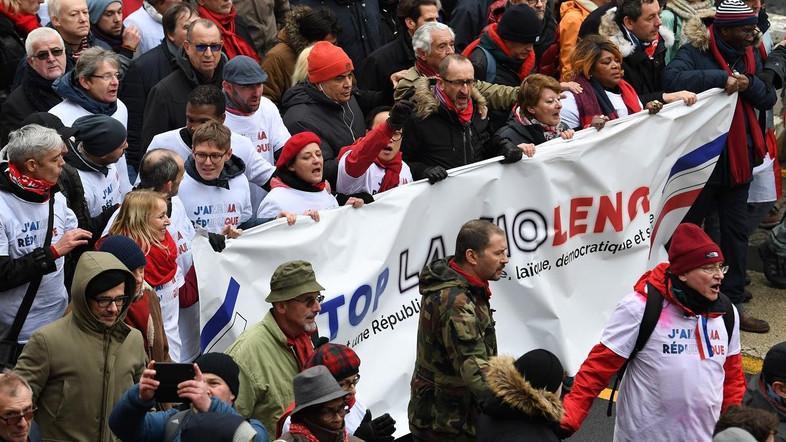 Marching under slogans such as "Enough!" and "End the violence," the Red Scarves and now "Blue Vest" movements have teamed up for their first "anti-Yellow Vest" protest in Paris on Sunday. Pr
Many of the Red Scarves were bussed into Paris

LOL Most of these people protesting in the #MarcheRepublicaineDesLibertes aren't even from Paris they arrived via buses to #Paris today! According to News sources 5000 people came for Pro-Macron, Climate change march. pic.twitter.com/AjudwMPLyZ

— Sotiri Dimpinoudis (@sotiridi) January 27, 2019
Source: zerohedge.com
Marco Rubio mocked for #GuaidoChallenge selfie — RT USA News
Never one to pass an opportunity to bash Maduro or get some publicity, Florida Senator Marco Rubio jumped on board.
Rubio was followed by Miami Mayor Francis Suarez, and Florida Republican Rep. Matt Gaetz.
Rubio, who has advocated military intervention in Venezuela before, prompted an array of reactions.  
Source: rinf.com
Regime change and foreign interventions are things that the two US ruling parties agree on regardless of how much they exchange blows at home.
The House Foreign Affairs Committee has even offered a simple explanation on how a 'dream team' of Democrats have prepared a package of laws, which will ensure Venezuela's transition into a better future.
The irony of Wasserman Schultz now being on the frontline of bringing democracy to Venezuela
Source: zerohedge.com
White House Won't Rule Out Attacking Venezuela Militarily
Mick Mulvaney said that the president wouldn't be doing his job if he ruled out attacking Venezuela, telling reporters he is looking at that idea "extraordinarily closely" after having endorsed opposition leader Juan Guaido as president.Trump's big supporter on this seems to be Sen. Marco Rubio (R-FL), who says he believes "it's just a matter of time" before there is regime change, and questions only "whether it will be peaceful or bloody."
Source: news.antiwar.com
Today we see the same people out their doing what they do best, feeding the MSM, the DS, Neoncons, Bolton was the spokesperson along with Mnuchin discussing Venezuela. Are you starting to see a pattern, Trump keeps people in a certain position to do a specific task
Q

!!mG7VJxZNCI

ID: 63a8f8

No.4628060 

Why would Trump put his on the table, why would he want to invade and start a war. He did not do this with NK and Syria and he is in the process of pulling troops out of Afghanistan, why would he do this now?  This is a very easy way to weed out those who really want war. Think about NK, who wanted to invade, McMasters. Who did not want to removed the troops in Syria, Mattis
---
War
U.S. committed to pulling foreign forces out of Afghanistan: official
A senior U.S. government official, speaking after six days of U.S. peace talks with Afghan Taliban militants, said on Monday that Washington was committed to withdrawing foreign forces from Afghanistan to end more than 17 years of war.
---
Q
Strange that we have not heard anything about RBG, is she getting better, can she return, will be RBG be at the SOTU ? Clock is ticking.
Former Senior Obama Officials Troll Trump With Alarmist Rhetoric
Former Senior level Obama Administration officials keep trolling President Donald Trump with alarming rhetoric.
John Brennan's Most recent Troll 
Former CIA Director John Brennan is the most recent troll.
"Your cabal of unprincipled, unethical, dishonest, and sycophantic cronies is being methodically brought to justice," Brennan Tweeted at Trump. Brennan was responding to Trump's  tweet regarding Special Counsel Robert Mueller's indictment of Roger Stone for lying to congress.
"If Roger Stone was indicted for lying to Congress, what about the lying done by (James) Comey, Brennan, Clapper, Lisa Page & lover, Baker and soooo many others," said Trump
Your cabal of unprincipled, unethical, dishonest, and sycophantic cronies is being methodically brought to justice. We all know where this trail leads. If your utter incompetence is not enough to run you out of office, your increasingly obvious political corruption surely will. https://t.co/S6DMeGICXZ

— John O. Brennan (@JohnBrennan) January 26, 2019
David Laufman Trolls Trump Too 
Several weeks ago it was David Laufman, former head of the Justice Department's counterintelligence unit, who trolled Trump with alarmist comments on MSNBC.
Laufman helped supervise the controversial probe into Hillary Clinton's use of a private email server, as well as Russia's interference in the 2016 election.
Trump was a threat to U.S. national security, Laufman said, because the president wanted to conceal details of his meetings with Russian President Vladimir Putin
"The notion that the president of the United States would be trying to conceal the details of conversations with the leader of our principal foreign adversary was positively chilling," said Laufman.

What's chilling is the number of former officials allegedly under investigation by the DOJ for mishandling the investigation into Trump's haven't hesitated for a moment to undermine the president.


Source: sararcarter.com