Podcast: Play in new window | Download (Duration: 36:16 — 42.6MB)
Toronto's housing bubble is popping, its only a matter of time before this spreads from country to country and it all starts to fall apart. Commercial price index is now back to 2008 levels. Credit card delinquencies are on the rise, charge offs are increasing among small banks and the people have it the ceiling with credit card debt, we are now seeing signs that credit cycle has run its course. Mueller's entire case is falling apart, Judges are asking from proof and this is the kiss of death since the the entire case is built on an illusion and propaganda. Documents show Comey removed classified docs and he is using the excuse that he didn't know that this was wrong. Trump calls out Kerry, congress says Kerry violated the Logan Act.  The deep state is reacting the only way they know how, calling for war saying they will destroy Assad. Macron says if the Iran deal is canceled this will lead to war. Israel reports that they will destroy Assad. North Korea propaganda, which is really the deep state pushes the agenda that Trump might ruin the peace talks. The deep state might pull something before or during the peace talks.
Check Out The X22 Report Spotlight YouTube Channel –  X22Report Spotlight
Please check Newzsentinel.com for the latest news on the economic collapse. The Sentinel Alerts are updated throughout the day. If you haven't already, go to "The People" and join the community of people who are helping each through the economic collapse.
---
Current News – 05.07.2018
---
Economy
Toronto's Splendid Housing Bubble Turns to Bust
home sales in the Greater Toronto Area (GTA), Canada's largest housing market, and among the most inflated in the world, plunged 32% in April, compared to a year ago,
Detached houses -38.4%
Semi-detached houses -29.3%
Townhouses -22.1%
Condos -26.0%.
 Sales of homes costing C$2 million or more collapsed by 64%. The market is freezing up at the top.
In Toronto itself: -8.2% (-C$76,860) to C$865,817.
In the rest of the GTA without Toronto: -15.2% (-C$137,070) to C$767,359.

Source: wolfstreet.com
As Malls Melt Down, Industrial Properties Heat Up
 
Commercial real estate prices peaked in August 2017 at 27% above the crazy peak of the prior bubble, according to the Green Street Commercial Property Price Index (CPPI). By April this year, the index was down 1.4% from the peak and by about 1% from April a year ago.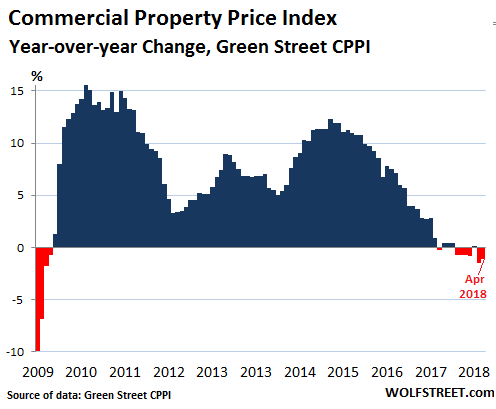 Source: wolfstreet.com
For The First Time Since August 2008, Credit Card Debt Hits A Plateau
  latest data from The Fed, what most missed was a record $1.0 trillion of credit card/revolving loans, a record $1.3 trillion of auto loans, and a record $1.5 trillion of student loans.
  credit card and auto loans, in particular, have been experiencing accelerating delinquencies, but the very gradual increase in aggregated Net Charge-Offs has allayed any economist concerns about the state of the US consumer. But, a modest scratch below the surface, and a surprising discovery emerges.
… as outstanding credit card borrowings unexpectedly declined by $2.6BN, the most since the end of 2012, after a drop of just over $500MM last month.
we have had two consecutive months of credit card deleveraging means that the until recently relentless increase in revolving credit appears to have again hit a plateau. The last time this happened? August of 2008 
source: zerohedge.com
---
Political/Rights
 three separate Judges have rendered harsh setbacks to the Mueller investigation – demanding, if you can believe it, facts and evidence to back up the Special Counsel's claims – in unredacted format as one Judge demands, or risk having the cases tossed out altogether.
The first major setback happened in February, when the federal judge assigned to the criminal case against Trump's former National Security Advisor, Judge Emmet G. Sullivan ordered Mueller's team to turn over any "exculpatory evidence" to Flynn's defense.
Instead, Judge Emmet G. Sullivan issued the order "sua sponte," or at his discretion, invoking the "Brady Rule" – which requires prosecutors to turn over previously unfiled evidence that might have a material impact on a defendant's case. Two days before Sullivan issued the order, Mueller filed a motion for a protective order regarding the use of evidence in the case, including "sensitive materials," which would be provided to Flynn's lawyers by the office of the Special Counsel.

Judge Emmet G. Sullivan

We also know that the FBI agents who interviewed Flynn – one of whom was anti-Trump counterintelligence agent Peter Strzok, did not think Flynn was lying to them – something James Comey was recently caught lying about himself.

A leaked transcript of the heated exchange between attorney Michael Dreeben and Eastern District of Virginia Judge T.S. Ellis reveals that the entire Manafort case is in jeopardy if the Special Counsel doesn't produce an unredacted copy of the original order from Deputy AG Rod Rosenstein authorizing the original investigation.

Ellis also said that Mueller shouldn't have "unfettered power" to prosecute Manafort for charges that have nothing to do with collusion between the Trump campaign and the Russians, 

The Judge also notes that the Special Counsel's indictment against Manafort doesn't mention:
(1) Russian individuals
(2) Russian banks
(3) Russian money
(4) Russian payments to Manafort
last week's ruling by federal Judge Dabney Friedrich, a Trump appointee, denying Mueller a trial delay over the high-profile February indictment of 13 Russians for interfering in the 2016 US election.
Mueller accused 13 Russian nationals and three Russian entities – one of which was Concord Management and Consulting, of "knowingly and intentionally" conspiring to interfere with the election by using social media to disparage Hillary Clinton and support Donald Trump.
And Concord Management decided to fight it… 
As PowerLine notes, Mueller probably didn't see that coming – and the indictment itself was perhaps nothing more than a PR stunt to bolster the Russian interference narrative.
I don't think anyone (including Mueller) anticipated that any of the defendants would appear in court to defend against the charges. Rather, the Mueller prosecutors seem to have obtained the indictment to serve a public relations purpose, laying out the case for interference as understood by the government and lending a veneer of respectability to the Mueller Switch Project.One of the Russian corporate defendants nevertheless hired counsel to contest the charges.
"Concord could force prosecutors to turn over discovery about how the case was assembled as well as evidence that might undermine the prosecution's theories."
  Mueller's team tried to say that Concord never formally accepted the court summons related to the case,
The Russians hit back against Mueller's attempt to delay – filing a response on Friday to let the court know that "[Concord] voluntarily appeared through counsel as provided for in [the Federal Rules of Criminal Procedure], and further intends to enter a plea of not guilty. [Concord] has not sought a limited appearance nor has it moved to quash the summons. As such, the briefing sought by the Special Counsel's motion is pettifoggery."
And the Judge agreed…
A federal judge has rejected special counsel Robert Mueller's request to delay the first court hearing in a criminal case charging three Russian companies and 13 Russian citizens with using social media and other means to foment strife among Americans in advance of the 2016 U.S. presidential election.In a brief order Saturday evening, U.S. District Court Judge Dabney Friedrich offered no explanation for her decision to deny a request prosecutors made Friday to put off the scheduled Wednesday arraignment for Concord Management and Consulting, one of the three firms charged in the case. –Politico
In other words, Mueller was just denied the opportunity to kick the can down the road,
Source: zerohedge.com
FBI: Comey removed and stored classified docs at home, investigated Hillary for same offenses
Former FBI Director James Comey often removed sensitive national security documents from FBI headquarters and stored documents at his home, according to high-ranking FBI officials who called such actions a violation of a host of federal laws.In essence, Comey handled certain classified government documents in the identical manner Hillary Clinton handled classified documents and emails; By breaking strict government protocols and breaching laws governing the security of sensitive documents.
Transporting such documents to his home from FBI would require at least notifying the Attorney General's office and even then, likely, would still not be legally permitted. Likewise, printing documents and storing them at home while connected to a secure remote FBI computer network is not allowed.
Federal laws stipulating the handling of classified evidence clearly stipulates the opposite.Federal law dealing with the unauthorized removal and retention of classified documents or material – 18 U.S. Code § 1924 – stipulates:

(a) Whoever, being an officer, employee, contractor, or consultant of the United States, and, by virtue of his office, employment, position, or contract, becomes possessed of documents or materials containing classified information of the United States, knowingly removes such documents or materials without authority and with the intent to retain such documents or materials at an unauthorized location shall be fined under this title or imprisoned for not more than five years, or both.

(b) For purposes of this section, the provision of documents and materials to the Congress shall not constitute an offense under subsection (a).

(c) In this section, the term "classified information of the United States" means information originated, owned, or possessed by the United States Government concerning the national defense or foreign relations of the United States that has been determined pursuant to law or Executive order to require protection against unauthorized disclosure in the interests of national security.

Did Comey return the evidence and documents to the FBI since he was removed from office by President Trump?

The ultimate irony of this most recent Comey revelation is the possibility that Comey transported or printed classified case file documents from Hillary Clinton's email investigation to his home for review or storage. Comey would have in fact committed the same crimes the FBI was investigating Hillary for but using documents and classified intelligence from her case to do it.

Besides violating federal records protocols and likely felony breaches of national security, Comey's actions violated the FBI Records Management Division's policies on handling national security and sensitive Bureau documents and evidence, sources
Source: sott.net
---
War
Deep state might try something with NK before the summit. They pushing proganda
Trump Lashes Out At John Kerry's "Possibly Illegal Shadow Diplomacy" With Iran
John Kerry's bid to save one of his most significant accomplishments as secretary of state took him to New York on a Sunday afternoon two weeks ago, where, more than a year after he left office, he engaged in some unusual shadow diplomacy with a top-ranking Iranian official.

Kerry has also met with leaders from Europe, including German President Frank-Walter Steinmeier, EU official Federica Mogherini and French President Emmanuel Macron in both Paris and New York, where they discussed sanctions and regional nuclear threats in both French and English.
This type of "rogue" diplomacy is very rare for a former Secretary of State.
"It is unusual for a former secretary of state to engage in foreign policy like this, as an actual diplomat and quasi-negotiator," said foreign policy expert Michael O'Hanlon of the Brookings Institution.

"Of course, former secretaries of state often remain quite engaged with foreign leaders, as they should, but it's rarely so issue-specific, especially when they have just left office."
"The United States does not need John Kerry's possibly illegal Shadow Diplomacy on the very badly negotiated Iran Deal."
And Trump explains why – very simply…
"He was the one that created this MESS in the first
Source: zerohedge.com
Congress has called for the immediate arrest of John Kerry after evidence emerged that he ran a shadow government in order to save the Iran deal. 
The chairman of the House Permanent Select Committee on Intelligence, Devin Nunes (R-CA), is calling for the former Secretary of State to be charged for violating the Logan Act – a crime that could result in a three year prison sentence.
 According to US law, no private citizen may meet with a foreign power to negotiate a deal. Since Kerry was working directly against US policy and trying to sabotage the elected government the charge of treason would apply.

Here is the text of the Logan Act:
§ 953. Private correspondence with foreign governments.
Any citizen of the United States, wherever he may be, who, without authority of the United States, directly or indirectly commences or carries on any correspondence or intercourse with any foreign government or any officer or agent thereof, with intent to influence the measures or conduct of any foreign government or of any officer or agent thereof, in relation to any disputes or controversies with the United States, or to defeat the measures of the United States, shall be fined under this title or imprisoned not more than three years, or both.
This section shall not abridge the right of a citizen to apply himself, or his agent, to any foreign government, or the agents thereof, for redress of any injury which he may have sustained from such government or any of its agents or subjects.
Who has the authority?
CONSTITUTIONAL AUTHORITY FOR FOREIGN RELATIONS
Article II, Section 2, Clause 2 of the United States Constitution includes the 'Treaty Clause,' which empowers the President of the United States to propose and chiefly negotiate agreements, which must be confirmed by the Senate, between the United States and other countries, which become treaties between the United States and other countries after the advice and consent of a supermajority of the United States Senate.
[The President] shall have Power, by and with the Advice and Consent of the Senate, to make Treaties, provided two thirds of the Senators present concur…
In United States v. Curtiss-Wright Export Corp., 299 U.S. 304 (1936), Justice Sutherland, writing for the Court, observed,
"[T]he President alone has the power to speak or listen as a representative of the nation. He makes treaties with the advice and consent of the Senate; but he alone negotiates. Into the field of negotiation the Senate cannot intrude; and Congress itself is powerless to invade it. As Marshall said in his great argument of March 7, 1800, in the House of Representatives, 'The President is the sole organ of the nation in its external relations, and its sole representative with foreign nations.'
John Kerry is not the president and should be arrested without delay.
Source: yournewswire.com
If US scraps Iranian nuclear deal, it 'could mean war' – French President Macron
French President Emmanuel Macron has warned that the US pulling out of the nuclear deal with Iran "could mean war." Trump has until May 12 to either re-certify the deal or dump it, as he has repeatedly threatened.
Update: Massive gathering of rebels, family members to depart northern Homs
The rebel forces and their family members have begun entering the buses that were provided by the government in northern Homs this afternoon.
According to a military report, the rebels and their family members from Al-Rastan and Talbiseh began loading the 23 buses at the Al-Rastan Bridge.
Source: almasdarnews.com