Podcast: Play in new window | Download (Duration: 1:01:23 — 62.3MB)
The real estate market in the big cities are drying up, those who are trying to sell their property are having a very difficult time. Prices are just to high for many, and the sellers are beginning to lower their prices. The economic was pumped by the [CB], but now it is on life support. Trump has cornered the [CB]s, not just the Fed but all [CB]s, they have no where to turn which means when the system comes crashing down the blame will be on them. Elizabeth Warren says Trump will be in prison by 2020, is she projecting. NJ is about to implement a rain tax. Adam Schiff begins to project that the Mueller report will show no collusion. Gallup indicates that illegals are waiting to make their move on the US border. Ninth Circuit court rules in Trump's favor regarding the border wall. Acting Defense Secretary is in Afghanistan talking about peace. Q drops more bread, hints that power will return to the people. Voter Id is in the works. The MSM is losing the control over the narrative. The wall has brought public awareness to the what the [DS] is all about.
Check Out The X22 Report Spotlight YouTube Channel X22Report Spotlight
Please check Newzsentinel.com for the latest news on the economic collapse. The Sentinel Alerts are updated throughout the day. If you haven't already, go to "The People" and join the community of people who are helping each through the economic collapse.
---
Current News – 02.11.2019
Watch The X22 Report On Video
---
Economy
Liquidity in New York City's Housing Market Dries Up
52% of the homes listed for sale last spring still have not sold. For sellers, "the situation calls for a clear strategy: cut prices."
Over half the 12,000-plus homes that were listed for sale in New York City on StreetEasy during the peak listing months of March, April, and May 2018 still have not sold as of early February, according to StreetEasy's review of public records. This "historic wave of homes," as StreetEasy calls it, arrived last spring "as price growth began to sputter and owners looked to cash out." But buyers were not in the mood at those prices. And so 52% of the homes have still not sold.
In Manhattan, 56% of the homes listed in March, April, and May 2018 have not yet sold. What makes buyers reluctant are the price declines. The StreetEasy median price index for Manhattan, at $1.132 million in December, is back where it had been in September 2015. For the past six months in a row, the median price index for Manhattan has fallen below the same month a year earlier. These are the first such year-over-year declines since Housing Bust 1.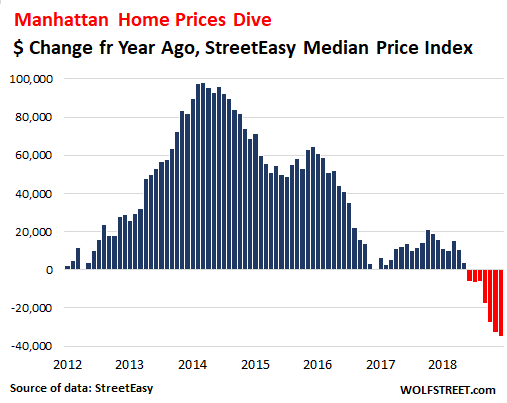 The higher the price, the harder it gets:
Homes listed at less than $1 million: 45% failed to sell.
Homes listed at $1 million or more: 61% failed to sell.
Homes listed at $5 million or more (656 units): 79% failed to sell.
What did unsuccessful sellers do? Pull the unit off the market.
The report explains: "Most sellers who were unable to find buyers at suitable prices have simply pulled their listings from the market. Of all listings created in spring 2018, 40% are either paused, delisted, or otherwise no longer available on StreetEasy. Only 7.5% of all the listings from the peak months, or 14% of the total unsold units, are still actively seeking buyers."
Source: wolfstreet.com
The global central bank easy money experiment has failed and it is past time that central bankers stopped bullshitting us and just admitted it.
Europe is about to enter a recession and rates are still negative, the US Fed just tried to reduce its balance sheet with the greatest economic backwind in years (tax cuts, record buybacks, 3% GDP growth) and still they failed miserably, 
The Fed is trapped, the ECB is trapped, the BOJ is trapped

 The emerging truth: Central banks will never "normalize" rates, they will never revert their balance sheets to pre-crisis levels, and they will never stop interfering with markets.
Q: What happens when we enter a recession with over 100% public debt to GDP, over $9 trillion in corporate debt and a Fed still carrying a $4 trillion balance sheet? 
Source: zerohedge.com
---
Political/Rights
Elizabeth Warren Suggests President Trump Going to Prison 'He May Not Even Be a Free Person By 2020' (VIDEO)
Fake Indian Elizabeth Warren made an appearance in Cedar Rapids, Iowa on Sunday to kick off her 2020 presidential campaign.
Warren immediately attacked the President and suggested that Trump might be in prison by 2020. Is she projecting


"Every day there's a racist tweet, a hateful tweet — something really dark and ugly and what are we as candidates, as activists, as the press gonna do about it?" Warren said.,

the question is which tweet is racist and hateful
"You know, here's what bothers me. By the time we get to 2020, Donald Trump may not even be president. In fact, he may not even be a free person,"
Brad Parscale said  "Elizabeth Warren has already been exposed as a fraud by the Native Americans she impersonated and disrespected to advance her professional career, and the people of Massachusetts she deceived to get elected," 
"The American people will reject her dishonest campaign and socialist ideas like the Green New Deal, that will raise taxes, kill jobs and crush America's middle class.  Elizabeth Warren is a fraud and used her fake Native American heritage to advance her career.
Source: thegatewaypundit.com
MUST SEE: Unhinged Leftist Amy Klobuchar Rants Against Global Warming — Then Immediately Eats Mouthfull of Snow (VIDEO)
Democrat Senator Amy Klobuchar announced her run for President Saturday during a blizzard in Minnesota.
She made global warming a major piece of her platform and announcement.
It was 8° in Minneapolis on Saturday.
And it was a blizzard.

Trump noticed and tweeted out the following

Well, it happened again. Amy Klobuchar announced that she is running for President, talking proudly of fighting global warming while standing in a virtual blizzard of snow, ice and freezing temperatures. Bad timing. By the end of her speech she looked like a Snowman(woman)!

— Donald J. Trump (@realDonaldTrump) February 10, 2019