Podcast: Play in new window | Download (Duration: 44:13 — 48.1MB)
The automobile industry has been hard, since 2008 the [CB], [DS] pushed the subprime buyer into the market to boost the auto industry, now the manufactures and the borrowers are starting to feel the pain. Housing market is almost ready to implode, rate cut will be coming to save the housing market from crashing. Trump is now deciding to delay the auto tariffs. The [DS] is still trying to pull strings, the tried to push their agenda with China and it will fail. The Dems are throwing their hats into the Presidential race, this will not protect them. The White House is now going after big tech for censoring individuals. New Zealand, France and many countries are now pushing censorship and trying to get the US to signup. The [DS] is now trying to get ahead of what is coming and many are now turning on each other. The documents have been collected and the evidence prepared, wait for it because the boom it coming. Peace talks are now in progress with Venezuela. The [DS] continues to push their agenda with Iran, Trump is waiting for a phone call.
Check Out The X22 Report Spotlight YouTube Channel X22Report Spotlight
Please check Newzsentinel.com for the latest news on the economic collapse. The Sentinel Alerts are updated throughout the day. If you haven't already, go to "The People" and join the community of people who are helping each through the economic collapse.
---
Current News – 05.16.2019
Watch The X22 Report On Video
---
Economy
Subprime Bites: Auto-Loan Delinquencies Spike to Q3 2009 Level, Despite Strongest Labor Market in Years
 Serious auto-loan delinquencies – 90 days or more past due – jumped to 4.69% of outstanding auto loans and leases in the first quarter of 2019, according to New York Fed data. This put the auto-loan delinquency rate at the highest level since Q4 2010 and merely 58 basis points below the peak during the Great Recession in Q4 2010 (5.27%):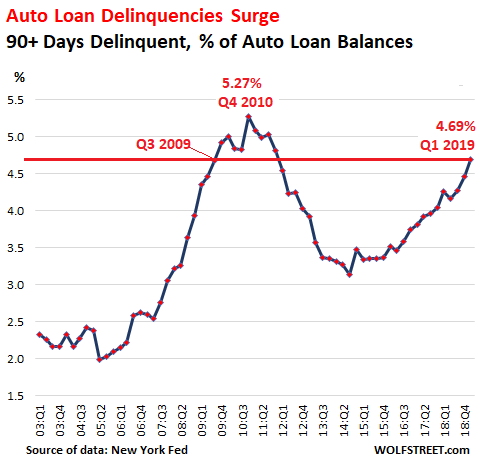 These souring auto loans are going to impact banks and specialized lenders and the real economy – the automakers and auto dealer and the industries that support them.
This is what the banks are looking at.
The chart below shows the dollar amounts of auto loan balances (blue columns, right scale) in trillion dollars and the number of auto-loan accounts (red line, left scale) in millions: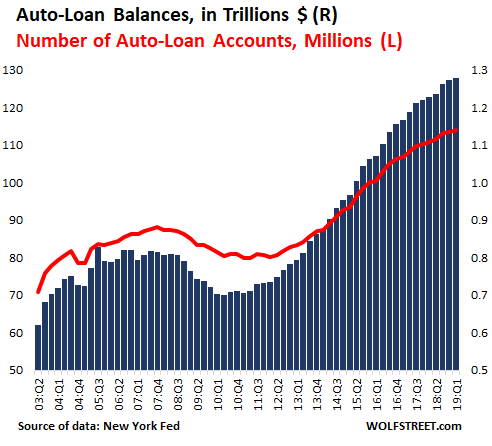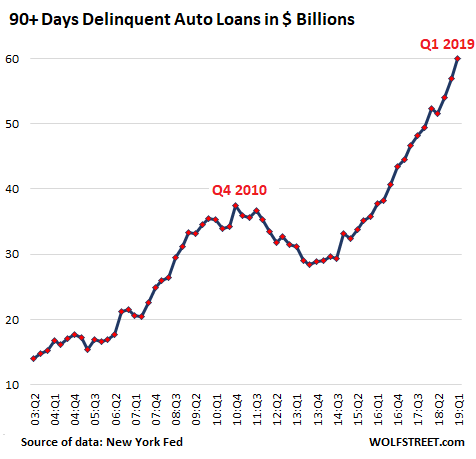 Lenders have already figured out that subprime auto loans have soured. They've been seeing this since 2015 or 2016. And ever so gradually, lenders have tightened their subprime underwriting standards. And subprime customers that don't get approved for a new-vehicle loans may get approved for a much smaller loan for a cheaper used vehicle. This process has already been shifting potential new-vehicle customers to used vehicles.
For automakers, this has already shown up in their sales. New-vehicle sales, in terms of vehicles delivered to end users, peaked in 2016 and have been declining ever since. Through Q1 this year, new-vehicles sales, fleet and retail, were down 3.2% from Q1 2018, and so 2019 looks to be another down-year for the industry – the third in a row.
But this isn't happening in a recession with millions of people losing their jobs and defaulting on their auto loans because they lost their jobs. This is happening during one of the strongest labor markets in many years. It's happening when the economy is growing at around 3% a year. It's happening in good times. And people with jobs are defaulting.
Source: wolfstreet.com
---
Political/Rights
White House campaign asks users to share stories of social media censorship
With recent reports of social media platforms censoring conservatives, the White House established an online tip form for Americans to report bias to President Donald Trump.
"SOCIAL MEDIA PLATFORMS should advance FREEDOM OF SPEECH. Yet too many Americans have seen their accounts suspended, banned, or fraudulently reported for unclear 'violations' of user policies," The website said. "No matter your views, if you suspect political bias caused such an action to be taken against you, share your story with President Trump."
The tool asks users what platform they have been penalized on. The categories include Facebook, Twitter, Instagram, YouTube or "other." One a user selects the social media platform, they are asked for screenshots and links of the content that's deemed offensive. A text field is provided where users can describe the enforcement actions taken against them, 

Source: thedailysheeple.com
The Trump Administration is fighting for free speech online.

No matter your views, if you suspect political bias has caused you to be censored or silenced online, we want to hear about it! https://t.co/9lc0cqUhuf pic.twitter.com/J8ICbx42dz

— The White House (@WhiteHouse) May 15, 2019
How to attempt/fail to cover your own ass…

1-Open w casual "joke"
2-Leave an out by underhandedly blaming the Obama-WH/FBI/DOJ/FISA-Court
3-Claim that any findings from investigations will be misrepresented
4-Discredit words like "Deep State"
5-Don't forget to breathe

]PANIC[ pic.twitter.com/bFHvCM6Vw3

— M3thods (@M2Madness) May 16, 2019
Both stories can't be true!@Comey told FBI in late 2016 that BRENNAN insisted on including the Dossier in the intelligence community assessment.

But CIA claims COMEY made the recommendation, and Brennan and Clapper objected.https://t.co/dzhy5fjG9V

— Rep. Jim Jordan (@Jim_Jordan) May 15, 2019
Amazing—James Comey says that in 2016, John Brennan insisted on including the dossier in their IC assessment. But Brennan says: no no, COMEY wanted to use the dossier.

They know the truth is coming. And now they're all throwing each other under the bus.https://t.co/lComh1CO0d

— Mark Meadows (@RepMarkMeadows) May 16, 2019
JAMES BAKER RATS OUT COMEY: Top Officials "Quite Worried" Comey Would Appear to Be Blackmailing Trump
 
Baker ratted out James Comey saying top officials in the FBI were "quite worried" Comey would appear to be blackmailing Trump
 Baker has turned on Comey!
Source: thegatewaypundit.com
---
Geopolitical/Police State
---
War
---