Podcast: Play in new window | Download (Duration: 46:44 — 47.0MB)
Home prices growth slumps, prices are coming down in many parts of the country and we are seeing this around the world. Trump continues to make trade deals around the world, he just established a deal with the EU, the US will now ship soybeans to be used in biofuel in Europe. Gold is the key, and we can see how the the plan has put everything in motion and the world is moving away form the CB currency. DOJ Whitaker says Mueller's probe is coming to an end. Nunes drops more bombshells which makes you question everything. Sara Carter wants to know why there are no leaks from the Huber investigation and why he has not interviewed anyone. Trump accepts Pelosi's invite to do the SOTU. Everything is motion in Venezuela, Bolton let's it slip that troops might be headed to Venezuela, setup, most likely yes. The question is what is the plan in Venezuela, we look to NK to find the answers. The MSM are now running stories about deep fake videos, projected for what is to come. [DB] tweets out a strange tweet about a dog, reminds me of what [JC] did.
Check Out The X22 Report Spotlight YouTube Channel X22Report Spotlight
Please check Newzsentinel.com for the latest news on the economic collapse. The Sentinel Alerts are updated throughout the day. If you haven't already, go to "The People" and join the community of people who are helping each through the economic collapse.
---
Current News – 01.29.2019
Watch The X22 Report On Video
---
Economy
US Home Price Growth Slumps To 4 Year Lows
  Case-Shiller reports its 20-City Composite price index rose just 4.68% YoY in November (dramatically below the 4.89% expected and the 5.02% October print).
This is the weakest home price growth since January 2015…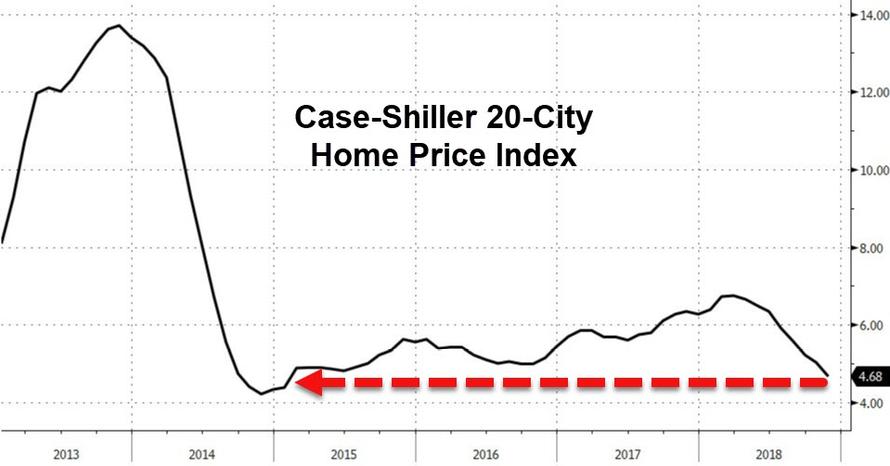 All 20 cities in the index showed year-over-year gains, led by a 12 percent increase in Las Vegas and 8.1 percent advance in Phoenix.
The weakest gains were in Washington, Chicago, and San Diego. New York also had a subdued increase, at 3.5 percent.
Notably, all cities but Washington saw home prices grow faster than incomes yet again…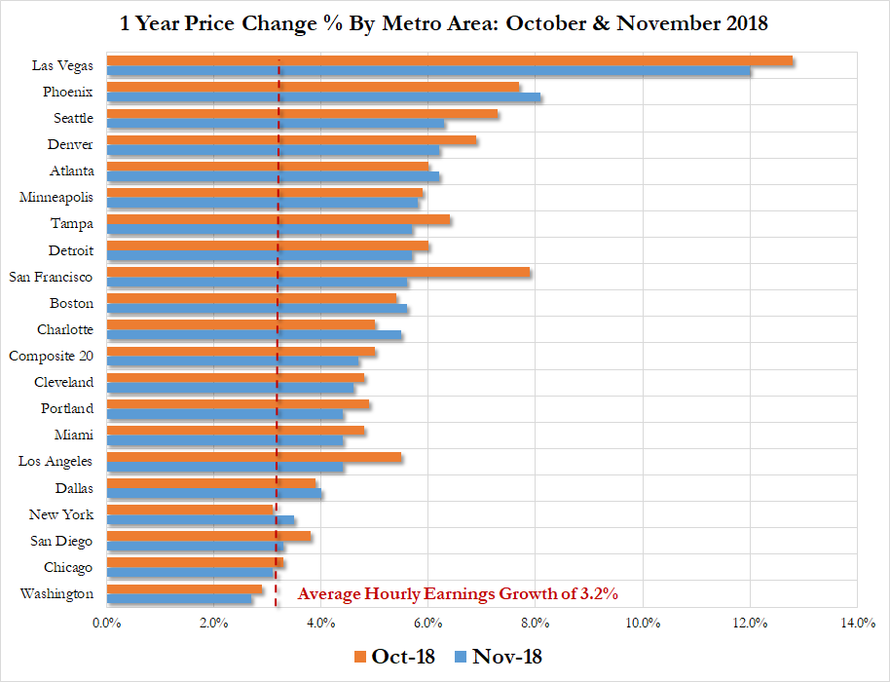 Source: zerohedge.com
Trump Just Secured Another Major Trade Victory
Source: dailycaller.com
The following is a list of the ten most important factors likely to affect gold in 2019.
 
The main economies in Asia (China, Russia, India and Iran) are all turning their backs on the dollar for trade settlement. This will have a profound effect on central bank reserves not just in Asia, but elsewhere as well, with the dollar being sold. Some countries, notably Russia, are buying gold instead.
Foreign ownership of dollar assets and cash exceeds US GDP: $18.412 plus $4.22bn equals $22.6tn. This is the highest rate relative to GDP ever seen. When the dollar and US securities markets begin to fall in earnest measured in declining dollars, there is bound to be massive foreign selling of dollars and dollar assets.
Factors directly affecting gold
Geopolitics – Asia, and Russia publicly, have swapped reserve dollars for gold. Given Russia is the world's largest energy exporter, she will continue to have dollars to sell for gold. Also, Central Europeans, notably Hungary and Poland, are accumulating gold reserves. It is clear which way the Asian wind is blowing, and the Asians know gold is America's weak point.
Source: zerohedge.com
---
Political/Rights
DOJ's Matthew Whitaker: Mueller Probe May Be 'Close to Being Complete
Acting Attorney General Matthew Whitaker said Monday that he believes special counsel Robert Mueller's investigation into whether the Trump campaign and Russia colluded during the 2016 election is "close to being completed."
"Right now the investigation is I think close to being completed," the top Justice Department official said in a press conference. "I hope we can get the report from Director Mueller as soon as possible."

"I have been fully briefed on the investigation. I look forward to Director Mueller delivering the final report," he continued. "I really am not going to talk about an open and ongoing investigation otherwise. But the statements I made were as a private citizen with only publicly available information."
Mueller will submit his report to Whitaker unless he has been replaced as attorney general by then by Bill Barr, who has been nominated to the post but not yet confirmed by the Senate. "I am comfortable that the decisions that were made are going to reviewed either through the various means that we have," he told reporters.
Source: breitbart.com
The Stunning Importance of What Devin Nunes Said Yesterday – Rosenstein Made President Trump Mueller's Target…

Devin Nunes dropped a bombshell  .  Many people are overlooking the implications of his speculation; and, more importantly how Nunes statement answers just about every contradictory question people have carried.  Including:
Why Rosenstein introduced Mueller to President Trump the day before he was appointed as Special Counsel?
Why Mueller/Rosenstein are hiding the investigative origination letter?
Why President Trump has NOT been able to declassify documents? and
Why President Trump is, and will always be, hamstrung by the Mueller investigation?
In short, Devin Nunes speculated that Deputy AG Rod Rosenstein put the substantive allegations from the Fusion-GPS/Ohr/Steele Dossier into his investigative instructions (full pdf below) that he gave Robert Mueller.
If it is accurate that Rosenstein charged Robert Mueller with investigating the dossier claims; and if Nunes is accurate that the DOJ investigative target, a derivative of the dossier, is Donald Trump; well, everything starts to make a hell of a lot more sense.
If the mandate given to Robert Mueller was to specifically investigate the sitting president of the United States as an active participant, and subsequent target, for a counterintelligence operation, then DAG Rod Rosenstein -and Mueller- would have to hide that mandate from everyone and anyone.
More specifically, Rosenstein would NEVER be able to honestly discuss the Mueller probe with President Trump; because President Trump would be the primary target within the investigation.  And that changes EVERYTHING.
If you flip the paradigm and now look at what actions President Trump could take, while reconsidering that he is the likely principle target, well, two years of contradictory things start to make more sense.
The conversation, and inability of Rosenstein to be honest with POTUS, changes the dynamic of this tweet:
Source: theconservativetreehouse.com
Crickets At DOJ: Probe Into FBI's Handling Of Trump Russia Remain A Mystery
 we know is that Attorney General Jeff Session's appointed former Utah U.S. Attorney John Huber to investigate the allegations stemming regarding the FBI probe into Trump and alleged Russian collusion in March, 2018. However, it's almost impossible to locate him or find anyone with any idea of what he's actually doing.
 "no one in Congress has any indication Huber has talked to anyone, requested documents, or done anything else."
For now, Huber appears to be a mystery.
The Leaks
For example, revealing the name of Lt. Gen. Michael Flynn and his private phone conversation with former Russian Ambassador Sergey Kislyak, Trump's private conversations with foreign leaders, the former British Spy Christopher Steele's unverified dossier, as well as private conversations between Trump and former FBI Director James Comey just to name a few. We've even seen leaks that are presumably flat out lies.
James Clapper allegedly leaked to CNN the private briefing on the salacious dossier given by Comey to Trump in Jan, 2017, according to information in the House Intelligence Committee's Russia report.  .
The latest leak, was the tip off to CNN on the FBI predawn raid at Roger Stone's home.
So all the leaks we have seen are on the Mueller investigation, dossier, flynn etc…. think about that and hold that thought
Where Is John Huber?
"Huber – his work continues," DOJ SAID BUT "Decline to comment beyond that."
We have rarely seen any leaks regarding the investigation allegedly being conducted by Huber
Session's appointed Huber to look into abuse of power at the FBI in the Russia Trump investigation and whether "any matters merit the appointment of a special counsel." The Utah attorney was also appointed to look into issues regarding the Uranium One scandal involving Hillary Clinton and other members of the Obama administration.
Huber's allegedly leading an investigation, I say, because numerous witnesses that should have been interviewed have never been interviewed.Allegedly is also the operative word because DOJ refuses to answer even the most simplest of questions regarding Huber and his investigation.
Source: saracarter.com
BREAKING: DOJ IG Horowitz's investigators have been interviewing sr Justice Dept official Bruce Ohr, the Steele dossier back-channeler, as part of IG's investigation of potential FISA abuses. Ohr's key witness b/c he's one of few FBI/DOJ witnesses still employed & within IG reach

— Paul Sperry (@paulsperry_) January 29, 2019

Is this part of hubers team?
Huber working in the shadows, isn't there someone else working in stealth
But… HUBER has not 'directly' interviewed several witnesses therefore the appointment of HUBER by

SESSIONS [and therefore the IG] is not genuine

But… SESSIONS & HUBER are following standard DOJ open/ongoing investigation policy by not discussing [making public] so therefore nothing must be happening [FIRE SESSIONS!]

But… HUBER [ability to prosecute + empanel a grand jury outside ofDC[90%+ voted HRC (2016)], who already began the investigation(s) late last year w/ assigned team of 470 investigators (attorneys) + IG + legal jurisdiction across all 50 states, is not a 'special counsel' so therefore nothing is being doneBut… interestingly, if nothing is being done behind the scenes, why are so many FBI & DOJ senior officials being FIRED and/or REMOVED from their respective positions of power? Who is AG? Who must sign off on each removal? DOJ in charge of FBI?

B

ut… interestingly, if nothing is being done behind the scenes, why are there 50,000+ sealed indictments across the US

[what % = USA v. X?]? Coincidence vs. HUBER start? But… interestingly, if nothing is being done behind the scenes, why are many 'powerful' CEOs, members of Congress/ Senate, resigning?

Q
>SHADOW PLAYERS ARE THE DEADLIEST [STEALTH]
>What is the advantage of having a 'temp' ('acting') in a leadership position?

Q
Q

!!mG7VJxZNCI

ID: 0365ff

No.4381127

Q

!!mG7VJxZNCI

ID: 48451f

No.4278922


Q

!!mG7VJxZNCI

ID: 48451f

No.4278743


>>4278743

What if there's another prosecutor (outside ofDC) assigned by SESSIONS w/ the same mandate/authority?

ONE FOR THE HISTORY BOOKS?

NOT LONG NOW.

Q
Trump accepts Pelosi's invitation to do the SOTU on Feb 5
Judge abruptly cancels ex-Trump campaign chief Paul Manafort's sentencing in Virginia case
A federal judge Monday canceled former Trump campaign chief Paul Manafort's sentencing in his Virginia case.
U.S. District Judge T.S. Ellis wrote that Manafort's "current dispute" in a separate federal case in Washington, D.C., makes it "prudent and appropriate to delay sentencing in this case."
A federal judge Monday canceled former Trump campaign chief Paul Manafort's sentencing in his Virginia case, which was scheduled for Feb. 8, according to a filing.U.S. District Judge T.S. Ellis wrote that Manafort's "current dispute" in a separate federal case in Washington, D.C., makes it "prudent and appropriate to delay sentencing in this case."Mueller's team had previously aimed to delay Manafort's sentencing in Virginia until the special counsel determined that he had finished cooperating with special counsel Robert Mueller's investigators.
Source: cnbc.com
Justice Department Announces Criminal Charges Involving Chinese Company Huawei… 
According to the DOJ announcement released today three companies: (

Wah-Way

) Huawei Technologies Co. Ltd., Huawei Device USA Inc. and Skycom Tech Co. Ltd. are charged with bank fraud and conspiracy to commit bank fraud, wire fraud and conspiracy to commit wire fraud, violations of the International Emergency Economic Powers Act (IEEPA) and conspiracy to violate IEEPA, and conspiracy to commit money laundering. Huawei and Huawei USA are charged with conspiracy to obstruct justice related to the grand jury investigation in the Eastern District of New York.
Additionally Ms. Meng Wanzhou is charged with bank fraud, wire fraud, and conspiracies to commit bank and wire fraud. 
Source: theconservativetreehouse.com
---
Geopolitical/Police State
US Gives Venezuela's Opposition Leader Juan Guaido Control Over Some Assets
The US announced Monday that it was introducing sanctions on Venezuela's state-owned oil giant PDVSA just a week after recognising the head of the opposition-controlled National Assembly, Juan Guaido, as the South American country's interim president.
Source: sputniknews.com
Colombia Says It's Puzzled Over John Bolton's "5,000 Troops To Colombia" Note
 John Bolton perhaps inadvertently flashed the contents a yellow notepad he was holding during a White House press briefing to reveal handwritten text "5,000 troops to Colombia," which was picked up by photographers. The words were seen scribbled behind "Afghanistan – welcome the talks" in apparent notes made while previously discussing White House foreign policy and national security.
So this notepad that National Security Advisor John Bolton was holding today at the White House briefing on Venezuela says:

"Afghanistan -> Welcome the Talks. 5,000 troops to Colombia."

If confirmed this would be a pretty terrible OPSEC breach.https://t.co/KS0Issfvps pic.twitter.com/IOrSprG567

— Rao Komar (@RaoKomar747) January 28, 2019
This is a distraction for the DS, neoncons and the MSM, this was done on purpose, using this strategy Trump and the patriots can work behind the scenes
Source: zerohedge.com
US president says he would be open to a meeting with North Korean leader, but that it is not time to do so yet
Source: theguardian.com
Prosecutor General Calls For Investigation Against Venezuela's Self-Proclaimed President
Prosecutor General Tarek Saab has asked the Supreme Court to ban Venezuela's self-proclaimed interim president Juan Guaidó from leaving the country and block his assets, local media reported on January 29.
Saab stressed that court should start an investigation following the recent series of protests and the appearence of self-declared interim president in the country and the blocking of Venezuelan assets abroad.
The announcement by the Prosecutor General marked the first significant move by the government of president Nicolás Maduro to react to illegal actions of the Guiadó-led opposition,
Source: southfront.org
Regime Change Laboratory Created Venezuela's Coup Leader
Juan Guaidó is the product of a decade-long project overseen by Washington's elite regime change trainers. While posing as a champion of democracy, he has spent years at the forefront of a violent campaign of destabilization.
Before the fateful day of January 22, fewer than one in five Venezuelans had heard of Juan Guaidó. Only a few months ago, the 35-year-old was an obscure character in a politically marginal far-right group closely associated with gruesome acts of street violence. Even in his own party, Guaidó had been a mid-level figure in the opposition-dominated National Assembly, which is now held under contempt according to Venezuela's constitution.
But after a single phone call from from US Vice President Mike Pence, Guaidó proclaimed himself as president of Venezuela. Anointed as the leader of his country by Washington, a previously unknown political bottom dweller was vaulted onto the international stage as the US-selected leader of the nation with the world's largest oil reserves.
Echoing the Washington consensus, the New York Times editorial board hailed Guaidó as a "credible rival" to Maduro with a "refreshing style and vision of taking the country forward." The Bloomberg News editorial board applauded him for seeking "restoration of democracy" and the Wall Street Journal declared him "a new democratic leader." Meanwhile, Canada, numerous European nations, Israel, and the bloc of right-wing Latin American governments known as the Lima Group recognized Guaidó as the legitimate leader of Venezuela.
While Guaidó is today sold as the face of democratic restoration, he spent his career in the most violent faction of Venezuela's most radical opposition party, positioning himself at the forefront of one destabilization campaign after another. His party has been widely discredited inside Venezuela, and is held partly responsible for fragmenting a badly weakened opposition.
Source: grayzoneproject.com
What if Venezuela is a DS stronghold?
What if Trump is not making a move to free the country from the DS
---
War
US, Taliban Near Deal to End War; US Would Withdraw From Afghanistan 
Over the weekend, the Taliban was reporting that a draft deal was in place with the US which, if put into effect, would see the US out of Afghanistan entirely in 18 months.  Officials are still saying the deal is tentative, and that the Taliban has yet to accept "key US demands." This appears to center on a ceasefire before the pullout, and direct talks with the Kabul government, both of which the Taliban were suggesting openness to over the weekend.The Kabul government does seem to be open to the idea too. President Ghani says that the US and other foreign forces are not required for the long term. He said the plan was always to get this down to zero. ."
Source: news.antiwar.com
Syrian Kurds reluctantly choose Assad over Erdogan: report
The Syrian Kurds, led by the Syrian Democratic Council, are currently in talks with Damascus to reach a political settlement and defend the country from a Turkish invasion.
Source: almasdarnews.com
1. Kurds were supported by the DS
2. the DS was going to use the Kurds to split Syria
3 the DS was funding and trainging the Kurds
By Trump removing the troops the Kurds had two choices, fight the Turkey or work with Assad, they are choosing to work with Assad, Turkey will then back off.
---
Q
8B01A899-533A-4231-8BAF-6….jpeg

Try, try, try, as they might.
Fail, they will.
No free passes [MSM].
Q
Manipulating video is nothing new — just look at Hollywood
It's been possible to alter video footage for decades, but doing it took time, highly skilled artists, and a lot of money. Deepfake technology could change the game. As it develops and proliferates, anyone could have the ability to make a convincing fake video, including some people who might seek to "weaponize" it for political or other malicious purposes.
Source: cnn.com
We are now seeing more and more of these types of articles explaining how deep fakes work, when we see this happening this means the DS is preparing itself for the release of damaging videos, this is an indicator that we are getting closer, when the DS projects into the future and it these articles are shown on multiple MSM outlets this tells us that its almost time.
Ruth Bader Ginsburg watch nears the end of its second month
It has been 54 days since the public laid eyes on the 85-year-old Supreme Court justice Ruth Bader Ginsburg, and her absence is prompting calls for proof of life.  The last time she was seen was on December 6, 2018, when she heard arguments in person at the Court.  Since then, she underwent surgery on December 21 of last year after two cancerous growths from her left lung were discovered and removed.  All official statements have been issued by people close to her and meant to assure the public that she is recovering quietly.
She was scheduled to attend a function called "An Evening with Justice Ruth Bader Ginsburg" in Los Angeles on Tuesday evening at the Skirball Cultural Center, but the event was "regrettably canceled" because she is still recuperating from her recent surgery.  A second engagement on February 6 with her and philanthropist David Rubenstein in New York City was also canceled.
Source: americanthinker.com
Our dog, Benji, died this afternoon. Because he was a rescue, we didn't know his age today, except "very old." He was a friend to an entire big family as only a dog can be. Goodbye old soul. pic.twitter.com/KExqG9ZPZM

— James Comey (@Comey) November 14, 2018
Q

!CbboFOtcZs

ID: 317346

No.1973688


>>1973527
Please do not let No Name off the hook. he is a disgrace to Veterans across this great country and needs to be held accountable.

>>1973567
Think SC vote to confirm (coming).
No Name action.
Every dog has its day.
Enjoy the show.
Q
DB tweeted out something very random on Jan 19, 2019, I didn't think anything of it until I spoke to Jordan Sather
RIP #Boo, "The World's Cutest Dog," Has Died https://t.co/6AWVxPmbHq via @skbaer

— Donna Brazile (@donnabrazile) January 19, 2019
Dog is 12 years old
The calculation for dog years was always that 1 dog year is the equivalent of 7 human ones.  7×12=84