Podcast: Play in new window | Download (Duration: 24:04 — 28.2MB)
The retail apocalypse continues,  J Crew will close 50 more stores. Just 10 companies represent the S&P 500. Which country will have a debt explosion? Gold has been money for the last 5000 years ago. The Silk Road is being pushed into Syria and will run then into Europe, will the US be apart of it.  Spain confirms that Russia did not cyber attack during the Catalonian referendum. Saudi and Russia talk about energy. Military is in Southeastern section of Ukraine. US claims that the US soldiers will remain in Syria to help the Kurds. Iraq pushes mission to clear the rest of the IS out of the country.  The US will not support the YPG, game over for the cabal, there is now no reason for the US to stay in Syria. Russia moves ahead with creating a new mechanism in the UN for the chemical investigation in Syria. Seymour Hersh says Hillary purchased the gas that the paid mercenaries used in Syria and Iraq.
Check Out The X22 Report Spotlight YouTube Channel –  X22Report Spotlight
Please check Newzsentinel.com for the latest news on the economic collapse. The Sentinel Alerts are updated throughout the day. If you haven't already, go to "The People" and join the community of people who are helping each through the economic collapse.
---
Current News – 11.24.2017
---
Economy
J. Crew to close 50 stores as sales plunge, again
J. Crew reported a string of disappointing numbers for its third quarter, with total revenue decreasing 5% to $566.7 million against the year-ago period and comparable sales falling 9%, according to a press release.
The apparel retailer's namesake banner was a drag on the company, with J. Crew brand sales at $430.4 million, down 12% in the quarter compared to Q3 last year, and comparable sales for the brand fell 12% as well. Meanwhile, the company's Madewell stores had a banner quarter, with a sales increase of 22%, to $107.5 million and comparable sales up 13%, compared to a 4% rise in the prior-year period.
  J. Crew plans to close 50 stores altogether in 2017, with 39 closures planned for the fourth quarter, the company said in a press release
Source: retaildive.com
Just 10 Companies Account For 33% Of All Market Gains Since Trump's Election
 why would P/Es rise at a time when the Fed is tightening? As SocGen speculated, assuming that analysts have not factored tax reform into their earnings forecasts, tax reform expectations have been the driver of P/E expansion. There is a problem with this: while the S&P 500 index tax rate is currently 26.6%, assuming that US companies generate 43% of their profits abroad (here) and pay 35% of their US profits on taxes (i.e. with no loopholes for US profits), the average tax rate outside the US would be 15.5%. A decrease in the US tax from 35% to 20% as planned by Trump's tax reform would thus theoretically boost earnings by 8.5%. The 12-month forward P/E has risen 12% over the last 12 months. In other words, roughly 150% of Trump's tax cuts have been priced in!
As SocGen calculates, just 10 contributors of the S&P 500's bull run have accounted for 33% of the S&P 500 performance. Tying to the above, the bank also points out that all of the companies listed below have seen their P/Es expand over the last 12  months, in some cases – like Nvidia, WalMart, Boeing and Amazon – dramatically. In fact, only three companies (Apple and the two banks) have 12-month P/Es that are below the market average (18x). Lastly, keep in mind that except Amazon, all of the companies already pay a  corporate tax rate below the current US federal tax rate (35%), and five companies even pay a tax rate that is below the 20% rate targeted by Trump's tax reform.

Source: zerohedge.com
US PMIs Tumble To 4-Month Lows, Signal Just 2% GDP Growth
 US Manufacturing and Services disapointed with the composite PMI slumping to 5-month lows in November.
 
Flash U.S. Services Business Activity Index at 54.7 (55.3 in October). 4-month low.
Flash U.S. Manufacturing PMI at 53.8 (54.6 in October). 2-month low.
Flash U.S. Manufacturing Output Index at 54.3 (54.6 in October). 2-month low.
Whose Private-Sector Debt Will Implode Next: US, Canada, China, Eurozone, Japan?

Canadians, fasten your seat-belt. Here are the charts.
The Financial Crisis in the US was a consequence of too much debt and too much risk, among numerous other factors, and the whole house of cards came down. Now, after eight years of experimental monetary policies and huge amounts of deficit spending by governments around the   globe, public debt has ballooned. Gross national debt in the US just hit $20.5 trillion, or 105% of GDP. But that can't hold a candle to Japan's national debt, now at 250% of GDP.
In the US, total debt to the private non-financial sector has ballooned to $28.5 trillion. That's up 14% from the $25 trillion at the crazy peak of the Financial Crisis and up 63% from 2004.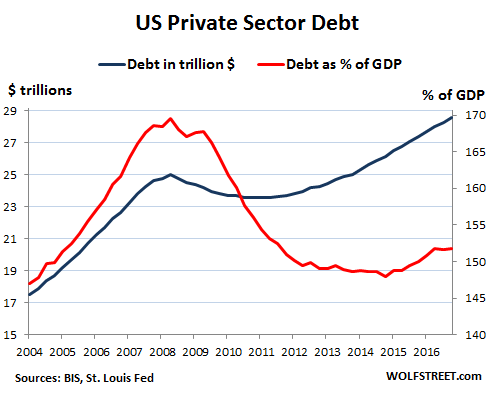 China is now where Japan was before its credit bubble blew up in the early 1990s. China's private-sector debt – the part that has been officially acknowledged – surged from 20% of GDP in 2008 to 211% of GDP in 2017. This is the danger Zone where Japan got in trouble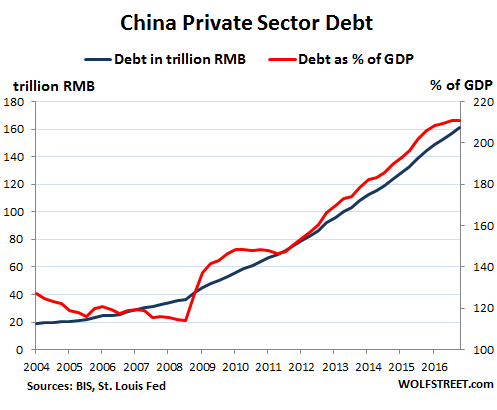 But wait, Canada rules! Private sector debt in Canada has more than doubled, from C$2.2 trillion in 2006 to C$4.5 trillion, and private sector debt as percent of GDP has soared to 217%, within a hair of where Japan was in Q3 1993, before the credit bubble imploded. Also note how eerily similar the charts for China's debt and Canada's debt are: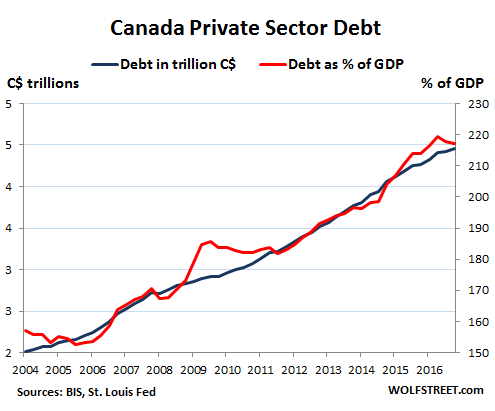 So Canada and China stand out in this group of debtor economies.
Source: wolfstreet.com
28 Reasons to Buy Physical Gold

1. Tangible with Inherent Value
Physical gold is real and tangible. It is indestructible, impossible to create artificially, and difficult to counterfeit. Mining physical gold is arduous and costly. Physical gold therefore has inherent value and worth. In contrast, paper money doesn't have any inherent value.
2. No Counterparty Risk
Physical gold has no counterparty risk. When you hold and own gold bars and gold coins outright, there is no counterparty. In contrast, paper gold (gold futures, gold certificates, gold-backed ETFs) all involve counterparty risk.
5. Store of Value
Gold is a preeminent store of value. Physical gold, in the form of gold bars or gold coins, retains its purchasing power over long periods of time despite general increases in the price of goods and services.
Since 1913, the US Dollar has lost more than 98% of its value, while gold has retained its value.
6. Long- Term Inflation Hedge
7. A 6000 Year History
8. A 2500 Year Track Record as Money
9. Safe Haven
Physical gold acts as a safe haven asset in times of conflict, war and geopolitical turmoil.
10. Portable Anonymous Wealth
Gold bars and gold coins combine high value with high portability. In times of conflict and war, gold bars and gold coins are ideal for transporting wealth and savings across borders and within conflict zones in an anonymous fashion.
11. Universal Acceptance   
Source: zerohedge.com
Pepe Escobar: How Turkey, Iran, Russia and India are playing the New Silk Roads
A pacified Syria is key to the economic integration of Eurasia through energy and transportation connections .Vladimir Putin, Recep Tayyip Erdogan and Hassan Rouhani will hold a summit this Wednesday in Sochi to discuss Syria. Russia, Turkey and Iran are the three power players at the Astana negotiations – where multiple cease-fires, as hard to implement as they are, at least evolve, slowly but surely, towards the ultimate target – a political settlement.
A stable Syria is crucial to all parties involved in Eurasia integration. As Asia Times reported, China has made it clear that a pacified Syria will eventually become a hub of the New Silk Roads, known as the Belt and Road Initiative (BRI) – building on the previous business bonanza of legions of small traders commuting between Yiwu and the Levant.
Away from intractable war and peace issues, it's even more enlightening to observe how Turkey, Iran and Russia are playing their overlapping versions of Eurasia economic integration and/or BRI-related business.

Source: sott.net
---
Geopolitical/Police State
Spanish cyber intelligence finds no evidence of Russian cyber attacks in Catalan crisis
No Moscow-linked intrusion was detected during the Catalonia crisis, Spain's cyber intelligence unit has announced. Earlier, Madrid decried cyber attacks as part of Russia's alleged wider online effort to support Catalan independence.
Putin, Saudi King, Stress Need to Coordinate Over Energy Markets: Kremlin
Russia's President Vladimir Putin and Saudi Arabia's King Salman stressed the importance of further coordinating their actions on the energy markets, the Kremlin said on Tuesday.
Source: usnews.com
---
War
BREAKING: Military personnel surround Lugansk – is this a coup?
The government buildings area of the capital of the Lugansk People's Republic is currently being blocked by people in military uniform, while armored vehicles are seen in the center of the city. 
Source:  fort-russ.com
Saudi-led coalition agrees to allow humanitarian aid into Yemen
The Saudi-led military coalition fighting Shiite rebels in Yemen said Wednesday it will reopen the war-torn country's main international airport in the capital and a vital Red Sea port to allow access for humanitarian aid, AP reported. The announcement says the Sanaa airport and the port of Hodeida will reopen, s
Source: rt.com
Iraqi Forces Start Operation To Clear Remaining ISIS-held Border Area With Syria From Terrorists
US media claims American troops will stay in Syria to aid Kurdish insurgents
 the Presidents of the Astana group, likewise confirmed that Russia, Iran and Turkey are now all in favour of preserving Syria as a unitary state with no internal divisions or otherwise Balkanised statelets.
This unity is now threatened by Washington's failure to withdraw troops from Syria, something that was widely expected and feared.  
Source: theduran.com
Trump says US will no longer fund YPG in northern Syria
US President Donald Trump has promised Turkey that his country will no longer fund the pro-Kurdish People's Protection Units (YPG), a Turkish presidential spokesperson told Middle East Eye.
Turkish President Recep Tayyip Erdogan and Trump spoke by phone on Friday to discuss the situation in Syria. Turkey has long been furious about the US decision to provide supplies to the YPG, who have been fighting as part of the Kurdish-Arab Syrian Democratic Forces (SDF) coalition against the Islamic State group. 
Source: .middleeasteye.net
Turkey: US to stop arming Syrian Kurdish fighters
Russia says expert body on Syria chemical attacks 'is dead'
Russia's U.N. ambassador said Wednesday the expert body that has determined responsibility for chemical weapons attacks in Syria "is dead" — but Moscow is ready to discuss "a new mechanism."
"But we are ready to talk about establishing a new mechanism that would replace the JIM and do the work in … a truly professional and objective" way, he said.
Source: washingtonpost.com
Lavrov calls to implement UN resolution on Syria
The Russian top diplomat says all Moscow's efforts are aimed at implementing the UN resolution on the Syrian settlement  All Moscow's efforts are aimed at implementing the United Nations Security Council's Resolution 2254 on the Syrian settlement, Russian Foreign Minister Sergey Lavrov said at the meeting with UN envoy for Syria Staffan de Mistura.

Source: tass.com
Seymour Hersh: Hillary Clinton Sold Nerve Gas To Syrian Terrorists To Use Them As an Excuse to Invade Syria
Respected investigative journalist, Seymour Hersh, has claimed that Hillary Clinton sold nerve gas to Syrian terrorists whilst she was acting as secretary of state.
Hersh claimed that the Obama Administration falsely blamed the Government of Syria's Bashar al-Assad for the sarin gas attack, which they were hoping to use as an excuse to invade Syria. Hersh also claims that the Obama administration assisted in approving the transfer of deadly chemical weapons from Lybia to terrorists who were operational in Syria.
  "By the terms of the agreement, funding came from Turkey, as well as Saudi Arabia and Qatar; the CIA, with the support of MI6, was responsible for getting arms from Gaddafi's arsenals into Syria."However, now, for the first time, Hersh has implicated Hillary Clinton directly in this 'rat line'.
 Source: gotslaves.info
Saudi Crown Prince says Iran's Ayatollah is the 'new Hitler'
saudi Crown Prince Mohammad bin Salman has claimed that Iranian Ayatollah Ali Khamenei is the "new Hitler of the Middle East"